The Meguiar's Portrait of an Icon for the 90s brought a great deal of anxiety to me due to the fact that it was one of the most profound decades for me in regards to me falling in love with automobiles.... specifically the Acura or Honda NSX.
I still remember the day I saw one on my way to Jr High School as I sat in the back of my carpool. When we came to a red light, this Formula Red NSX pulled right up. I was in awe that a Ferrari had pulled up next to us but even more confused by the fact that it had an Acura badge.
I was just 12 years old and I had no idea what a NSX was since it had just come out. I live out in the burbs so seeing a car like that was a special treat but for me, that is where it all started.
Fast forward 21 years later and fate has me becoming a proud owner of a 2002 Acura NSX. It was one of the most profound moments of my car owning experiences... to own the car that I dreamed of for so long. So you know that showcasing this incredible car was my focus.
I wanted to showcase a worthy NSX. One that had not only style and grace, but an owner that demanded the highest level of respect for the chassis. So I hit up my friend Chad and asked him if he would be interested in being in my project. So glad he was so pumped to be in it! However I needed some more supporting actors since my creative direction was to create a mood where the homies were hanging out at the shop after hours to work on their own projects.
So then I turned to my other brothers, Rex and Jr to see if they wanted to be in the shoot as well. Since Mugen was a focus, their Honda CRX's was the perfect choice. They gladly joined in and we were off to the races.....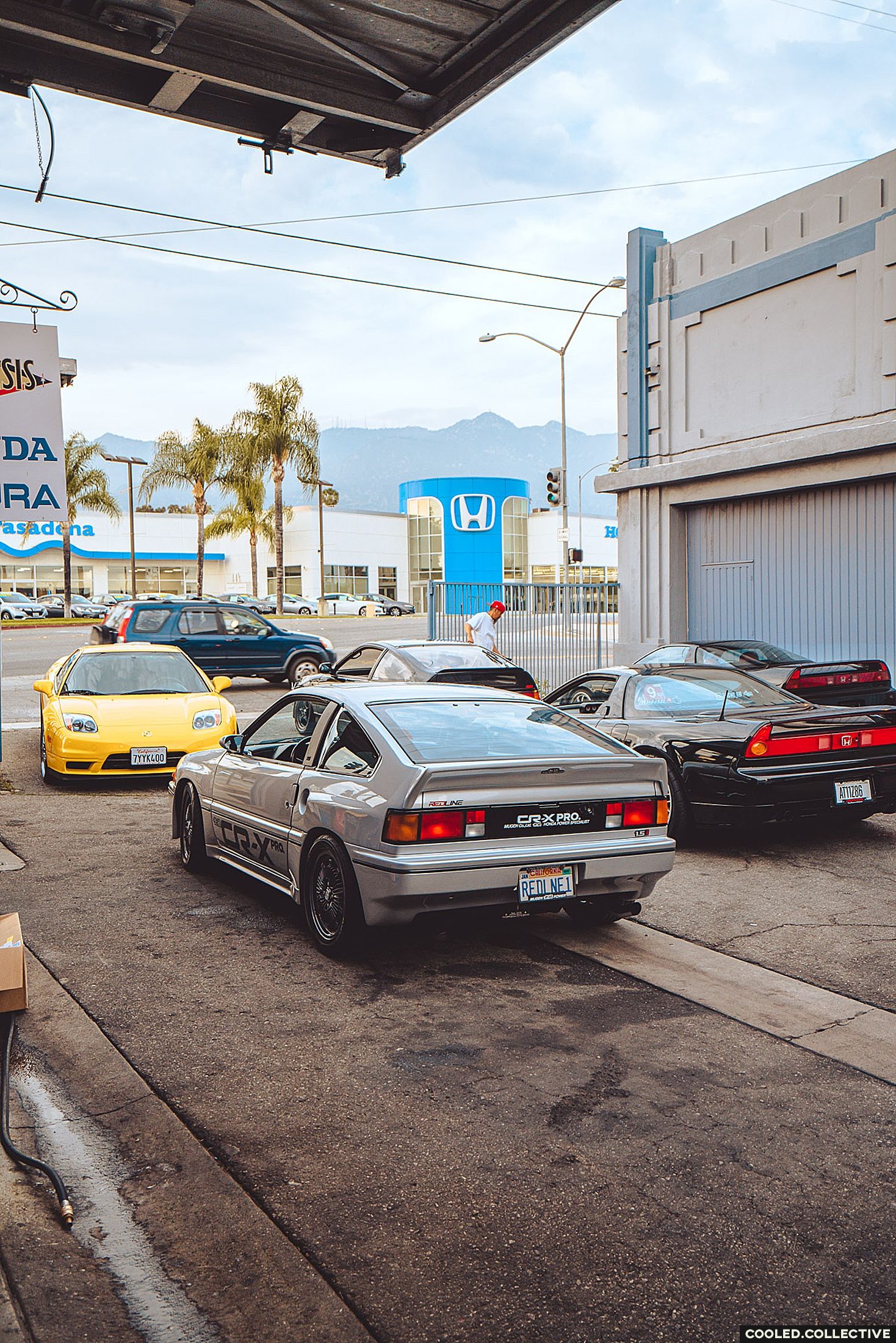 So we had the main character, supporting characters but we needed a location. The location was obviously a huge deal as it set the tone for entire shoot. I went to go look at a few spots but the one I ended up going with was Jasen shop aka Genesis Auto in Pasadena.
It was a really tight fit but Jasen's shop had all of the elements I was looking for. There were car parts everywhere, mainly Mugen... so you can imagine why it worked out but it definitely fit the vibe of the shoot. To me, it felt comforting and felt like if a big brother had a shop that the younger bros would hang out at. A spot we all dreamed about as young high school enthusiasts.
When it was time for the shoot, we had some friends of Jasen's come through and it ended up being a sweet vibe at the shoot. Both Marqie and Hector came in their JDM NSX and CRX respectively to really set the tone in the parking area.
Soon Jr and Rex arrived and it was time to get down to business. So I should mention that Chad was not at the shoot since he was in Hawaii with his family but lucky that his NSX already happened to be at Genesis getting a turbo installed. As you can sell below, his NSX was on the lift getting some last minute adjustments done to the ride height to look extra proper for the shoot. Those Mugen M7's looking so amazingly cherry.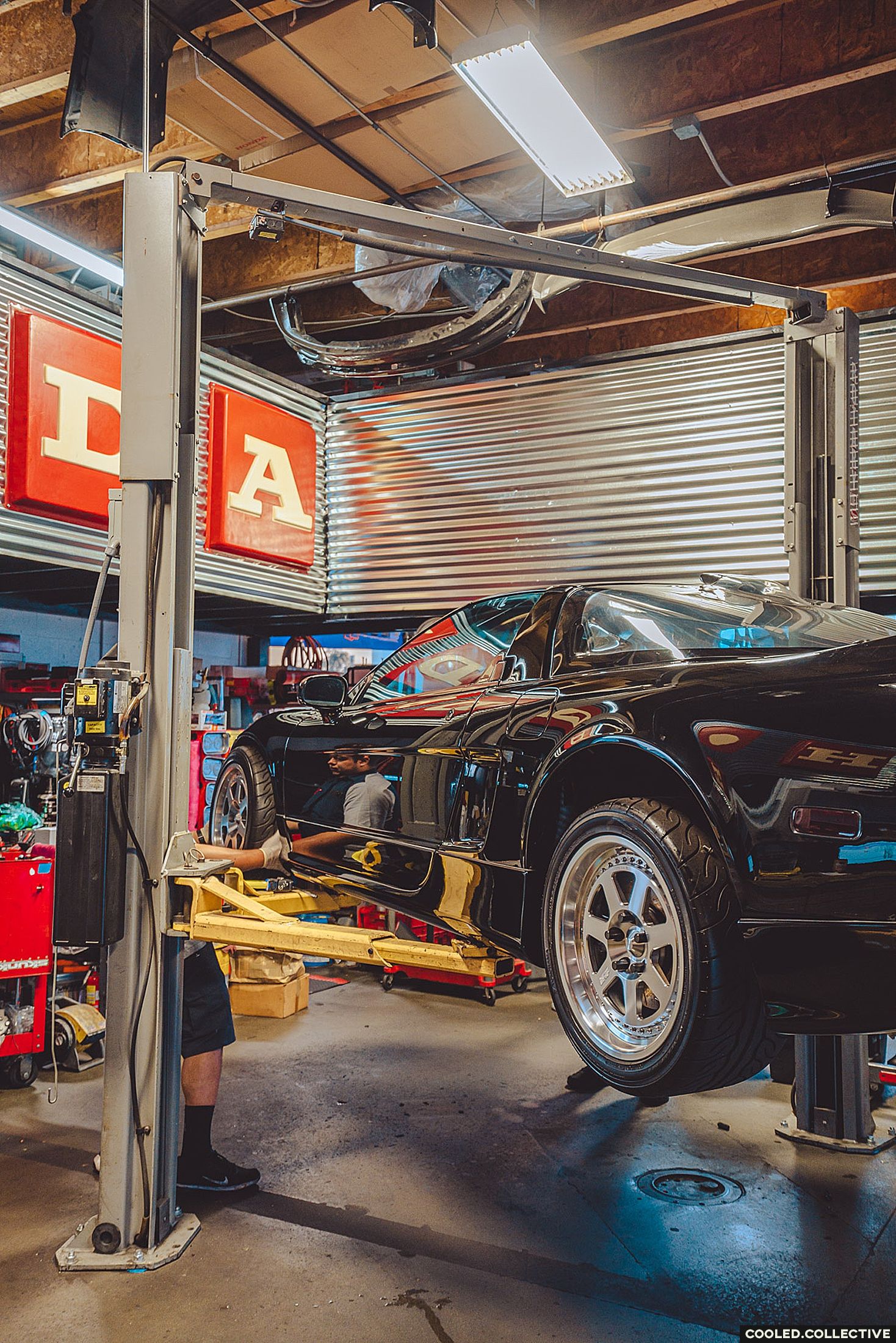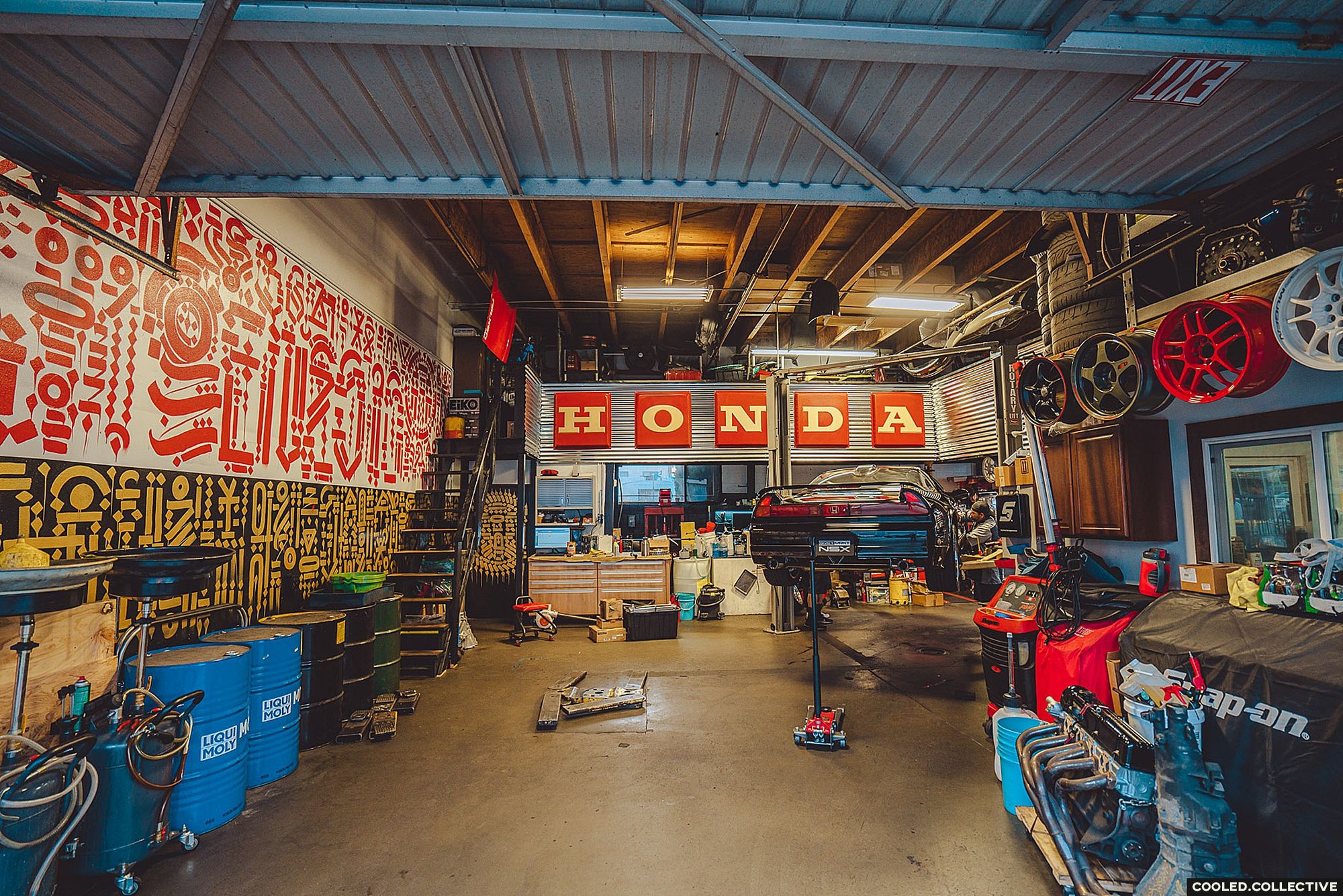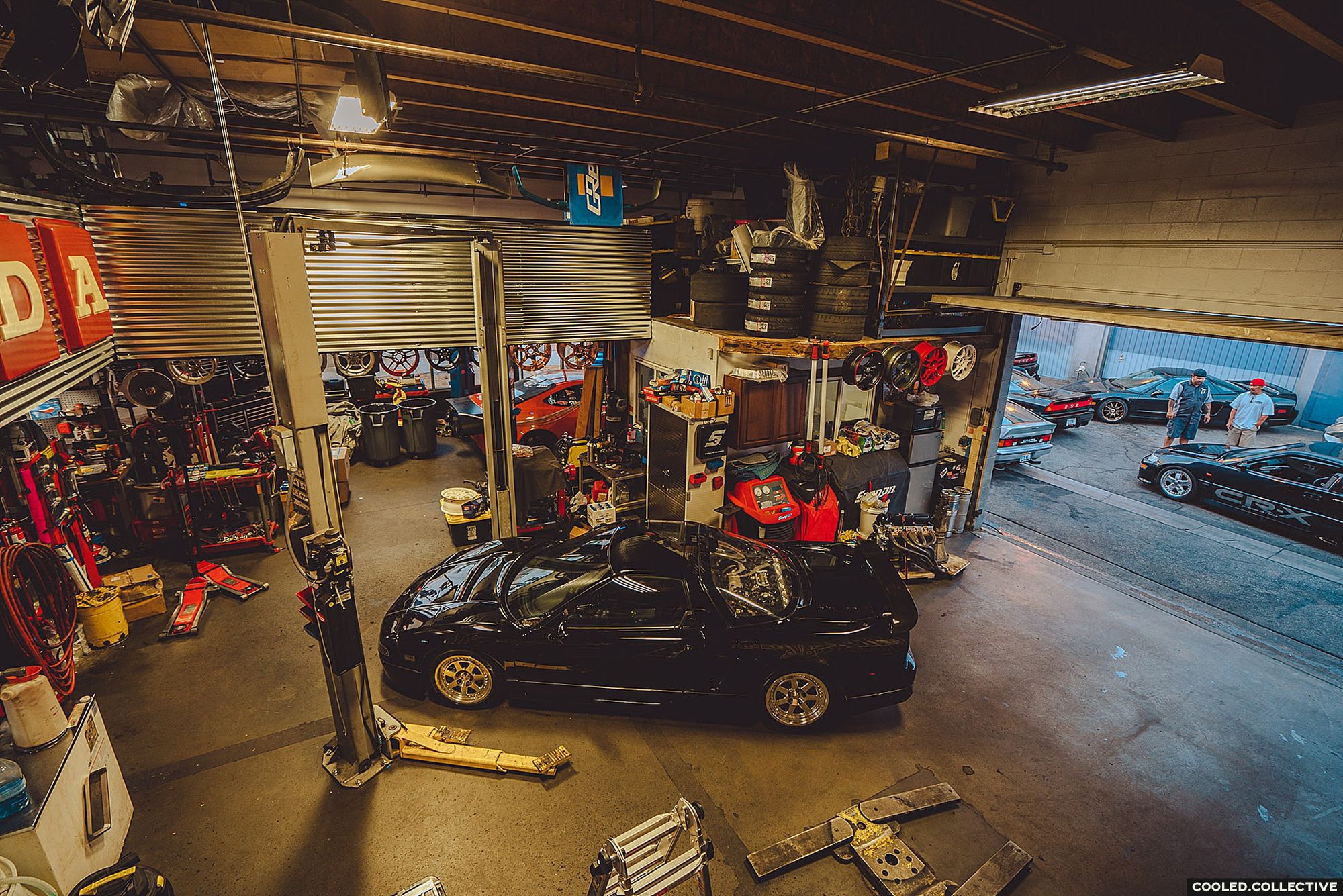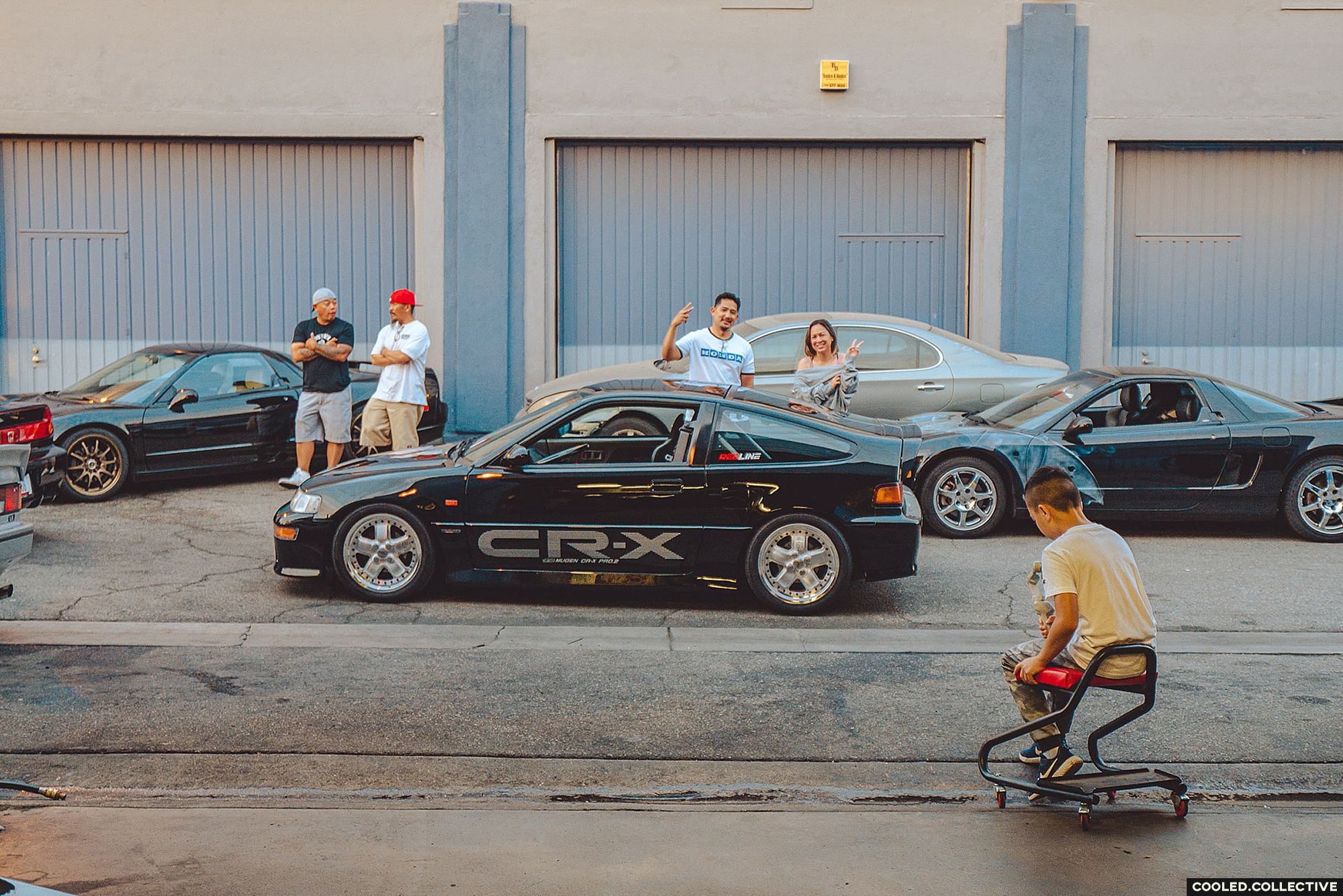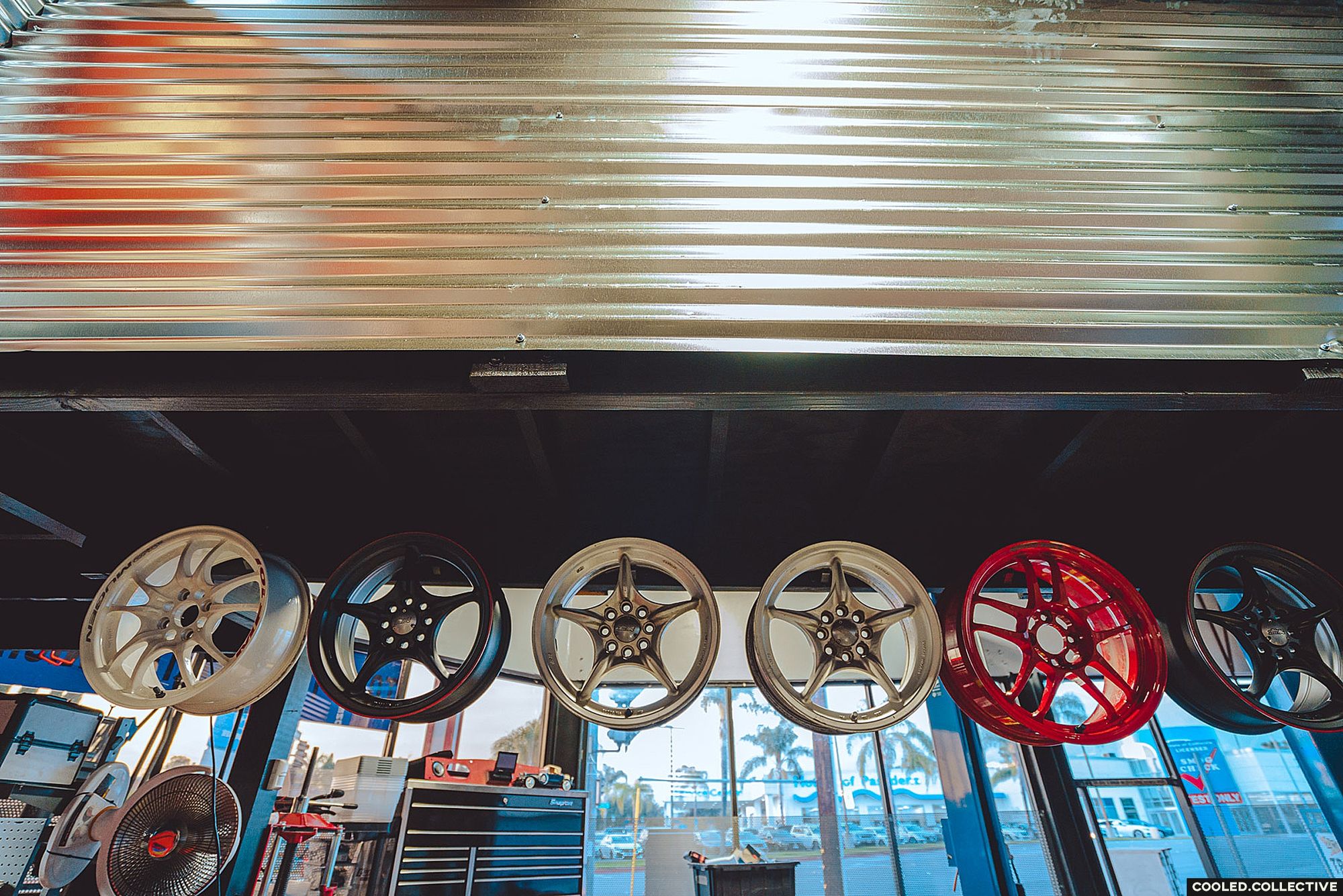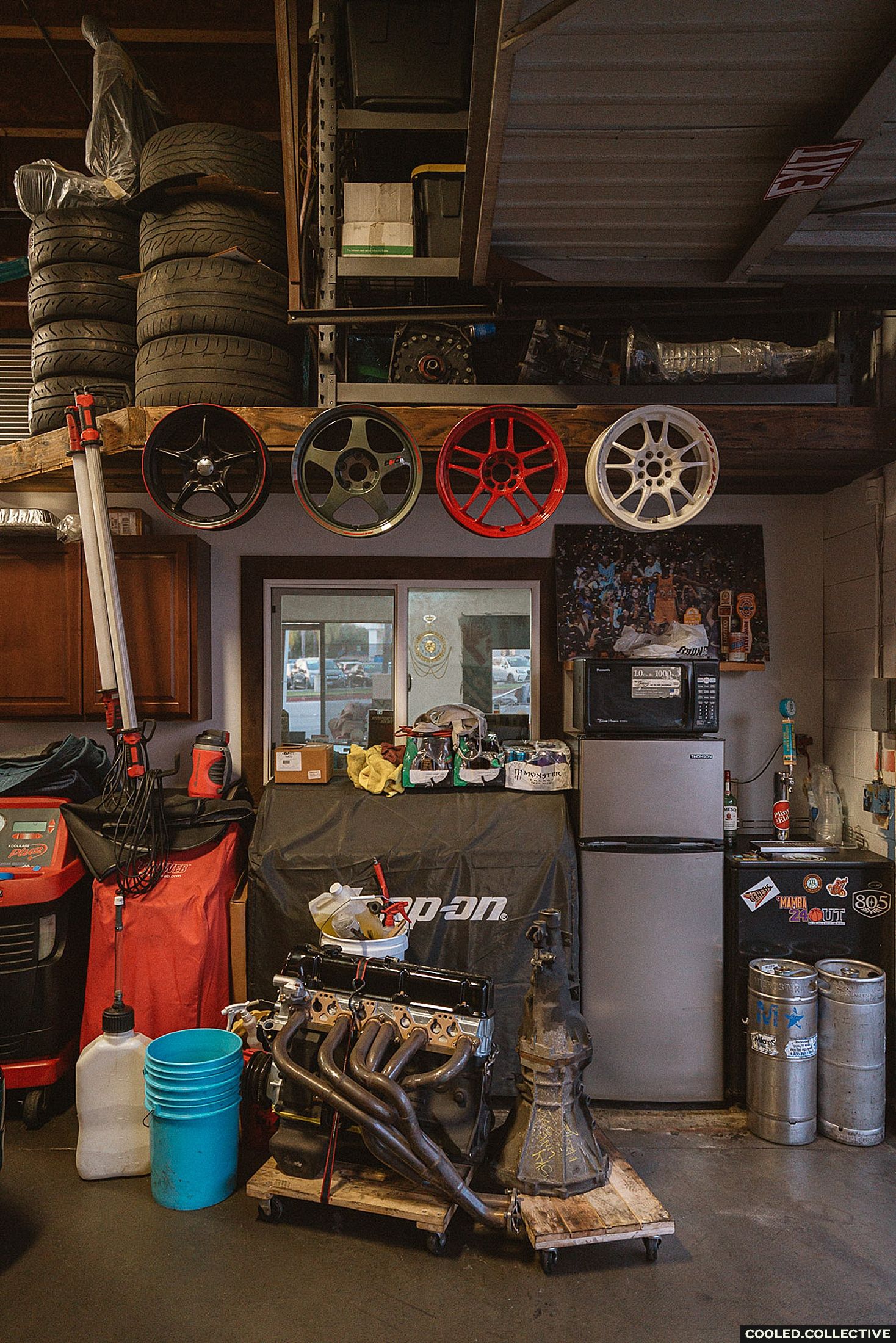 You can see all of the amazing stuff Jasen has been hoarding over the decades. Not sure if it is considered hoarding when all of the stuff is worth hella $$$$$ but nevertheless, it was quite the site.
One of the best things in the shop that was a huge surprise to me was the vintage HONDA sign that Jasen put up over the weekend. You see, I was at his shop on the Friday below and the shop had stuff everywhere. Jasen told me, give me the weekend to tidy up and so when we got there on Monday, it was so awesome to see the vintage sign take such a presence in his shop.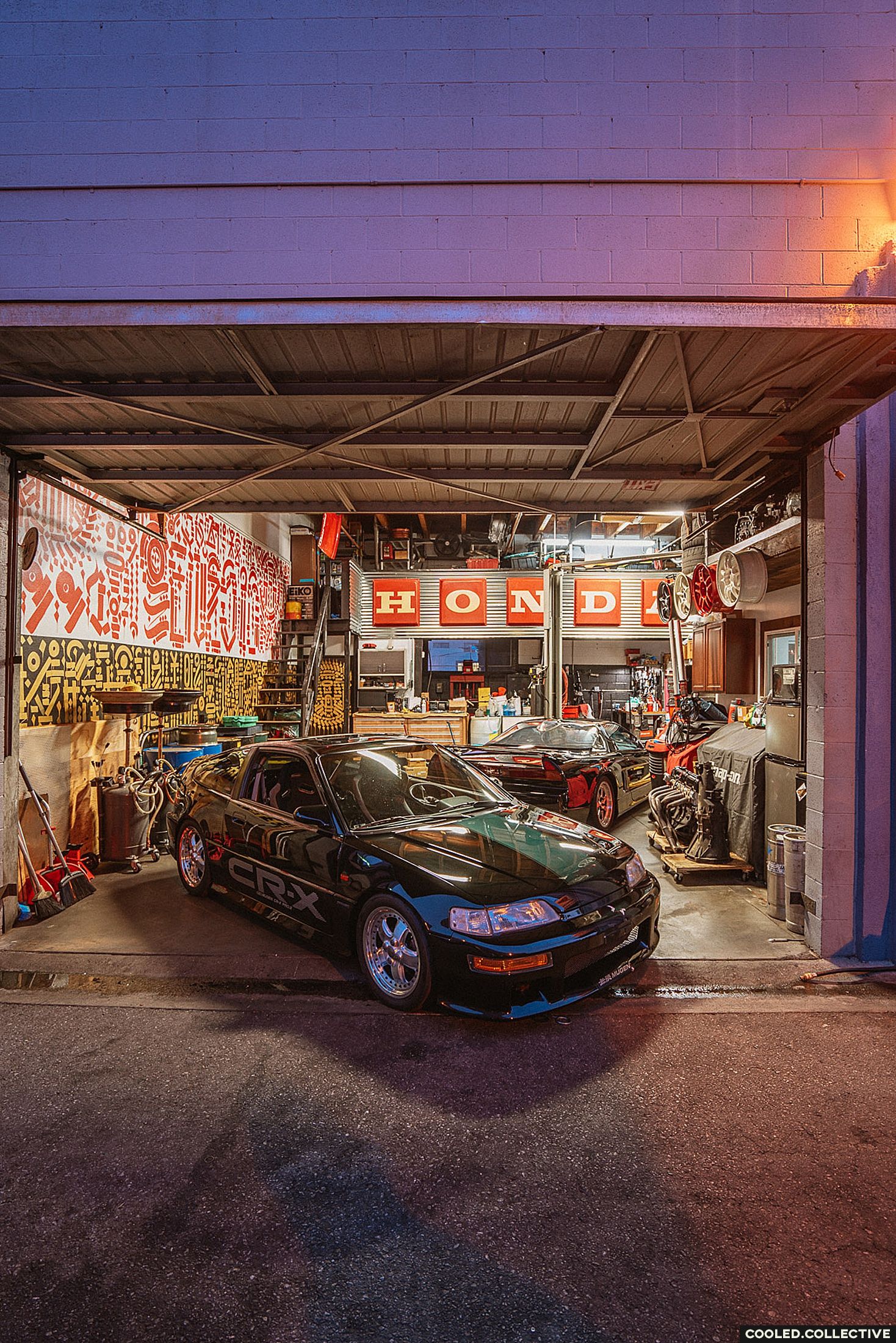 Due to the size of the shop, I didn't have much room to play with in terms of composition. I knew that I had to shoot high and aim down to fit in all 3 cars but even then, it was a mission to try and get the NSX in the prime spot to be showcased. I definitely had my work cut out for me.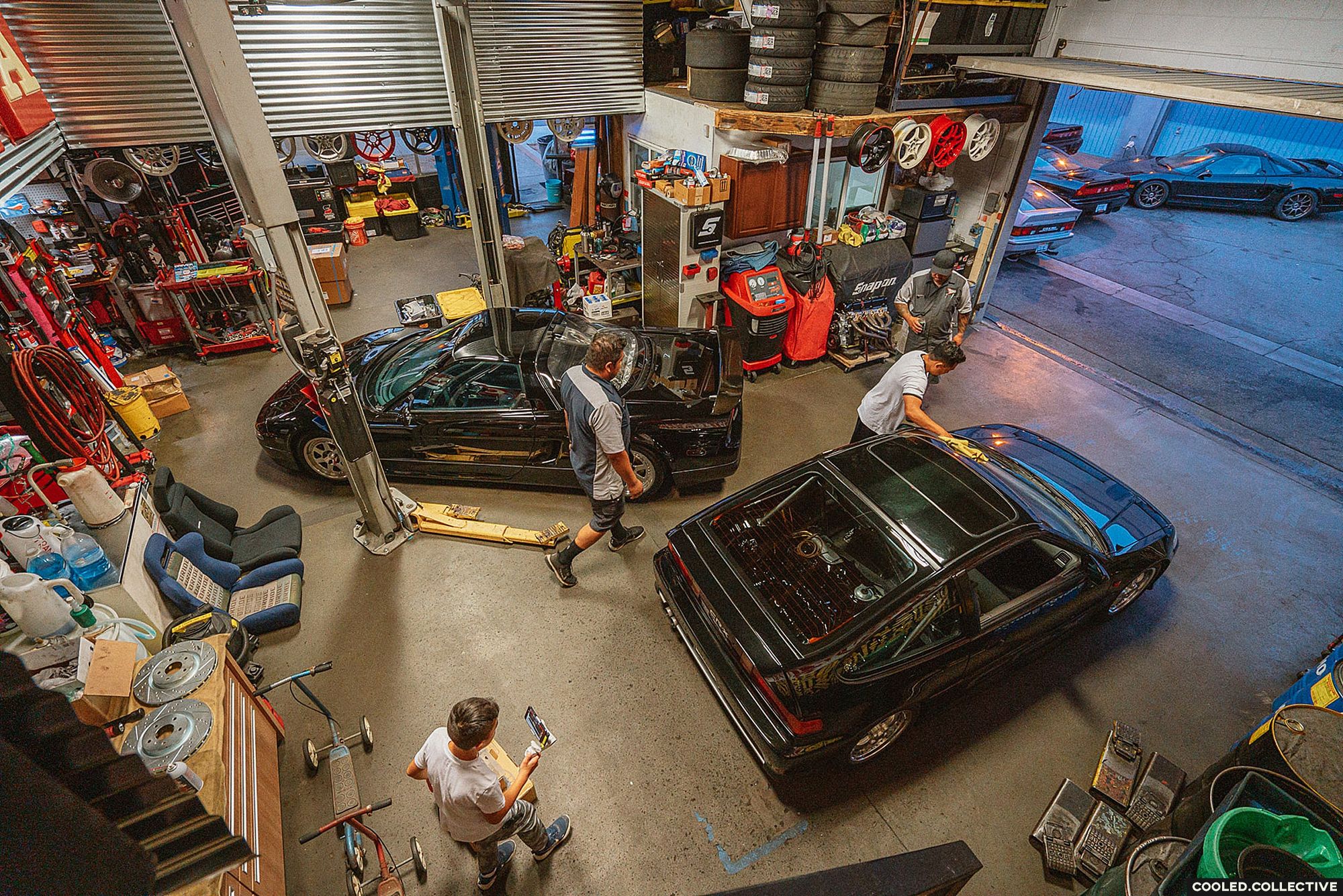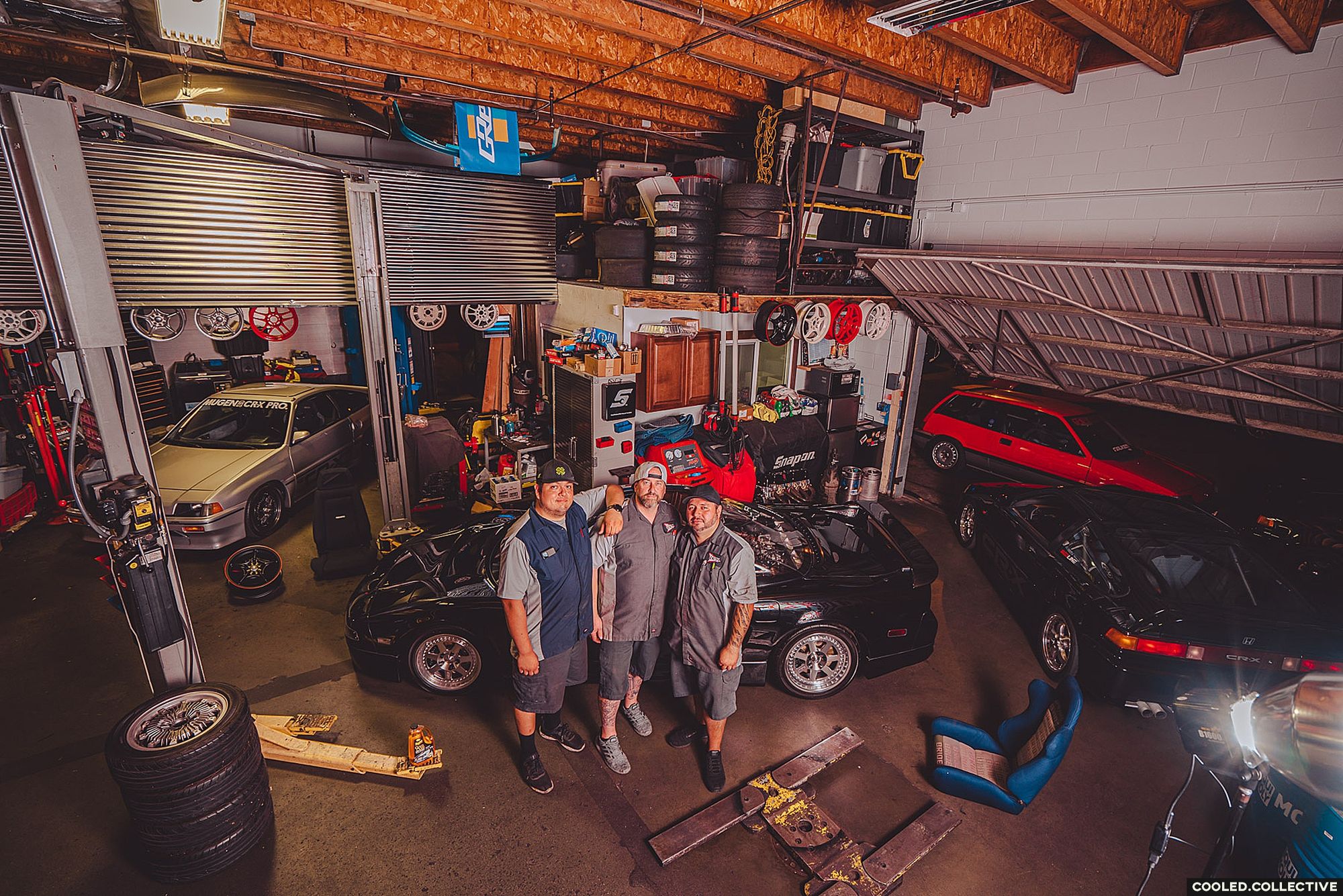 It took us a few hours to finally get the setup I needed. By that time, it was dark and almost time for me to light it to the way I had envisioned it. We were blessed to have Jasen's EA Civic along with Hector's JDM CRX in the shoot along the garage door. It was the perfect accent that completed the vibe of the shoot.

Big props to the guys at Genesis for staying afterhours and helping me set up the shot. I am in debt to your efforts and couldn't have done it without you guys. Very cool to see the boys together in the shot above. You can tell they go way back.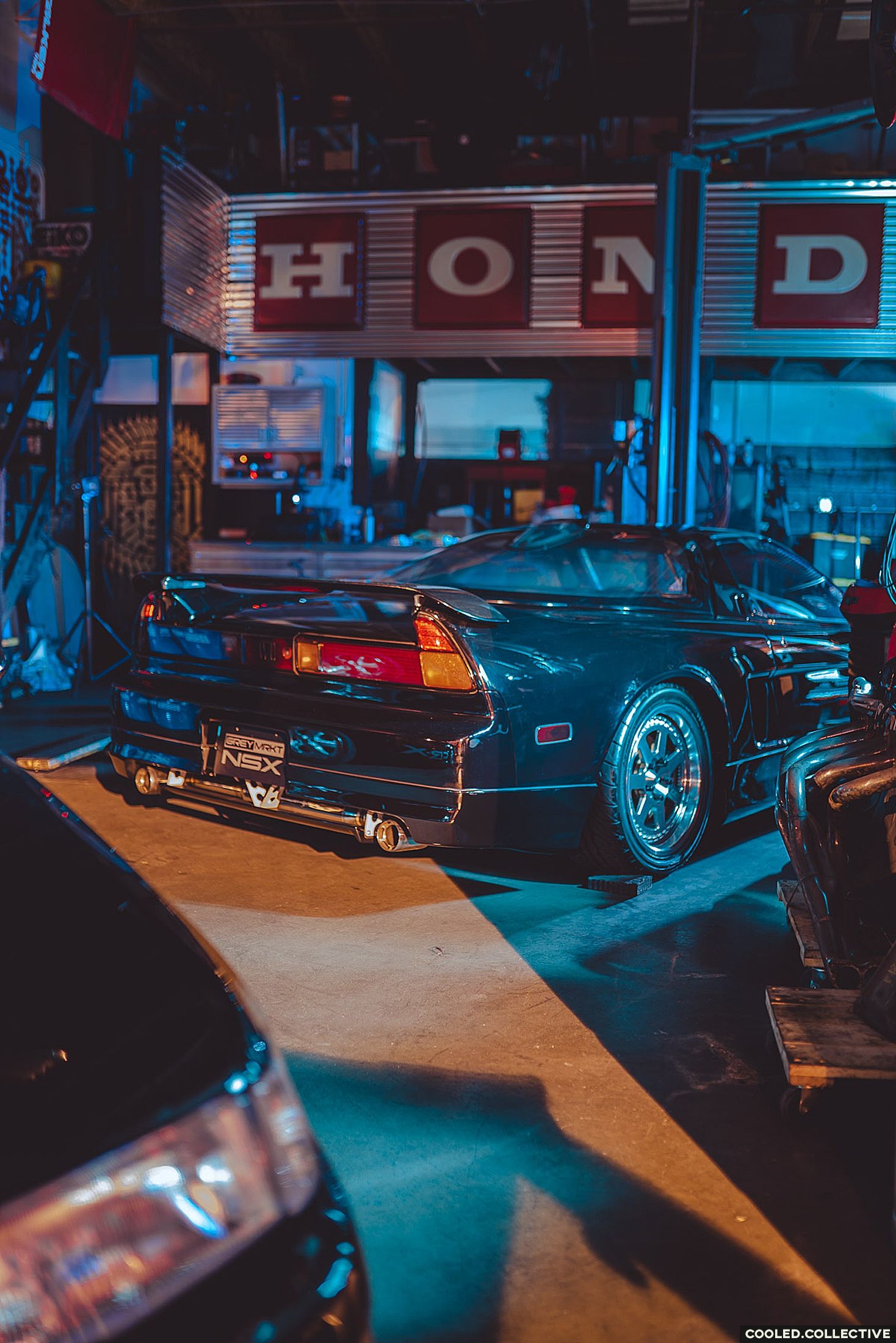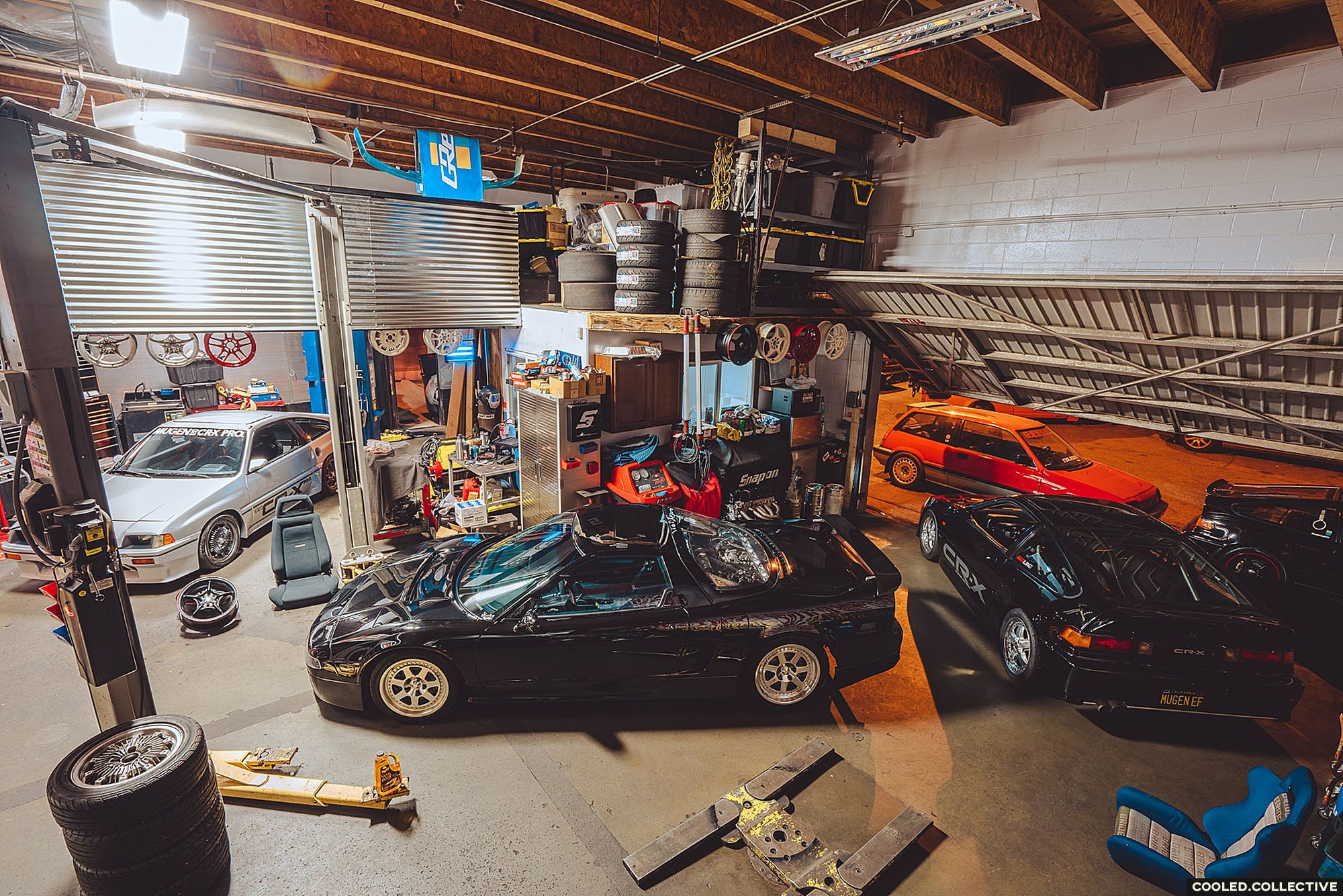 Through and through, it took about 5 hours to knock out this shoot. It was a lot of work to nail the mood but in my heart, I think I did it justice the way I had hoped. So big thank you to the boys who made this happen. Chad, Jasen, Jr, Rex, Hector and RJ for all of the support and making it come to reality.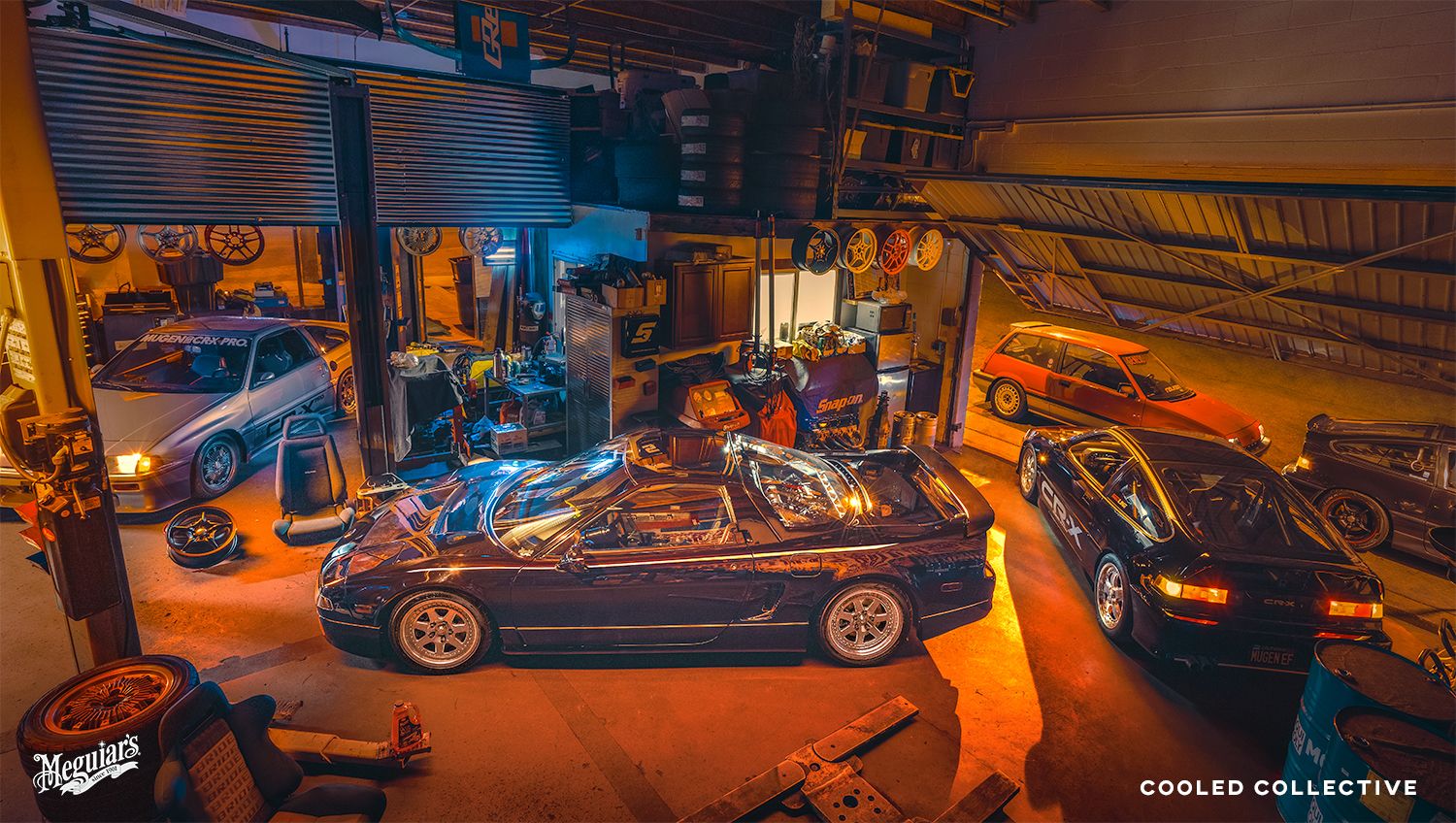 Also got a cool shot of Jr's CRX under all of the Mugen wheels. That was sold as a limited release print that is almost sold out. Check it out here to grab one and also the Meguiar's 90s print is also up for sale with only a few remaining. Click here to check that one out.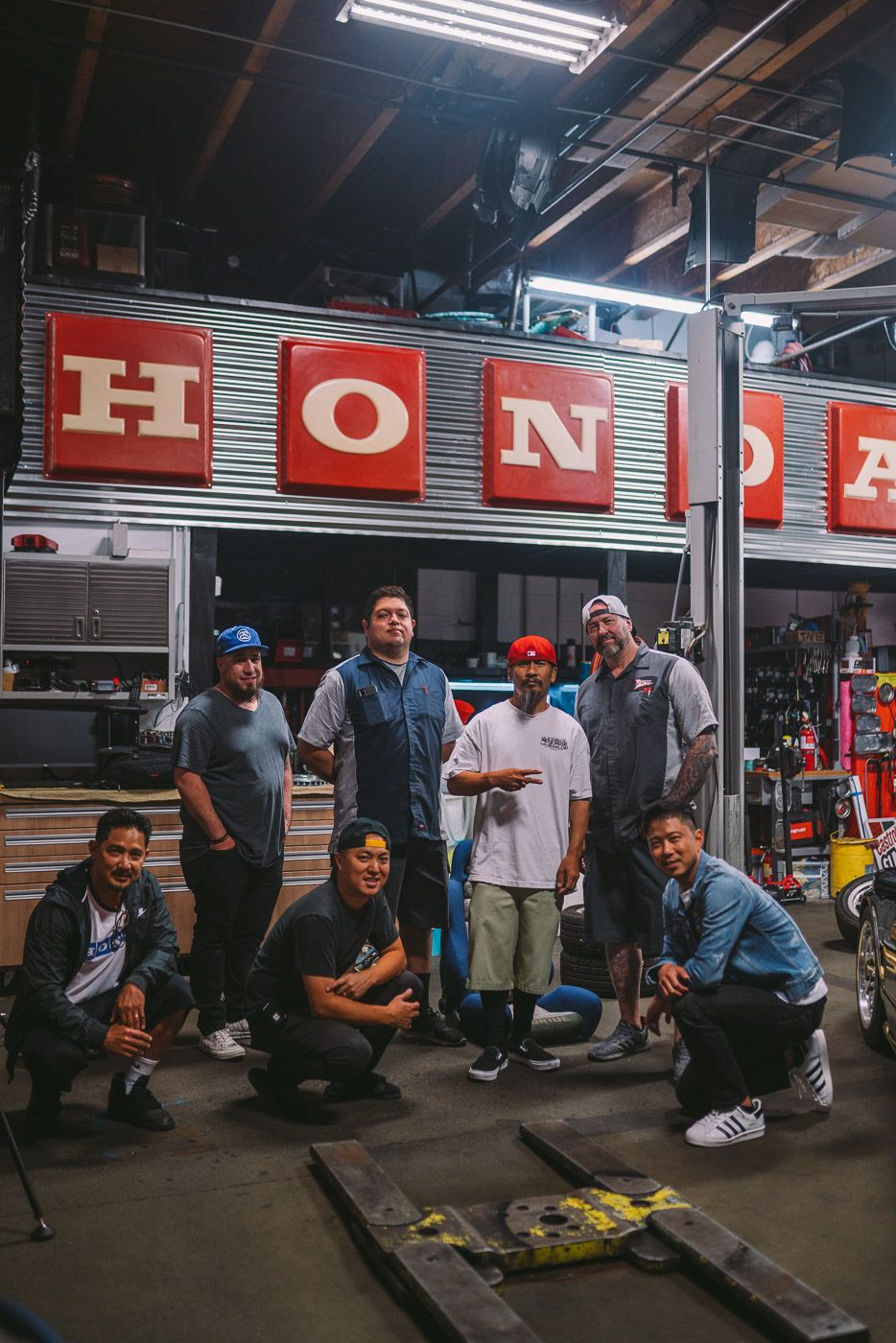 Big thank you once again to Meguiar's for the opportunity to work with you on this amazing series. I hope to do the project justice.
Drew Manley