The long anticipated return of Luftgekühlt to Los Angeles was met with great demand as aircooled fans from all over the globe gathered to be a part of Luft8 at the Port of Los Angeles. If it was your first time, you may have heard that this location was the same location that Luft4 was held at several years ago. What made Luft4 special was that the location served more like an art gallery with the curated cars well spaced out inside large warehouses for spectators to view and cherish. Just outside the gallery warehouses were various car builds by companies such as Singer, RUF, Emory, along with various other enthusiasts builds approved for the outdoor  space. So for those that missed out on Luft4, this was a good throwback in time to experience what so many of us did back in 2017.
My time in the morning was mainly spent in the Porsche parking lot where I met up with friends and walked the line of Pcars hunting for unique builds that I haven't seen before in SoCal. As you can imagine, great conversations take up a lot of time so finding the balance between enjoying the show and documenting it is always something I struggle with but after a few hours I finally made it out of the lot.
---
CURATED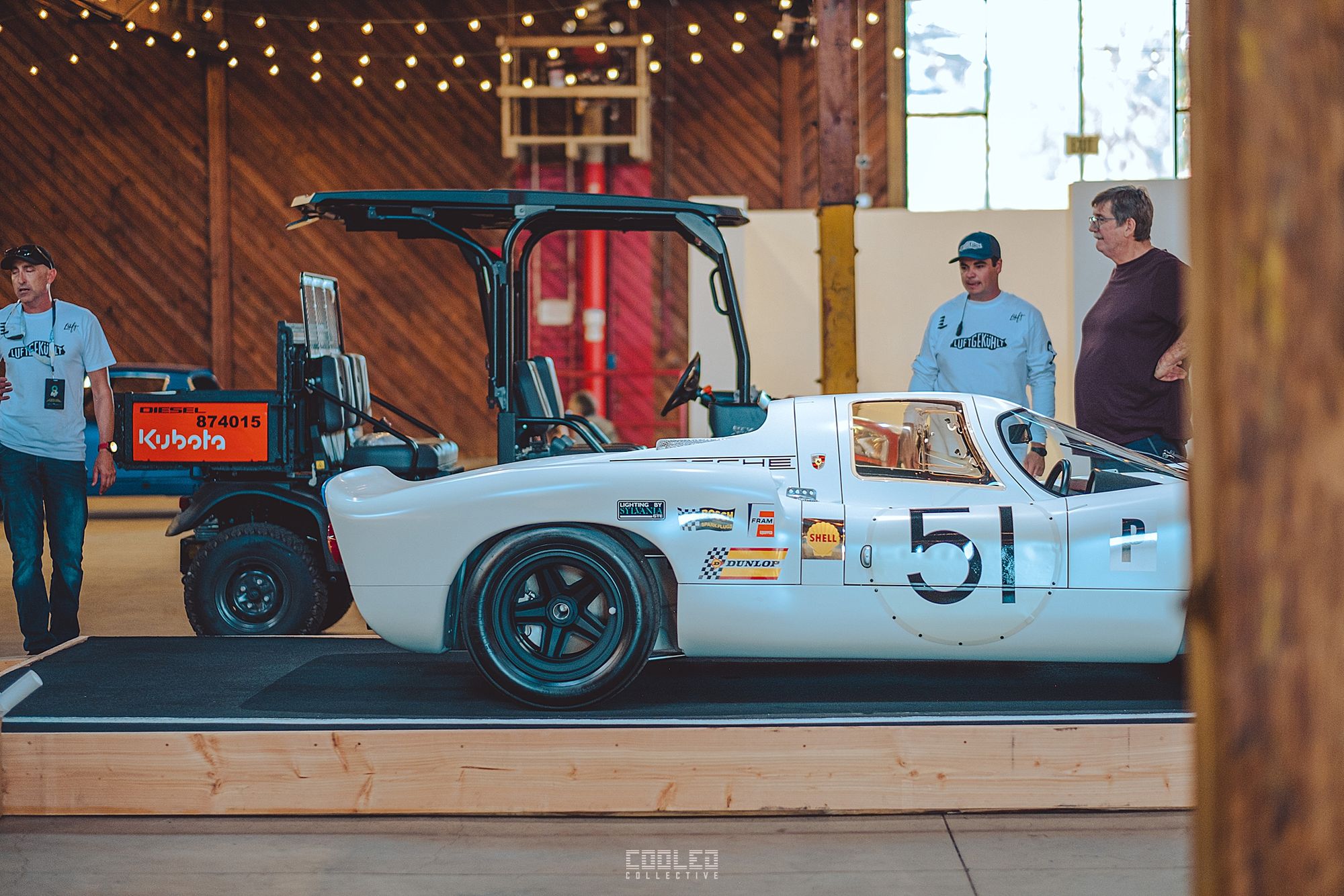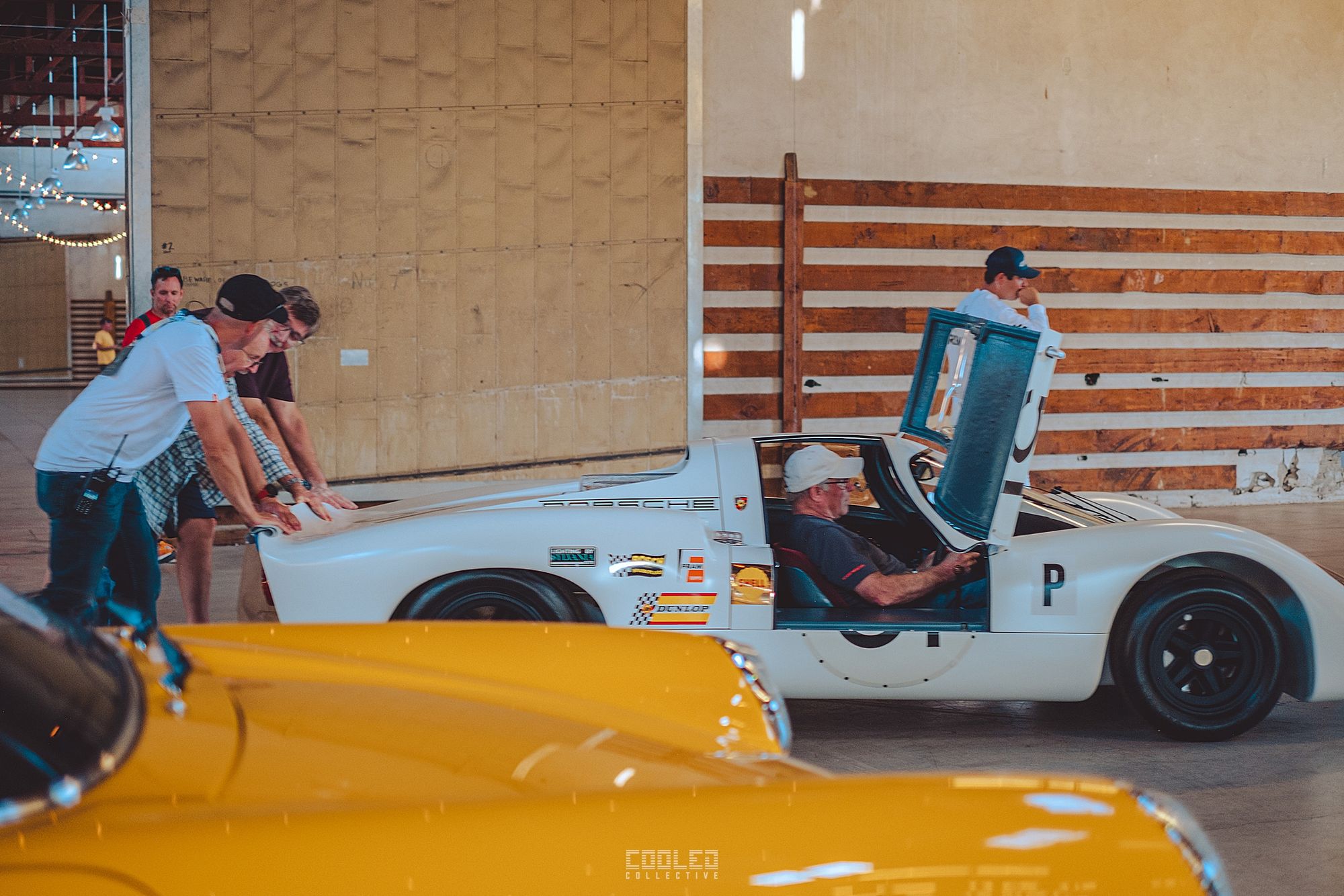 Seeing how crowded and busy the venue was, our group ran to lunch and came back as the show was starting to wind down and I thought this was a good time to cover the show as there is always a great deal of coverage at the start of a show and during the show but never at the end of it as things are getting taken down. The added benefit of shooting later in the day was that the curated areas were empty and I didn't have to wait on crowds to grab a shot. An addition, the late afternoon sun made for much better lighting along with seeing the magic of owners and shop crews breaking down at the end of a long day was endearing.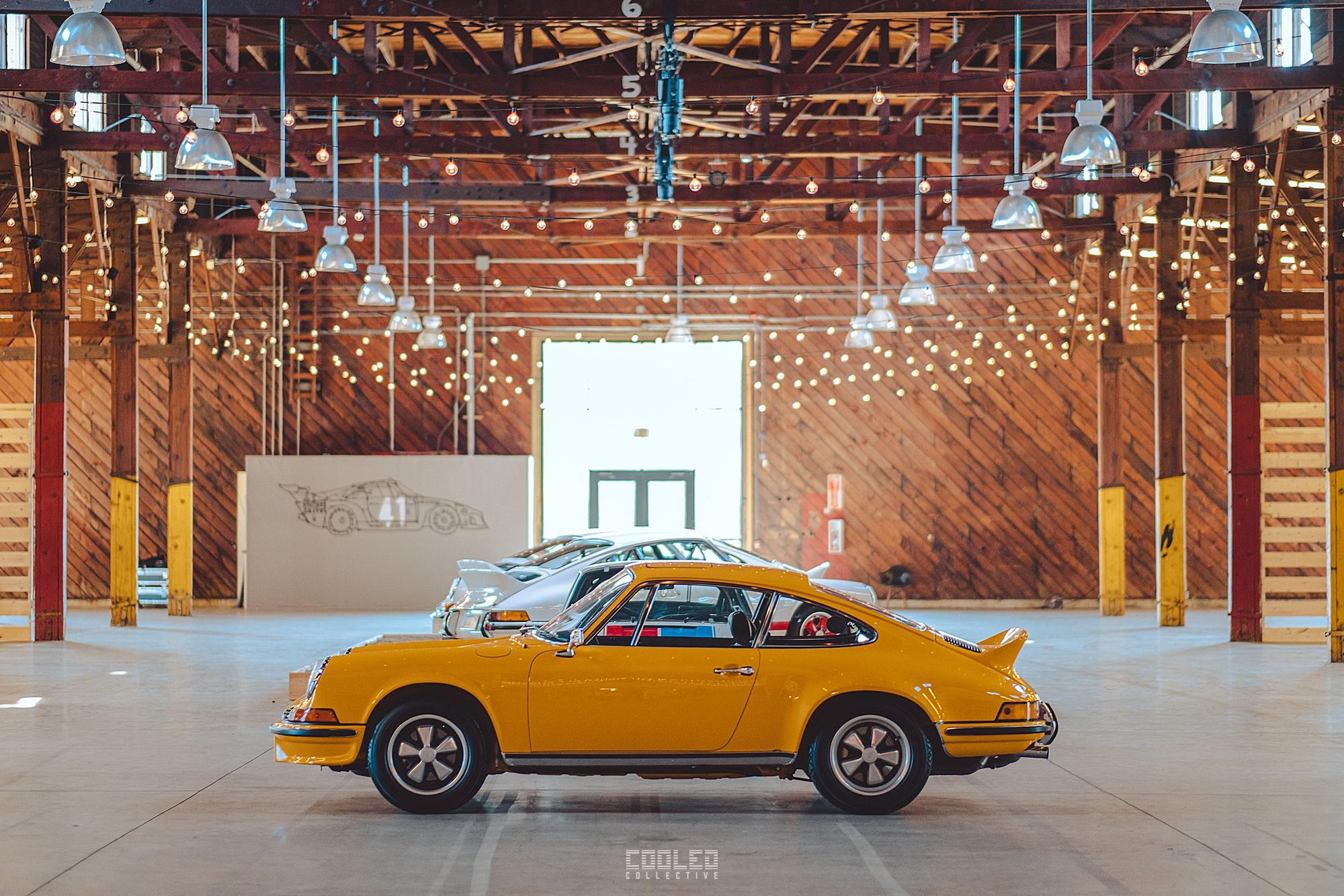 Looking back at these images, I am blown away that I had the opportunity to shoot more as a private spectator with VIP access more than a photographer looking to grab the perfect shot. Which in this case, happened to benefit both roles perfectly. Just like at Luft4, a room full of curated aircooled RS variants is probably the best part of the show since seeing all of these cars in one location is nearly impossible even for LA cars and coffee frequenters.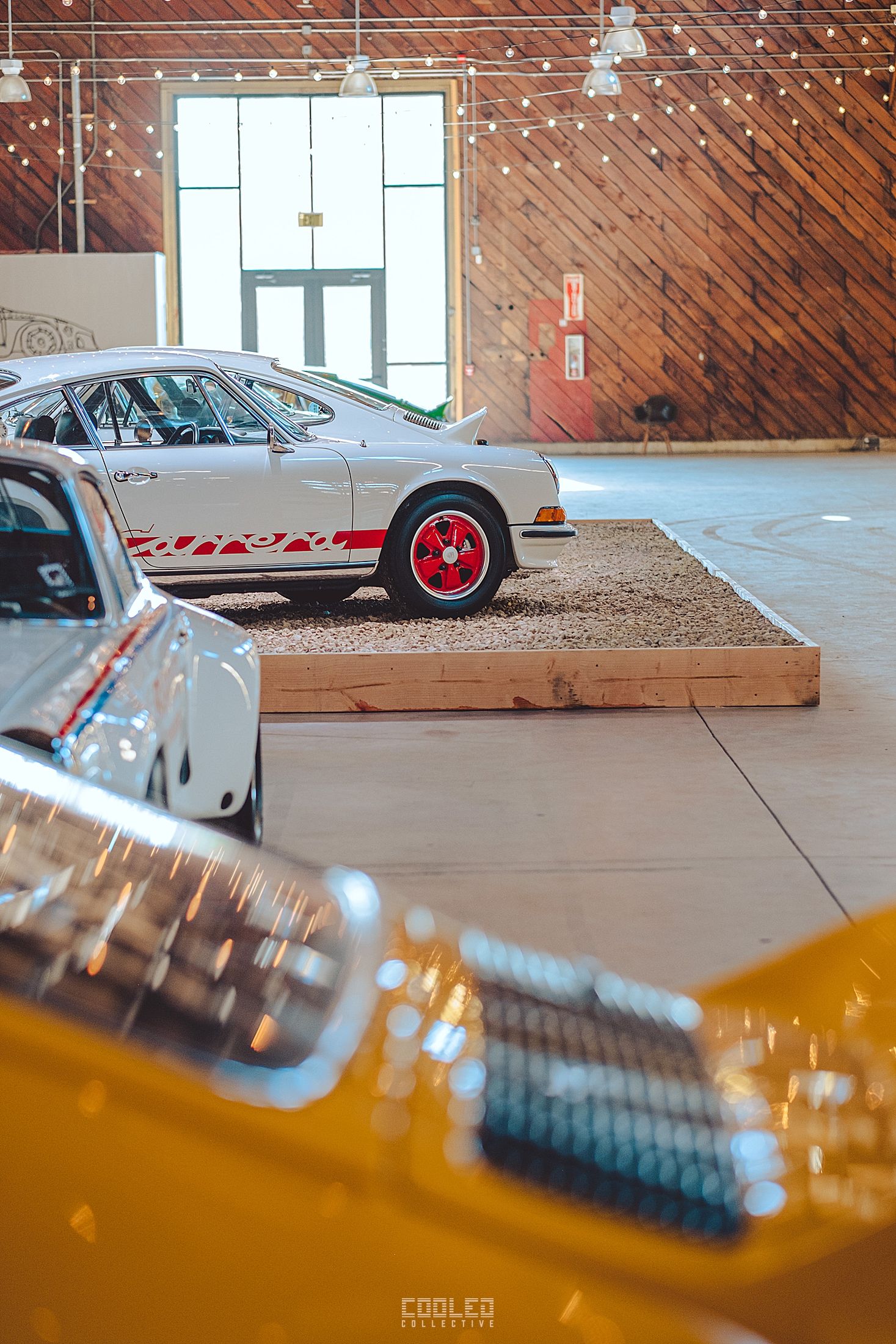 Dead center of the room was a display of white Carrera RS with red, blue and green accents. I don't know much of the historic value of these 3 other than I am assuming that they are 1973 RS specs from Europe most likely. Having them displayed on some pebbles made them kind of feel like rally spec models.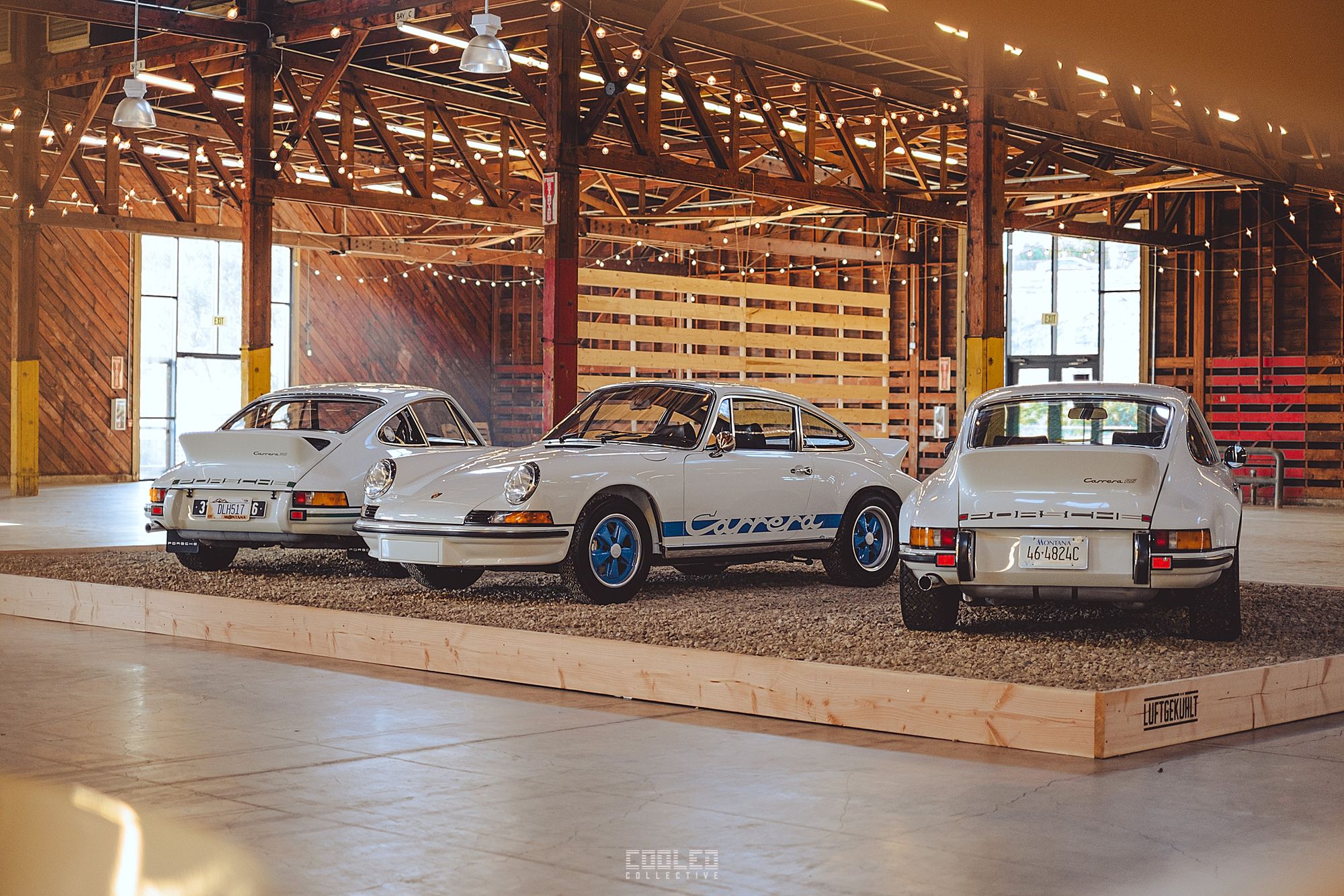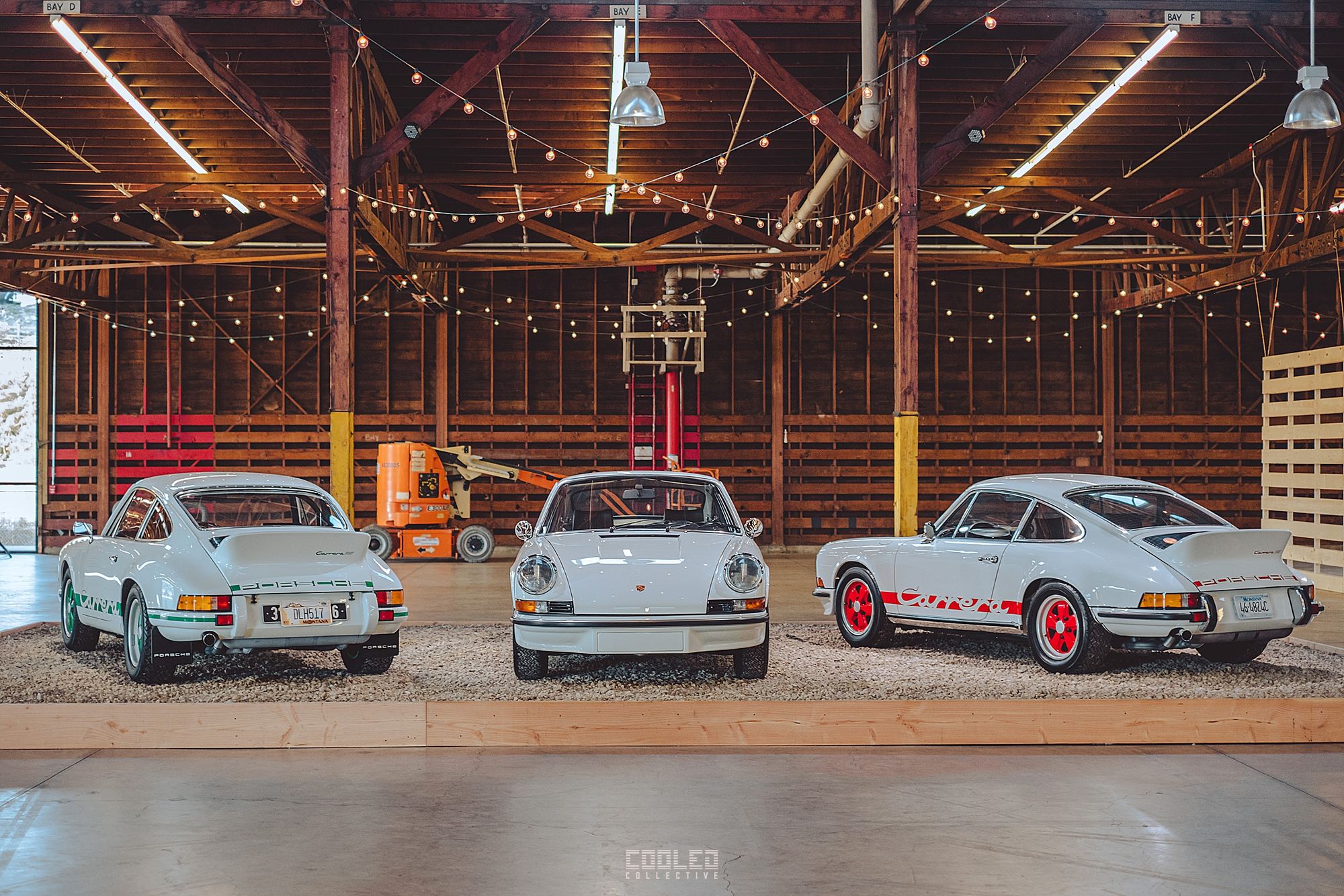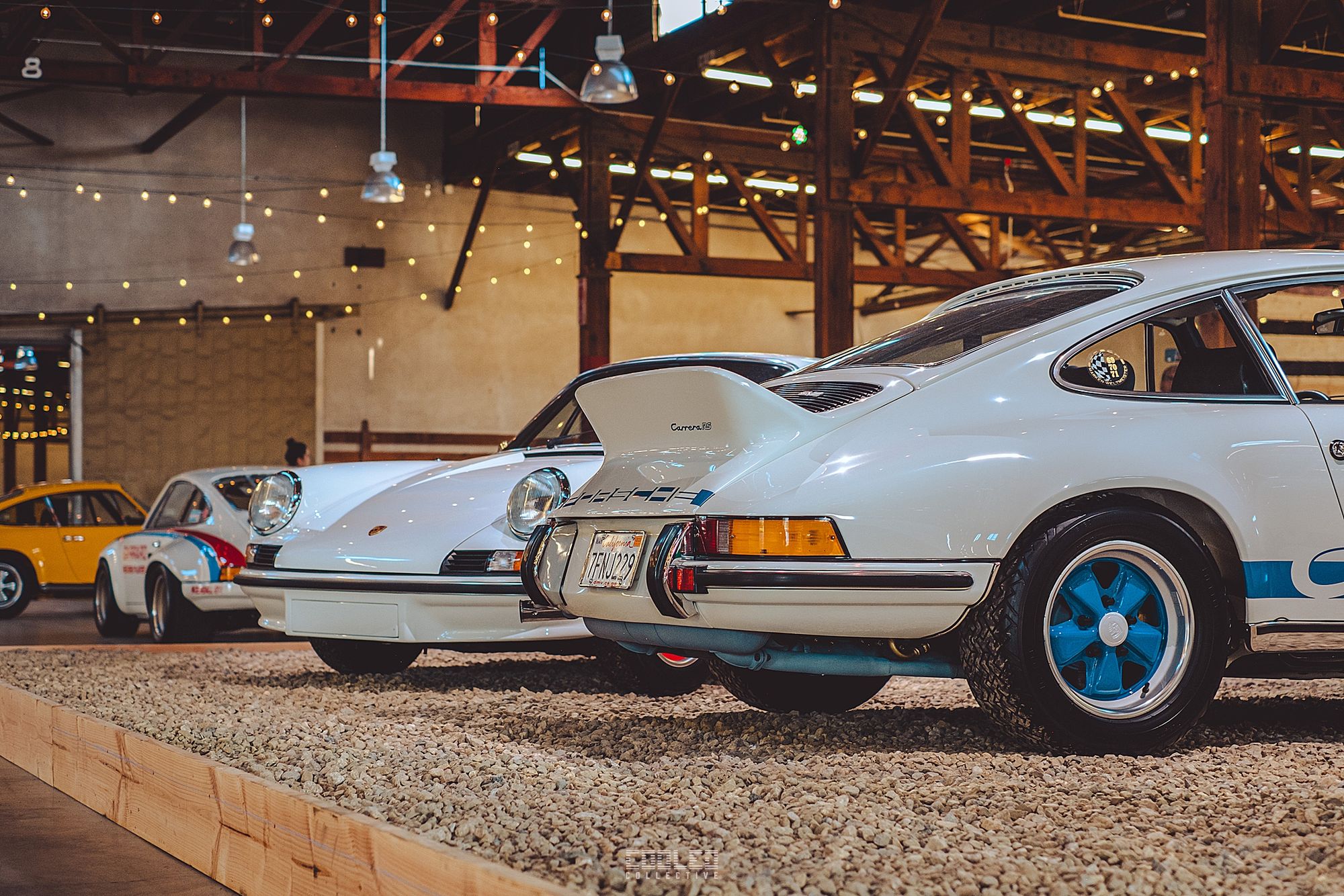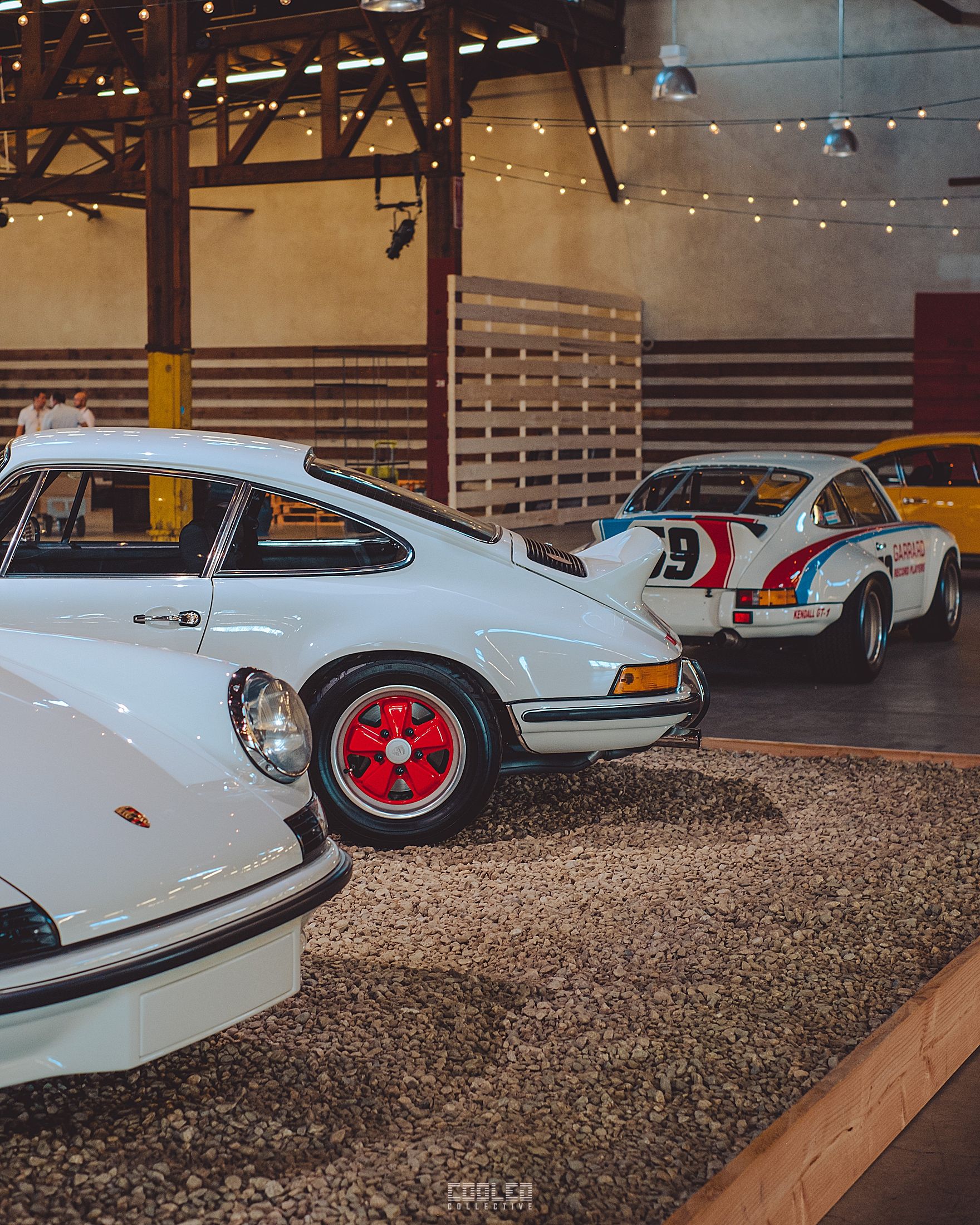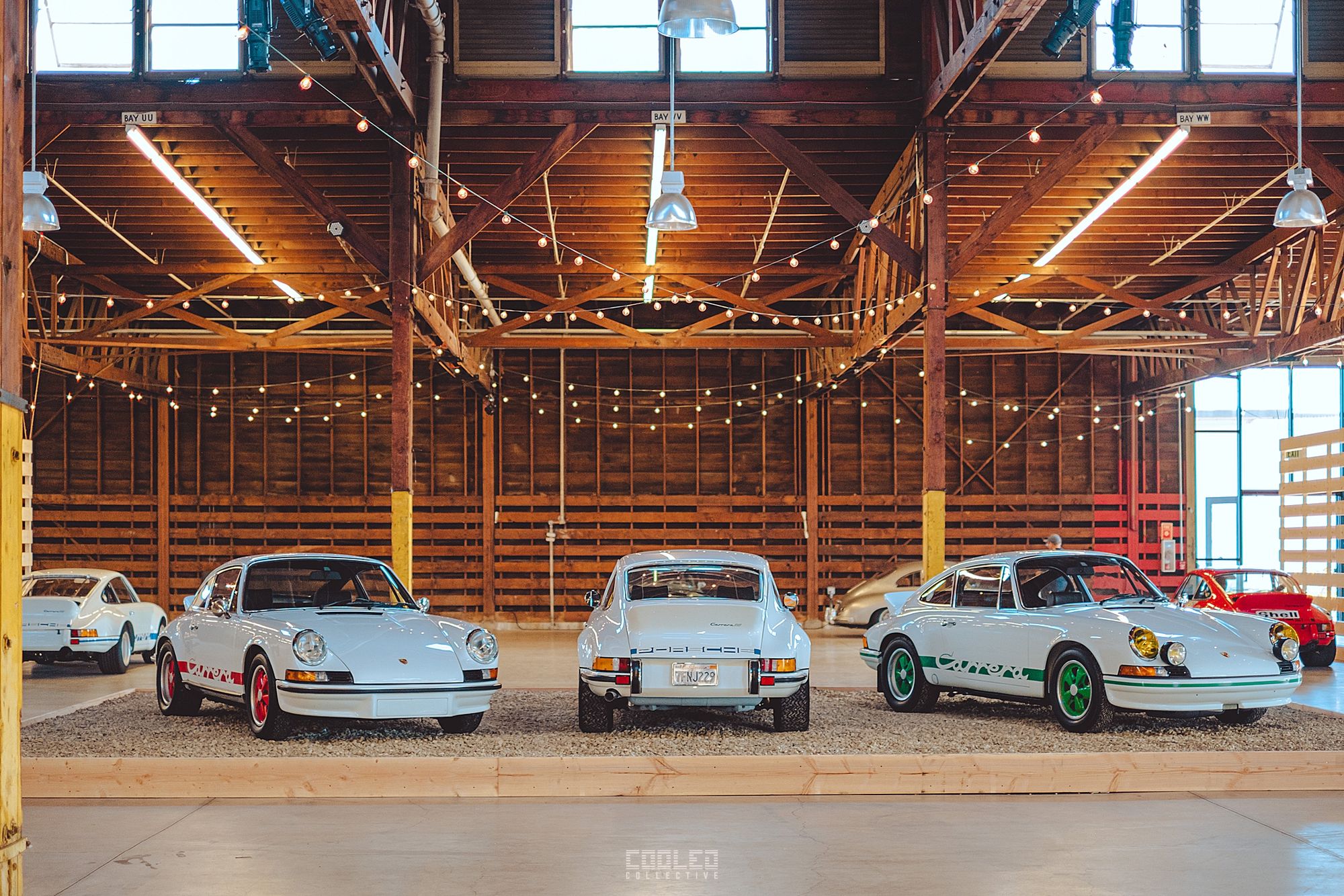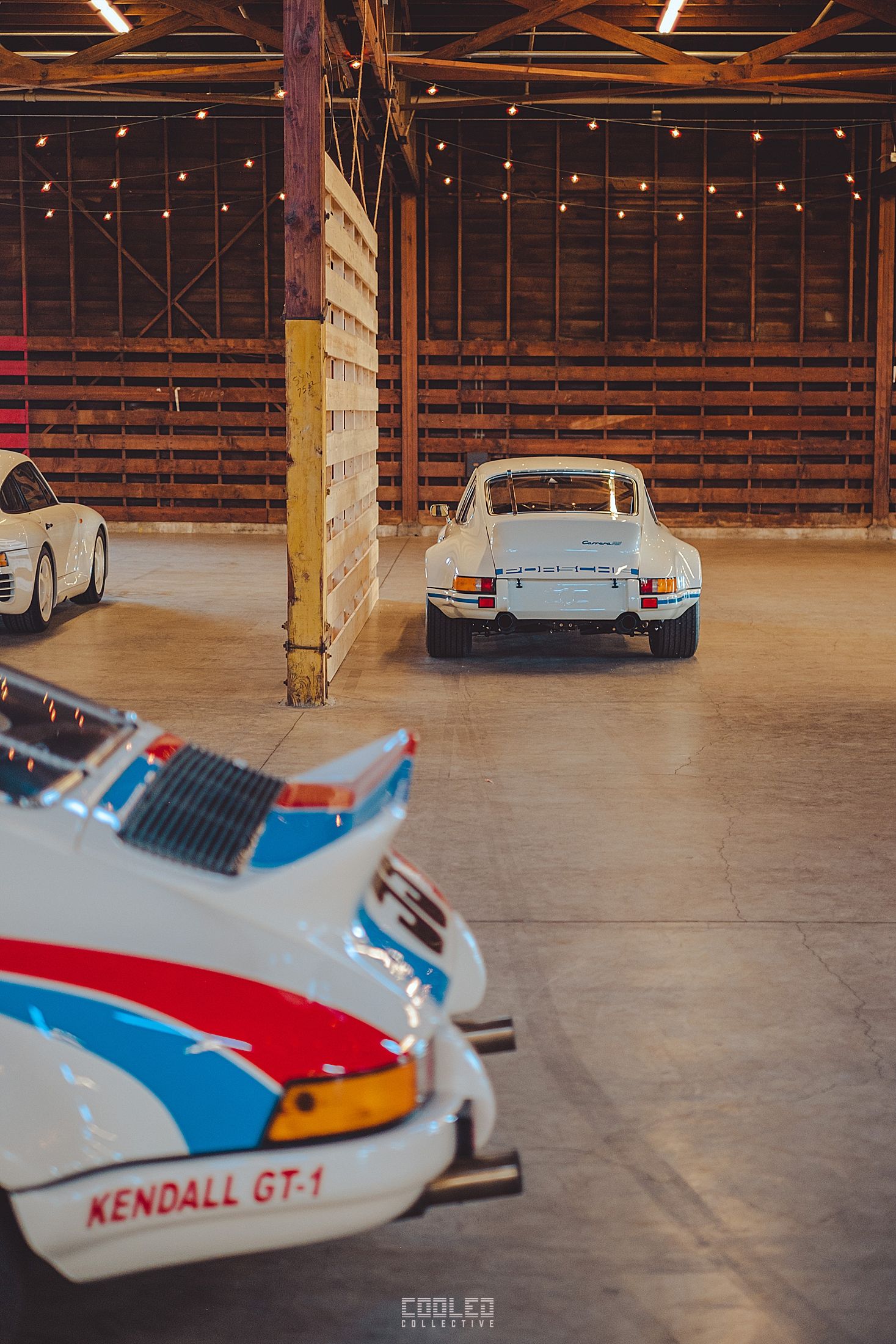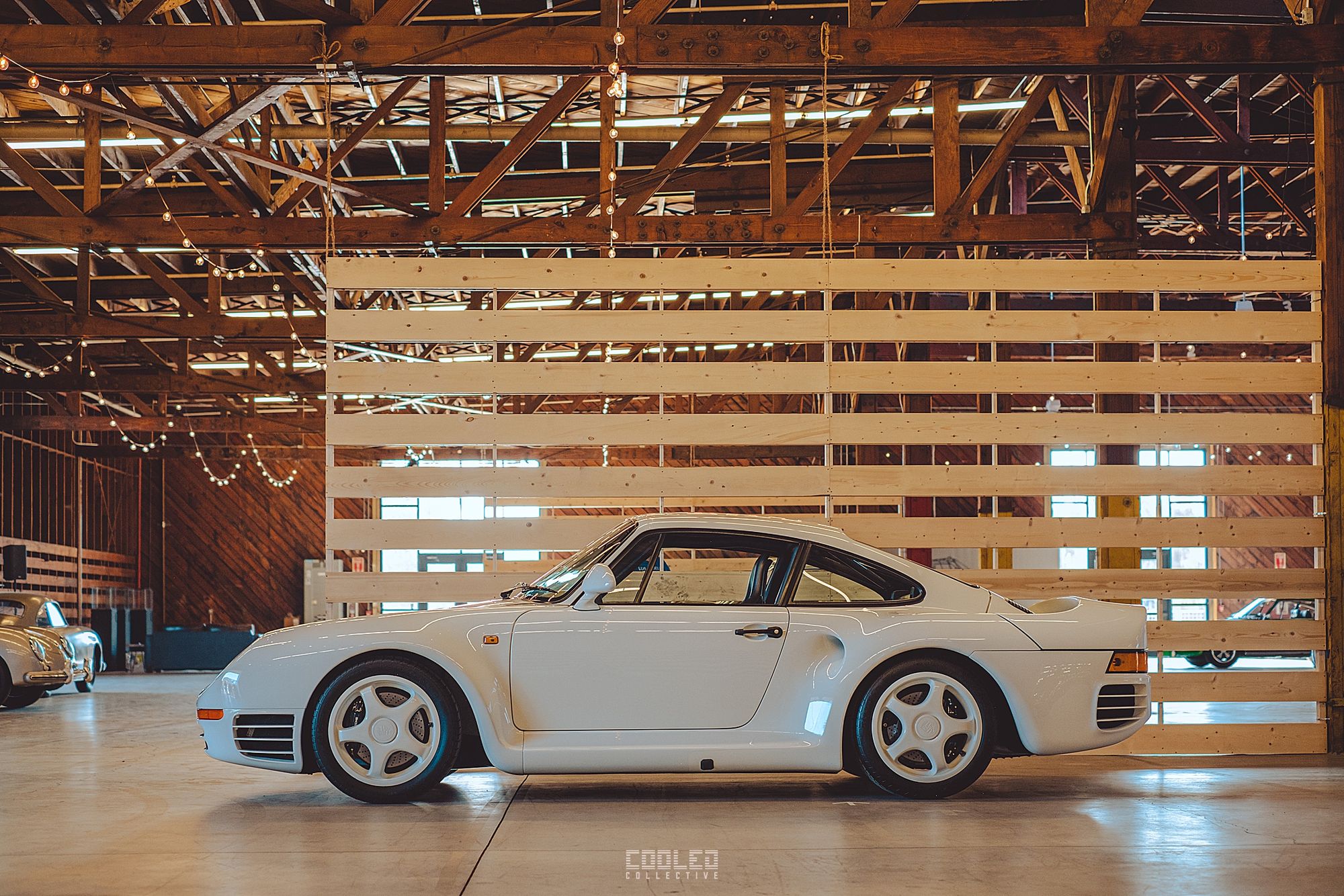 White on white Porsche 959, yes please. What are you thoughts on 959? Have they aged well over time? So much resemblance to the Porsche family of design during that era but so unique on its own. No other design like it in the world and I think this will continue to age well over the next handful of decades to come. I am sure they are a dream to drive as well. Maybe one day I will find out.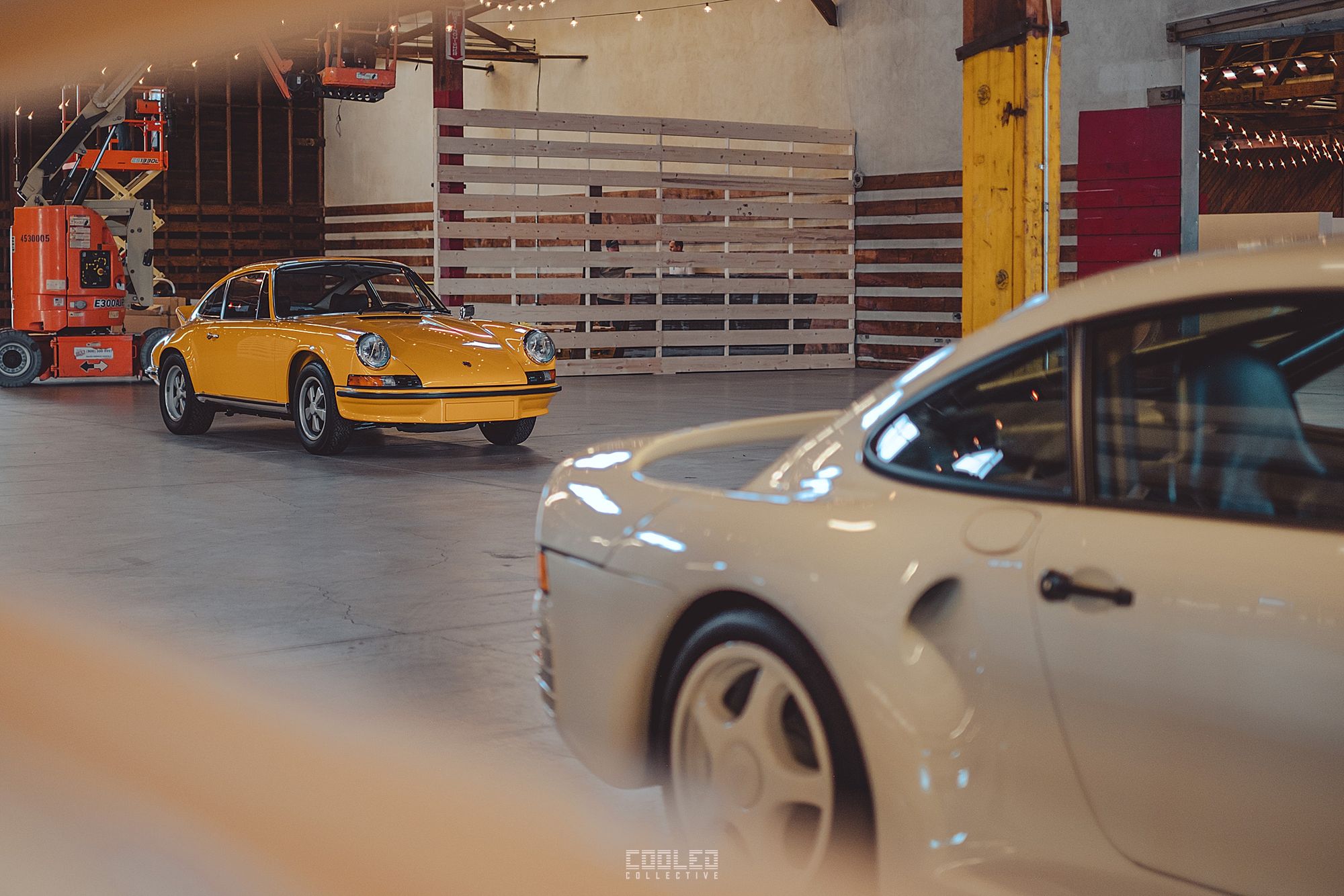 Now I would consider myself a man who gets excited more about how something moves and sounds than how it looks, at least for the most part but when you have beauty and brawn mixed into one, now that is the total experience. I was fortunate enough to hear a handful of these cold start in a warehouse where sounds carry very well and bounce into ear drums bringing much satisfaction to those who were present. This 59 had the rumblings of all great things. Took a bit of time to fire her up but once it ran, the trumpets breathing were glorious.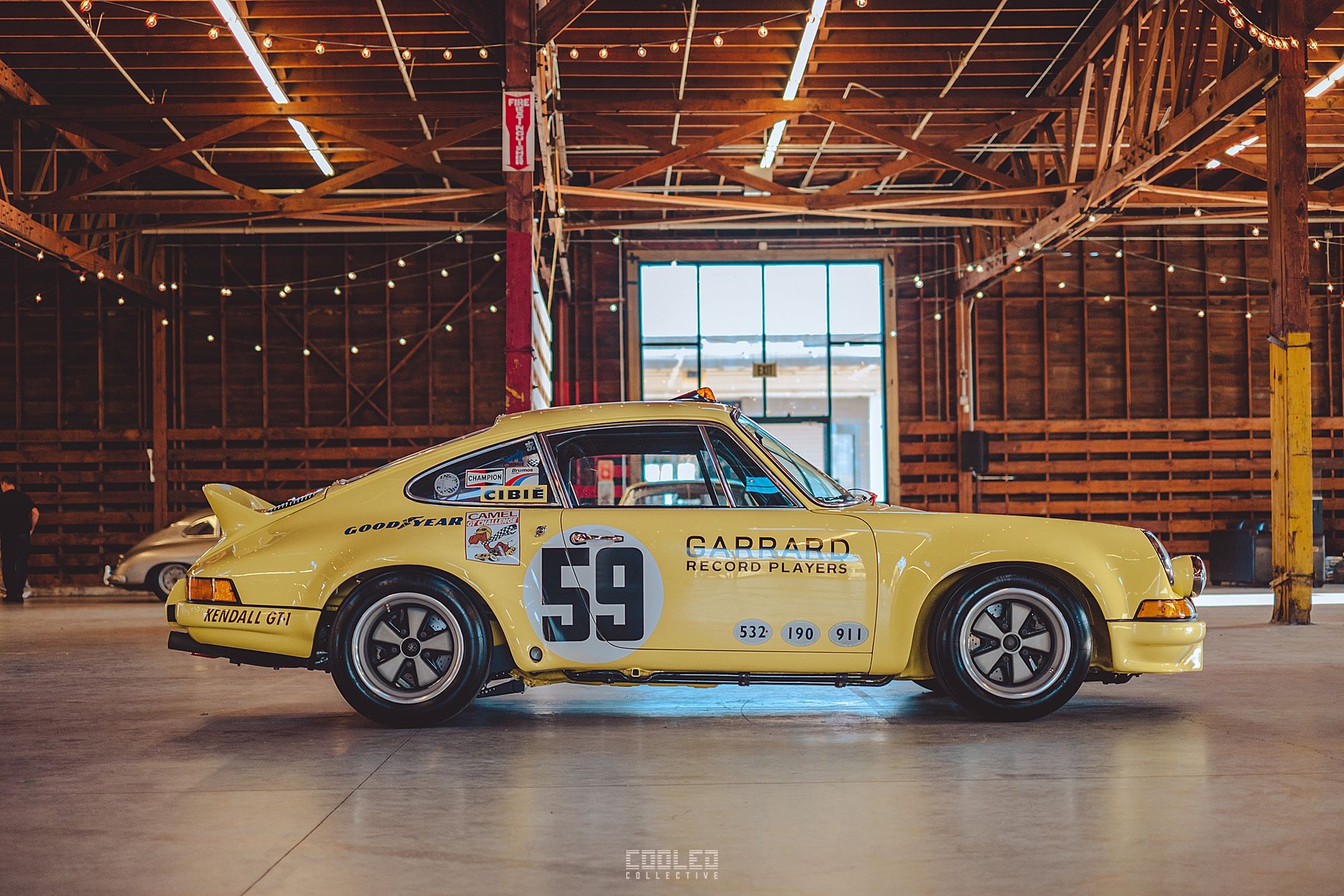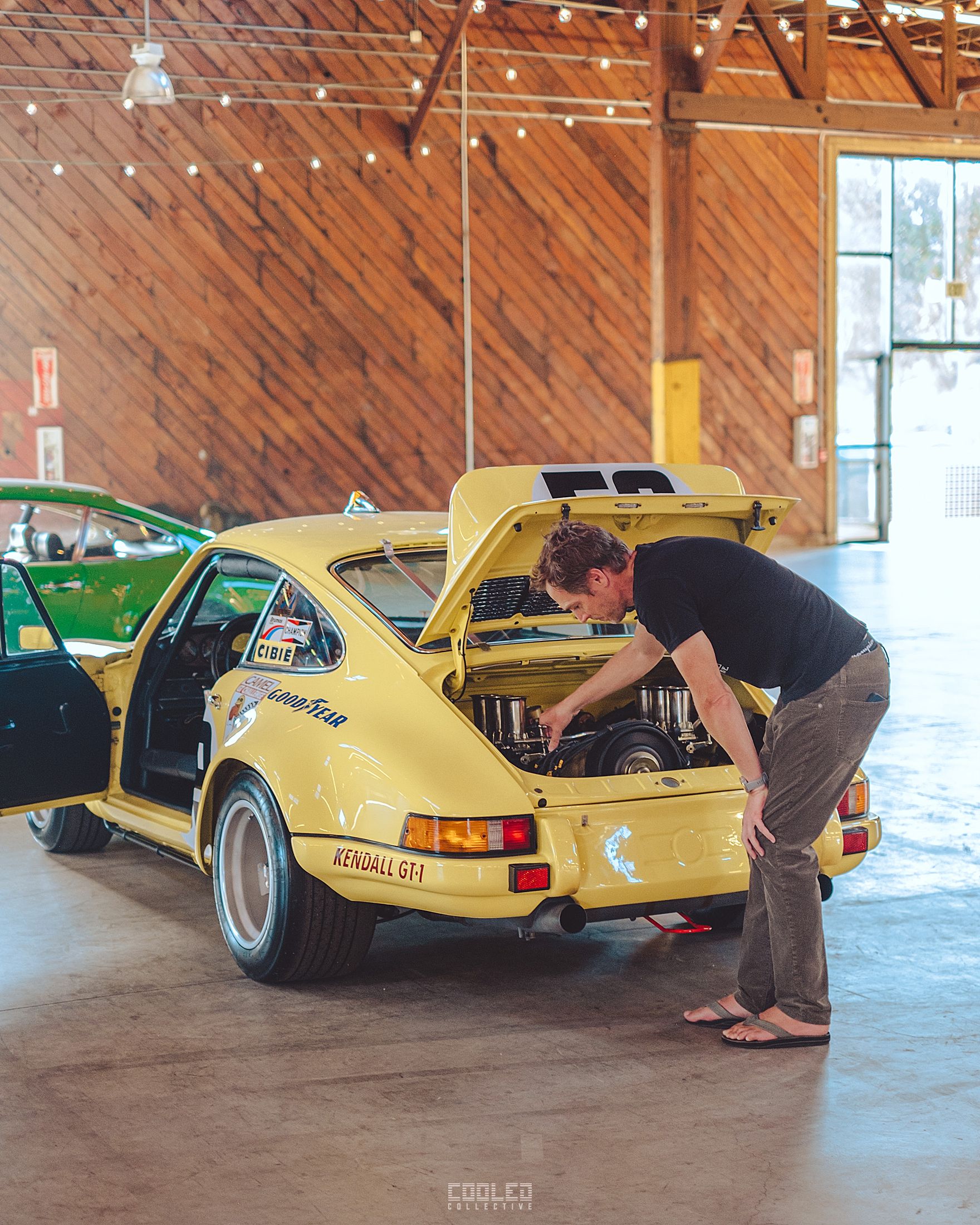 I was told by the owner that the light on top of the RS was put there during the race season so that the race support can identify which one of the drivers were going to pit. In this particular case, the amber signal light came off a tractor in a mad dash to give it something to make it identifiable. Race life is so interesting. I bet they had a good laugh about that back in the day.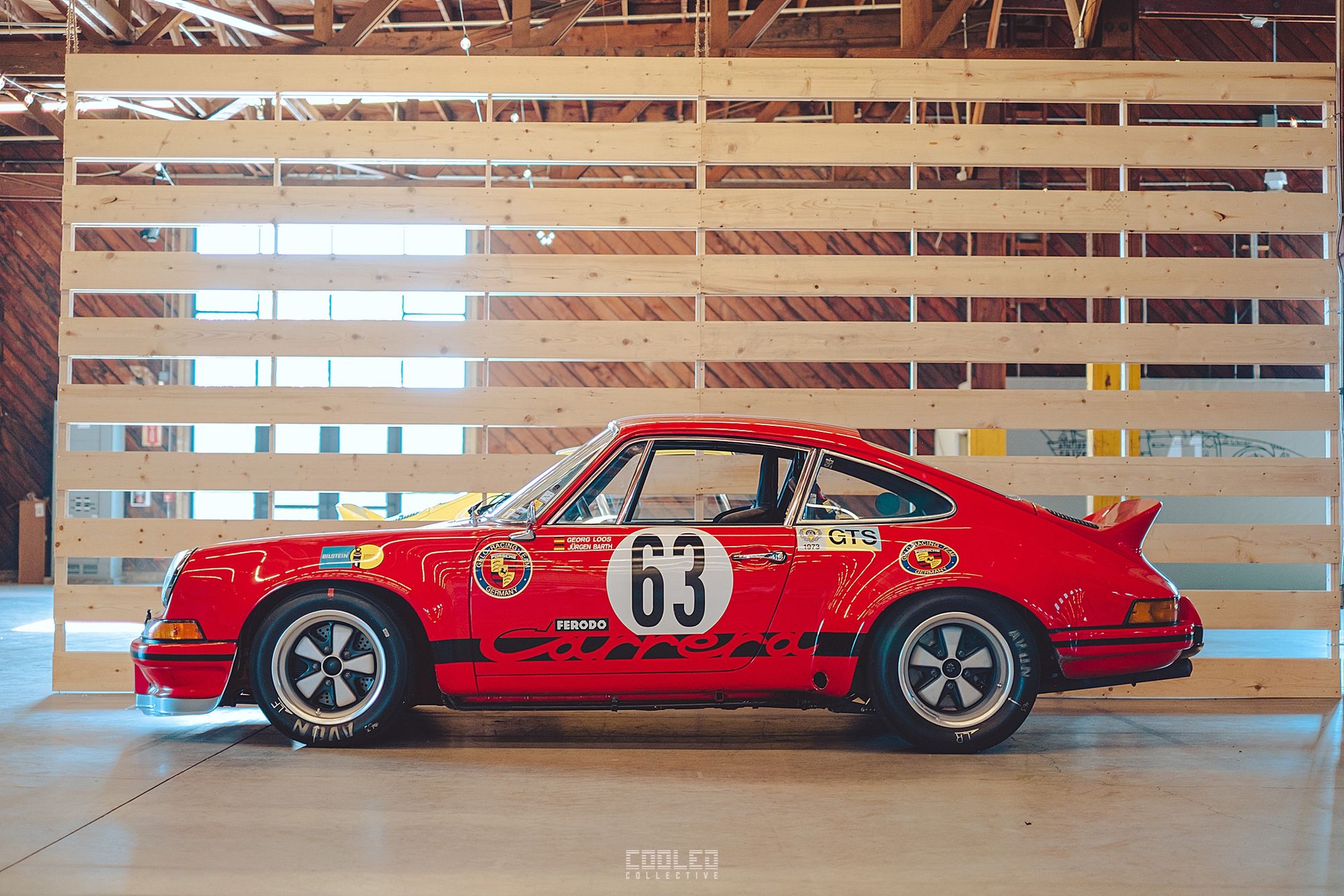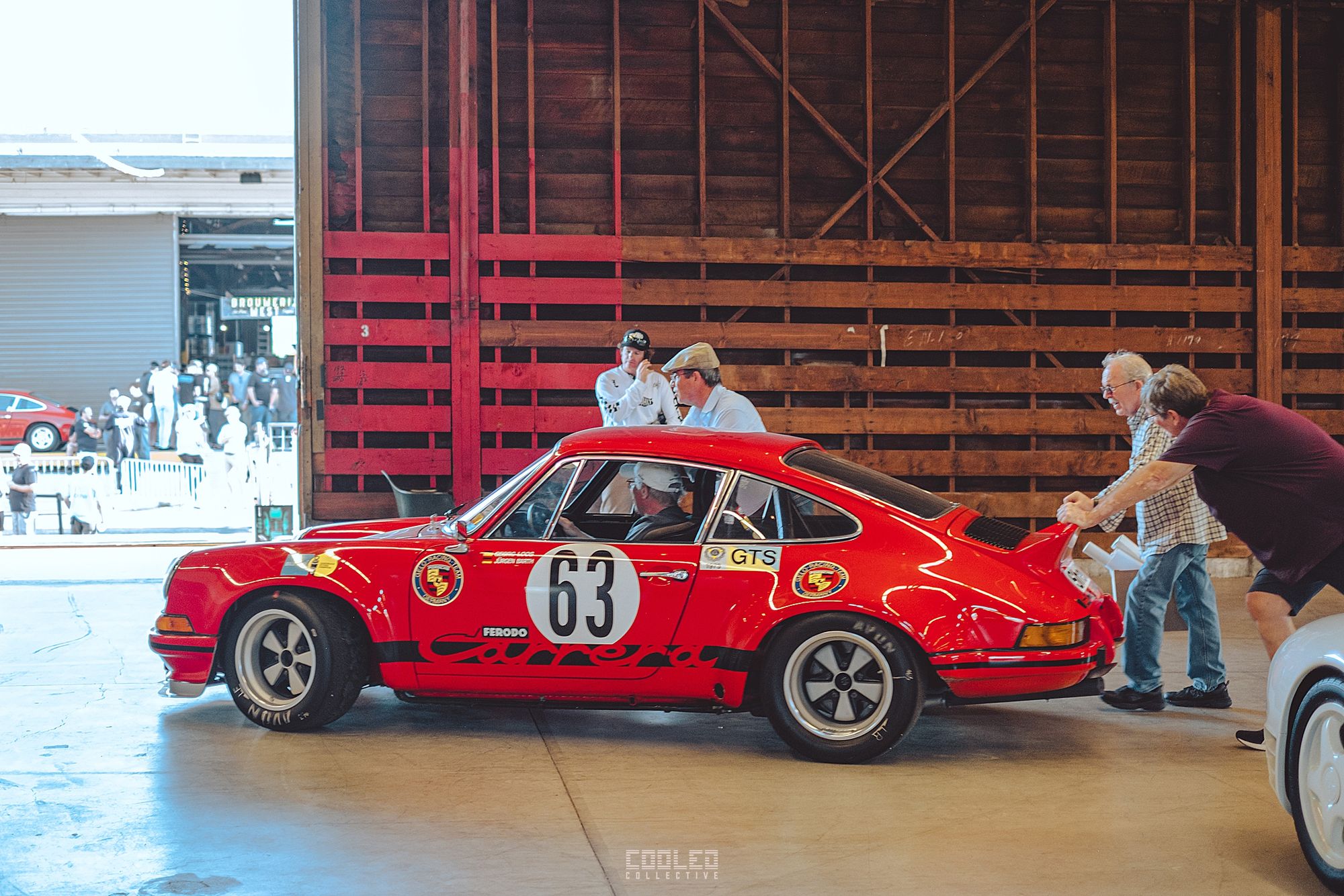 Some of the cars were rolled out by man power probably because they didn't want to fill the space up with fumes. Funny thing is, I think most of the people lingering around were wanting to inhale race fumes as a story to bring back home. Everything was done in a professional orderly manner. Bravo to all of those who helped out during the breakdown.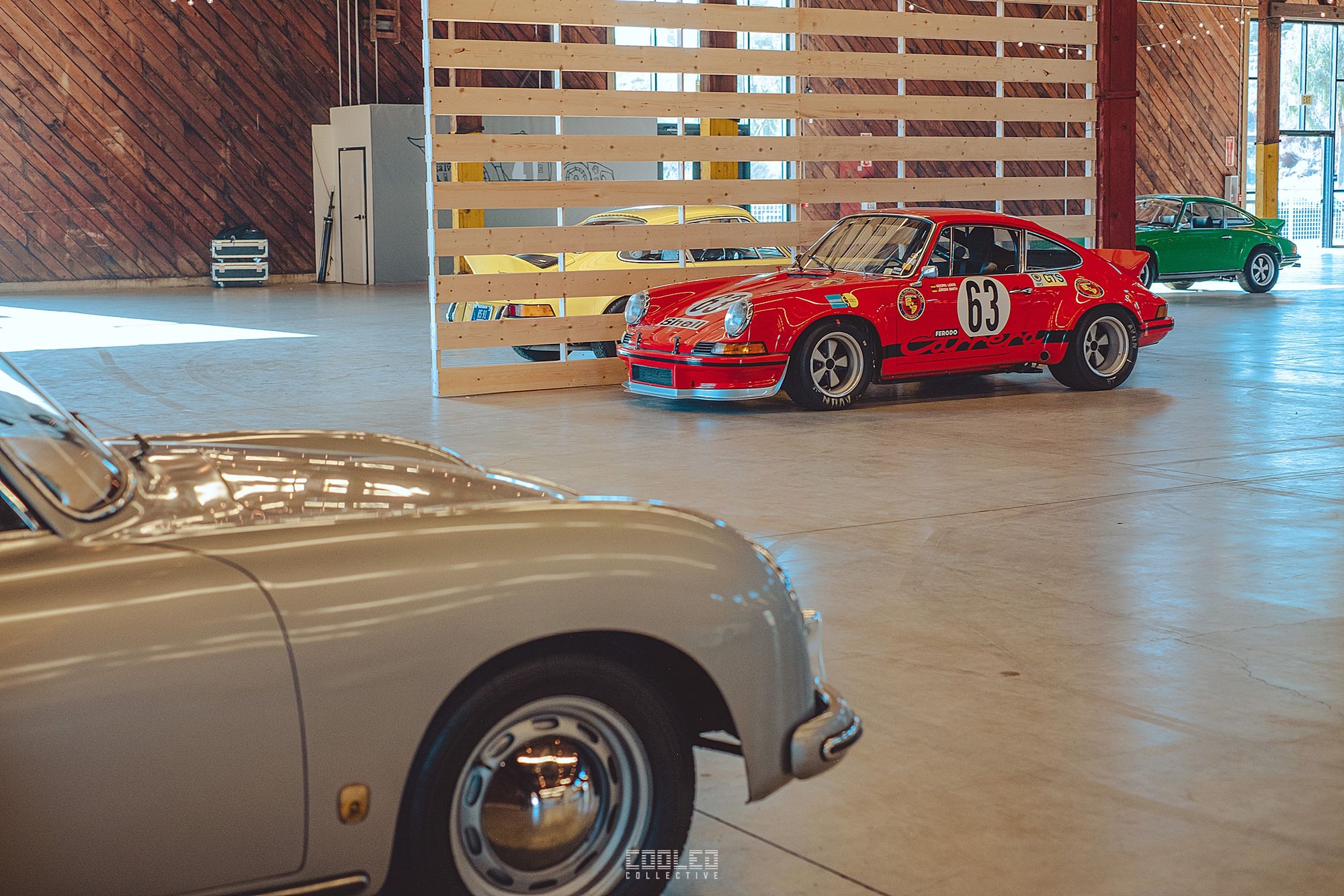 As you may well know, greens have been the rage for some time. Viper, Signal, Oak, Forest, Olive, Nato are just a handful you may hear about or see when the timing is in your favor.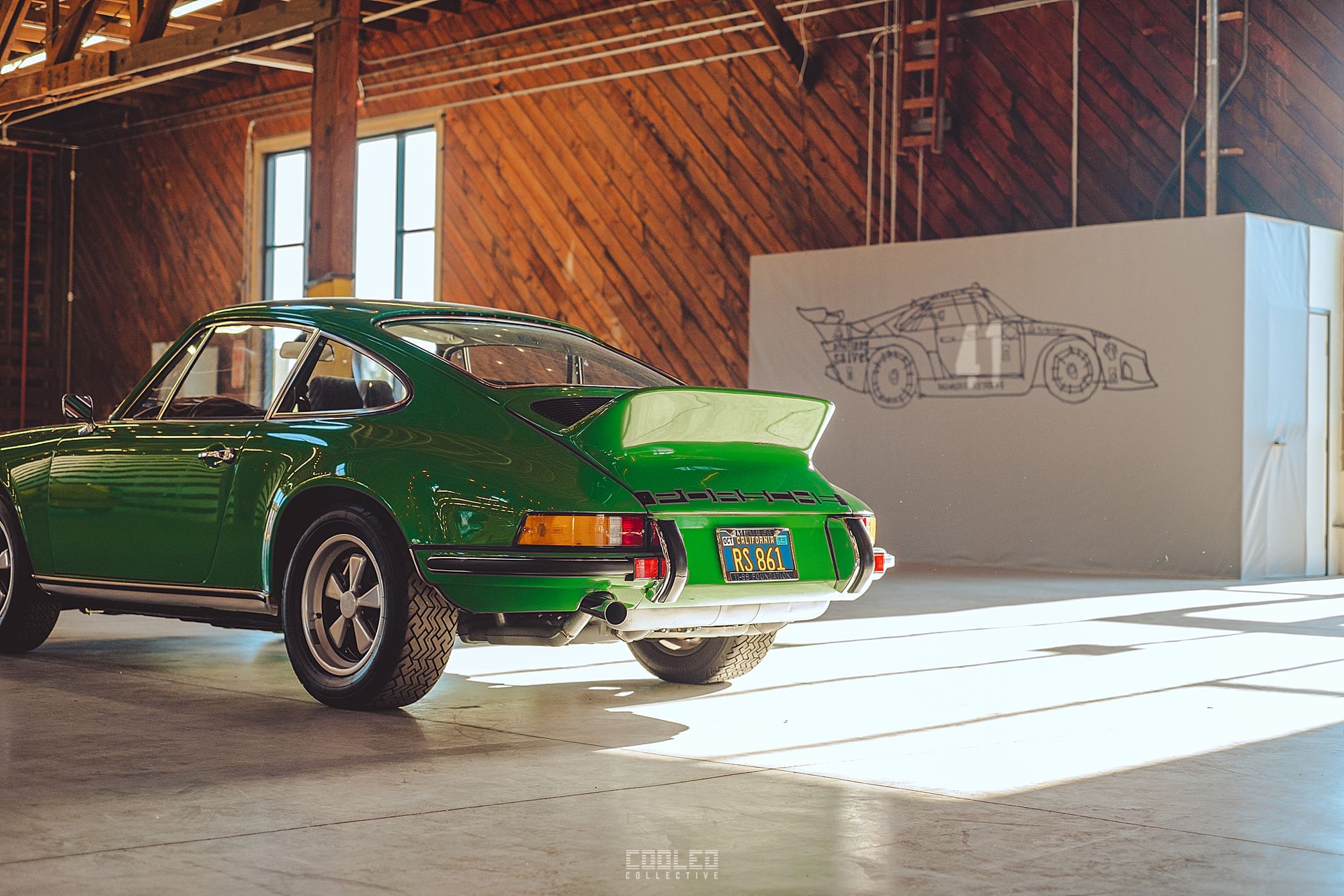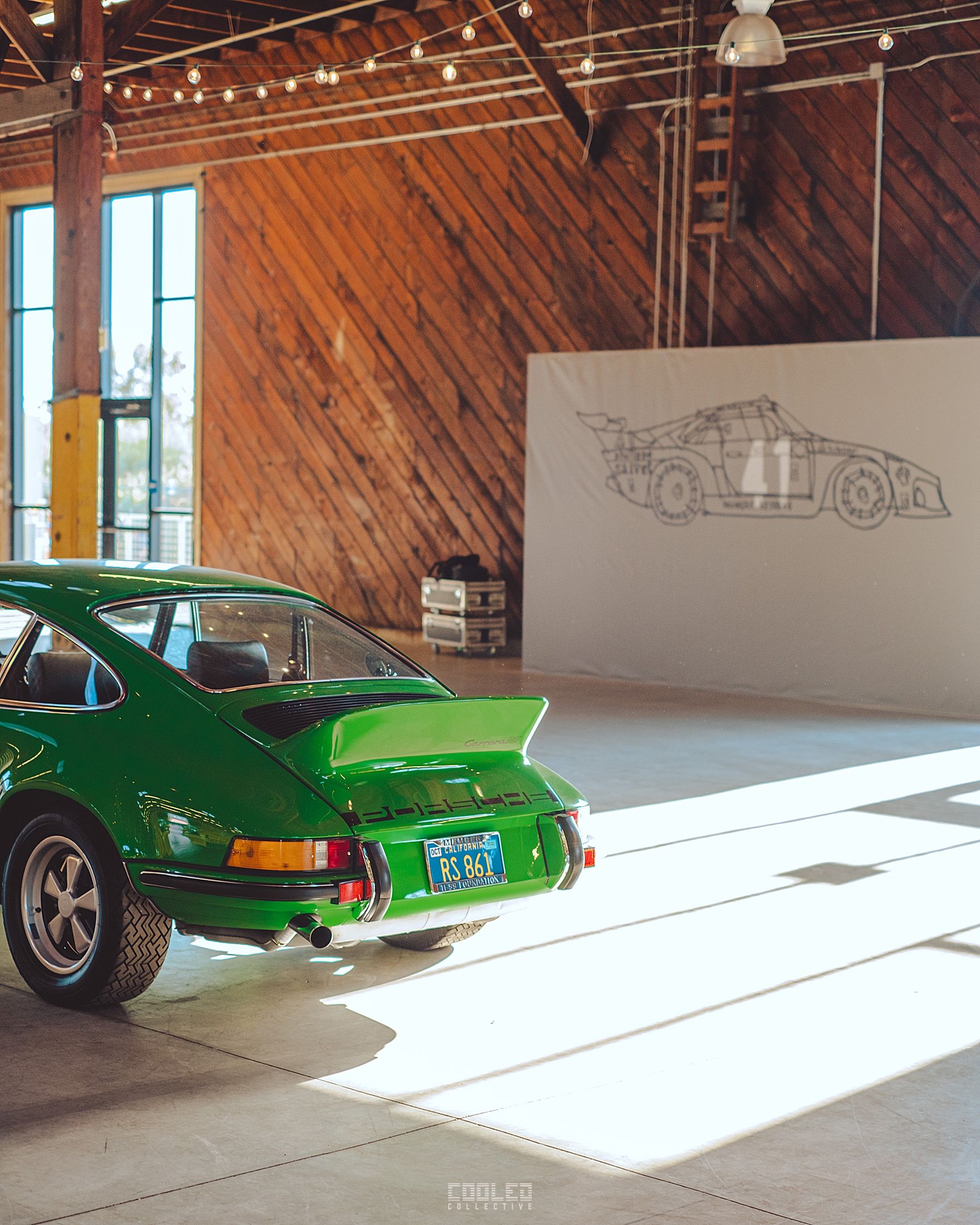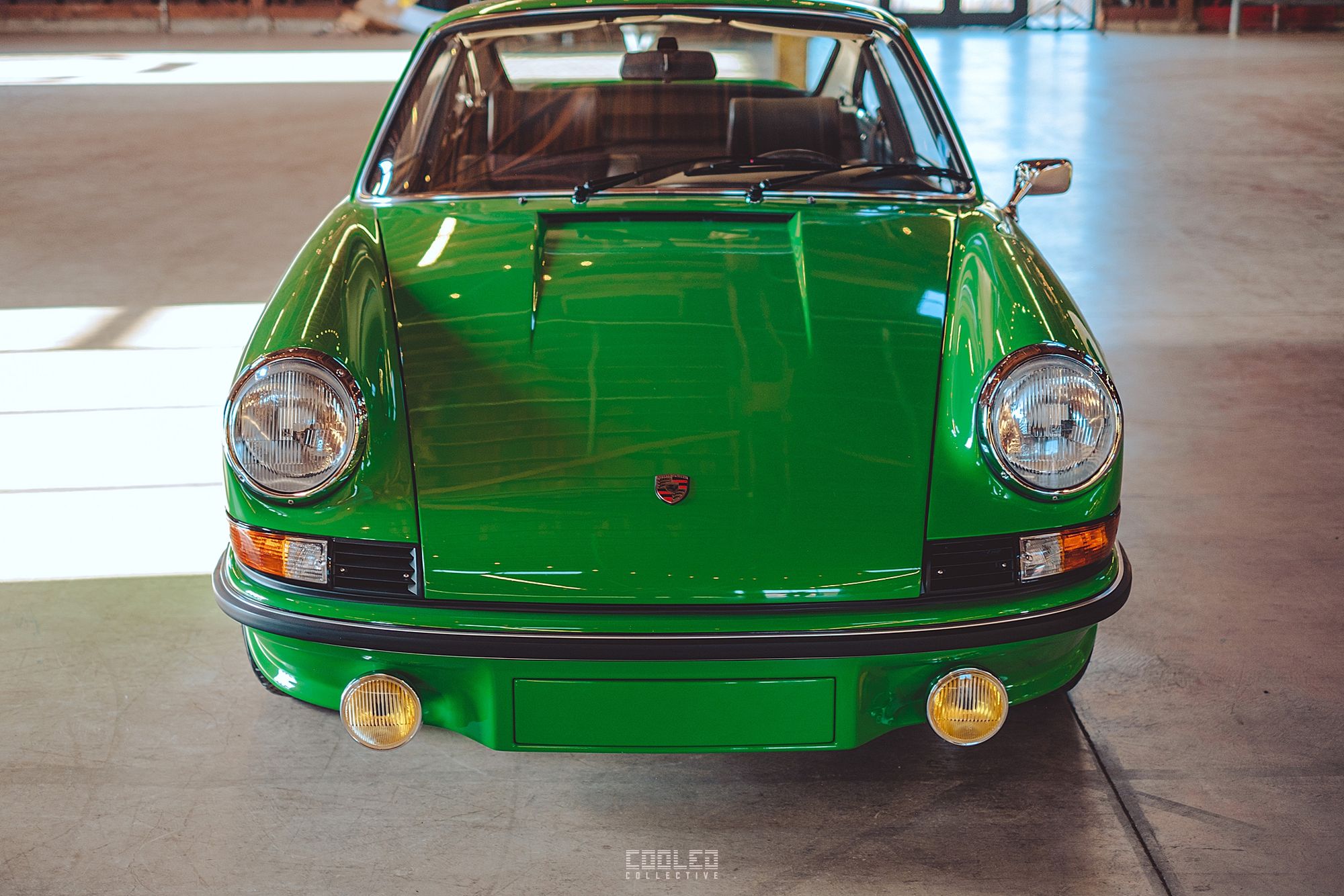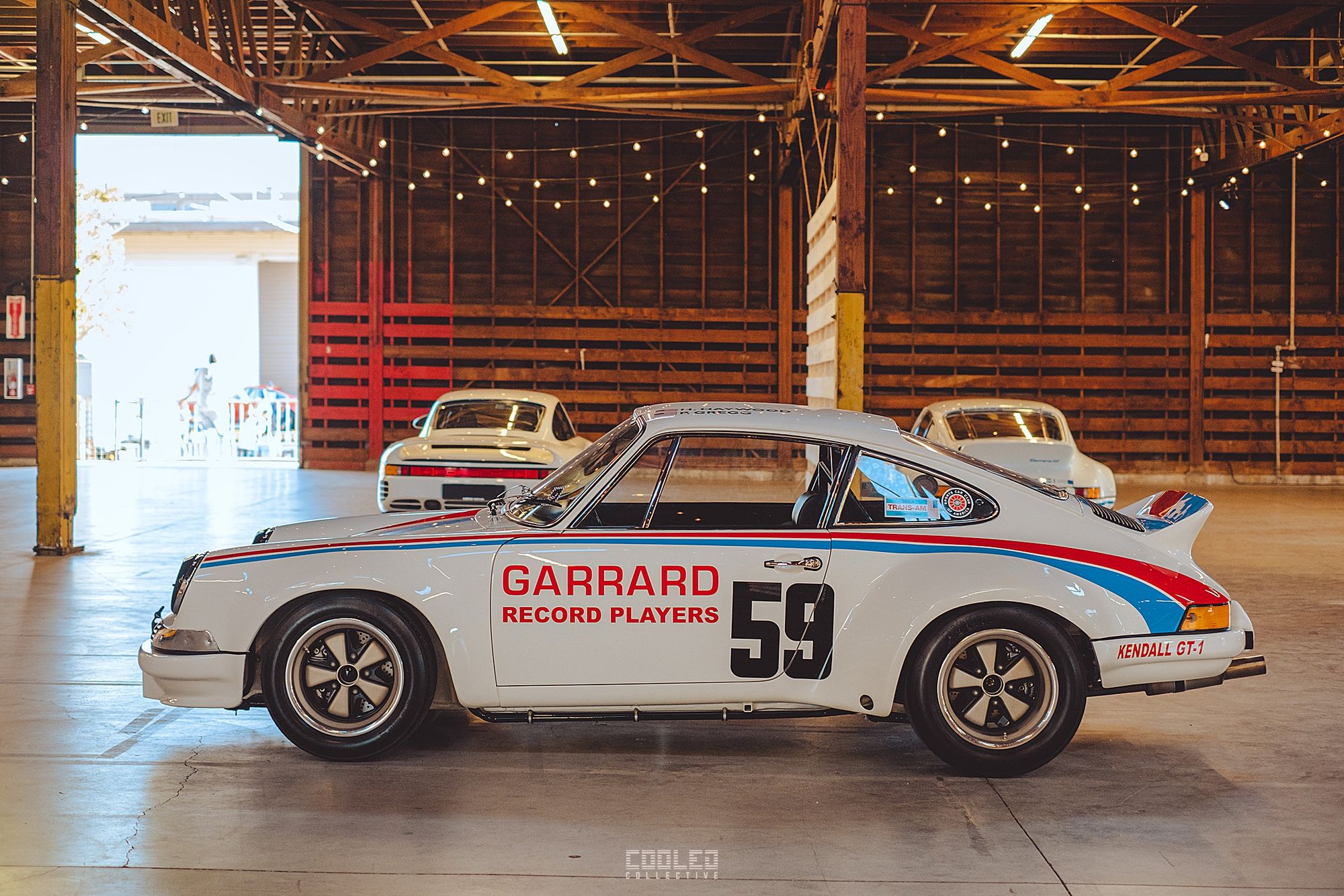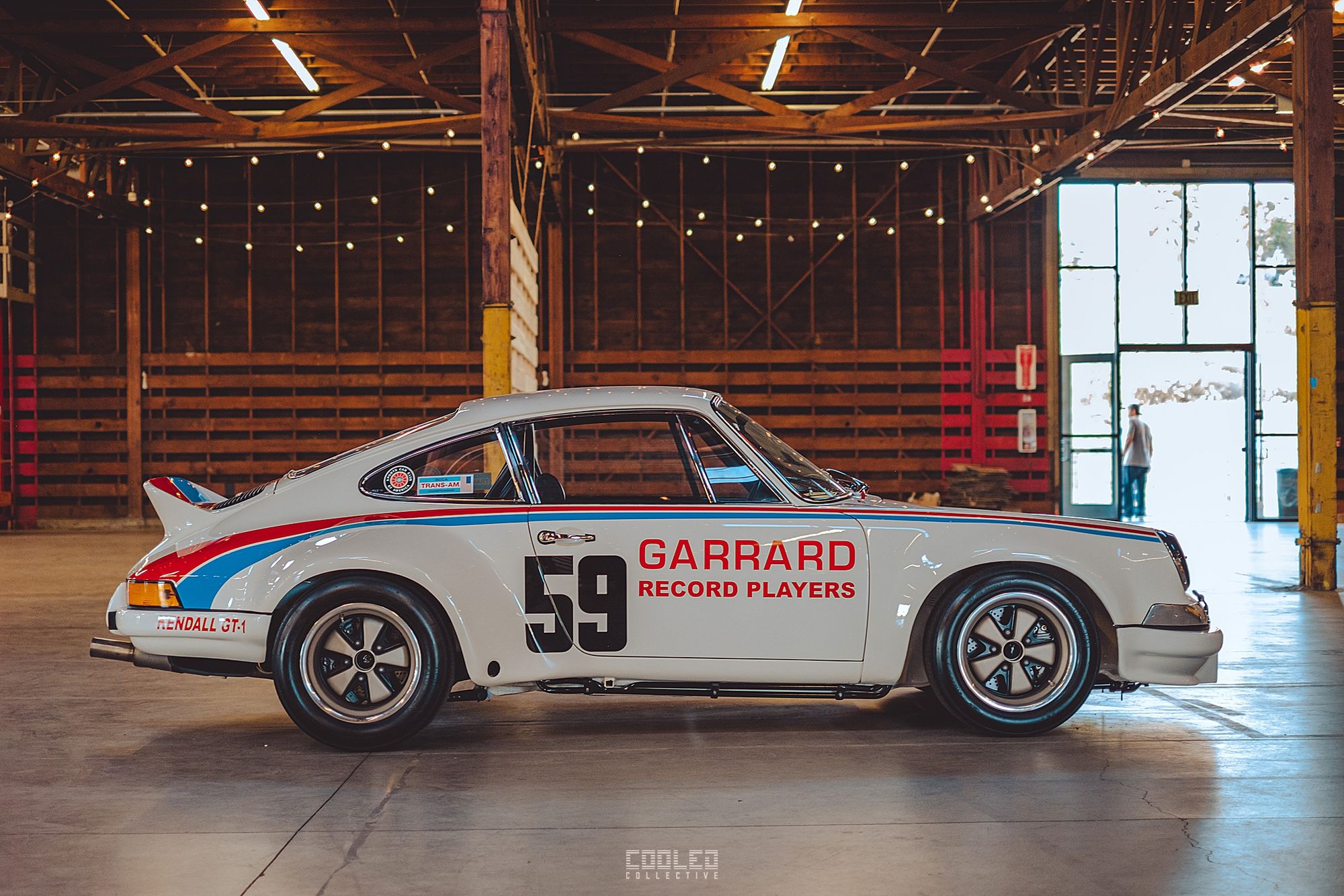 Once I got outside, I was greeted sights and sounds of RUF Yellowbird, 906 or 908s, more RS Carreras and it was oh so good.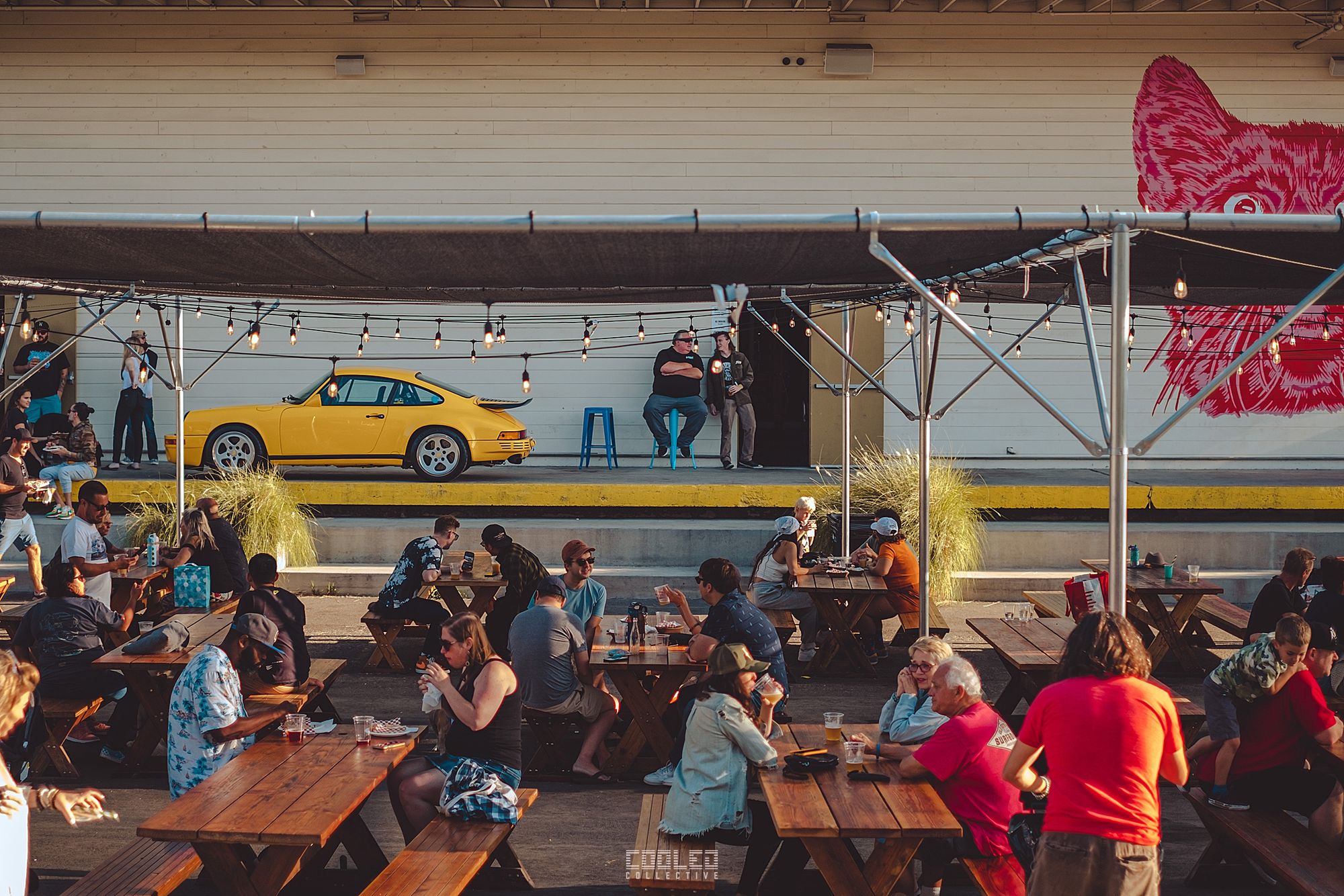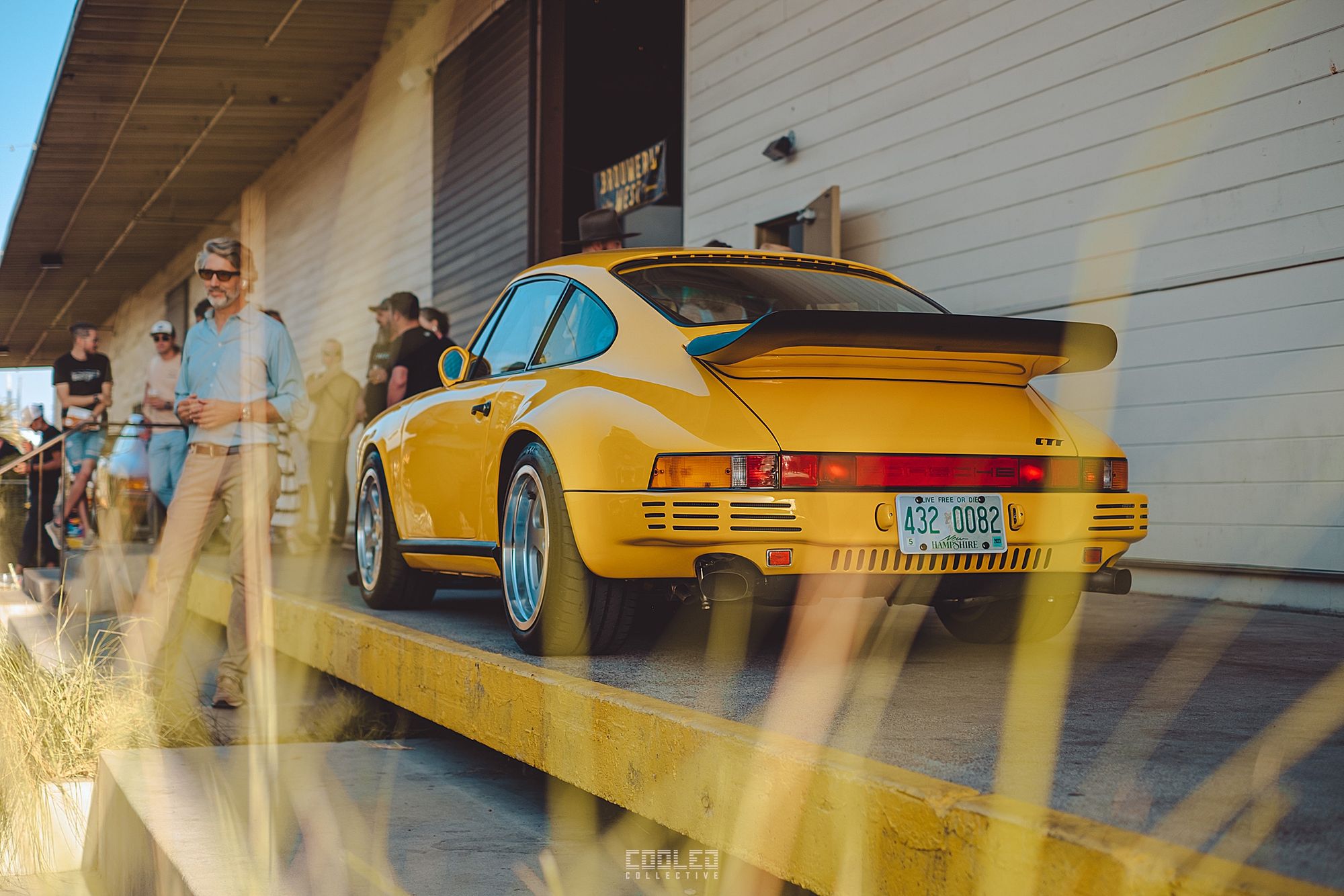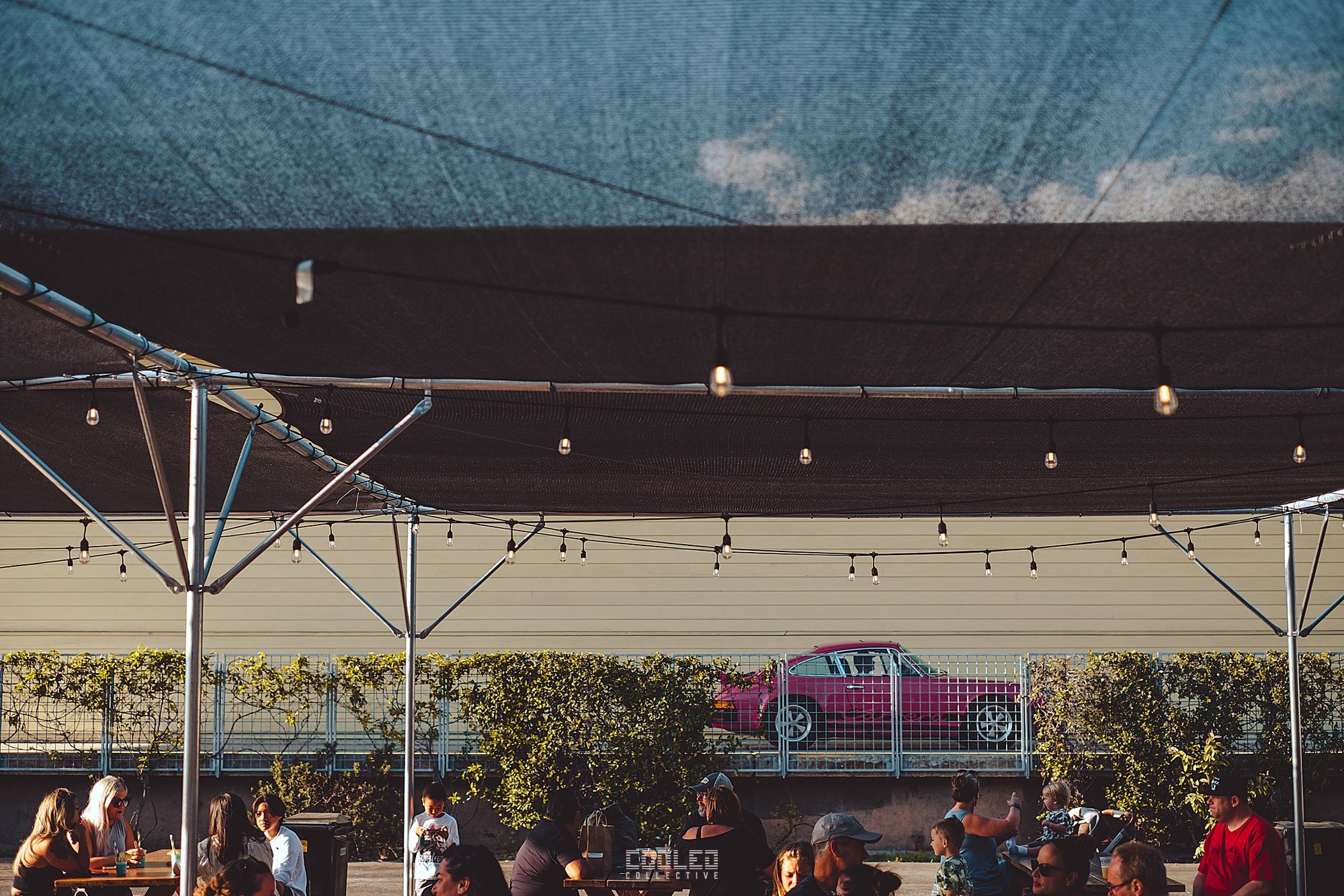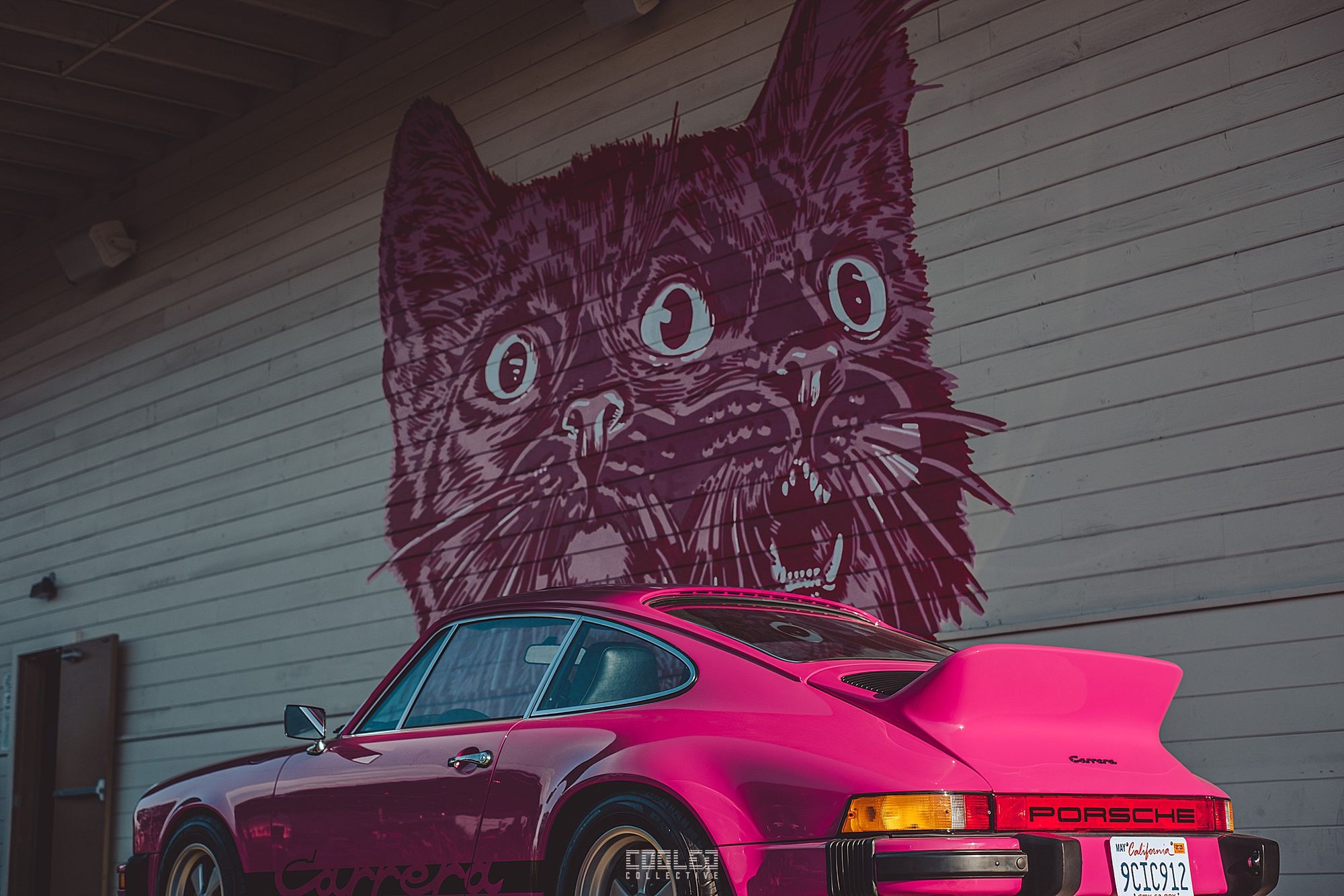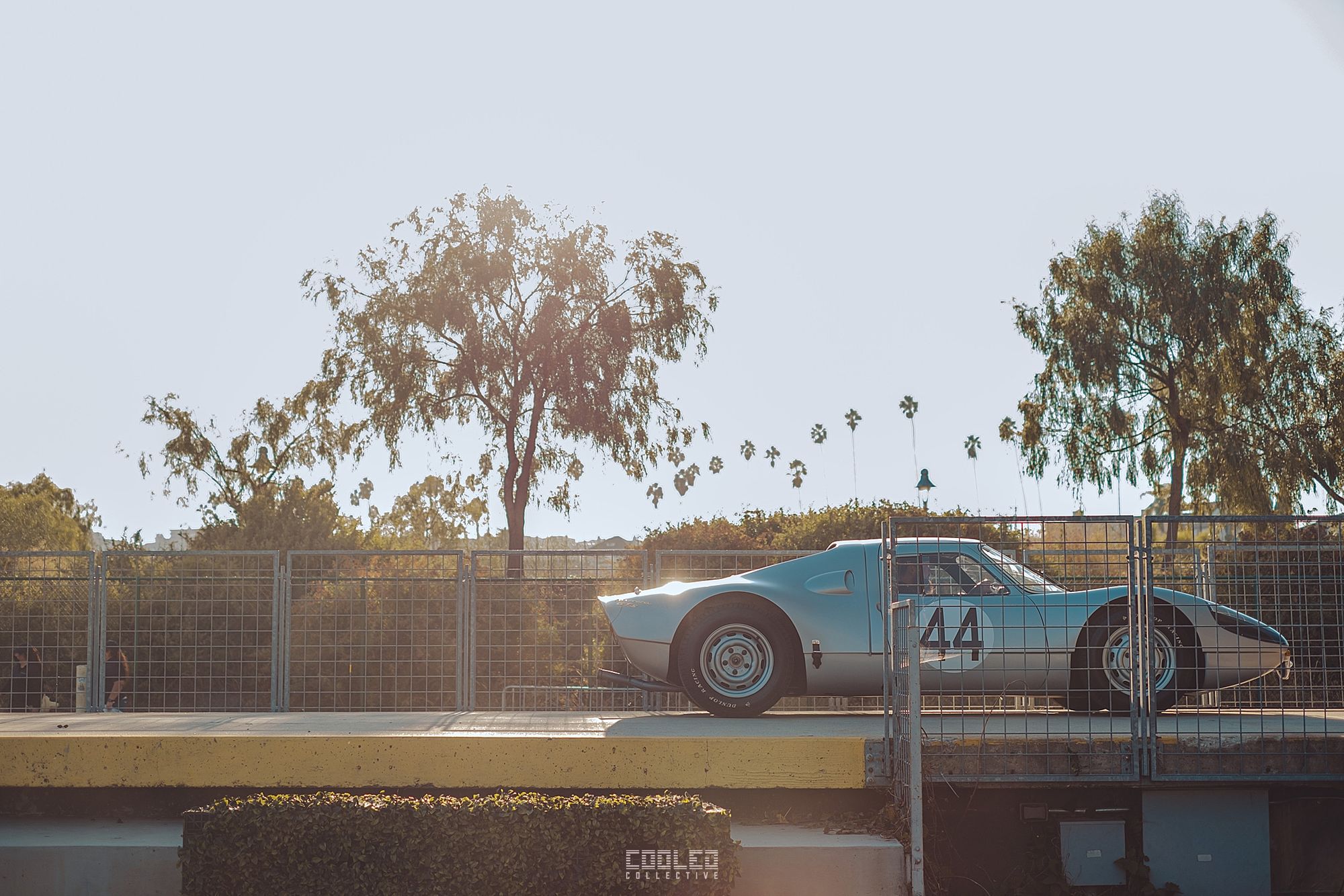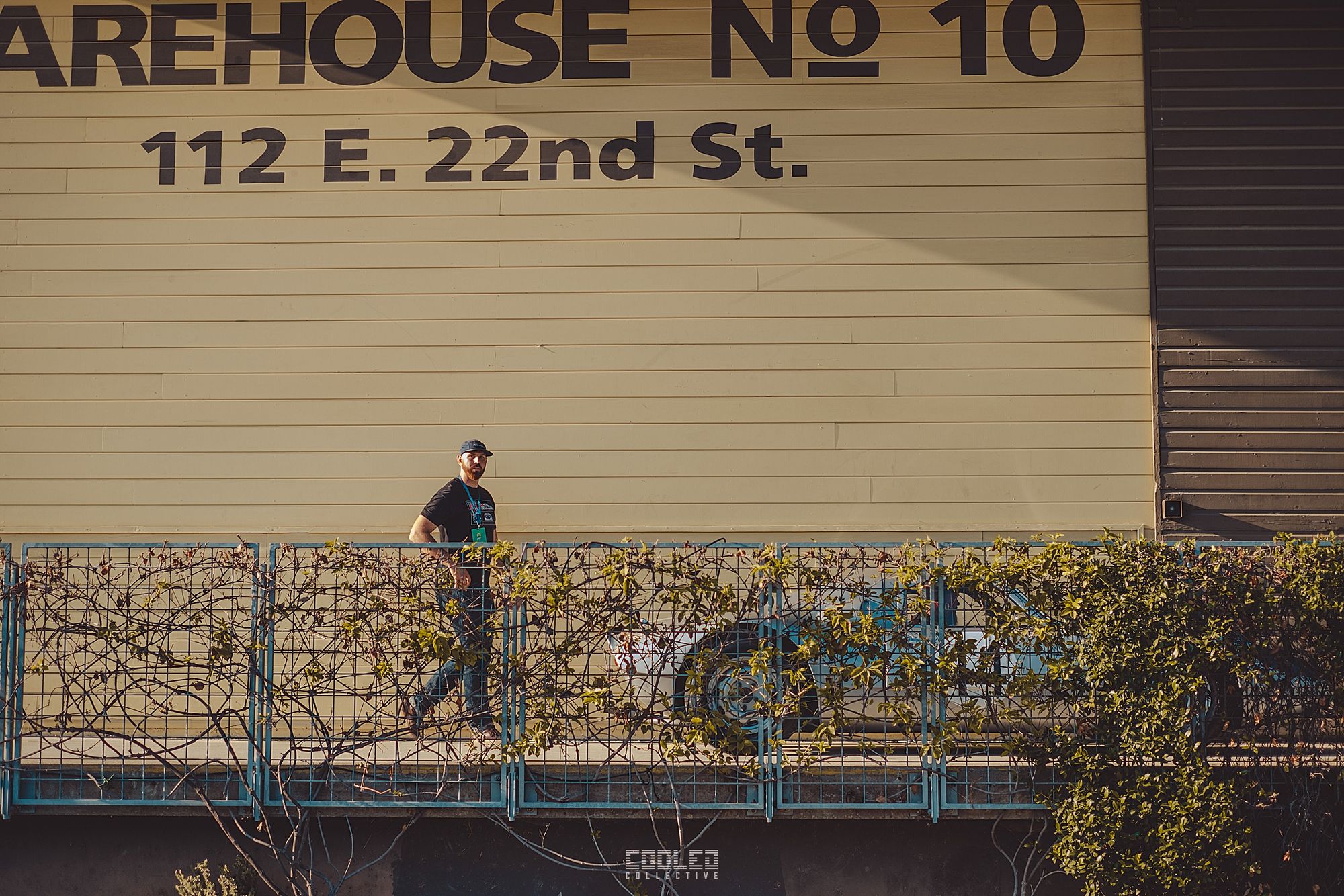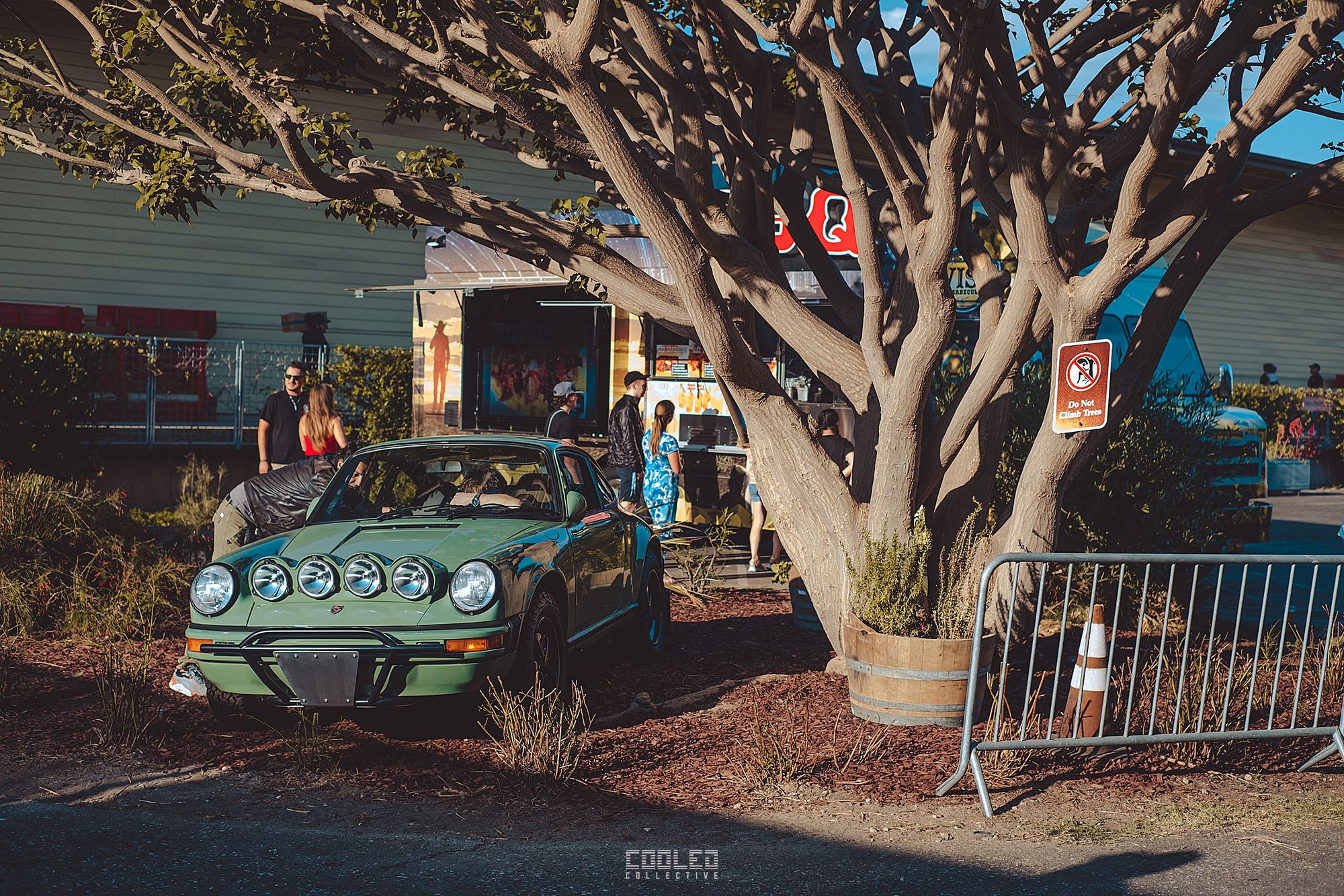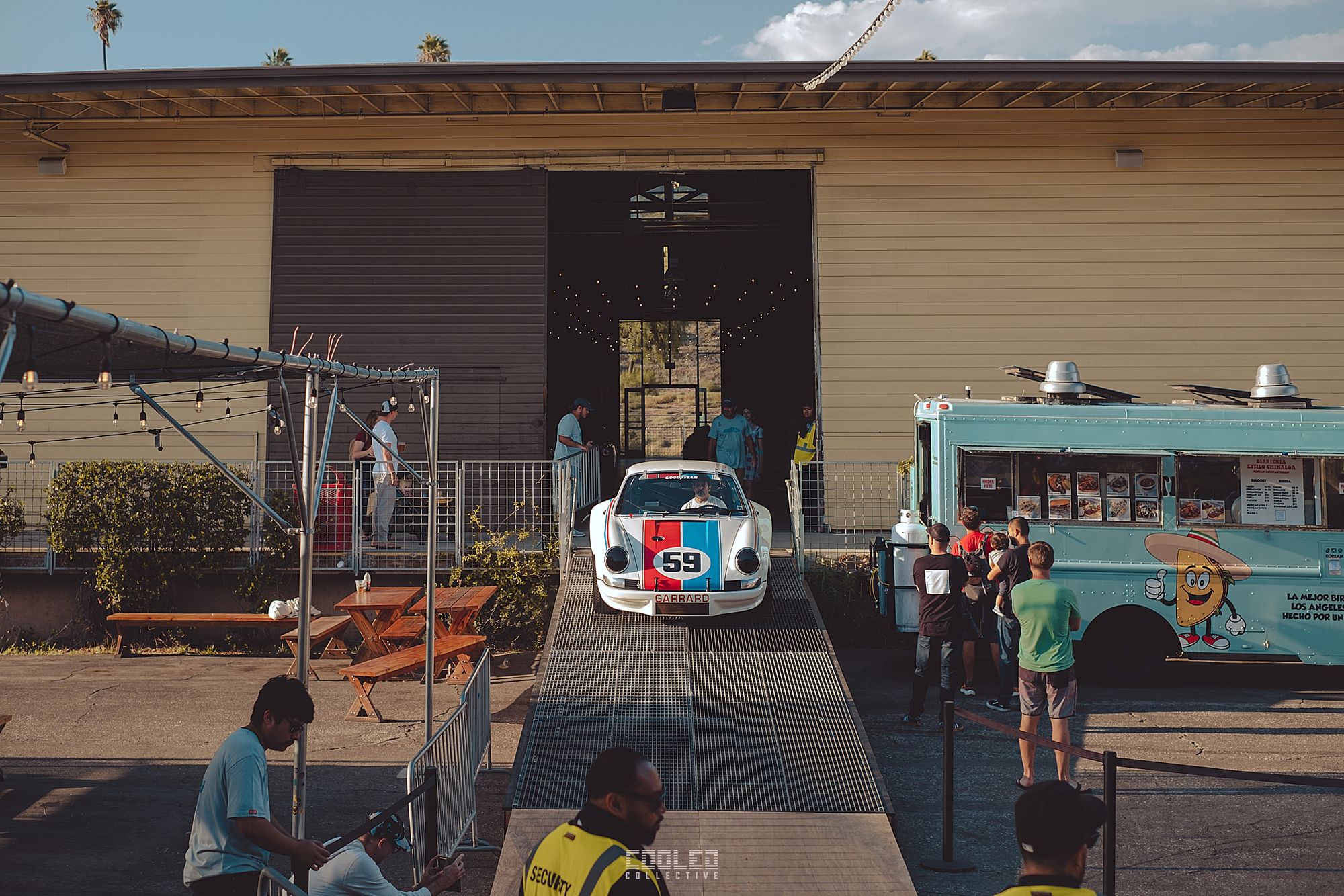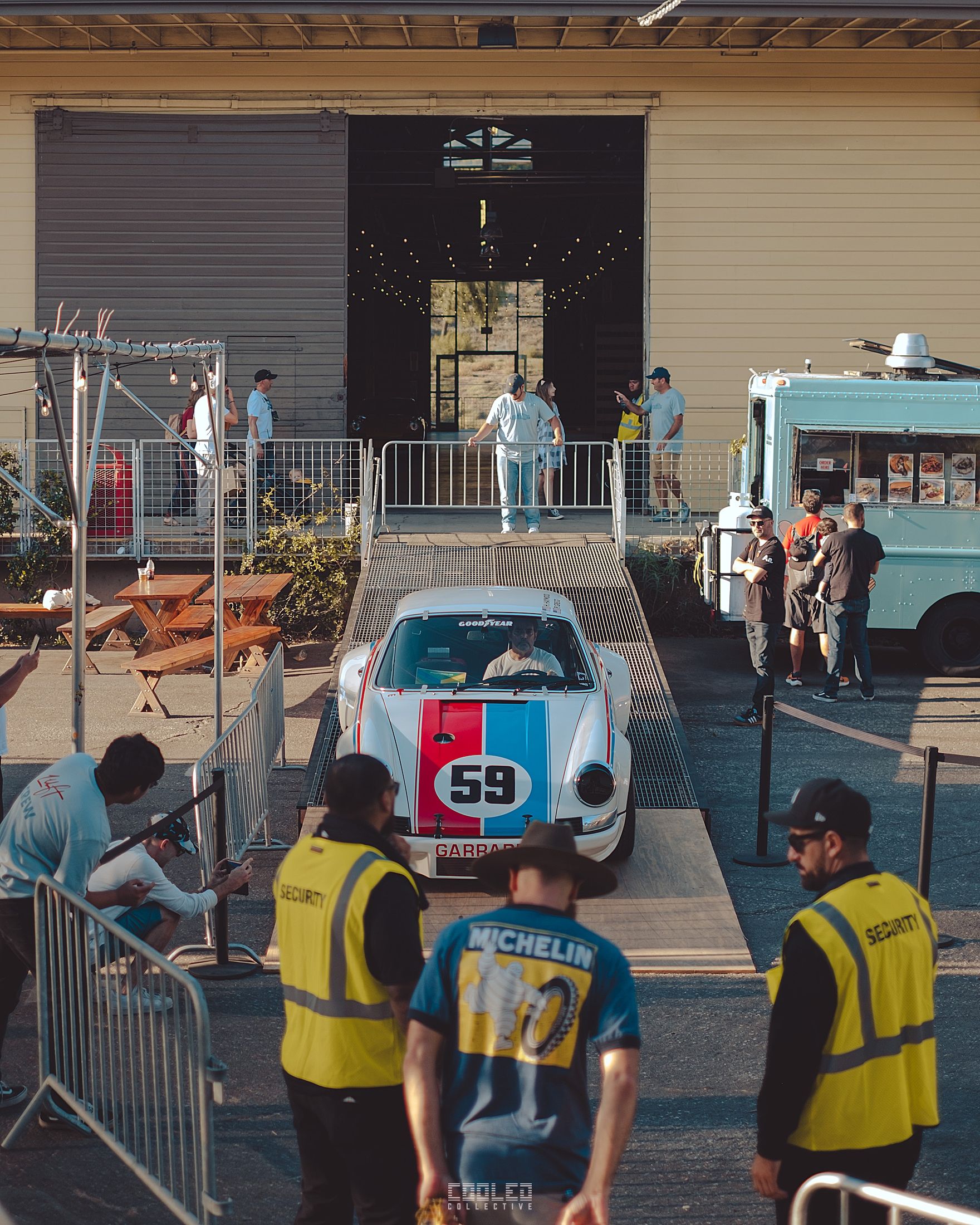 ---
OUTDOOR FEATURED DISPLAY
As soon as I walked through the gates, I was welcomed by some familiar aircooled rides notable in the Socal and Norcal regions along with some in the Arizona space as well.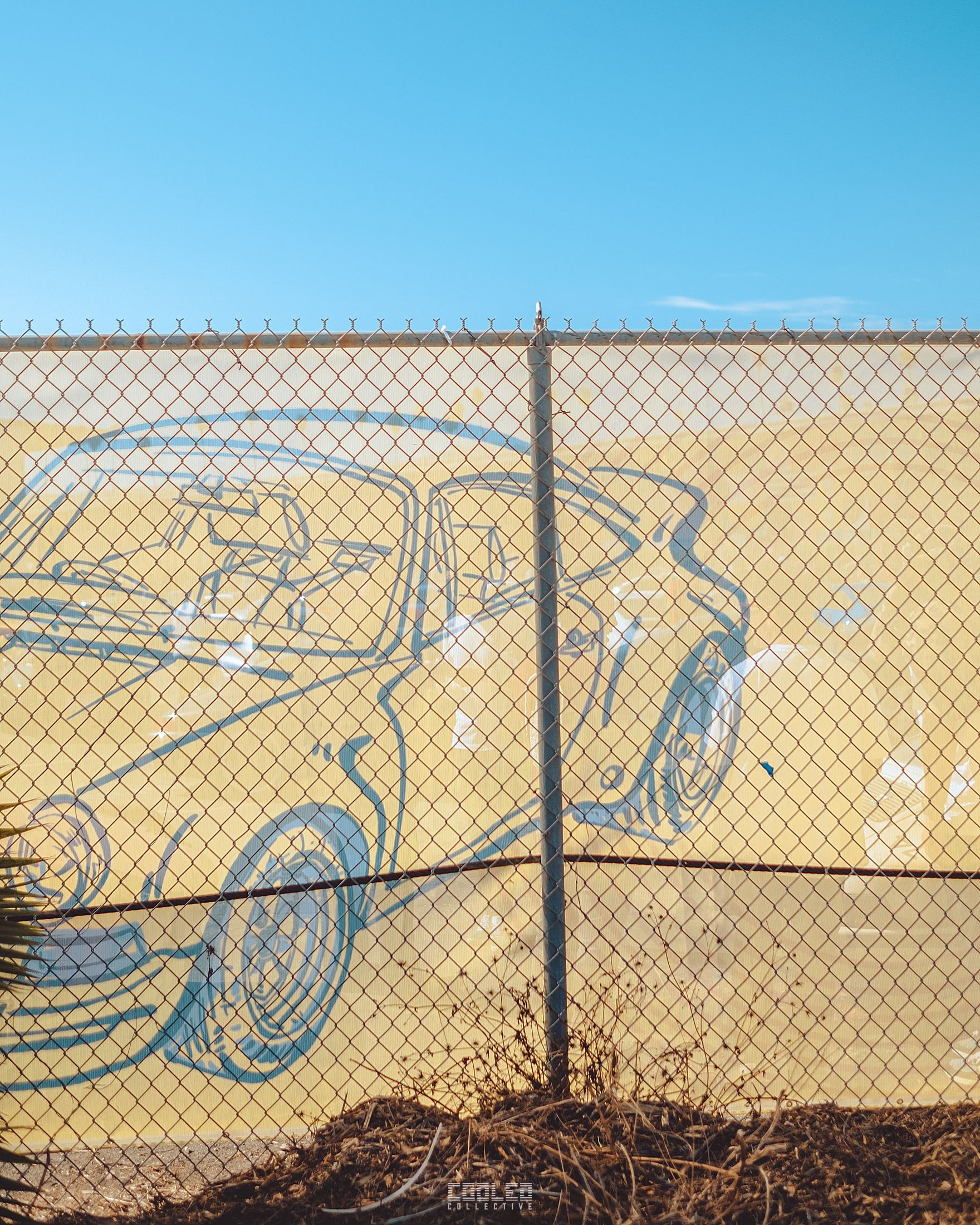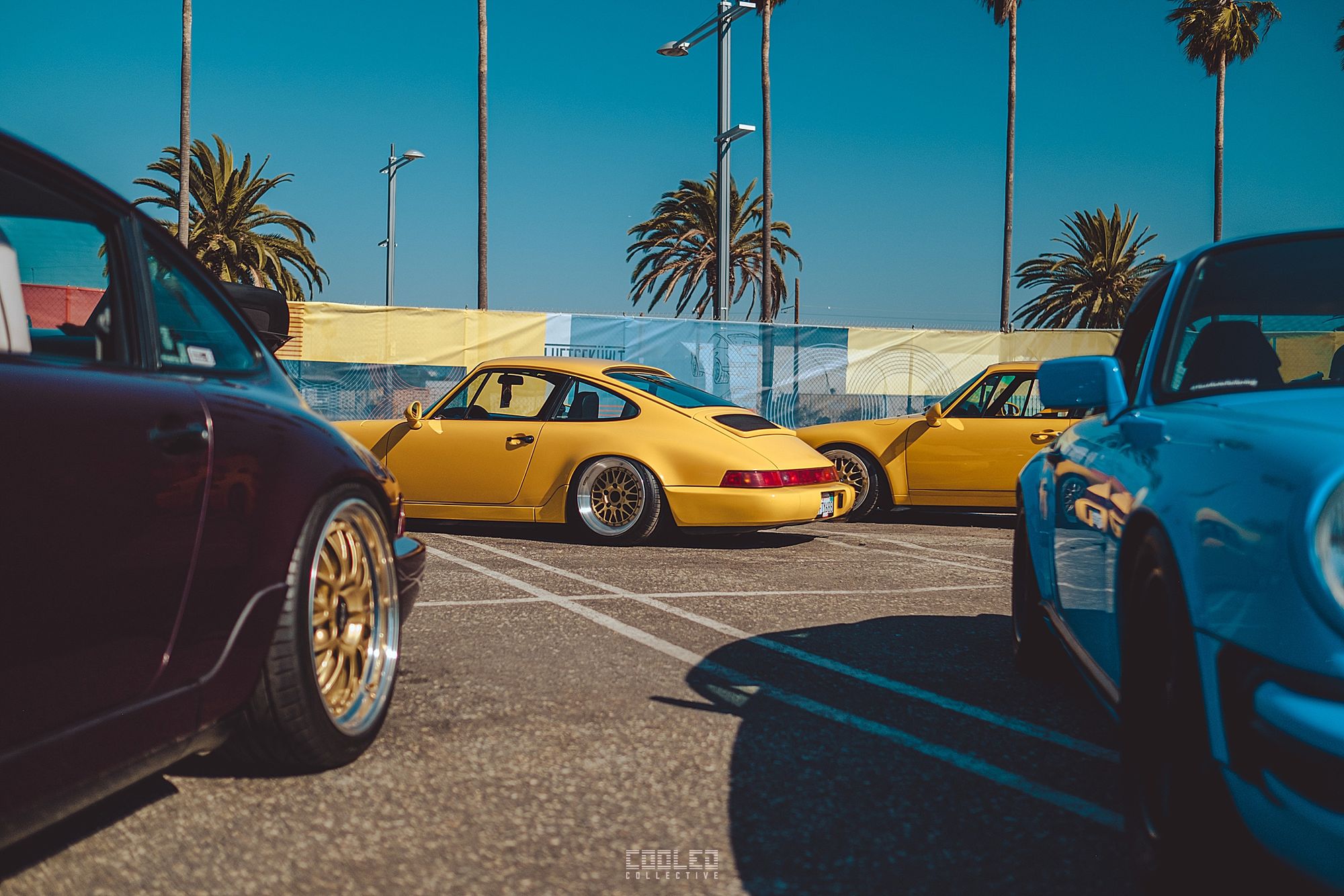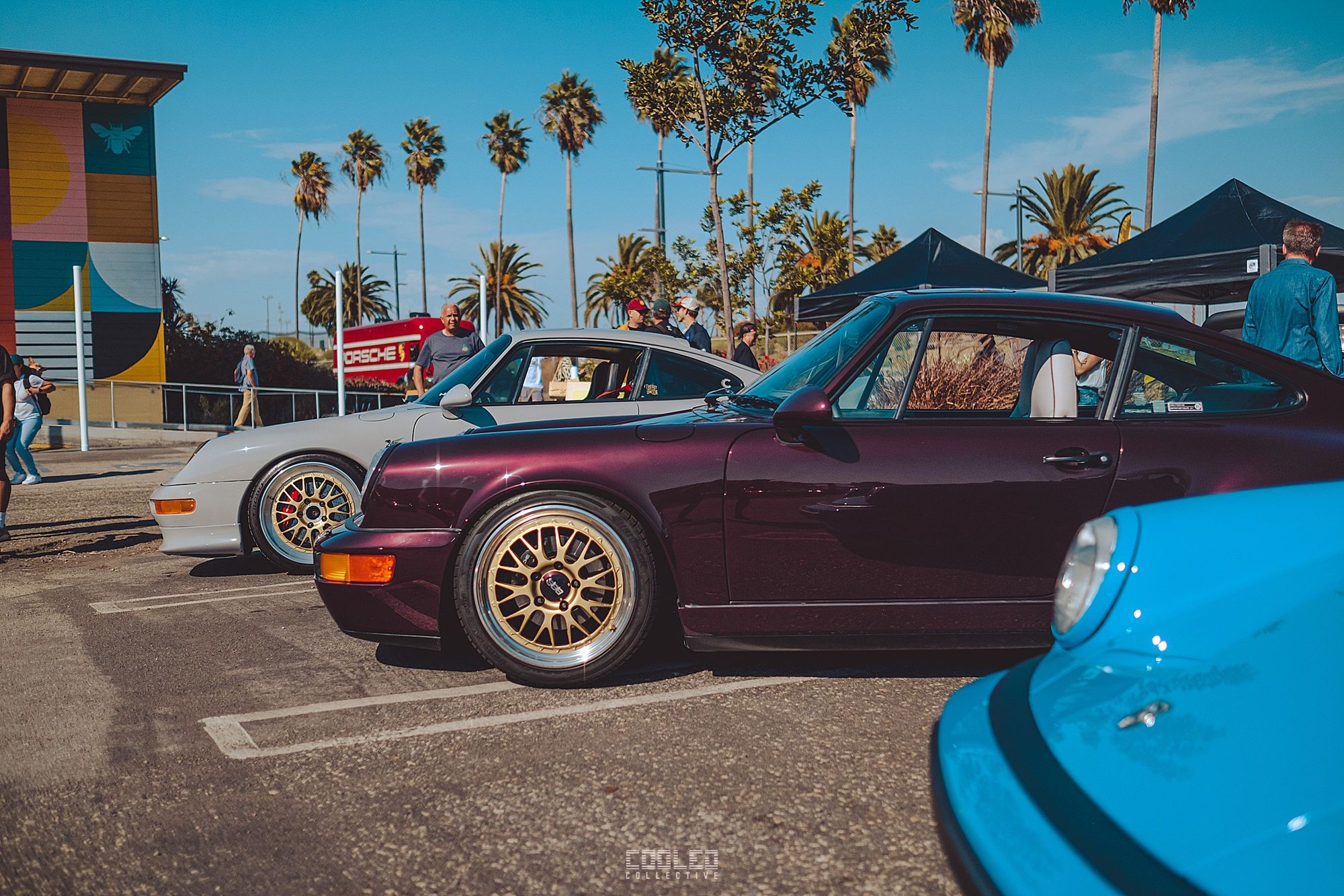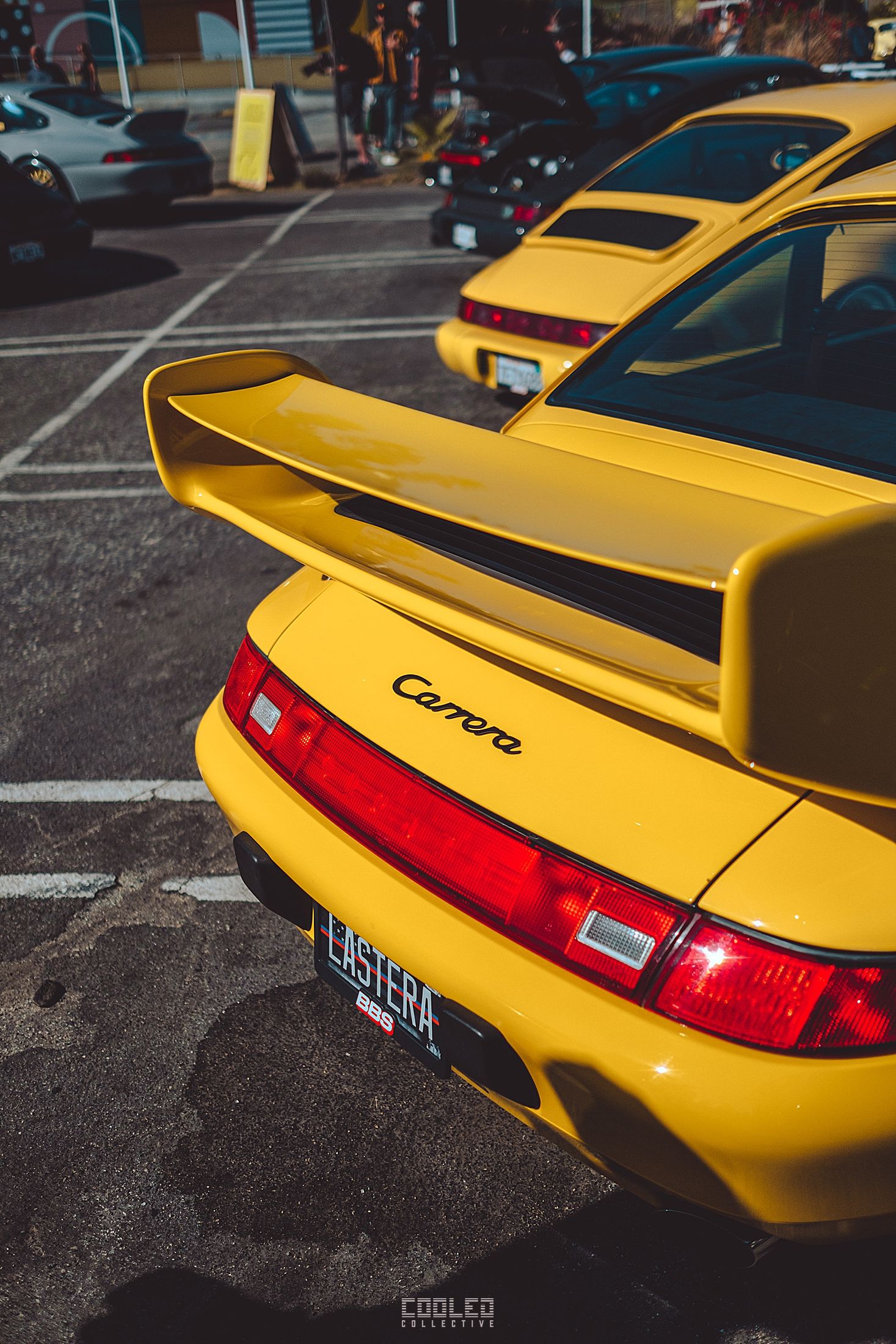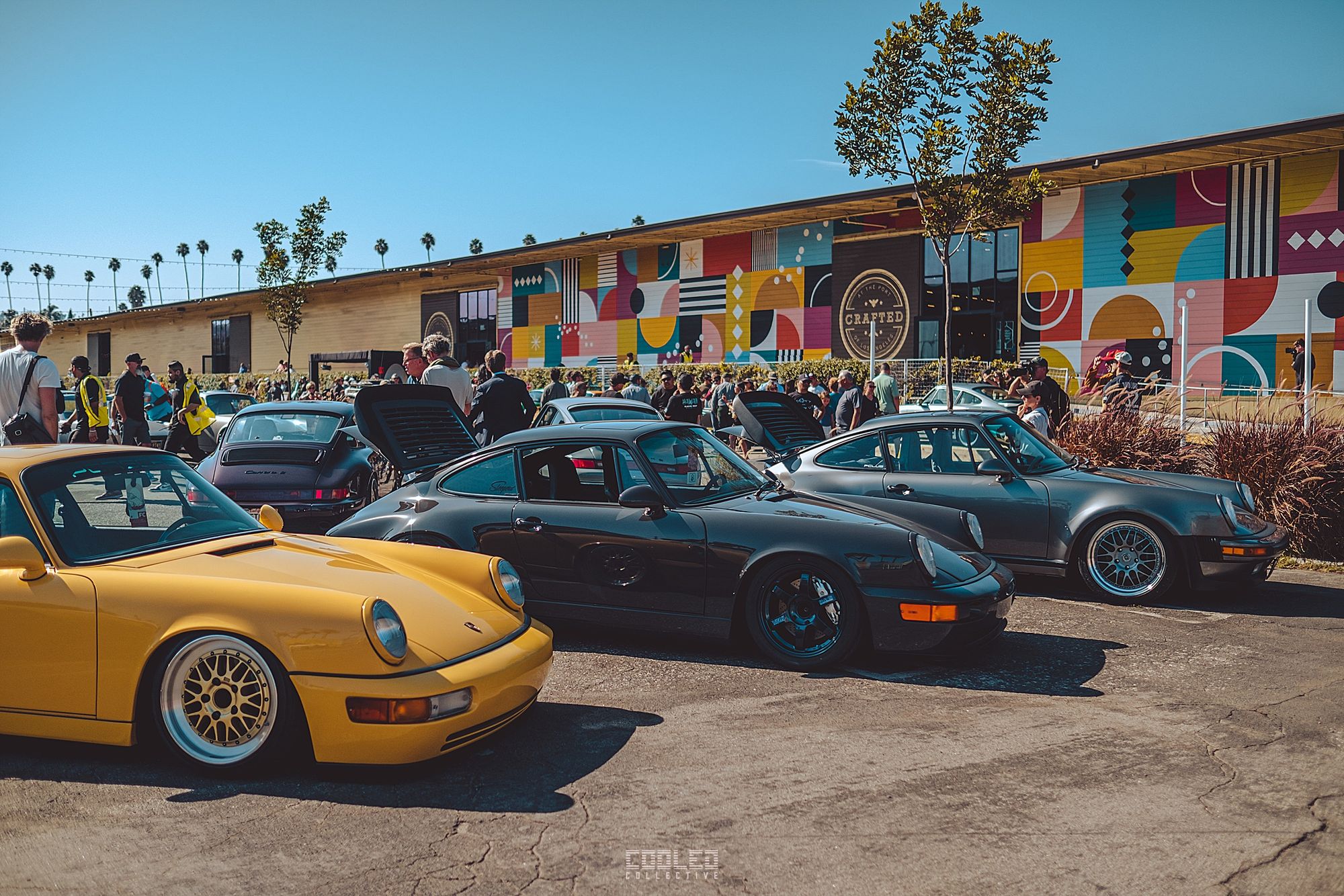 The main stage outdoor belonged to this Brumos 935 #59 driven by Hurley Haywood back in the day and enclosed in a wooden structure that almost gave it a toy like appearance. Kind of reminded me of a Hot Wheel toy right before pulling it out of the packaging.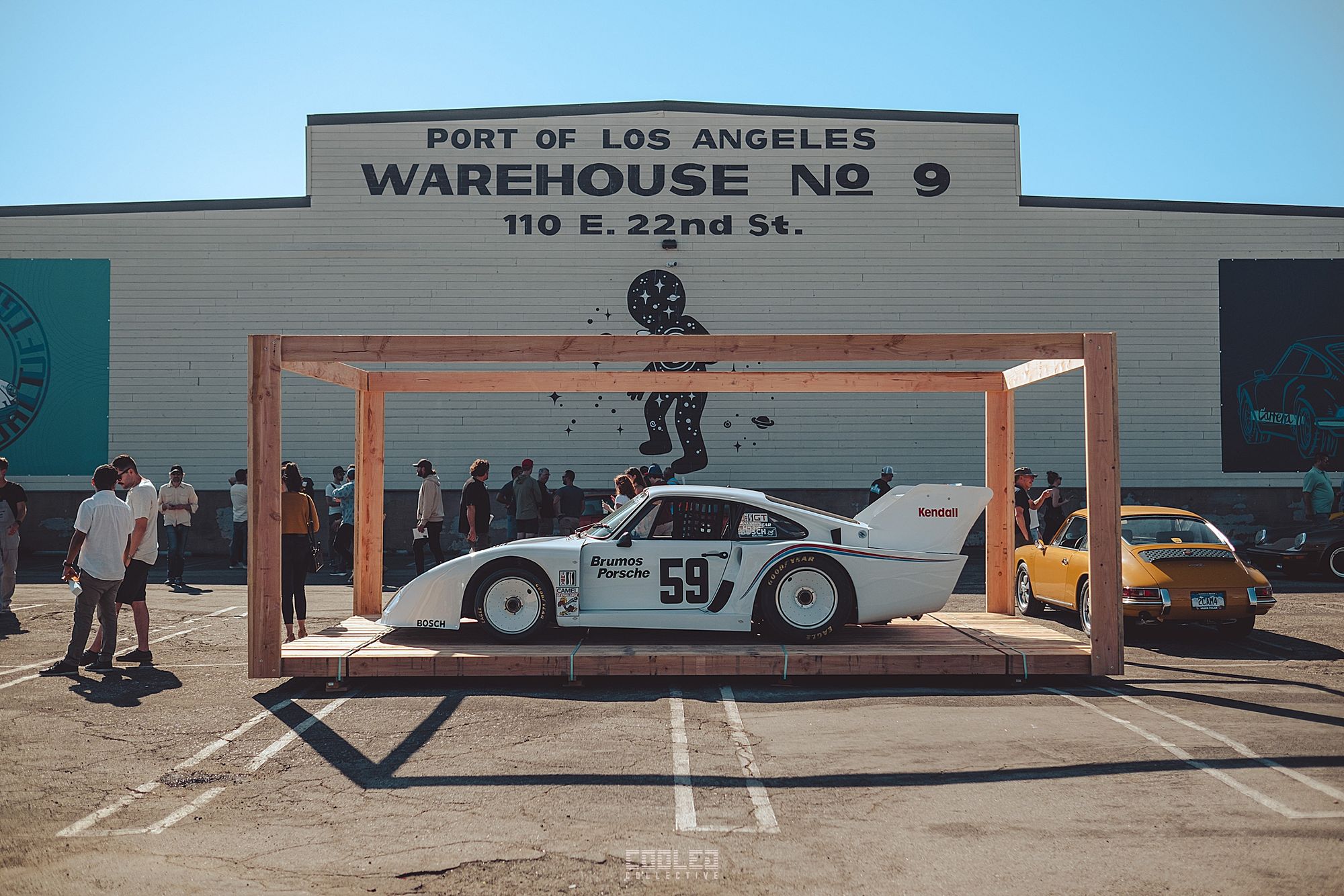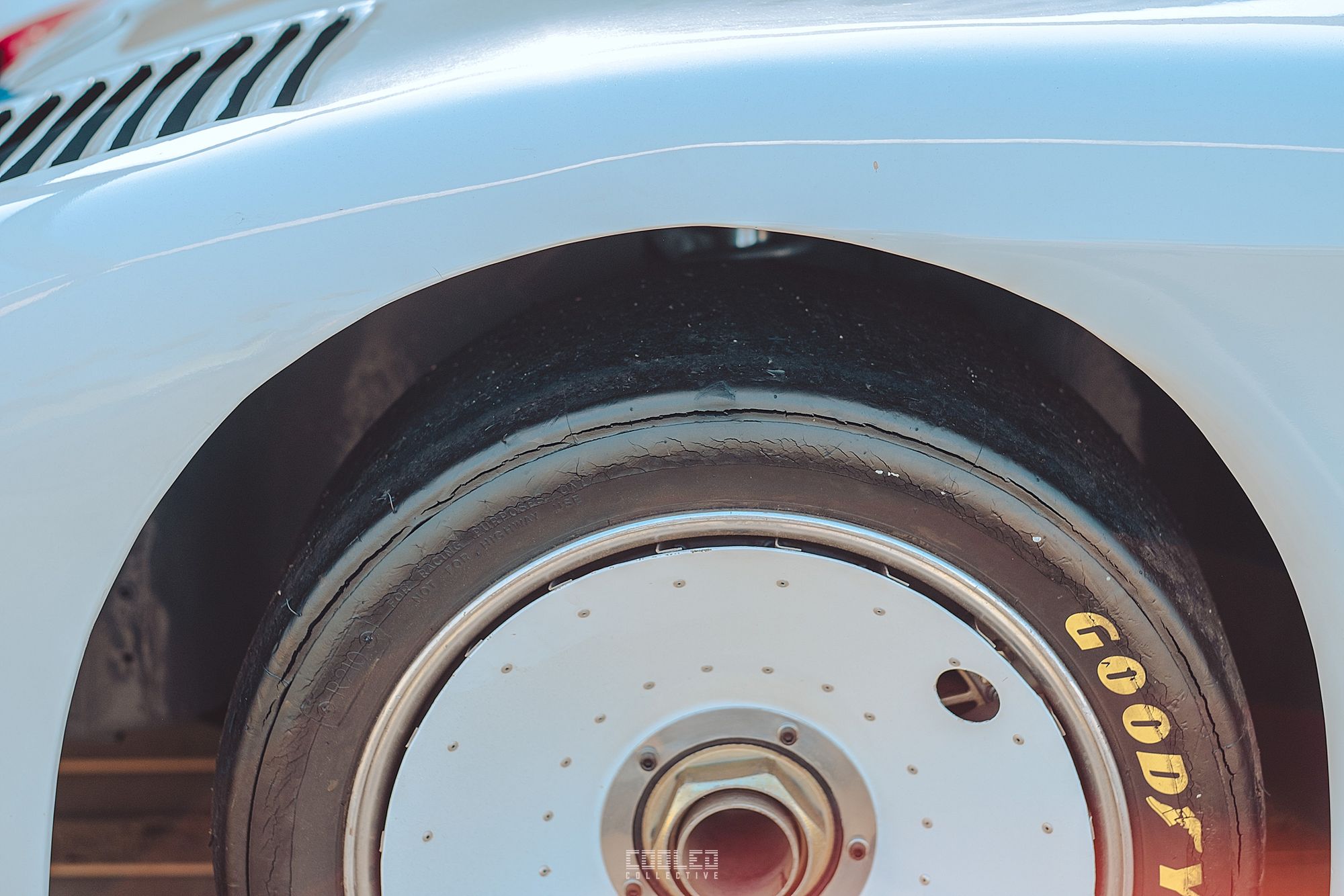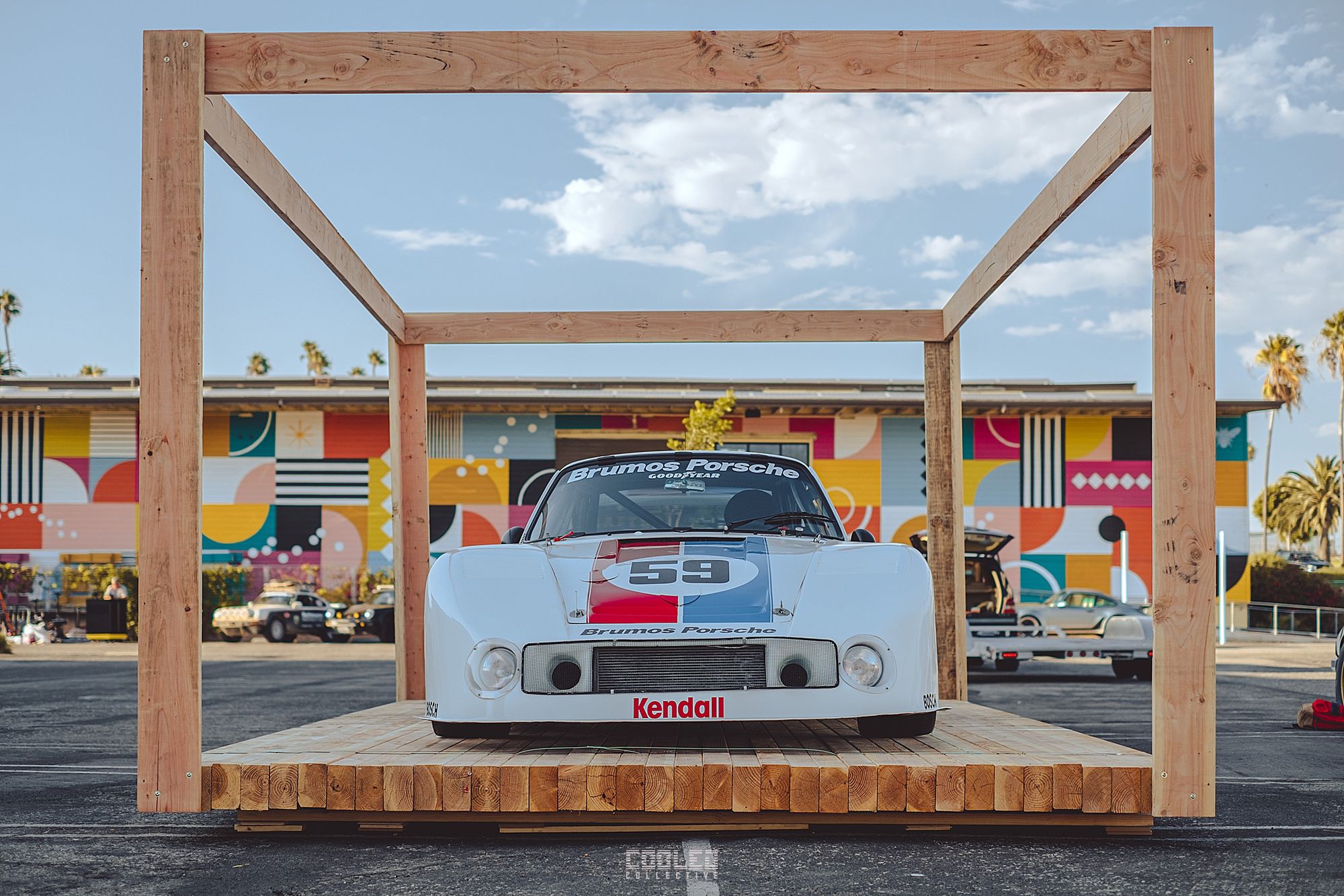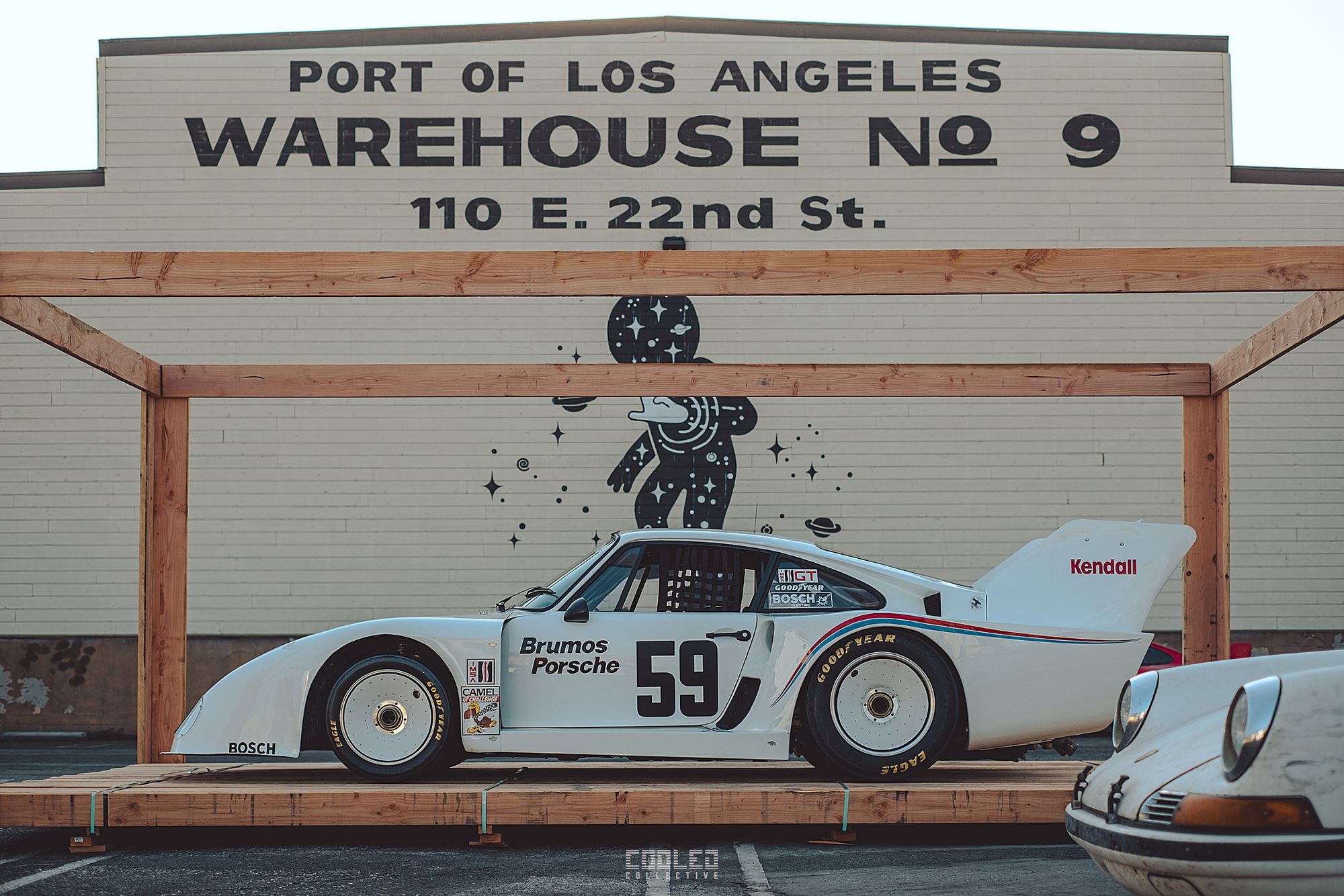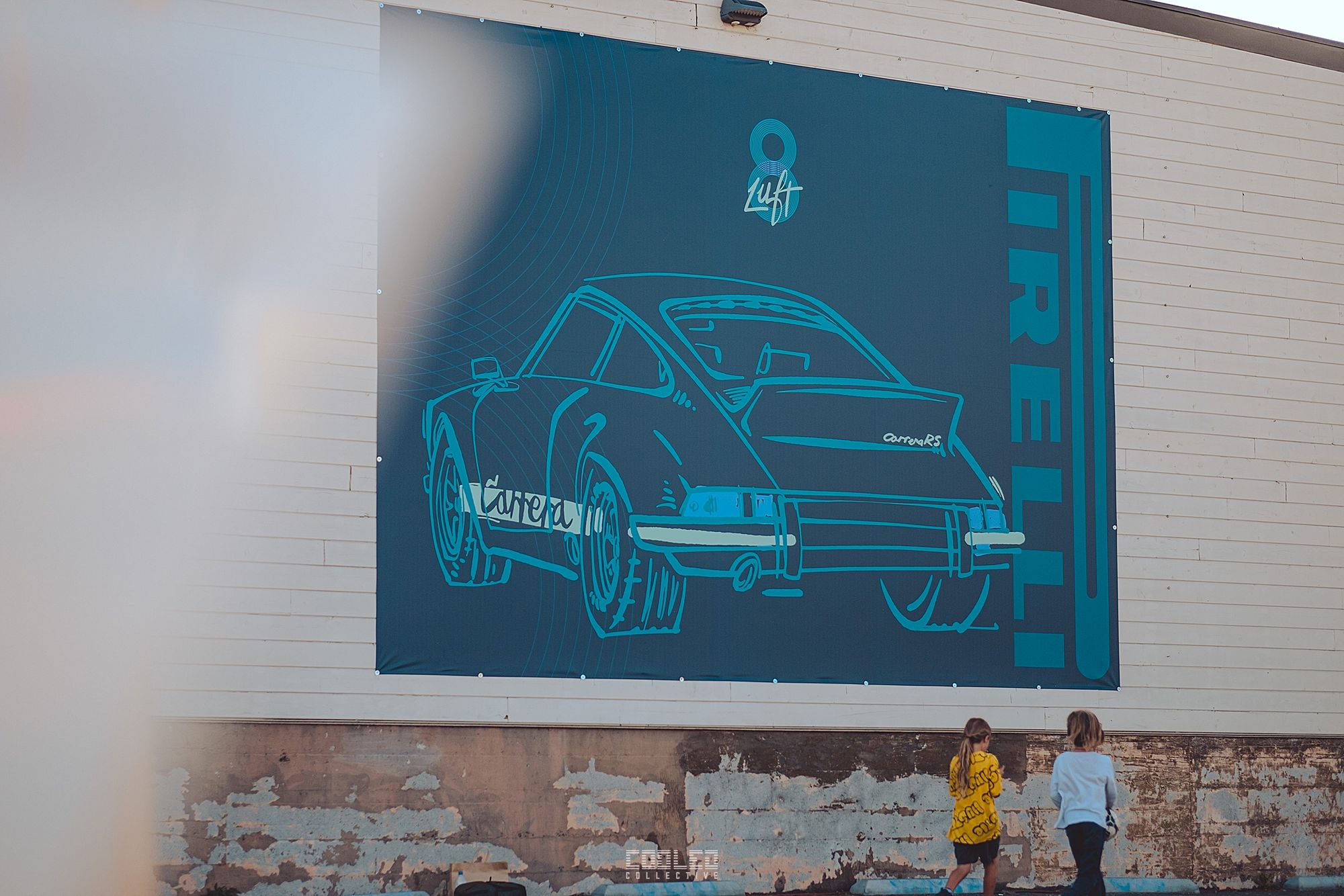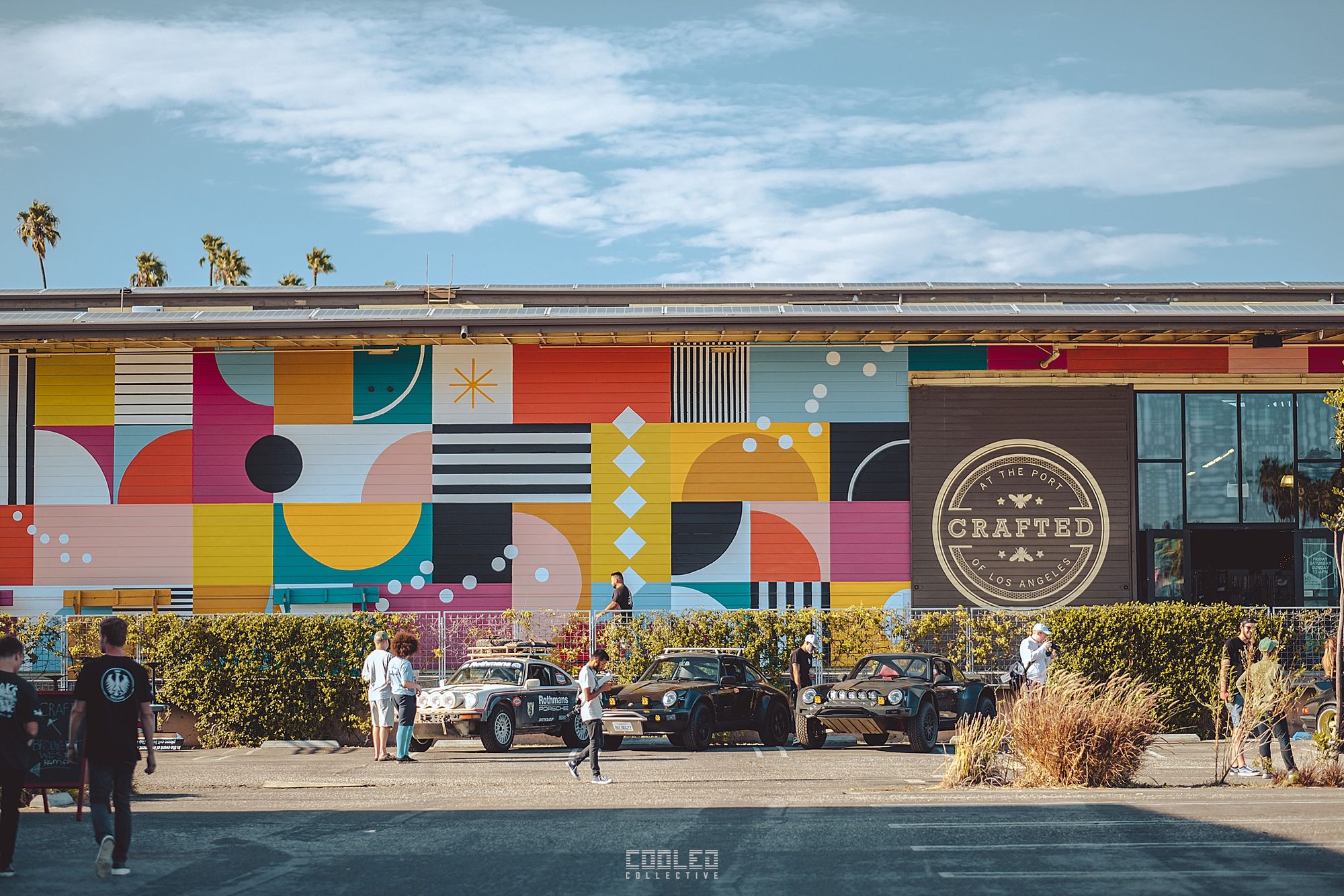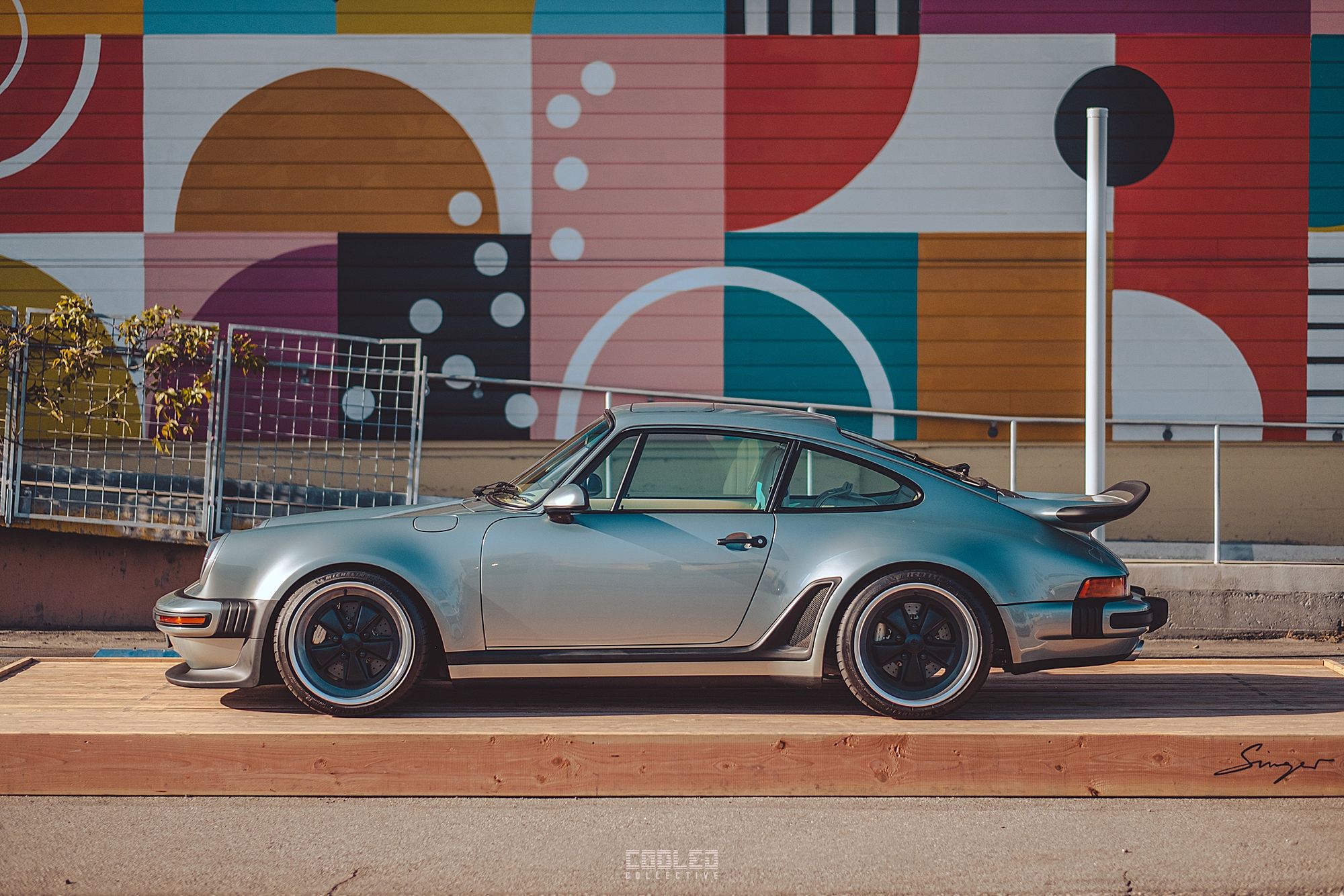 The Singer 930 was quite the treat... with all of its glory day beauty, it now comes back with modern touches that surely elevates the old icon into the new decade with all of the creature comforts and power you'd expect from a modern day beast. All the upgrades pay so much respect to the period correctness of that era yet makes it feel modern enough to be recognized by people casually coming across it.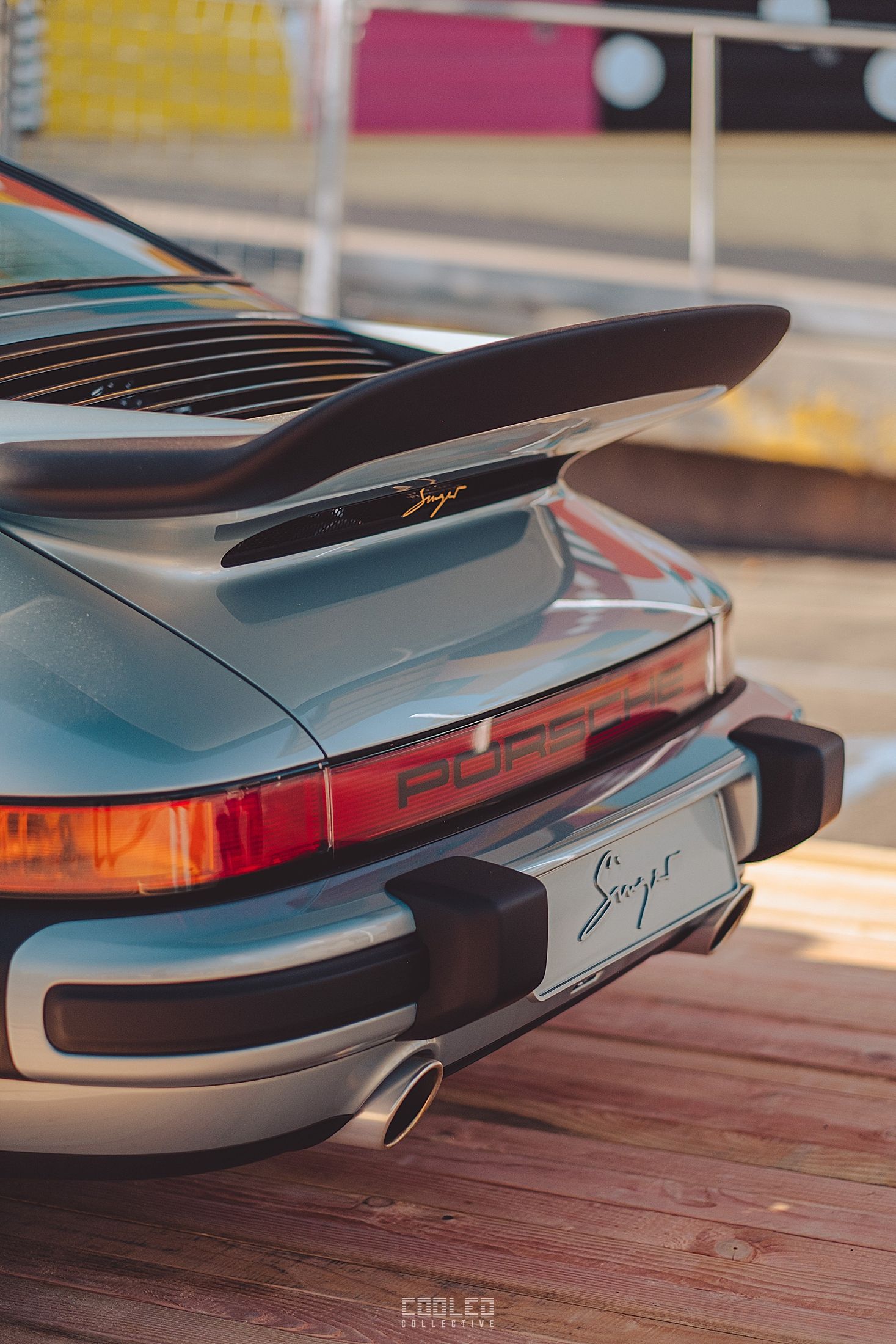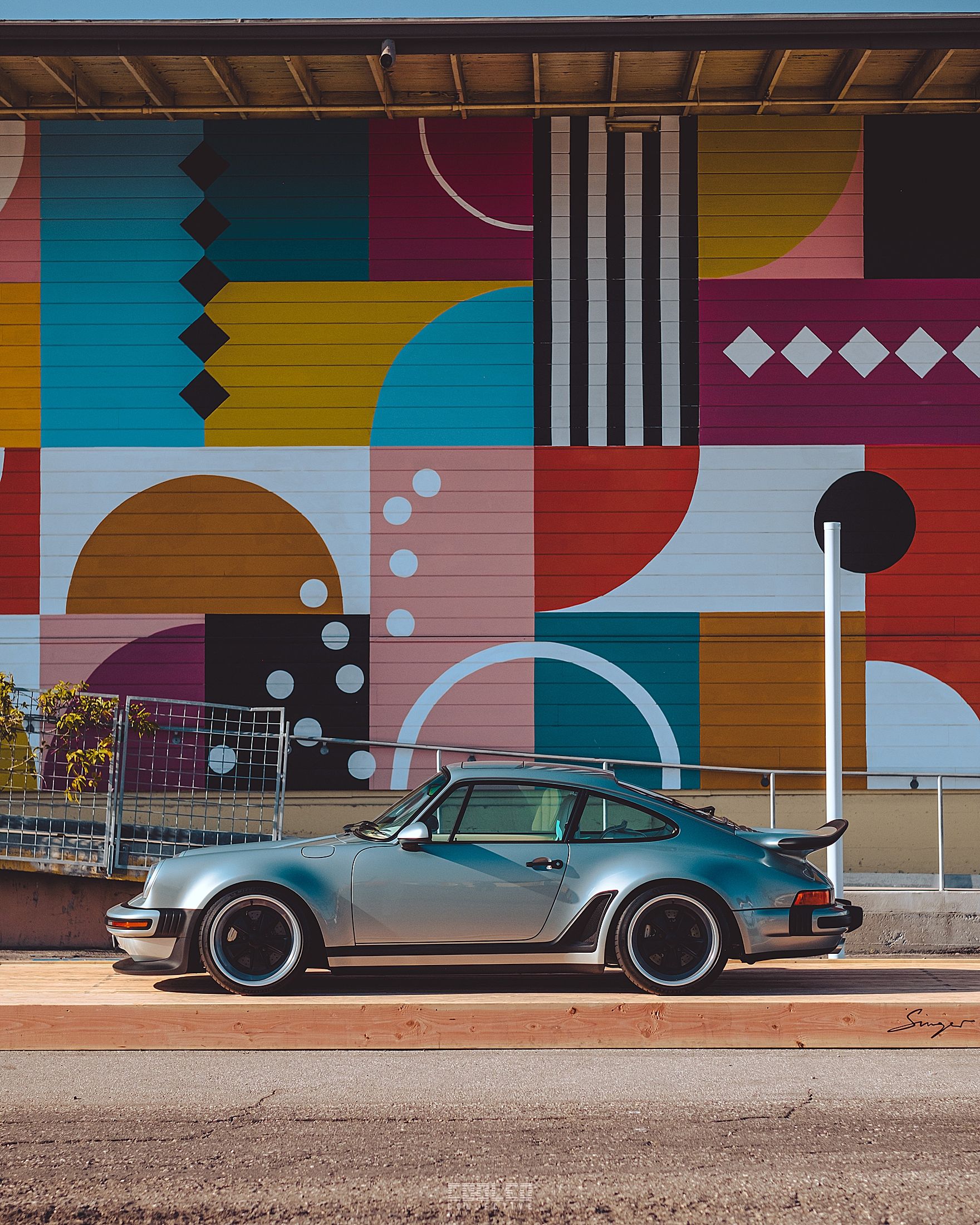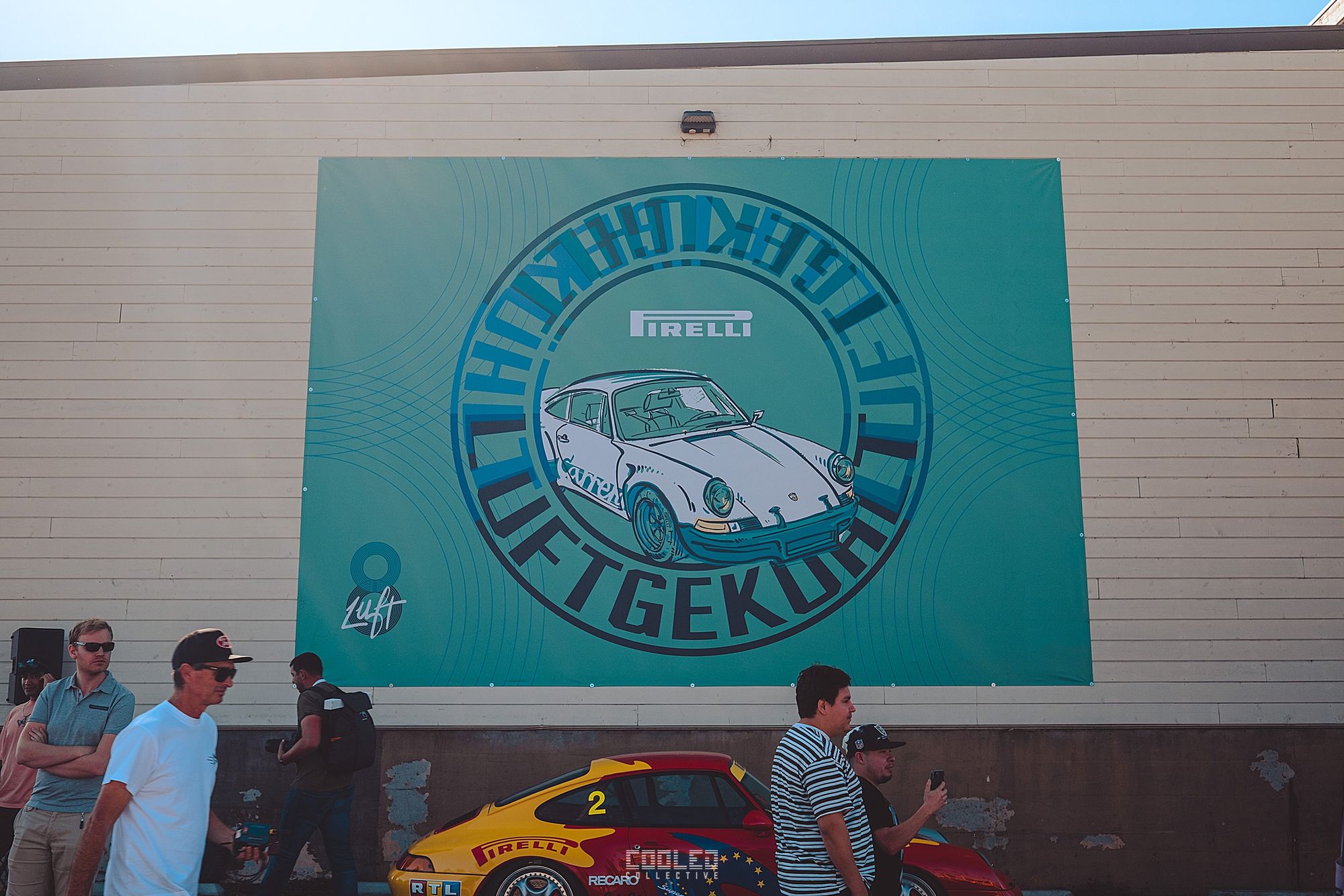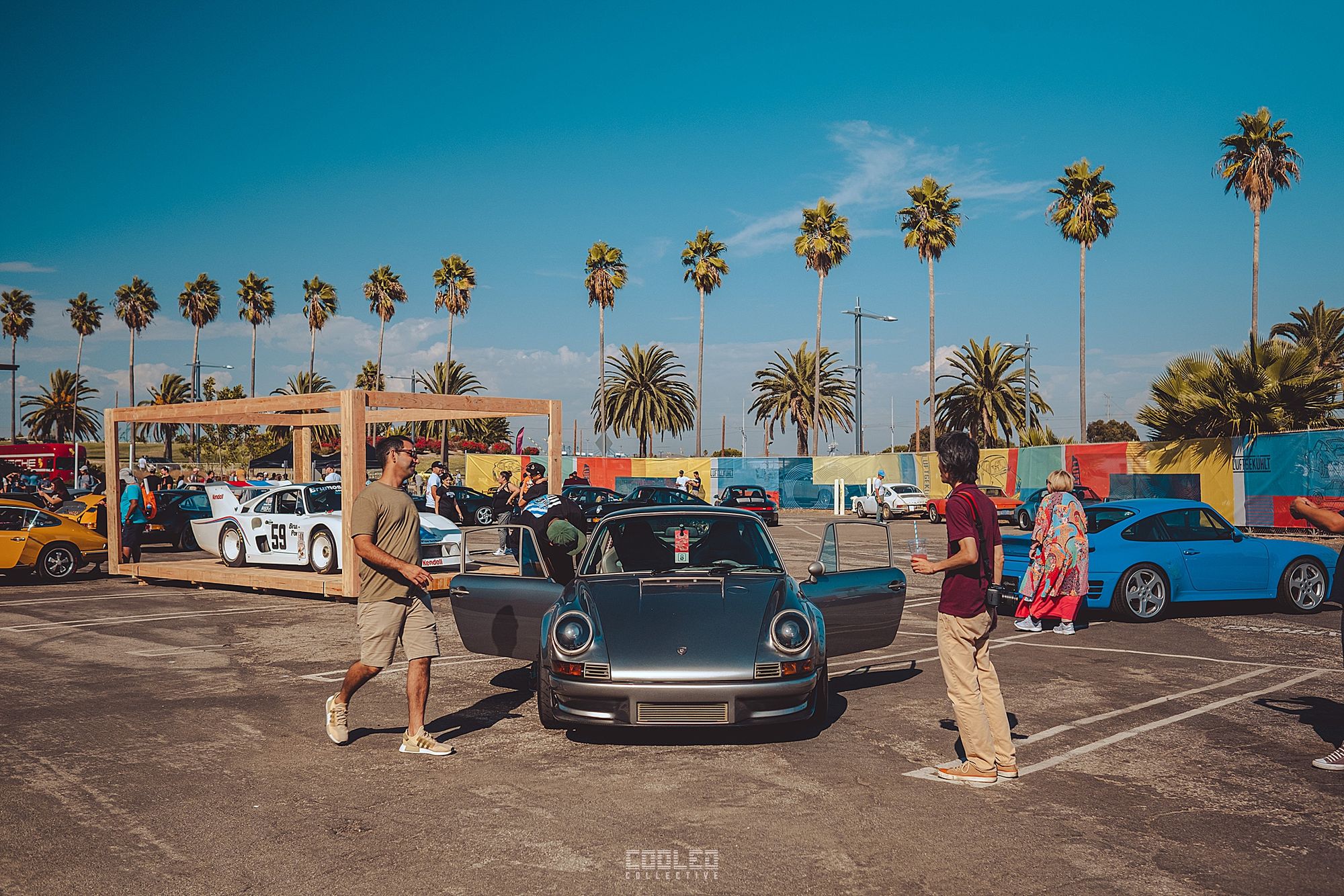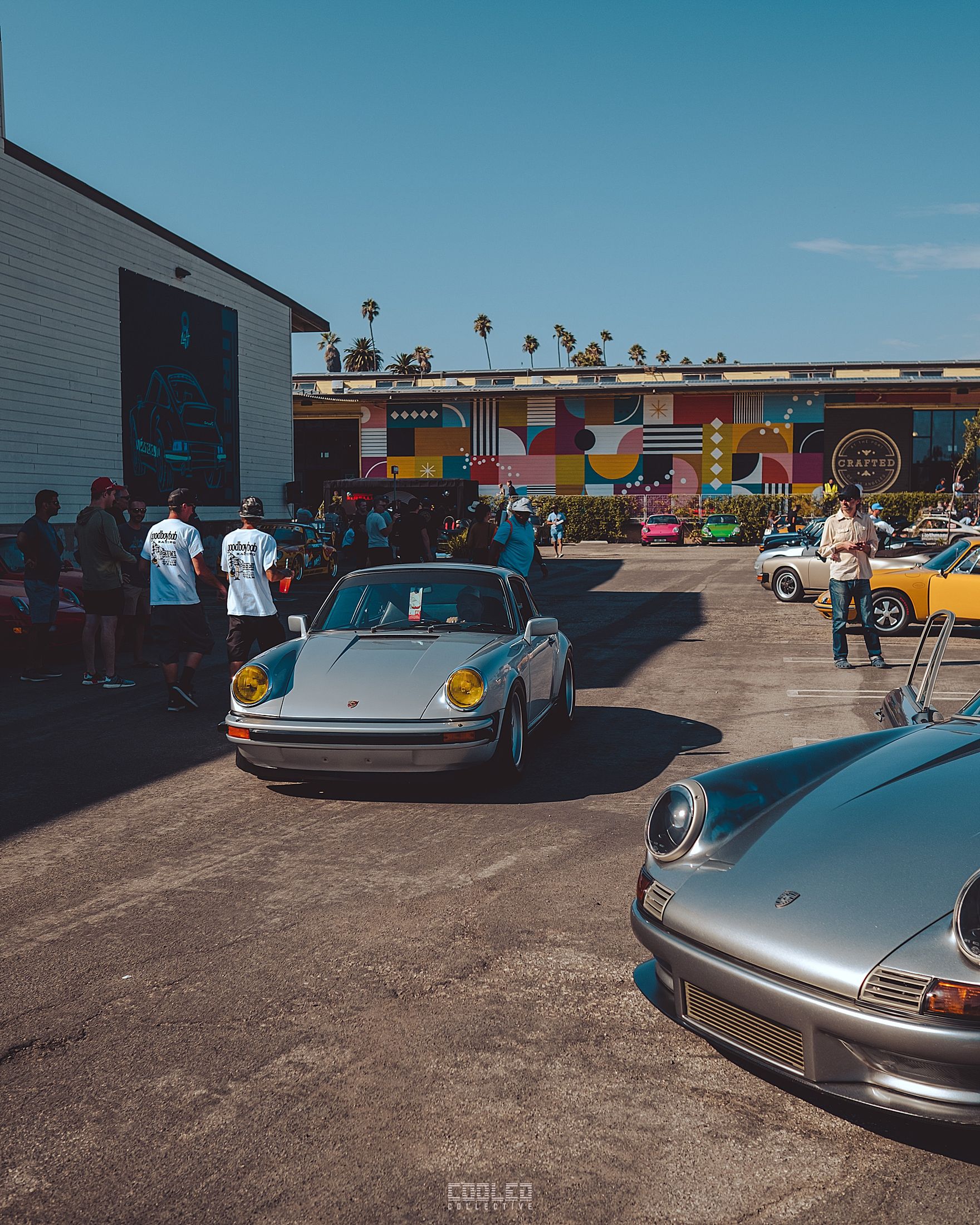 The crowd slowly started disappearing as the shadows became longer and it was bitter sweet seeing my friends for a brief moment before they took off for the day.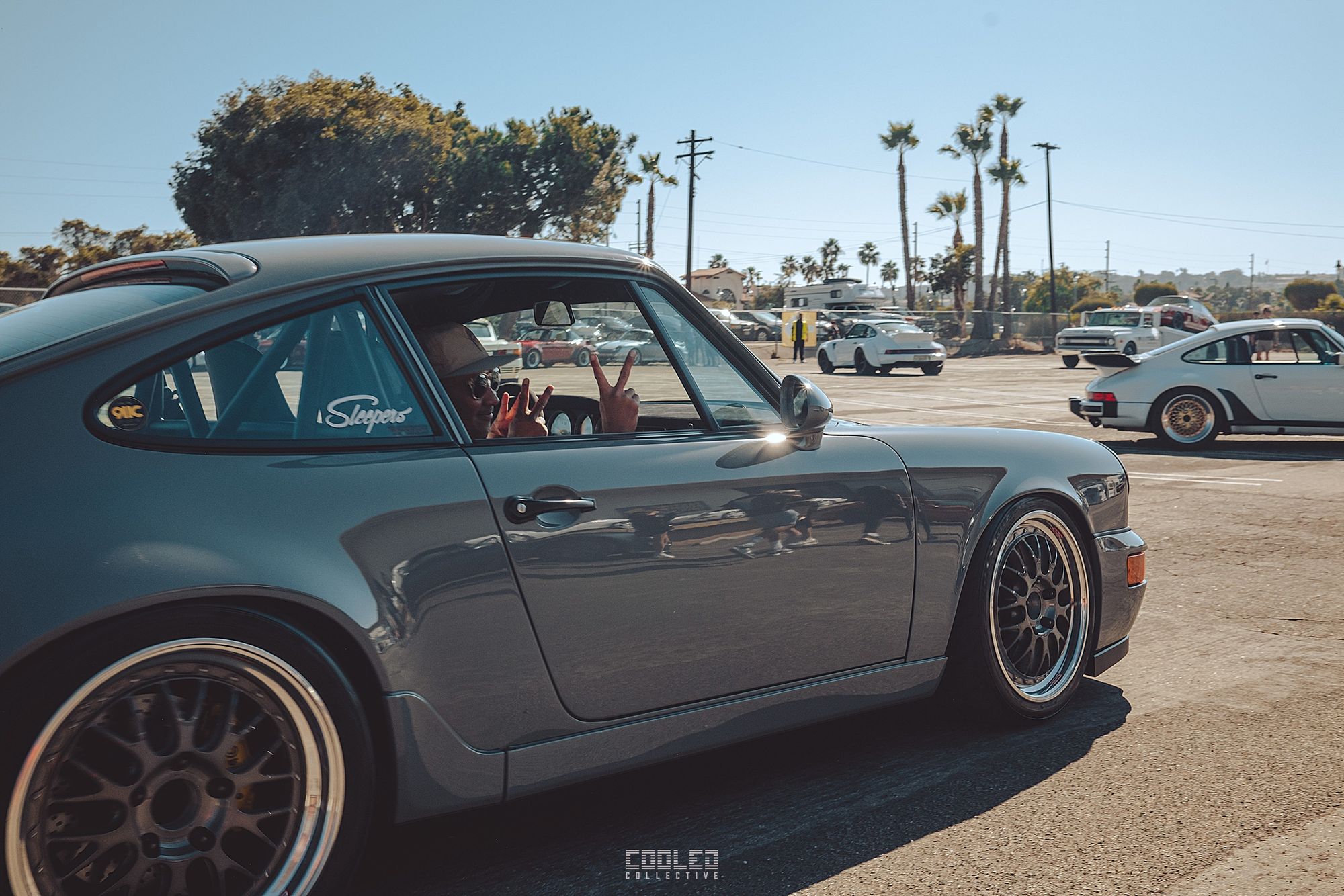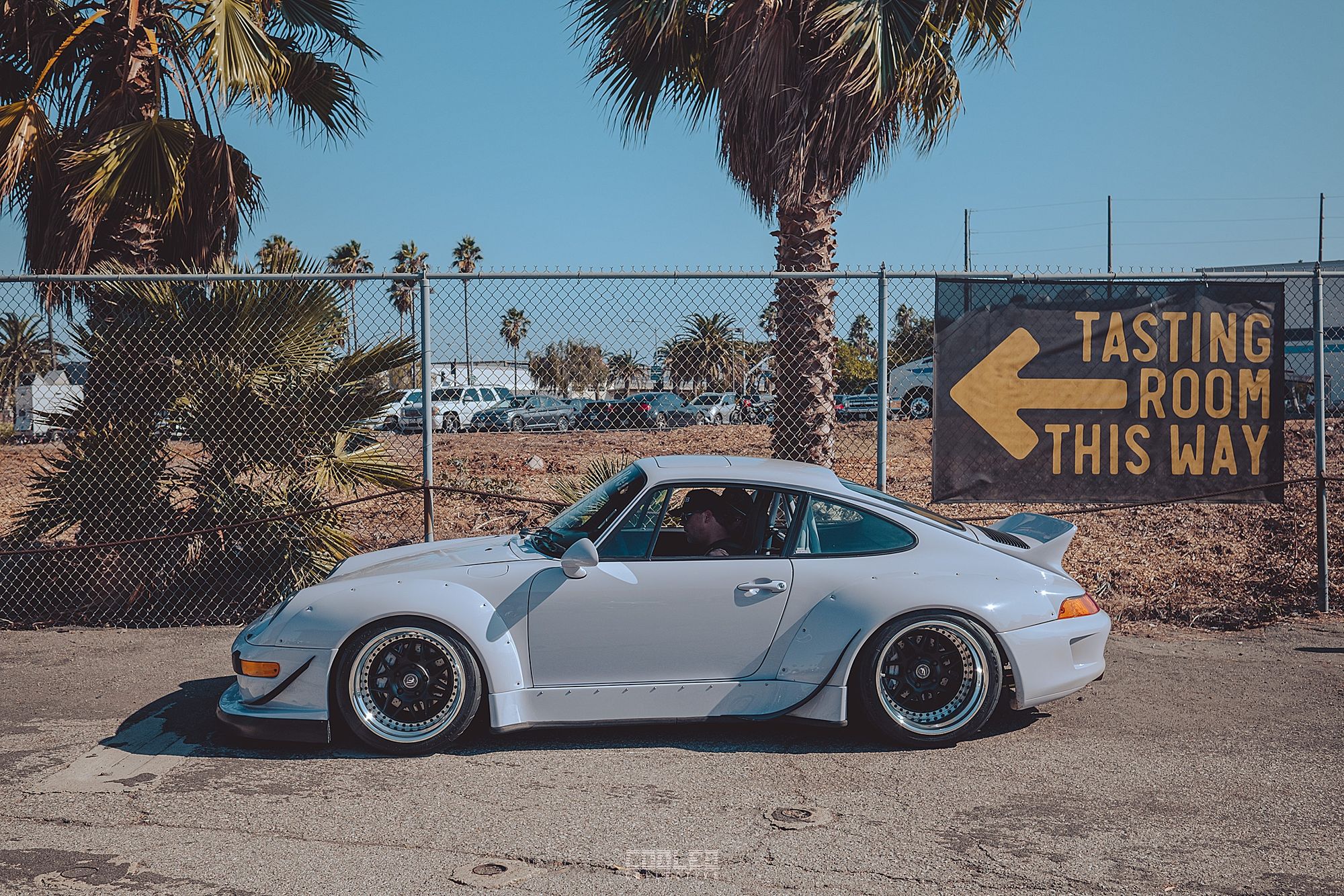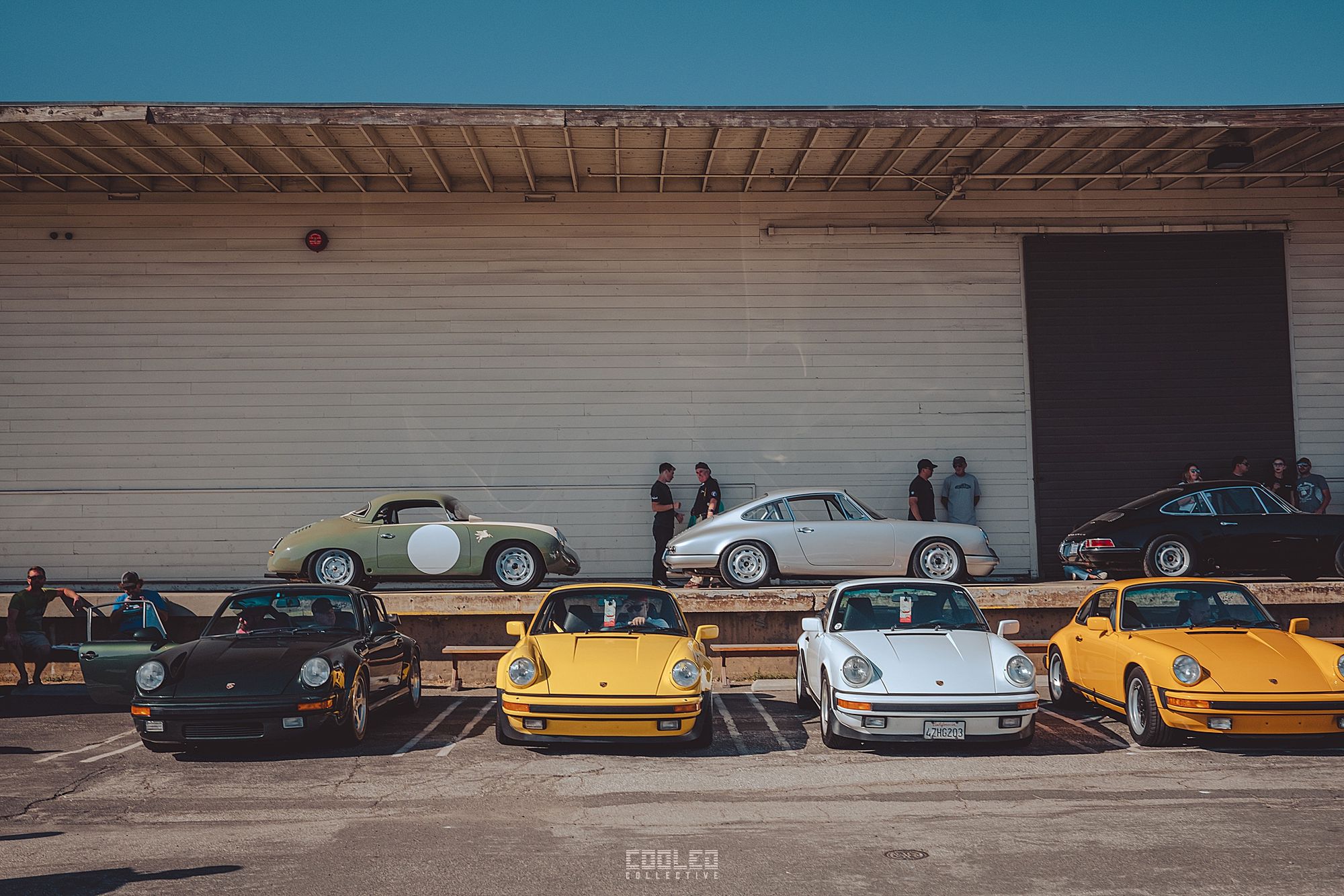 One of the things I am sad about is not having enough time to check out the rest of the Emory Motorsports line up. There was so much going on, it was hard to focus on any one thing. Only in hindsight and seeing all of the photos on social media did I notice a build by Drew Hafner in his 68 Special Porsche 912. So much detail put into the car, looked really sweet from what I can see online.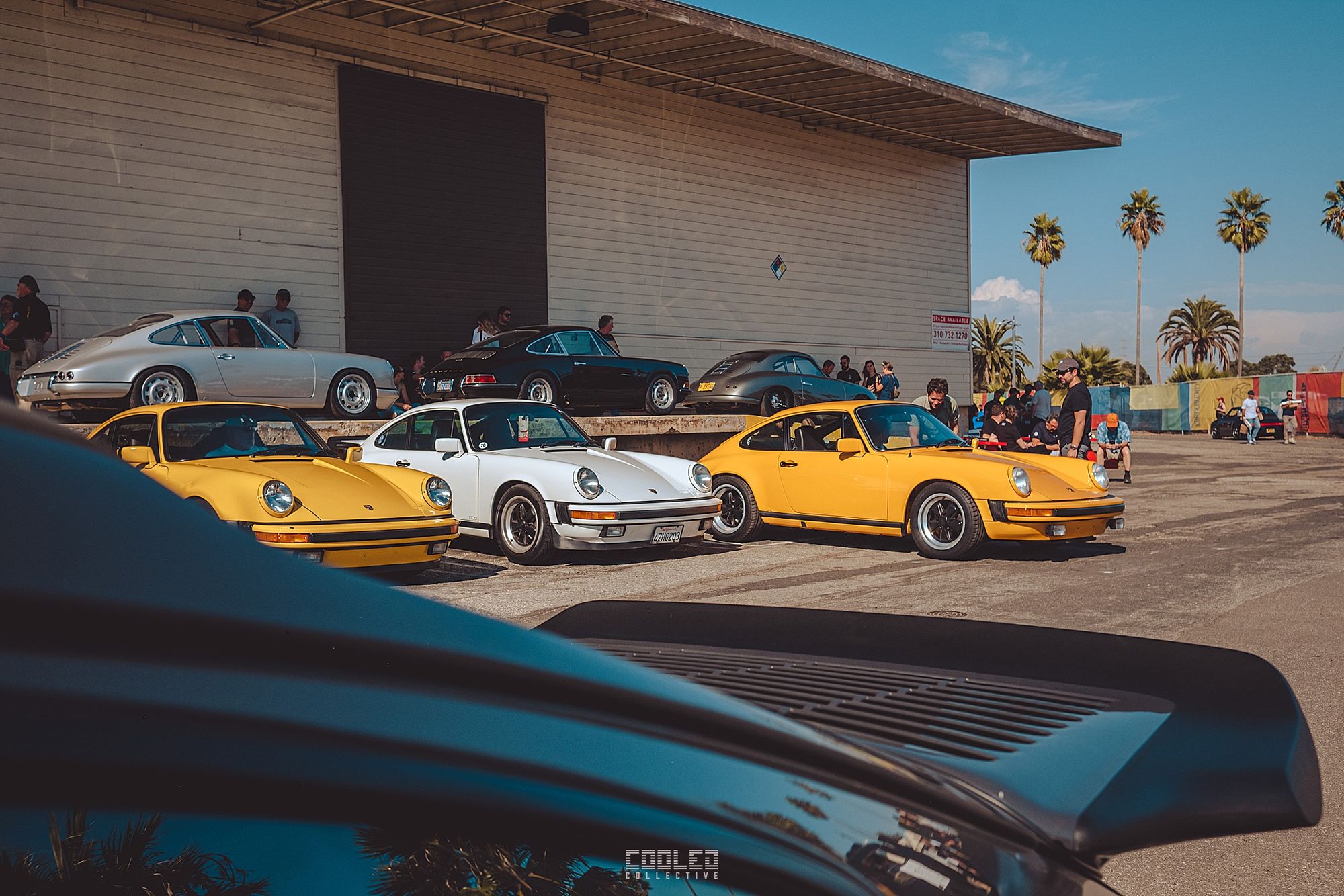 Rod Emory's Porsche 356 Pre-A Coupe was killer and such a statement. In all of its simplicity, there is so much refinement and sophistication in his builds and I bet that this thing is probably more of a dream to own and drive than it is pretty to look at. The color is out of norm for his usual silver but I love this color quite a bit.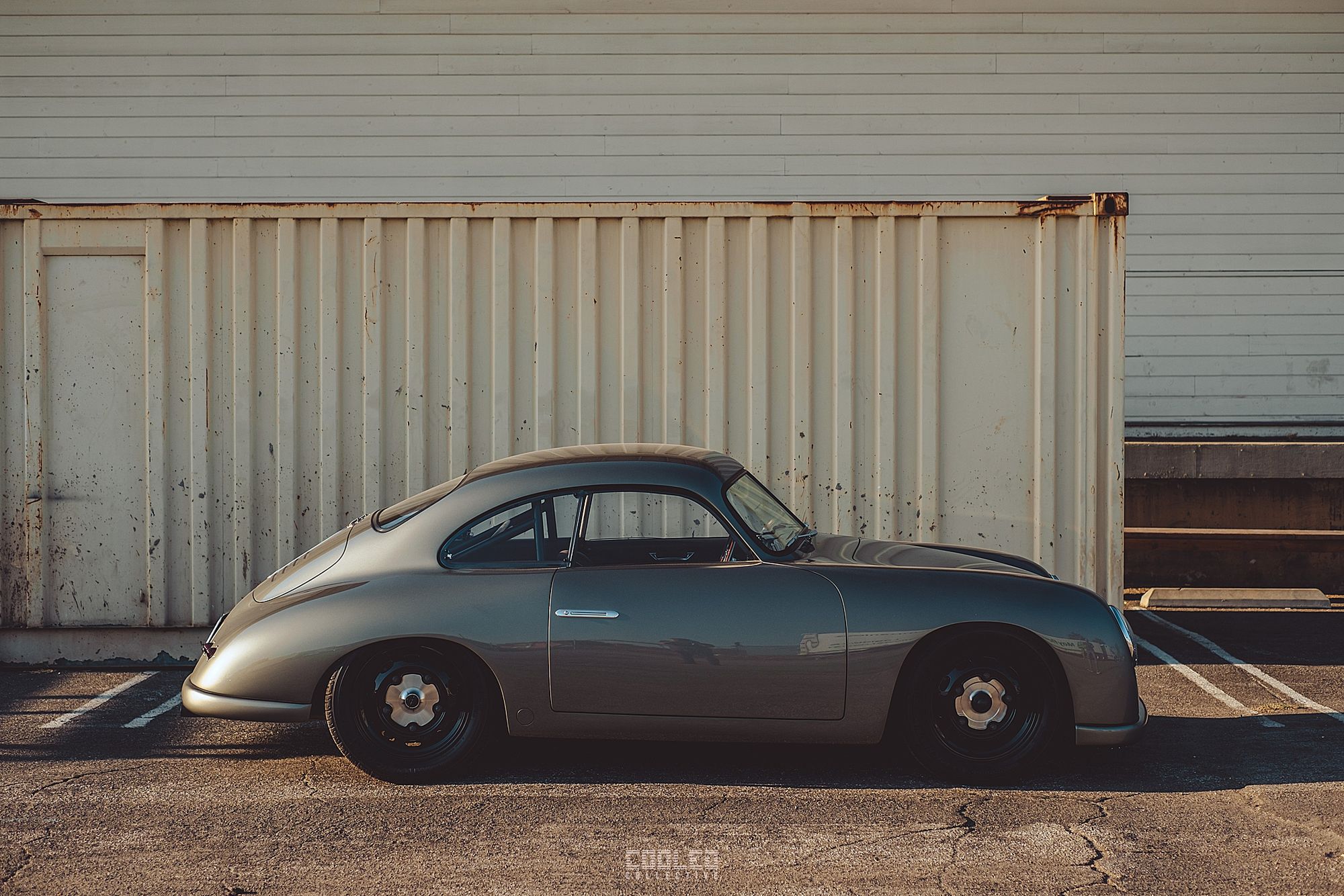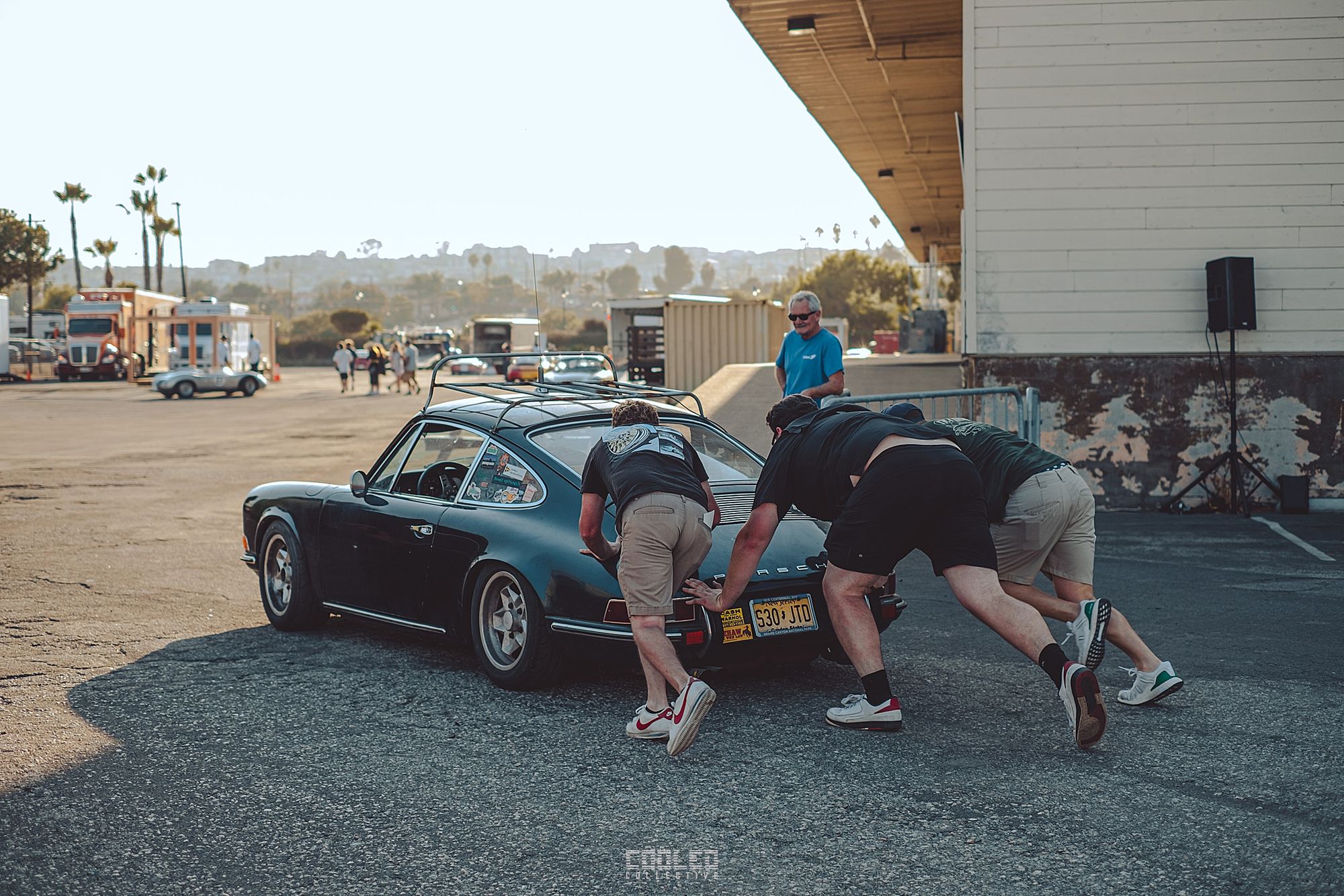 Seeing the boys help fellow owners push start their oldies into motion was great. Sure it took a few tries and some of them even lost their footing and tumbled over but at the end of the day, the succeeded! Sorry I didn't capture those happy moments but know that I witnessed it and it was a glorious moment.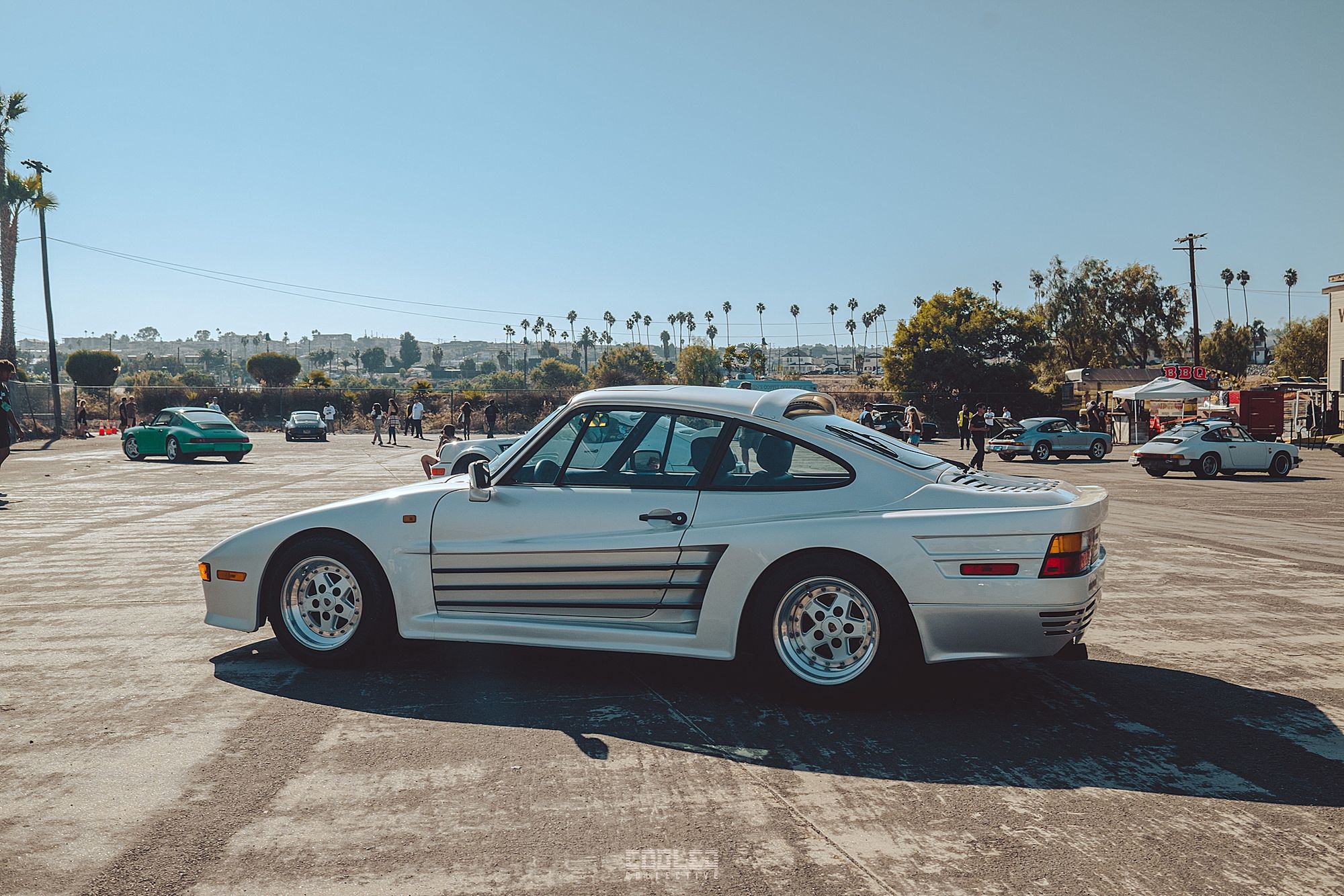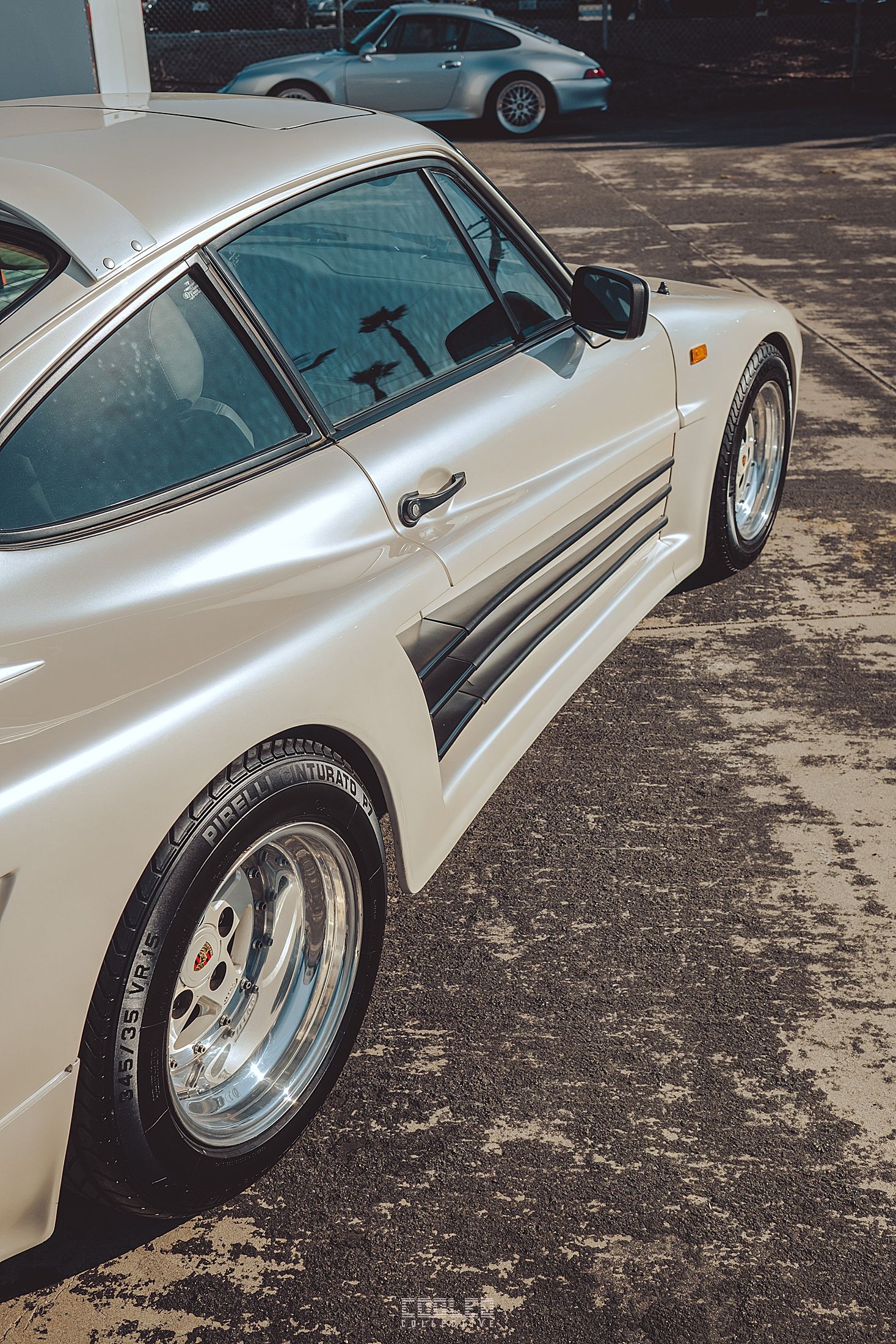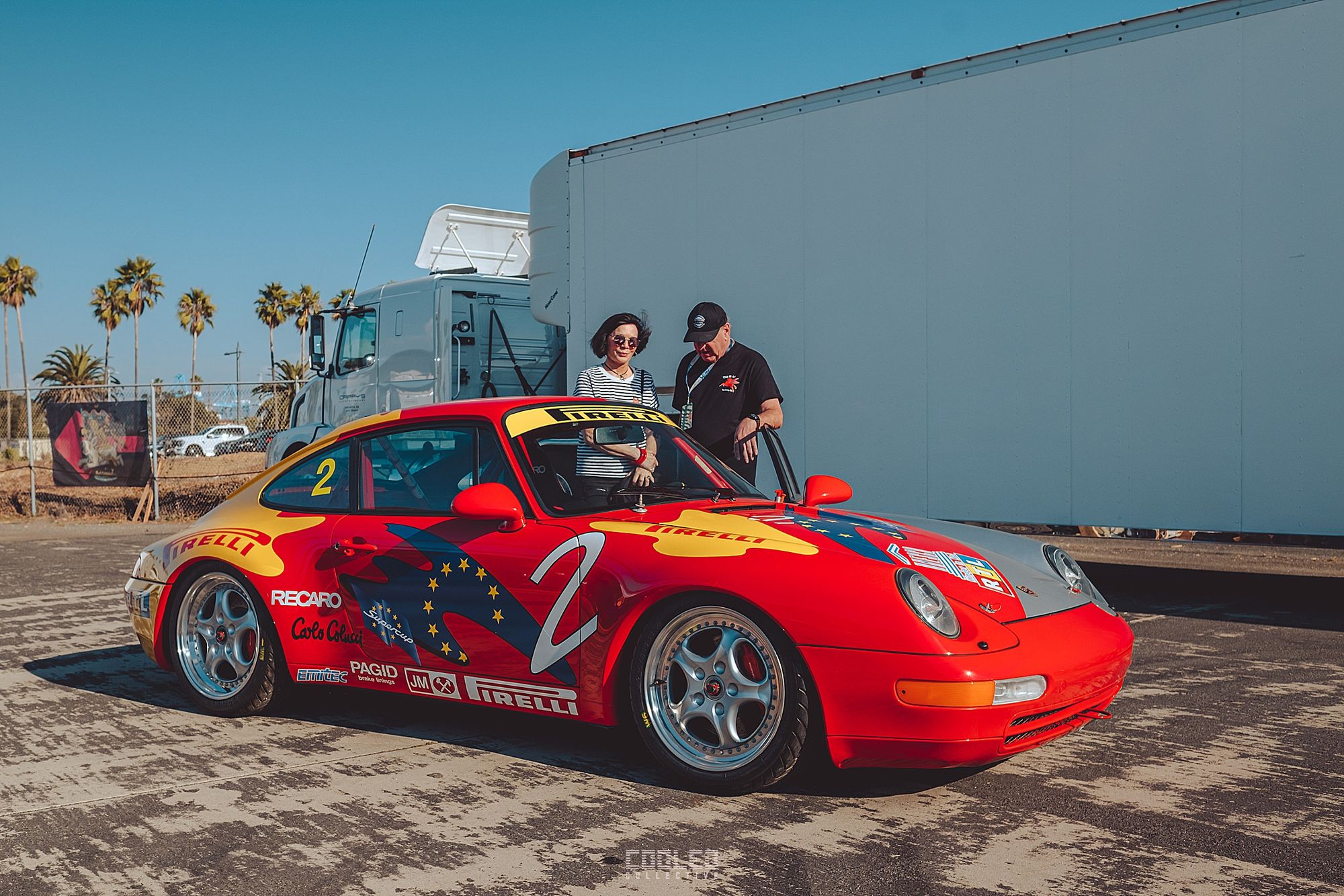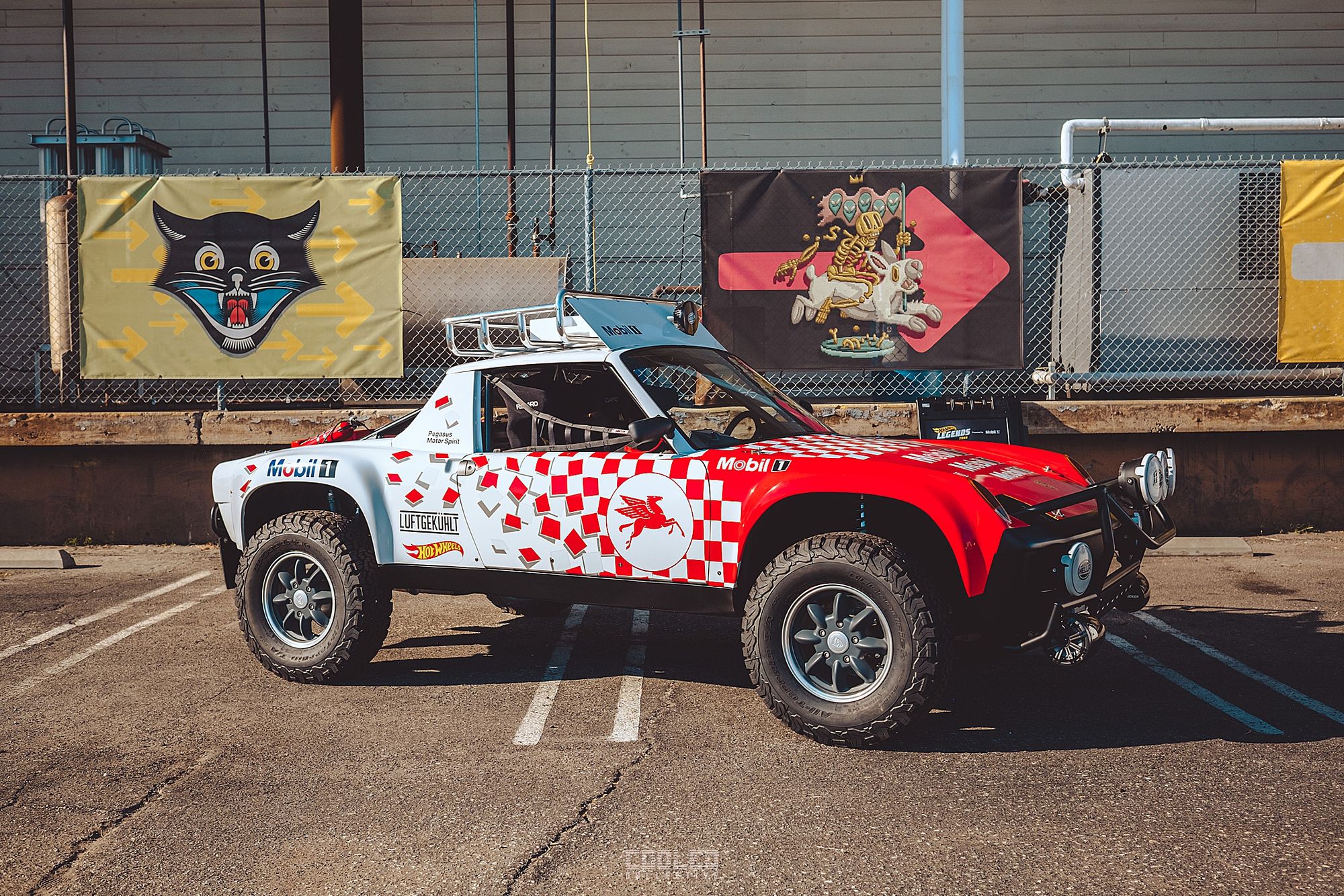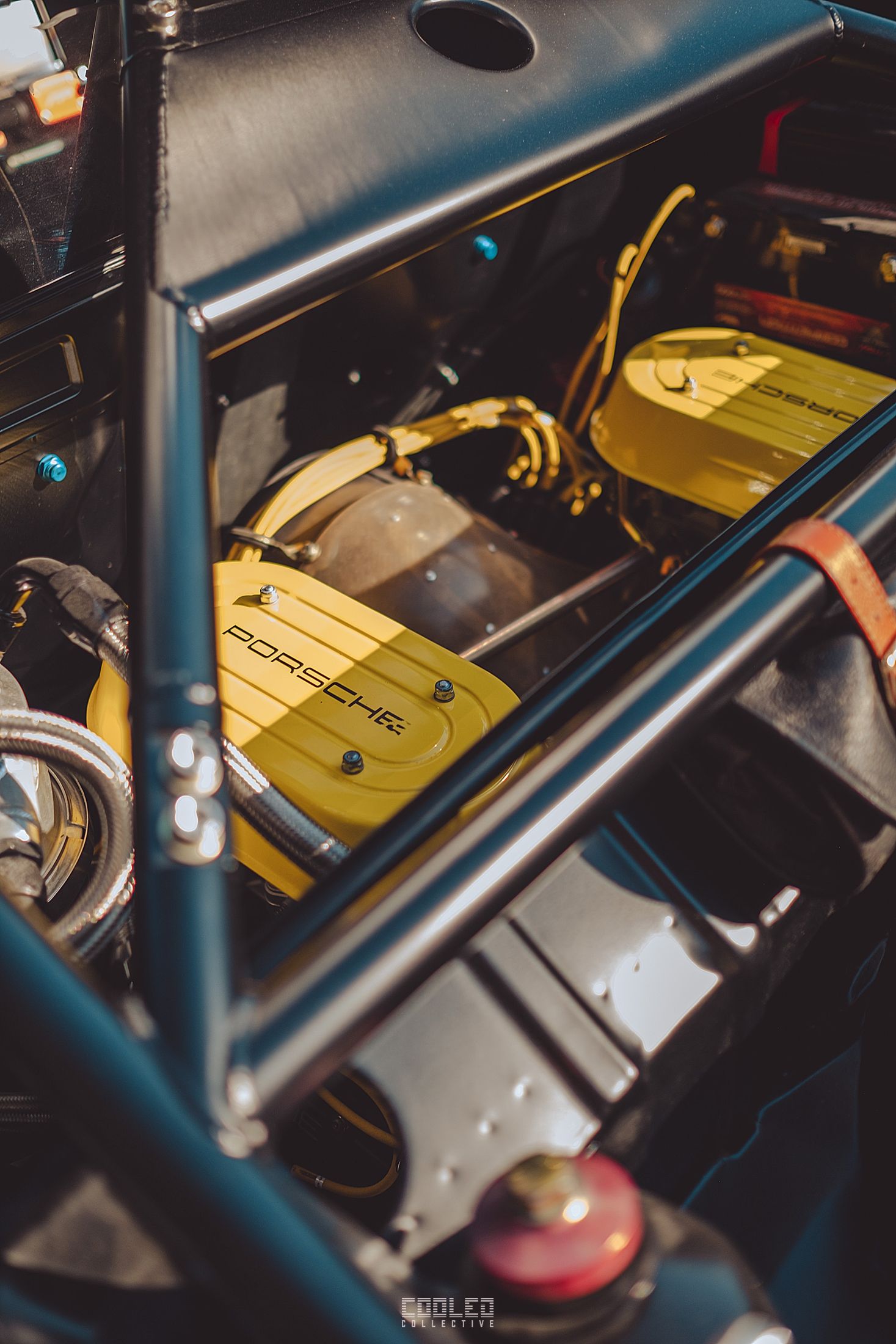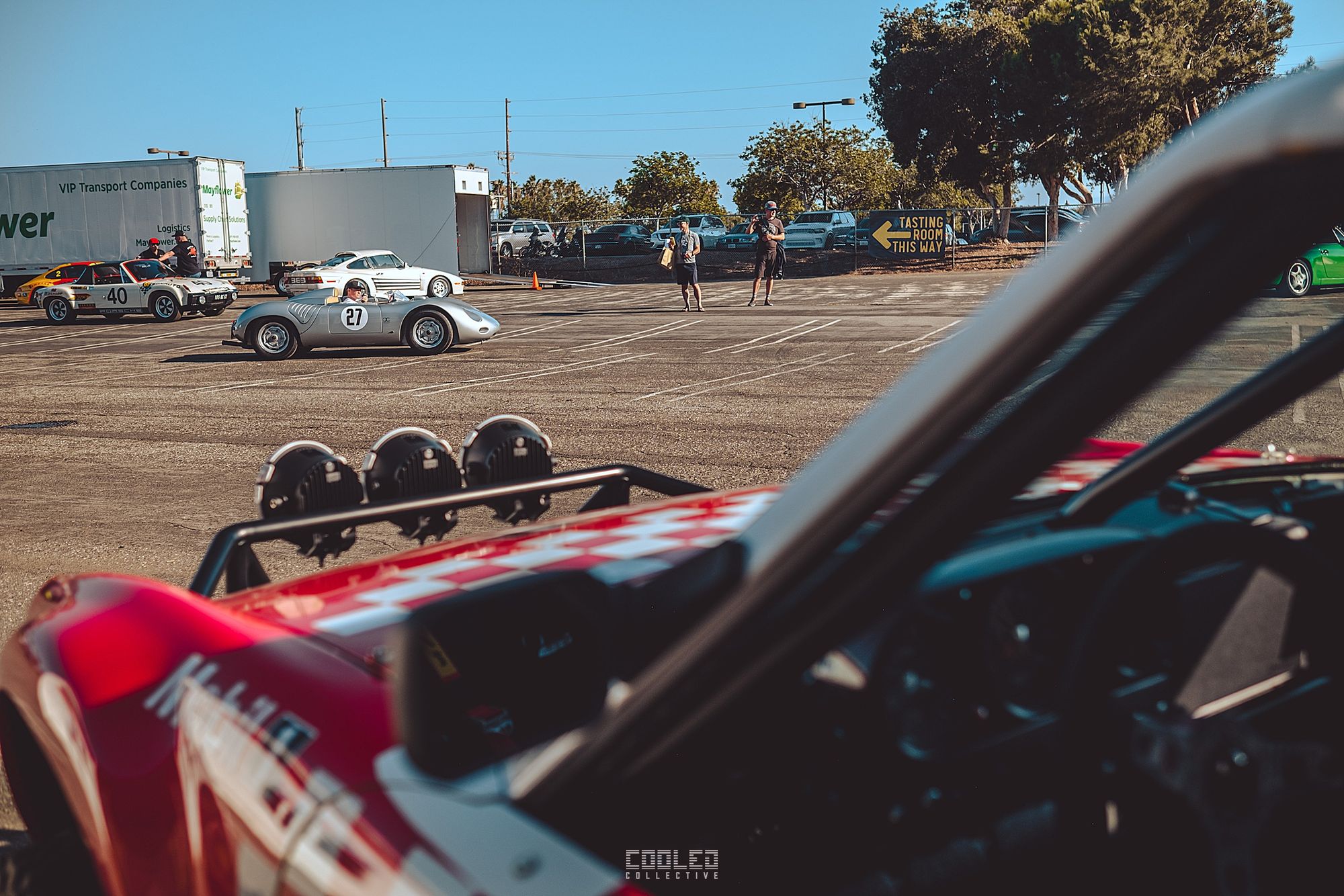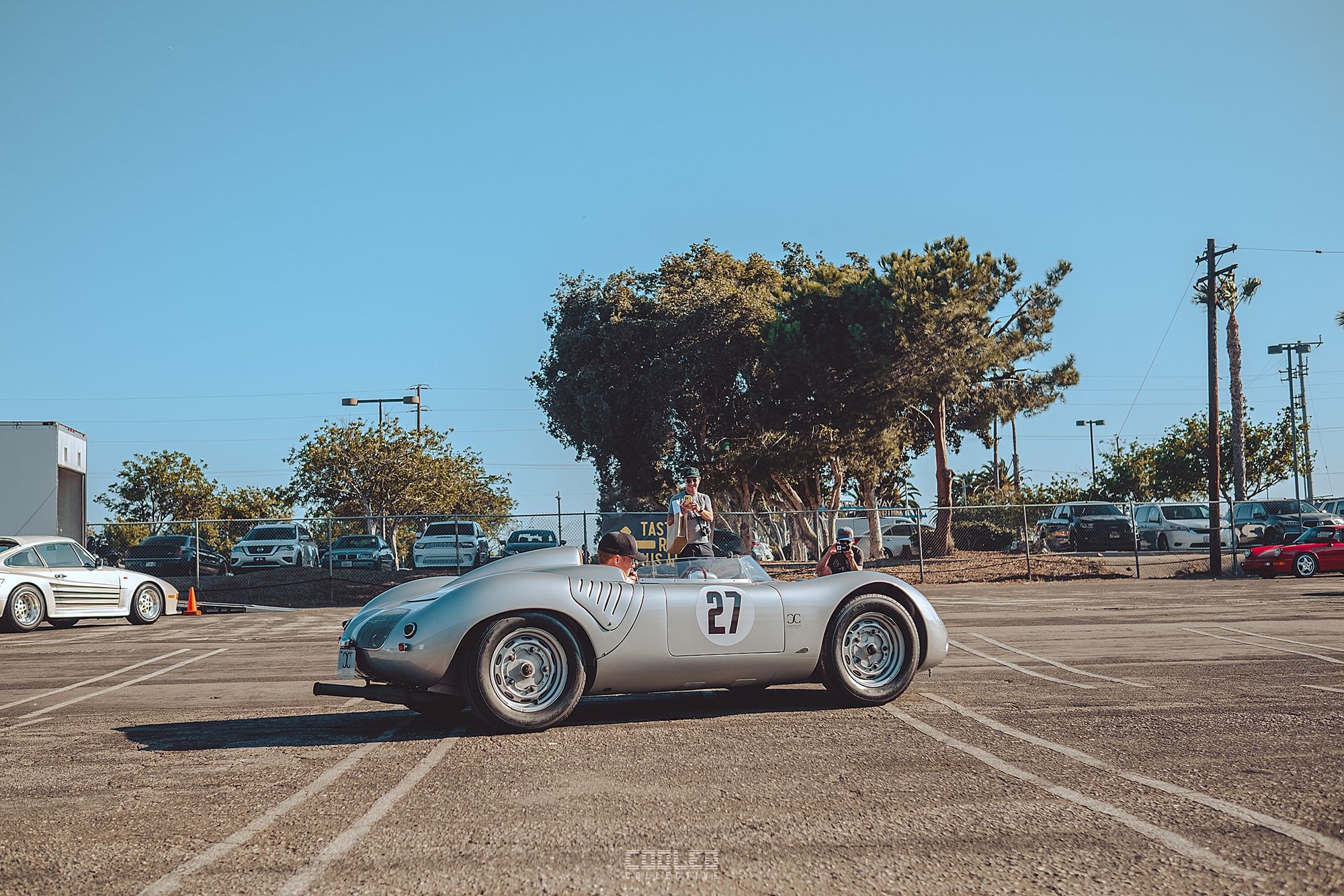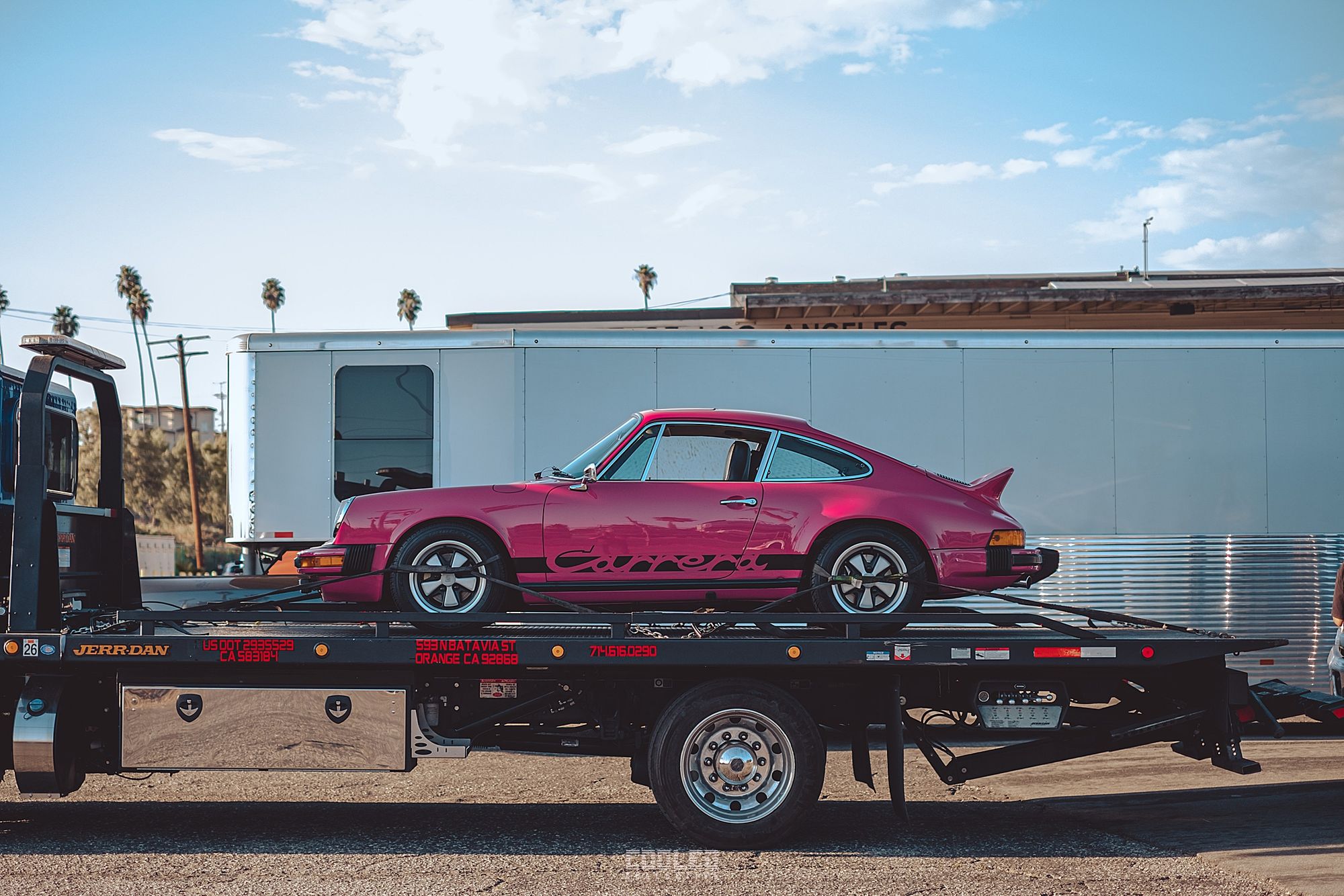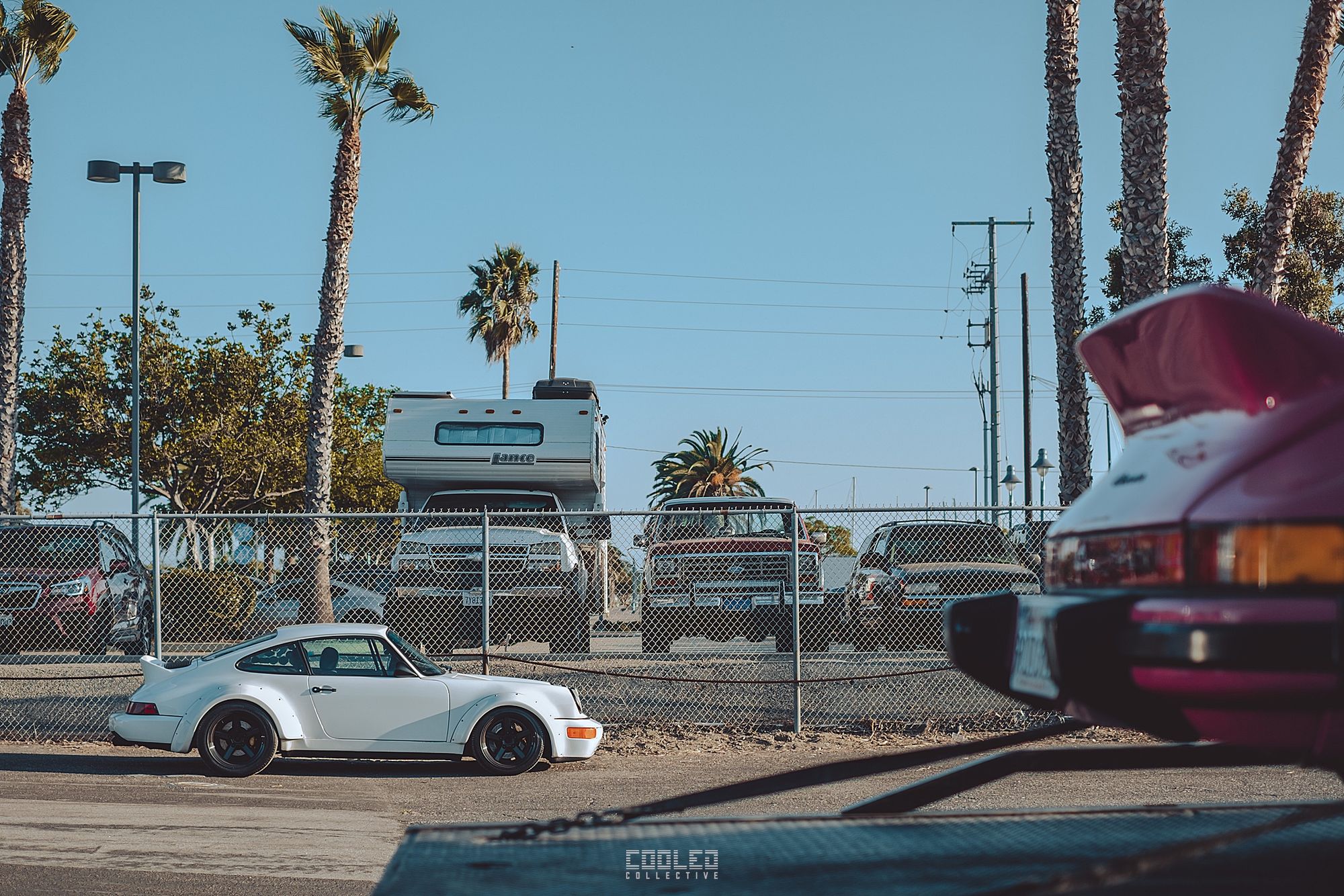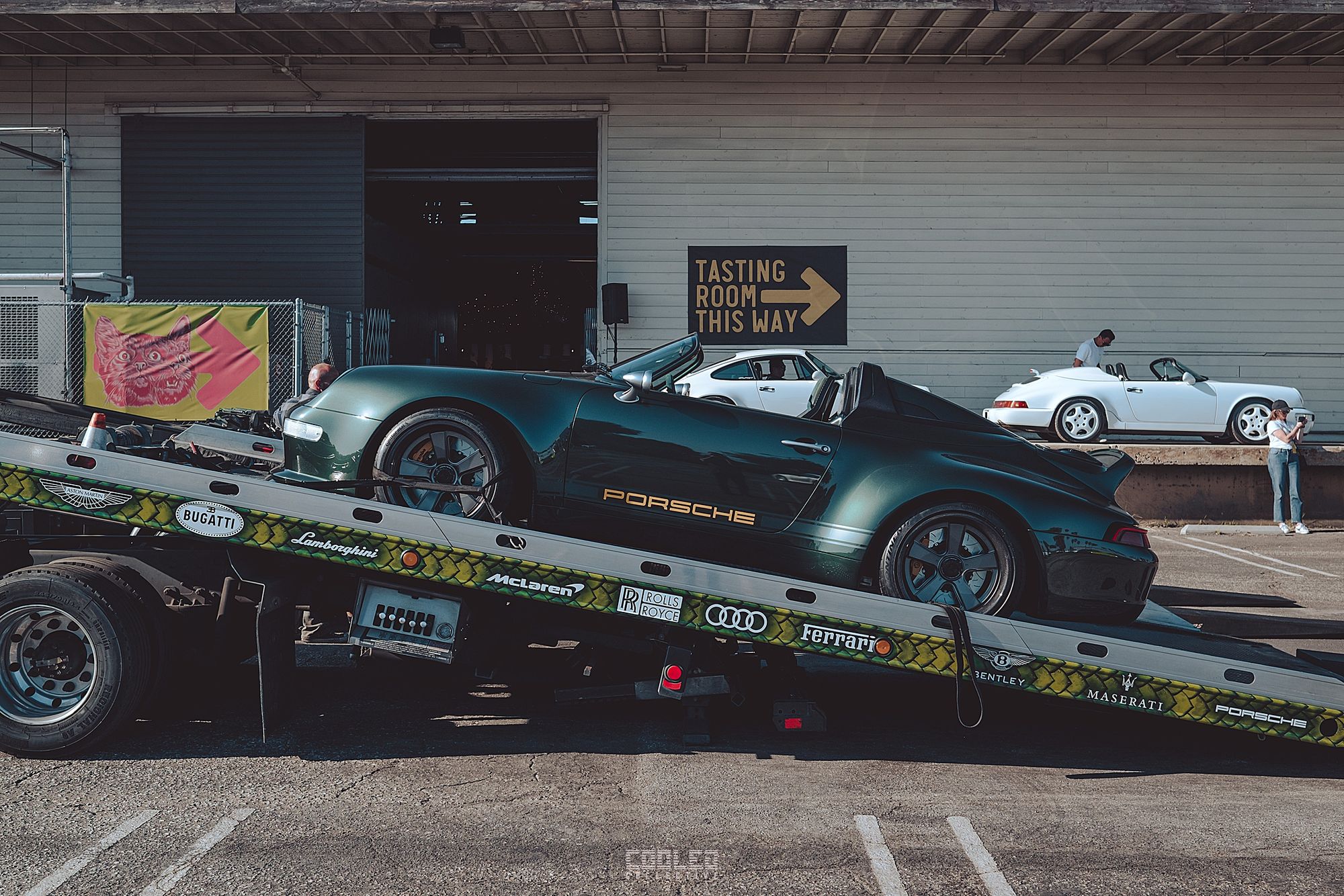 Guntherwerks brought out some of their best with the new Client delivered Oak Green Metallic Speedster which looks absolutely stunning. I mean the car looks great in almost every color imaginable but OGM is something so special. I am a total sucker for it.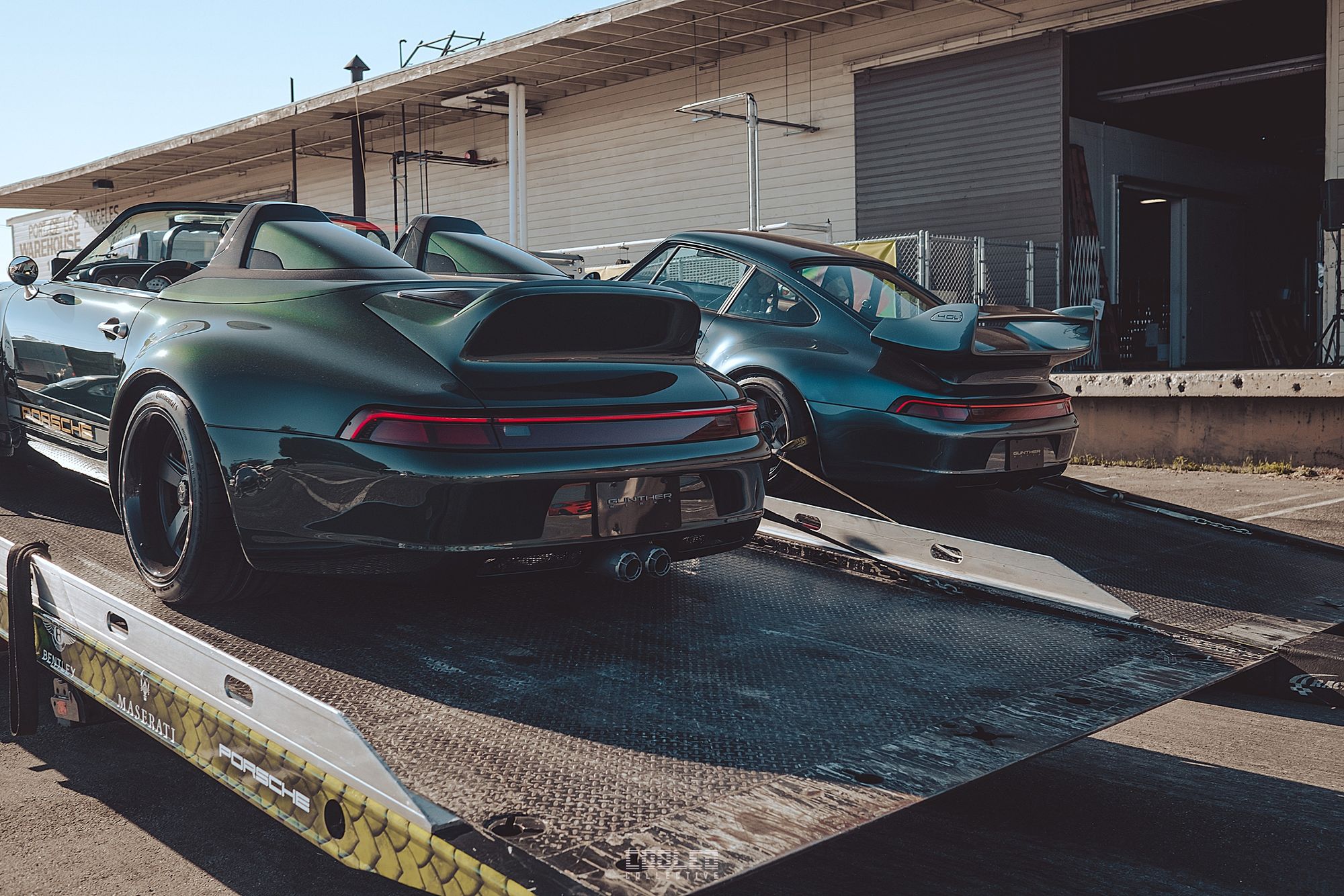 On the loading area side, this beautiful 934.5 was also being showcased on the wooden box, like I said before, the display makes it look like you can just take it right out of there and start playing with it but what a delight this build was just to look at. Perfection is so many ways, the craftsmanship was gorgeous.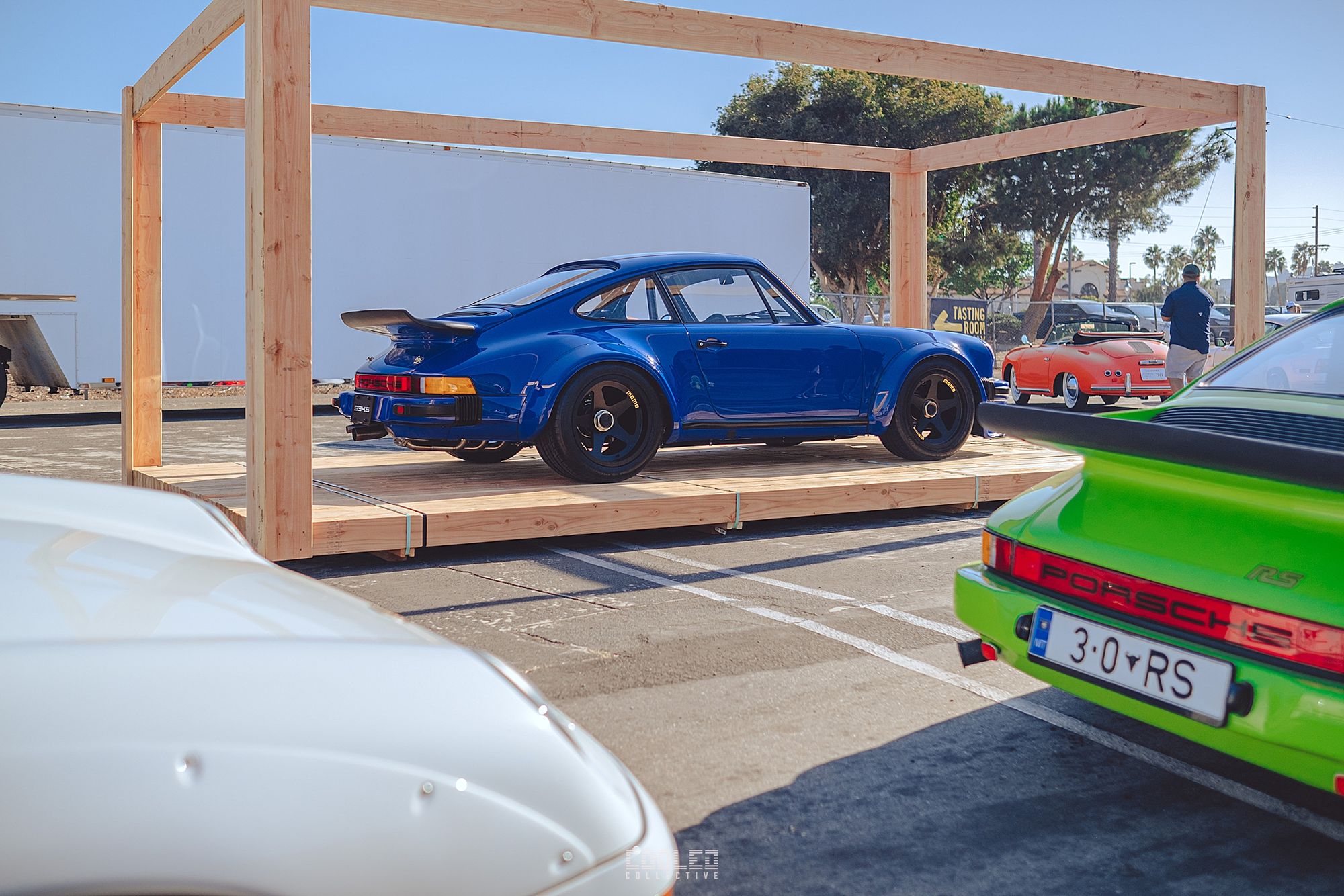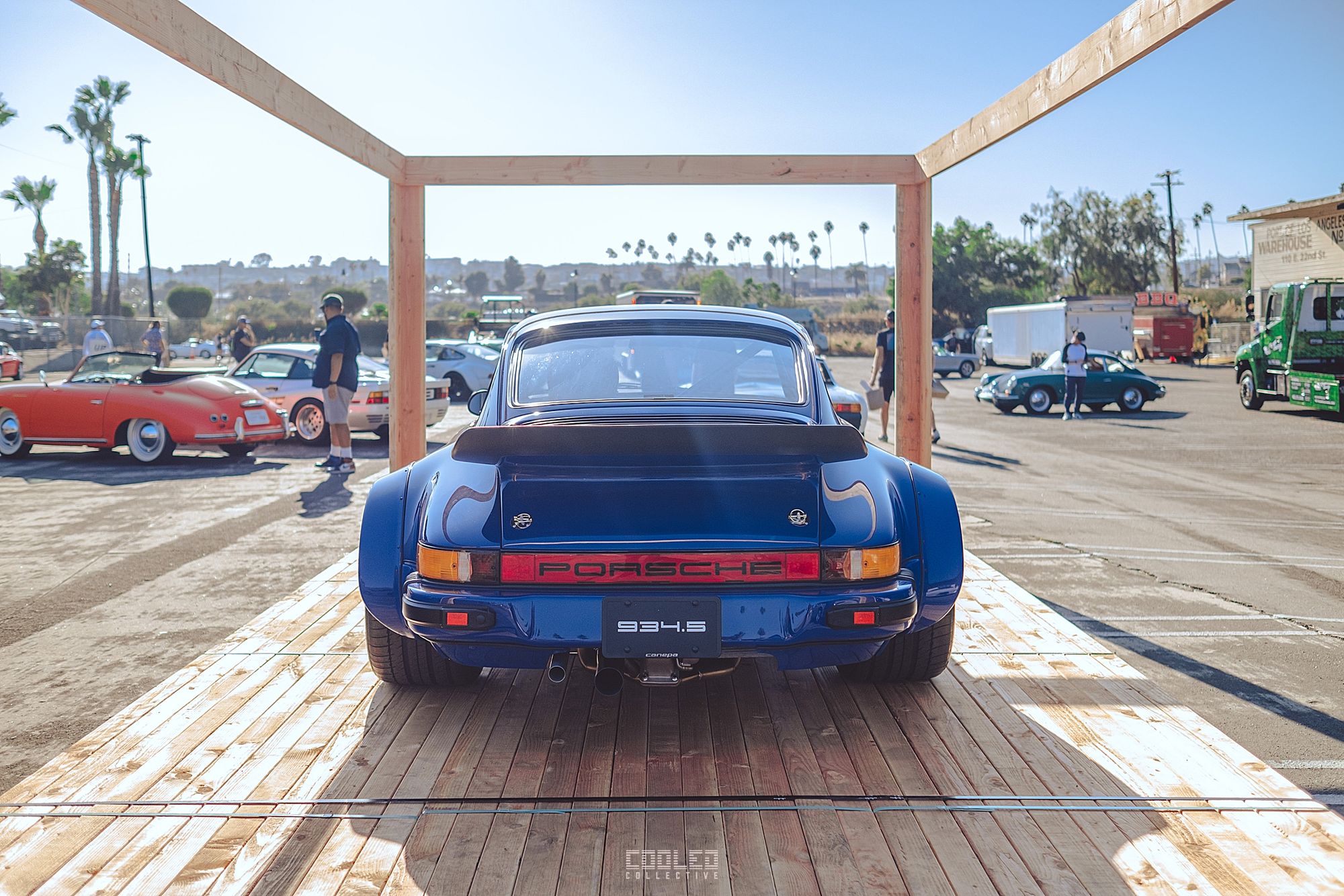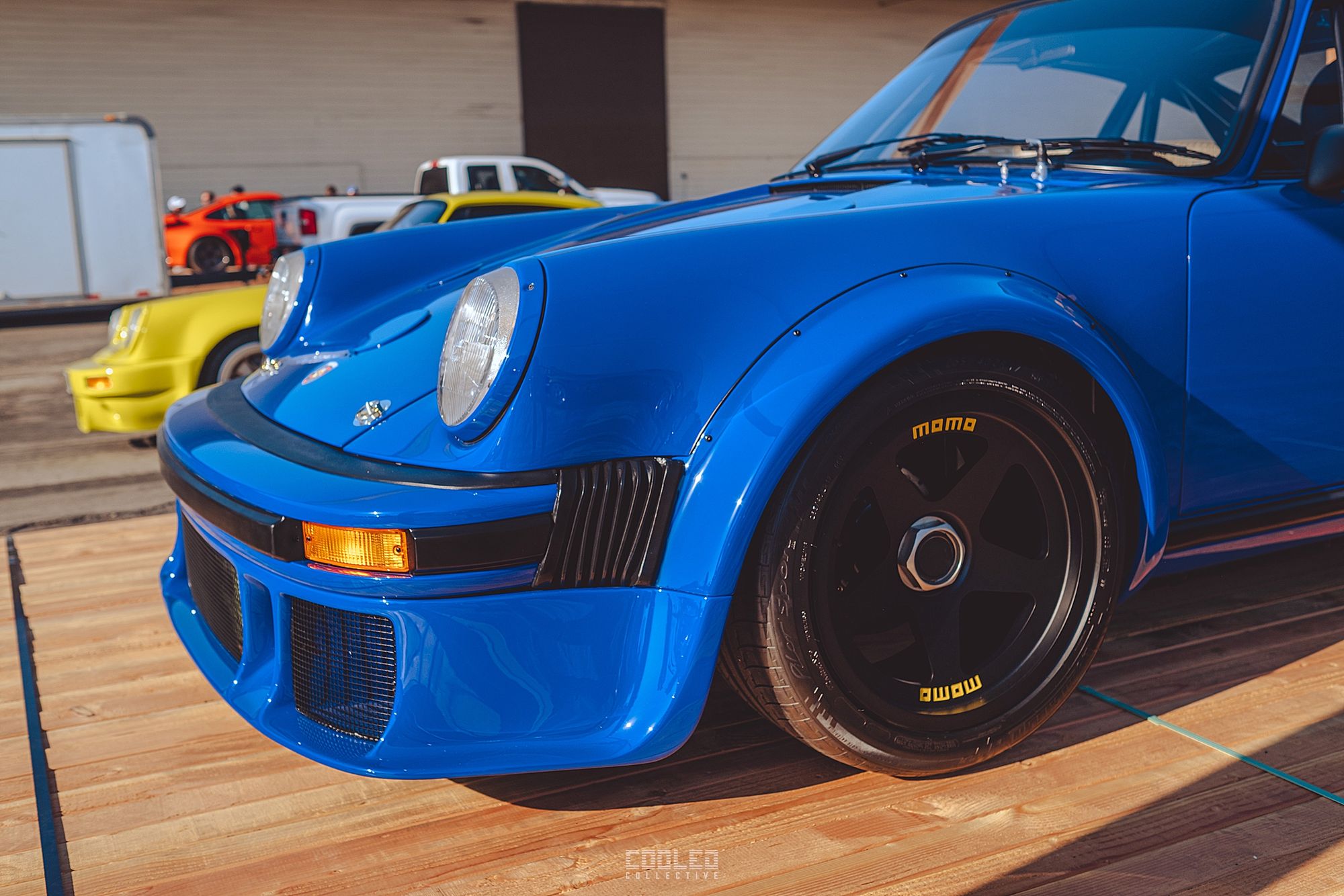 Now when you have a goregous 934.5 being showcased at a world famous car show, it is probably important to have beautiful natural models to accent the racecar. Good thing I had the boys to save the day.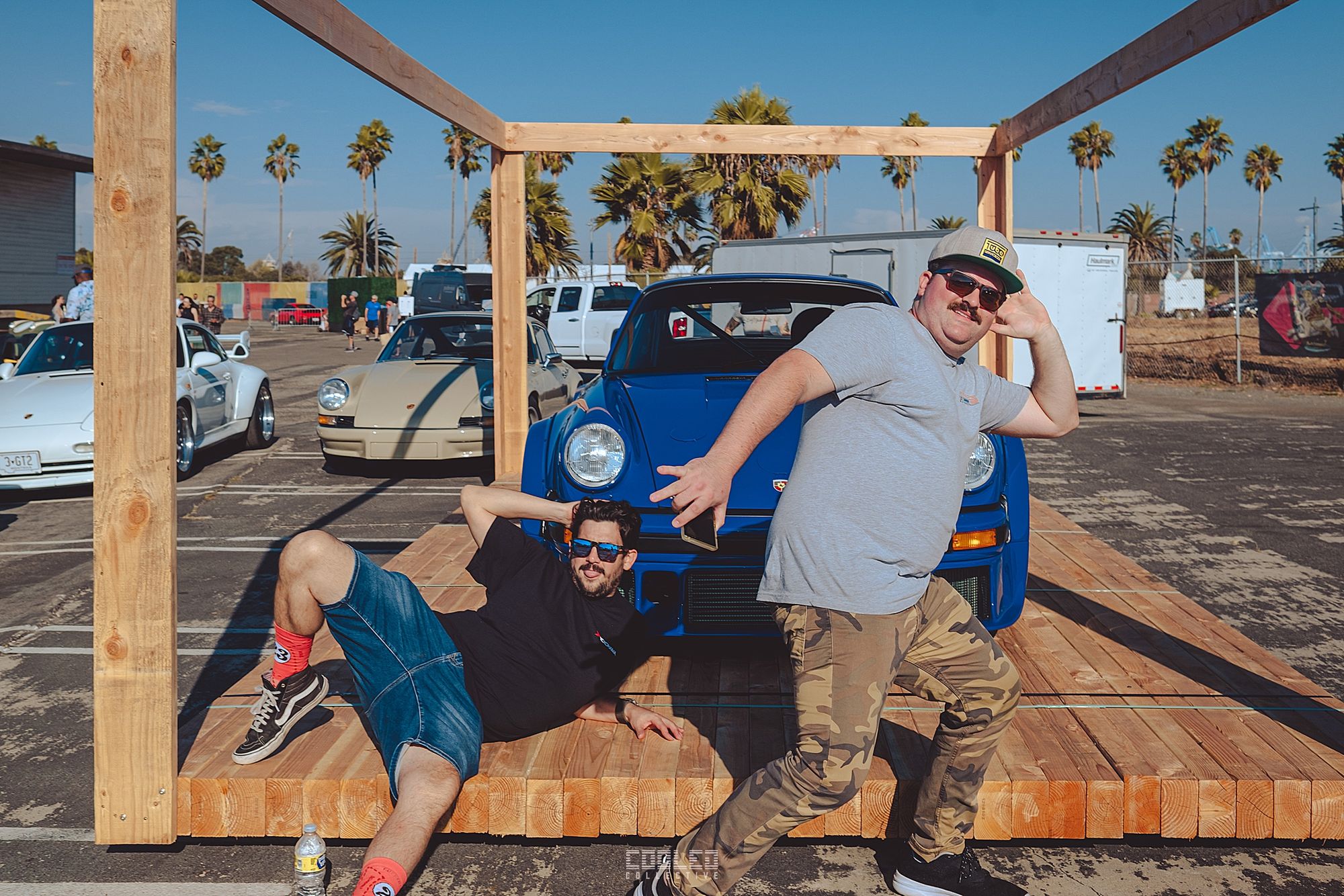 One of the cars that got a lot of attention throughout the day was this 1991 Porsche RS Clubsport N-GT in 1 of 3 Signal Green. Cared for by the owner's nephew, Lucas was very proud to bring such a gem to the show for everyone to enjoy this piece of work.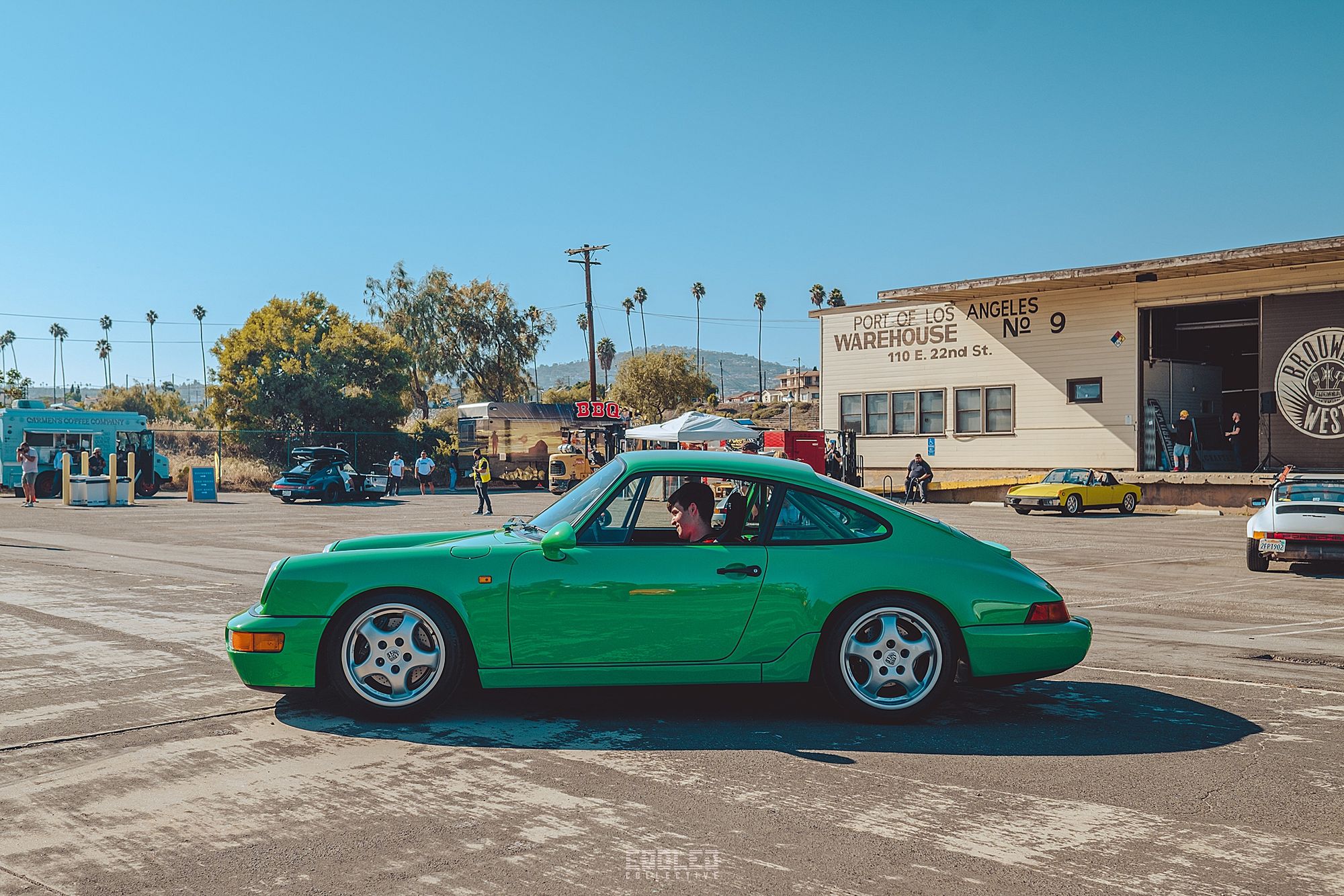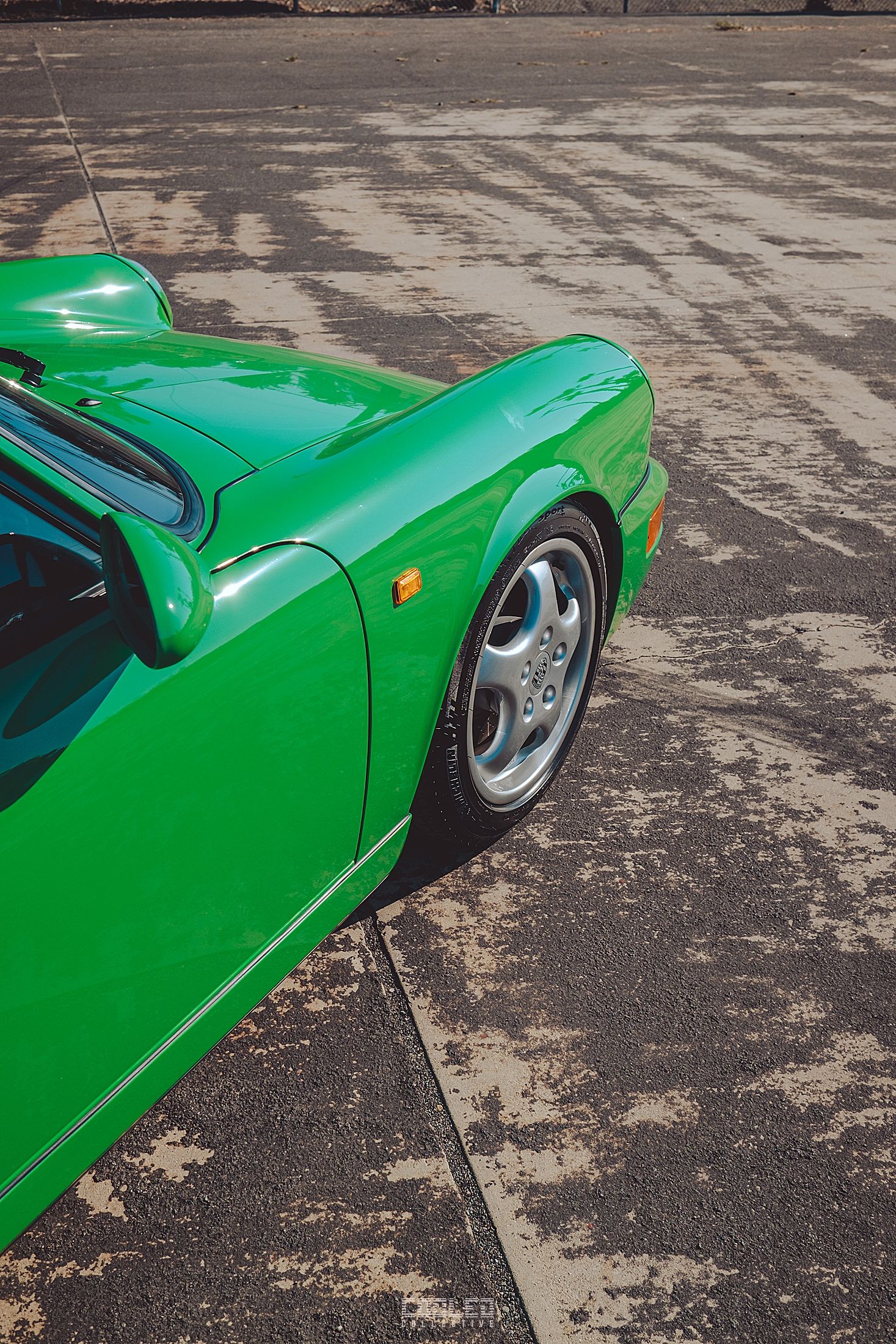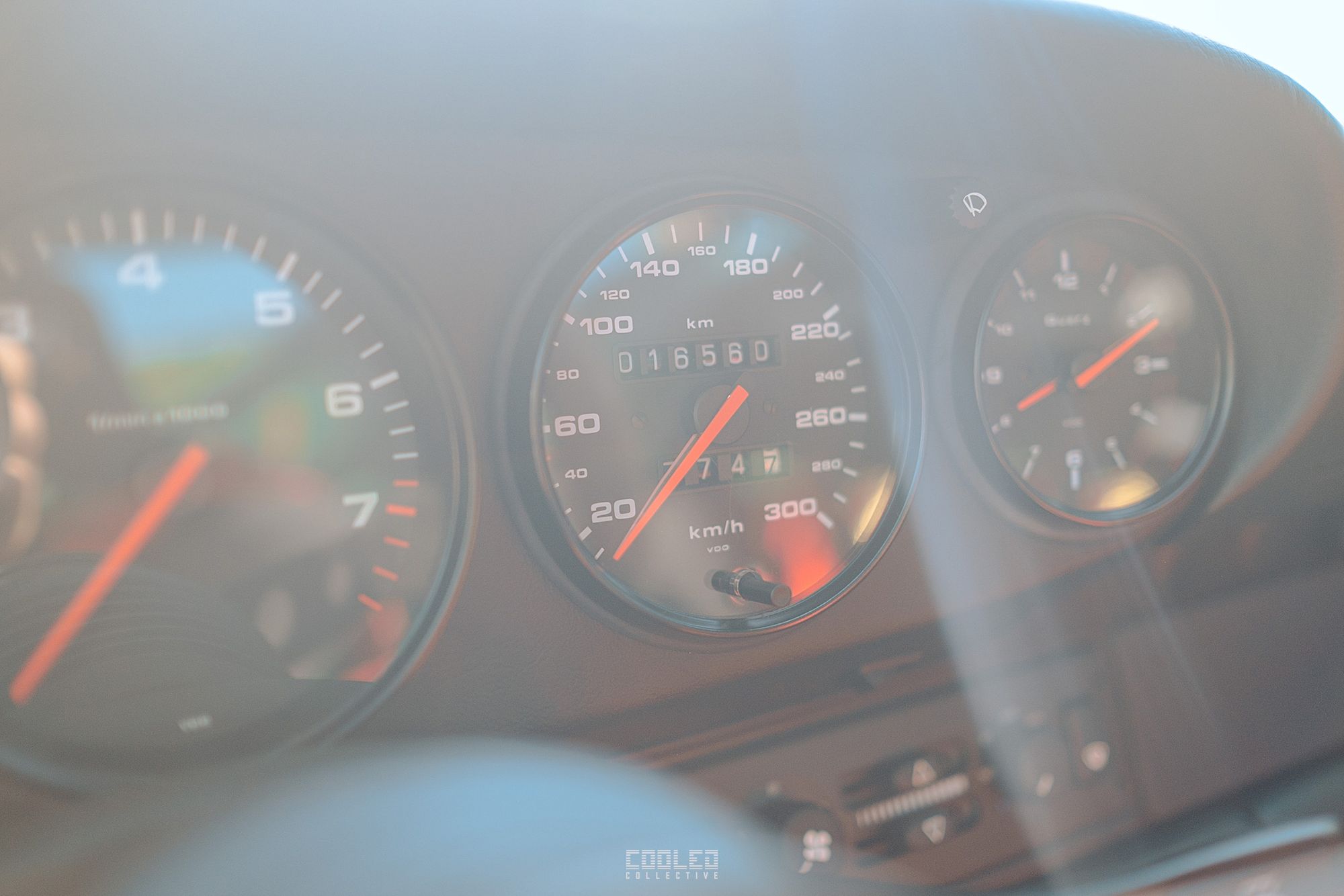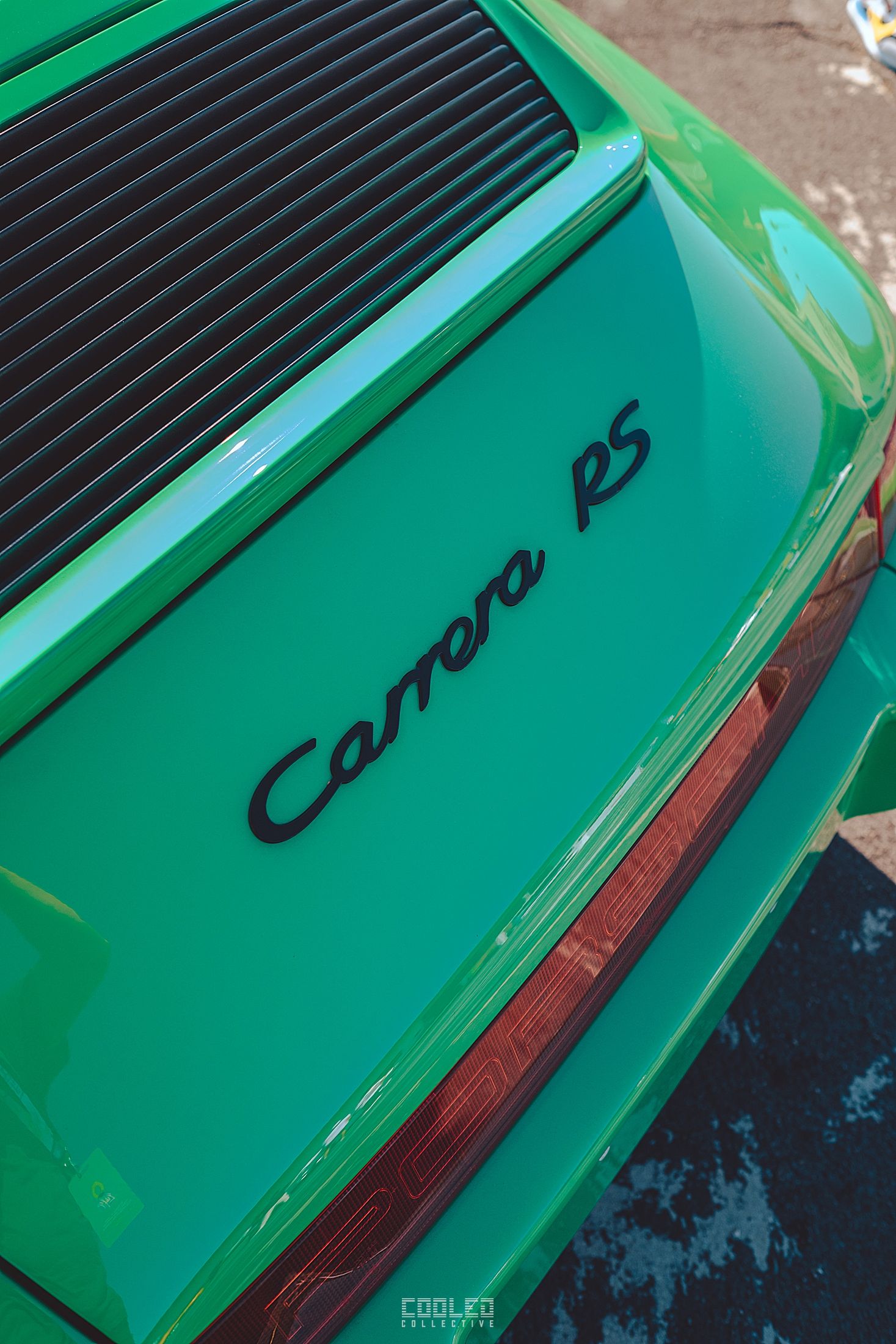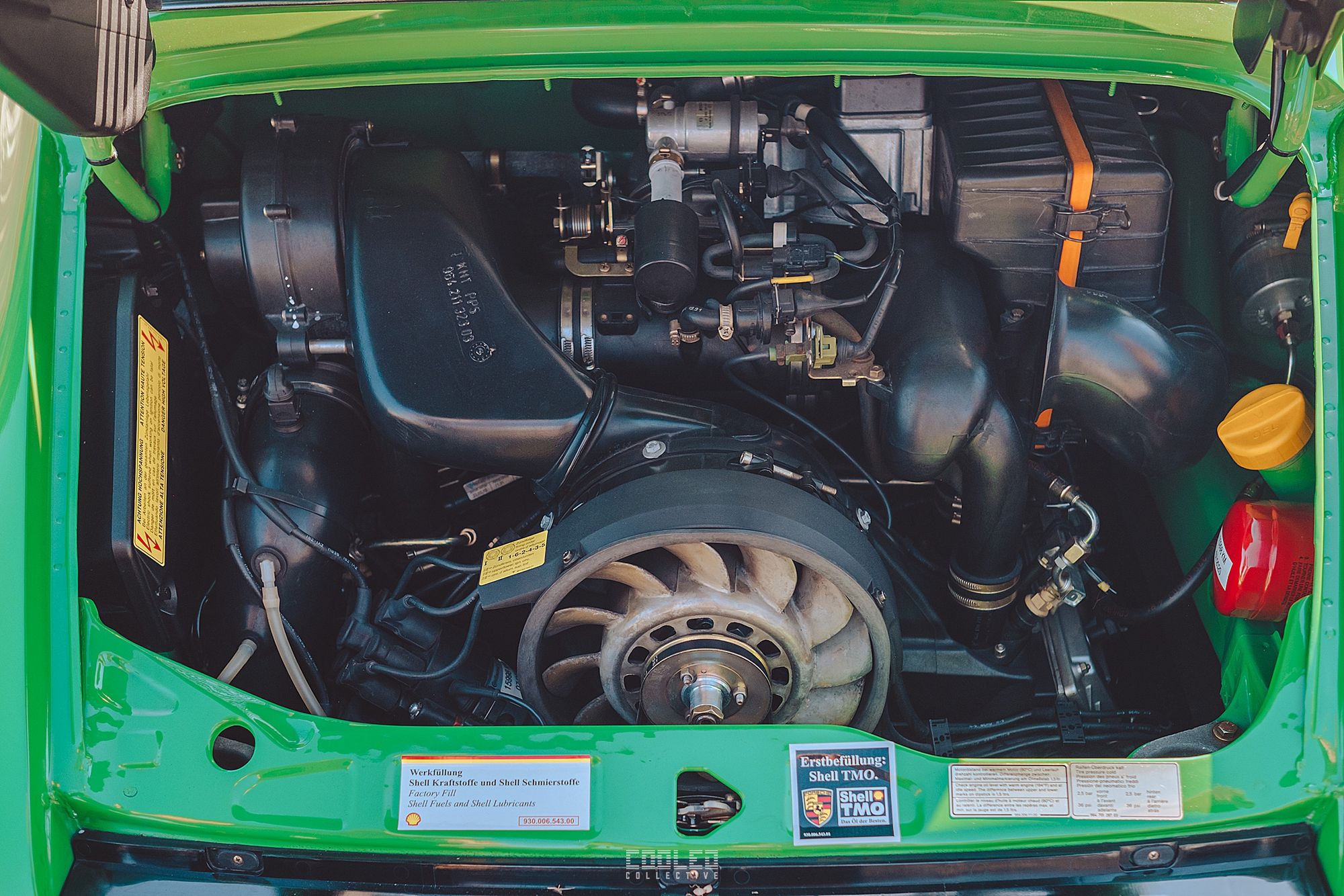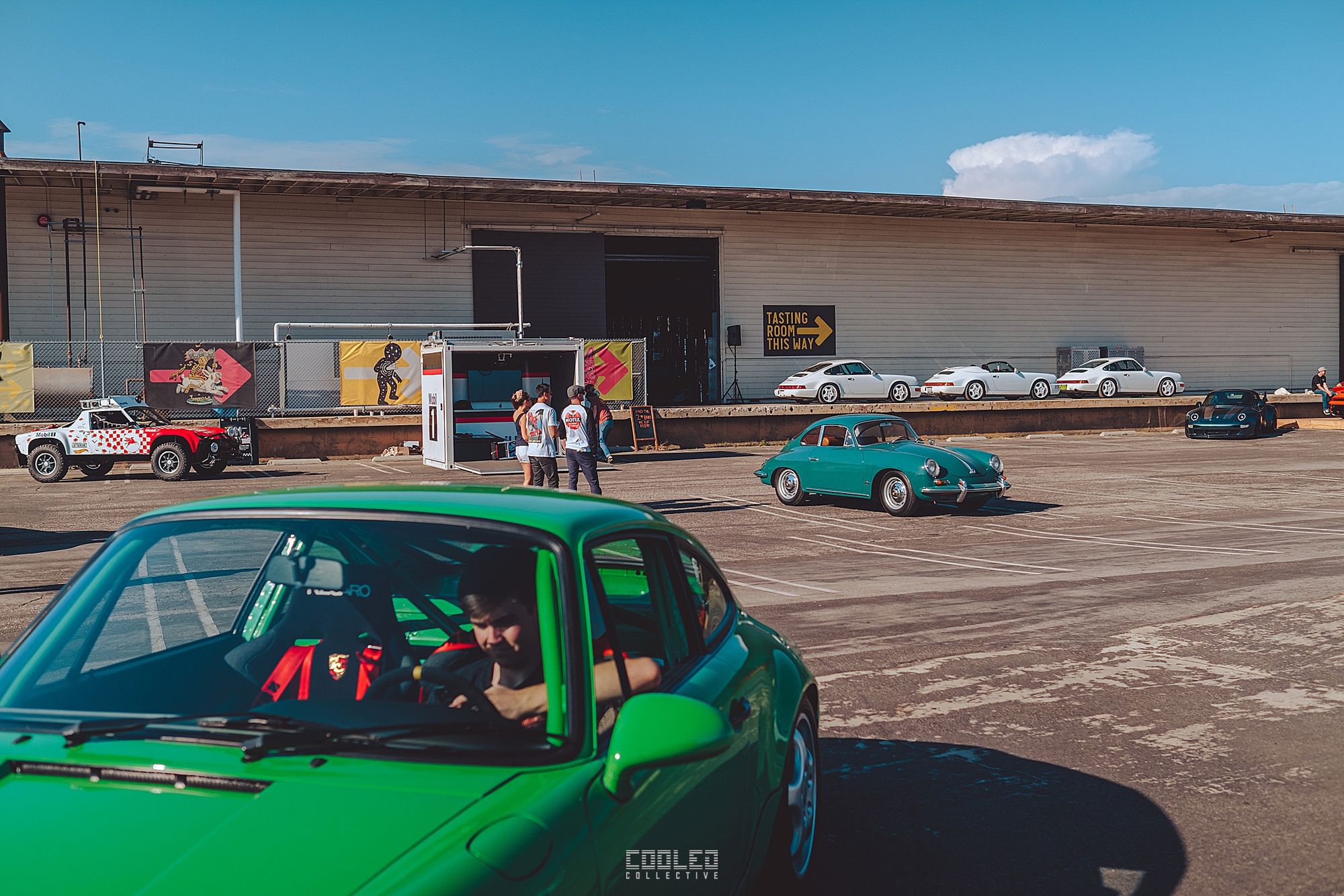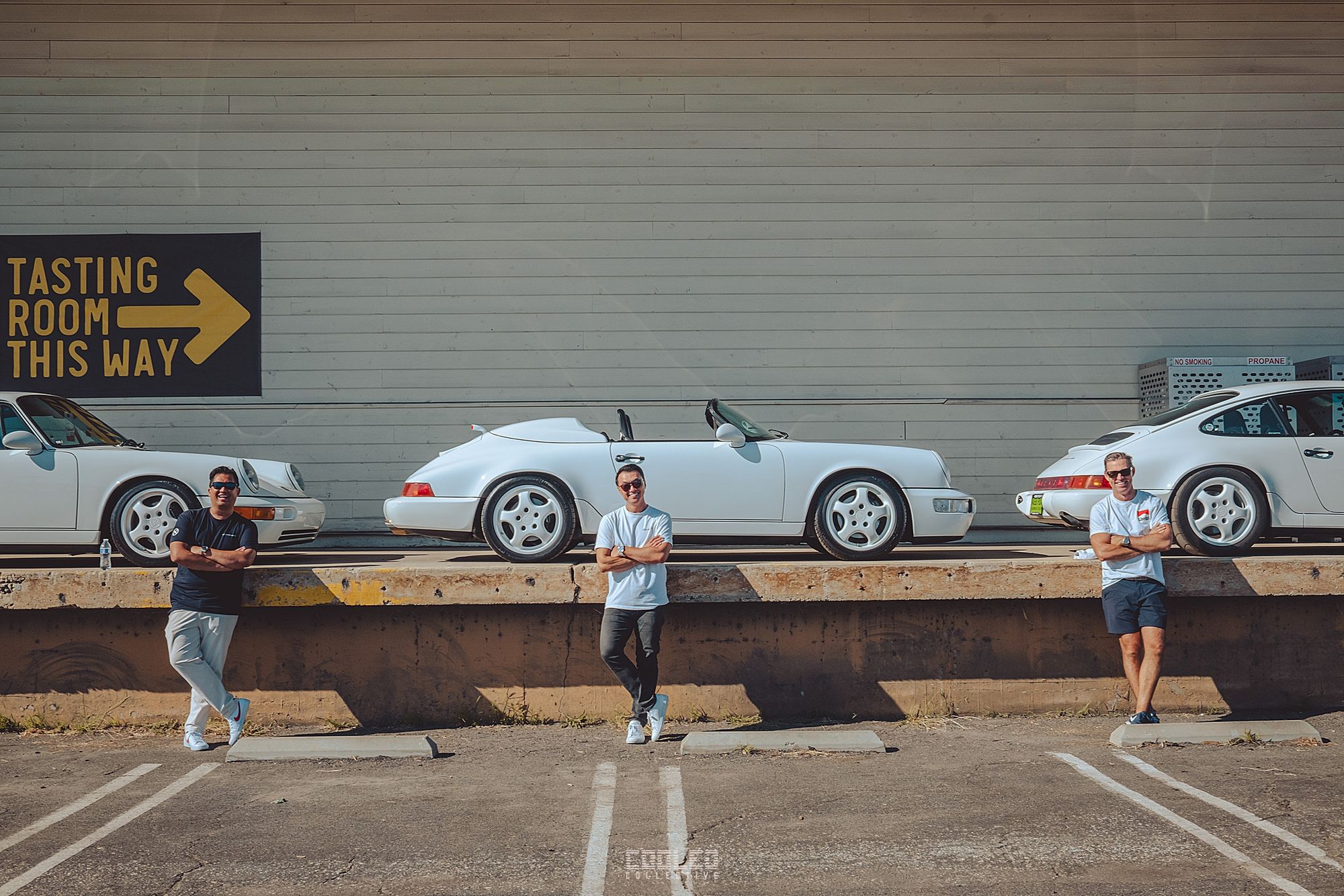 It was also sweet catching up with Verone, Davie and Matt at the event. They were the yayo crew sporting the Carrera 2, Speedster and Cup Car respectively.  Always in good spirits, the boys were having a great time at Luft8.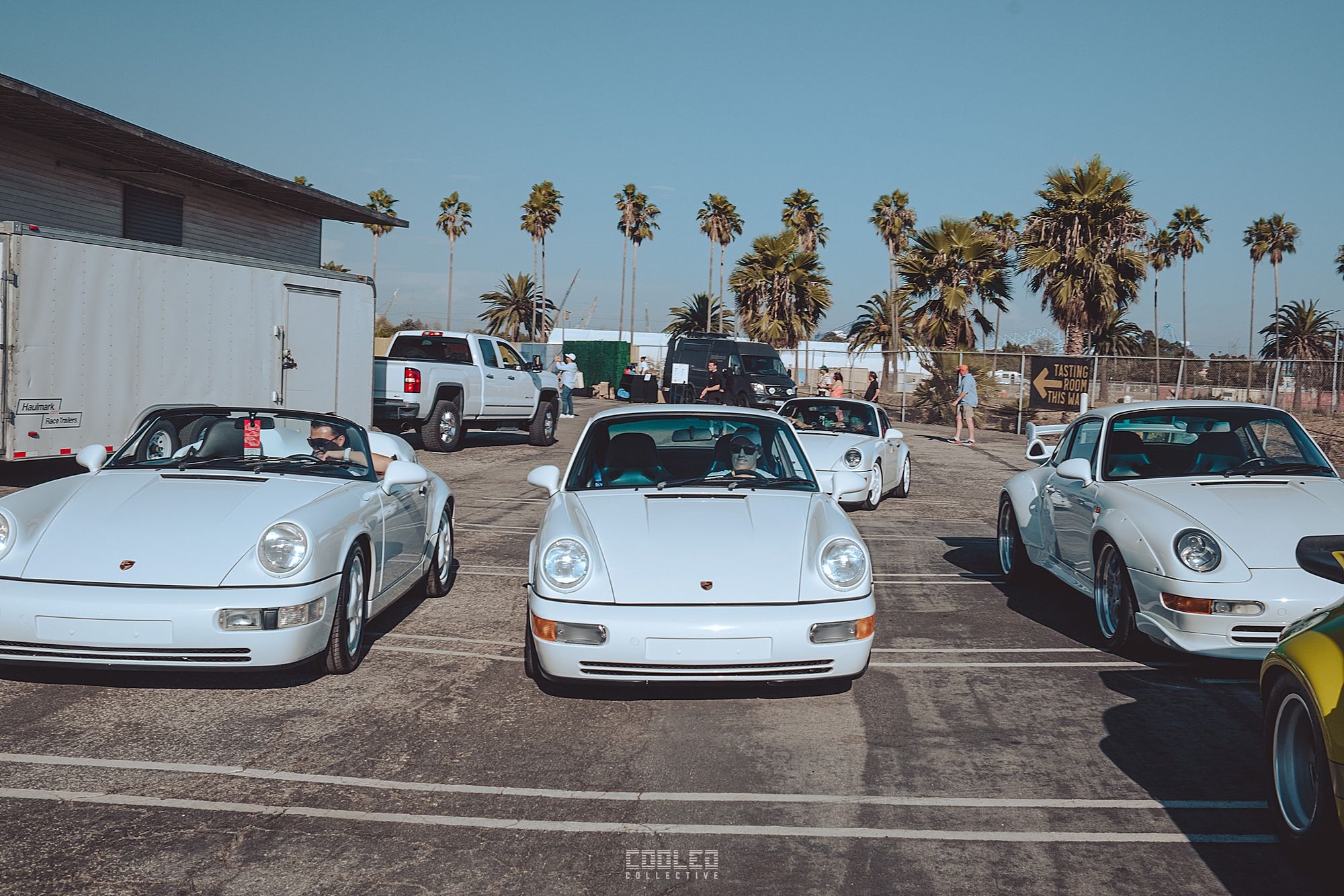 You know what they say, when there's one, there's two and when there is 3, there is 4... or is that even a saying? However in this instance, a white GT2 magically appeared adding to the white snow collection.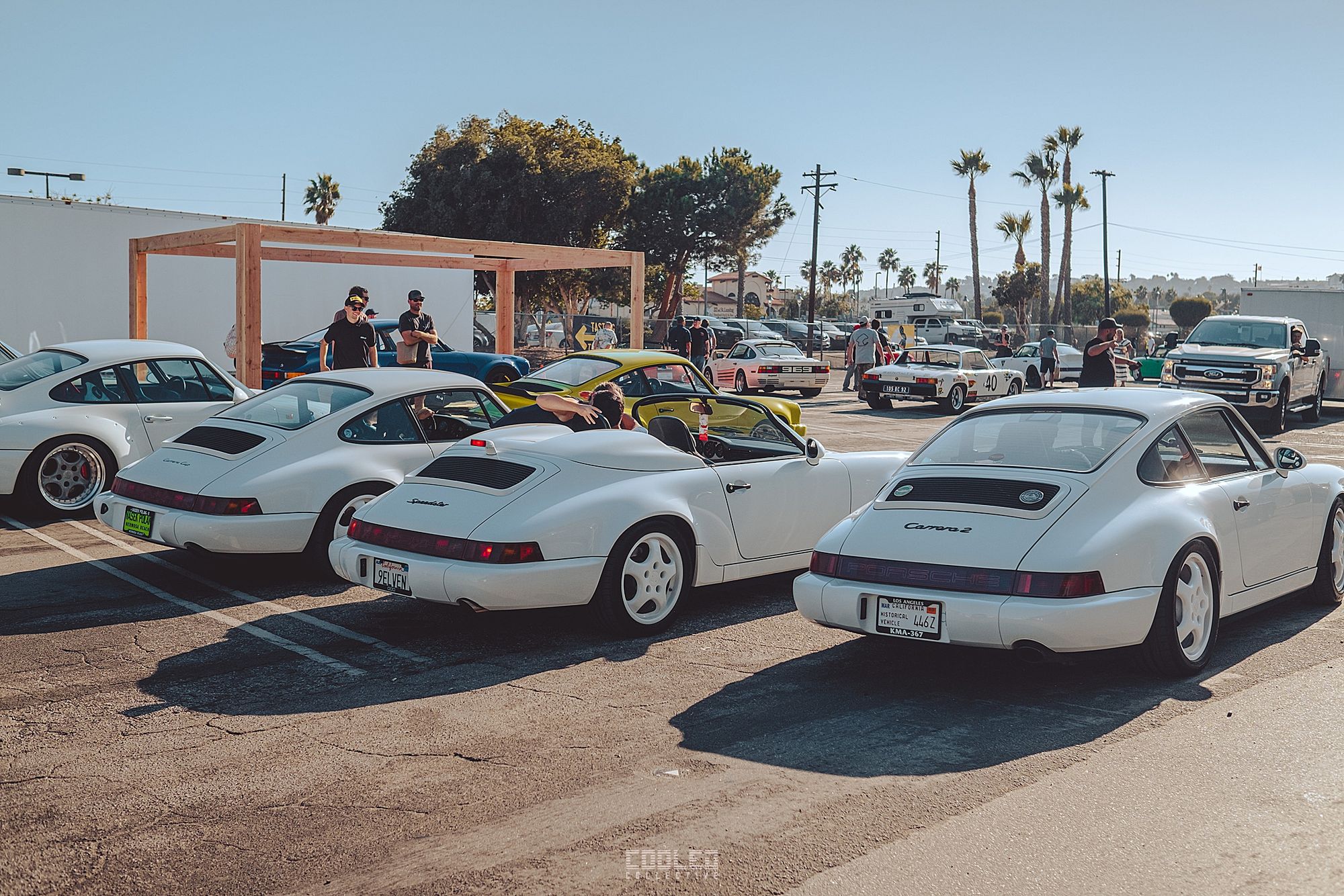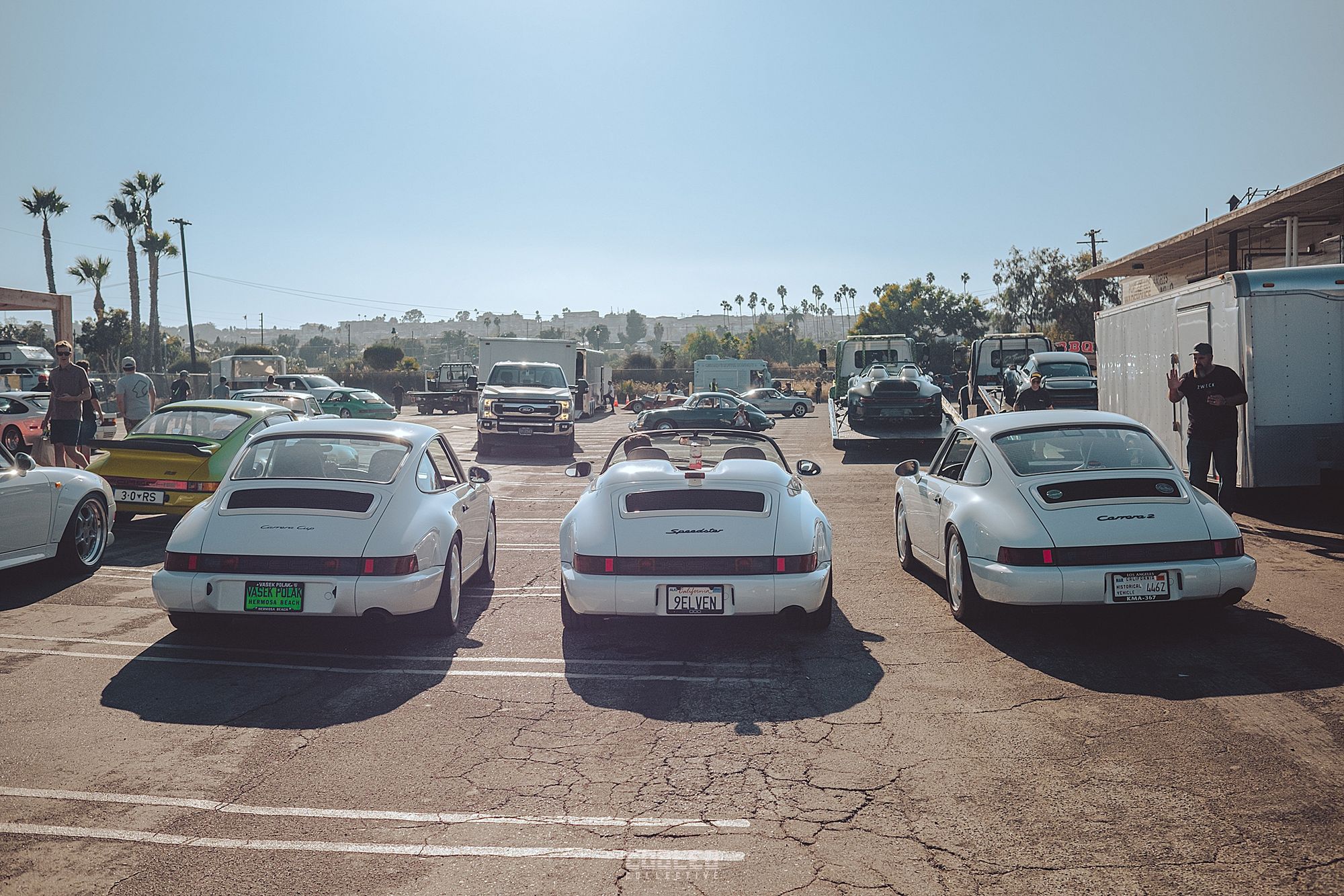 Thanks Verone for always reppin', even back to the old school 911c decal that is showing all of the wear and tear from being on so long. <3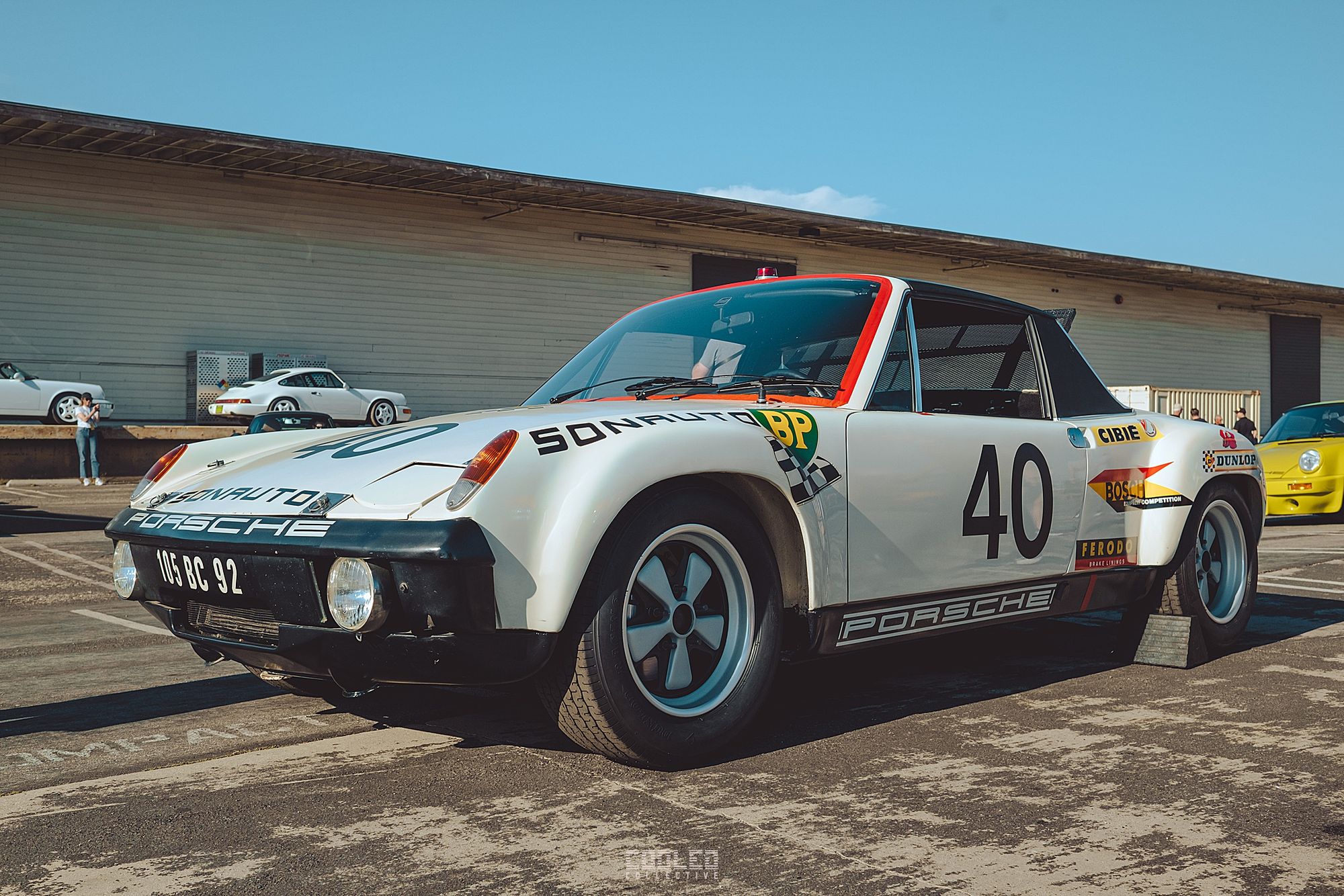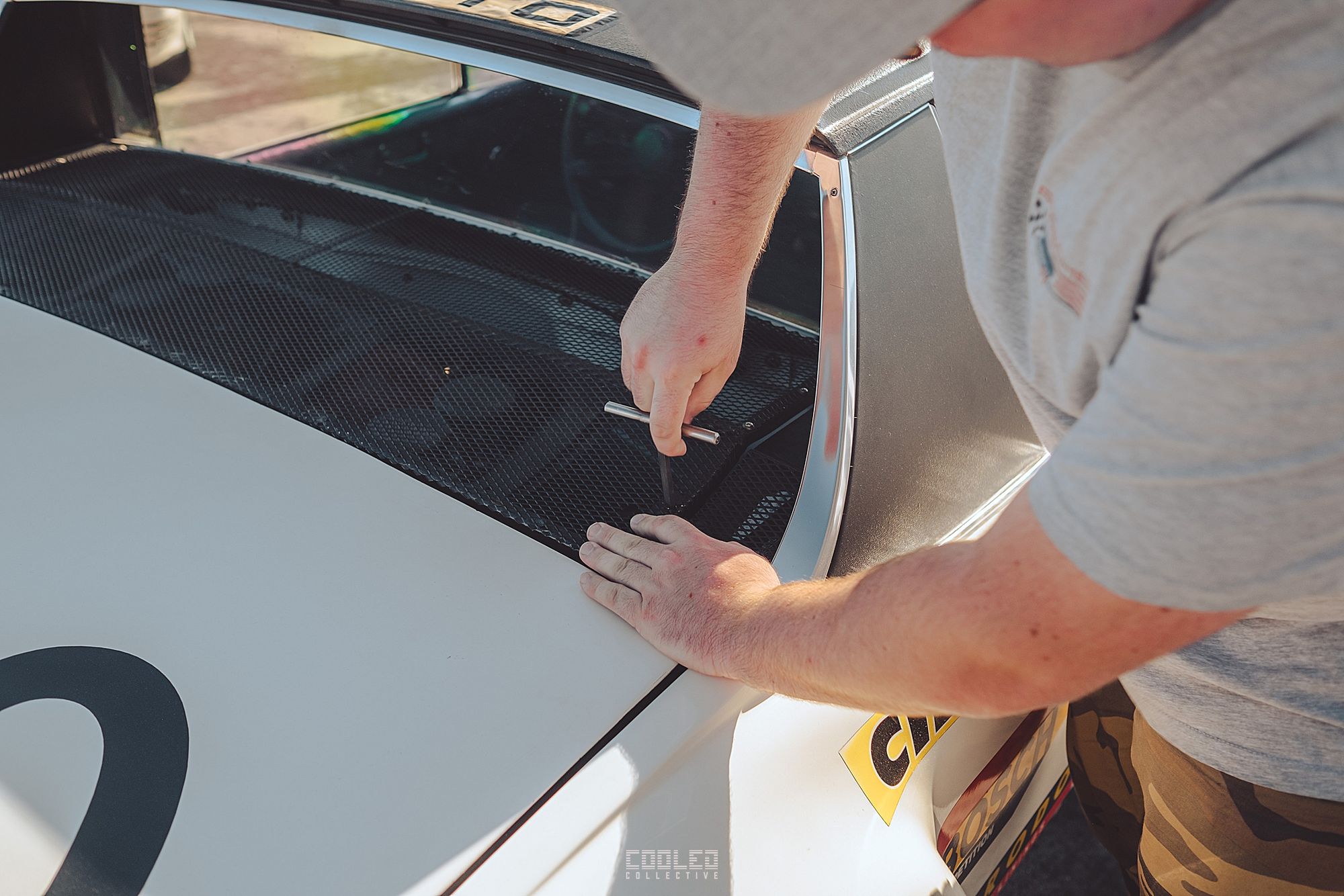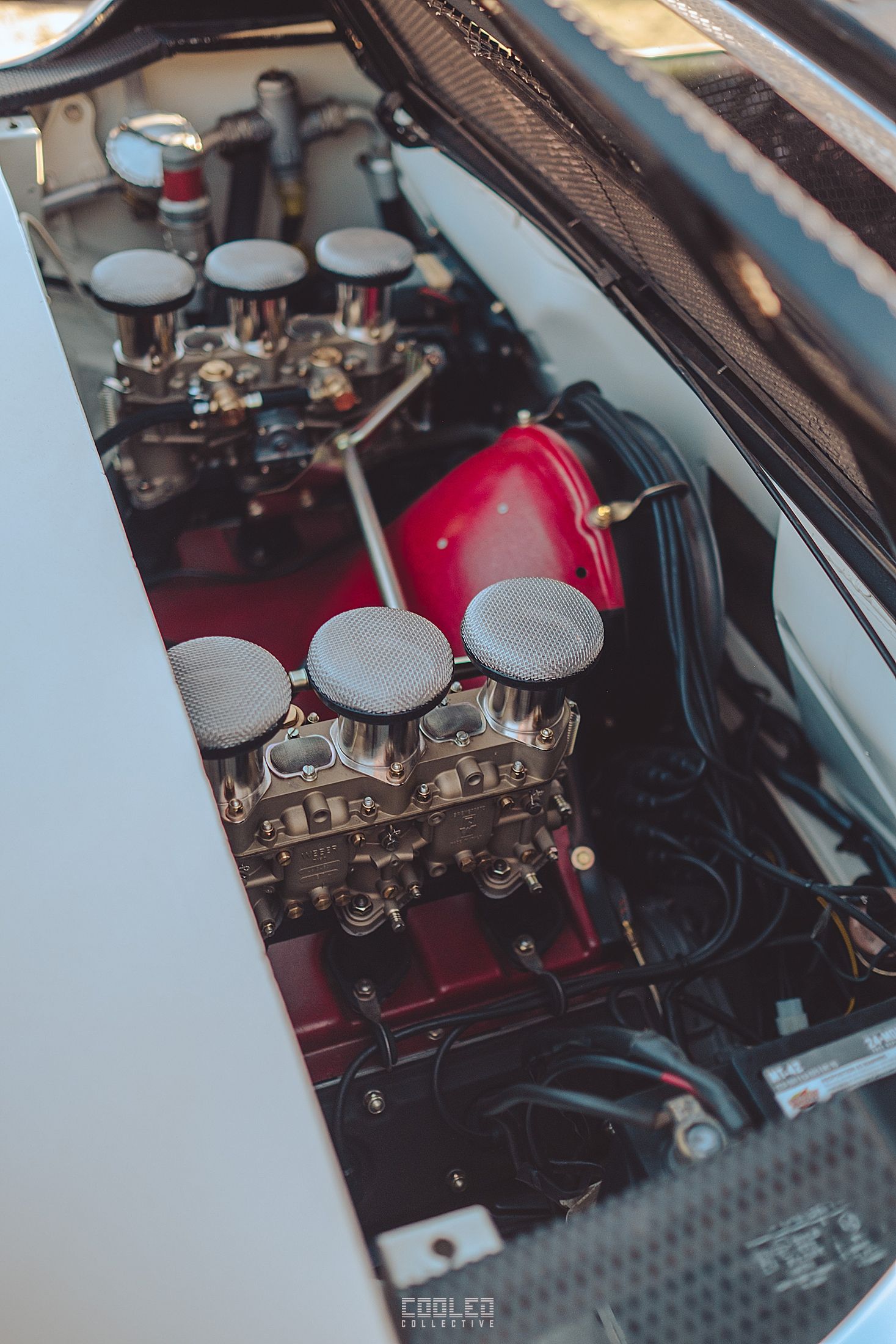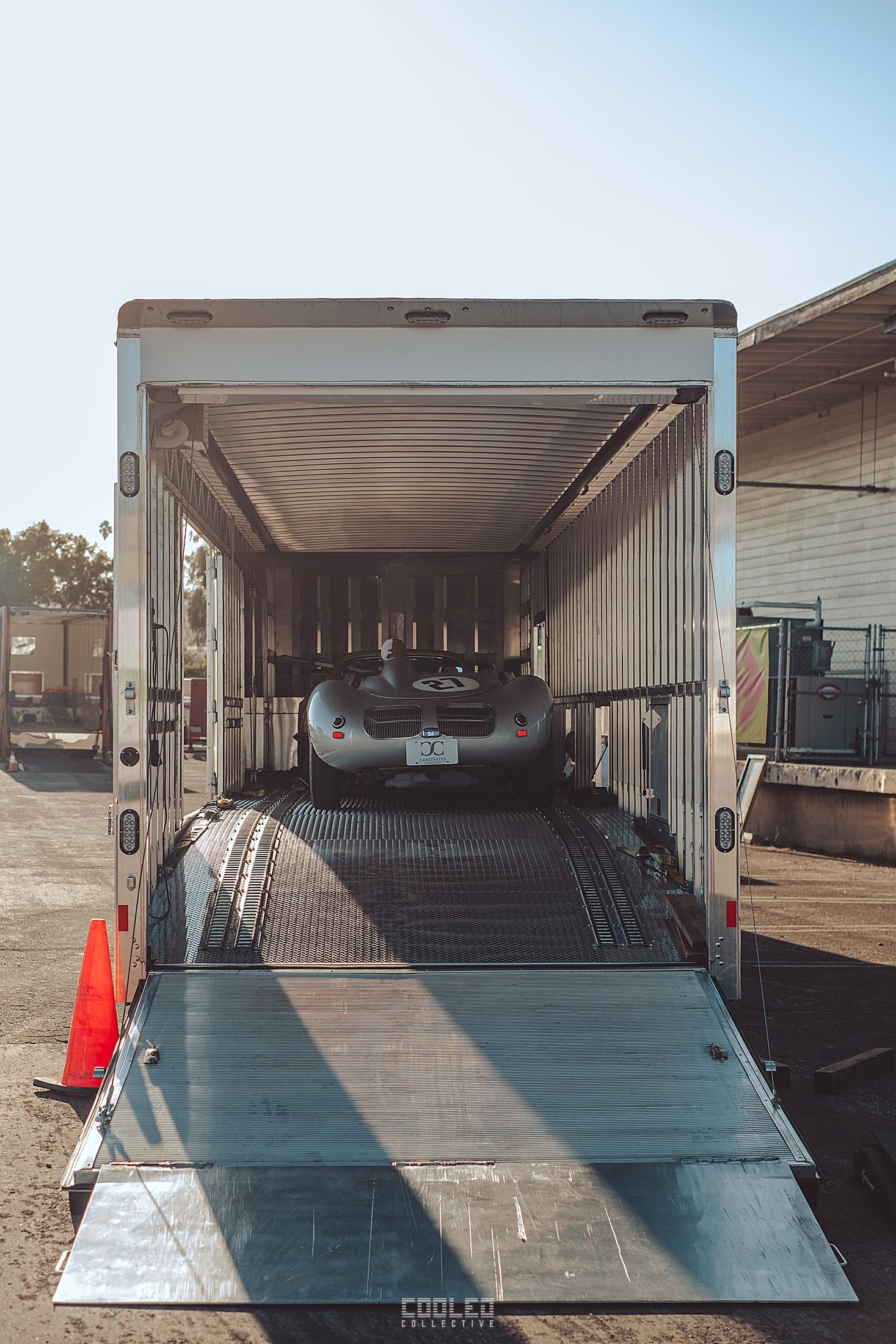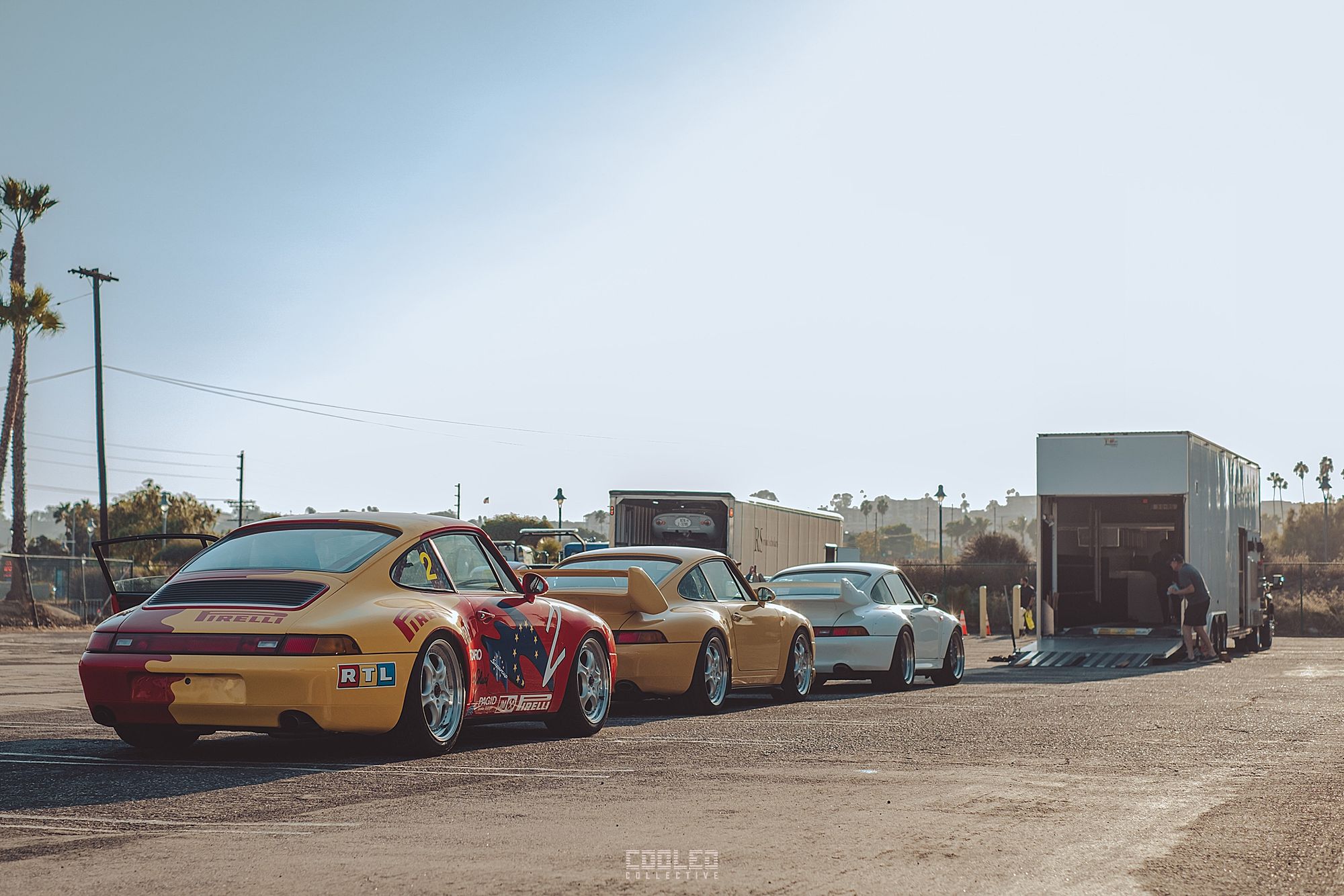 Super heroes, Super Cups, Super everything lining up and about to head home. Such a delight to check out these icons but hopefully next year we can see them living their best life out at Rennsport Reunion in 2023 at Laguna Seca!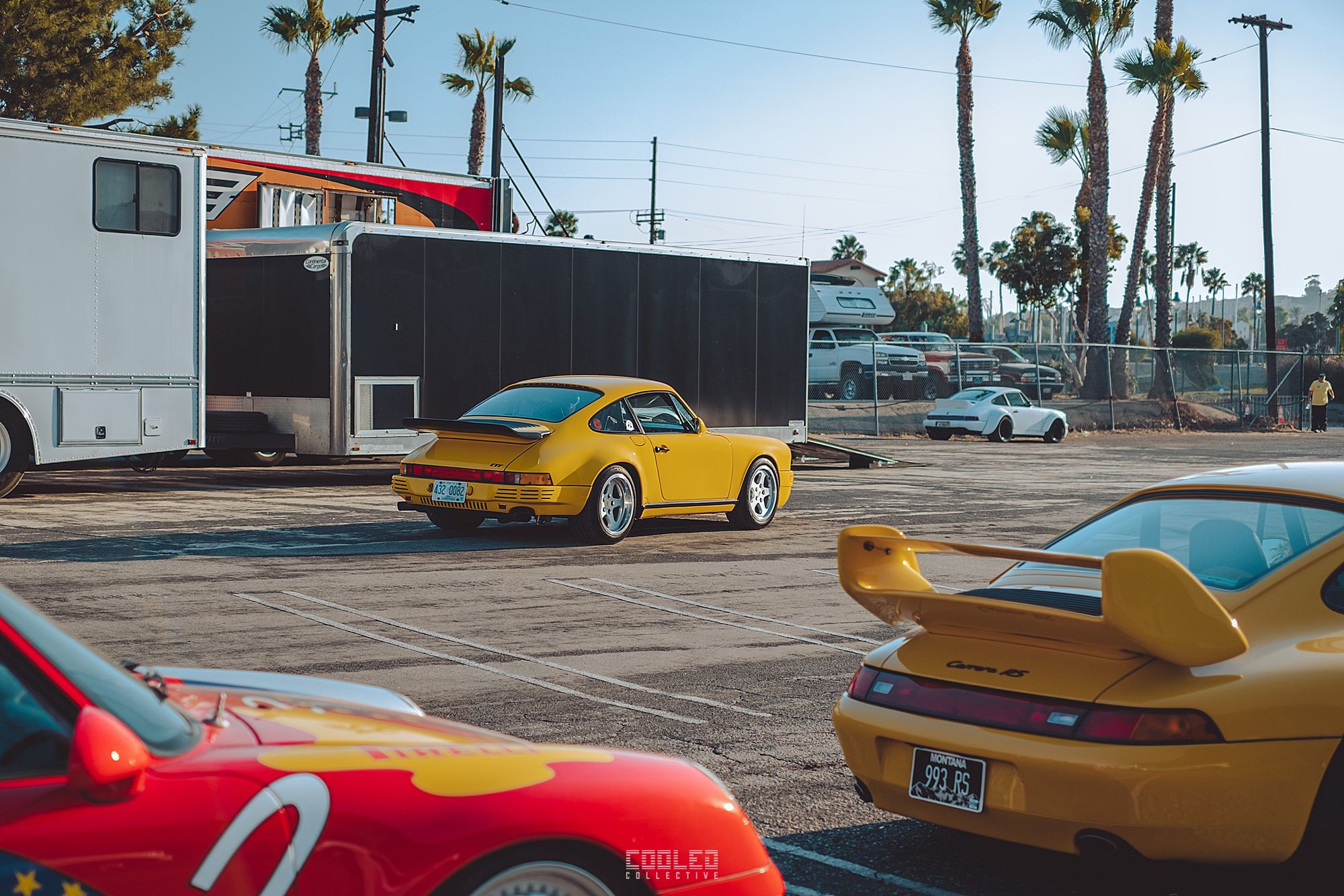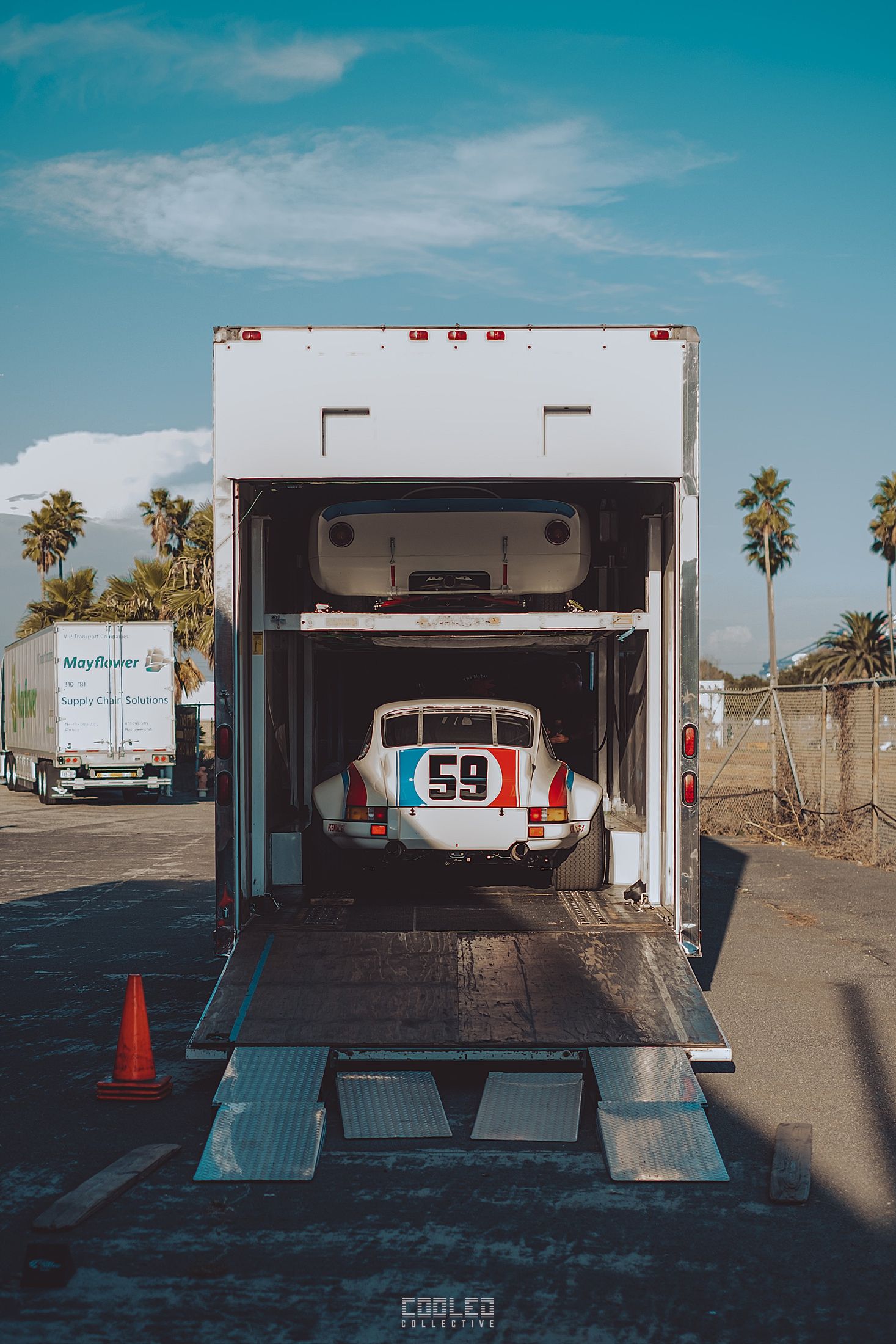 As the day was winding down, I was so fortunate enough to be a part of such an extraordinary day and also doing it my way, which for the most part is a bit non traditional. So much of the day was covered by many spectators and amazing photographers so I hope that you could enjoy another angle of the show.
I want to thank the Luftgekühlt team for giving me an opportunity to cover your event. I know it was an insane amount of work putting everything together and trying to meet the ever growing demand of the brand. I had a blast!
Thank you
Drew Manley
---
PORSCHE PARKING
By far the most impressive aspect of the Porsche parking lot was the sheer number of Pcars parked as far as the eye can see. As you can imagine, mainly aircooled 911s but a huge collection of water cooled, 356, 912 GT3, Turbos, Cayenne, Macan and many more.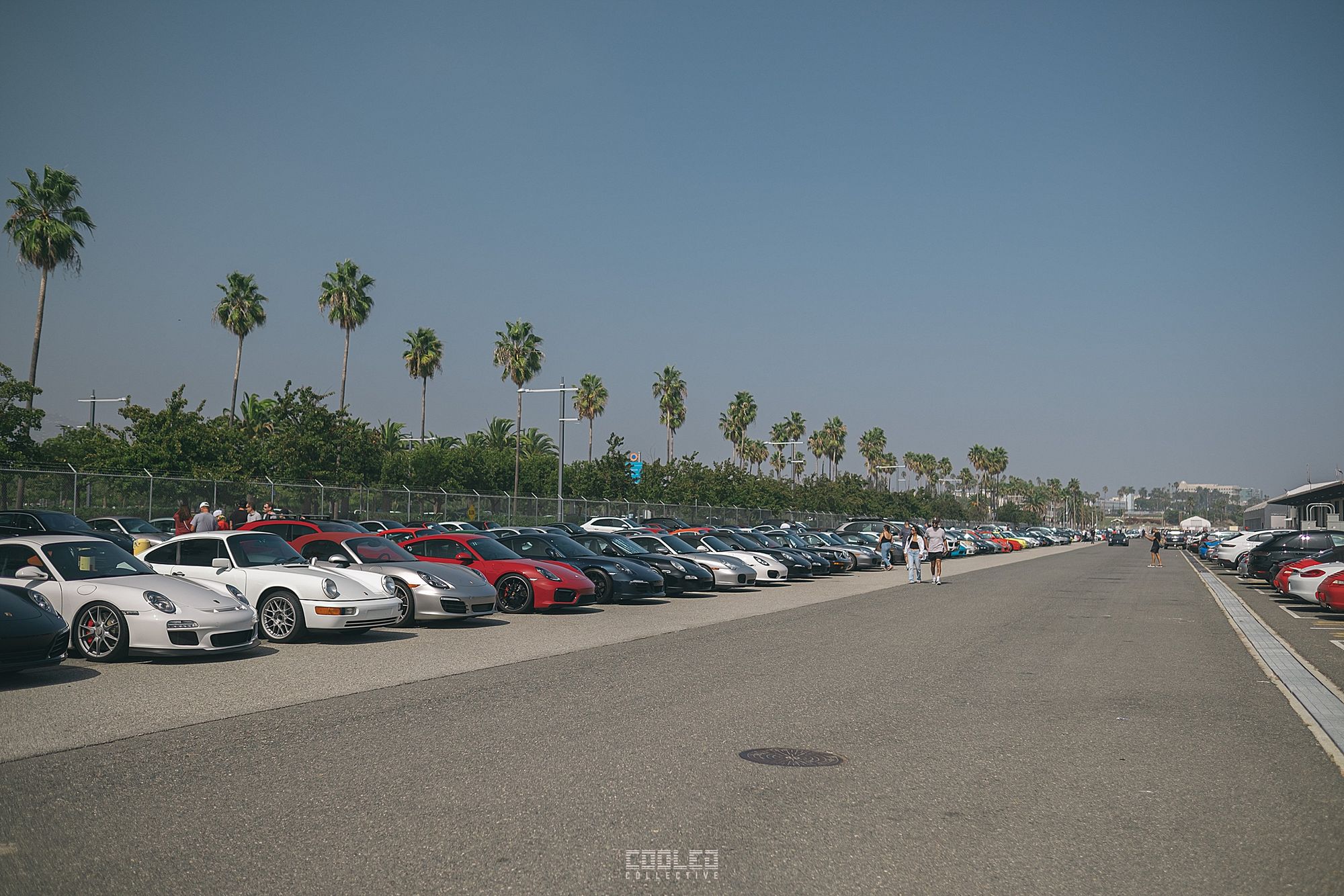 Although I spent quite a bit of time in this lot, most of my time was spent catching up with old faces, meeting a handful of new ones and looking for dope cars I haven't seen before.
I also changed up the edits a bit for this segment just to break up the energy and keep things a bit more low key and give off a film vibe.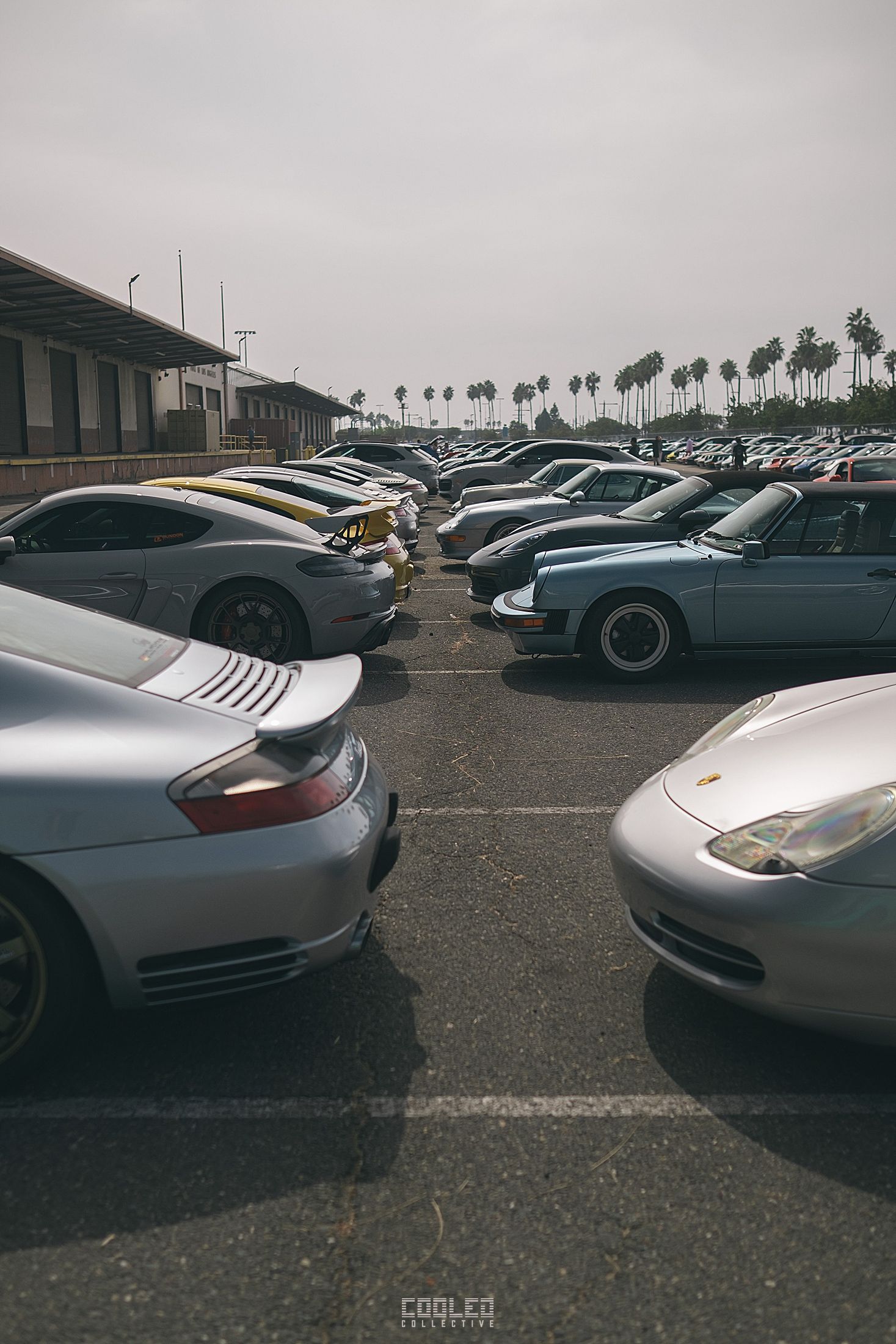 By the time I showed up, there was a small crowd already parting ways, which opened up spots for those arriving later in the day. There was so much variety in the lot that you would be crazy not to find something that peaked your interest.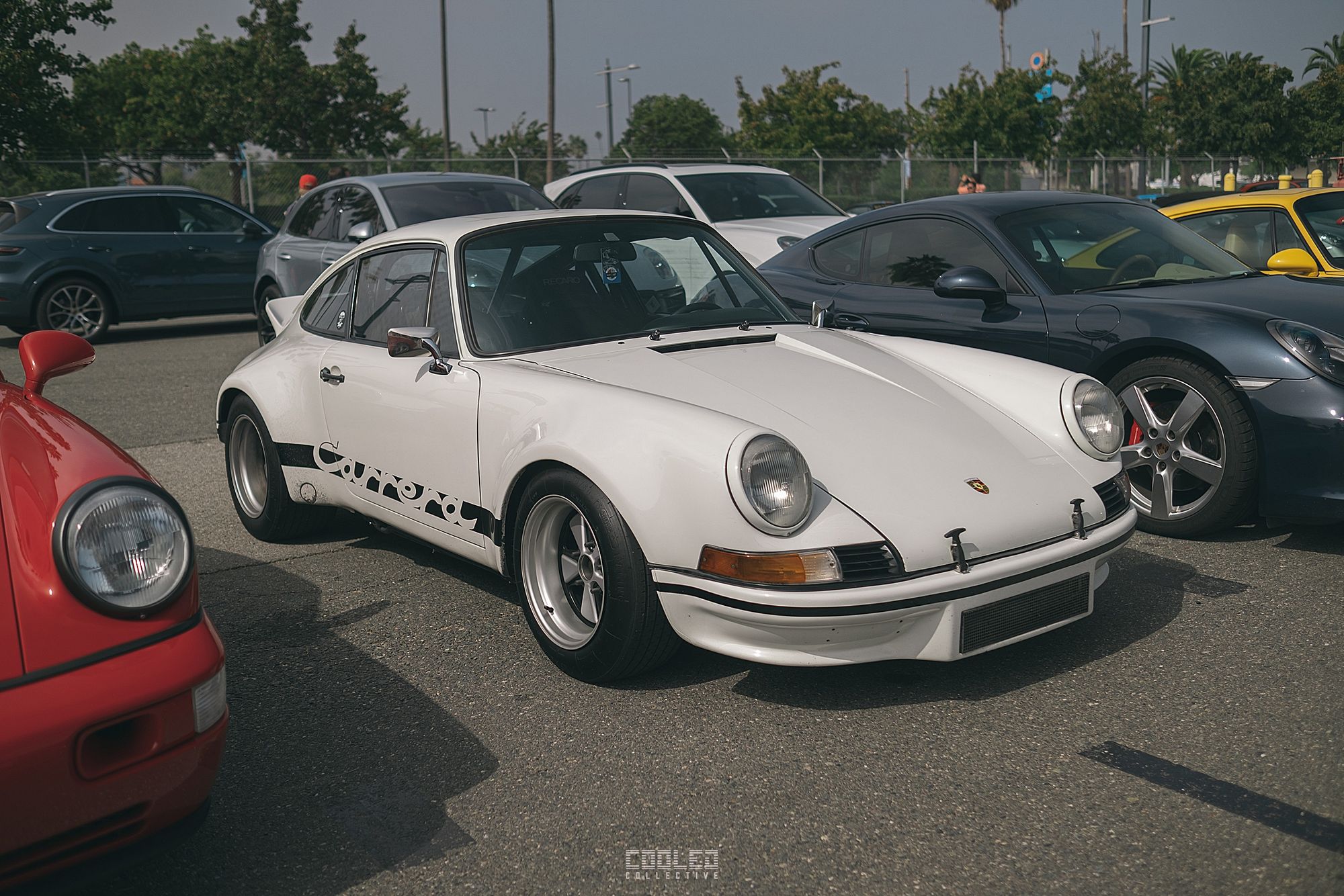 Such as this hot rod long hood in a black and white scheme to keep things classy. A RS look but with much wider fenders to give it the beefier look. A lot of nice details on this machine.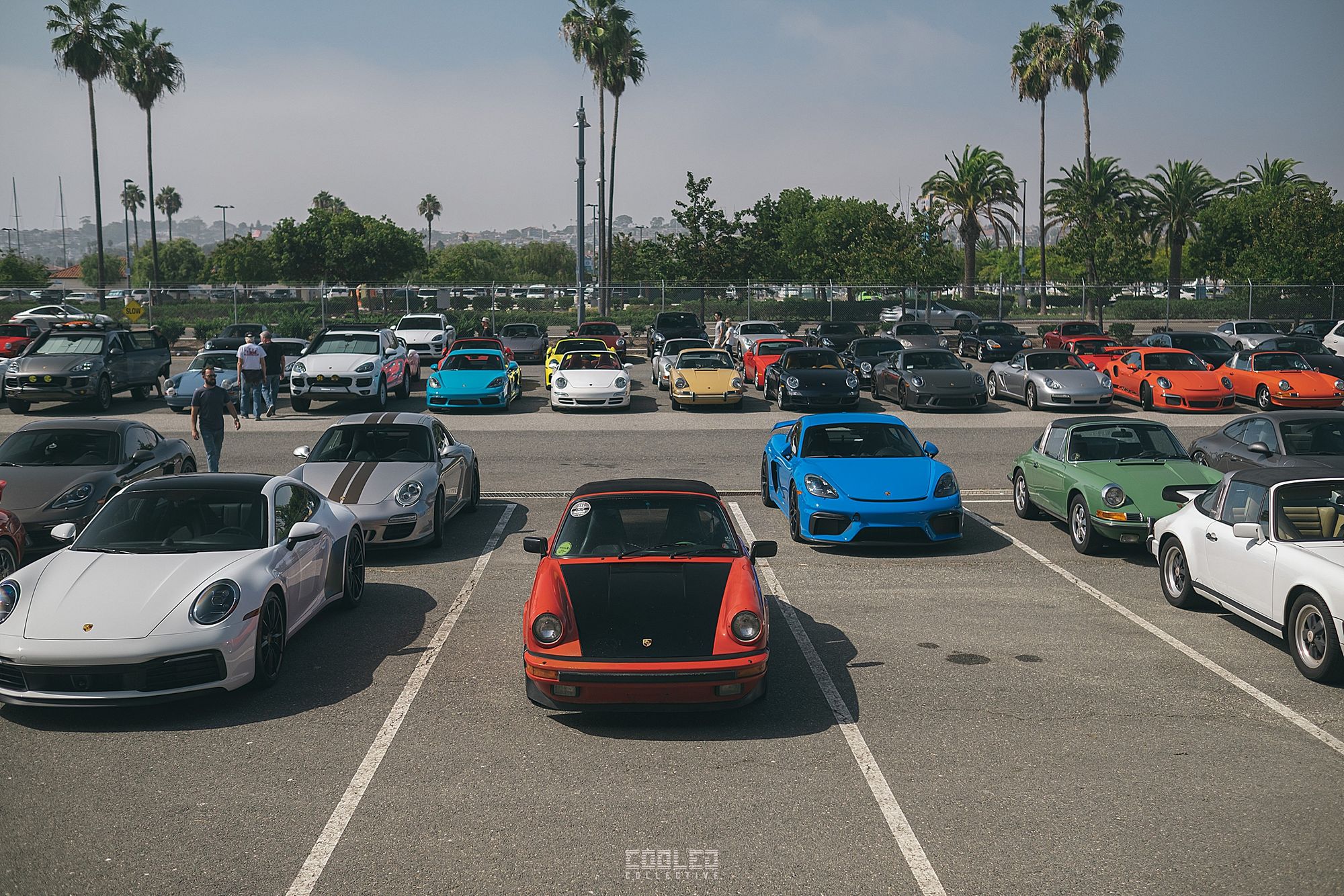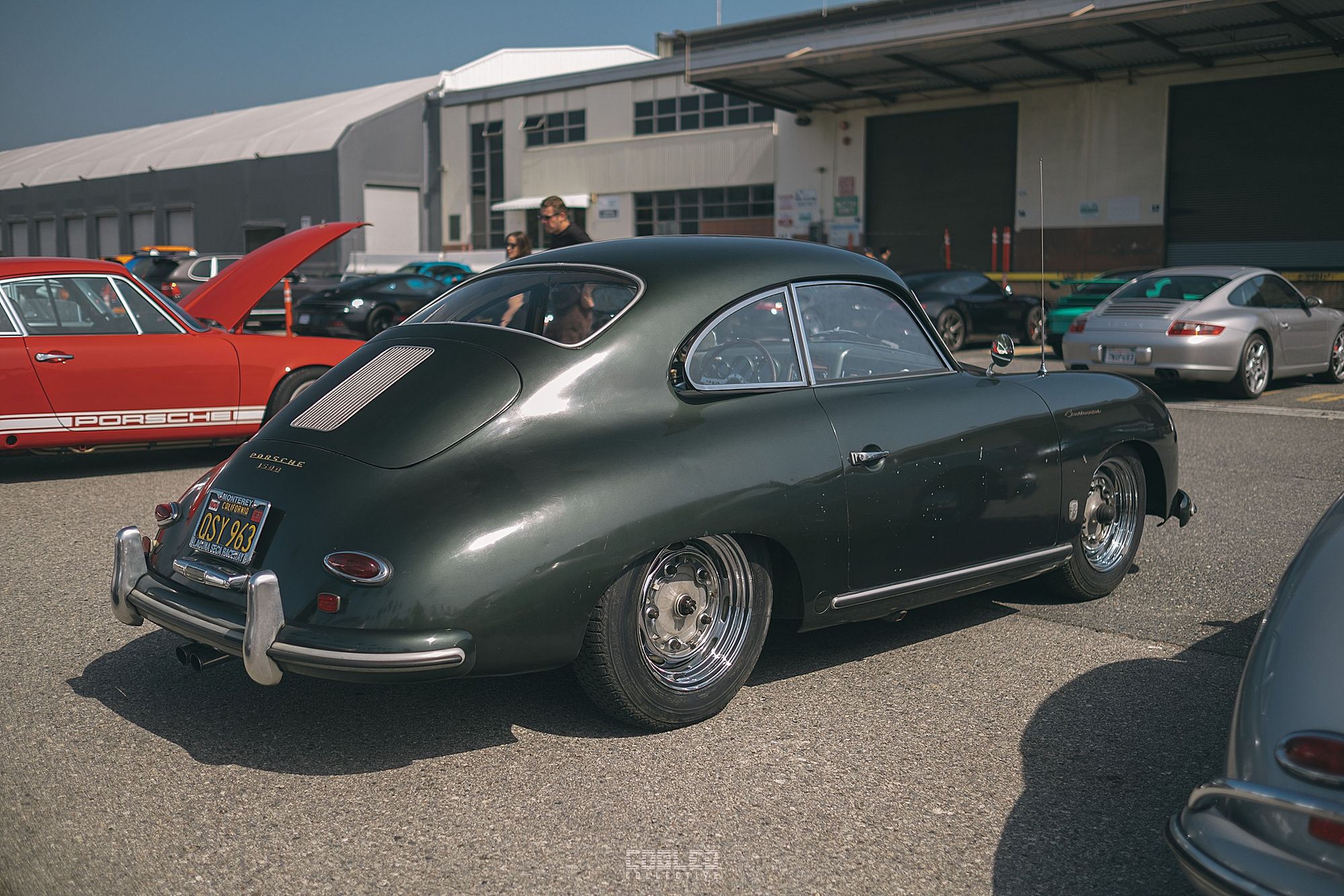 As many of you know, I own or owned a 964 Oak Green Metallic and any time I am around an Oak colored car, it peaks my interest. Saw this Oak Green Metallic 356 while I was walking along the dock. I ran up to a photo of it. Although the paint had a lot of flaws, it still looked amazing with the stance and wheels.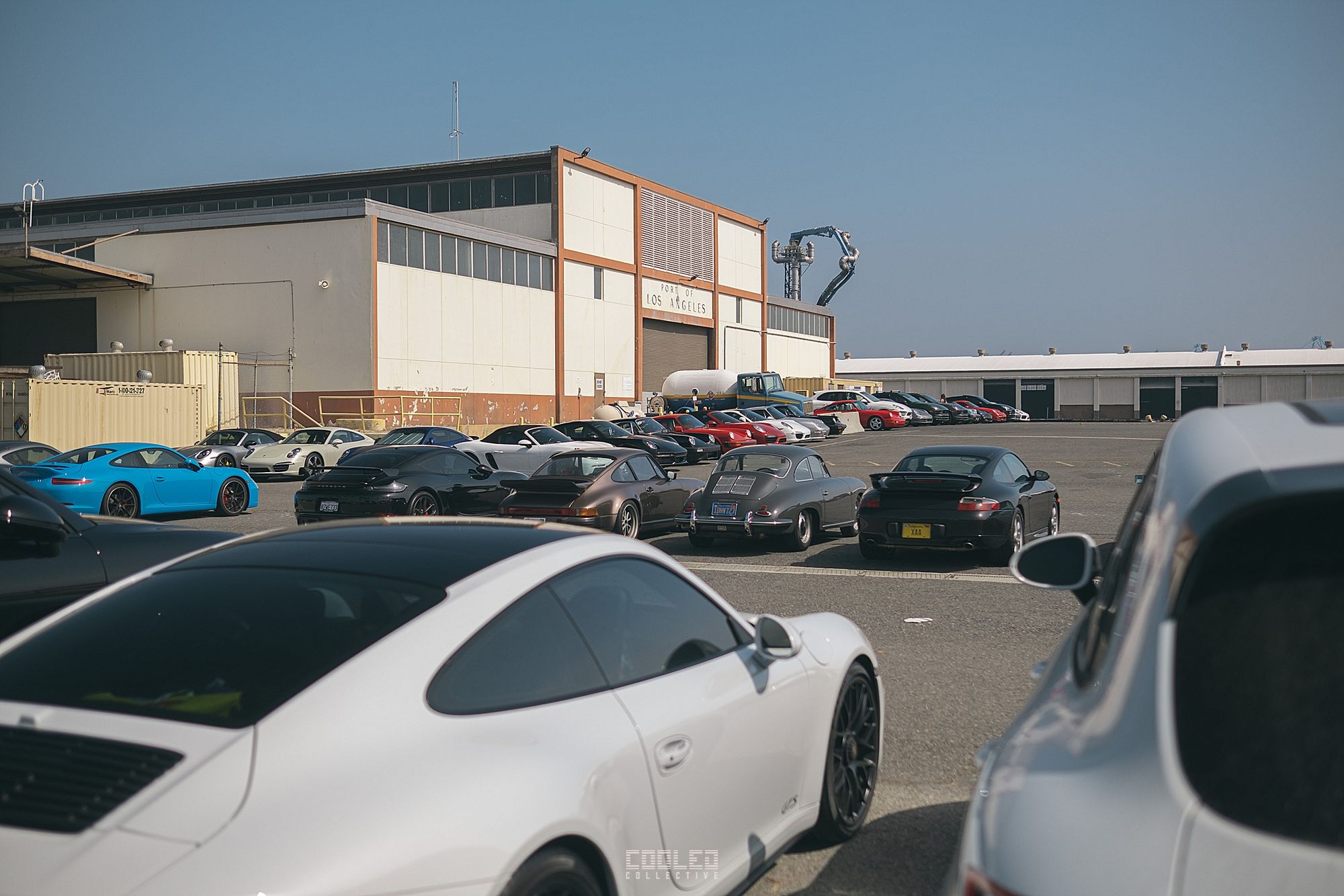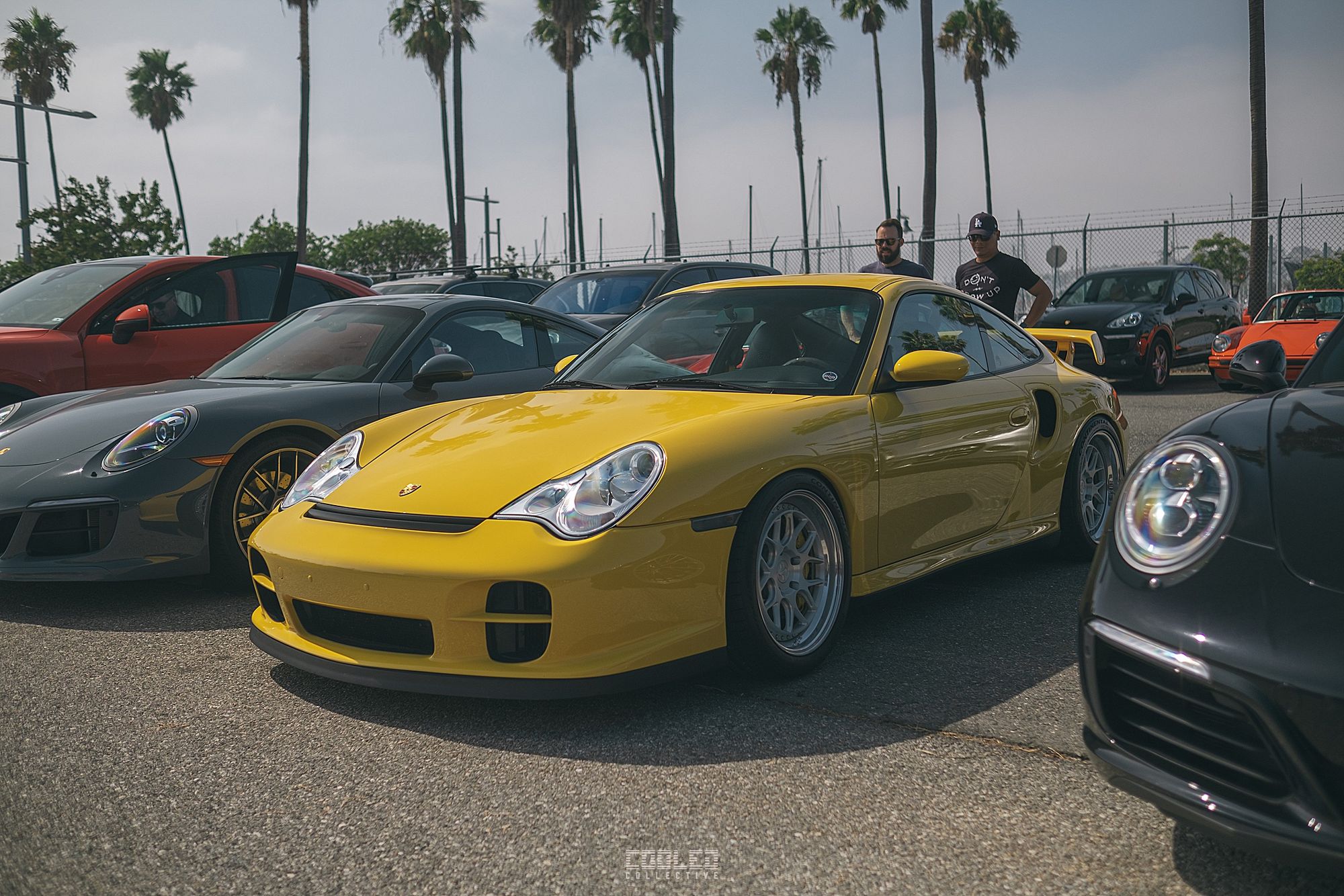 A pretty rare sight of any model, a Porsche GT2 with a set of wheels supplied by Supreme Power. Always getting the stance on the whip just dialed in perfectly.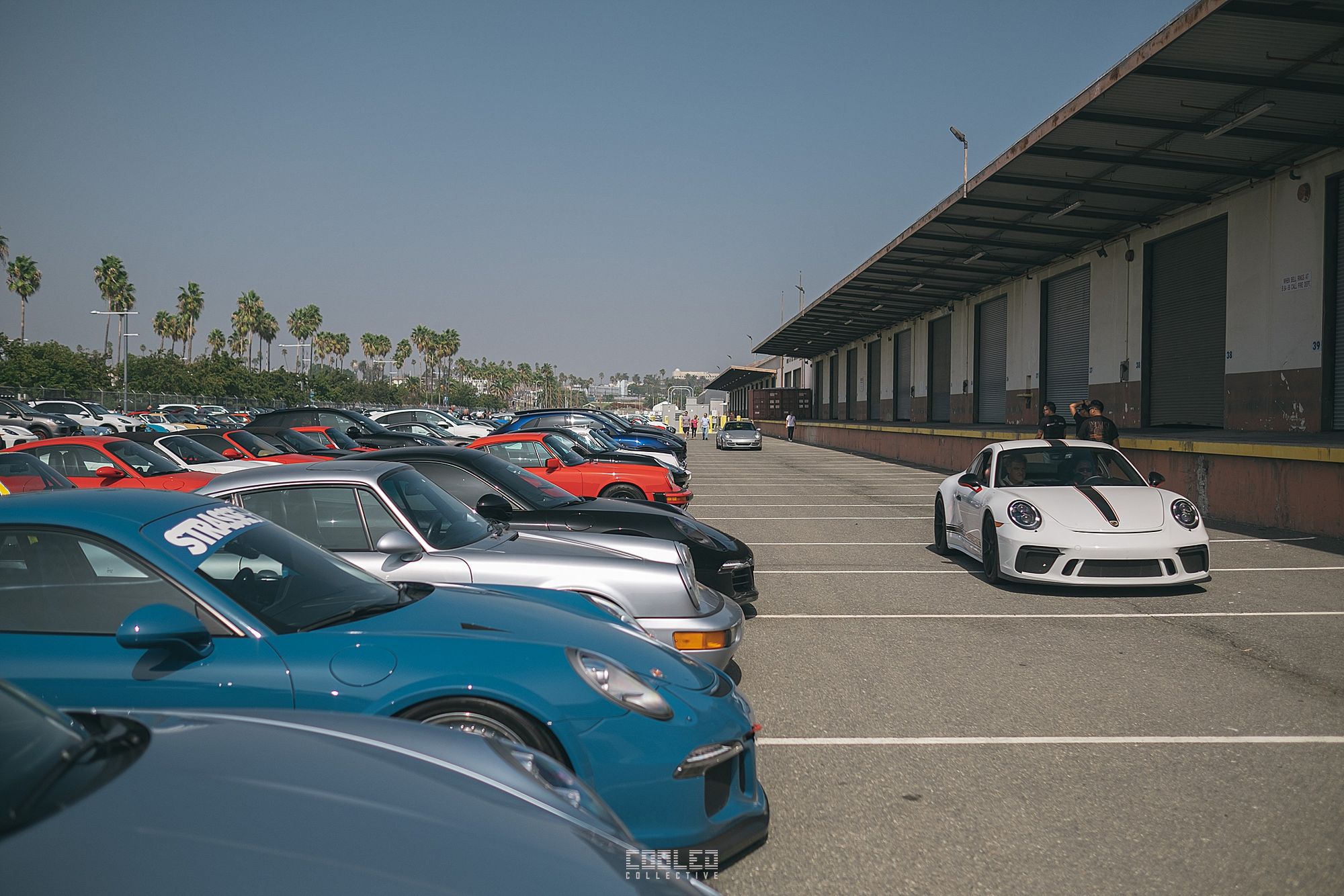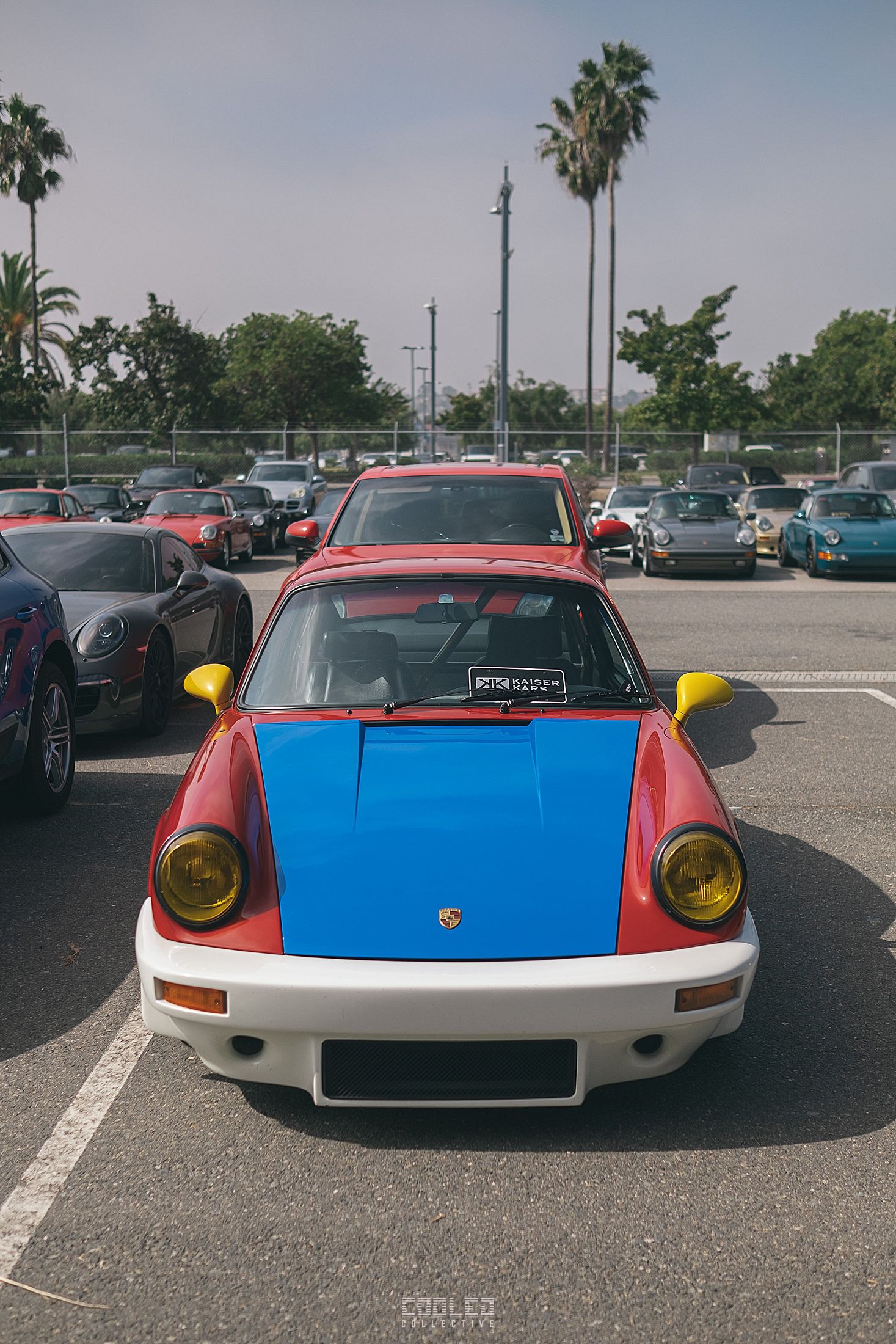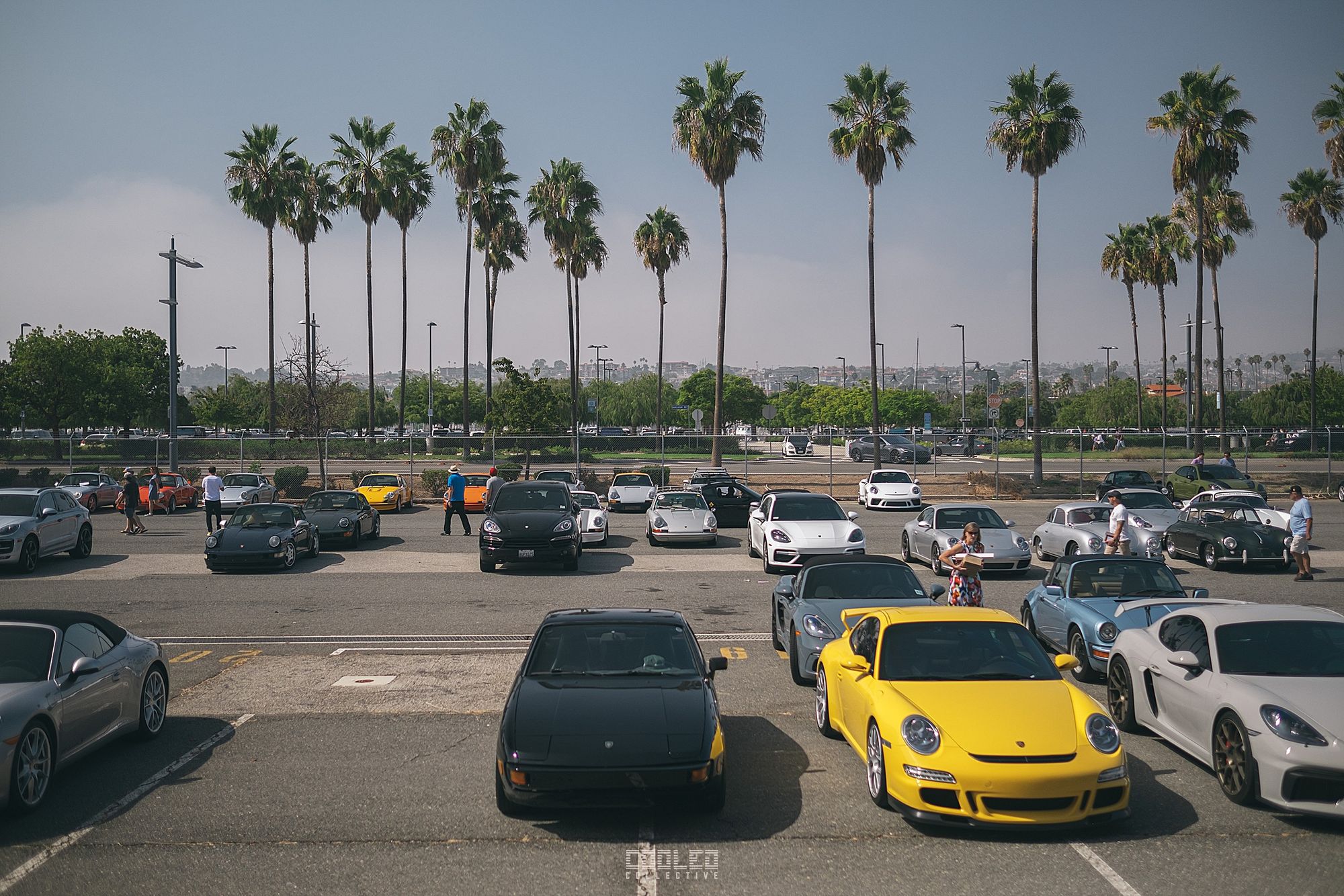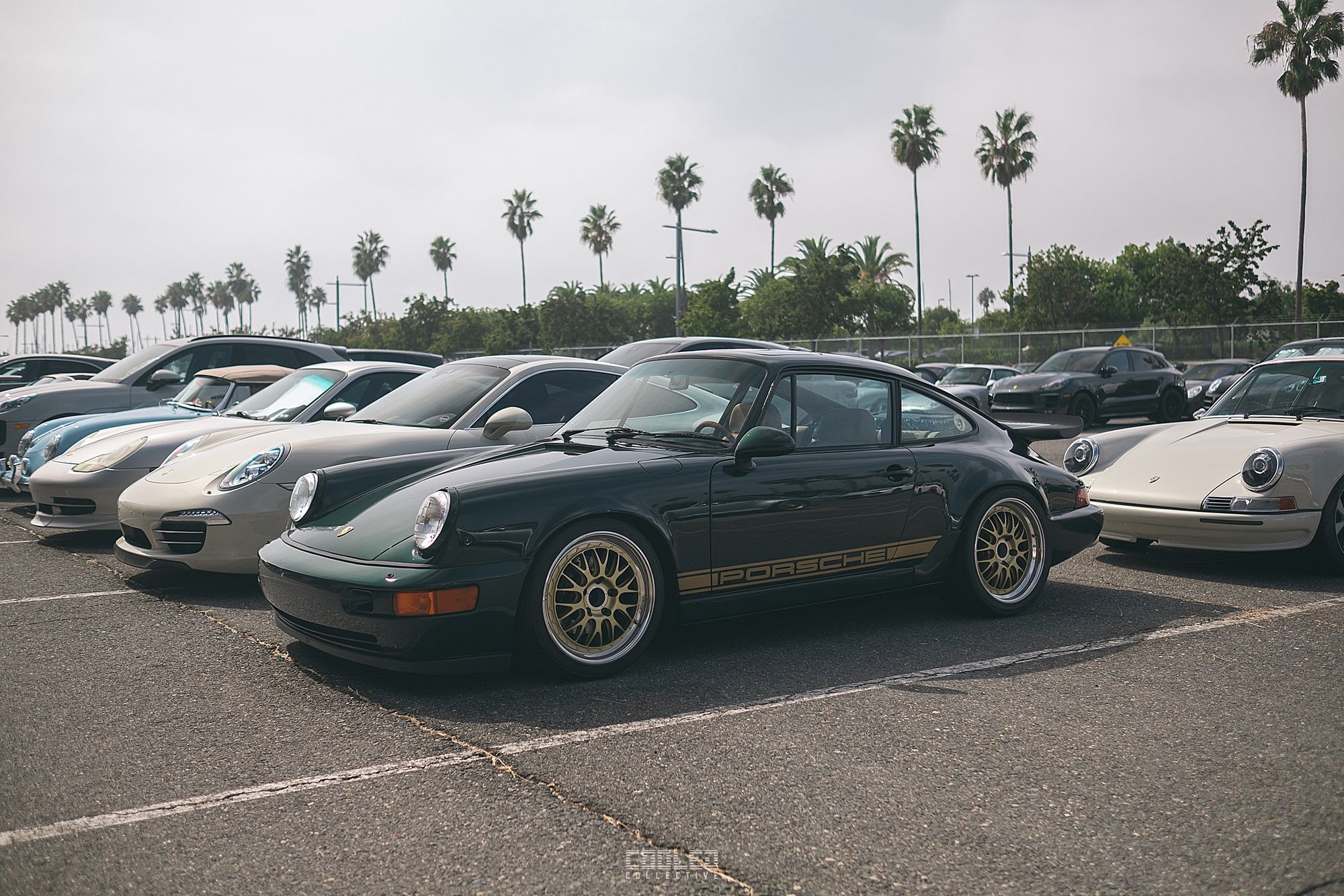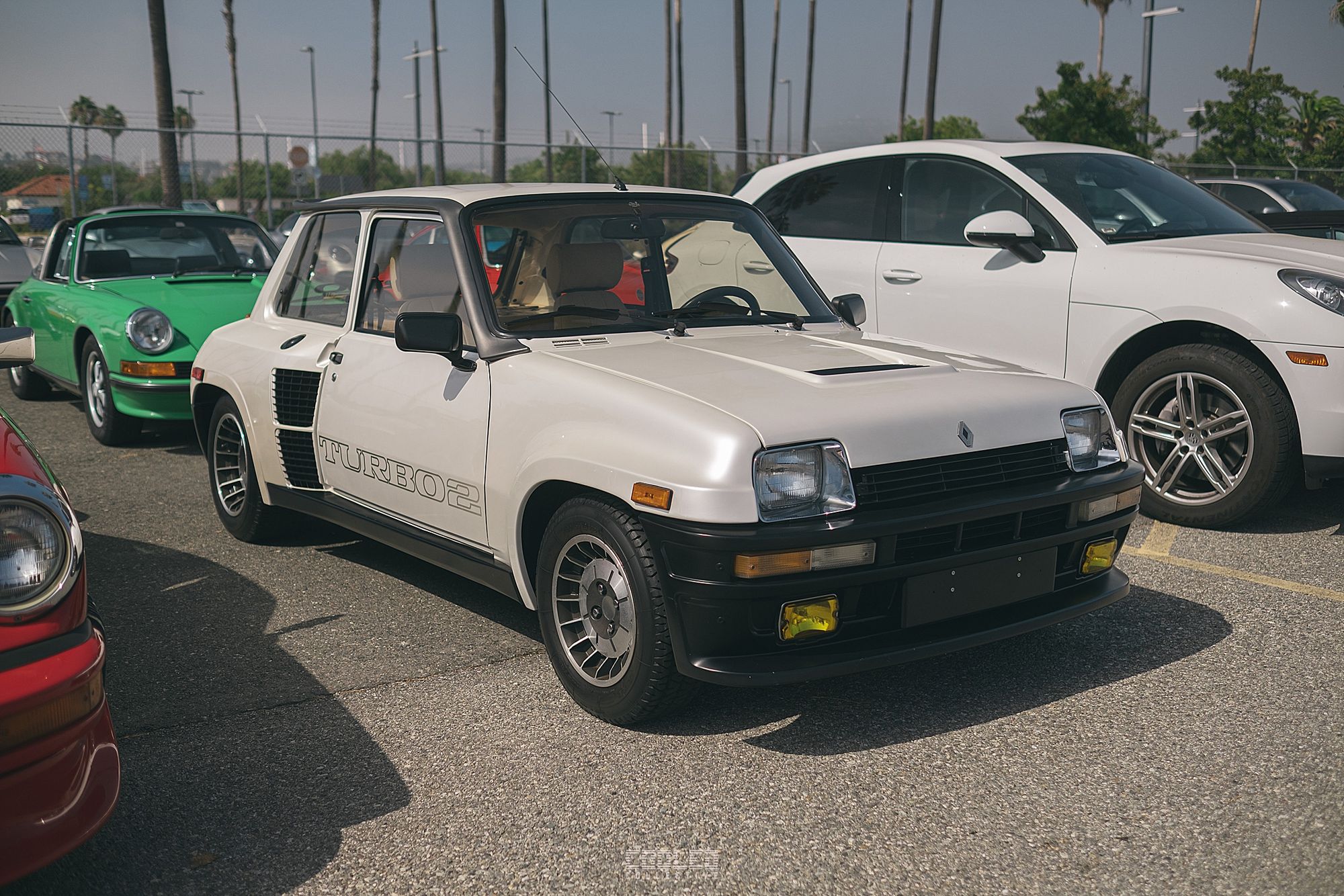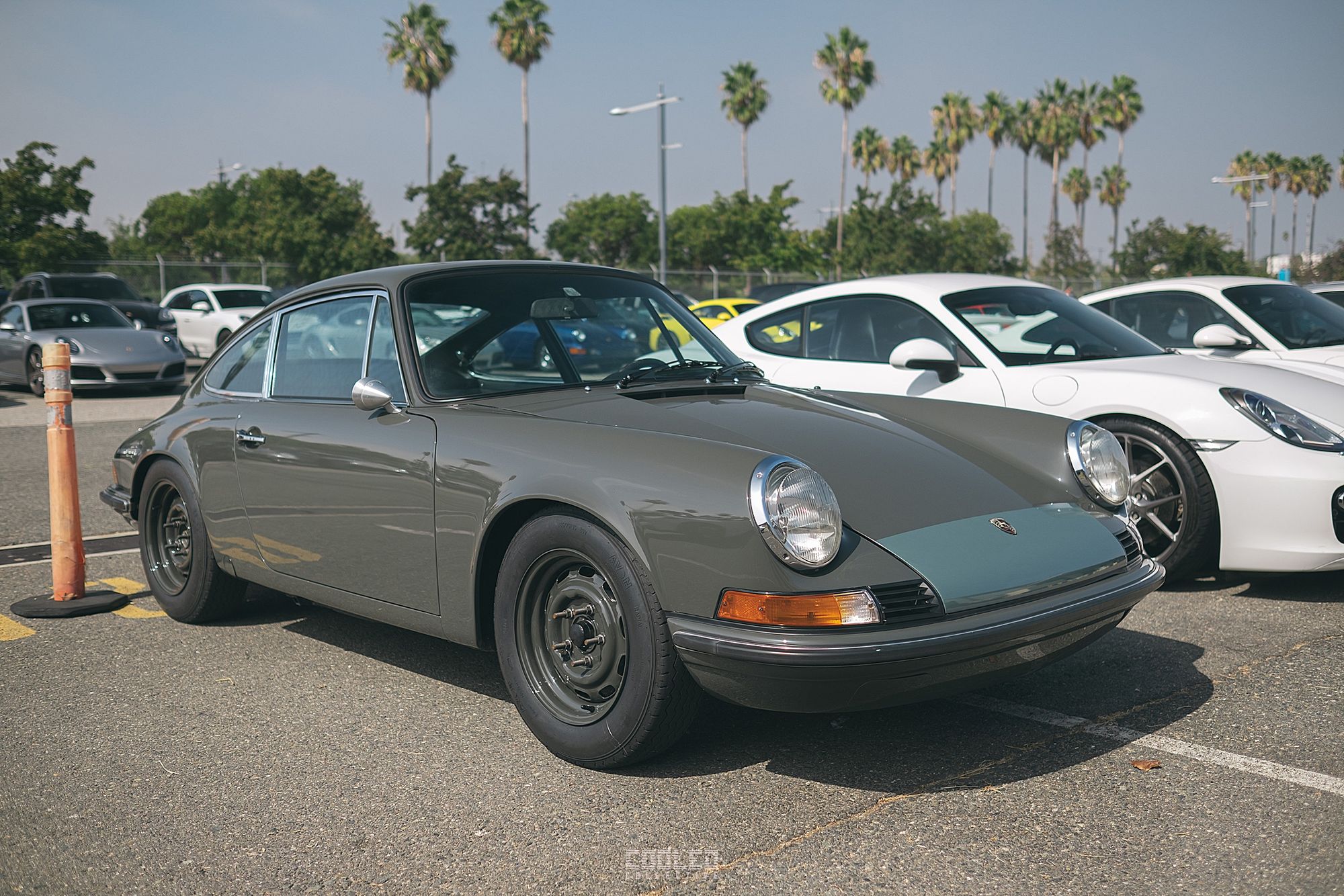 This particular long hood caught my eye due to its clean minimalistic style but also because it has all of the right elements to tell another enthusiast that this car was built for style and speed. The color is wonderful as it looks like a faded army green mixed with grey to give it a mature tone. The addition of the green bill on the hood really set off the green tones in the rest of the paint. The color match steelies was also a nice tough. An hour later I saw BJ from Period Correct leaving the parking lot in the long hood... which made a lot of sense for why it was so tastefully done.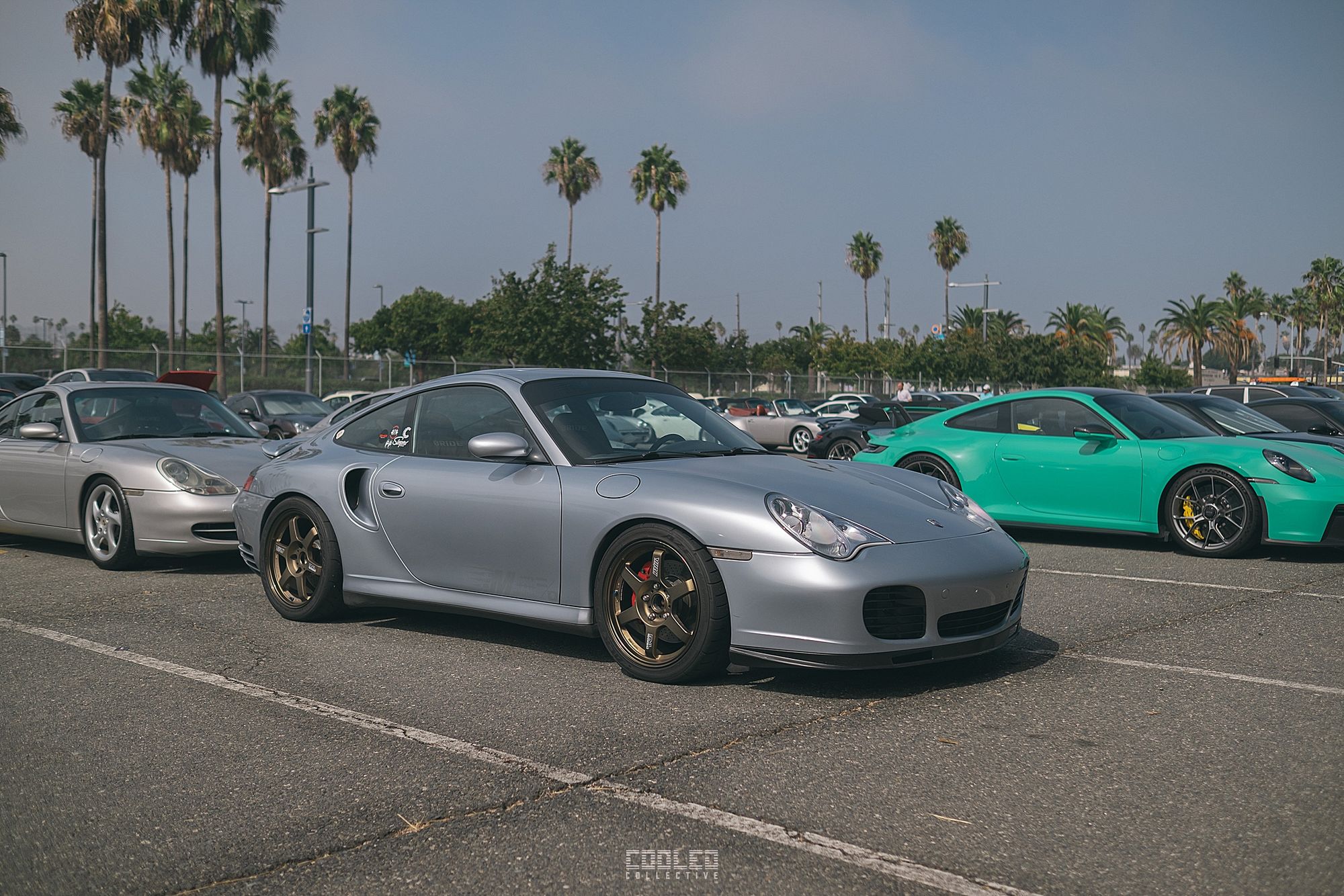 Always nice to see Gabe building his JDM inspired 996 turbo build. Recently he put on a set of flat faced bronze Volk TE37 on his turbo. Closely parked to Gabe was a narrowbody 993 on some silver BBS e88s that I have never seen before.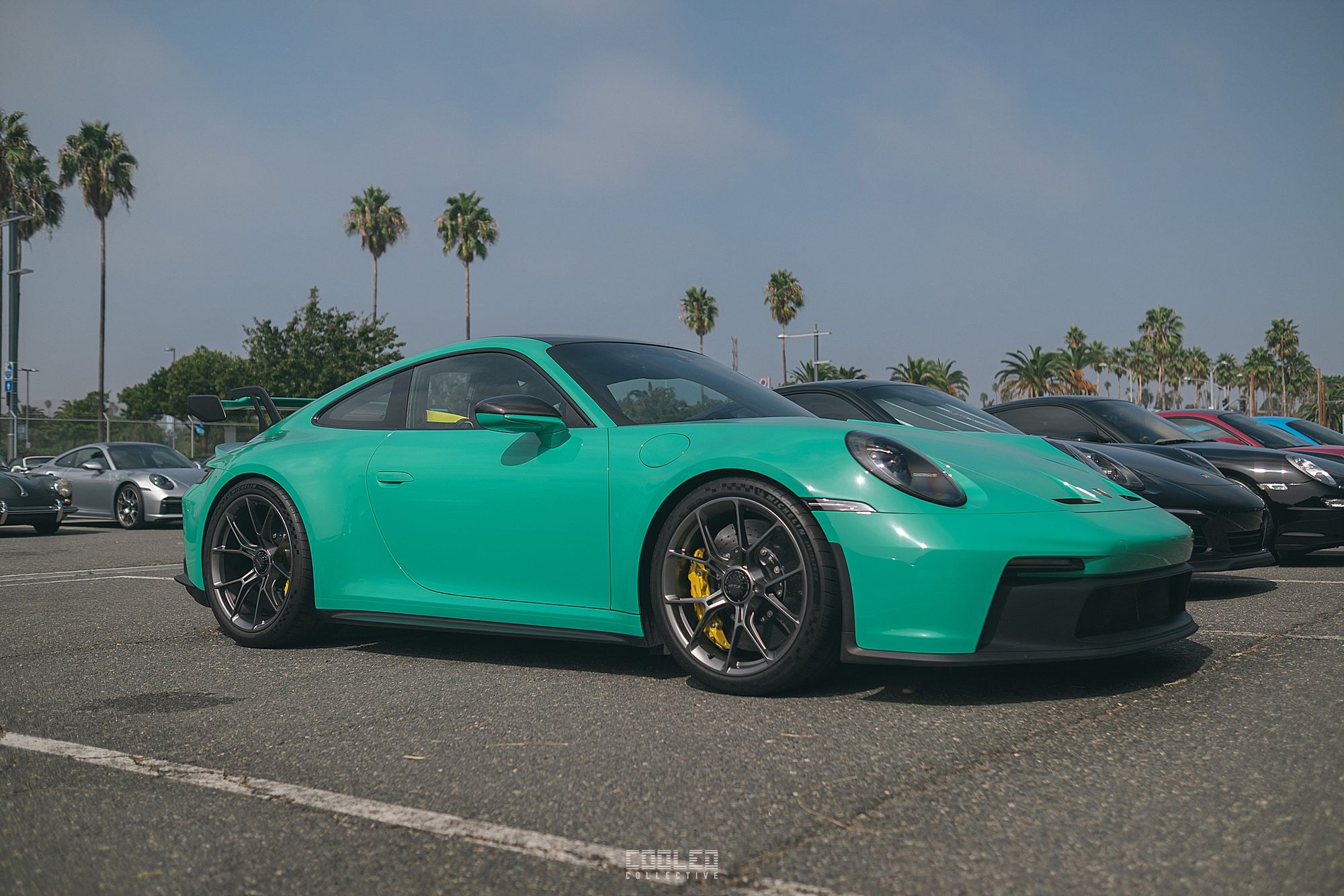 The only Jade Green in the parking lot owned by Zhanna from Northern California drove down with the GT Norcal group. This is a color I have been contemplating spraying my RSA for some time and seeing it in person really set it in stone for me. I have always loved indiglo and it looks like it is glowing all hours of the day. Matched with PCCBs, it is just a gorgeous spec.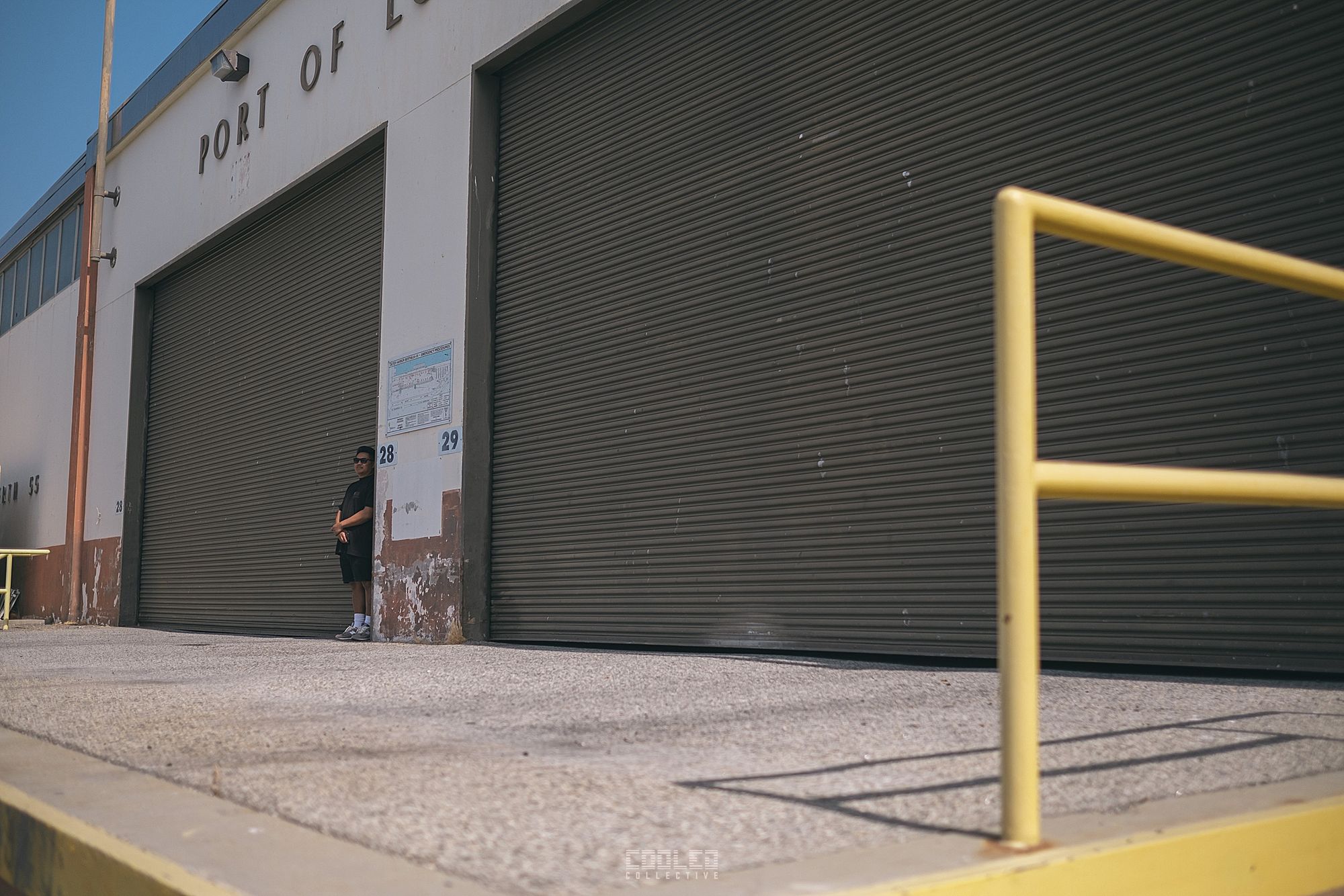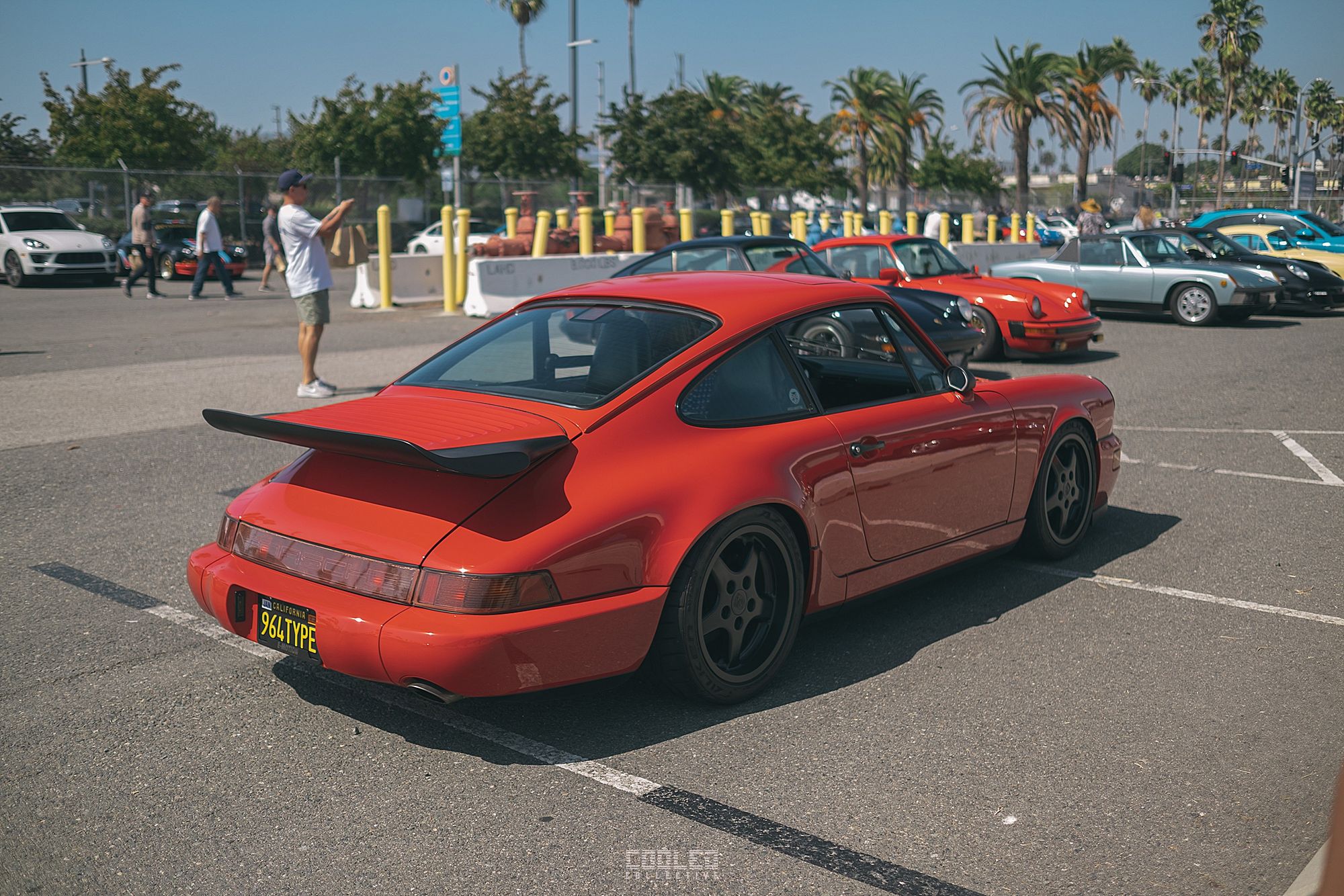 ---
Photo Dump: