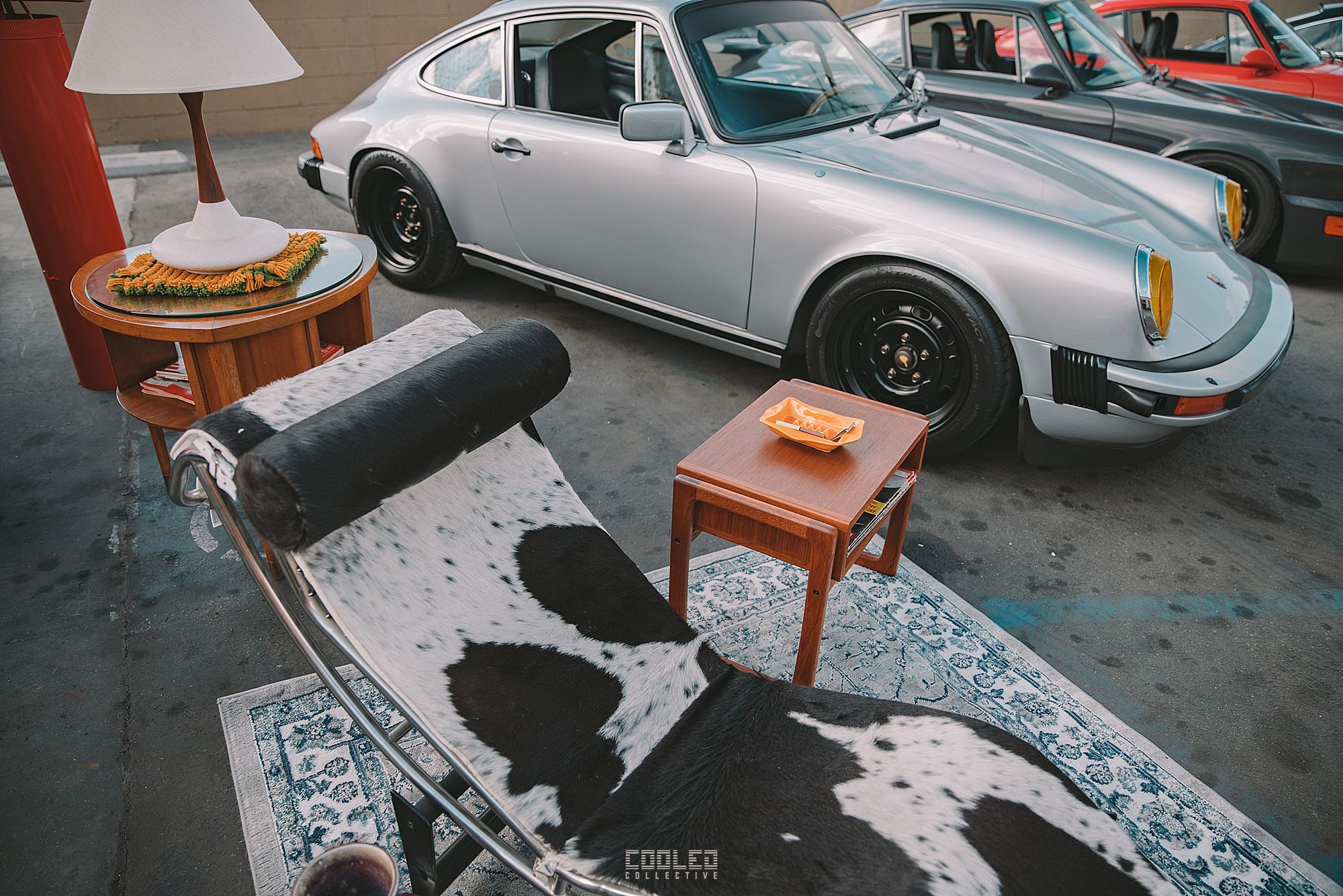 Just the day before, I drove over 450 miles with 30 other cars in my OC to SD III rally. With over 15 hours of rallying time, it was quite exhausting but when the homie is throwing a quaint little meet with cool furniture, you got to get out there to support. So I woke up and jumped in the shower and headed to Irwindale to check it out.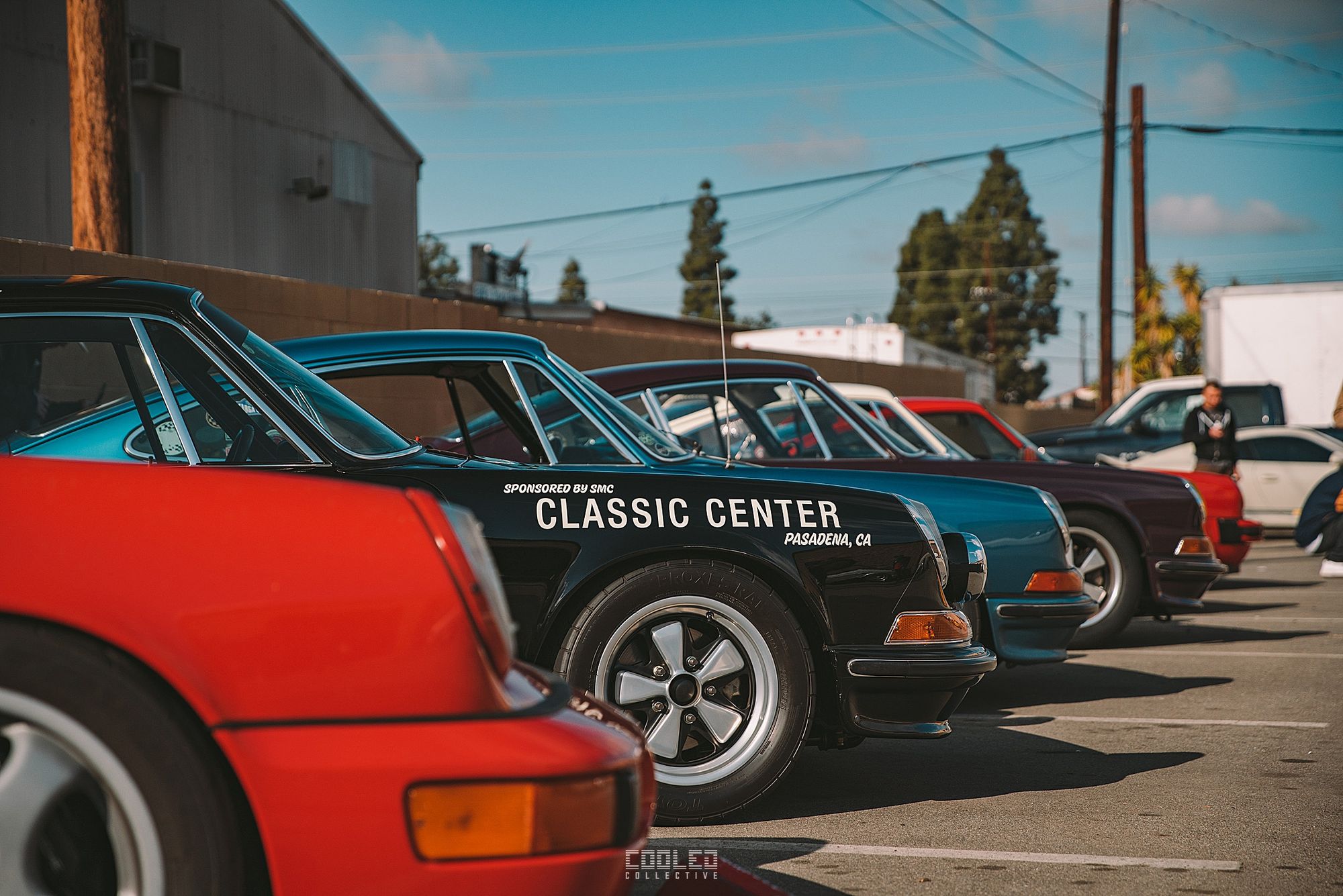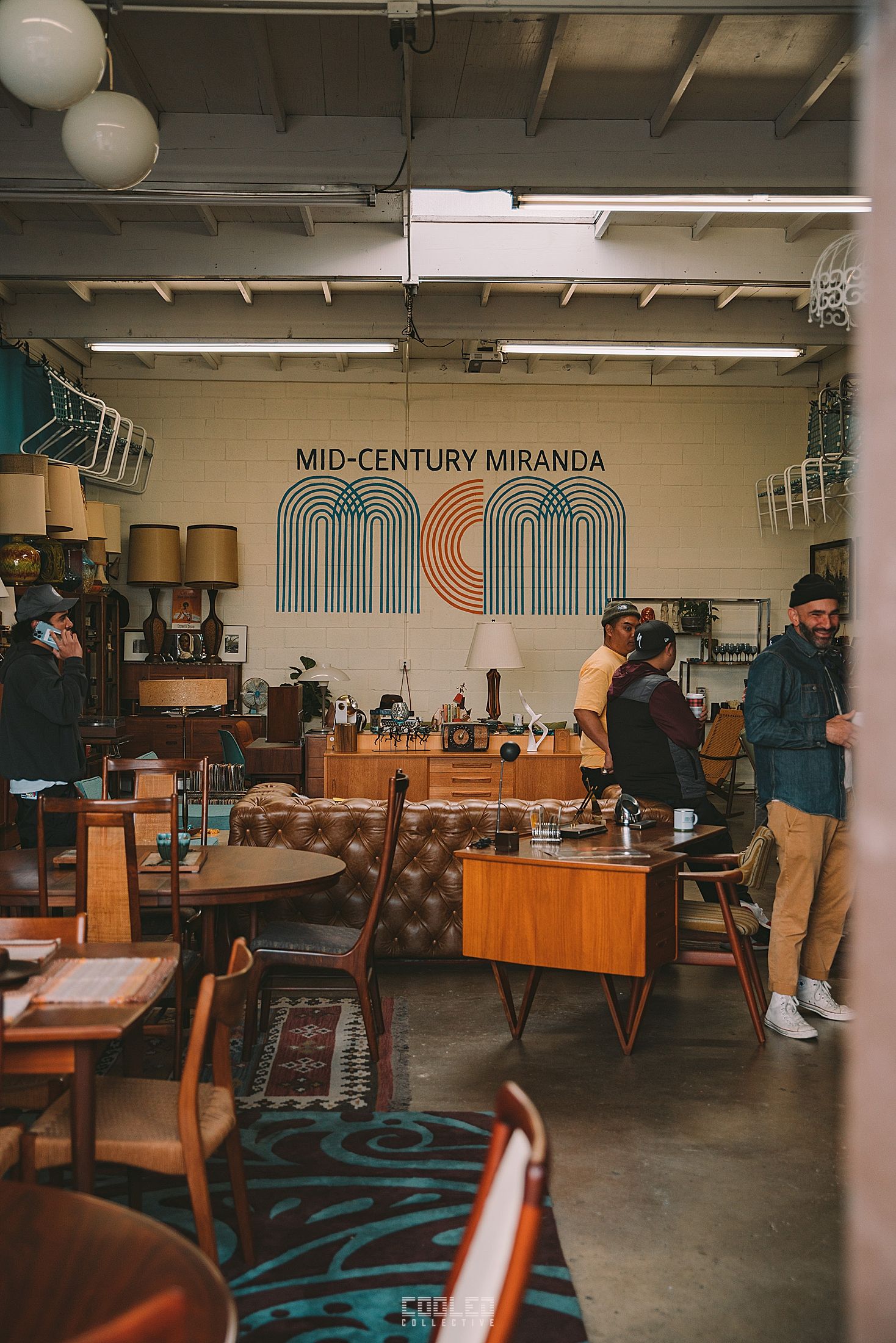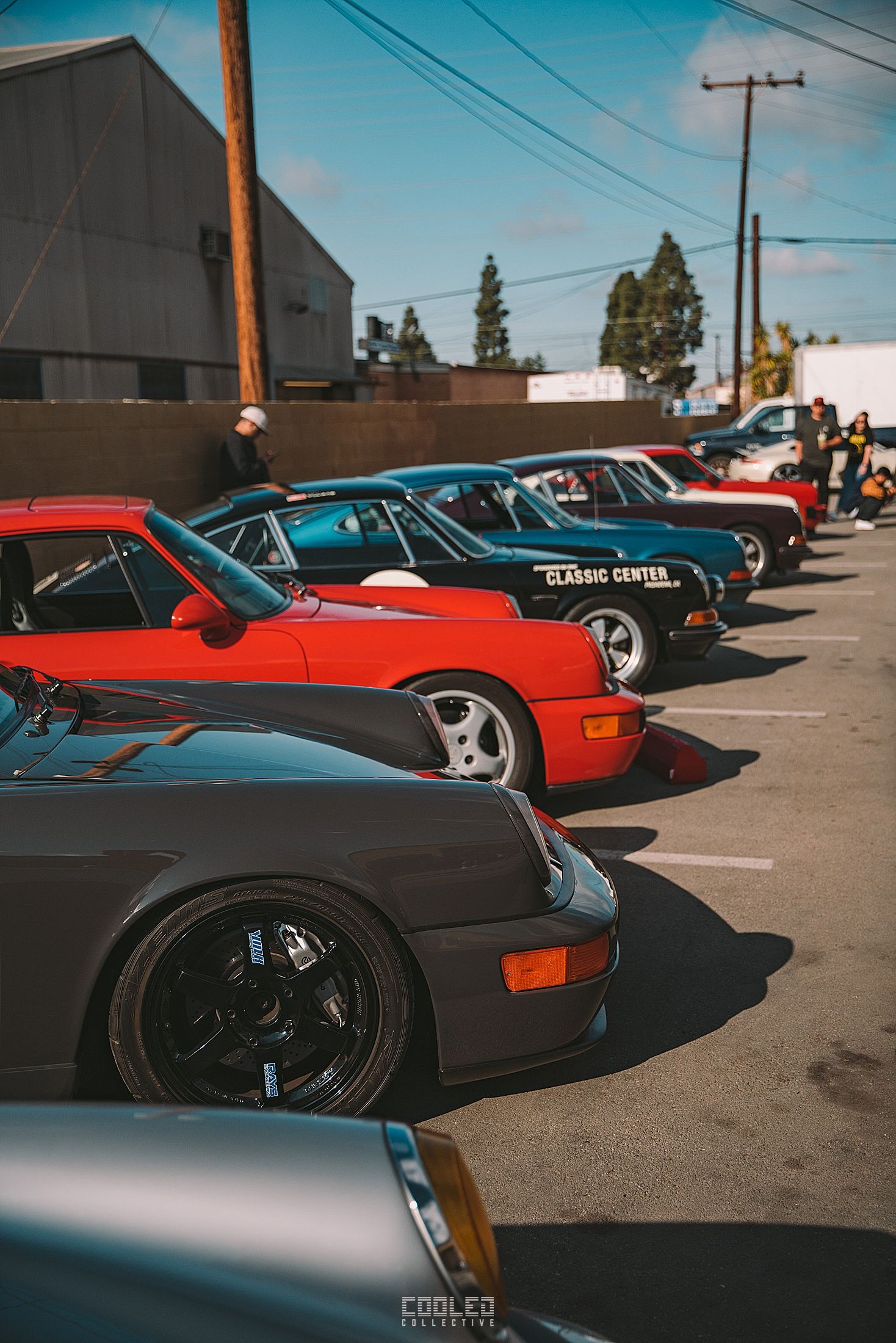 I got there a bit early since I heard the parking lot wasn't that big and I didn't want to walk too far from achey clutch leg syndrome lol. When I arrived, I noticed the dark grey 964 owned by my buddy Jared. He was already warming up to a cup of brew with his lovely wifey Leslie. Today Jared was rolling on the TE37s... always swapping out the shoes for the various events.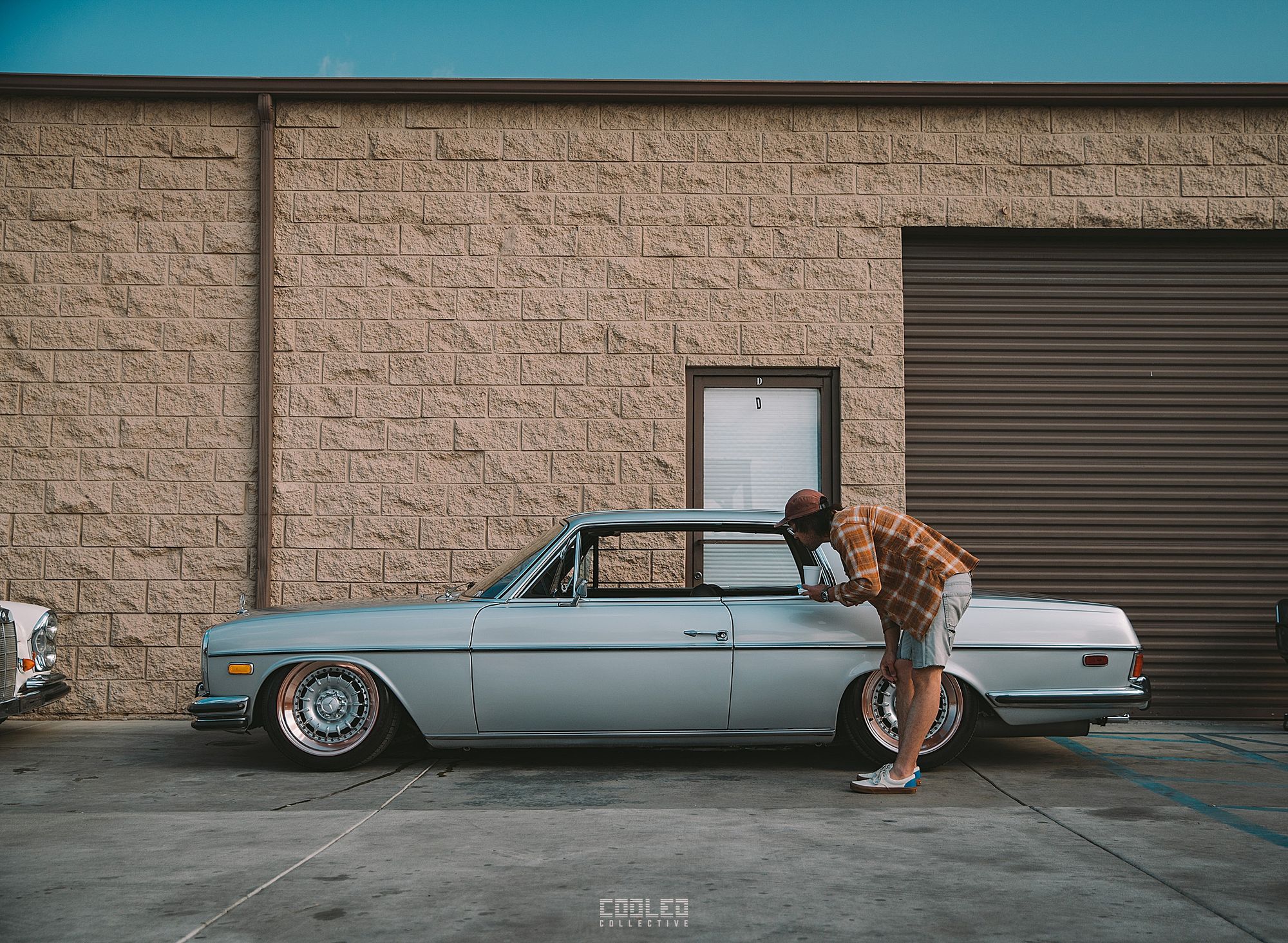 Seeing classic 70s Benz's always pull on my heart strings since my dad owned a '71 coupe back in the 90s. I wanted to get one a few years back but space and timing never aligned. Love seeing CJ's coupe with some wheels built by J_Mendieta. The copper or rose gold lips really set it off.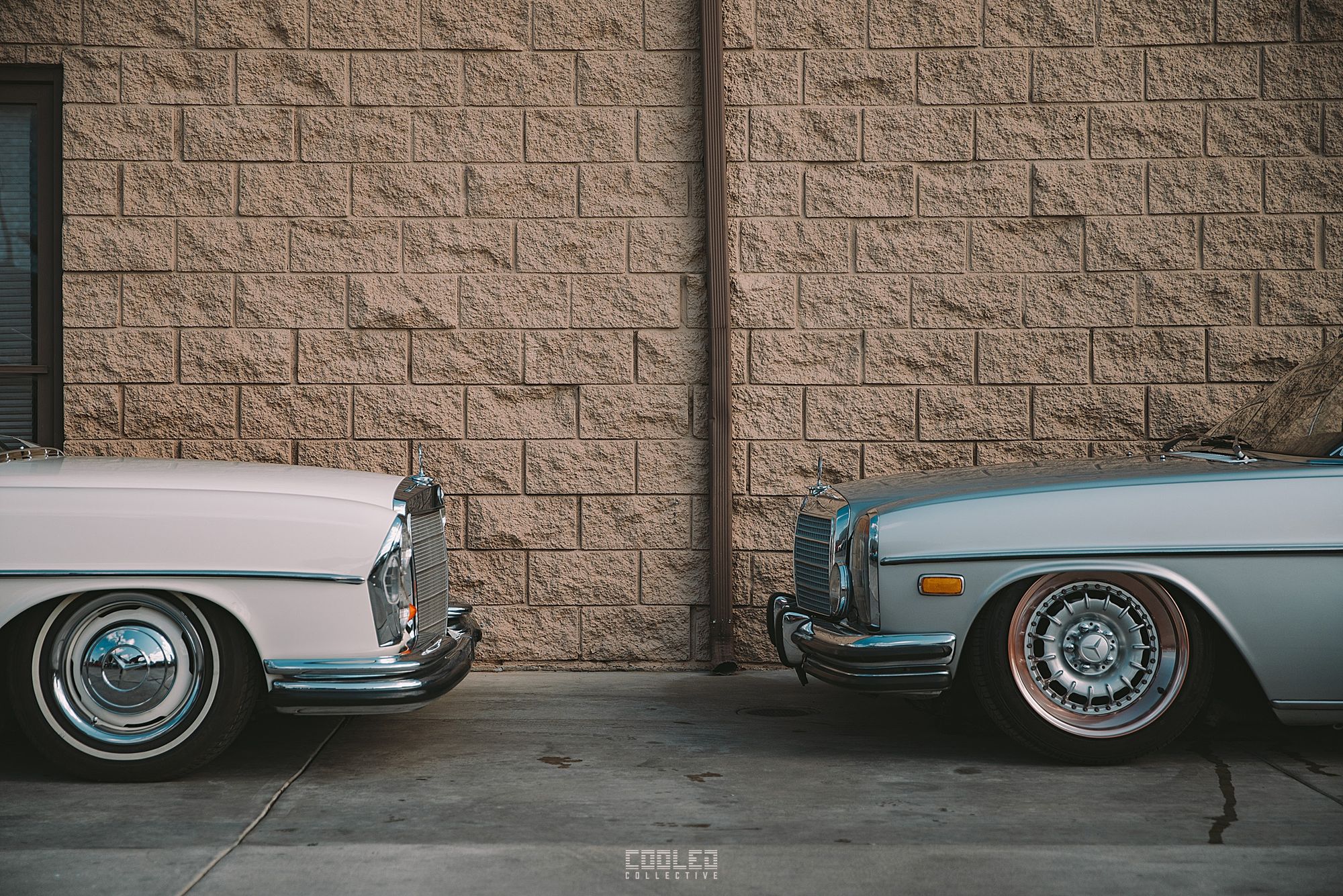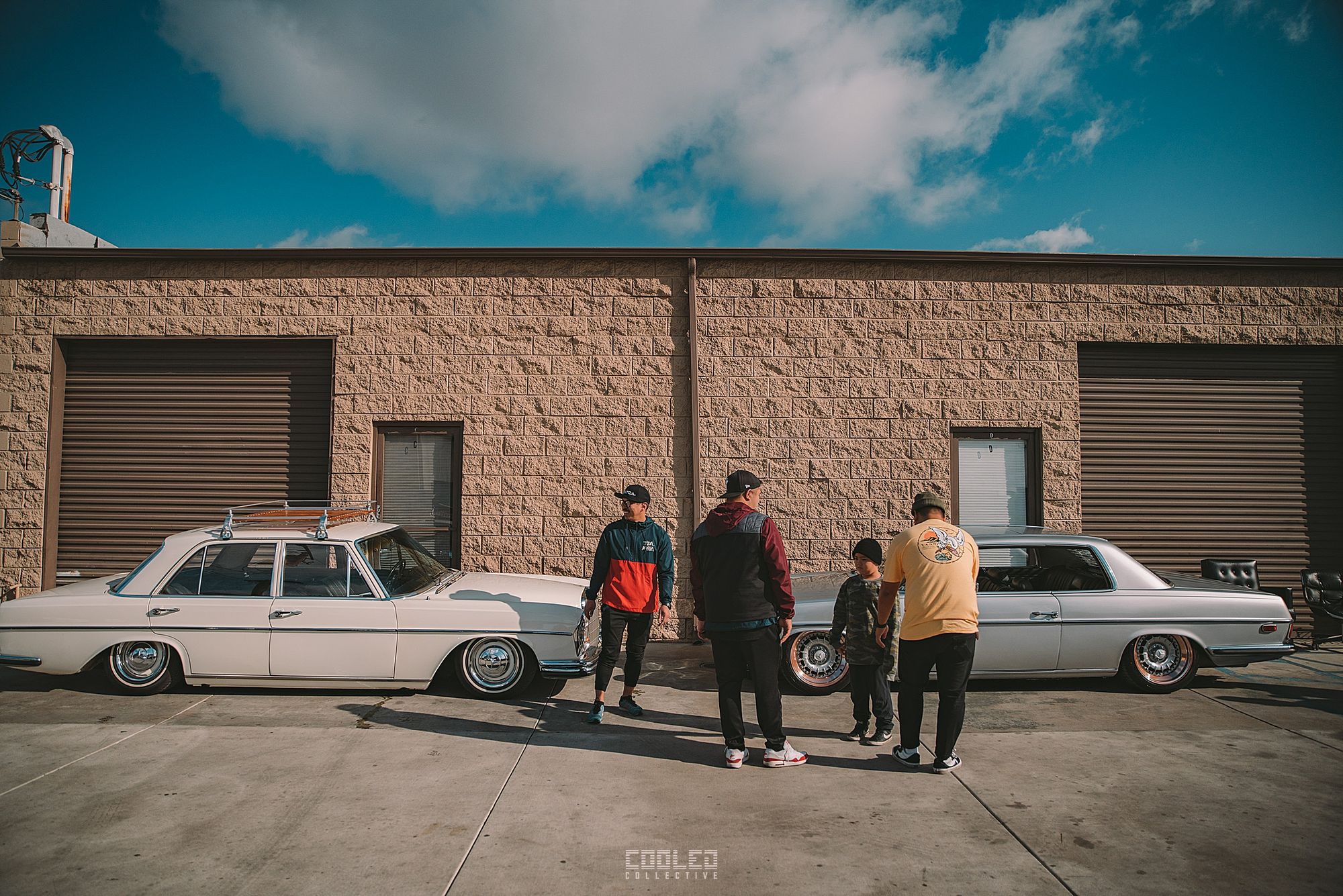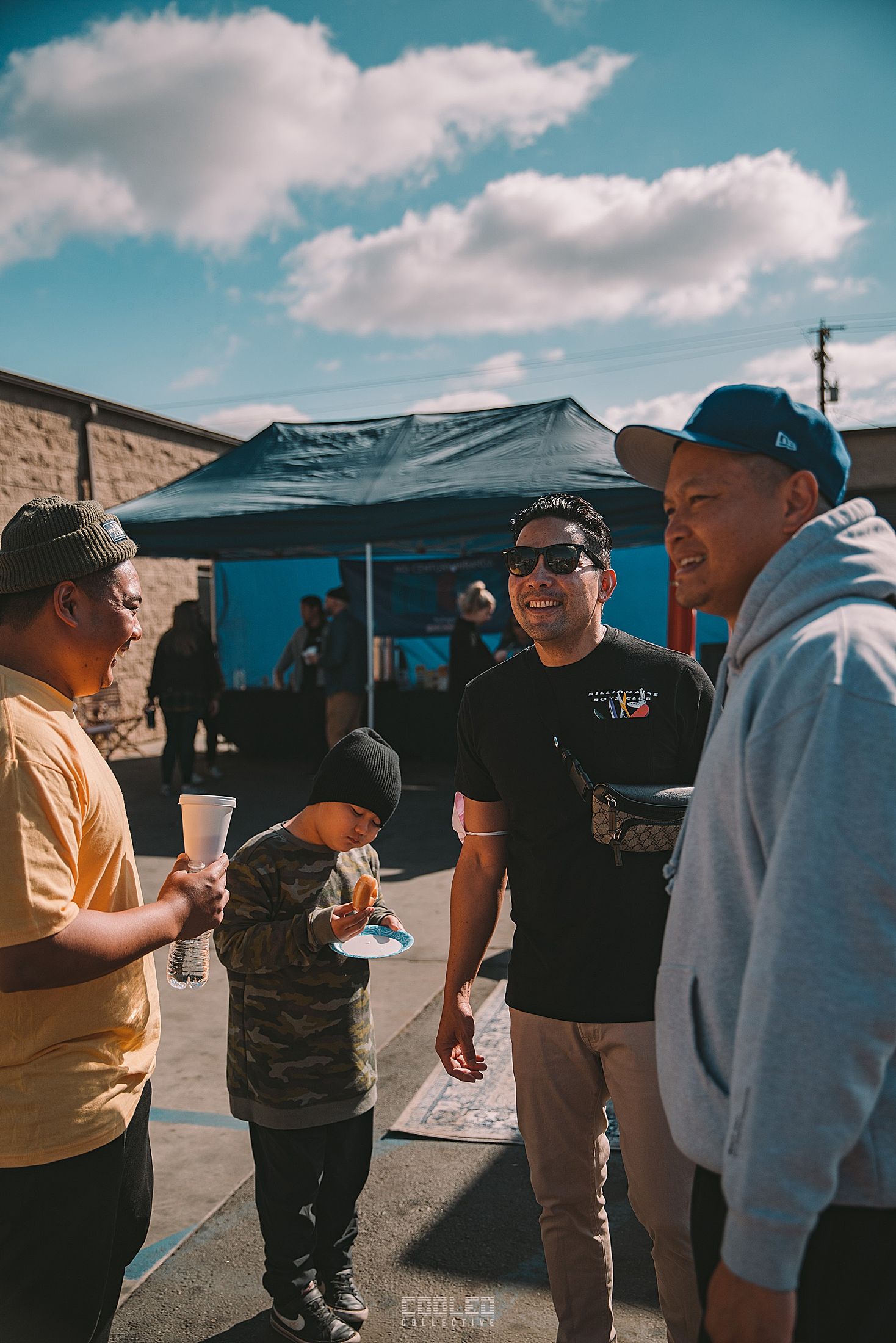 The homies Jason, JayVee and Eric catching up and sharing some laughs. Probably talking about how beautiful the weather is and what is for lunch and talking about wheels for an hour lol....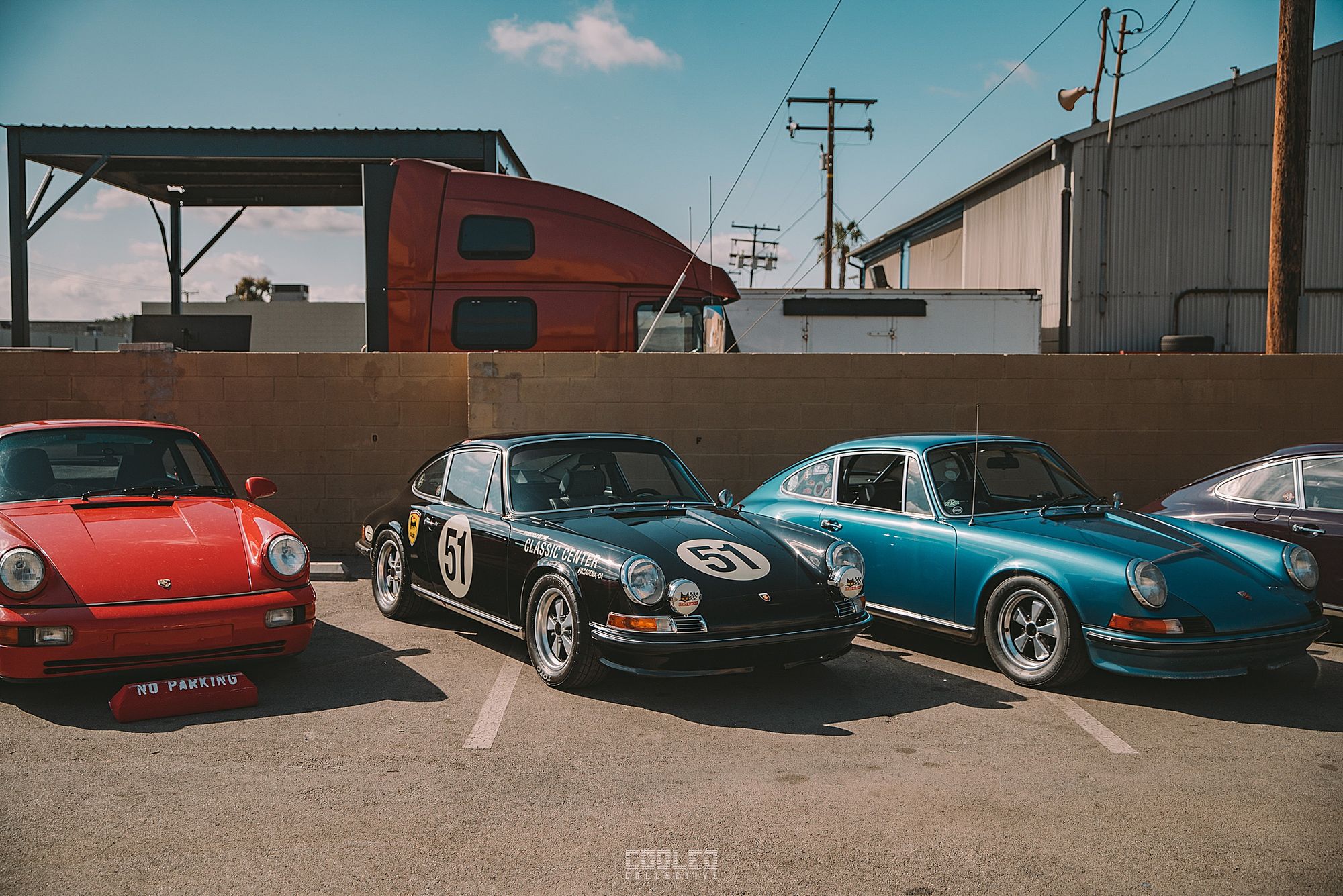 Parked next to me was Eric William's new 1971 911 with a hot 2.4, a 30 year old raced out chassis that he has brought back to street life. Eric shared many historic components to his Covid build and to be honest, it is weird seeing Eric in a 911 that is not Golden Ticket but this does suit him well as you can imagine.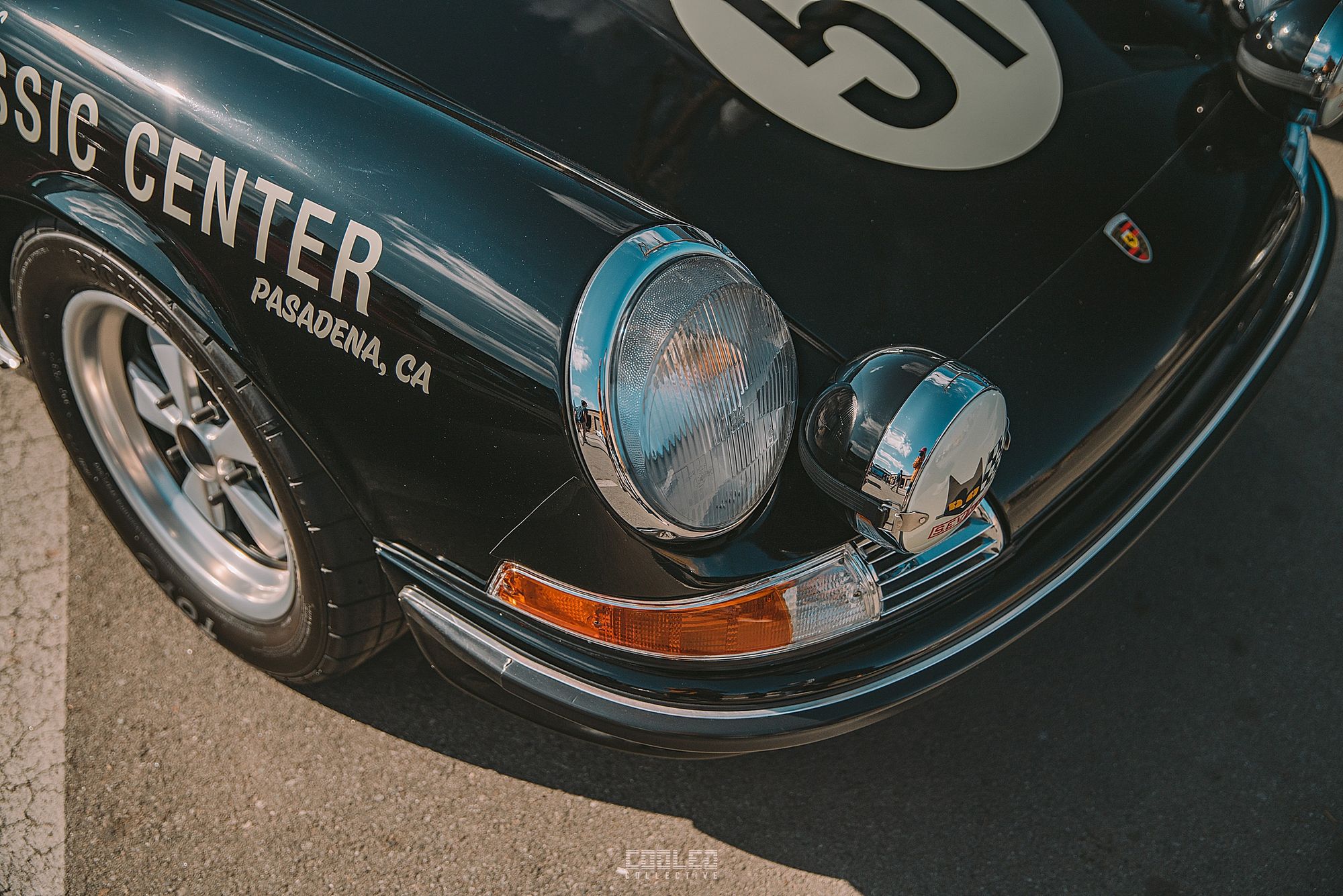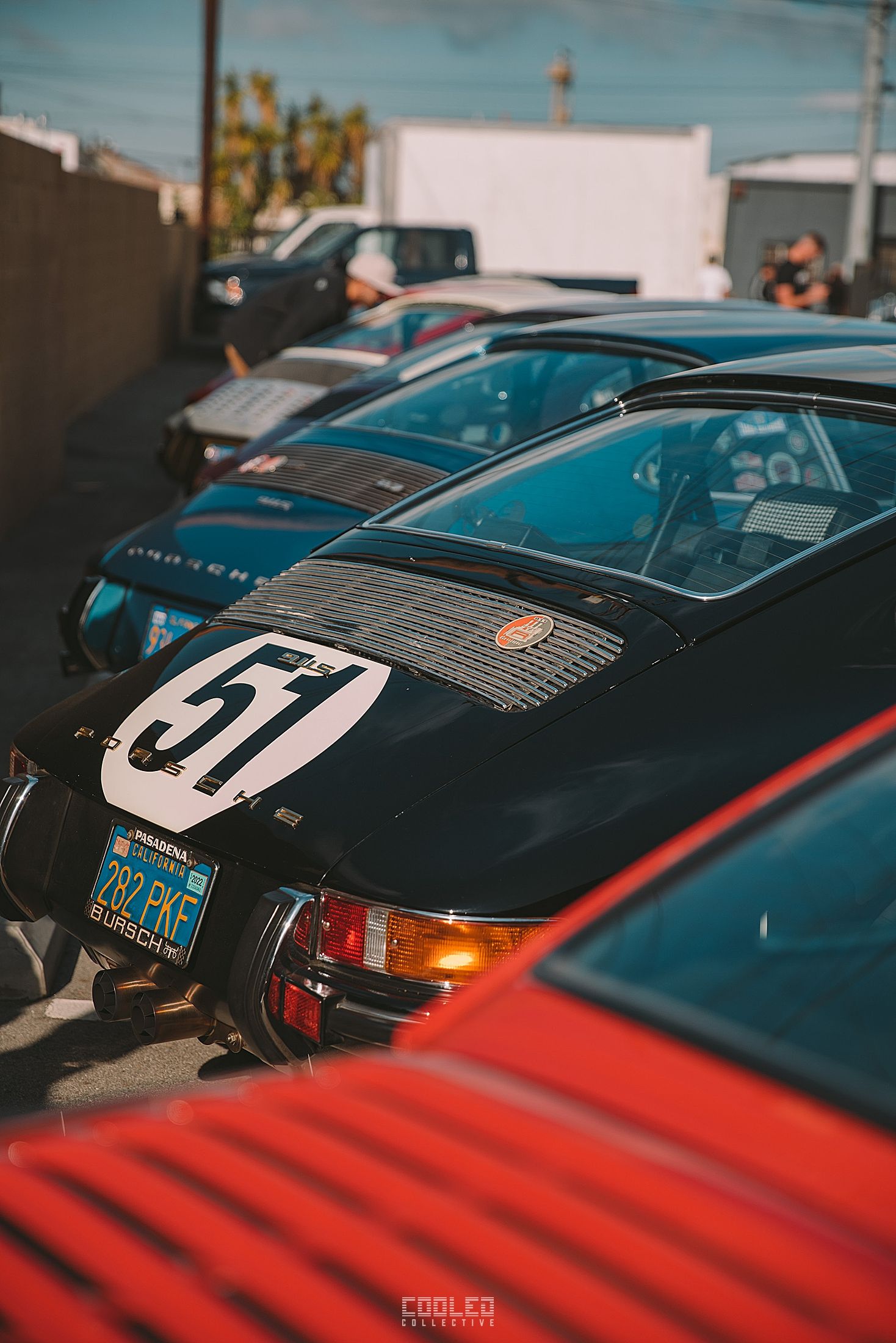 Next to Eric was David Keen in his ivory long hood and his wife's aubergine aircooled whip. Probably one of the best couples pairing in the local area and they frequent many events. A complete treat to see these together.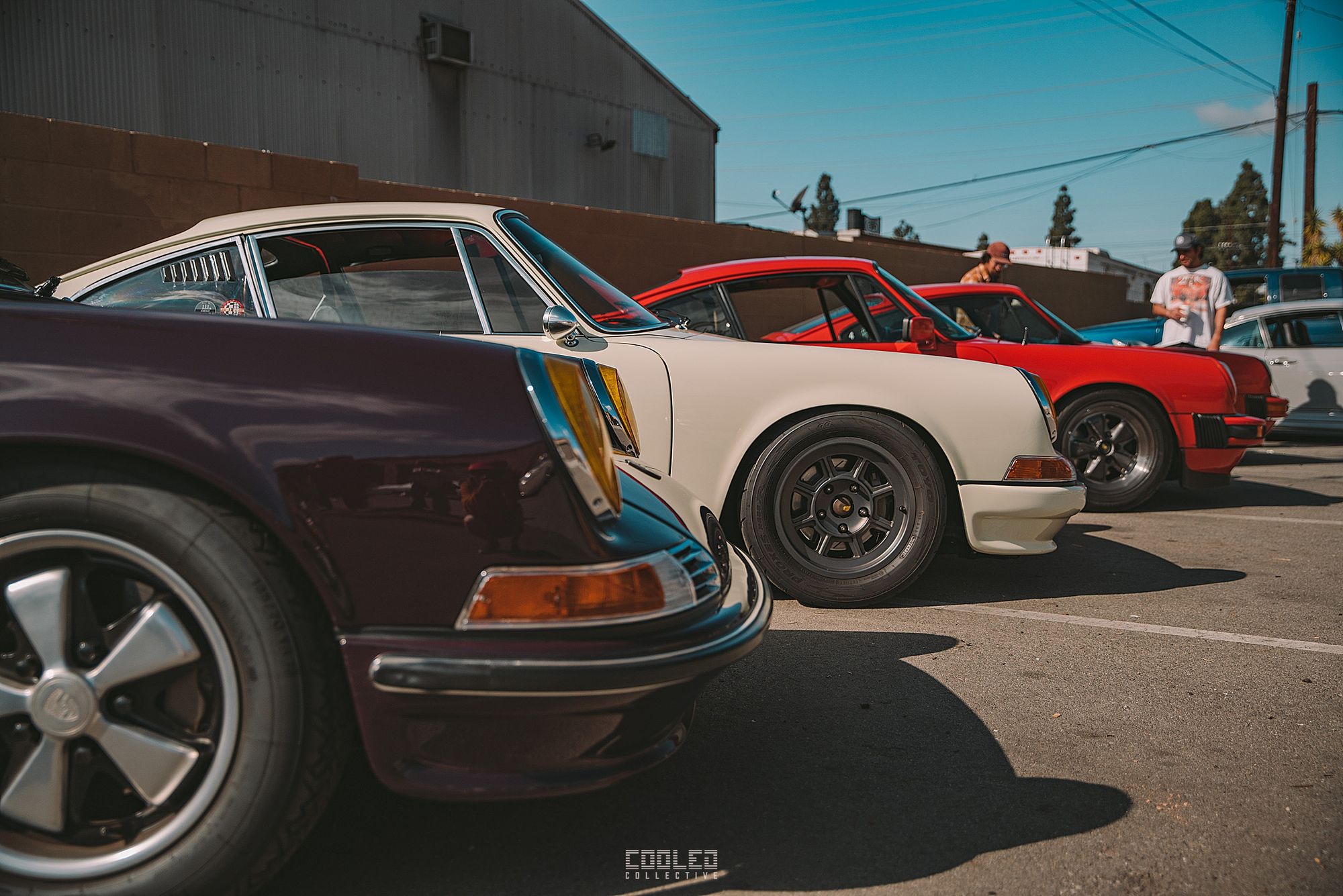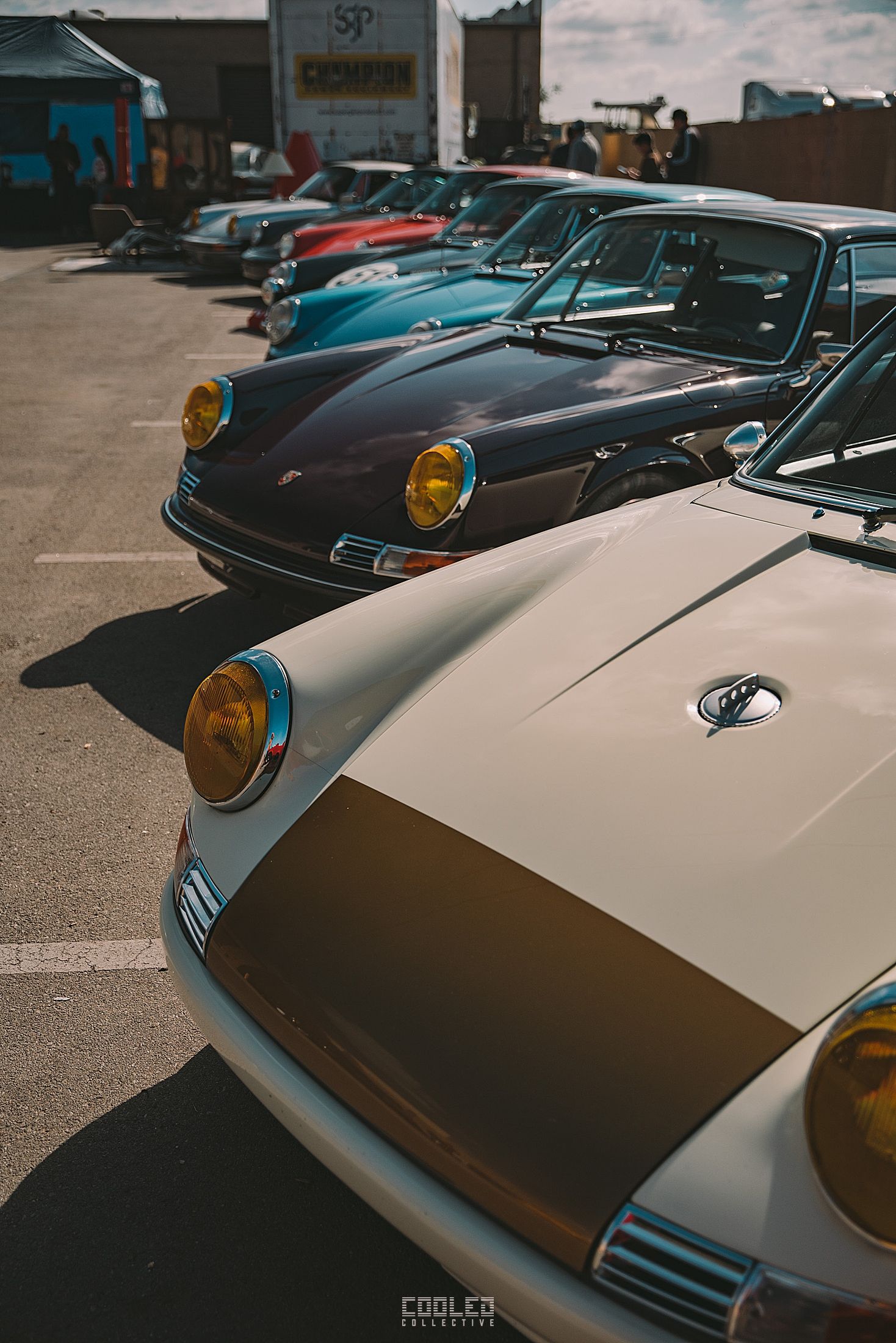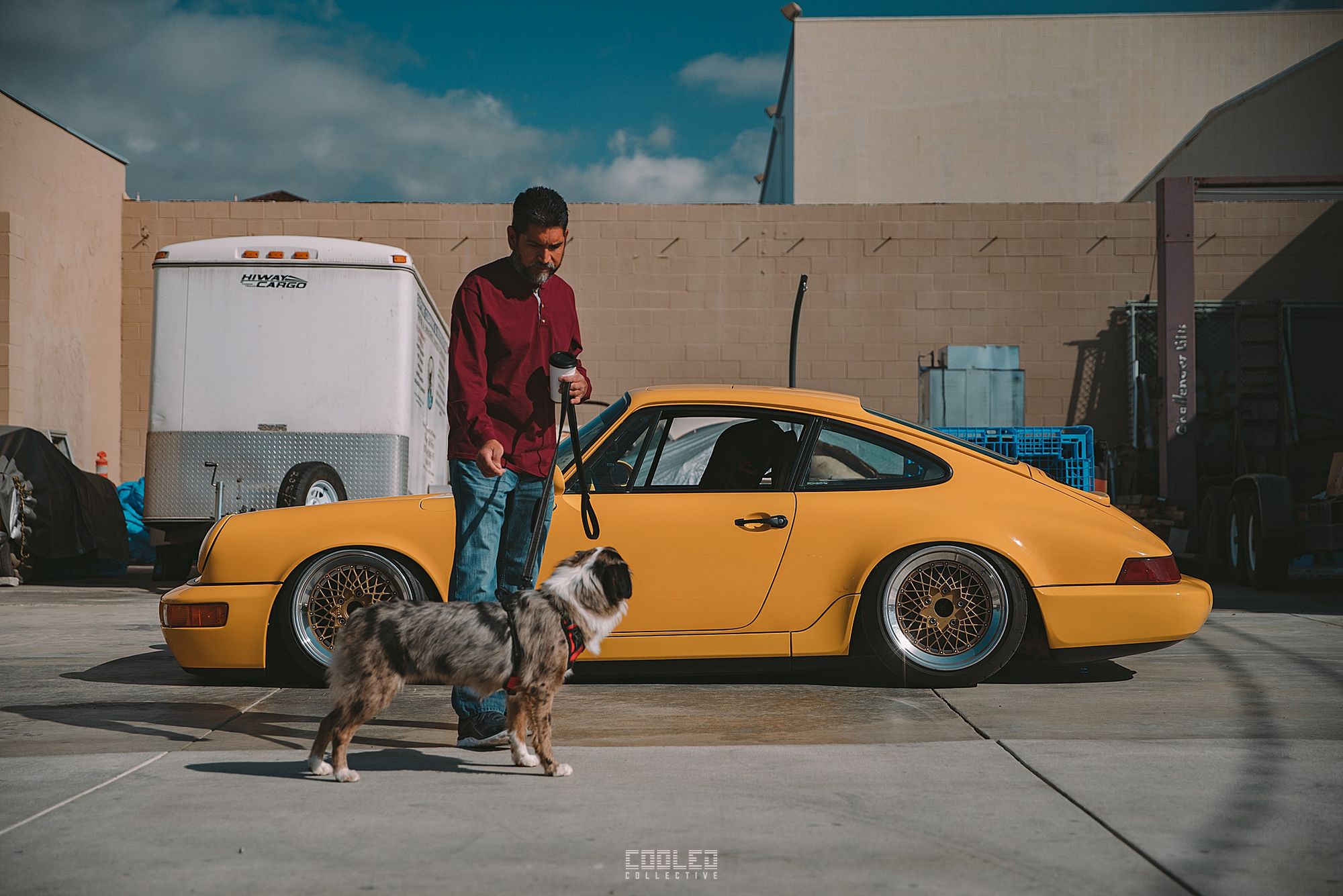 This Australian Shepard really loved staring at Jason's Talbot Yellow slammed 964. He literally stood there for over 4 mins as I waited for him to move along but it would have broken my neck also. I think he was trying to tell his owner to turn around so he could see all of the sexiness.
Jason also has been super busy taking his nephew around car events and doing his part to curate the next generation of car enthusiasts. He also gets to help build some of the coolest wheels in the car game... what a treat.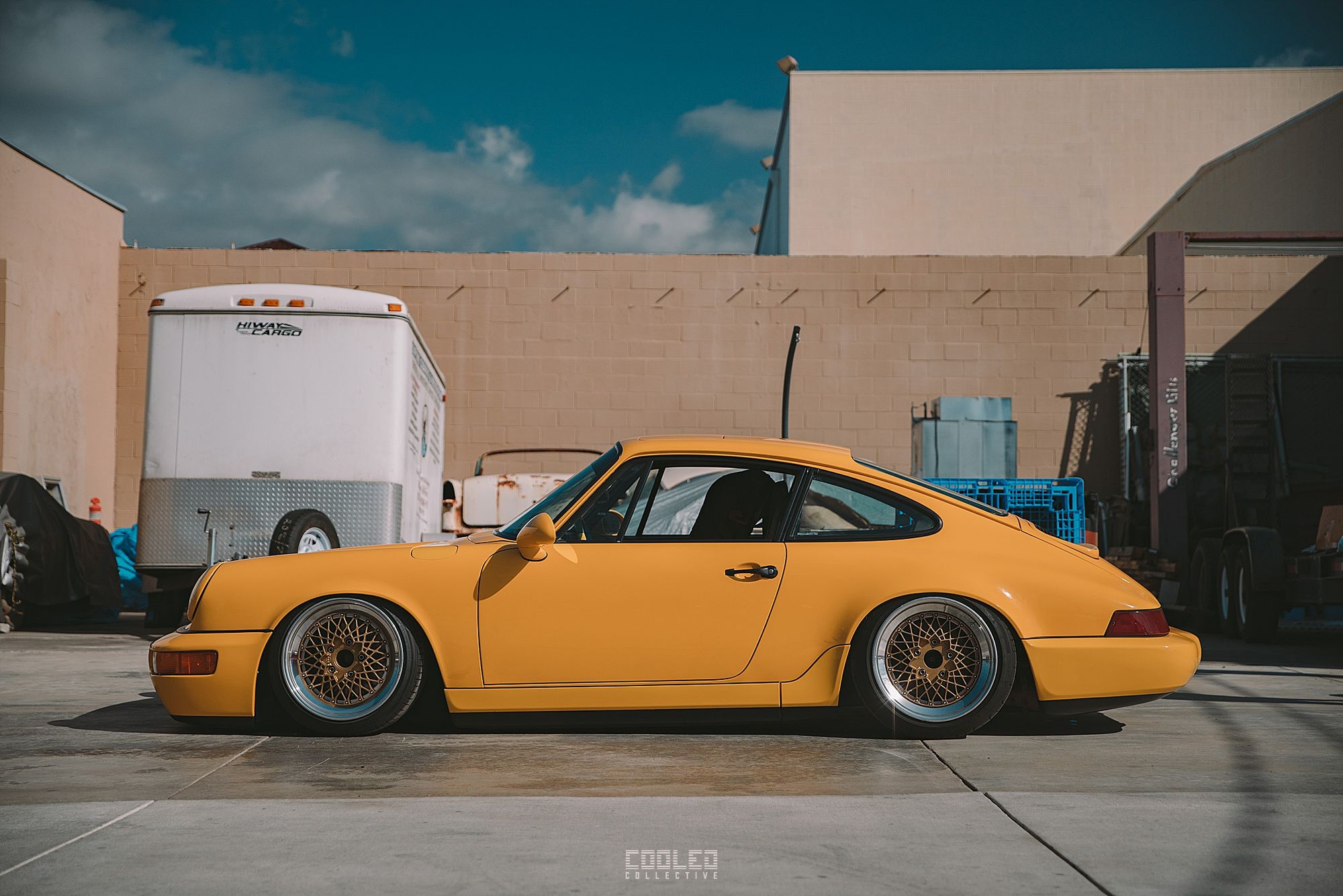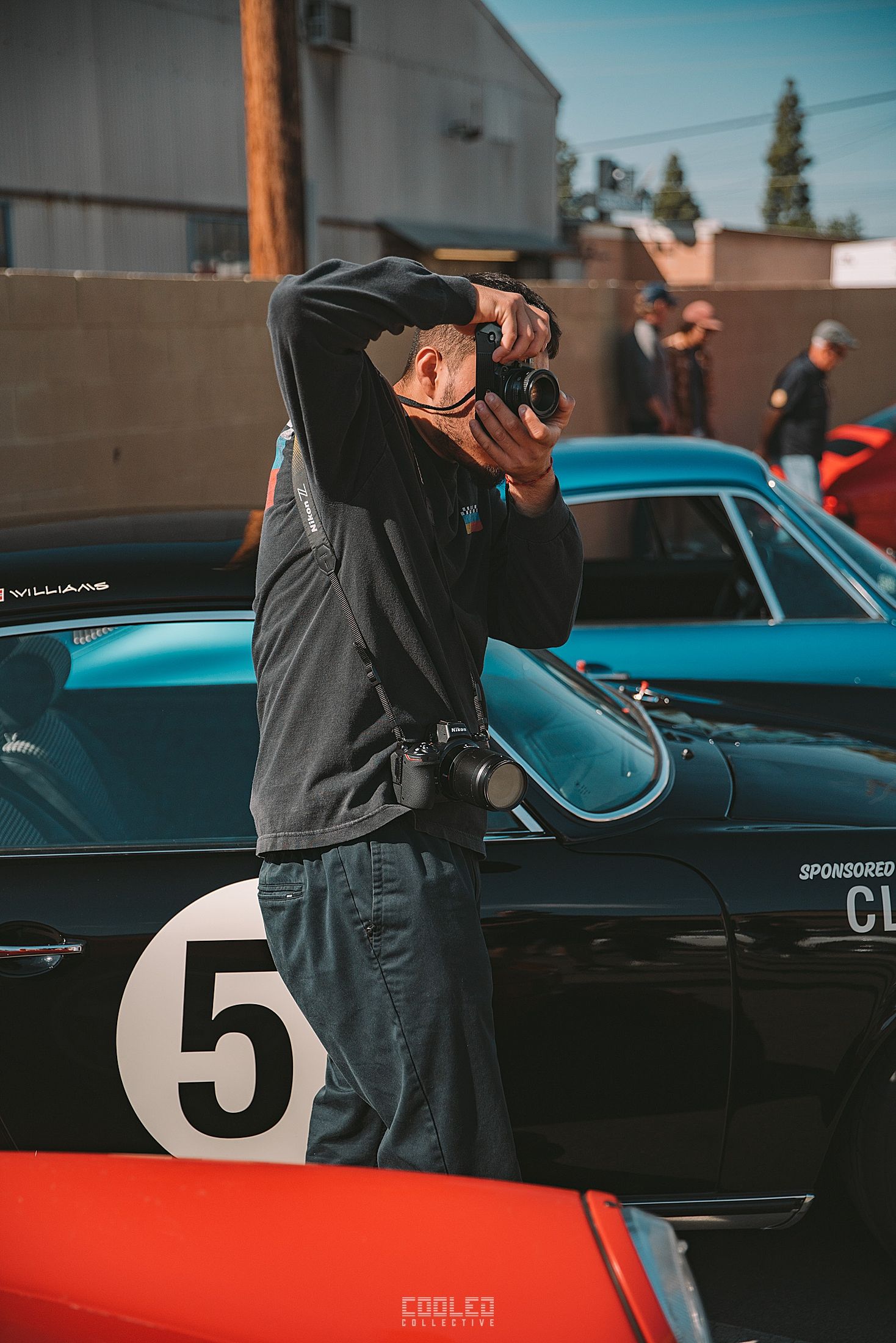 Nick started Makina as a way to express his love for machine and if you haven't guessed it, Makina means machine in Tagalog. Grassroots passion is the best kind of passion and Nick loves it for all of the right reasons.
Joe from the M Shop pulling up to the meet and even from the back of the parking lot, I can see how thiccc his rear tires are.... Countach thick.... if you are curious, they are 345mm!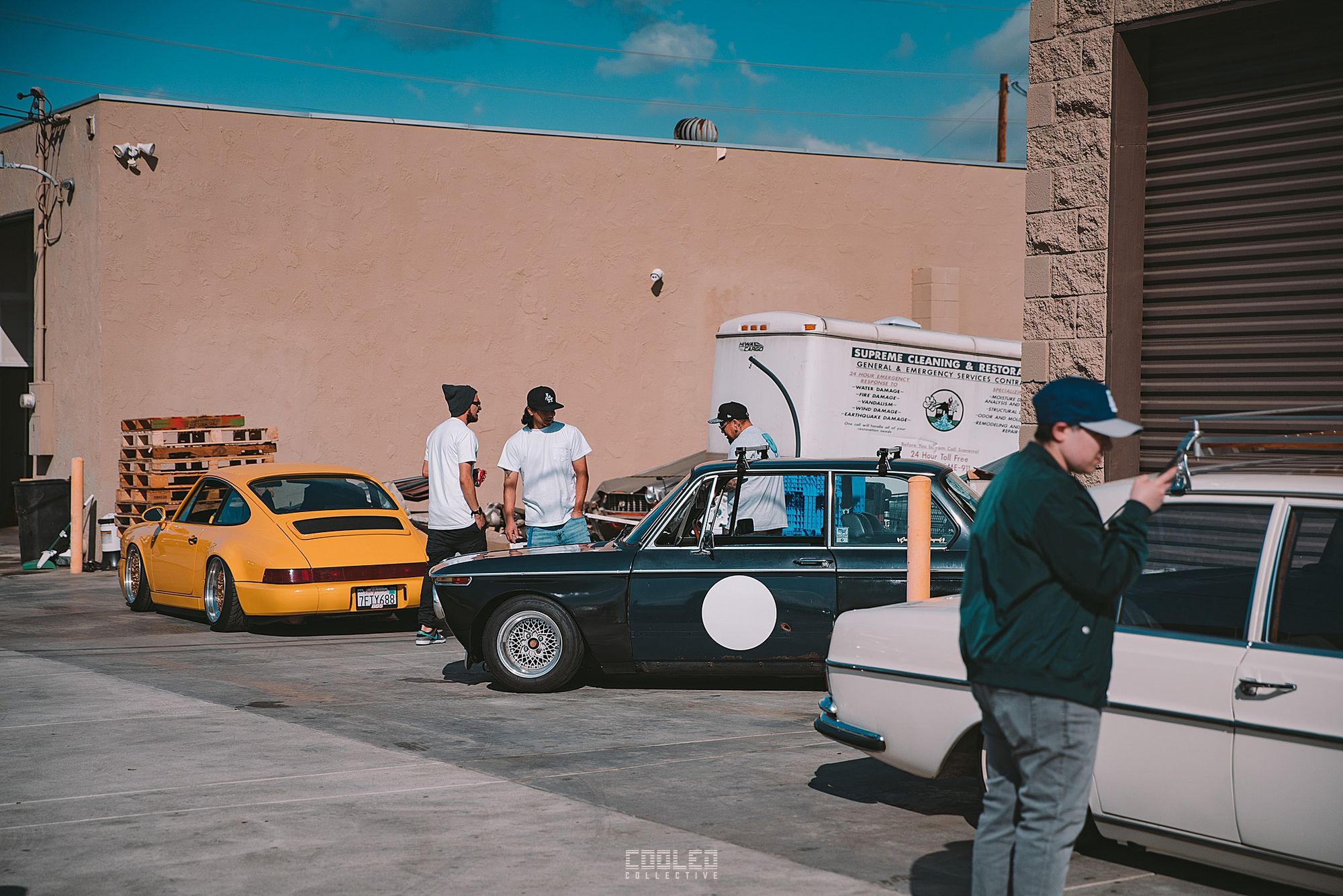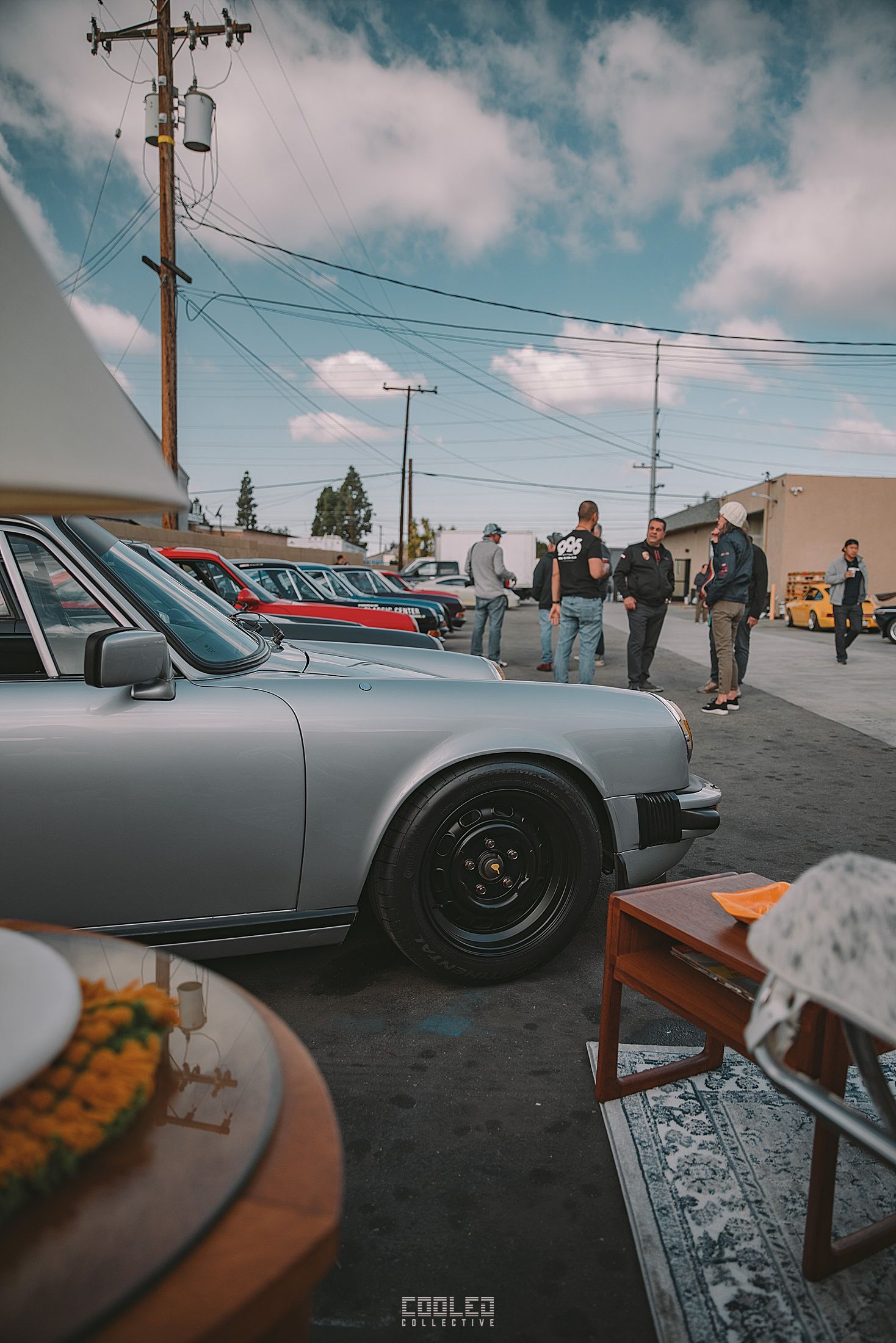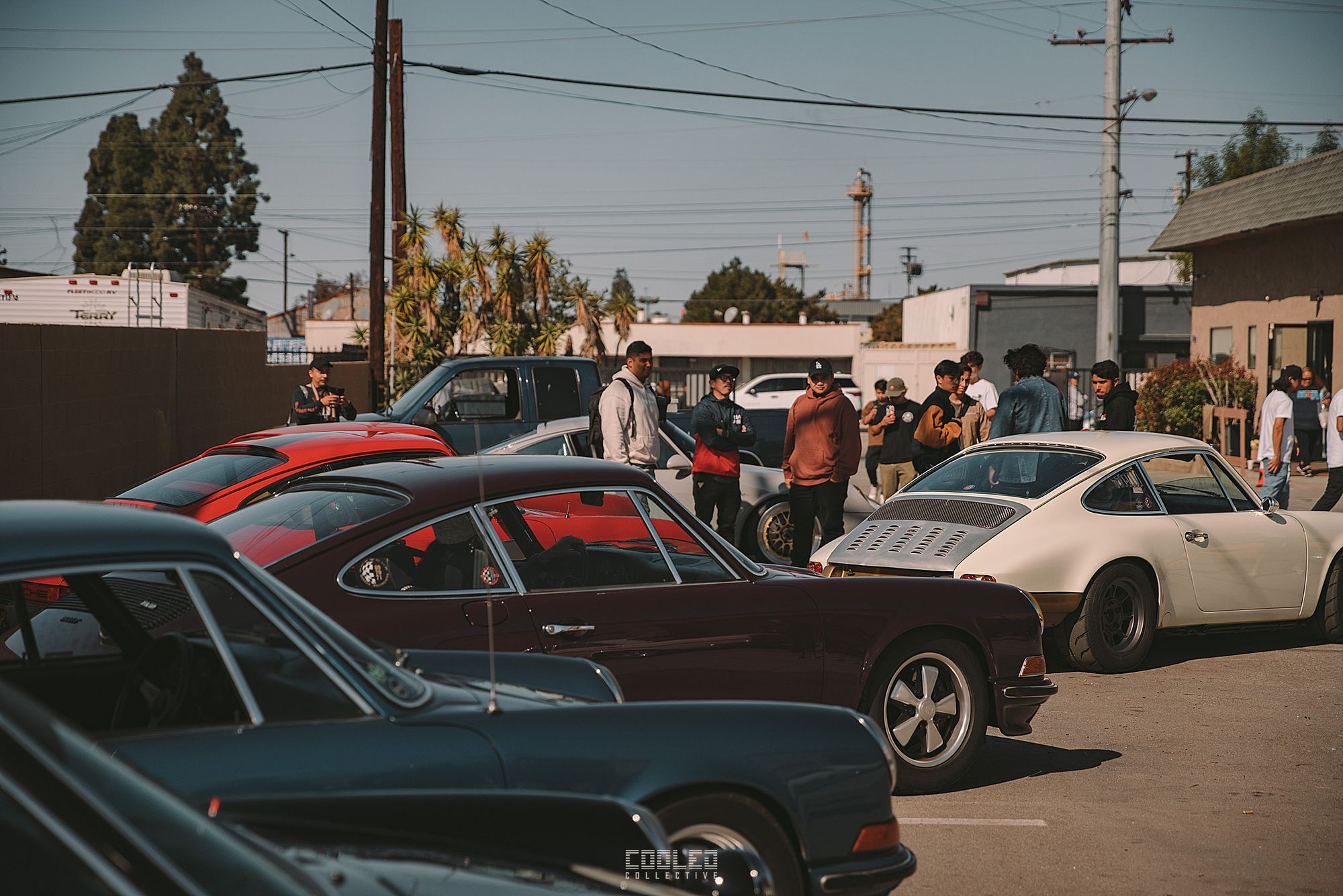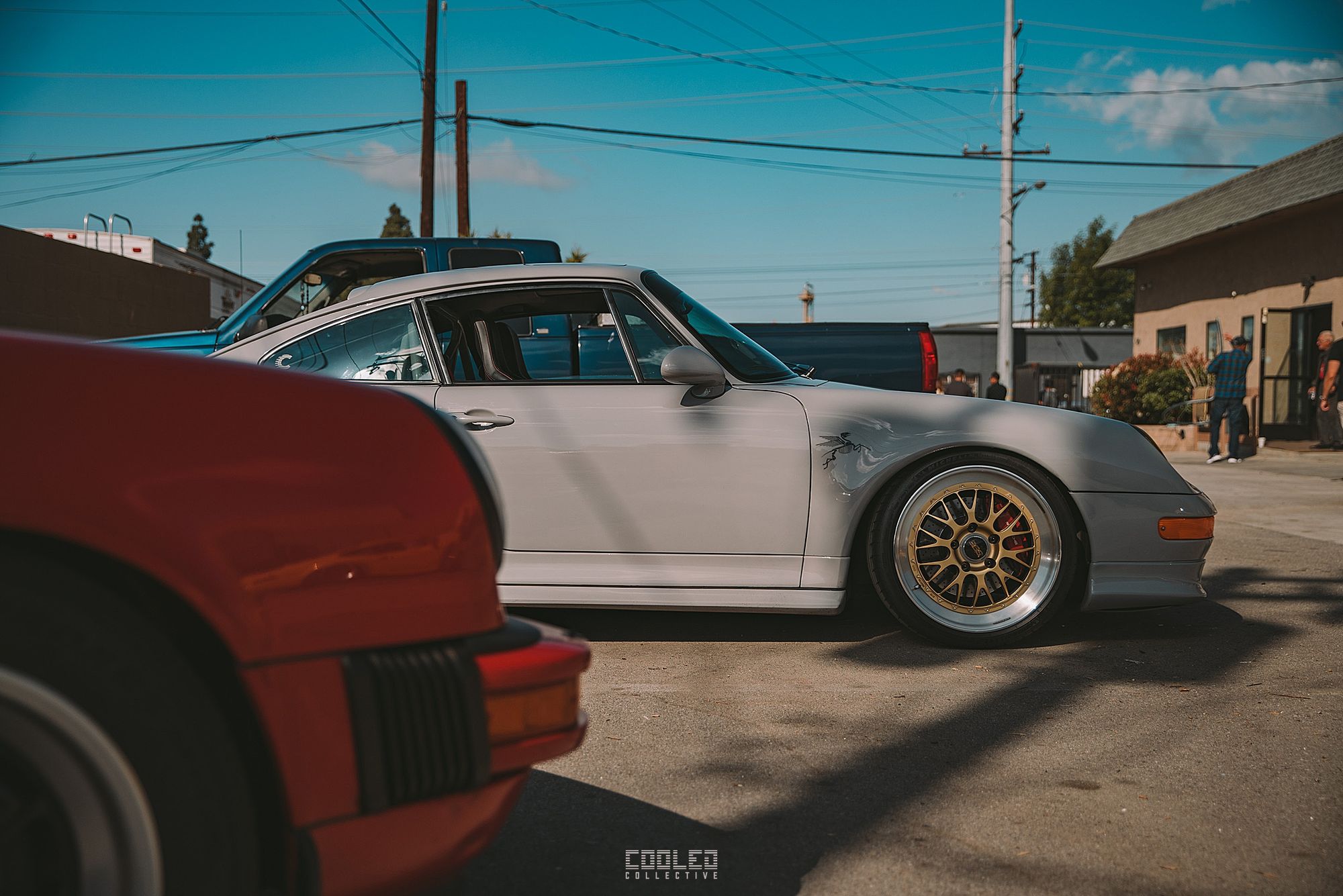 We were lucky enough to have Mike's 993 out this weekend as it has been down for over 5 months getting some serious upgrades. Mike did his shakedown run during the OC to SD III rally and it is almost back to 100%. Very close to his dream spec variant. More coming soon on this build.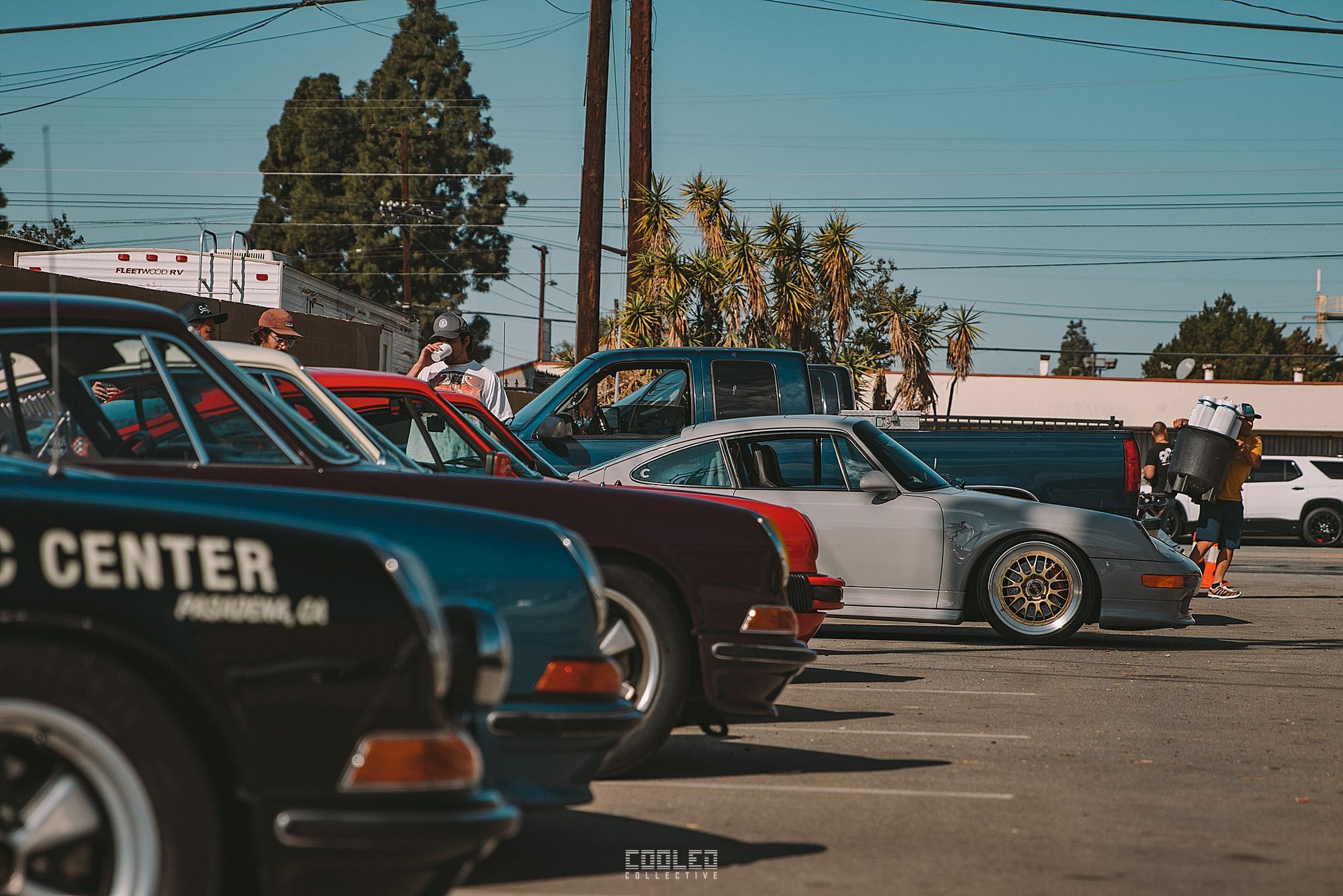 As much as I wanted to help support other homie's events today, I felt myself draining of energy after the long day yesterday. So I headed down the street to grab my favorite fish tacos for myself and the wifey and headed home for a 4 hour nap. Edited these photos and get ready for the rest of the week.
Thanks for stopping by and please share this blog with your friends. Appreciate the support.
Drew Manley
Shop: http://www.cooledcollective.com
Gear used:
Sony A7R3
Canon 24-70mm 2.8 Mark II
Sigma adapter