Yesterday was truly a wonderful start to the trip and if I am being honest, it could have easily been the highlight but Day02 said, "Hold my beer..." and off we went. By the time I got back to my room, showered and laid down, it was already 2:30am and jet lag was in full effect. Good thing I am used to sleeping very little as it came in clutch for the start of day02.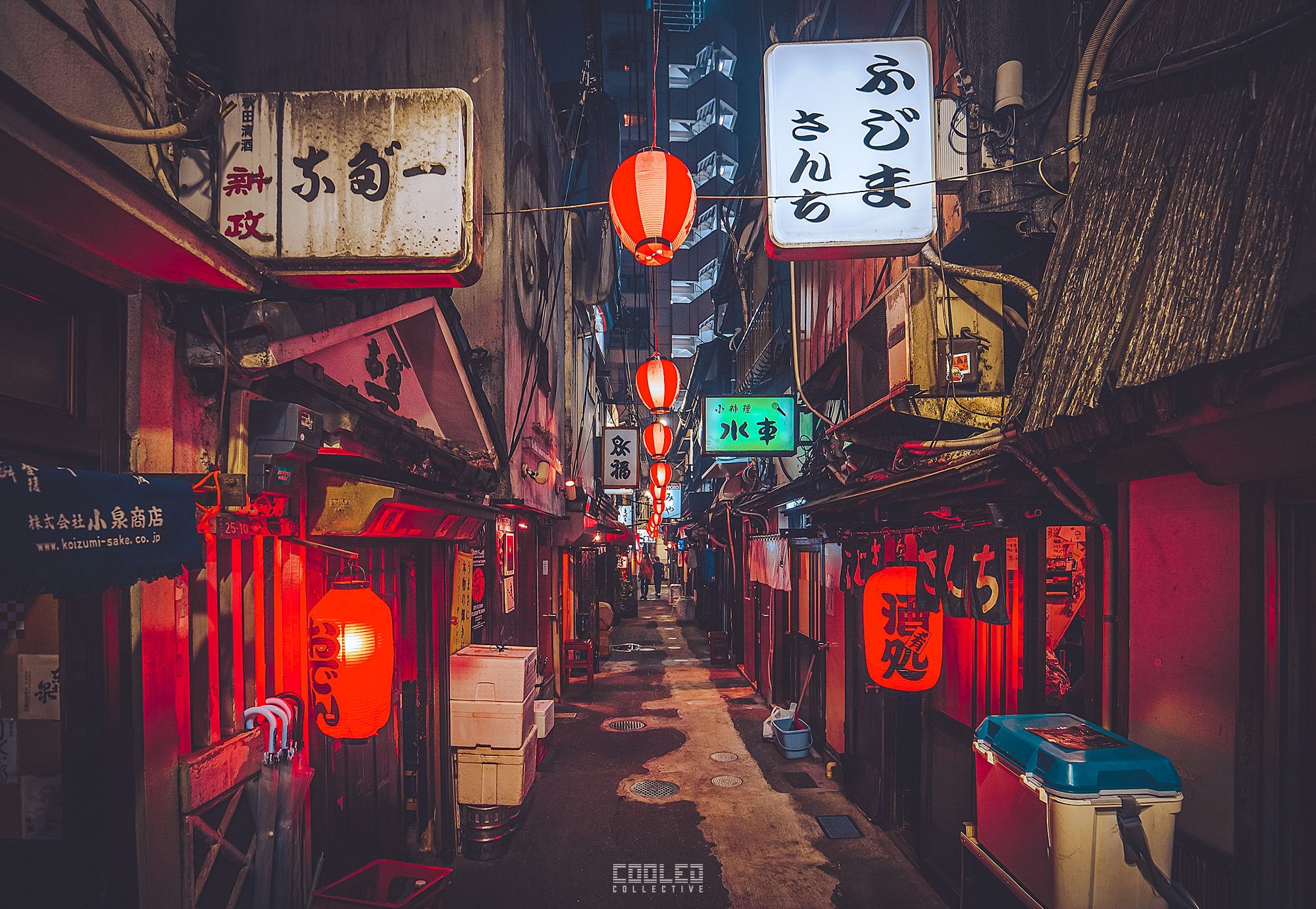 I woke up at 6:30am and got ready to walk to Ebisu where Mark and Crew were staying at. It was about a 20 min walk and a good way for me to get familiar with the businesses and restaurants that lined the manicured streets. Something that I always loved about Tokyo are all of the restaurants and bars that are tucked away in the alleys. In America, most of the crowded businesses are on the main road and the allies are creepy dingy places that no one wants to be but in Japan, there is so much to discover beyond what you typically can see on the surface level.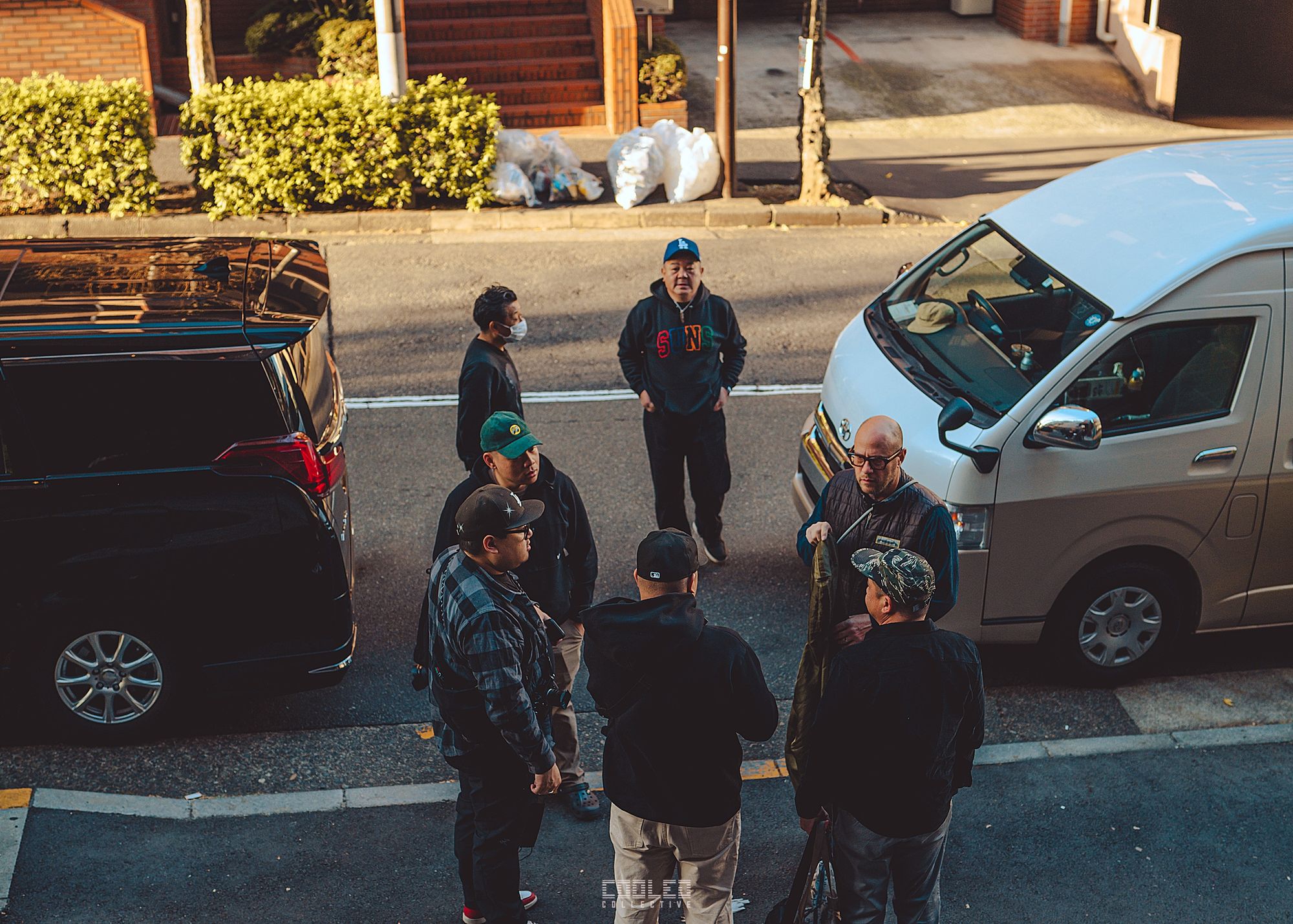 Once I got to Mark's hotel, got some breakfast in the lobby, which consisted of Japanese vegetable curry and some fruit. Really hit the spot when I thought I wasn't even hungry. The vanpool this morning consisted of two vans as there was a need for the larger group. The drive to Tokyo Auto Salon (TAS) was about an hour long drive but once again, with great conversations, it made it a breeze.
---
Tokyo Auto Salon
Once we arrived on campus, it was awesome to see the various type of modified cars in the parking lot. As many of you know, the parking lot holds some awesome enthusiasts builds that never get showcased at large shows. The energy of everyone in the van was definitely growing and I was definitely getting hyped.
I do want to preface that being in the moment, taking photographs and making a vlog was a huge juggle and I do apologize if any of them fell short. I think I was just excited to be at the show so I didn't take as much photos as normally would have it was a local show. Also, since I know there was a ton of coverage, it wasn't my focus to cover the show but to show some of the things that caught my eye.
First and foremost, the 2007 Honda NSX Super GT GT500 being on display was a huge surprise for me as this racecar is now over 16 years old and still looks drop dead gorgeous. Seeing heavily modified first gen NSXs are so tough to see in the states as most are kept relatively stockish.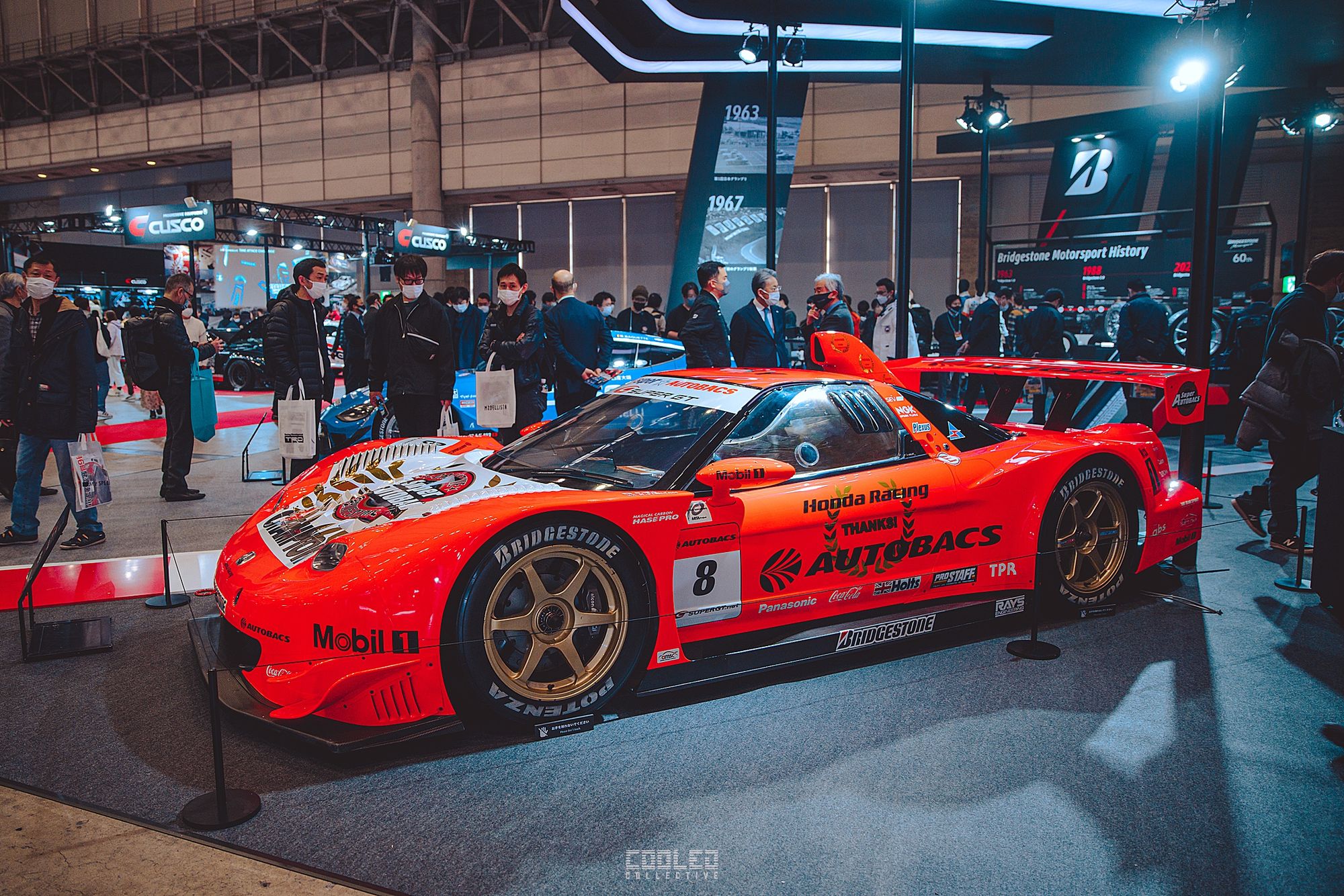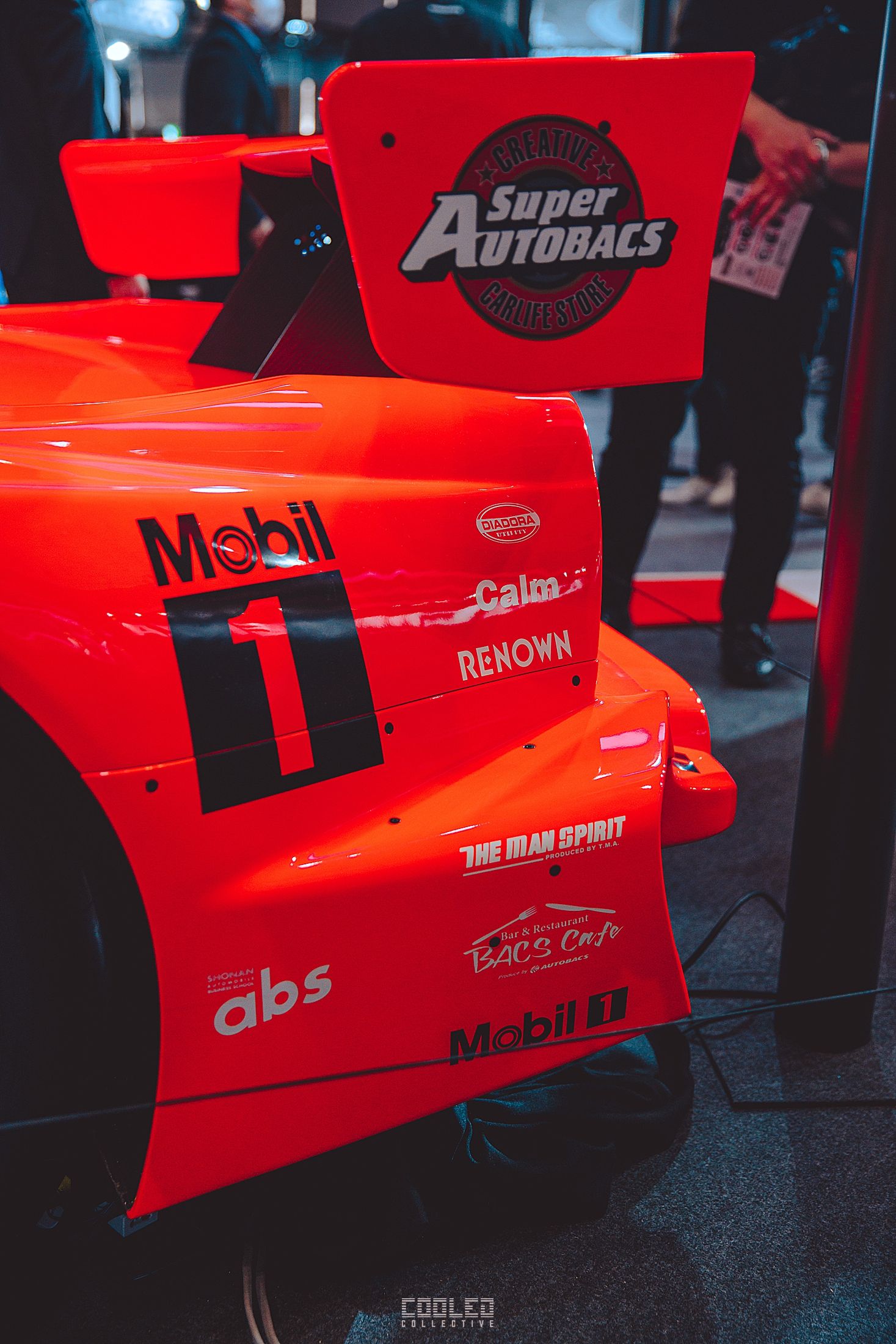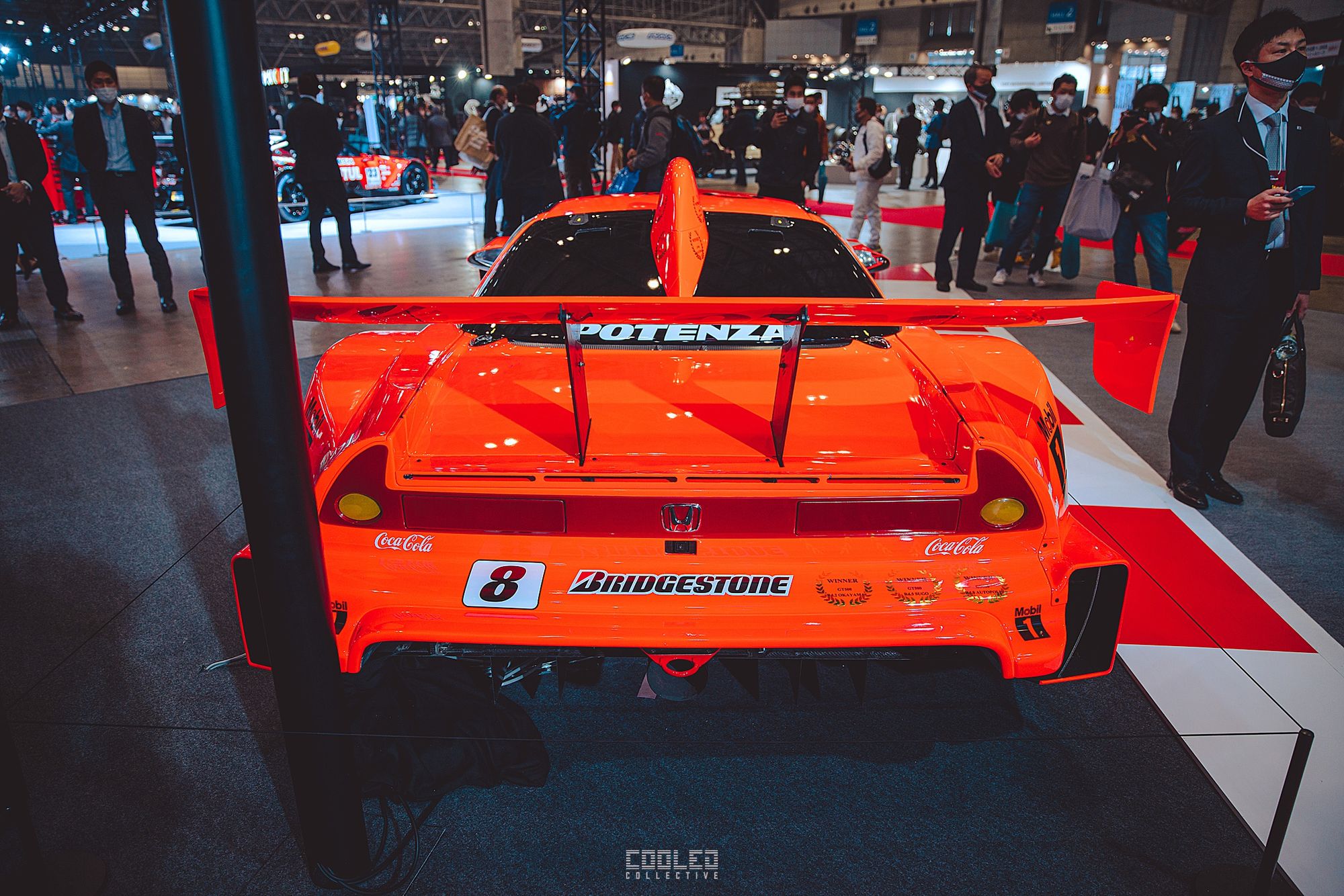 Keeping with the Honda theme, the new Civic Type-R GT made its debut and quite the attention it demanded. Seriously aggressive and definitely elongated to fit the GT specifications. I didn't get much information about this but man was it a show stopper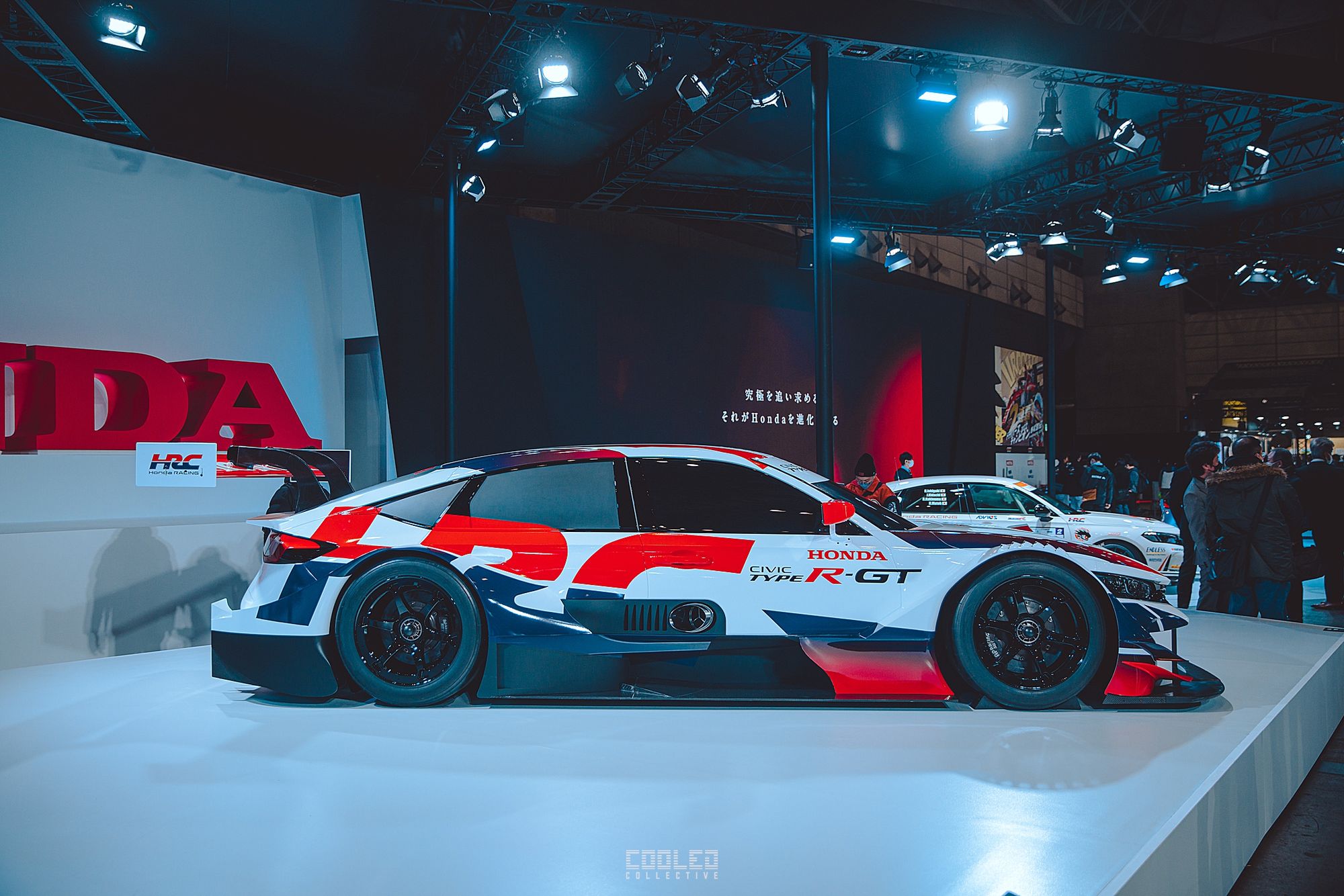 As most of you already know, the Liberty Walk Ferrari F40 was all of the buzz and if you have been following alone on LB Kato's Instagram, you would know that something shocking to the automotive world was about to go down. Cutting up a Ferrari F40 is sacrilegious to many fans of the iconic F40 so  you can imagine why it drew such a crowd. When I originally walked by it, you could feel the energy in the air. People were hungry to see the unveil.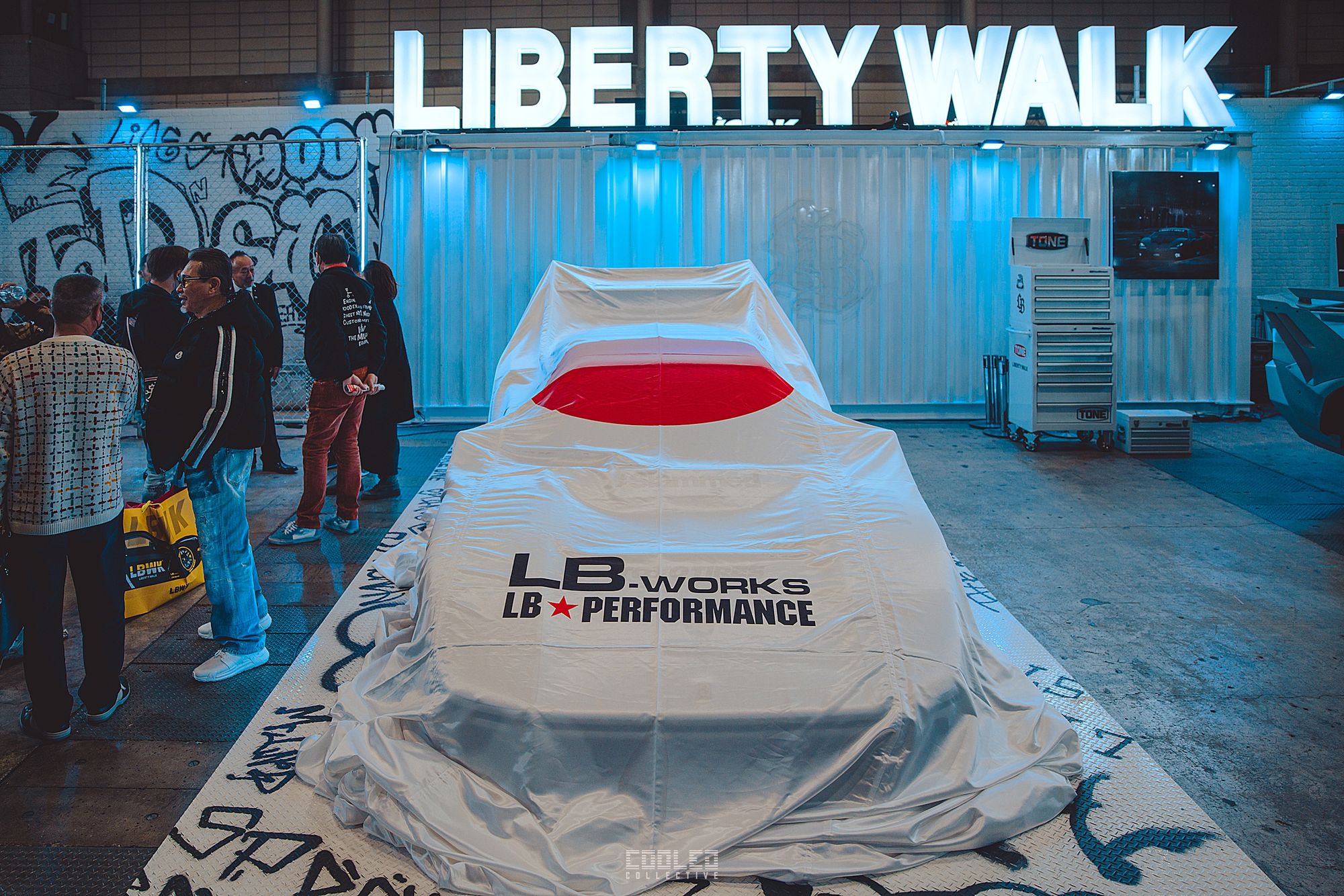 Since the unveiling was at 2pm, I ended up walking around to see the rest of the Liberty Walk line up. First one up on the right side of the F40 was the Super Silhouette WORKS MAZDA FD RX-7 and it carries a lot of notes similar to the Porsche 935 slantnose but with a Japanese flair. From what I can gather from the crowd, it was well received and won many hearts. The classic combo of black with gold polished wheels and red interior looked stunning especially with the Coca-Cola Livery to match.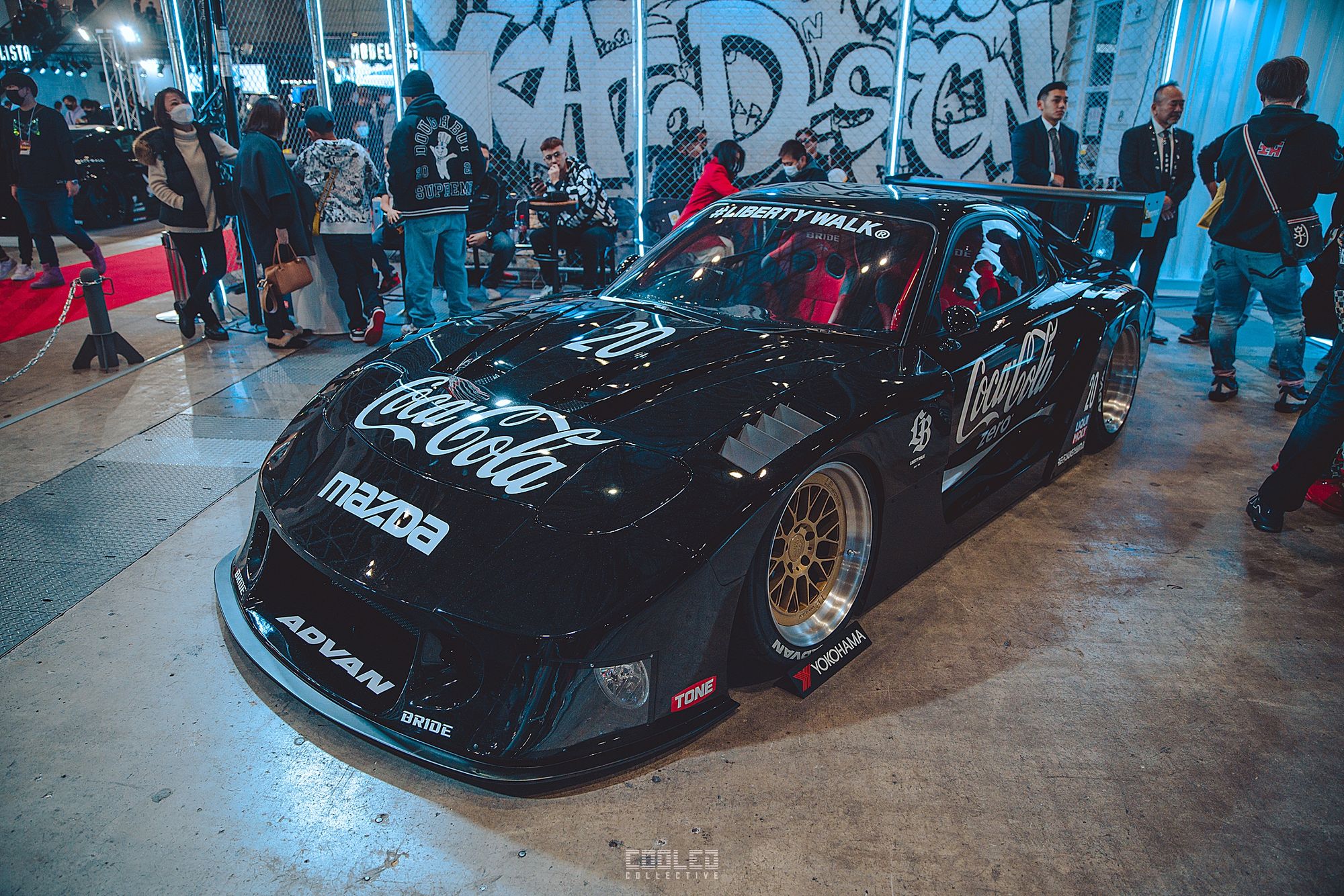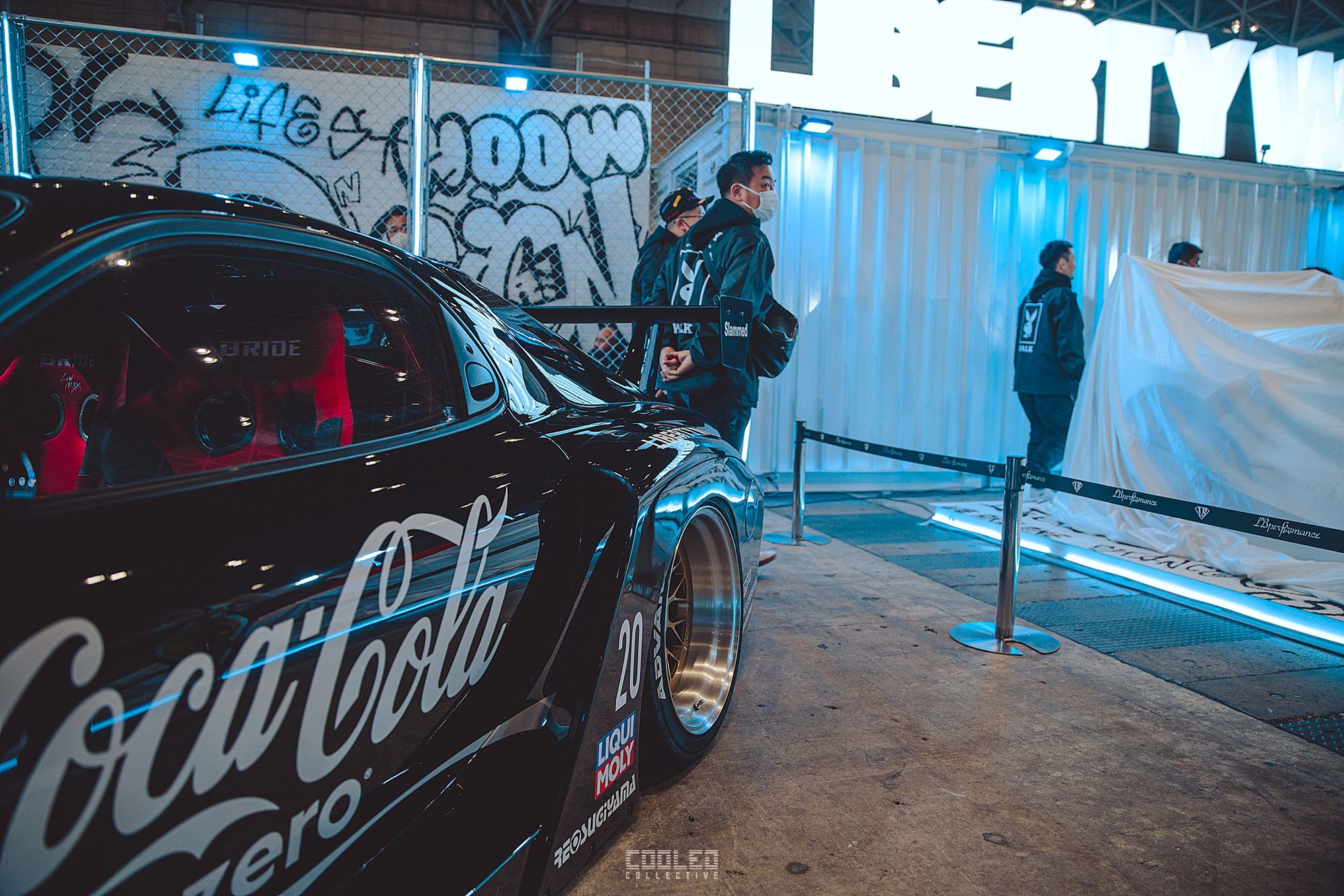 Next up to bat and the one I was excited to see was the Liberty Walk Ferrari F355. Seeing it on the gram was just so stunning and the fitment seemed so on point. This GTB was just as gorgeous to see in person and such a 90s throwback. Definitely not for everyone but I think it is a great option for those wanting to beef up their stock look.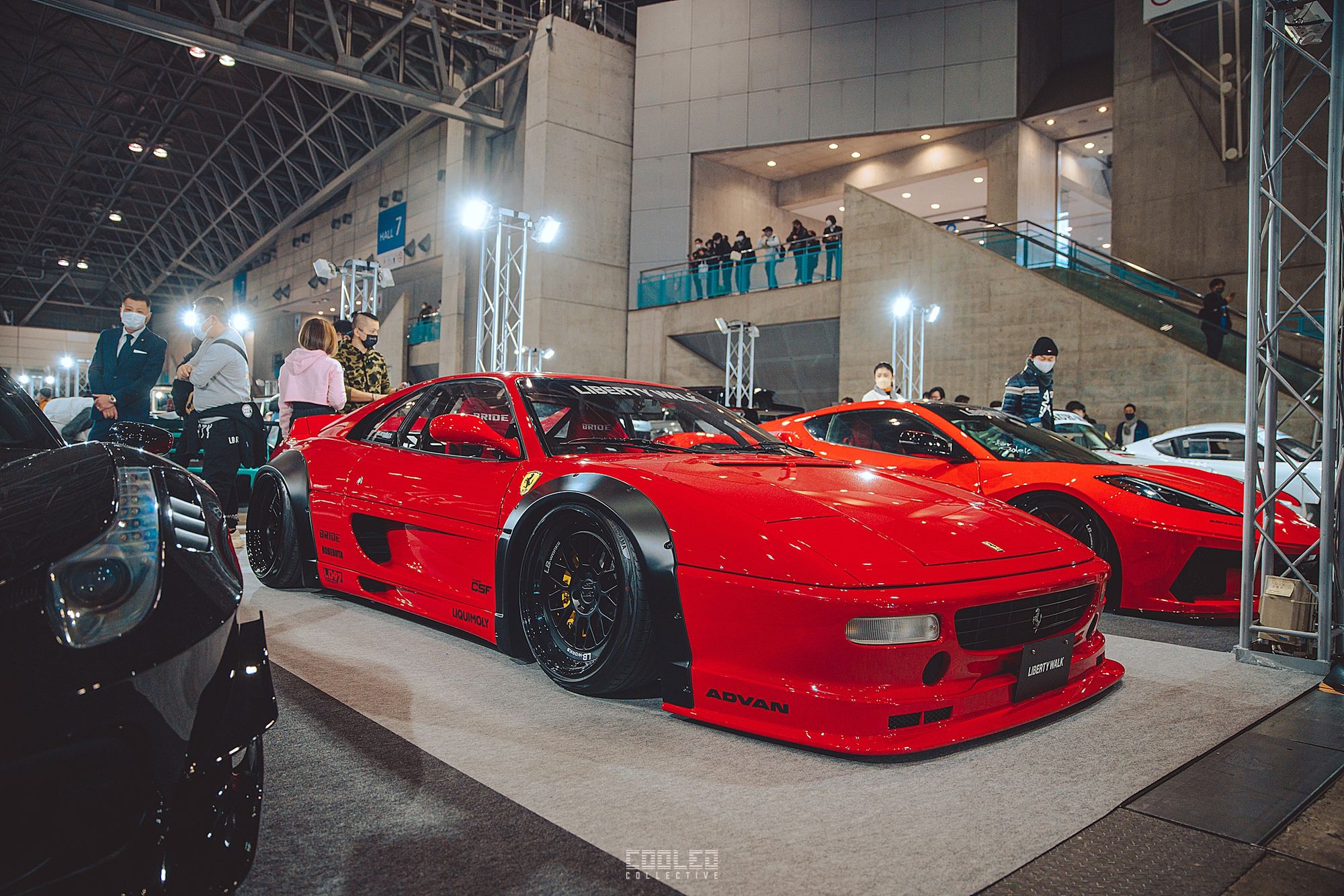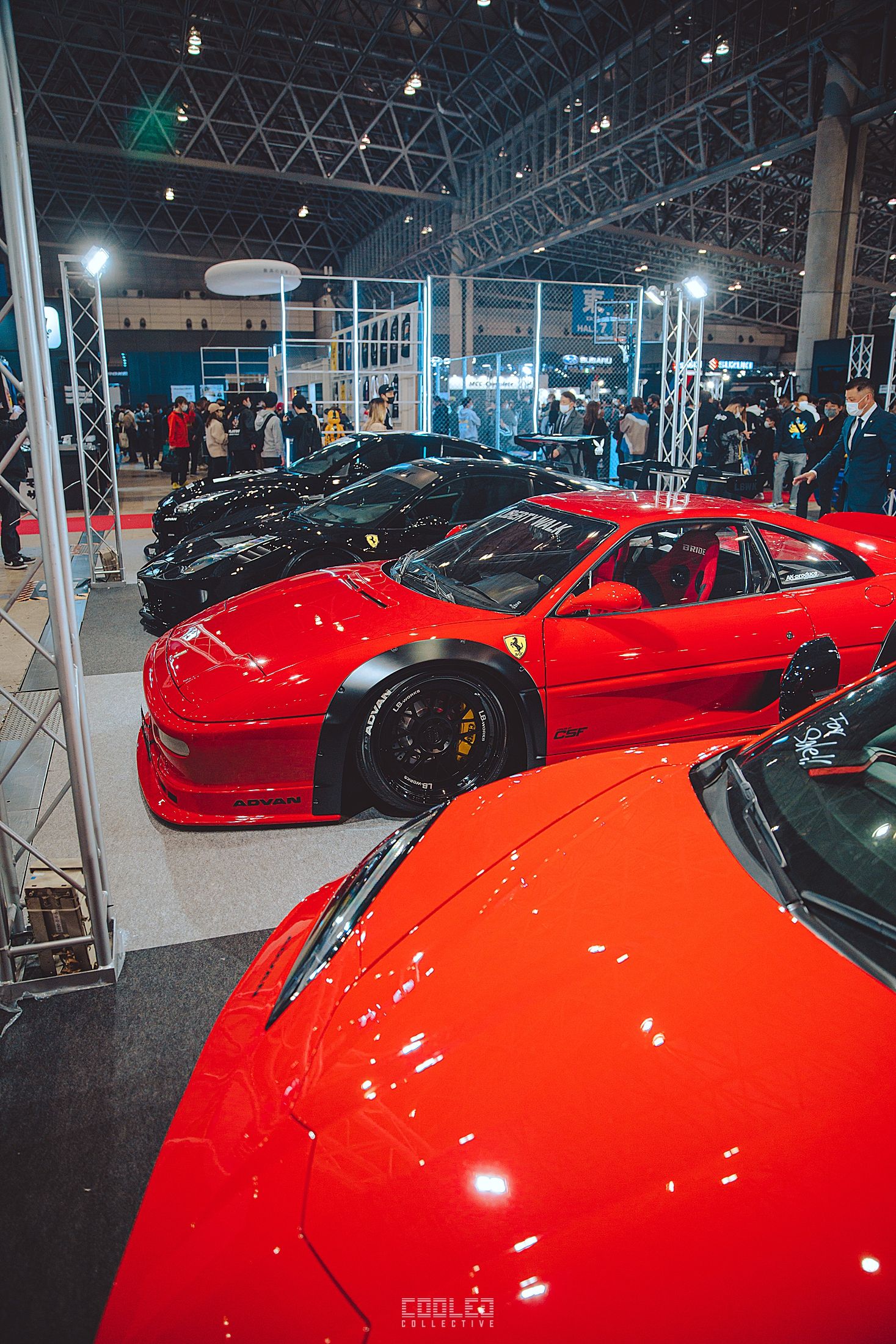 A few cars down, there was a beefy aircooled RWB, which I may have overheard belonged to LB Kato but don't quote me on that. Loved the whole styling of it and all of the race components of it and unfortunately I wasn't able to get much details out of it as I had to run over to the F40 unveiling.
As you may know, this was a worldwide release and it was getting pretty packed around the LB booth but it was pretty well organized being that it was in Japan. It was exciting to be there and soak in all of the energy that surrounded this very moment. I know damn well that this build is extremely controversial but to have someone modifying these cars to an extreme level is truly exciting to me. There are plenty of beautiful and clean low mileage F40s for generations to come. Let's see some badbois out there pushing the envelope.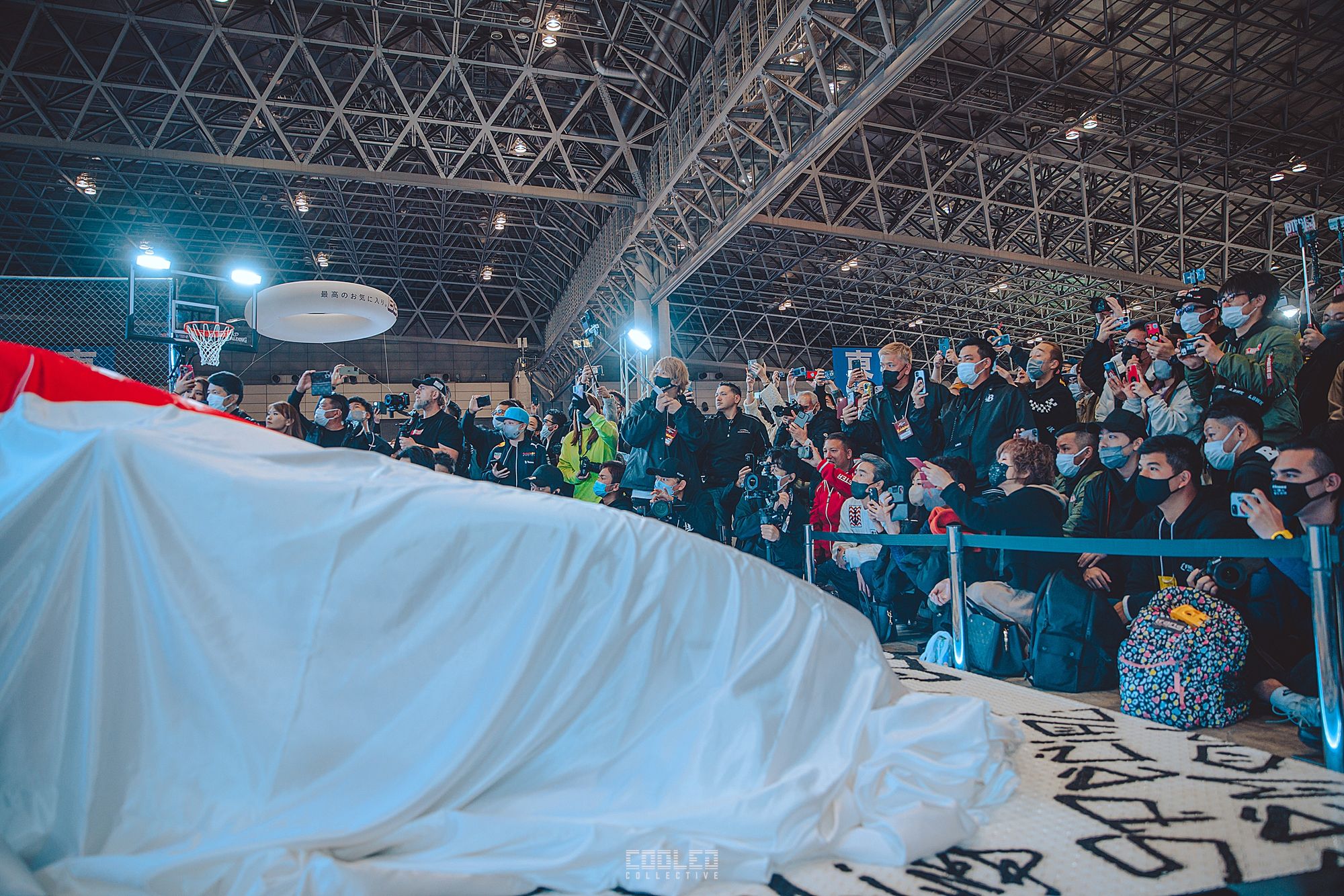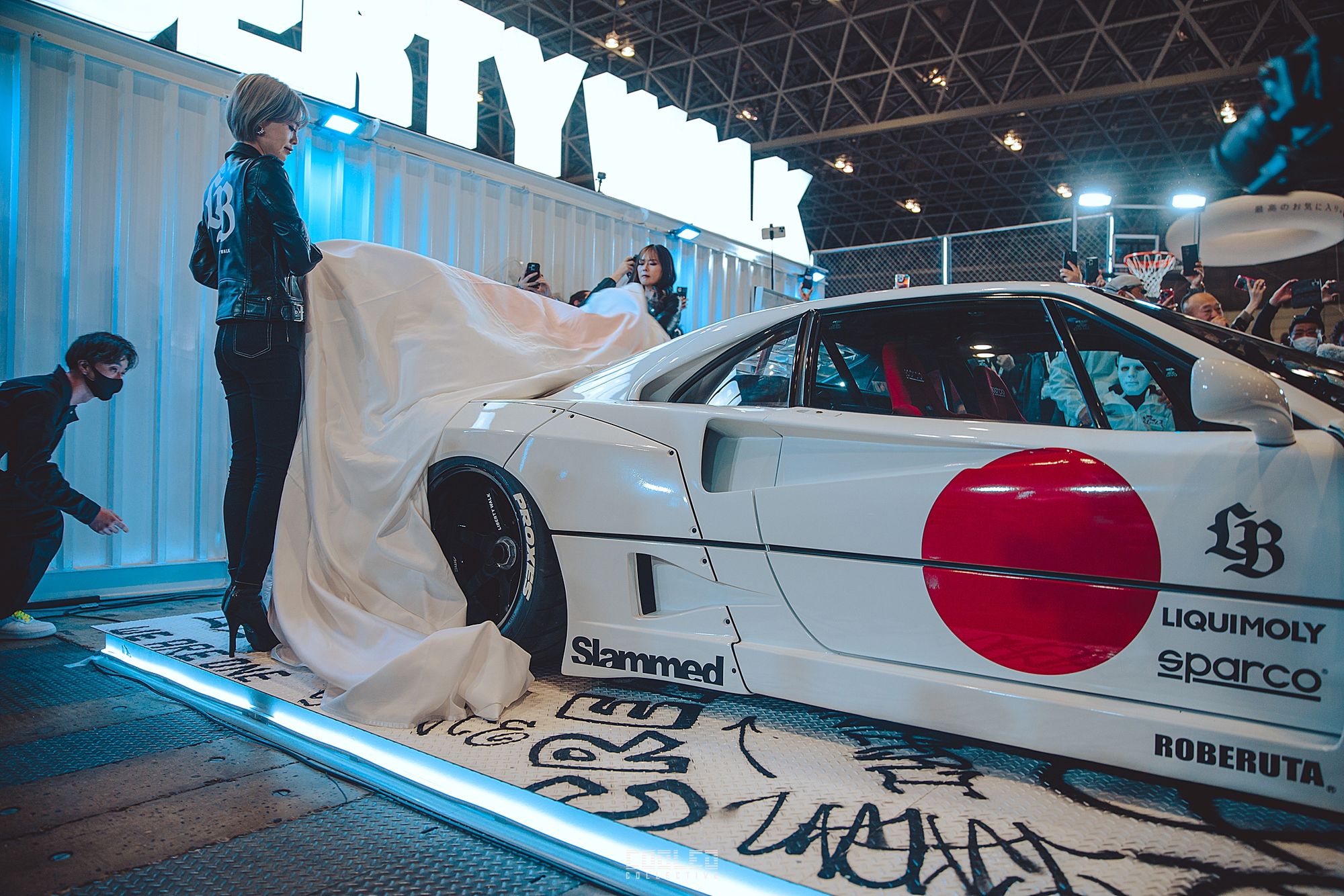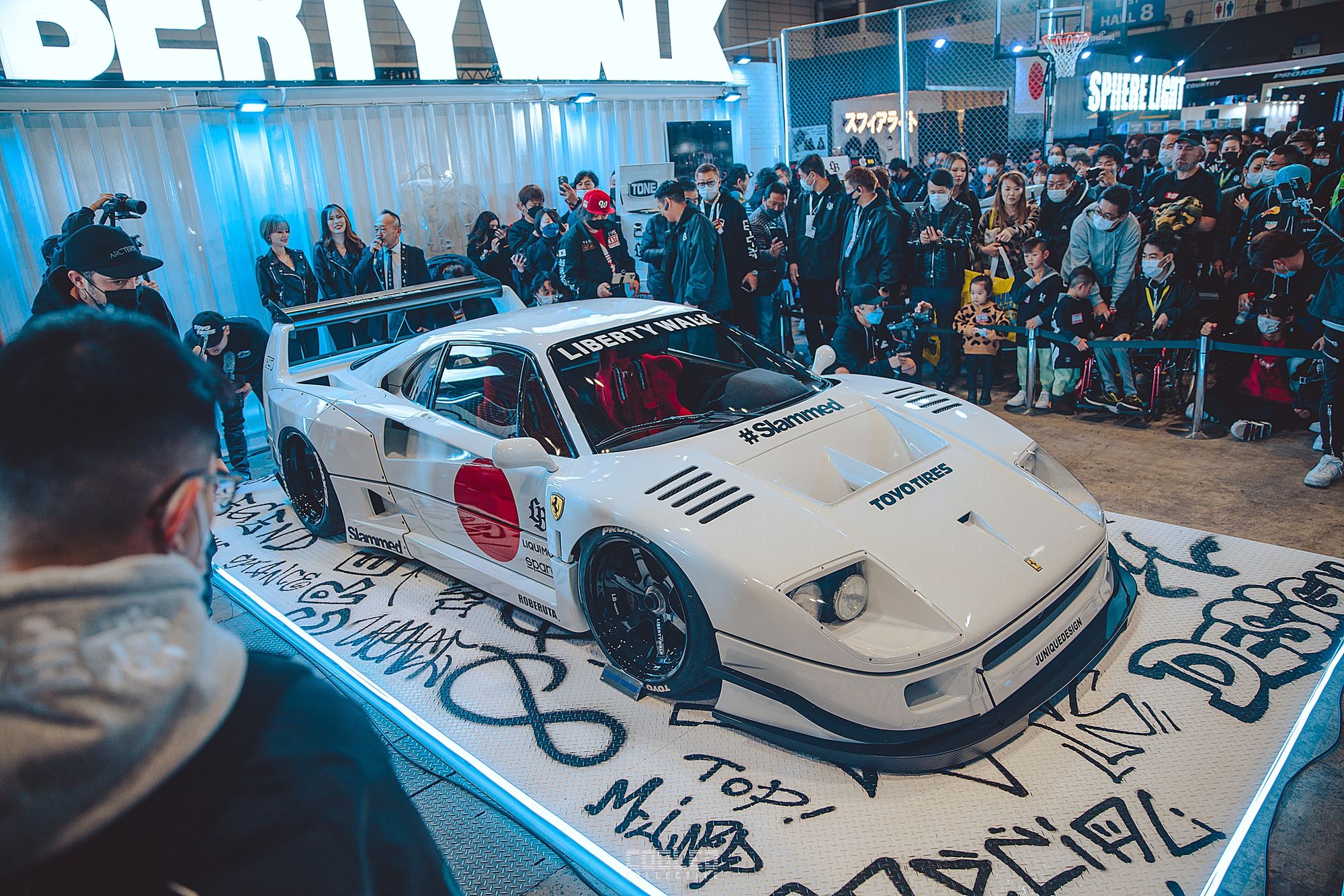 I had my IG live going, I had my GoPro going for the vlog and I was trying to take photos and there were plenty of media guys running around so I didn't have too much to offer in terms of diversity in the photos with everyone jumping in front of the lens. At first, I wasn't able to see the front as I was directing on the passenger side of things and it was hard for me to really see the car. At first, I was on the fence about it but after I got to see the whole car 3/4 view, it really started to grow on me. Furthermore, after a few days of seeing it on social, I really grew to love this build out. For me, it is what modding culture is about and I think it looked very well executed.
At this point in time, I had to run back to meet with the vanpool so I scrambled out of there. On my way out, I caught up with my old friend Phil Awad, so I ended up taking the train back with him. Big shoutout to Mark Arcenal for getting me a pass so I can get into Tokyo Auto Salon and accommodating me that day. You're the best Mark!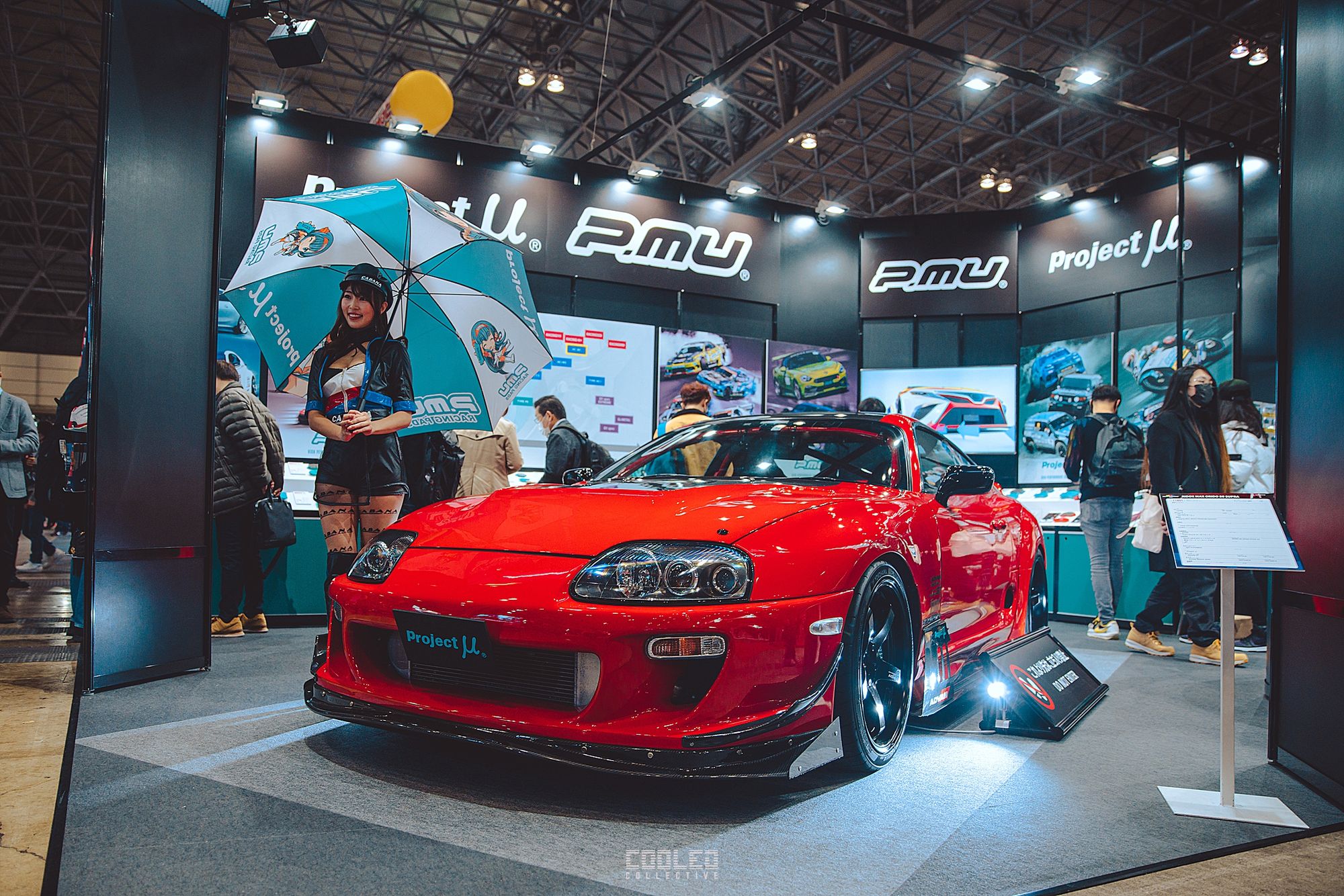 As Phil and I made my way to have a late lunch, we ran across a team of guys doing drifting and burnouts in one of the parking yards. The sights and smell of seeing tire smoke everywhere was a good sign that drifting was well and alive in Japan.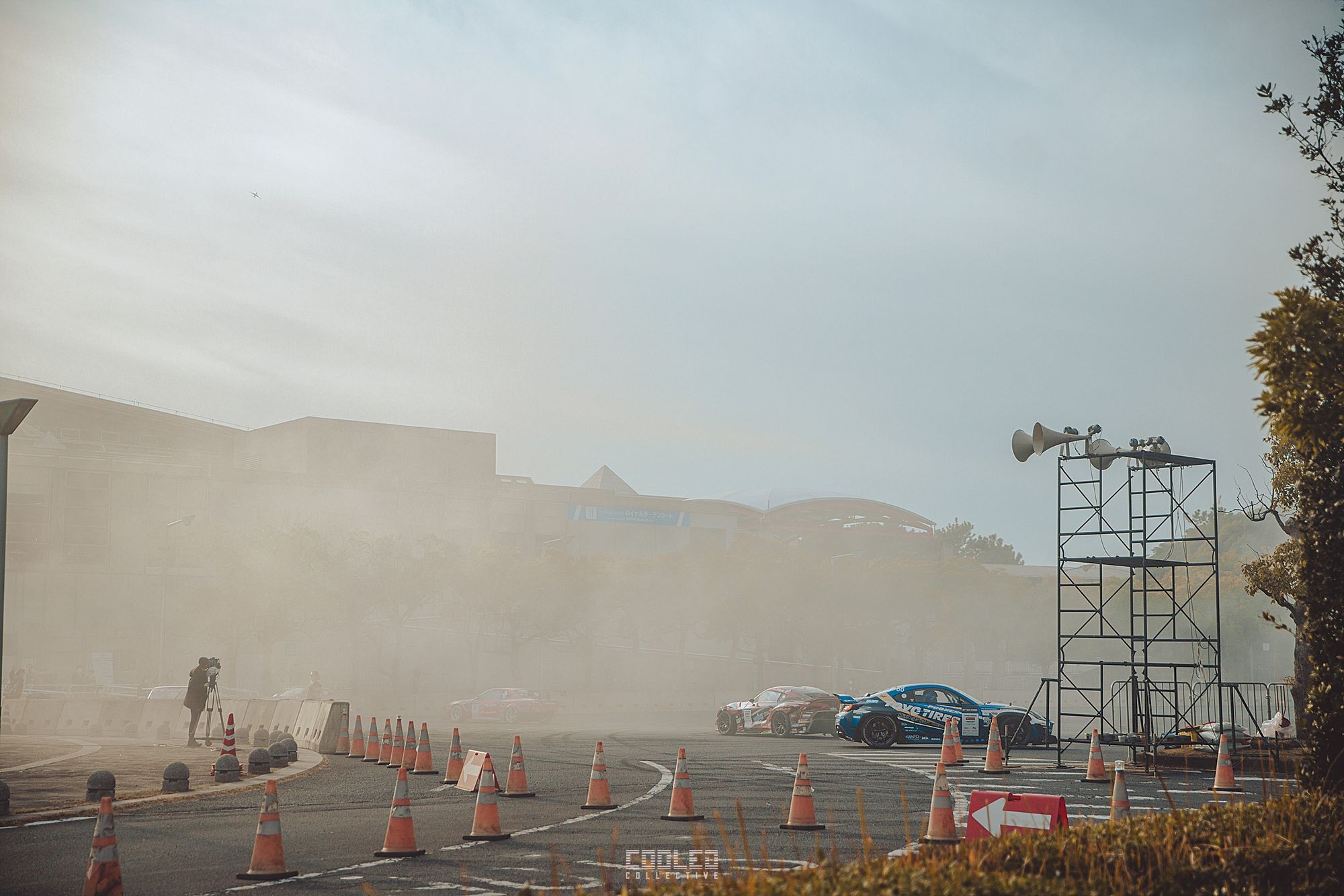 Phil and I did have a wonderful late lunch at a nearby eatery and unfortunately I did not get any photos of it but I did for my vlog so be on the look out for that. I will release a link on here when it goes live.
I will end this blog post here before we get into the Secret Underground Meet hosted by Takashi. Mark Arcenal said that this would be the event of the entire trip to Japan and I think it just might have been. Stay tuned for that coverage coming right up.
Drew Manley
Make sure to check out the shop below and click for some sweet merch: