Before I parted ways with Mark Arcenal at Tokyo Auto Salon, Mark told me that there was a secret underground meet later that night hosted and curated by his buddy Takashi. Mark also mentioned to me that this would be the event of the trip, so he hyped it up a bit and that got me super hyped.
Phil and I took the train and got to the meeting location a bit early and we ran a few laps in circles because Phil apparently doesn't know how to use a map on his iPhone that tells you exactly where to go. The world is such a crazy place, where all of the world's information is at your fingertips yet we are blindly walking in circles. The irony is too good.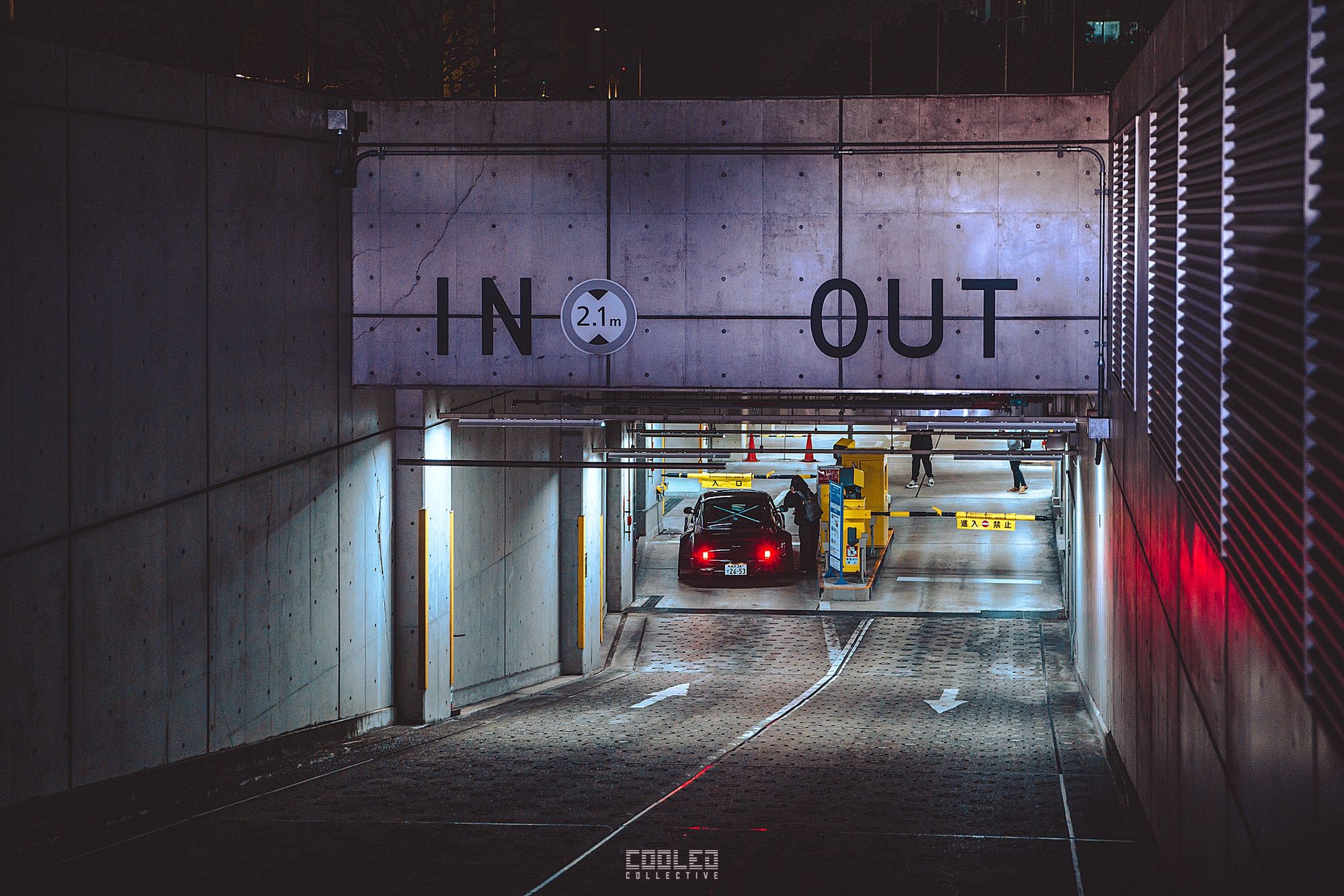 At some point, we started hearing the distance sounds of flat6's, turbo blow offs, NA screaming straight pipes so we knew we were very close to the meeting place. The timing was perfect as the rain started to come down steadily and continuously into the night. Phil and I started following some of the RWBs down into the underground parking garage where one of the hosts were checking to see if they were on the guest list. Takashi looked like he was running a super tight ship and I knew that it was going to be a well curated gathering.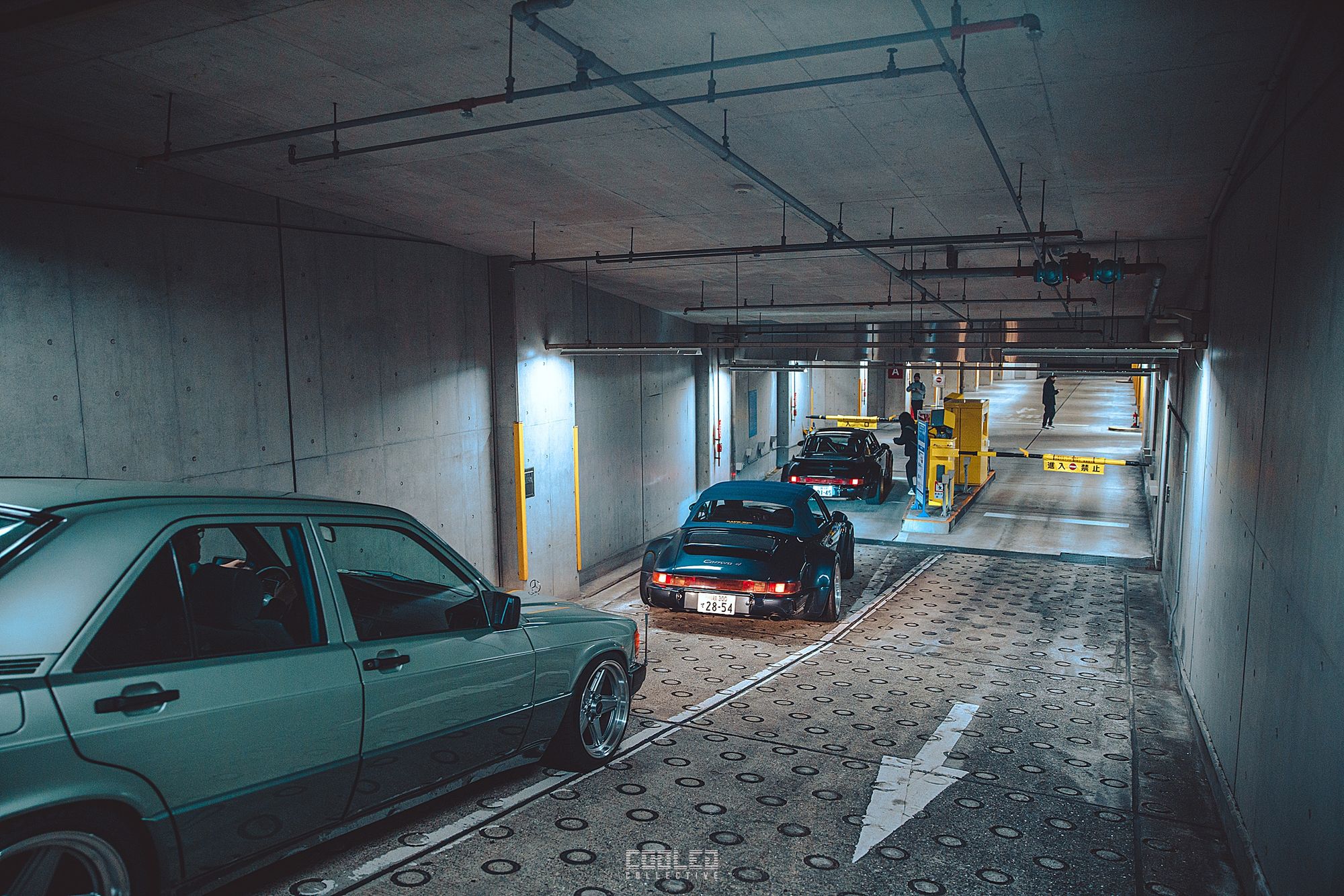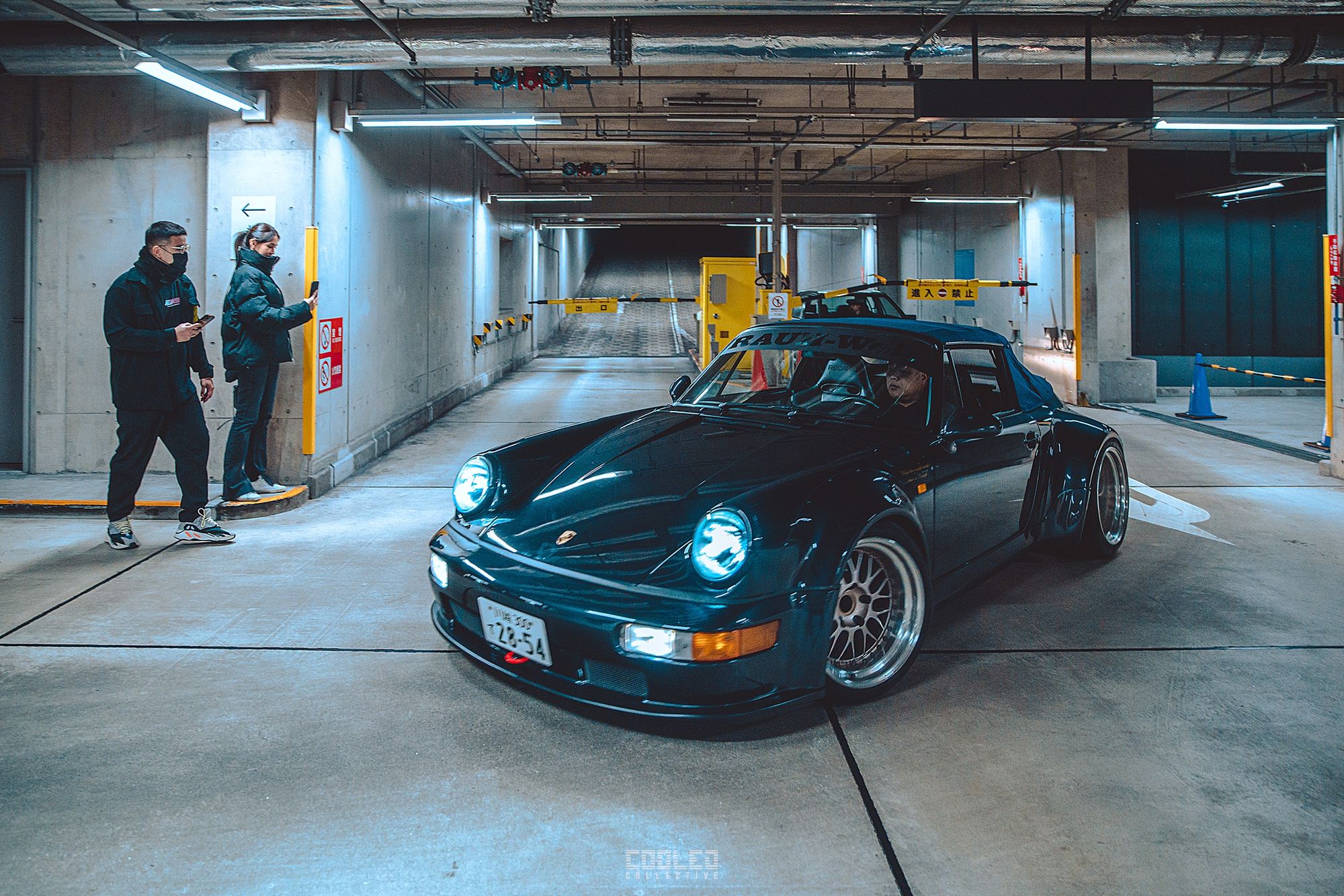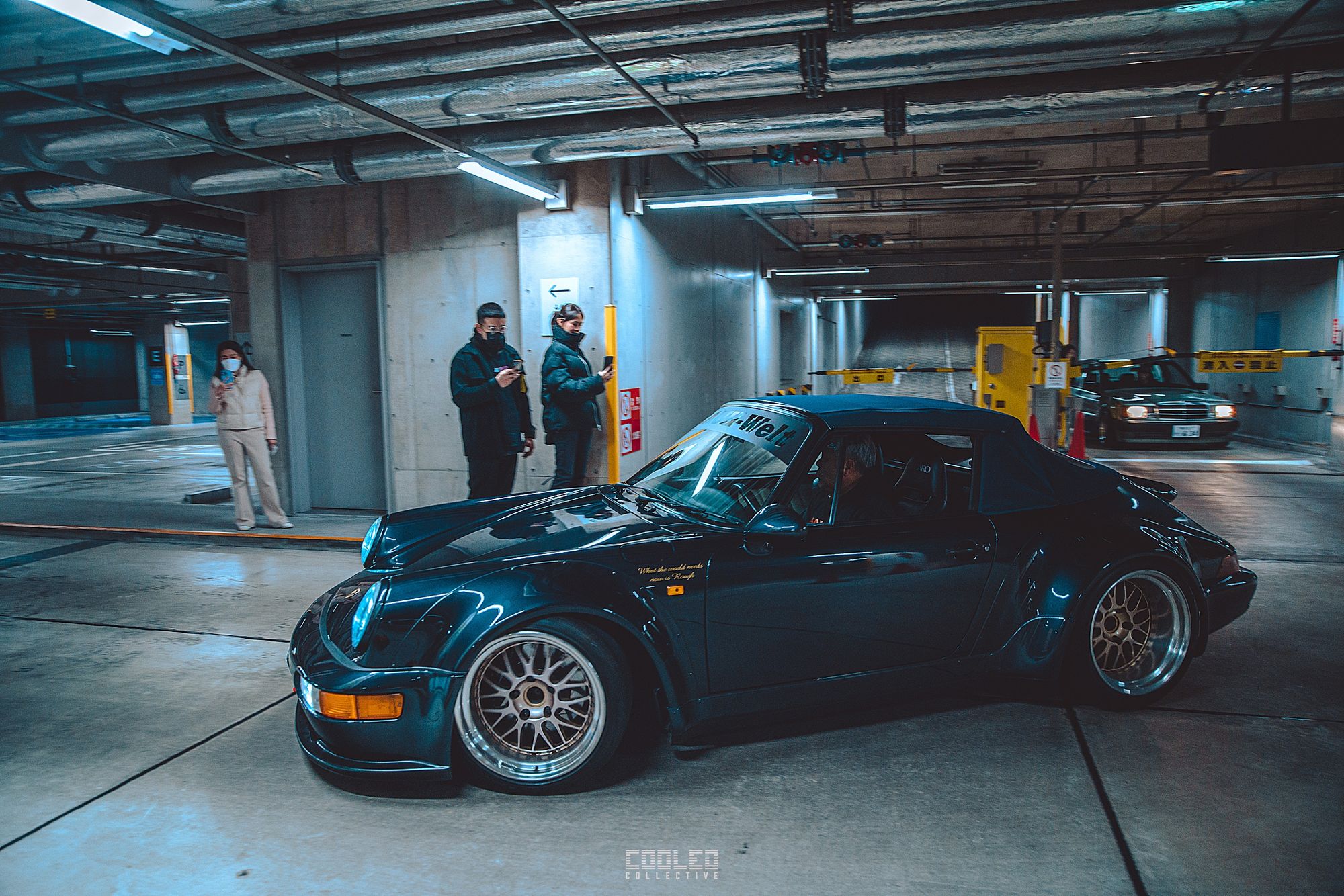 Takashi shows up in style with his matchy matchy Nissan Skyline GTR R34 and Mercedes Benz G Wagon AMG. I was told that Takashi worked at the building where the gathering was taking place and I am sure getting after hours approval probably took some effort but so glad he was able to make it happen because what ensued after was so damn badass.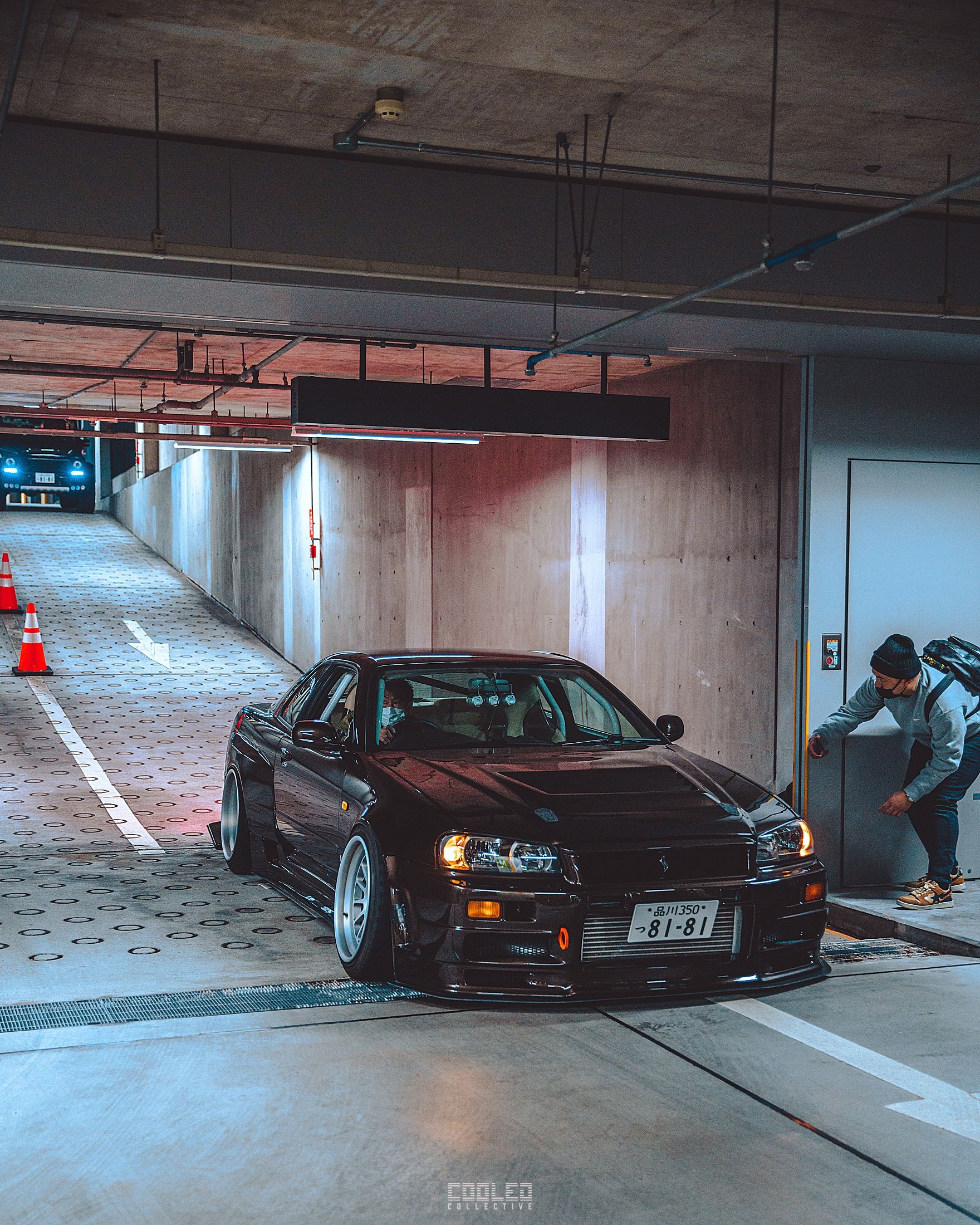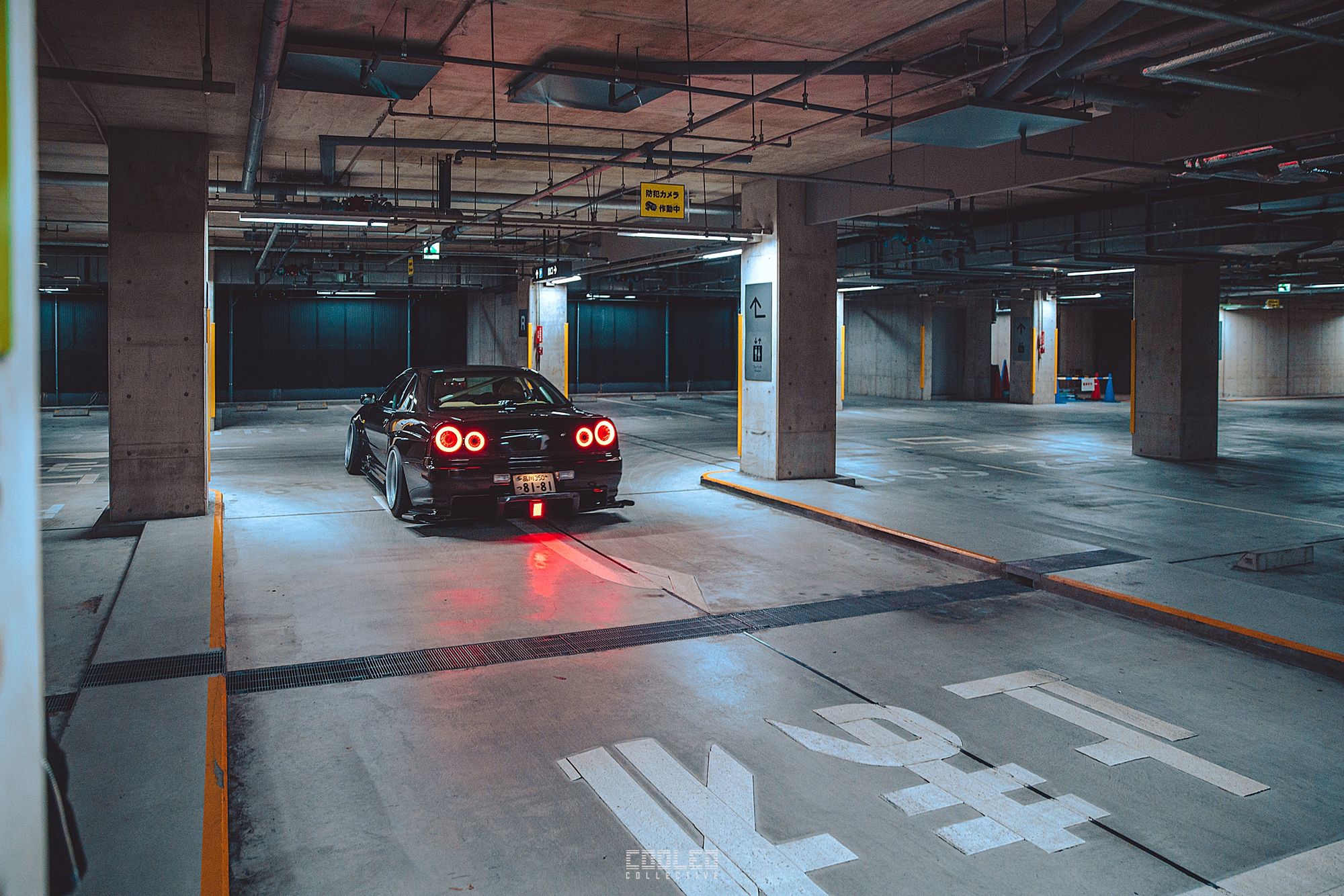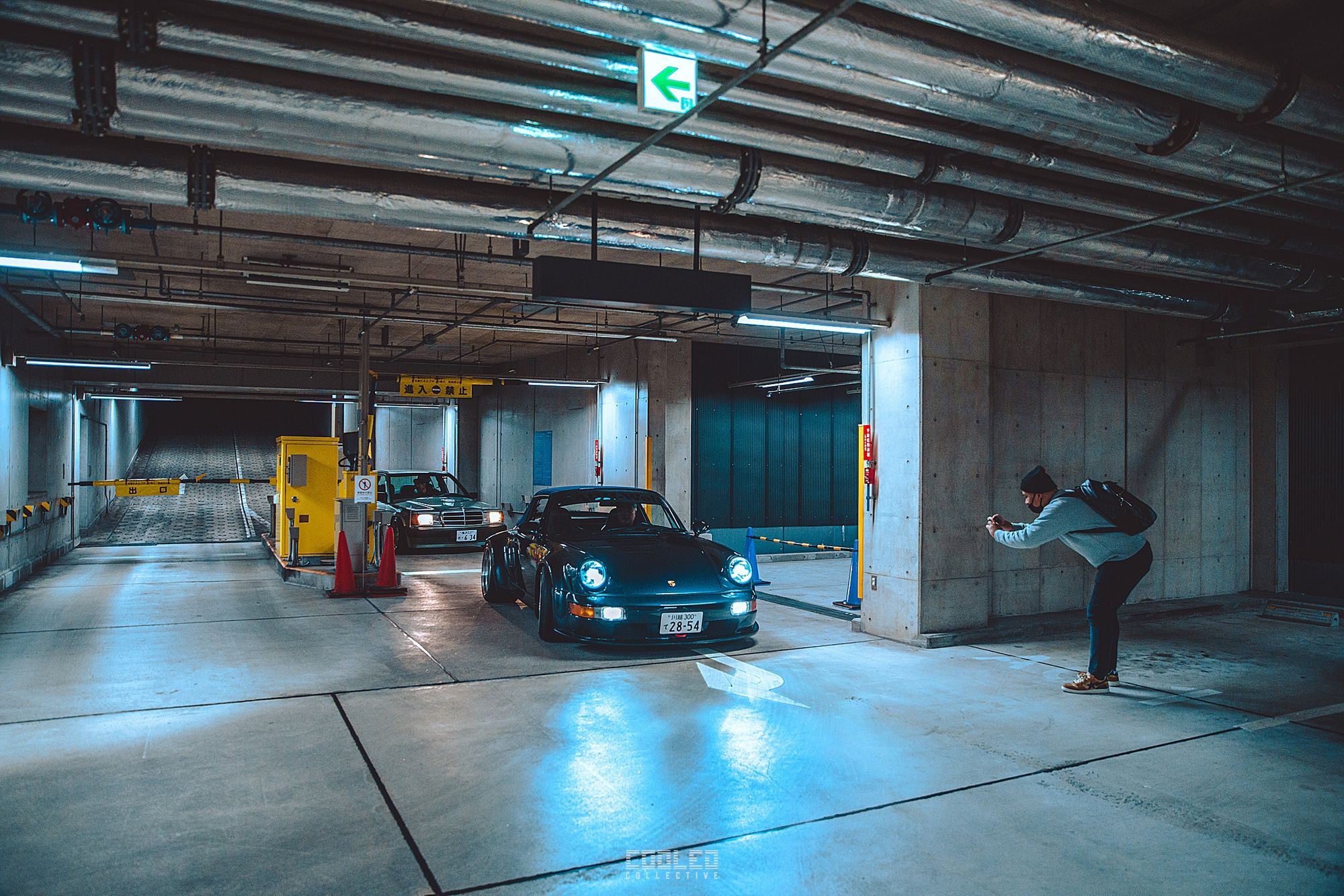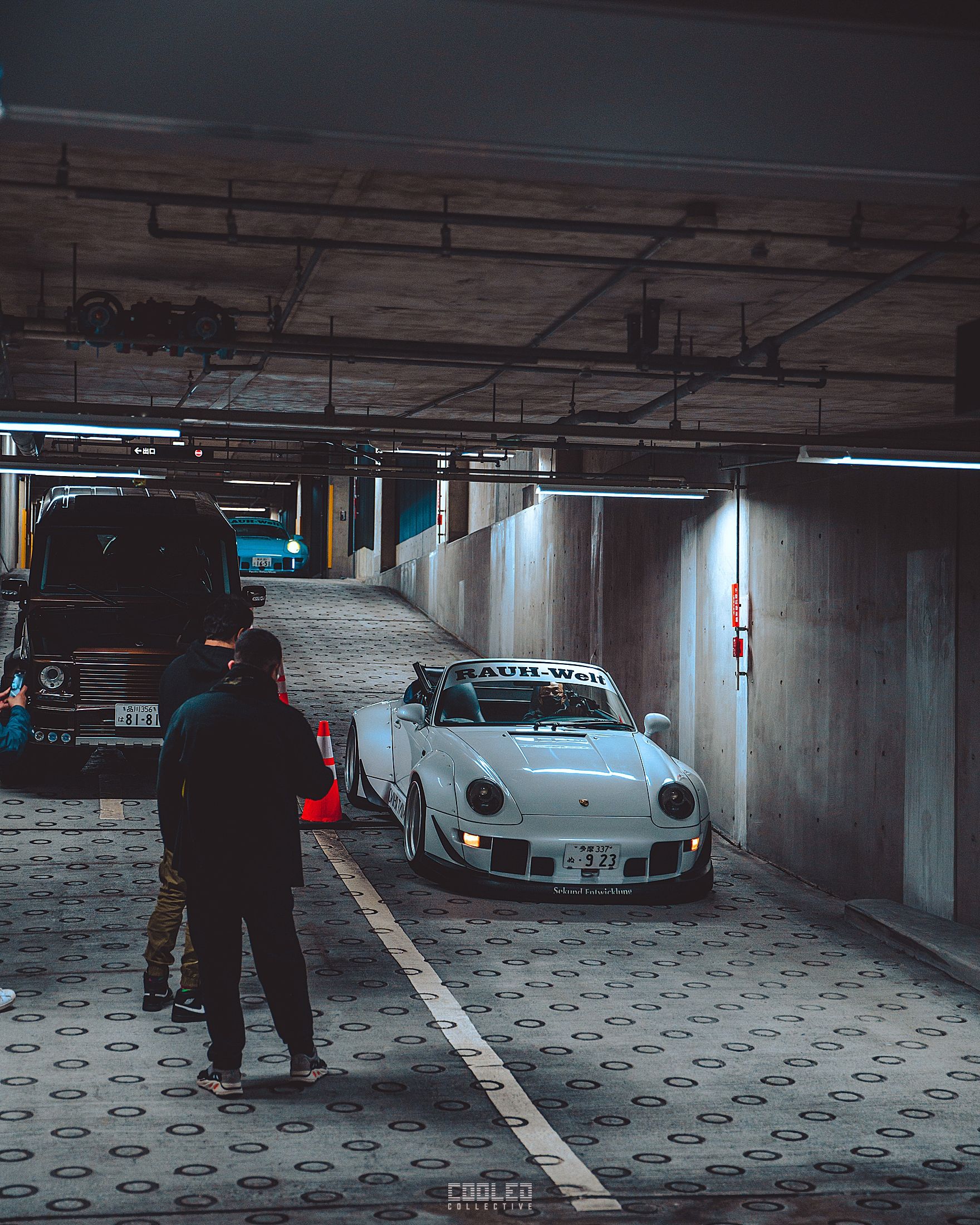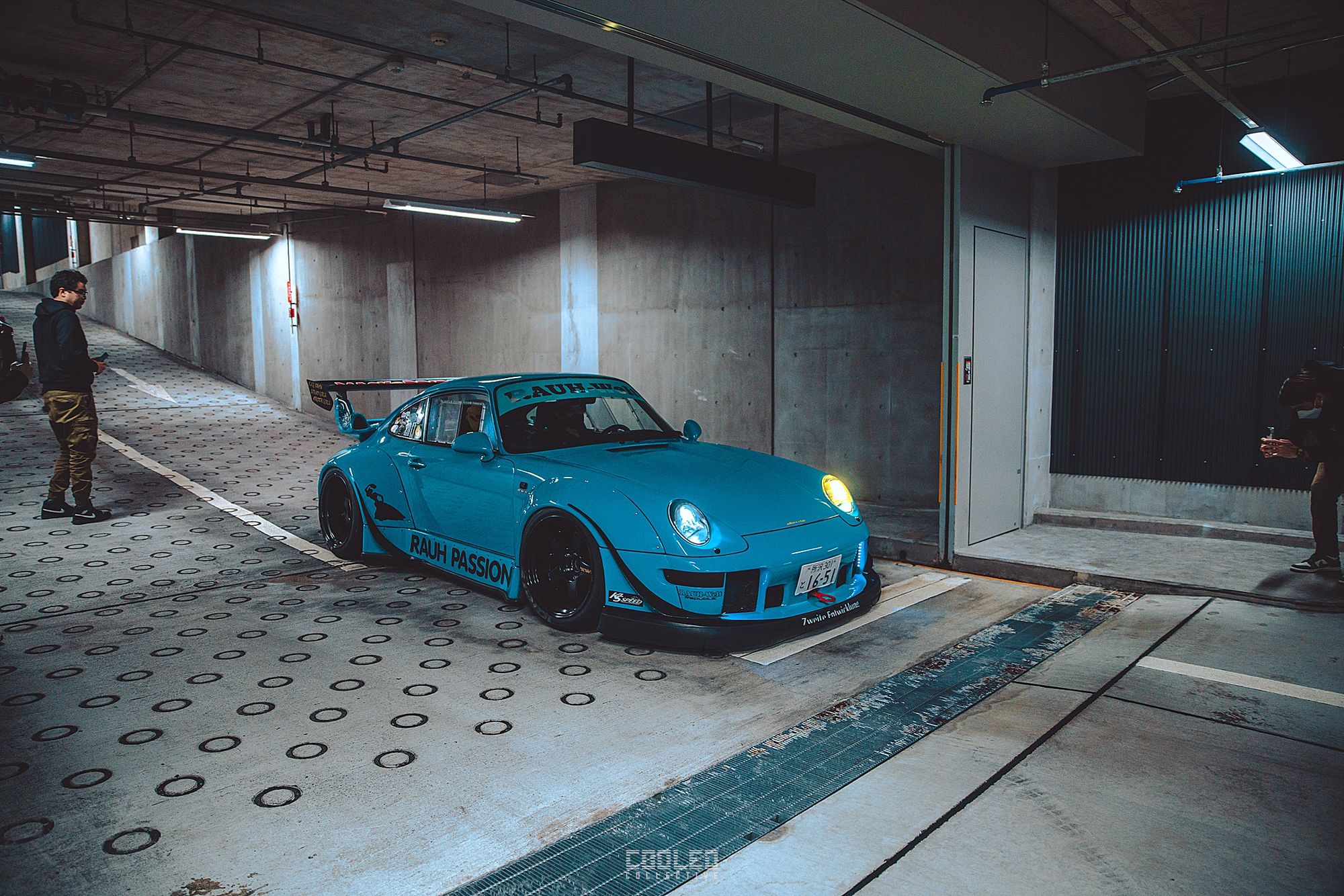 There was a small gathering of early spectators hanging around the first floor watching Takashi organize the early arrivals. When 10-12 cars showed up, he started to move them down to the third floor where the actual show was being held. Things started to escalate pretty quickly from that point on.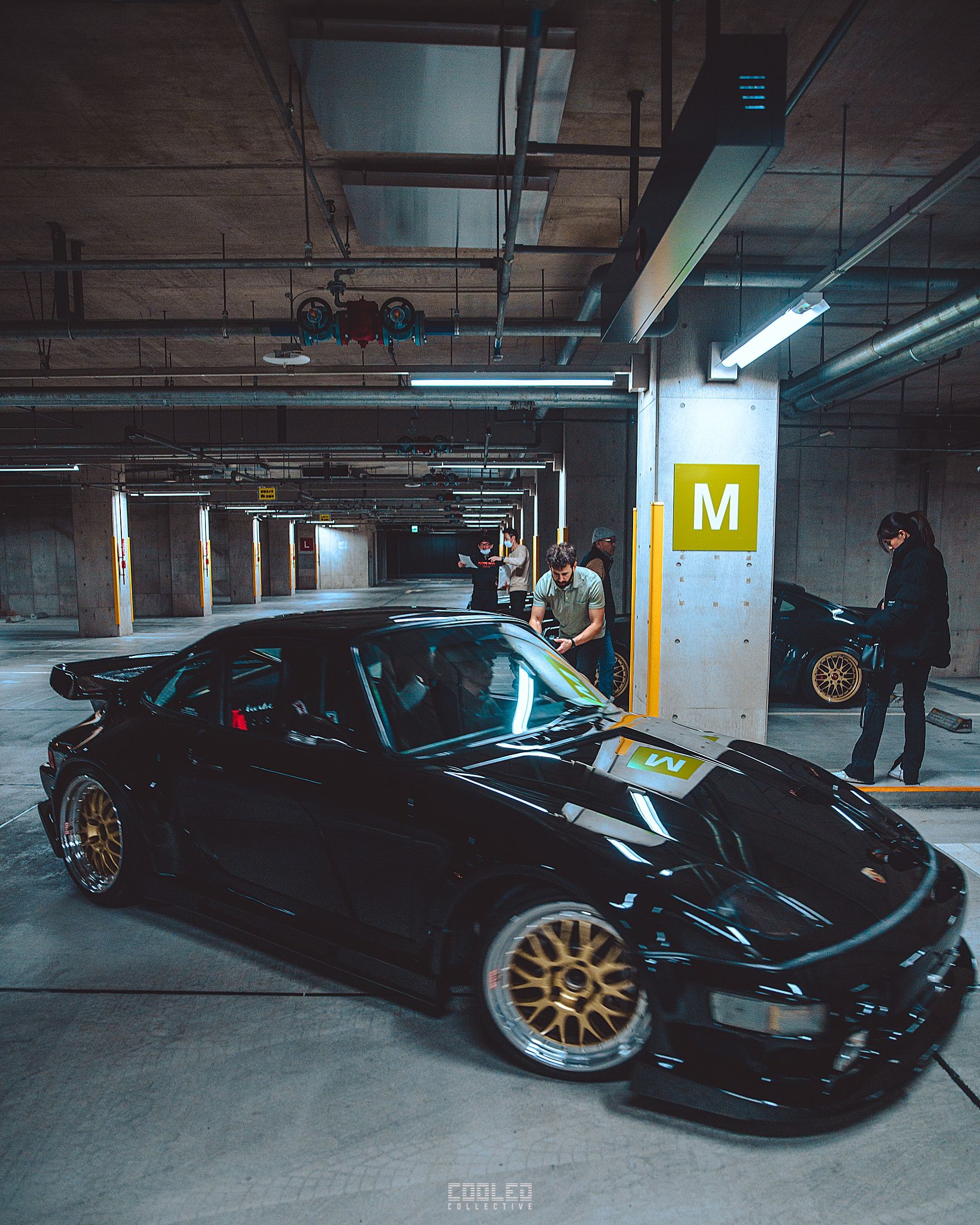 One of the first show stoppers to get my attention was this gorgeous 190E Evo II looking like it literally came off the show room floor. OMG, what a site to be seen. Such an elegant and gorgeous piece rarely seen in the USA. So much presence and such attention to detail.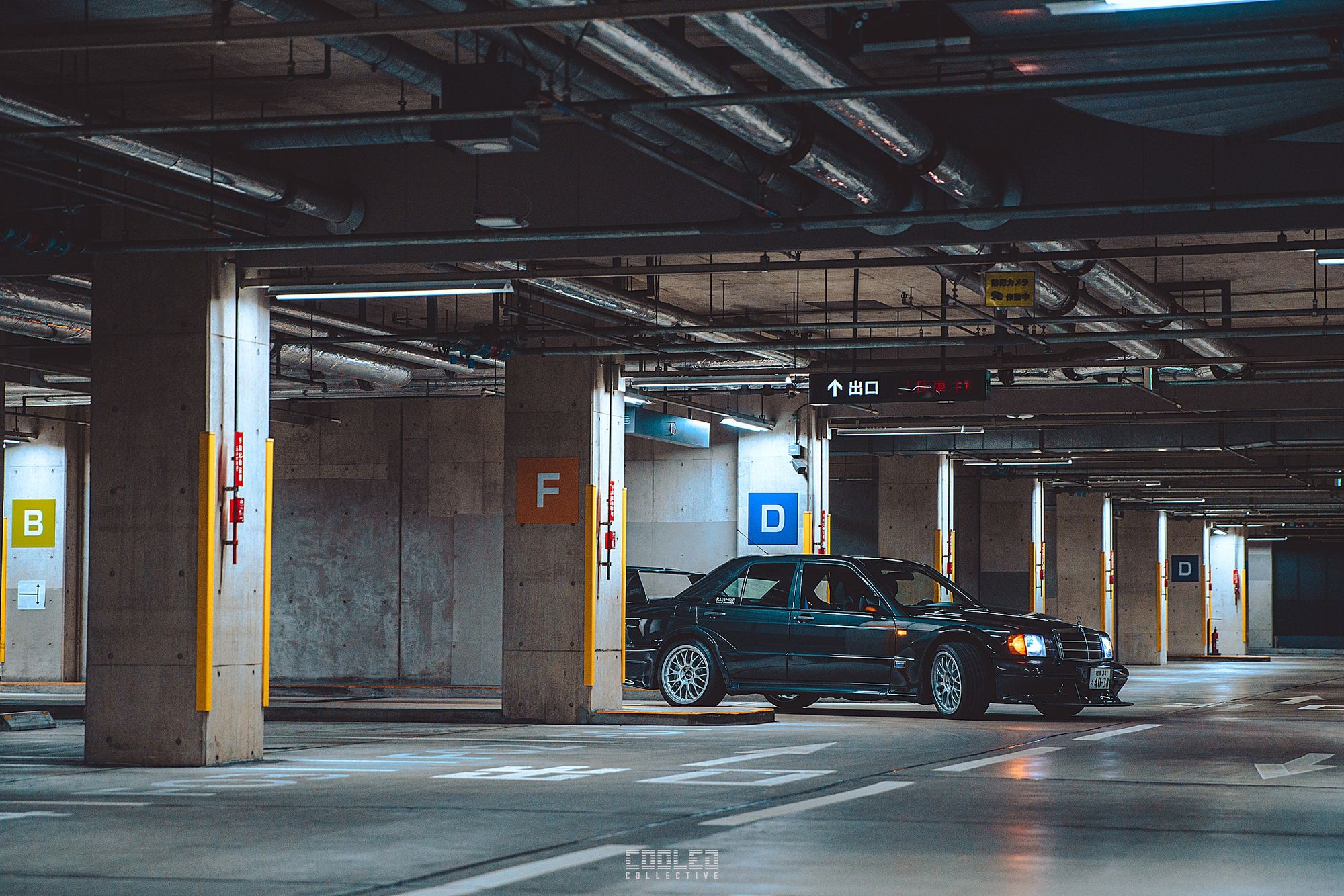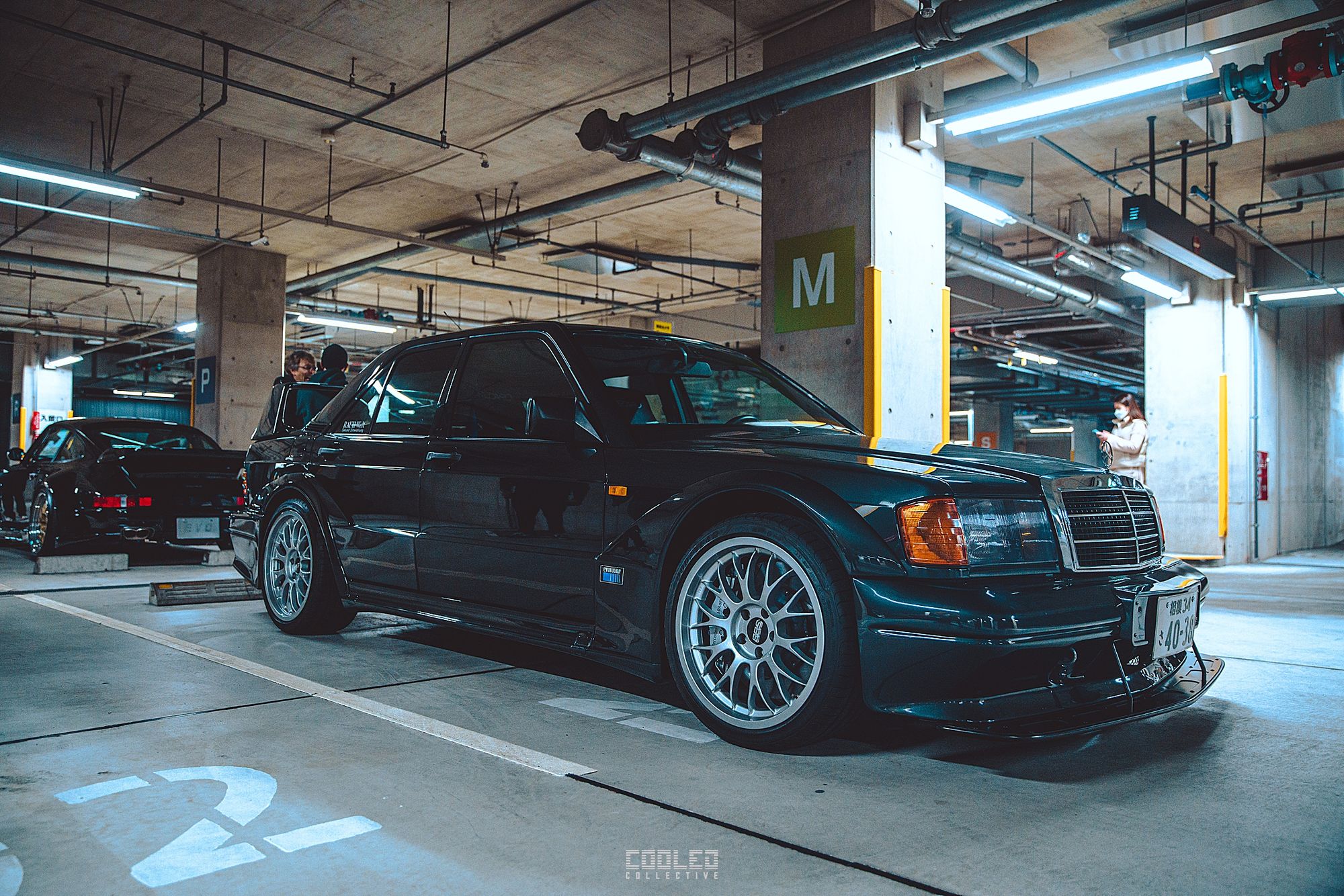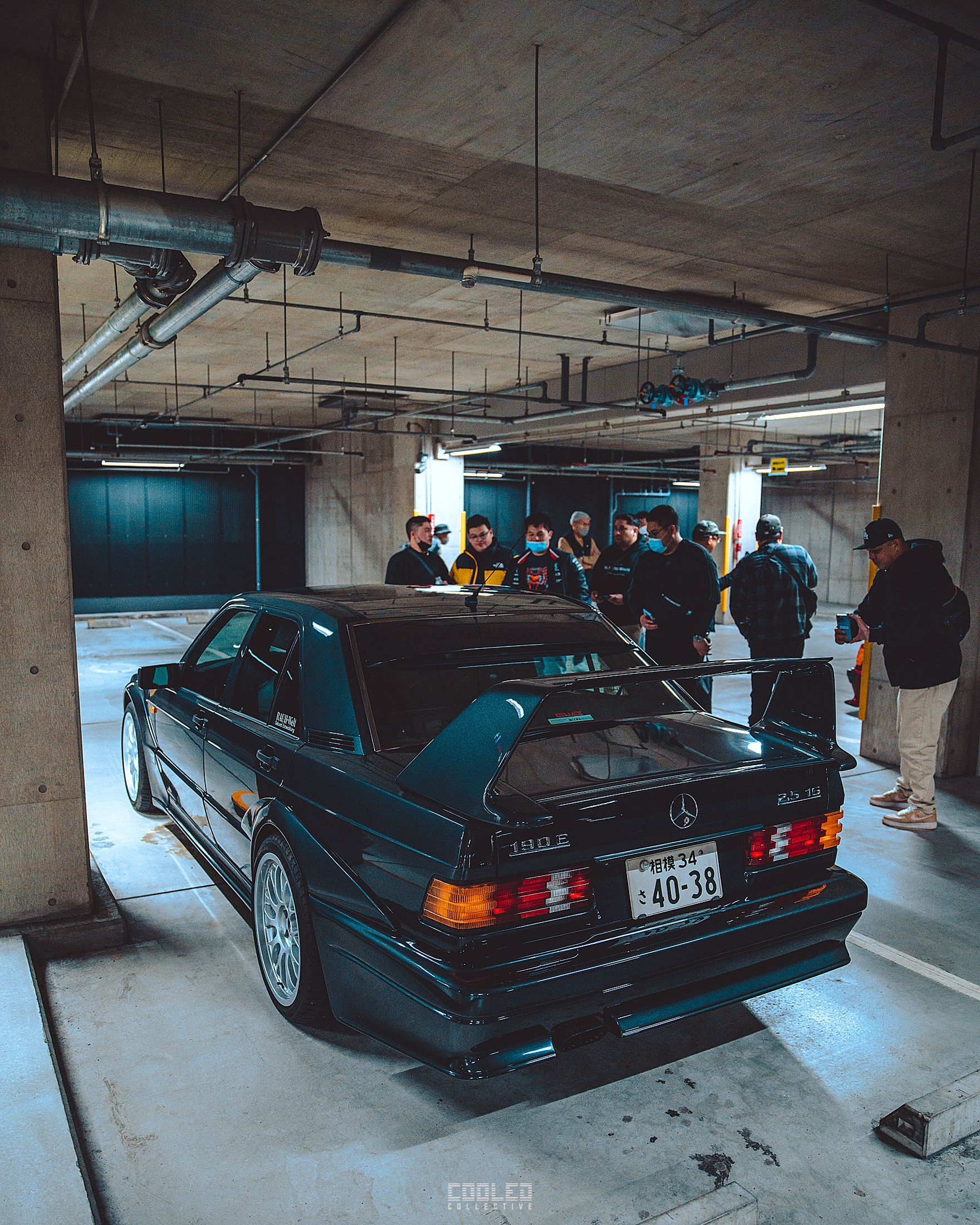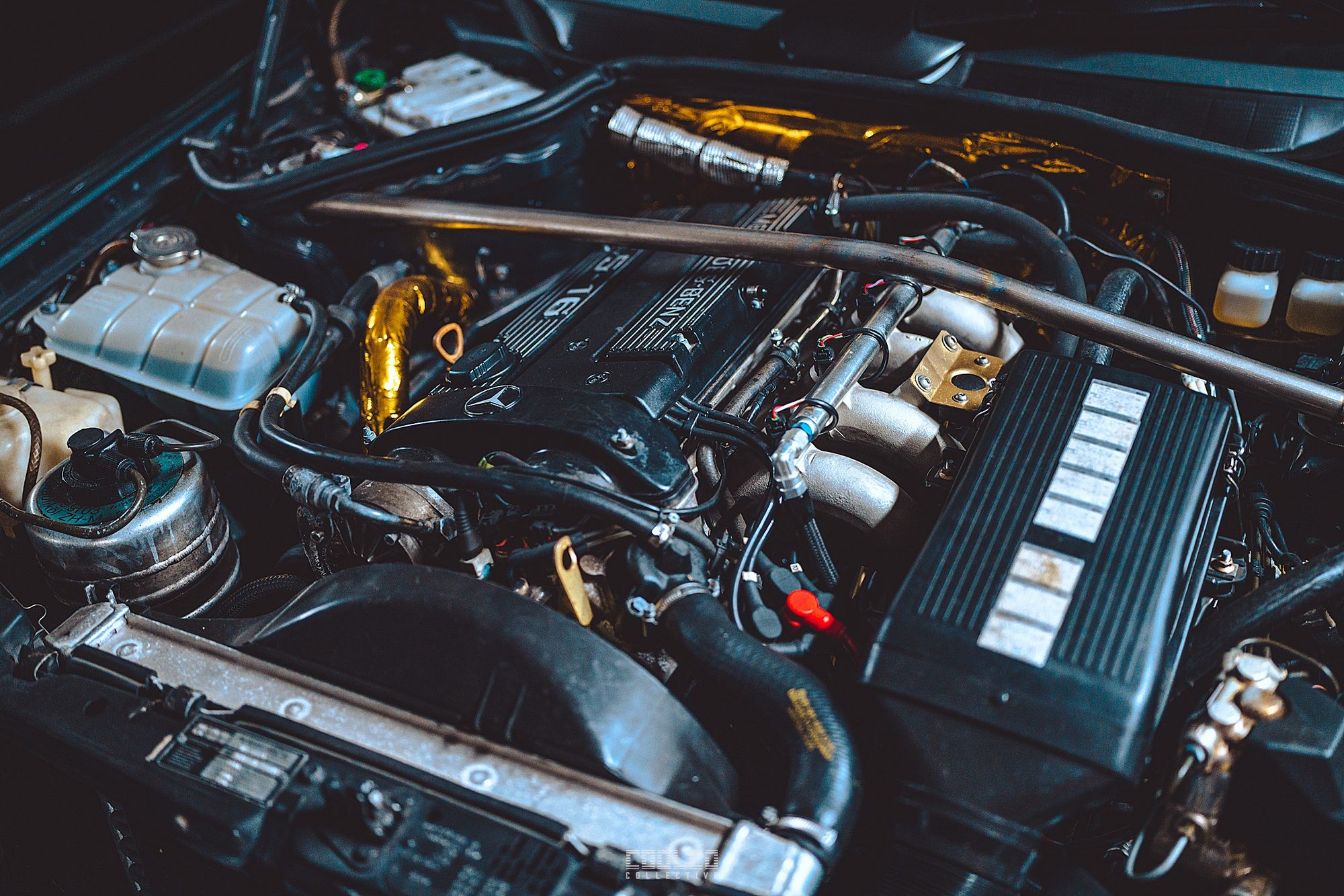 Now, I am sure many of you have seen these gatherings on Youtube, watching all of the crazy JDM builds in a parking garage so it was definitely surreal to be witnessing it first hand but what made this one interesting was the fact that Takashi invited builds of a certain quality and you had to be on a guest list to be invited in. I am referring to cars of course, spectators waltzed through as long as you heard about the secret meet that no one was supposed to share.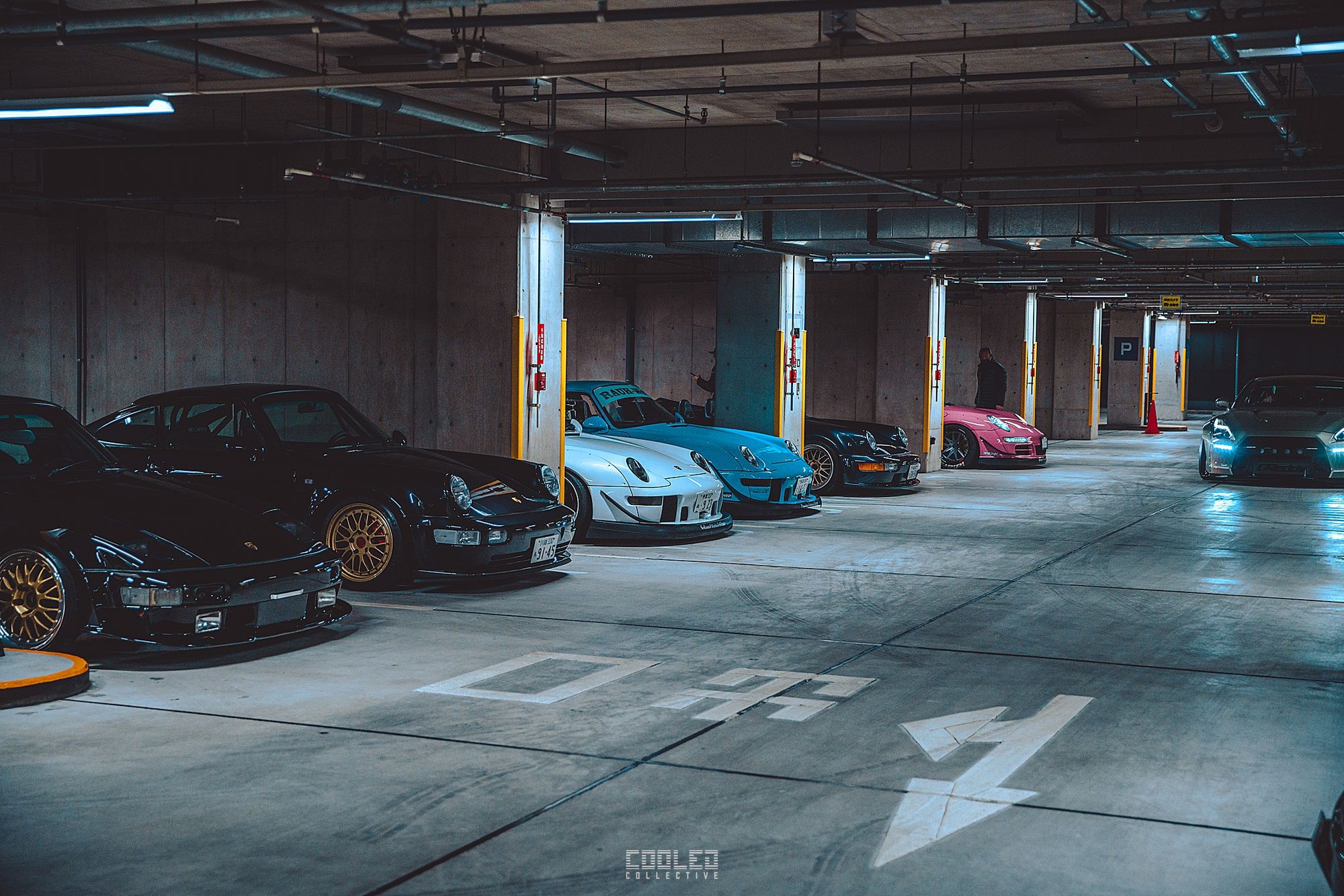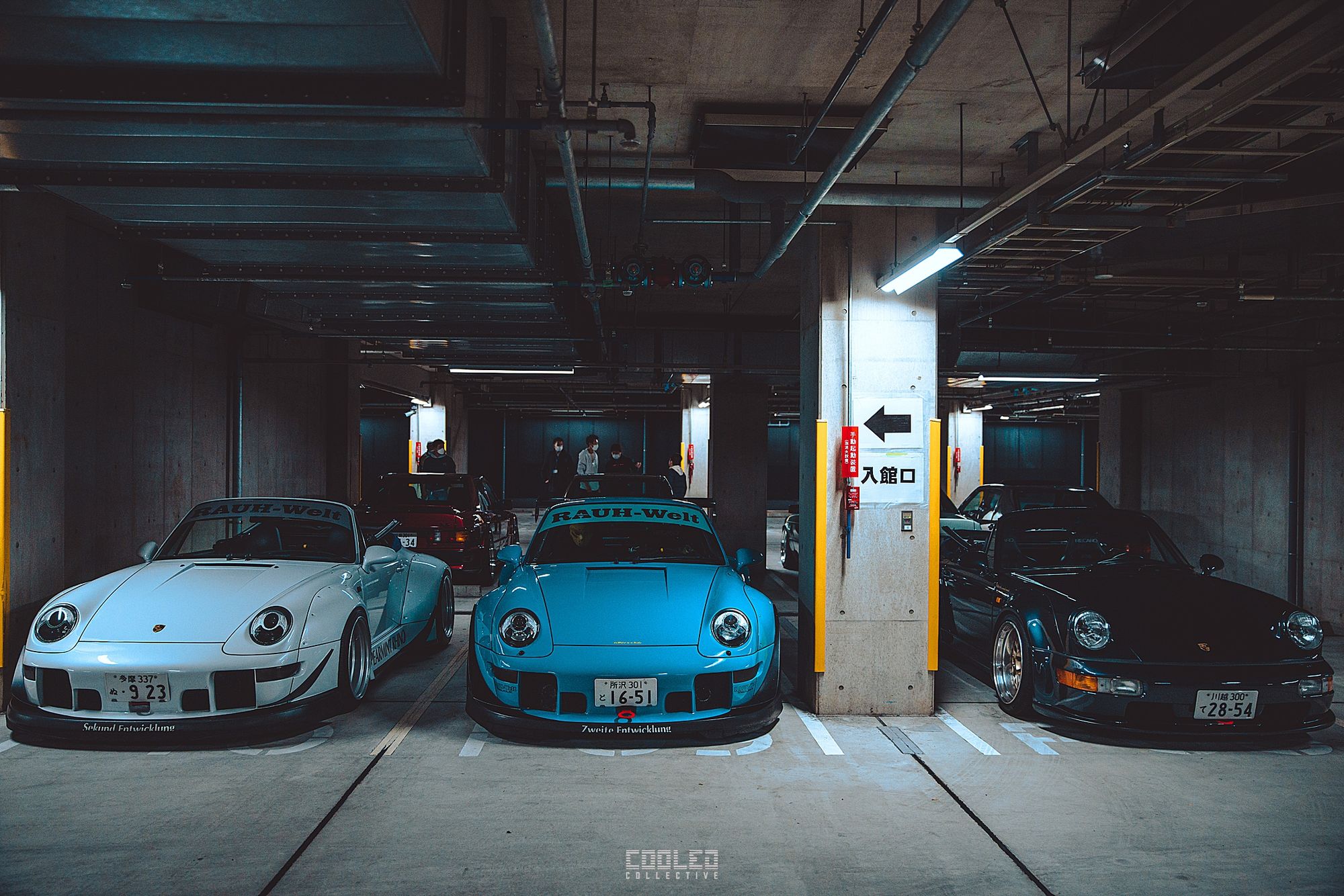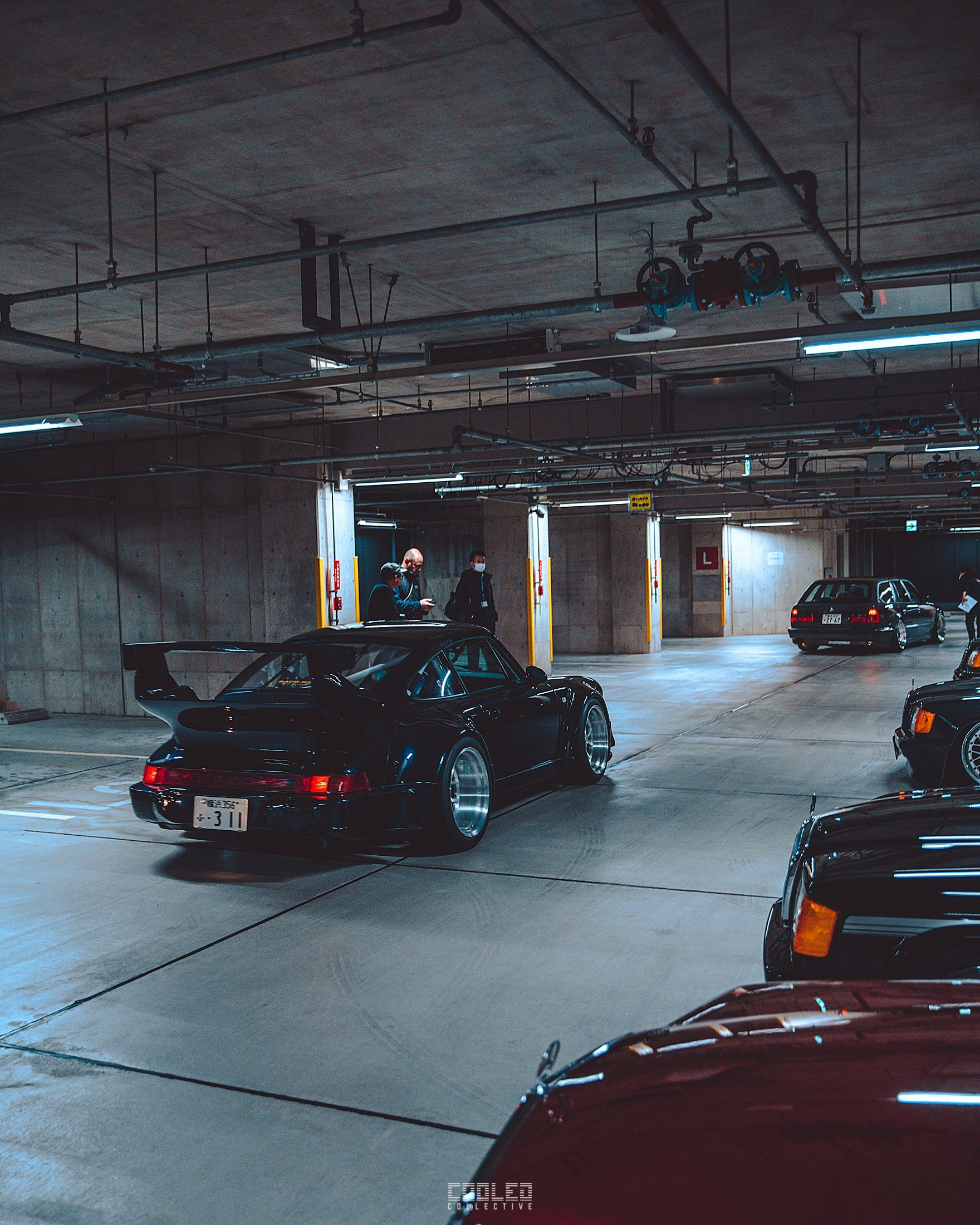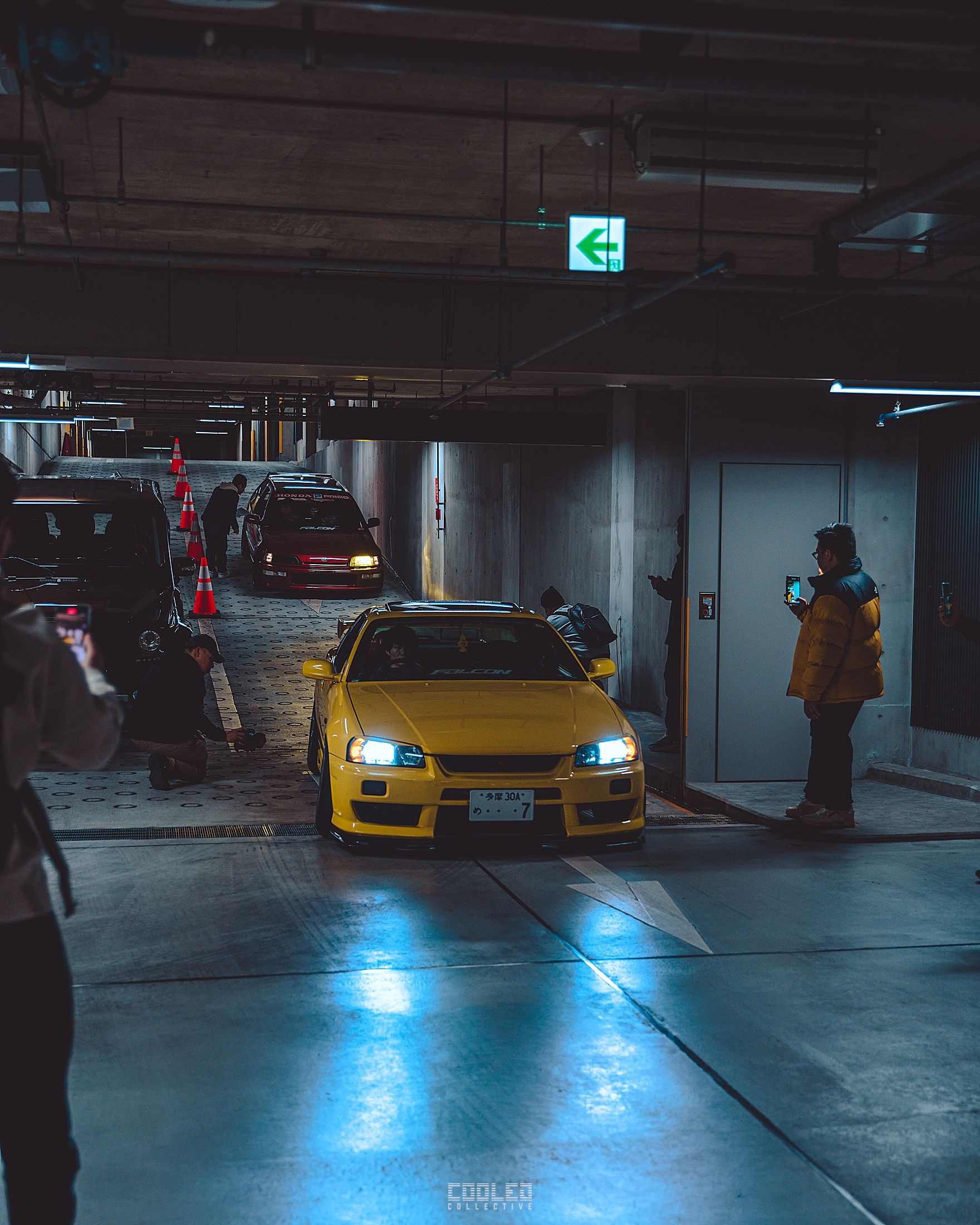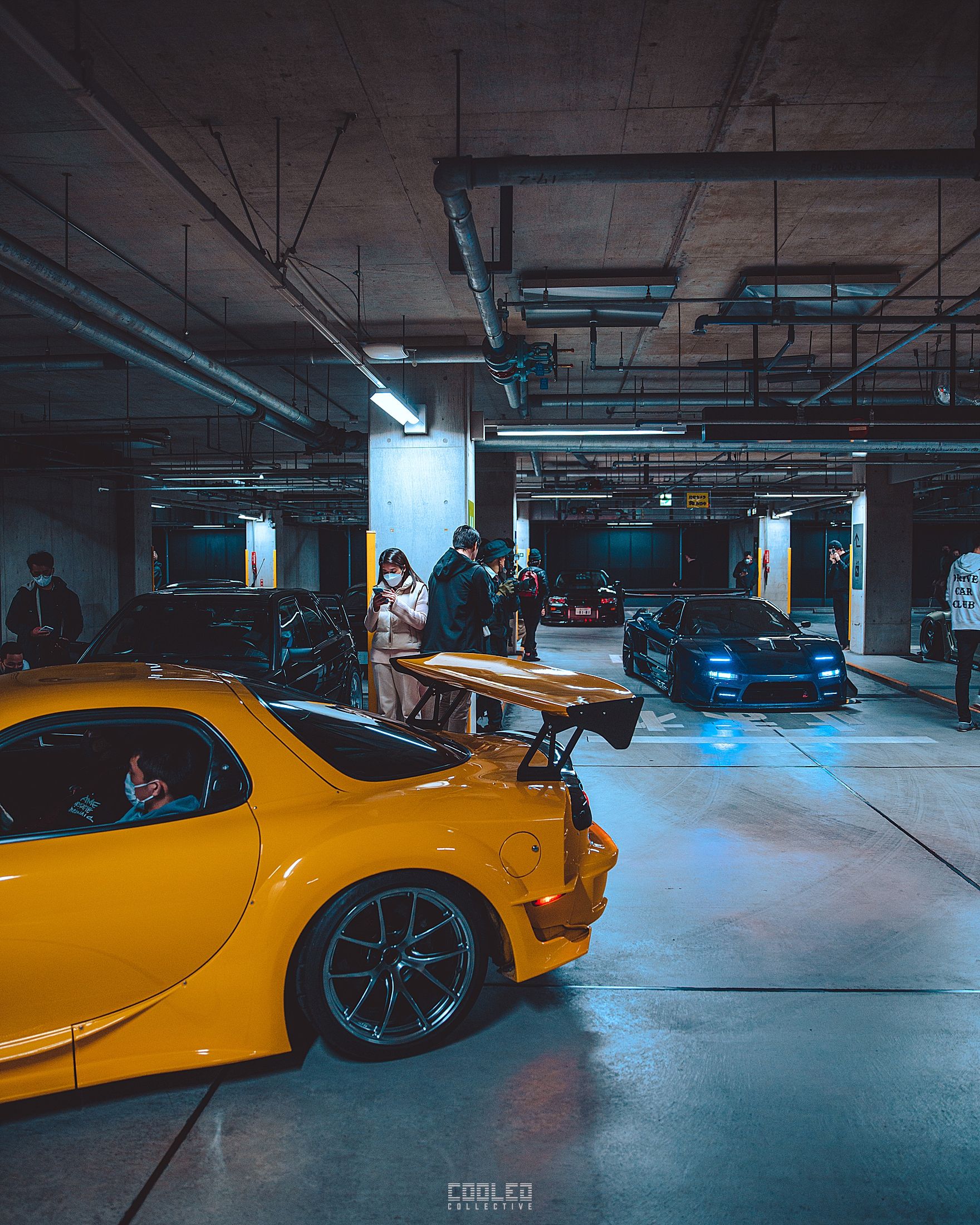 By this point, the garage was starting to fill up quickly so many of the drivers had to do a lap to find any openings they could find. Takashi quickly ran in to guide these two gorgeous FD and NA to their parking spaces.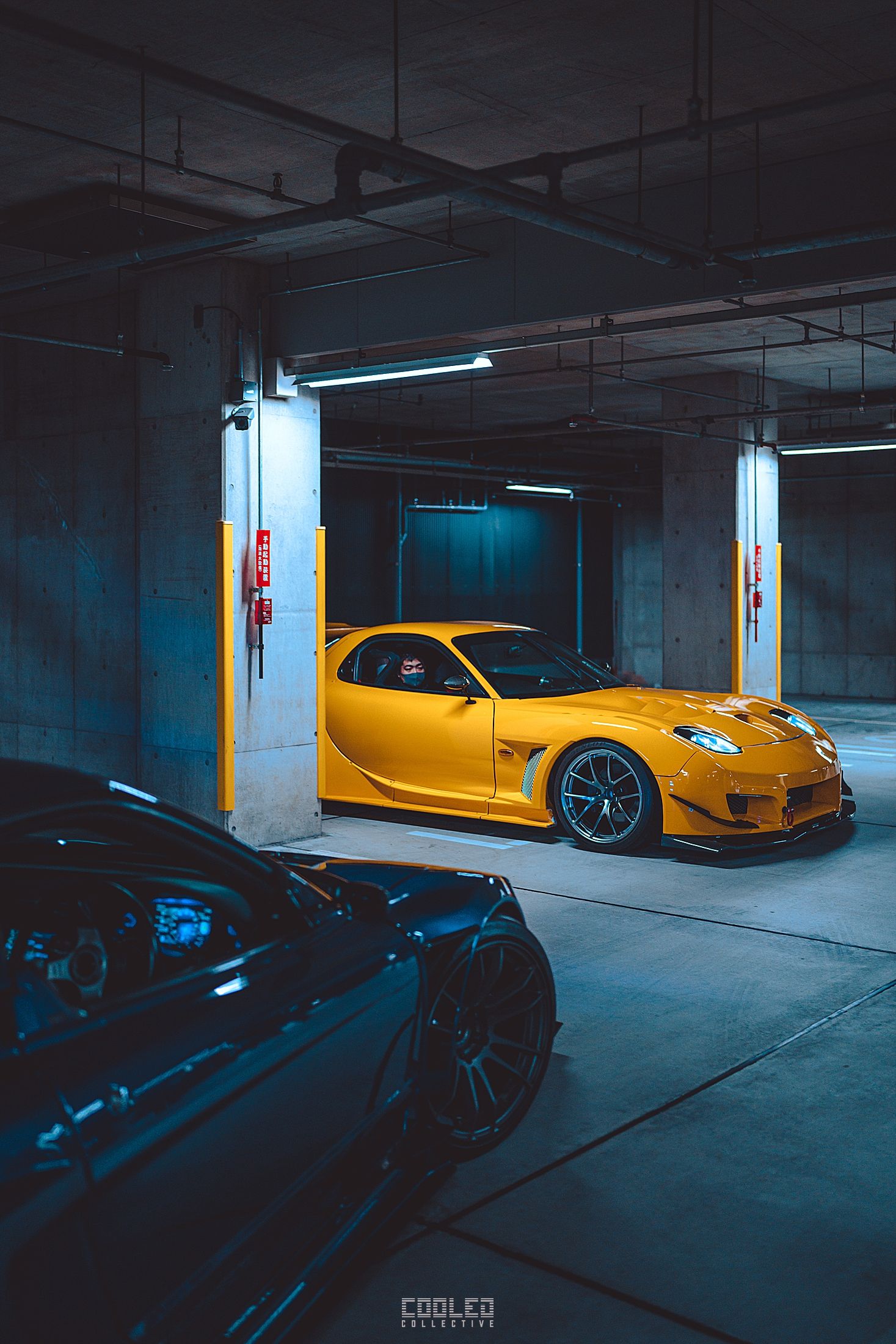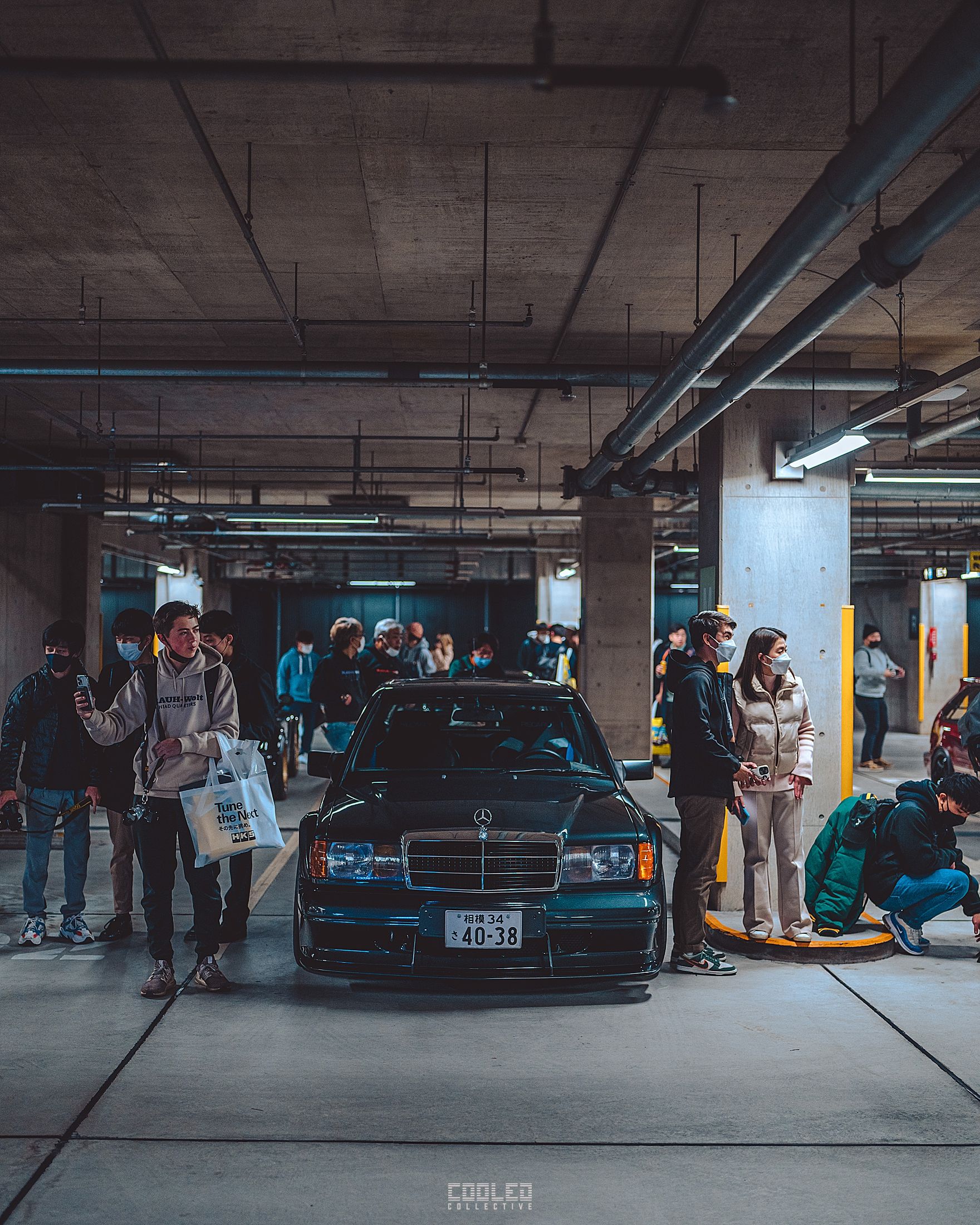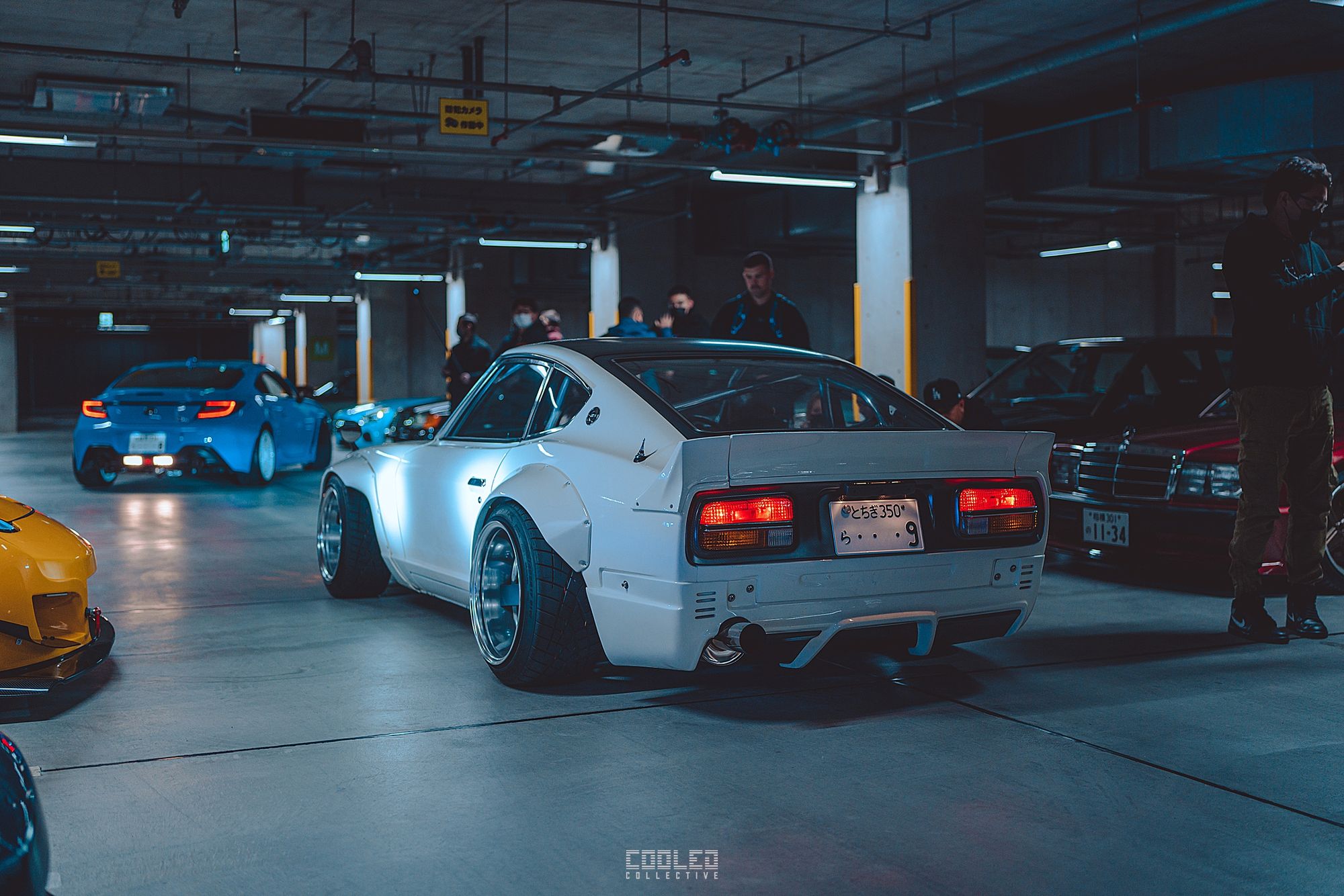 Then there was a rumble that was no ordinary rumble. You can hear the V12 coming from level 2 and soon making its way down into the final floor. In this distance I can see a widebody Lamborghini Diablo in what appears to be Arancio Atlas Orange coming down the ramp. As you can imagine, this quickly gathered all of the boys in the yard.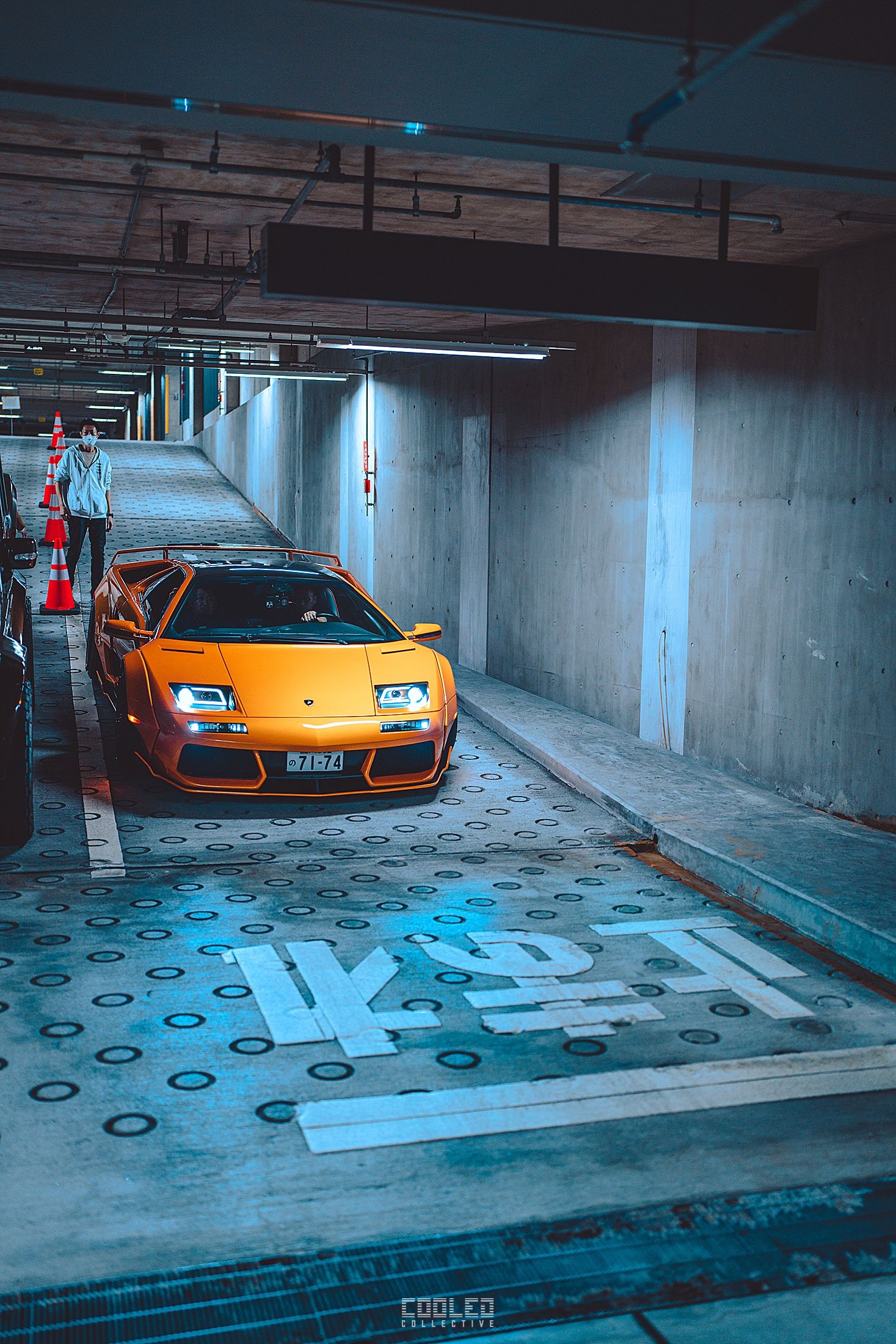 The owner Souki Land came in as stealth as a V12 can possibly come down a ramp with a ton of people who gathered in a tiny arena to see badass Tokyo based cars. The Lambo demanded attention and the fans all gathered in glory to celebrate such a wonderful addition to the garage.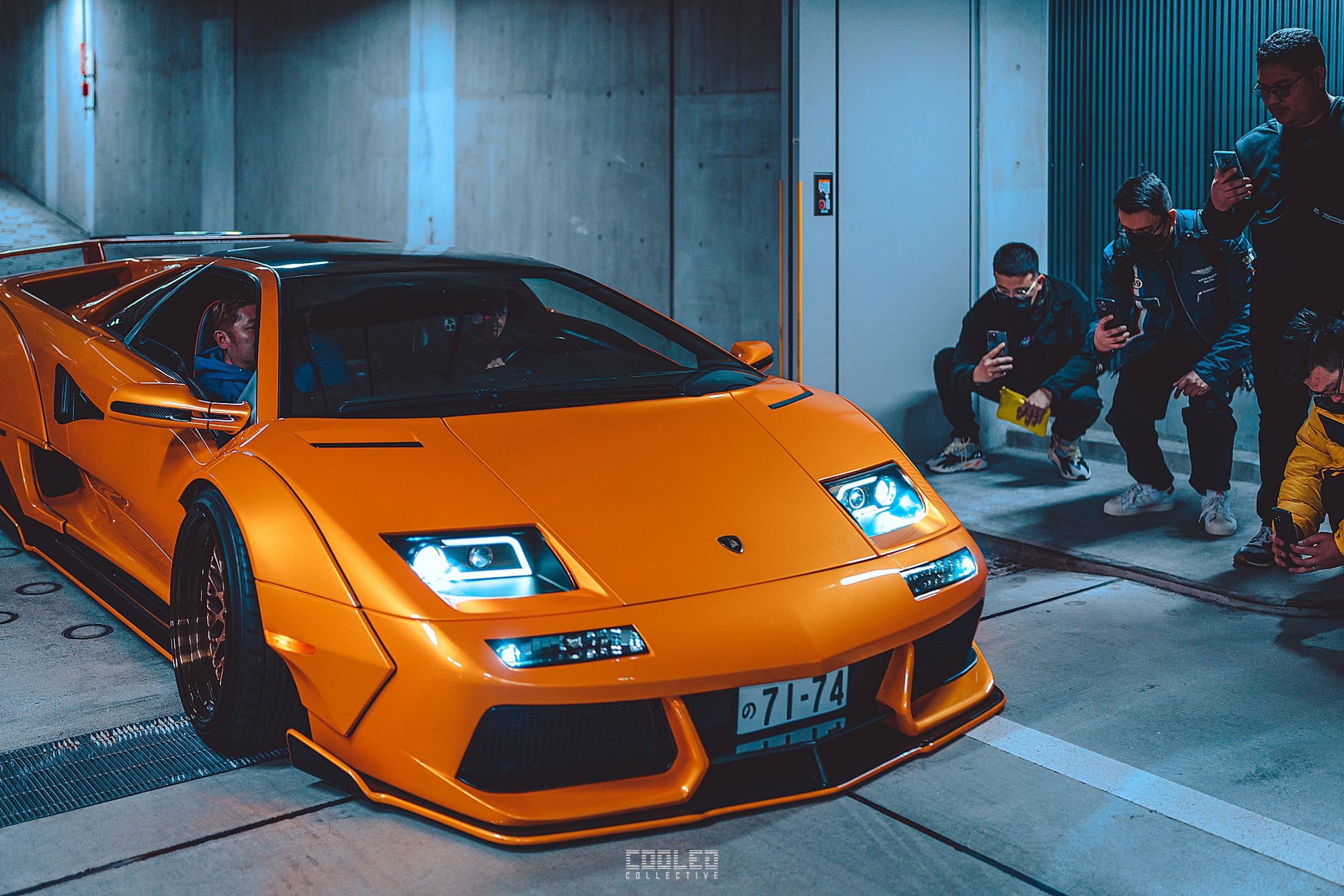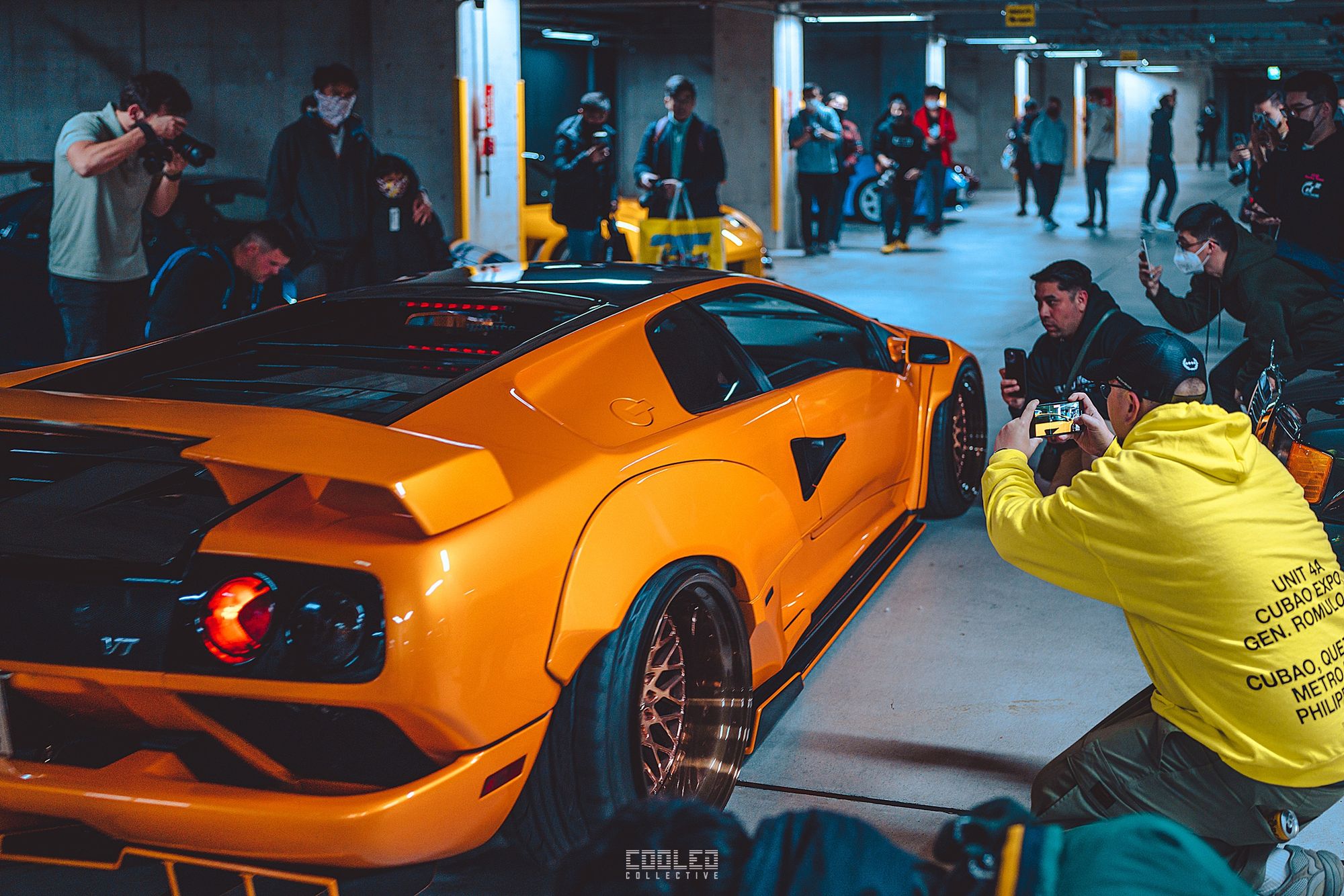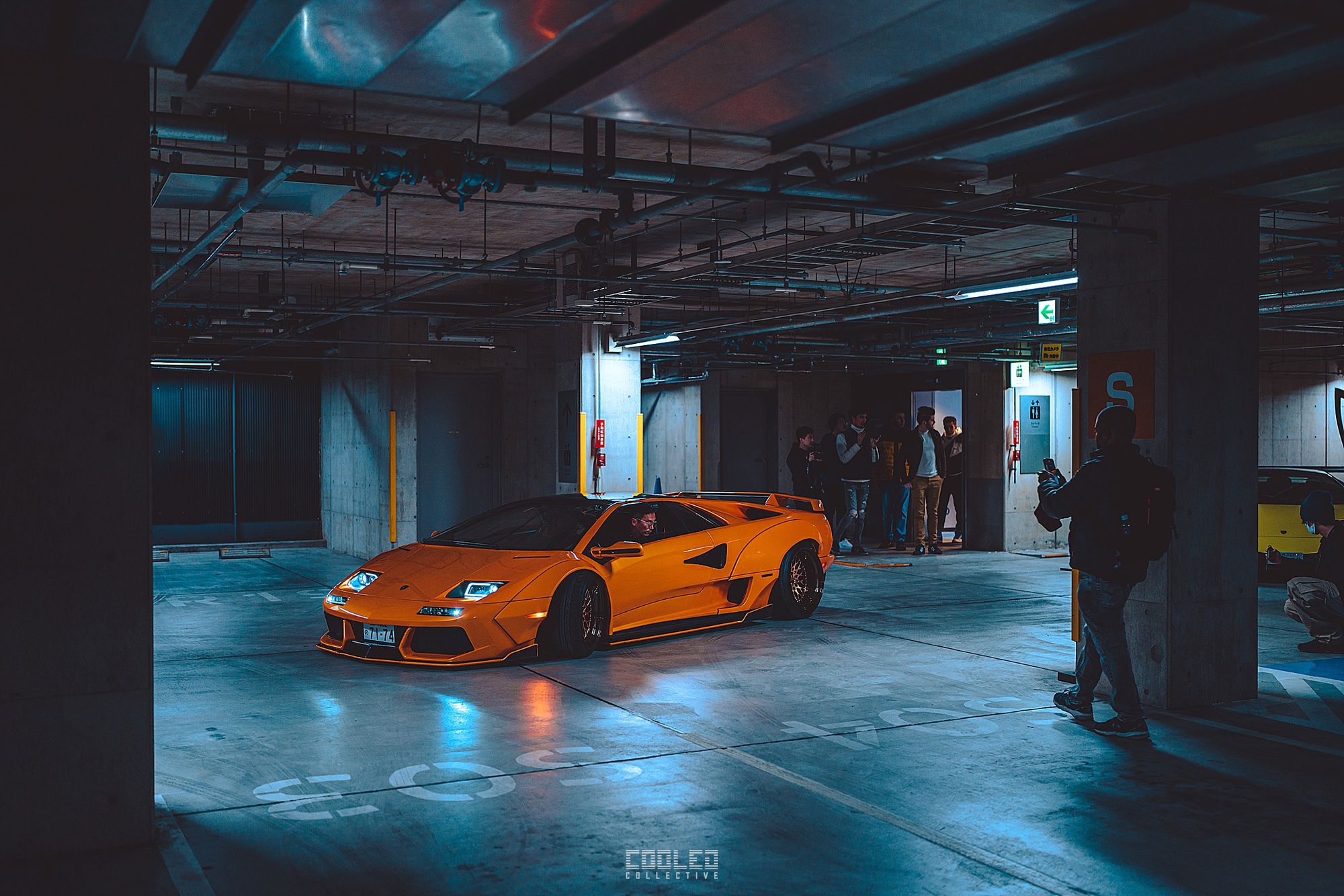 I always love watching Lambo owners park their cars backwards because depending on the generation, they have almost zero visibility. Many do open their doors vertically and pop out half of their body to get a view and they do it so gracefully.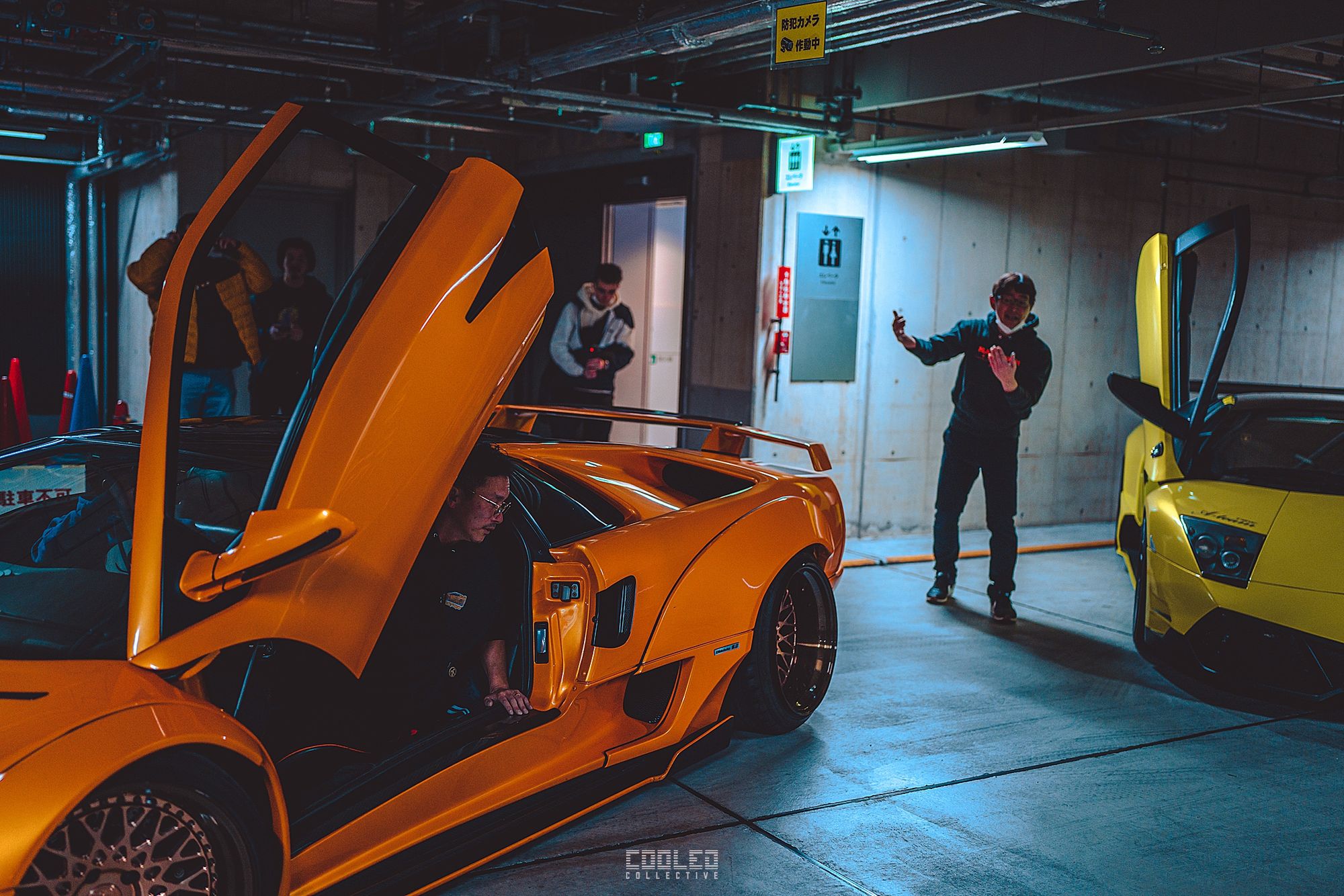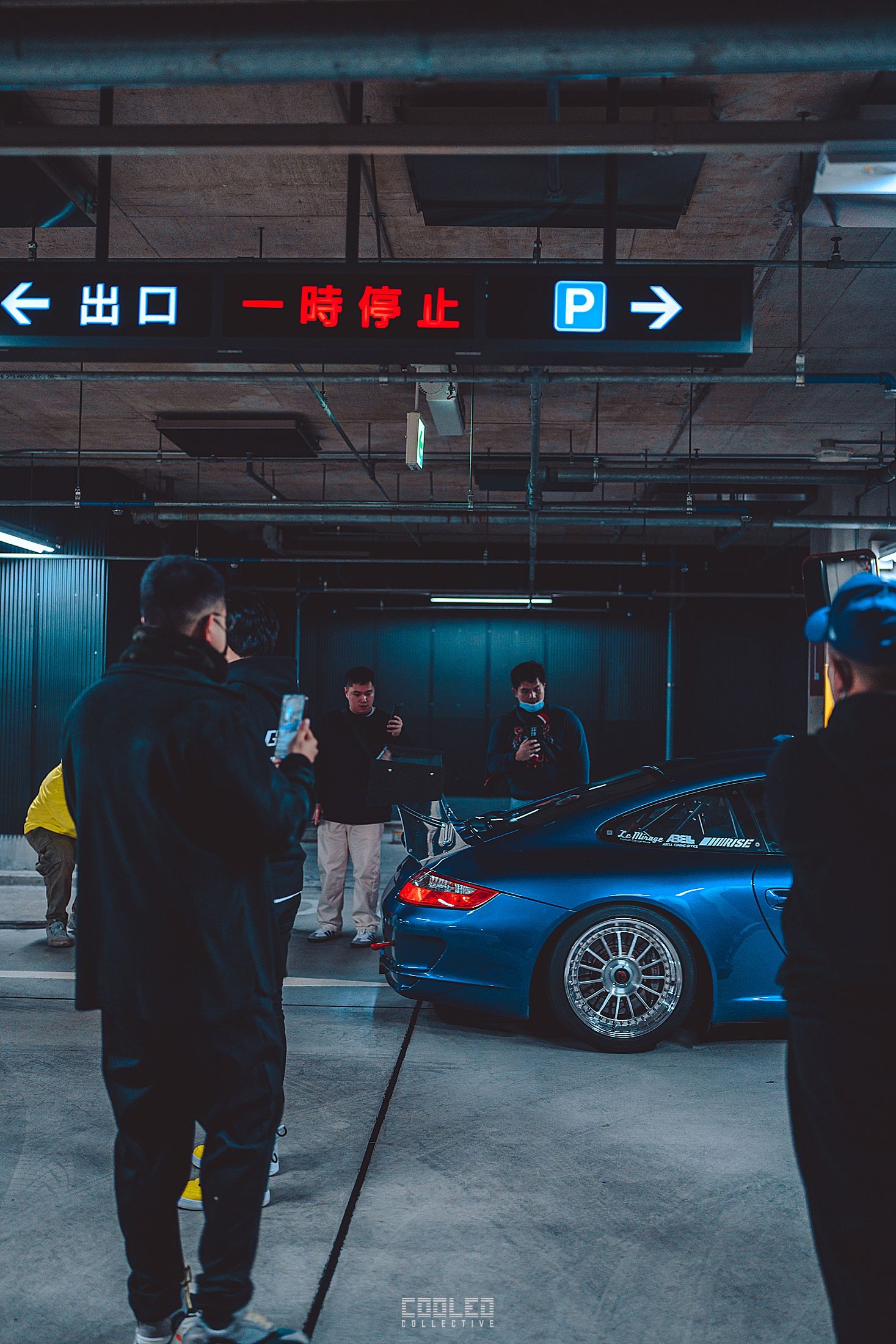 As many of you know, I am a huge NSX fan, being an owner myself but to see a R is always a treat. This particular model looked like it had a lot of stories to tell as it seemed very worn in but once again, a R is a R. The Champ White is just so special to witness especially in the homeland.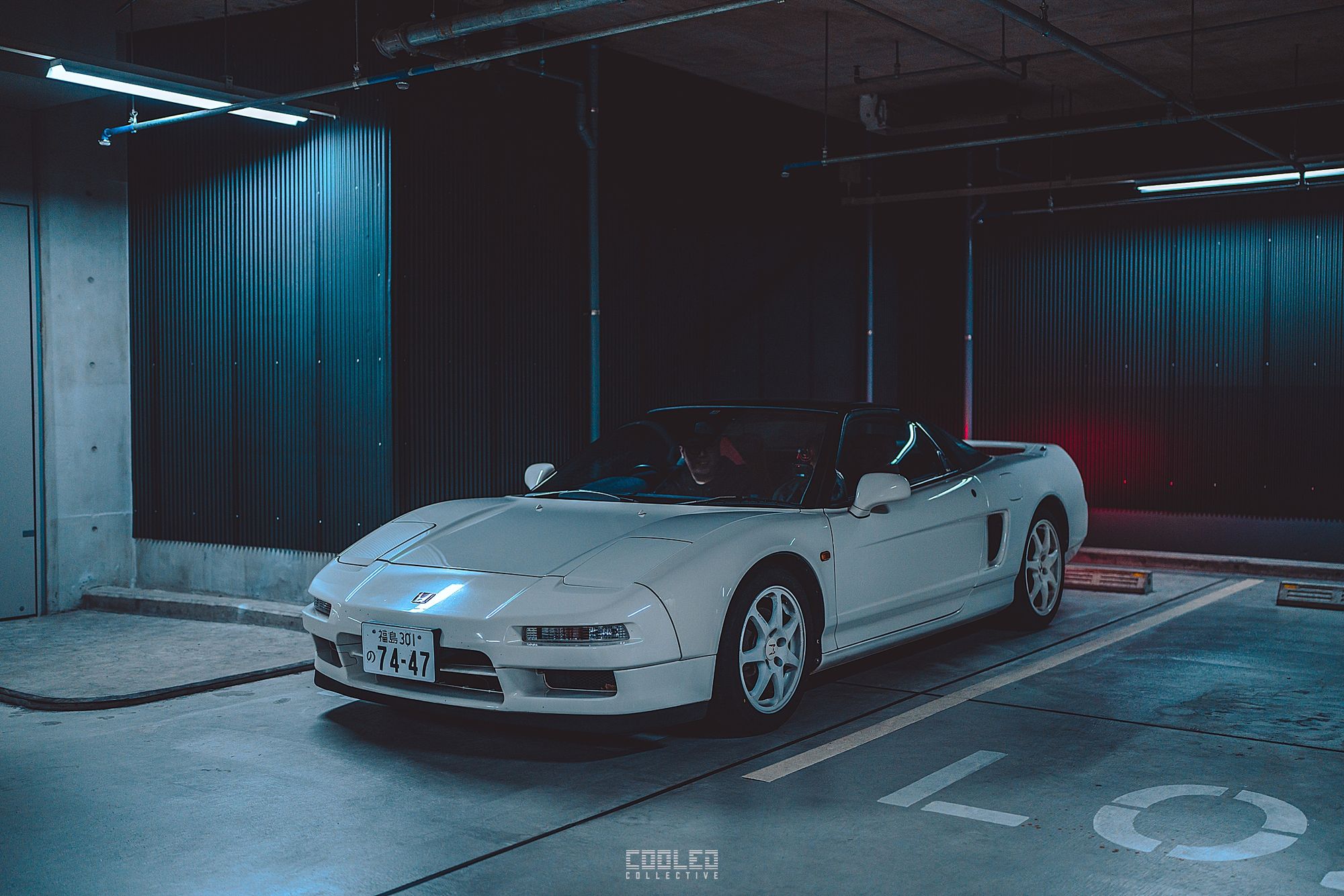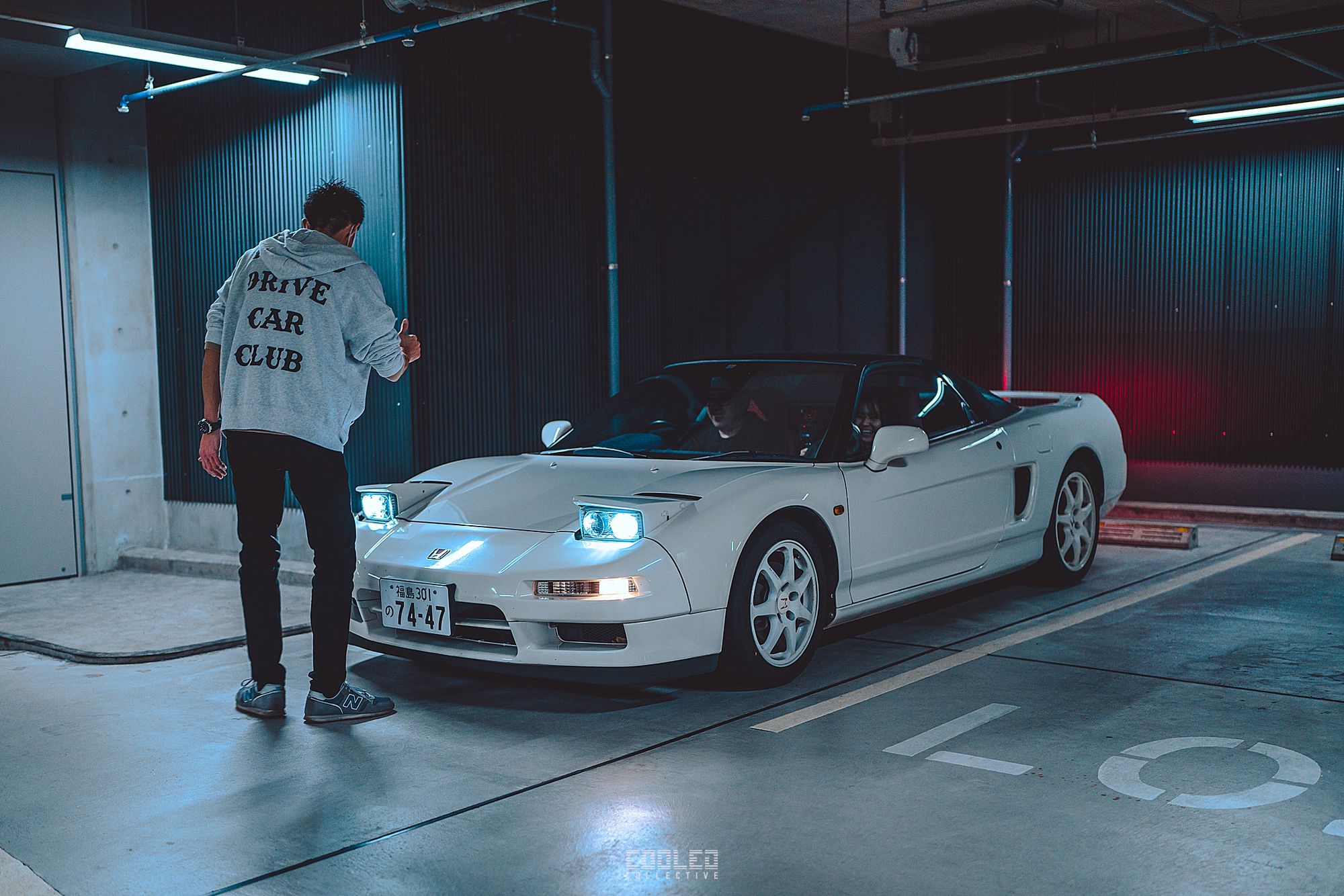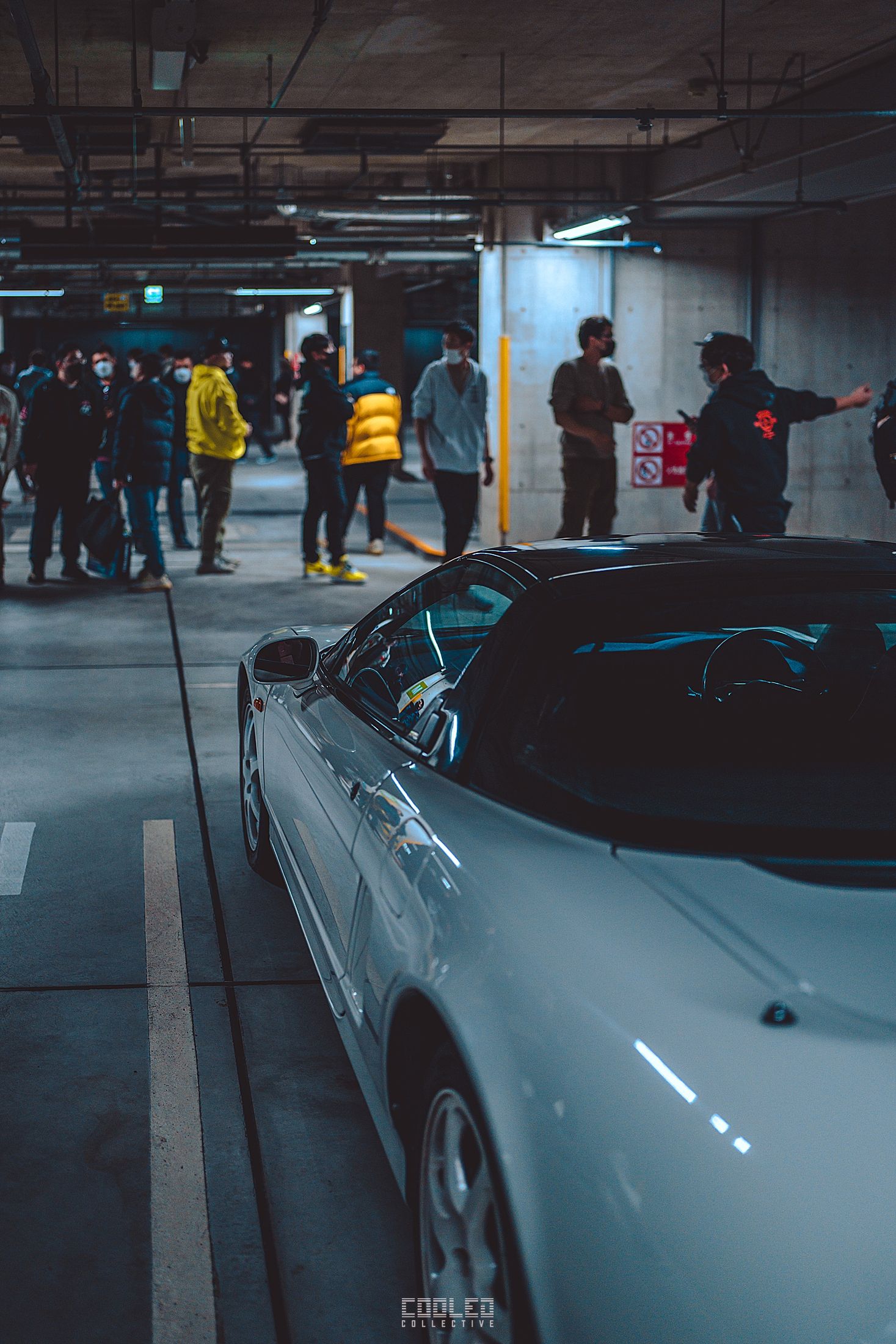 While I was finishing up shooting some shots of the NSX-R, a second 190E pulls in to park next to the other 190E. The goods just kept piling on and every enthusiast rejoiced.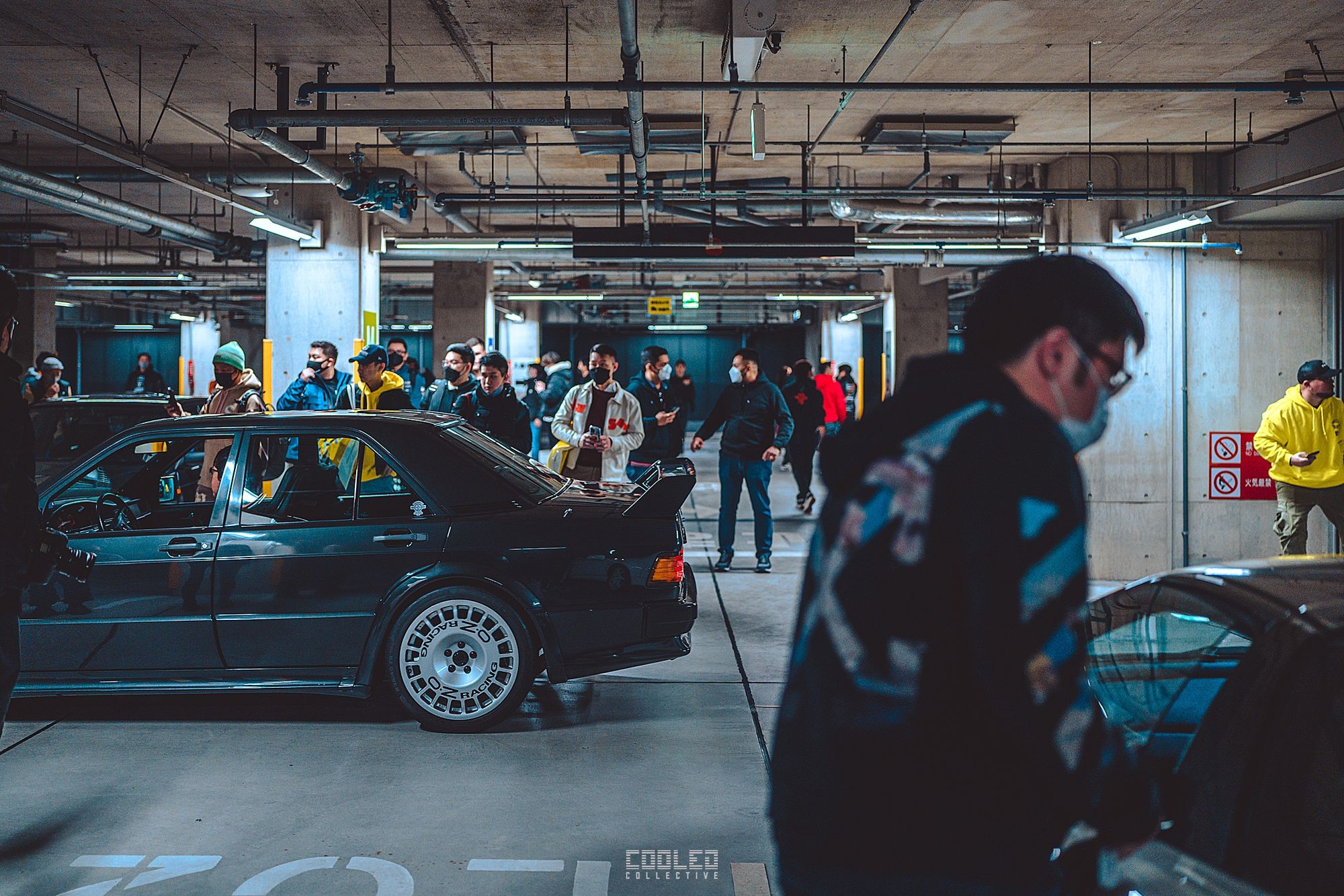 Do you love R34s? Tons of R34 came through the gates and Bayside Blue ones were in no short supply. I thought this may have been Larry Chen in his new R34 but it wasn't. Love the little sequence of it coming down the ramp and passing the NSX-R.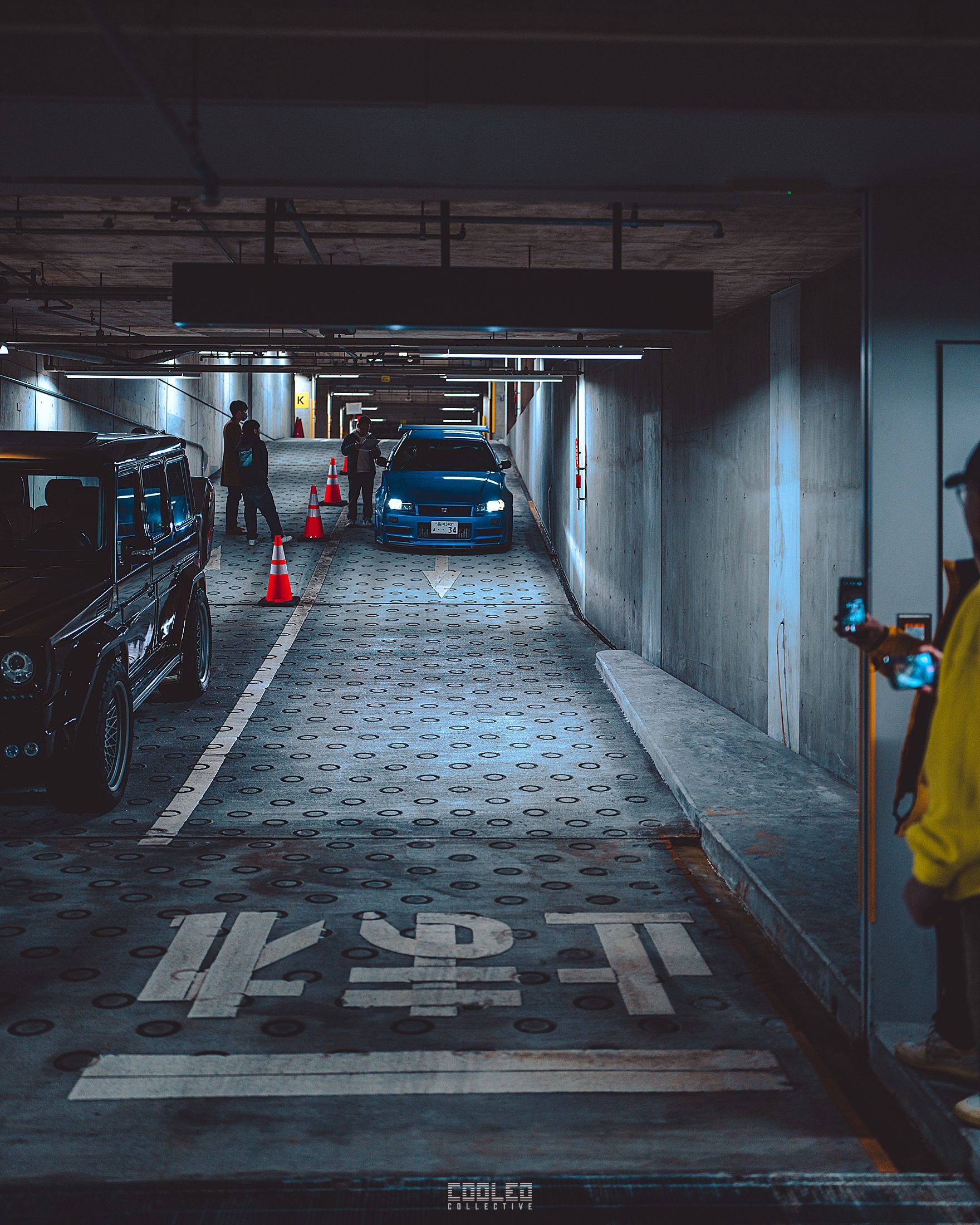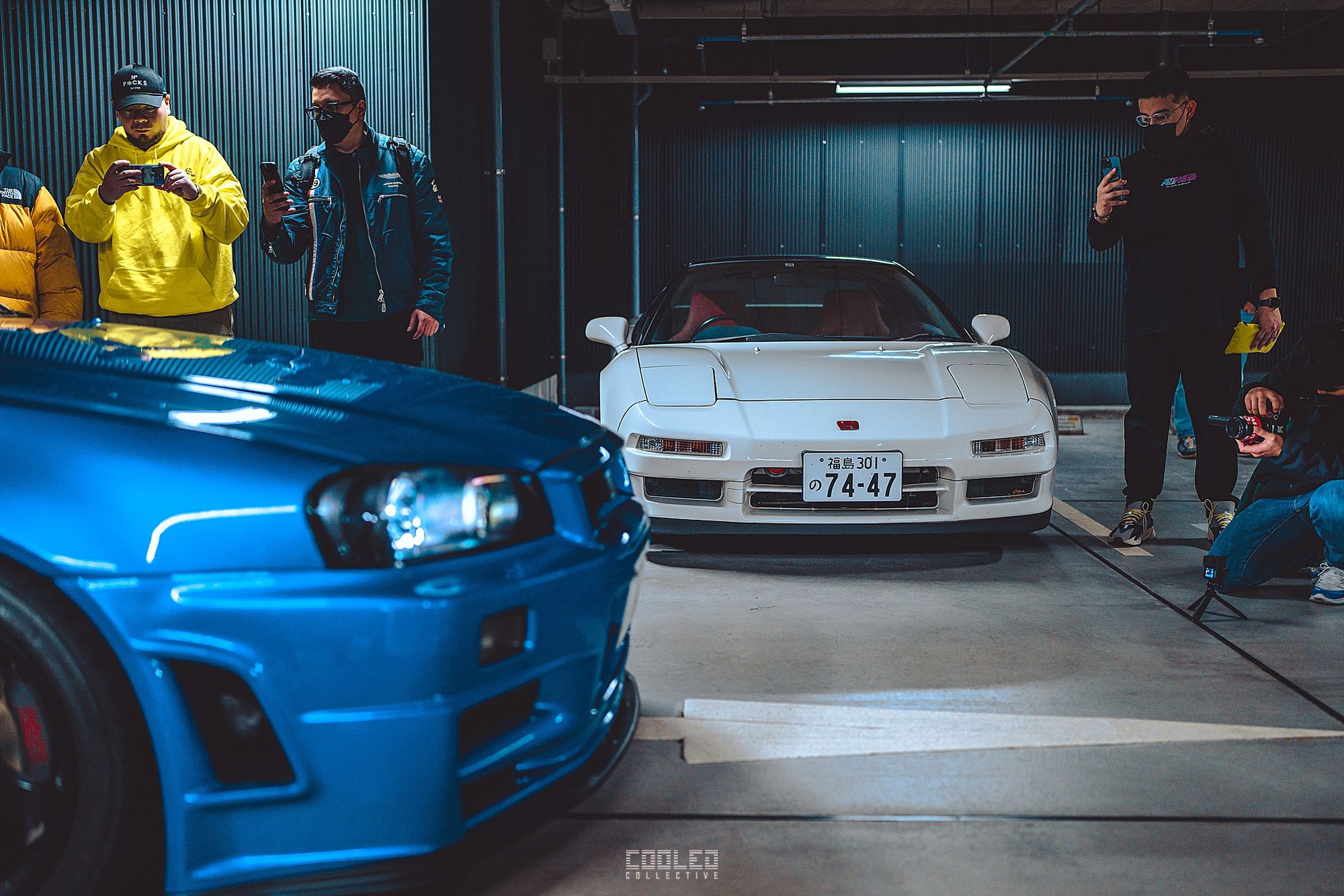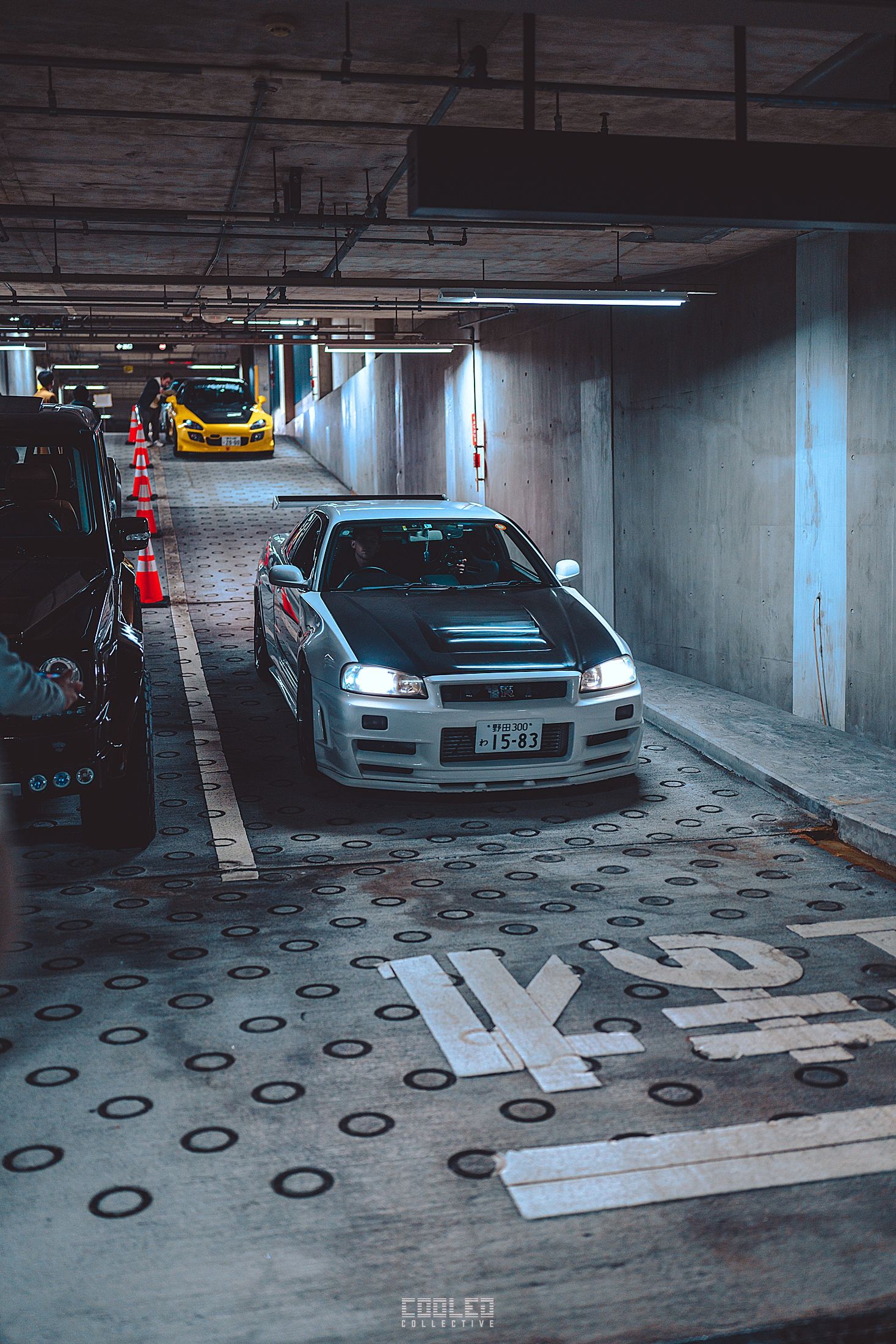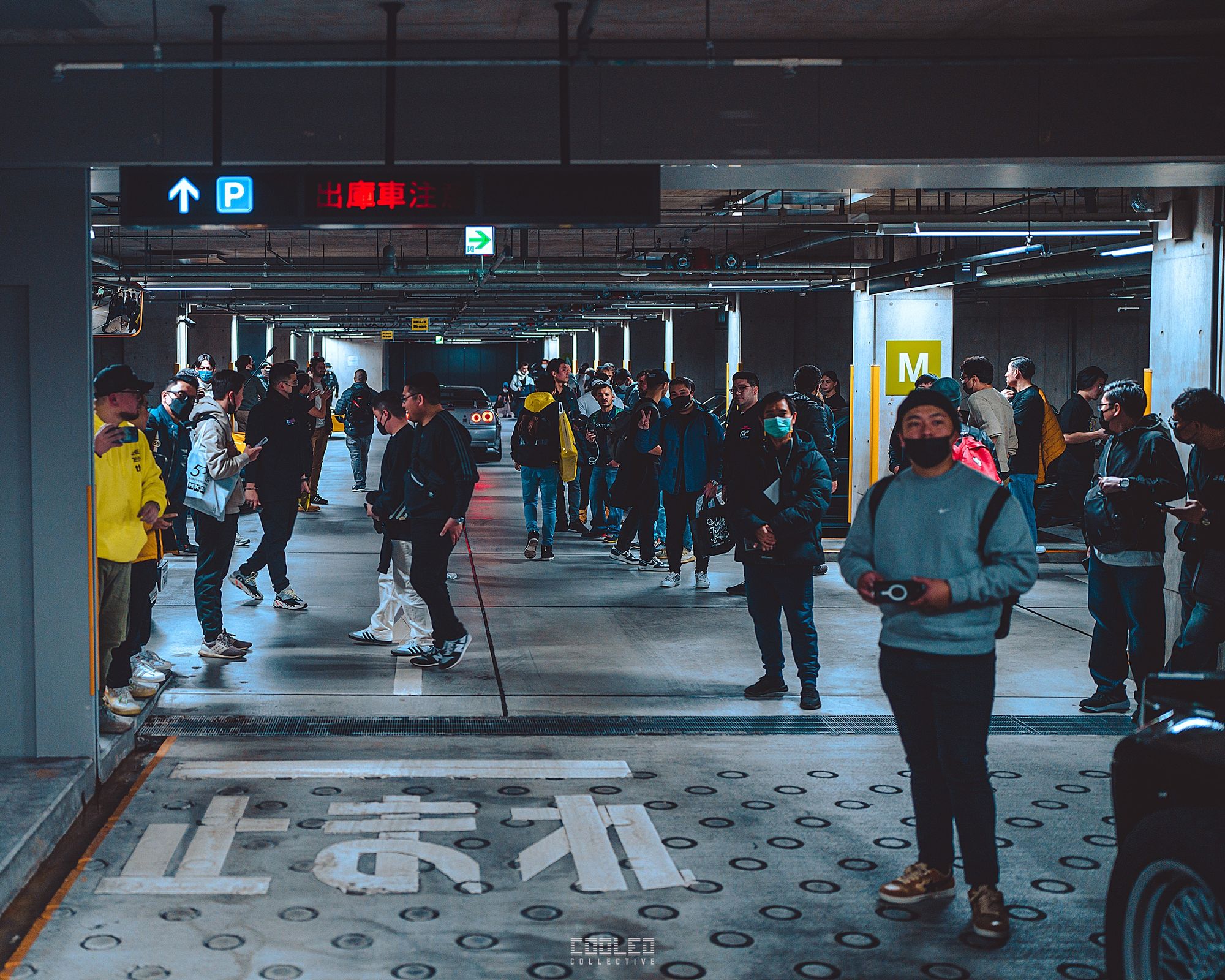 As you can tell from the image above, it was extremely crowded on the third floor and this was only a portion of the garage. Between everyone trying to breathe and straight piped custom cars driving around, the oxygen levels were getting low. So I decided to walk up the ramp to get some fresh air and low and behold, a beautiful RX-7 FC is pulling in with the sounds of rotary goodness. Love FCs so this was a real treat as it was the only one I saw all night.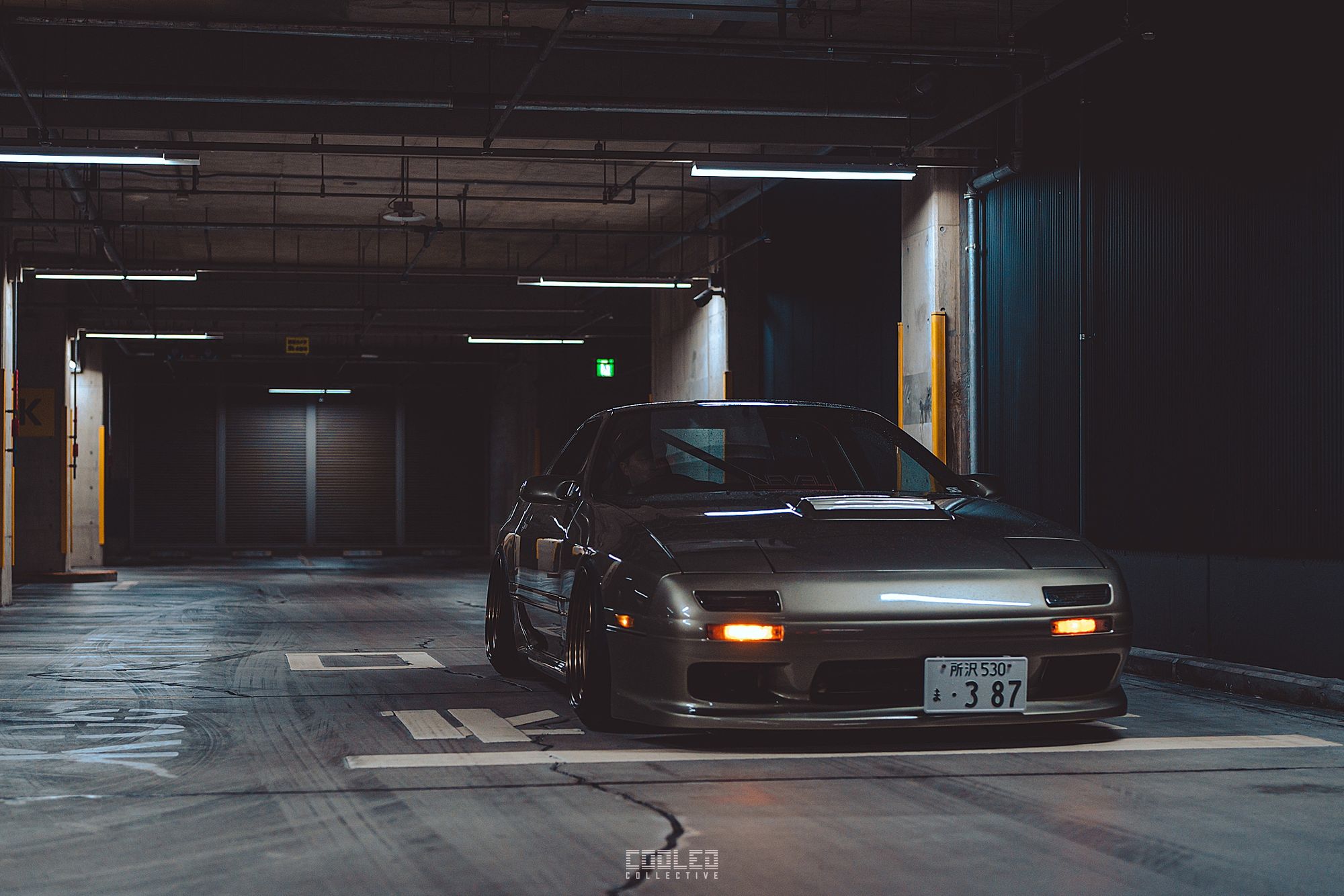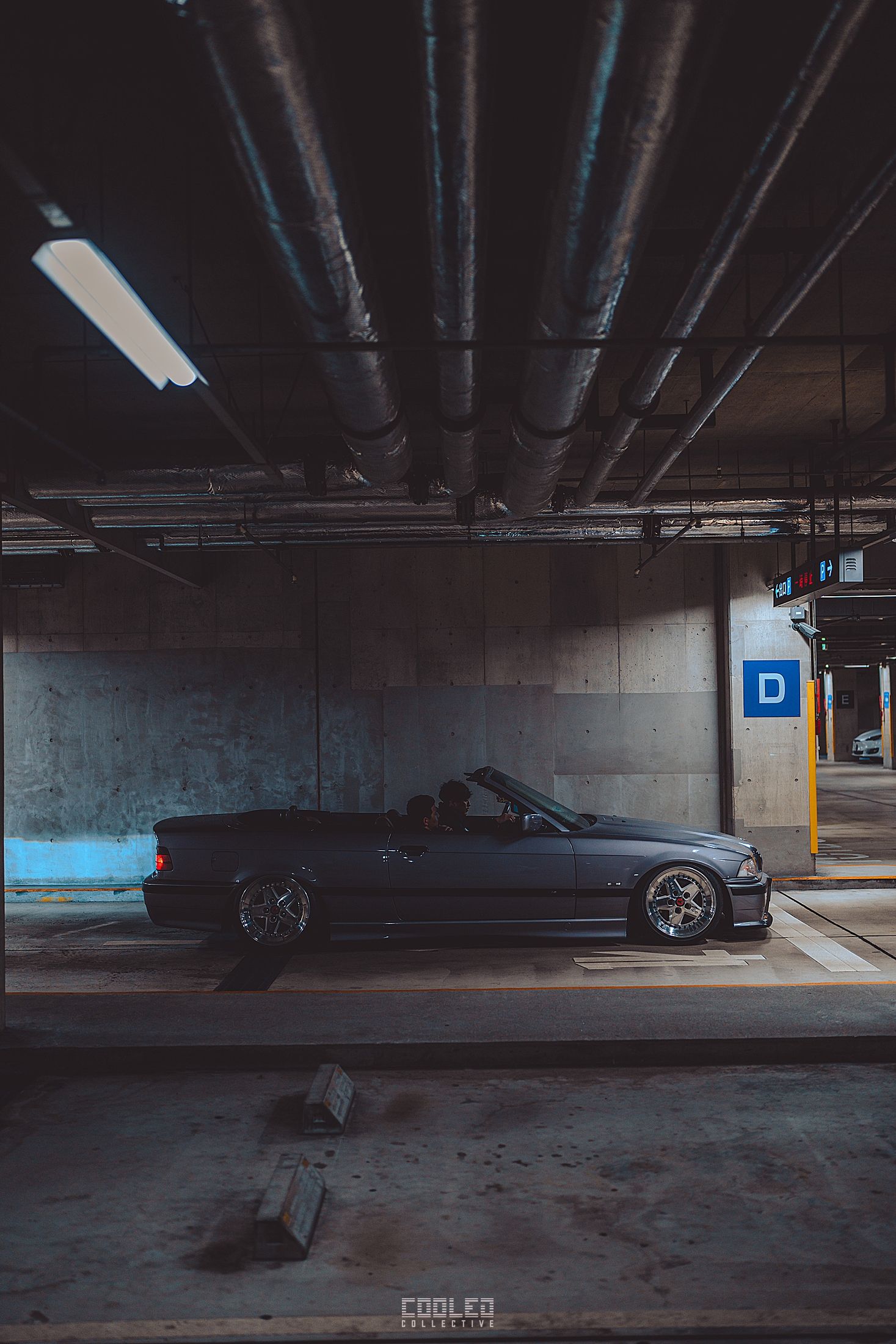 Love seeing the slammed Verts/cabs make their way in especially since it was raining outside. People driving their cars and doing it with great style... what a lovely combo.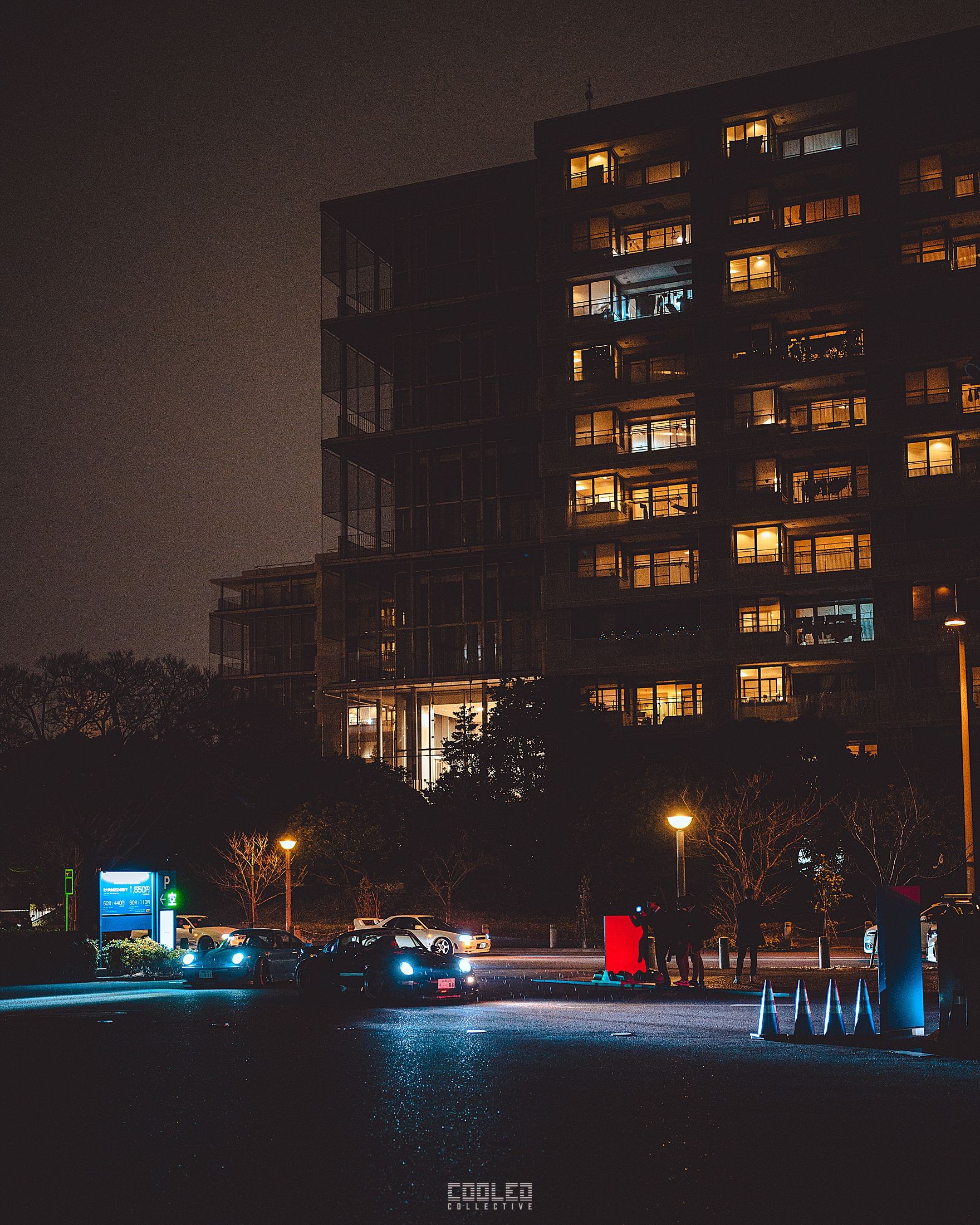 As I made my way up to ground level, you can still see the line up of cars trying to make their way in. RWB traffic in full force.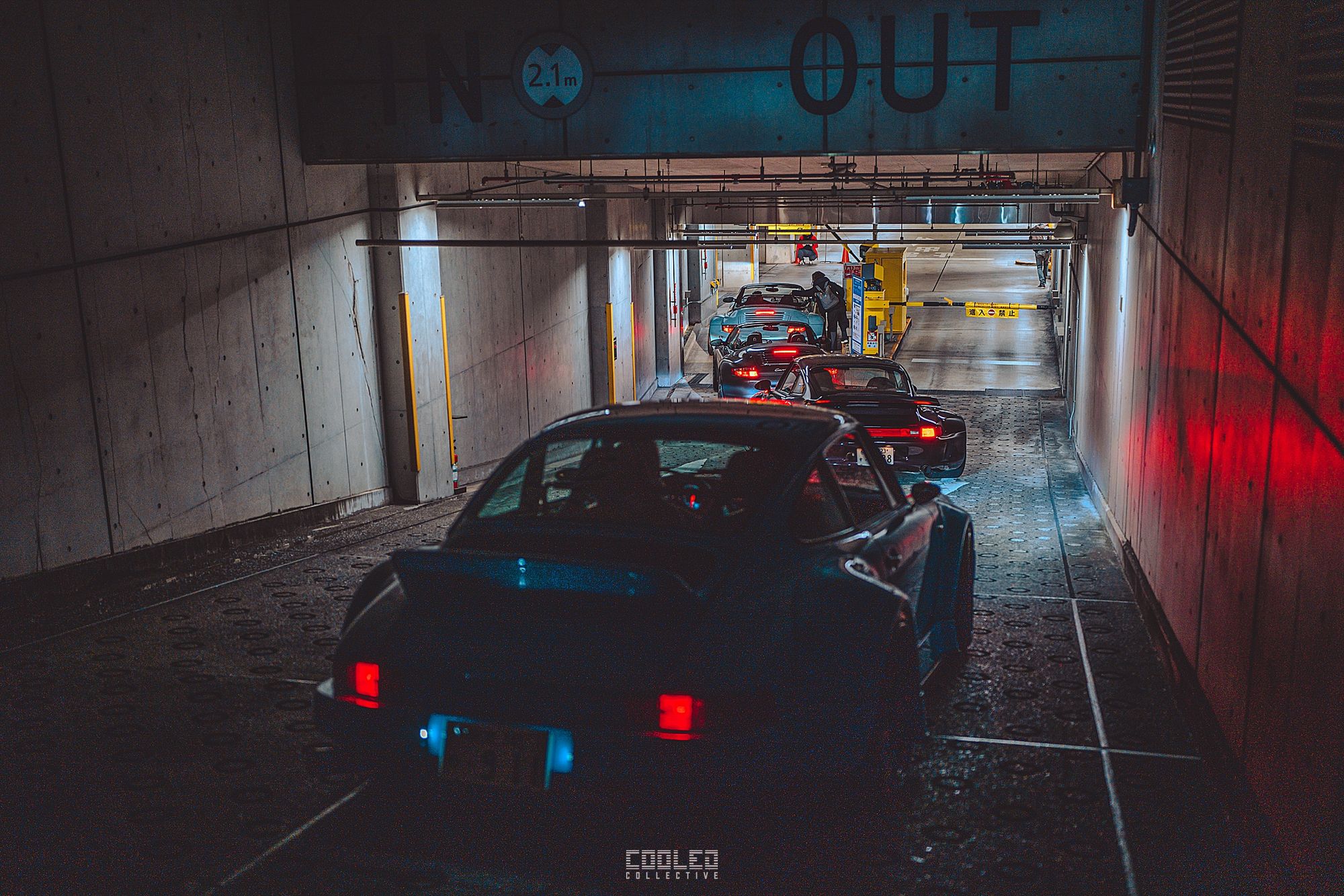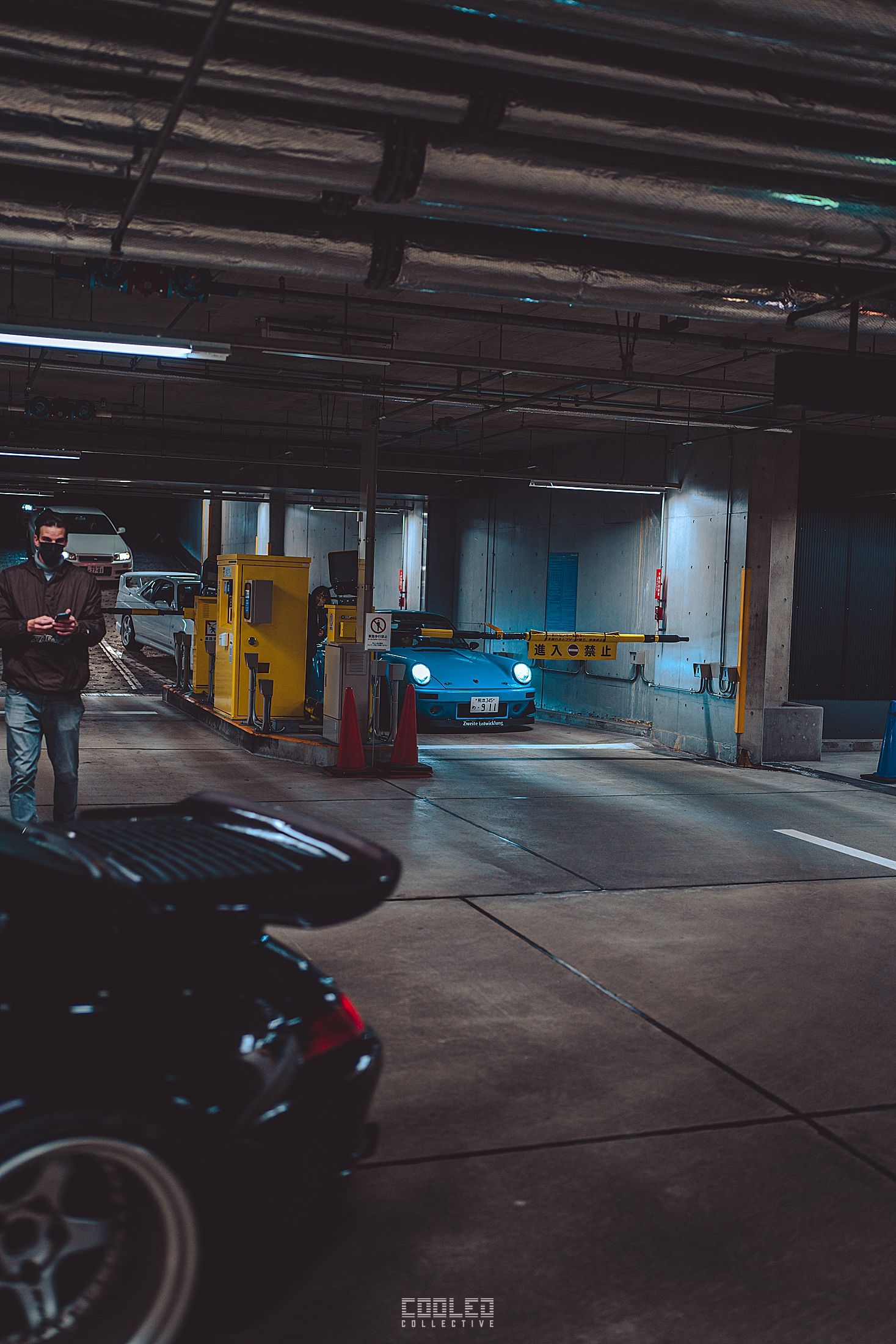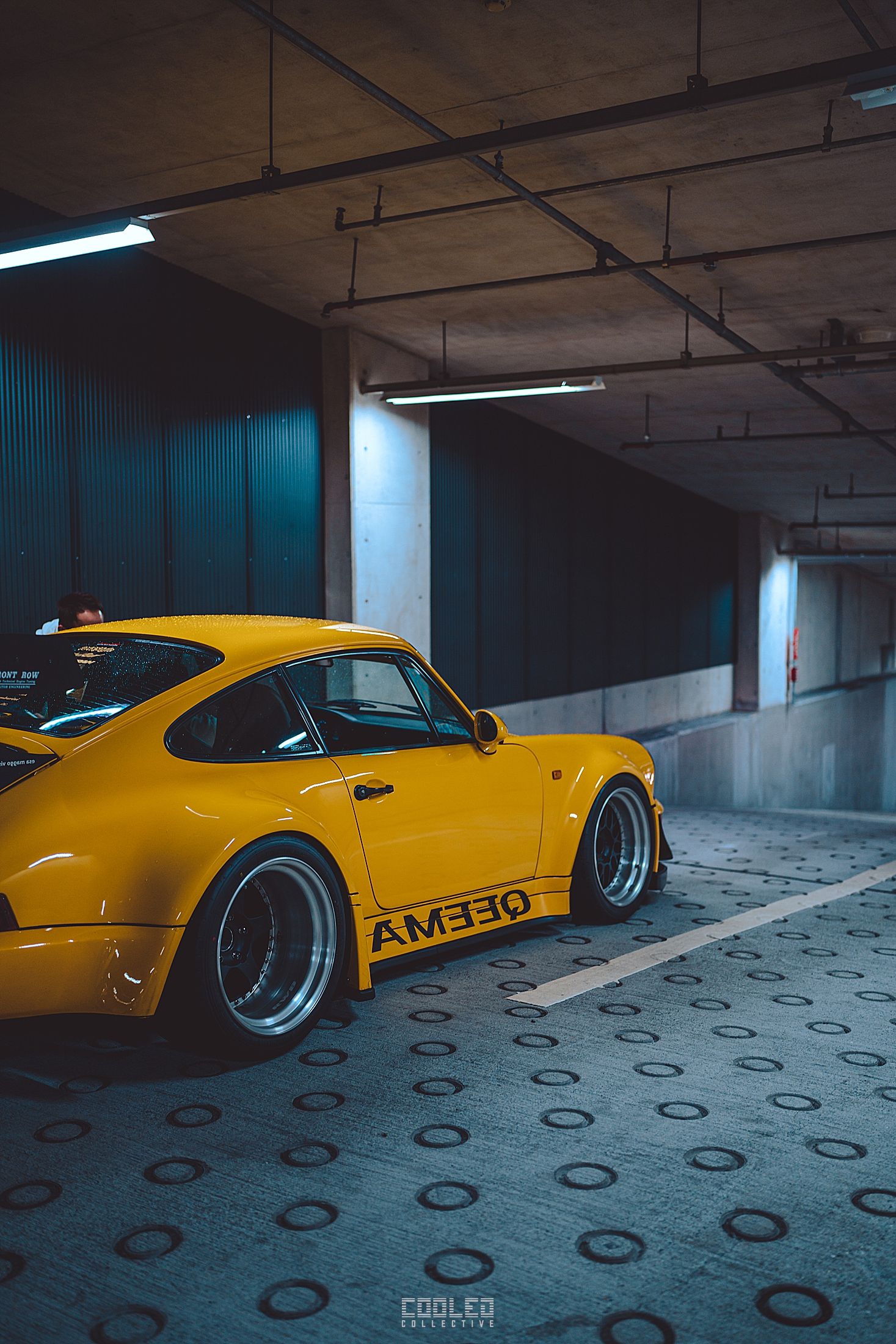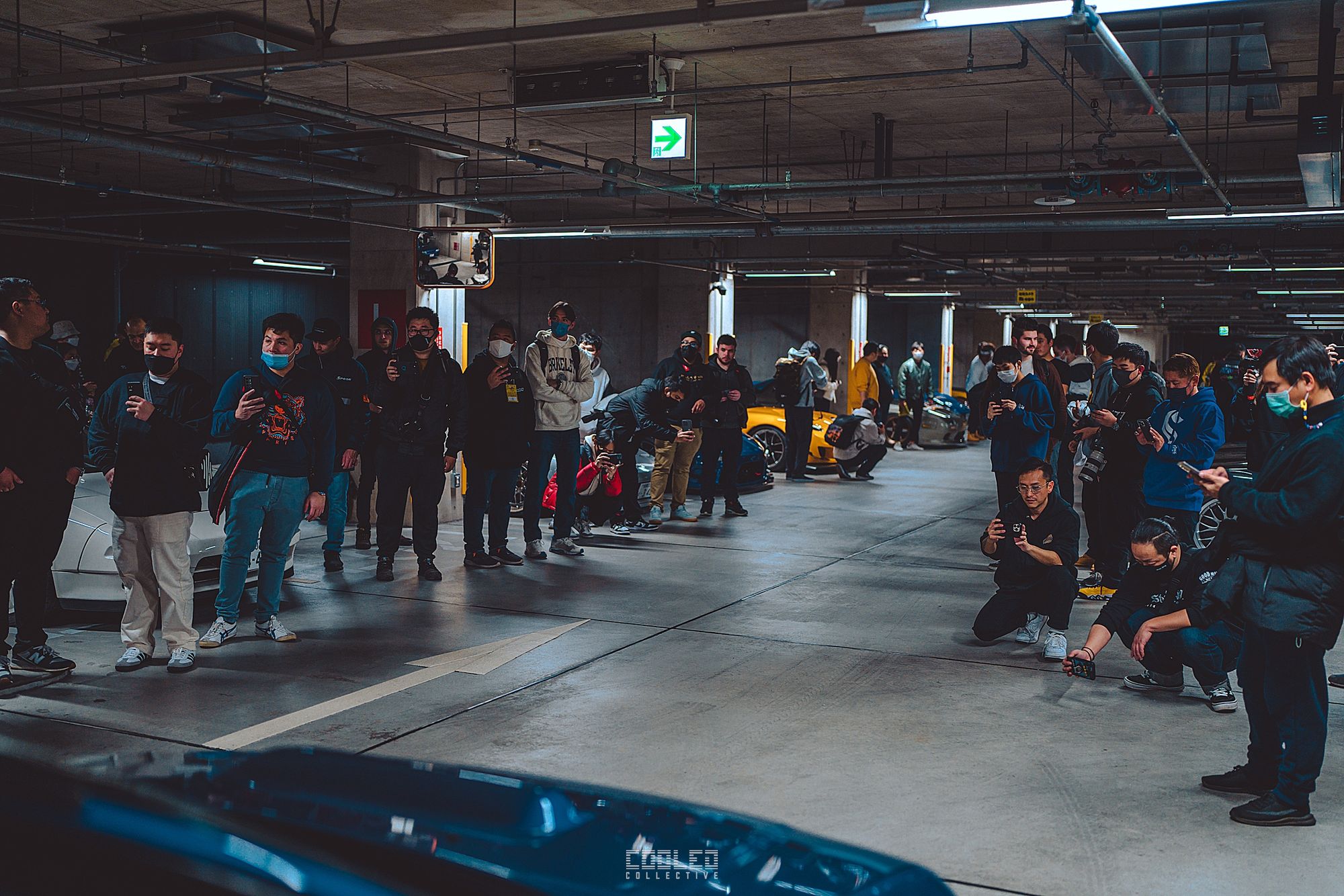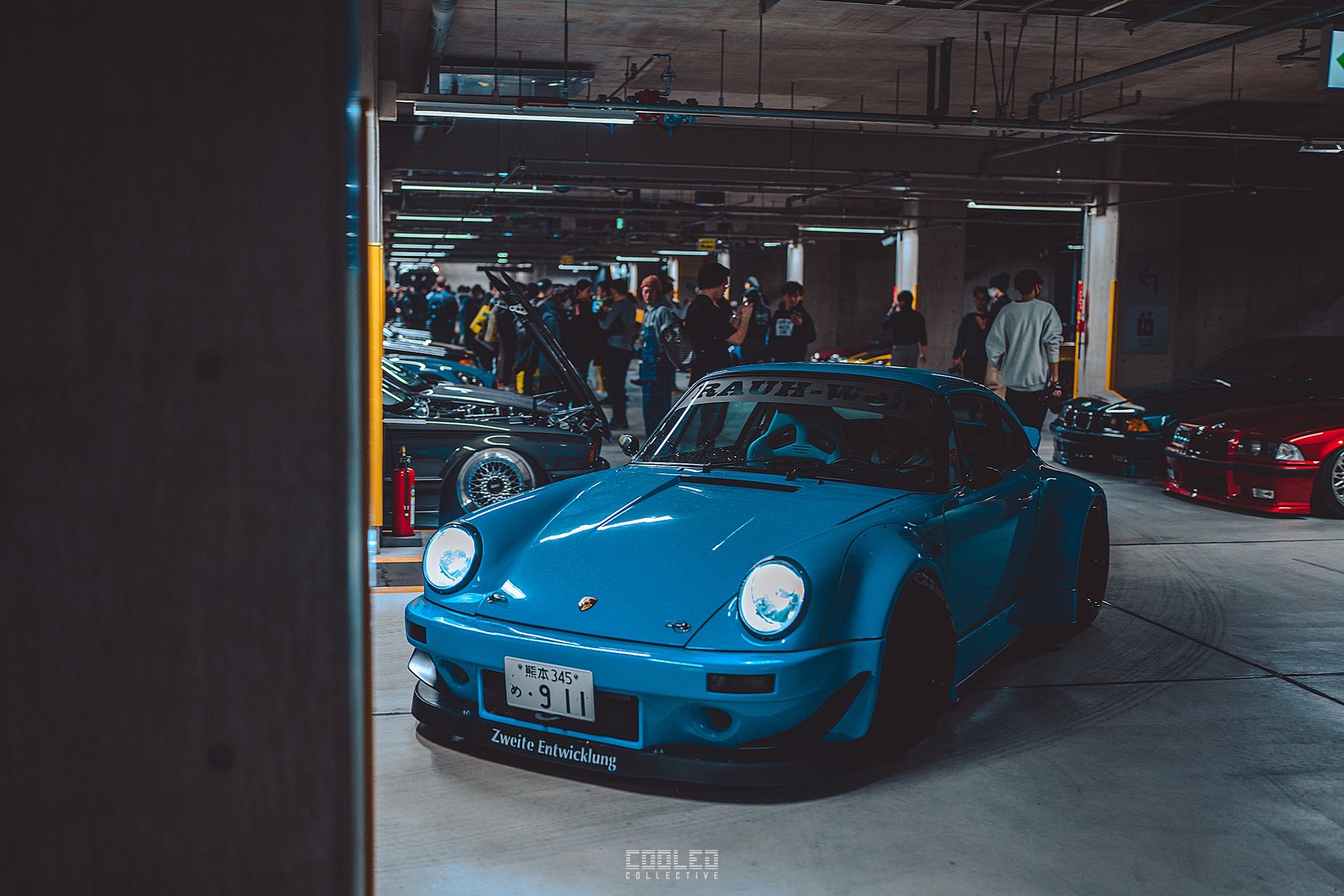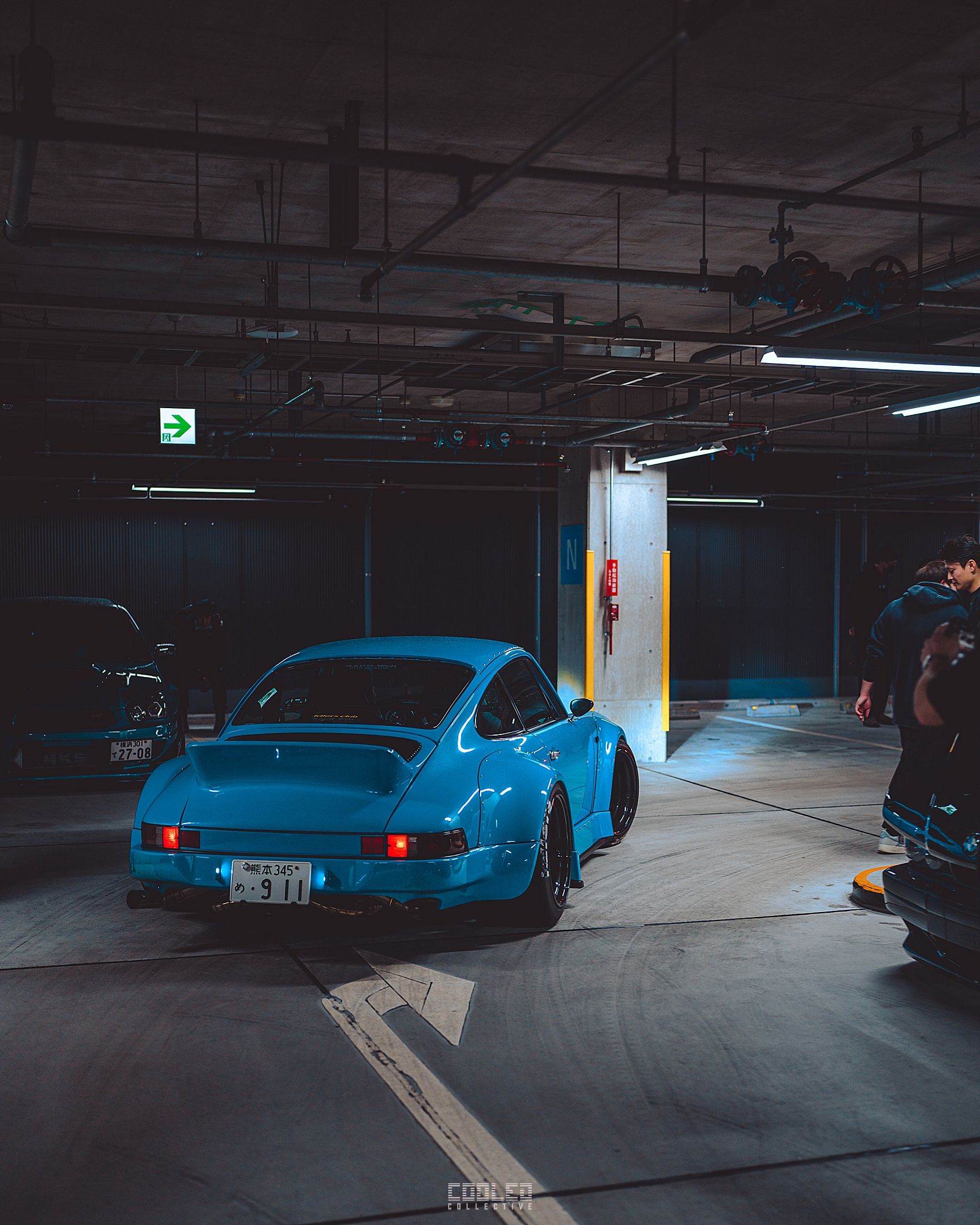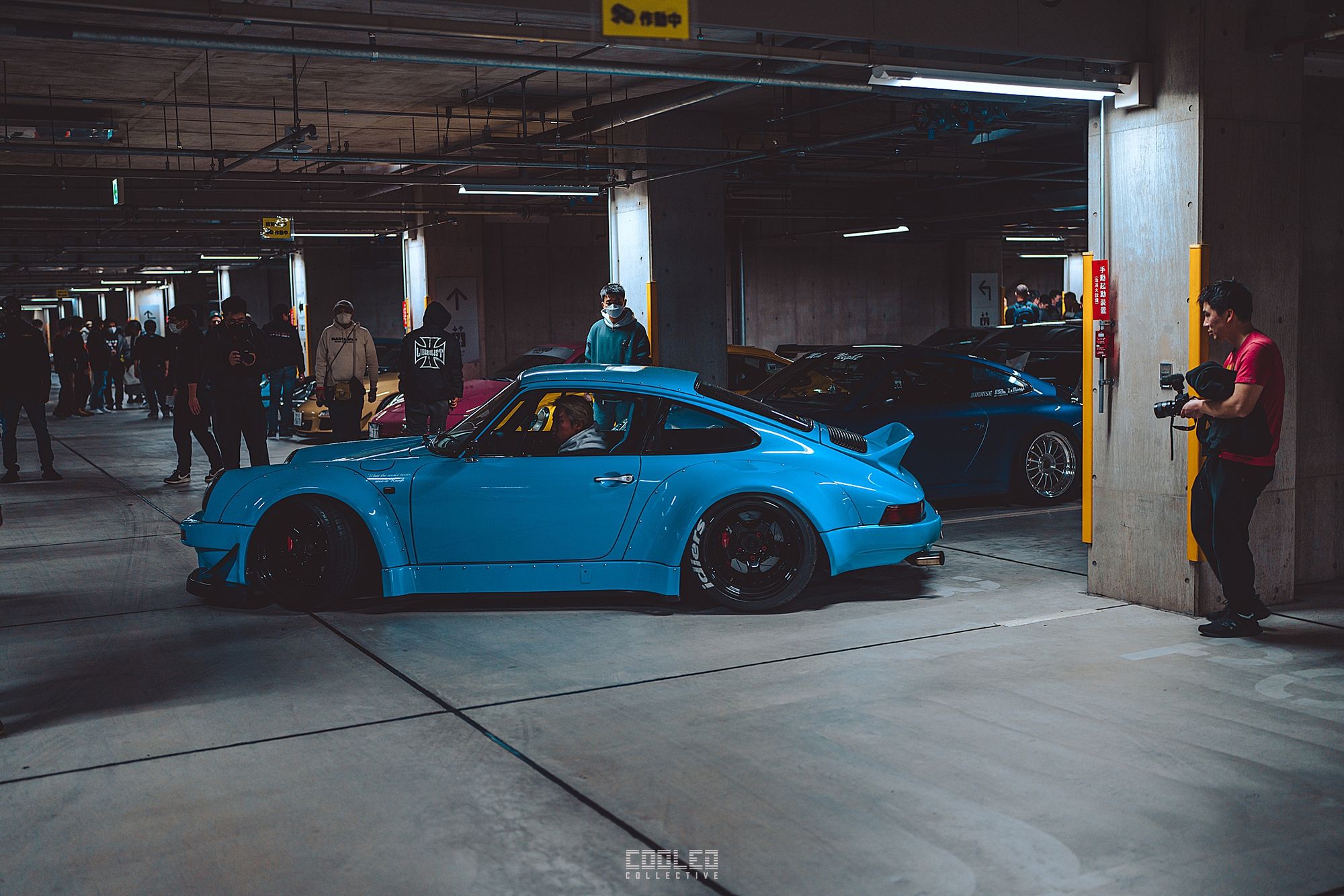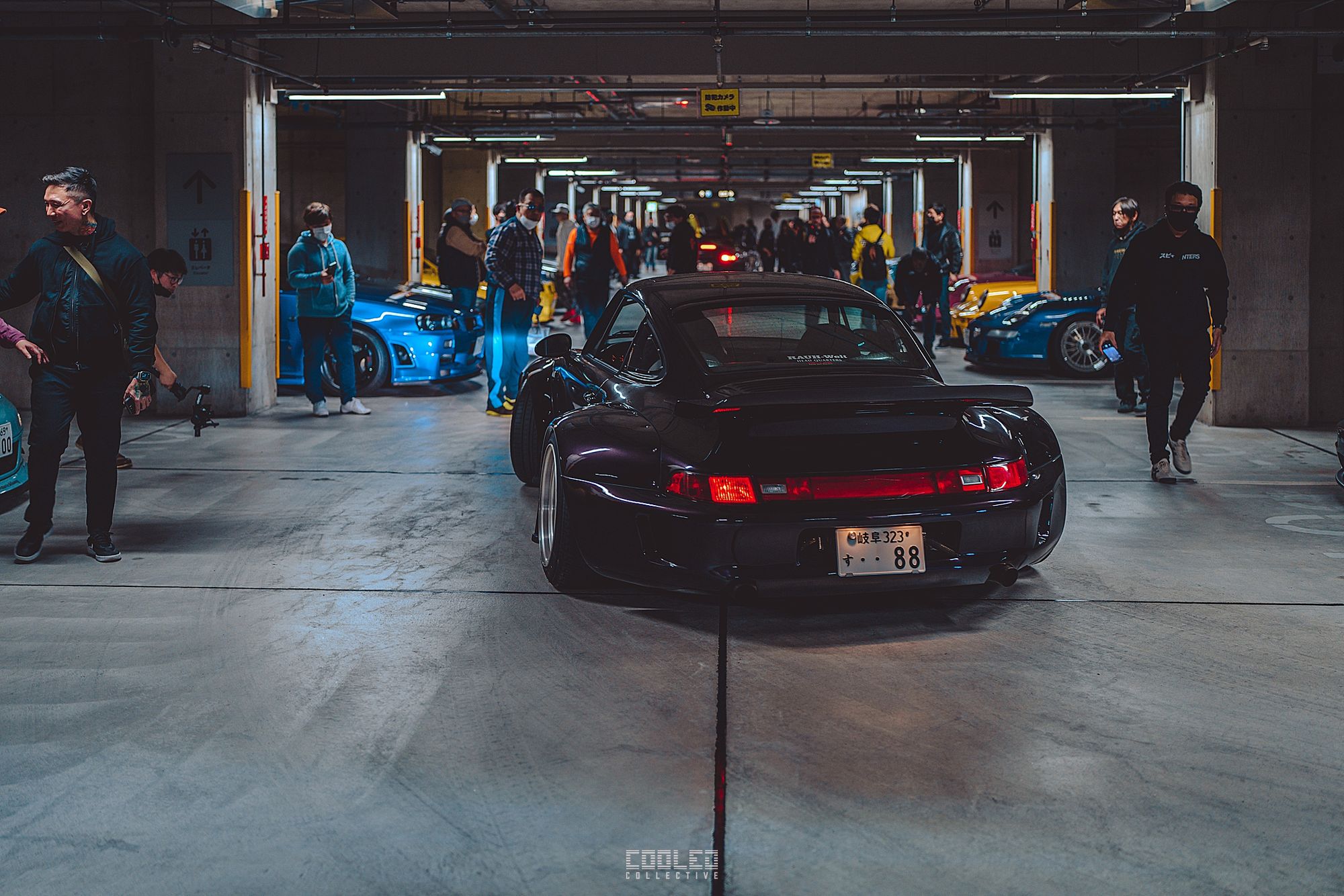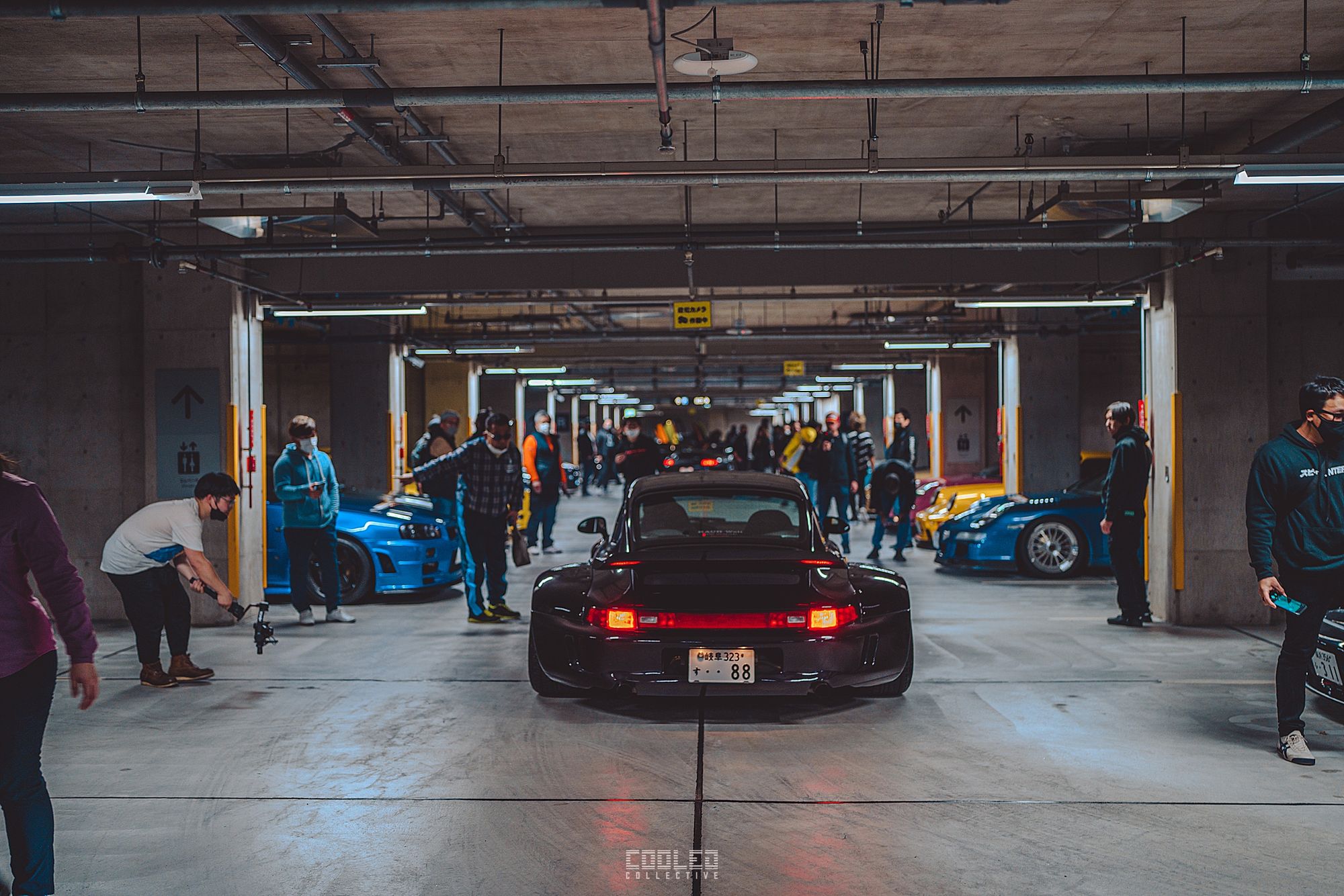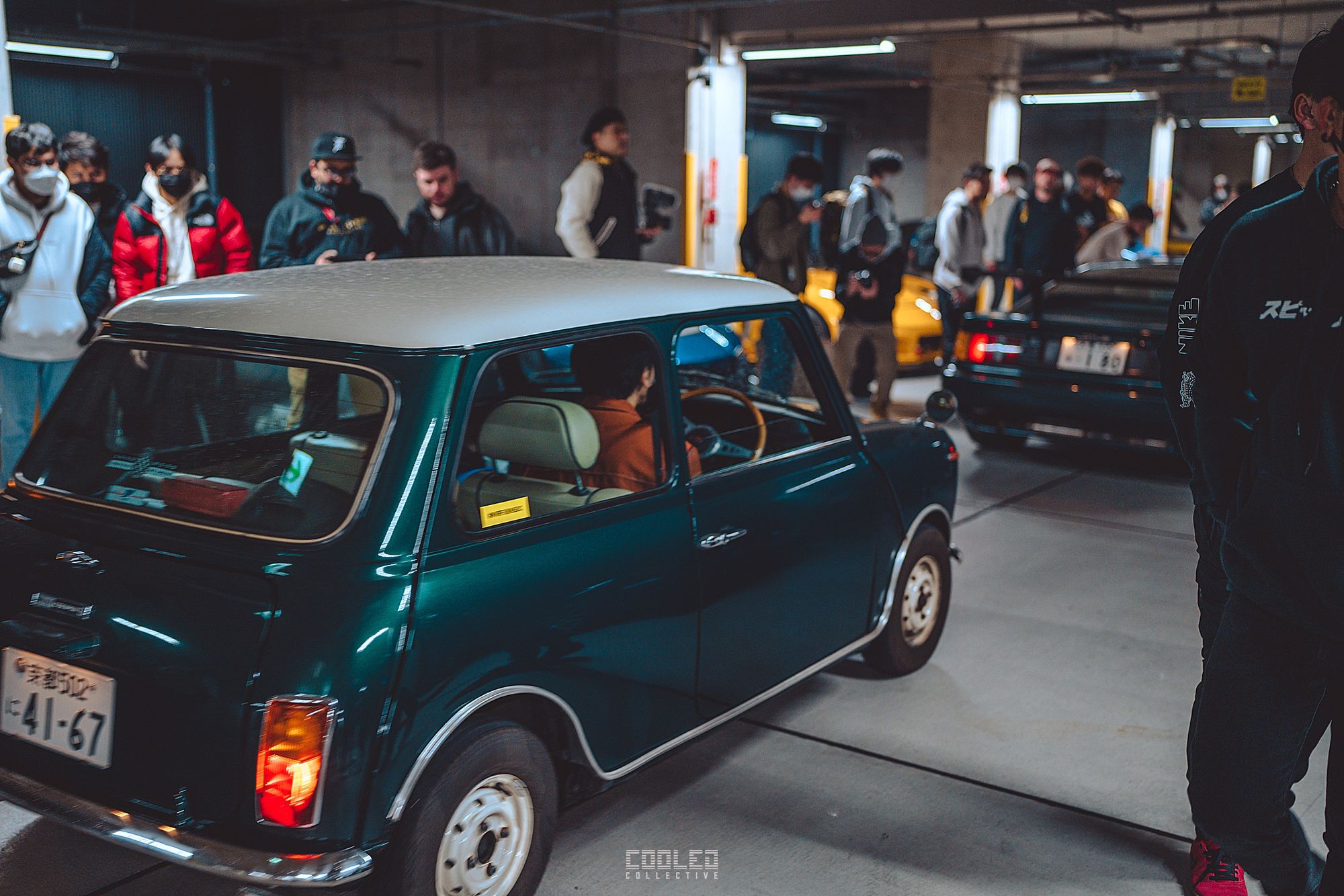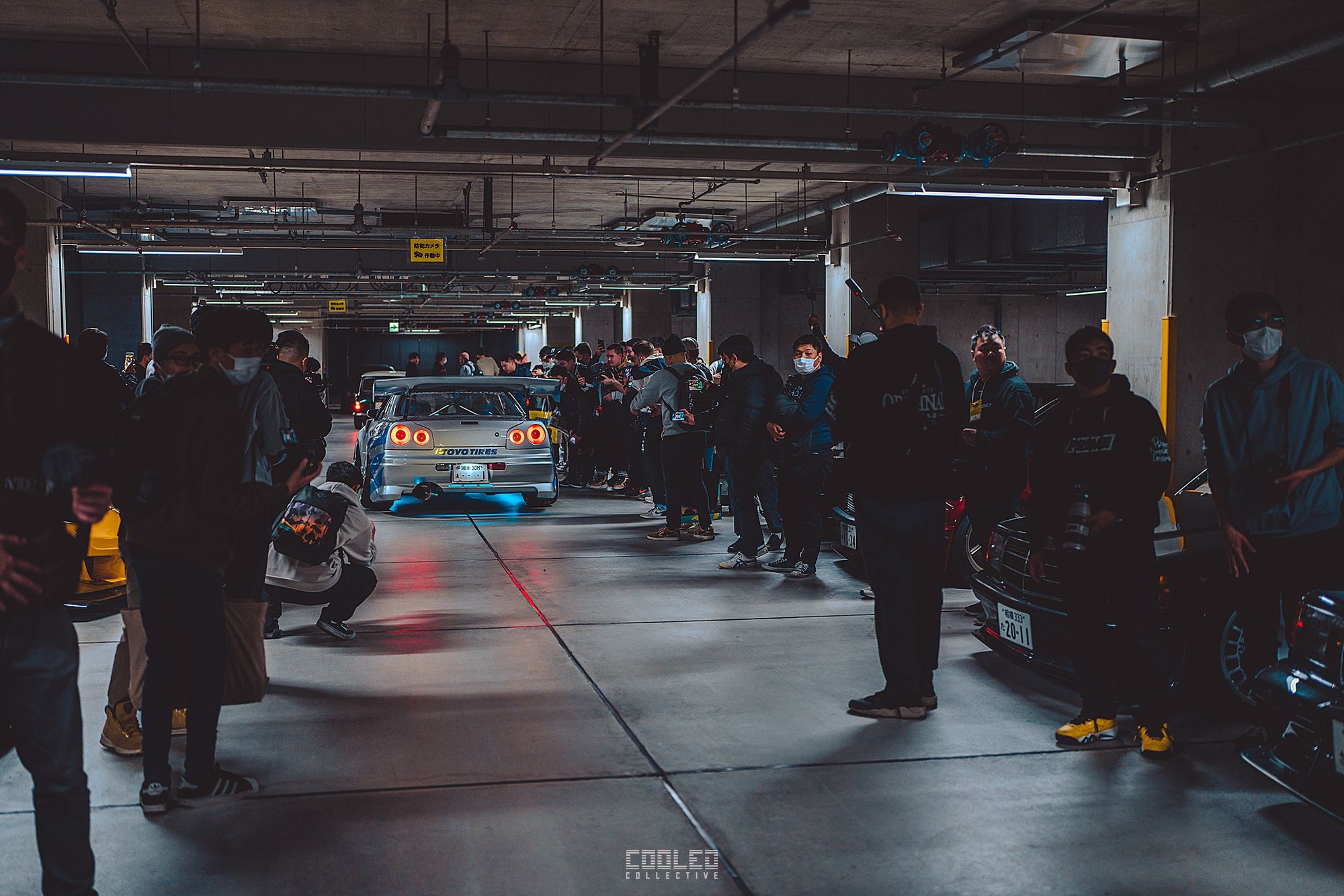 One of my favorite rides from the event came in as I was getting ready to leave and shoot some aircooled Porsches. The R33 LM in Championship Blue rolled right past me owned by Shinichiro. Luckily Scott from @renownUSA was there to explain the rarity of the R33LM before I took off. I wish I had some more time to cover this build but I am sure I will see it again one day.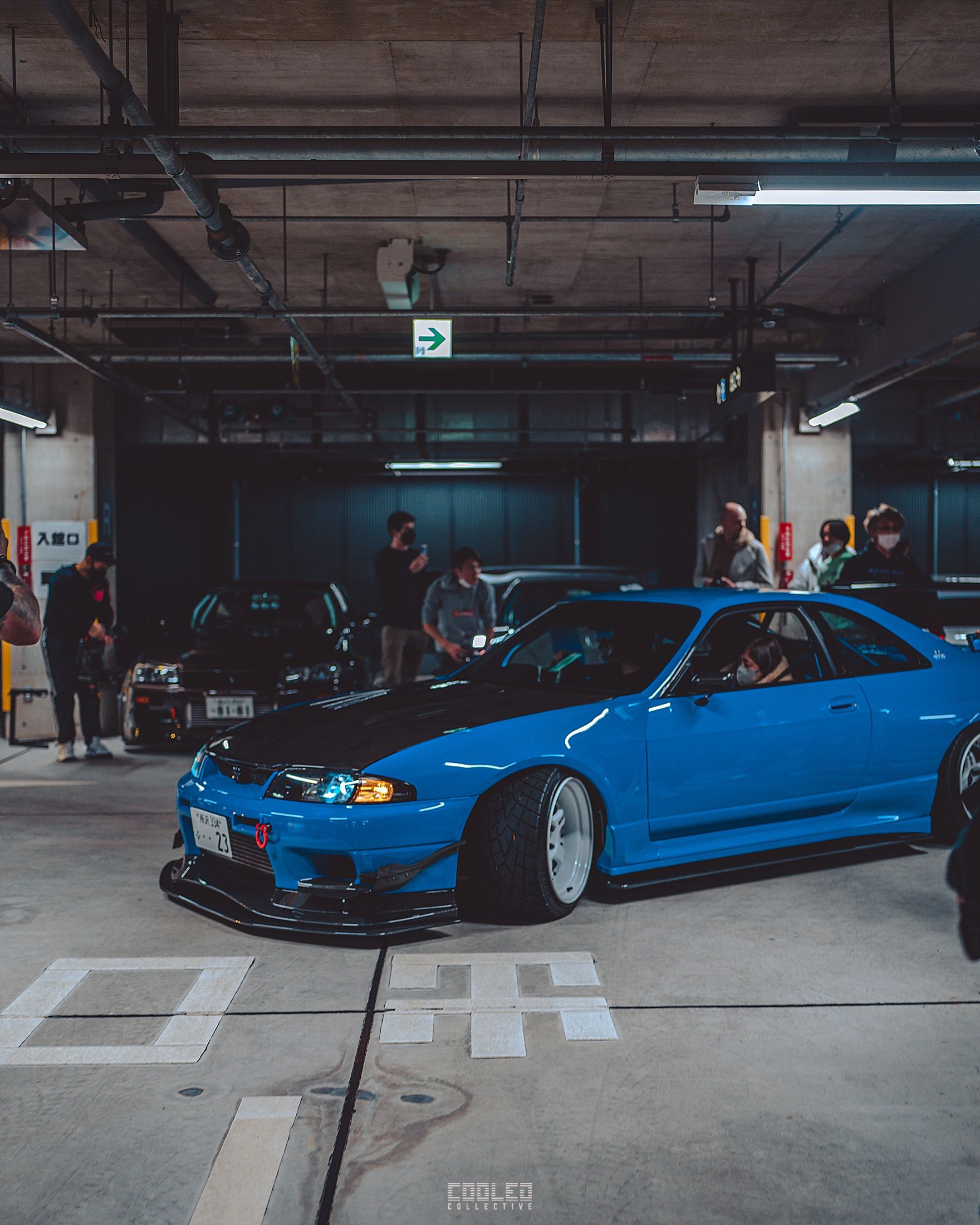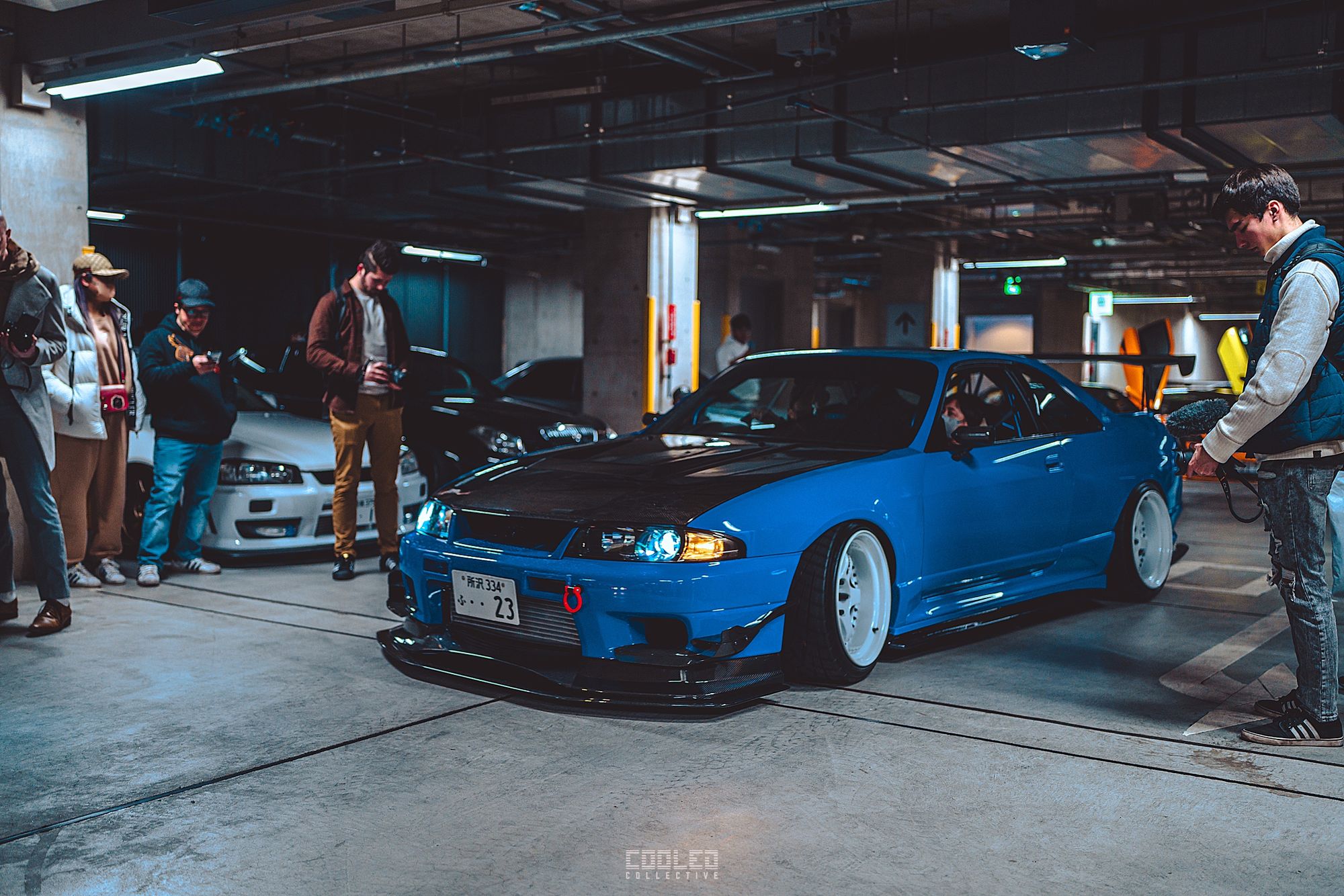 So much more to come so standby as I try to finish off all of the media from this amazing trip. As a reminder, I will be putting together a coffee table book of my entire trip to Japan and I hope you would consider supporting me by getting a kickass book.
Thank you!
Check out the merch store until then: http://www.cooledcollective.com
Drew Manley