---
Saturday: Qualifying
The energy on Saturday was much different than the previous two days, as you can imagine. You can feel the intensity in the air as the teams race for position and with the crowds rolling in full force, it got everyone stoked to see who can get pole position.
Just getting into the race was a huge hurdle as traffic was pretty wild. You can see race fans walking long distances to avoid the traffic and high parking fees, I'd assume. Nearby residence were also trying to get that extra hustle in by having fans park on their driveway for $30 bucks.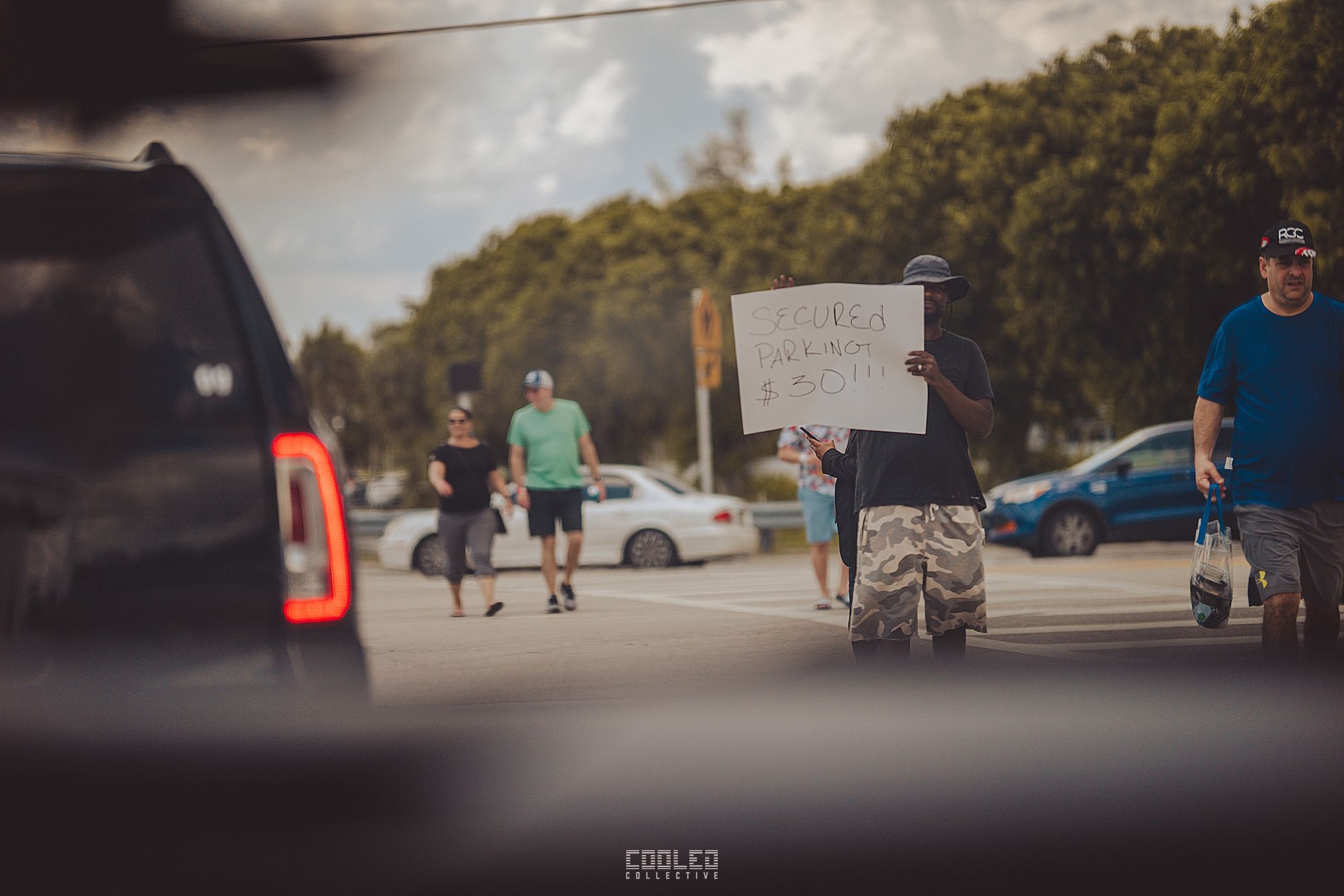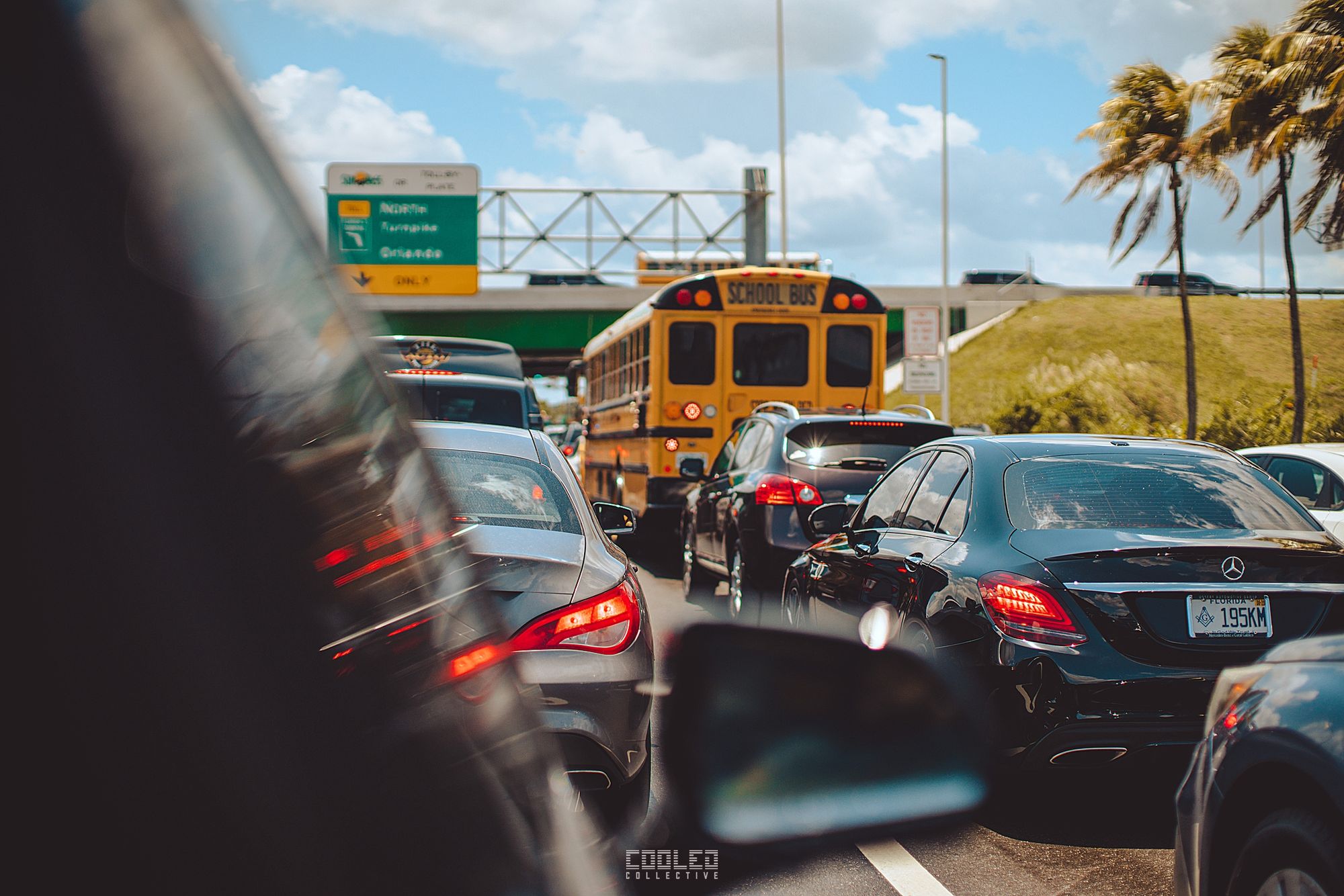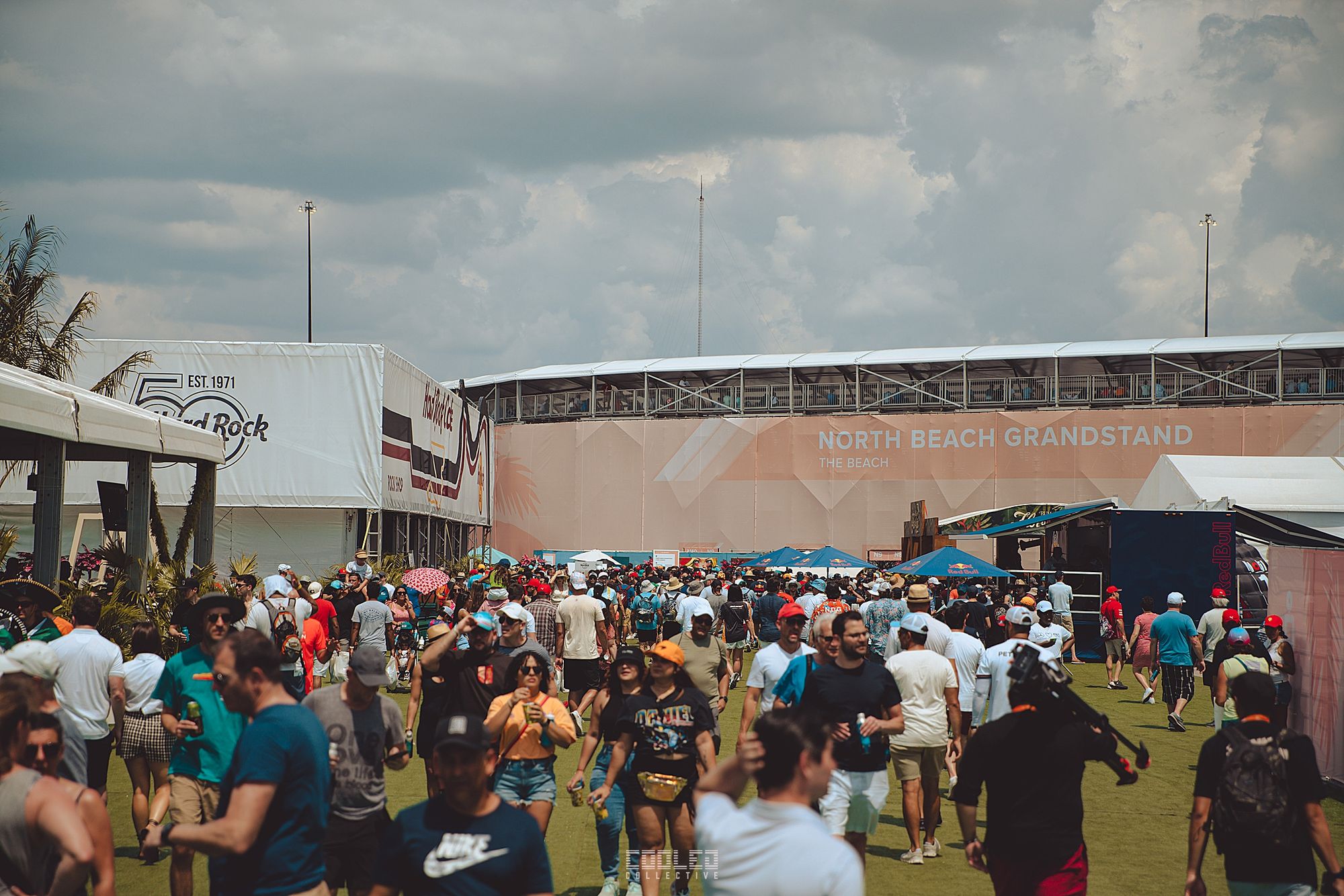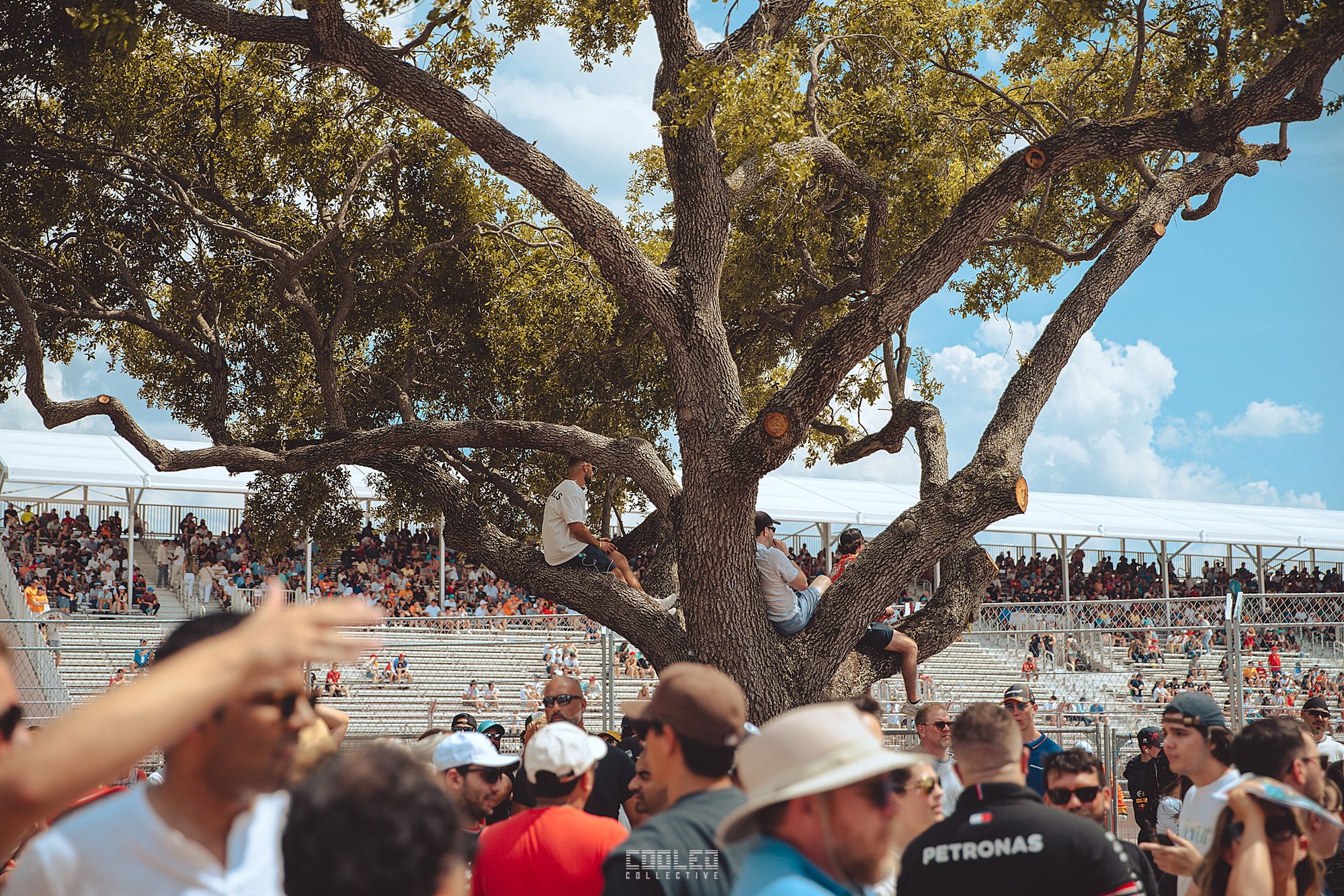 Now one of the main reasons I was hyped for day 3 was because Post Malone was scheduled to play at the Hard Rock Stage. Being a fan of PM made it that much more special and to see him perform as I was in the pit was amazing. You can also hear the Porsche Cup cars blowing by in the back... it was a glorious harmony to my ears.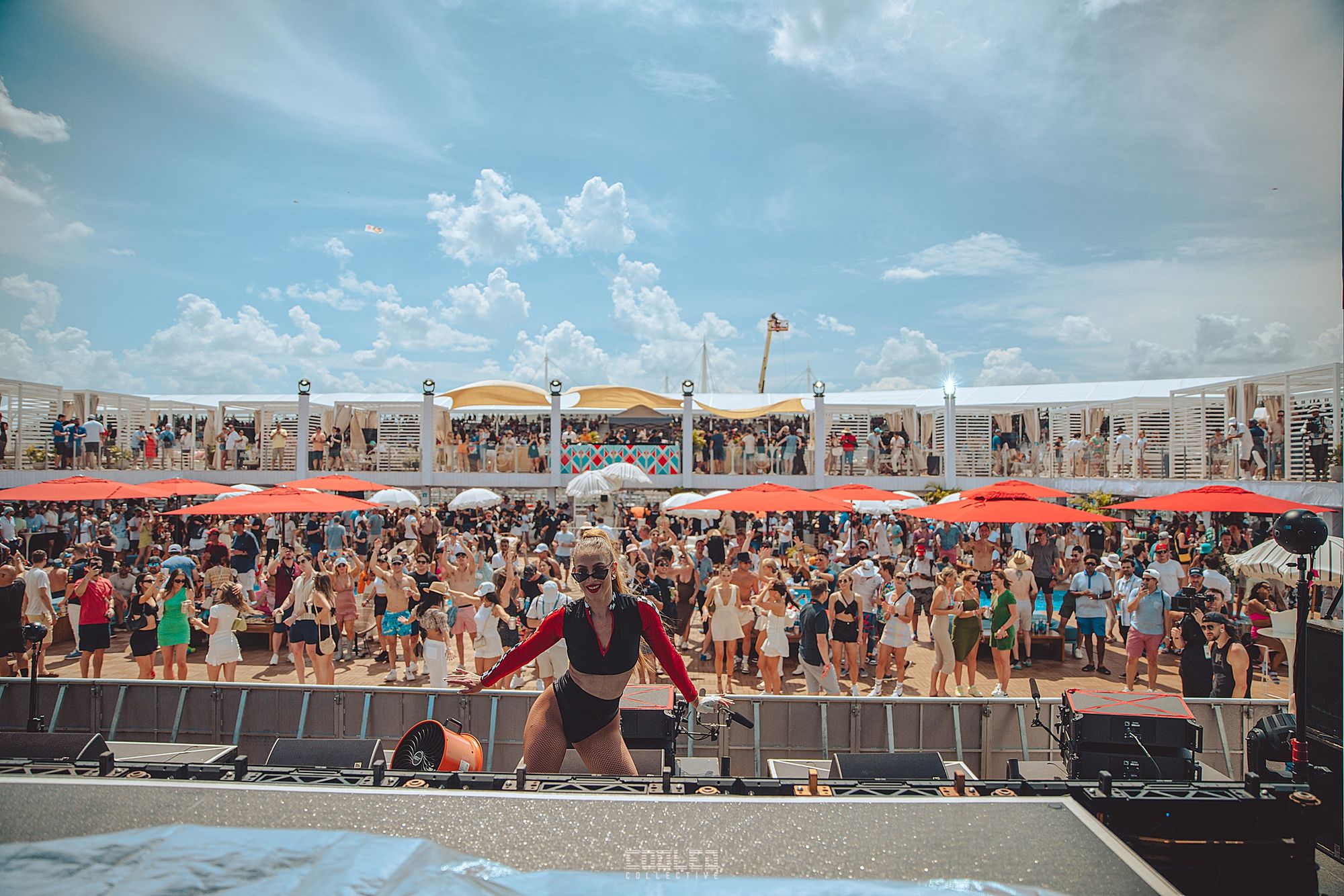 I was backstage with all of the audio crew and to see how much goes on in the background of a sound stage is pretty wild. As everyone got ready for Post Malone to get on stage, our crew made sure we had all of the angles covered.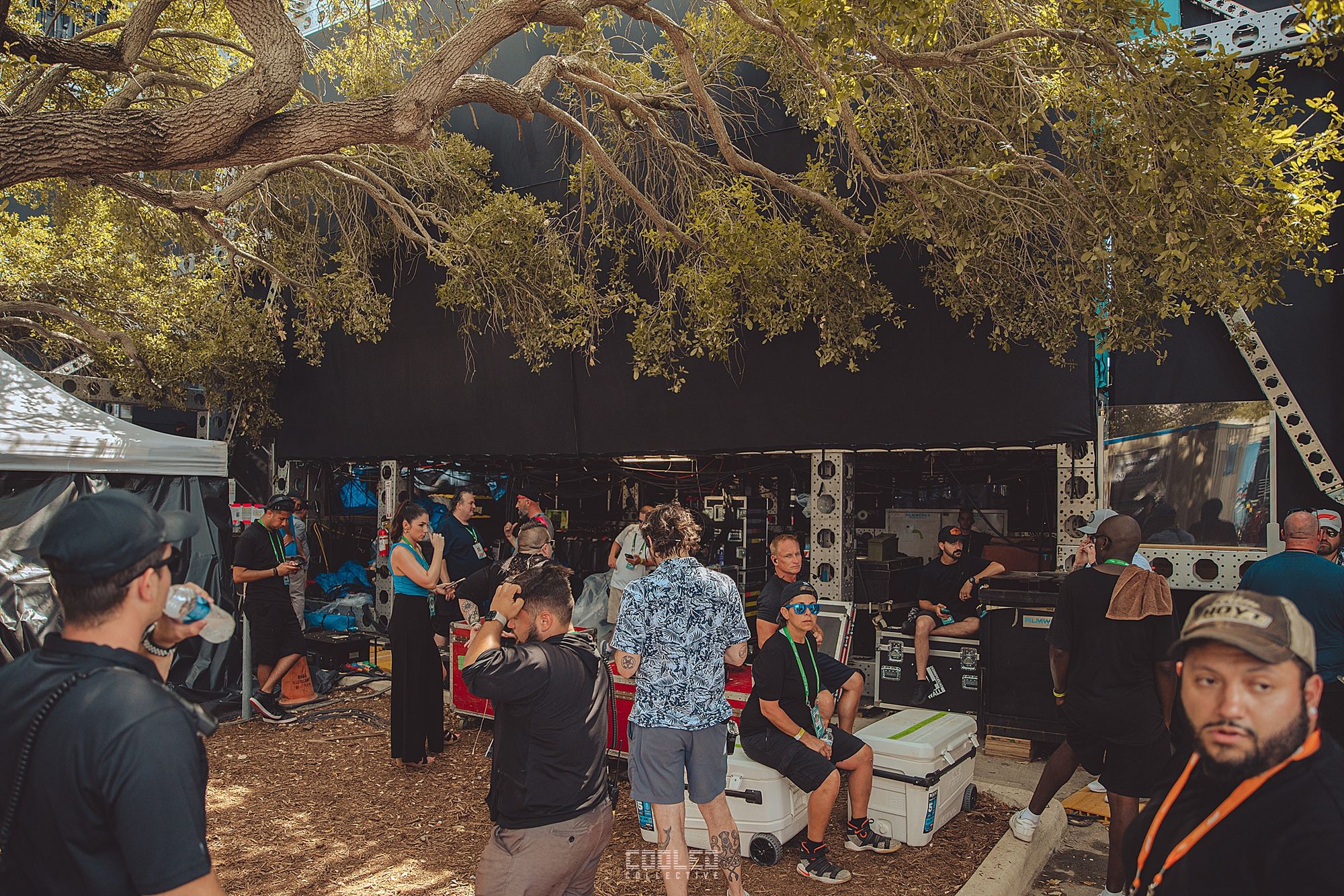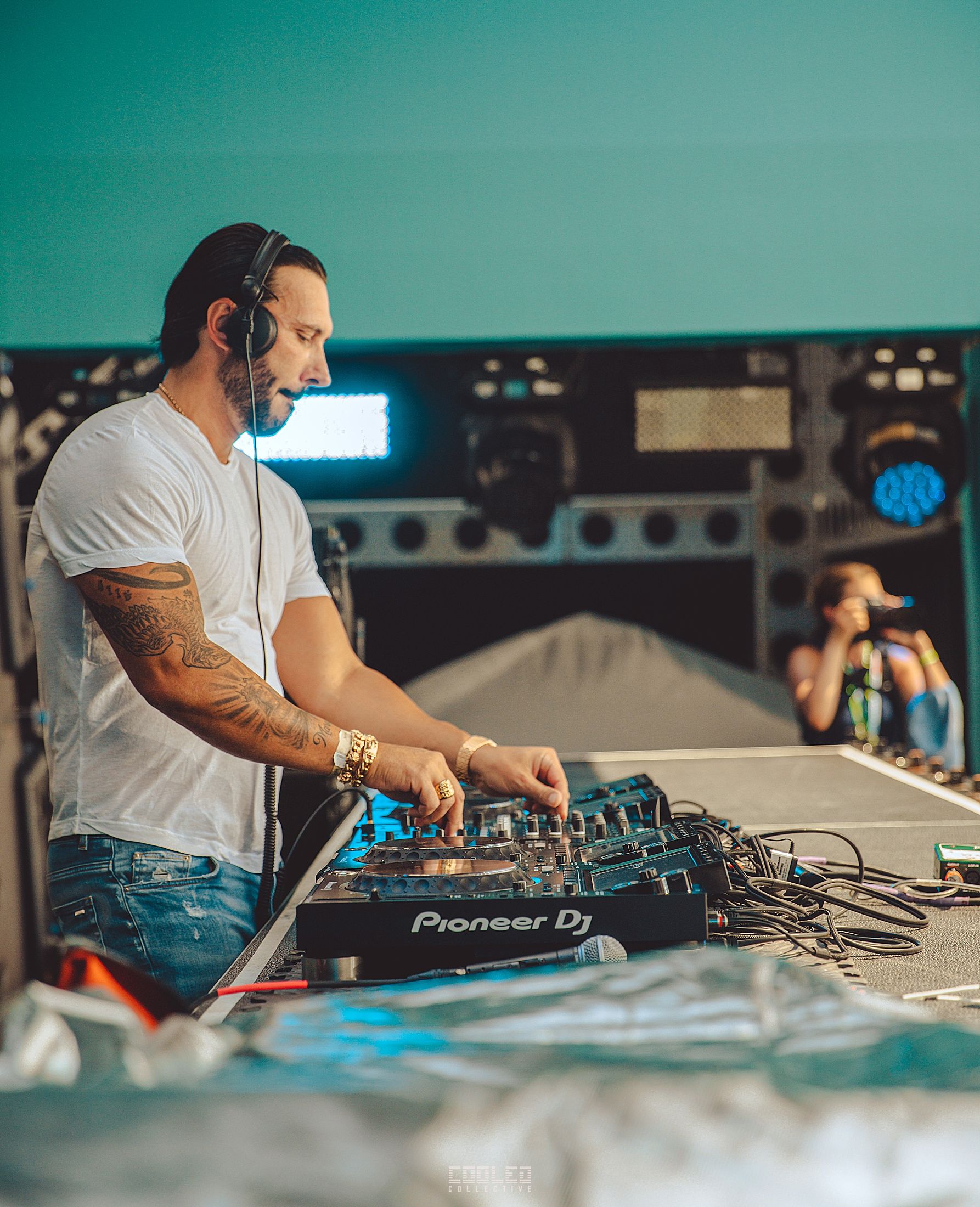 As soon as Post Malone hit the stage, it was electrifying... the bass hit hard as I was standing right in front of the front stage speakers. If not for my ear plugs, I am sure I would have lost my hearing for the entire day.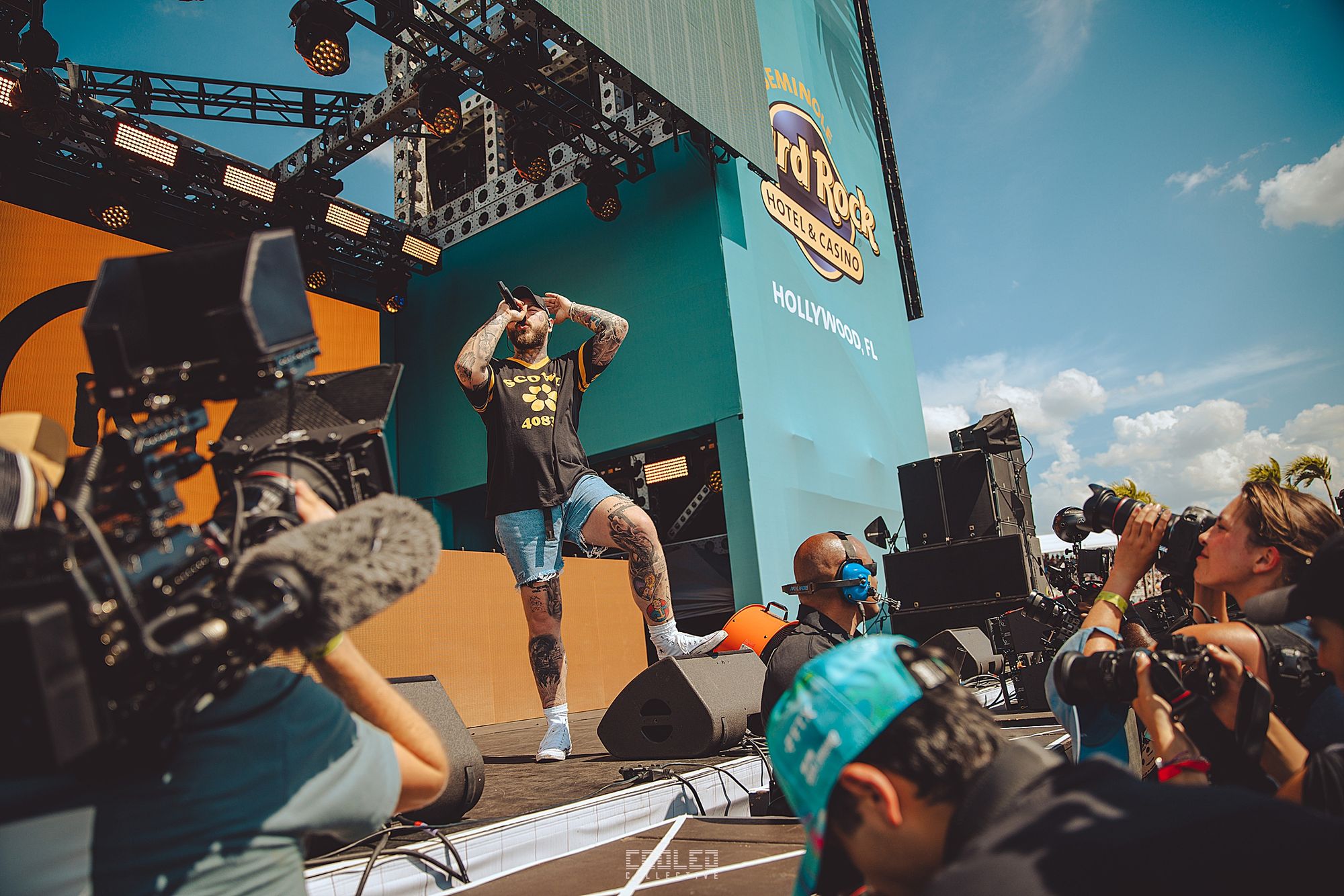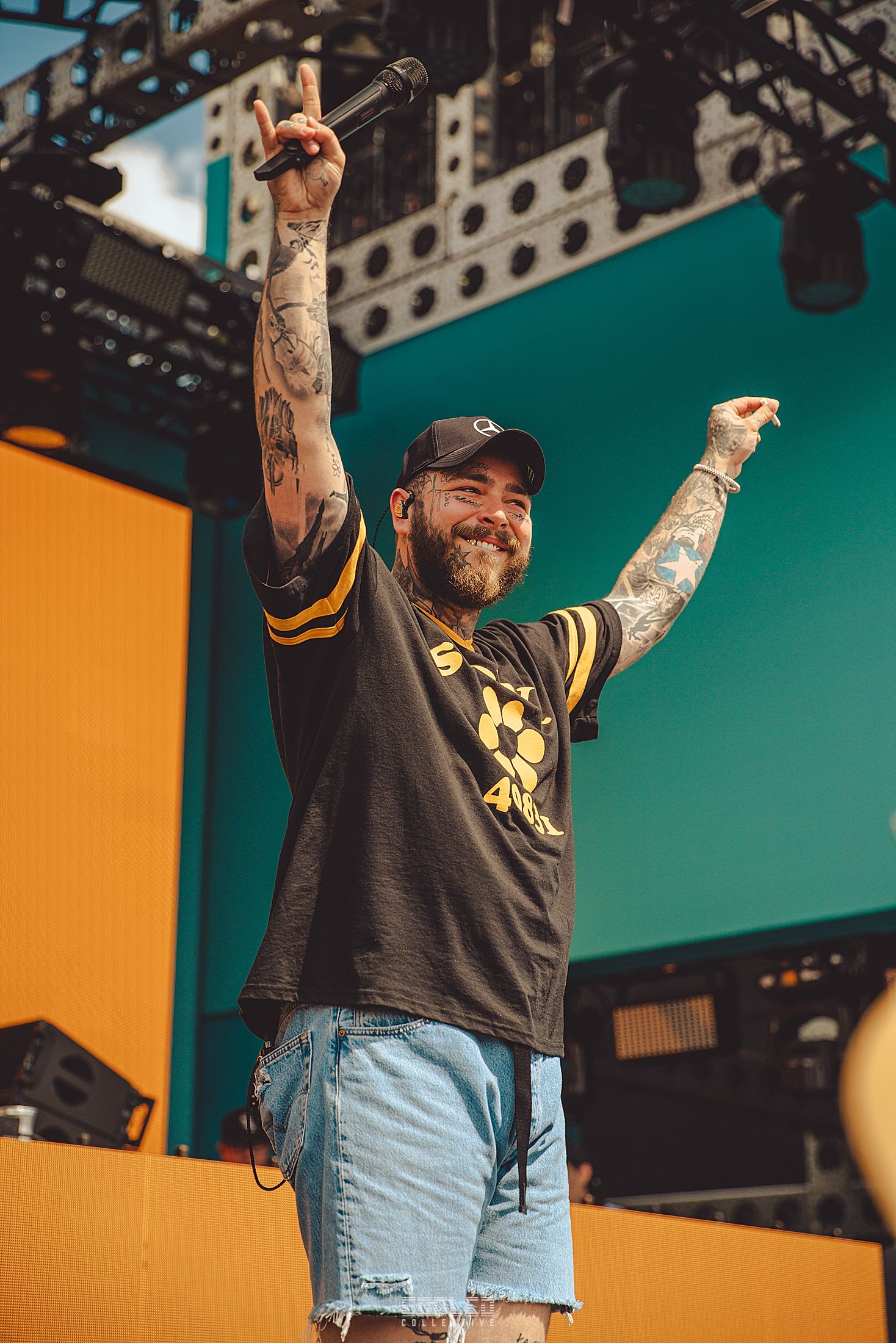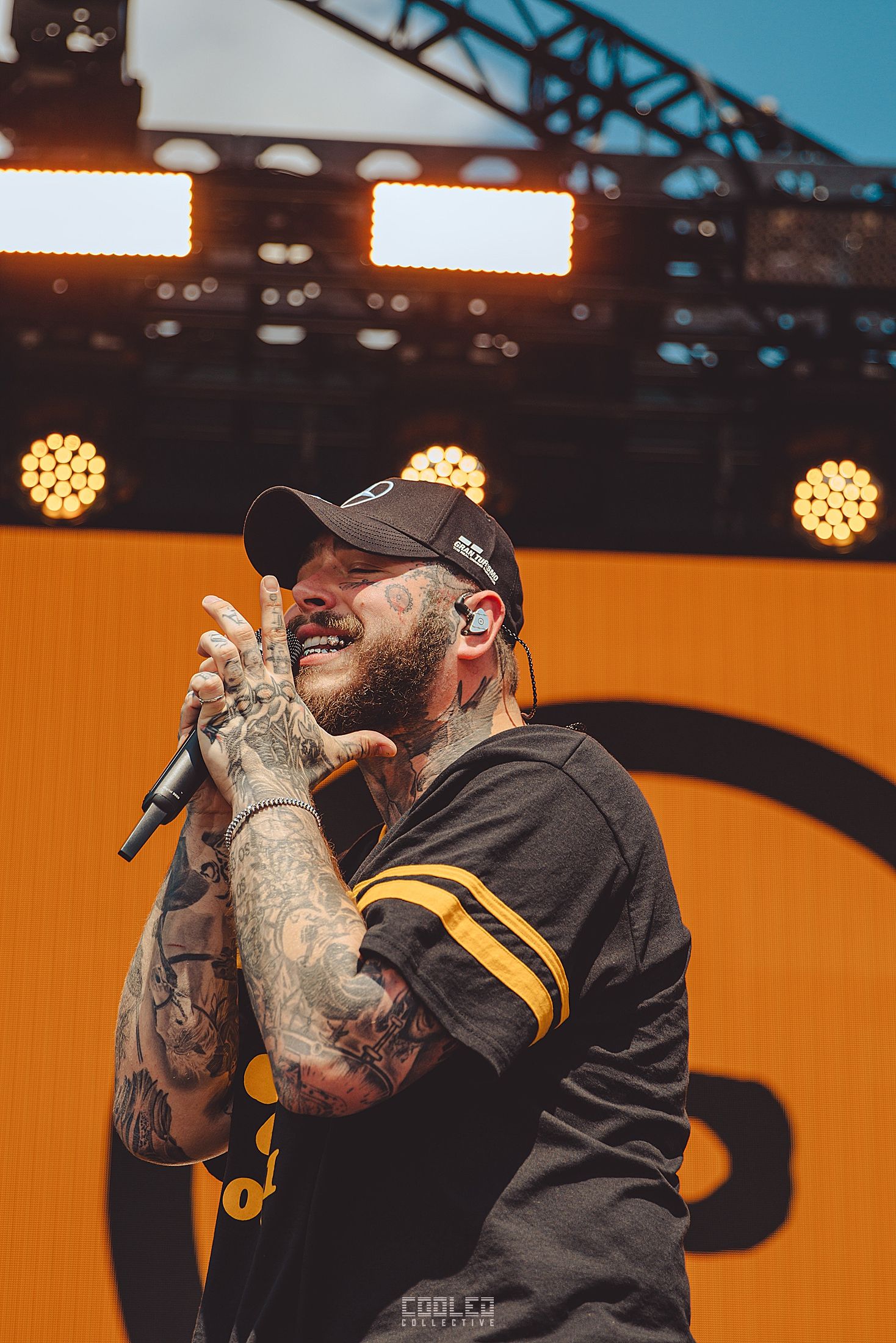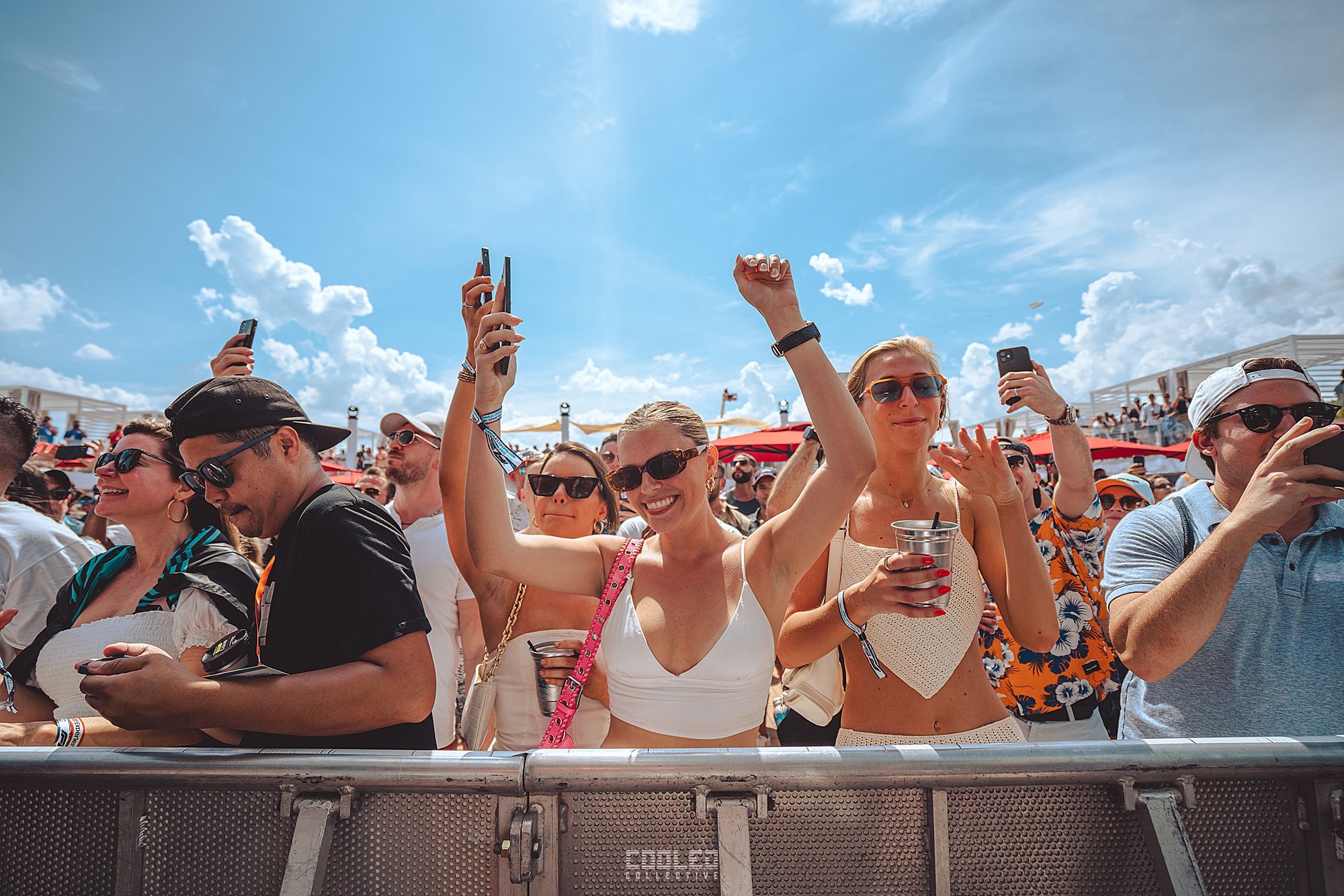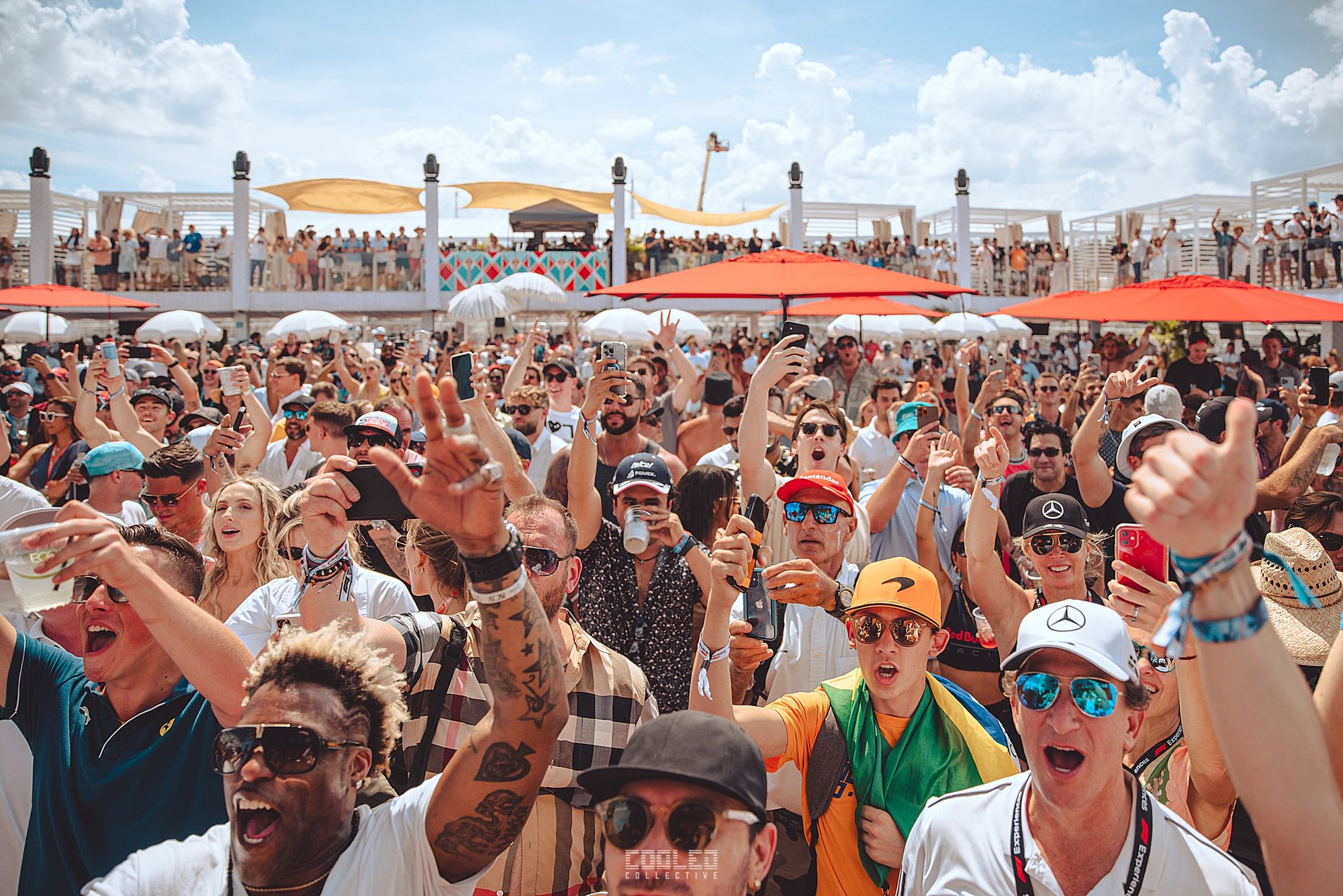 Just as Post finished up his performance, F1 qualifying begun and the crowd was hungry for it. So much energy with everyone cheering for their favorite drivers and teams.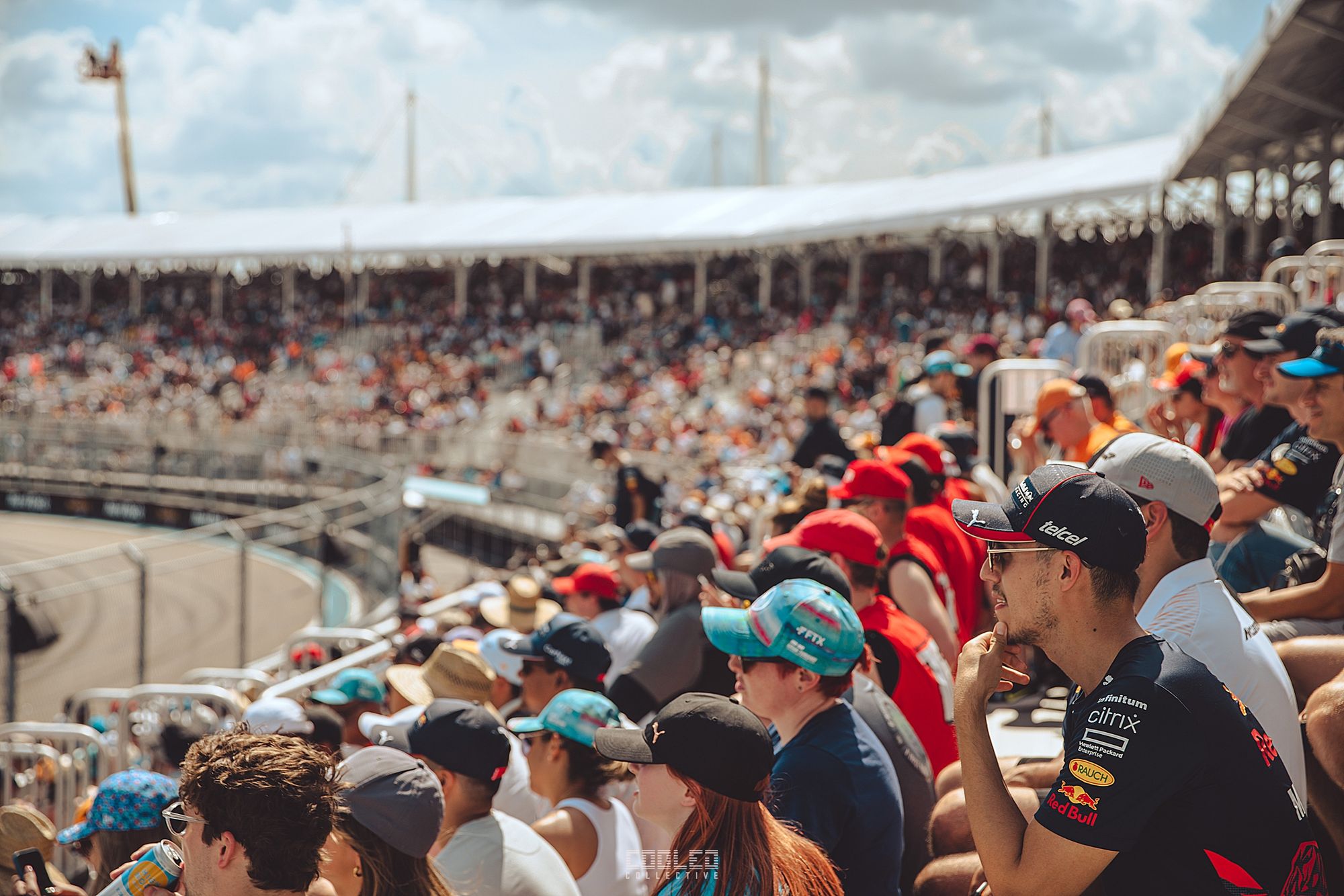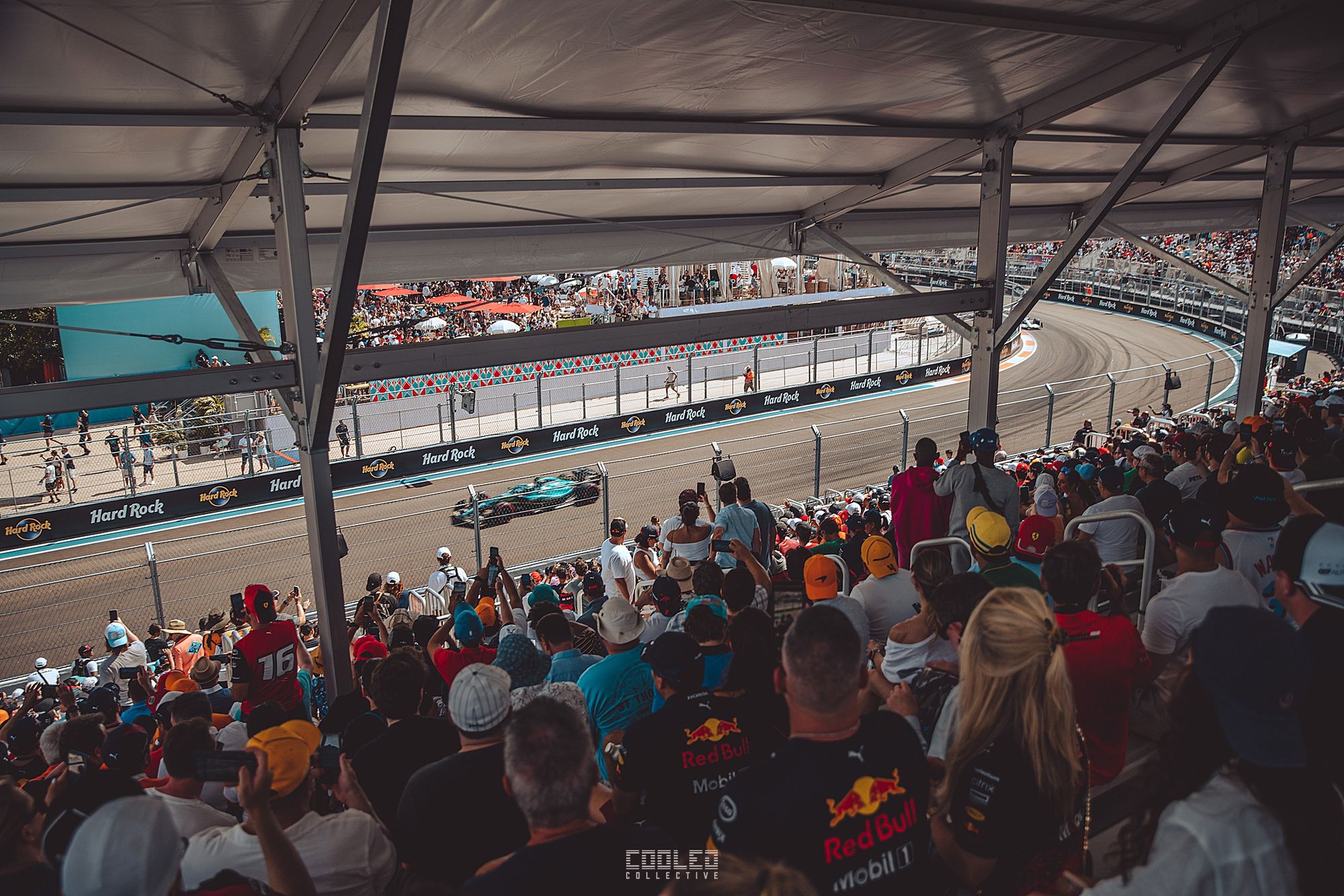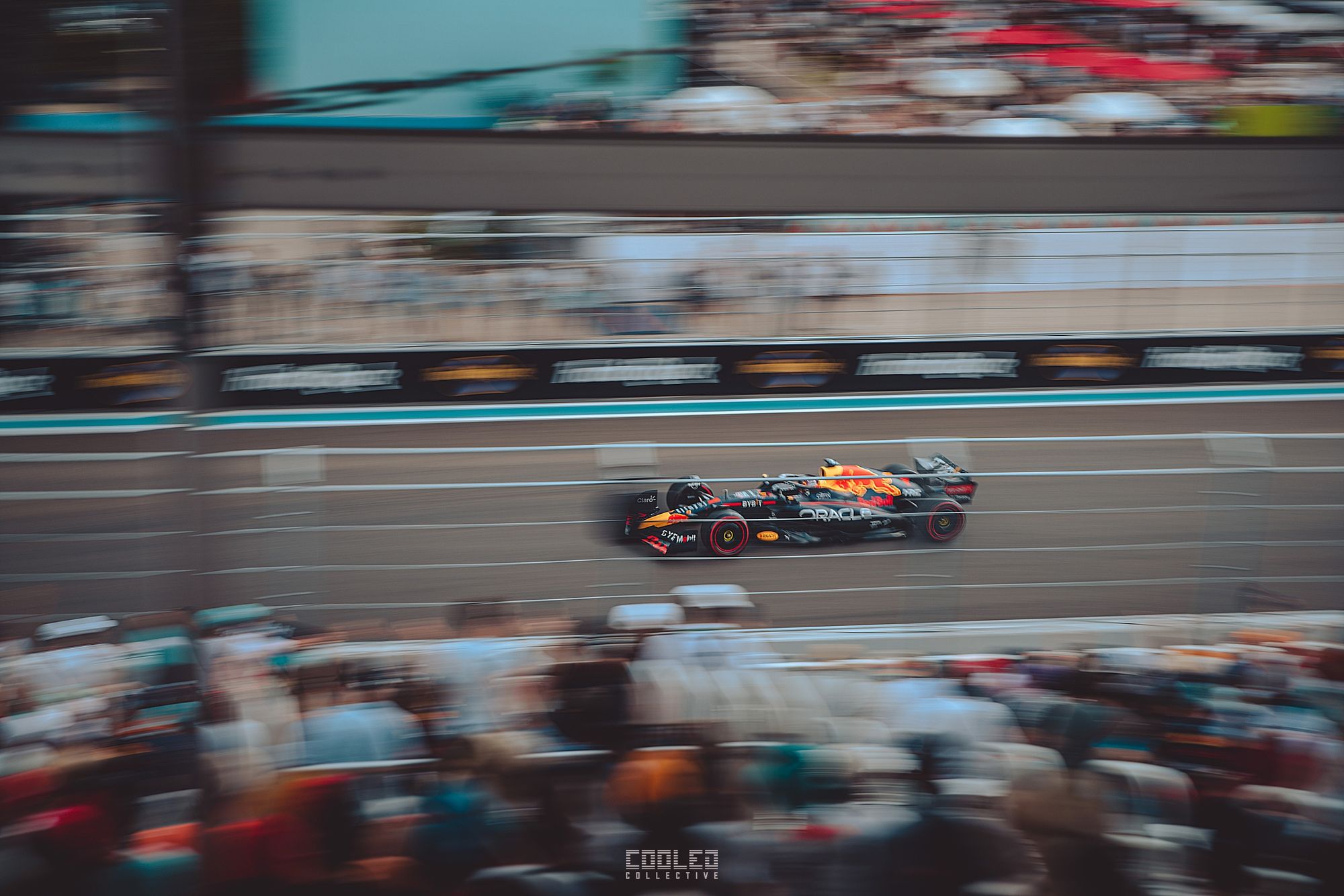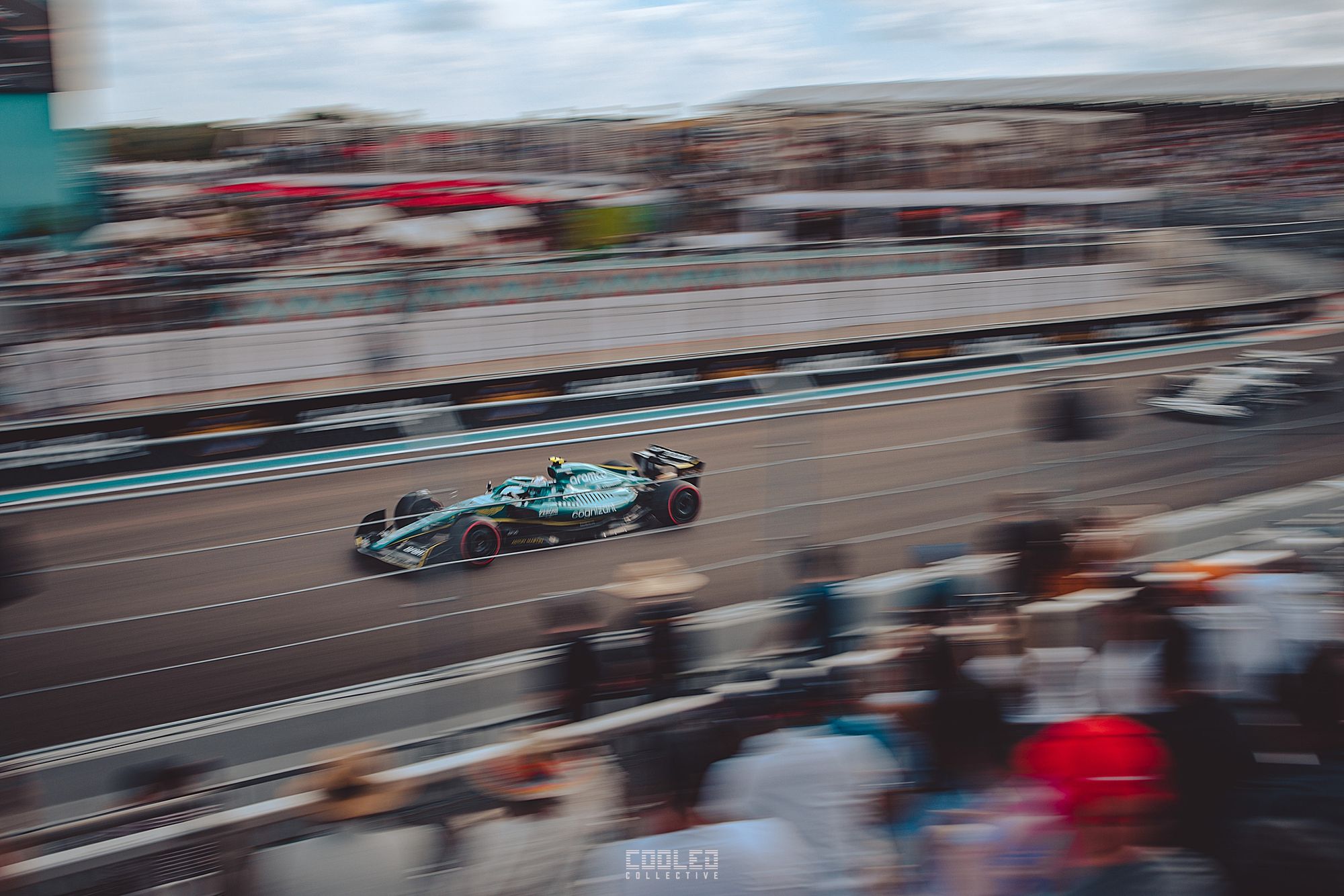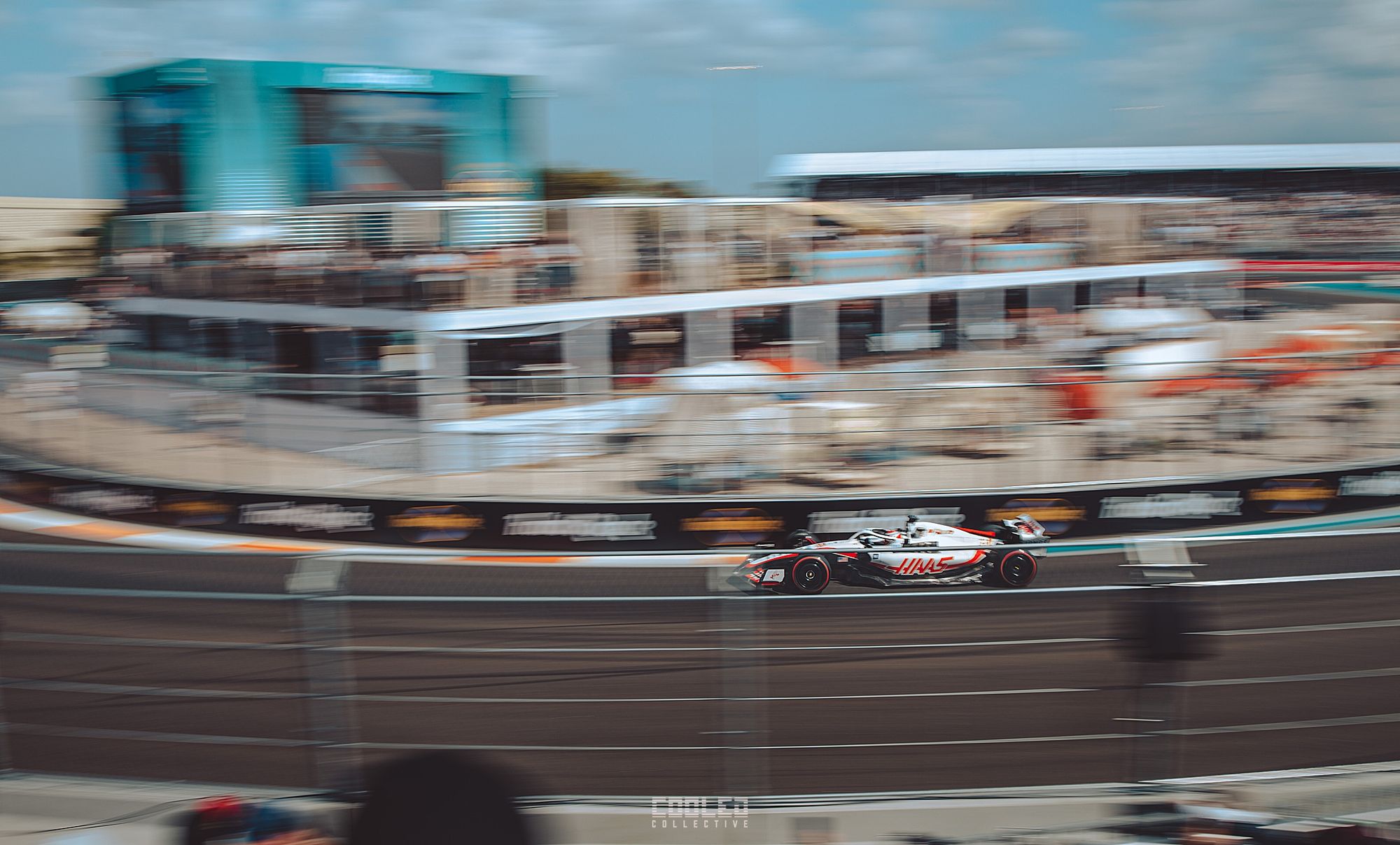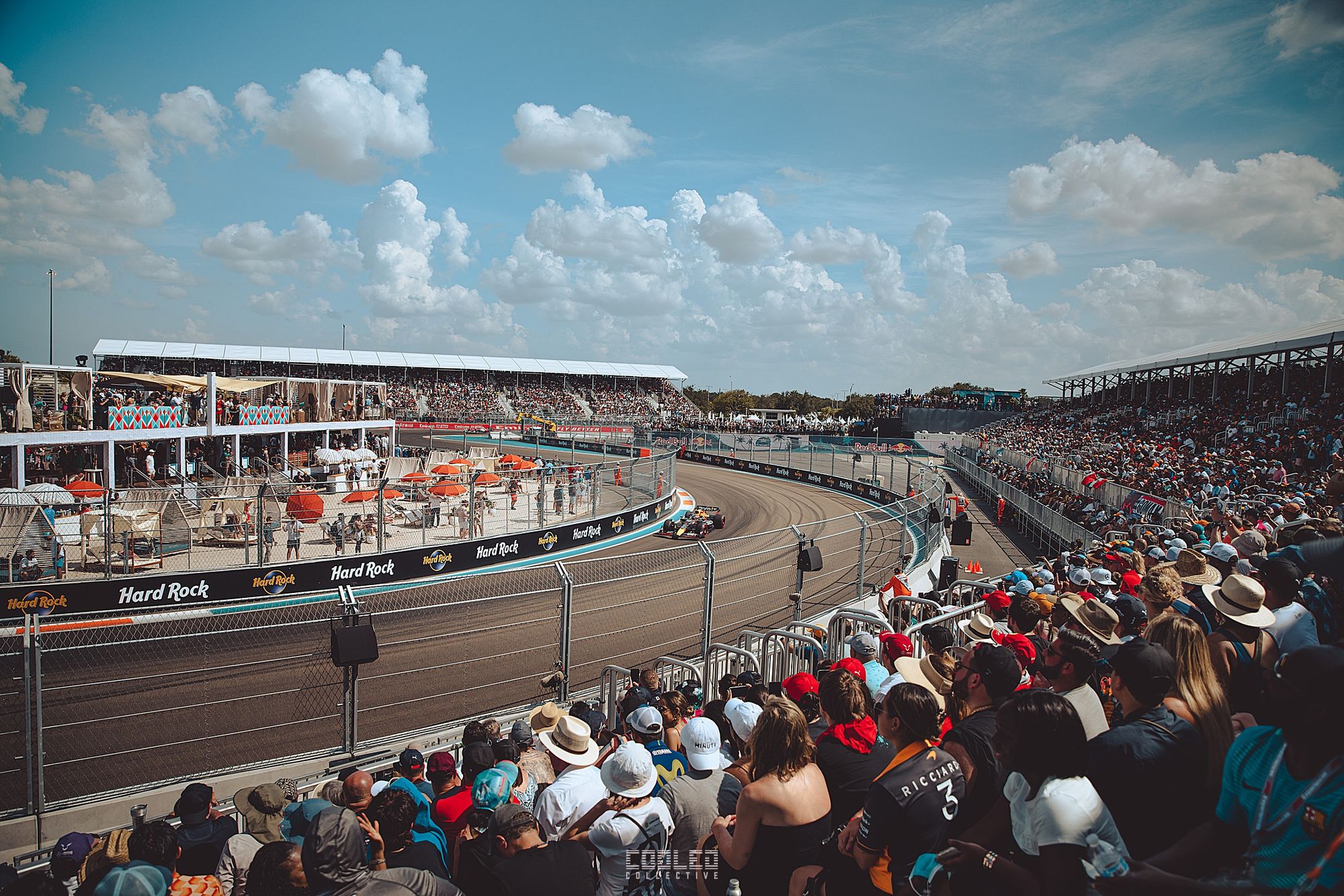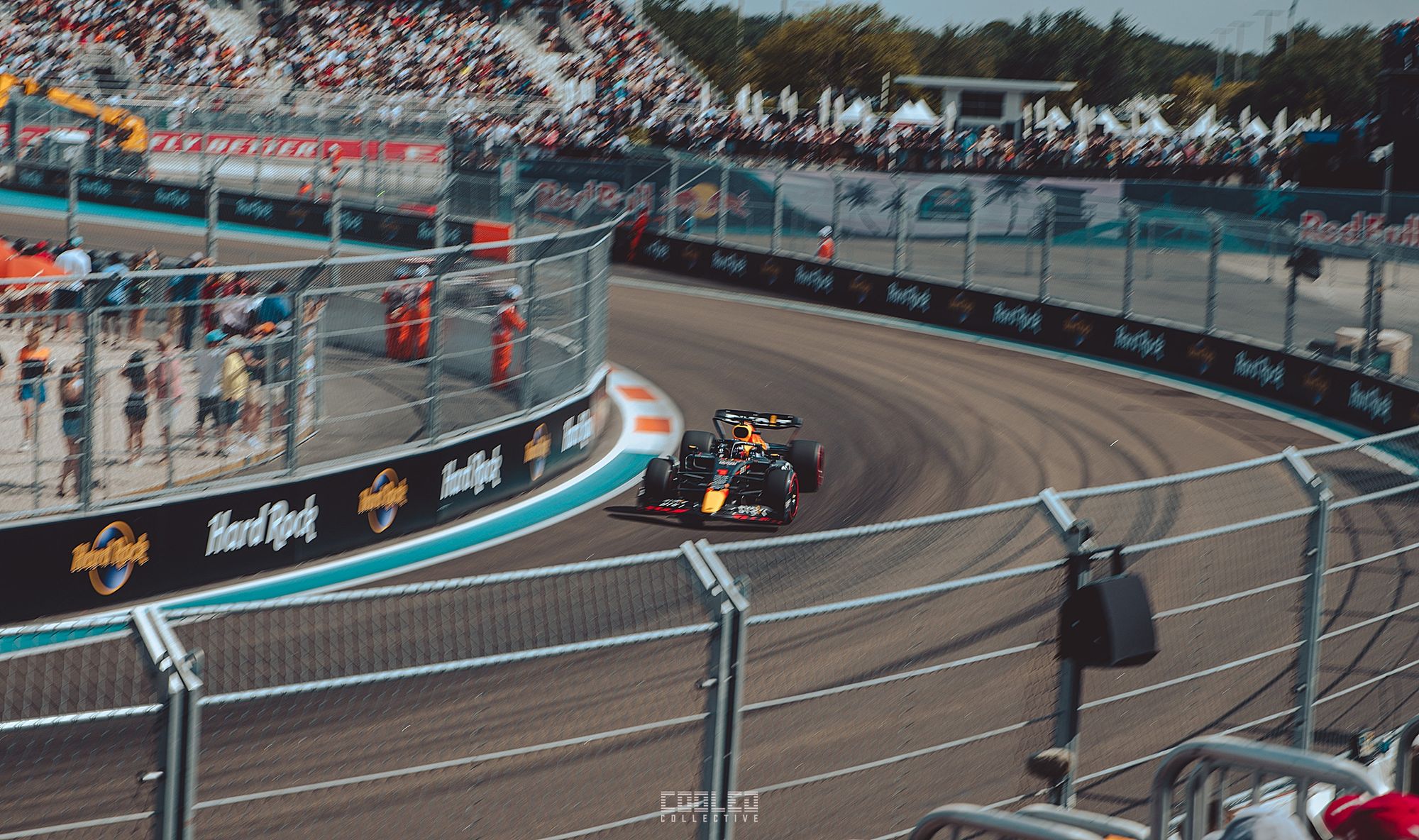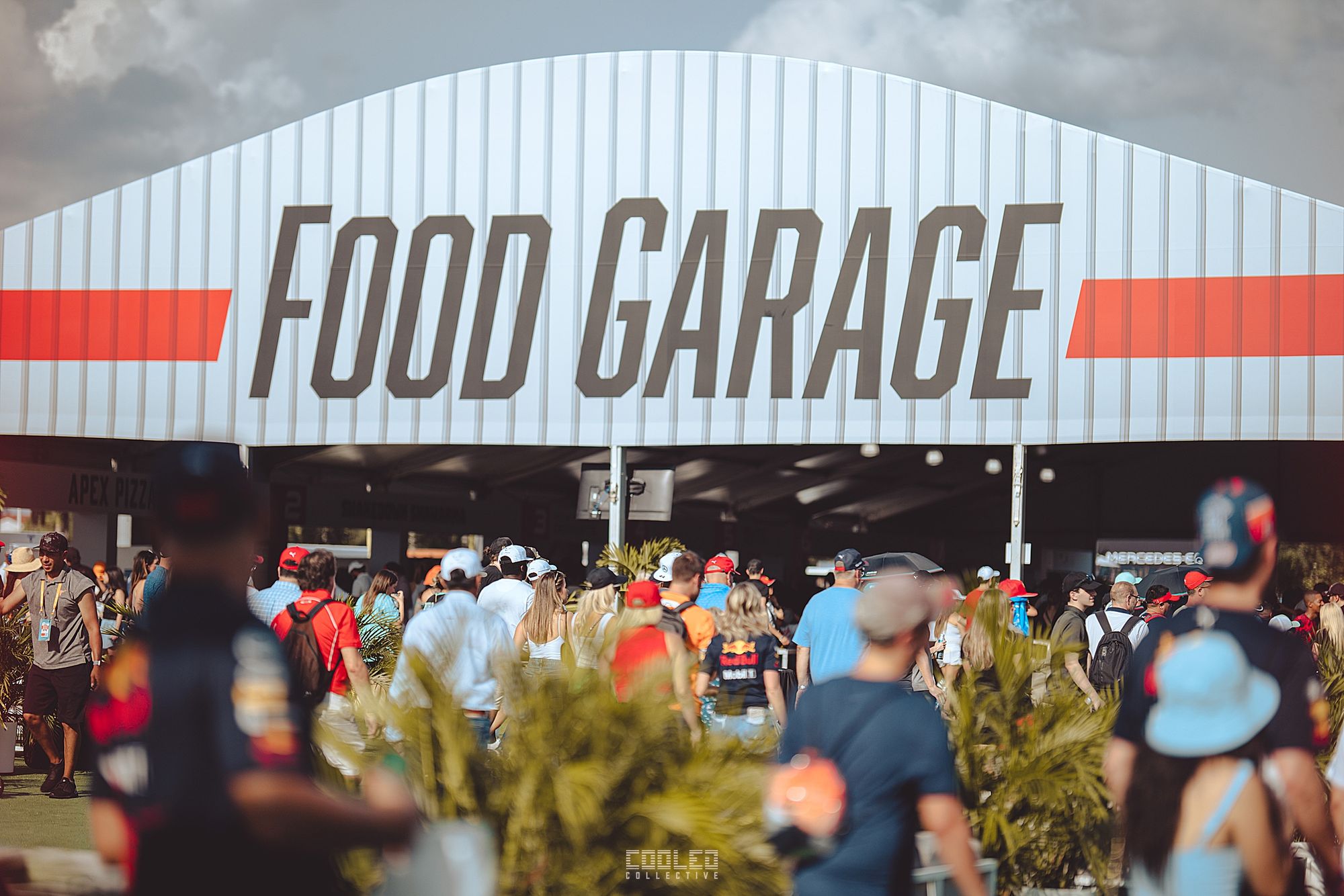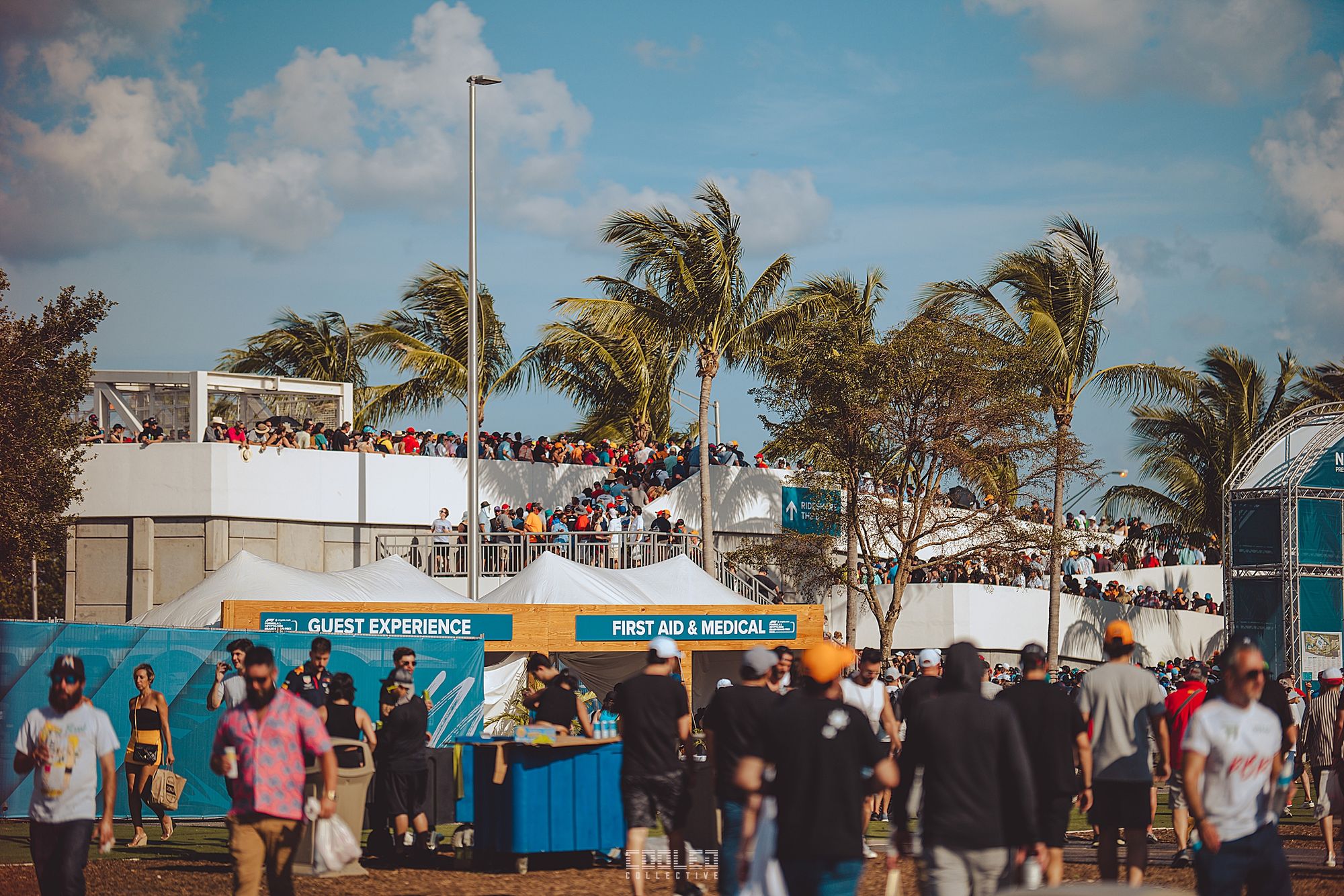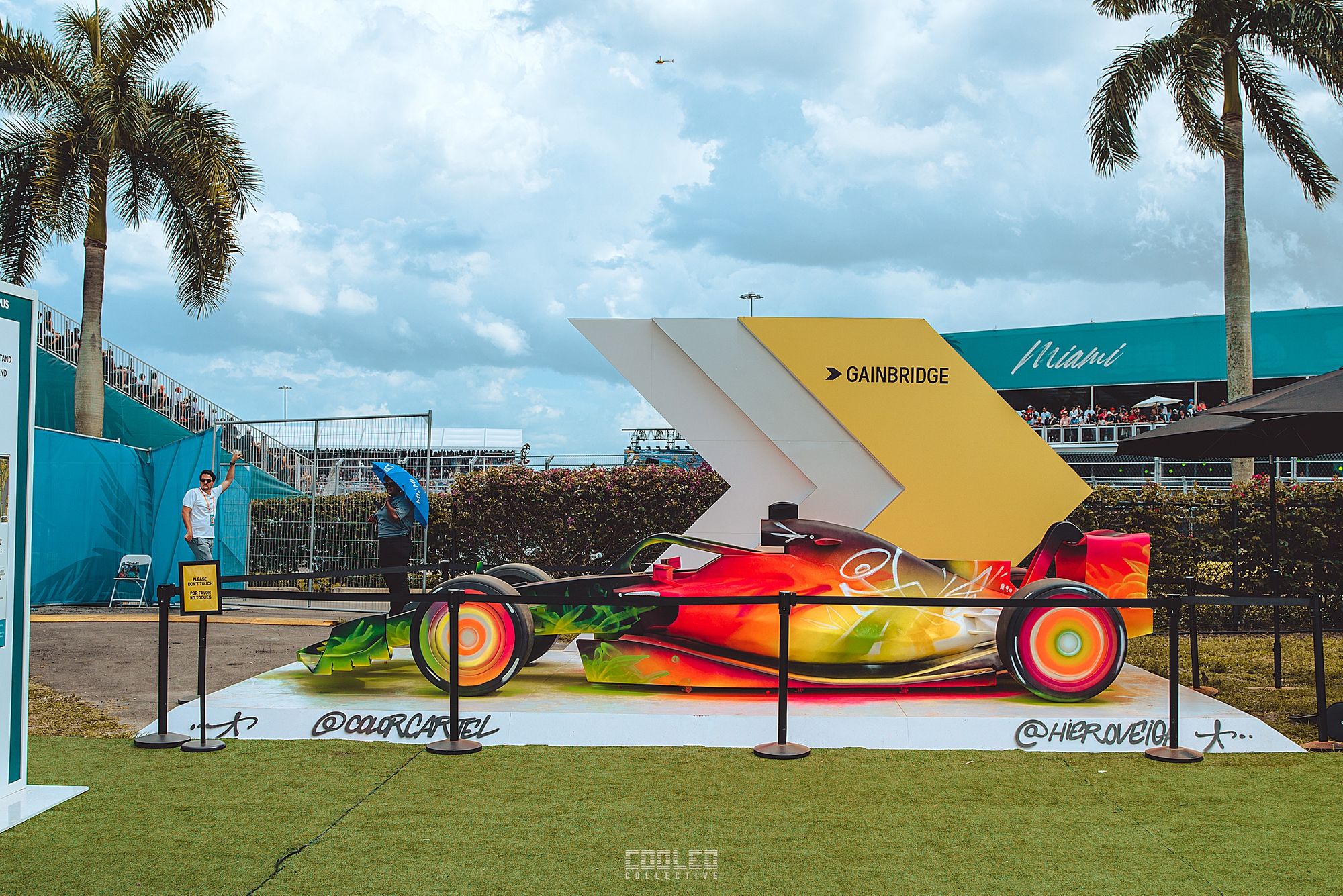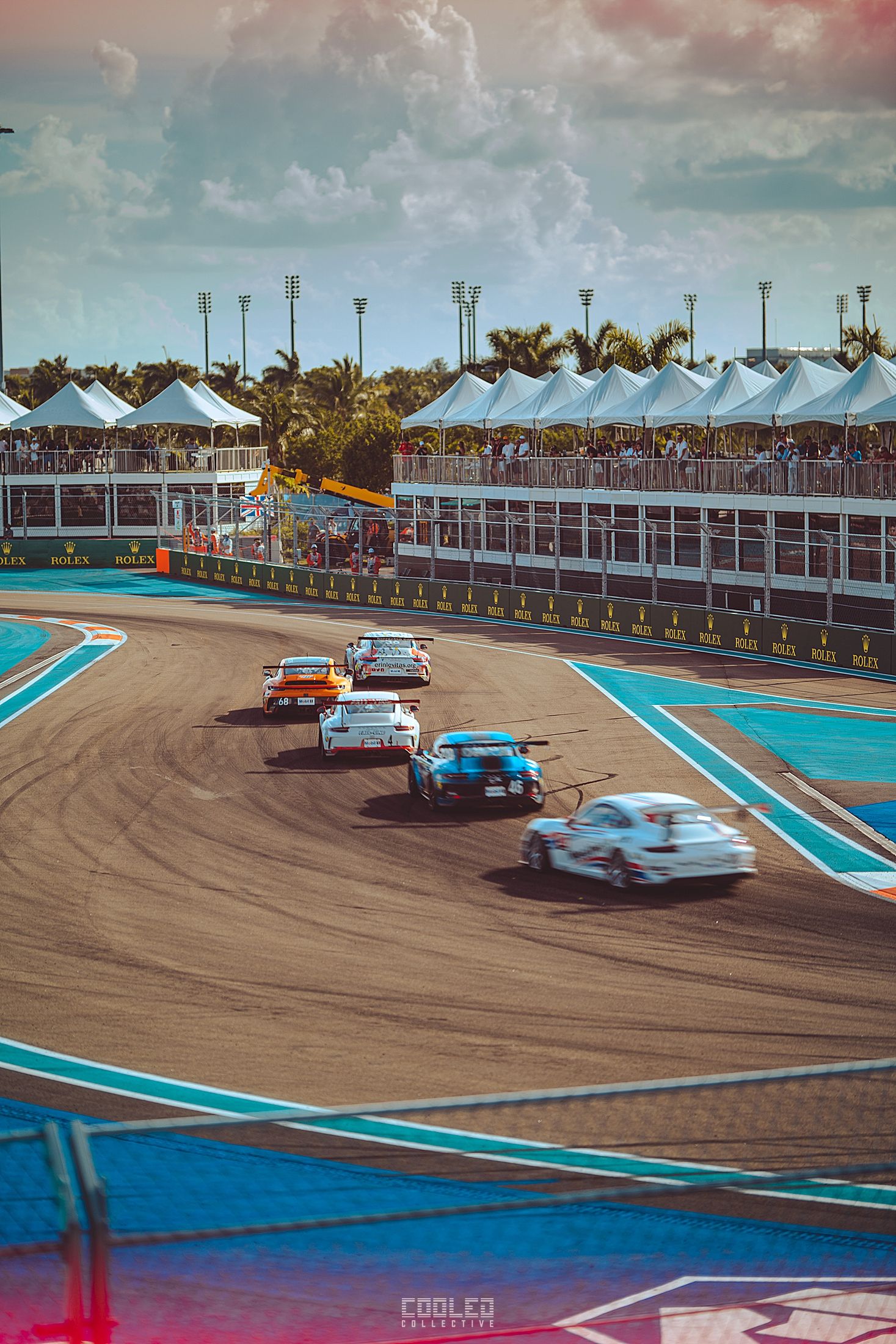 After qualifying, the Porsche Cup races were on. Witnessed a spin out and luckily no one got hurt. We ended up calling it shortly after qualifying and to get ready for the big race day on the day after.
---
Sunday: Race Day!
There was potential that it would rain on race day and like Miami fashion, it would rain on and off for 15 mins at a time. Did that for a few rounds and then it went right back to the muggy weather Miami is well known for.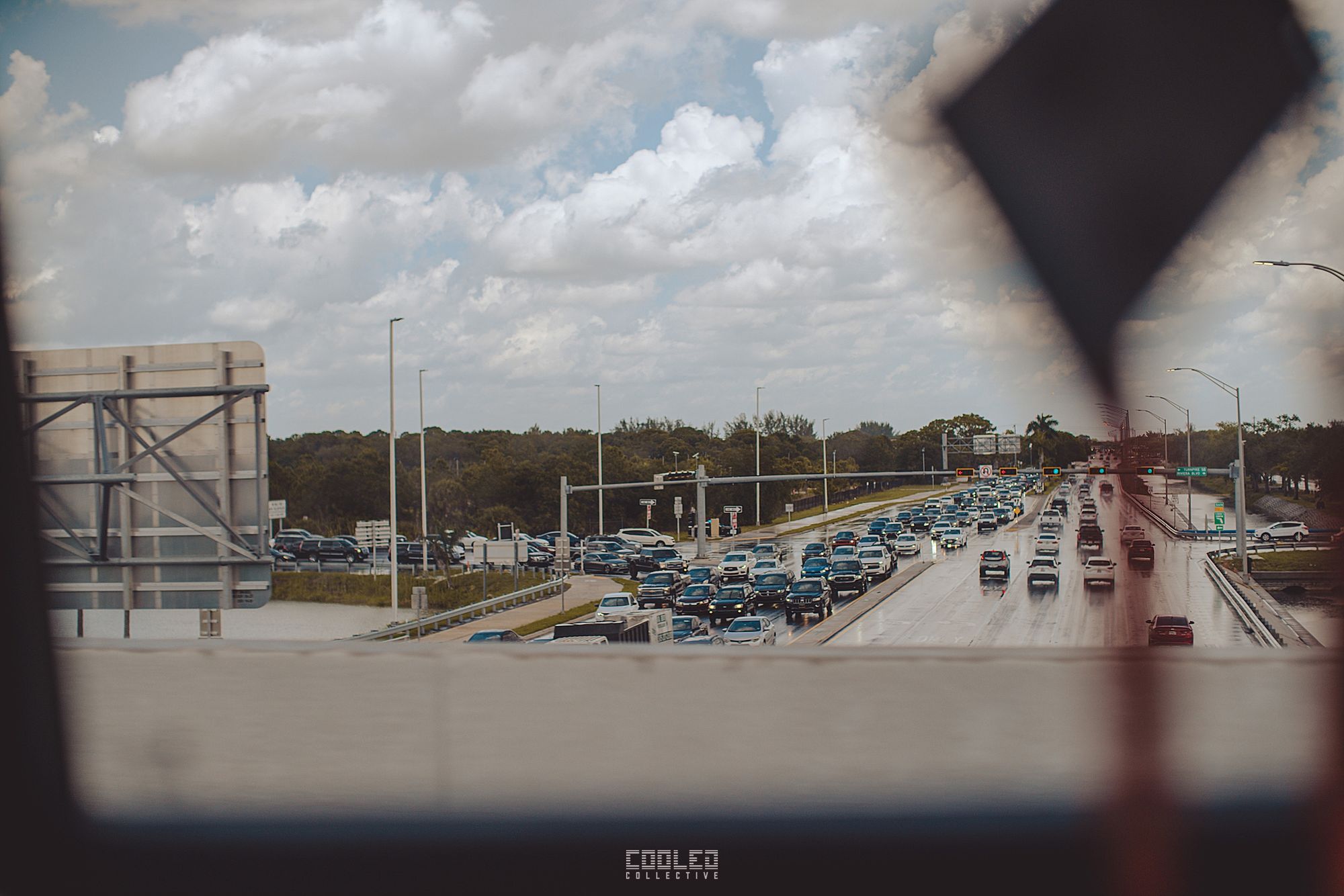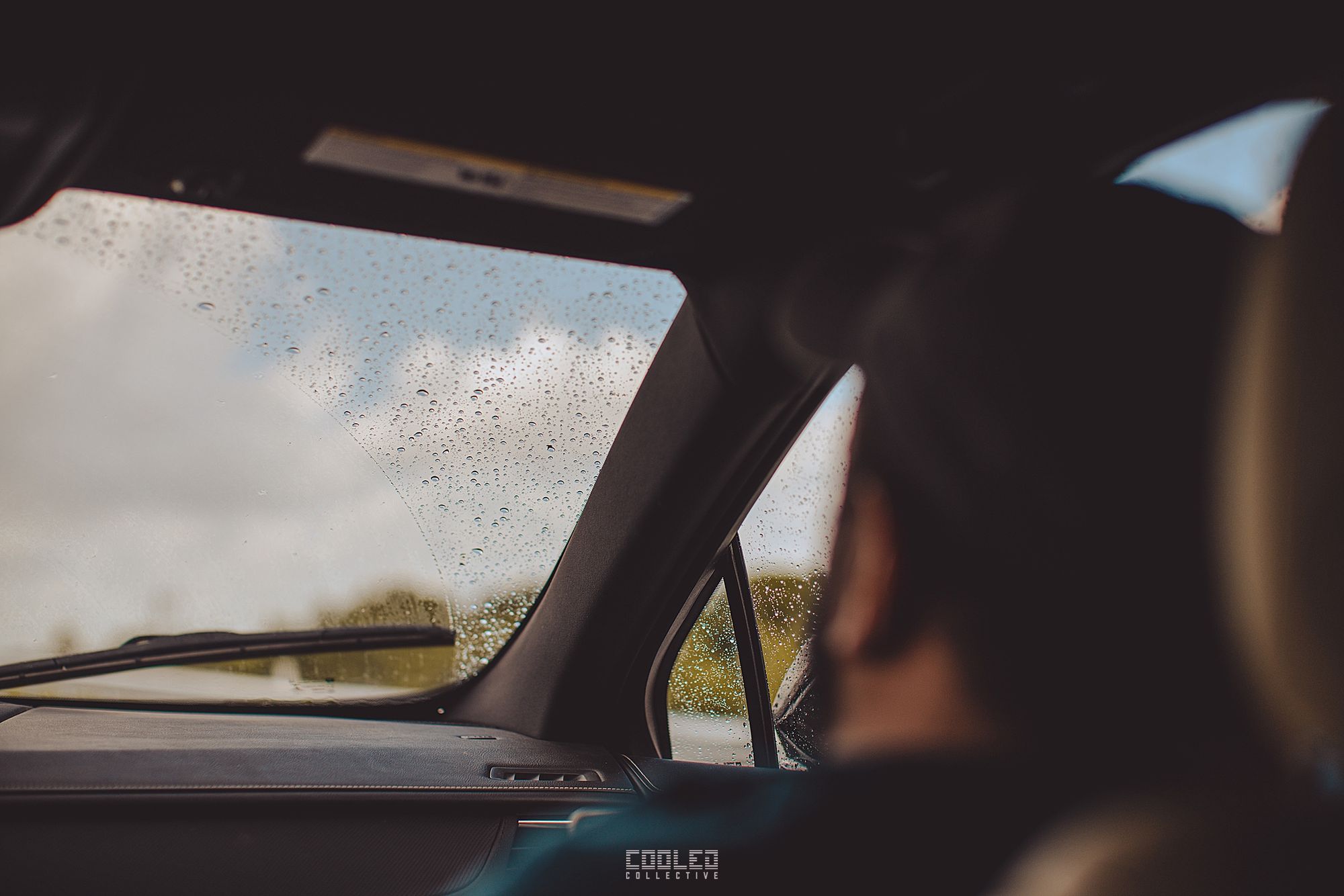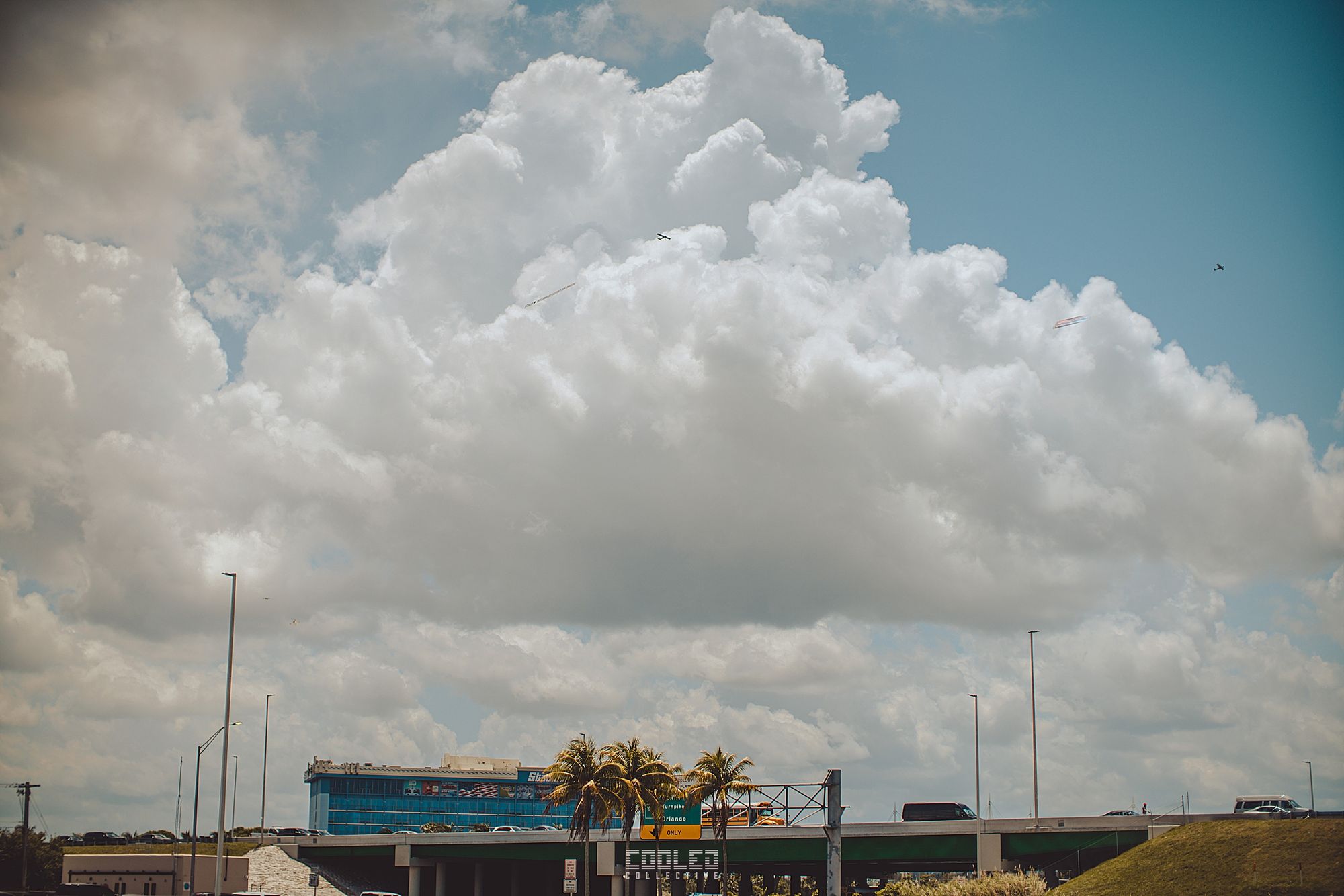 The grand stands started filling up very early and people were extremely pumped for race day. I started my day from the Start/Finish line and you can see much of the energy from that location. Once again, my semi limited reach and having no access to the pit and paddock had me running around to find the best spots from spectator POVs.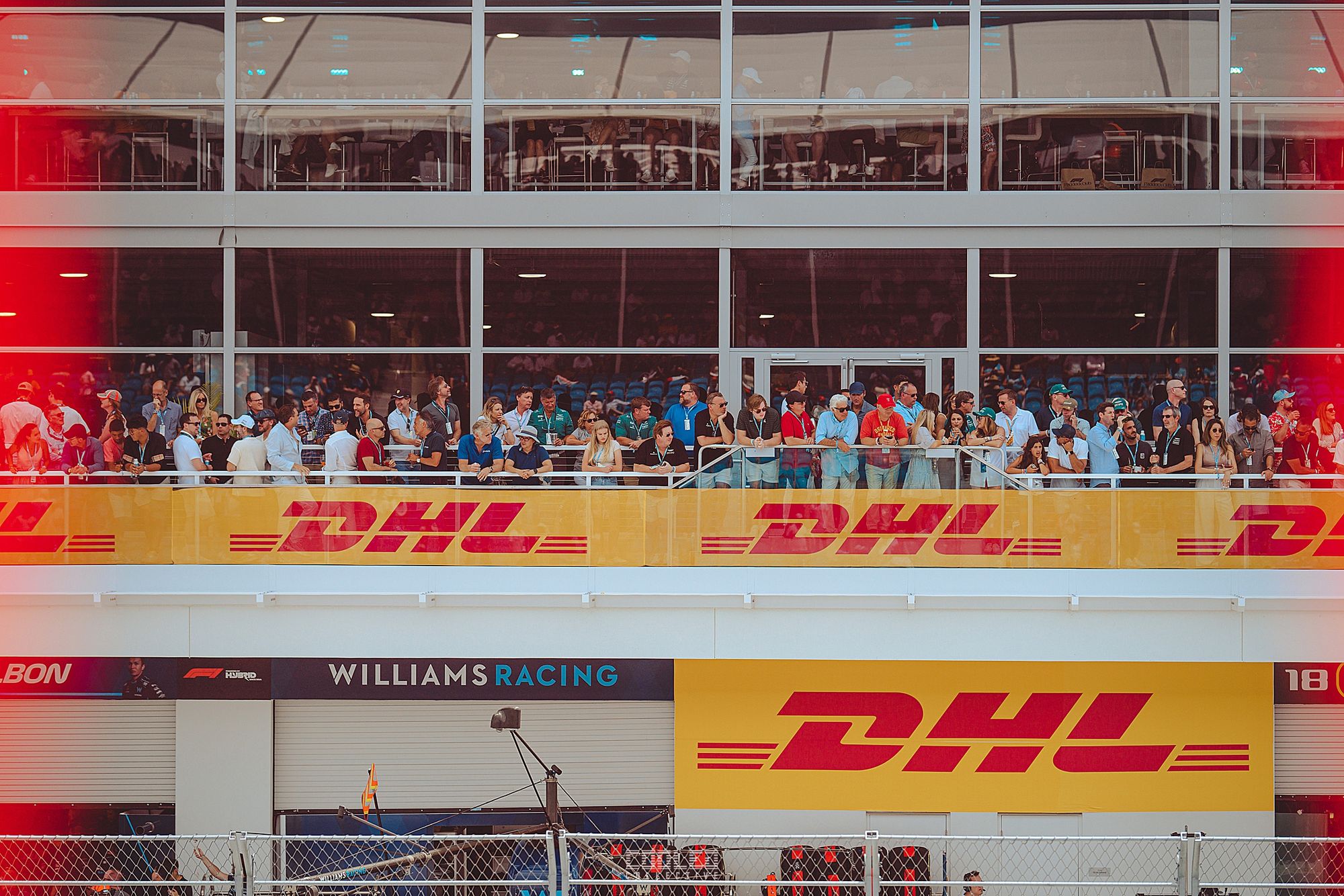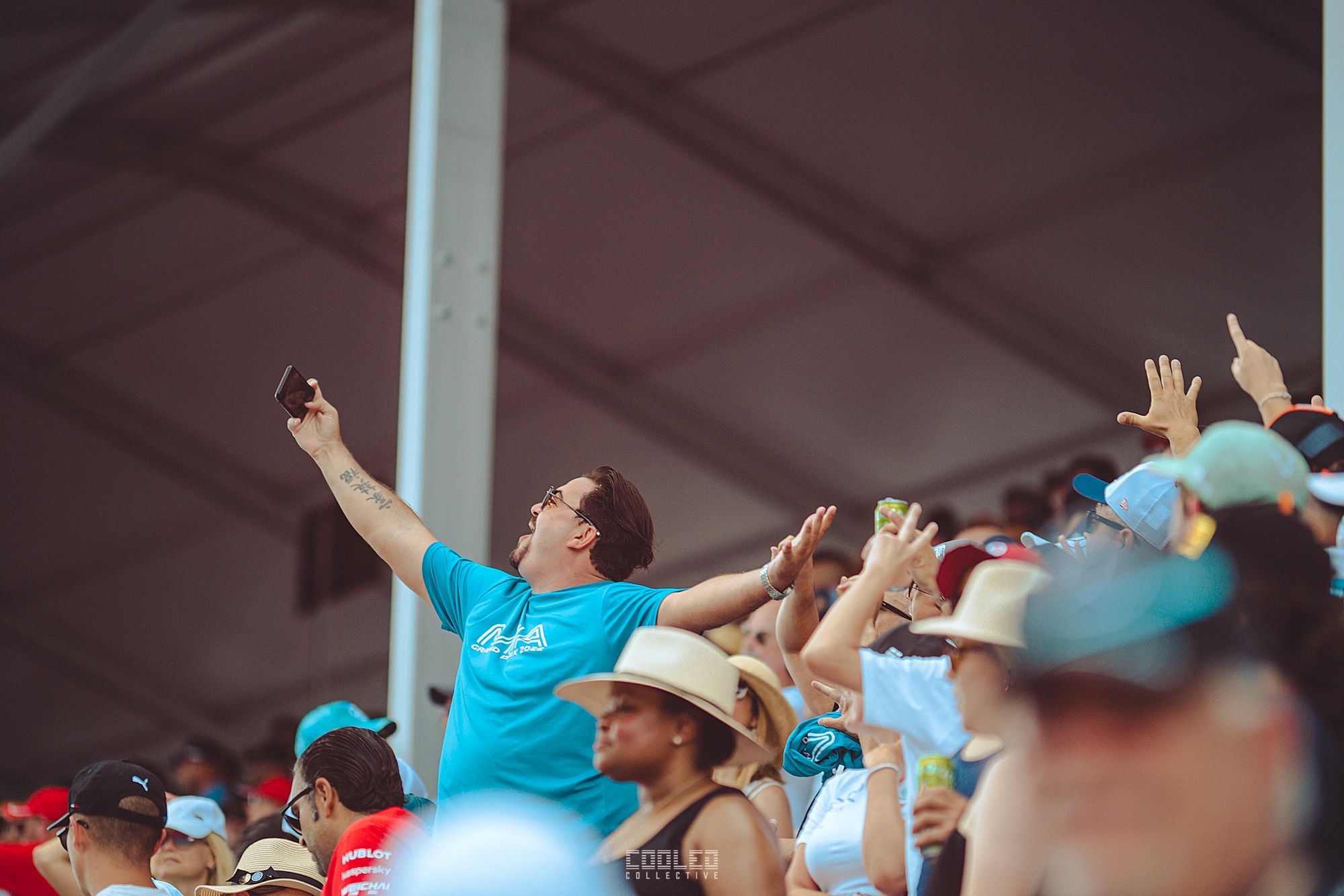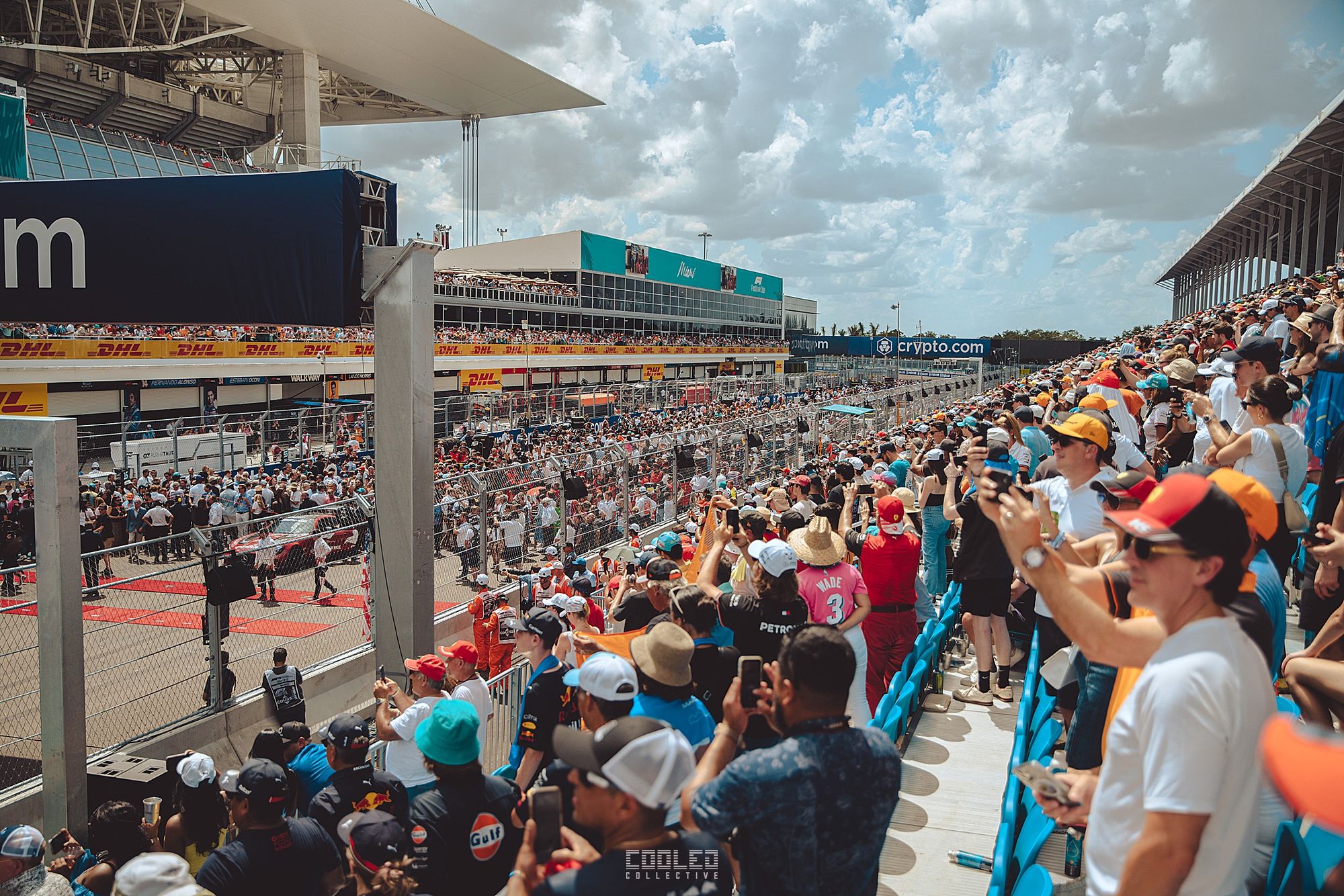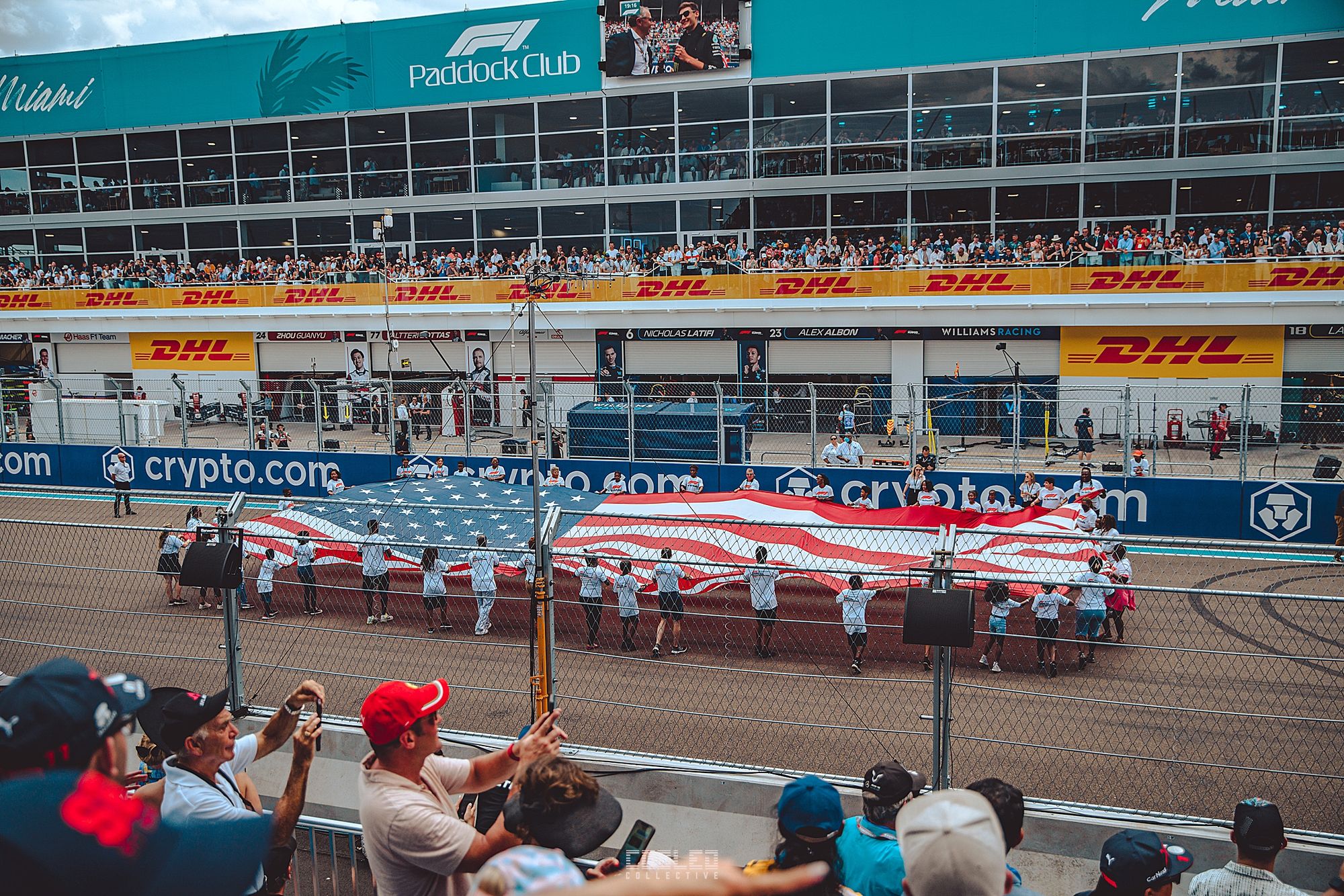 After the national anthem, the drivers got in their racecars and things really got wild. The crowd went wild as they started their engines and soon it was Lights Off!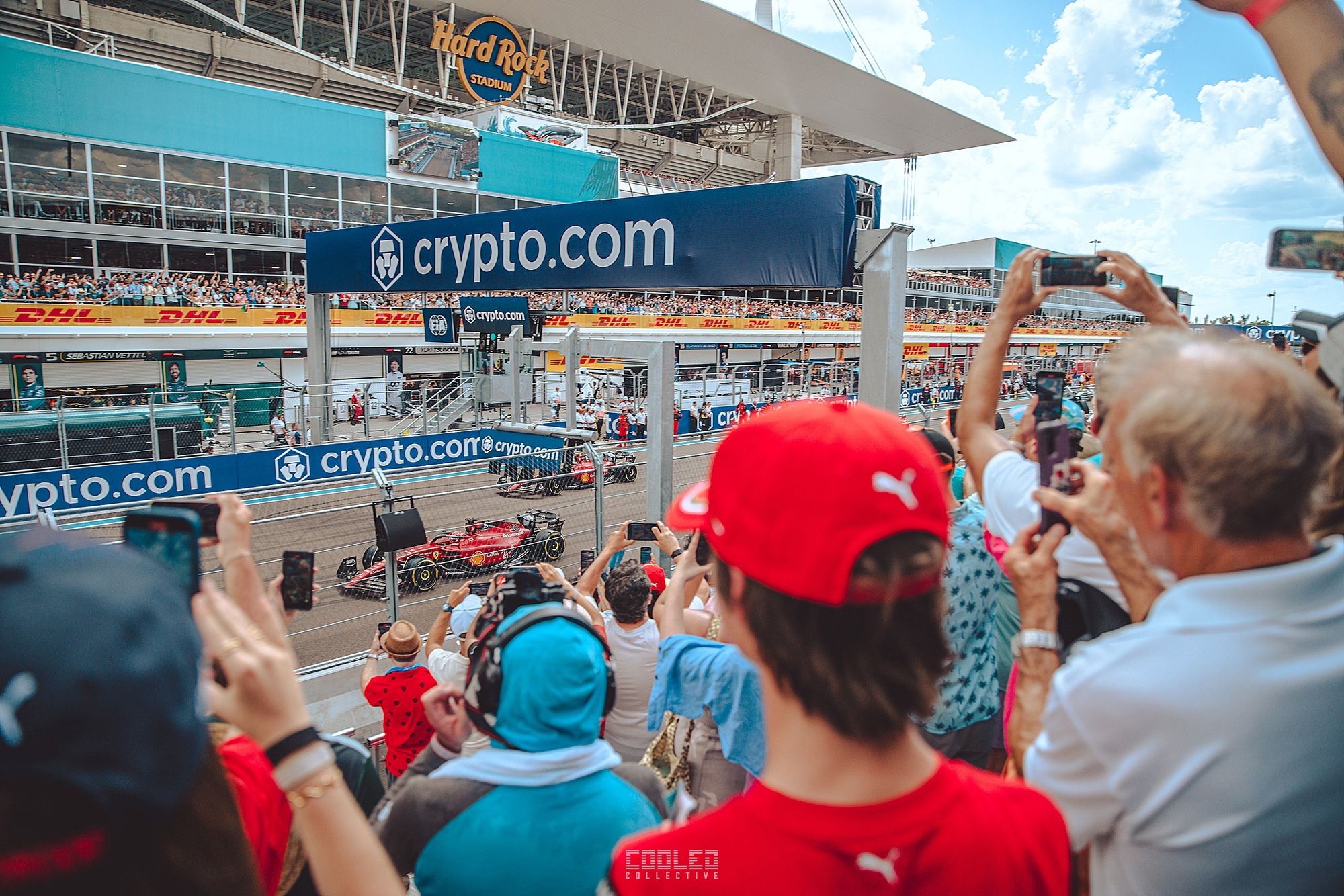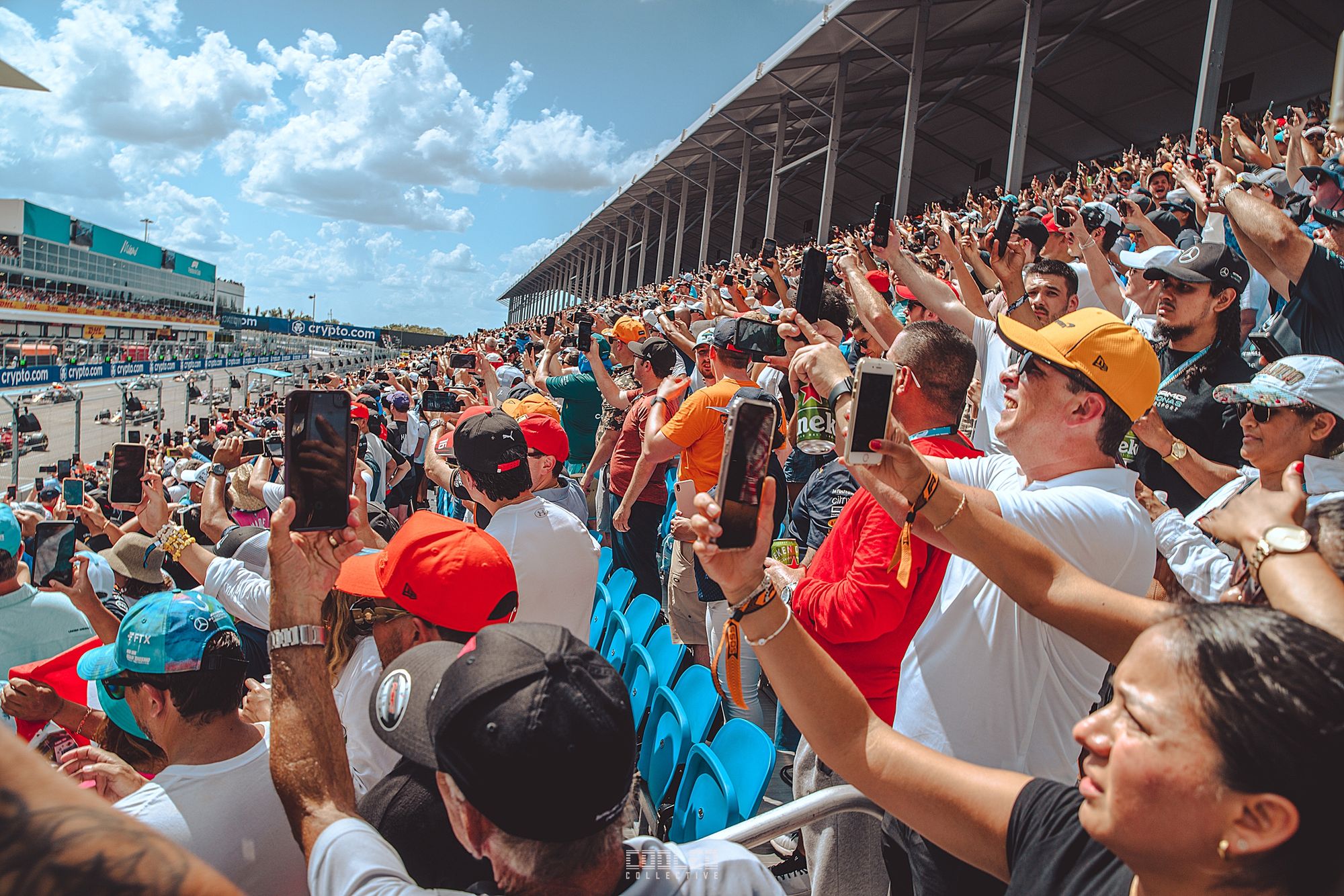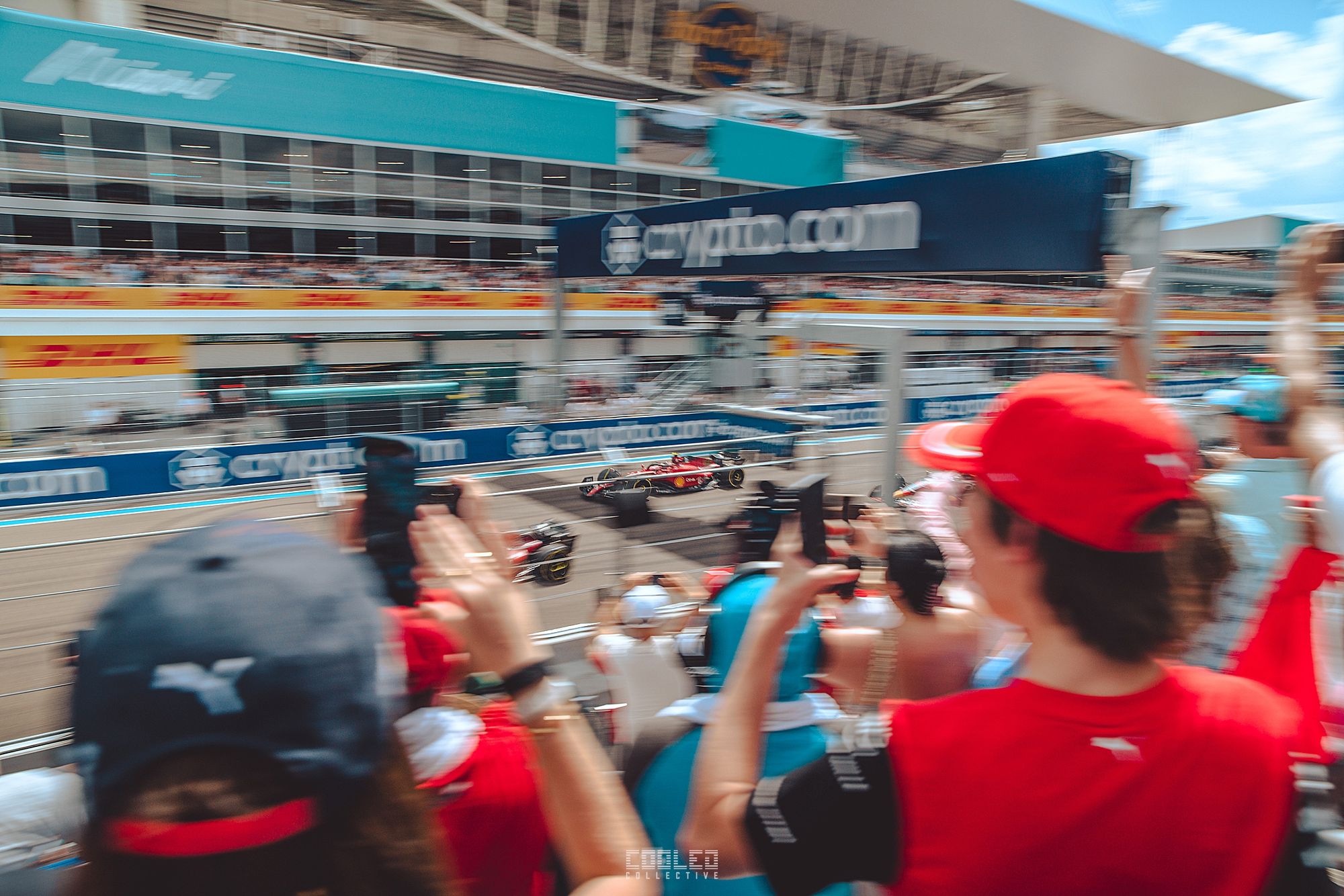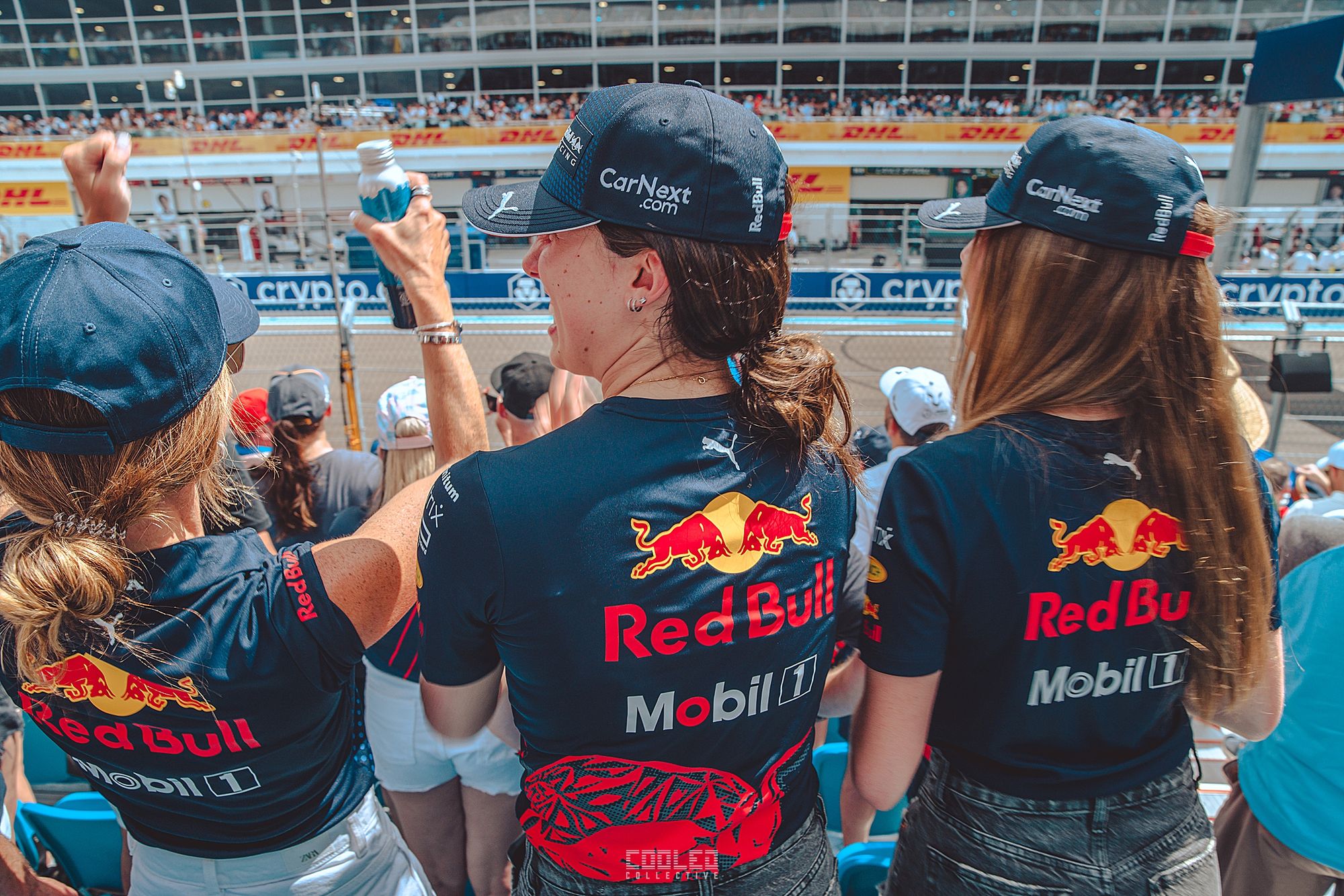 Now part of me just wanted to enjoy the race as a fan but I also wanted to run around and capture as much as I could from different vantage points. Here is a dump of everything I capture during the race.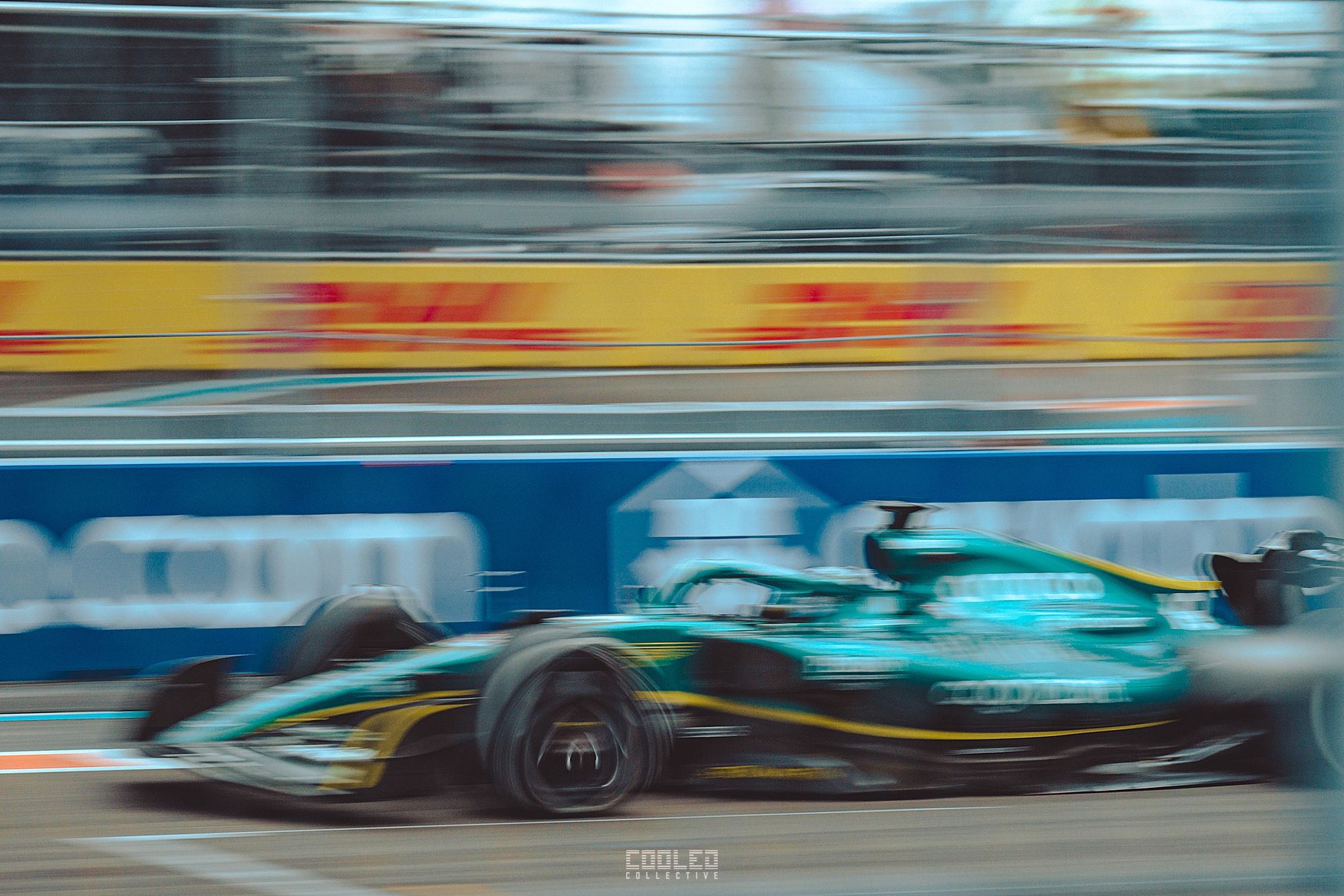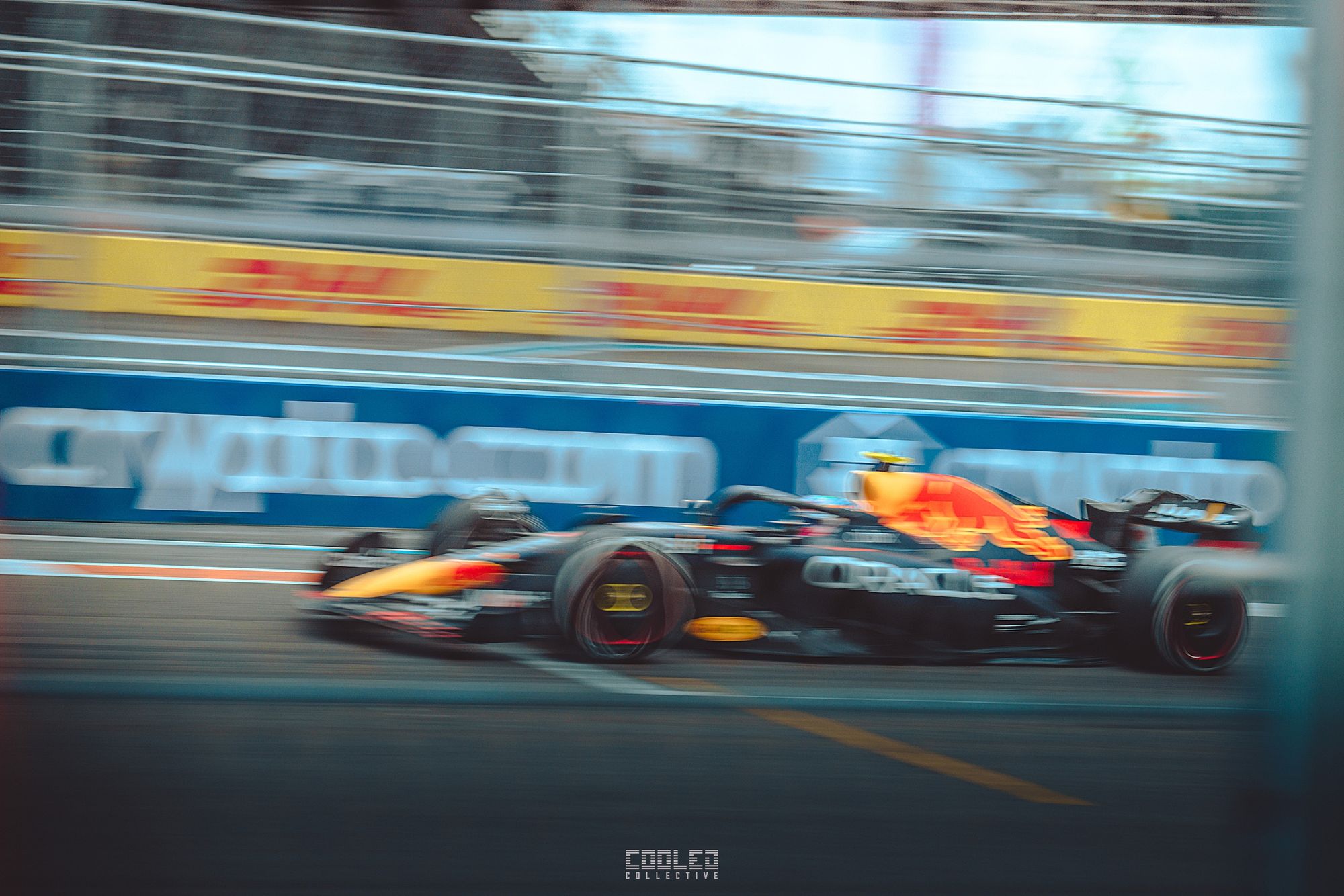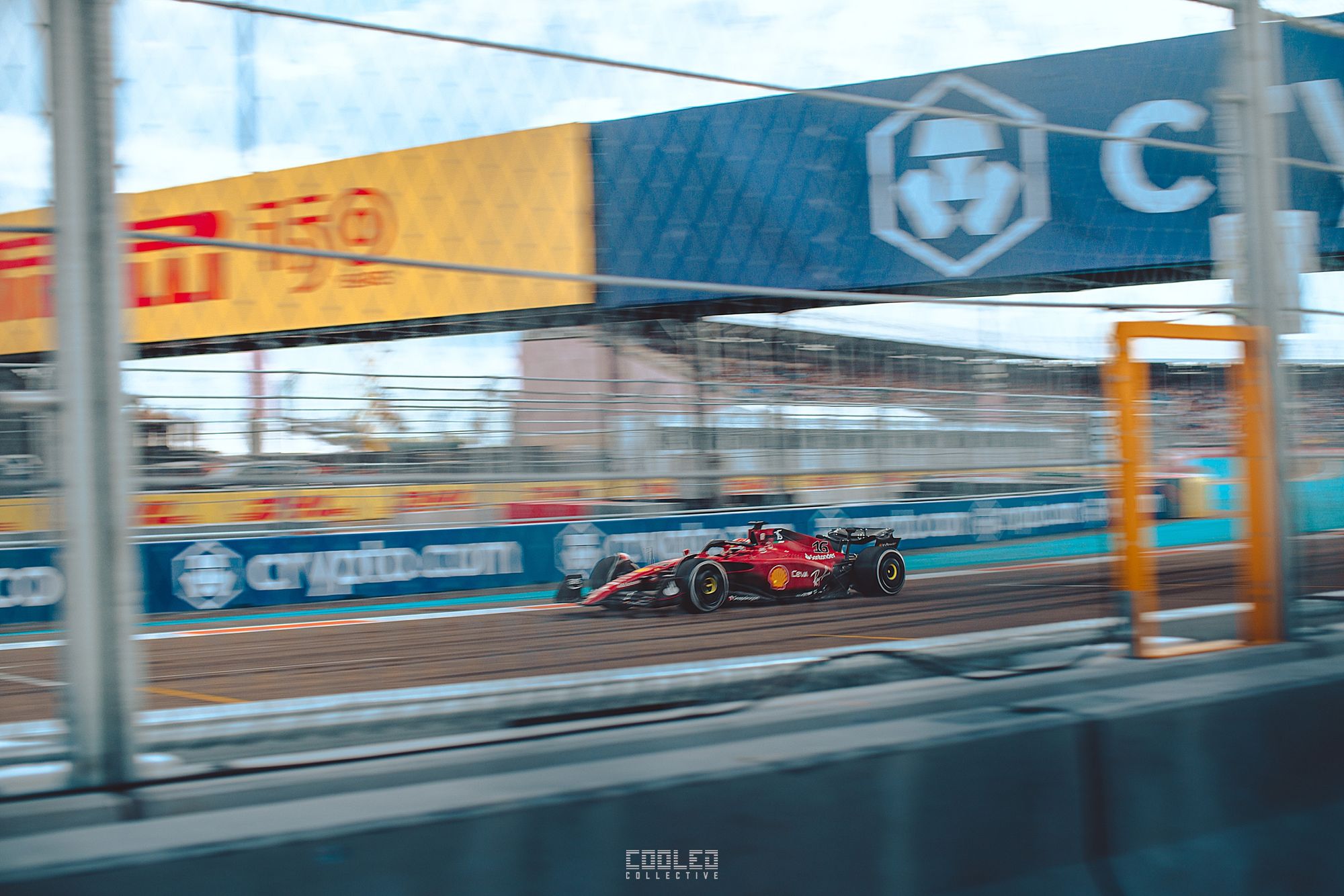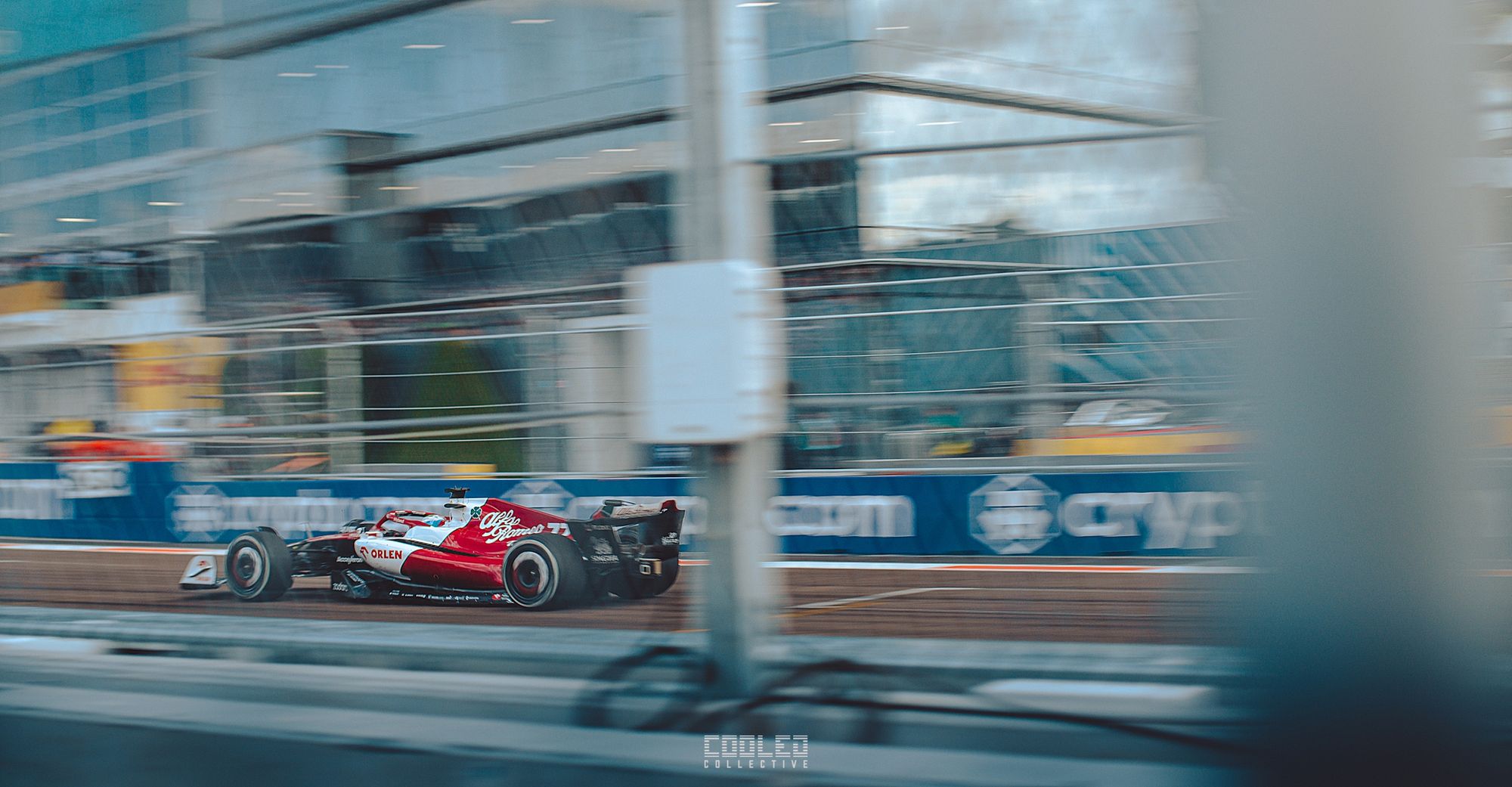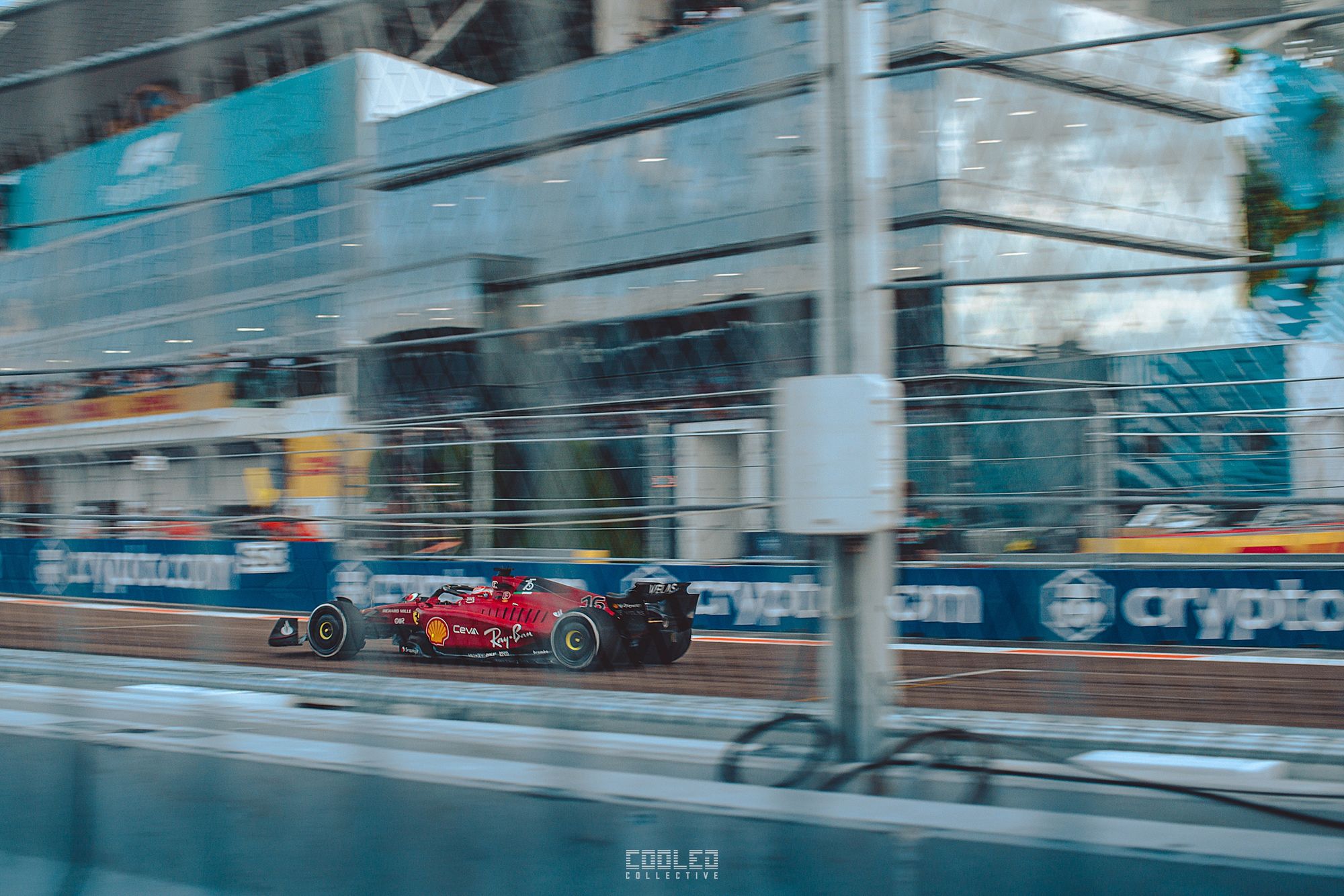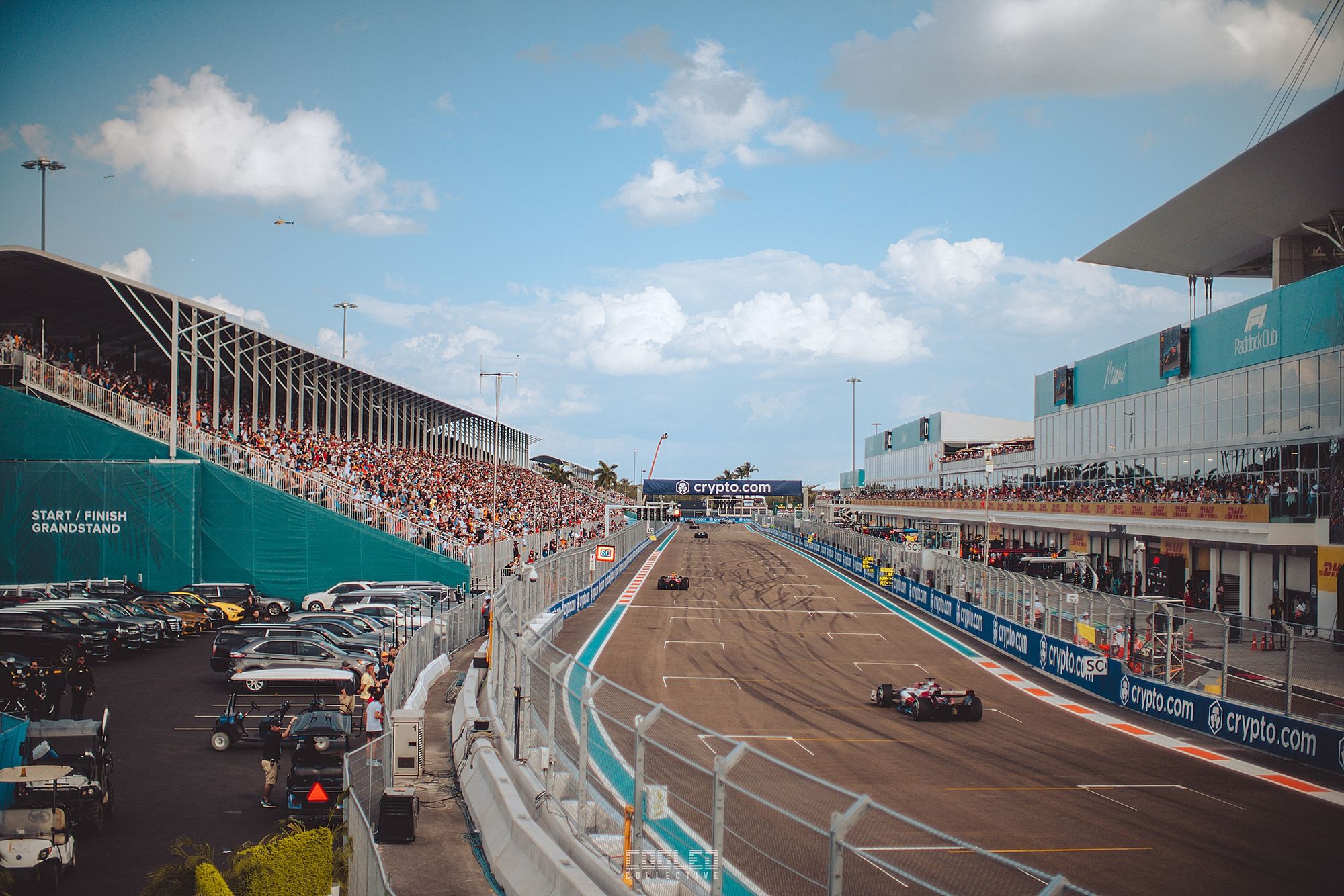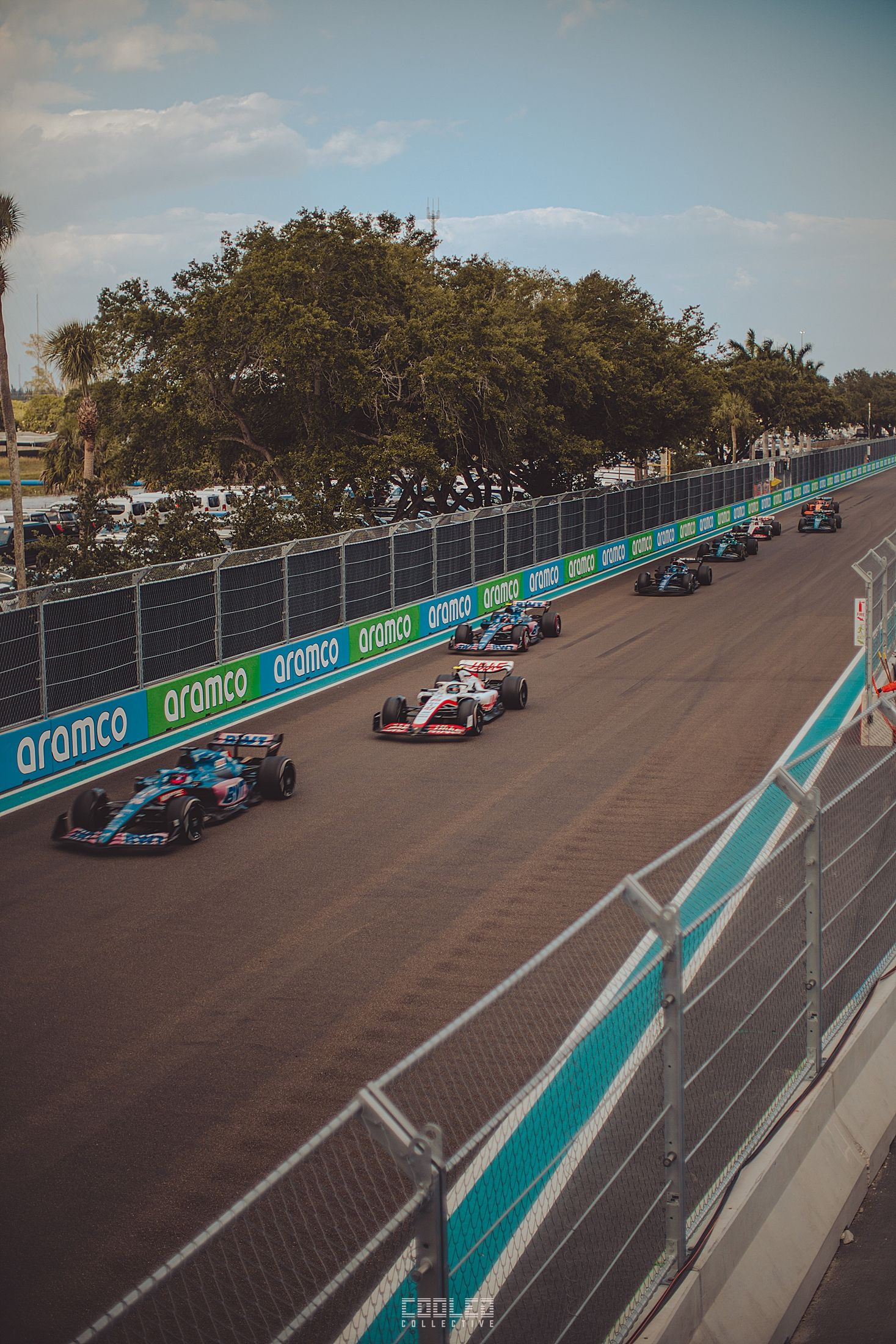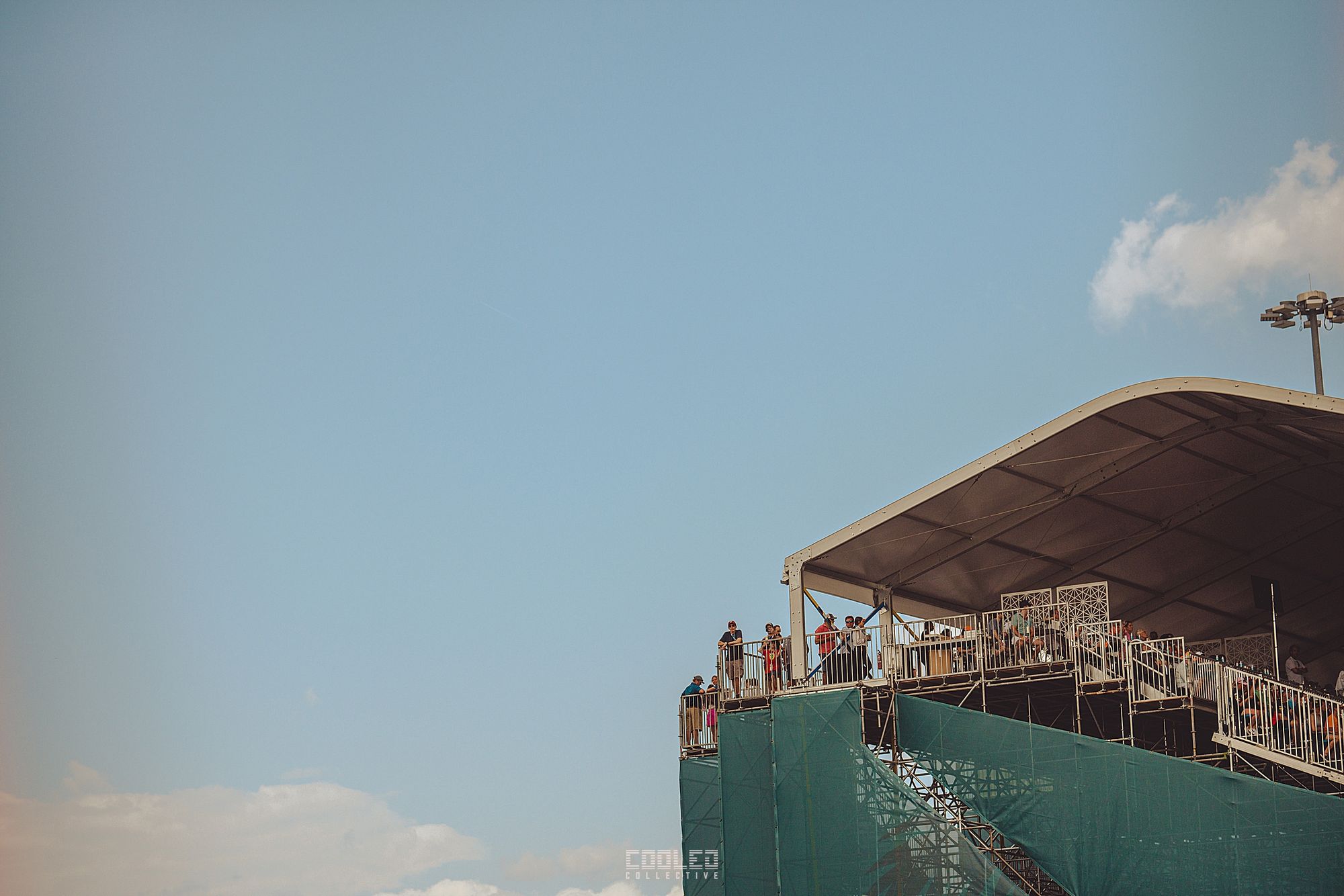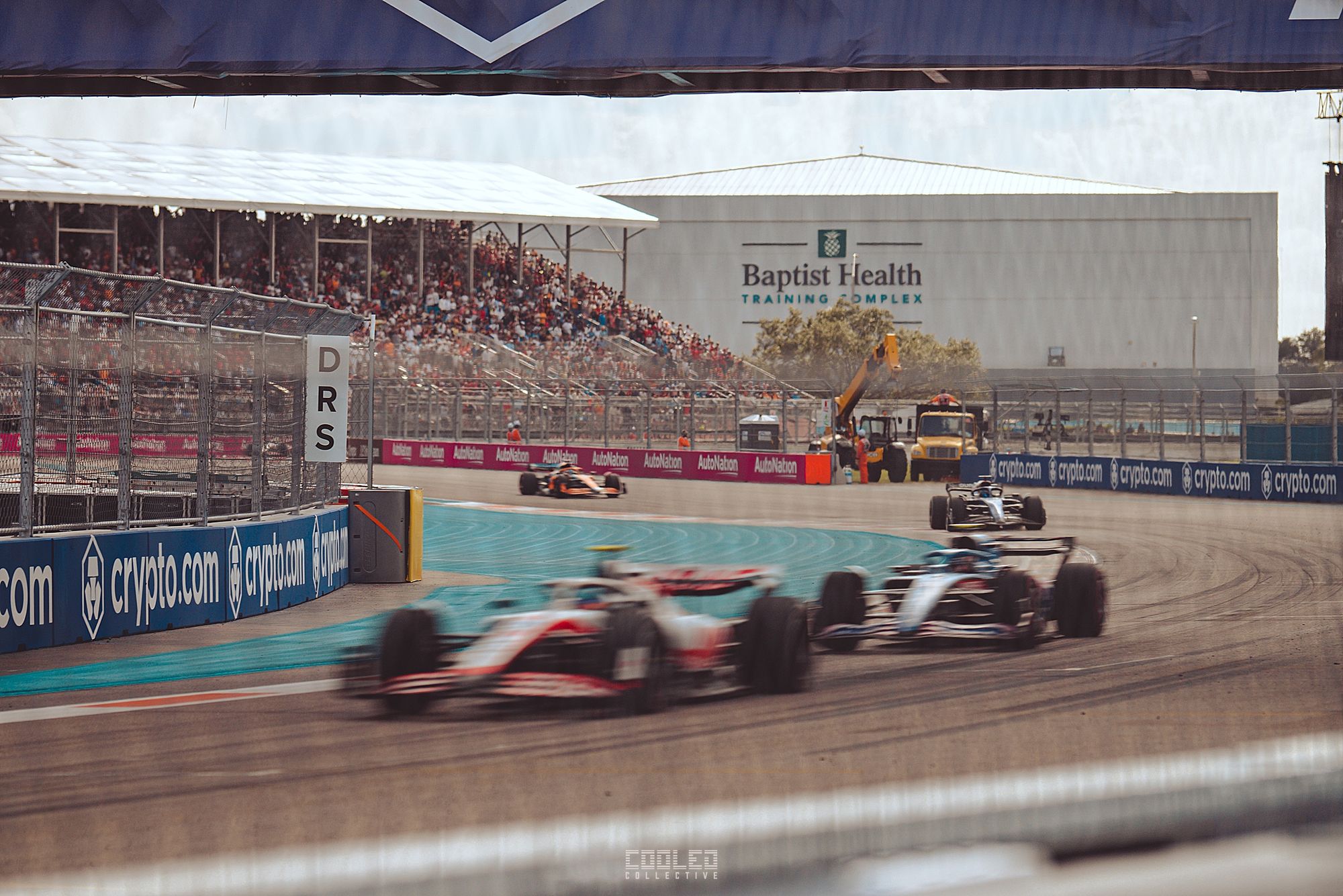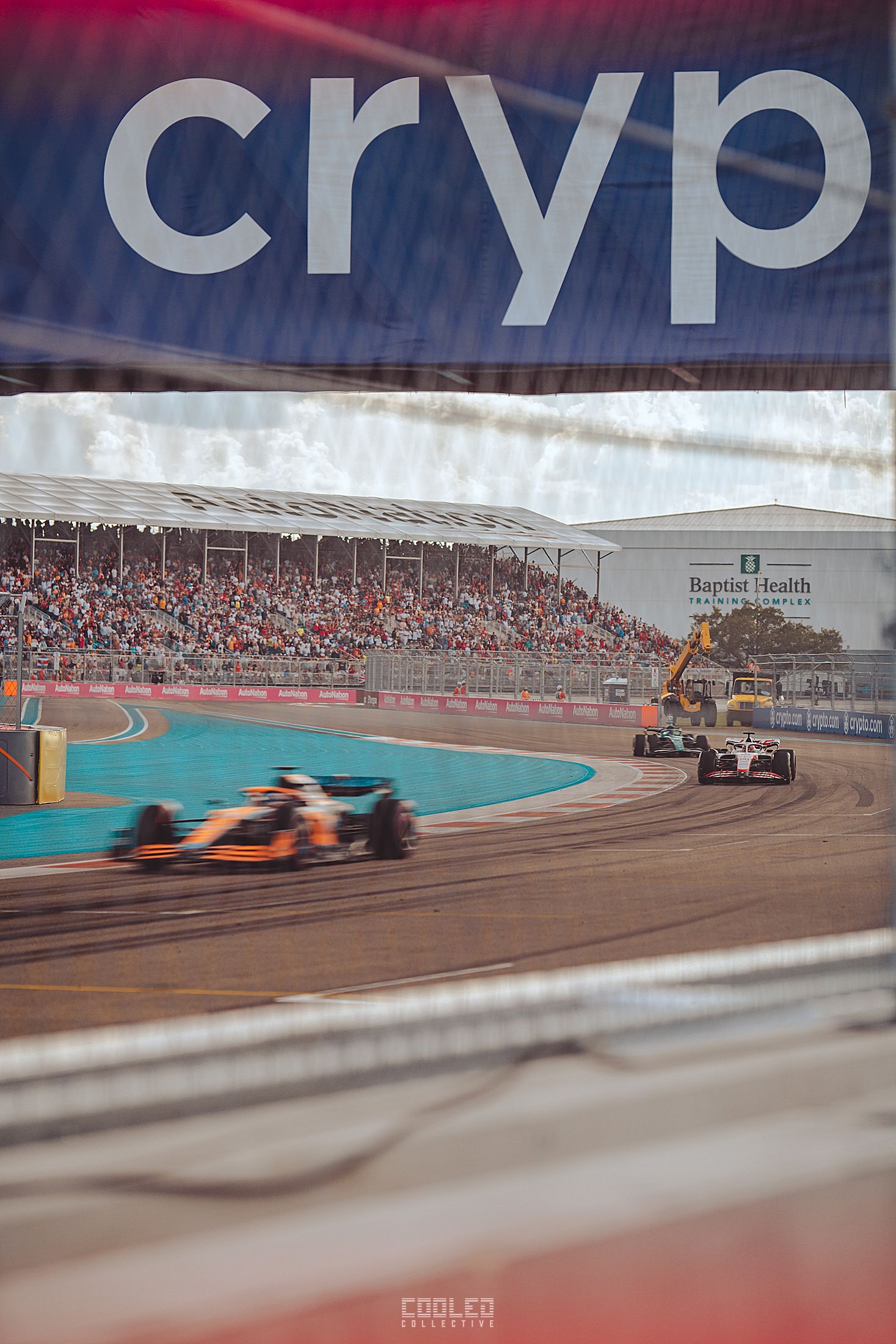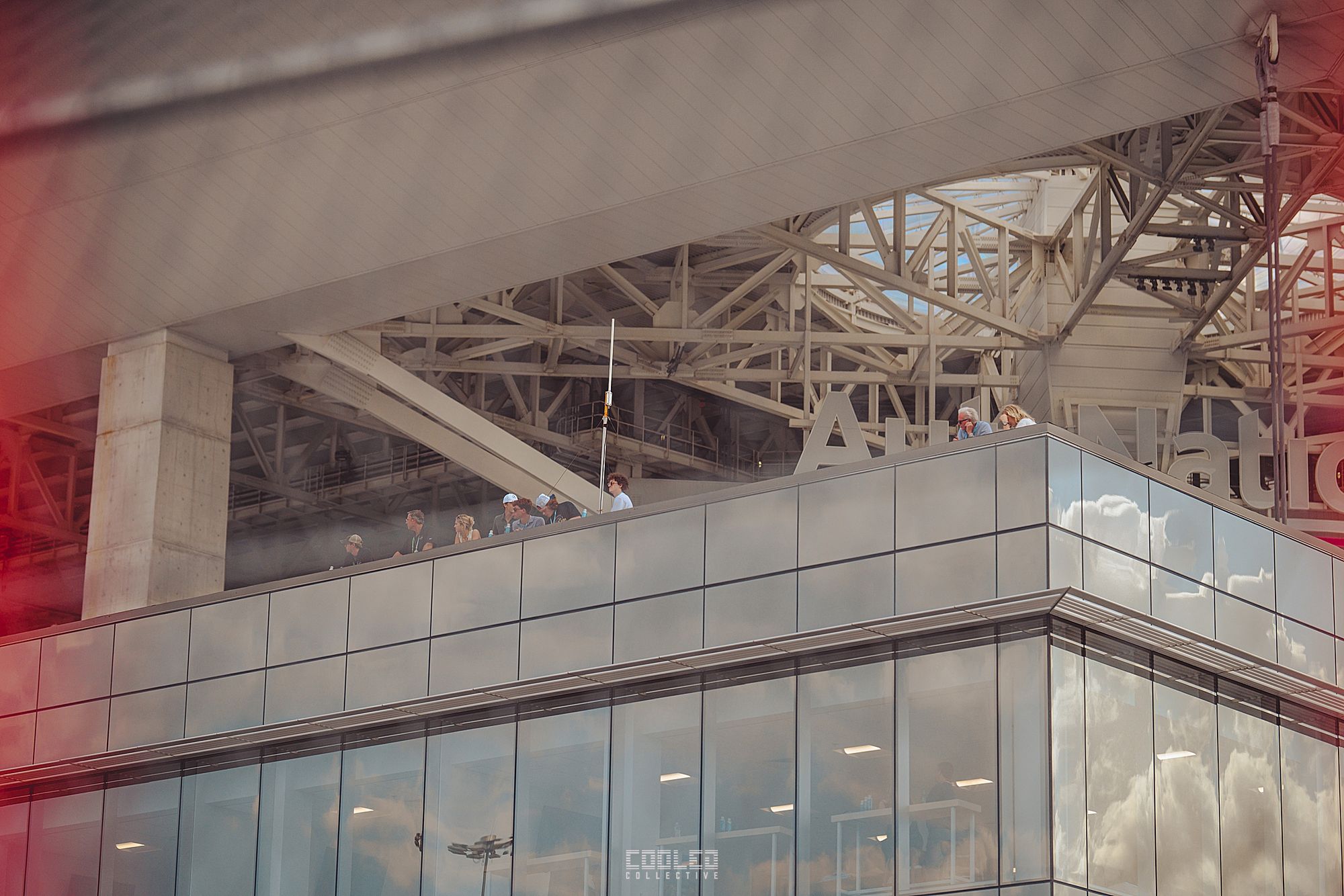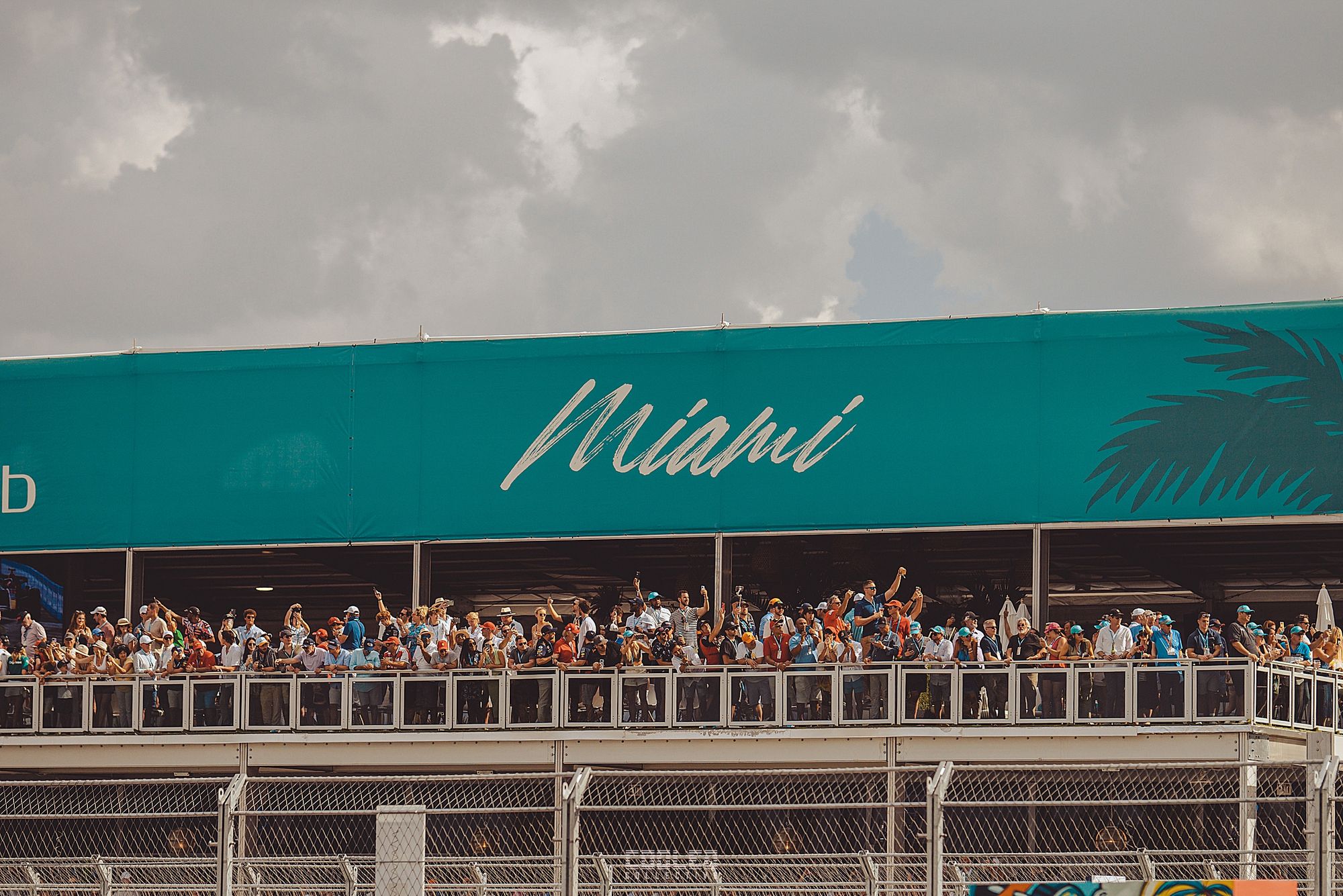 As you already know, F1 race goes by so fast and in the span of the 2 hours, I tried to enjoy a bit of it especially since I had trouble access certain areas without an escort from one of the guys on the team.
I actually sat down by the nearest screen to watch the race and listen to the play by play. To be honest, if you aren't plugged into the race, you are basically just watching the cars go in circles but big congrats to Max for a commanding win at the very first Miami GP.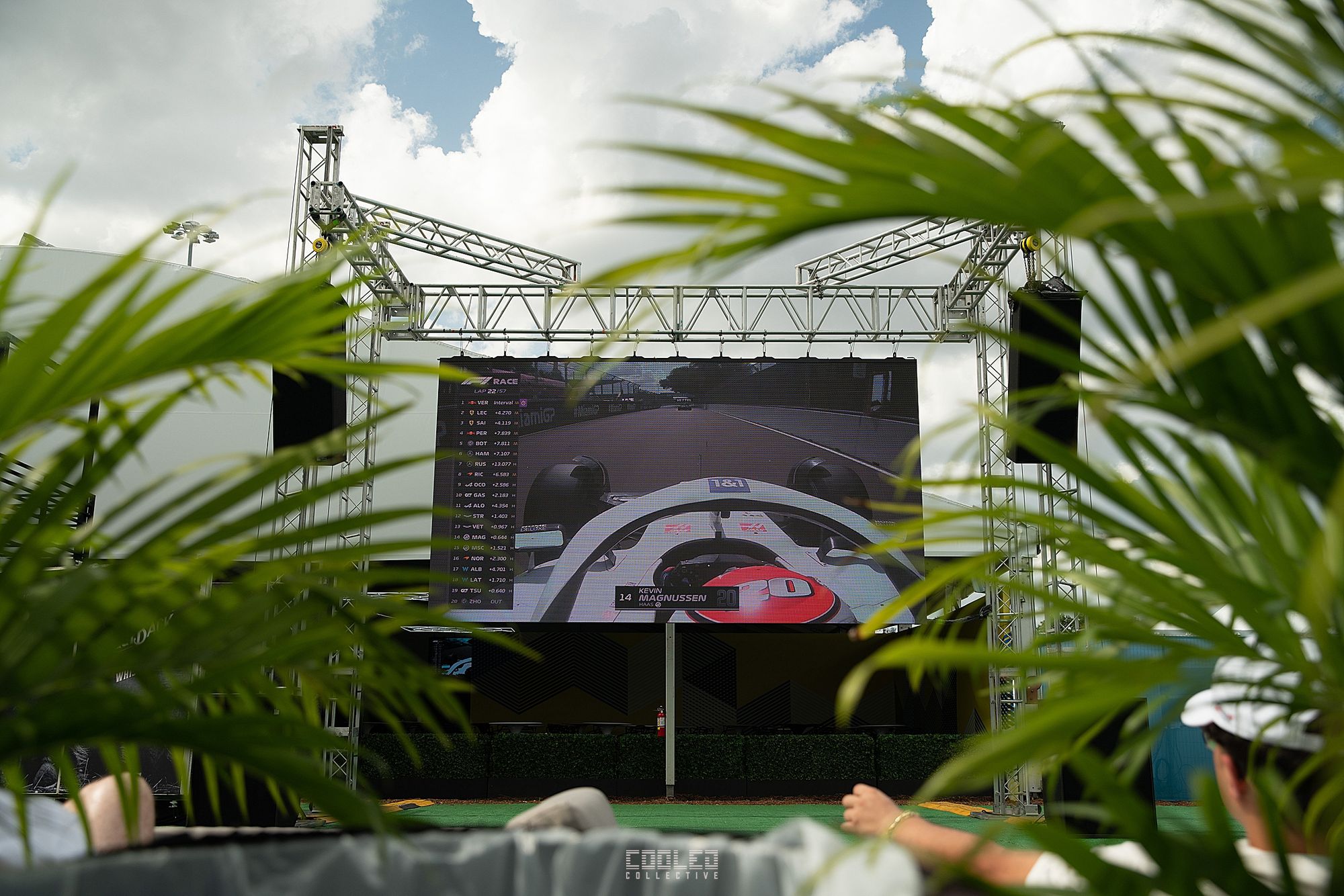 I made a grave mistake by running to the wrong part of the track once the race ended. I was trying to get to podium but took a wrong turn and ended up by the east side of the track. By the time I try to run back, everything was jammed so I only got a shot of the podium from a local tent.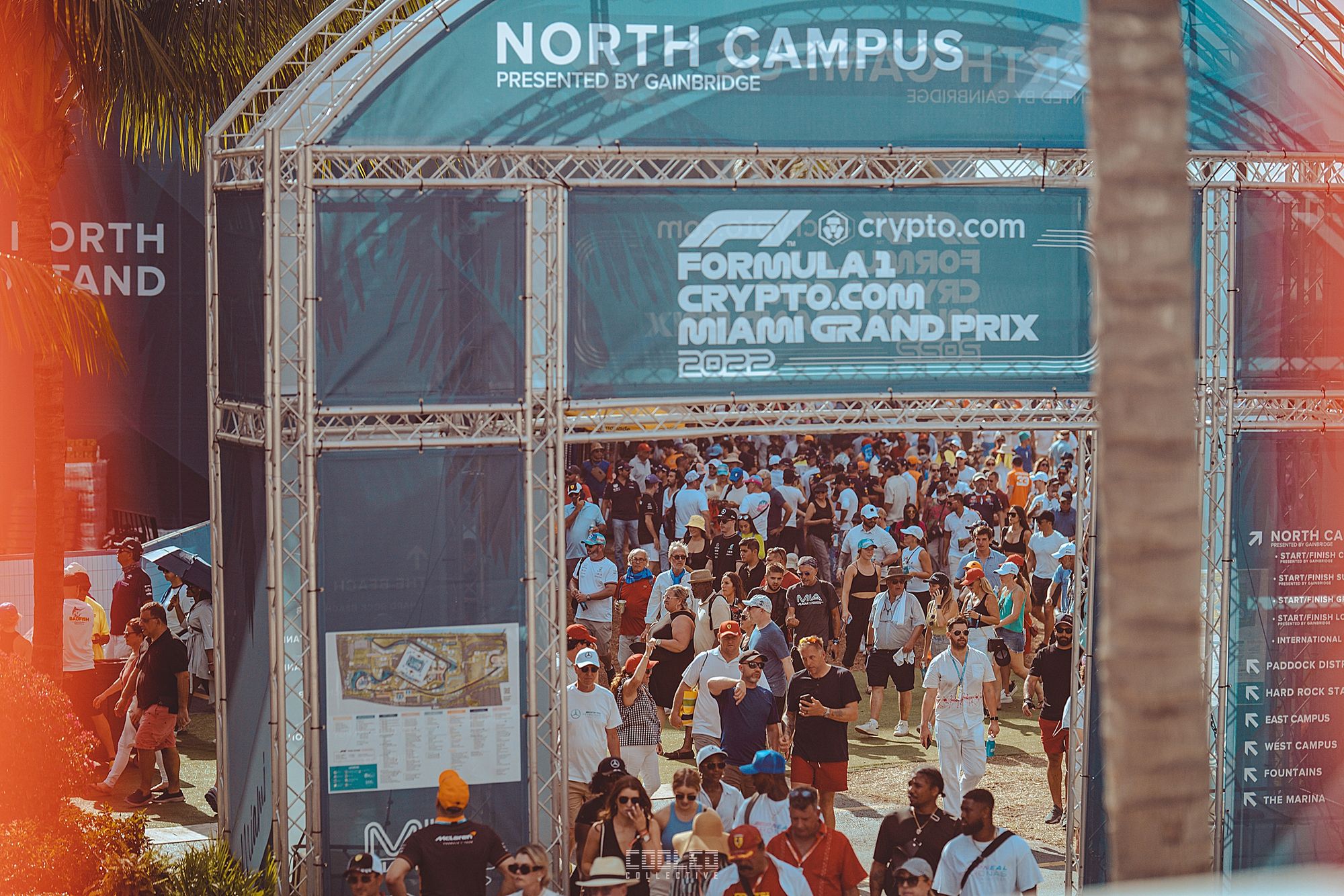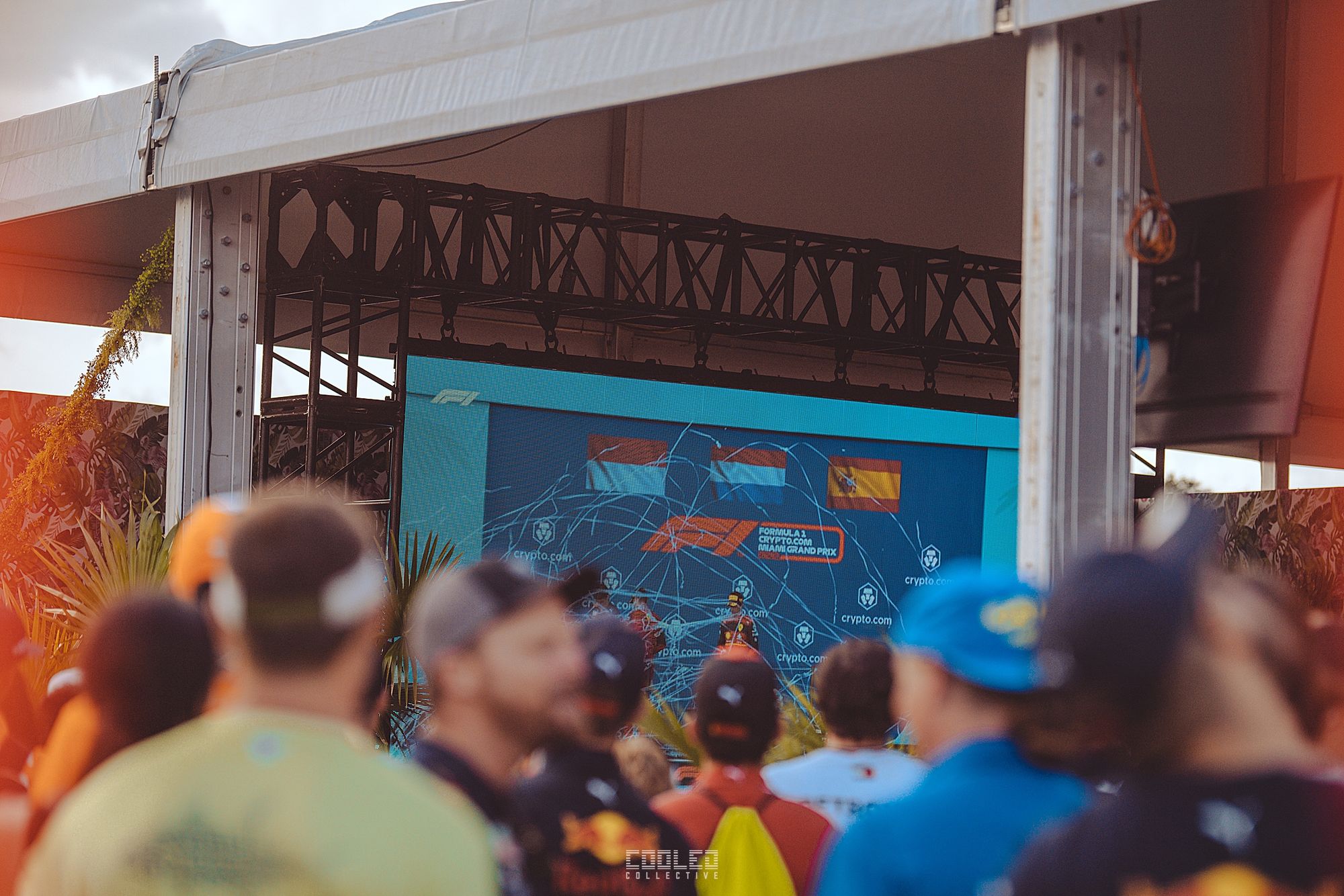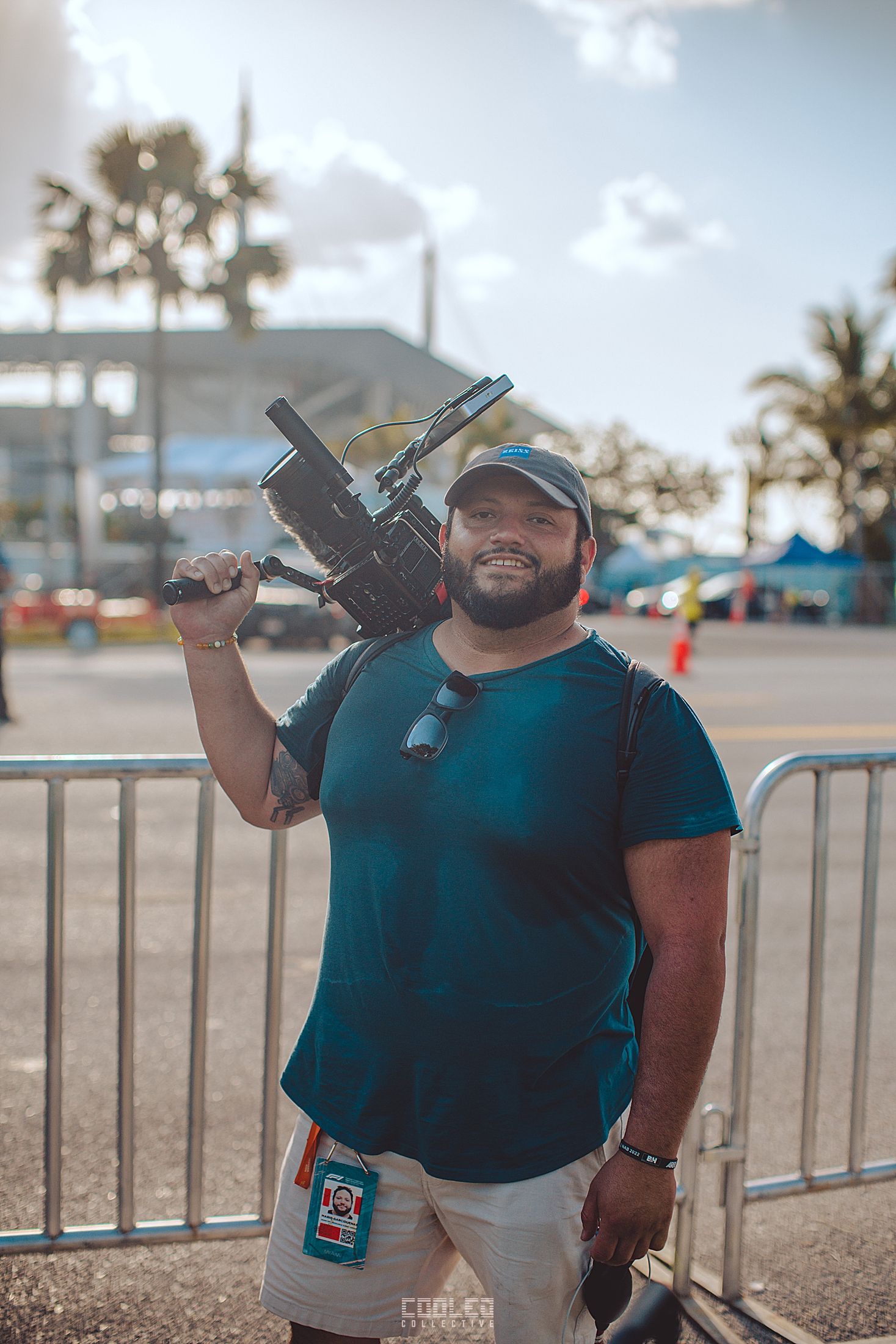 I have been asked whether going to F1 is worth it and absolutely it was worth it. Of course if I was there with friends and we were more in fan and vacation mode, it would have been a different experience but to be able to document it with the access I had was truly a bucket list moment.
It would still be a dream to shoot F1 properly with full media credentials but perhaps that will be saved for another day in the future. Like most of my trips to Miami, it is filled with a lot of work, lack of sleep and good memories within the car culture. This one is definitely one for the books and it was truly amazing to work with the team at The Noise Academy: Karlo, Sal Ilia, June, Mike and Mario.
Thank you to each and every one of you for checking out the blog, sharing it and hitting me with your own adventures in Miami F1. We are super lucky that F1 is becoming more present here in the US and excited to see F1 in Las Vegas in 2023. See you then!
Drew Manley
Photo Dump