Formula 1 finally debuted in the beautiful city of Miami and it did not disappoint! As you can imagine, Miami being the glamorous city that it is, came out in high fashion to showcase the fastest drivers in the world on a brand new road course never driven before! You see these beasts on tv a few times a month but to be that close to them... the sound, the sights, the energy was just electrifying!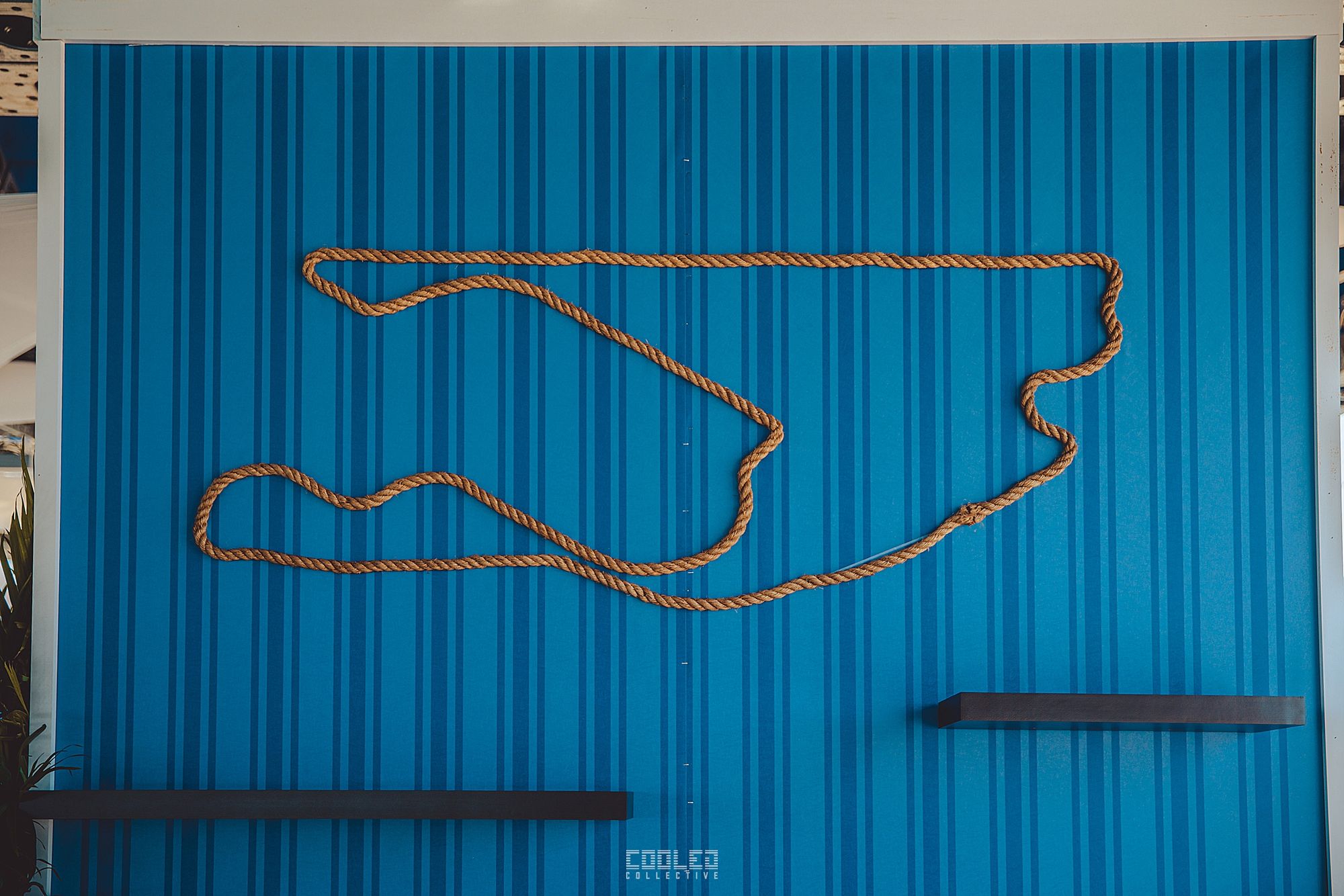 My journey to F1 Miami GP started with a conversation with my buddy Karlo who runs The Noise Academy, which is known for their event production of large music festivals all over the nation. He tells me that there is a good chance he will be handling parts of the structural and logistical framework of the Grand Stands and other specialized infrastructures at the Grand Prix. You know that got me worked but until it's secured in the bag, it was just a pipe dream.
As we got closer and closer to the date, I figured that it was a no go because we were 8 days out and I hadn't heard anything about my credentials getting approved. However on the day of my Cars after Dark car show, I get a called from Karlo telling me that it was a green light for Miami GP! As you can imagine, that sent my emotions into a tail spin, especially since I was setting up for the night event at Auto Conduct. I quickly booked a flight to Miami International and it was just 5 days before departure.
I arrived at midnight on Thursday morning and by the time I laid down in bed to sleep, it was 4:30am and with a wake up time of 6:30am, I was pretty messed by sunrise. As you know, Miami is extremely humid and with it only being 85 degrees, it felt like a hot 100+ degrees in California. If I was to give you a tip about how to dress in these types of weather, I have one word for you... PFG aka Professional Fishing Gear clothes but we will get into that later.
As with anything great in life, it comes down to who you know and the access you can get. F1 is very restrictive for many reasons I am sure but instead of focusing on why I couldn't get the "coolest" shots, I focused on my experience as a first timer at such a prestigious event and so here is my journey.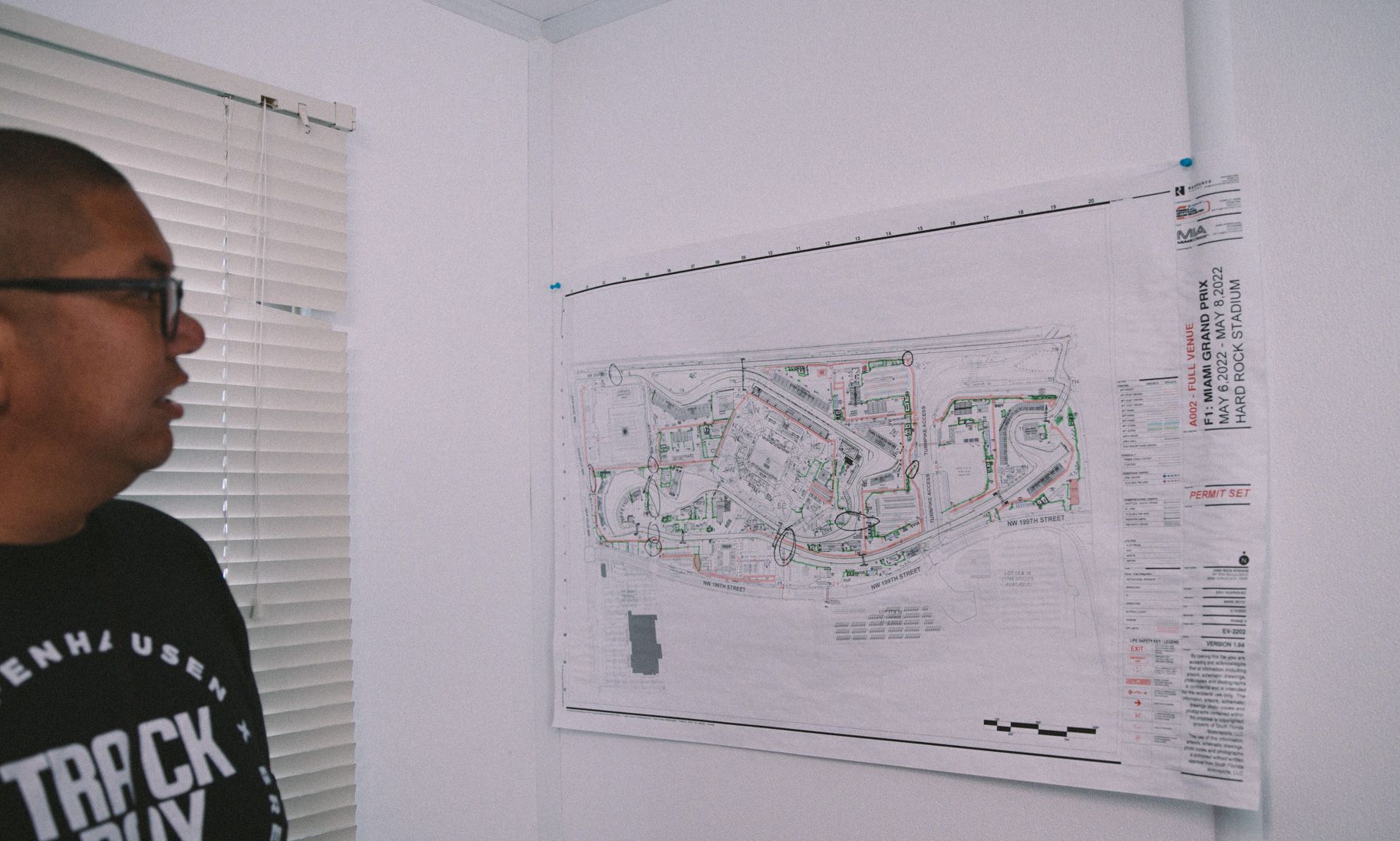 Our initial group was my buddy Mike B., Mario, Karlo and I. When we arrived on campus, we were picked up by Sal and Ilia in golf carts but it felt like royal chariots as the thought of lugging around gear for a mile wasn't giving me butterflies in my stomach. We headed to homebase to settle in and then decided to check out the course.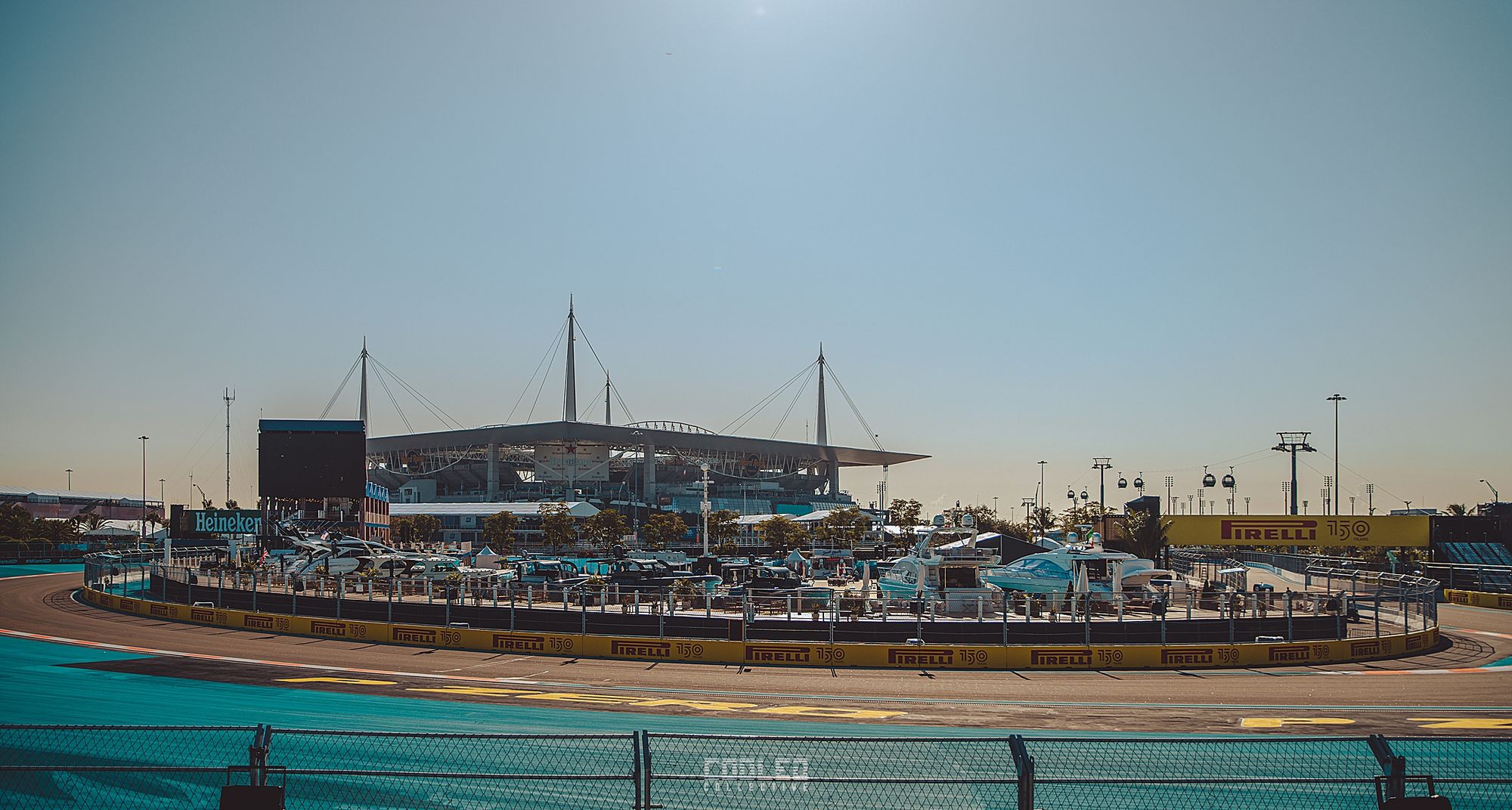 Since we were stationed right next to luxury row, the very first thing we came across was the faux Marina that had all of the F1 community talking. I have to say, it was very impressive... the idea and execution. It legit looked like Miami water reflecting back all of that glitz and glamour.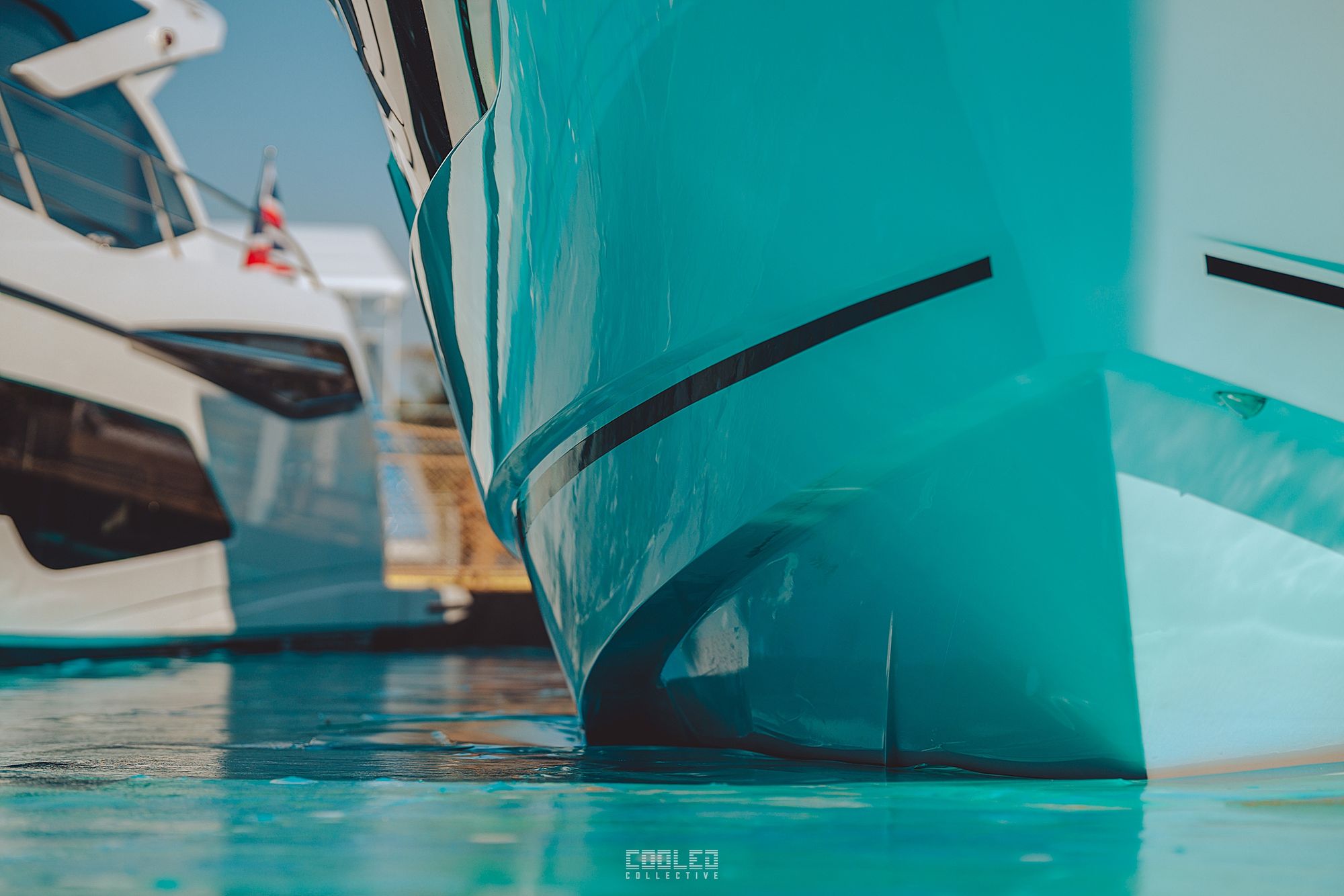 Look at the lengths they went to, to ensure that it legitimately looked like a real marina. The boats are actually sub terrain and even up close in photos, looks absolutely real.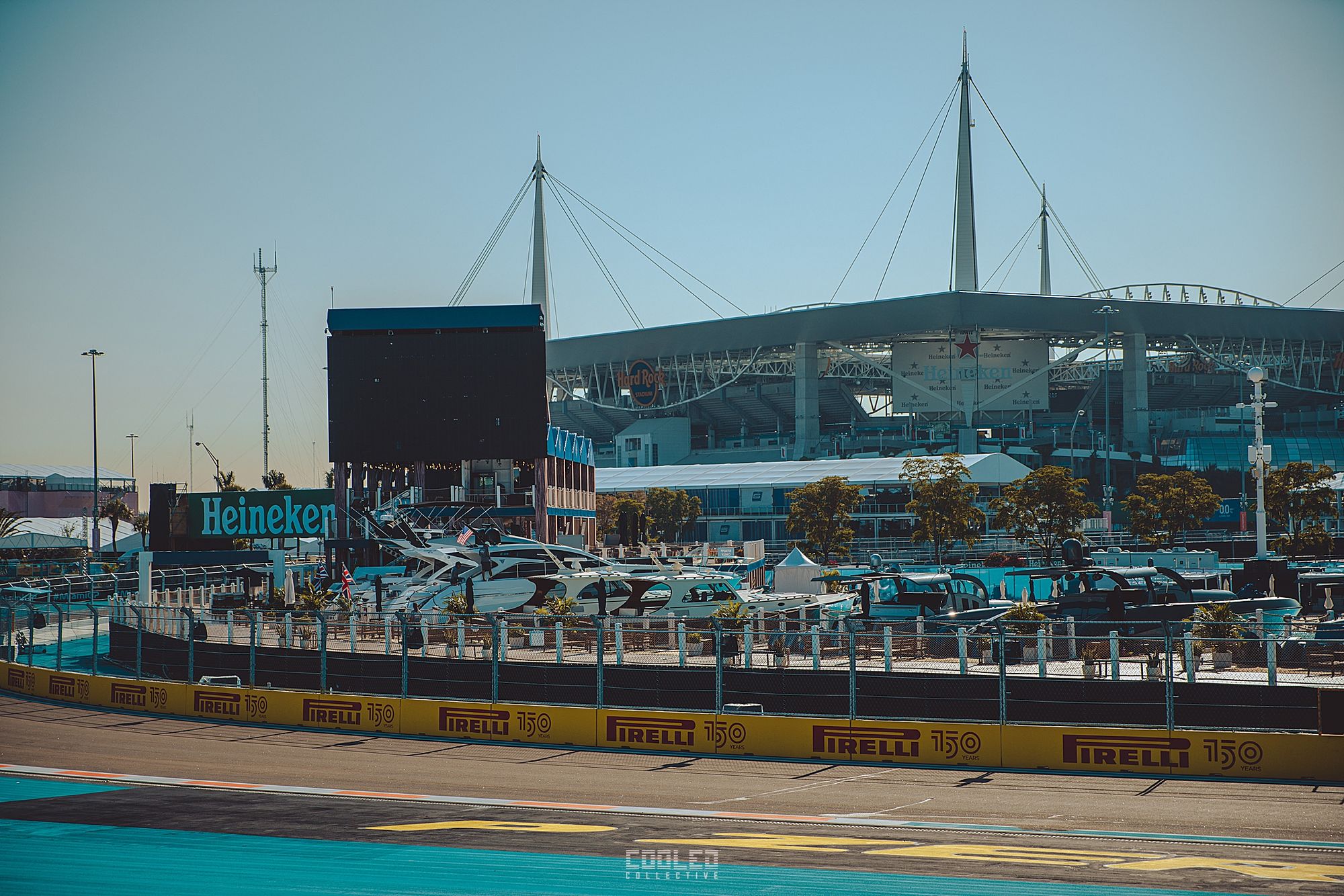 It is one thing to see the race while the cars and people are there but it is another thing when the track is getting set up. There is a serene atmosphere that exists but you can feel the tension as everyone was working intensely as the clock ran down. Here are some of the images before the race on Thursday.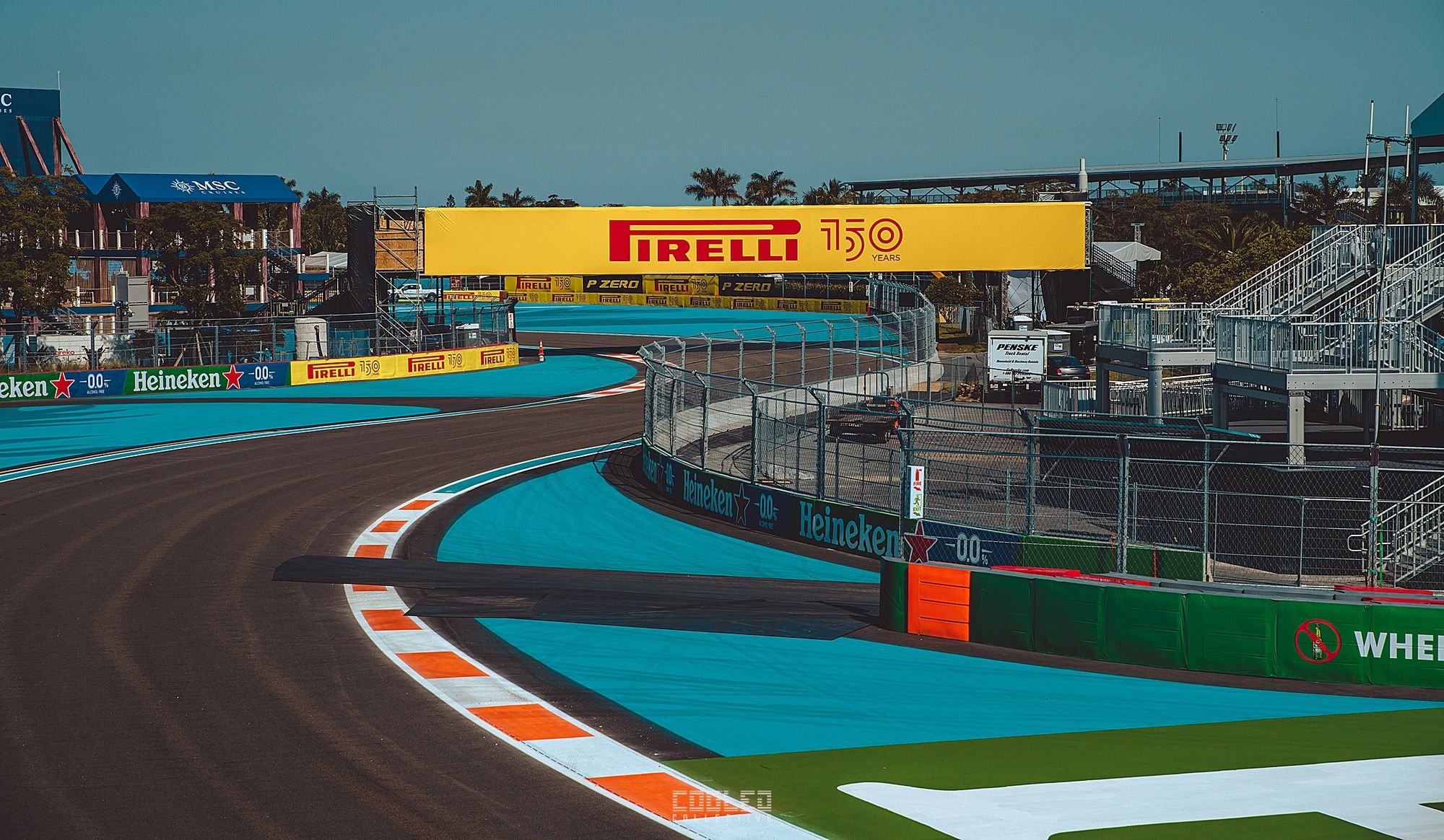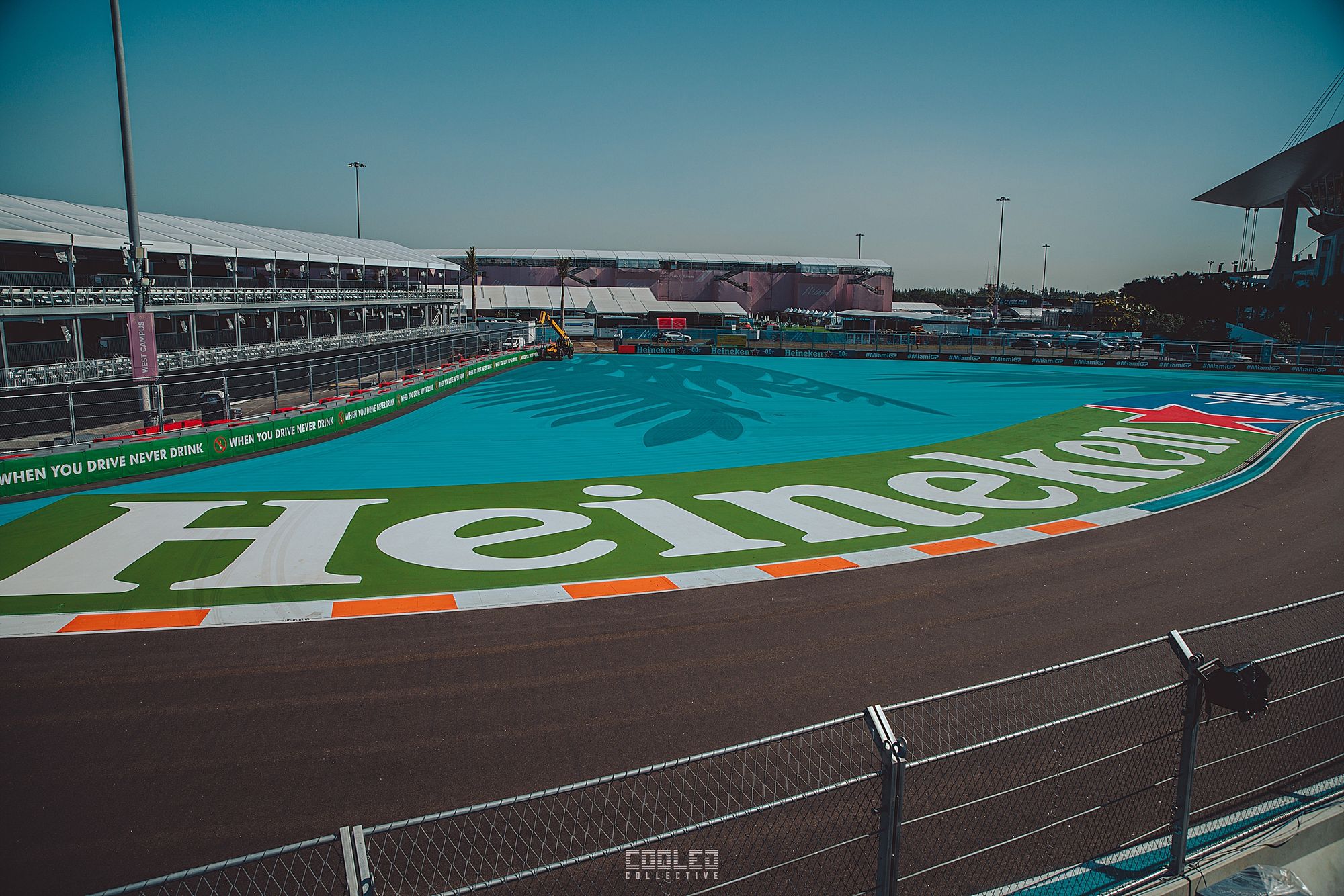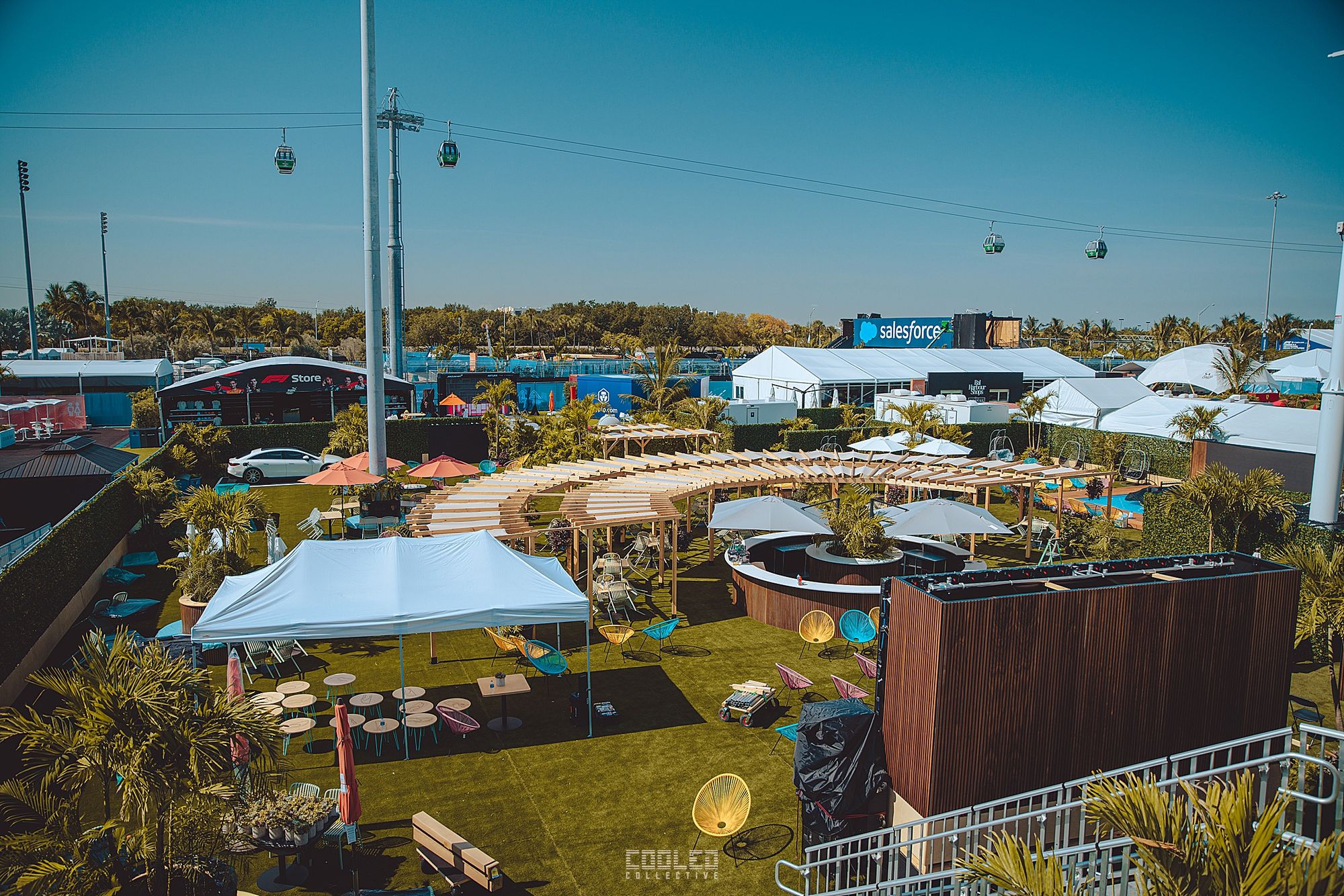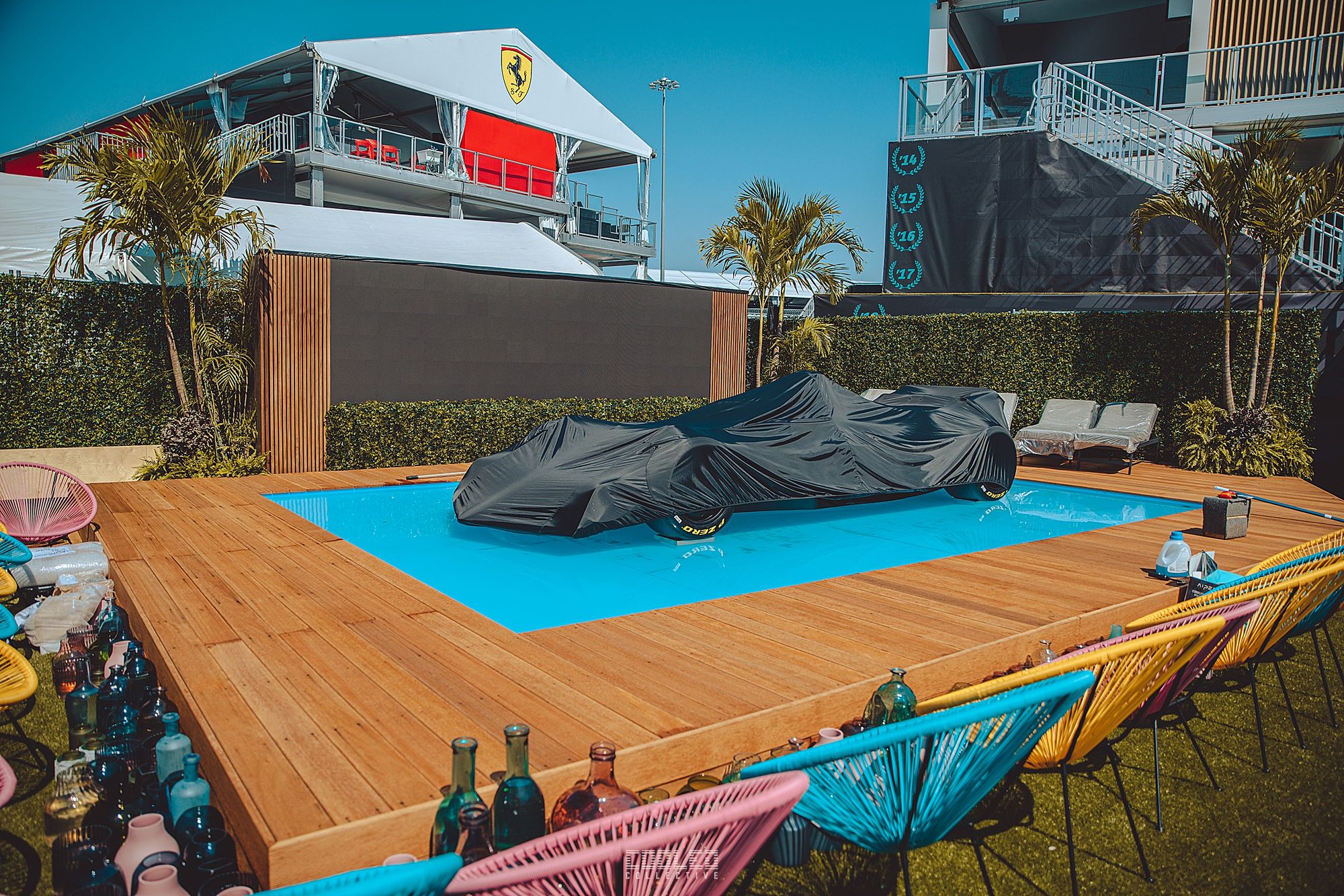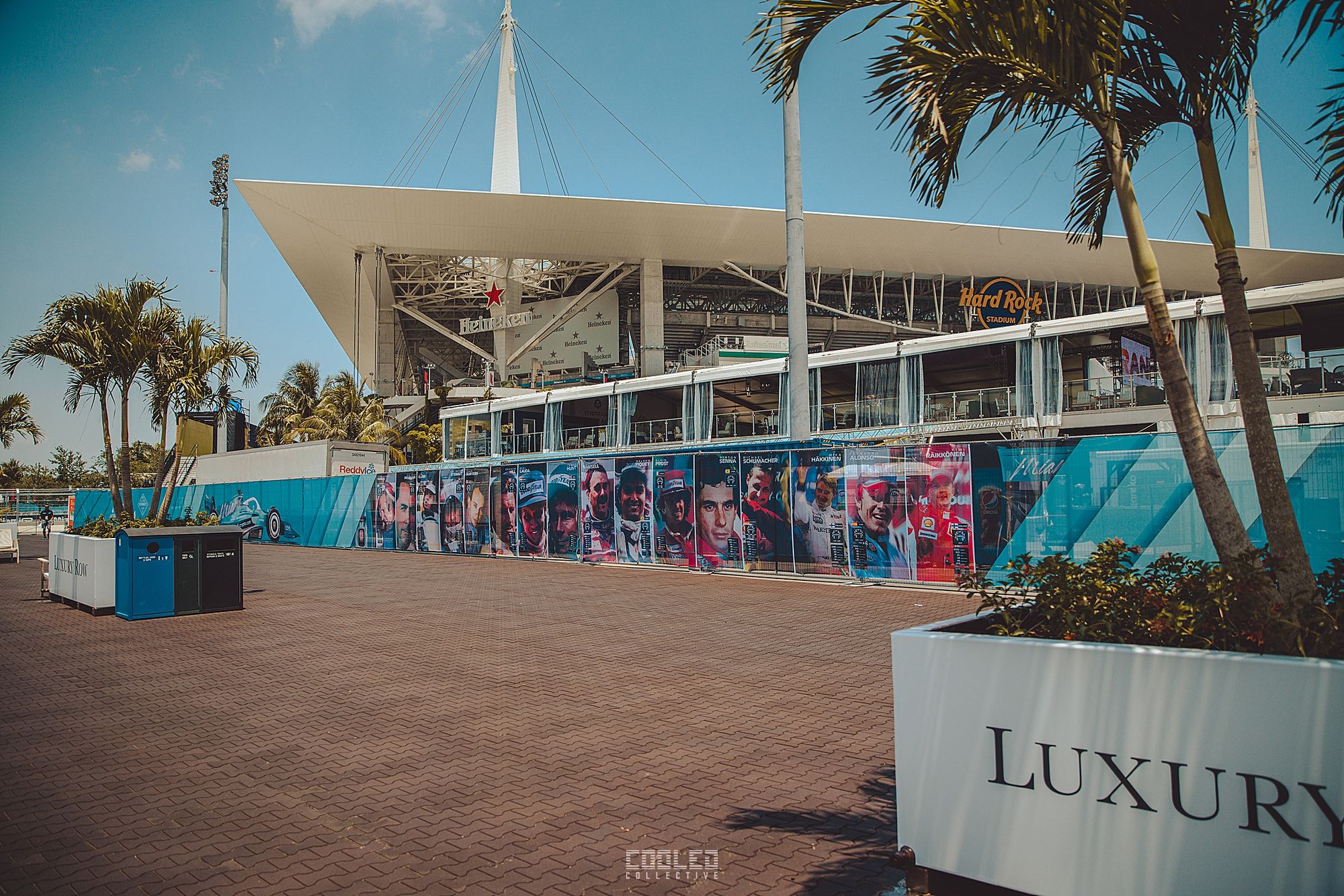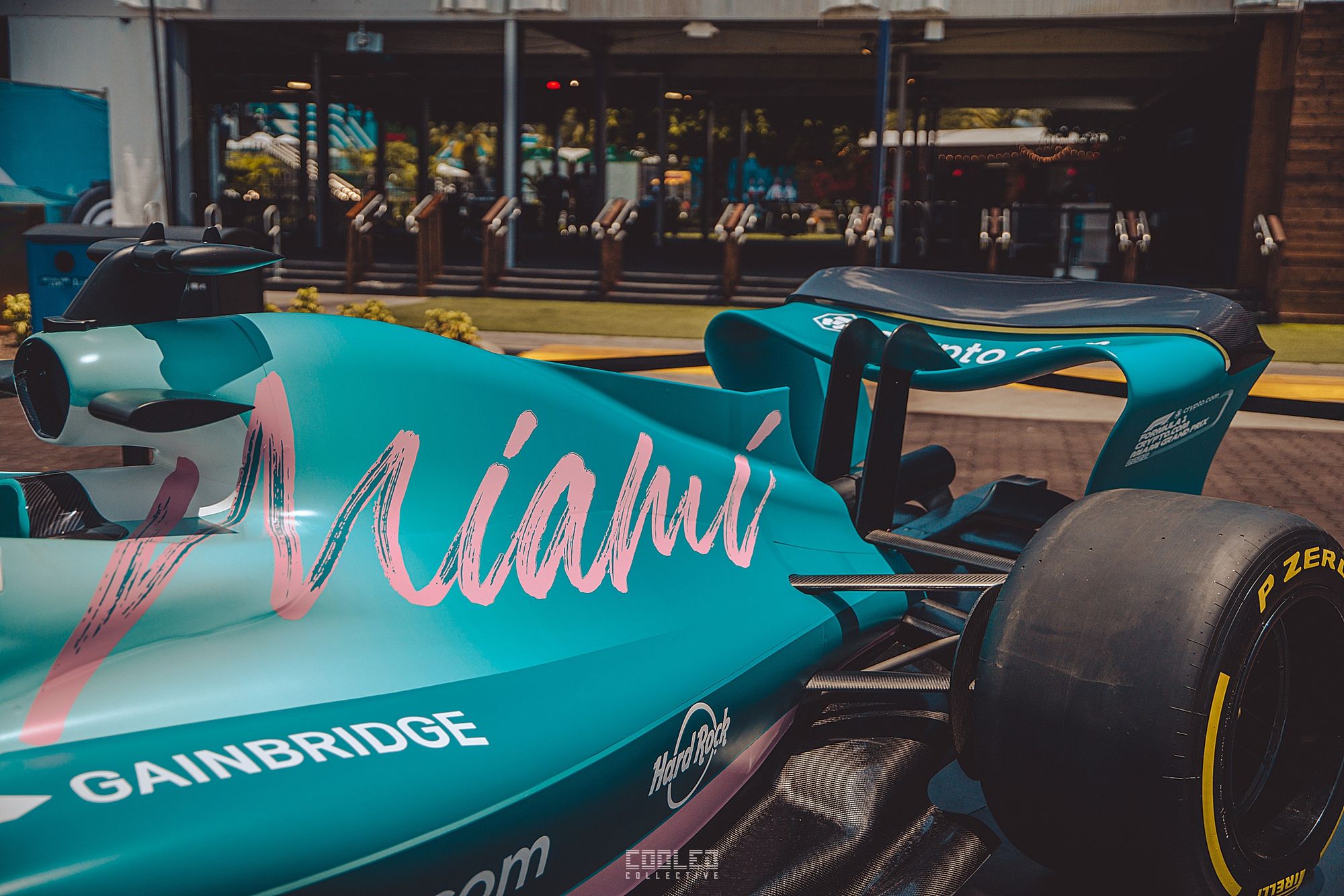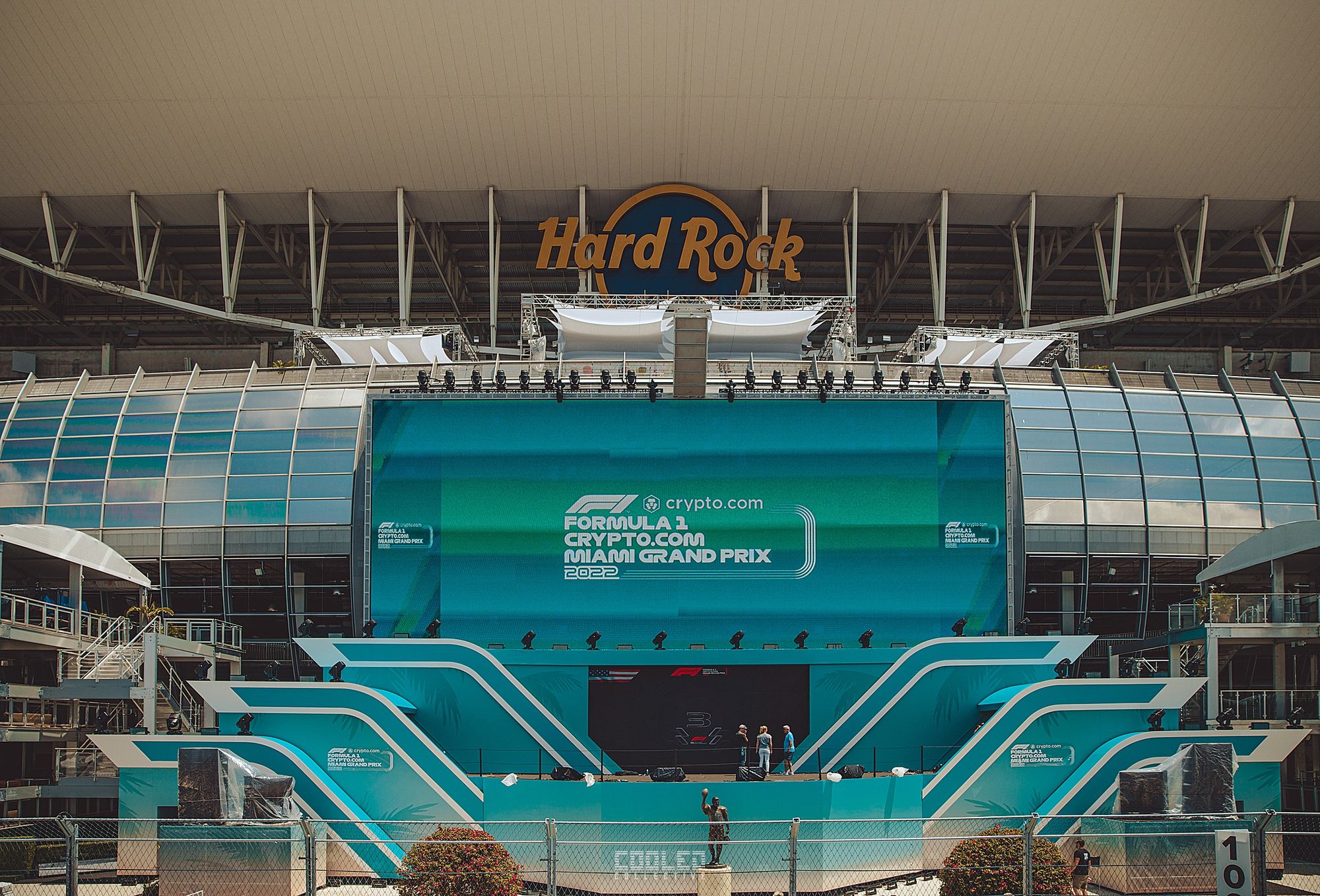 Once we got to the start finish seating, we noticed Team Ferrari where Charles and Carlos were doing some media stuff and got to rip up some rubber on their new SF90. Shooting from the top of the Grand Stands, you can get an idea for how immense the stadium seating was.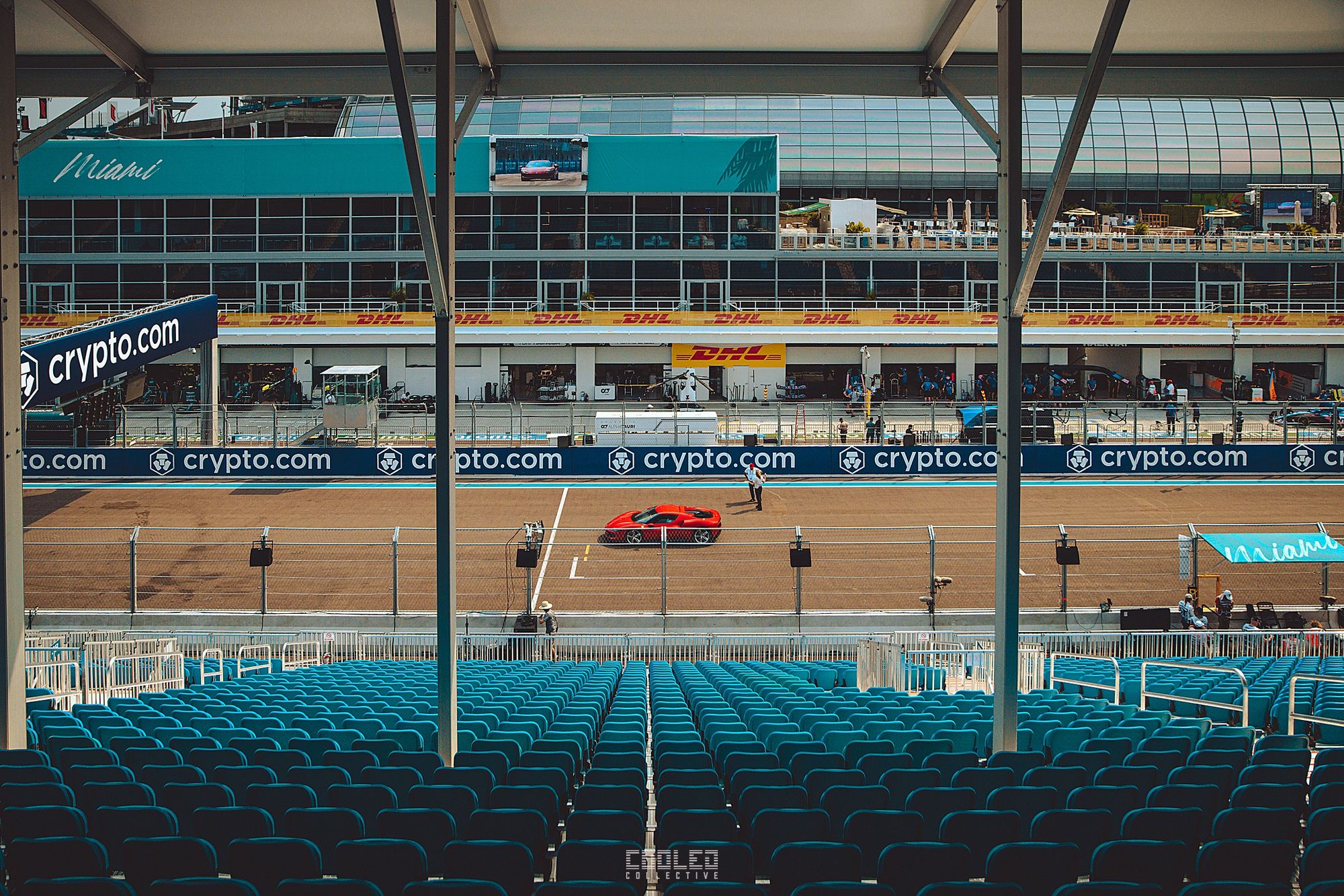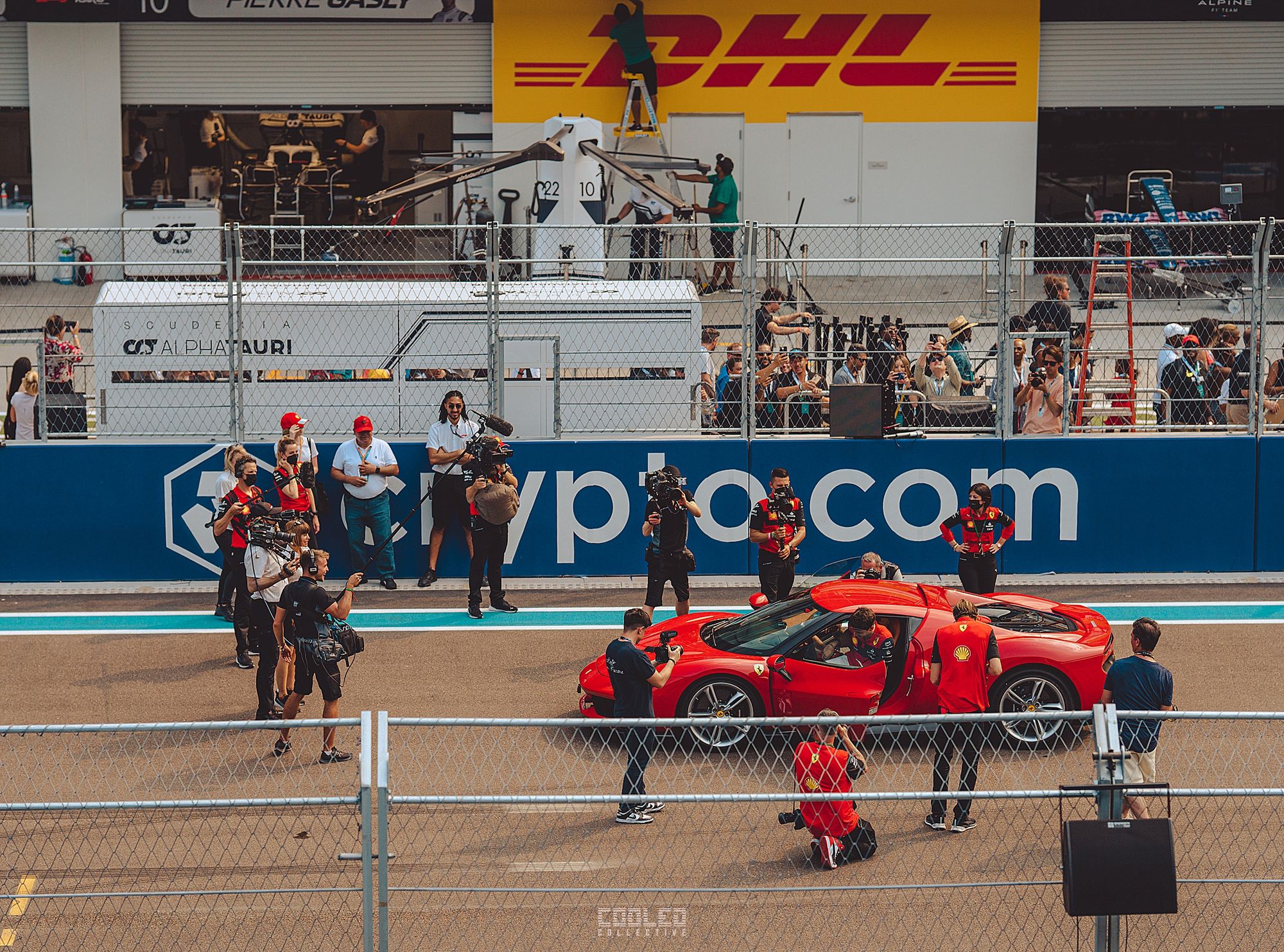 One of the things I really admire about Miami is how much they celebrate art and the artists from around the world. When I ran down the stands, I noticed a famous contemporary artist by the name of Tristan Eaton where his art can be seen all over the place including at the Universal backlot. This one at the Miami Dolphins stadium was quite the treat.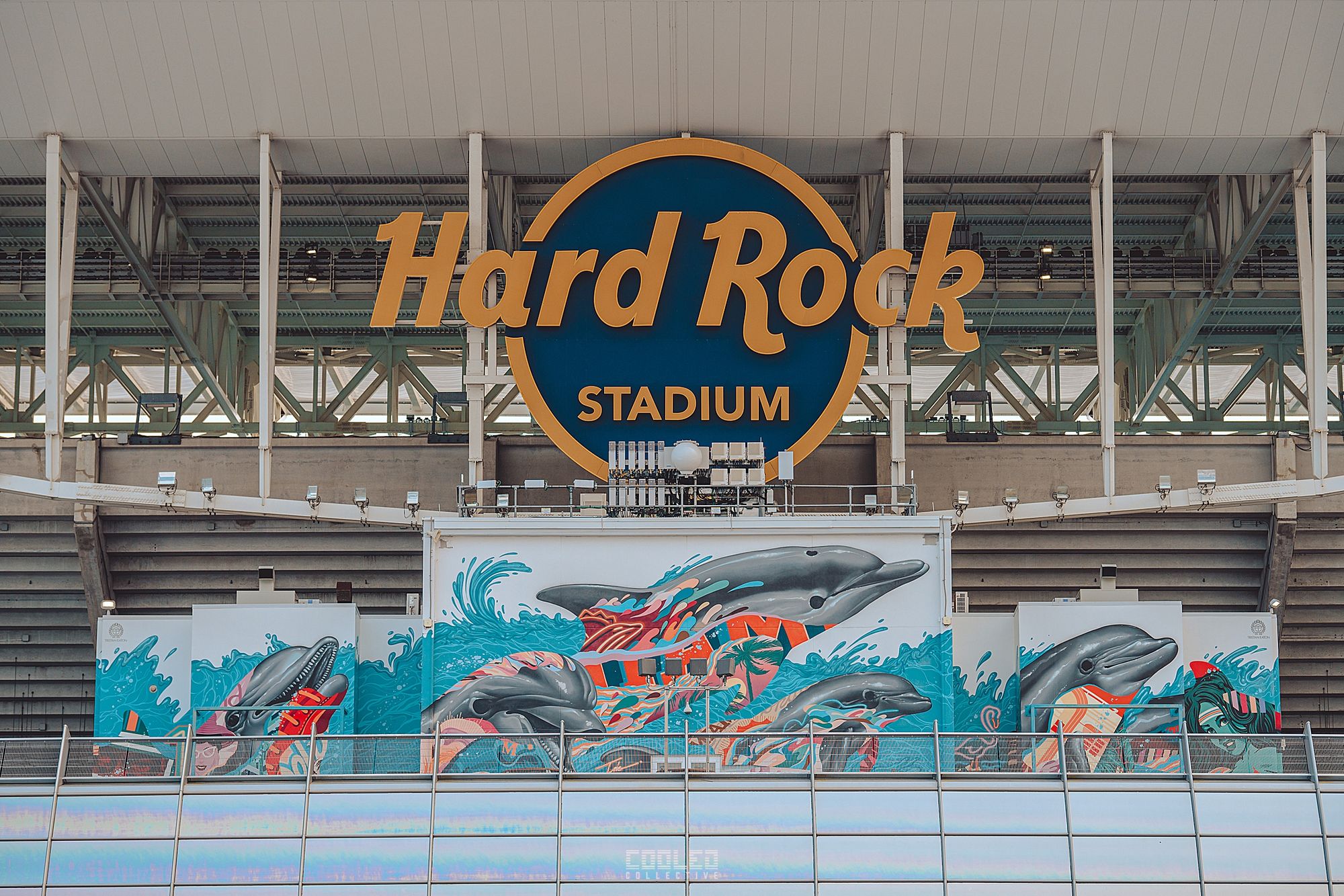 I noticed how much fan appreciation and special circumstance access some people were able to get. Loads of tour buses brought in fans from all over the world and you can truly feel how excited people were to be at ground zero. They had people movers moving fans on the back of semi trucks as they did a tour of the track. So much energy leading up to race day.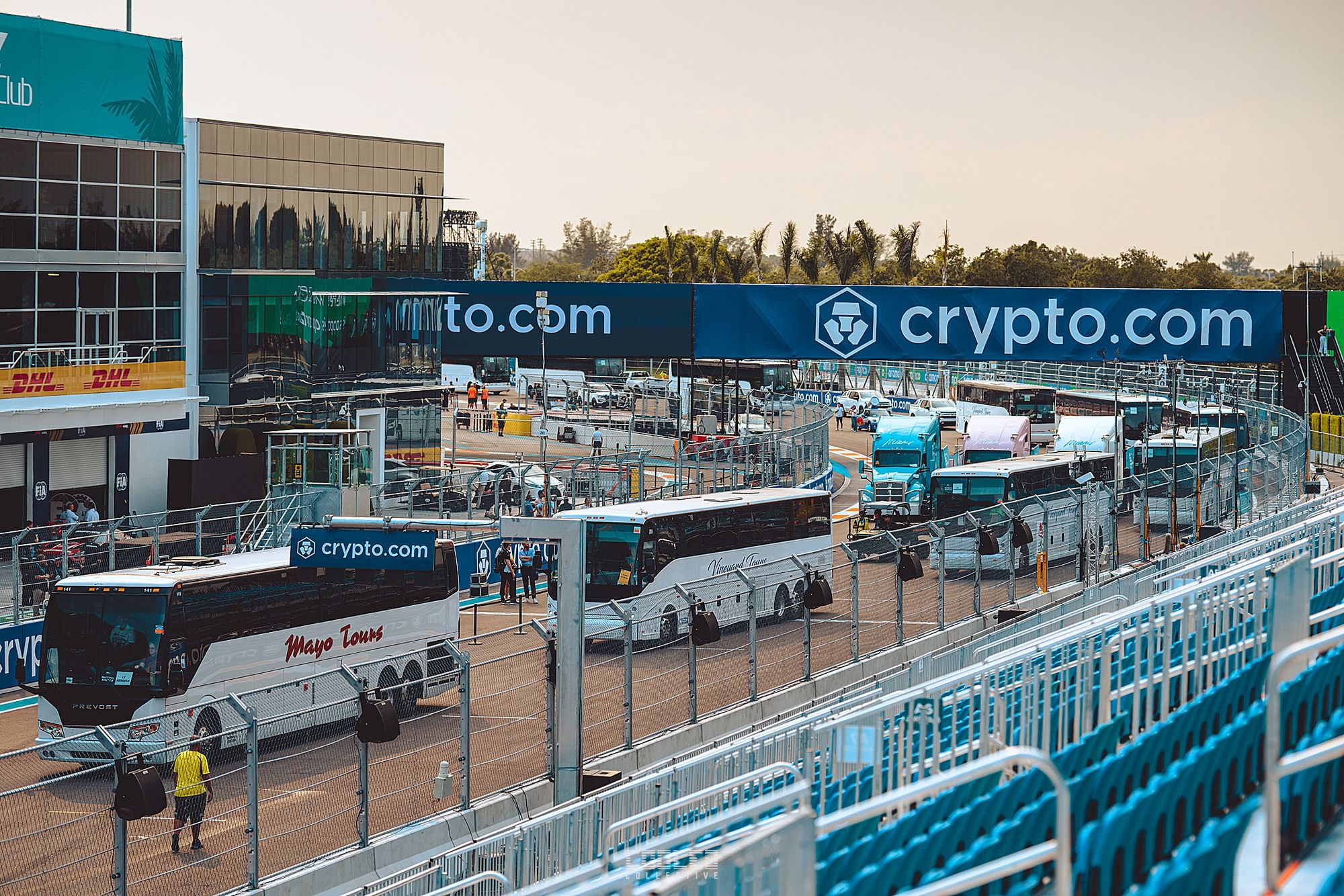 We were told that Post Malone was going to be singing on stage at the Hard Rock Beach Club or the South Beach part of the track. We went to go knock out some images of the space and finished off with a golf cart tour of the track. This faux beach was one of my favorite spots due how much sand they brought in to make it a legit beach feel.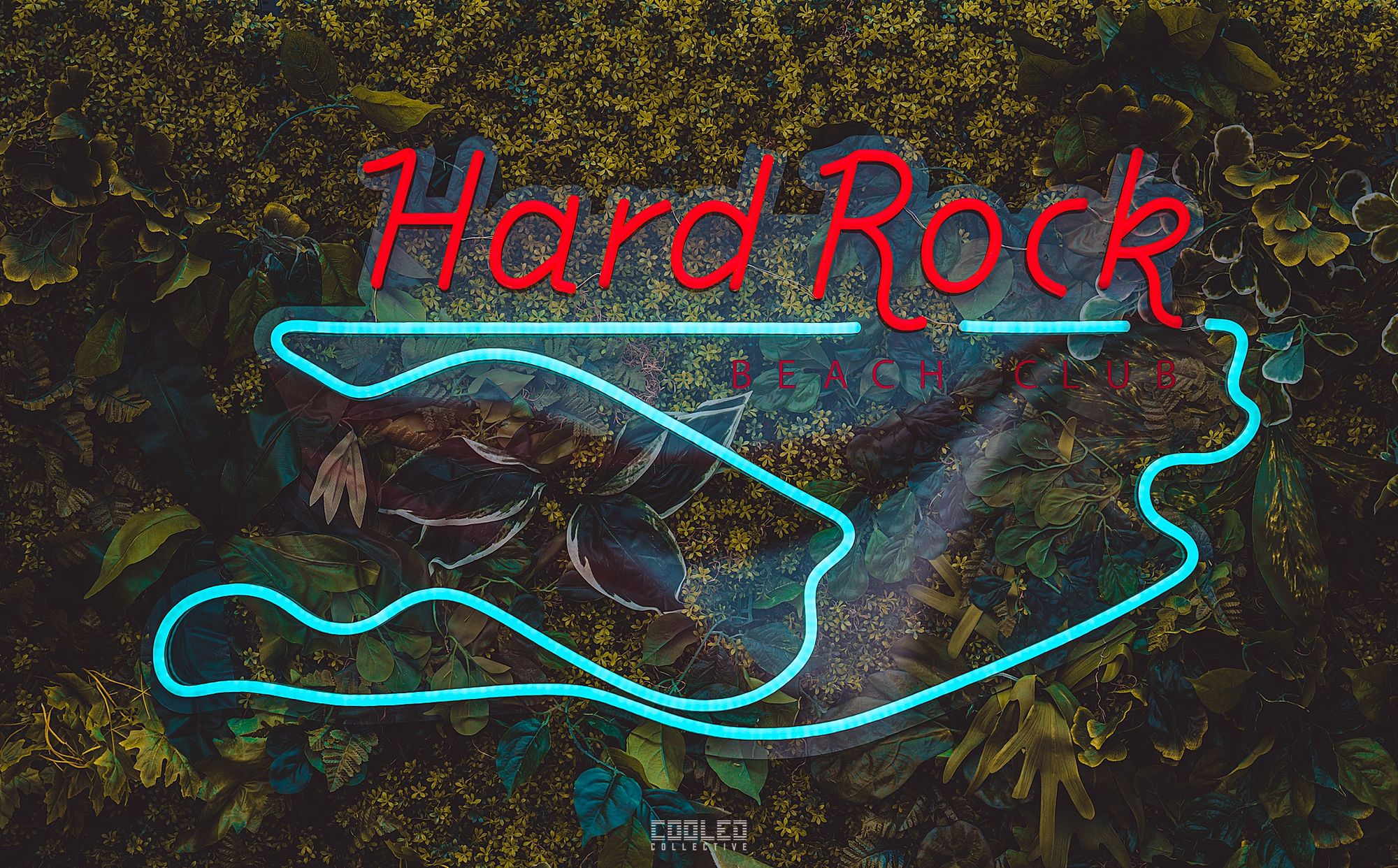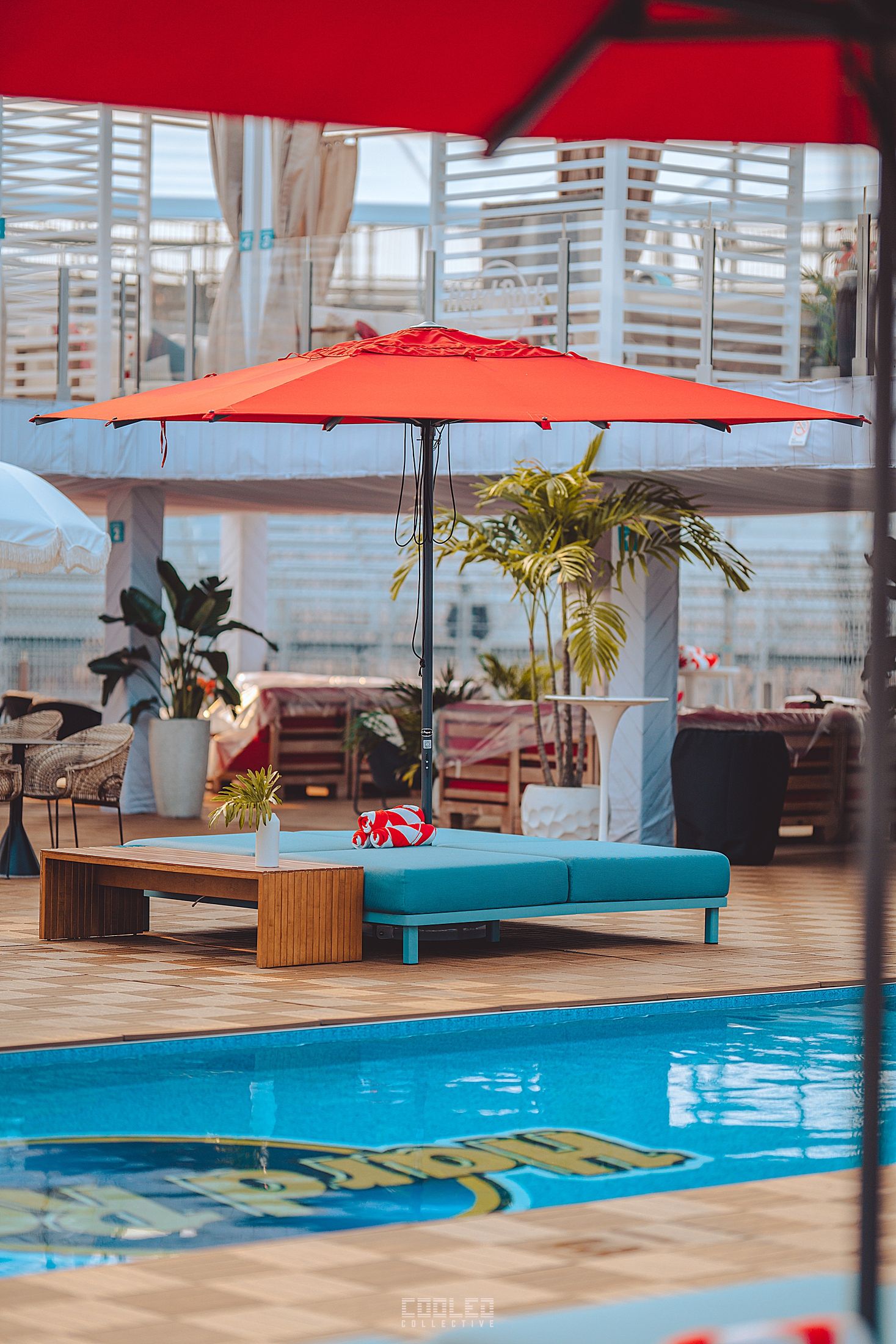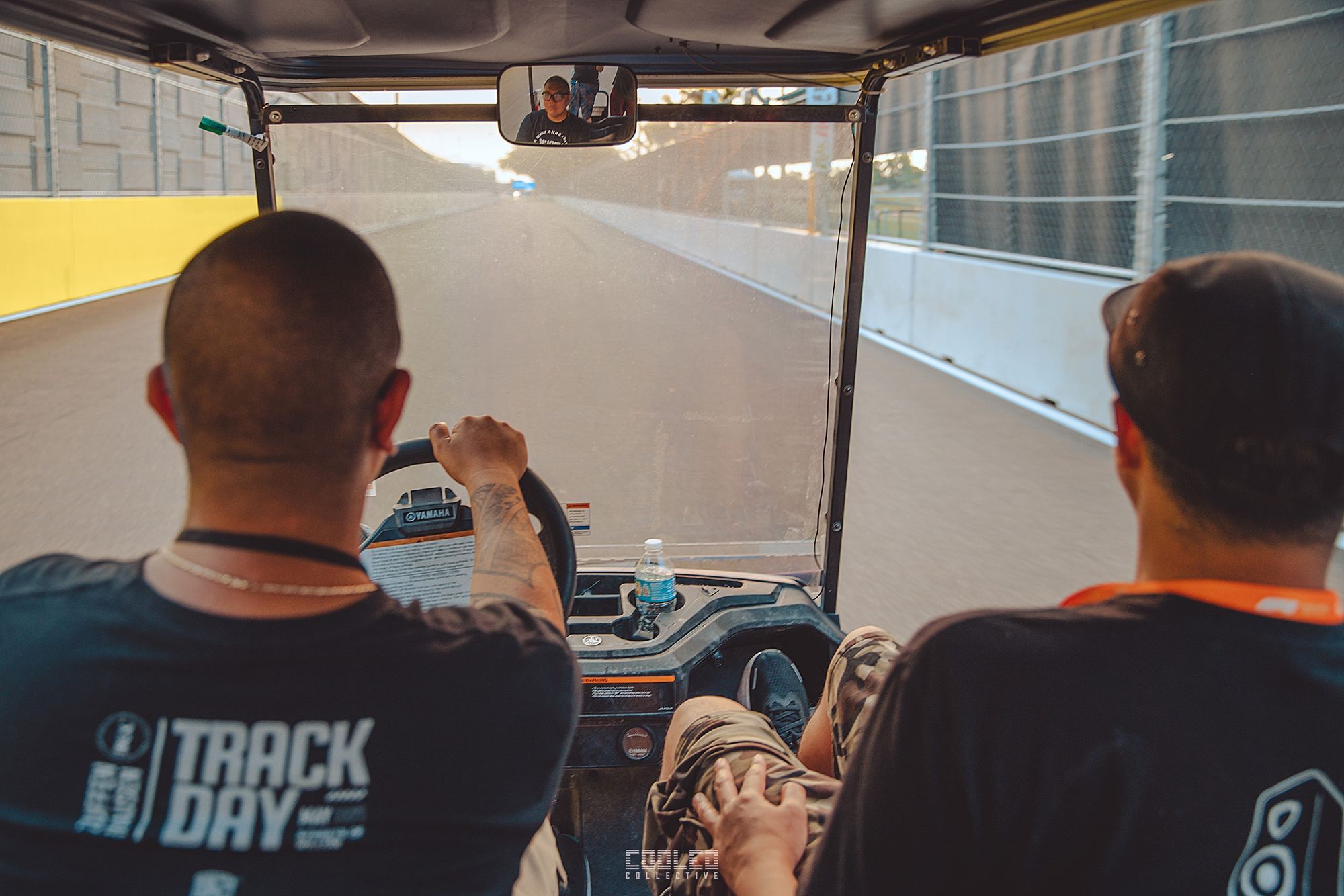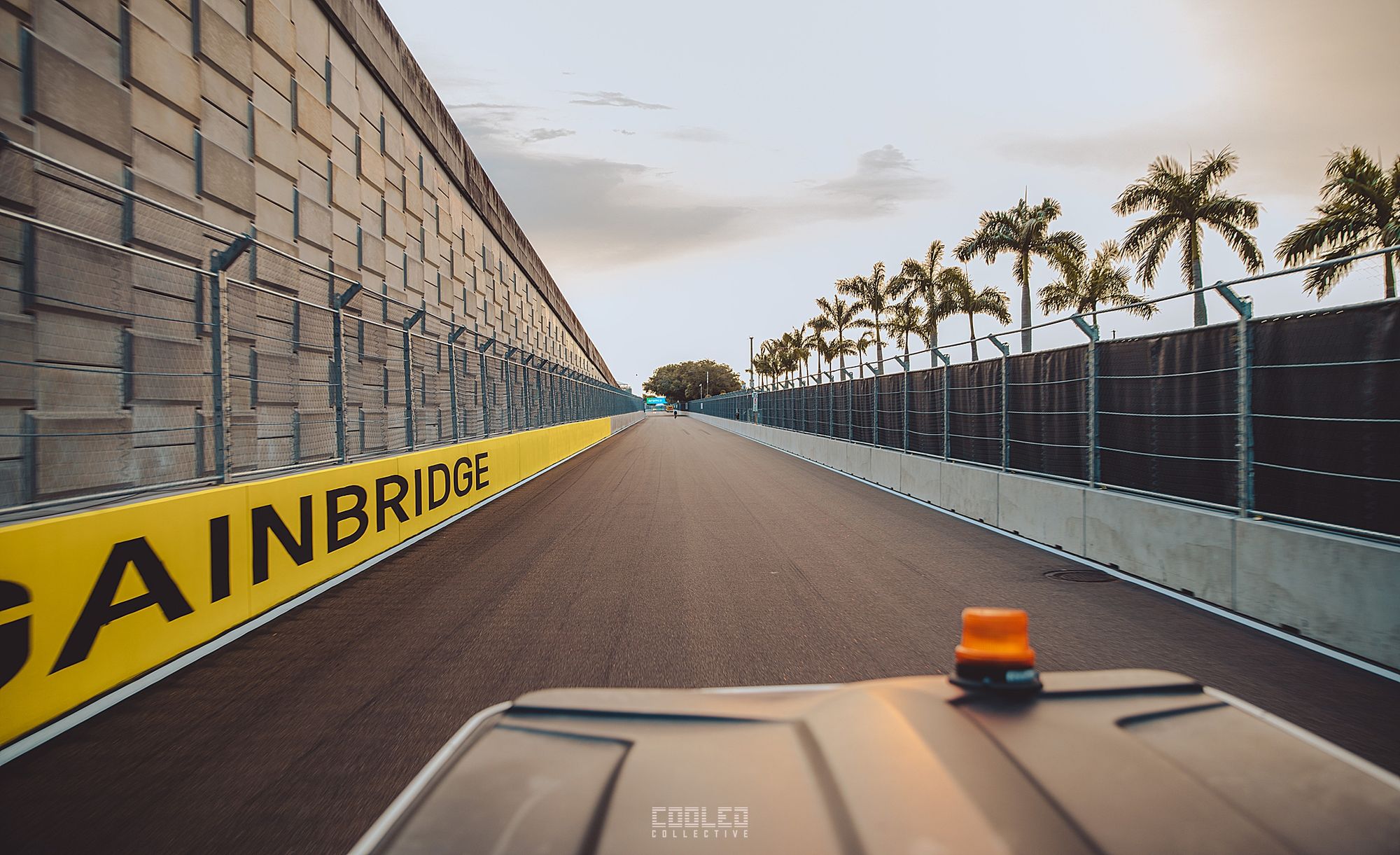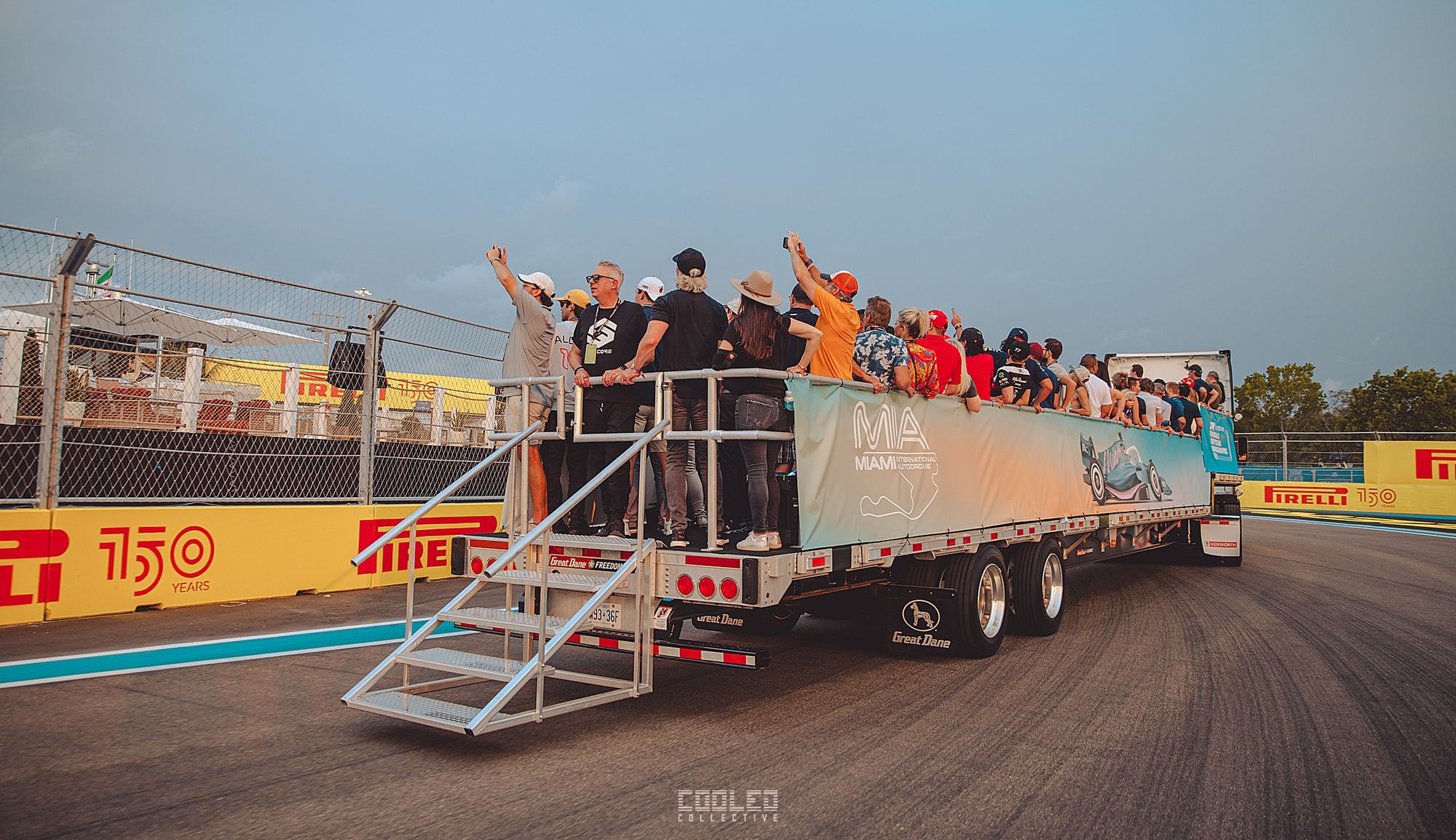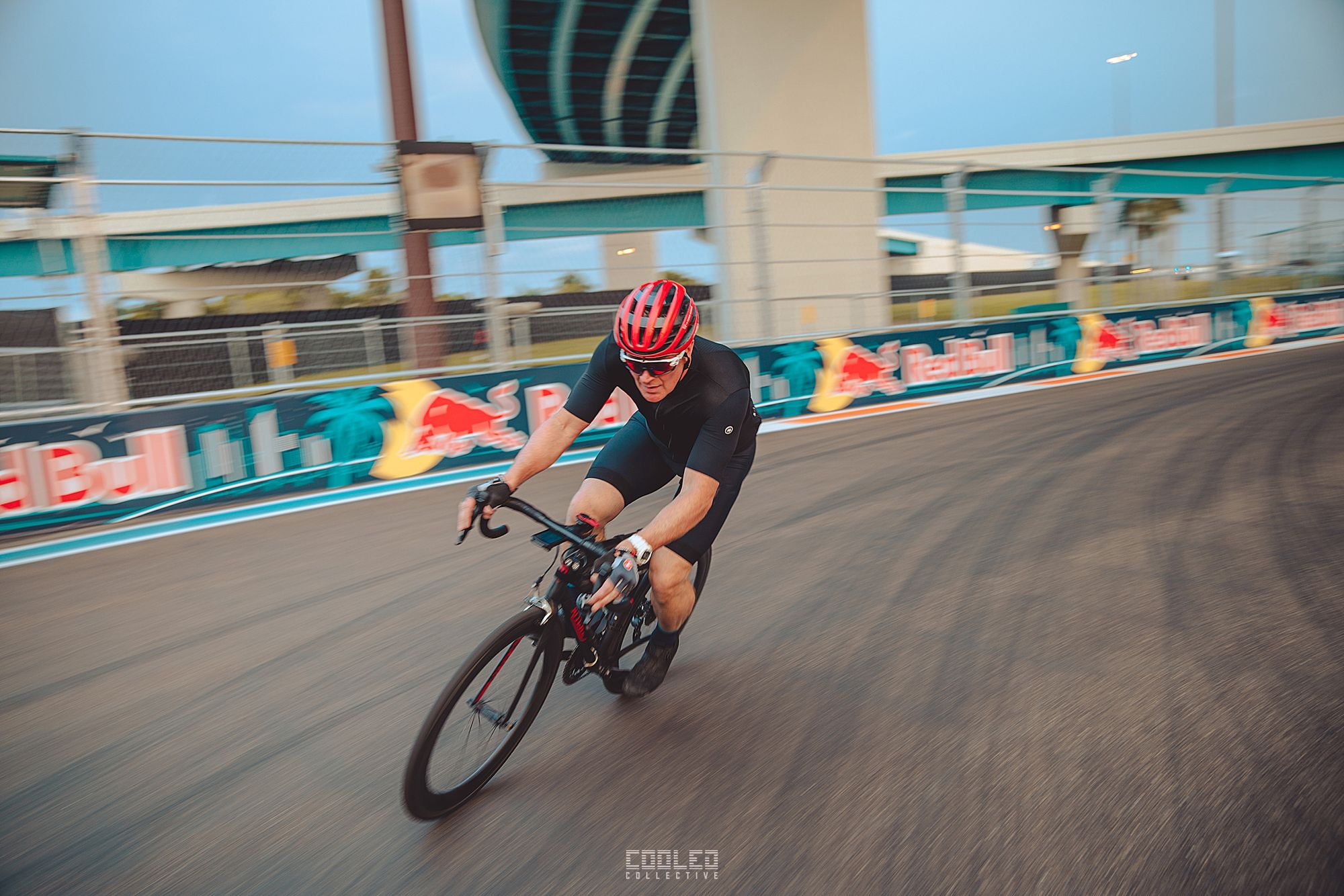 At the end of the day, you can see a bunch of people running and biking around the track. A pretty nice perk if you ask me... this gentleman was flying down the track and blew past the golf cart at a pretty good speed.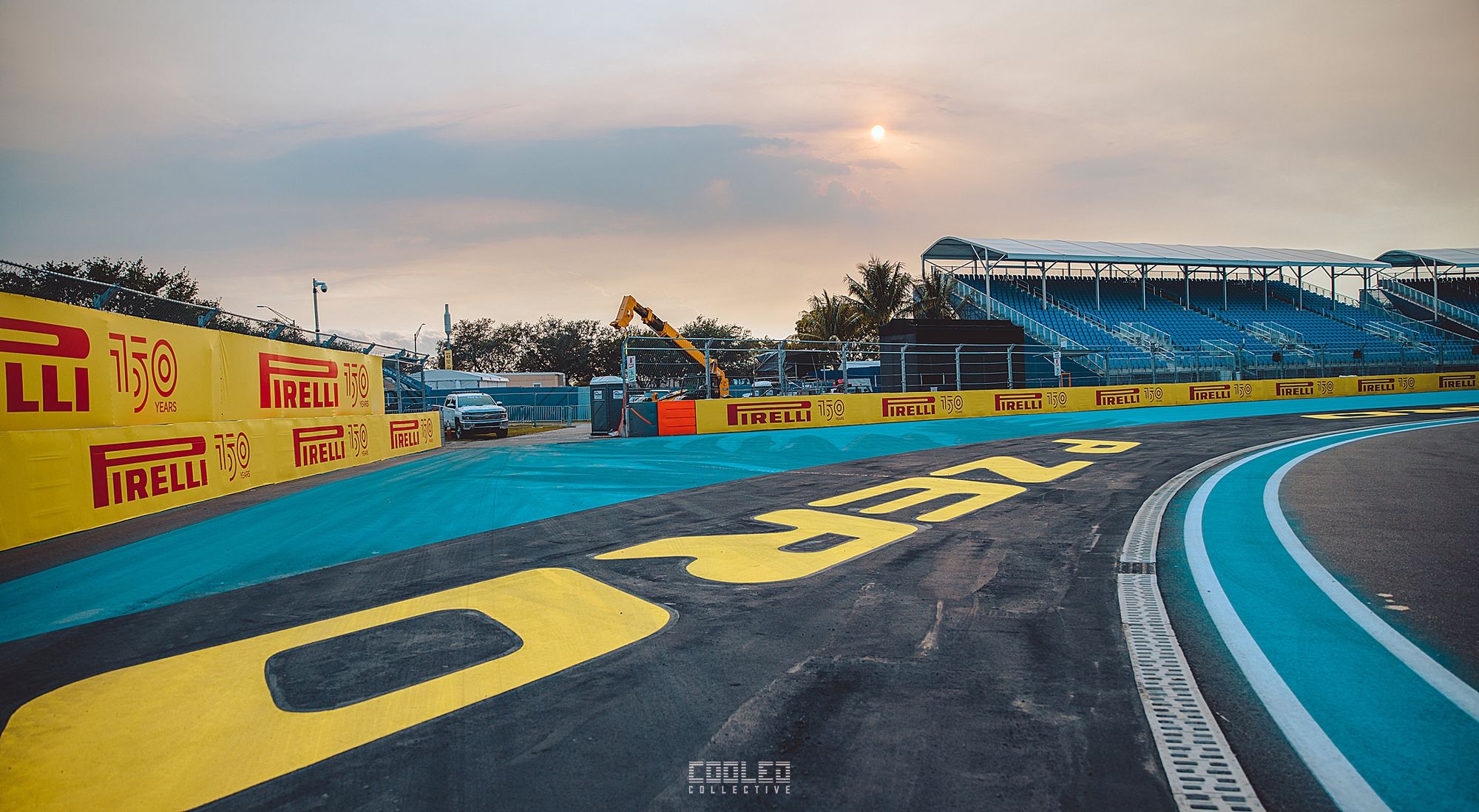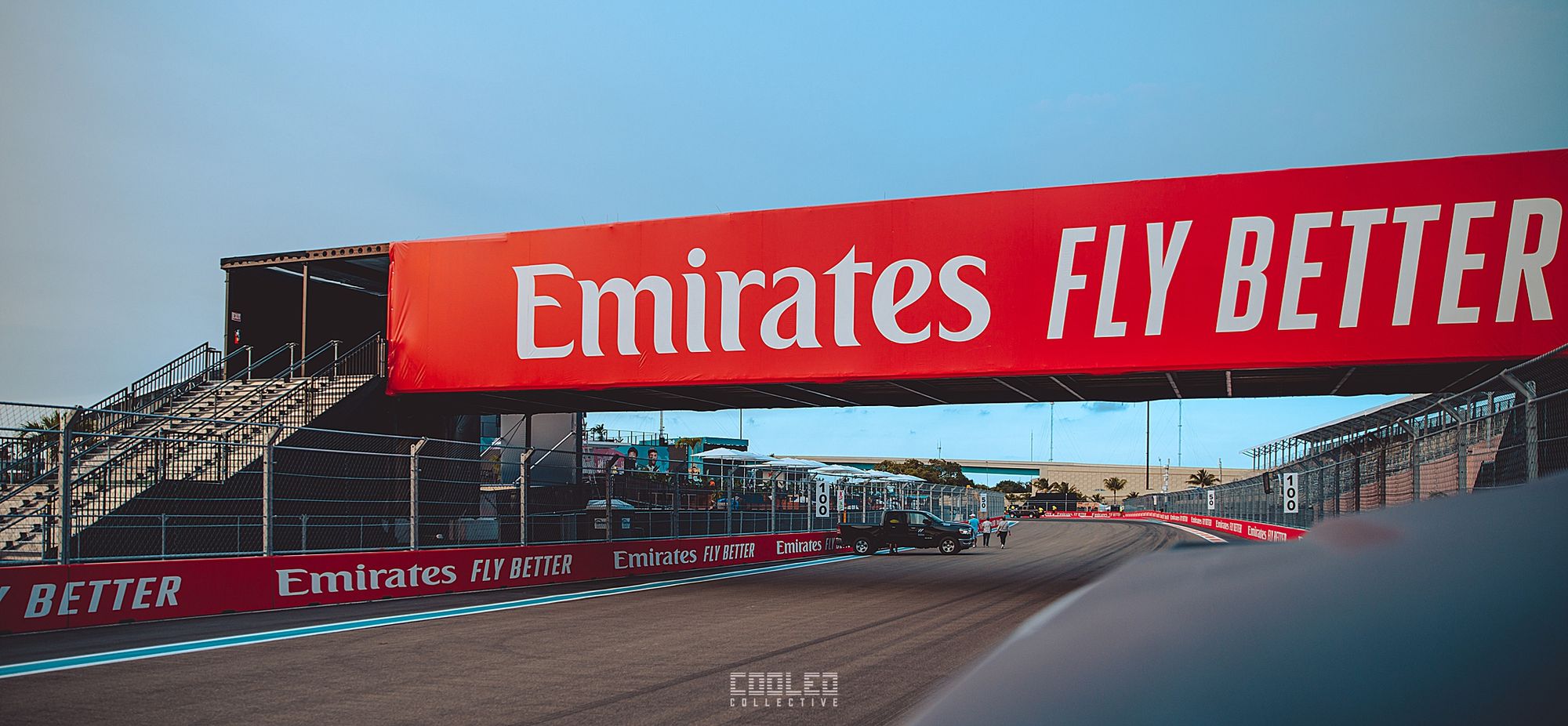 Outside it being crazy hot, it was a long day filled with some pretty amazing bucket list moments. To be able to see all of the work that goes into a 2.5 hour race production is absolutely unreal. The money, time, energy is just next level. Super excited for what else is to come in the coming days leading up to the big race. Stay tuned.
Drew Manley
#miamigp #formula1 #f1 #cooledcollective #cooledblog #miamigrandprix