RWB HQ
---
Traveling can be grueling almost all of the time. Your body goes through time and space shifts, you don't eat well and you are constantly moving because you didn't pay just to sit inside a hotel room. By the end of day 4, I was physically and mentally exhausted and if the past was any indication of the future, then I know that working 7 days straight of 15 hours shifts leads to bad places. Happened to me last in Miami of 2020 right before Covid derailed most of our lives.
At dinner of day 4, I told Phil and Angel that all I wanted to do on the remaining 3 days is to rest, edit and eat however the universe had something else in store for me. I got a DM from an account @arios_suzuki and I get sent a photo of a widebody aircooled 911 cabriolet inside a garage.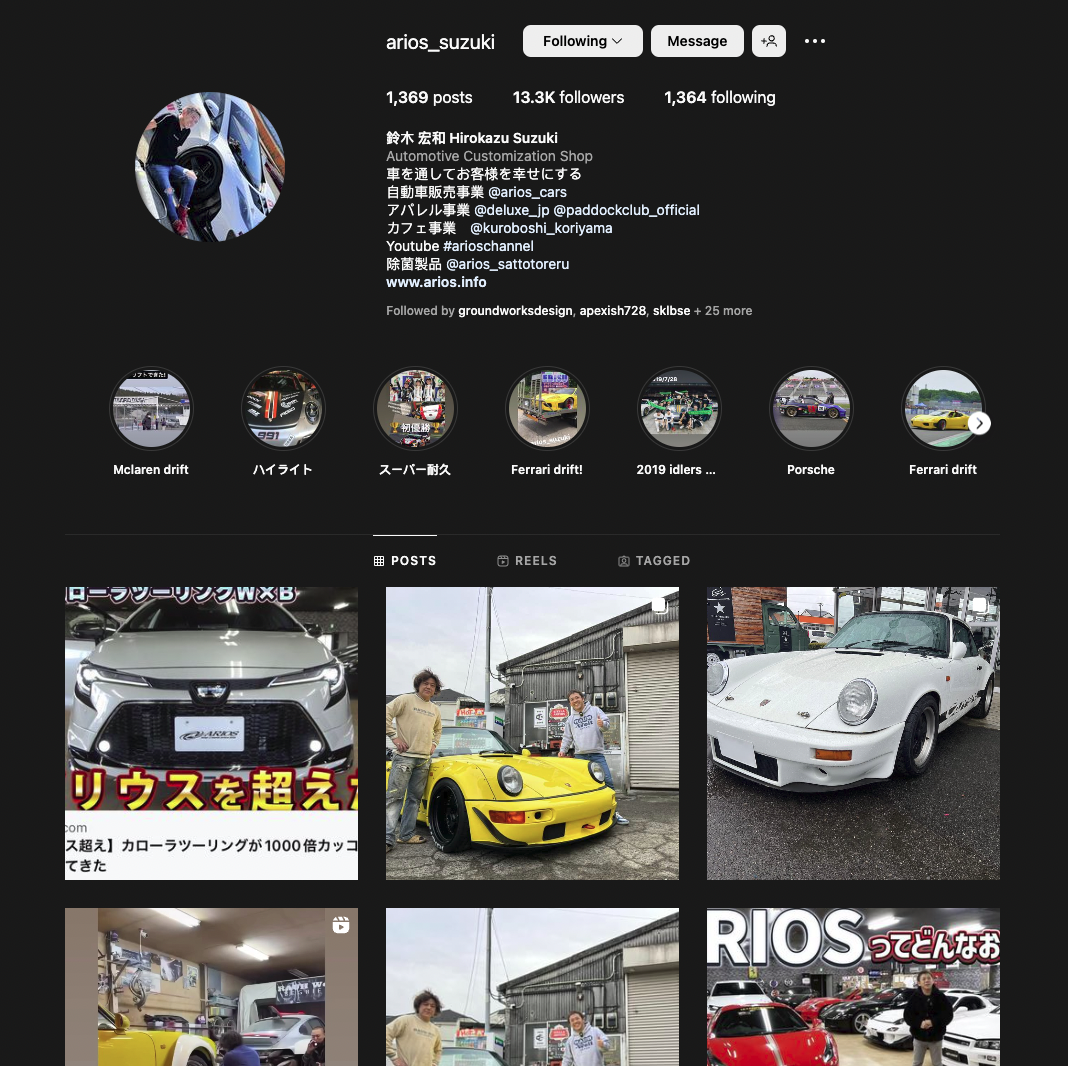 Very vague DM but then I got to ask if it was his car and he responded with, "RWB headquarter now" and then proceeds to ask me if I am free tomorrow and that he would ask Nakai-san if he was free for me and any friends of my friends to come and hang at RWB HQ. He gets back to me 15 mins later and says, Nakai is free and let me know how many friends are with you so I can see which car I need to bring.
Pretty wild going from sharing a photo to hanging out at RWB for a private gathering. When I asked the guy what his name was, he answered "Hiro" and so began the journey of hanging out at RWB HQ and then finding out who Hiro was.
I asked around and Angel from Art of Attack, Rick from Speed Hunters and Ryan Rywire were all down to go. Well, Ryan came back to his hotel at 5am but somehow managed to call me 12 mins before leaving to RWB in some random coincidence. I mean who wouldn't be down to go with a complete stranger to go to RWB HQ right?
So the next morning at 9am sharp, everyone meets up in front of my hotel and a Toyota Prius shows up ready to take us to RWB. At this point, I still have no idea who Hiro is but he seems friendly enough so we all just cram into the Prius and off we went. We were lucky that Hiro's English was conversational so we were able to talk to him quite a bit about his relationship with Nakai, his love for cars and so on. The hour long drive went by very quickly since the conversation was flowing.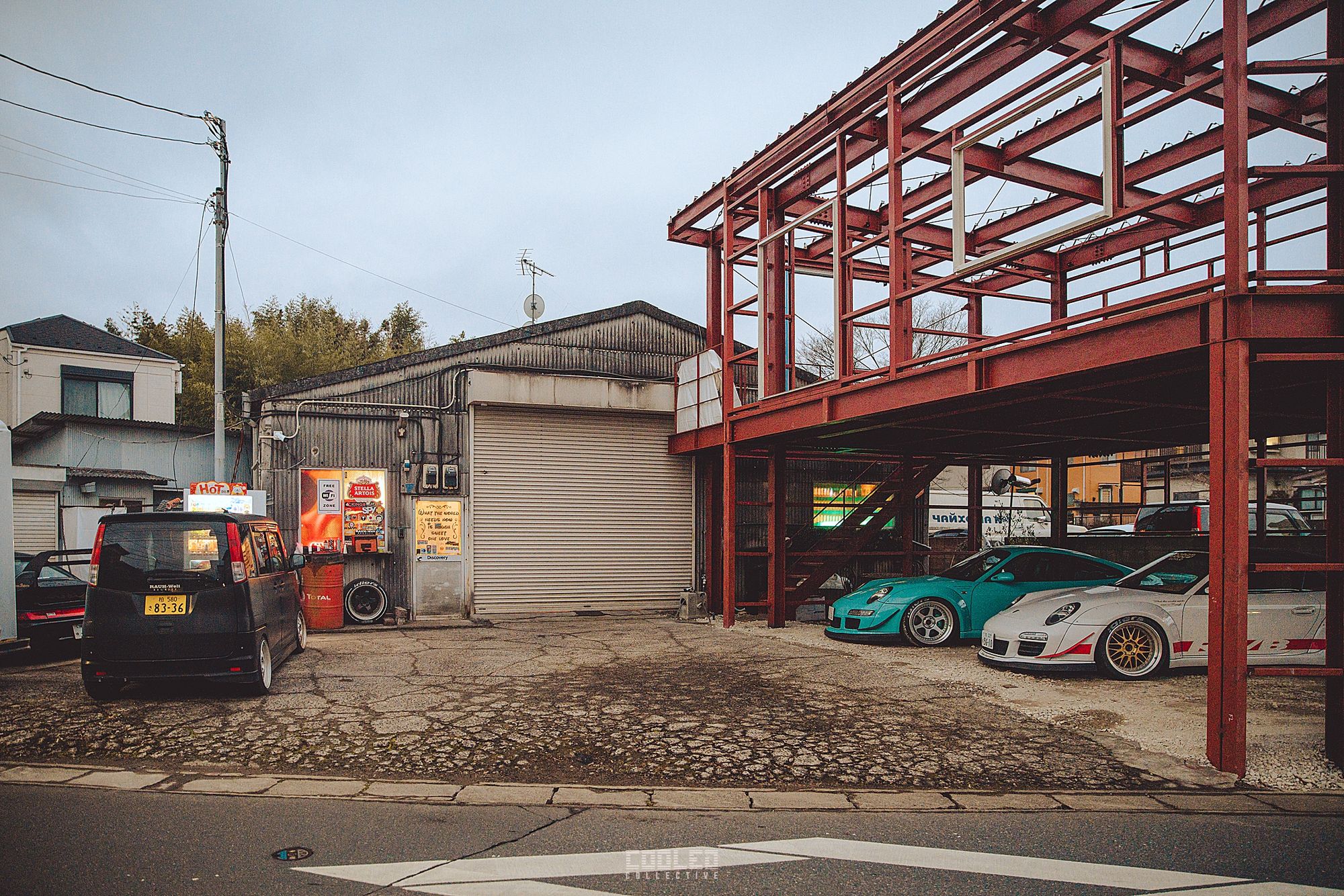 When we arrive at HQ, we find that Nakai-san still isn't there. So we wait a bit as Hiro is trying to get a hold of Nakai. In the meantime, we find out that Hiro is a seasoned amateur race and drift driver. He was showing us a photo of Ferrari 360 drifting and I immediately ask him, "I know that is not easy to do right?" and Hiro responds back with, "No, not easy" and we all laugh. He also drifts McLarens and many other exotic models. At this point, Angel and I look at each other and and was trying to figure out who Hiro was lol. Definitely more than meets the eye.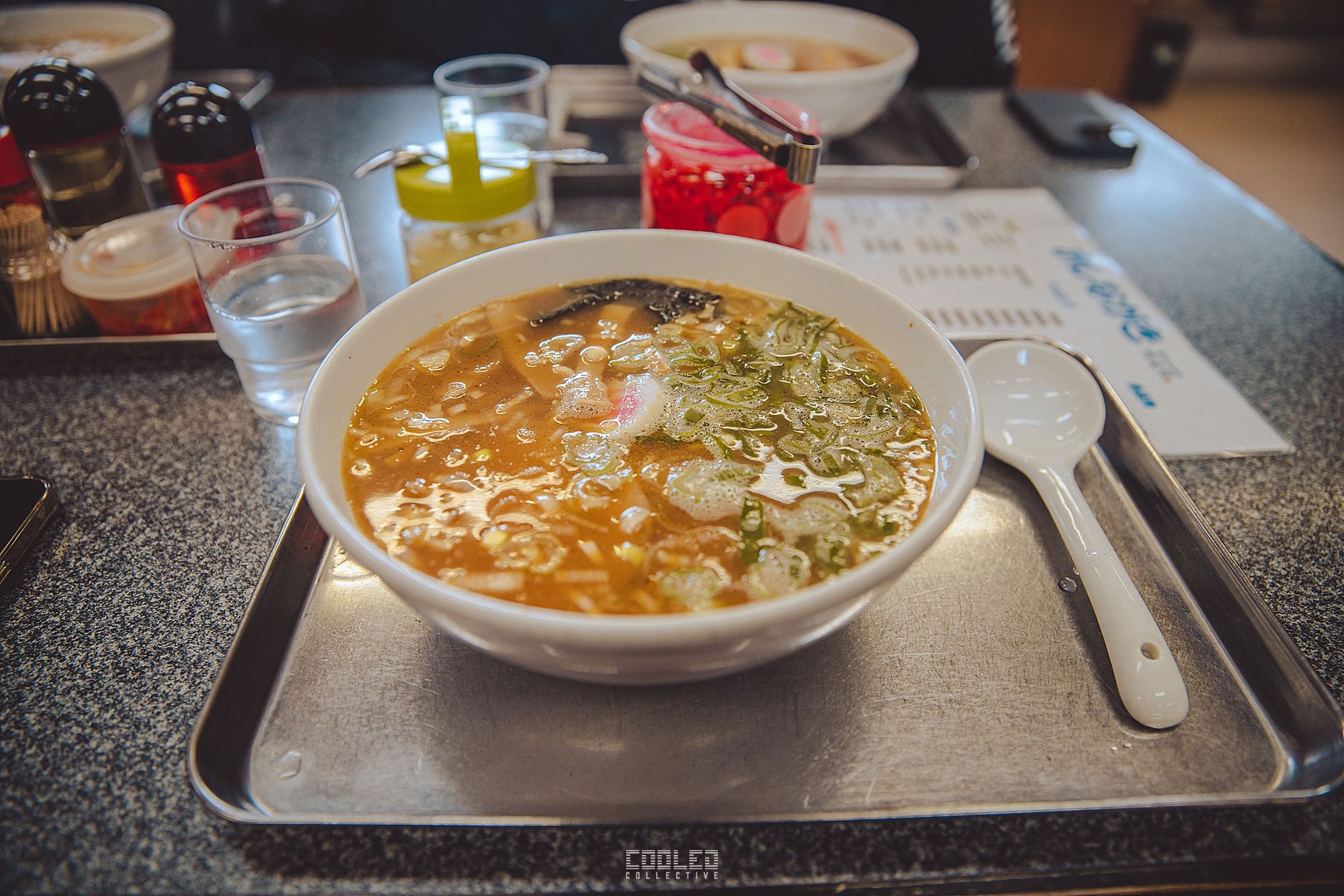 Hiro eventually says we should go eat and come back because Nakai isn't answering and so we went down the country road to Nakai's favorite ramen restaurant. When we arrived, it already had a line before they opened so it was a good sign. We end up getting seated in the extra room due to our party size and shortly after, we got our order. The ramen at this location was really good and so comforting.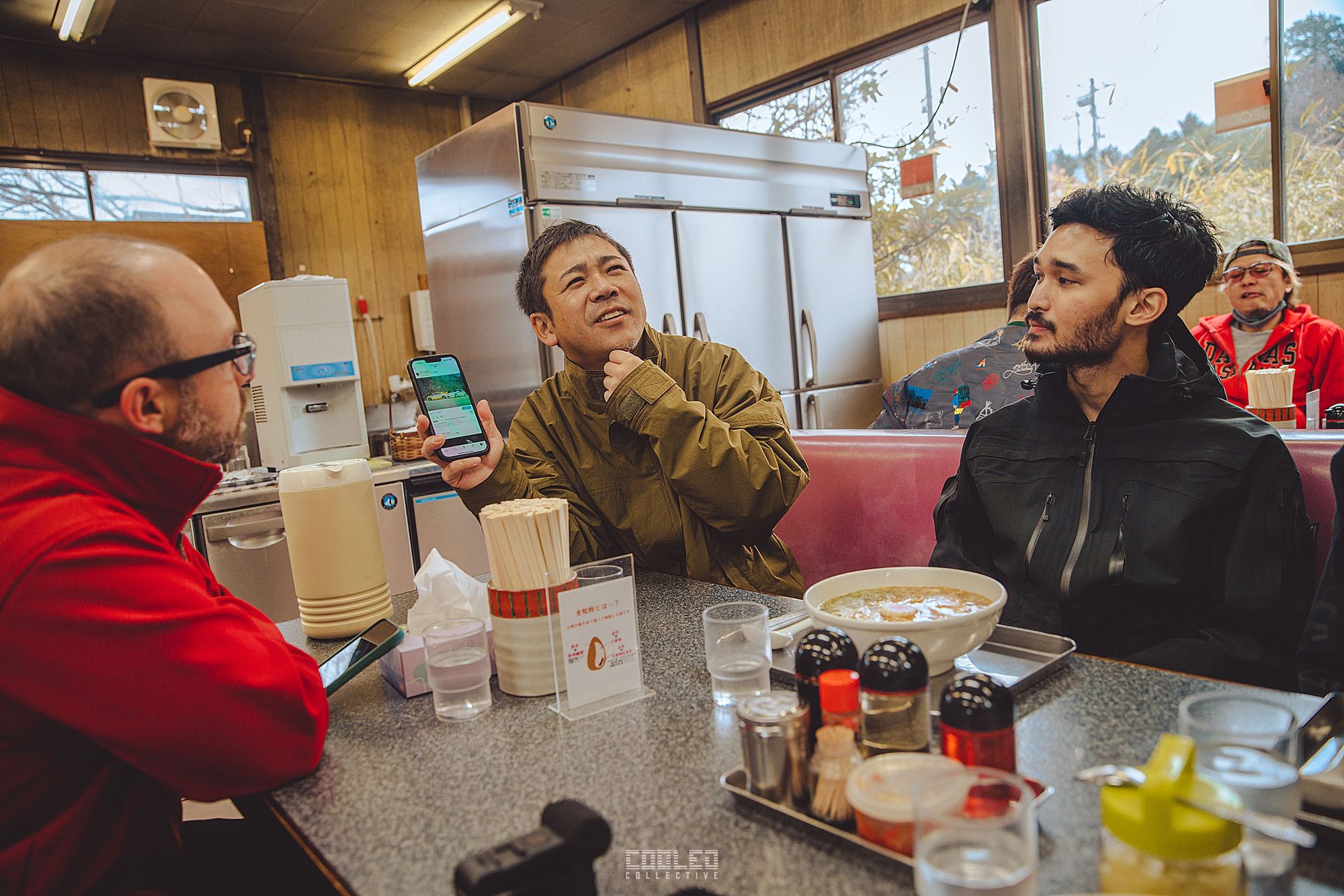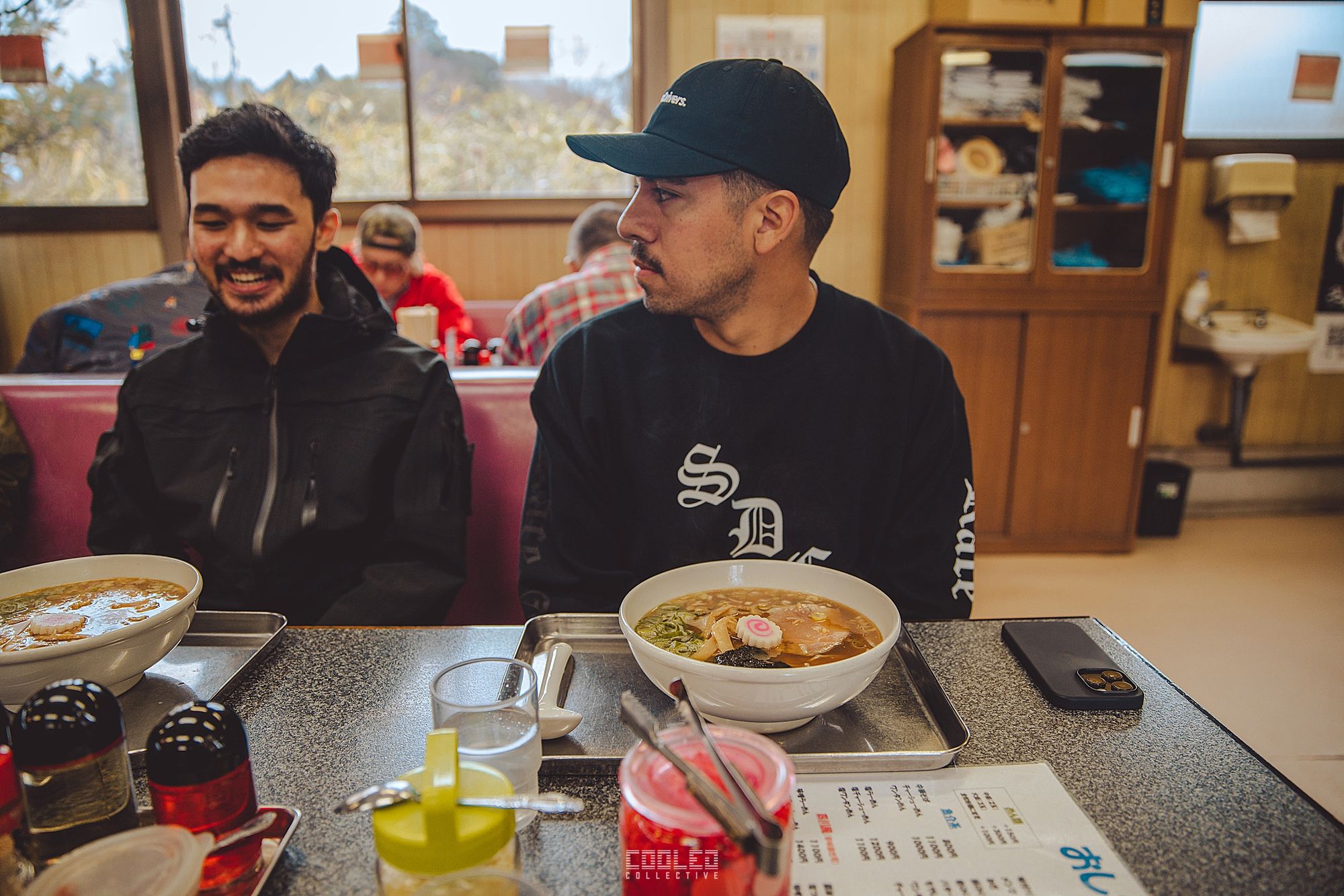 We got to know Hiro very well at the table where he shared the story of how he got into racing, drifting, how is dad inspired him to do so but at a point where he wanted to go Pro, finances were just too much for his dad who was a mechanic to take on. Before that point, Hiro mentioned that he was winning most, if not all the races he entered. I know that many of you know how difficult funding is for racing and since racing is money, you got to have money to race, especially full time.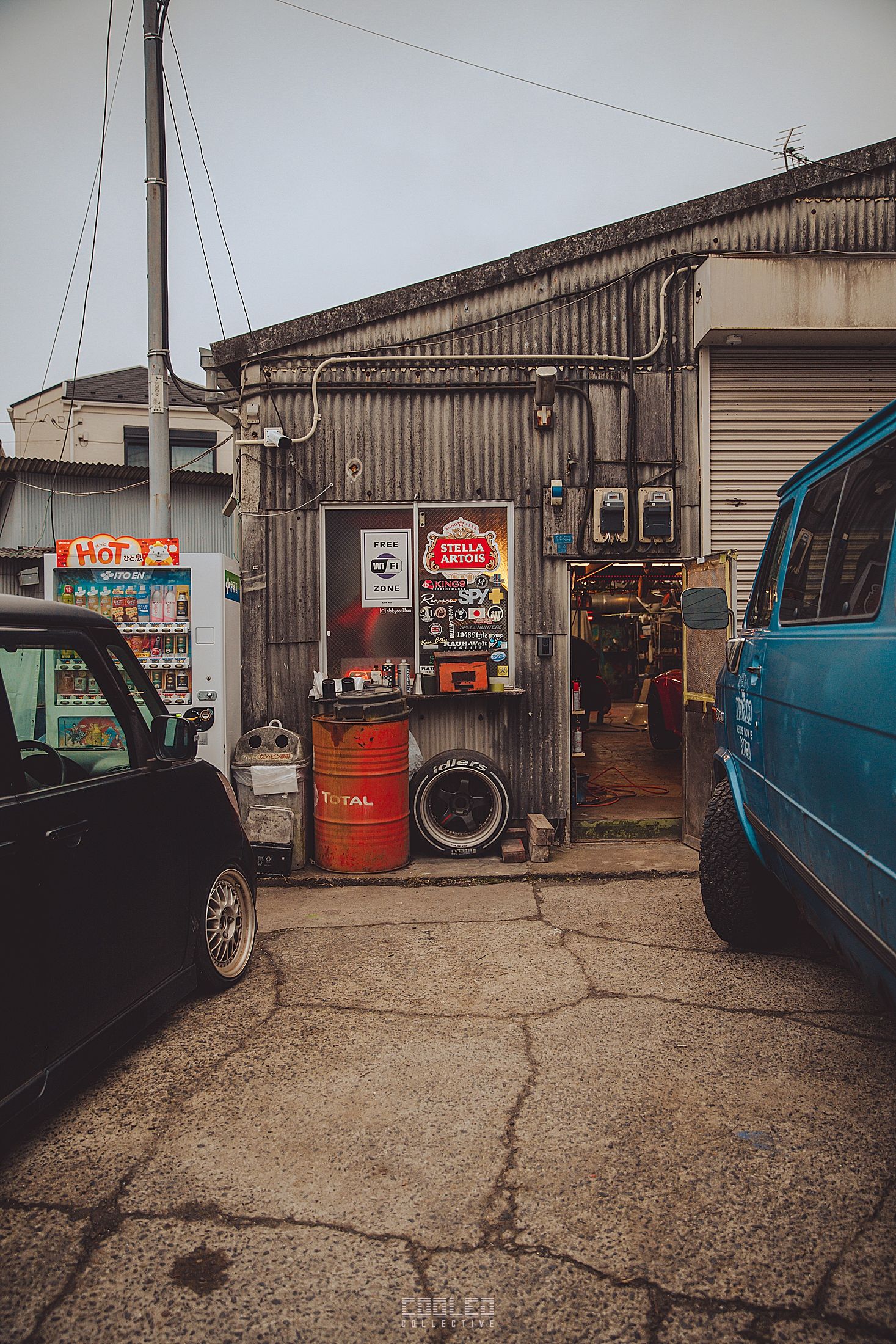 After our brunch, we headed back to RWB HQ where Nakai's fiberglass expert was working on the new 997 kits. Seeing Hiro interact with him was really fun as you can tell they were very comfortable with each other. This is when we find out that Hiro has had more than 10 RWBs built! Yet another layer to Hiro we are finding out.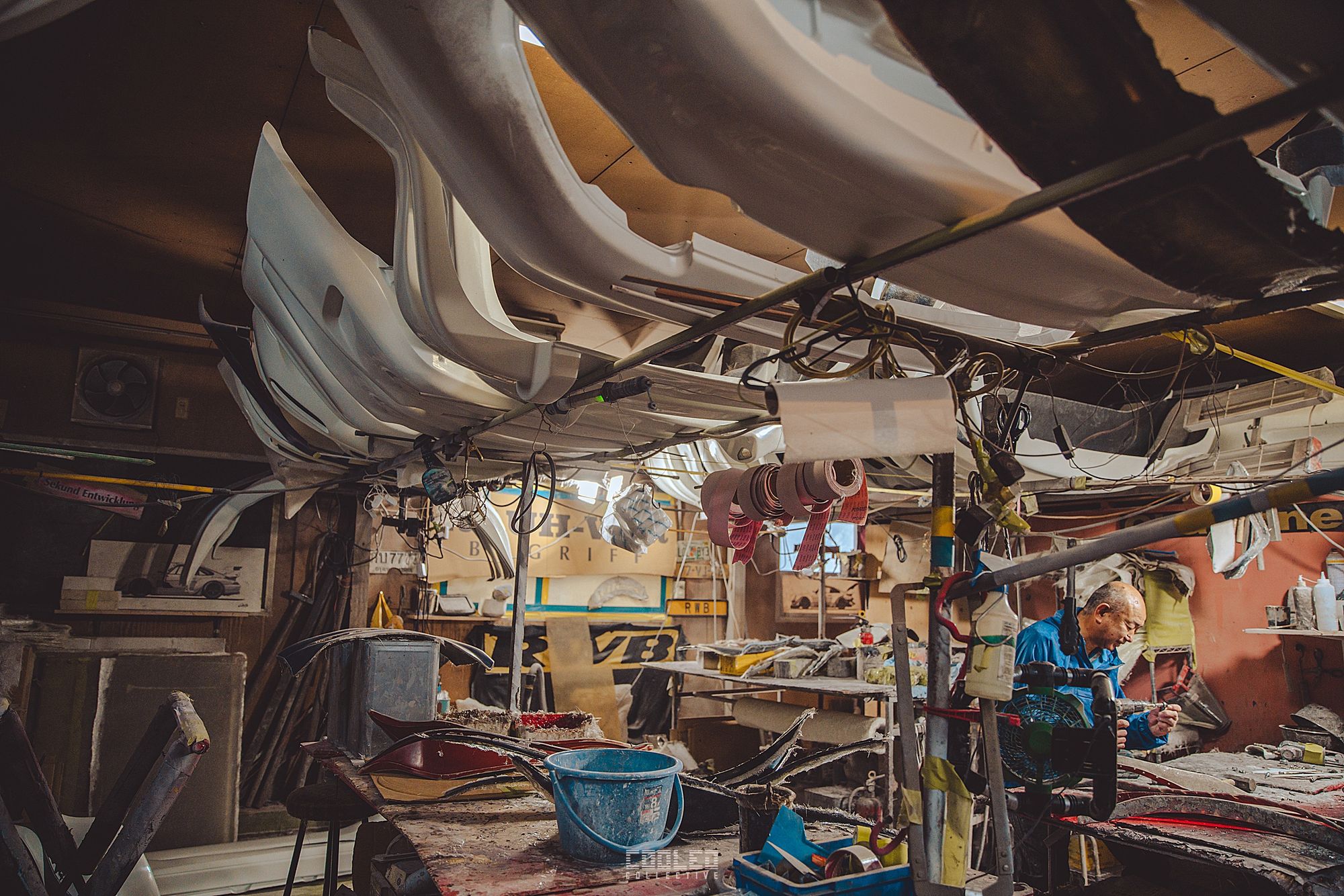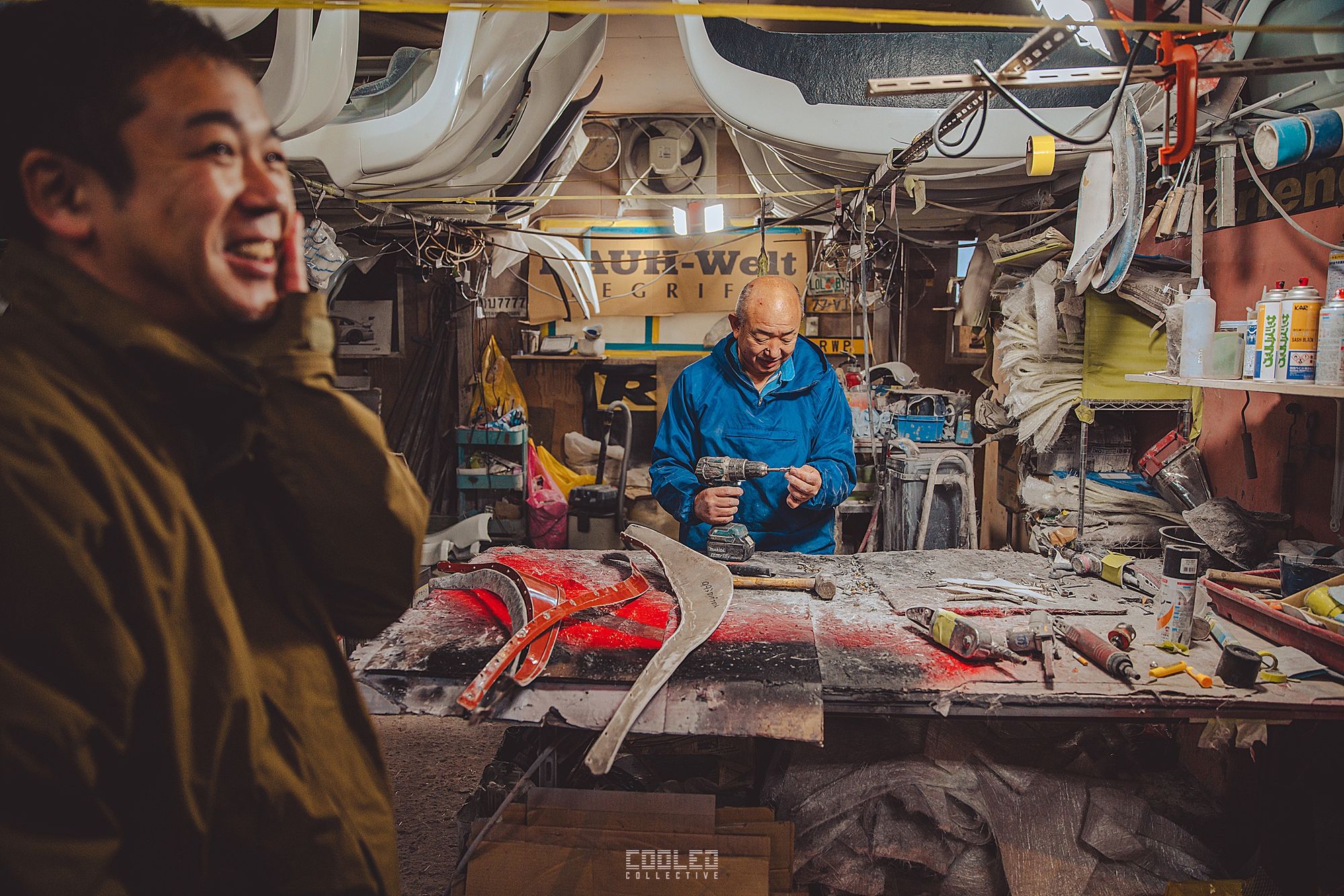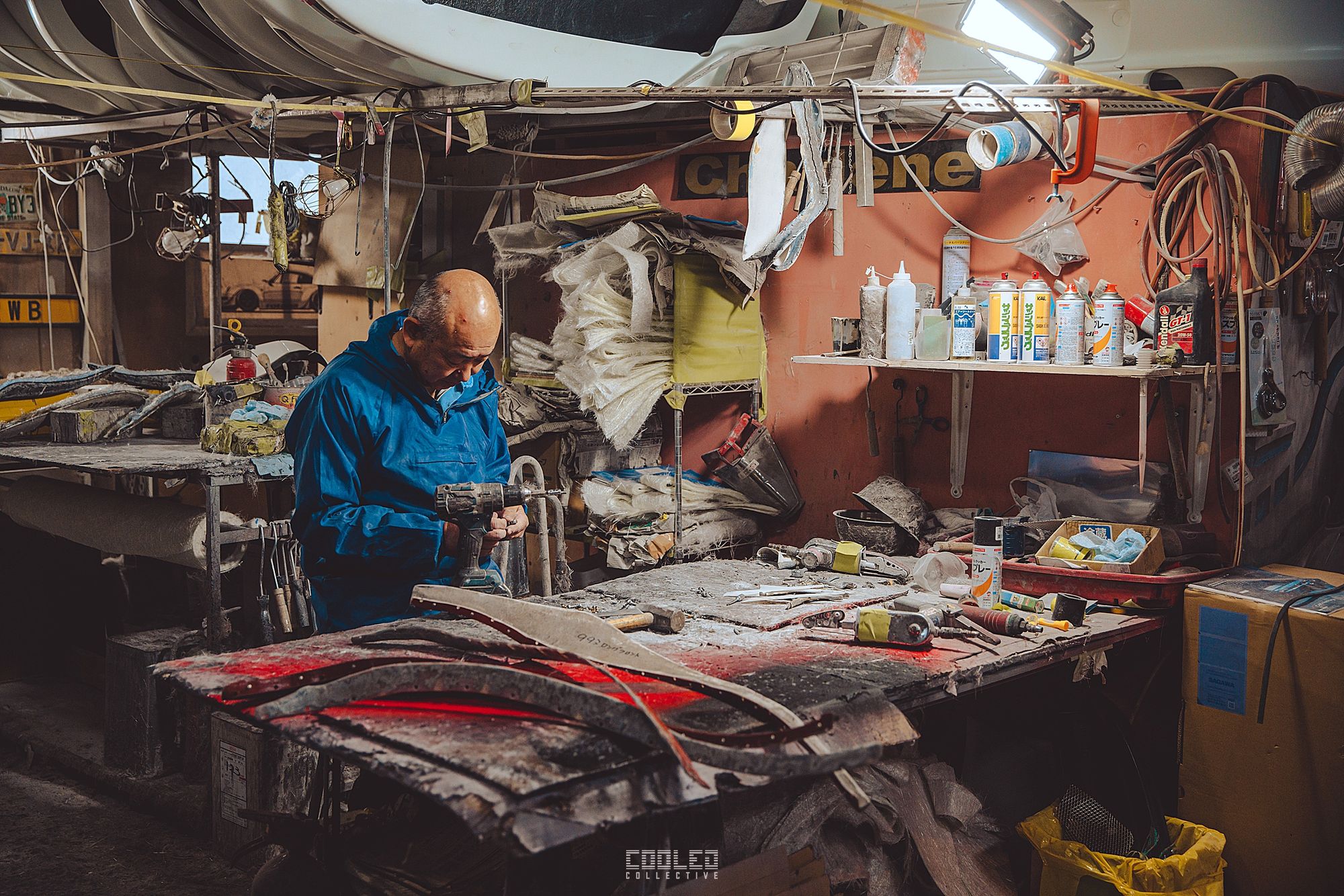 When Nakai-san finally arrived, we went straight to his pack of Winston's that he is so famous for smoking. He has his stash packed and ready to go. We hung out with him in his new garage extension that he recently built. It was freezing inside the unit but a powerful propane heater got it up to temperature quickly. We all chilled inside for 30 mins or so until he was ready to get to work.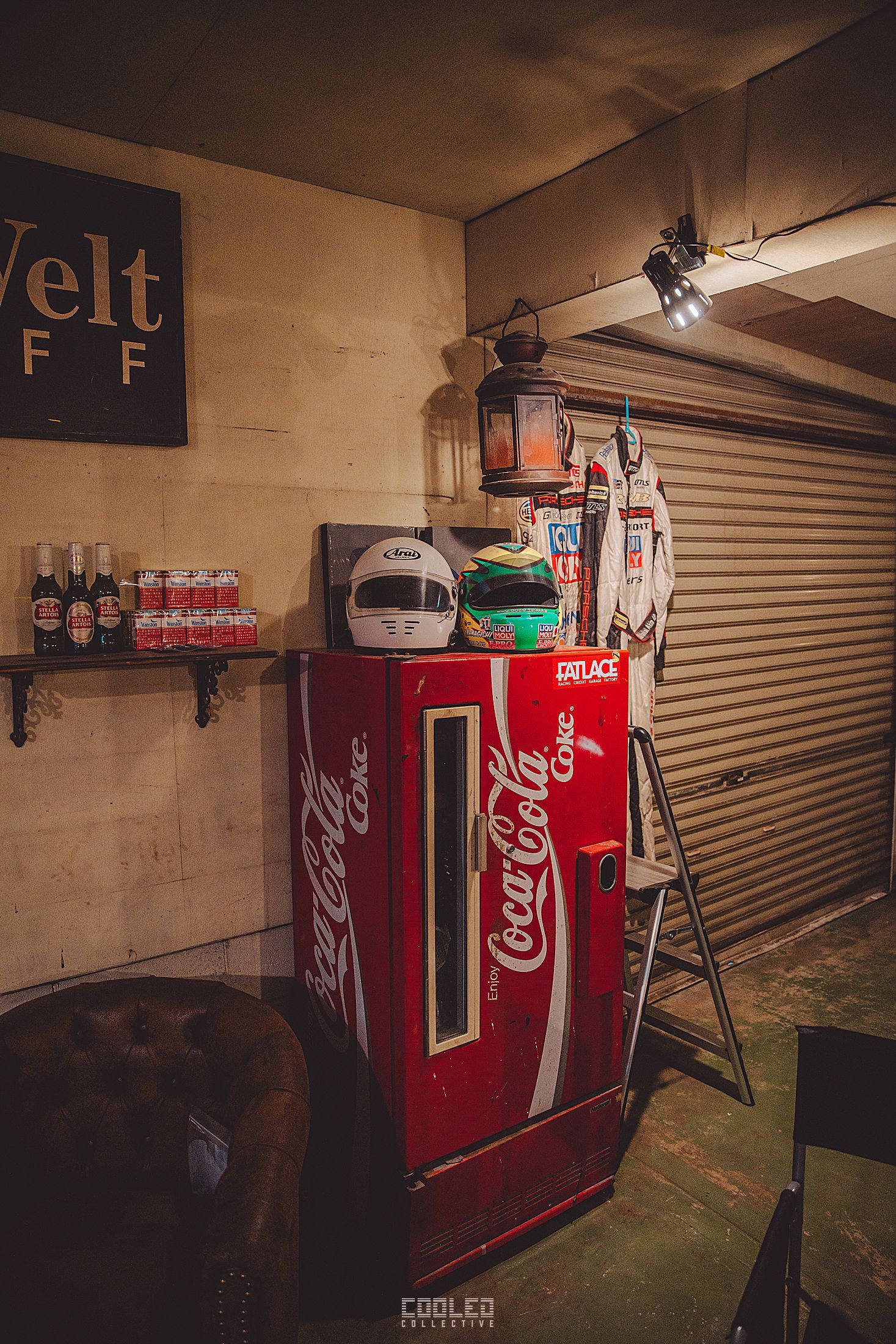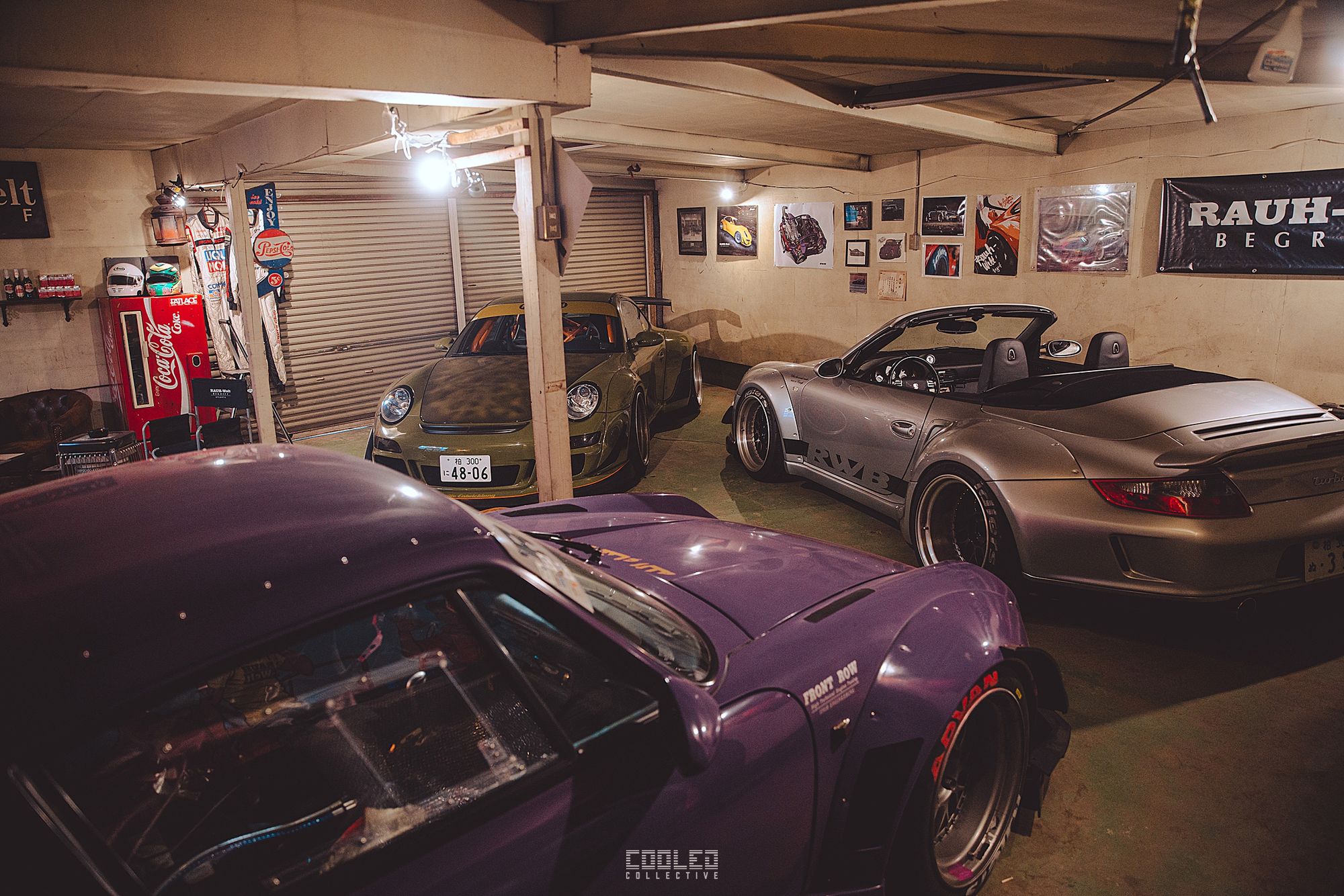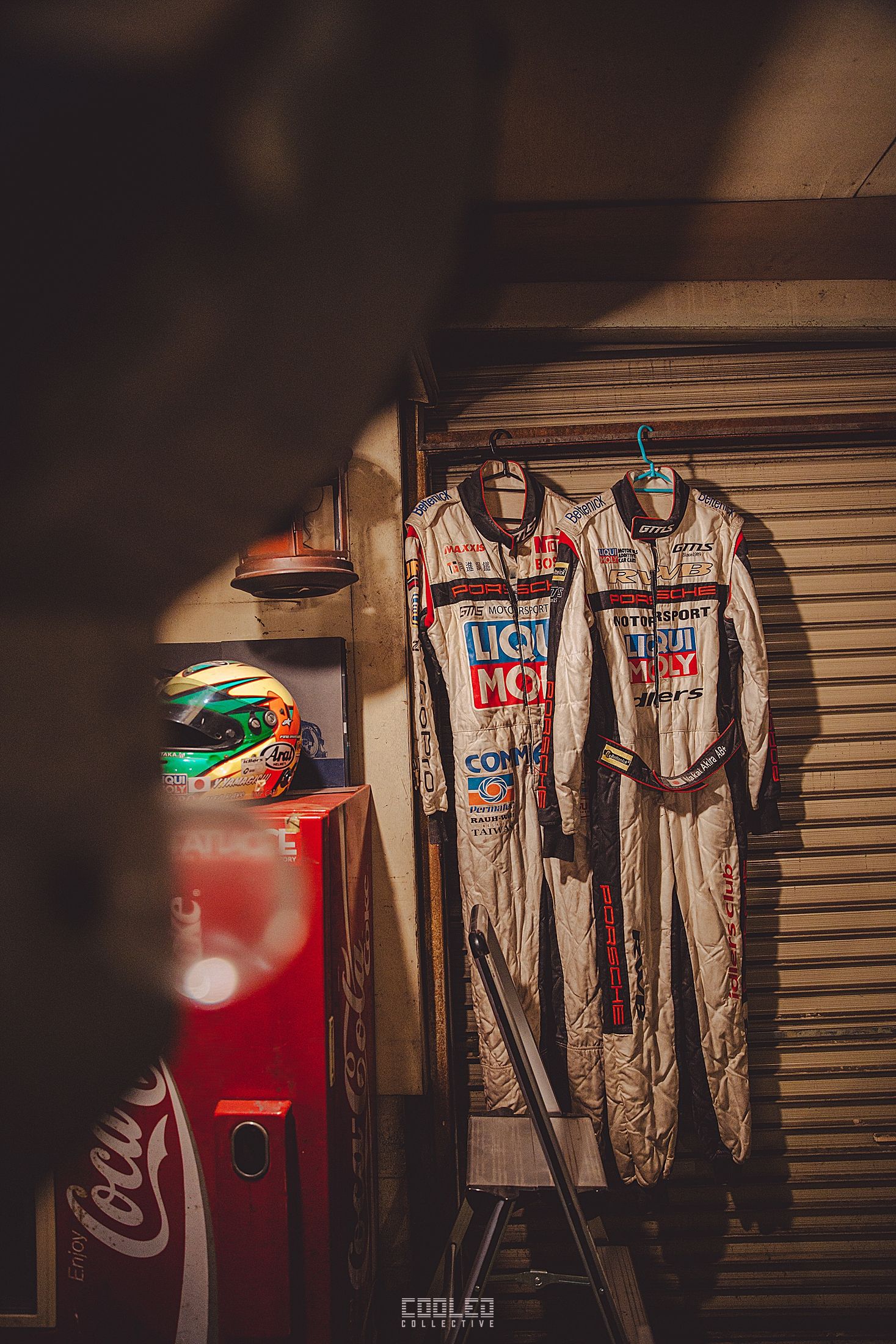 While we were talking, I noticed what appeared to be a 997.1 GT3 RS clubsport and asked if it was. Hiro said, "Yes, this was my old car and now it is a 997 GT3 RS clubsport RWB." My jaw basically dropped at this point because when someone like Nakai commits to something, you got to commit all the fucking way and this is quite the statement. So much respect seeing this in person.
This is when RWB Vancouver comes in and shares with us stories of Idlers 24 hours race in July. He tells us that our friend Hiro has won a majority of the races and of course we all start laughing hysterically because, yes our "uber" driver is this amazing person who is layered like a large onion. On top of that, Hiro tells us that Nakai has sold off most of his aircooled 911s because the new chapter is 997's, so all the old stuff had to go.
Guess who brokered all of the RWB aircooled sales? Yup, you guessed it, our guy Hiro. He is also in the import/export business and moves a lot of JDM cars out of Japan. Hiro has so many uncovered talents, it is amazing to see and meet someone of his caliber at the most relatable level.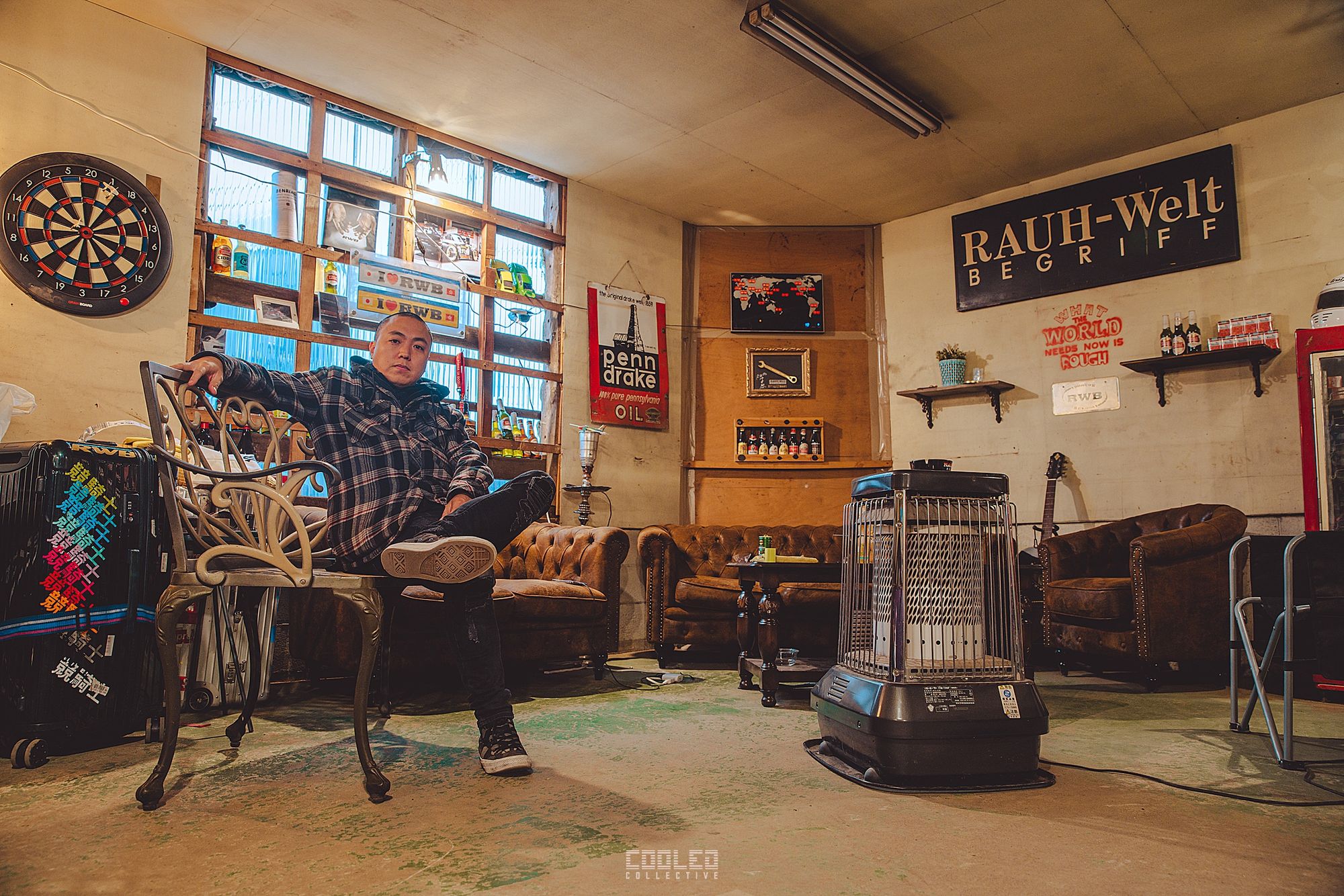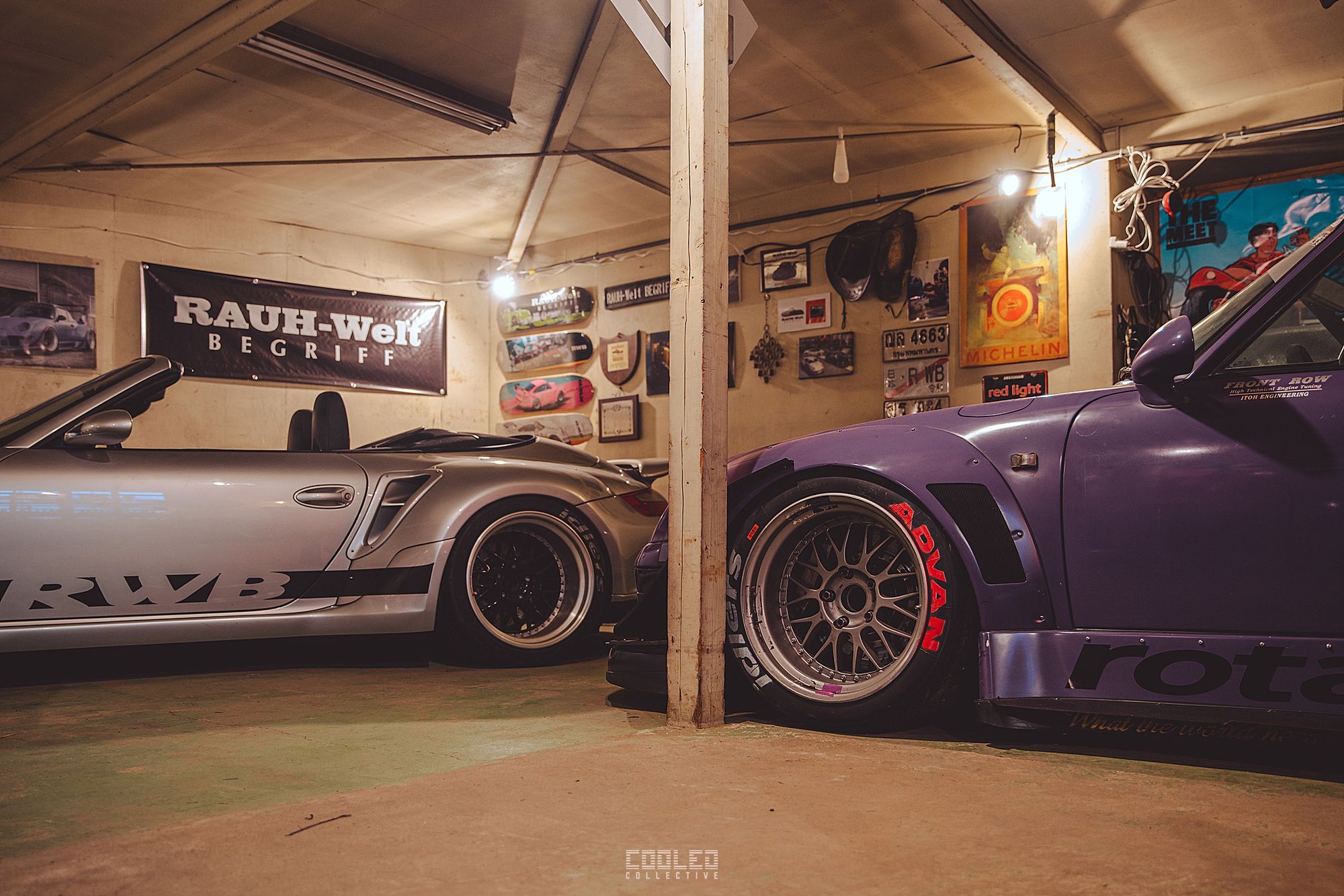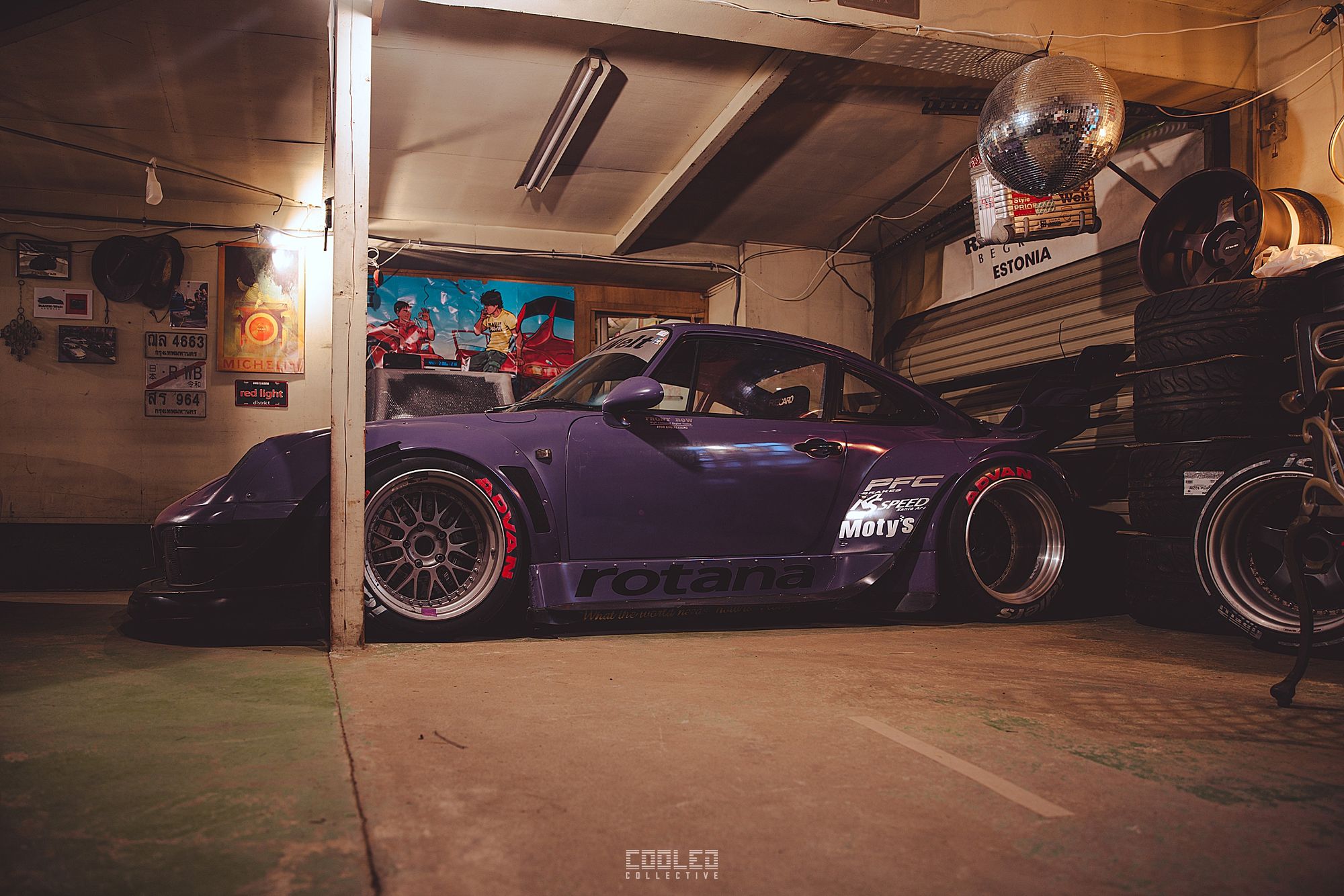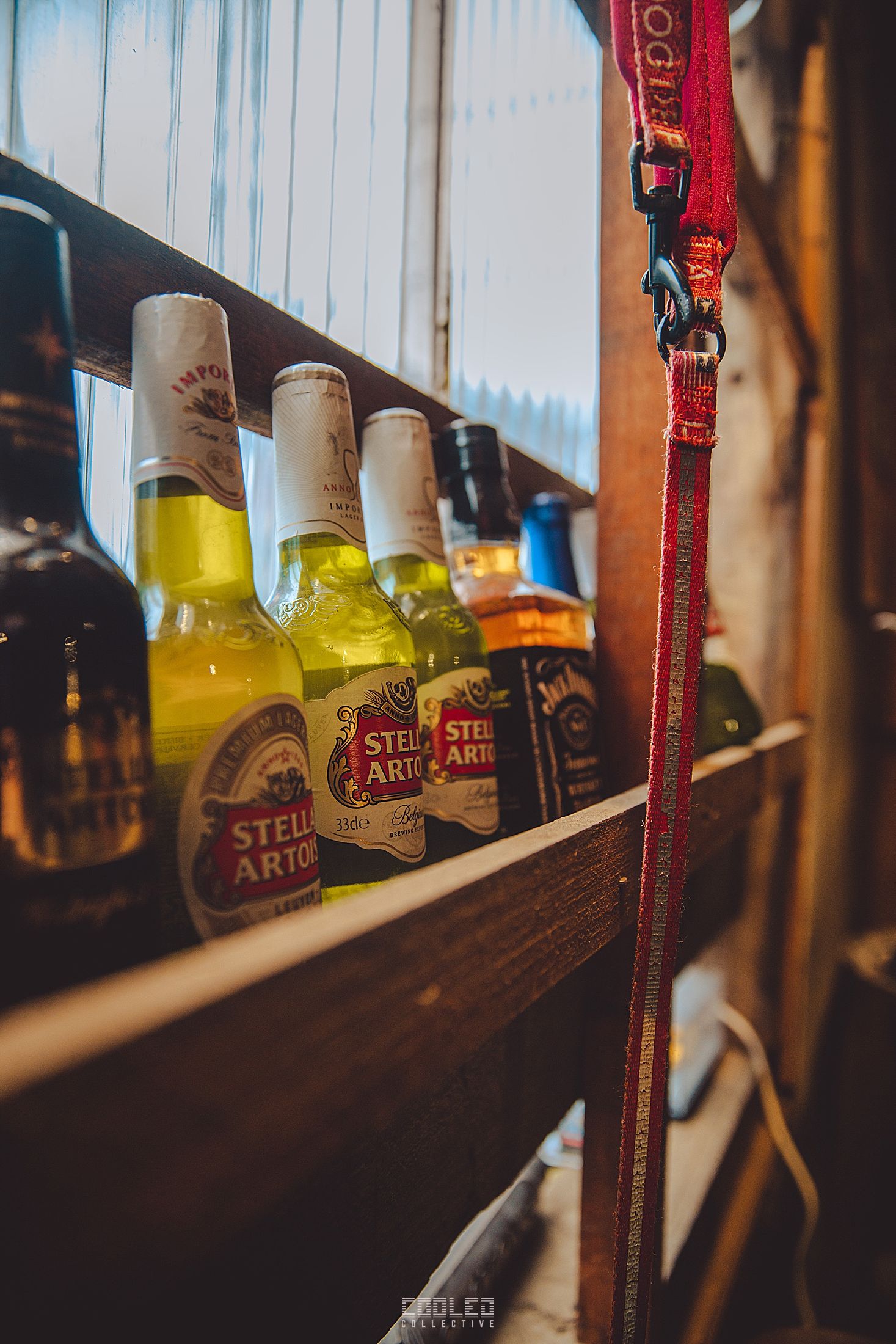 RWB HQ I believe was turned into a merchandising shop so people can come during normal hours to check out and grab some gear only sold at HQ. Make sure to check RWB Japan to see the local times and date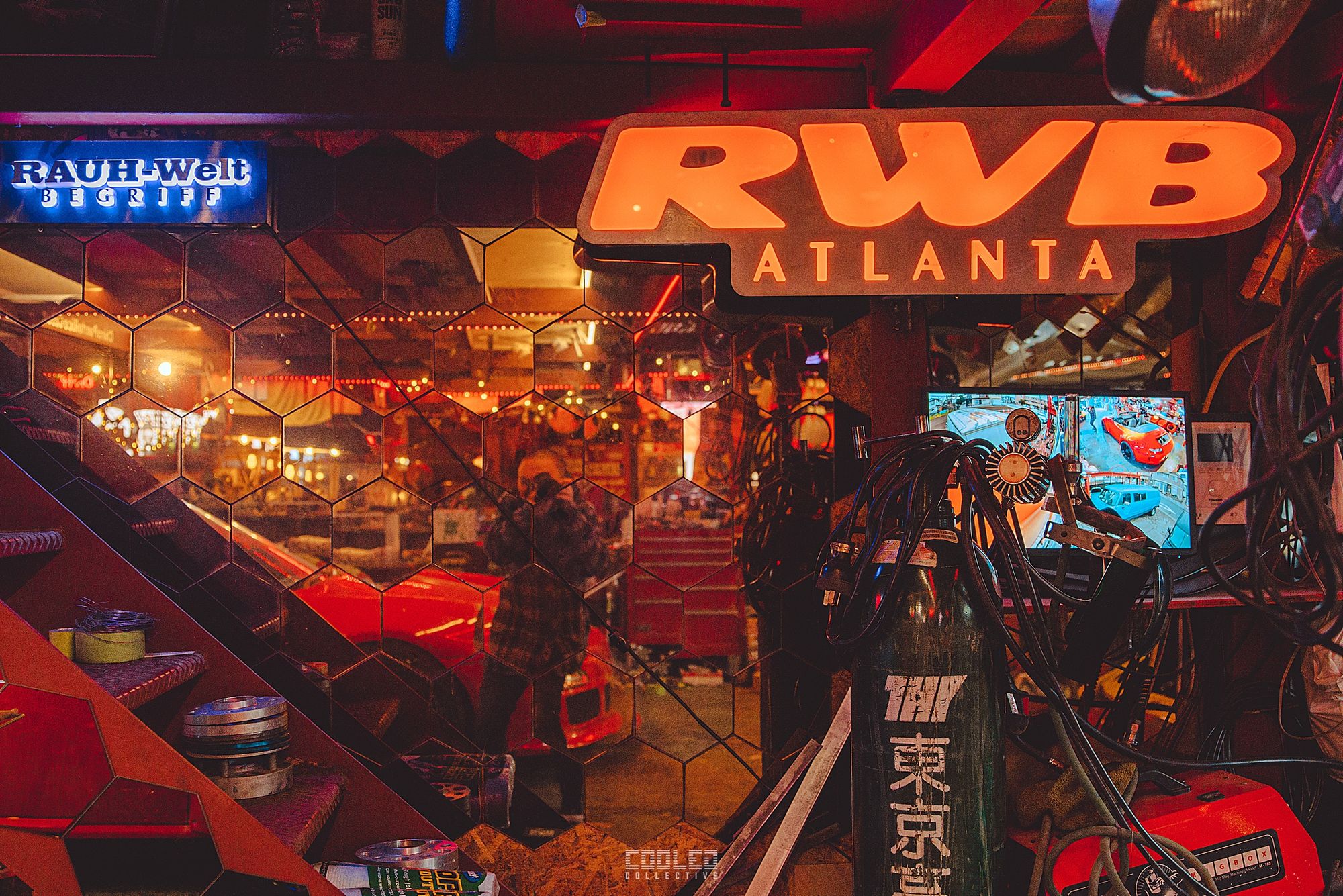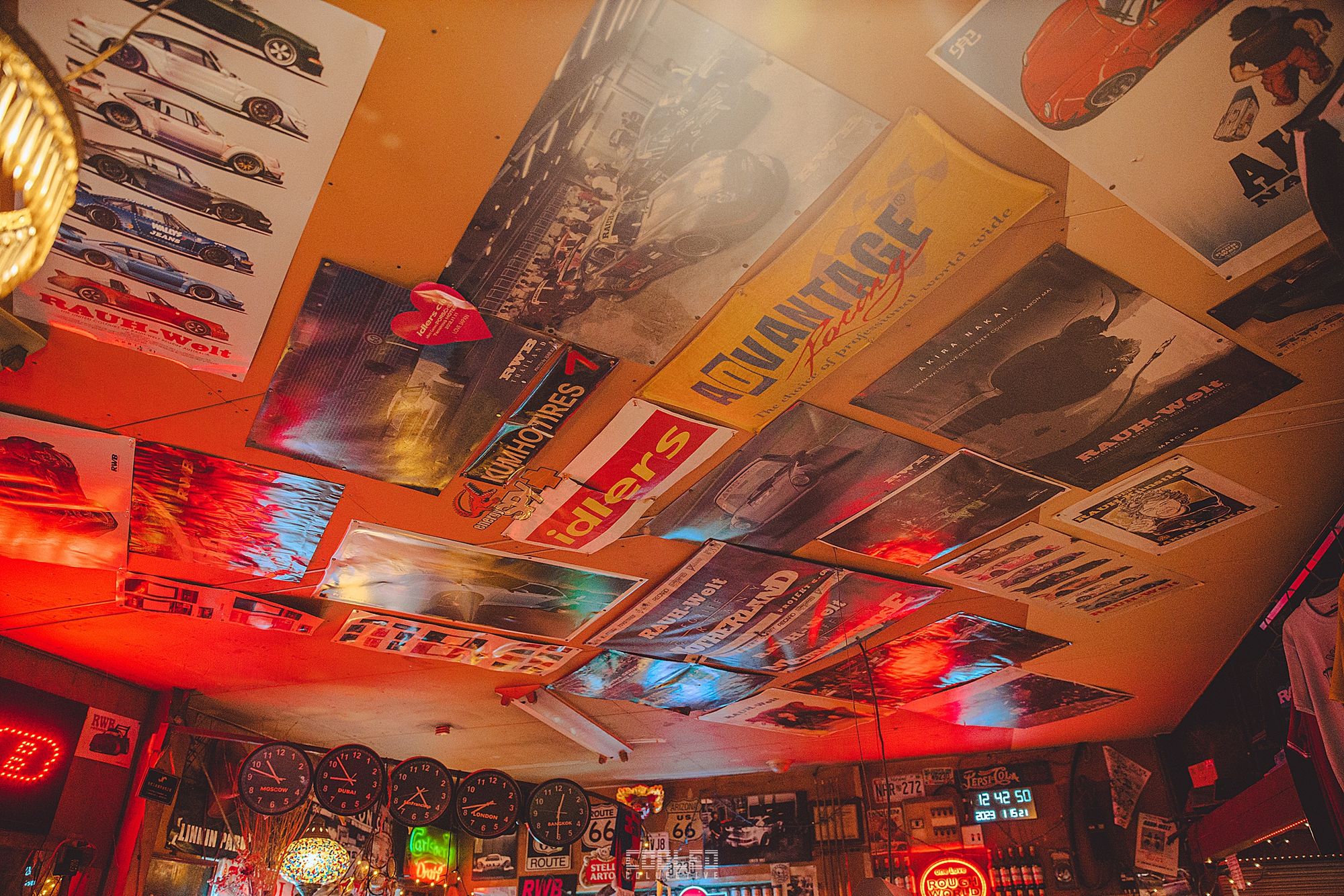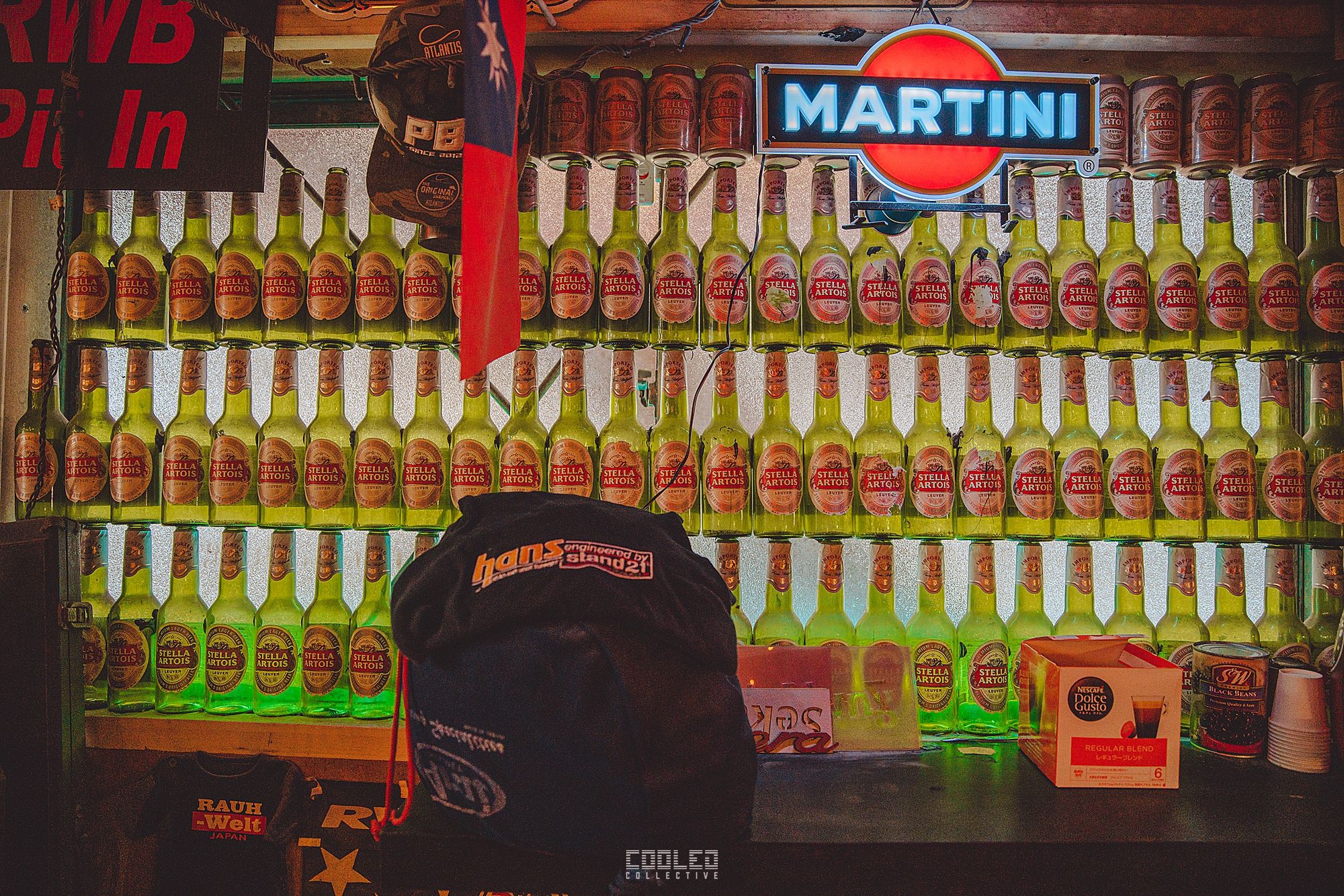 I felt very much at home at RWB HQ because Nakai is very much a creative spirit and his space reflects that. Pretty much how I would have my space set up where all the things I use most often get priority and everything else can find a spot over time. The "shrine" inside the space has an energy to it and tells you stories about times that have come before you were present. As they say, "It's a vibe!"
One of the main reasons why Hiro was in such a great mood was because his cabriolet has been at the shop for some time and Nakai was going to let Hiro cut his own fenders. Hiro had never done this before so there was a learning curve. Nakai prepped everything, made the measurements and then put the hacksaw into the fender and then walked away. Hiro took over from there and it was so cool to see.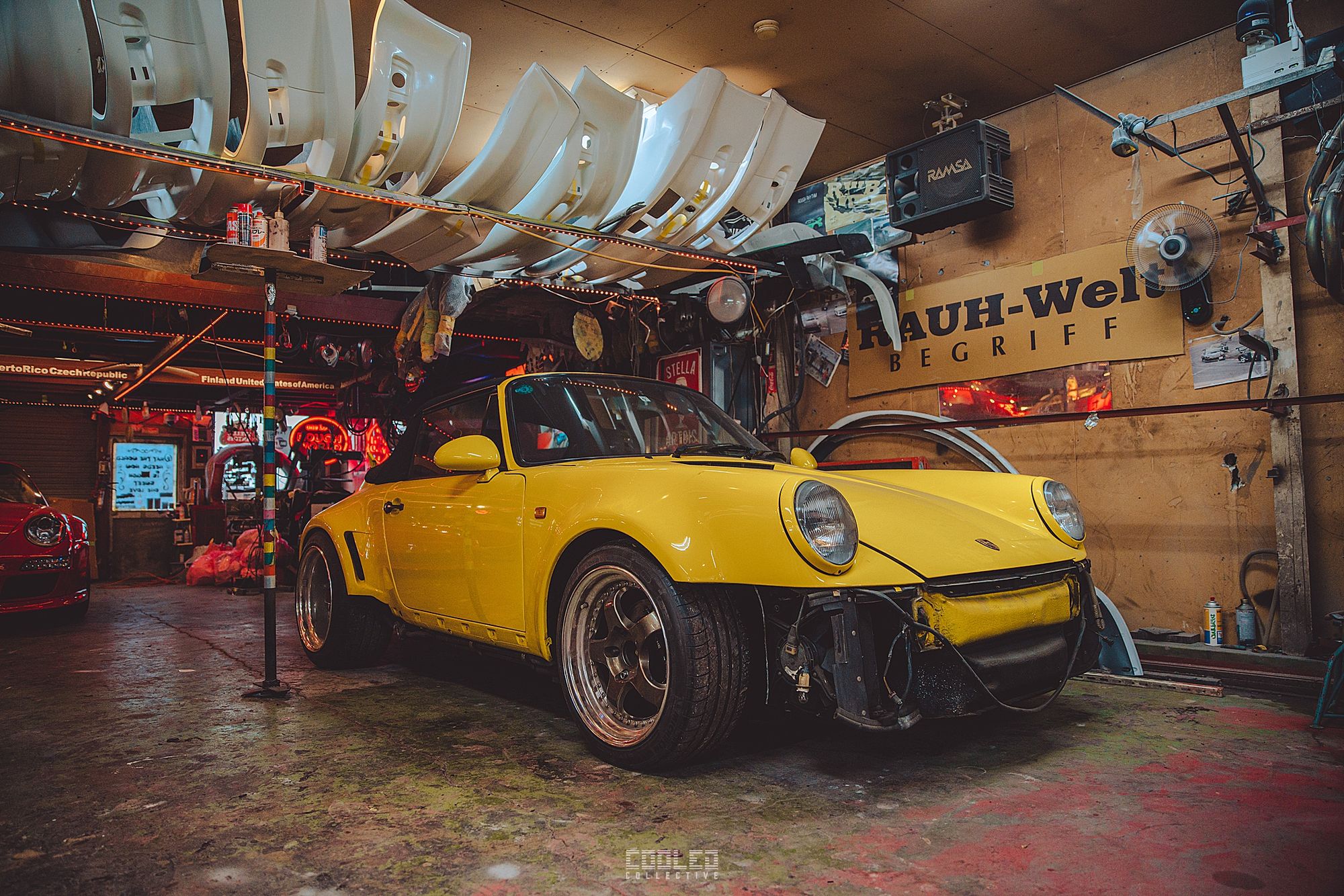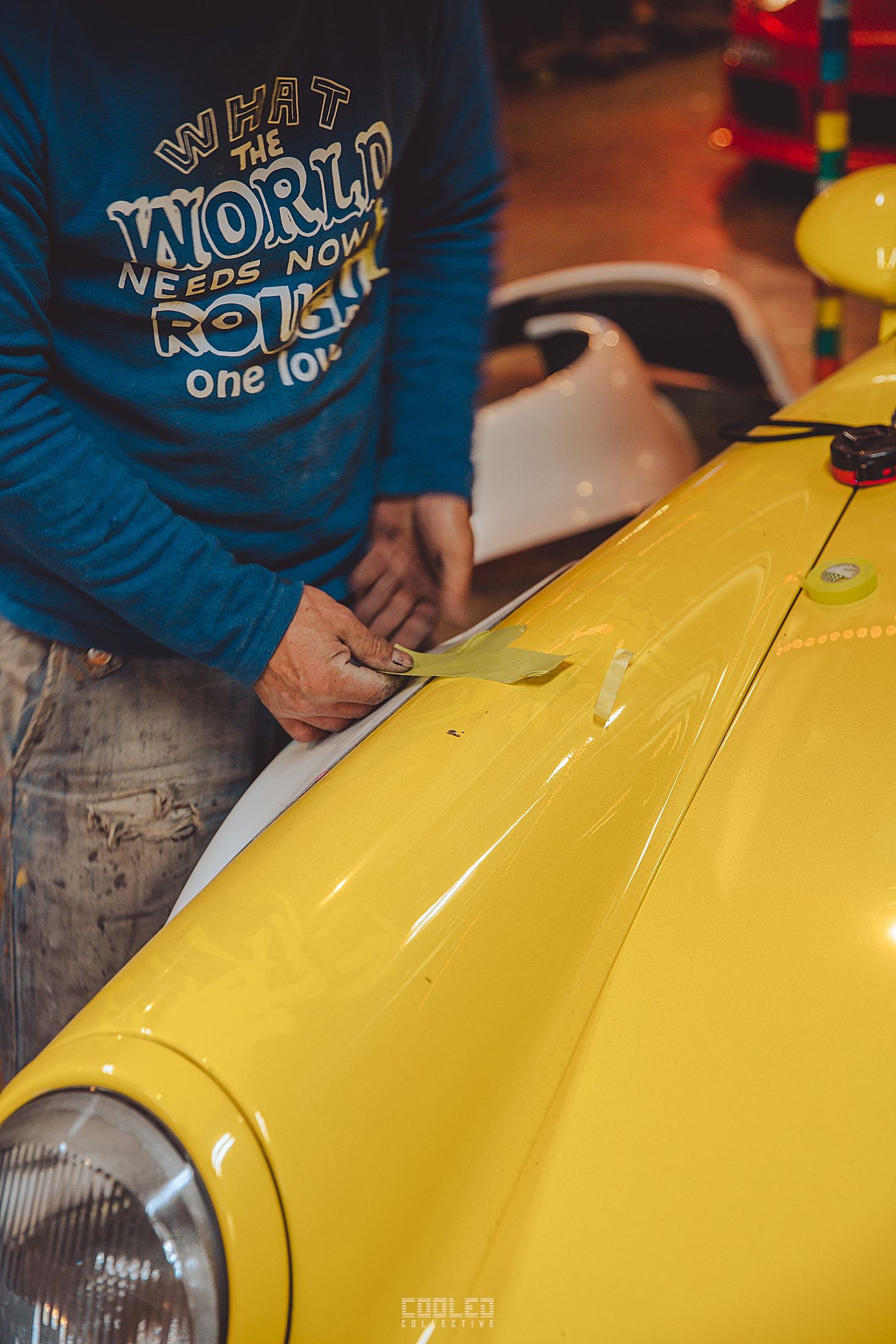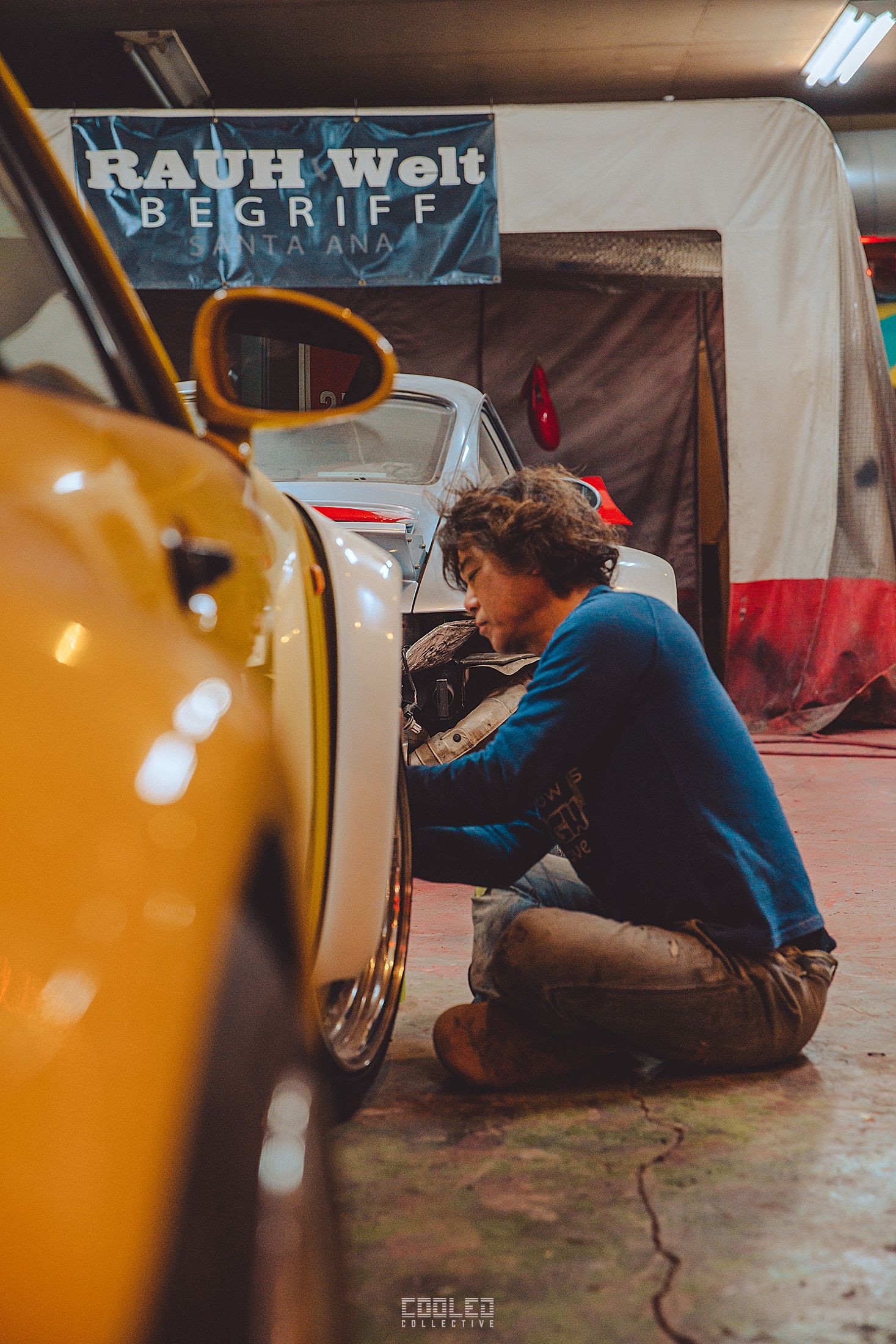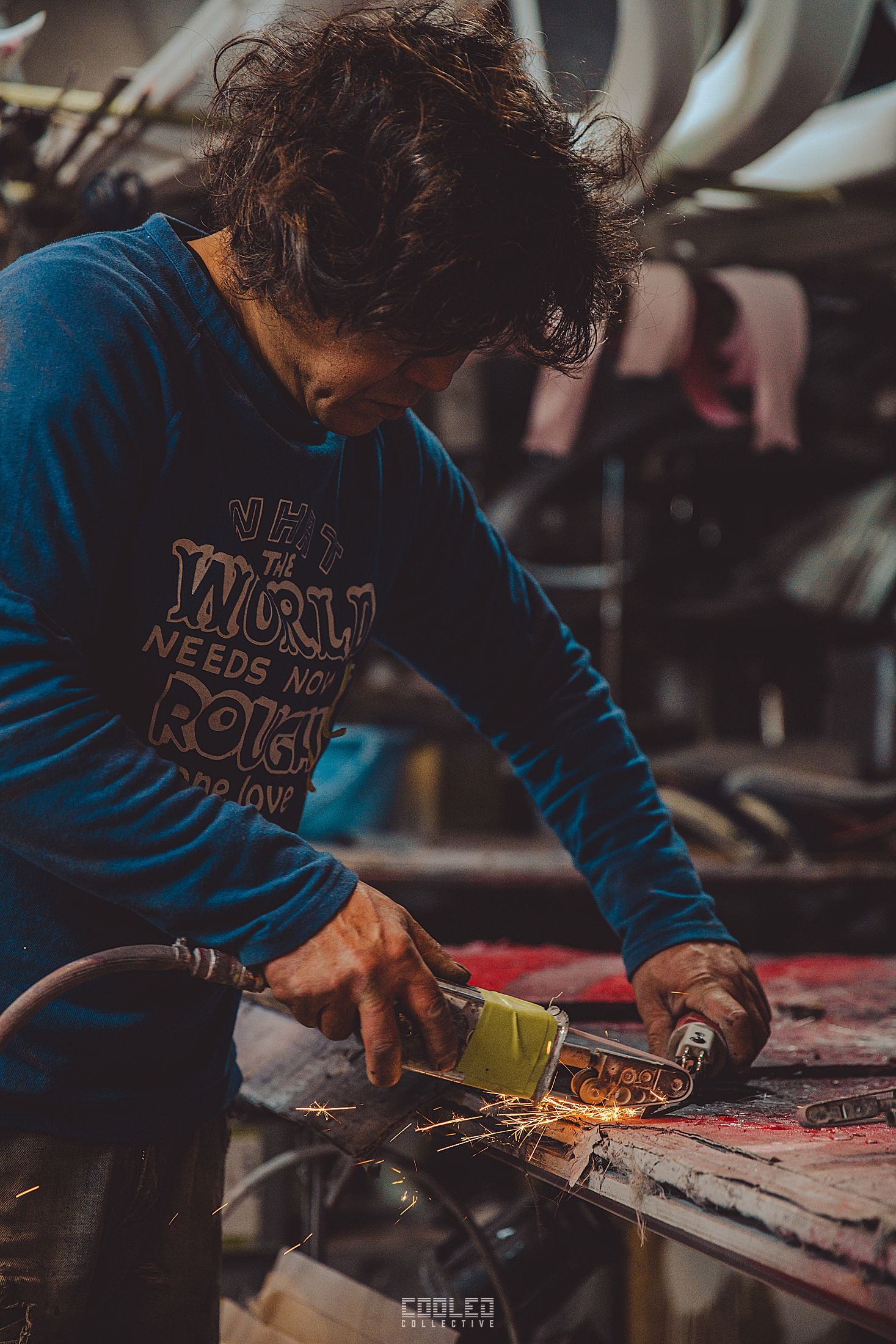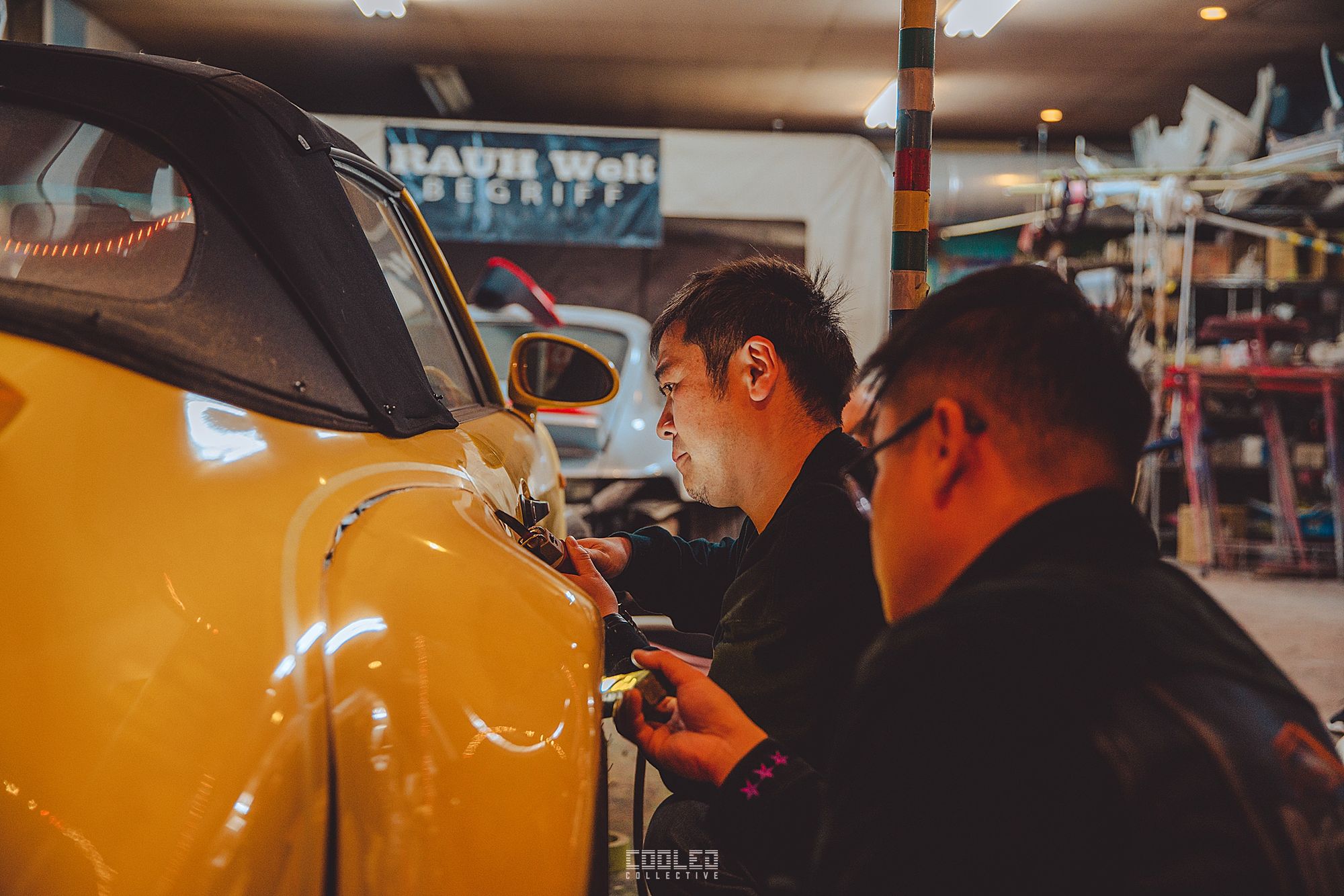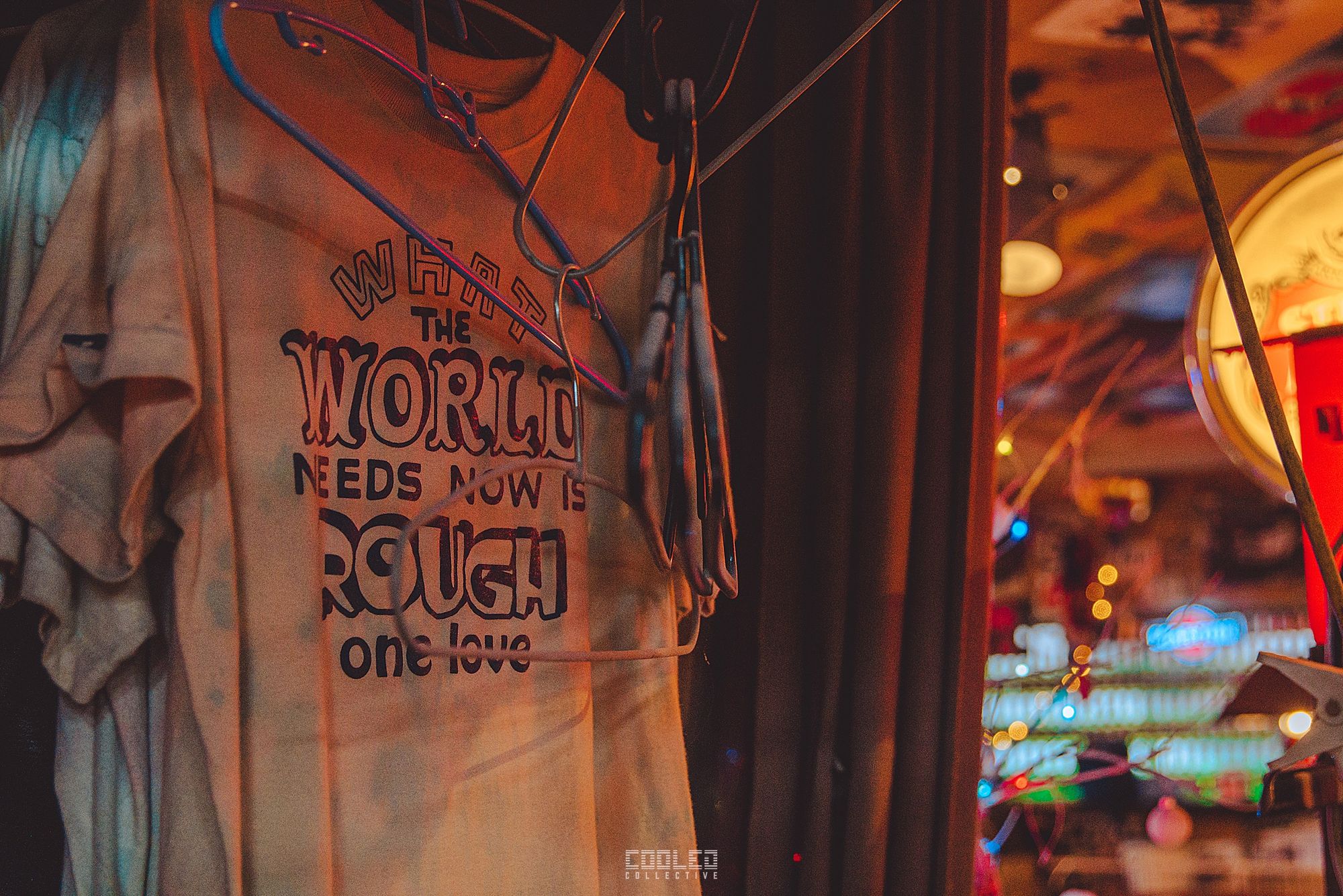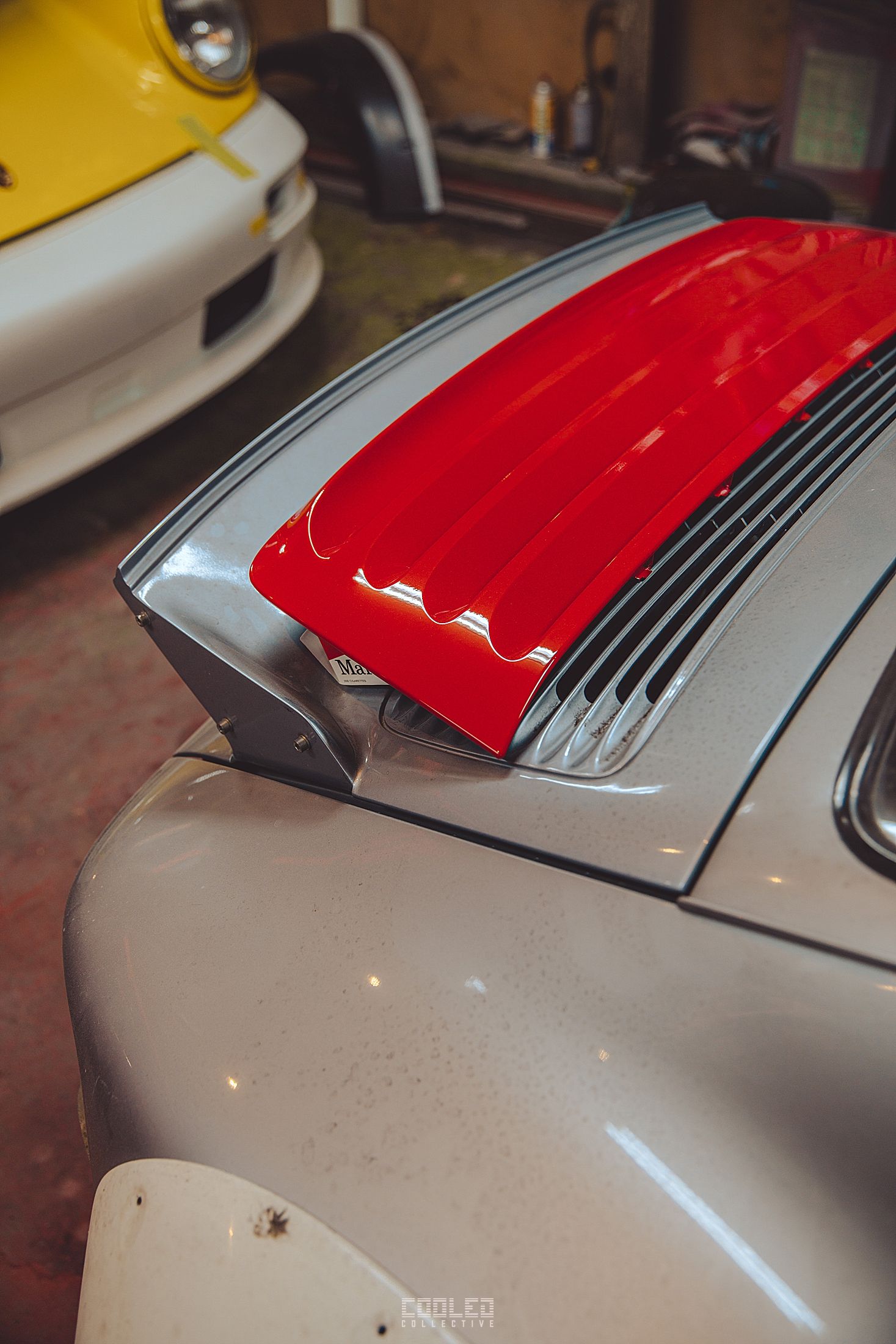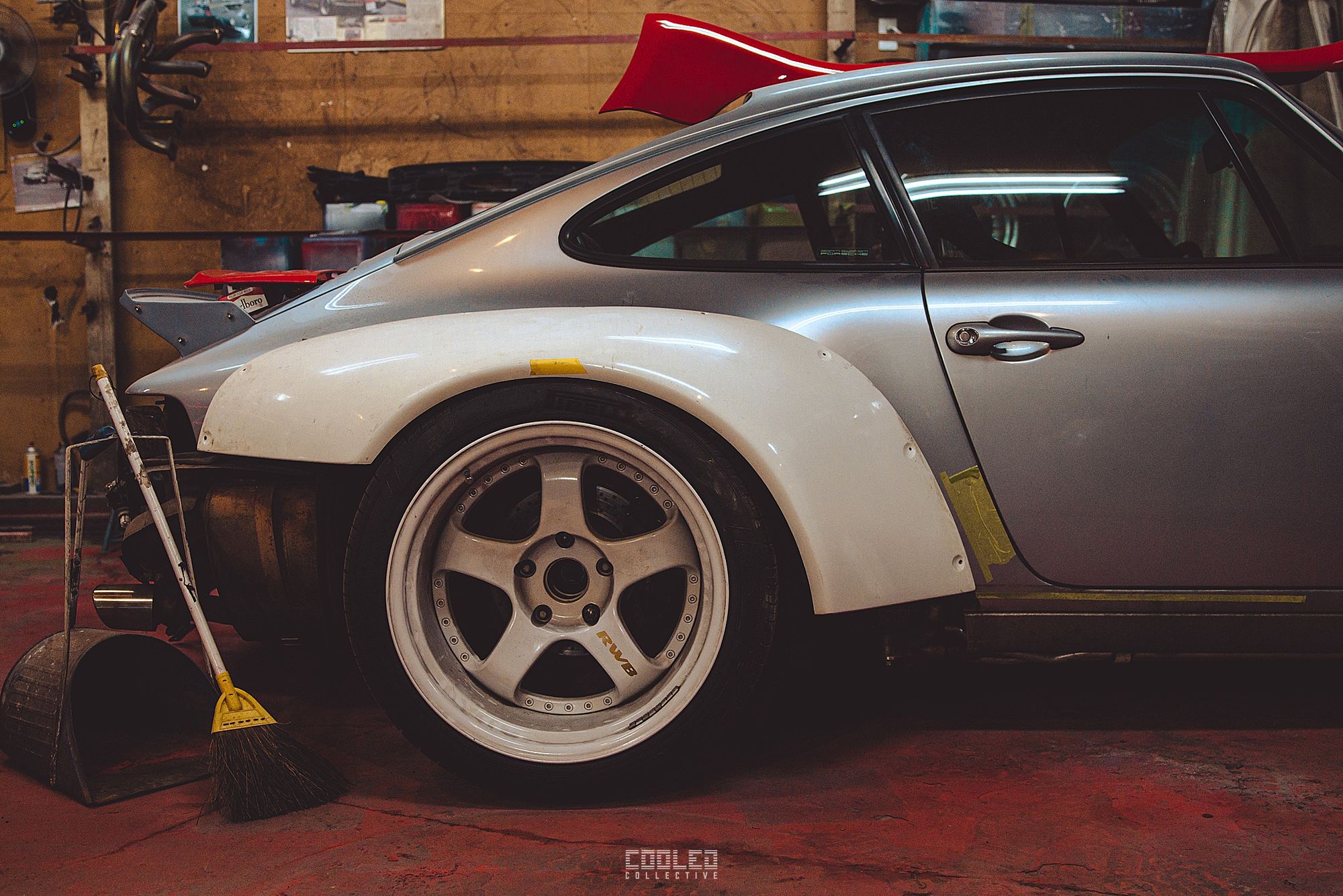 While Hiro was working on his cab, Nakai went to work on a guards red 997 cab in the back of the yellow 911. The amount of 997 going under the knife is quite staggering as that is the main focus for RWB at this time.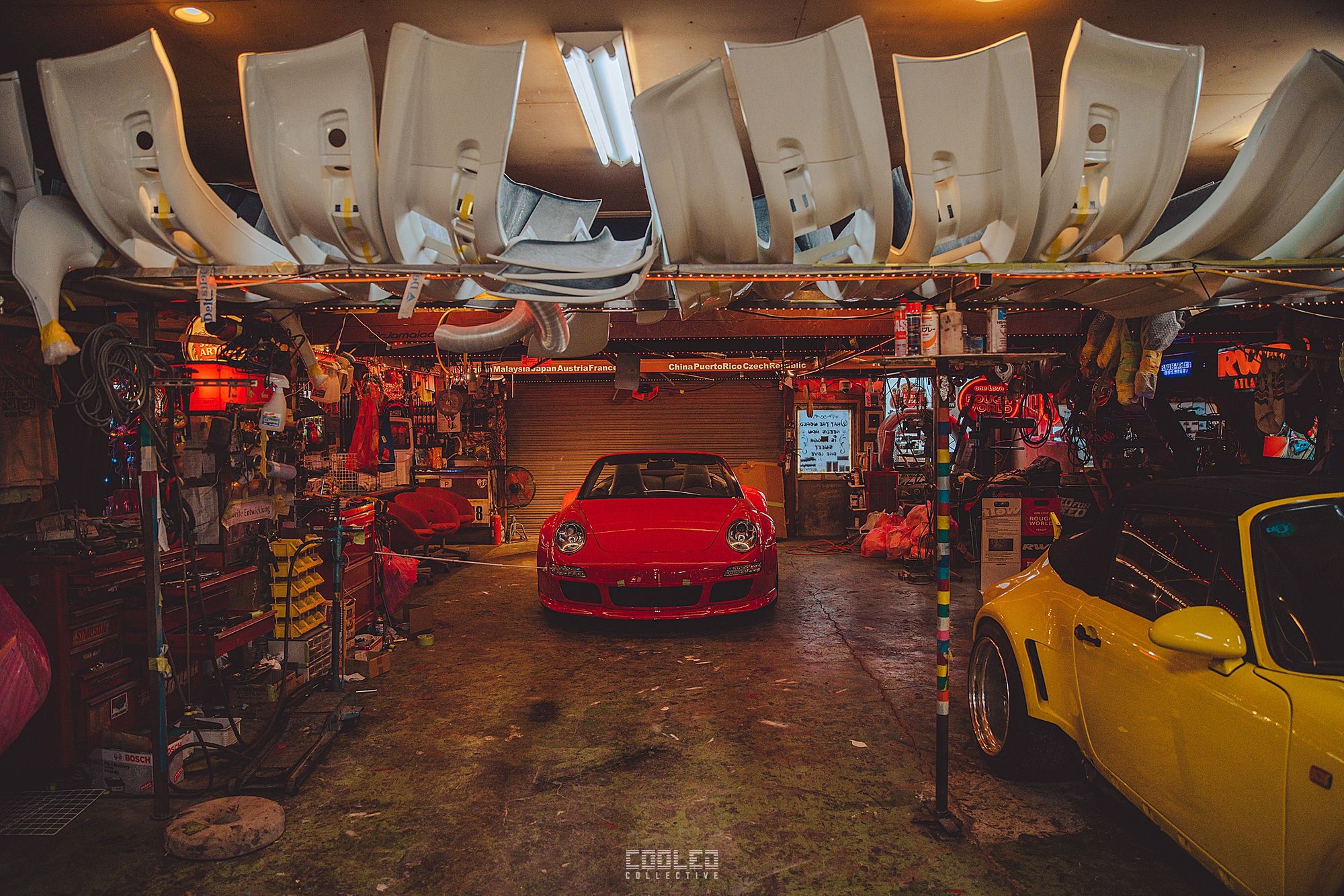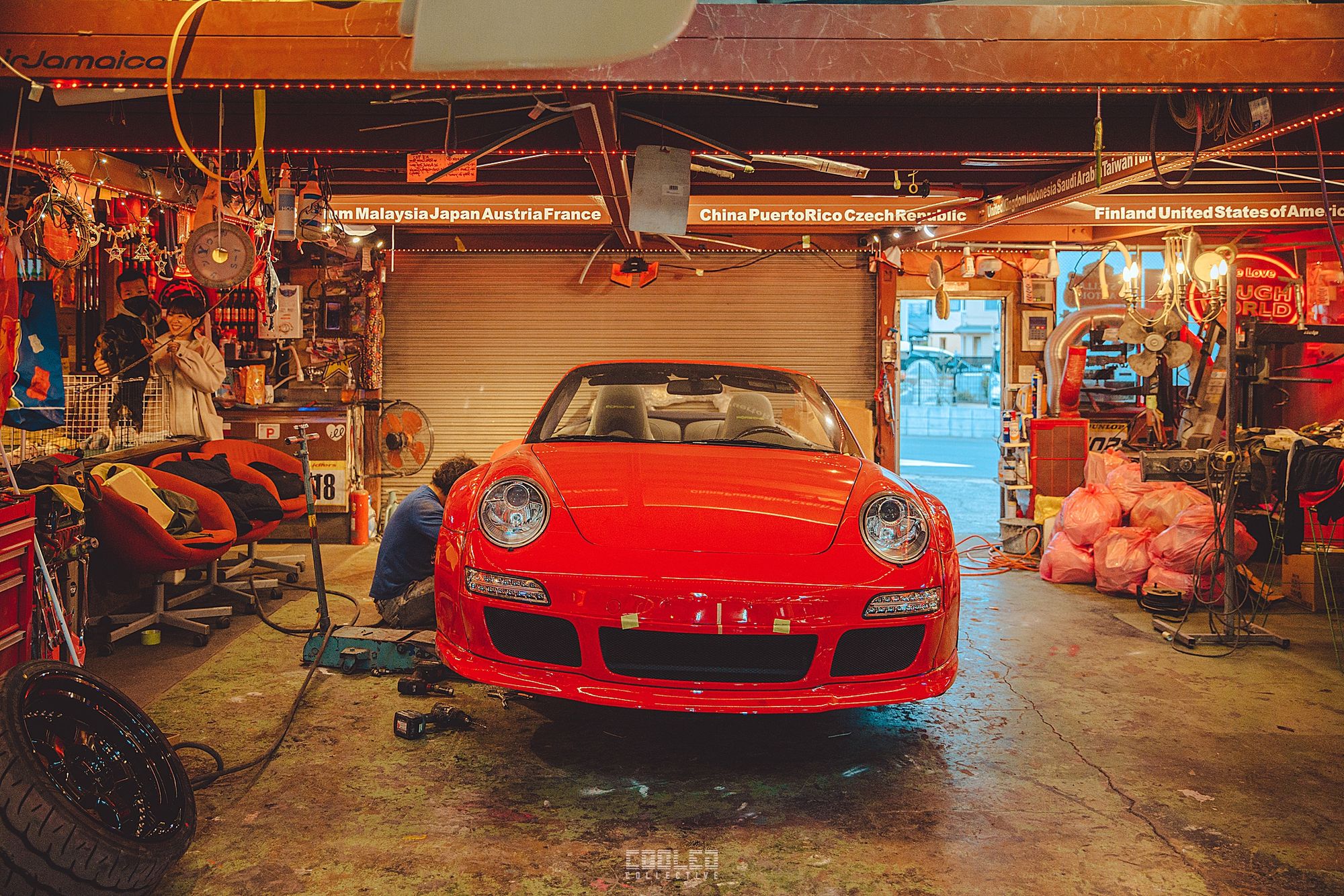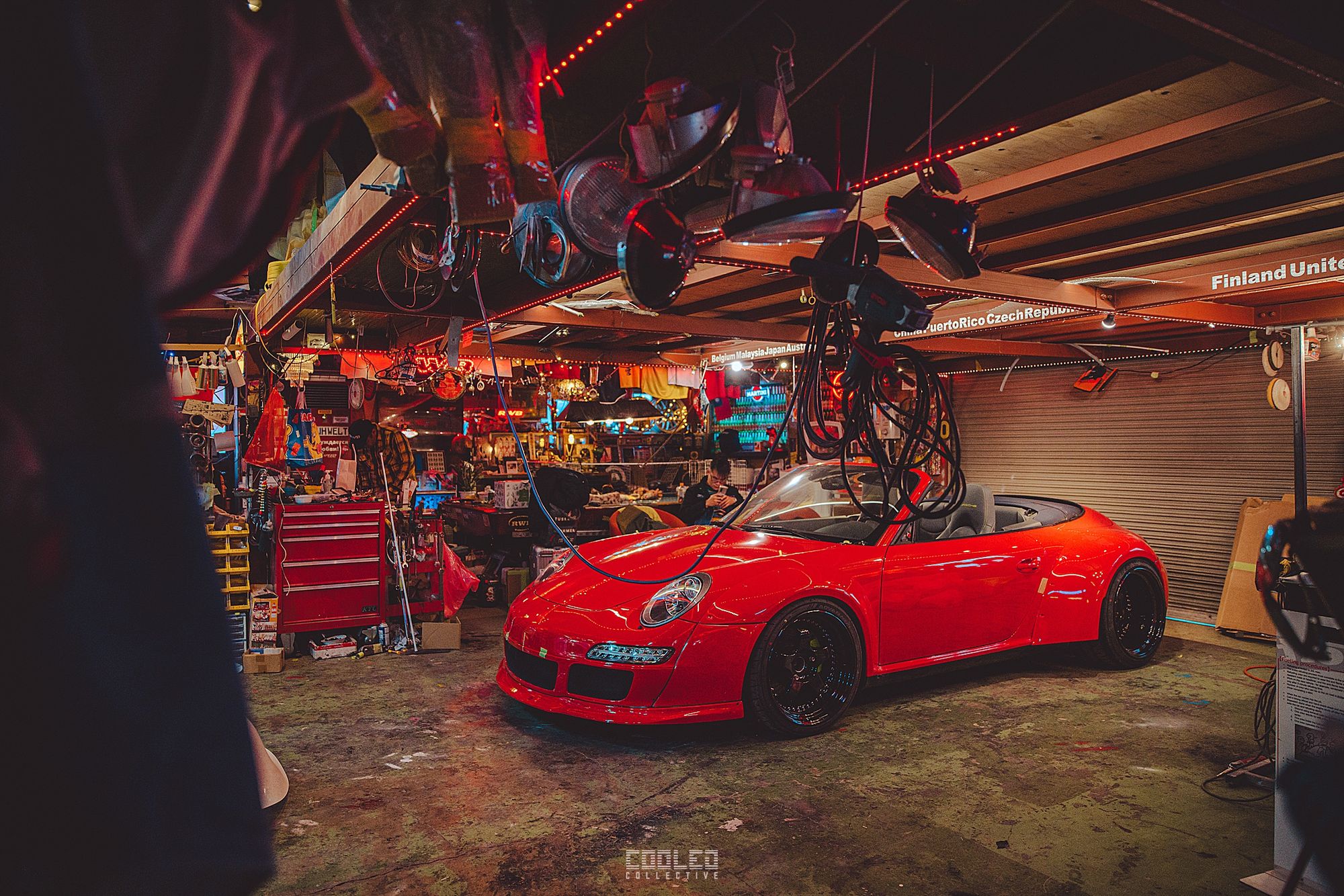 After 5-6 hours being at HQ, we decided that it was time to start heading back and catch up on dinner. It was amazing spending the afternoon at RWB Japan and hang out with Hiro and Naki during the building process and share stories that brought the group much closer together.
Thank you Hiro for everything.
Drew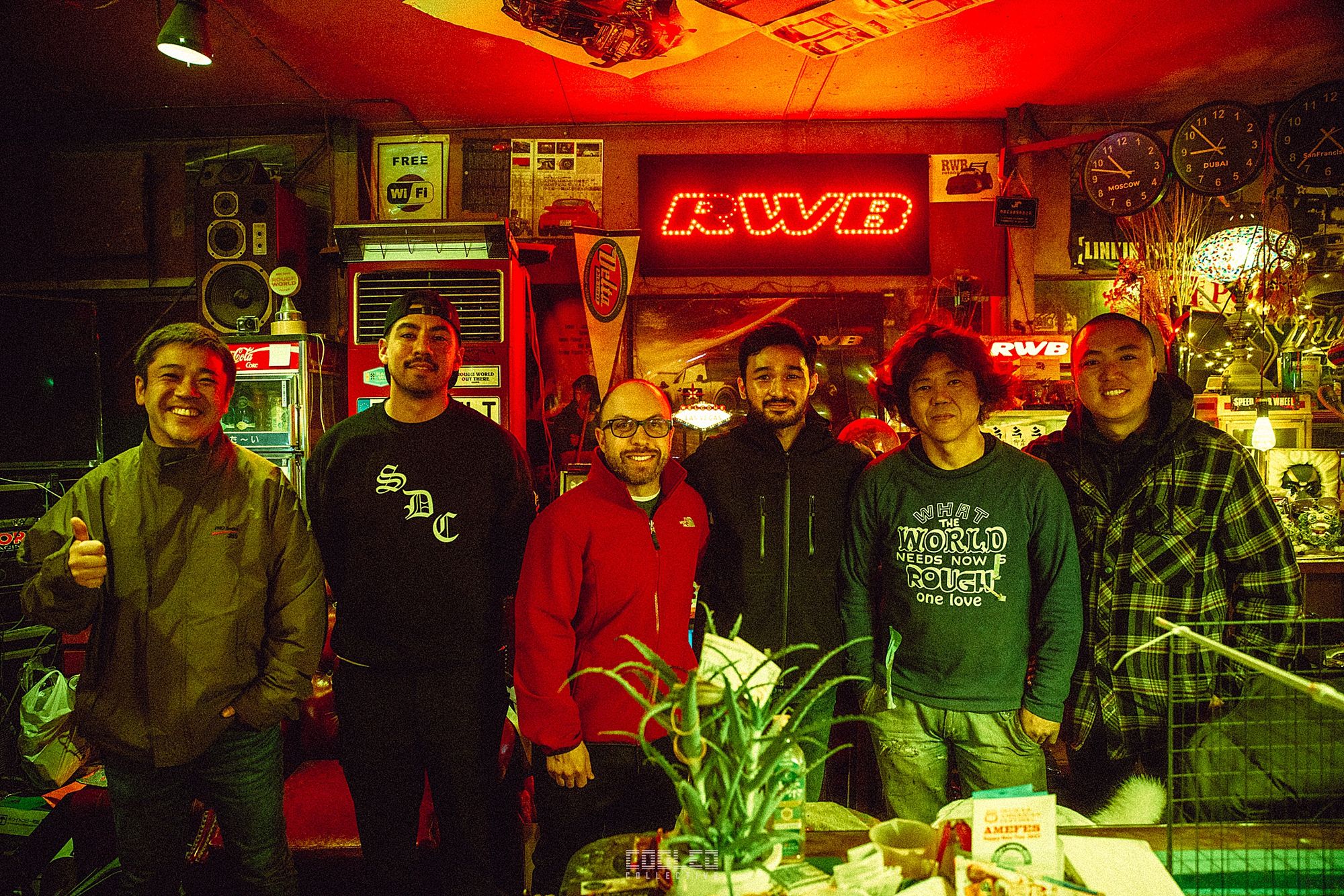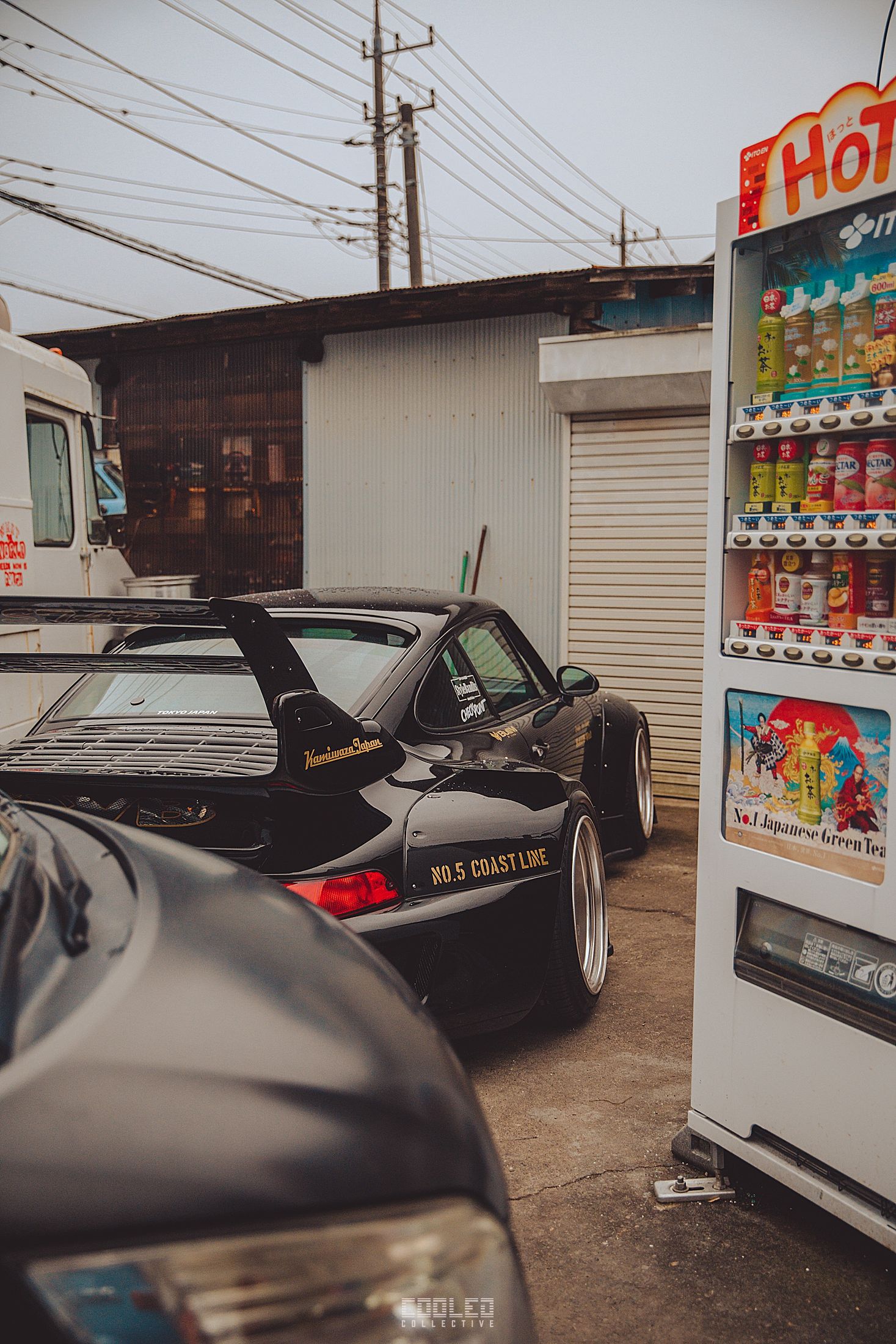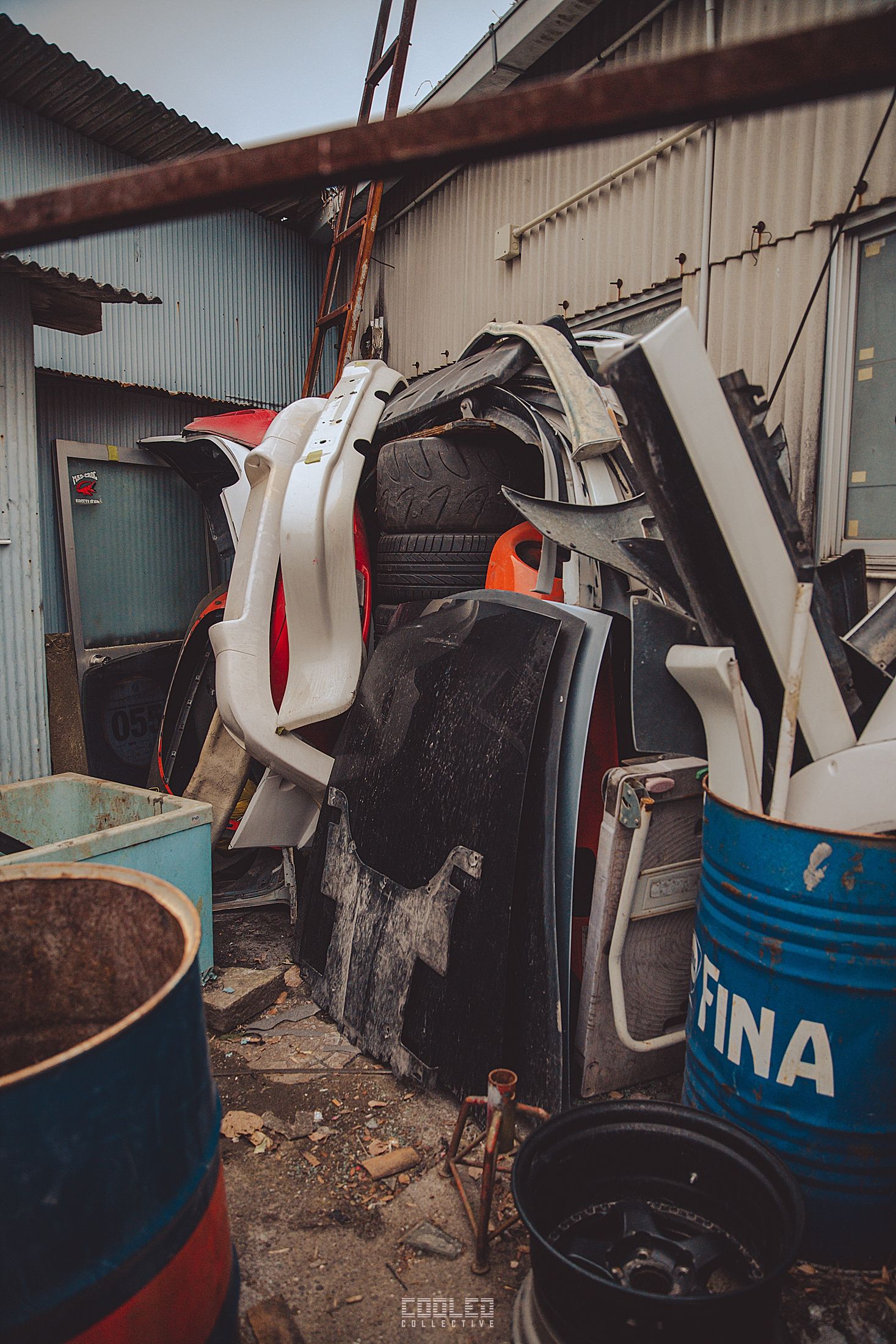 Lowriders in Shibuya
---
The previous night, Ravi (CSF), Ryan (Rywire) and I went to go to Sarah Choi's underground meet but we ended up getting lost a bit and then got caught up in the Lowriders as they were starting to gather.
Love how committed many of the clubs are in the way they build the cars, carry themselves and the groups they formed like The Homies. Most of us hung out on a main street and watched as all kinds of lowriders came and went. It was such a vibe but please check the rest on Youtube for actual footage.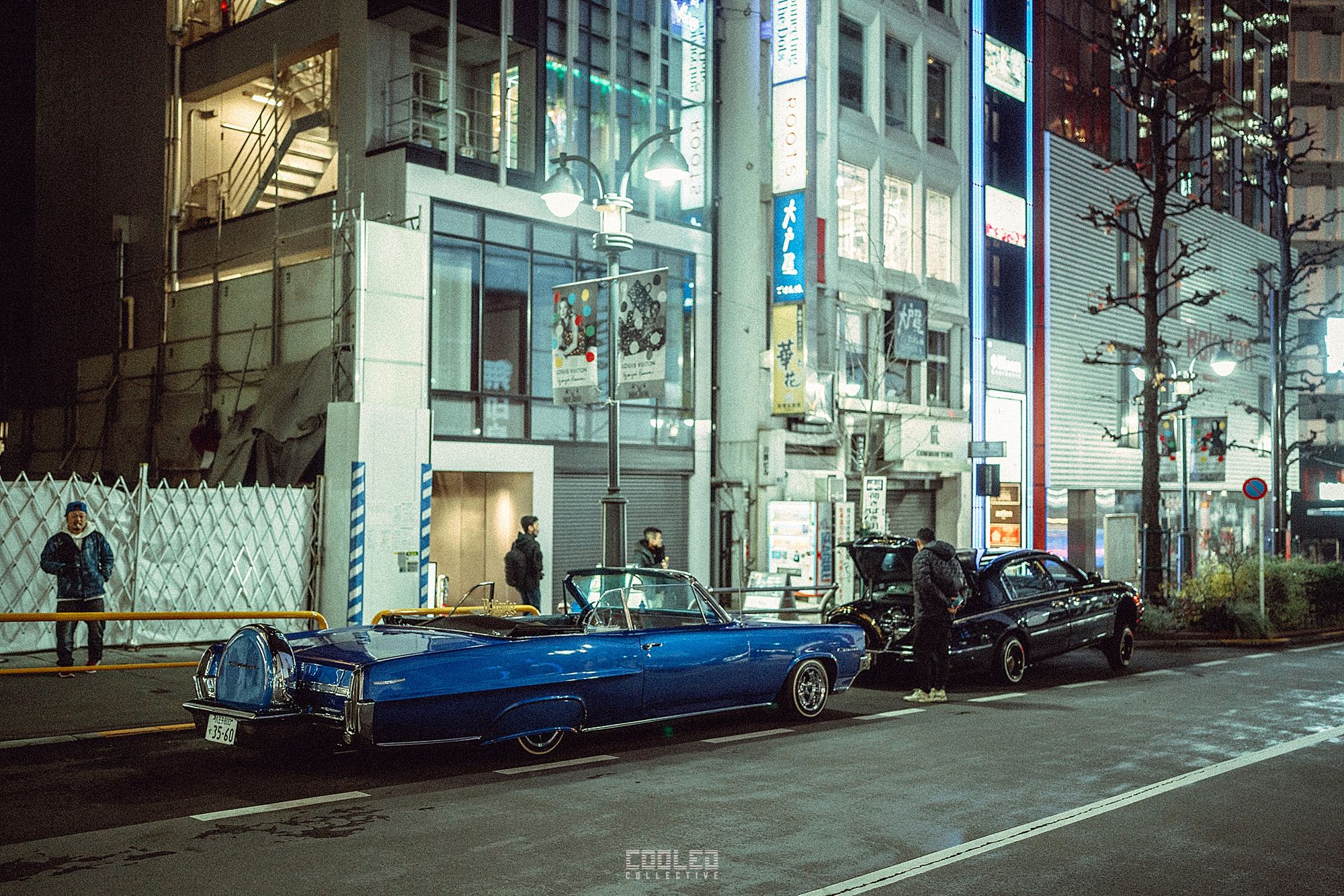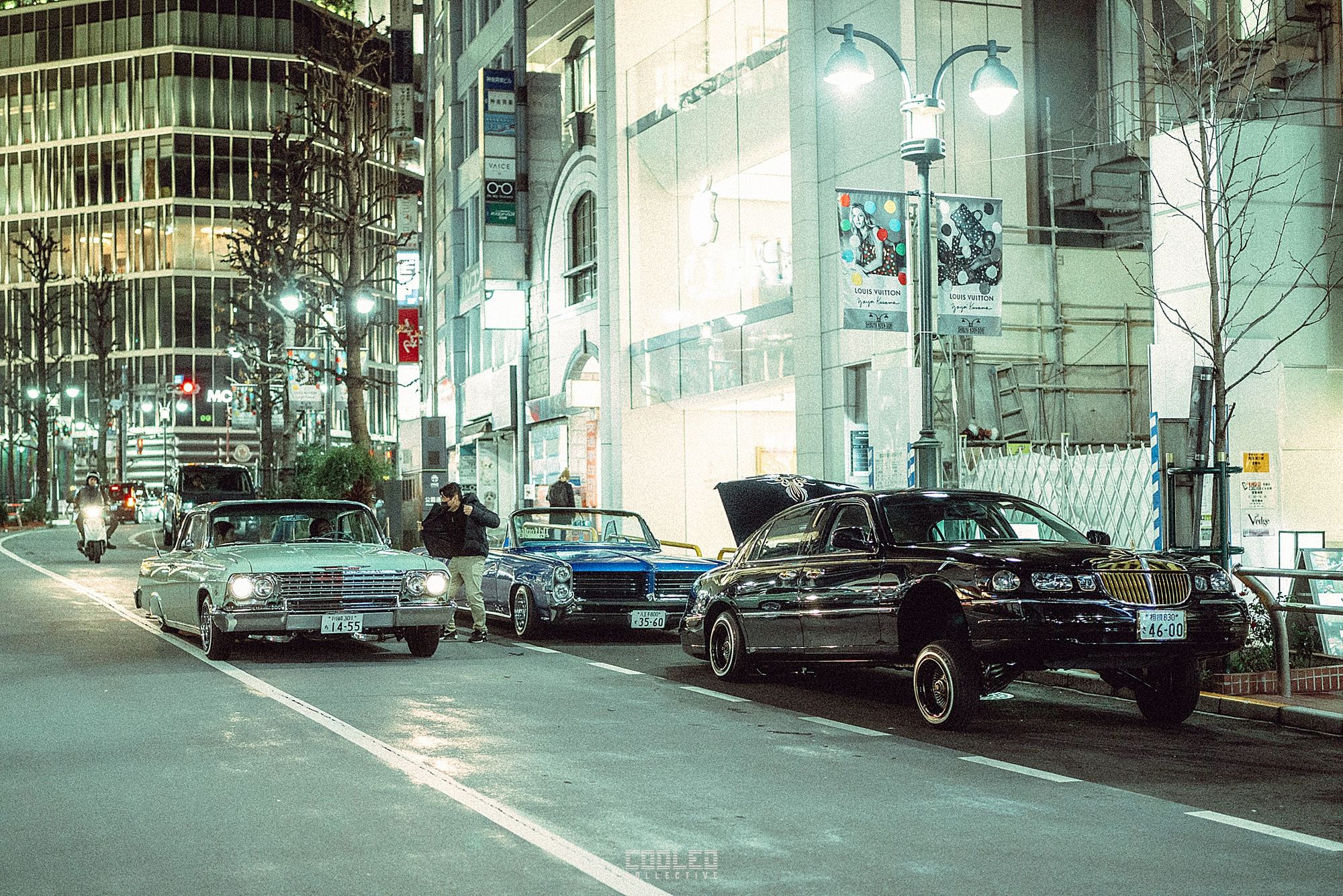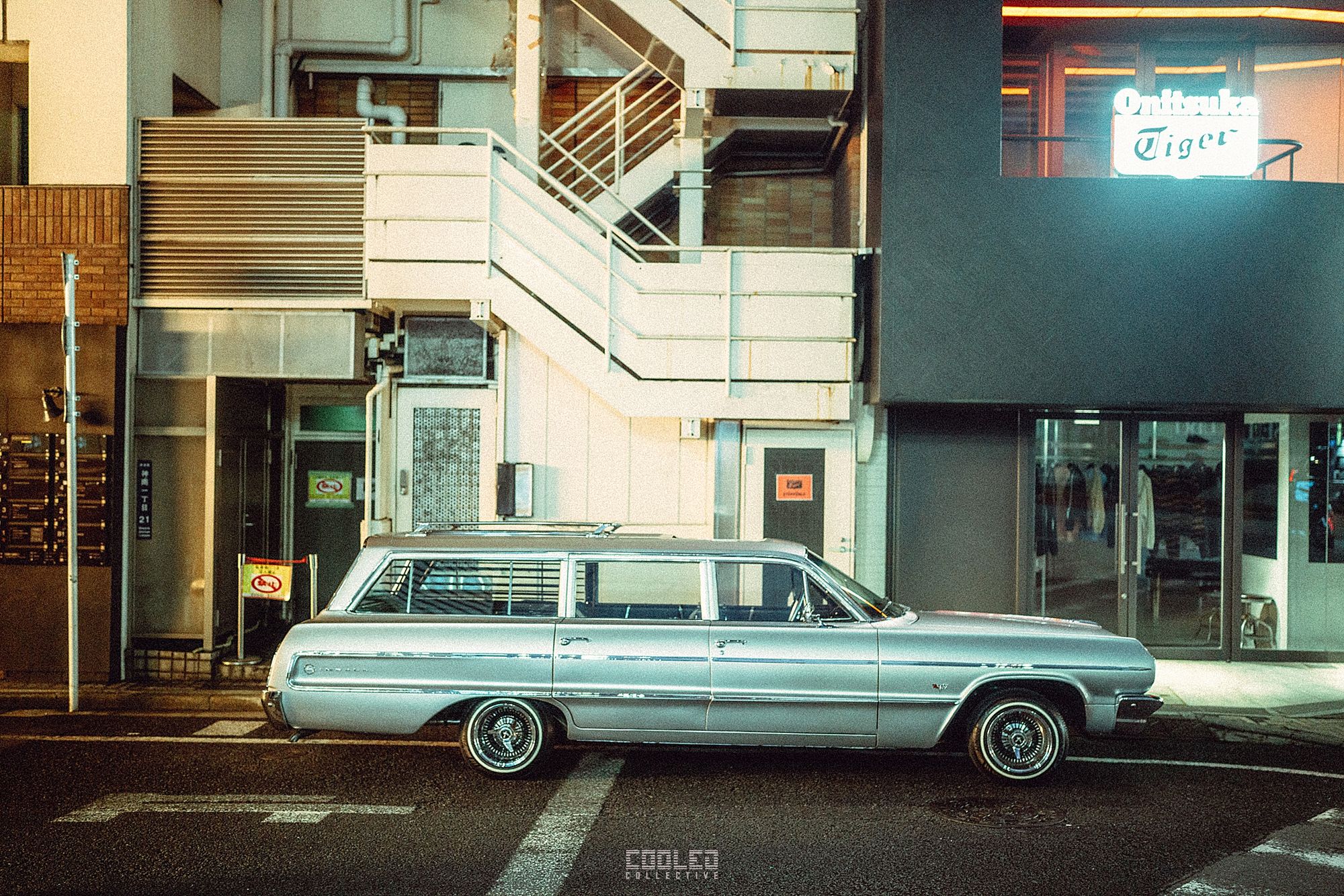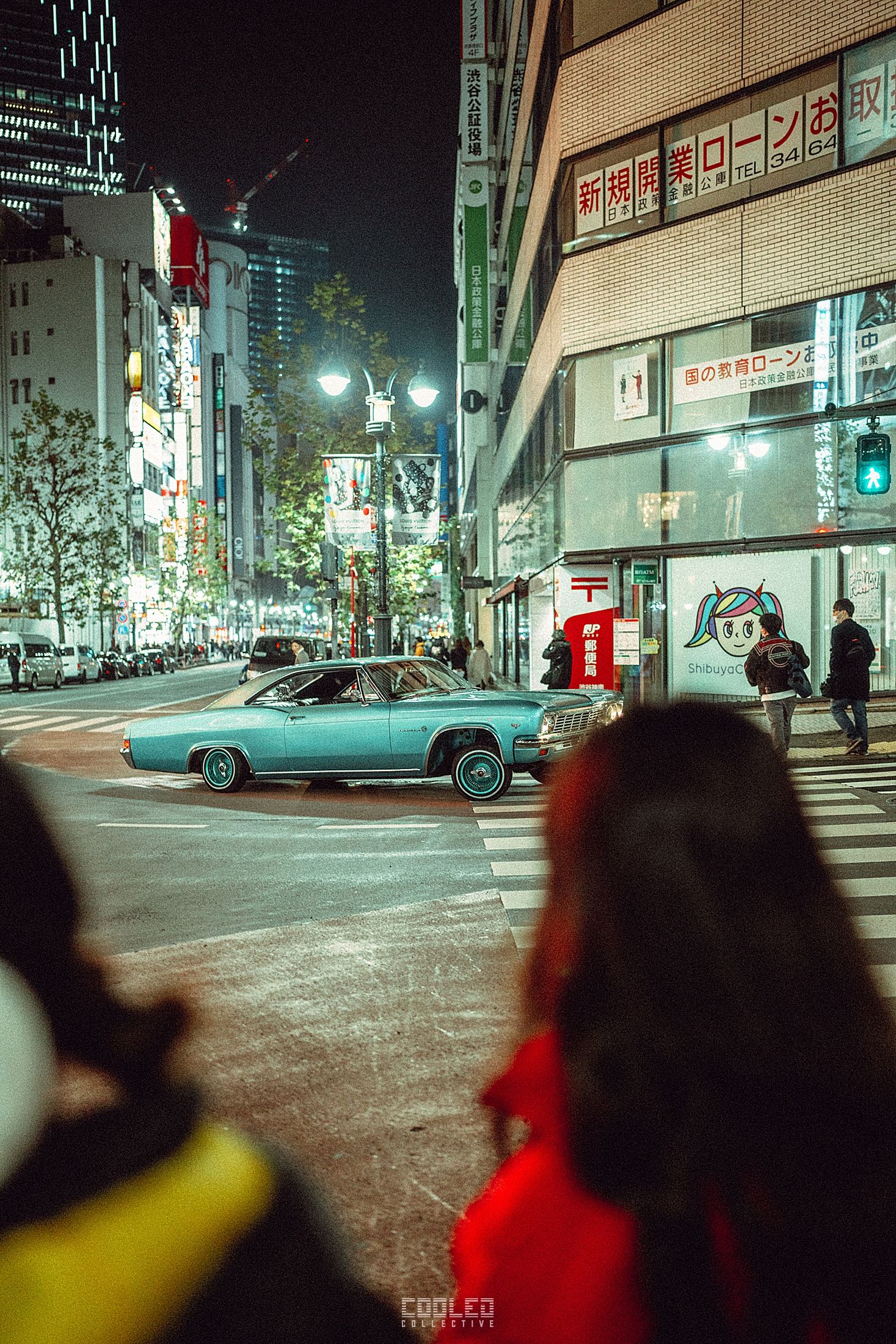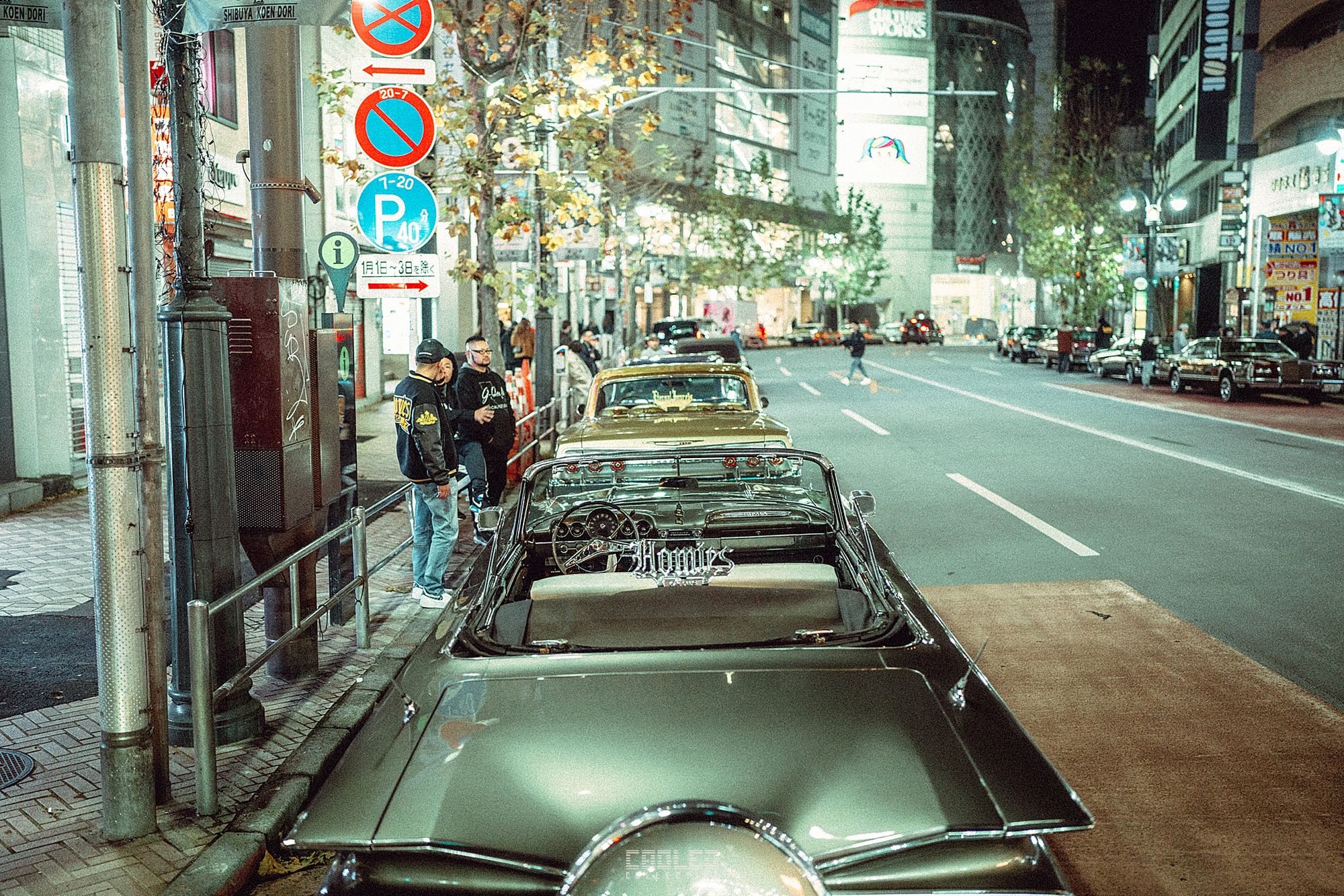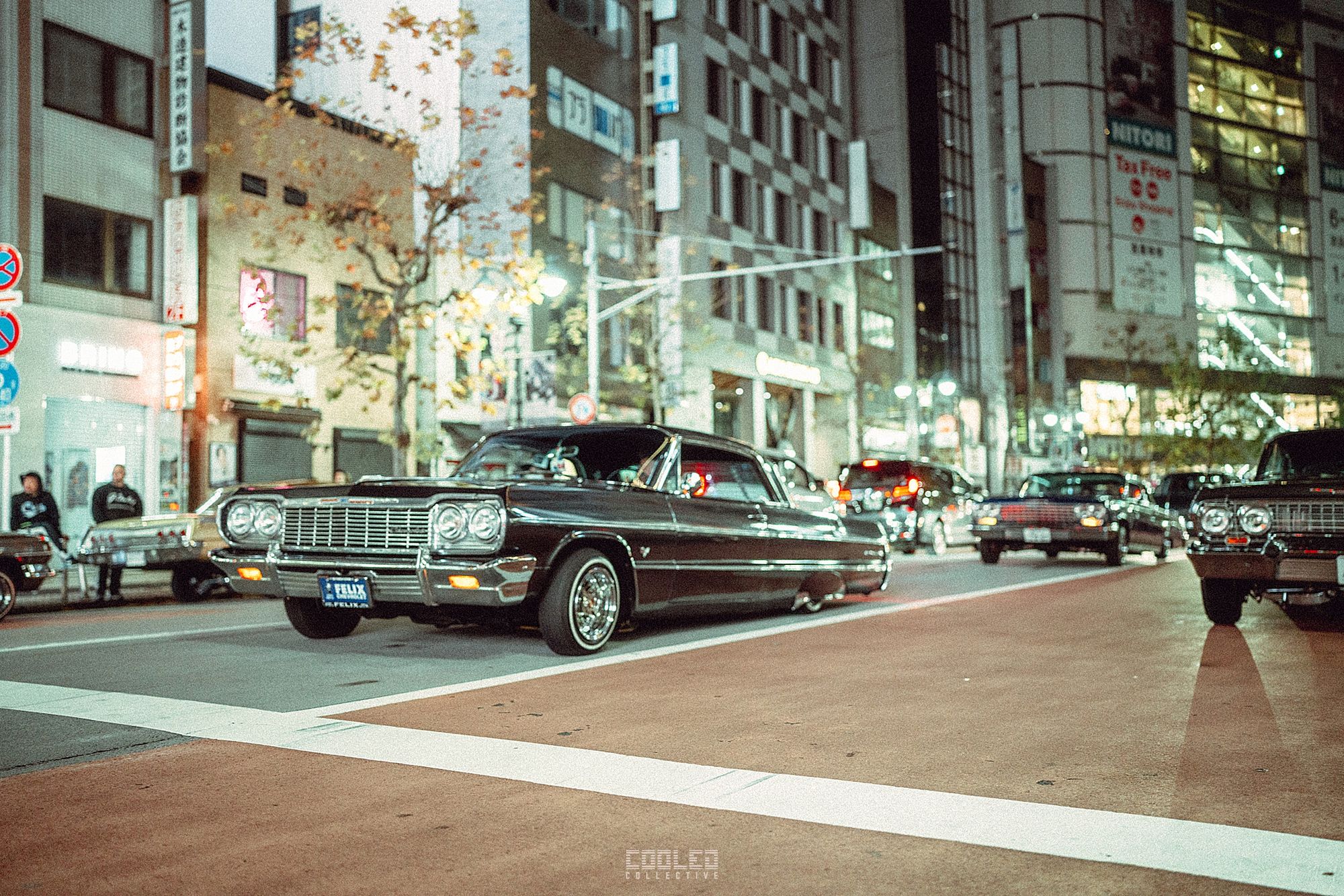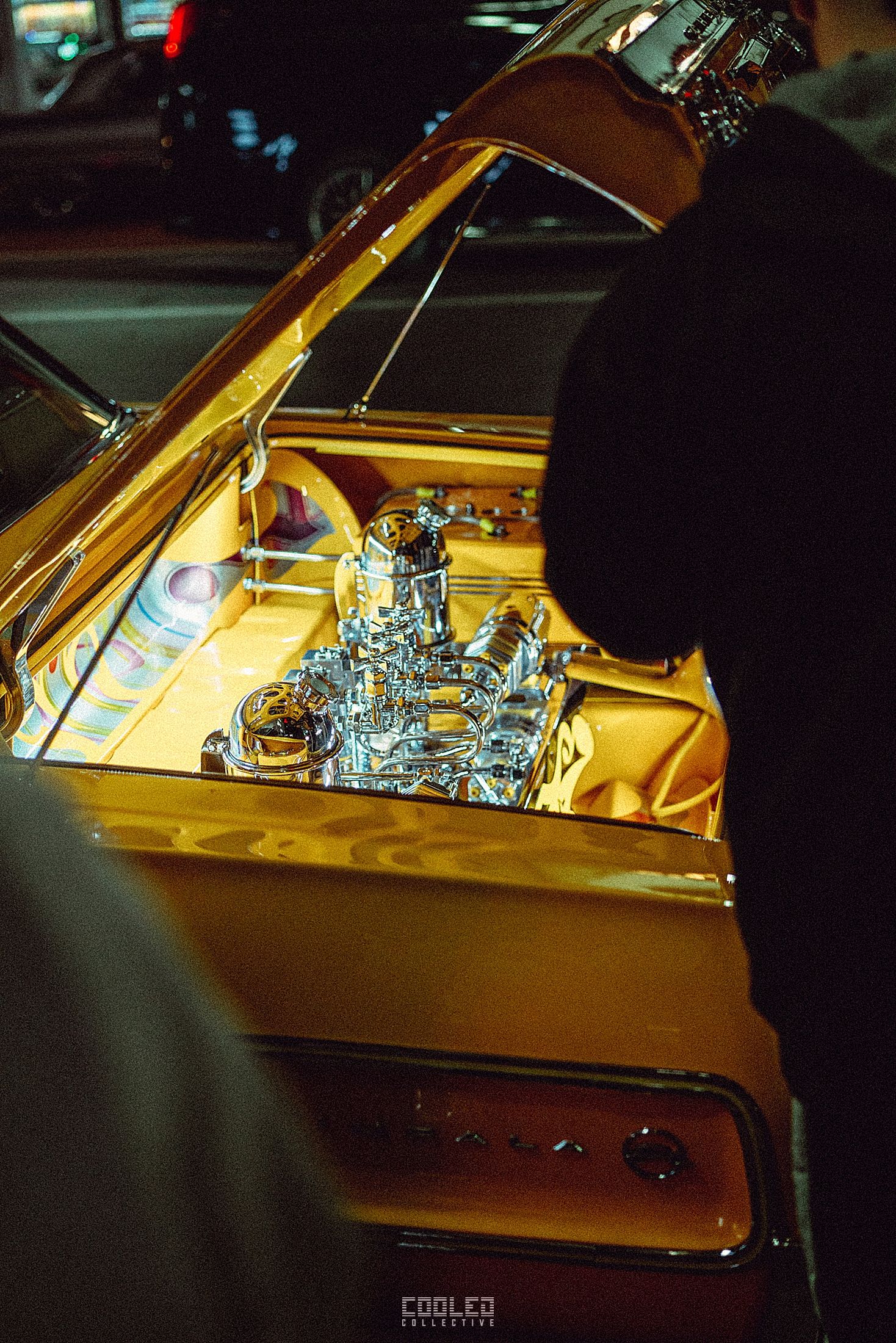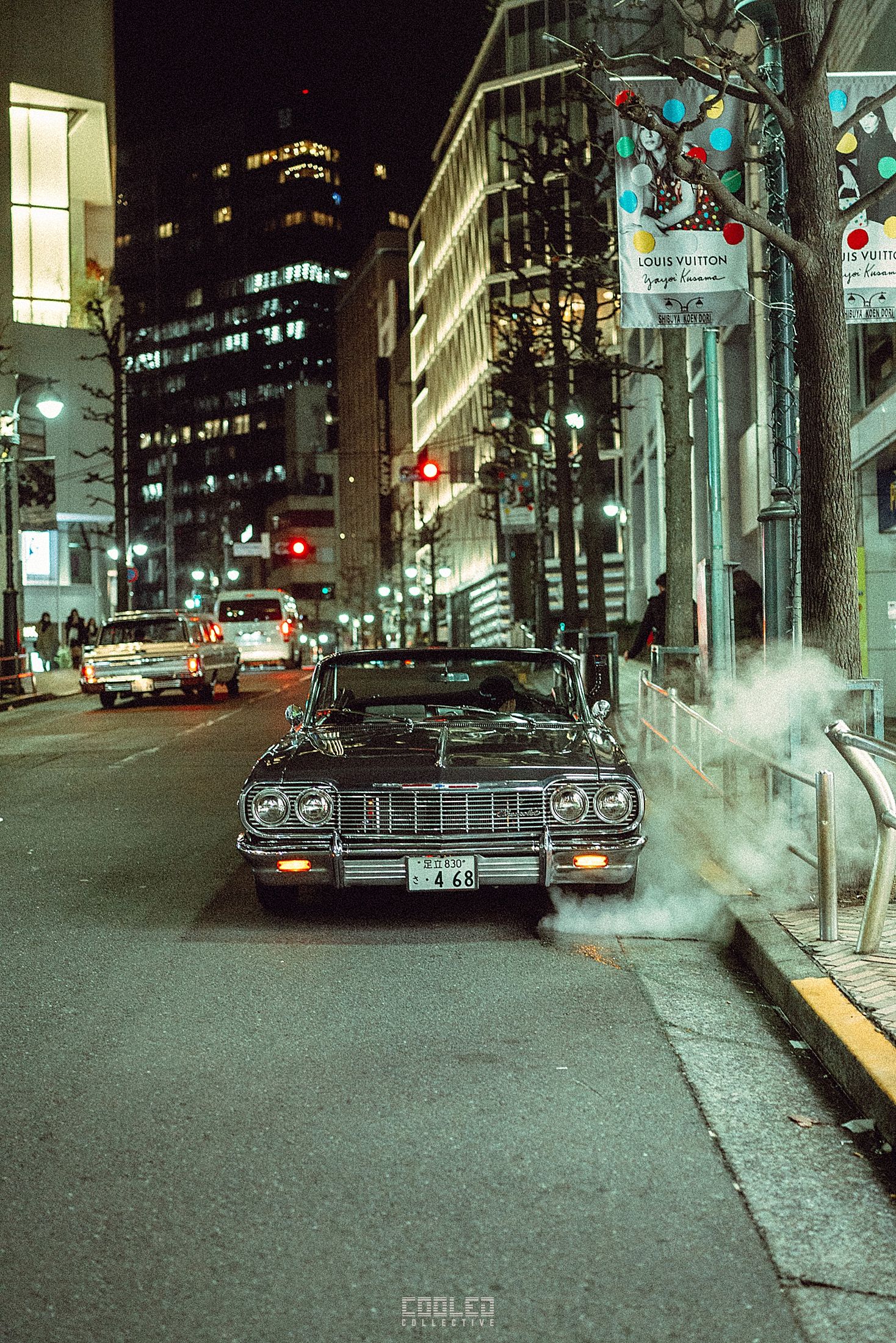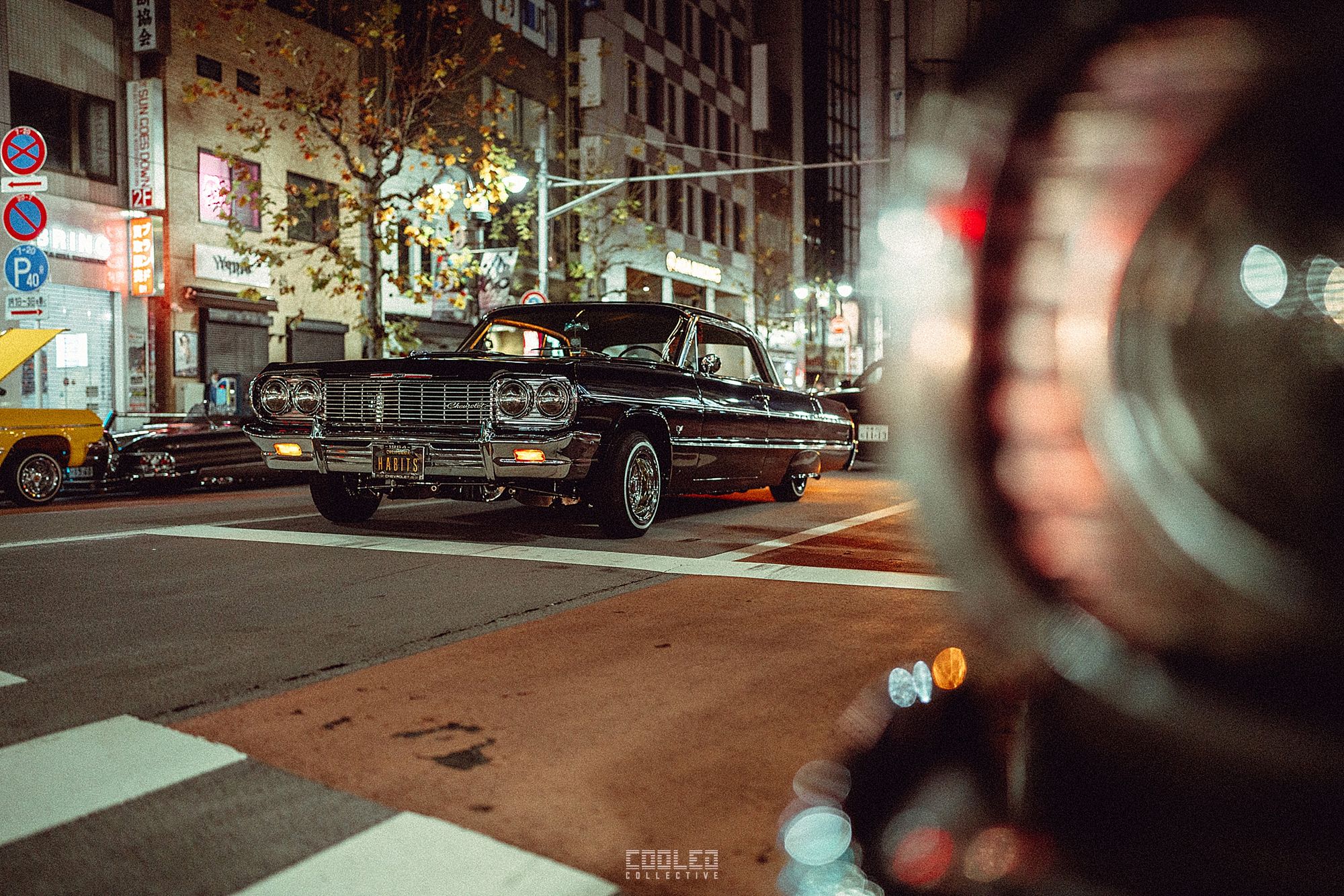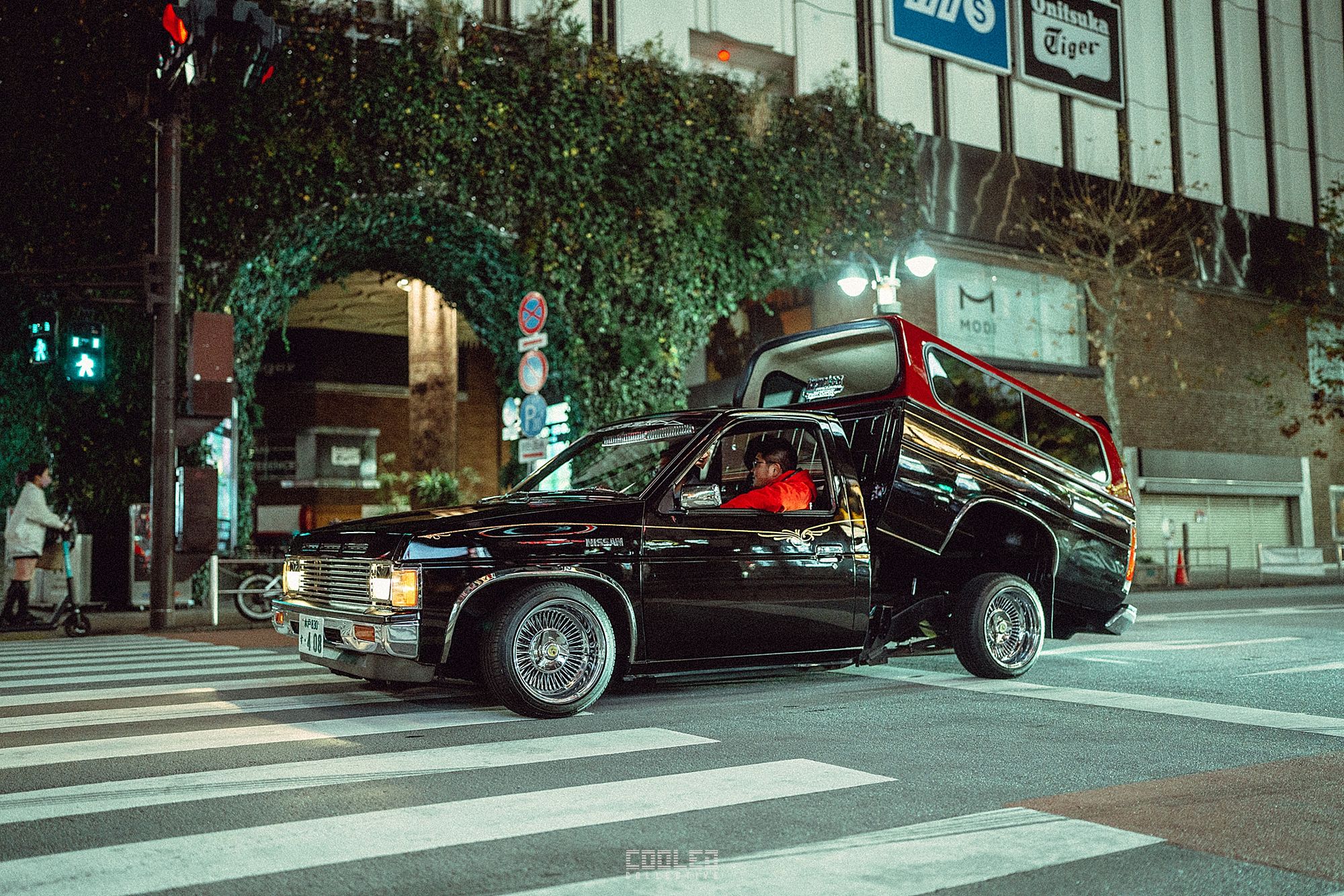 Below, the Supra mark IV was hanging around, not a lowrider but badass nonetheless.