The year has nearly come to an end but in Socal, that is no reason to slow things down. The automotive culture has risen so much in the last few years that it really takes something special to make things truly unique.
Ryan and Aaron both came together to host a masterclass on debuting new builds. A reveal of Ryan's modern architectural design was pretty damn special. To think a home like this exists in a normal Southern California suburban neighborhood is pretty wild. You automatically can tell that "one is not like the other" when pulling up to Ryan's new pad.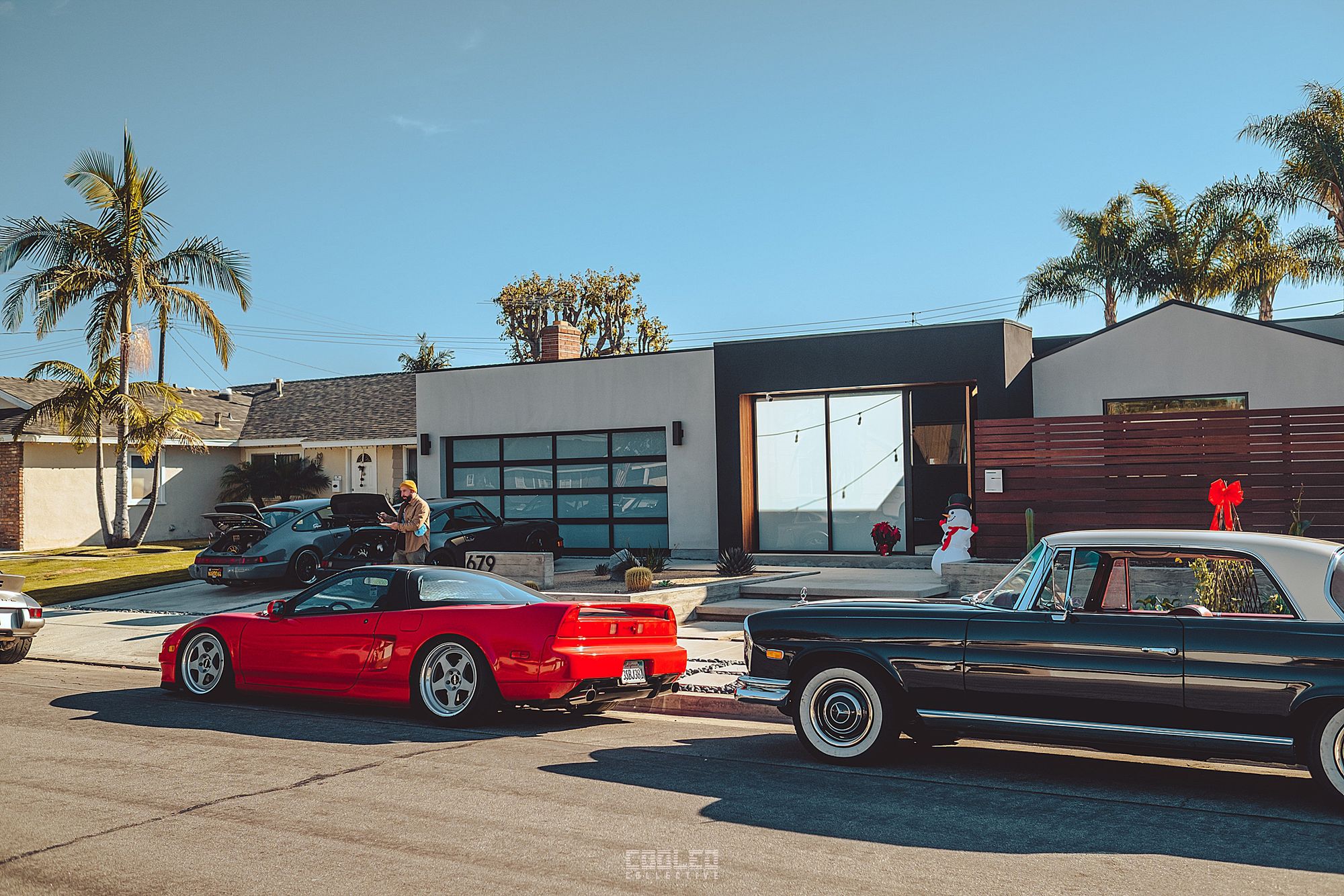 The streets were lined with gorgeous Japanese and European cars from all different decades. Vin's NSX took stage front and center when I arrived with Al's W111 Coupe right behind it.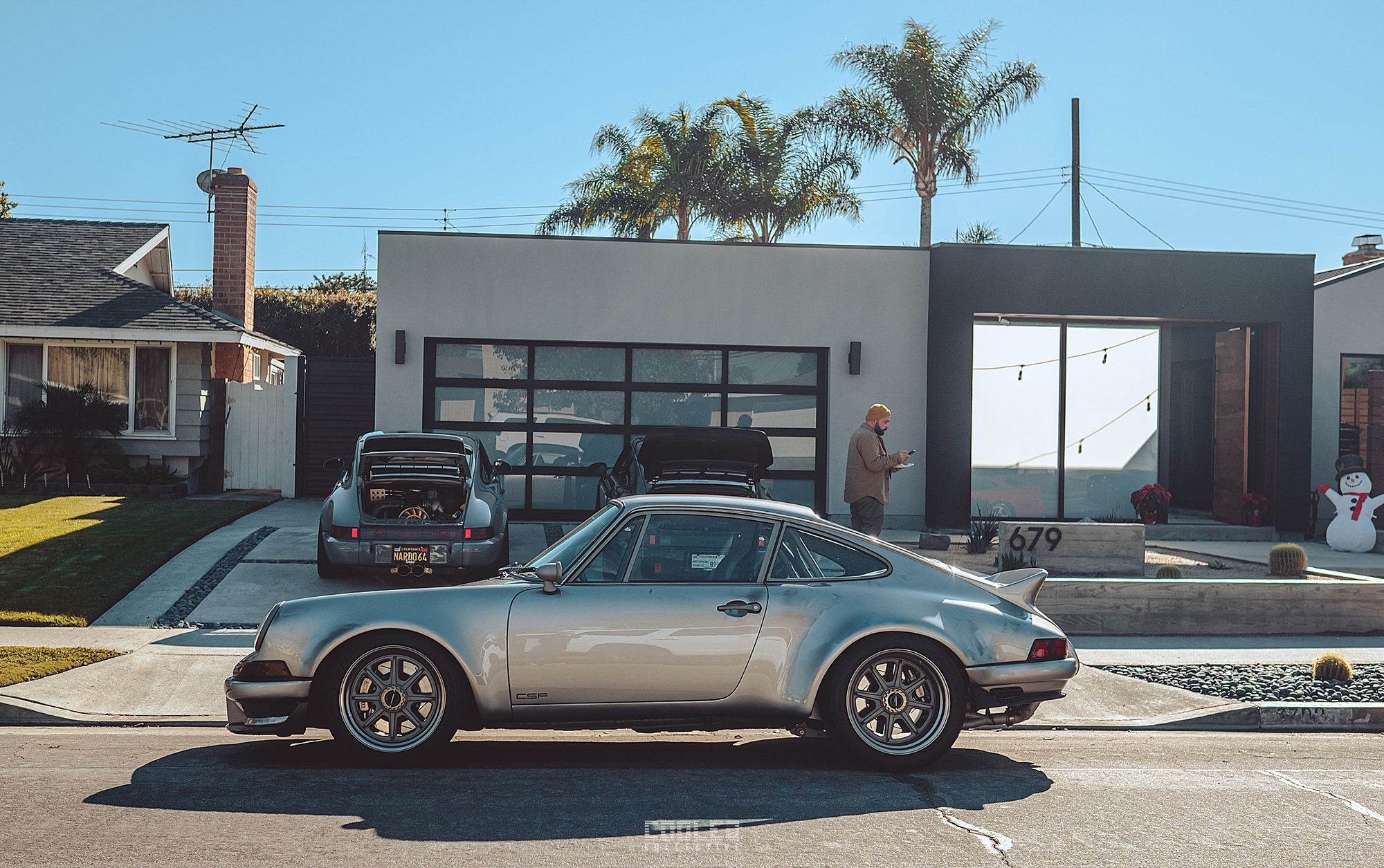 In front of the driveway was Ravi CSF's newest custom built 911 hot rod which debuted at SEMA this year. If you haven't seen my coverage on it, check it out here, SEMA Part II. On the driveway was Aaron and Jared's 964 sitting pretty.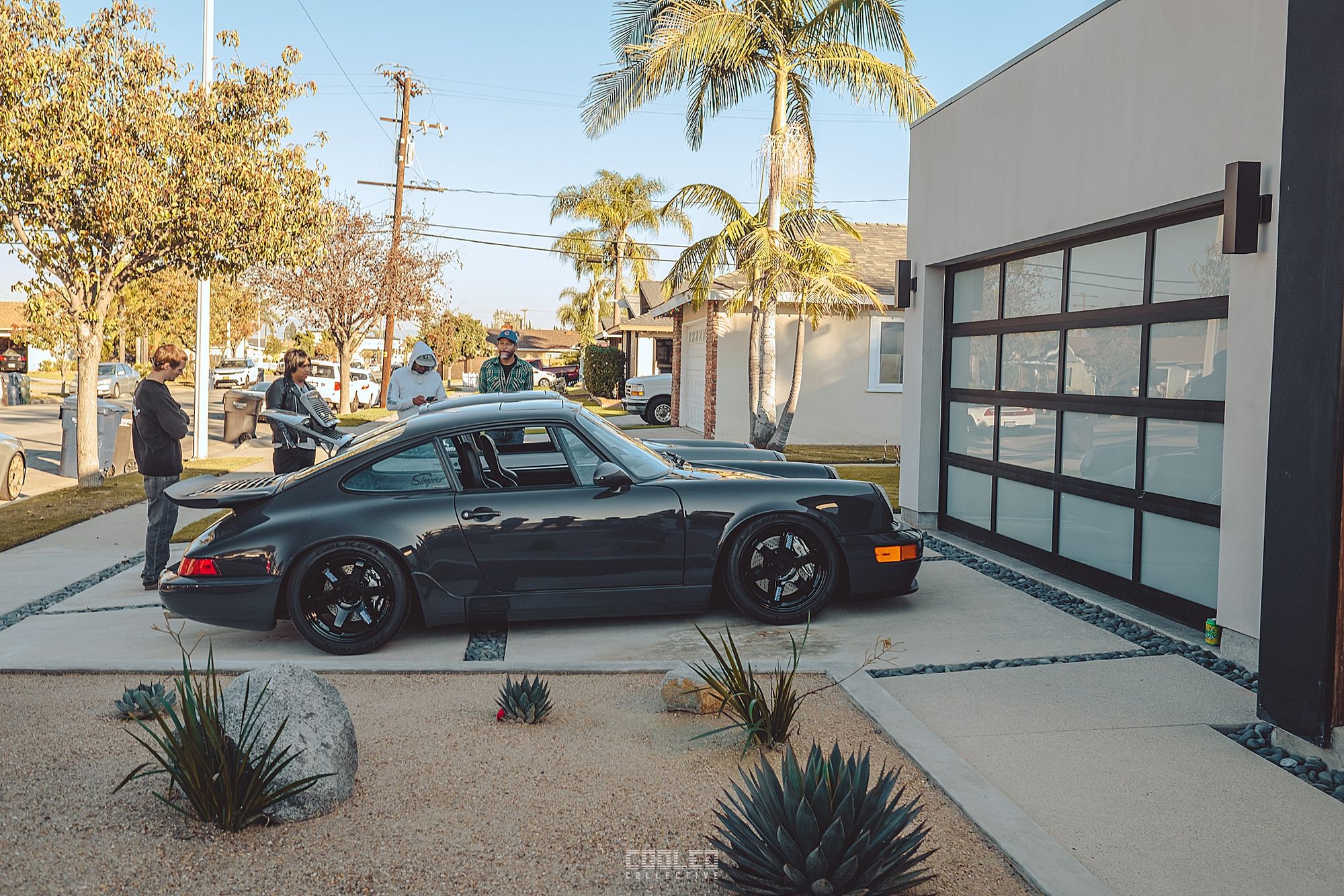 Walking into Ryan's new pad is like walking into one of those Japanese gardens where you come to relax. You have a lot of natural elements like wood, rocks and plants to bring you a calming energy and it sure did that well. Caught a moment where Joey Lee and Ryan Der were having a moment. Looks like they were talking about something serious like taxes or the death of a pet.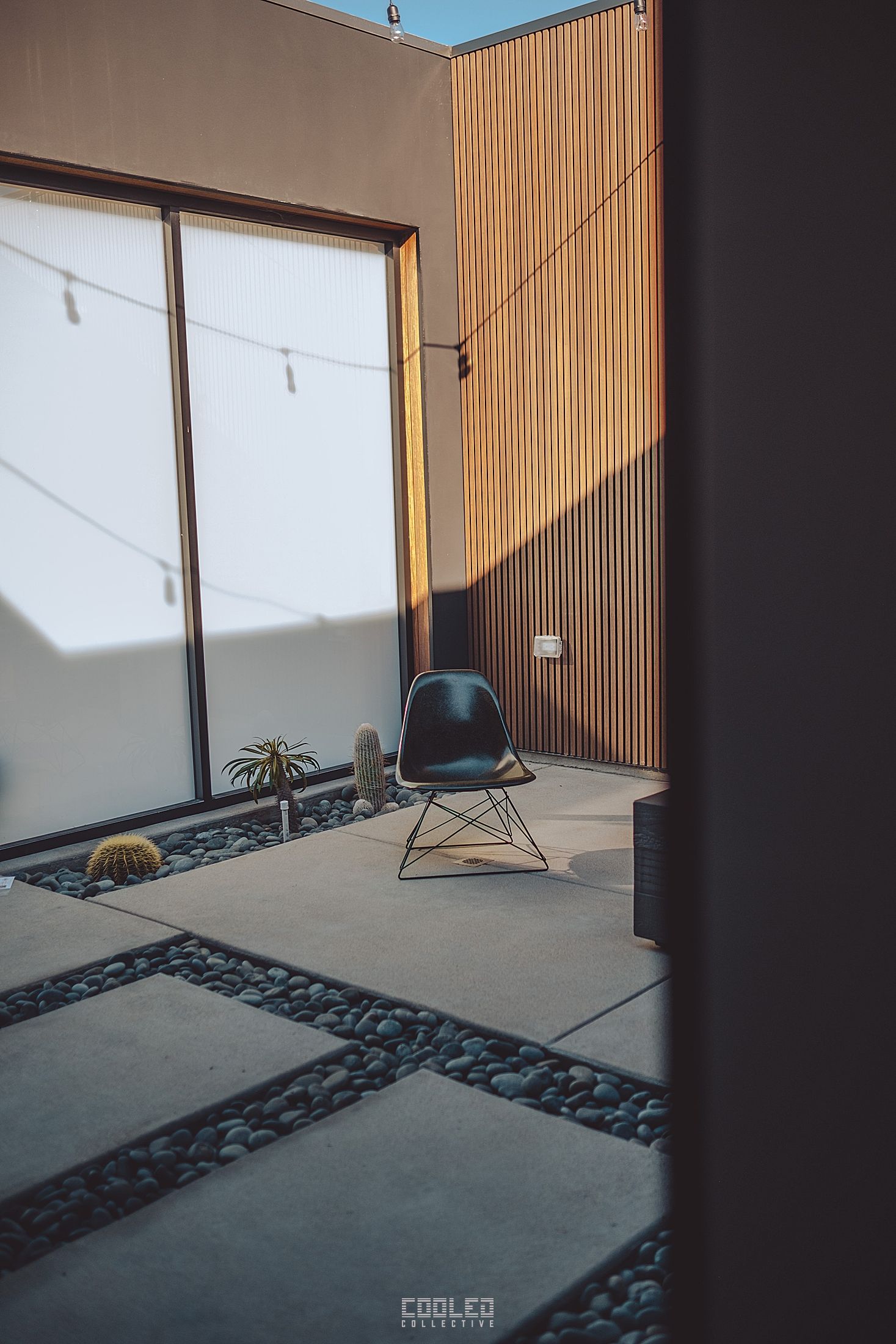 I didn't take too many photos of the inside of the house just due to privacy so I spent most of my time photographing the car space. You see, Ryan converted a part of the backyard into an enclosed extension of his garage. It is so badass that it just gave me the chills to see it.
To debut the beautiful space, Aaron's JDM Type R K swapped CRX stood pretty. Forgive me as I only had a 35mm on my Fuji X-T2 so I wasn't able to shoot enough wide enough to capture all of the car.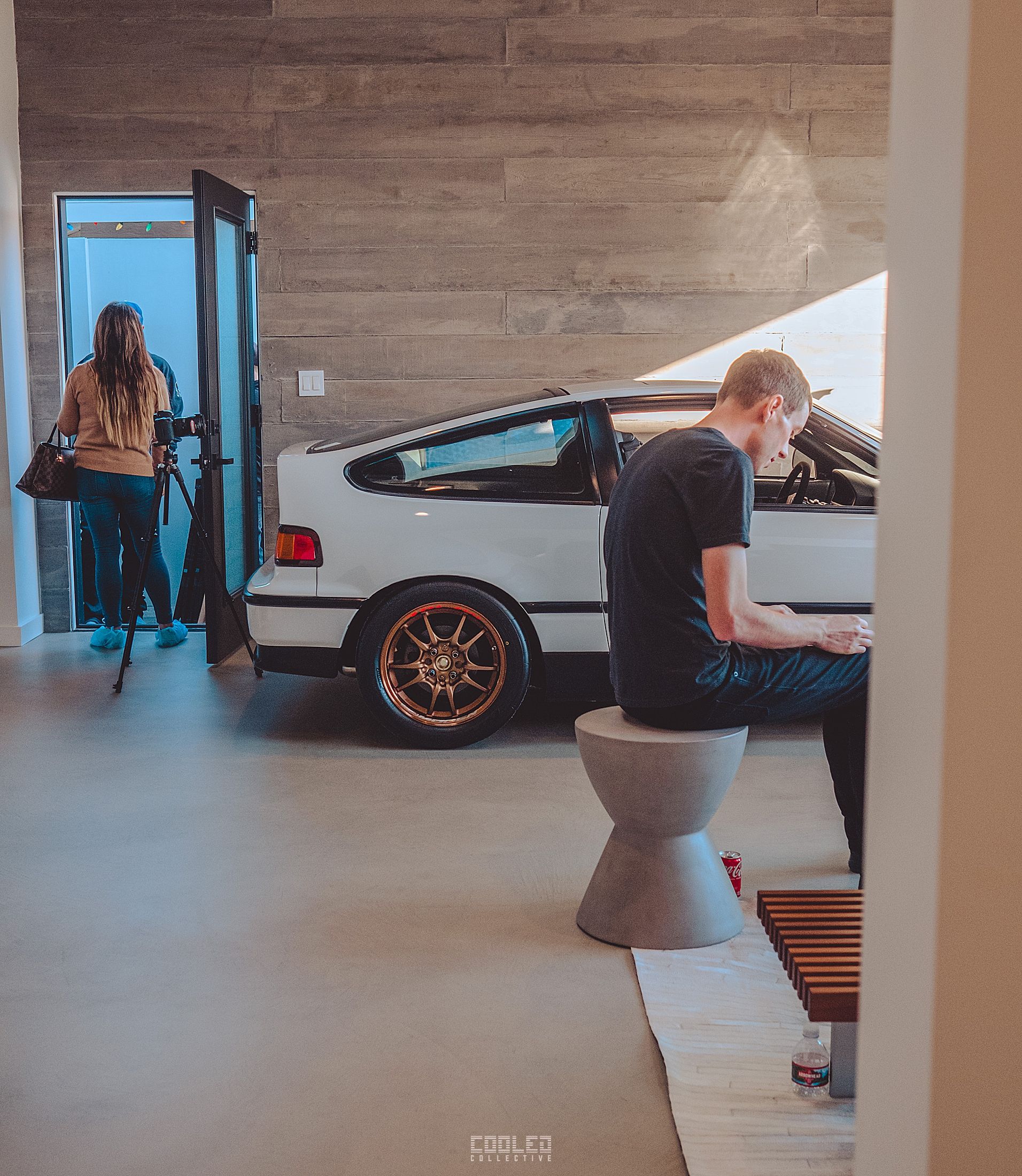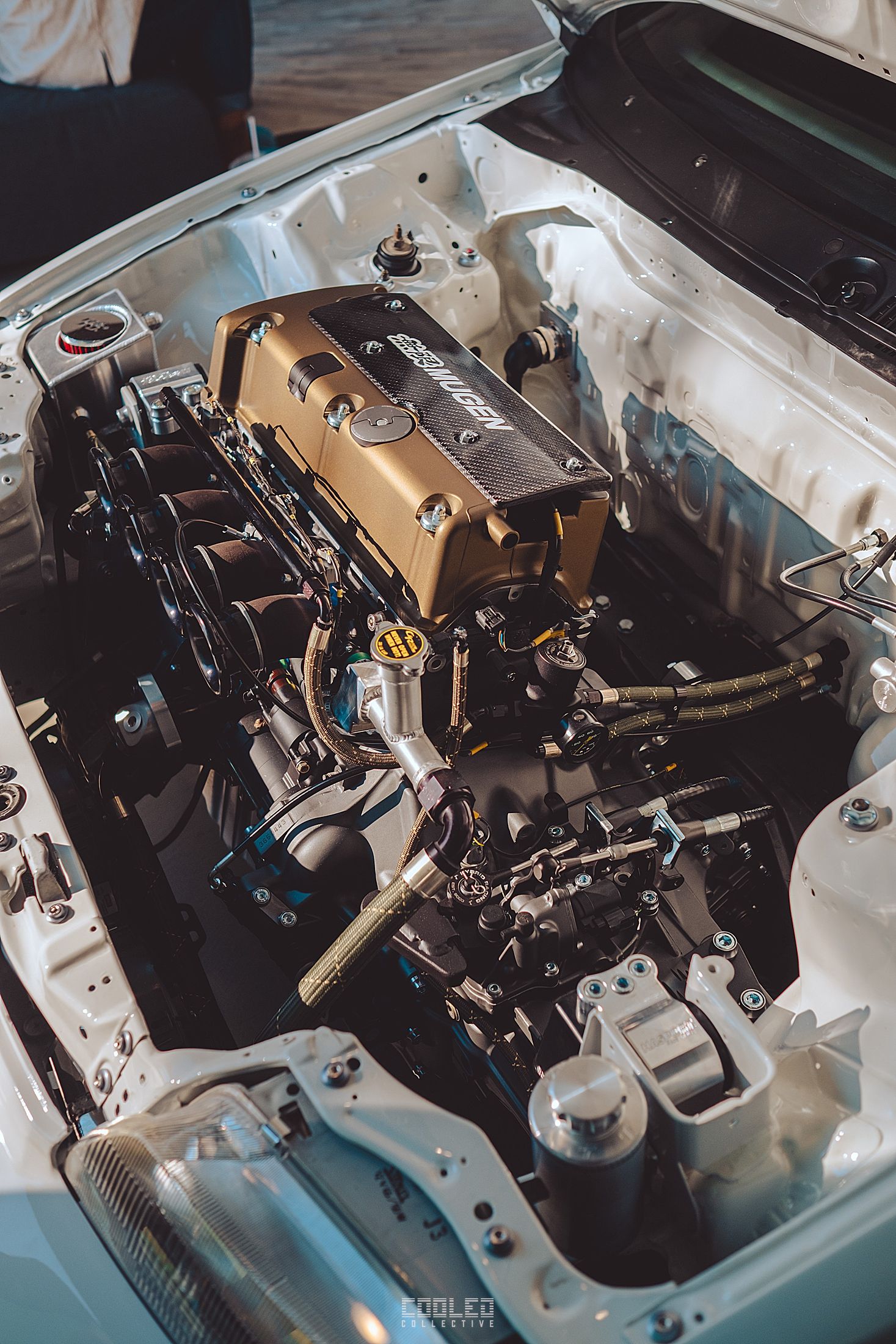 What else can be said about the build? I mean it's AE and Rywire and if you know these two, you know nothing was left to chance and everything that could have been done, was done. Aaron sent his motor up north just to get cerakote'd and matched the bronze valve cover to match his Mugen wheels.

AE also had custom ITB's made so that he can still use his stock hood and not have to cut them out or do custom aftermarket. I will spare the details as I am sure Joey will do a full coverage on the build and he can explain it way better than I ever could.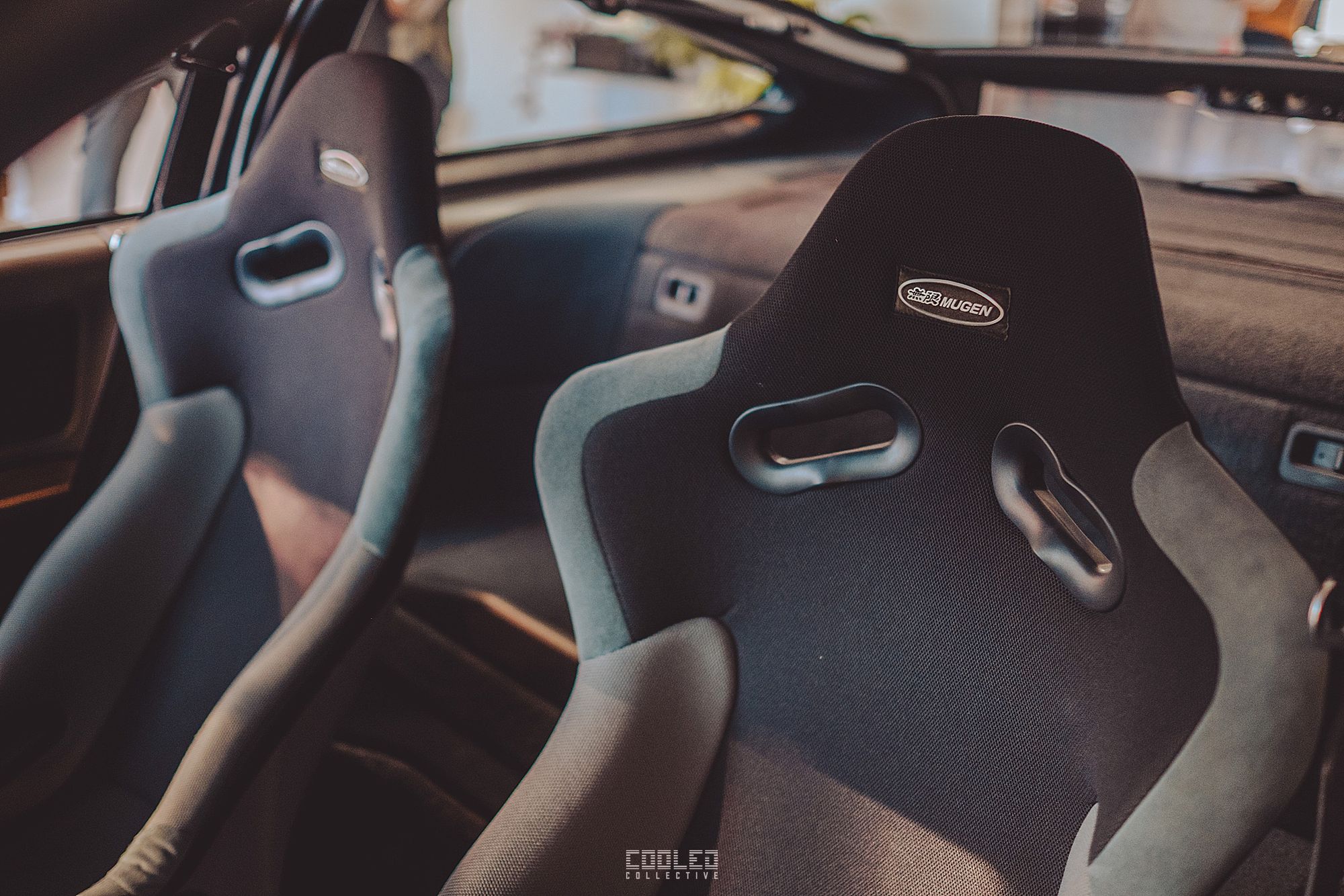 You can see Mugen littered all over this car... Mugen everywhere! What a sight to see <3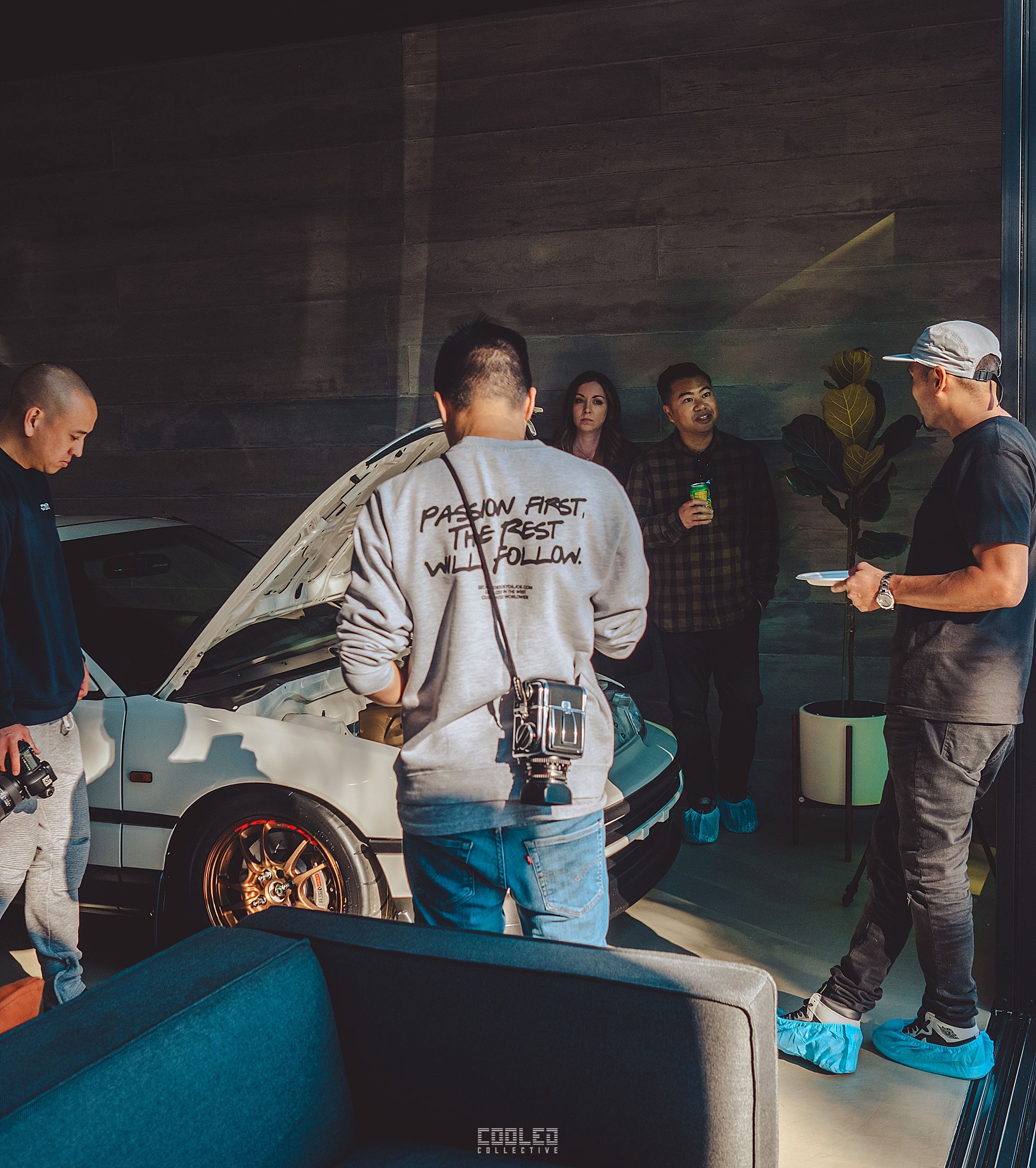 In Ryan's actual garage was Ryan's EA Civic, also looking beautiful. I don't know much about the build but it looked amazing. Kenneth from Funfzehn Auto came through and was more than happy to be an import model for your viewing pleasure!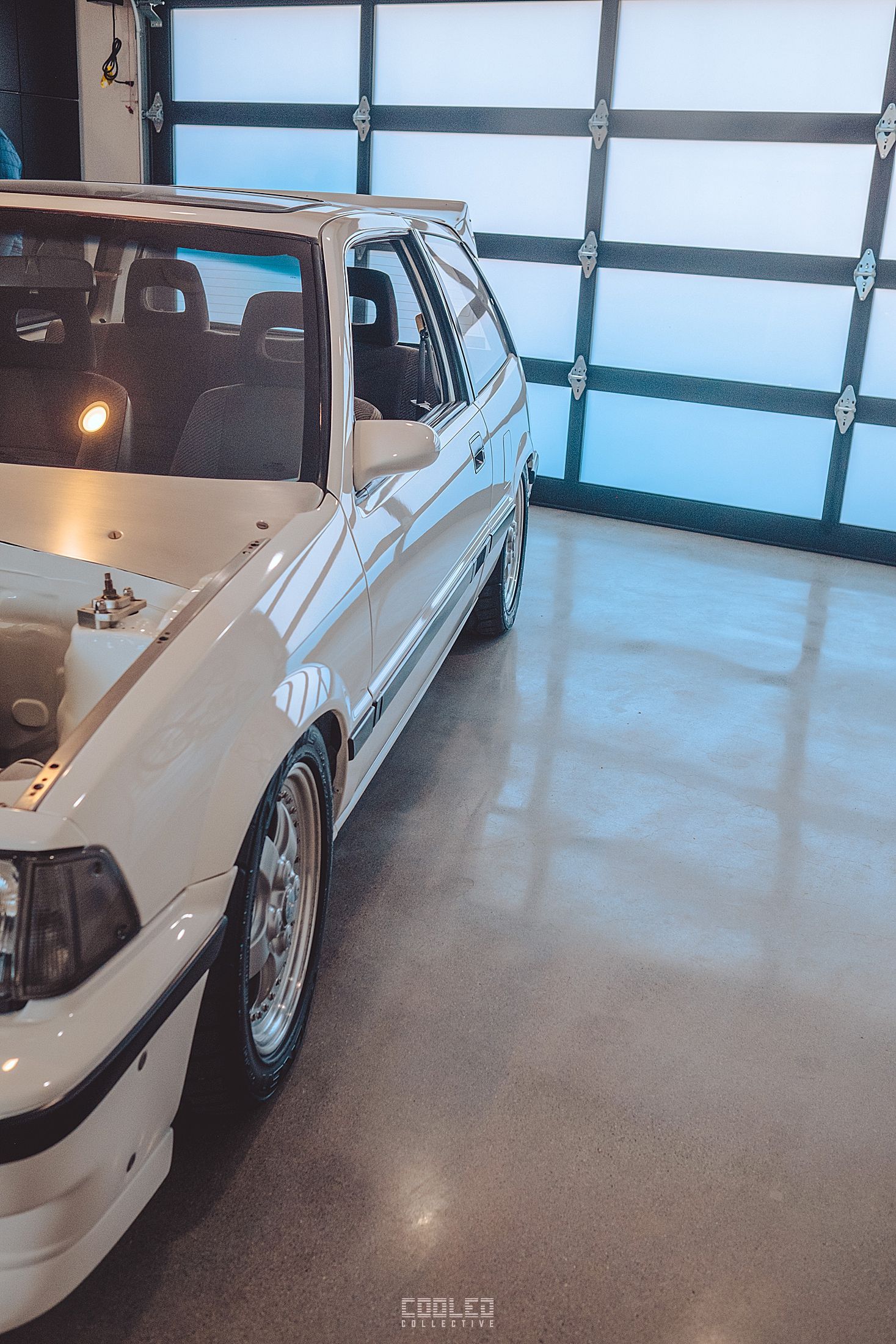 Landscape is pretty vital to the overall aesthetics of the home so Ryan did not hold back in the backyard. A quaint backyard with a pool and meditative feel.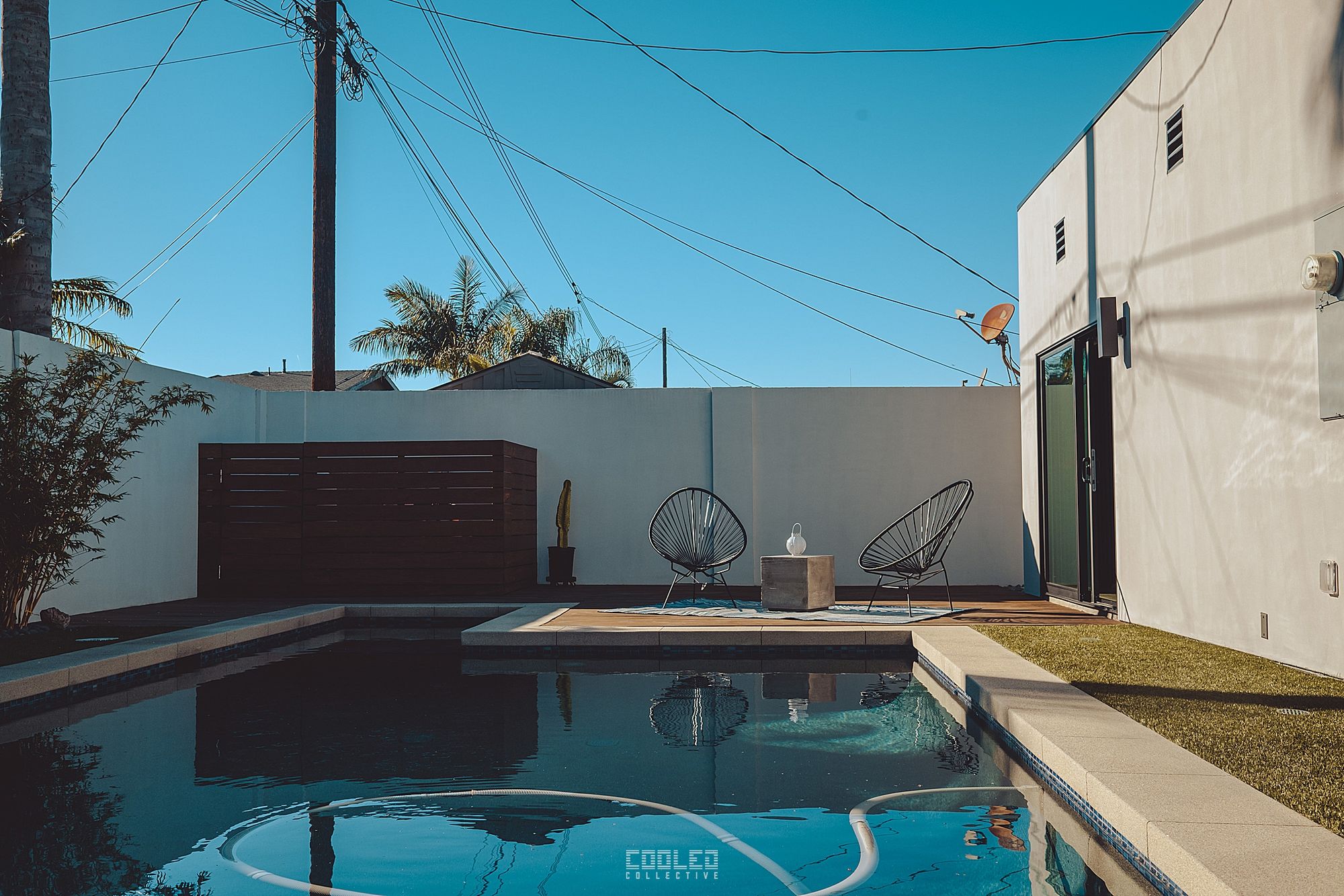 Many industry folks were there on the builders side, media side and ownership side. V Photography by V, Darrien Craven, Big Mike, Joey Lee, Jared Ryans, Sleepers Crew, Funfzehn Auto were there just to name a few.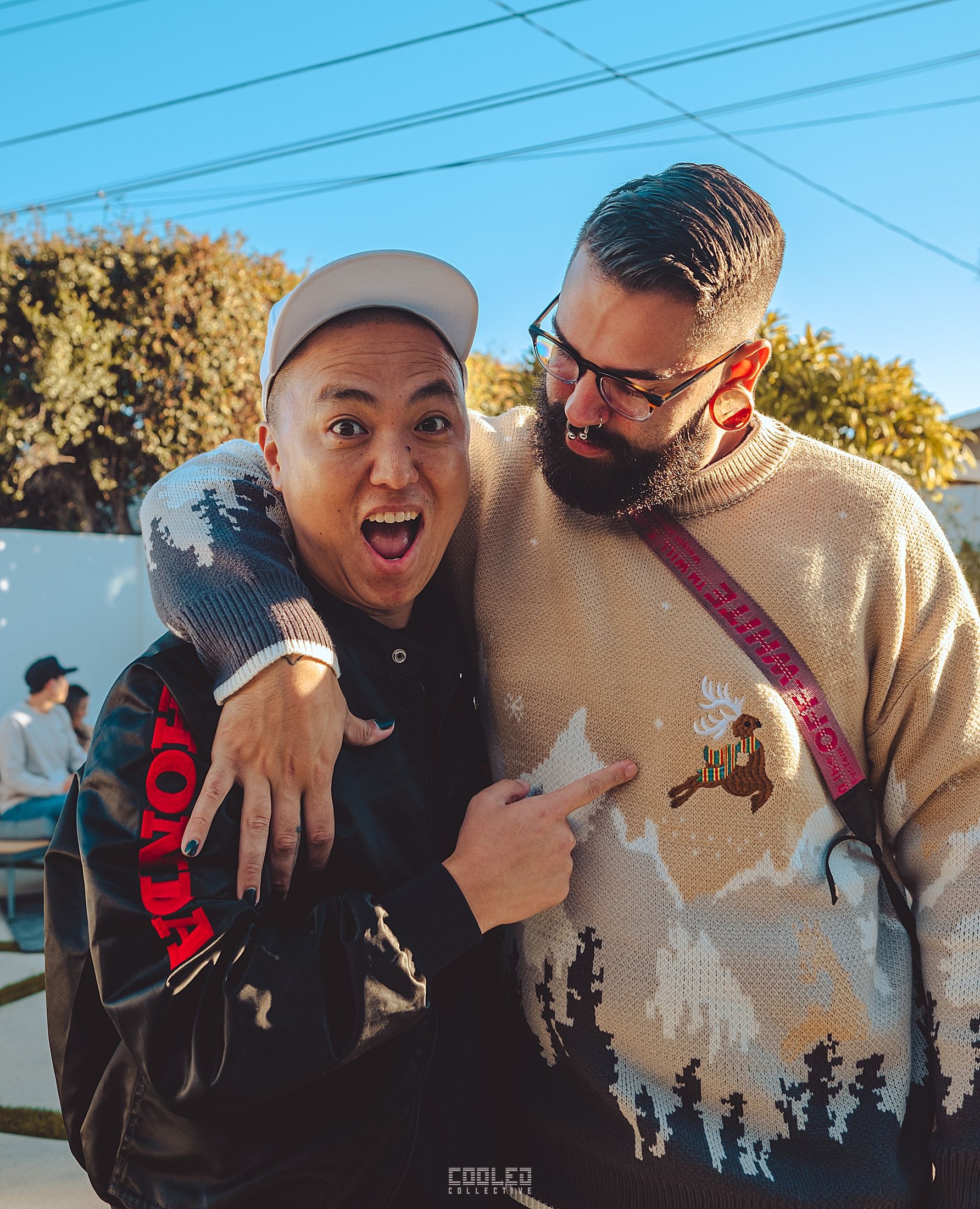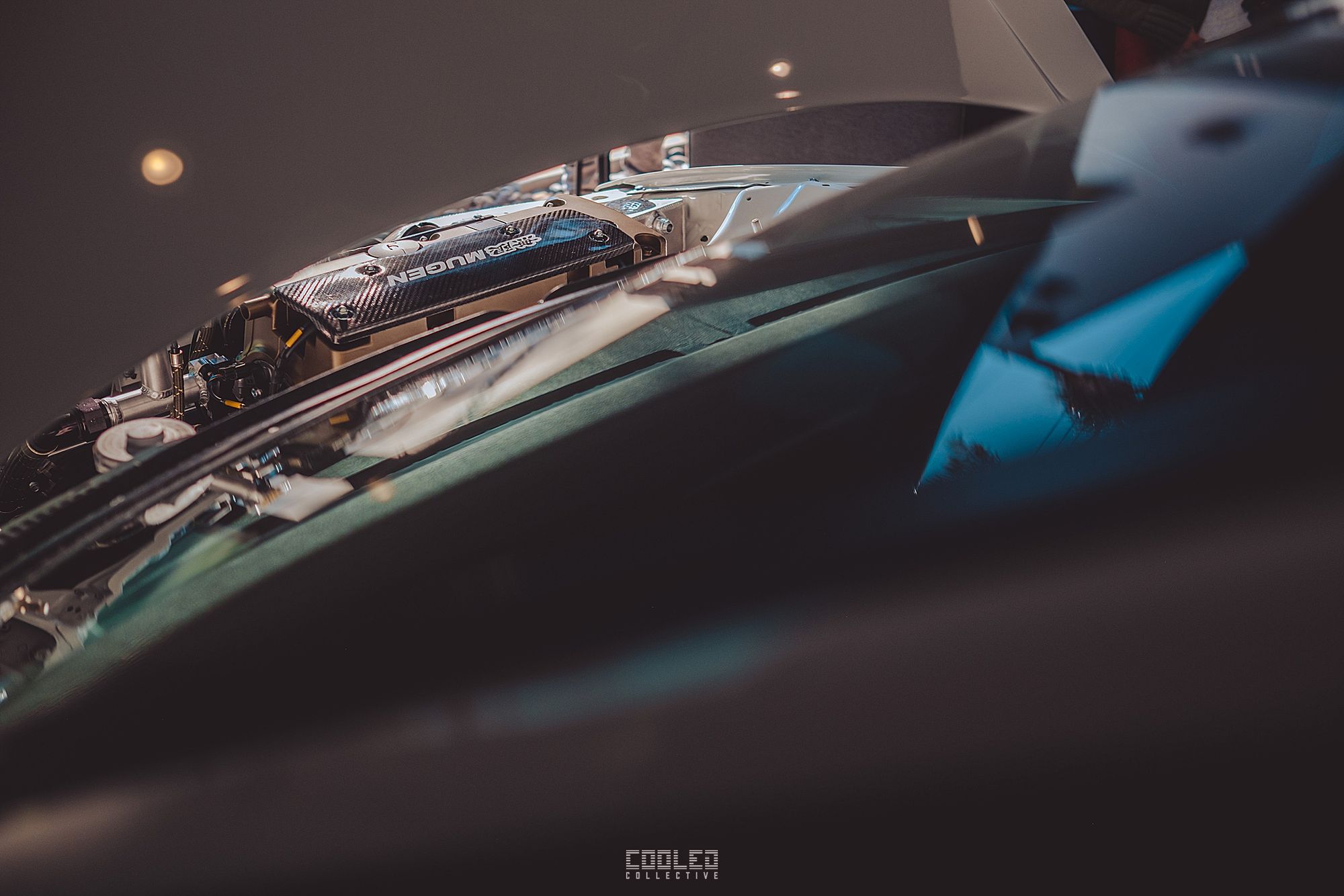 Thank you Ryan and AE for the invite to your big reveals! I think it is pretty evident that people expect big things from guys like you but to do it in collaboration was the very best. I forgot to photograph the food there but let's just say I put down a quad of Brodard's Pork Spring Rolls with much joy.
Til the next round!
Drew Manley

Guests at the even while I was there:
Aaron Espino
Ryan Rywire
Joey Lee
Ravi CSF
Darrien CRVN
Photography by V
Vin Anatra
Jared Ryans
Kenny Funfzehn
Big Mike
Ryan Der
Al Tumbo
Elias Tebache