Photos and words by: Drew Manley
---
Luftgekühlt, the premiere aircooled event of the year just finished their 9th iteration of the show at Mare Island in the city of Vallejo, CA. With the events getting bigger and bigger every year, finding a venue to cater to the fanfare isn't an easy thing to do. Considering a few years ago, Luft6 was at Universal Studios, the expectations are very high with each show.
When it was announced that Luft9 would be at an old retired naval base, I started getting hyped because visions of old industrial textures and vast indoor and outdoor space is a photographers dream come true. So Mare Island had very high chances of being one of the greatest car shows ever but before I give you my vote on it, lets dive into the morning of.
I arrived to Mare Island at 6am to grab my media credentials since I was too busy hanging out and driving with buddies in Sacramento the days prior. Knowing how busy the arriving crowd was going to be, I left Vacaville at 5:30am where a bunch of stayed at a friend John's house. It was still dark and foggy and reminiscent of a dream as I descended down the hills of Vallejo and over the bridge on to Mare Island. I got lucky I beat the big crowd by 20 mins and then soon the show was in full force.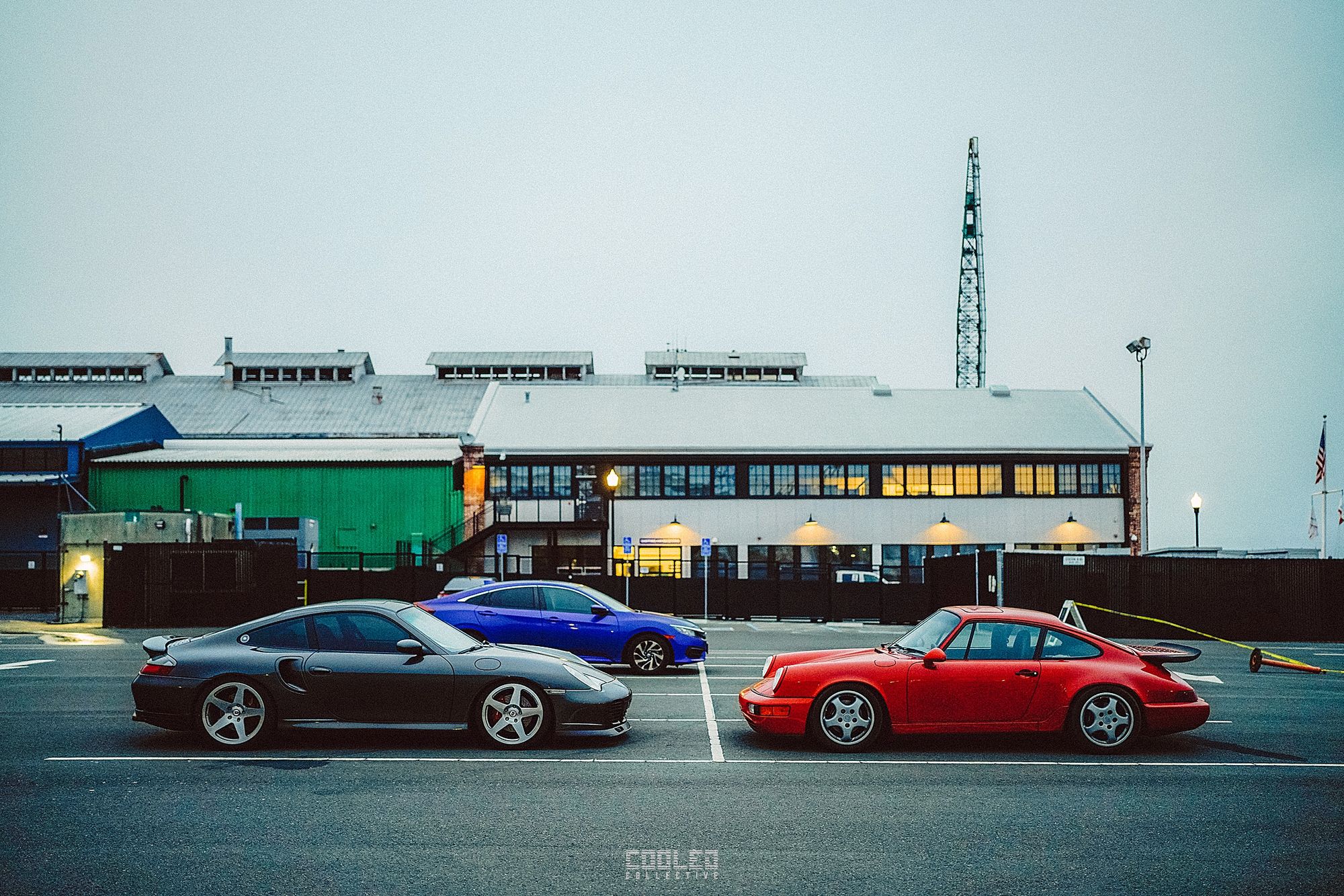 First car I saw was Larry Chen's Porsche 996 Turbo so I parked next to him to grab a snap. Since the media table still was not ready by the time I got there, I headed off to the staging area where they had cars already lining up. The synergy was undeniable and you can feel everyone feeding off each other's energies. It was quite the sight of aircooled and vintage Porsche vibes.
---
Staging Area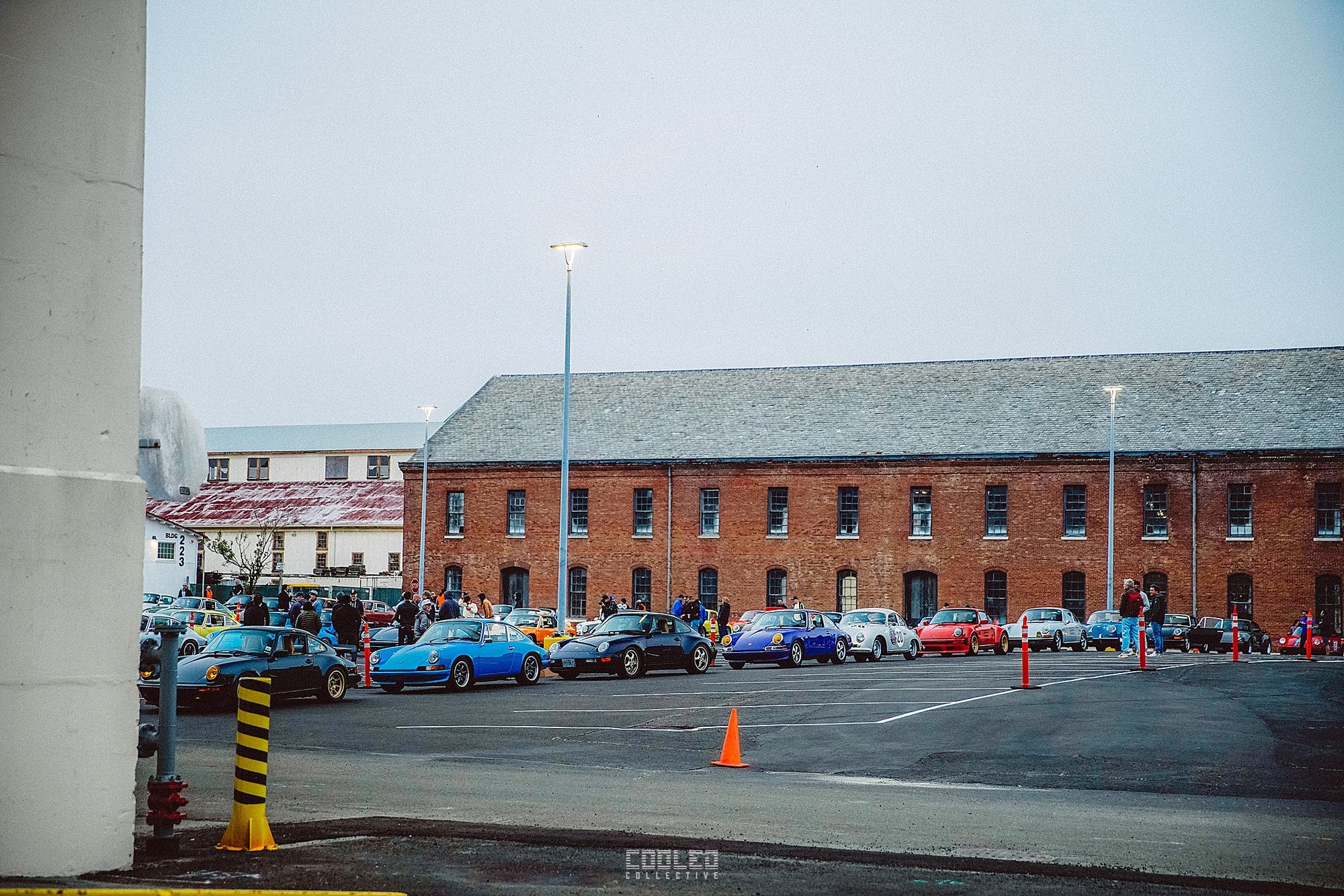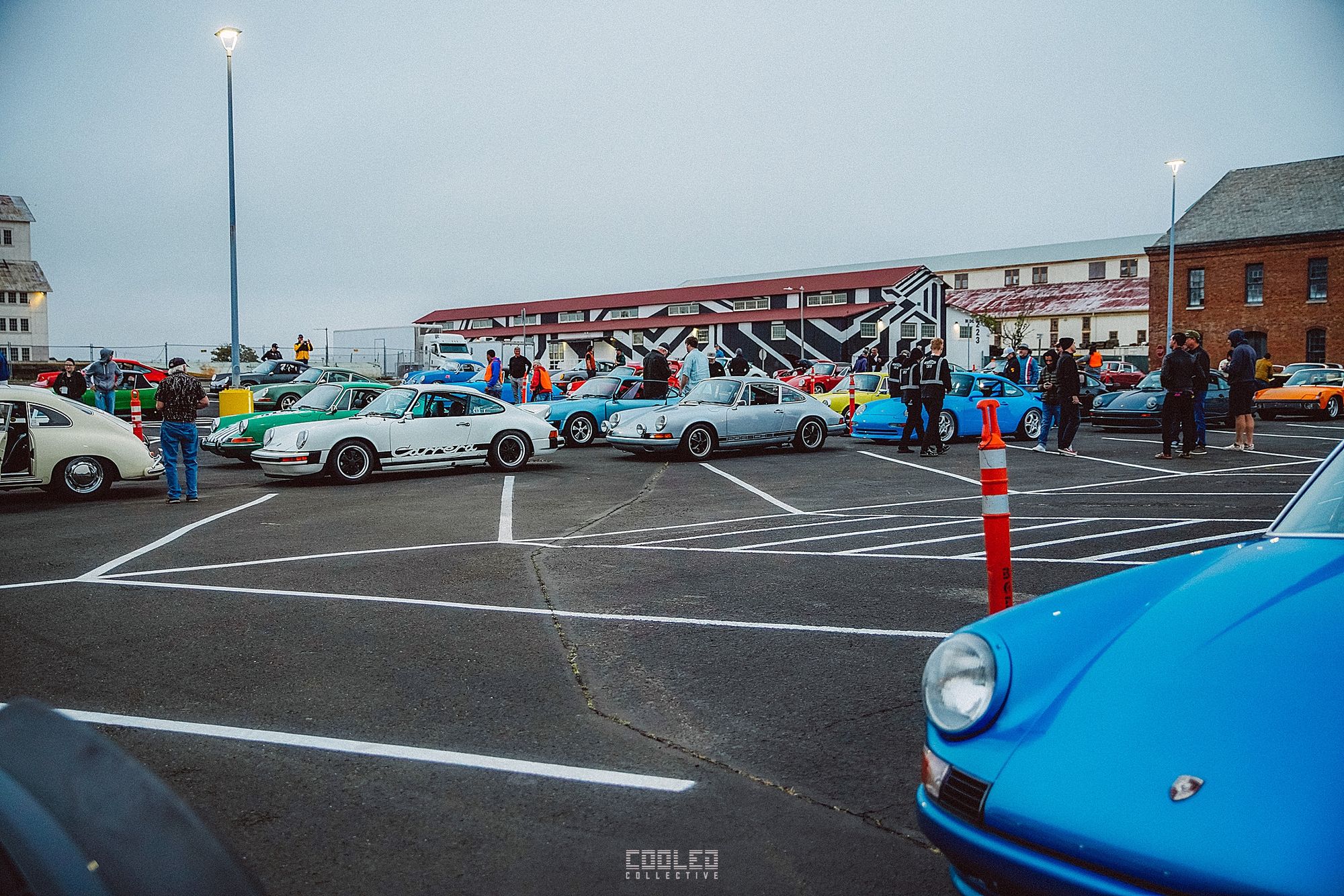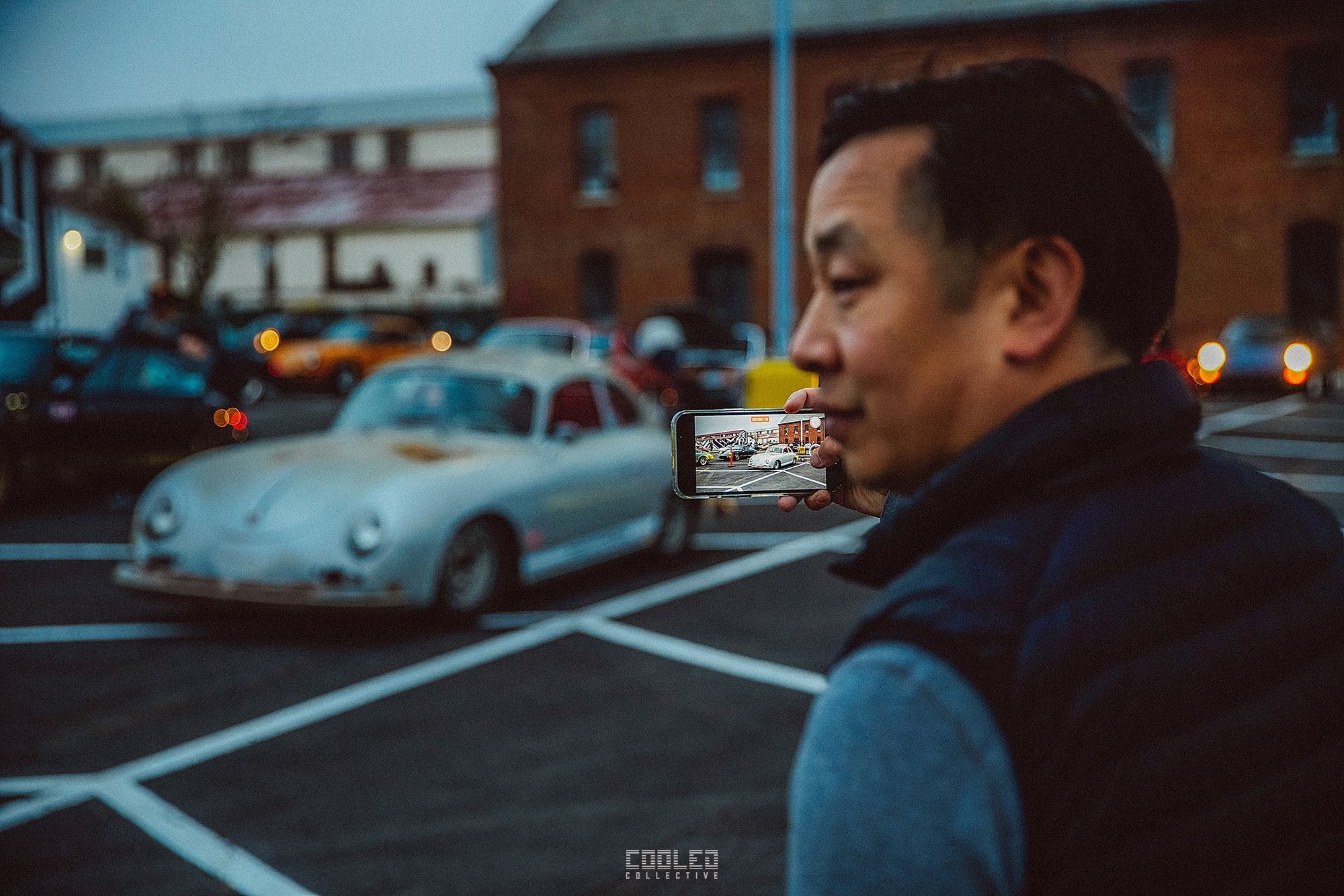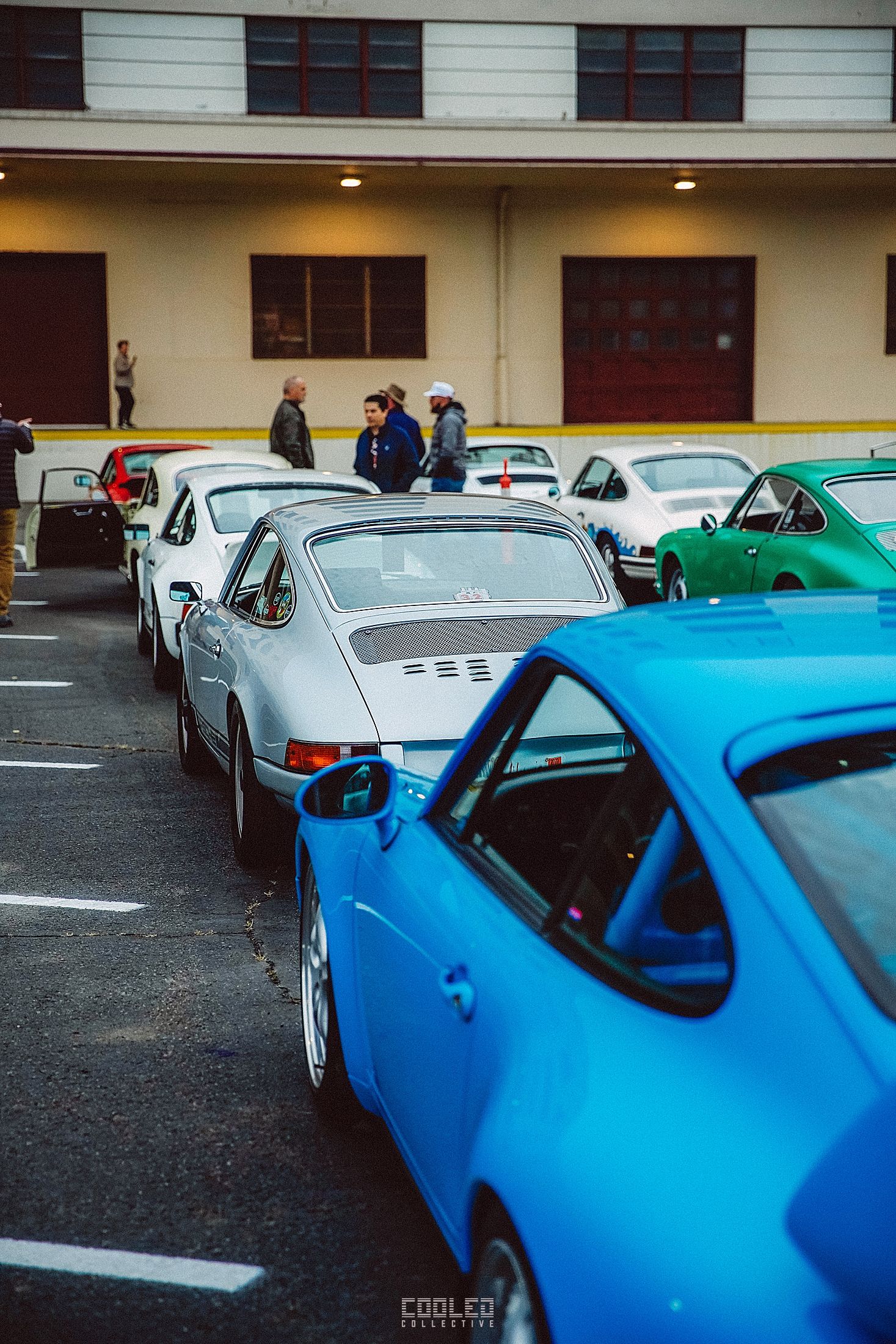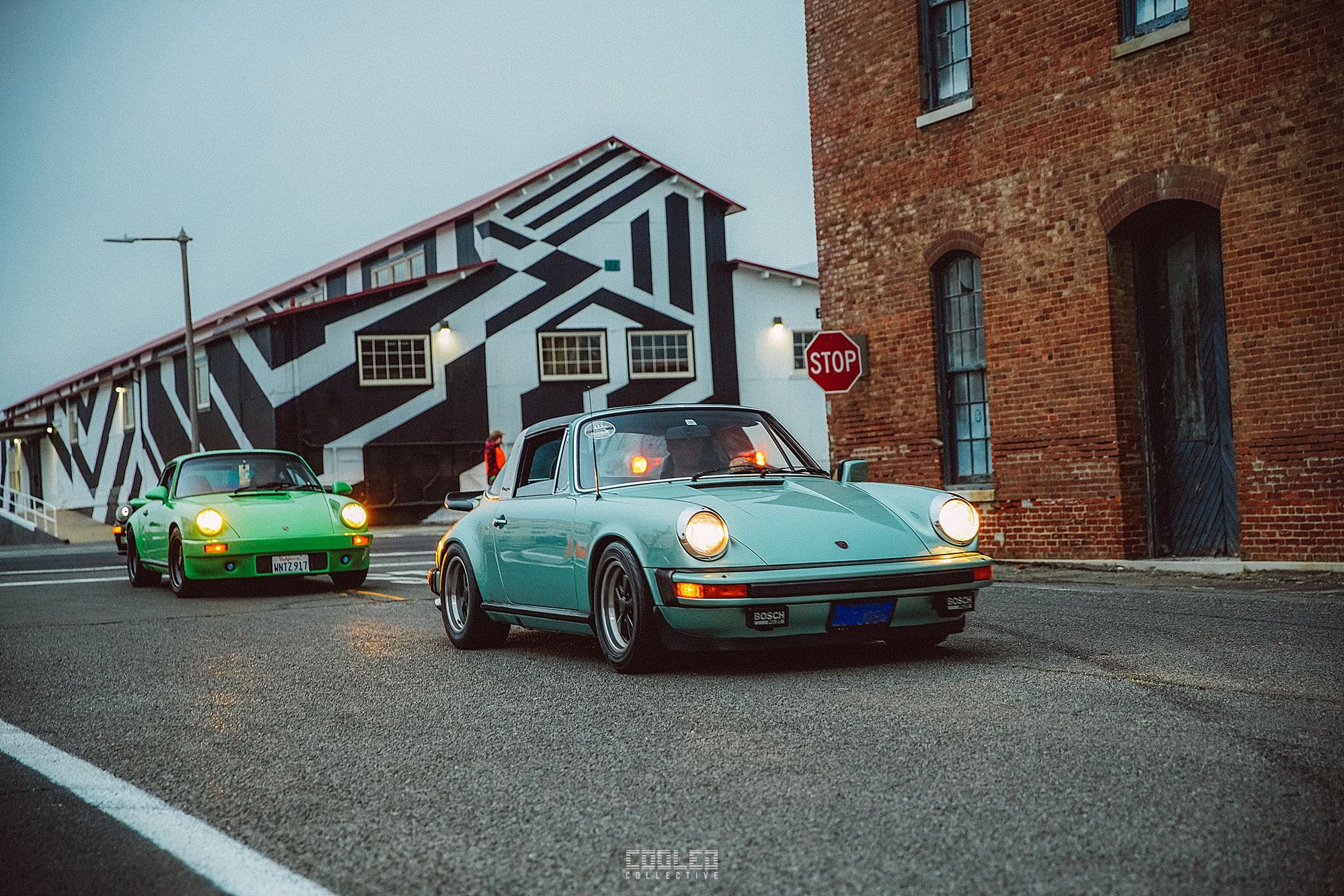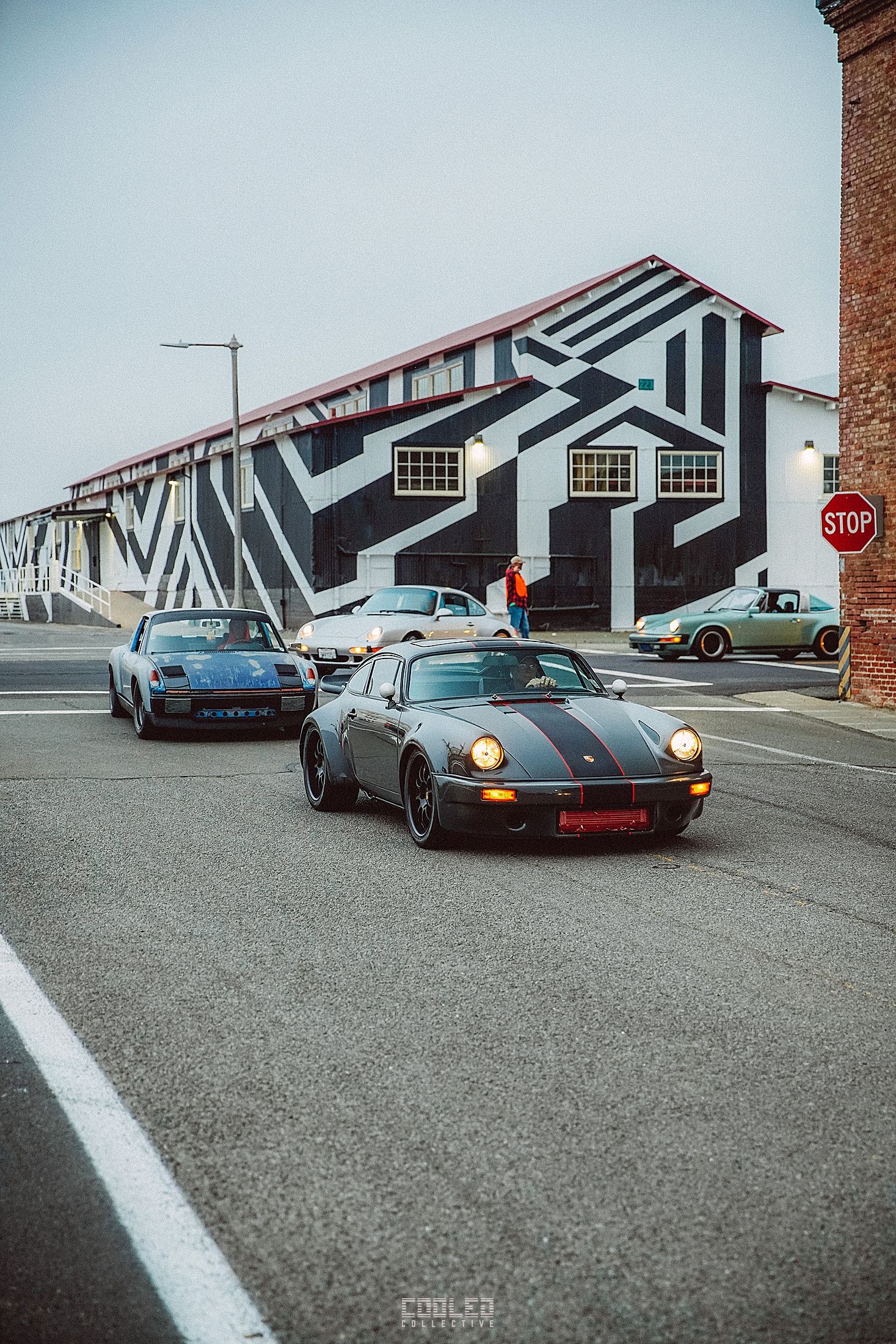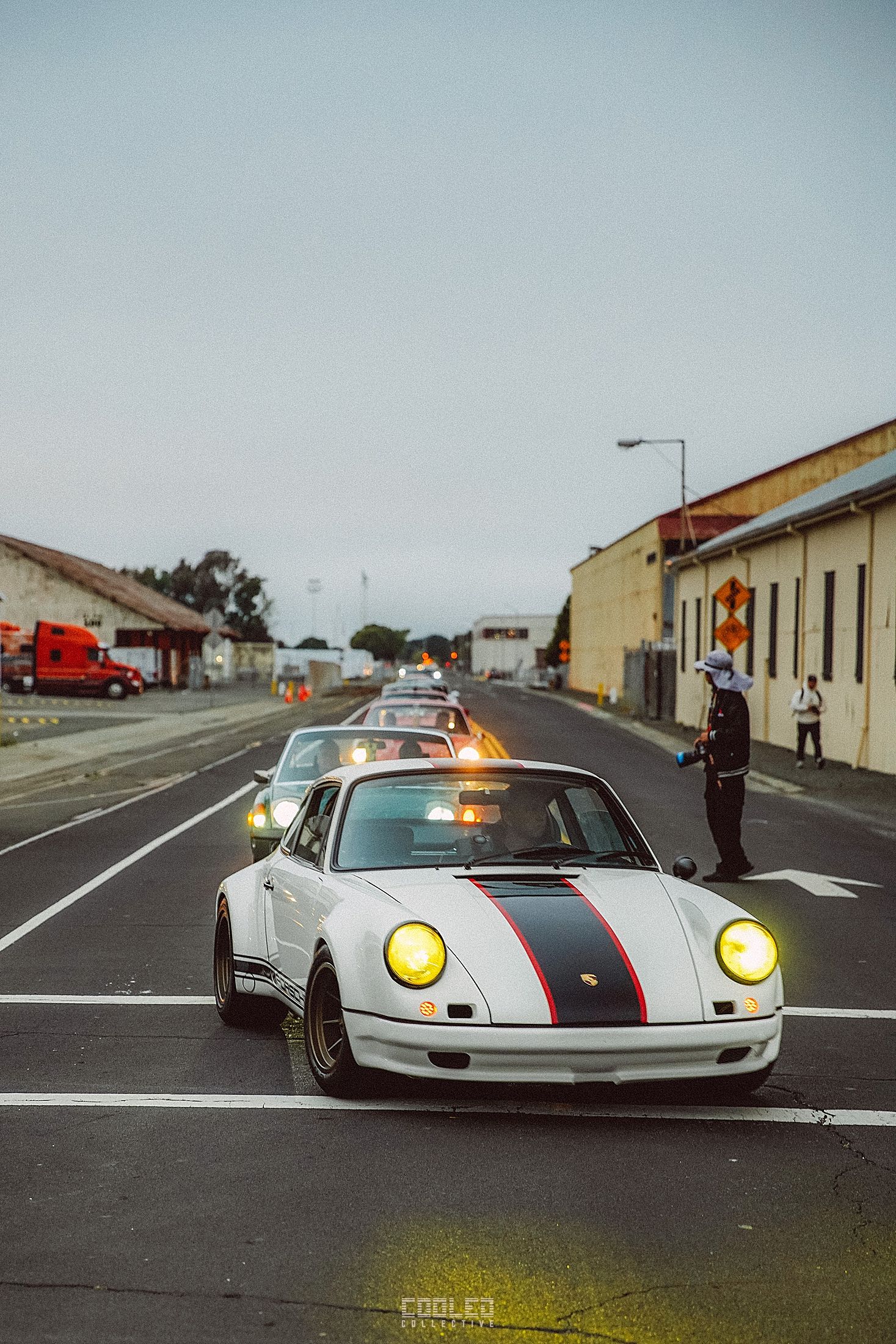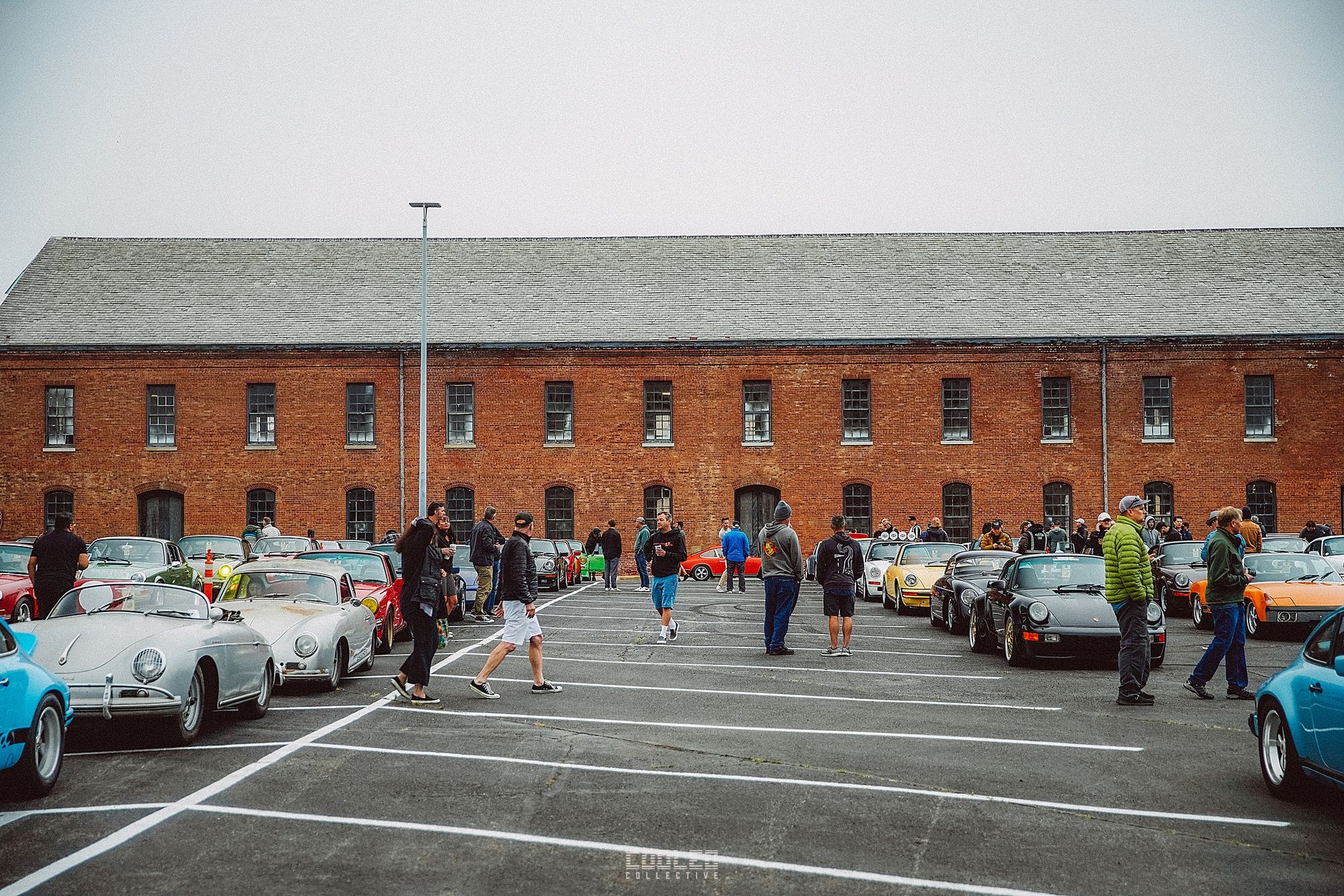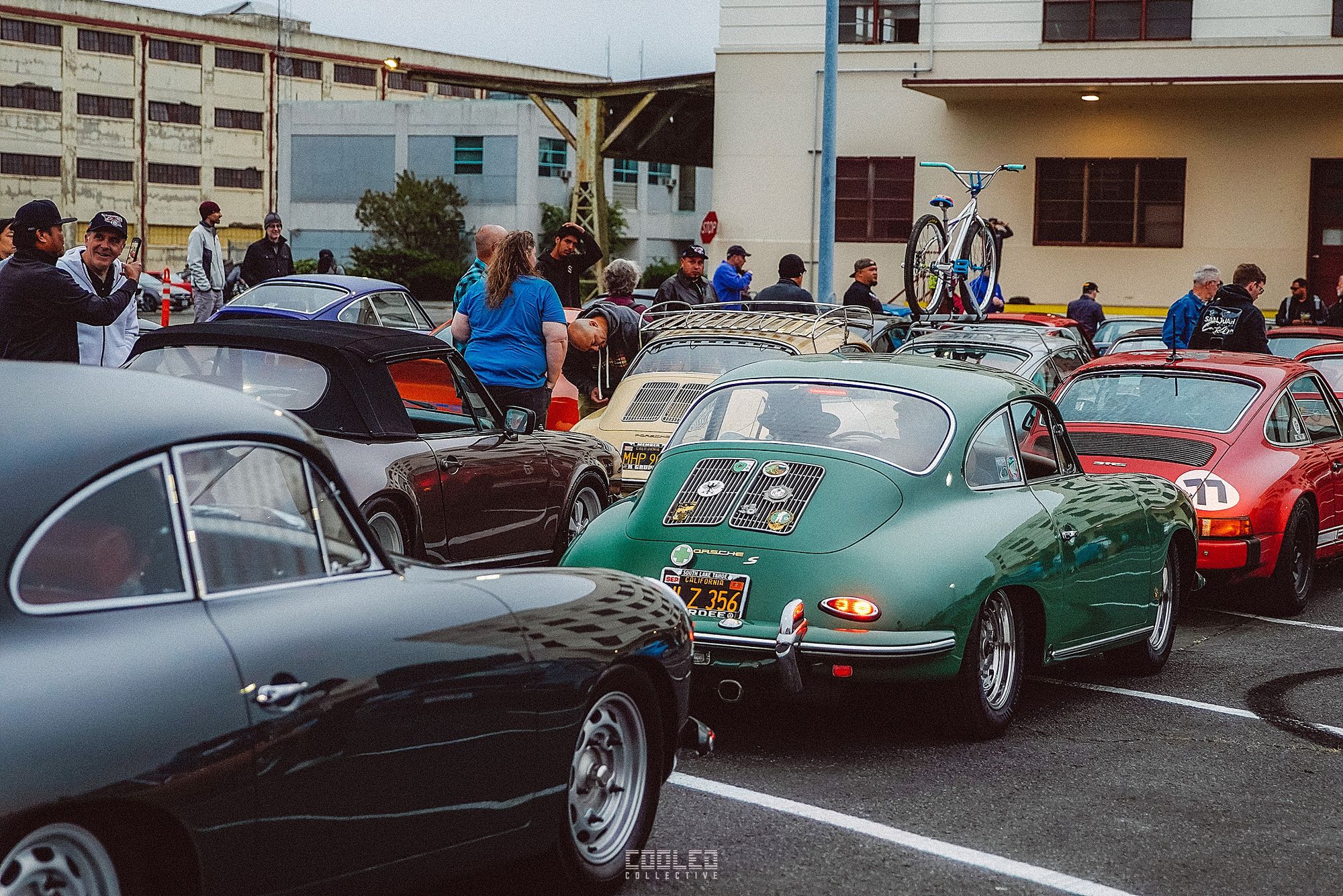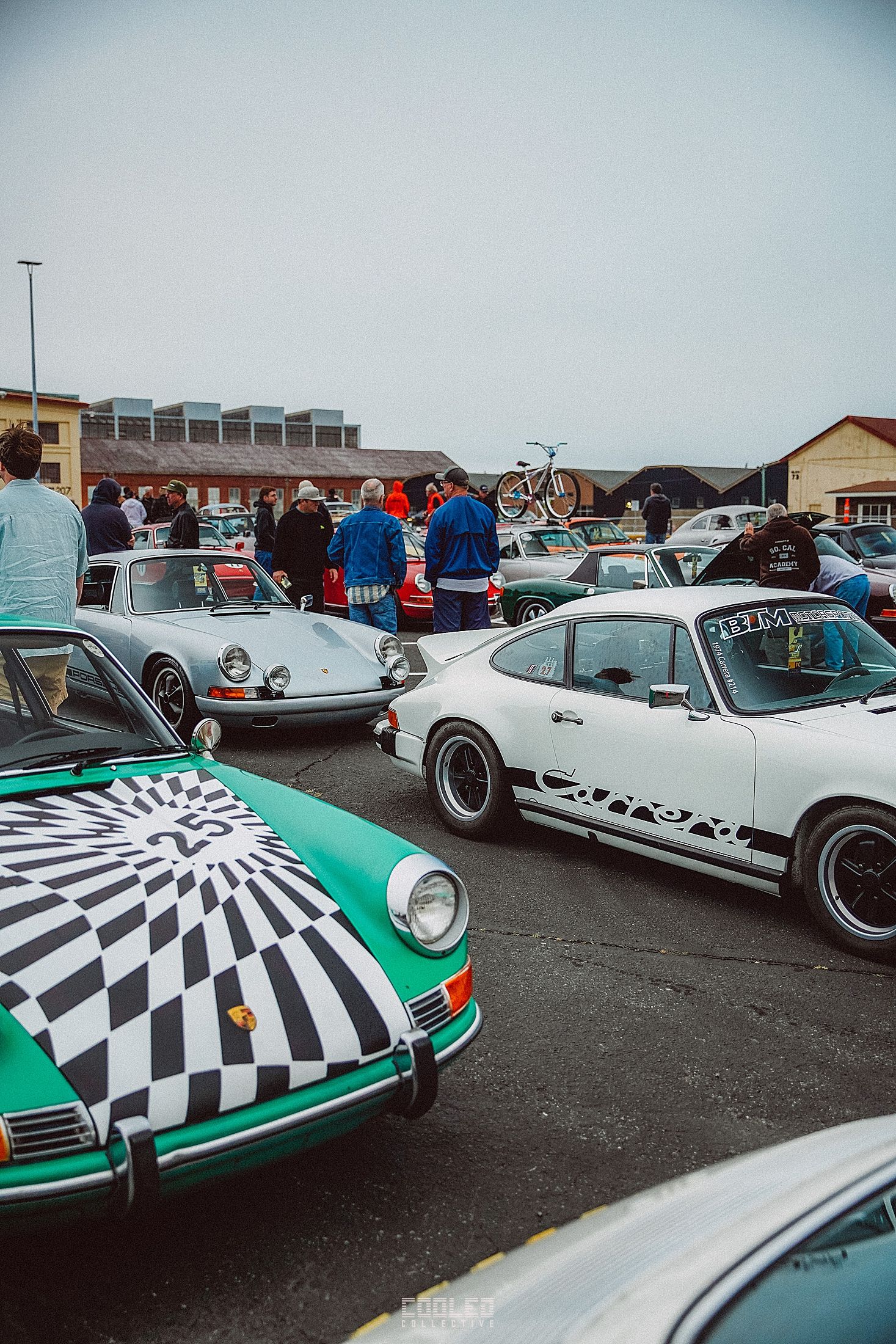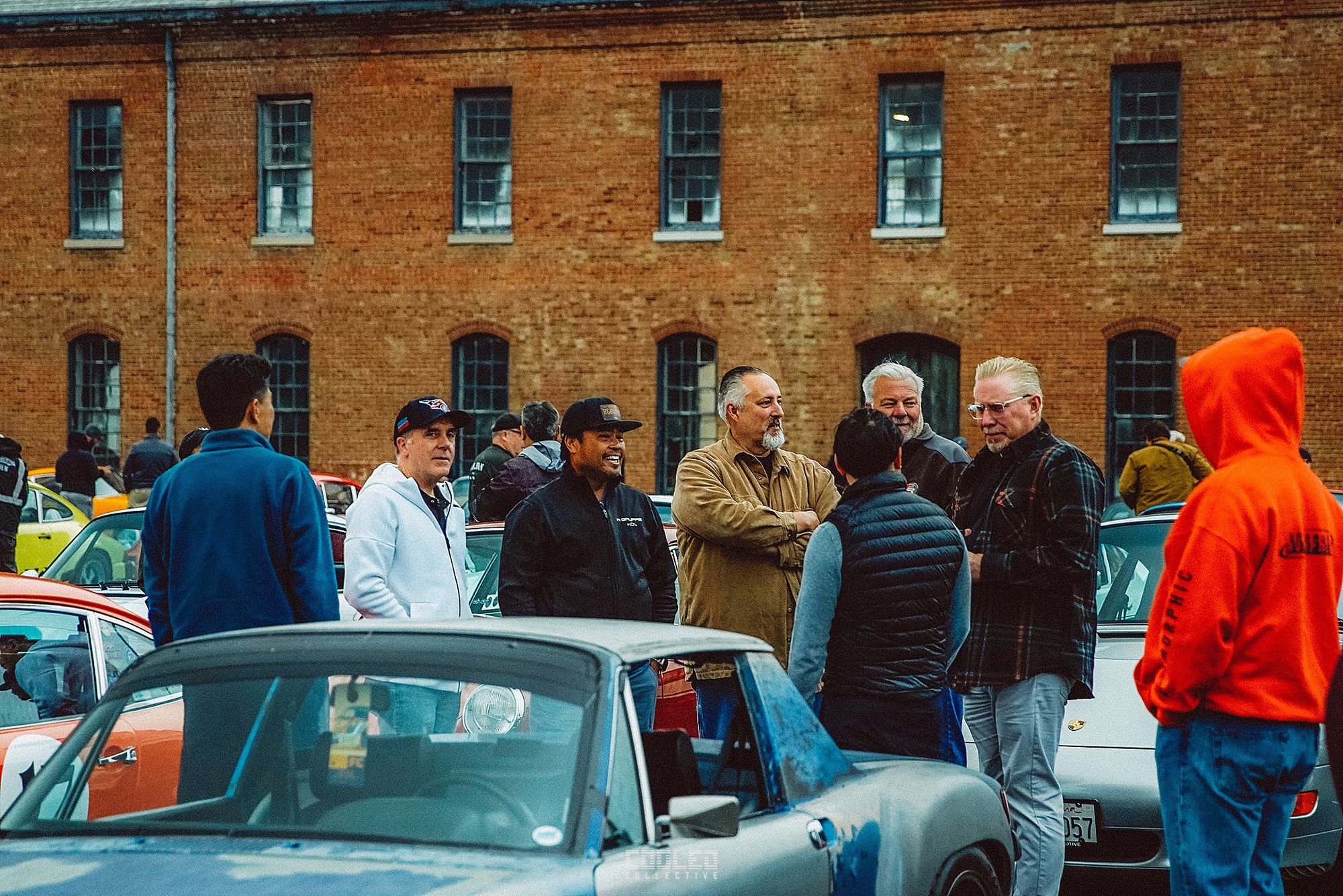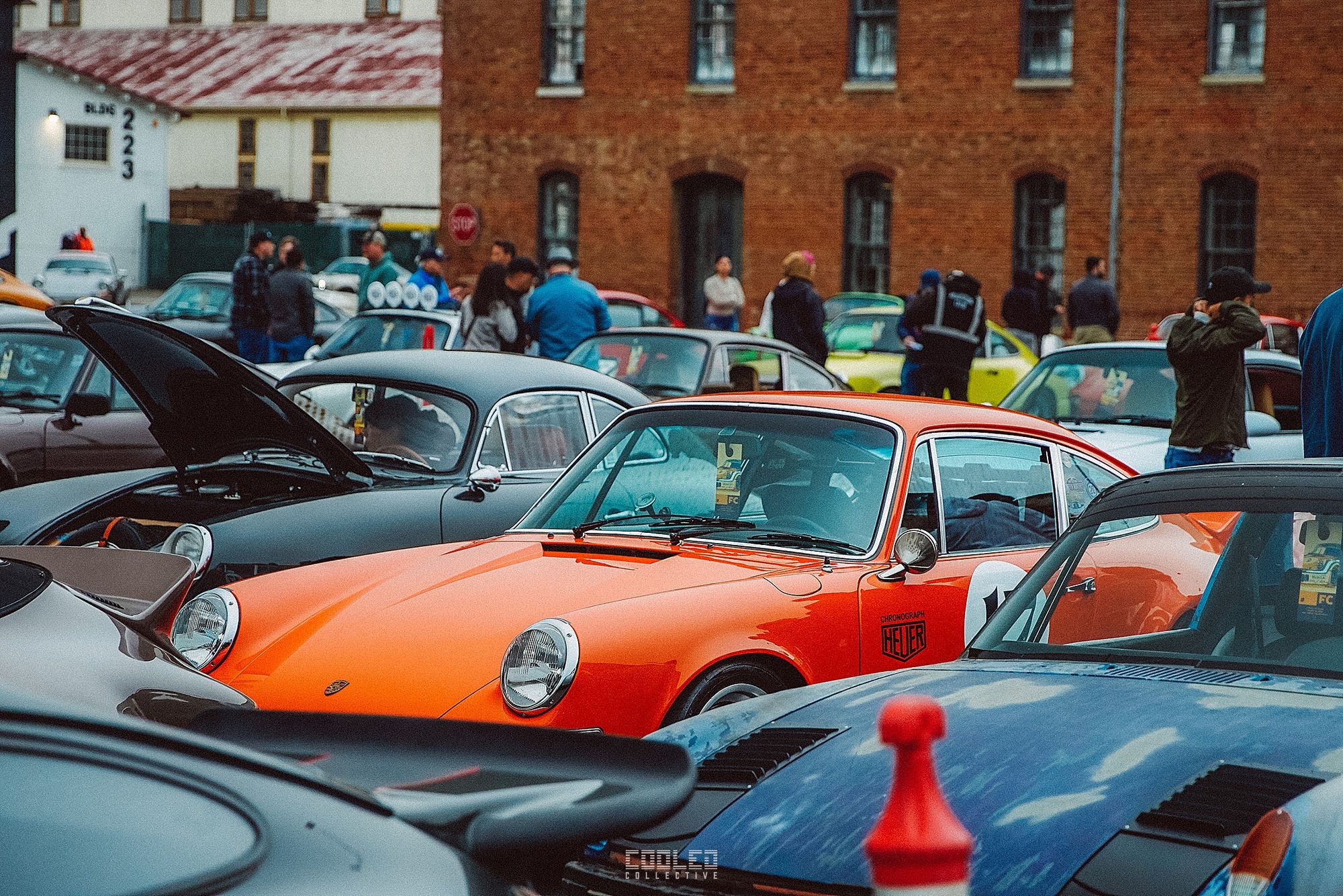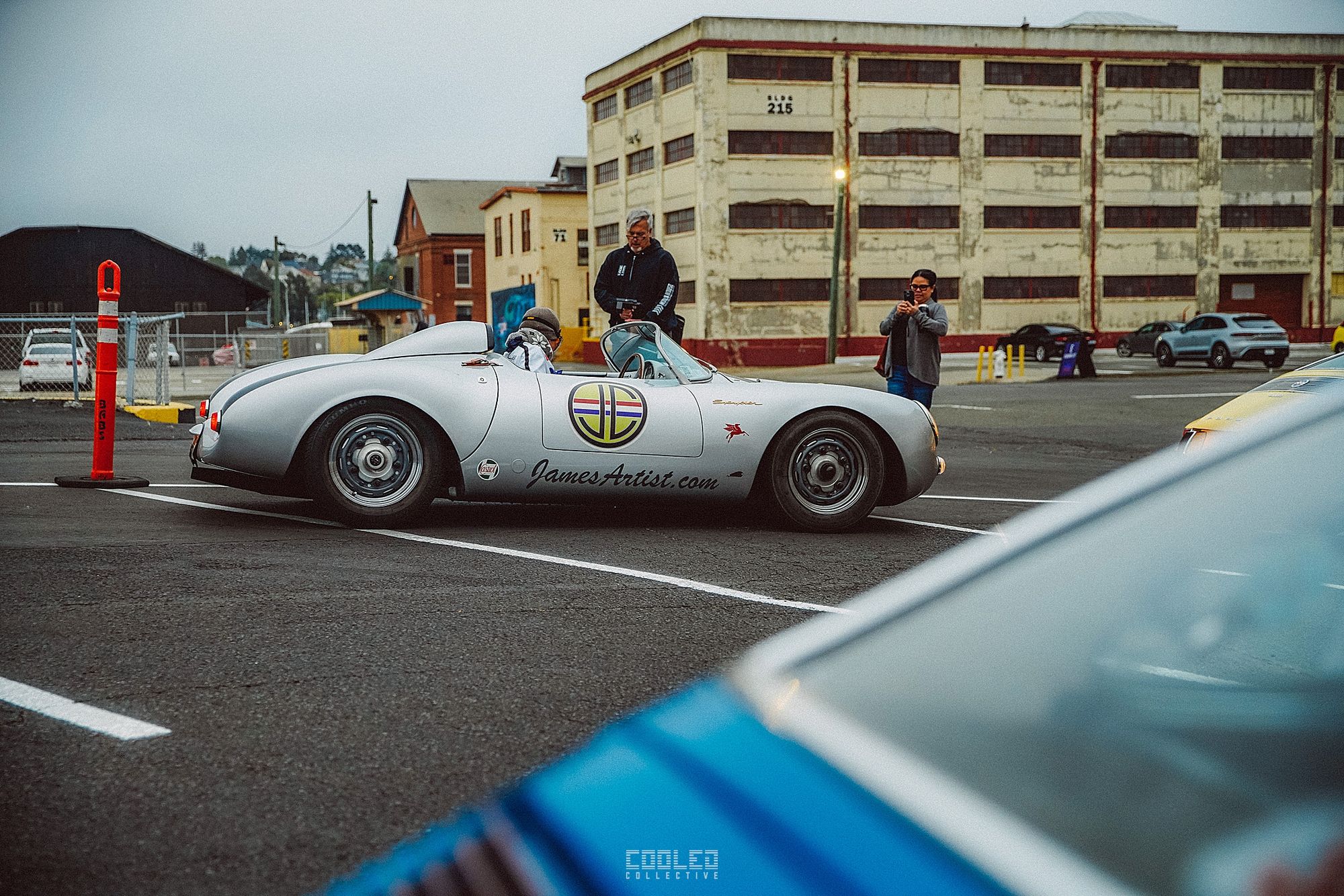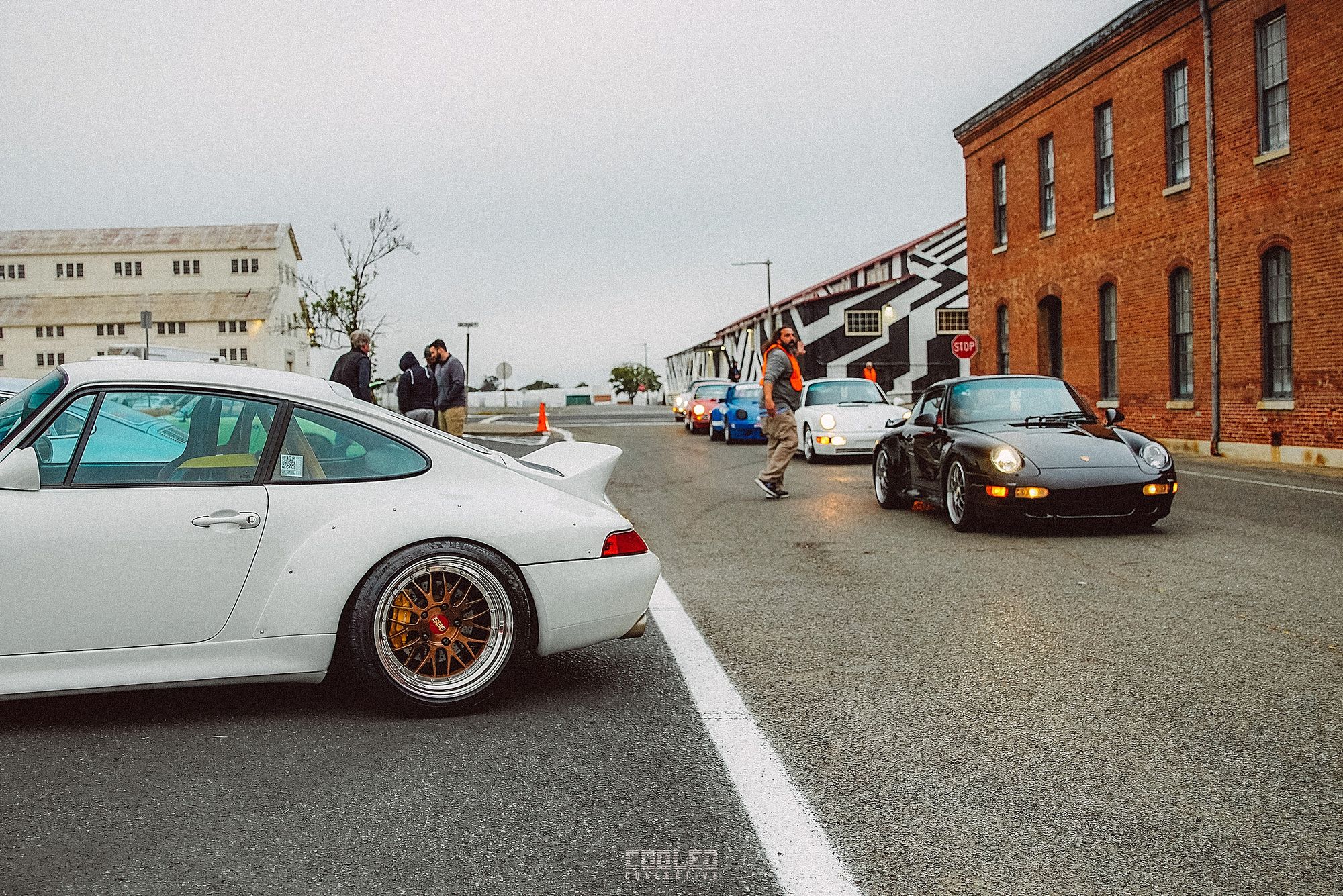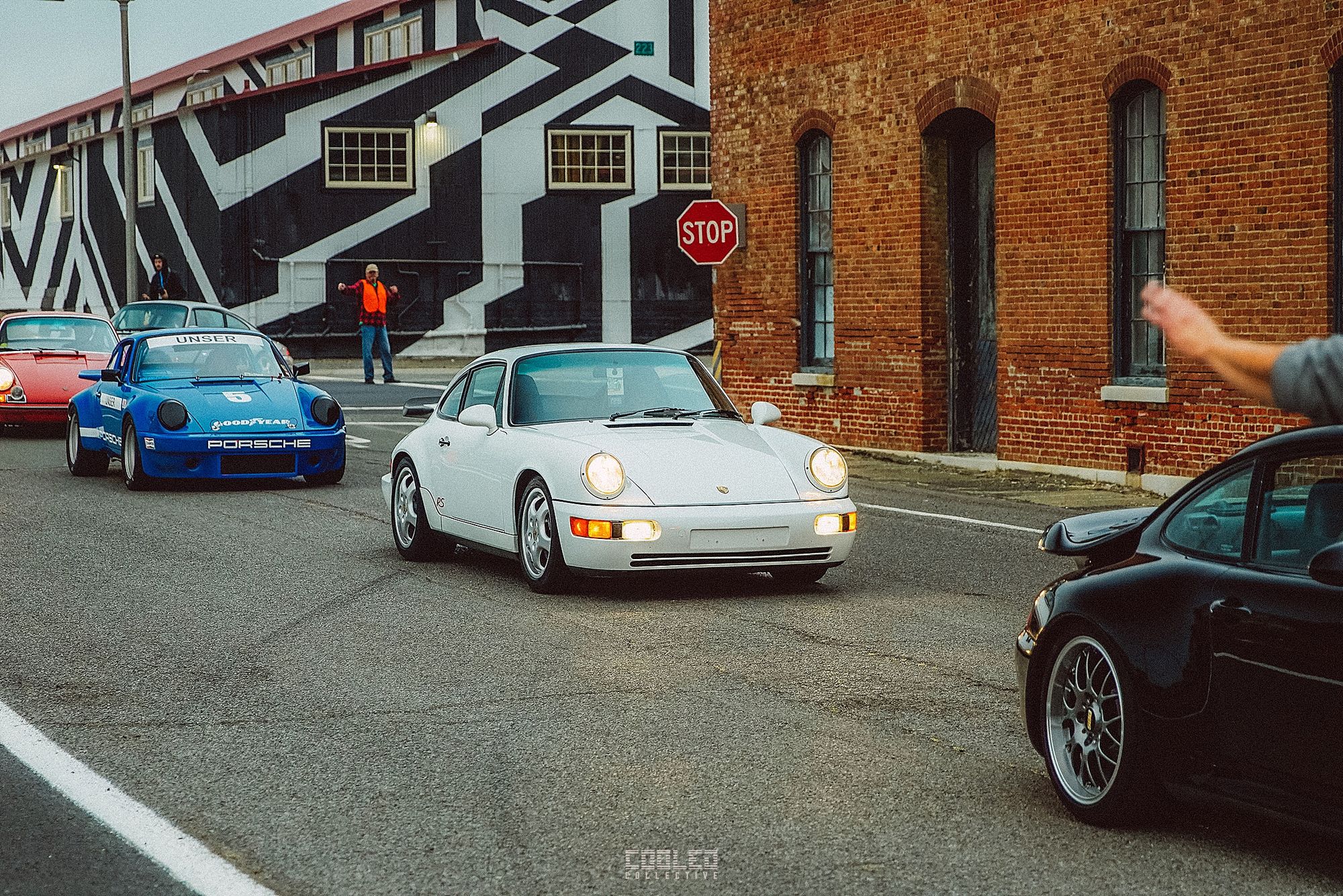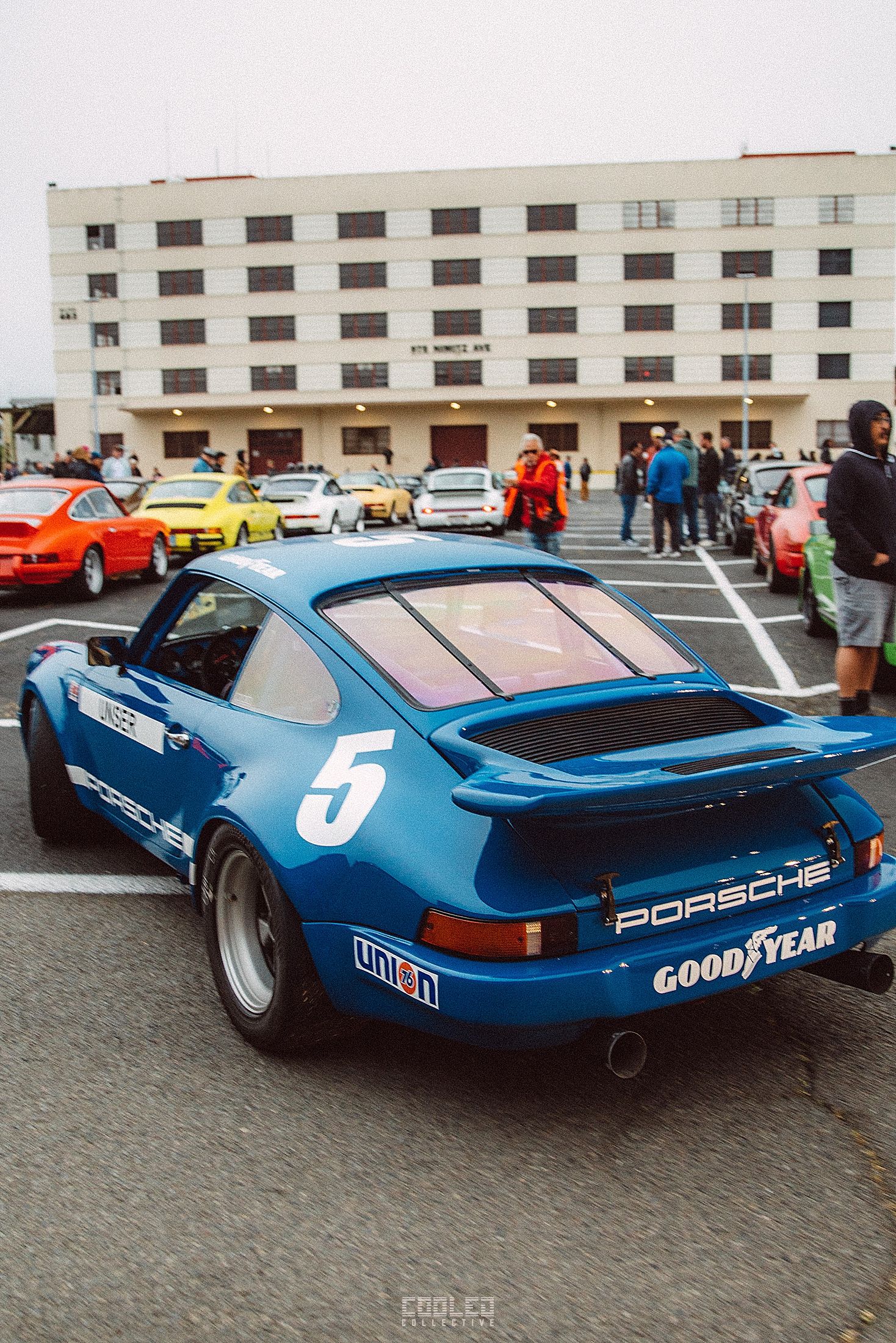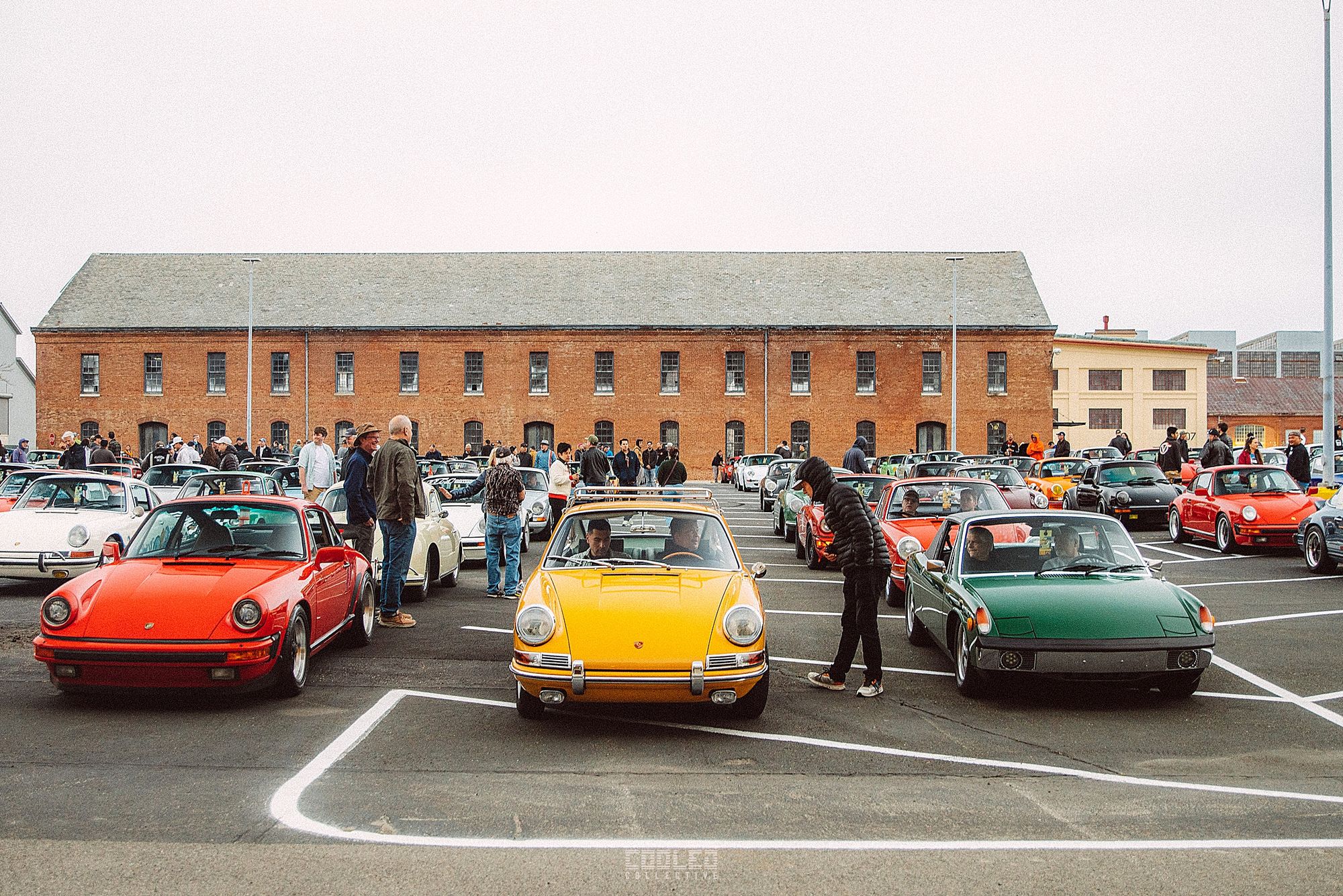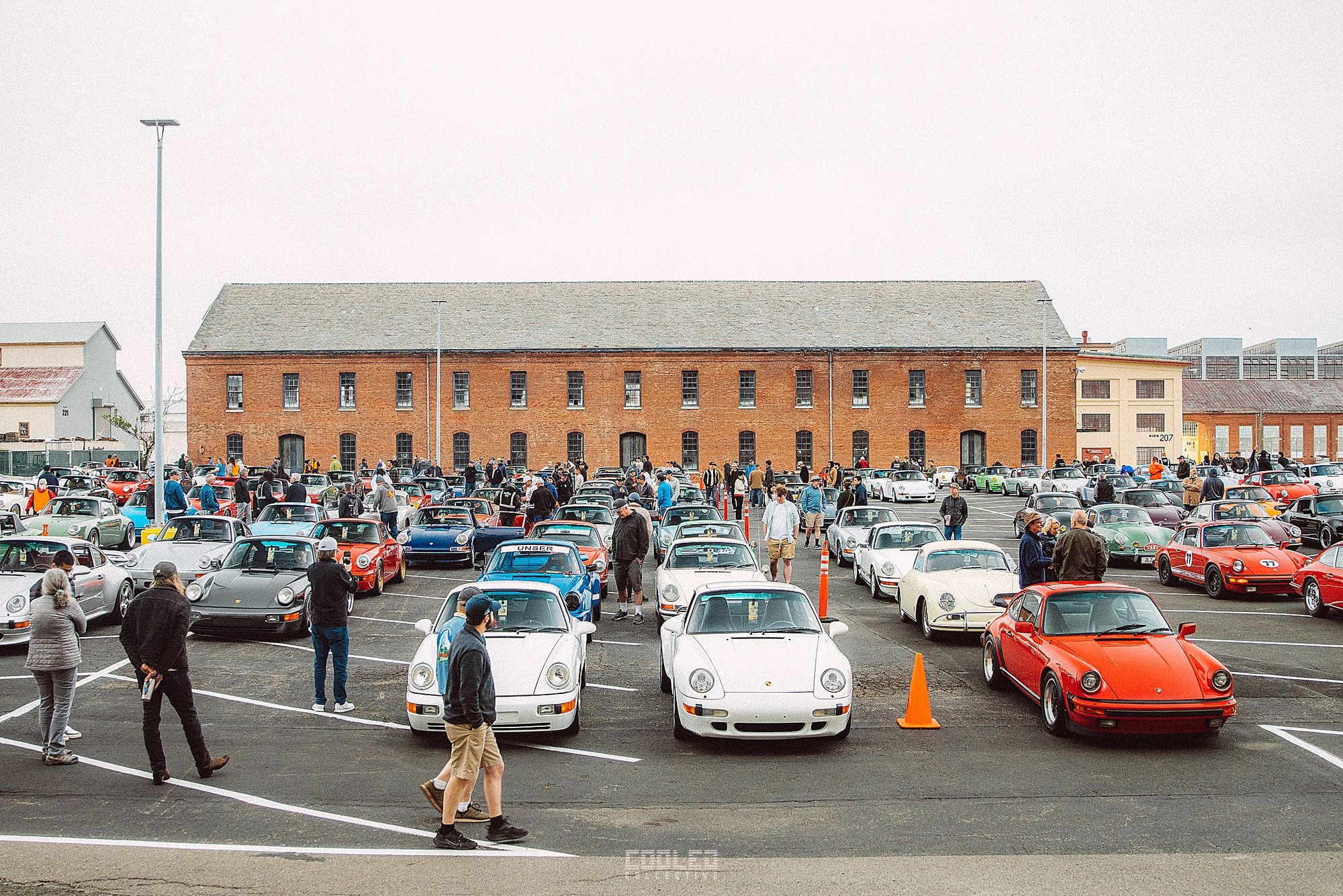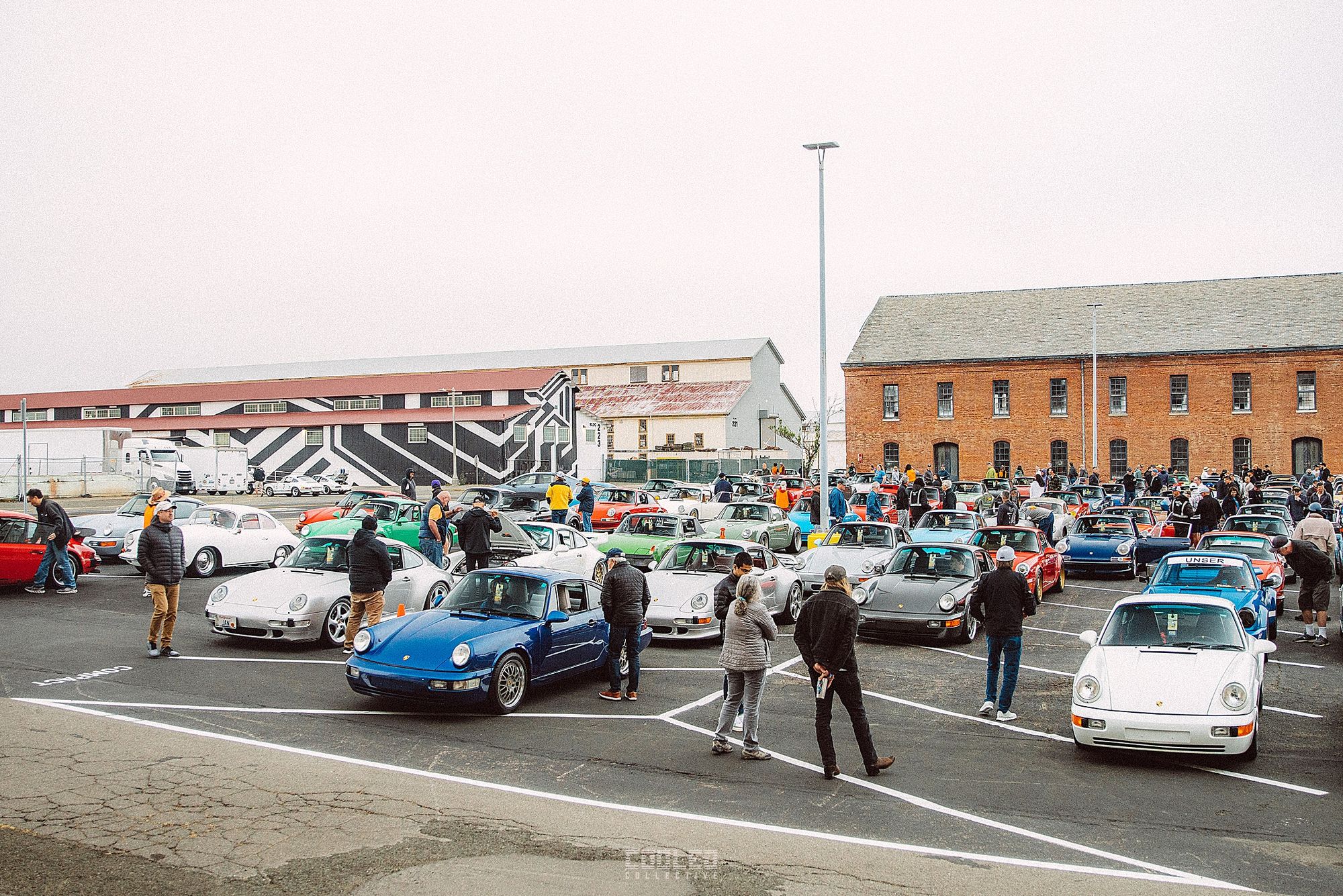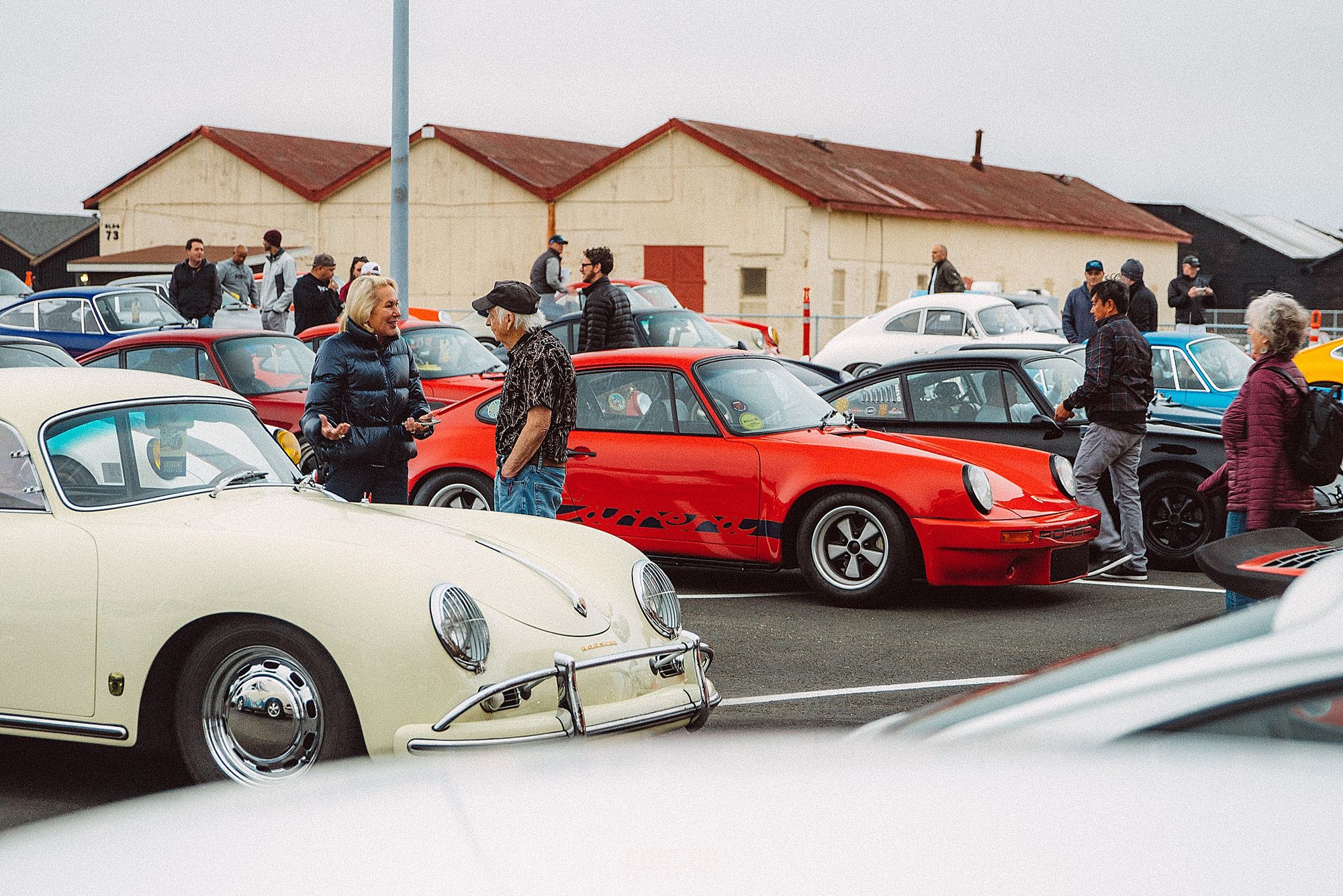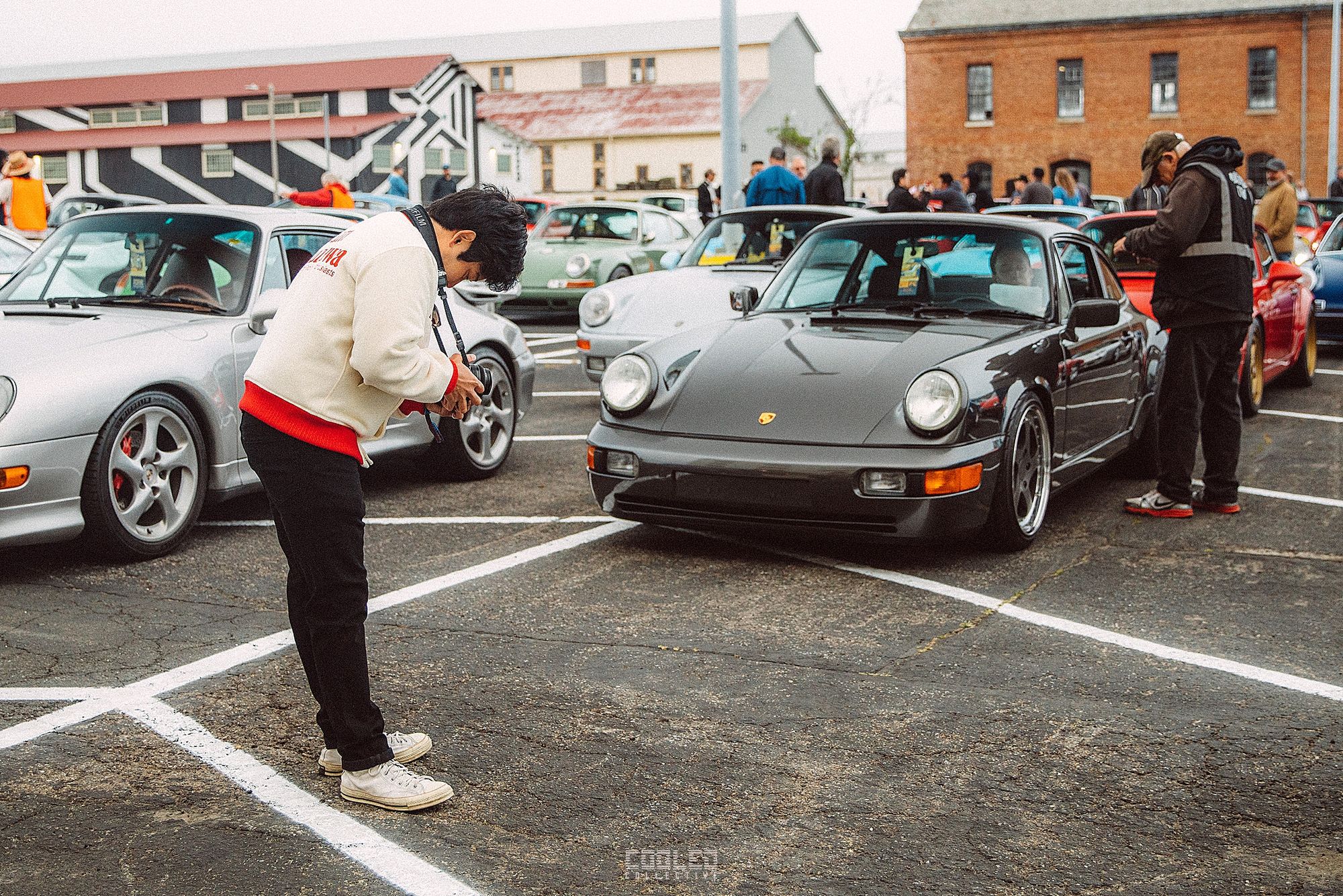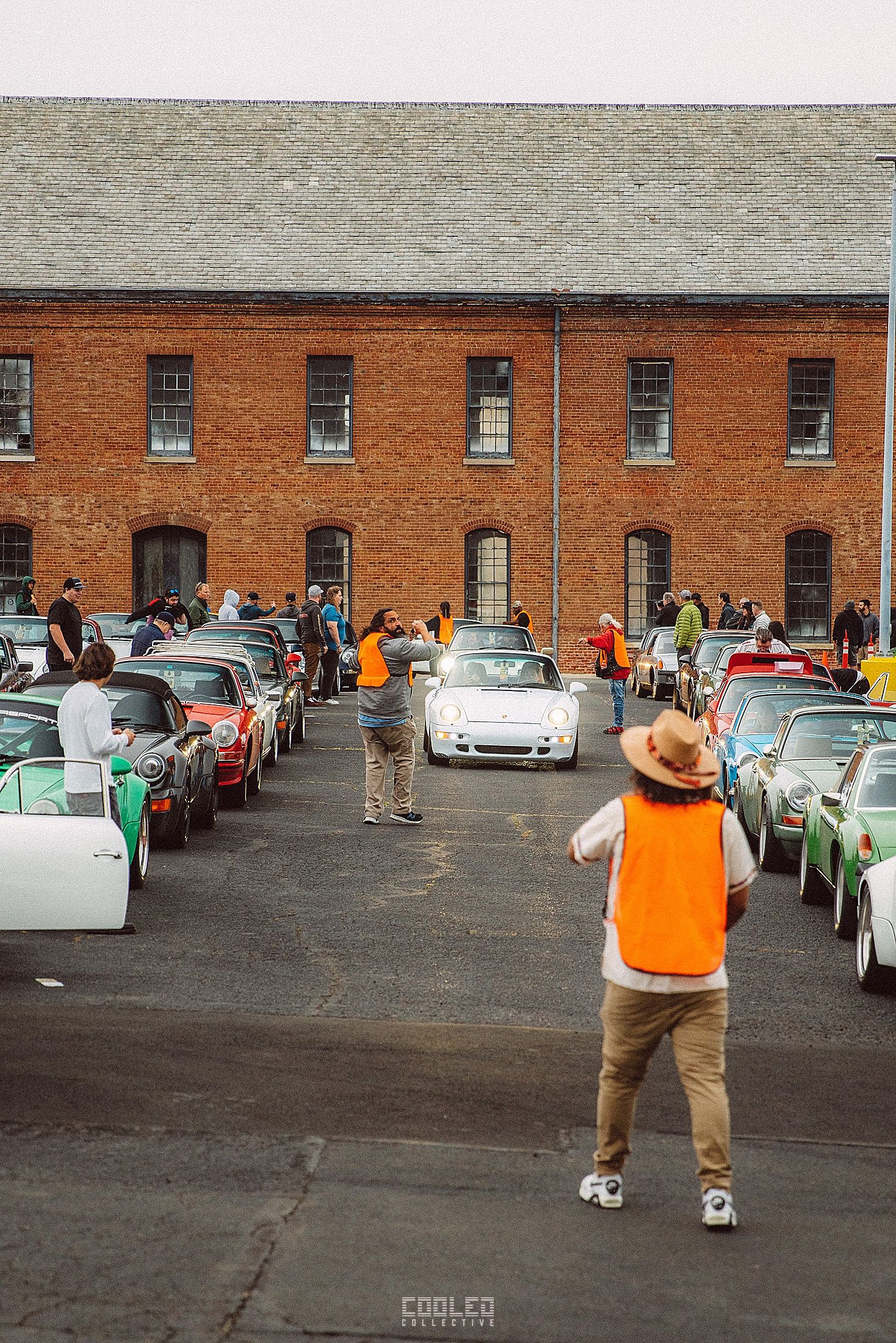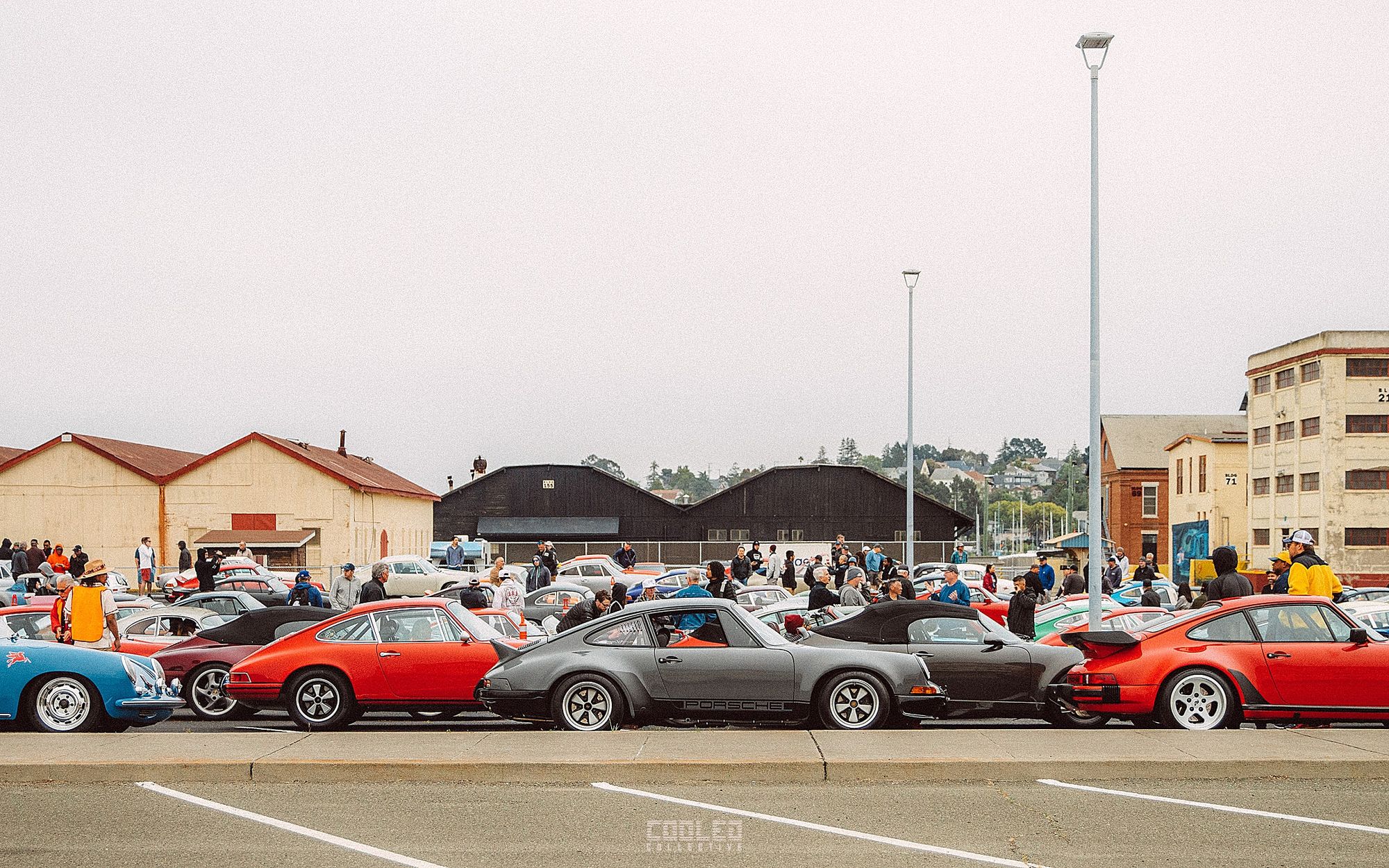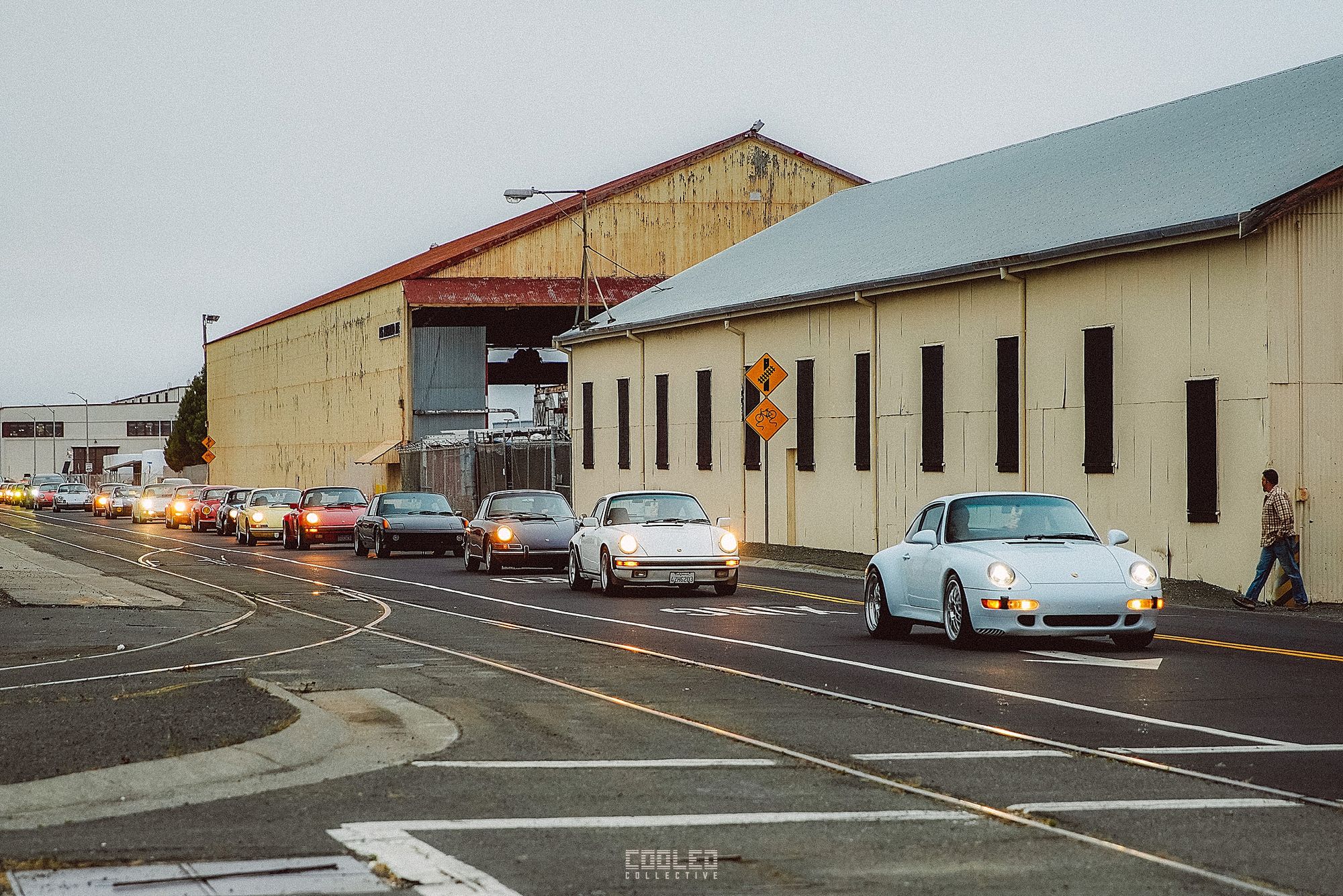 Looked liked the line stretched for miles and slowly they started rolling out a line every few minutes. While owners were getting ready to be called out, I had the joy of running into some of the Norcal friends I haven't in some time. All smiles on this gloomy but perfect day to hang out at an aircooled show.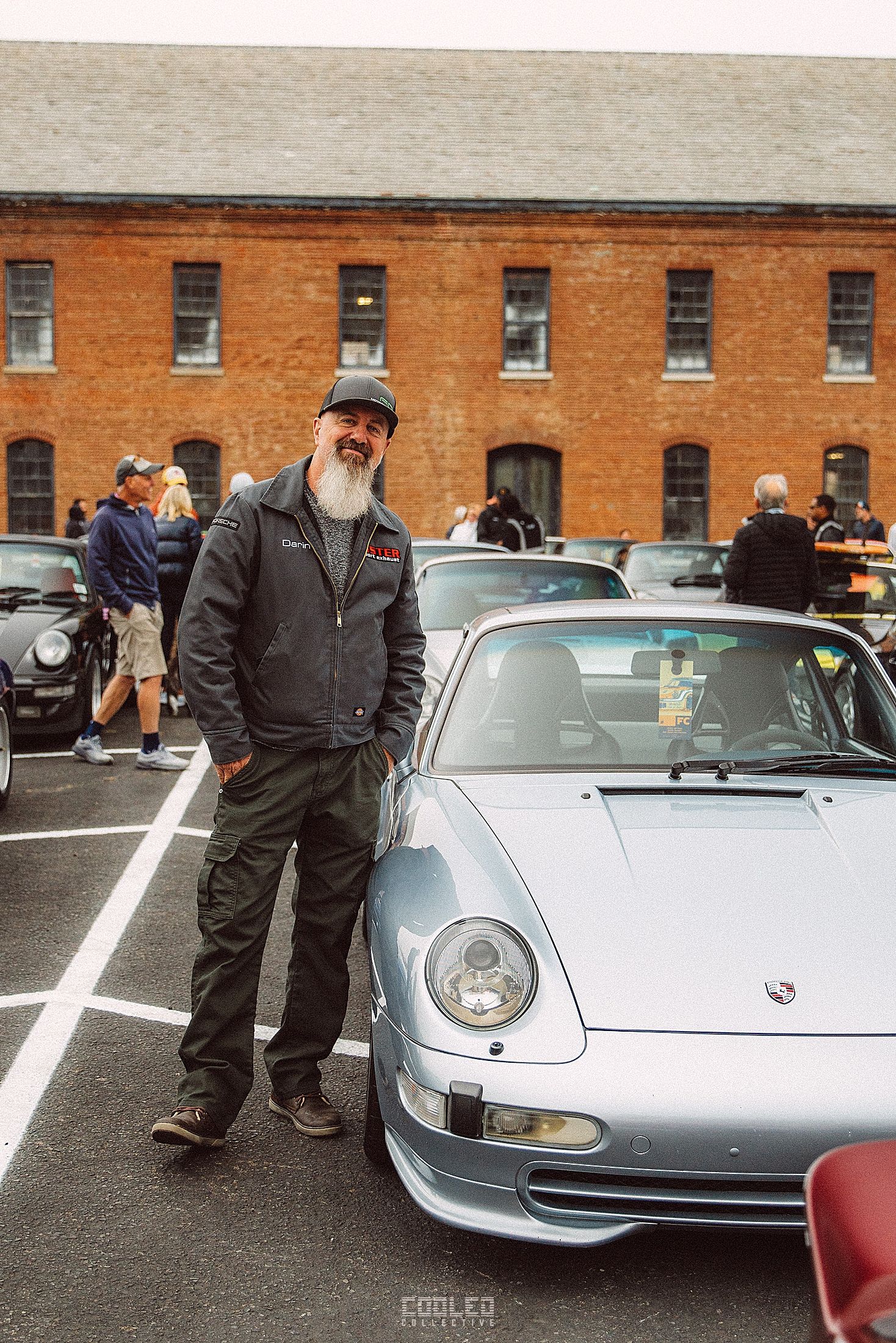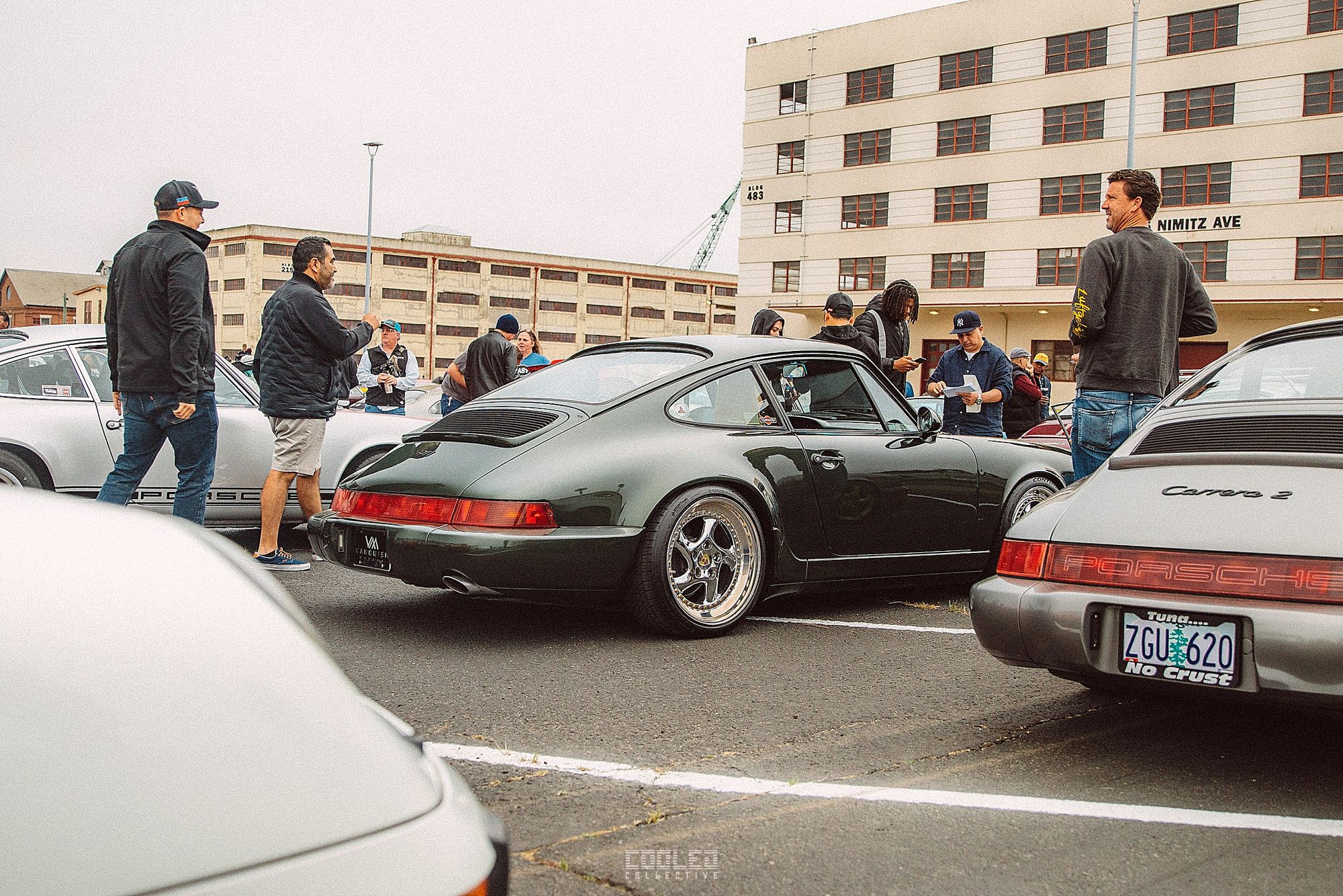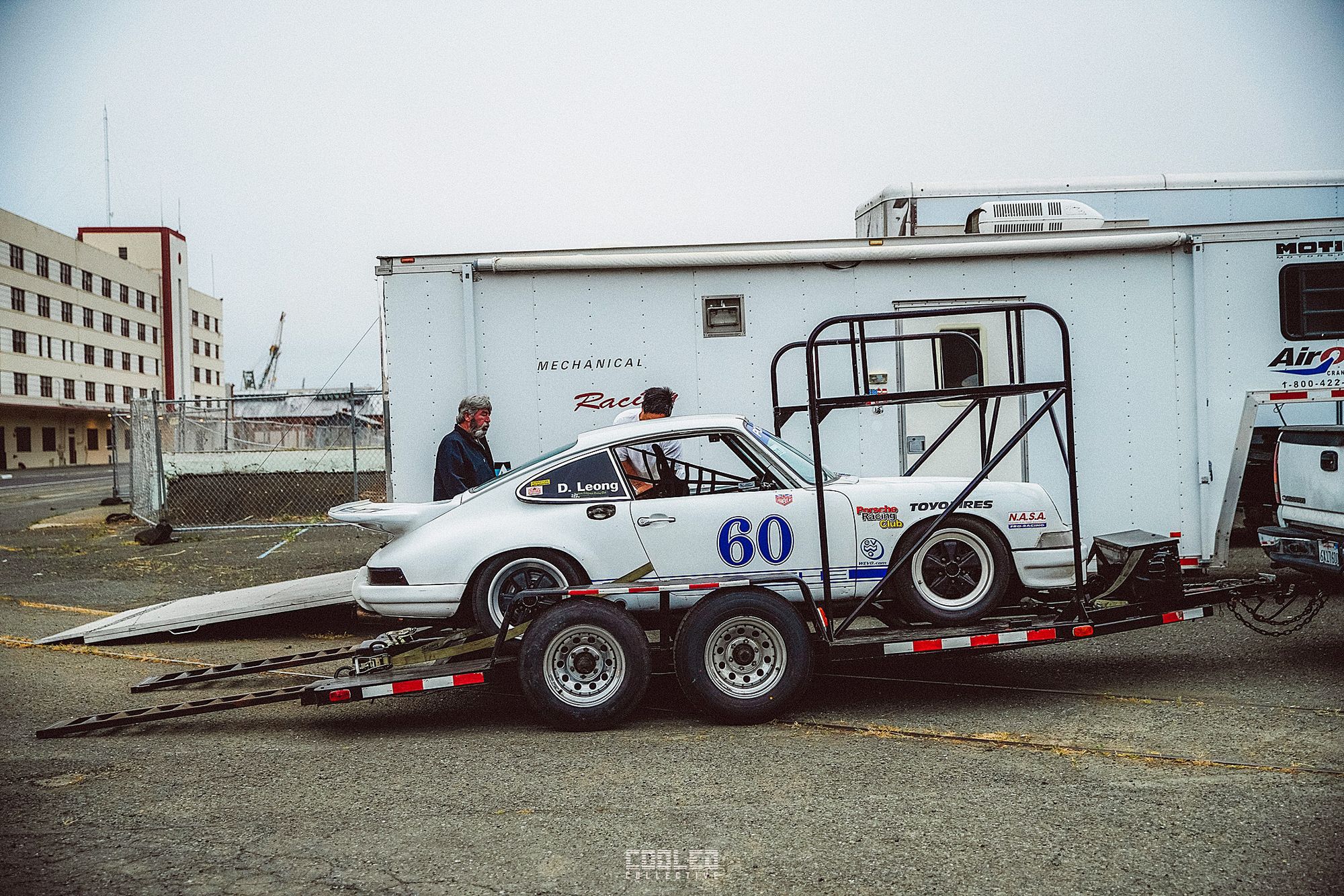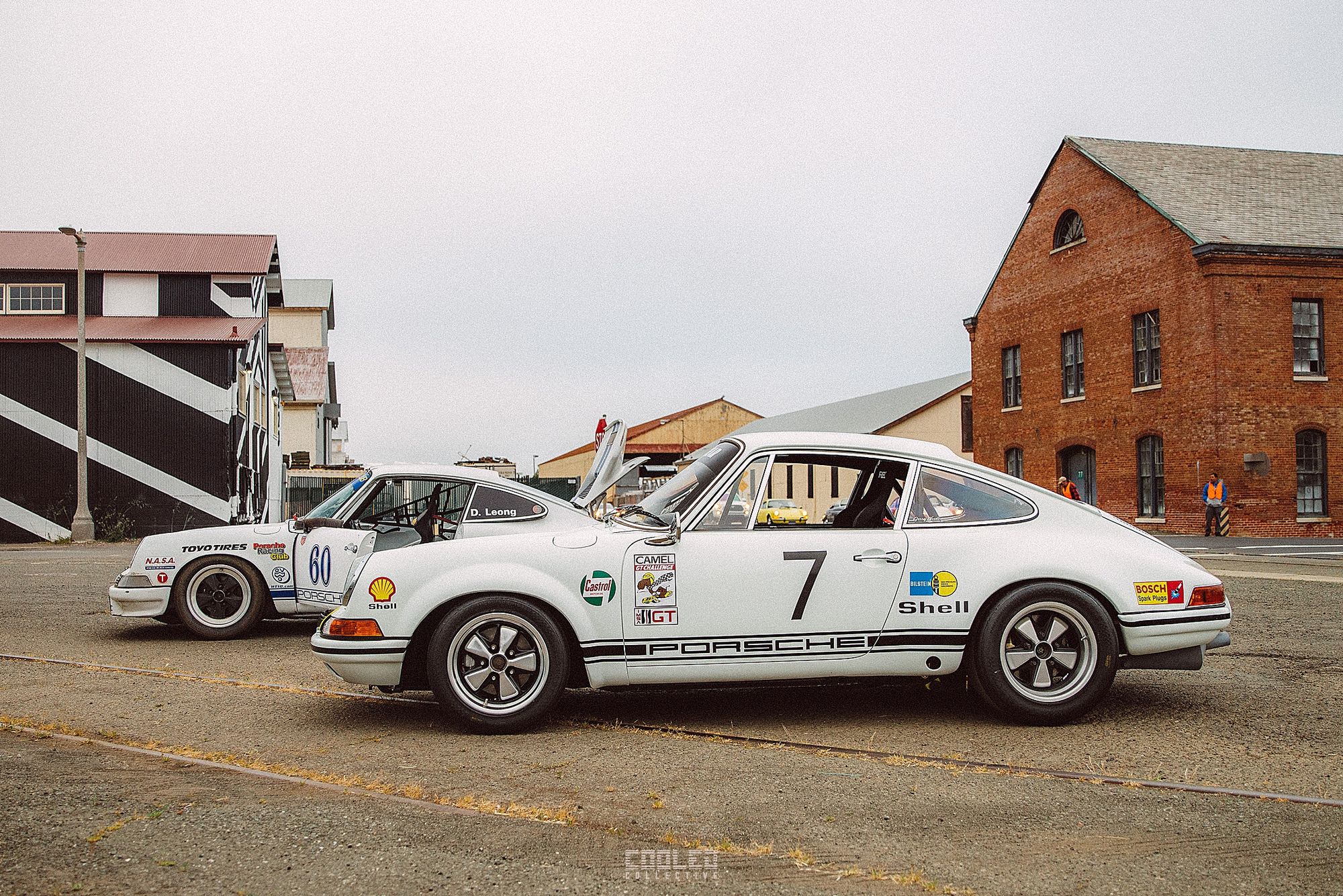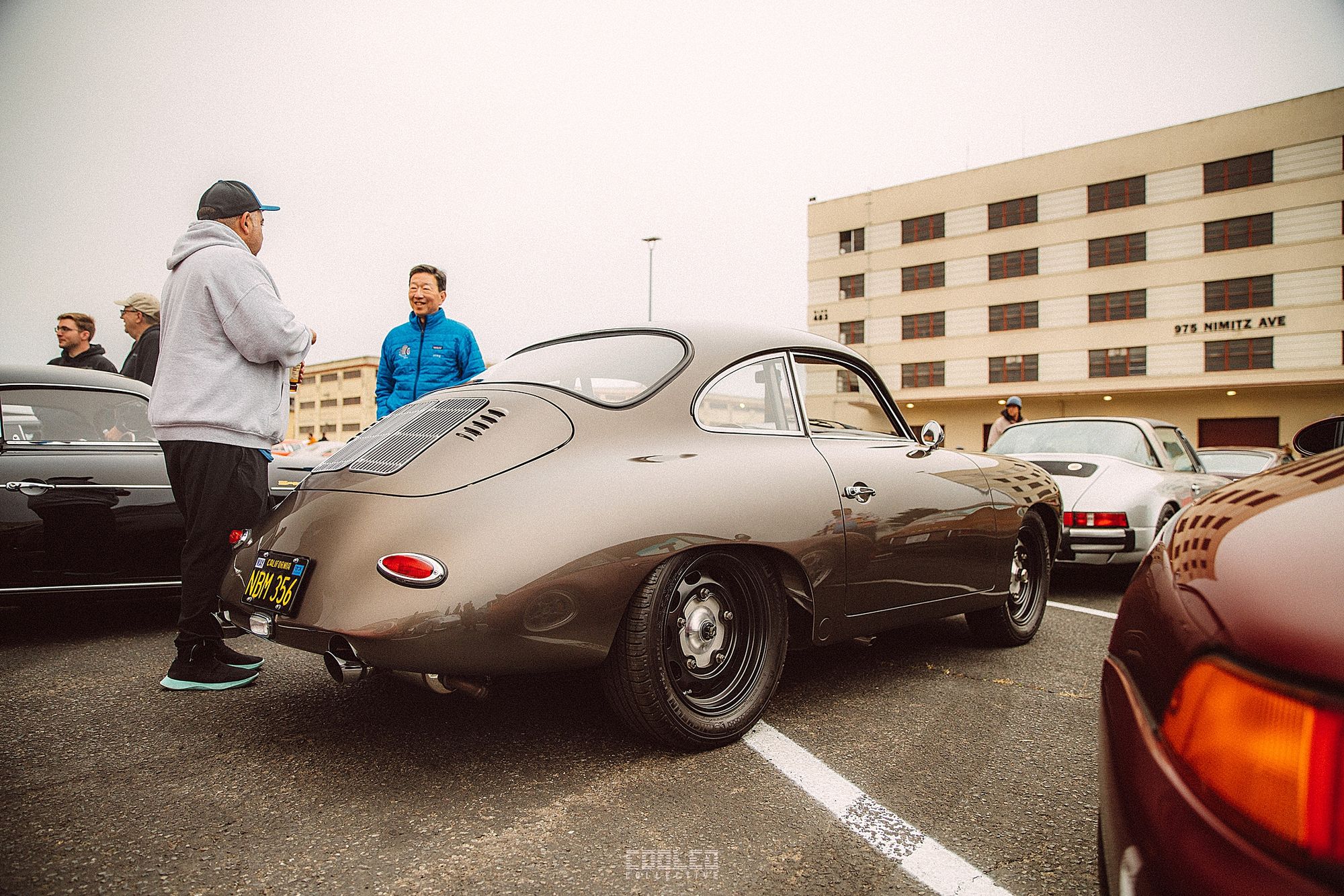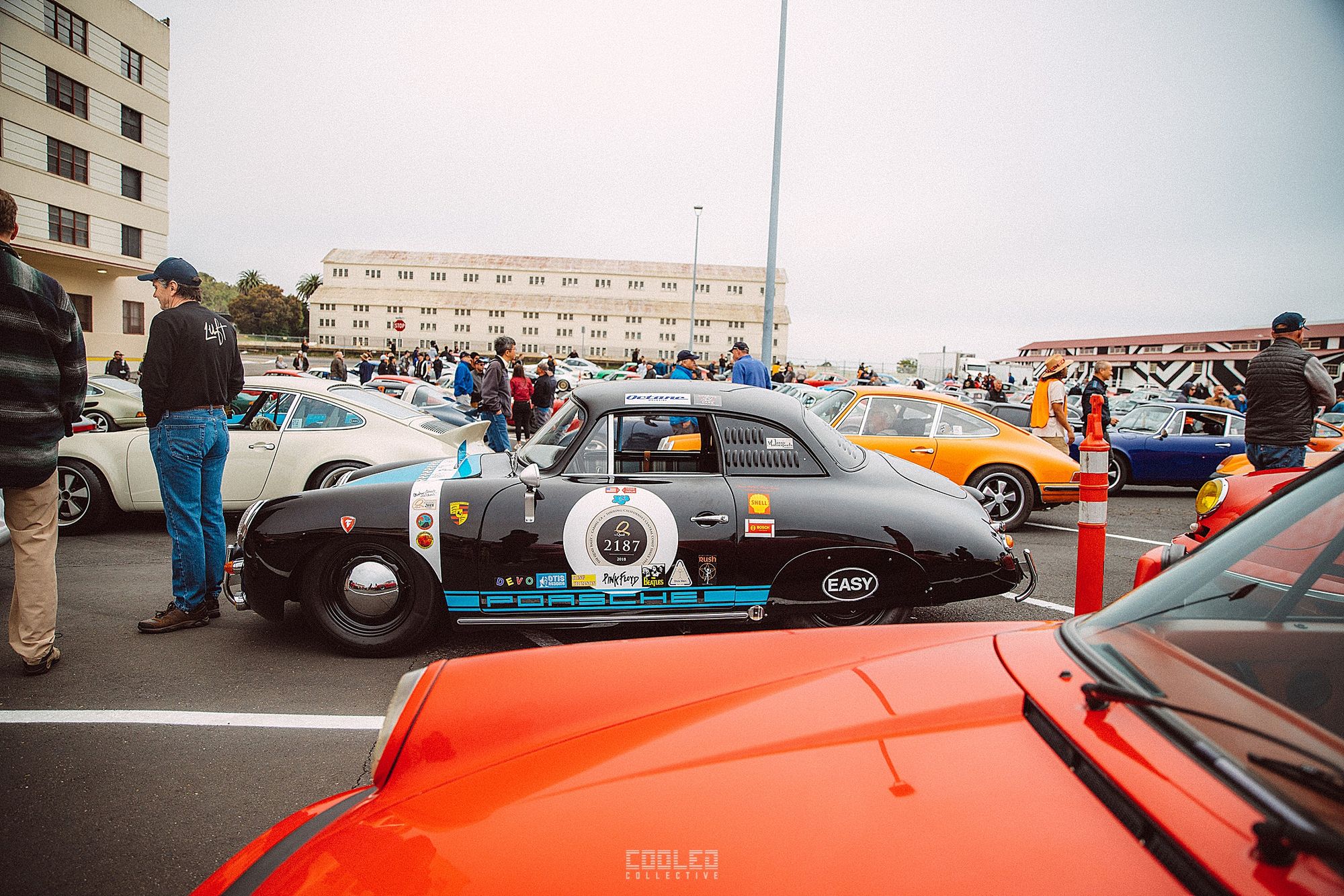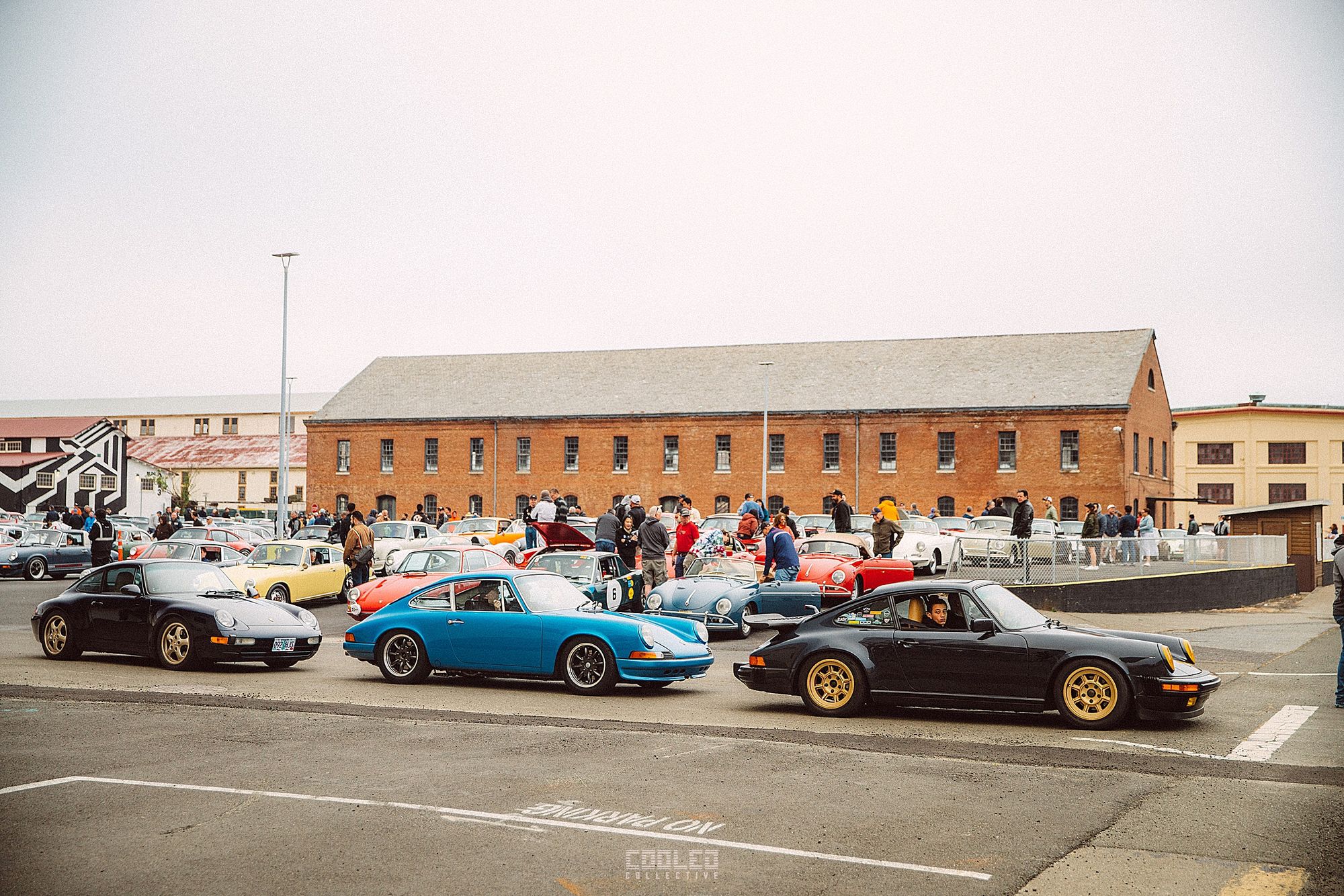 As I headed back to the media table, I came across this interesting metal plate with Air G welded on it. How appropriate for such a day.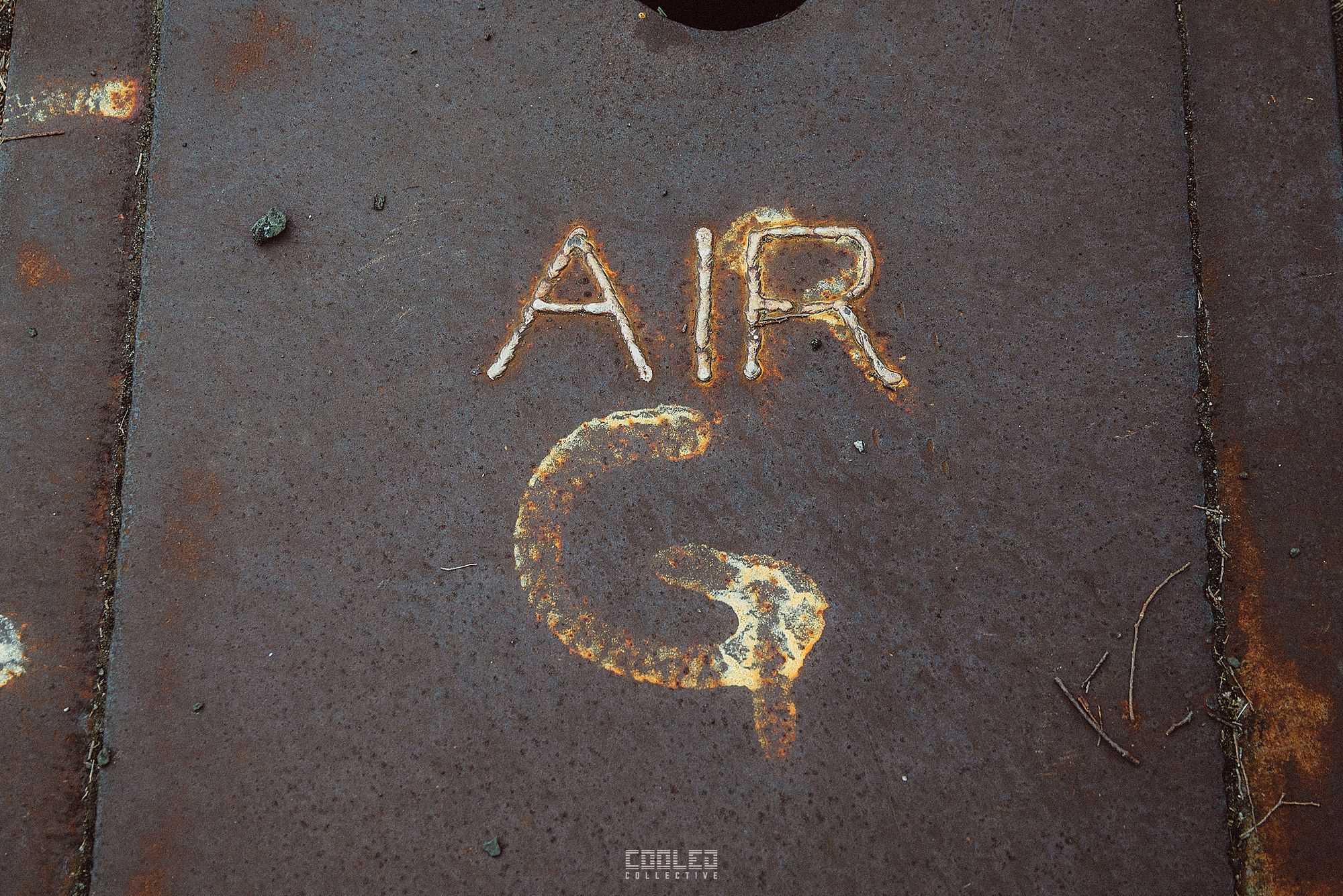 ---
South End Exhibition
After I grabbed all my credentials, I just started following the line of cars leading into the venue. Already falling in love with the space, I just tried to document as much as I could before the crowds started coming in. As I mentioned before, photographers love wide open spaces because it is much easier to create depth with things spaced apart. With the scale of the cars, having large industrial buildings to control light and distance is everything.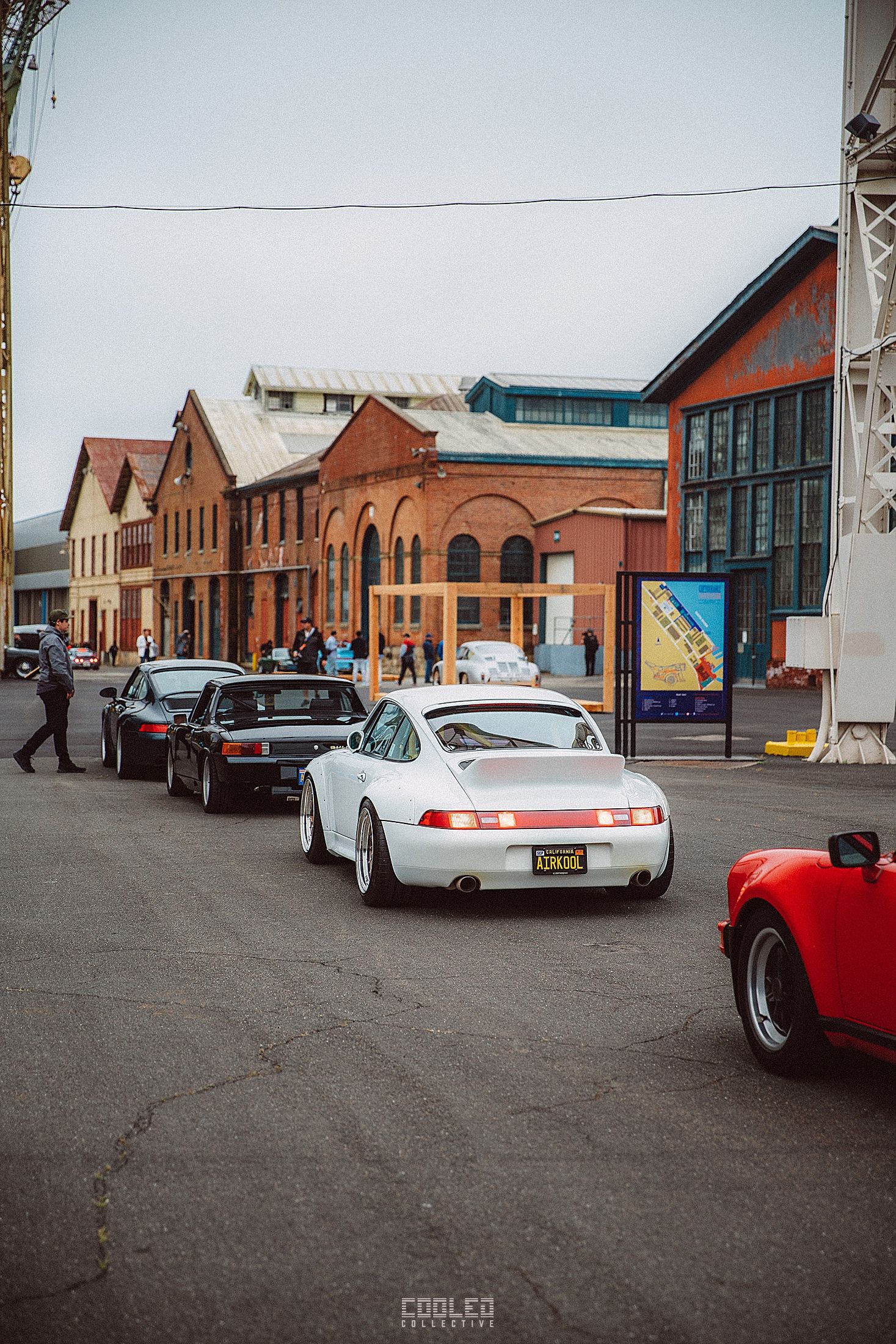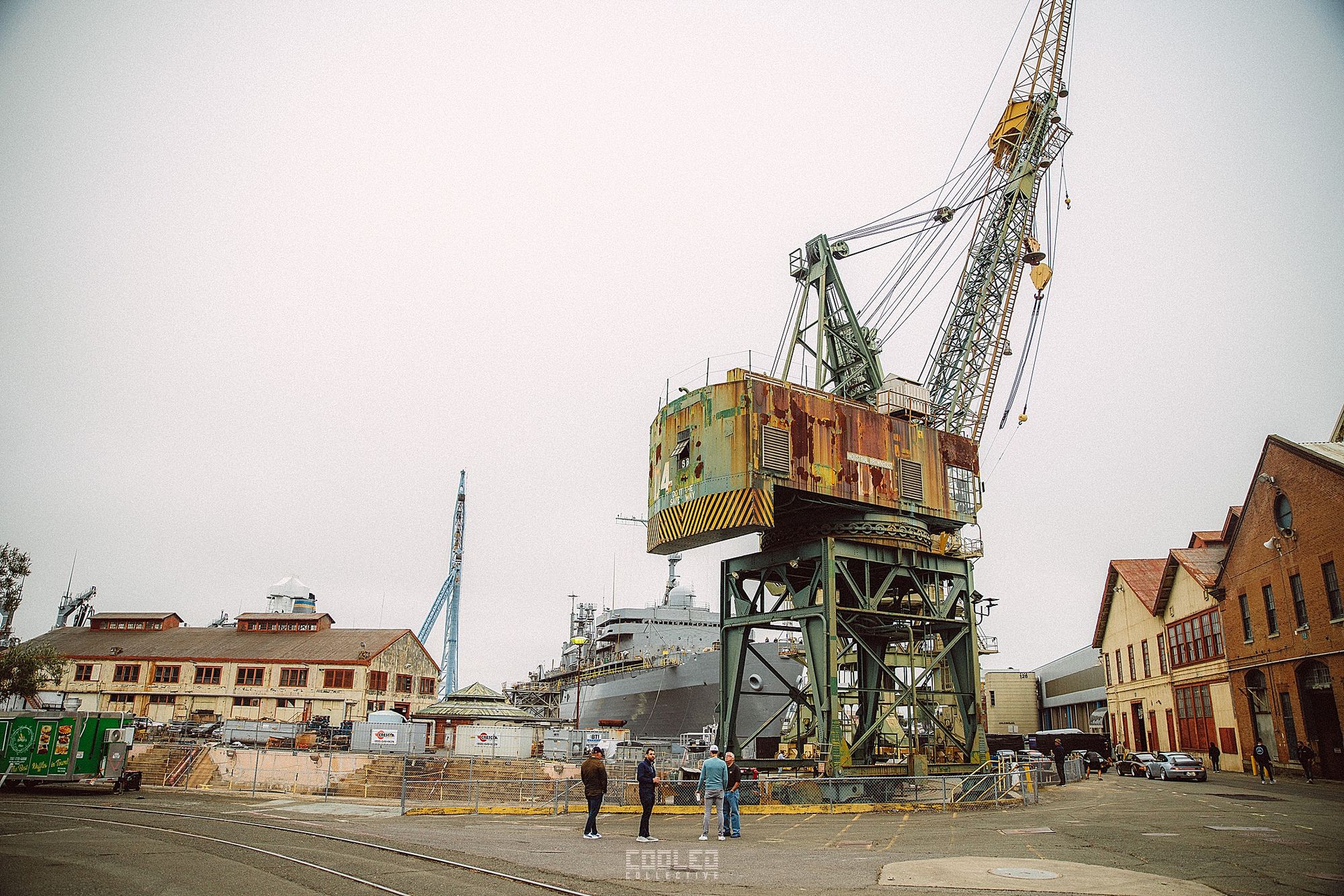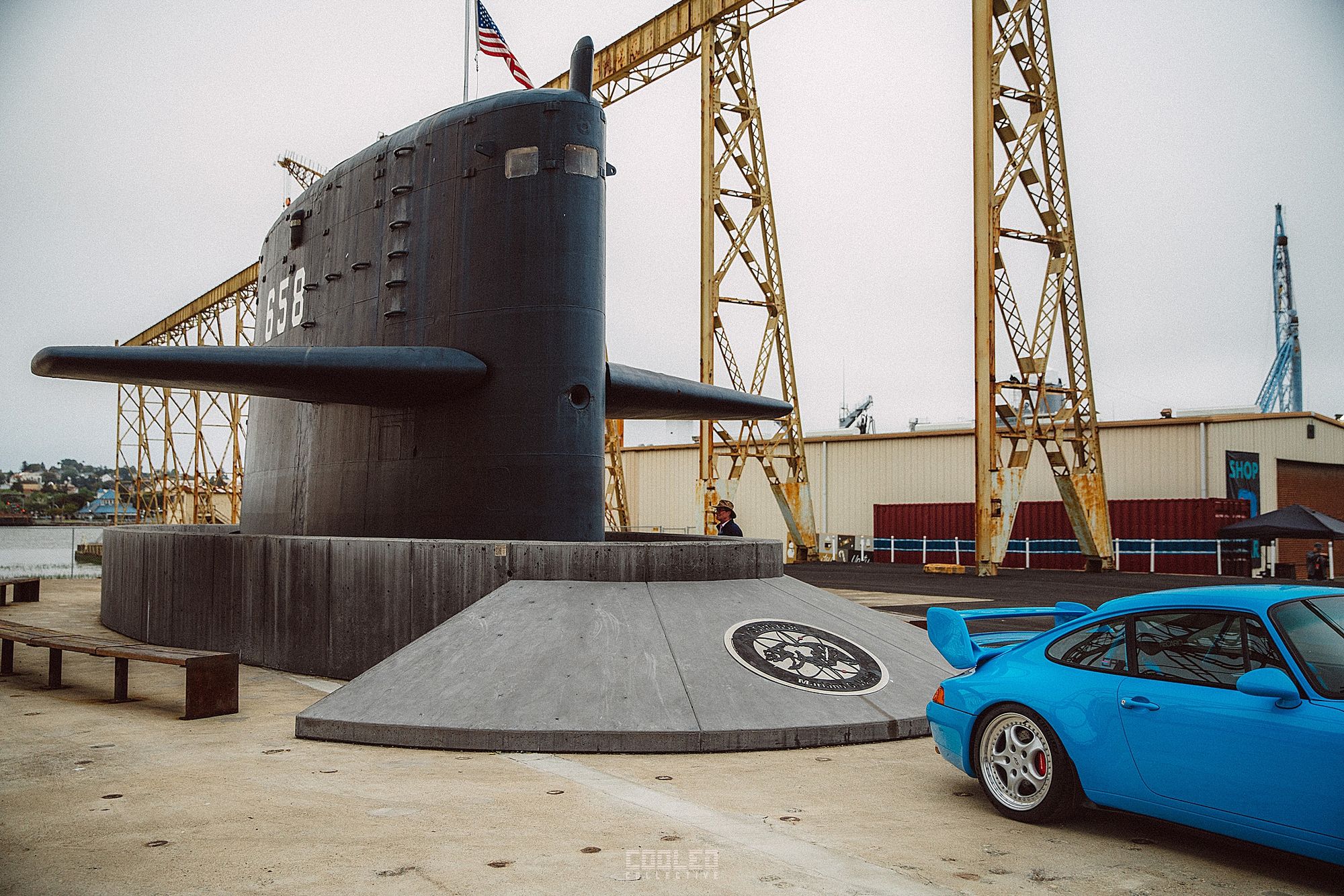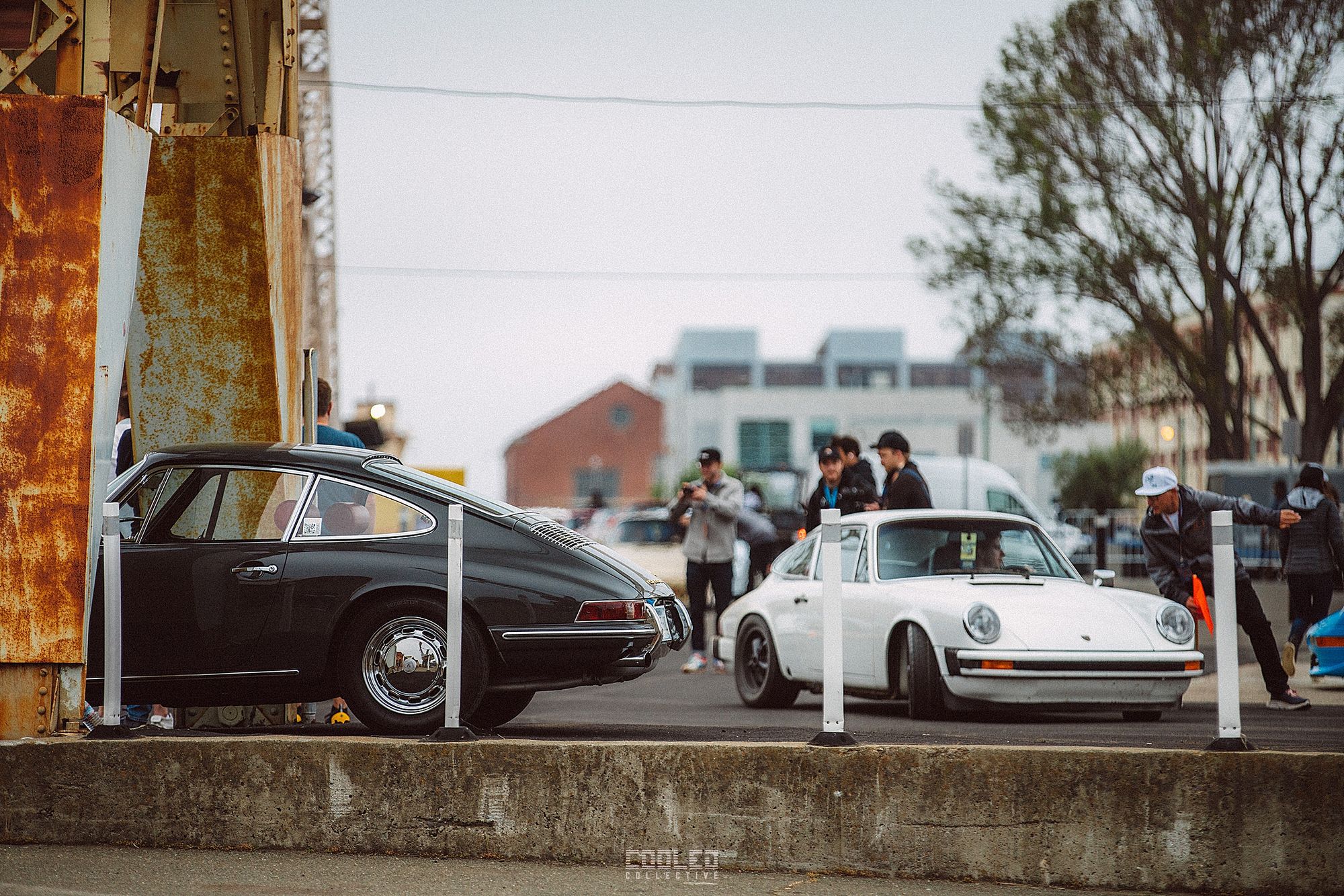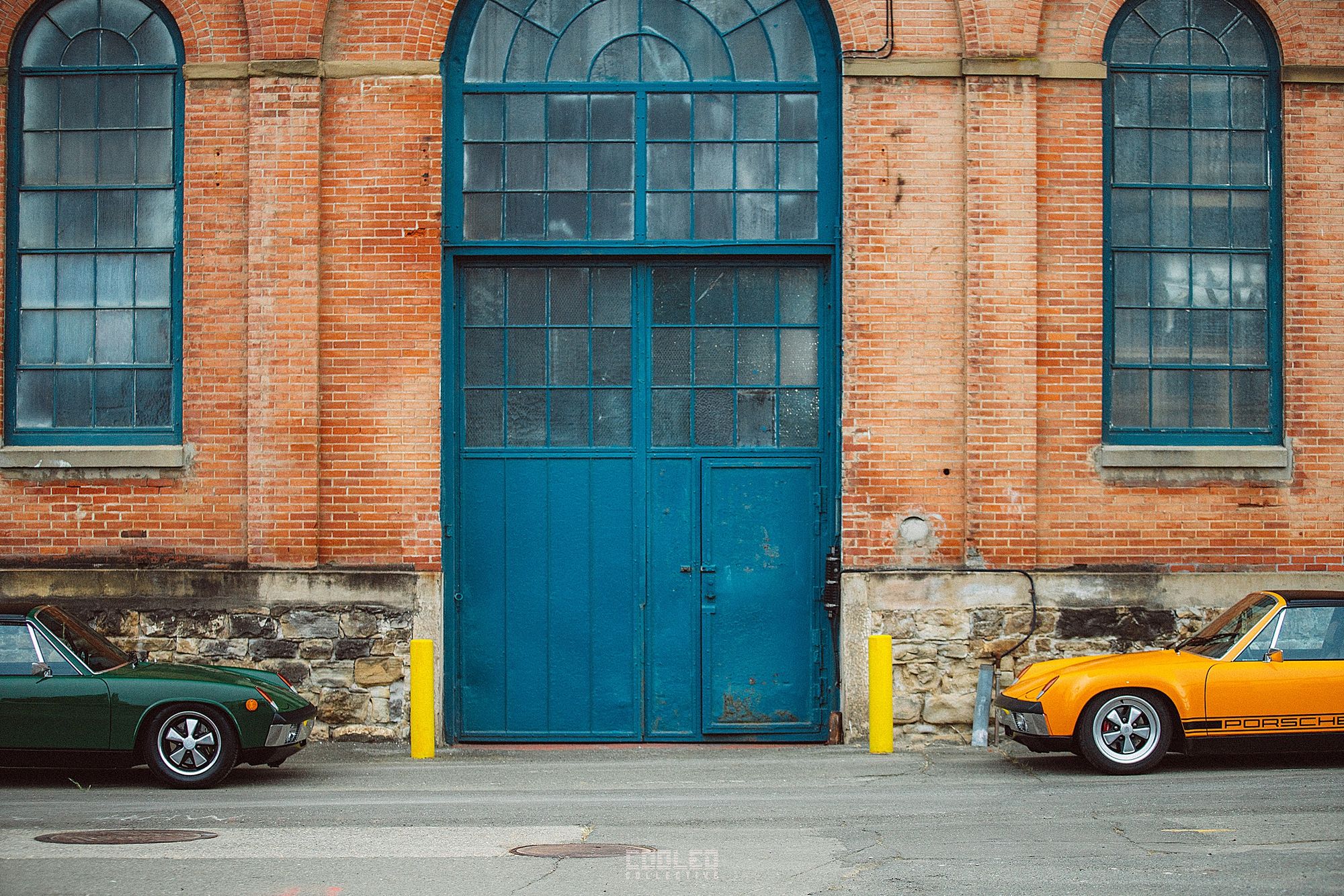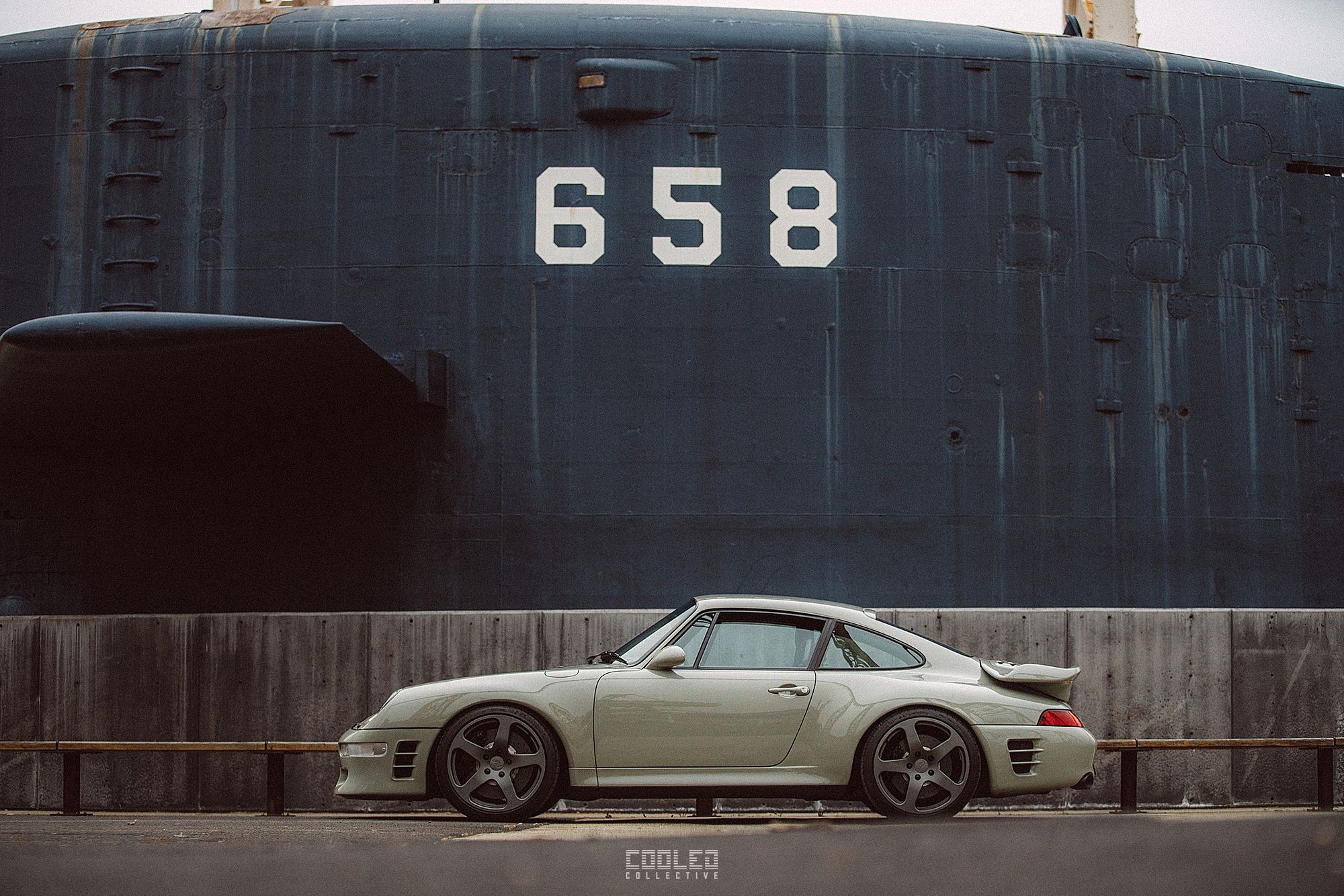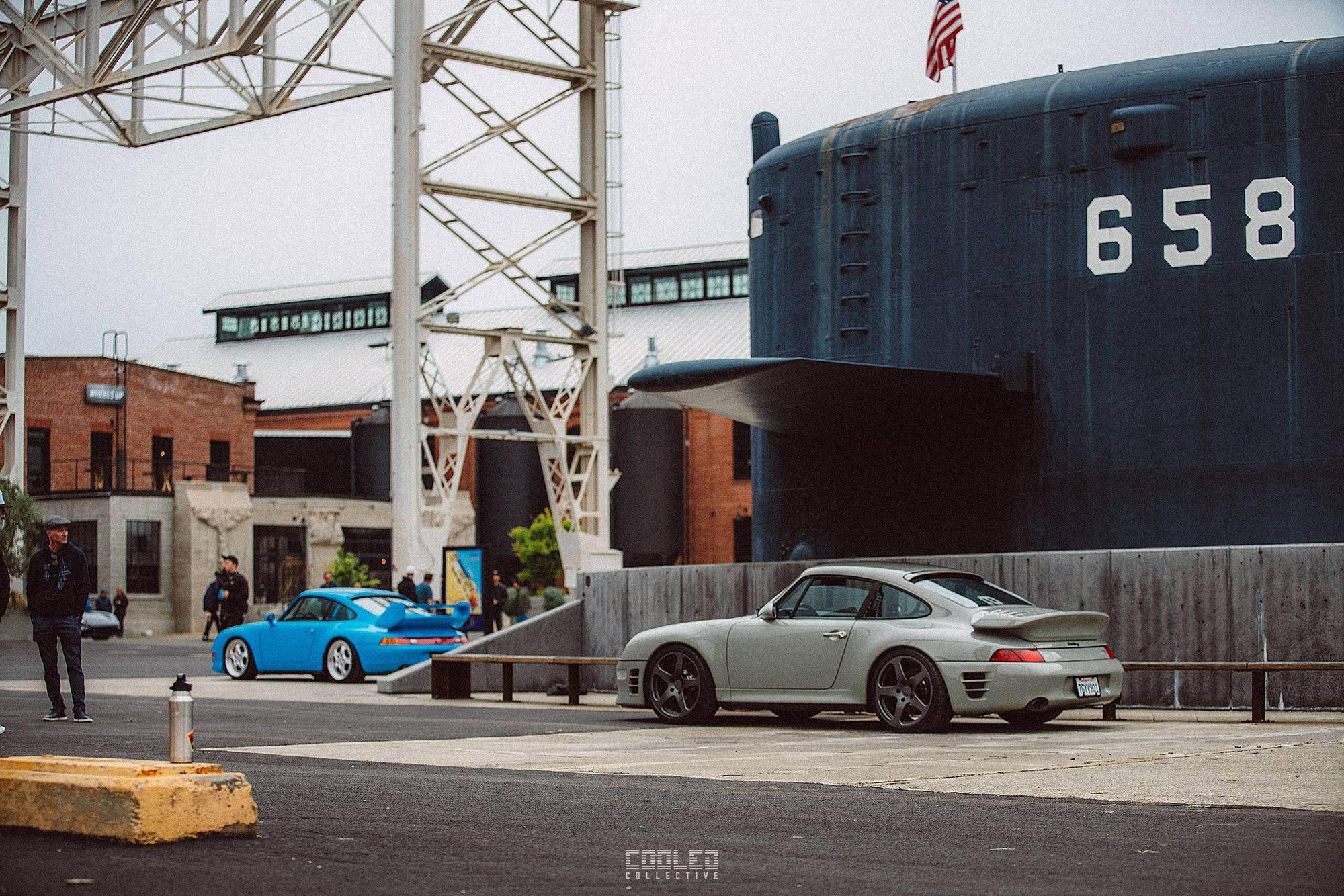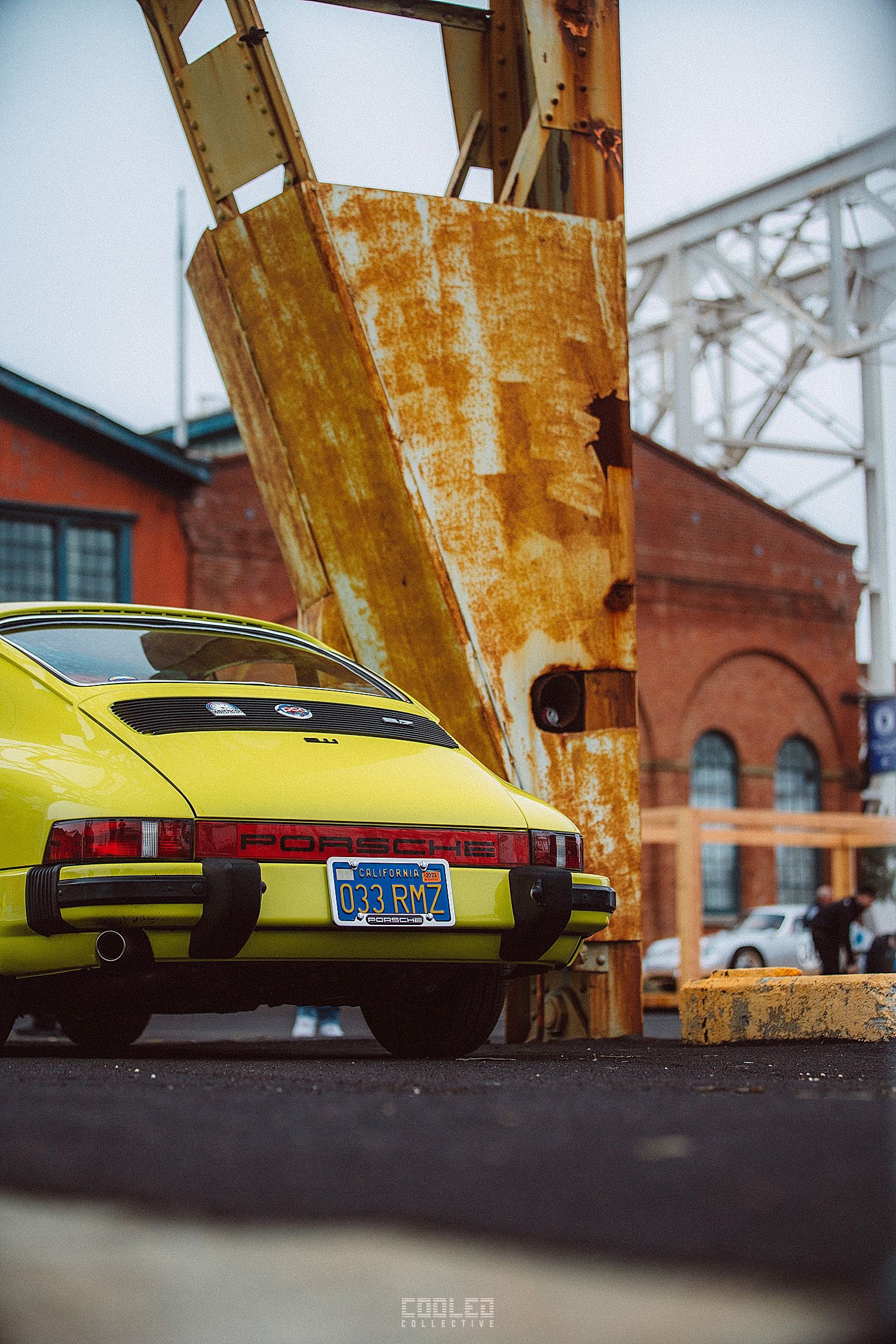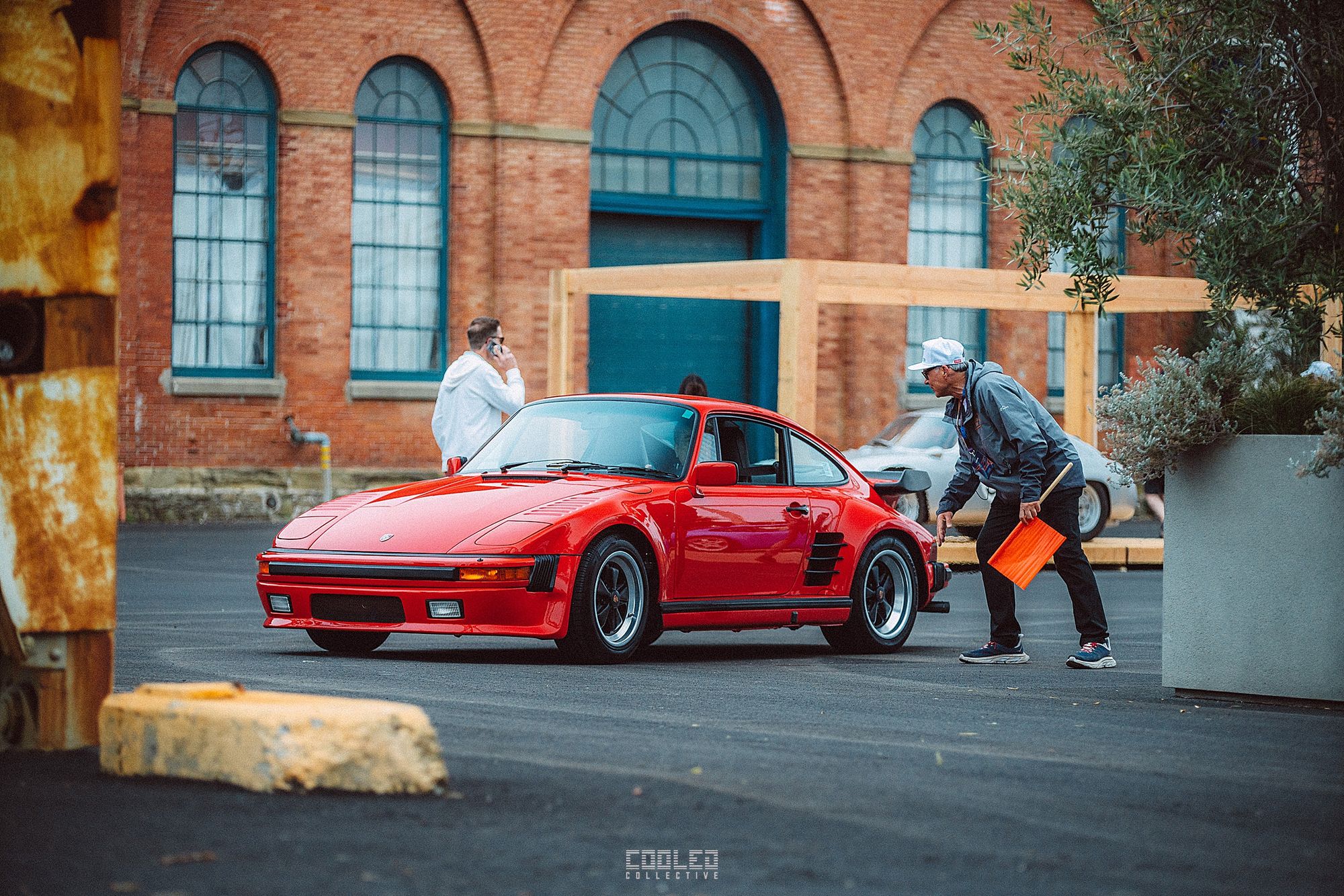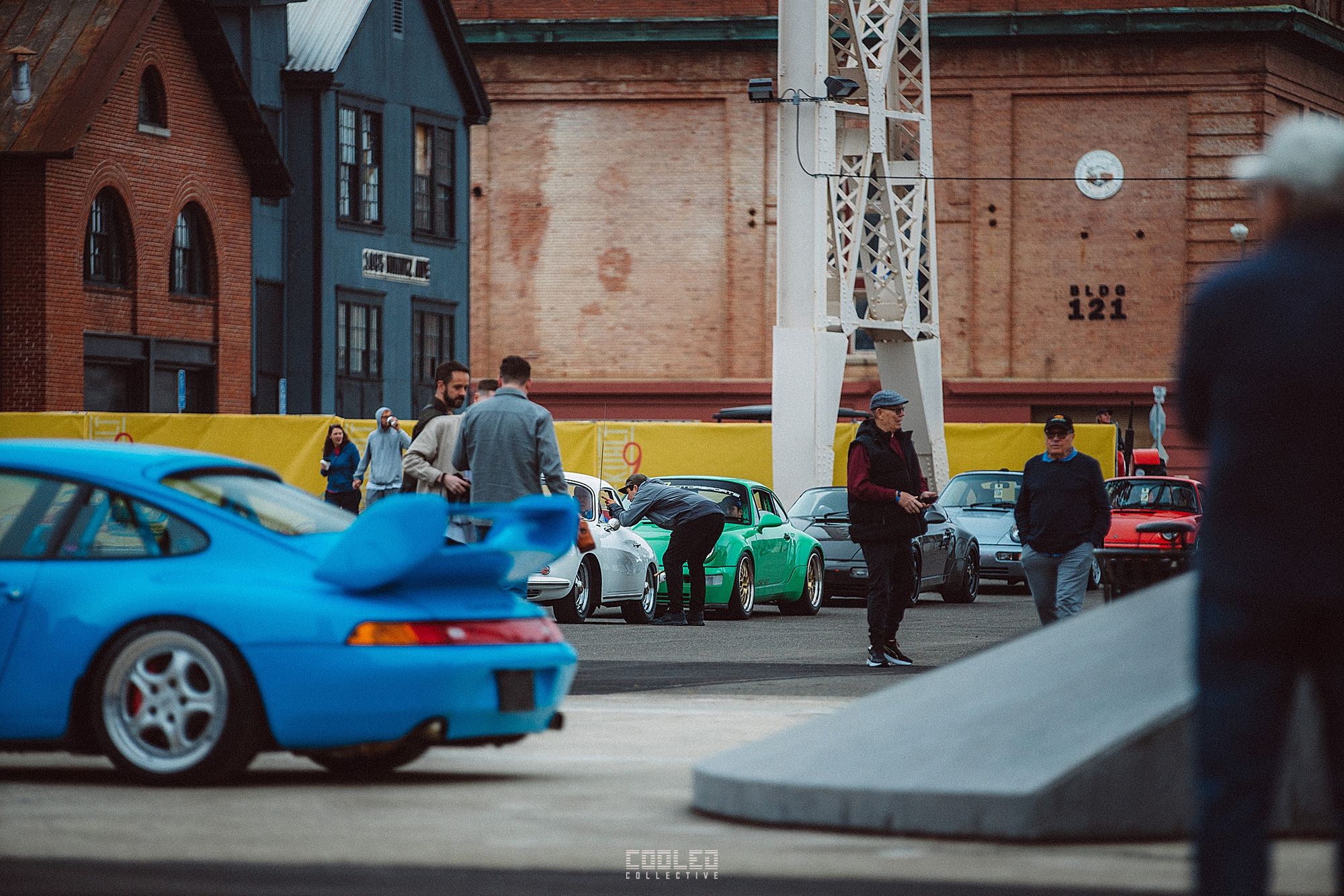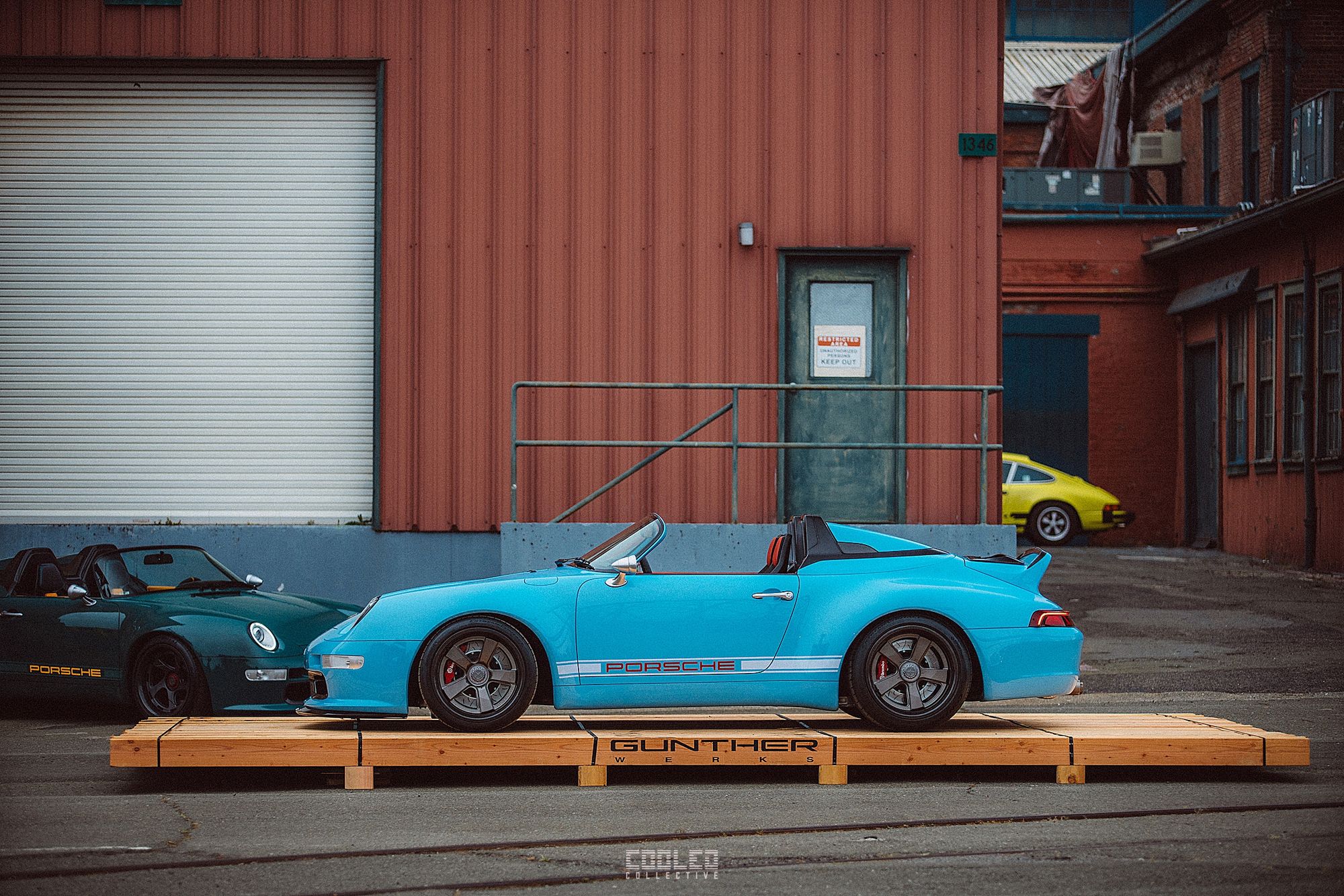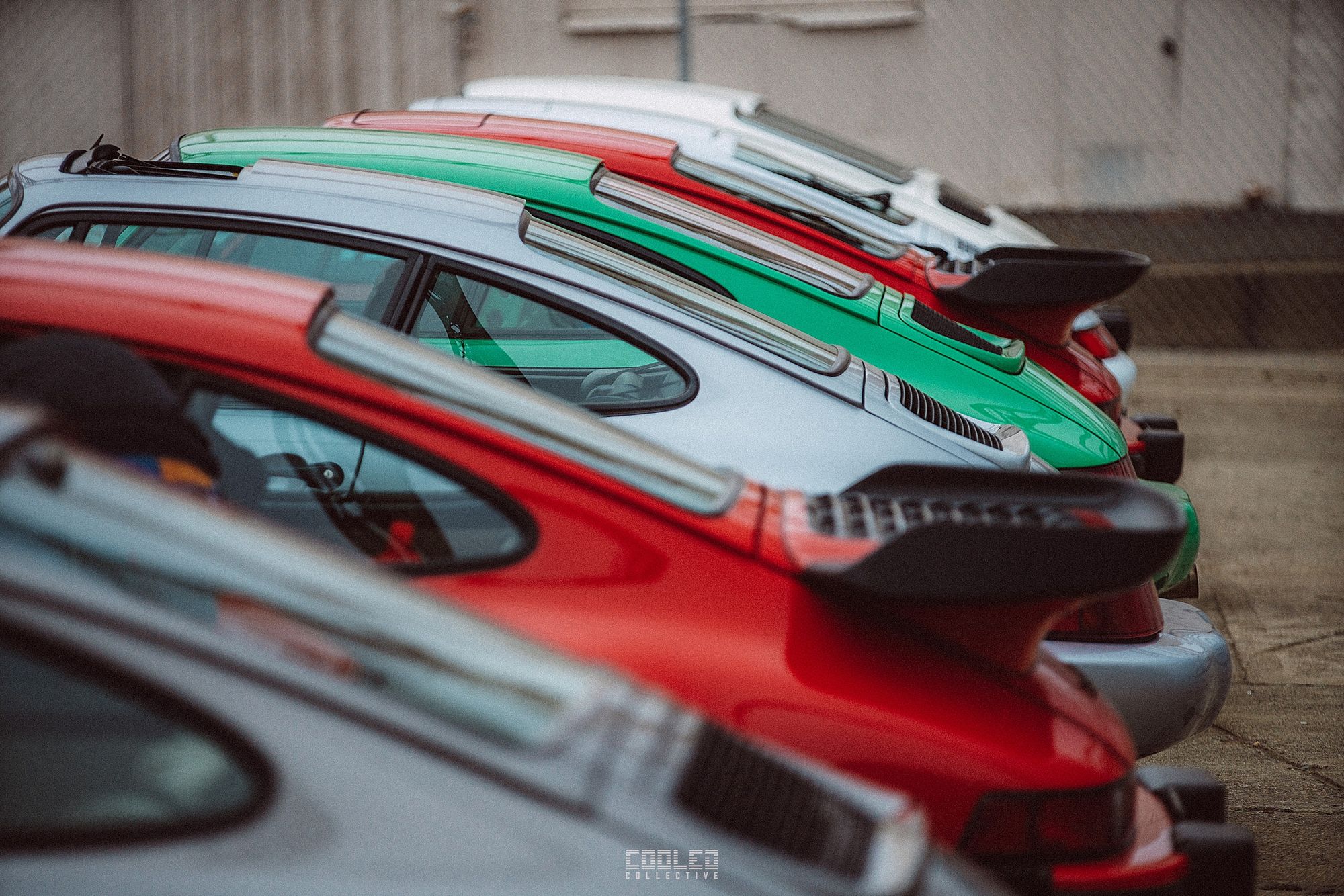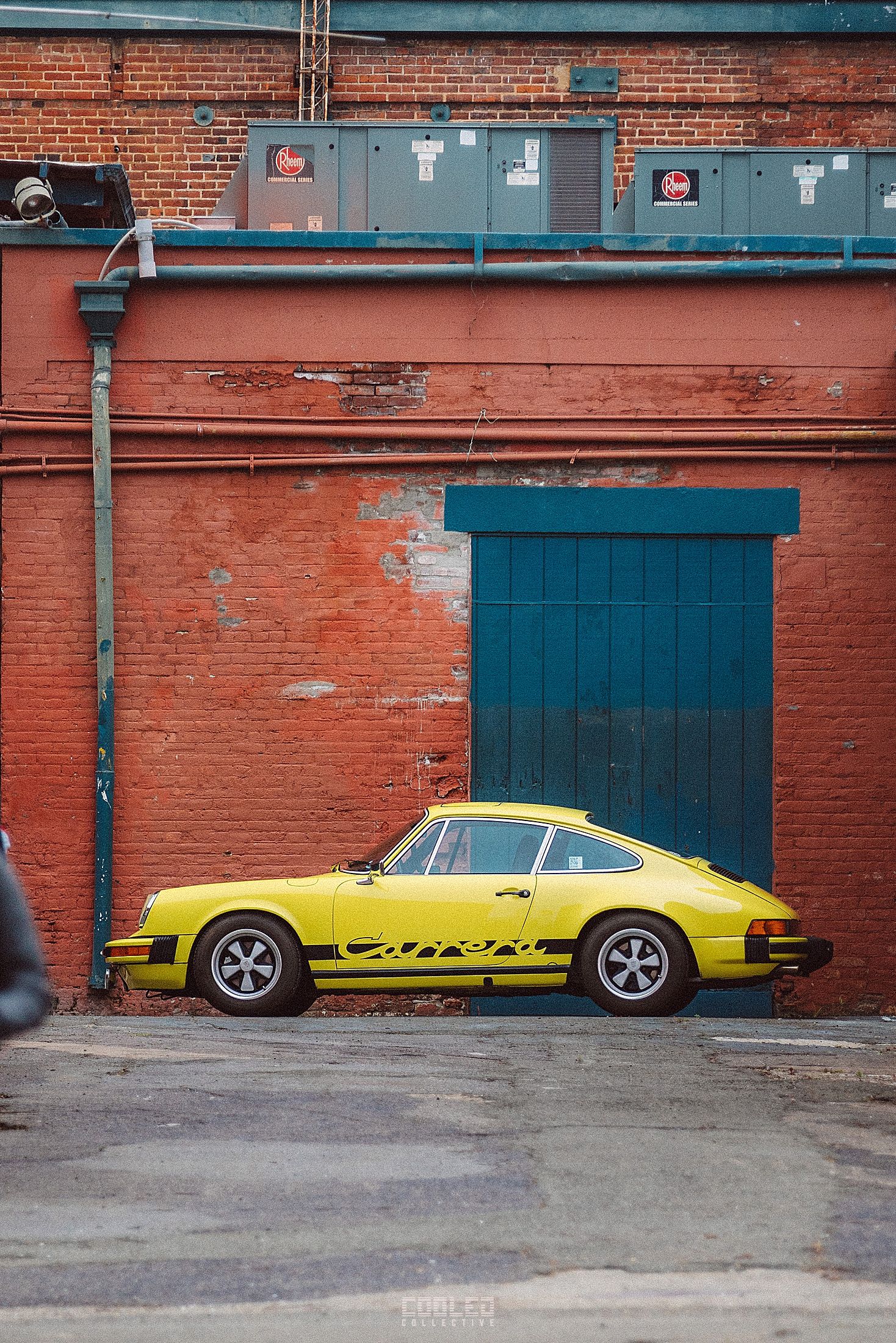 After a good 30 mins of shooting the yard, I ended up finding the gem of the show. A long and narrow warehouse where they probably built the naval ships. This space is everything a photographer longs for. High vaulted windows, lots of textures and colors, wide open space, large doors to control light.... just a sweet magical place. First car I see inside is John's 993 tucked away in a corner spot. A great spot if you ask me.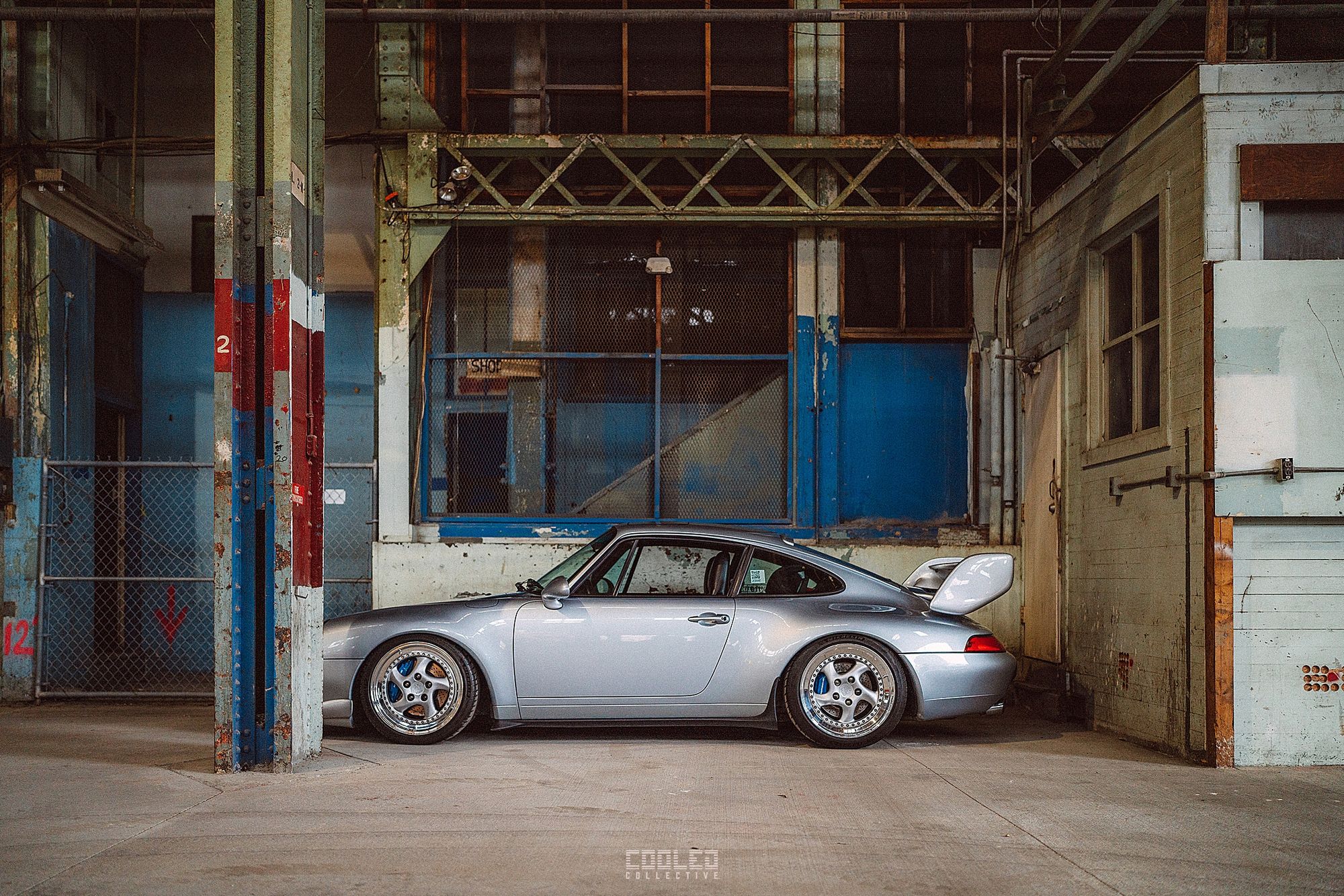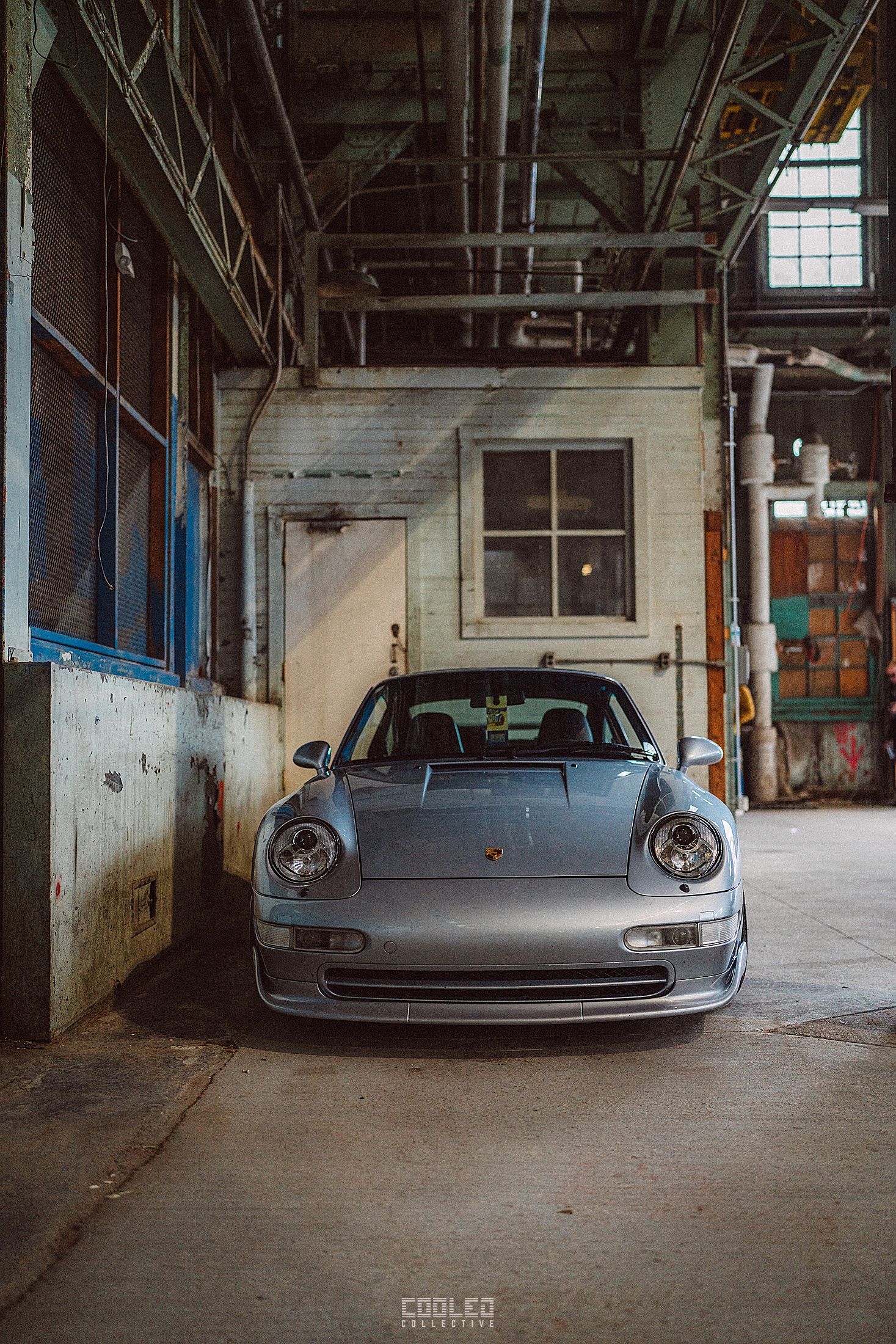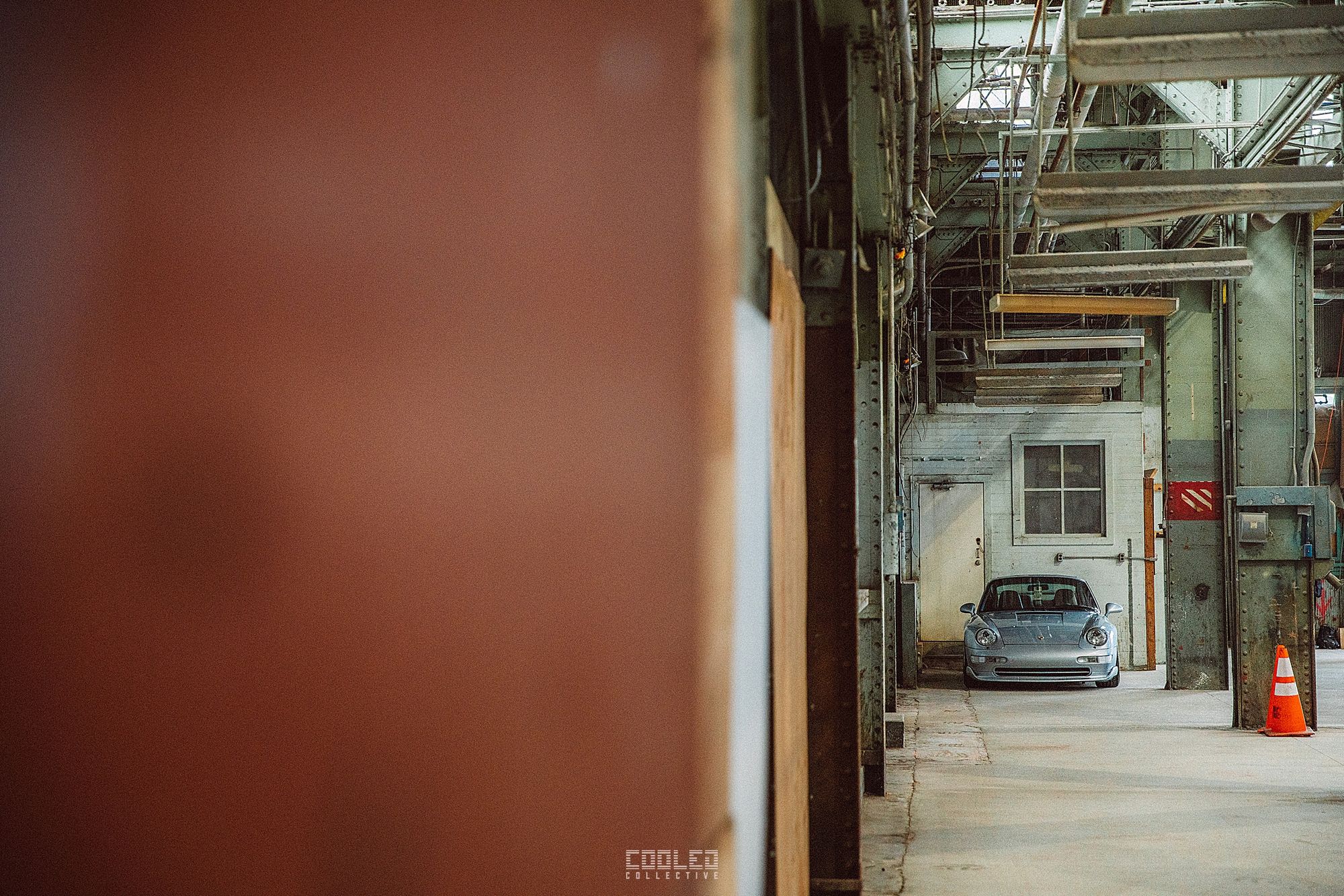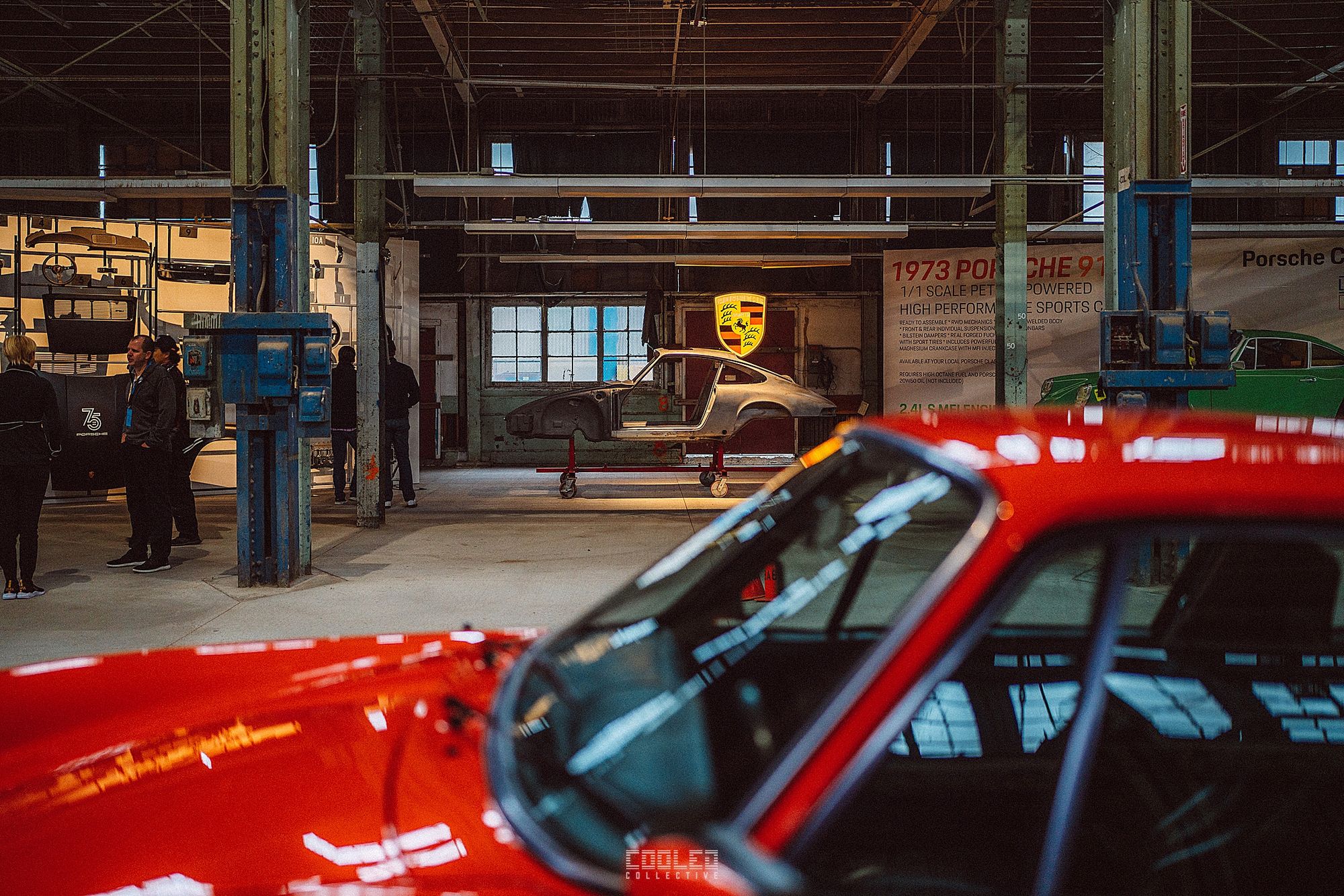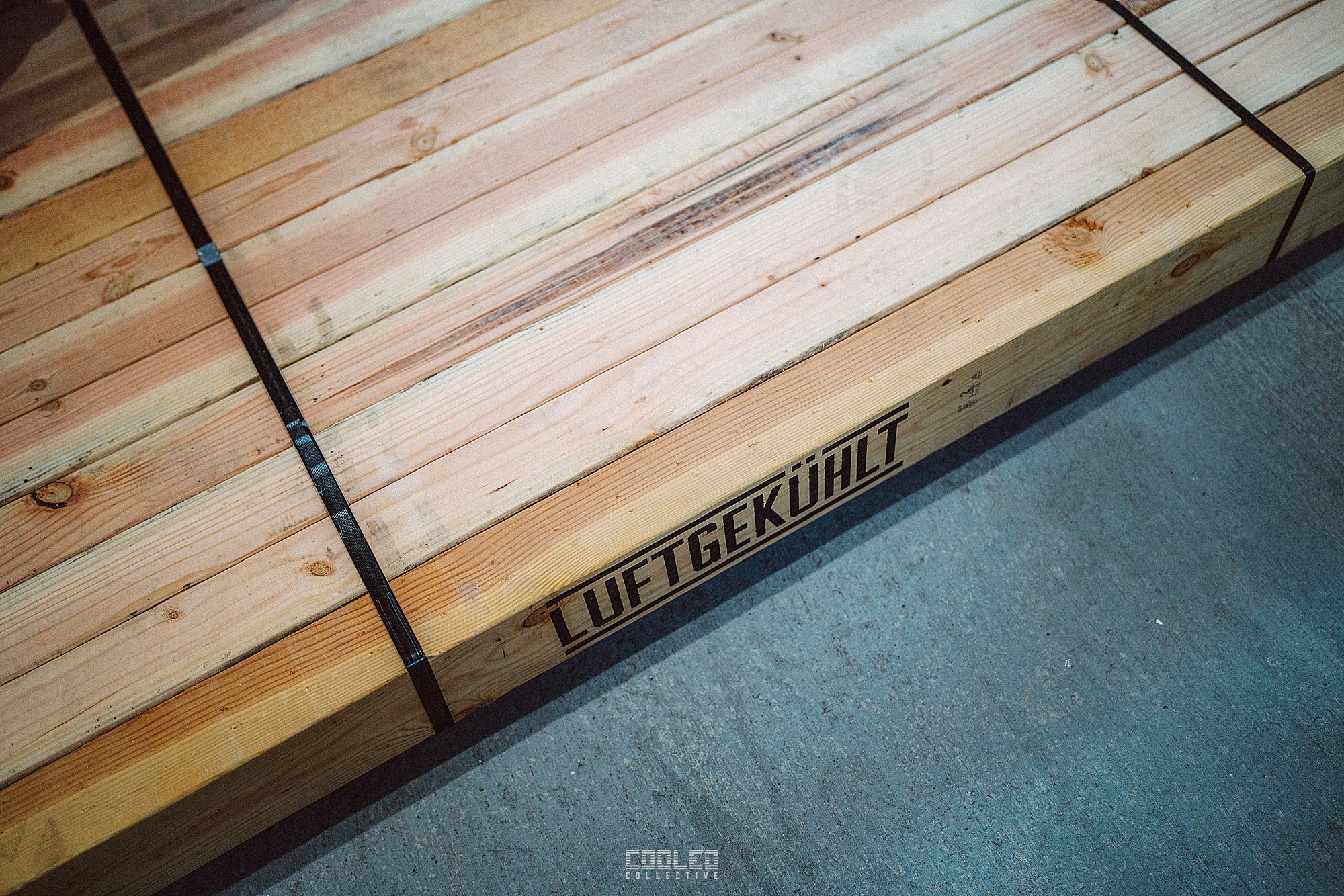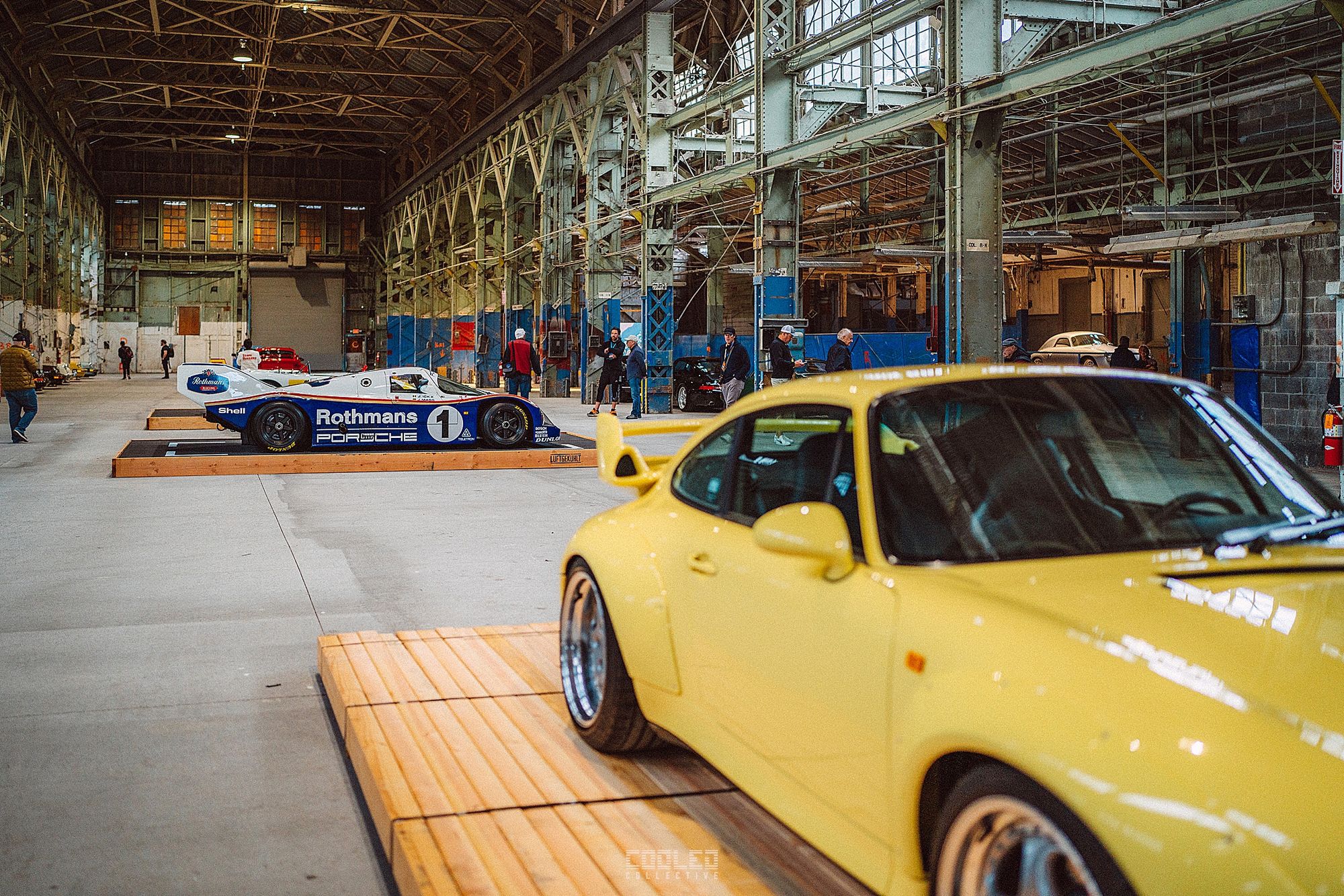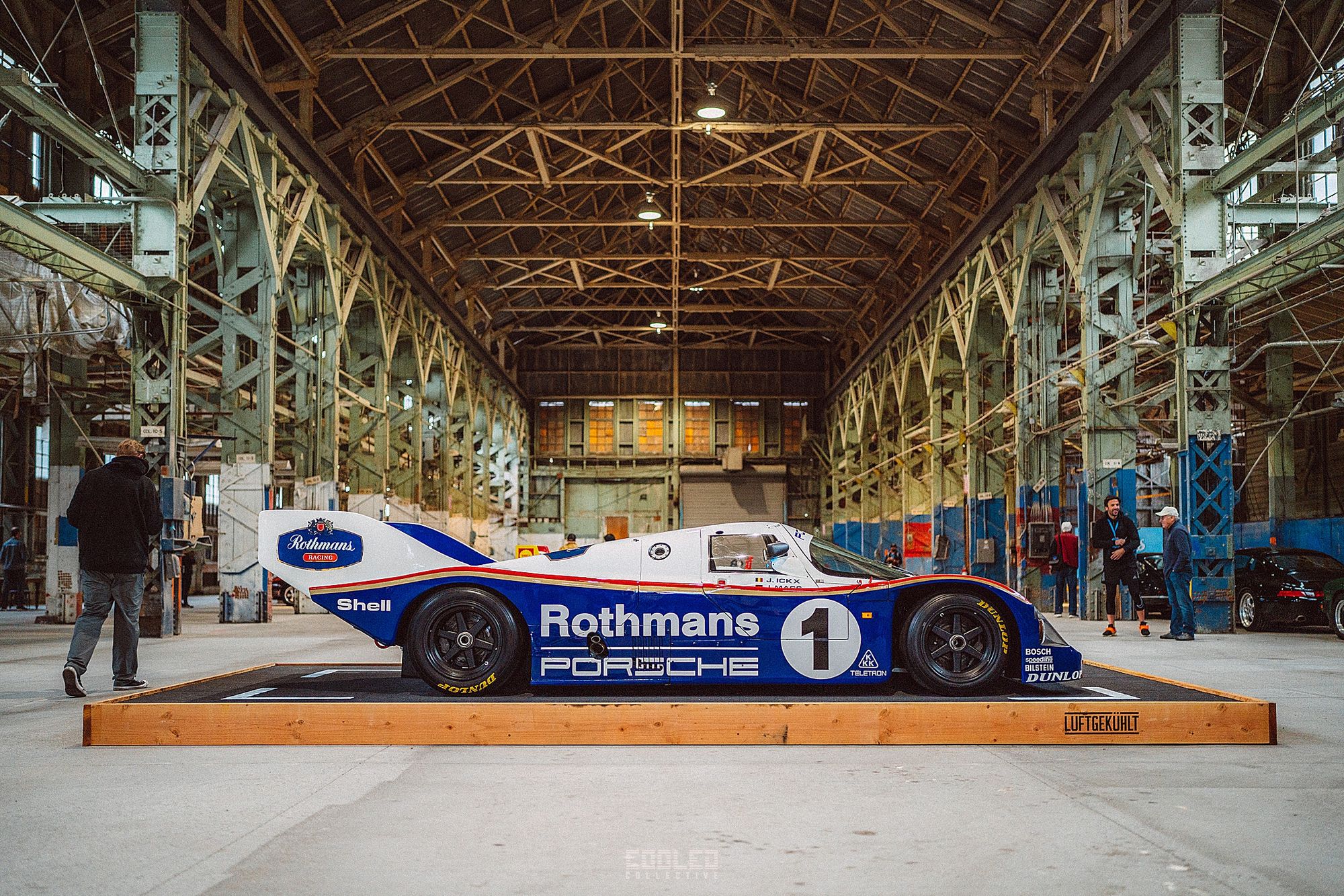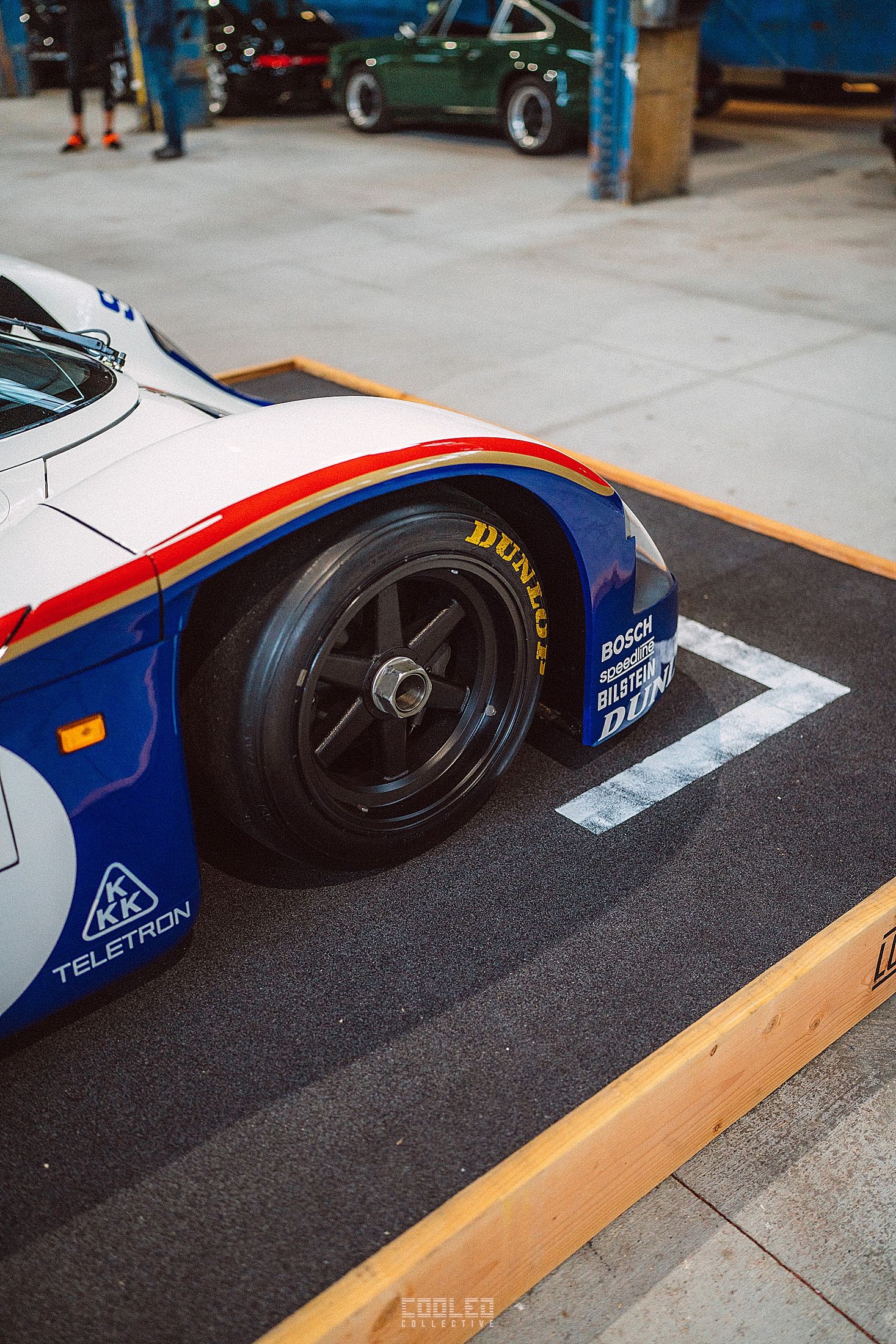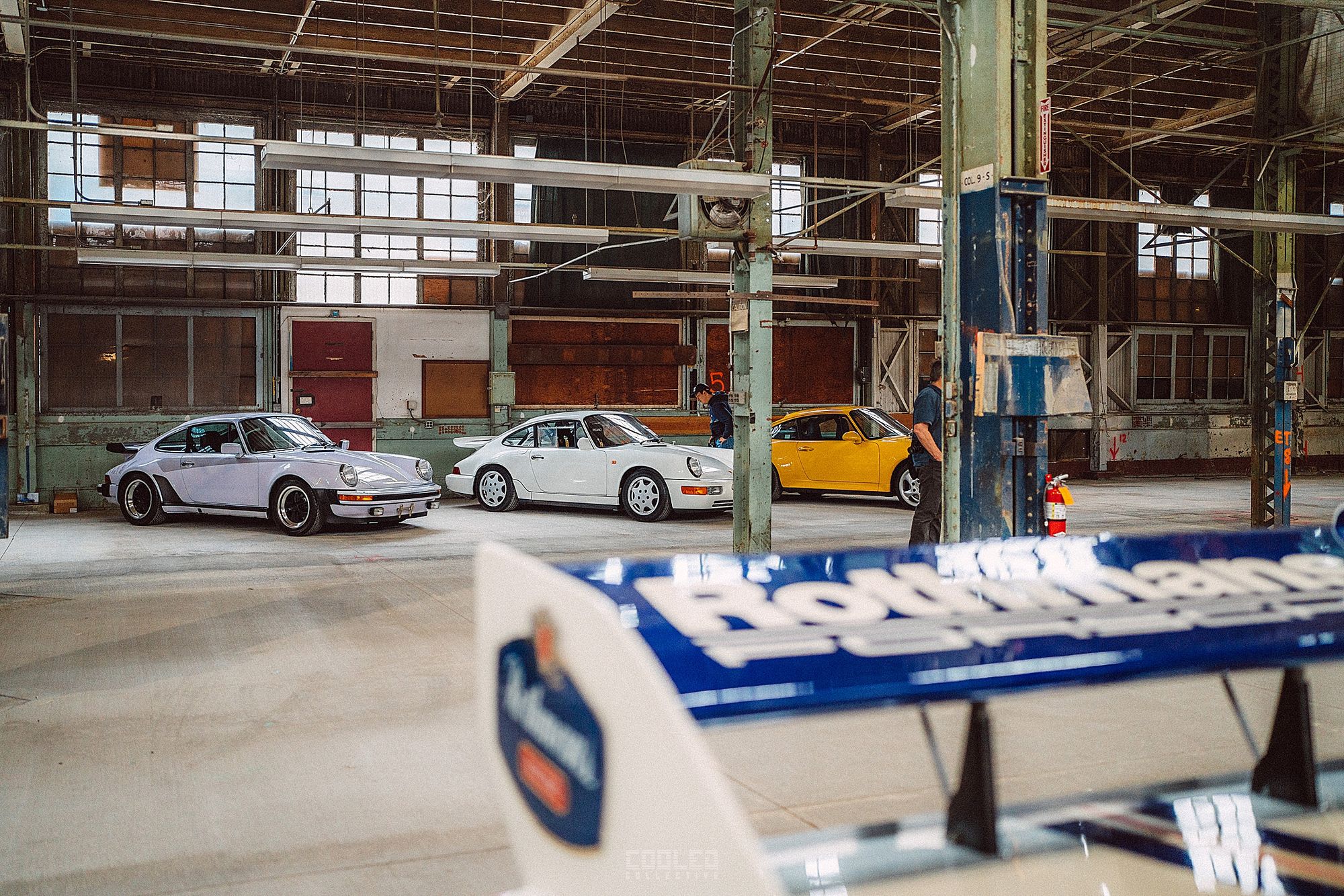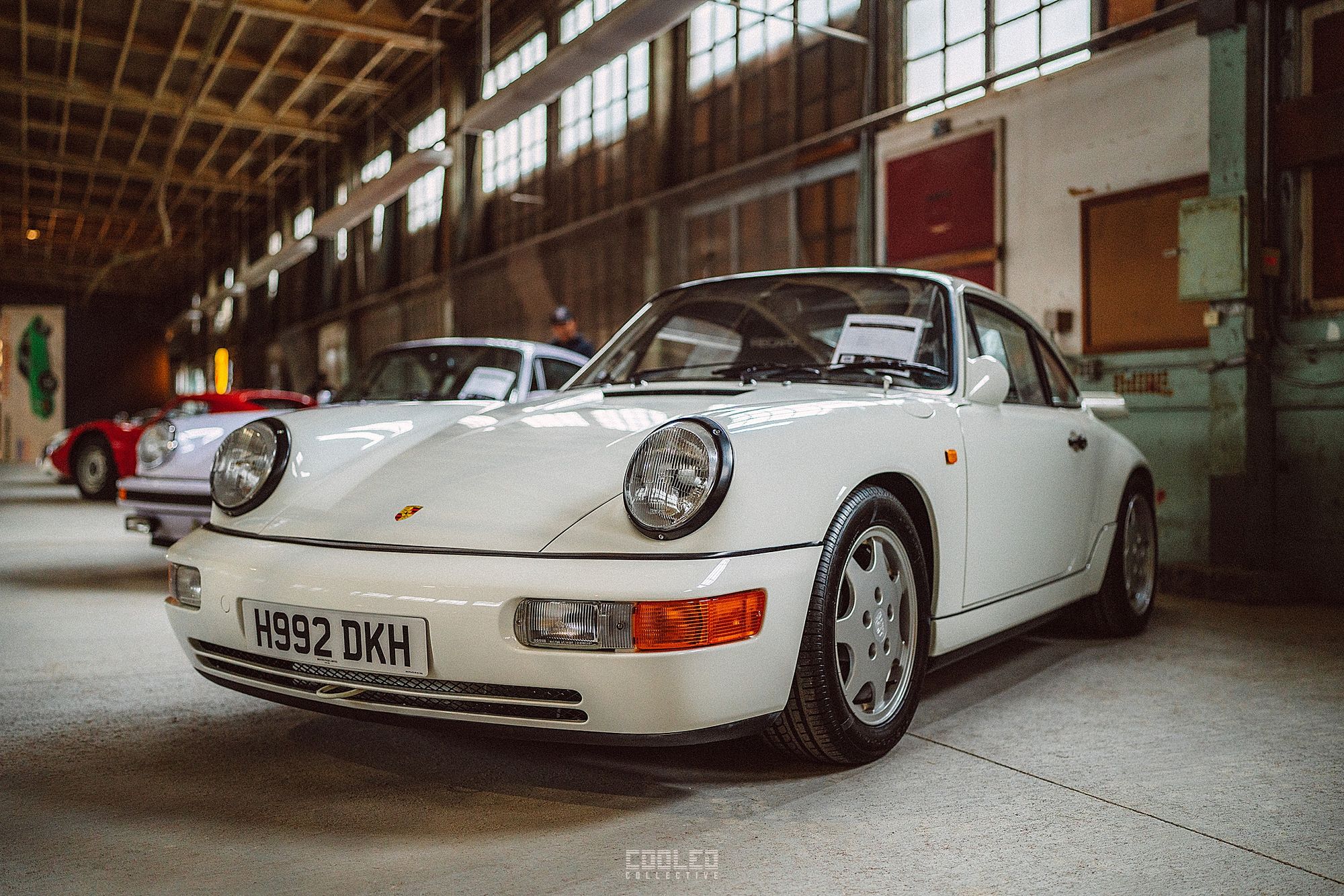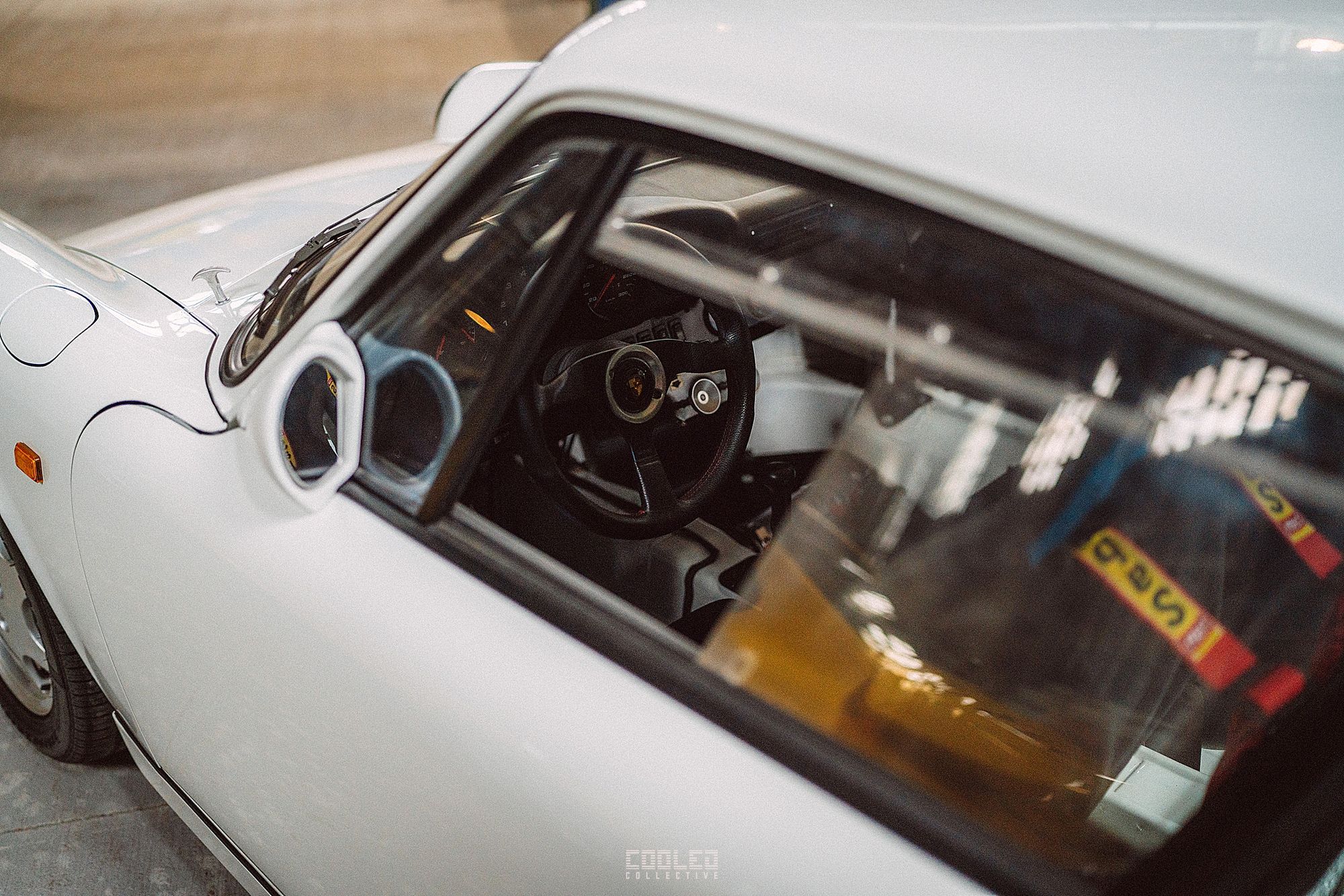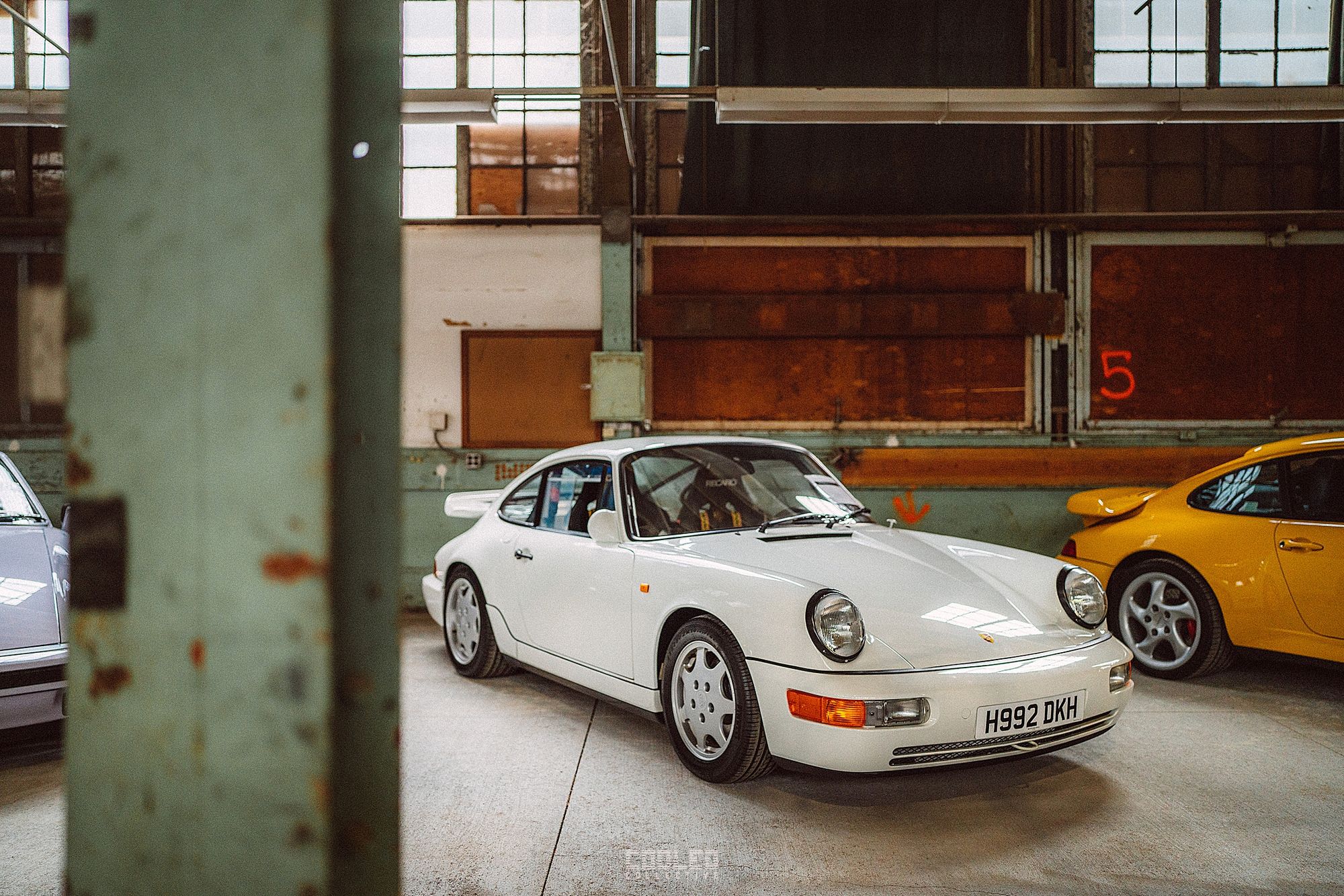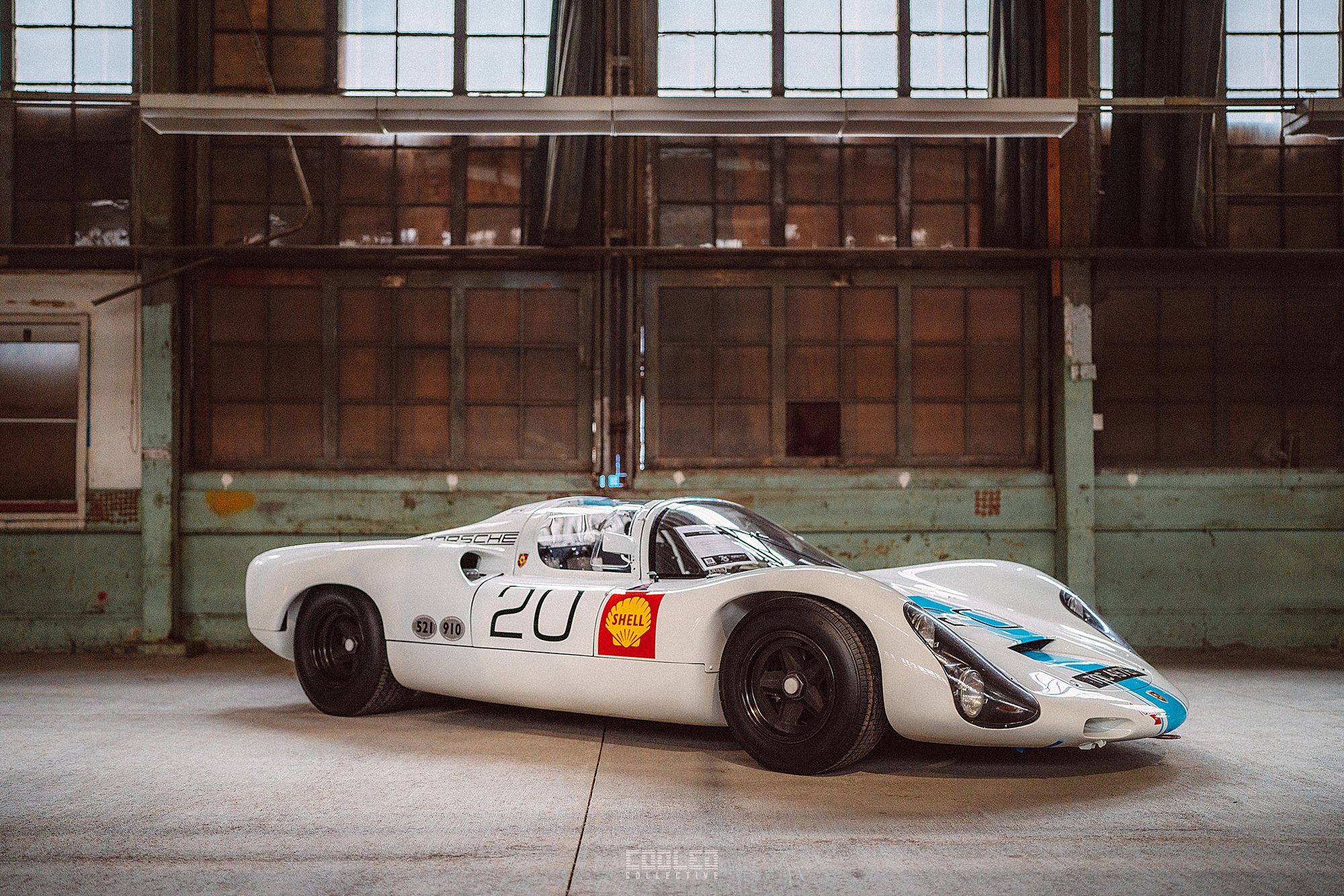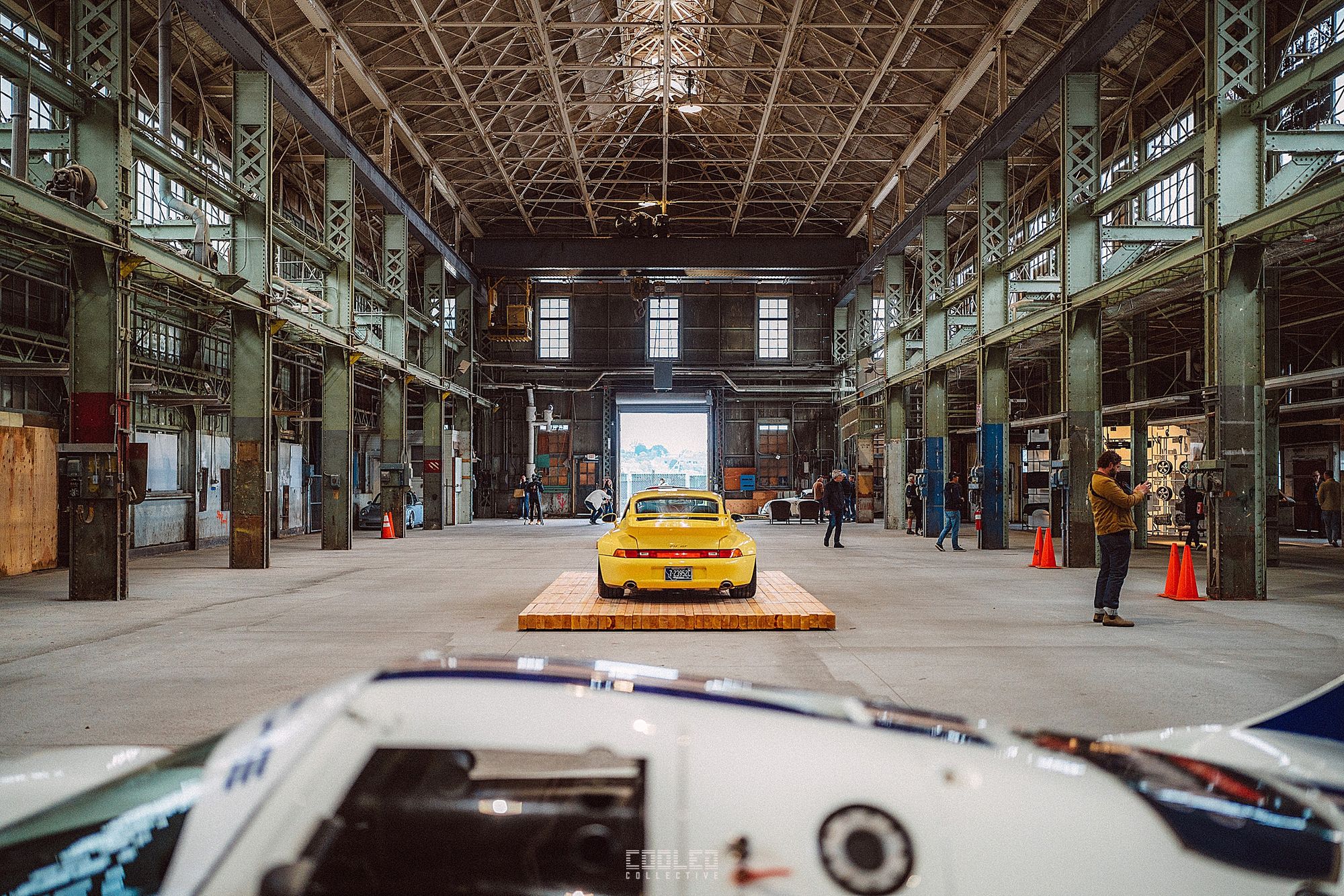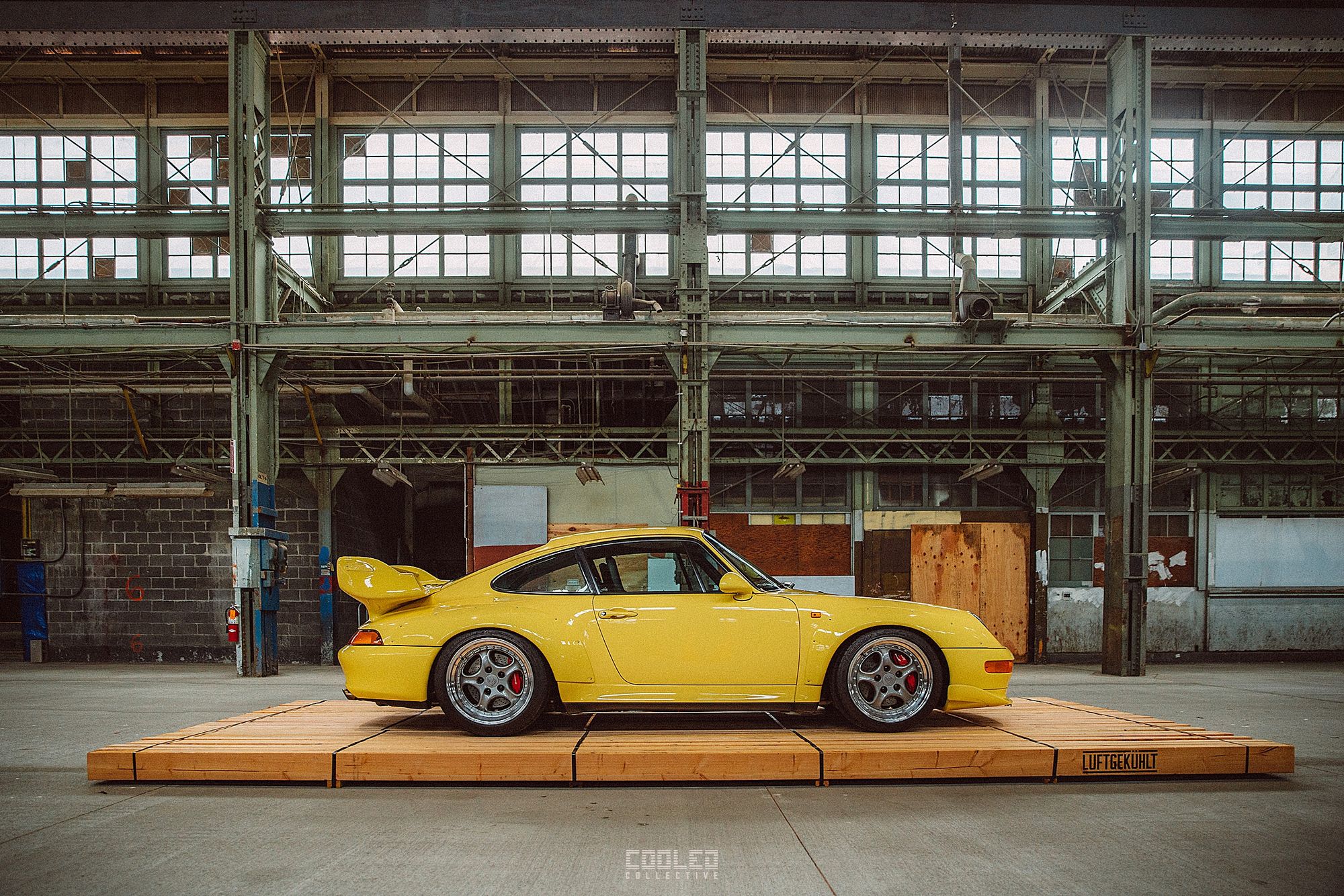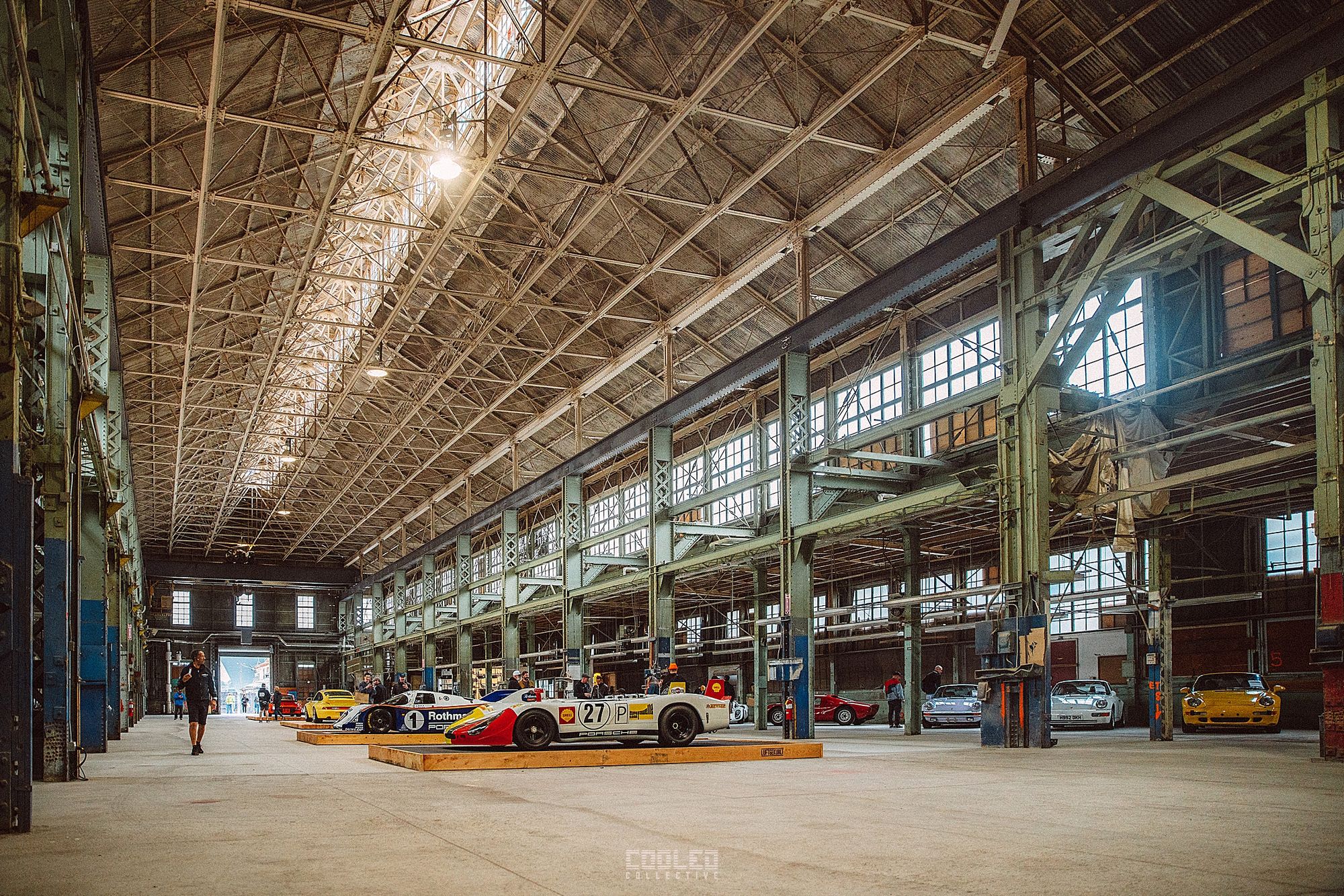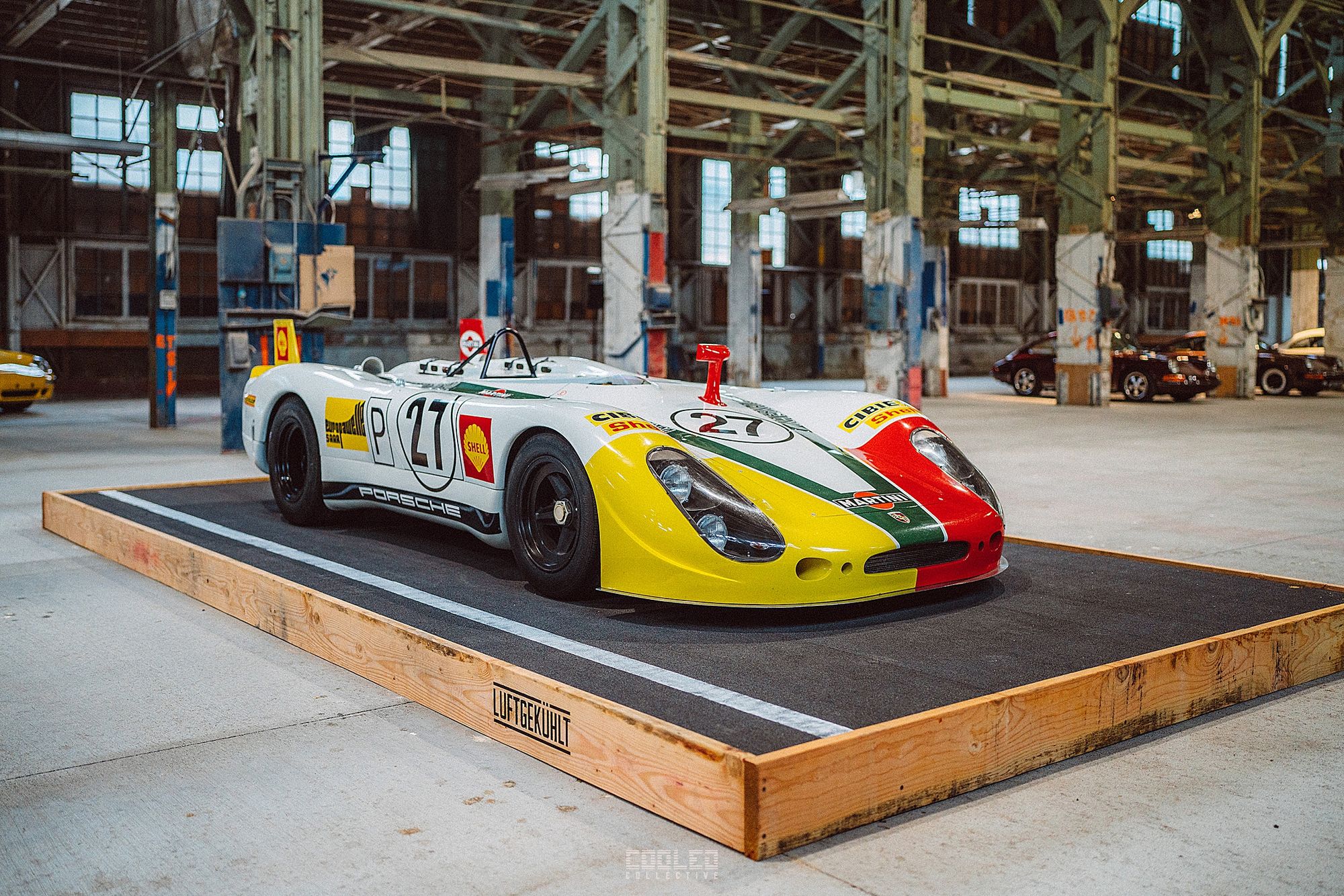 So many rare birds in this building, so little time to cover all of it. When was the last time you saw a Guards 993 GT2 and a Speed Yellow 993 GT2 in the same room divided by a Rothman's 917? Probably never is the right answer.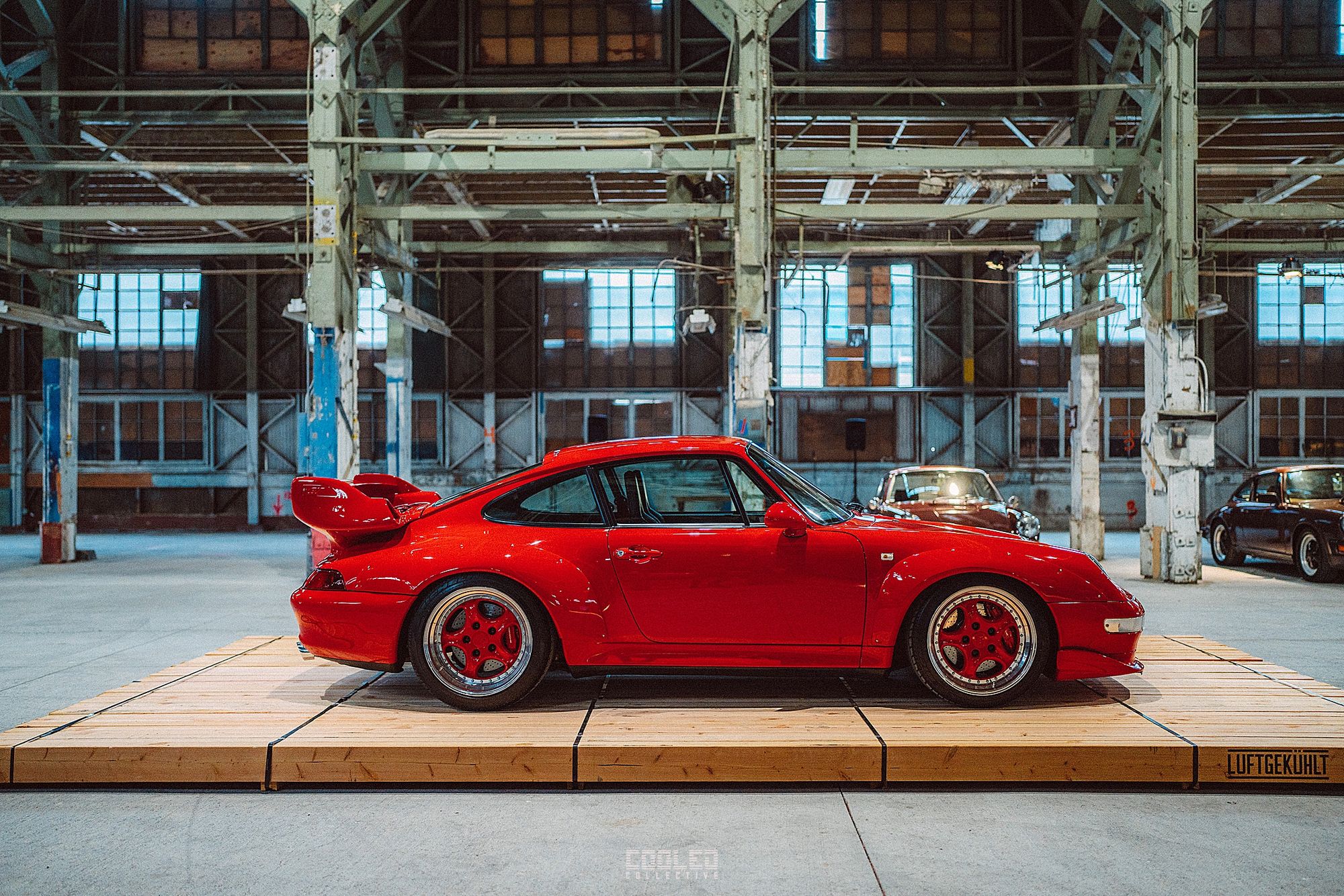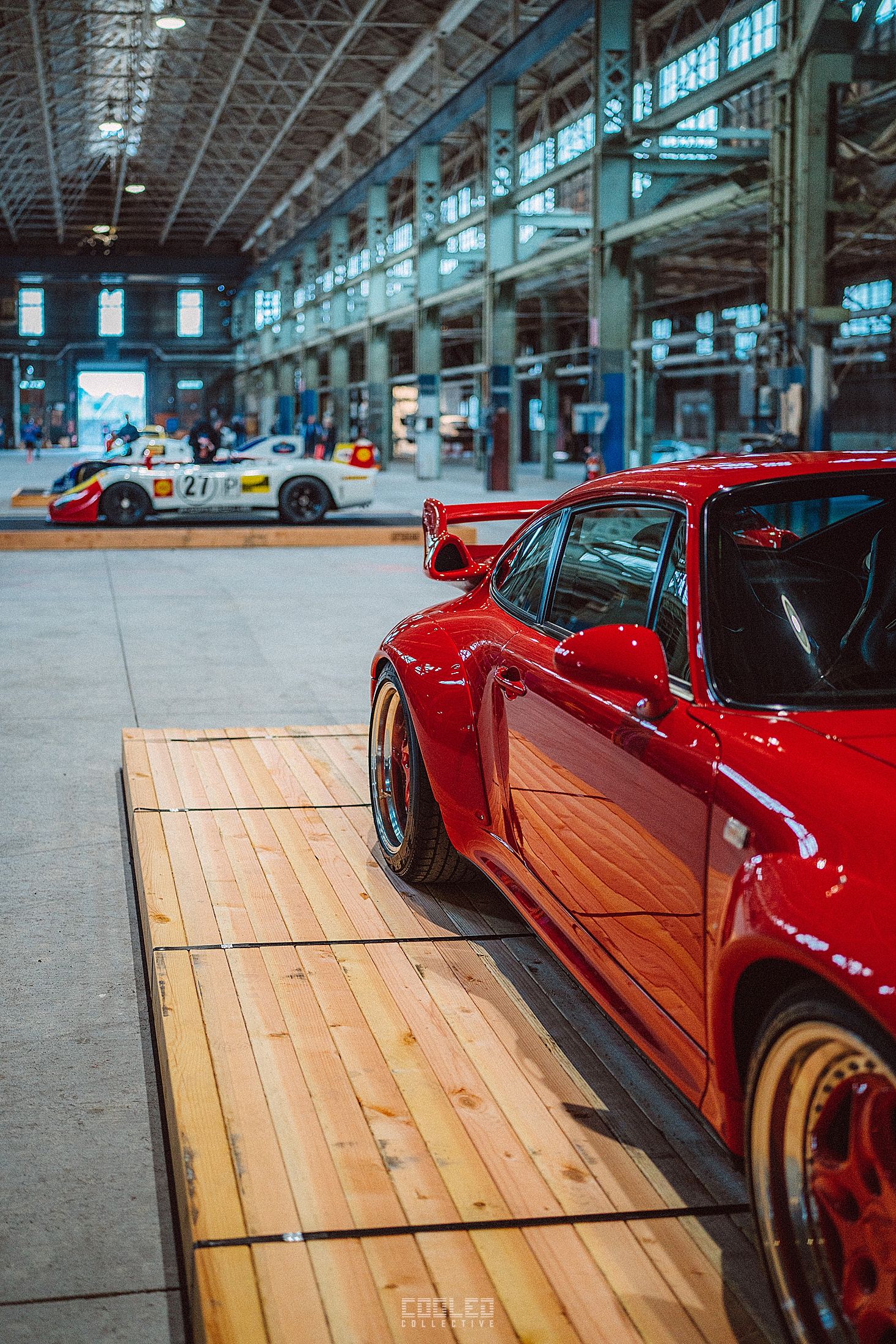 Since we had Joshy Robots decked out in his blood red gear sporting a 993 GT2, we had to get him modeling in front of the GT2 to pay tribute to the aircooled GOAT.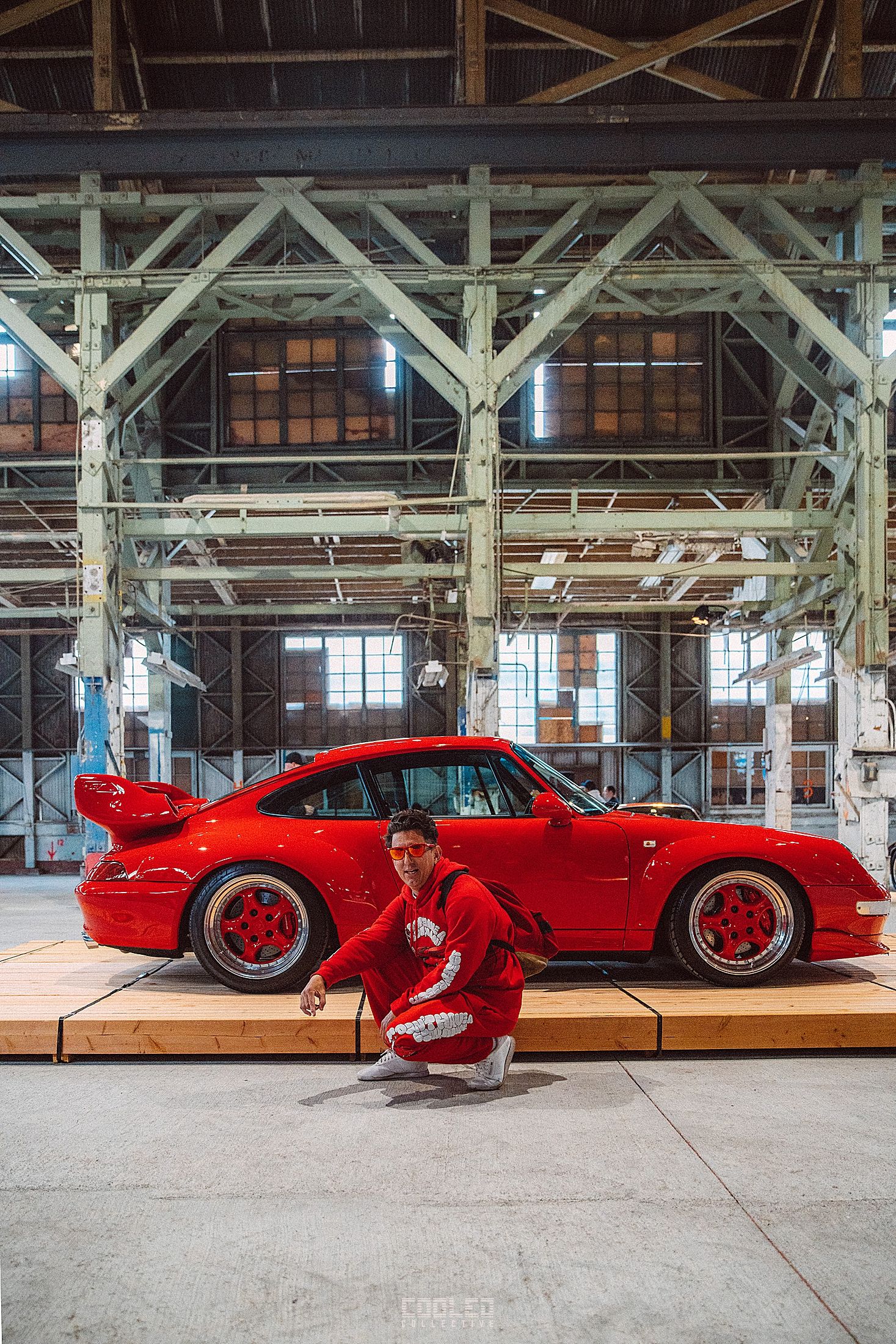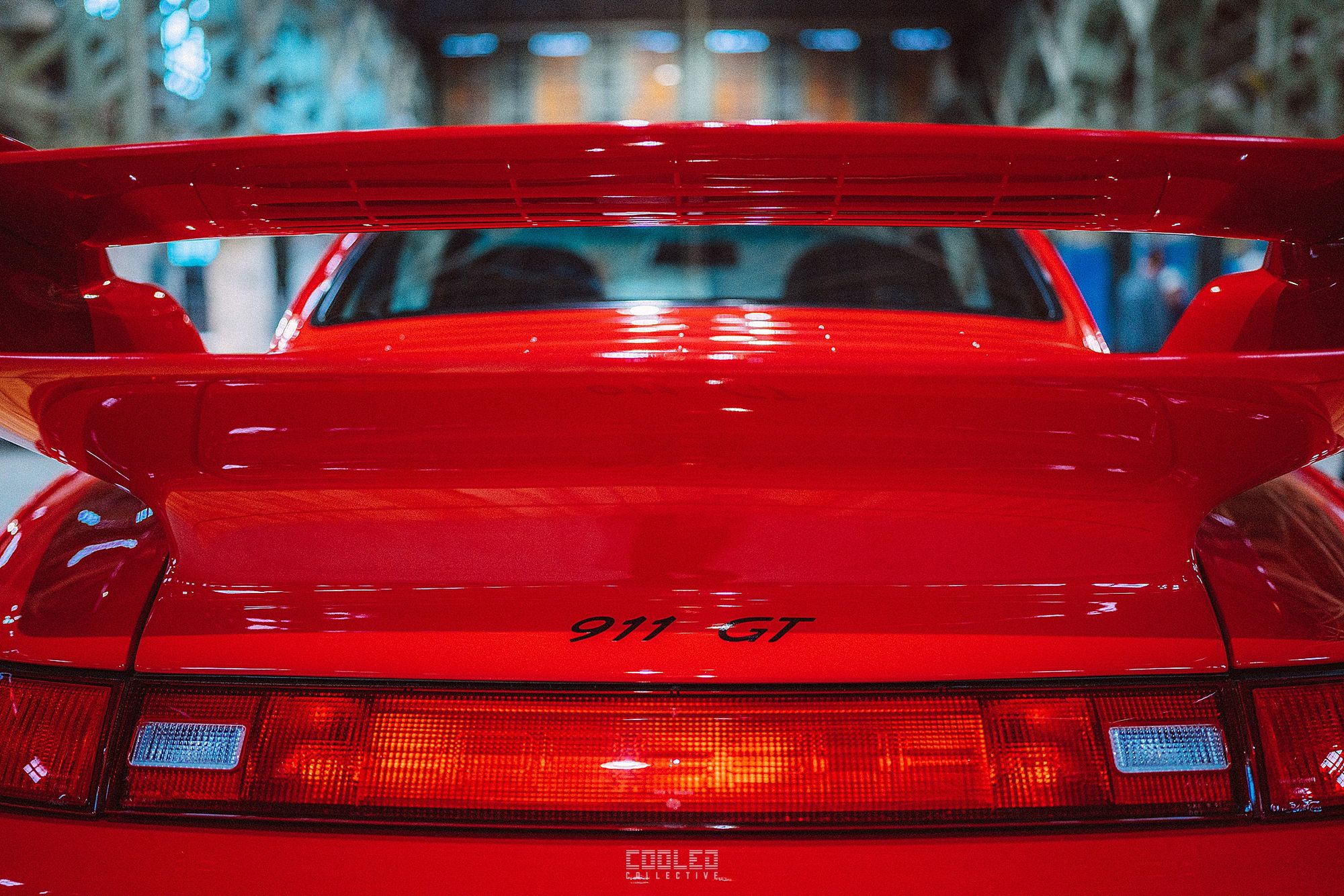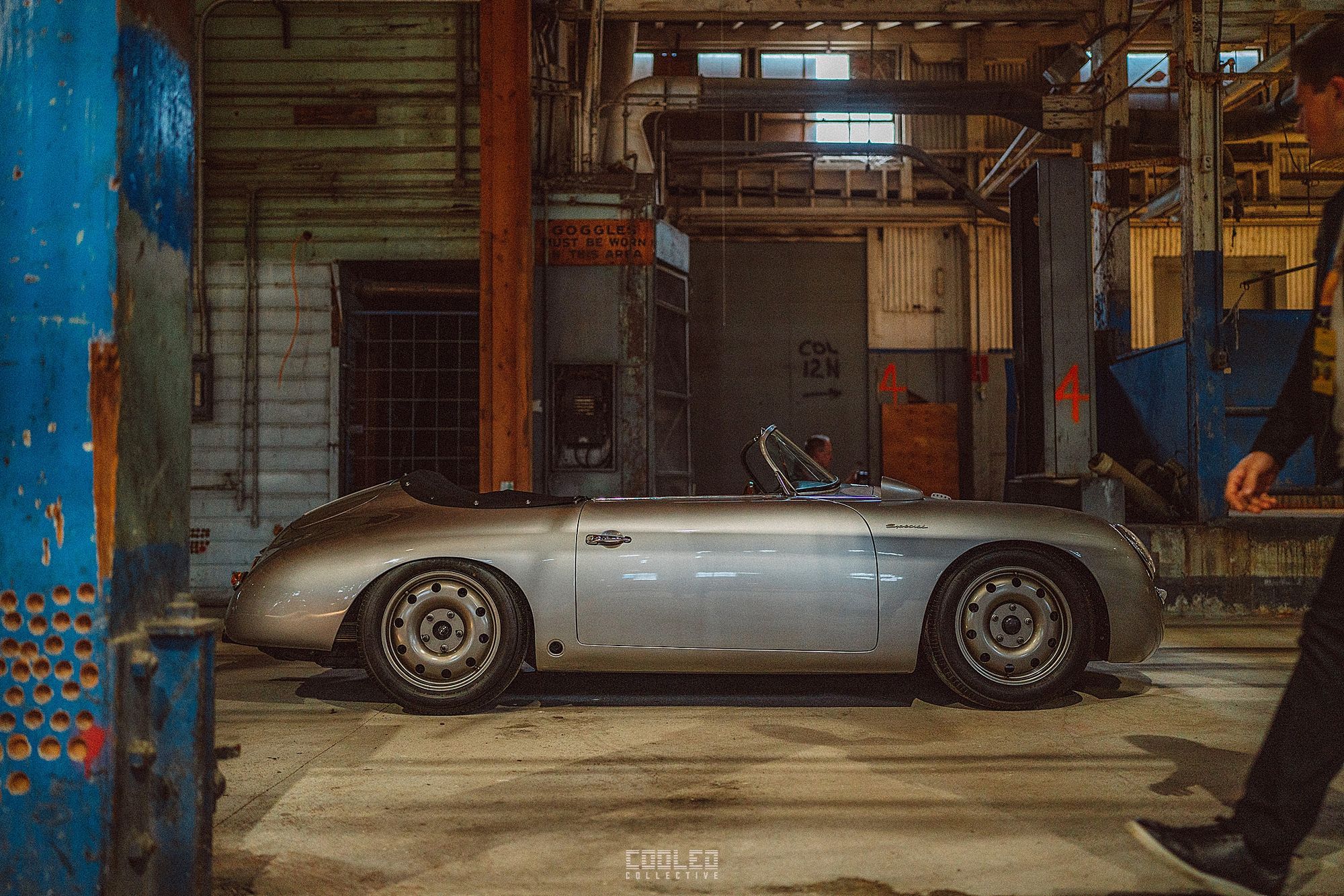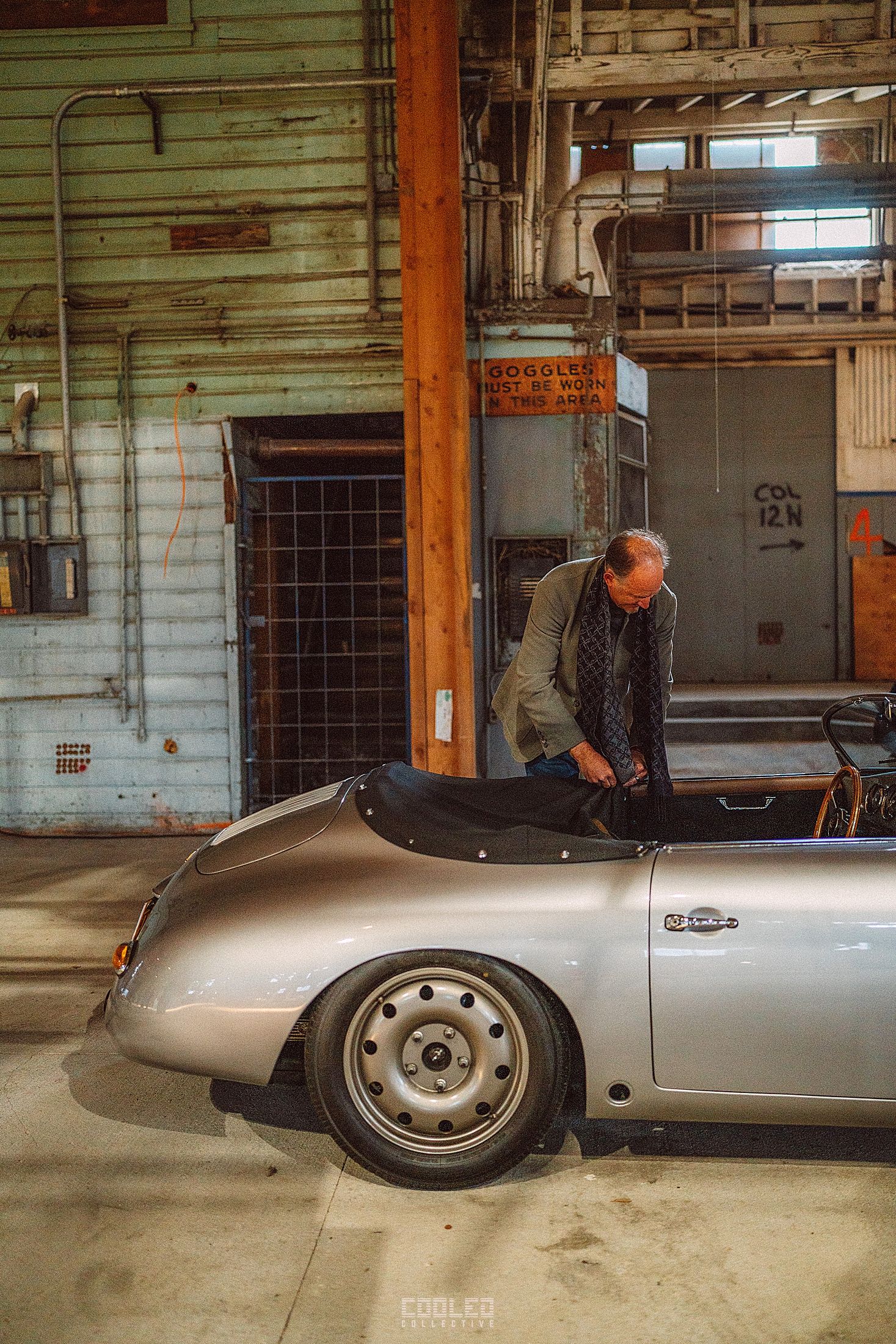 Next up, we have the Emory corner where they brought out some of their completed gems looking all classically aggressive and perfect for anyone who loves those ultra vintage classics but also love the muscle to back it up.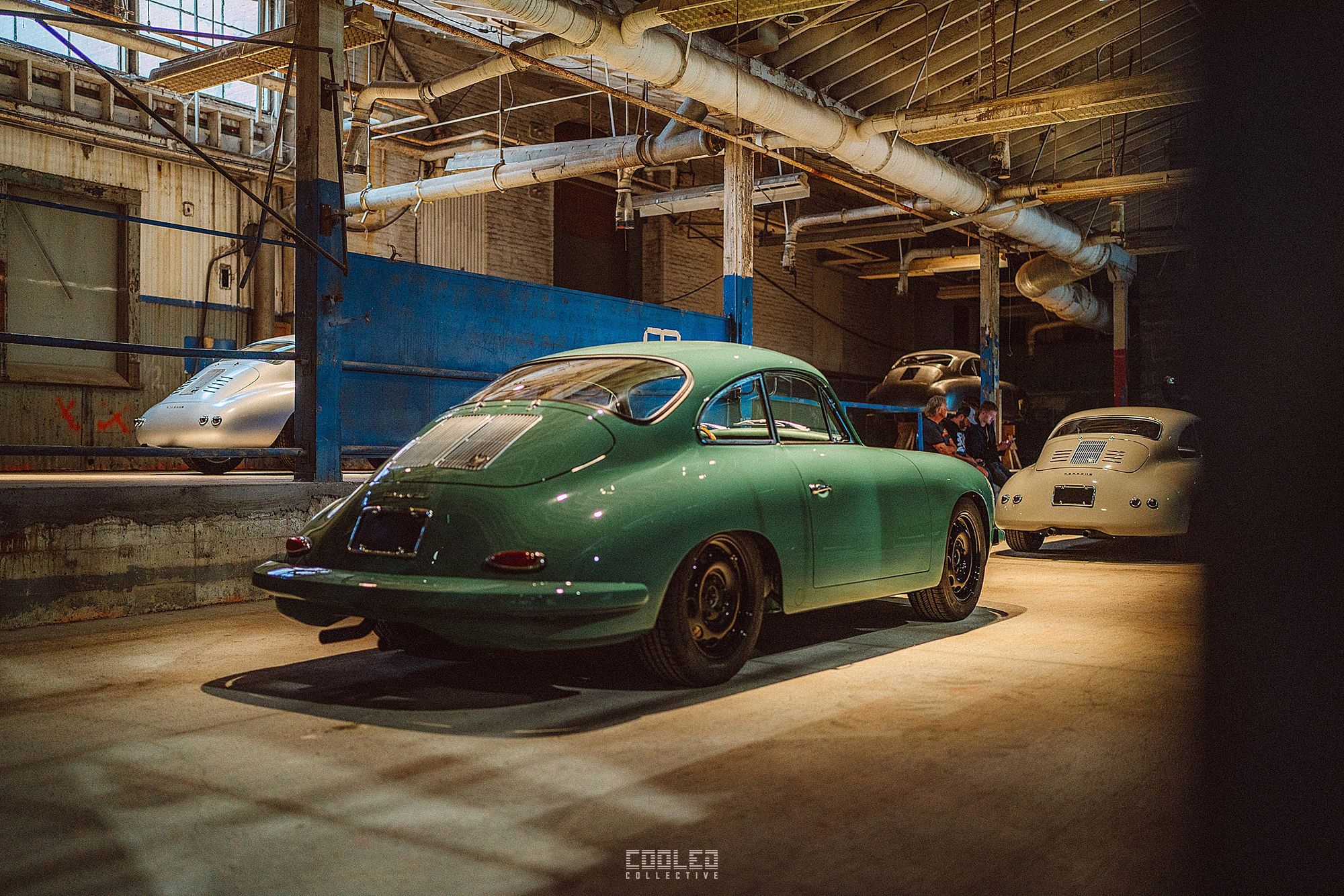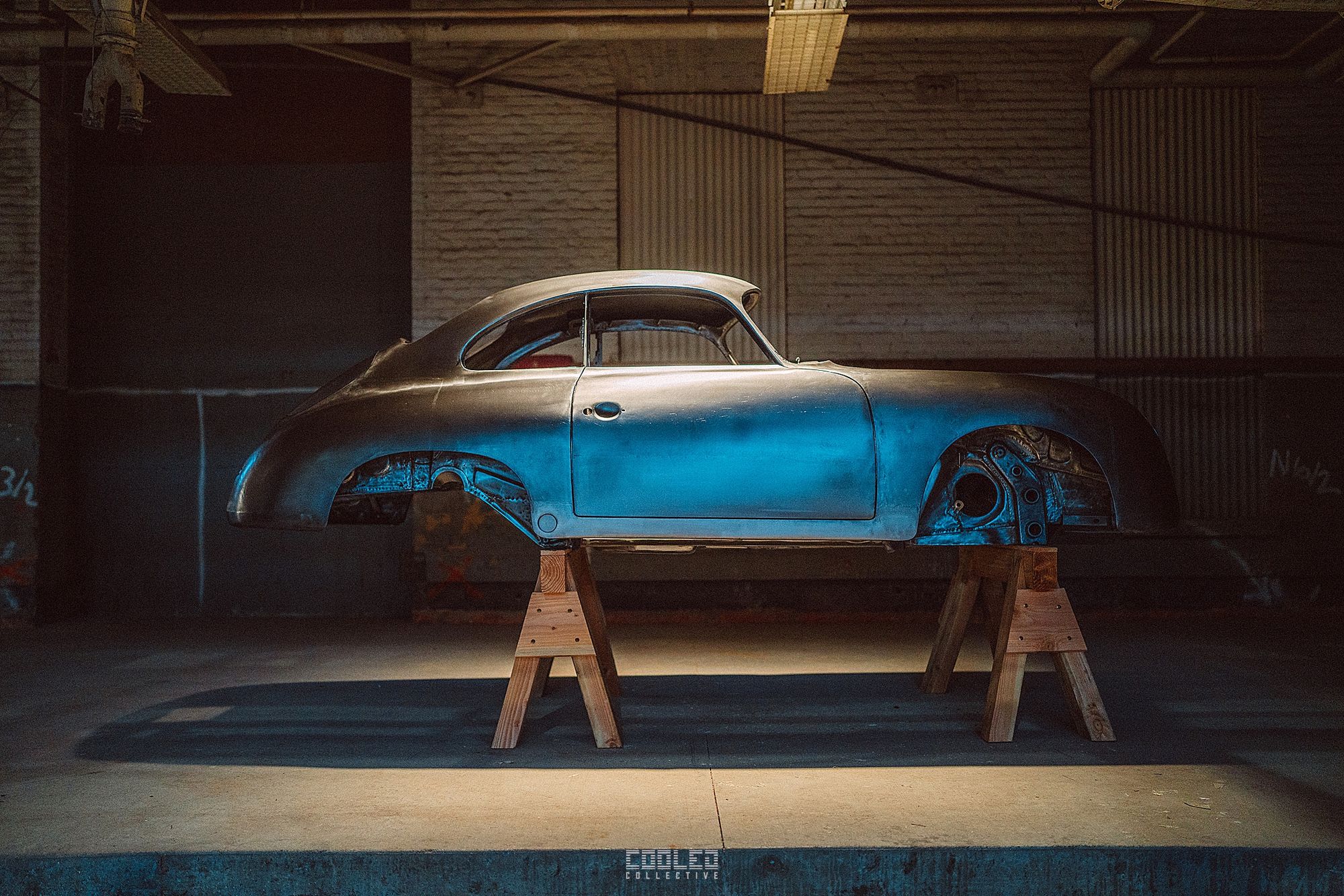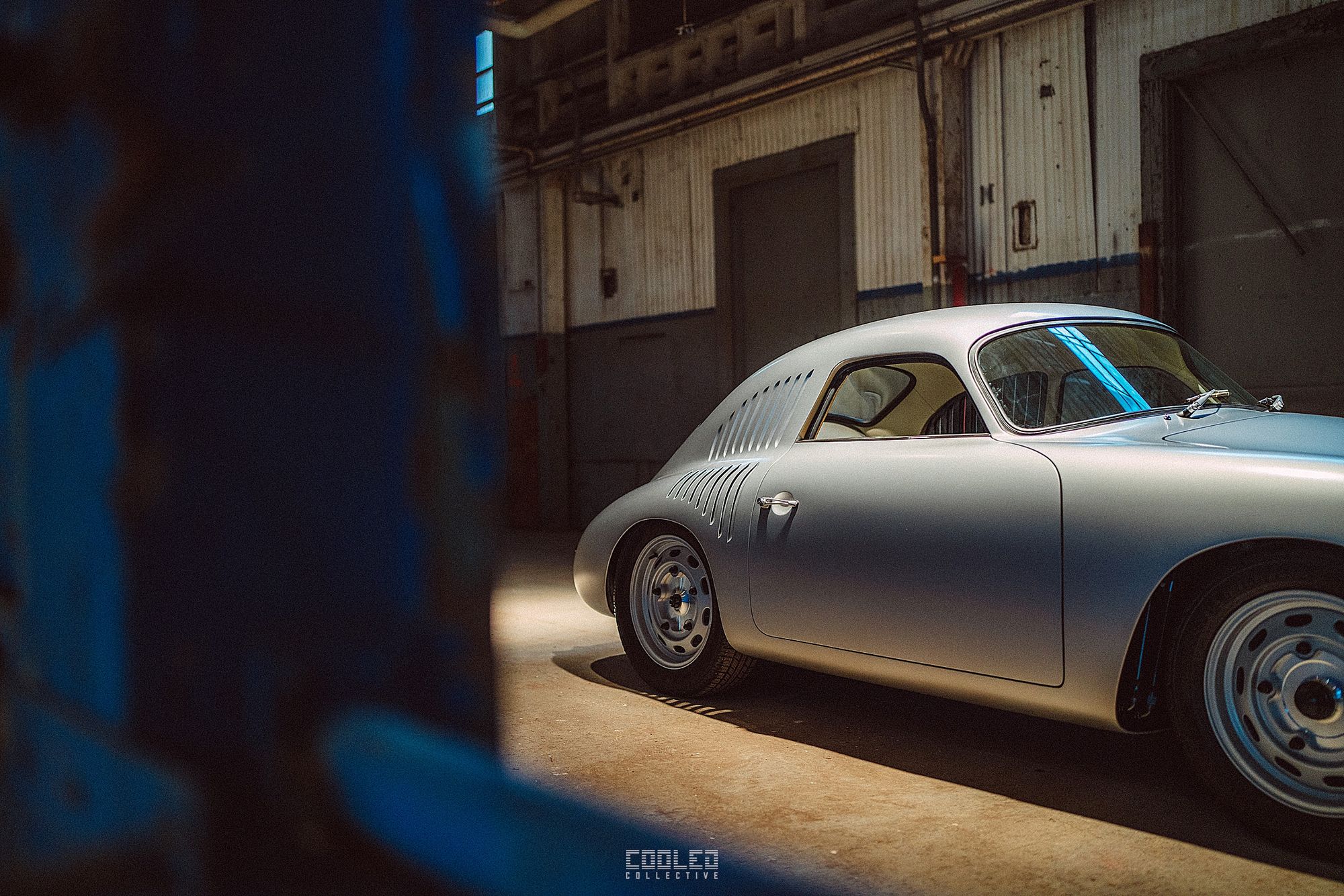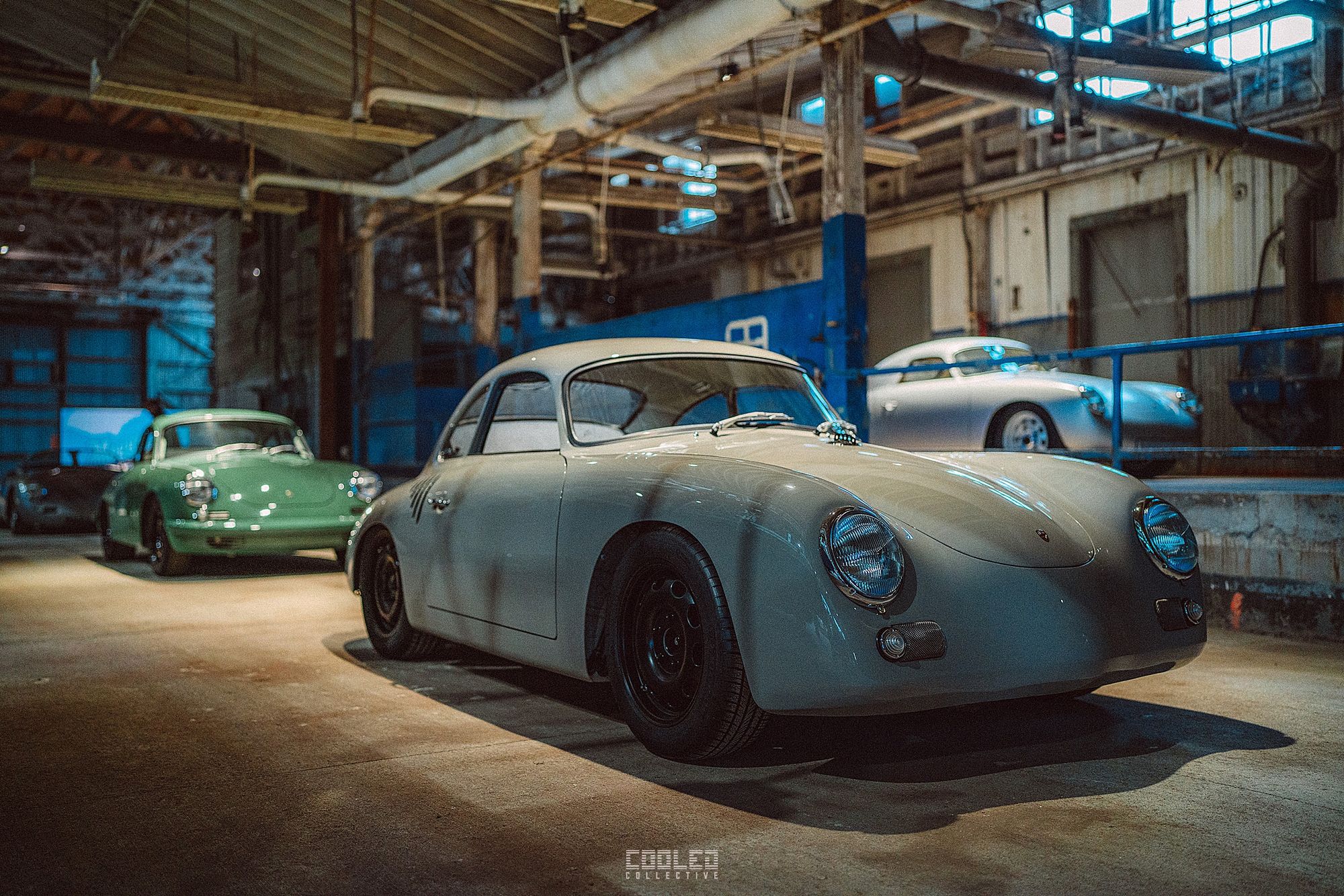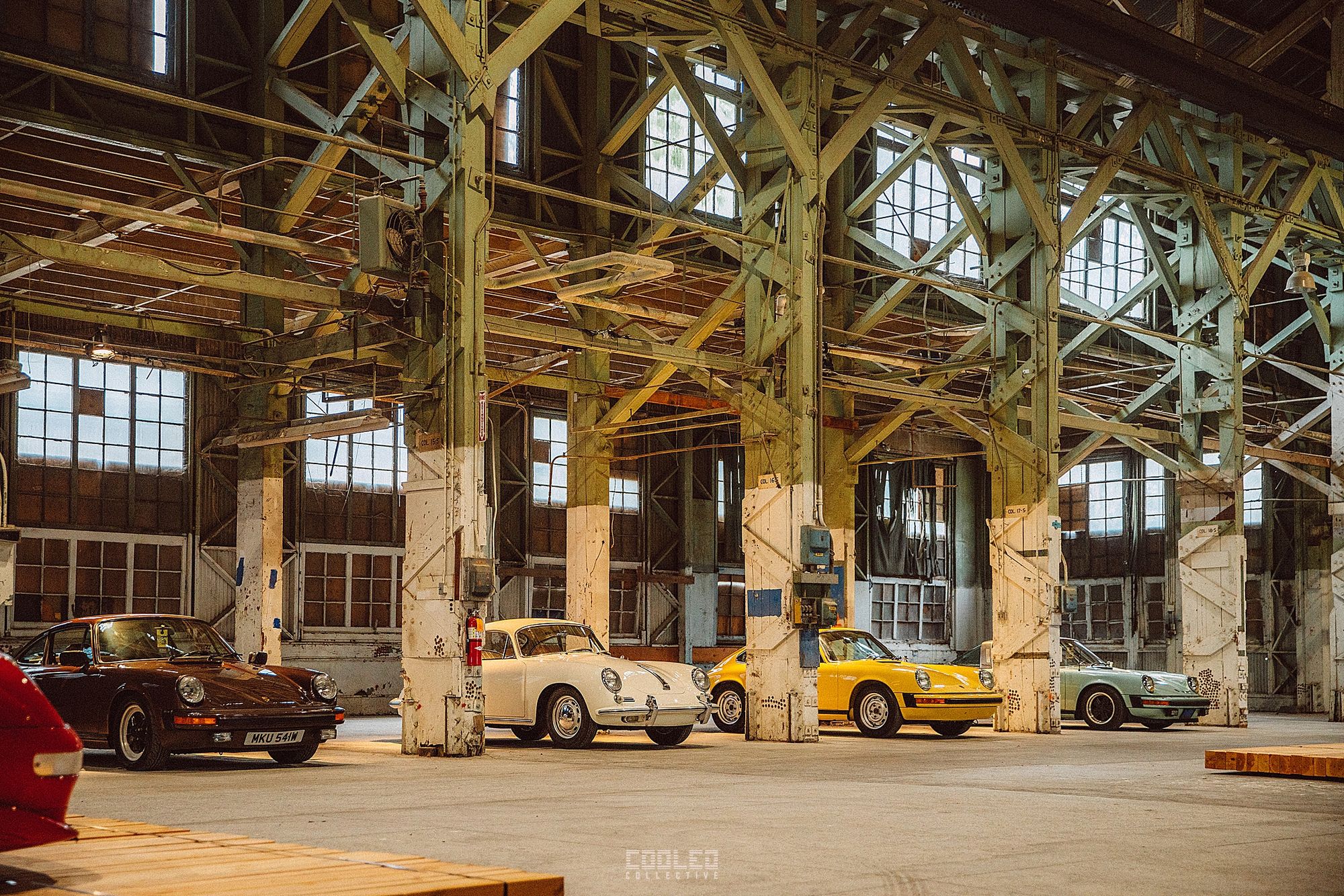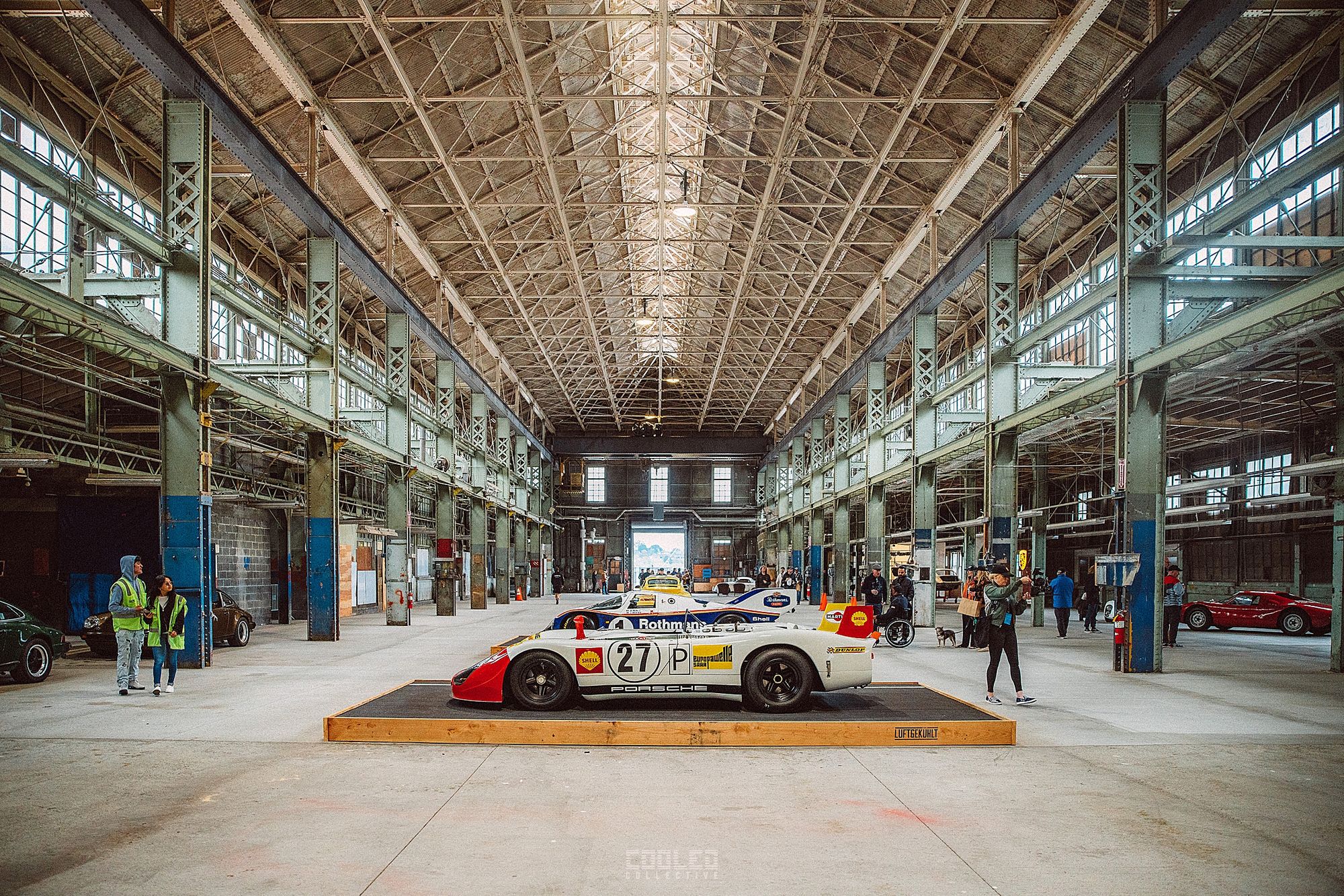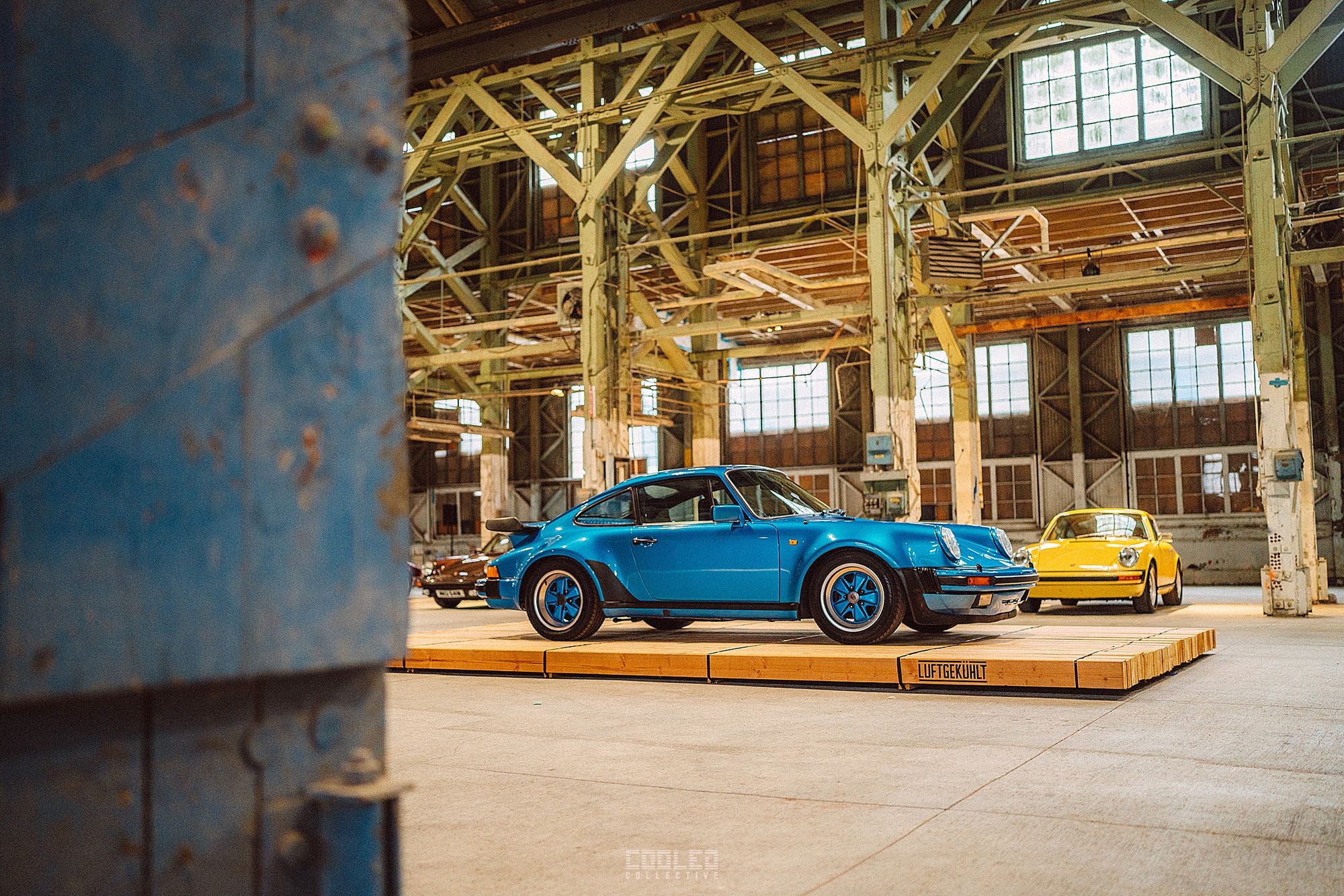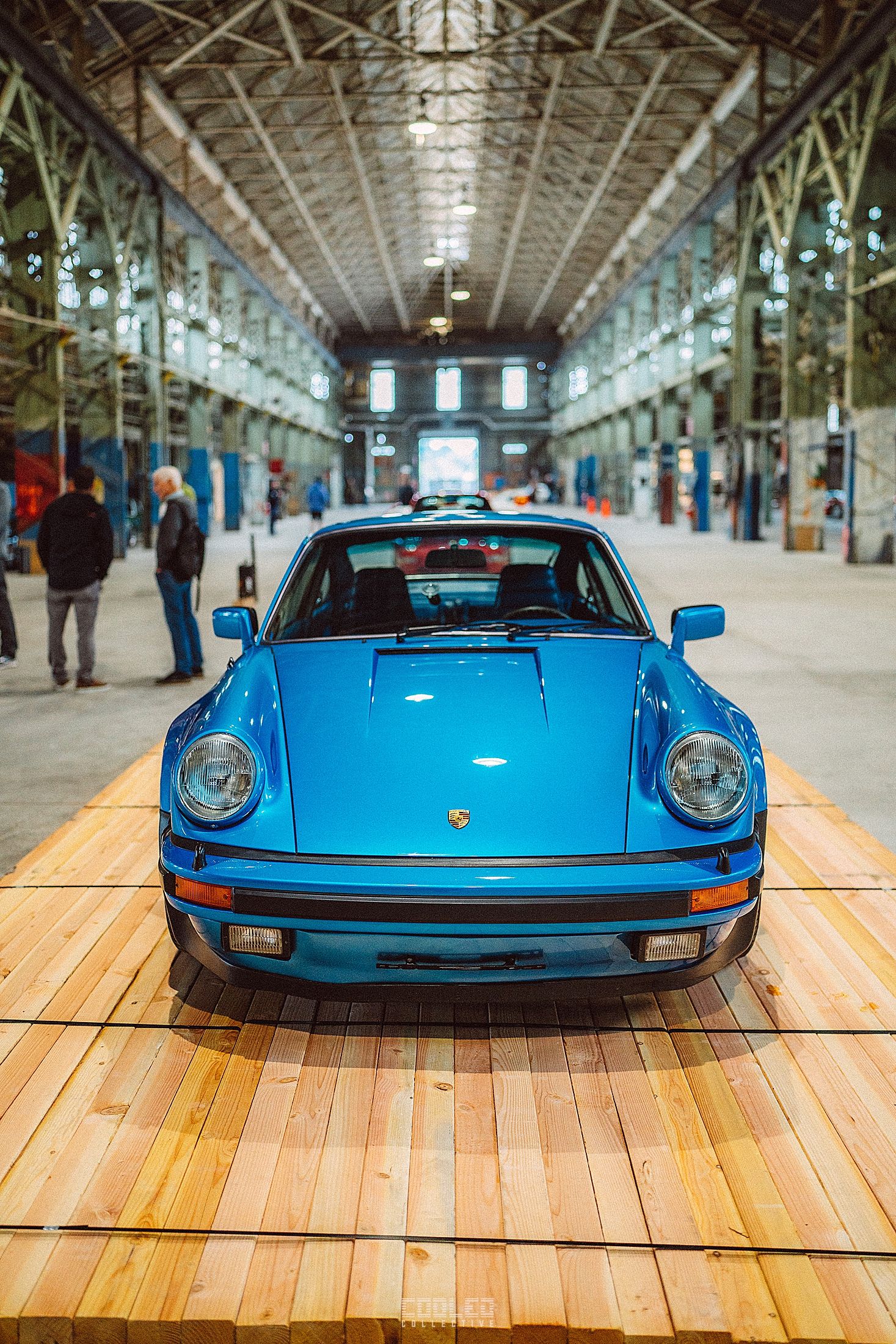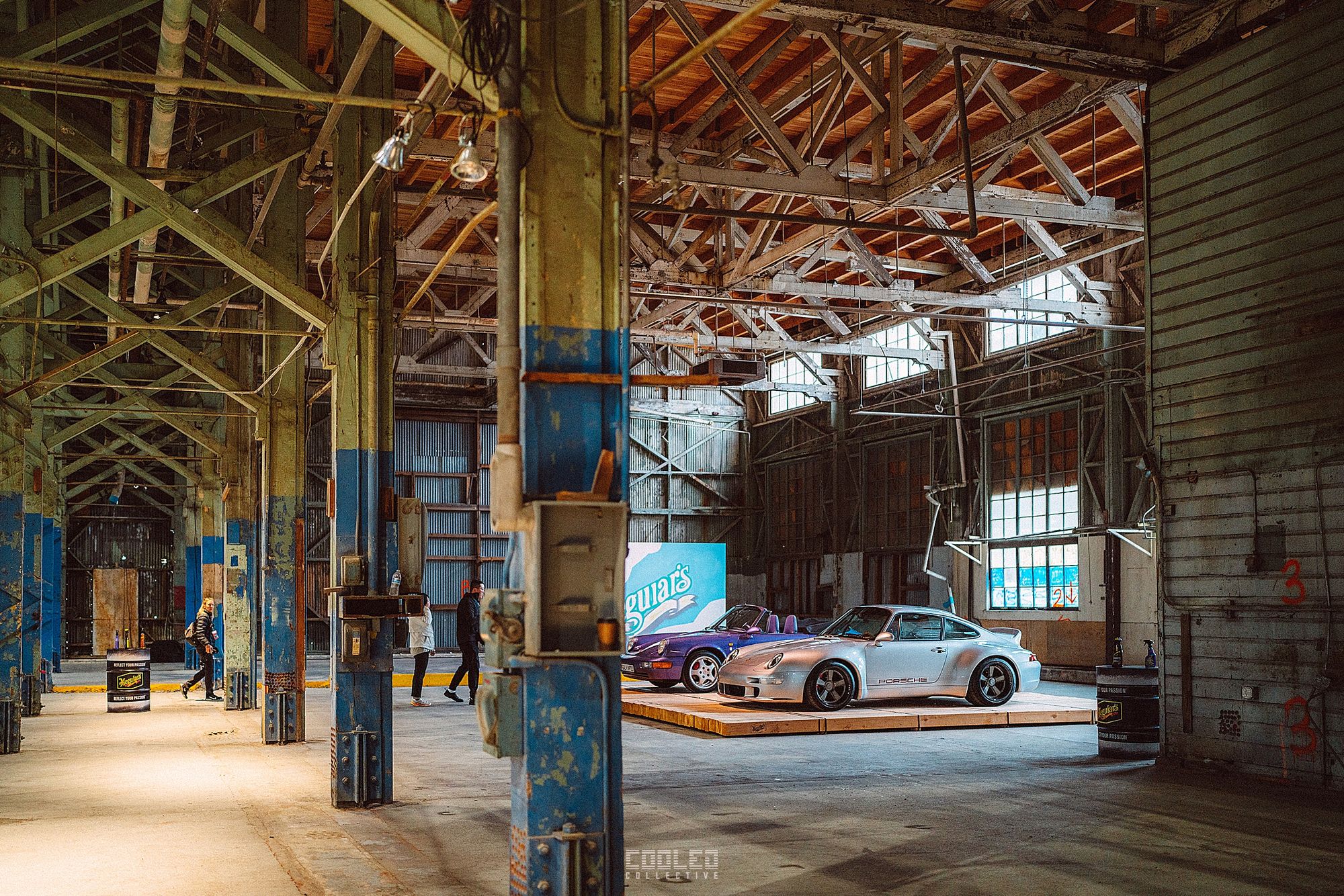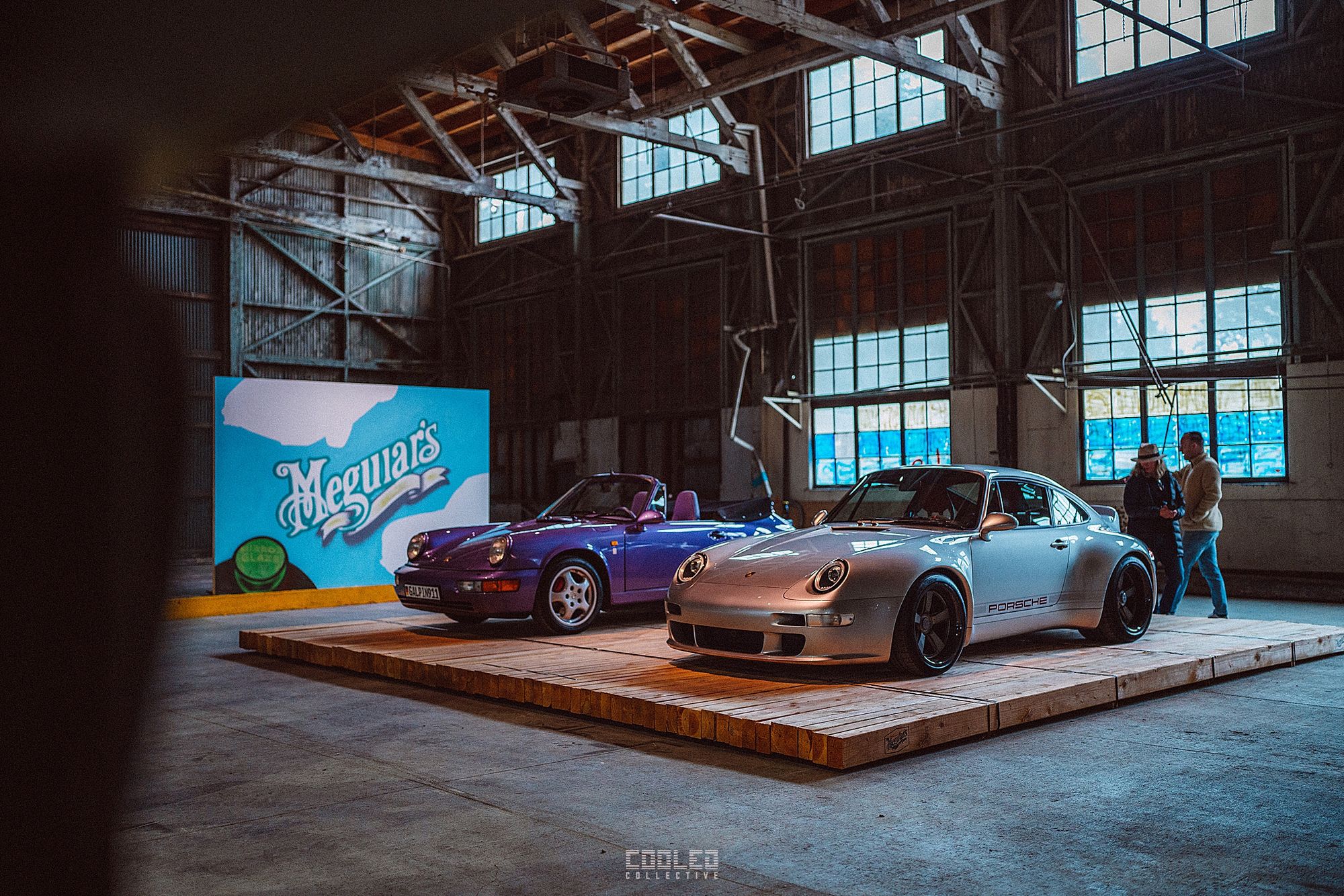 One of the cooler displays at the show was this Porsche Classic parts display where it replicated the old plastic build a car components. It is always reassuring that Porsche Classic is around to provide parts for all of their vintage cars.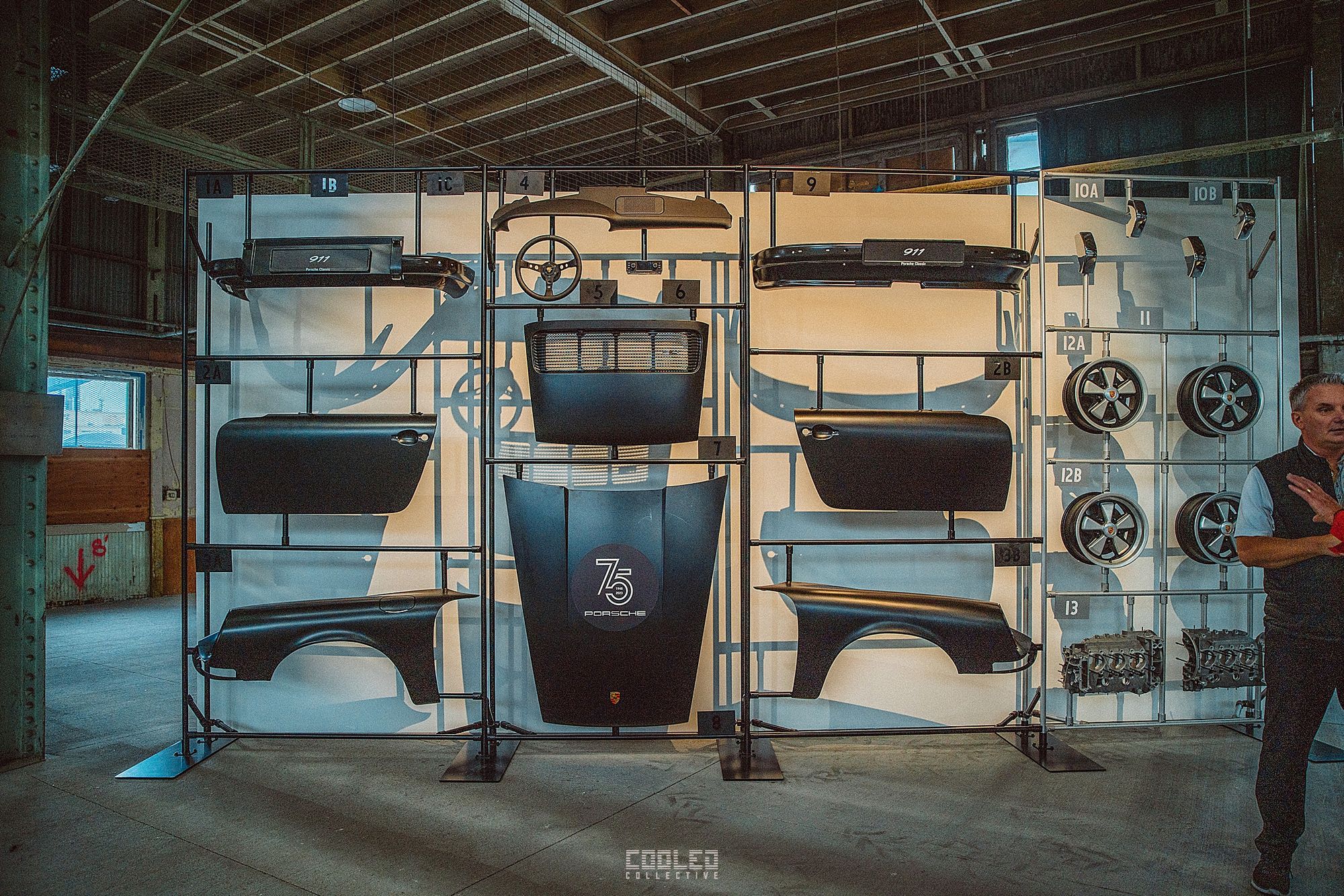 As I headed out to rest for a little bit, I noticed that the crowds have definitely gotten bigger and the energy was abound. Loved being a part of the energy that was flowing in the yard.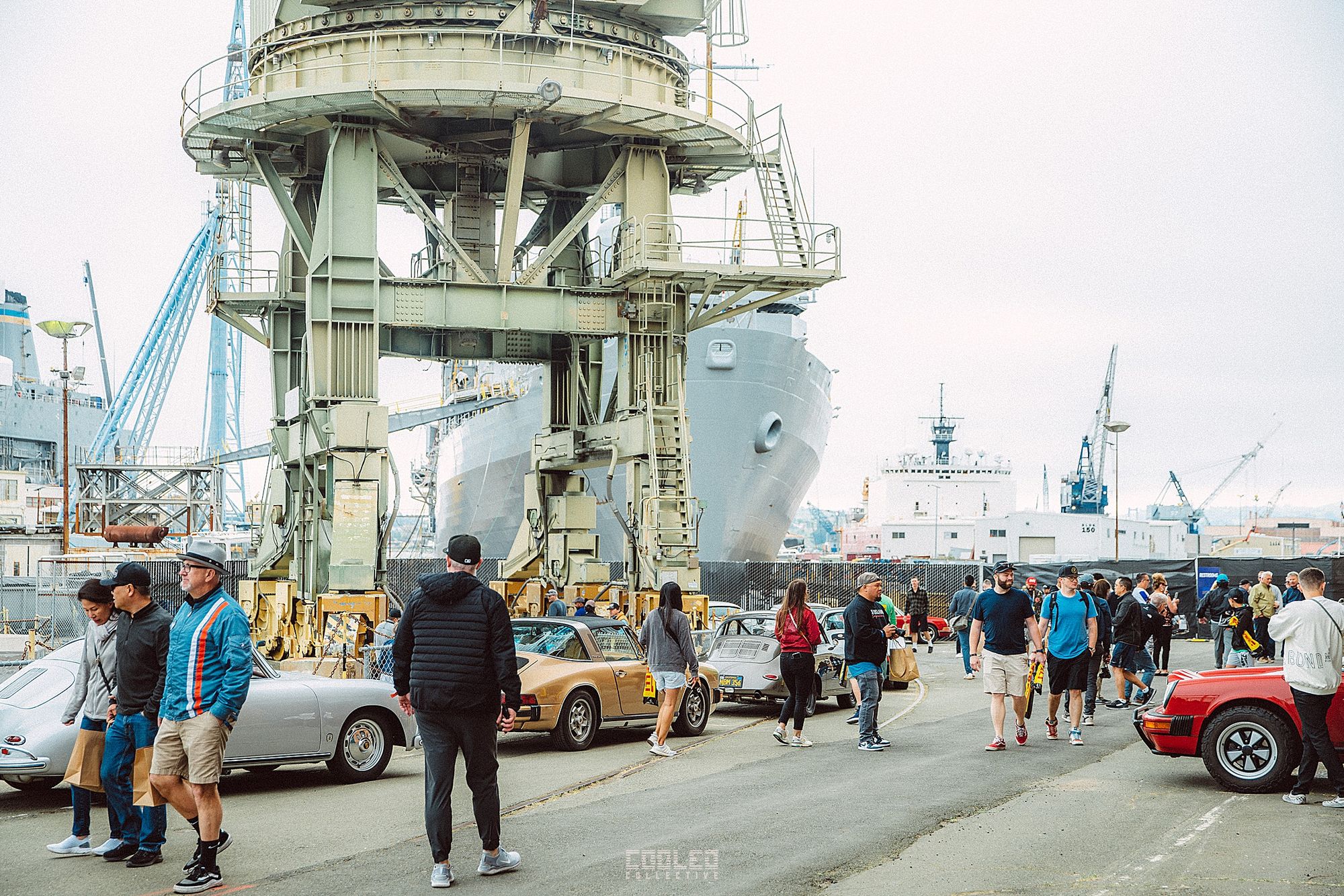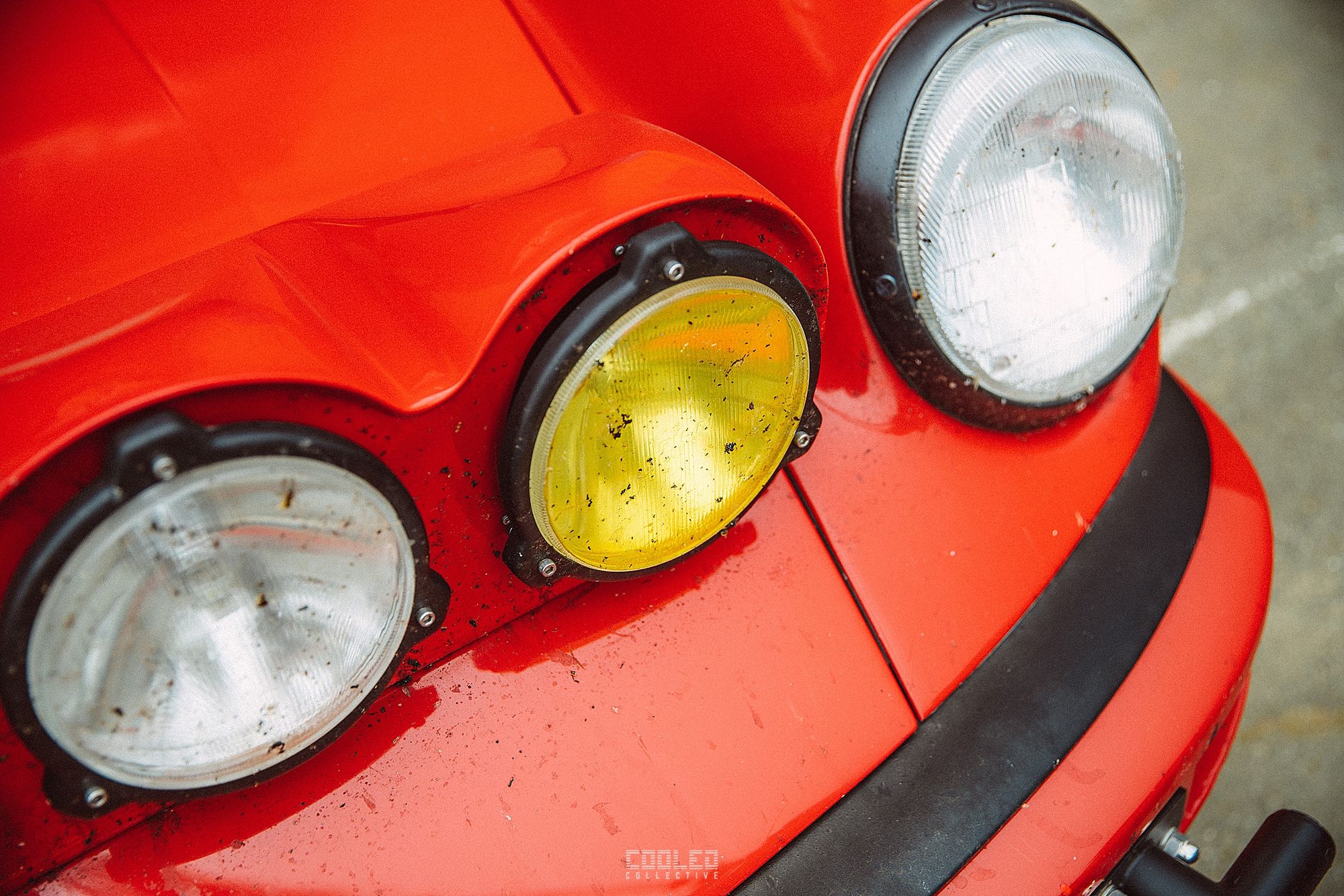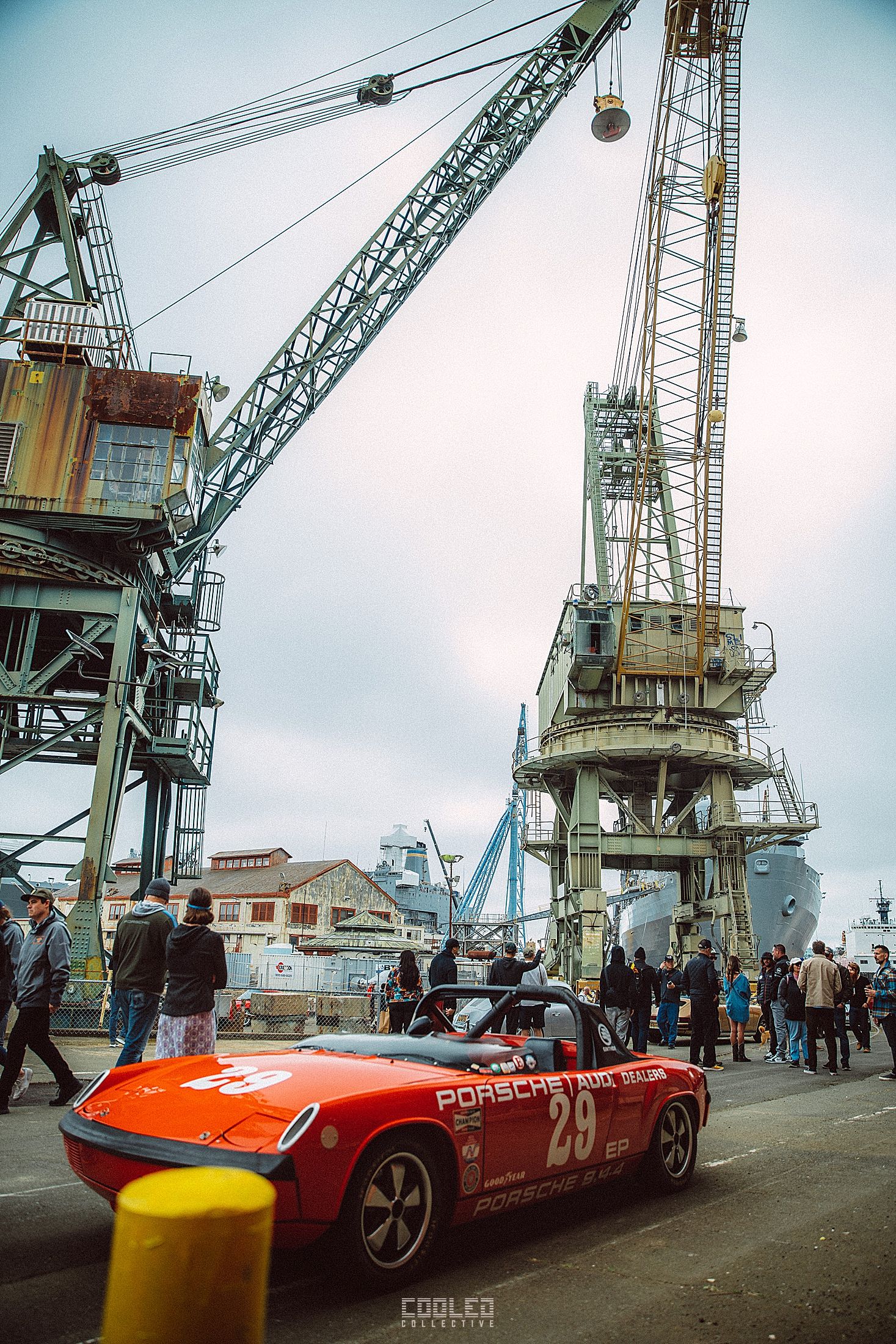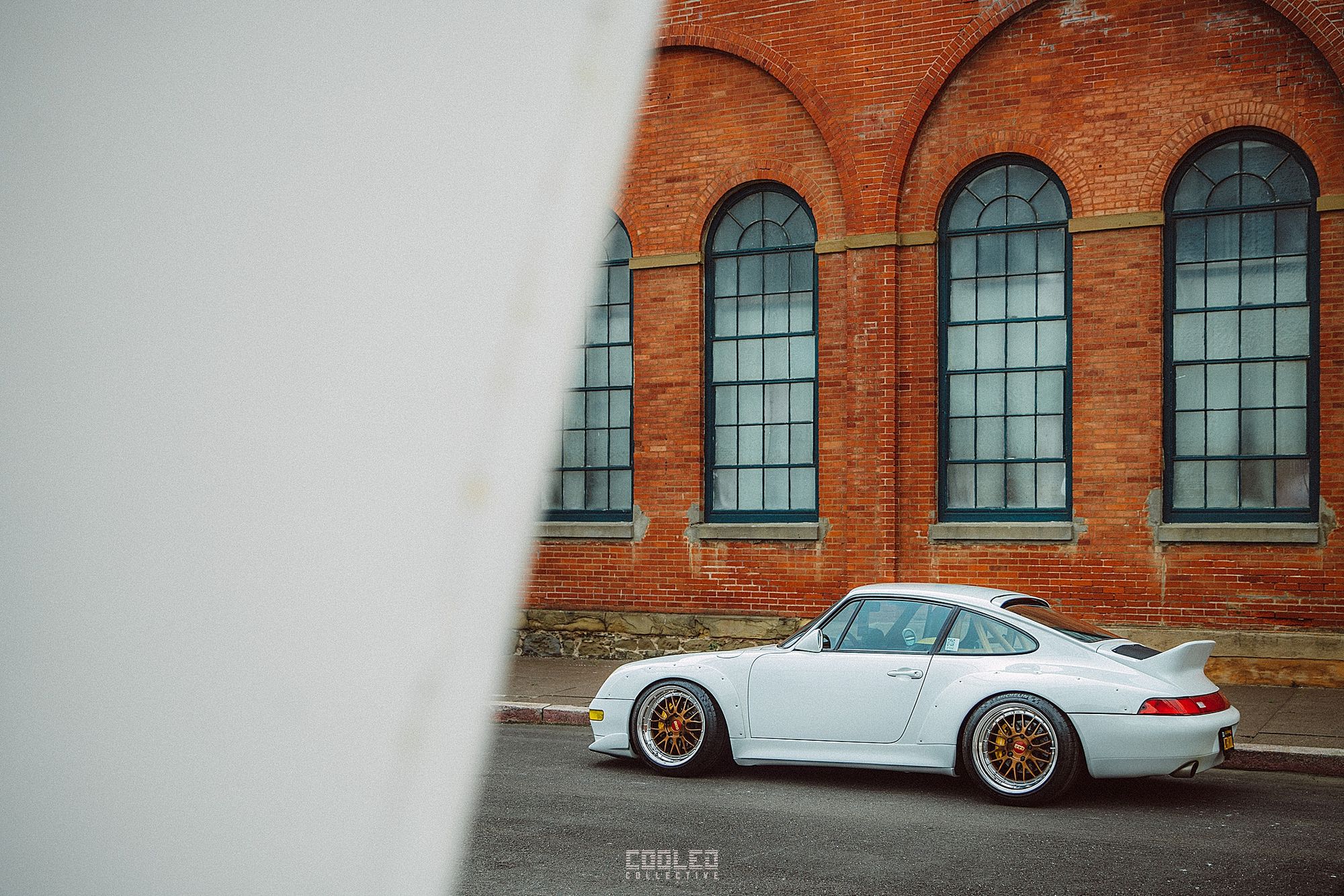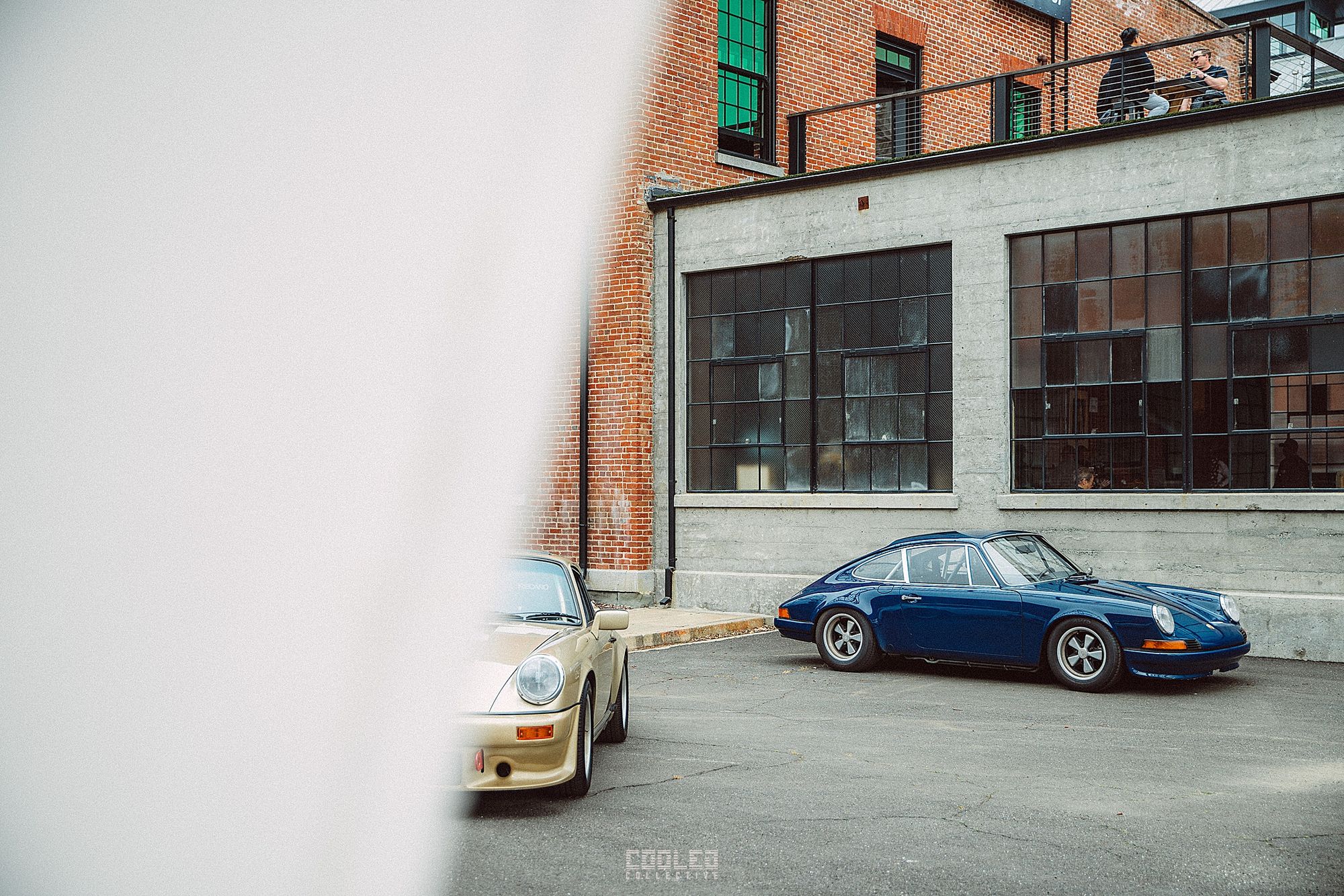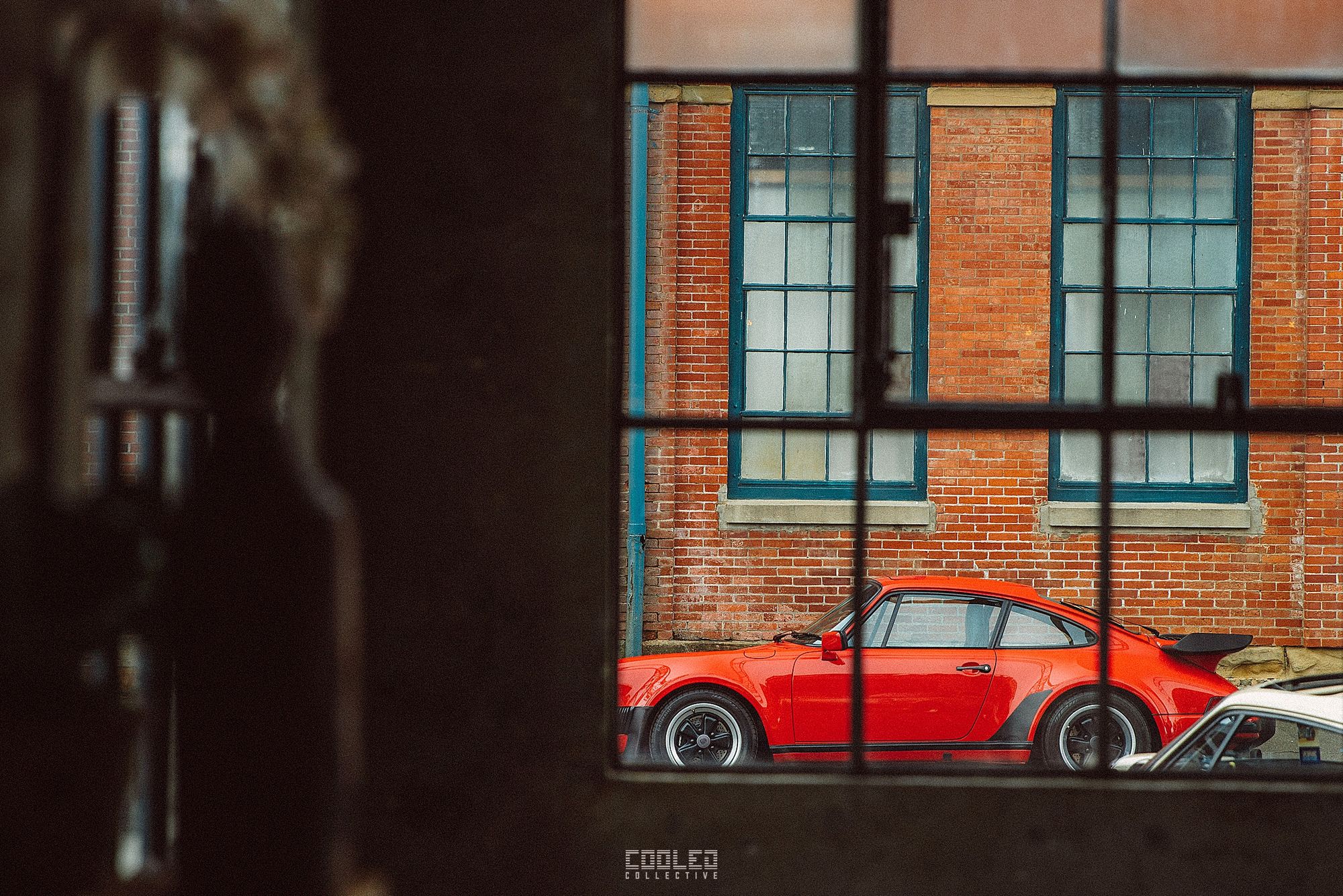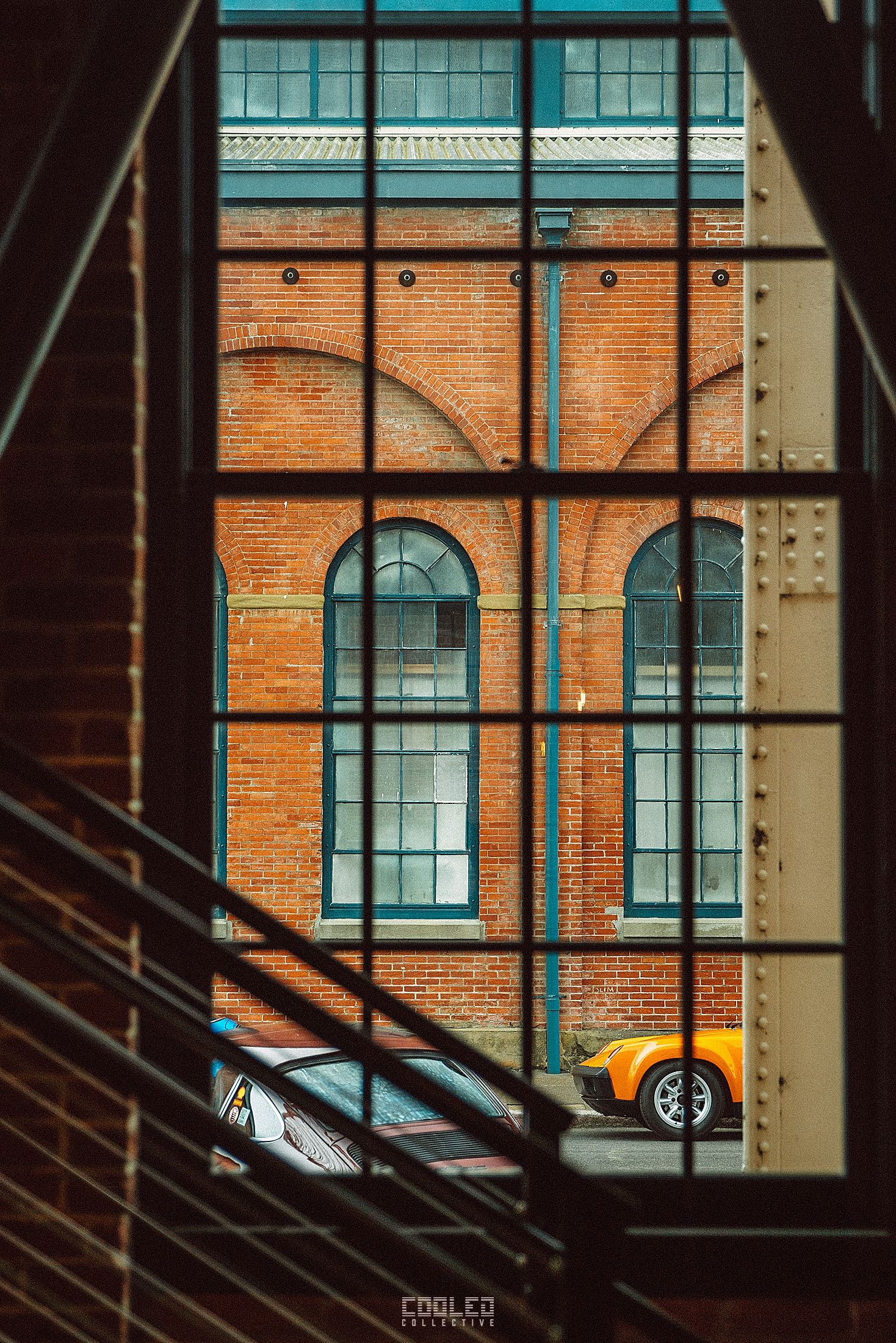 By 10:30am, the sun started to peep out of the clouds and give the landscape a different dynamic. Because I came in with the line of cars, I actually didn't know there was a whole other section of the show. I did think to myself, this space is huge but the crowds seem to be limited for how big the venue is. Then it made sense as people were shuttled to the entrance of the North End and many of those fans didn't know the South Side existed. So it was a pleasant surprise when we realized there was so much more to the venue space.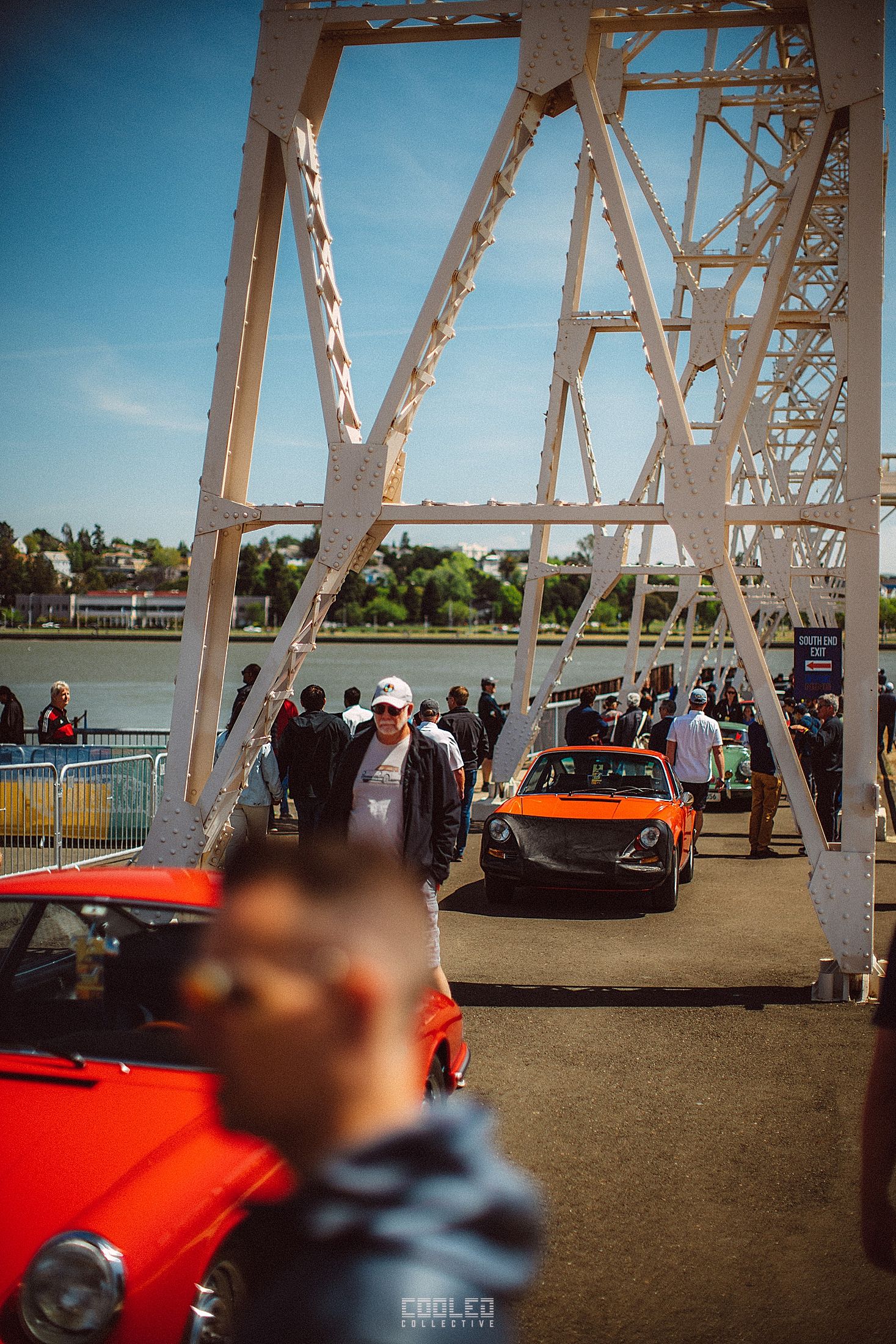 ---
North End Exhibition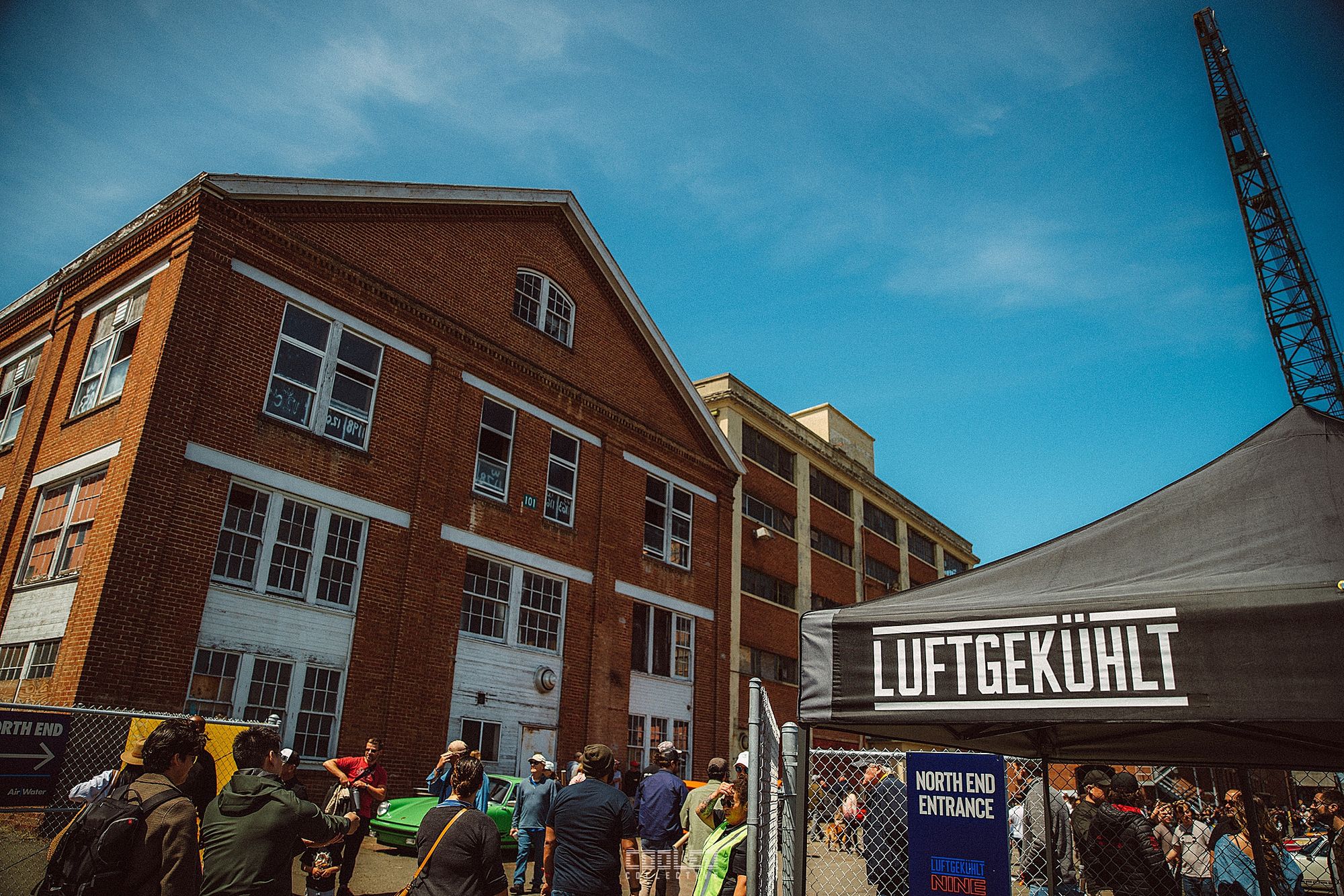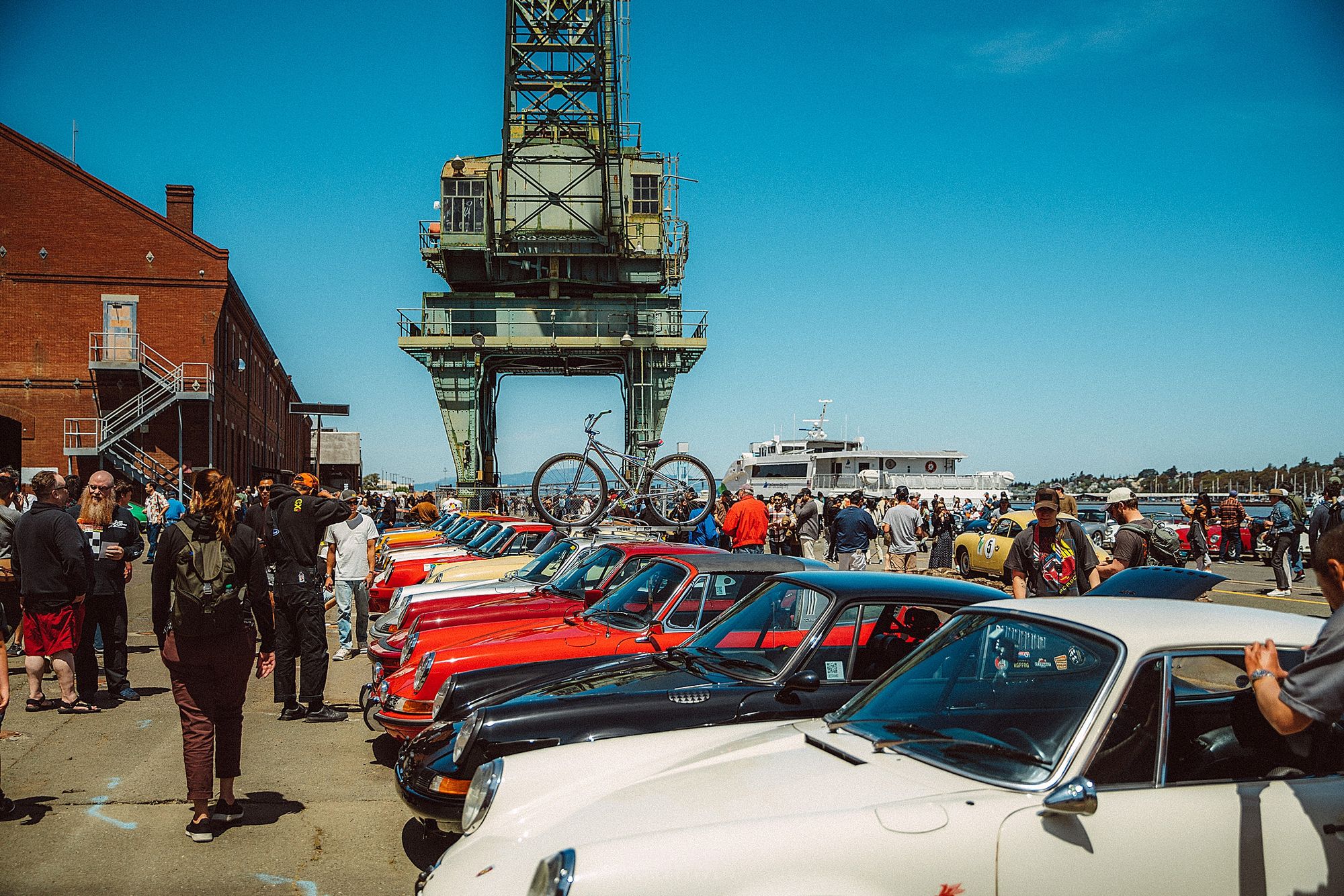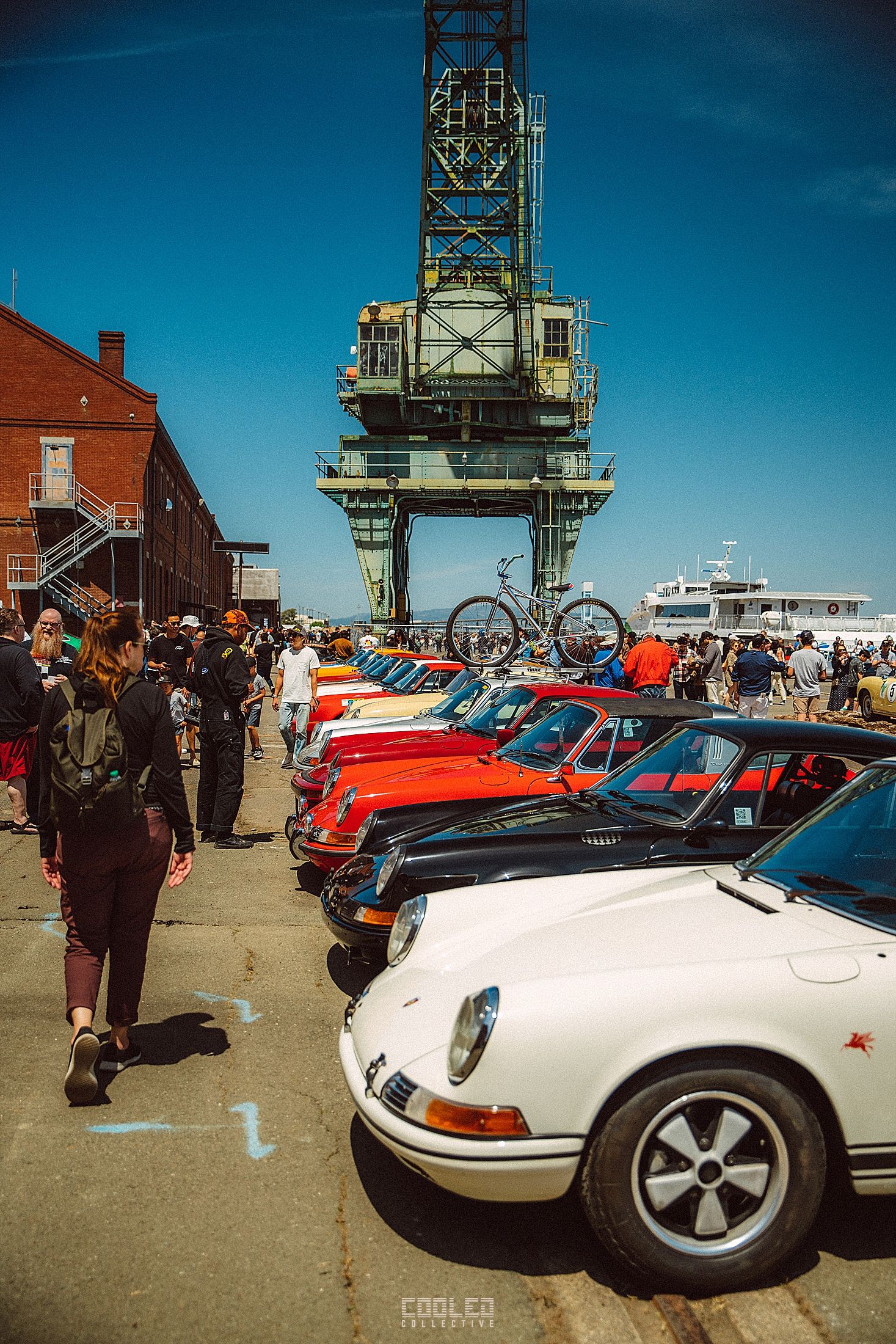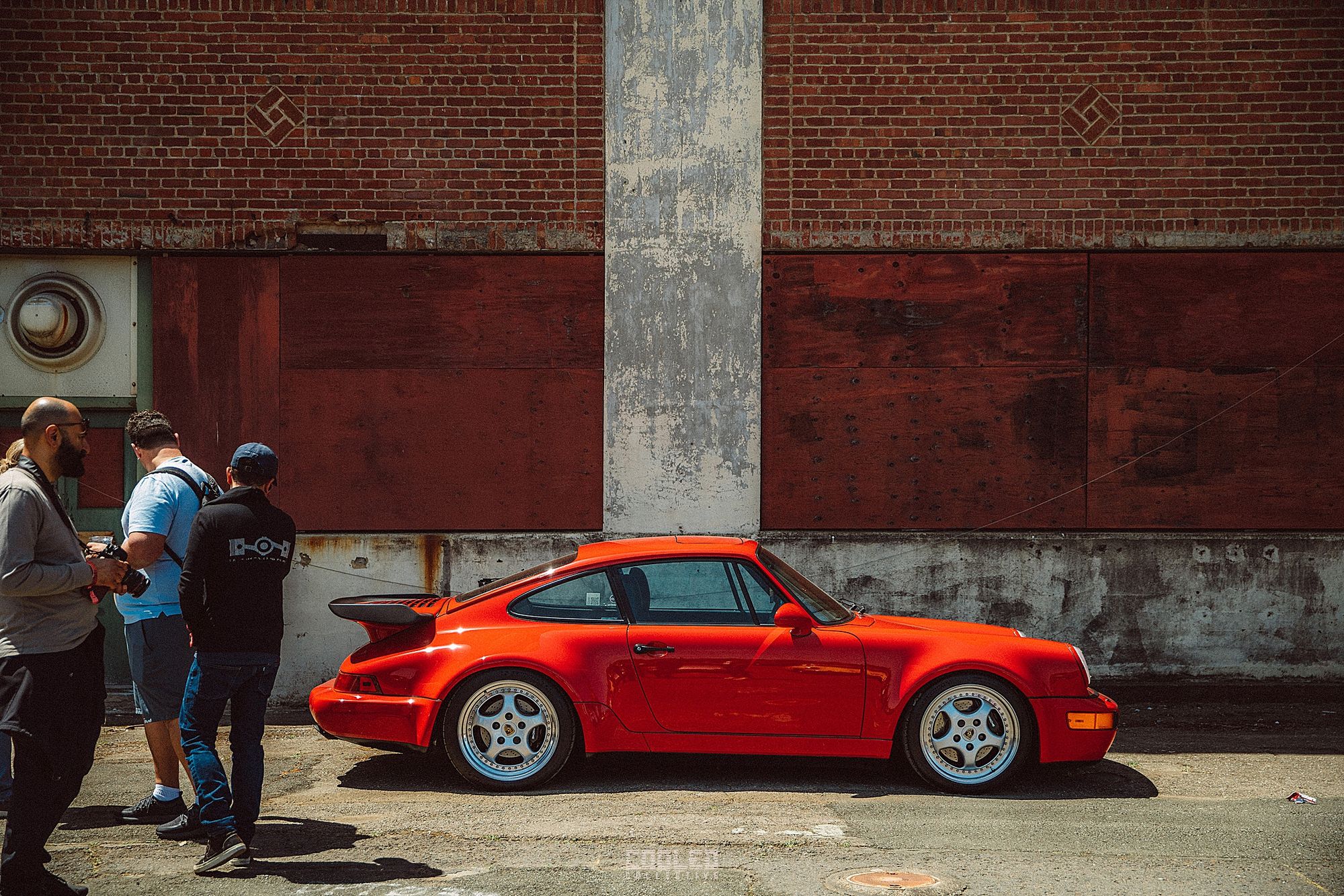 Got to see Keylow Jeff painting on a hood looking very focused at the task at hand. He told me the days leading up to it, that he was nervous about it but he killed it. Looked great!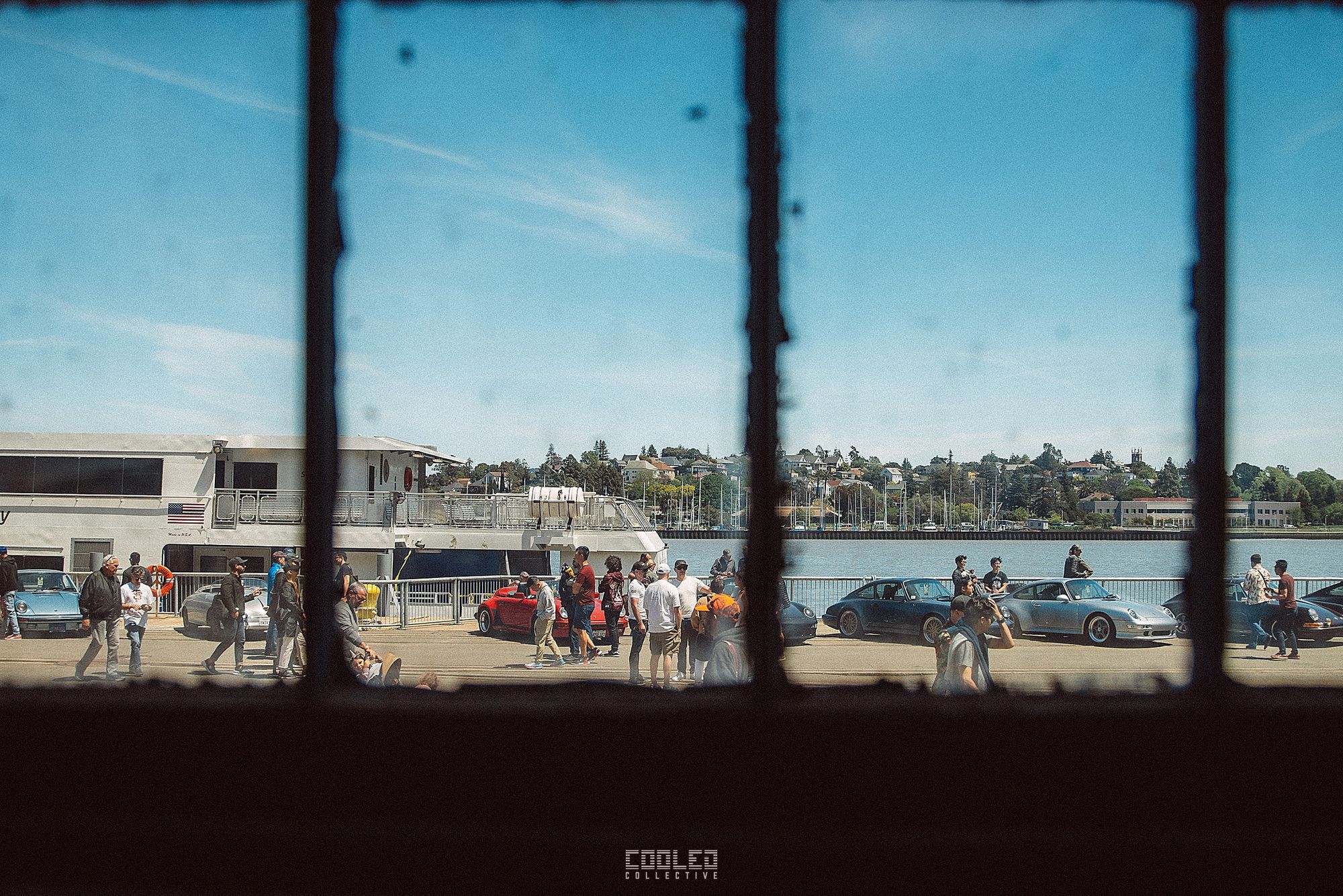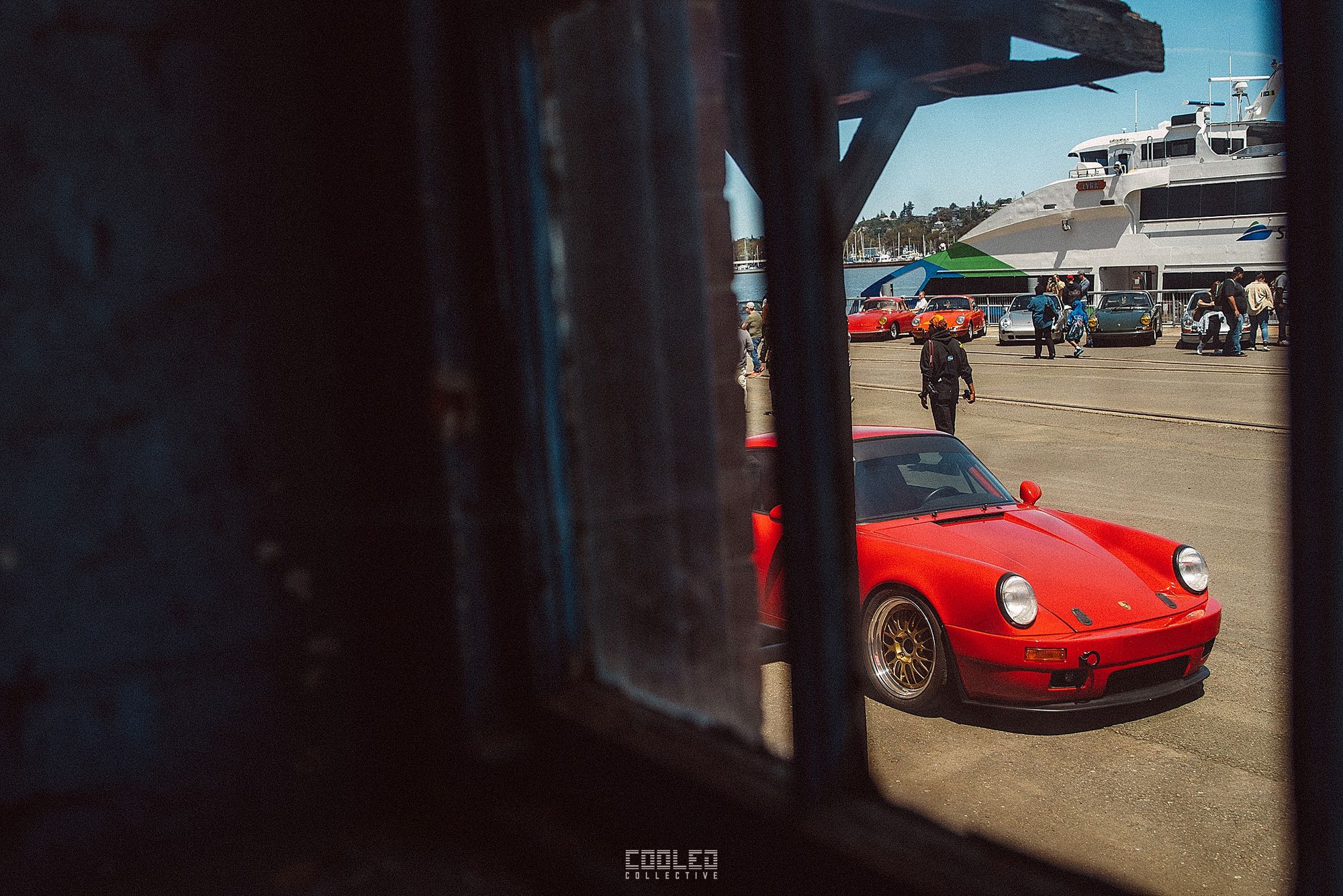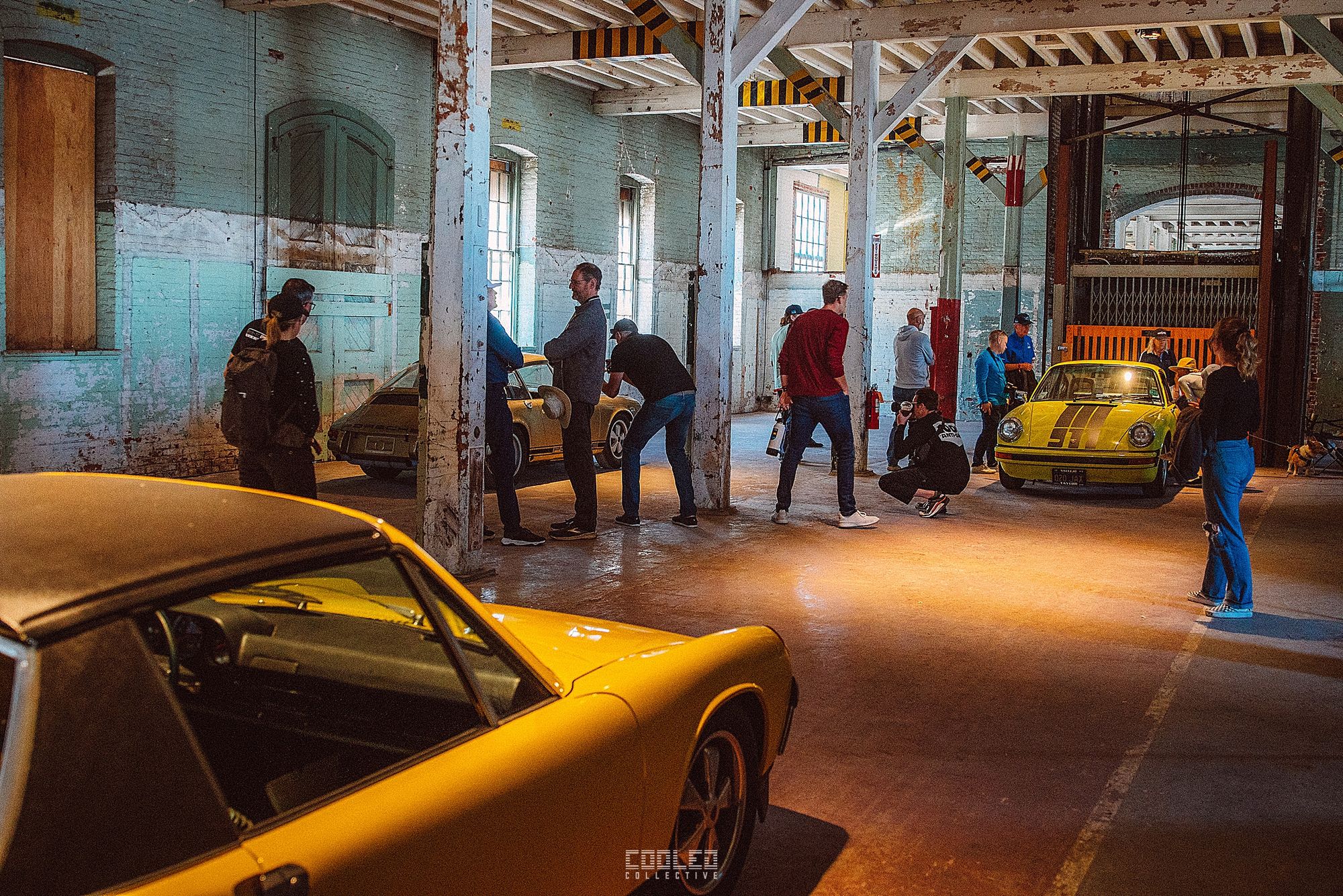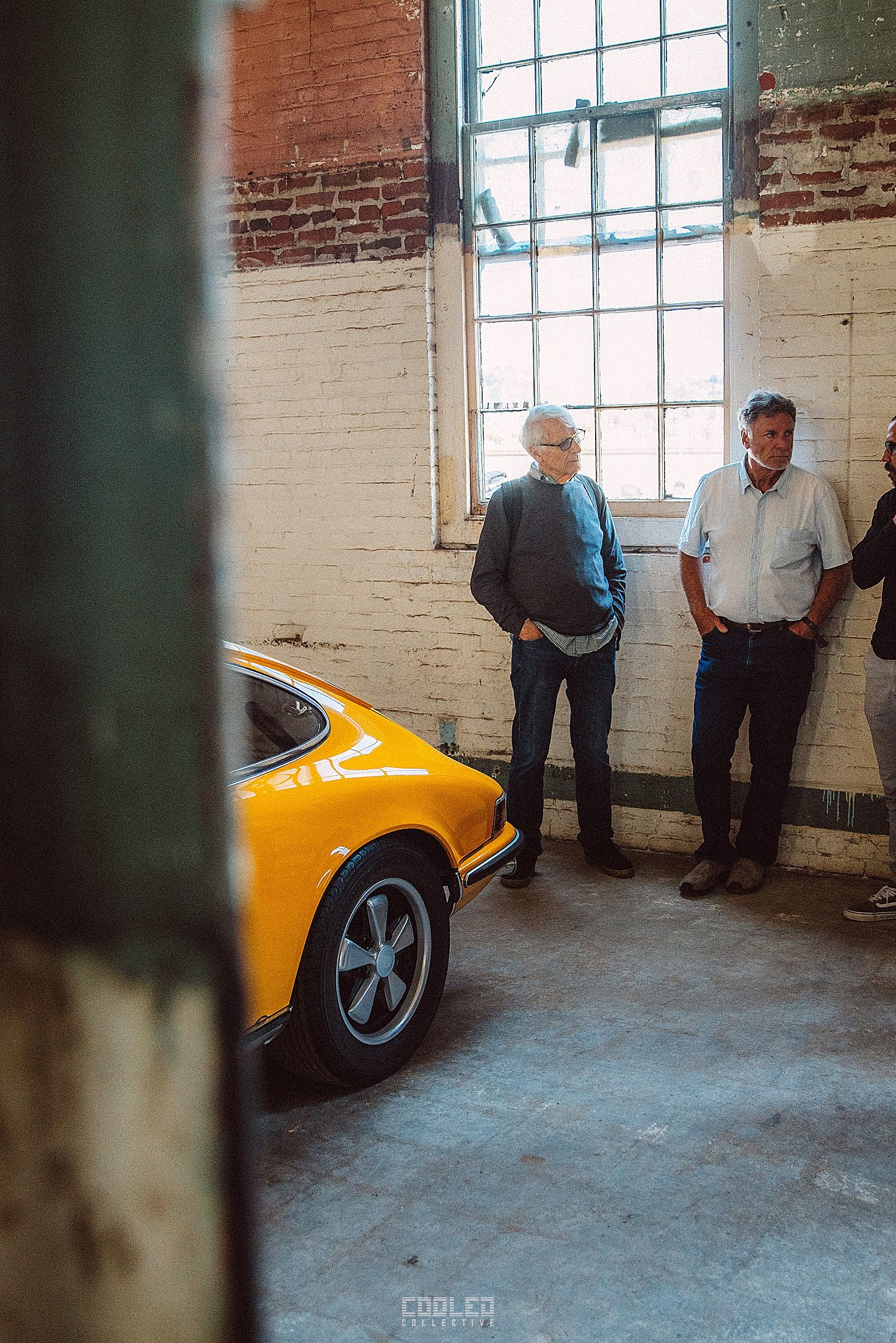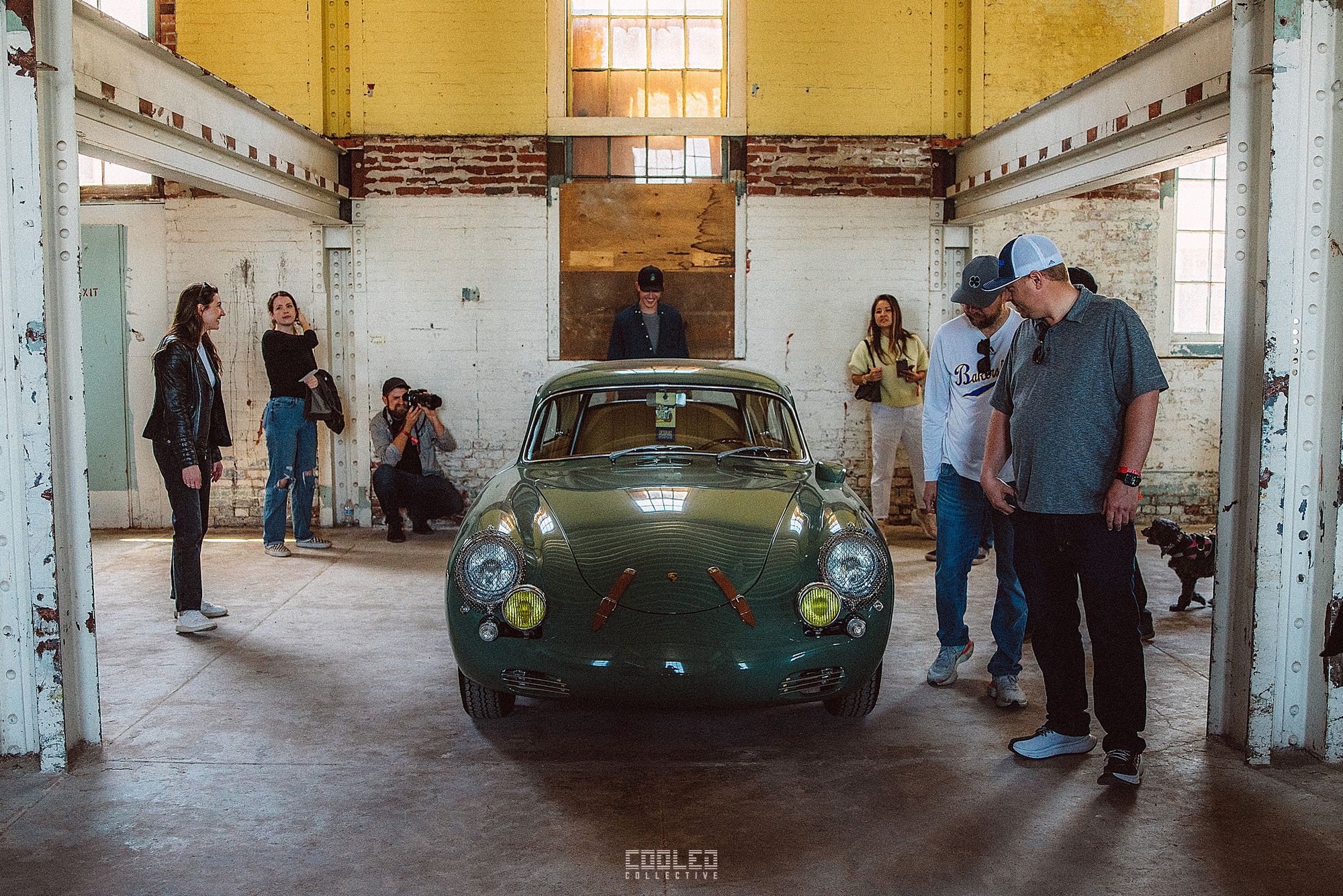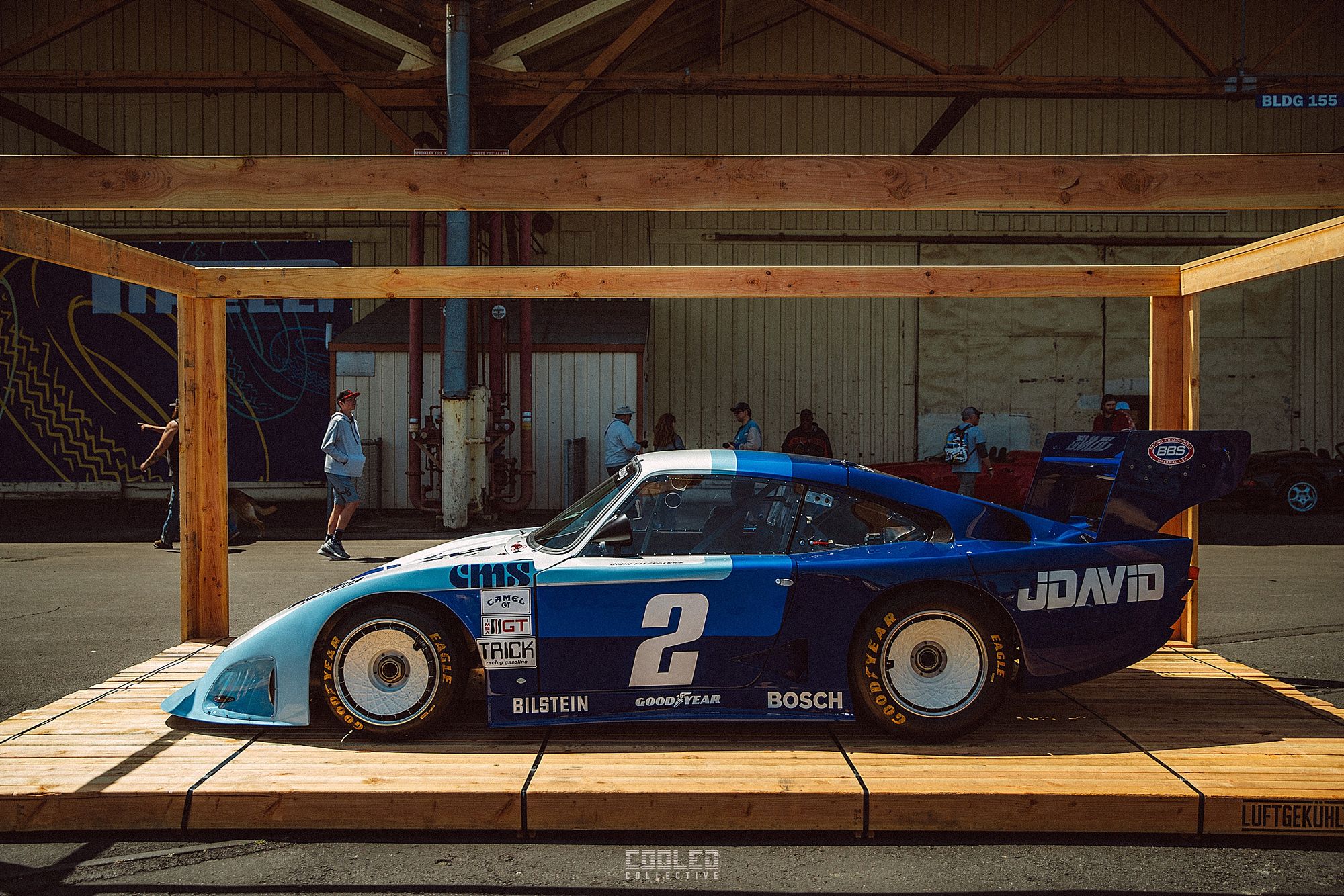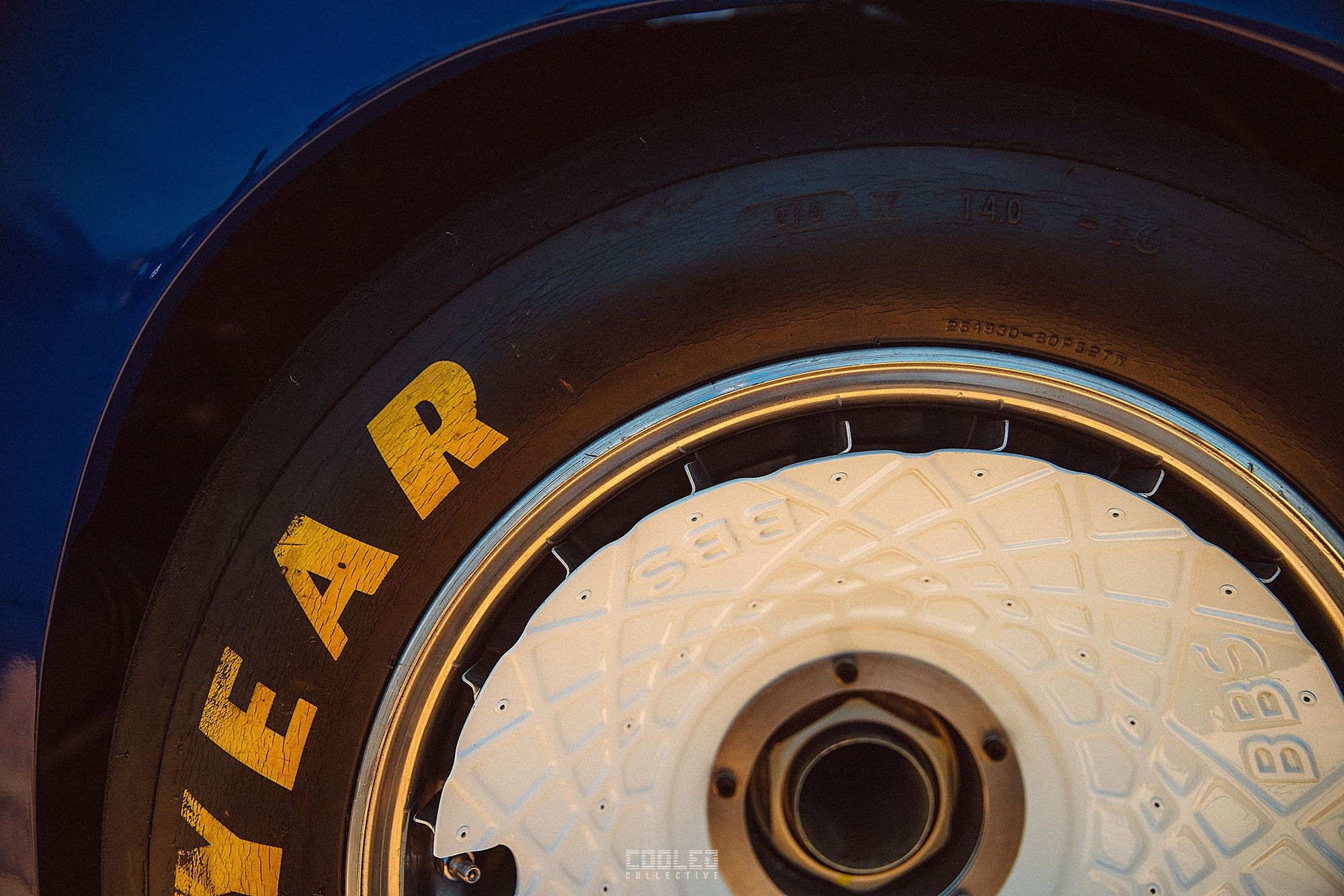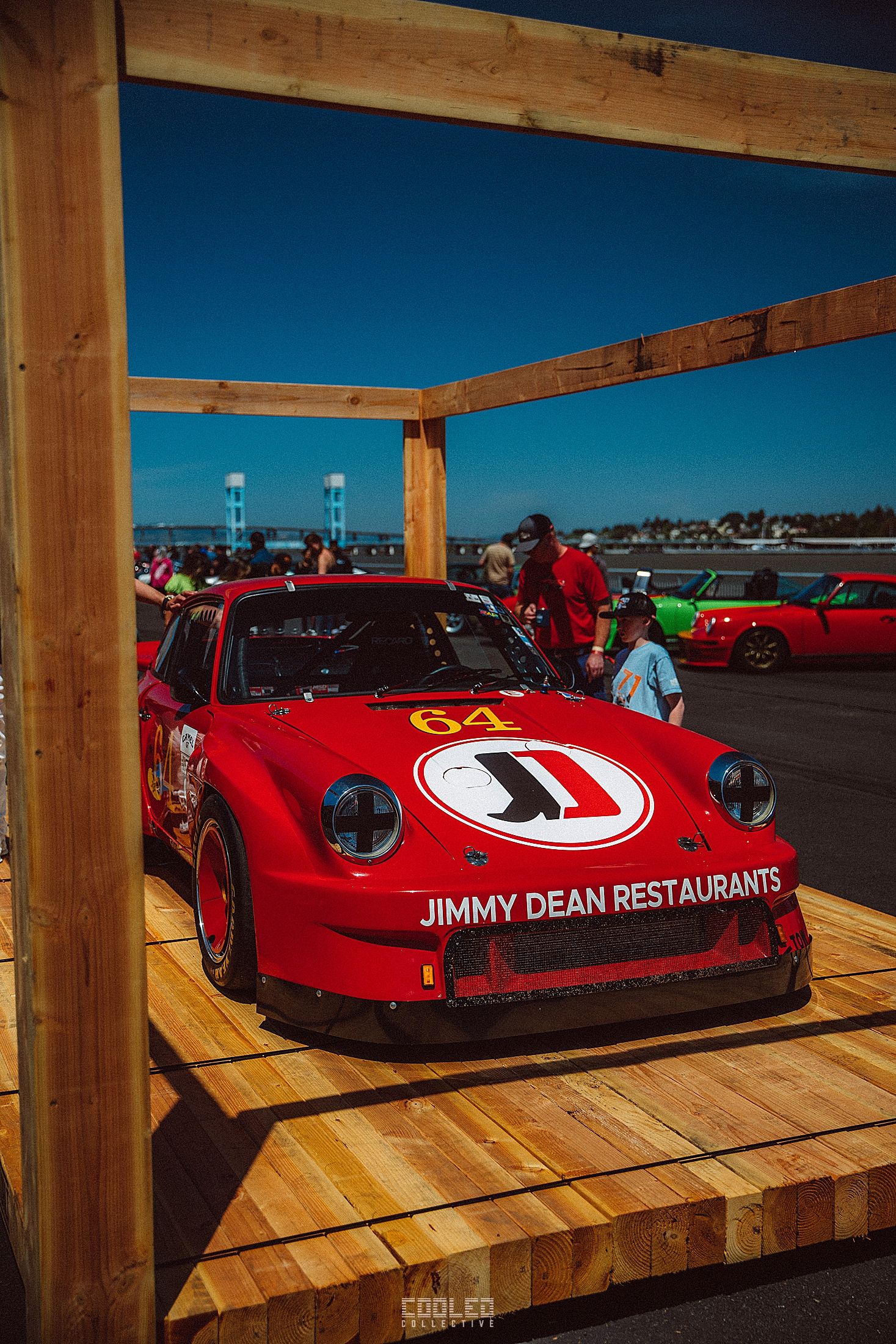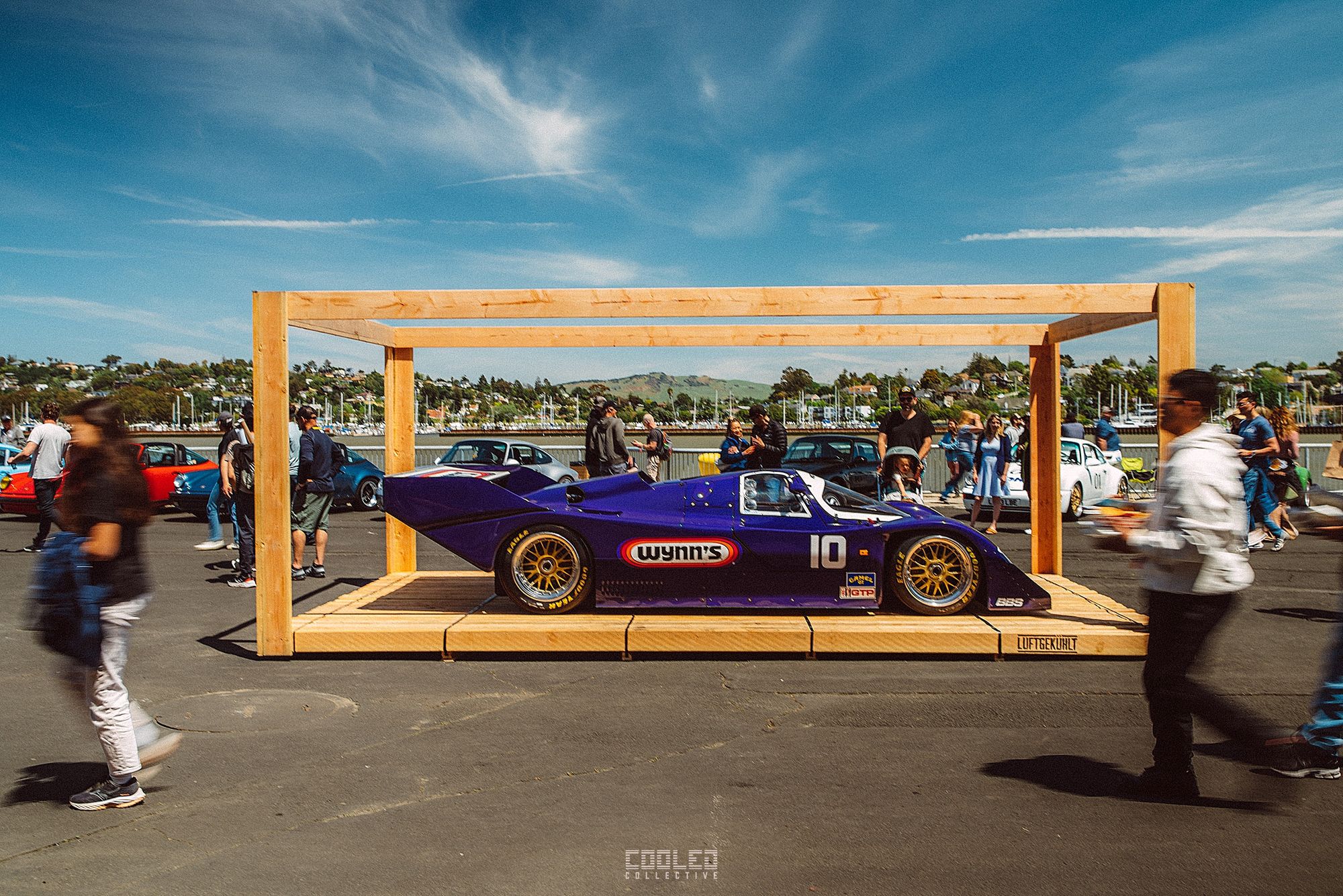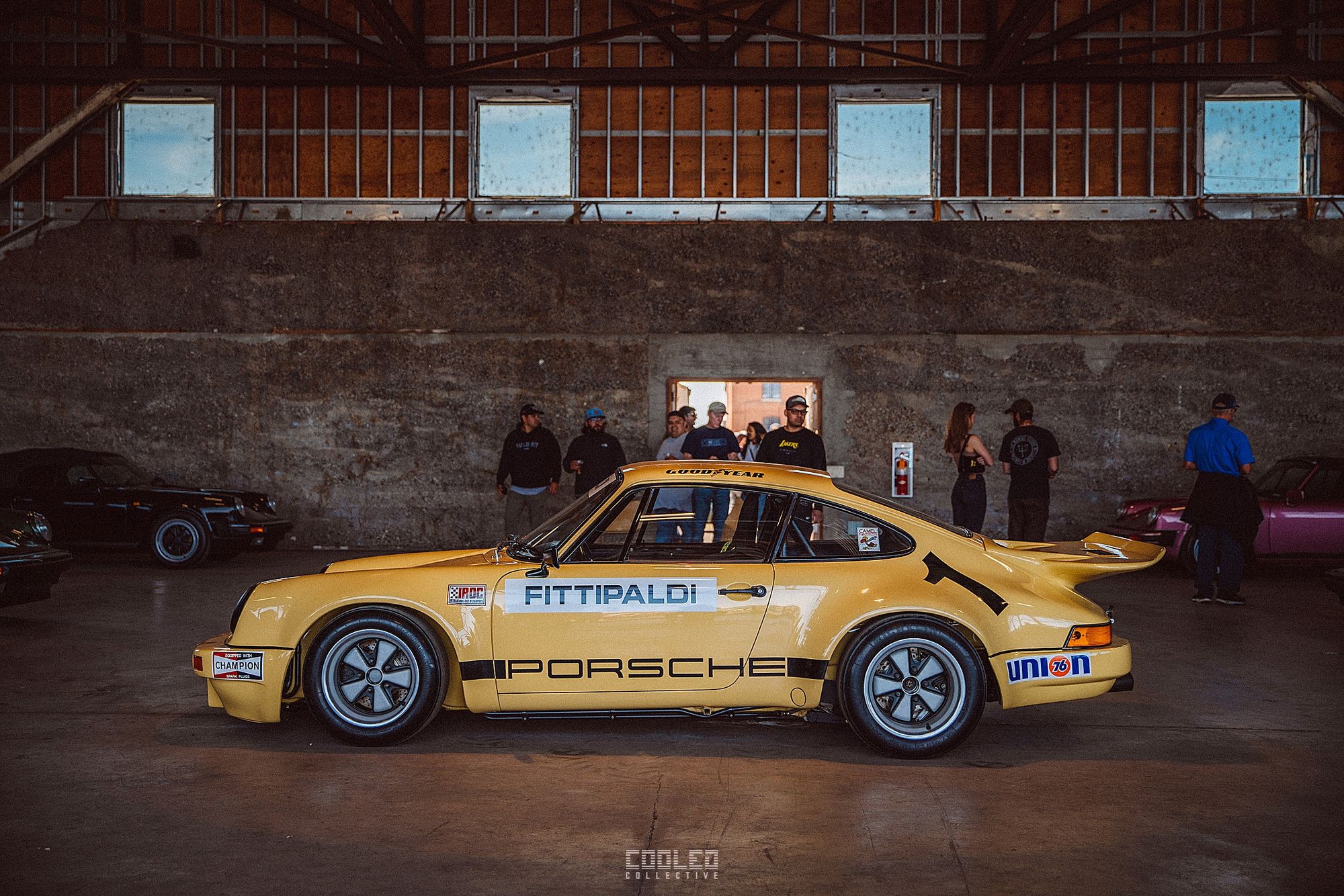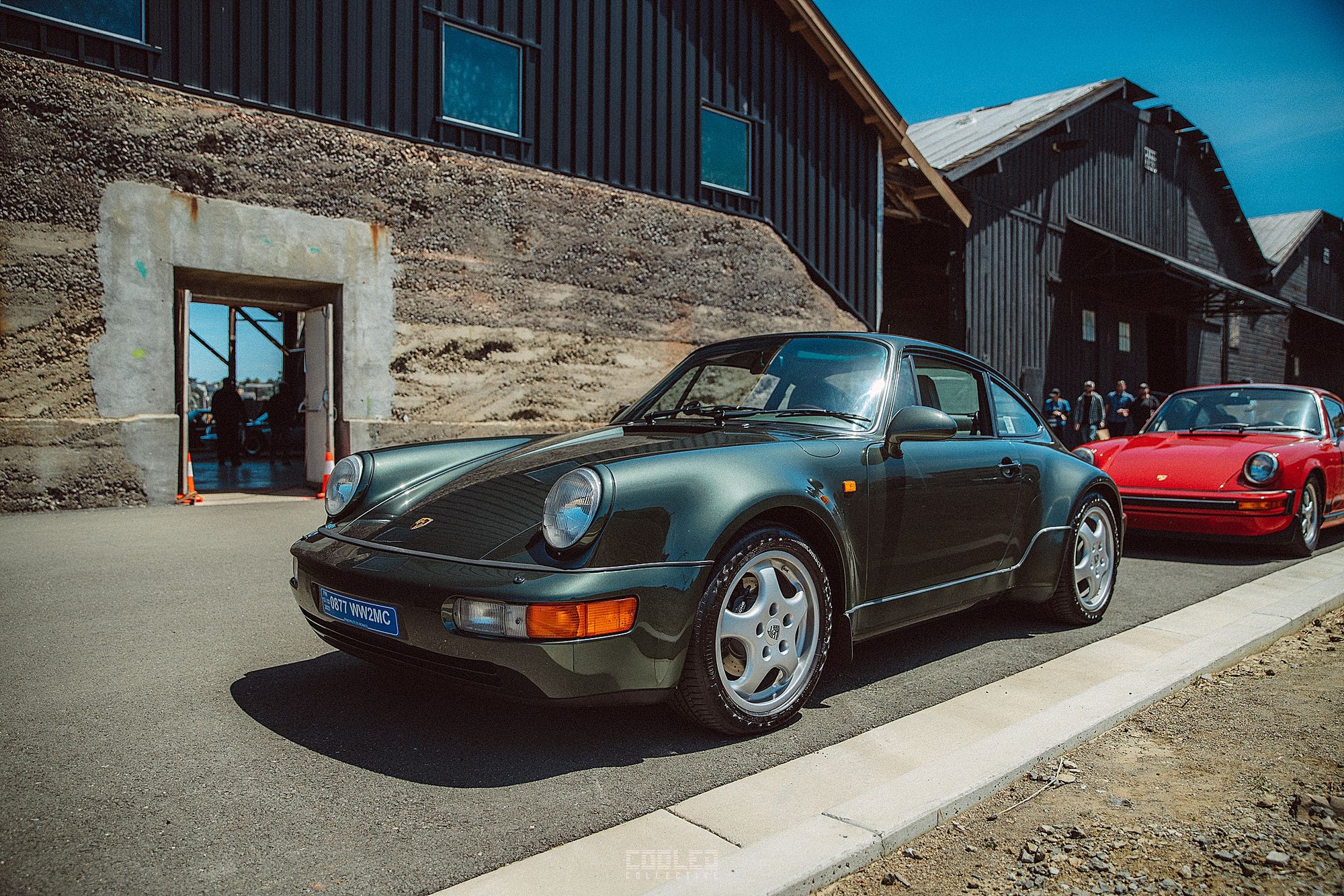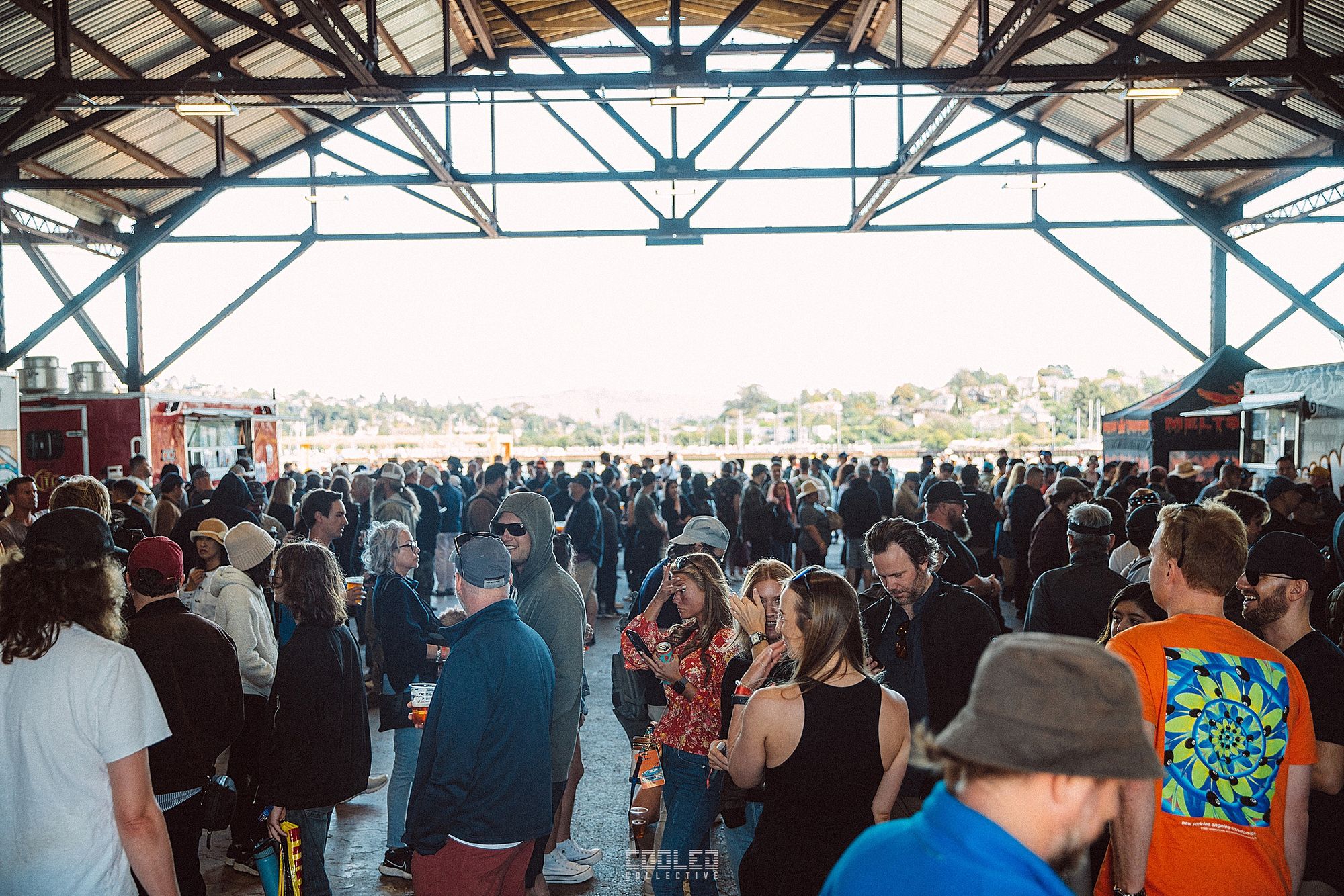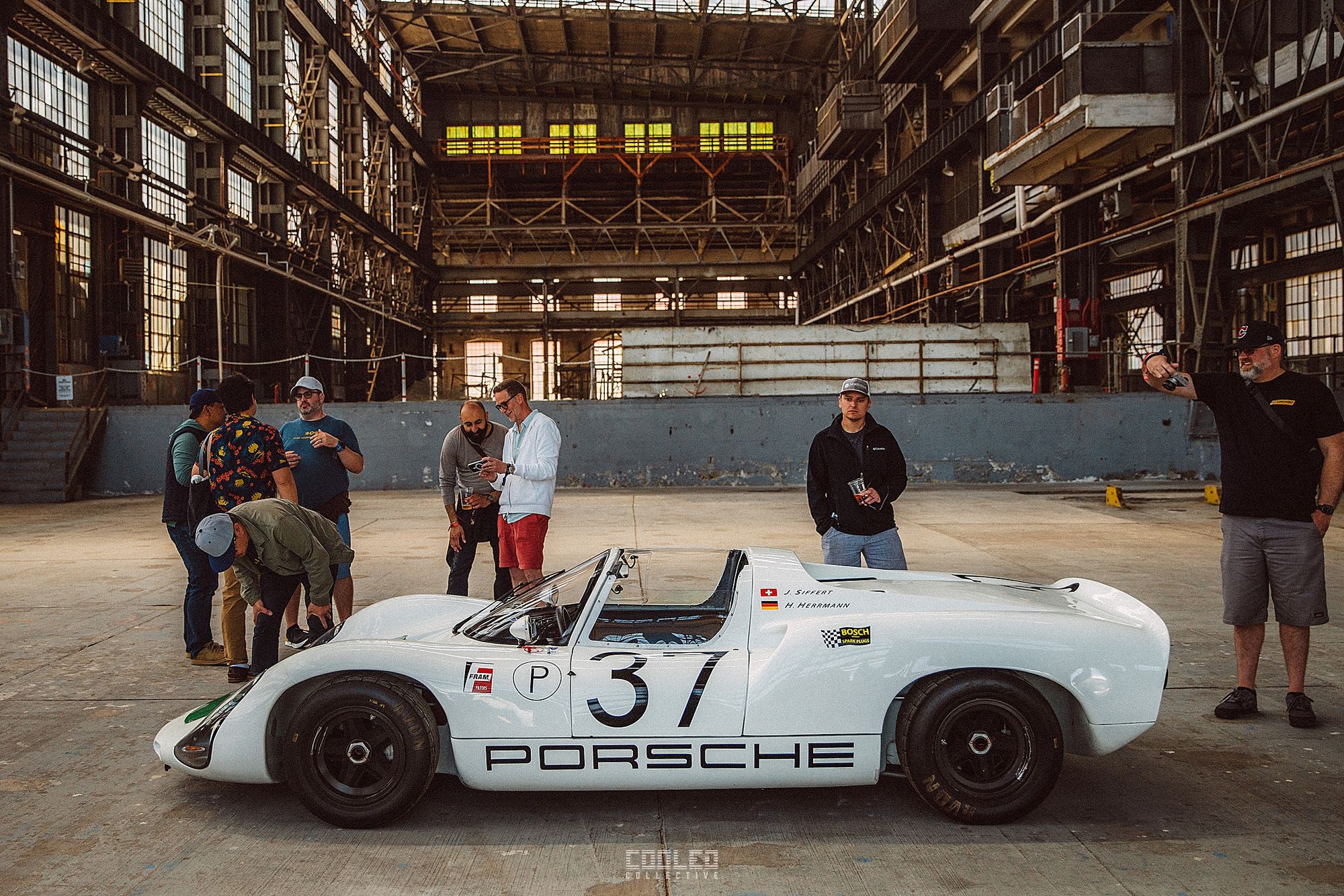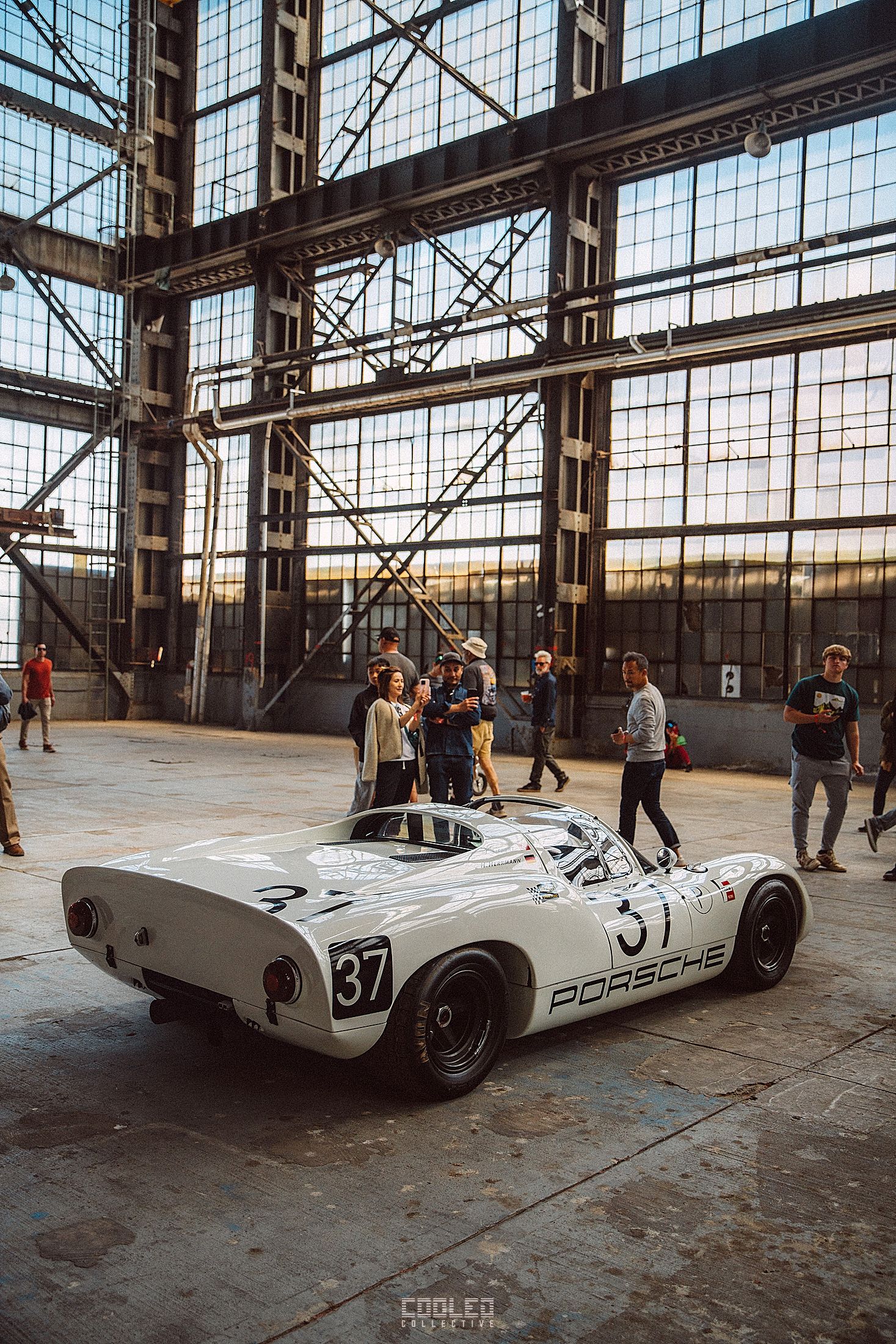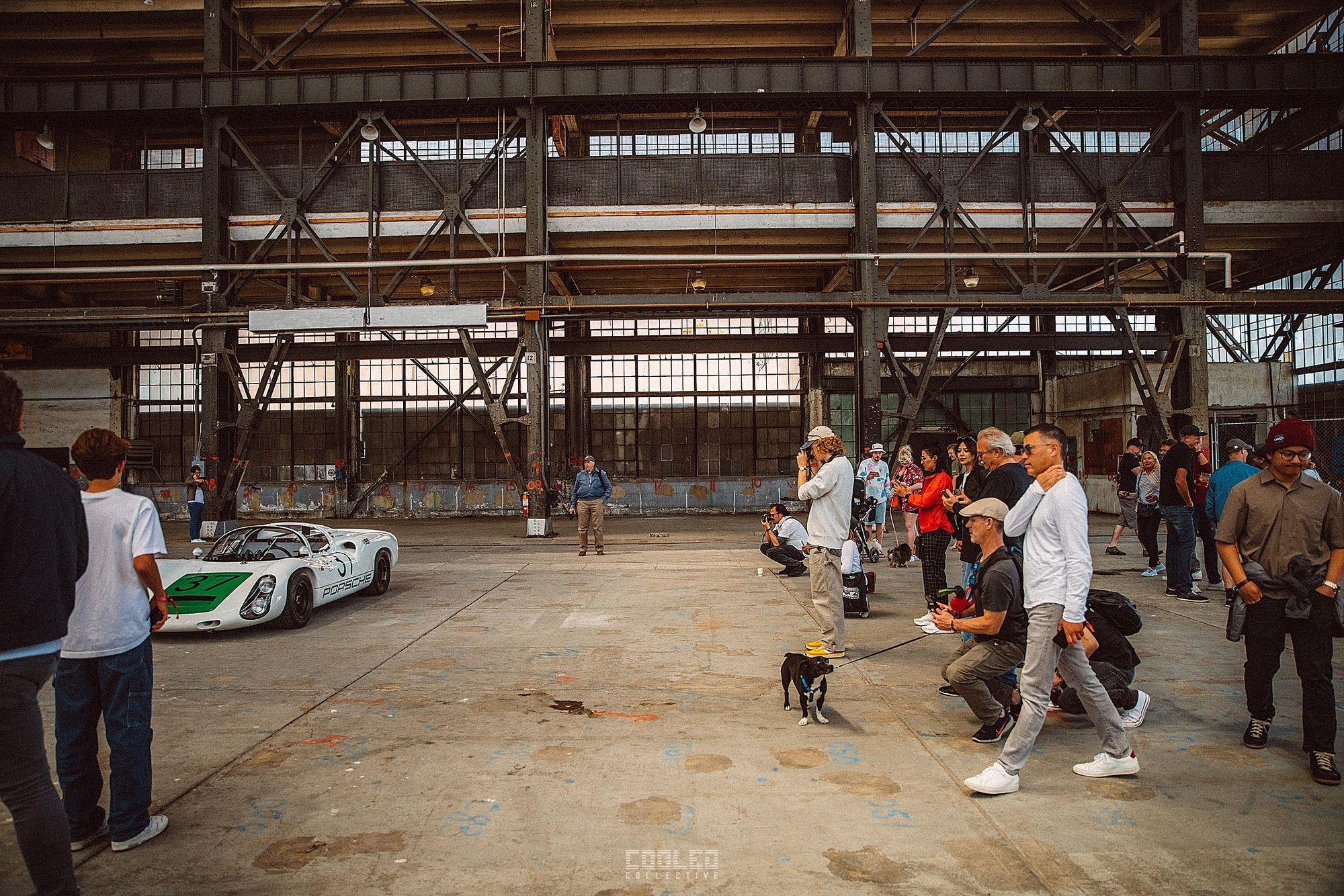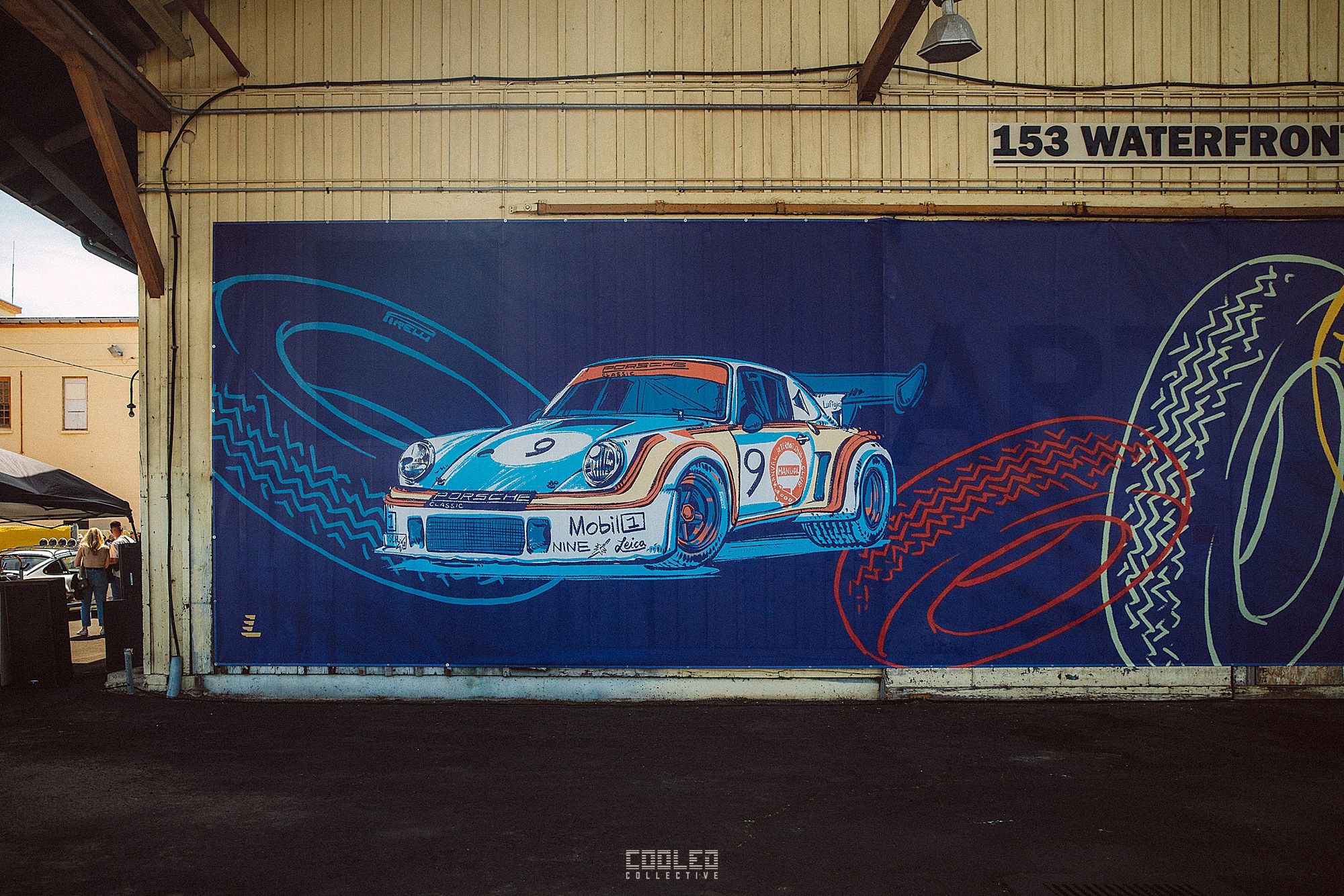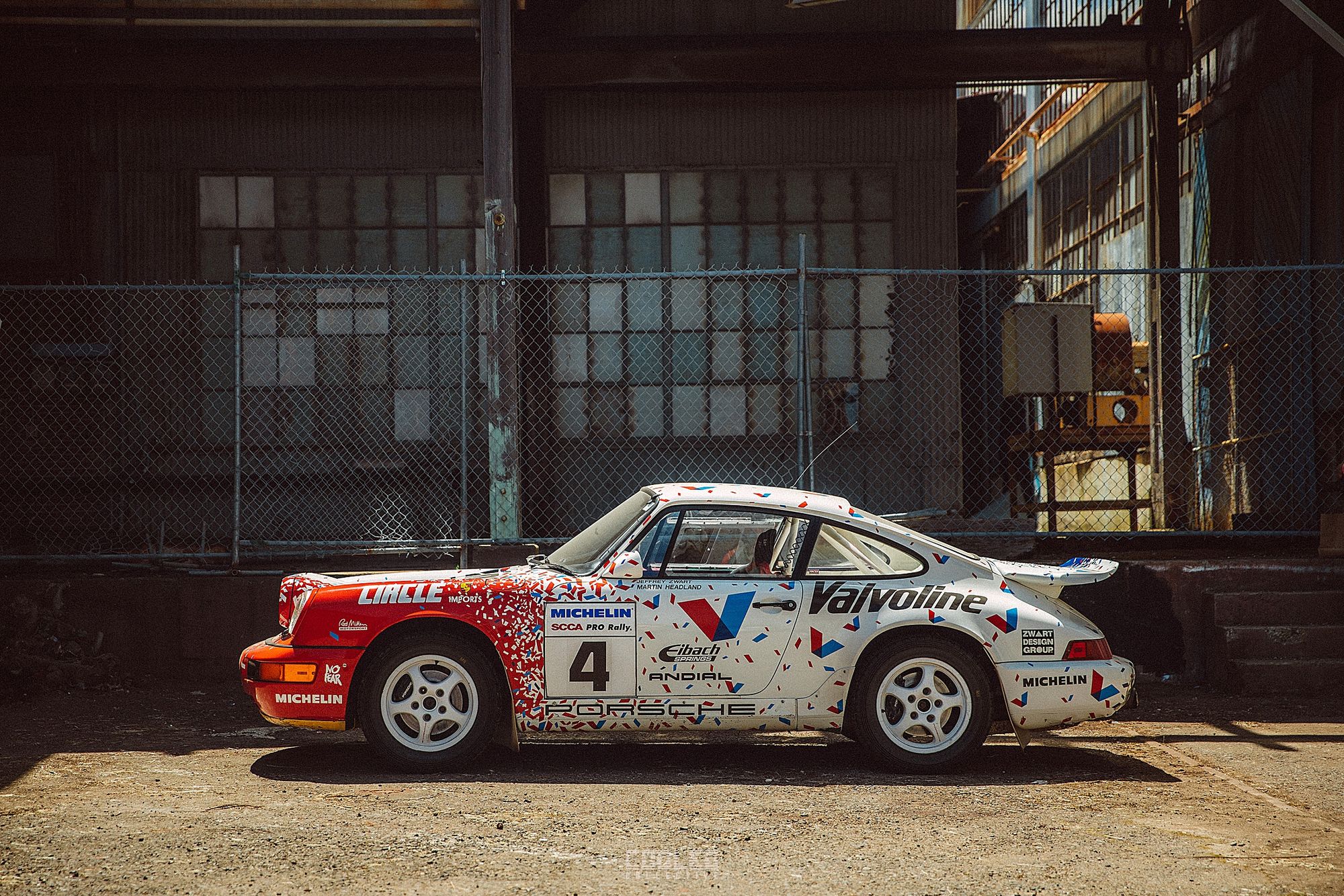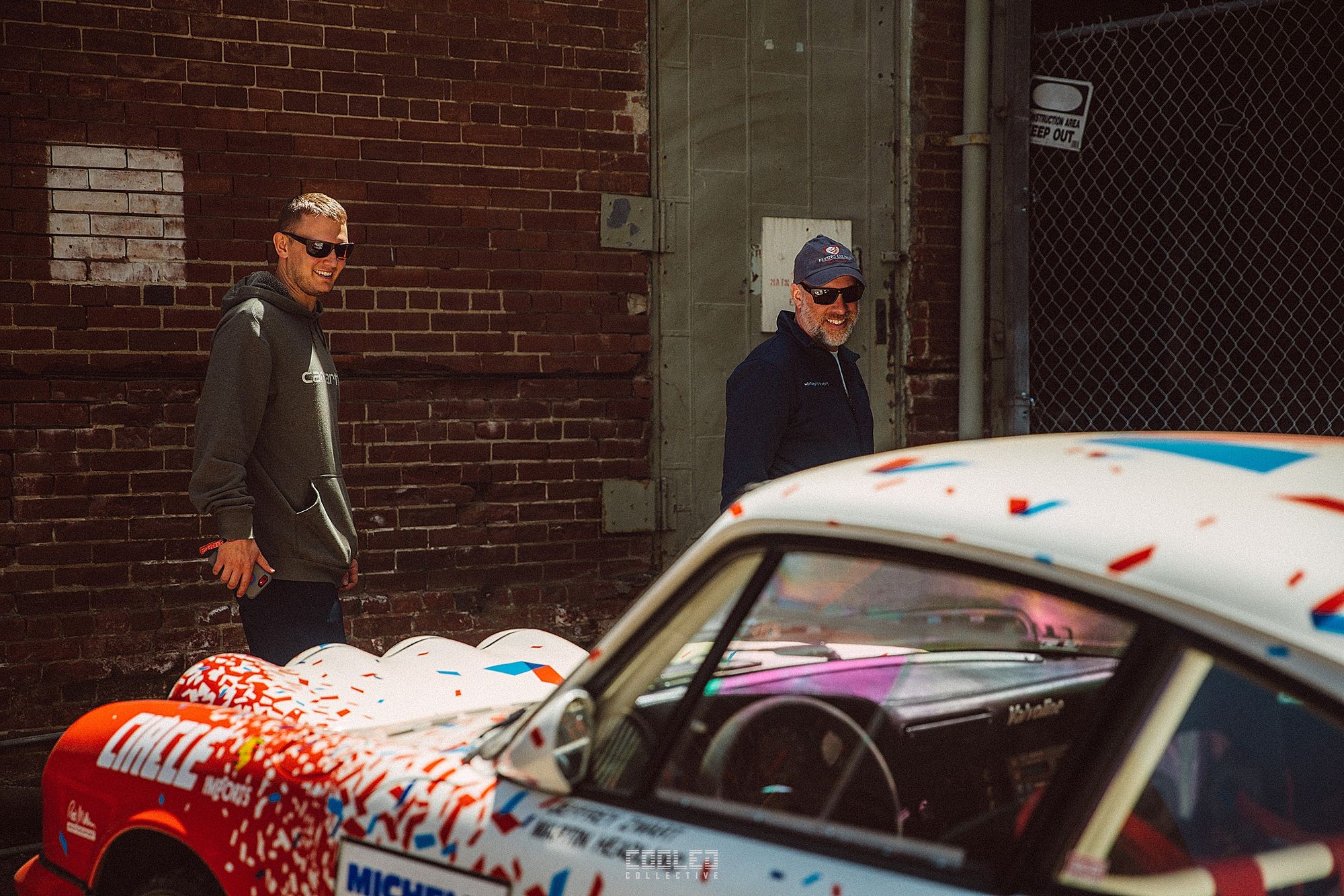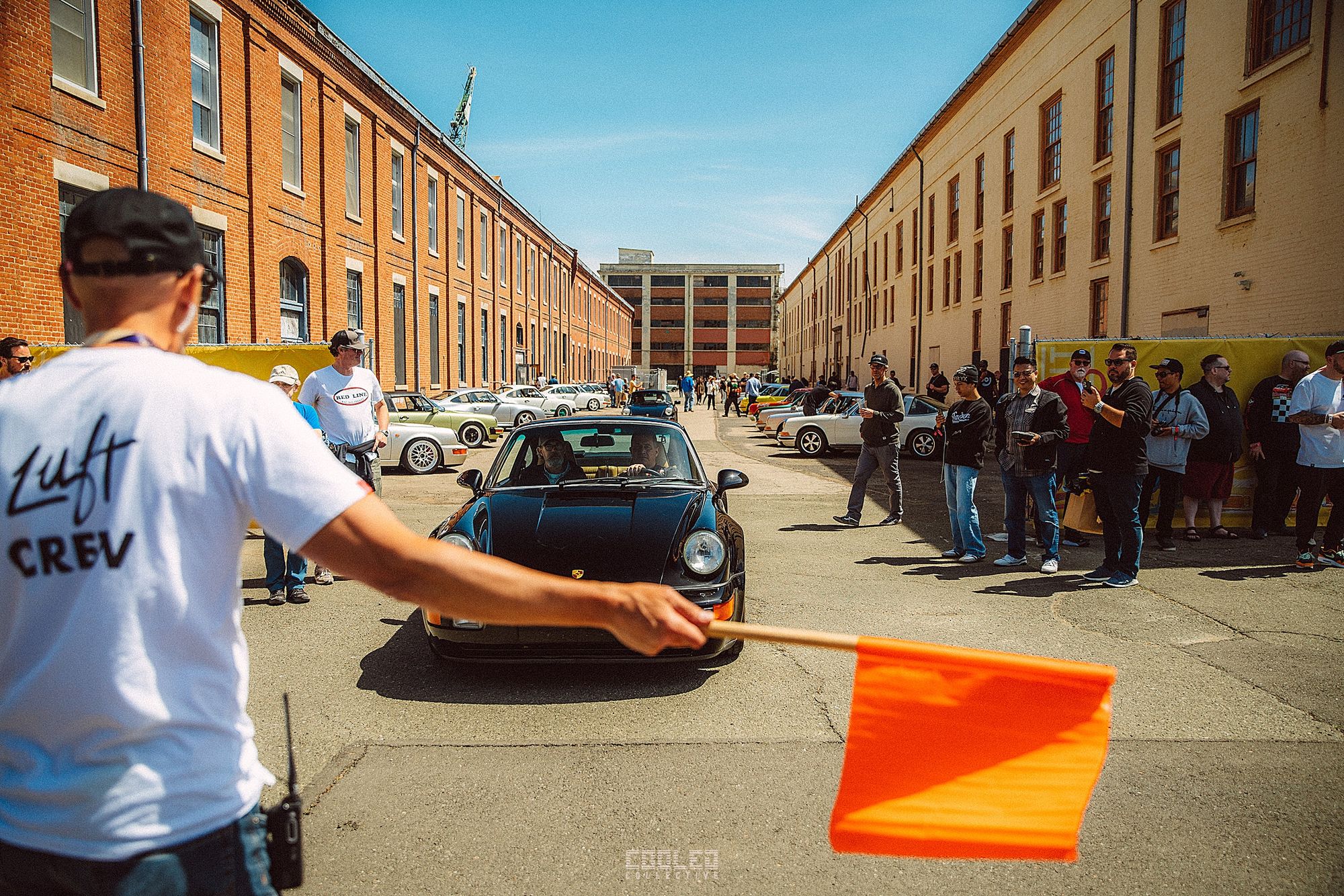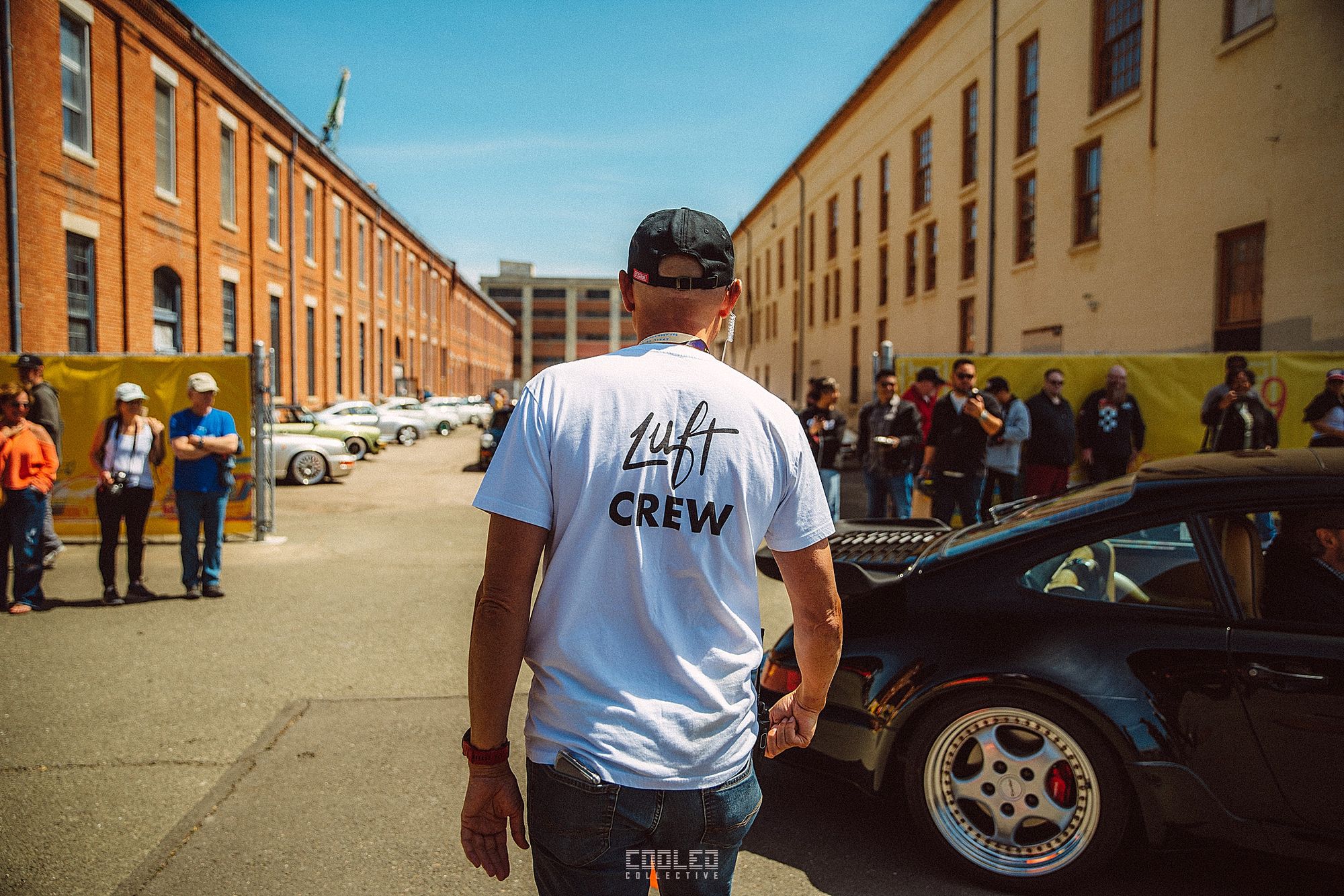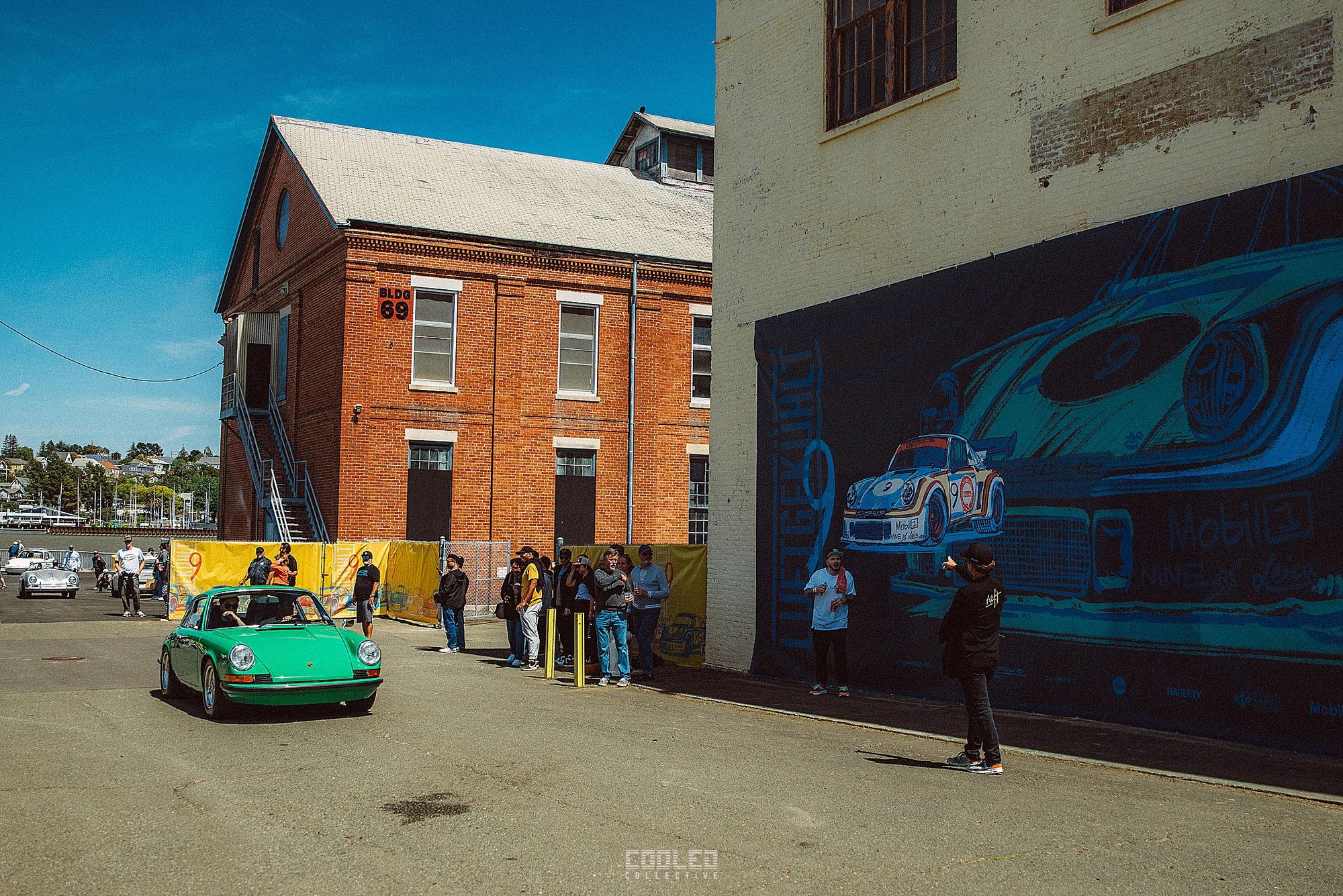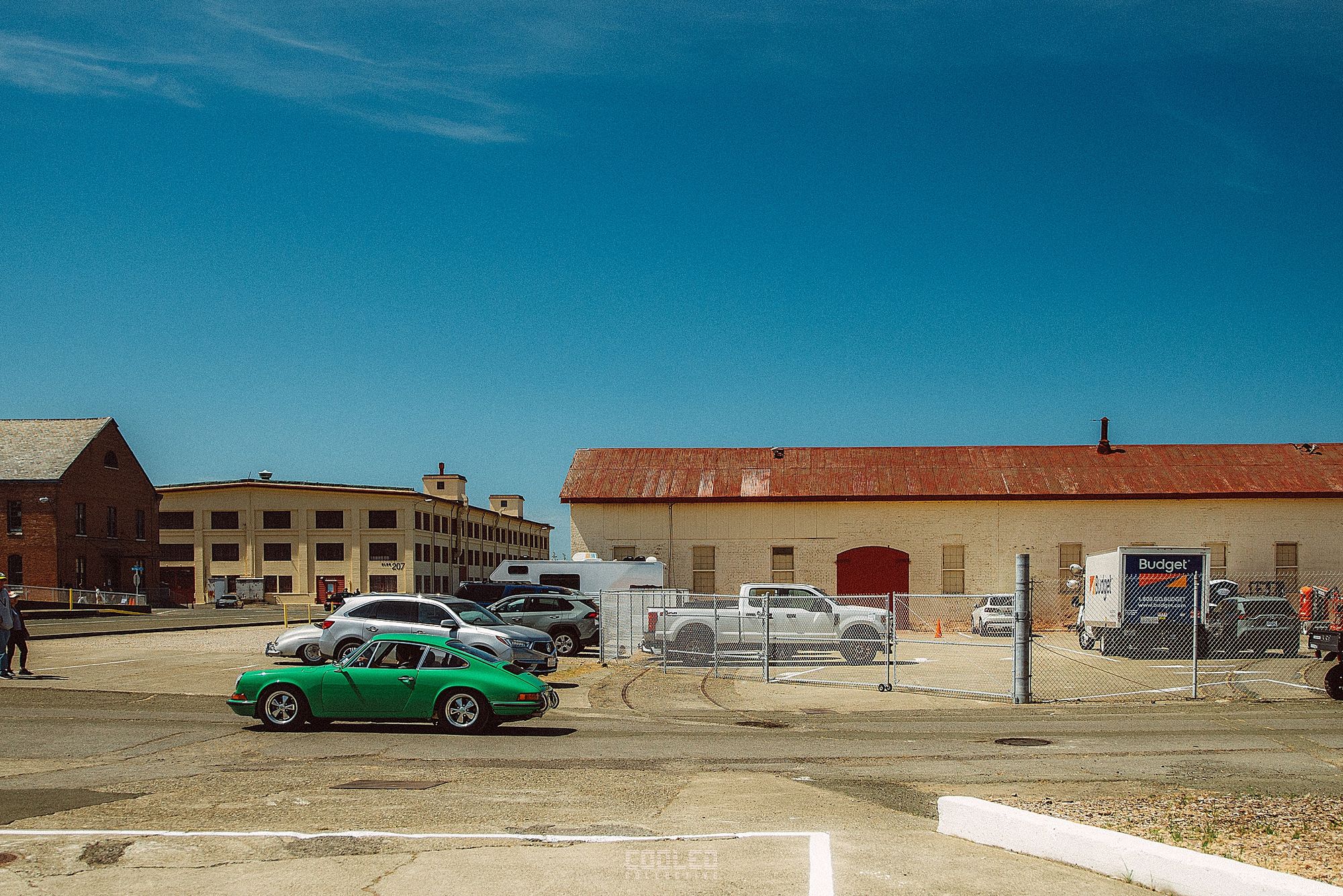 Due to the overwhelming amount of photos, I kept the words to a minimum. Besides, the photos do a better job of telling the story than I ever could. I have to say that I enjoyed Mare Island quite a bit and probably will say that it was the best Luft to date. One little gripe is that I felt like 2pm was a bit too early of a cut off as I just barely got through the event and I got there very early. So for those that came around 10-11am, I think time may have been super tight for those fans. I think an extra 2 hours would of really set it off for people to really take the time to enjoy it more leisurely.
Originally I was not able to attend Air Water due to my schedule but I ended up making it for a few hours so I will have a blog post about that. Just to give you a hint about it, I didn't think it would top Luft9 but I think I ended up enjoying it even more so but more on that coming up.
---
Street Light Club
So I ended up collaborating with an evening event with the boys over at Overcrest Productions, Keylow, Automotive Anonymous and Joshy Robots for a meet and greet. We ended up gathering in a small quaint little town called Port Costa.
The roads were rough getting there and the parking was rough but the boys that came through didn't care about any of that. They wanted to hang, just to hang and that is exactly what we did. A great night to cap off the Luft experience.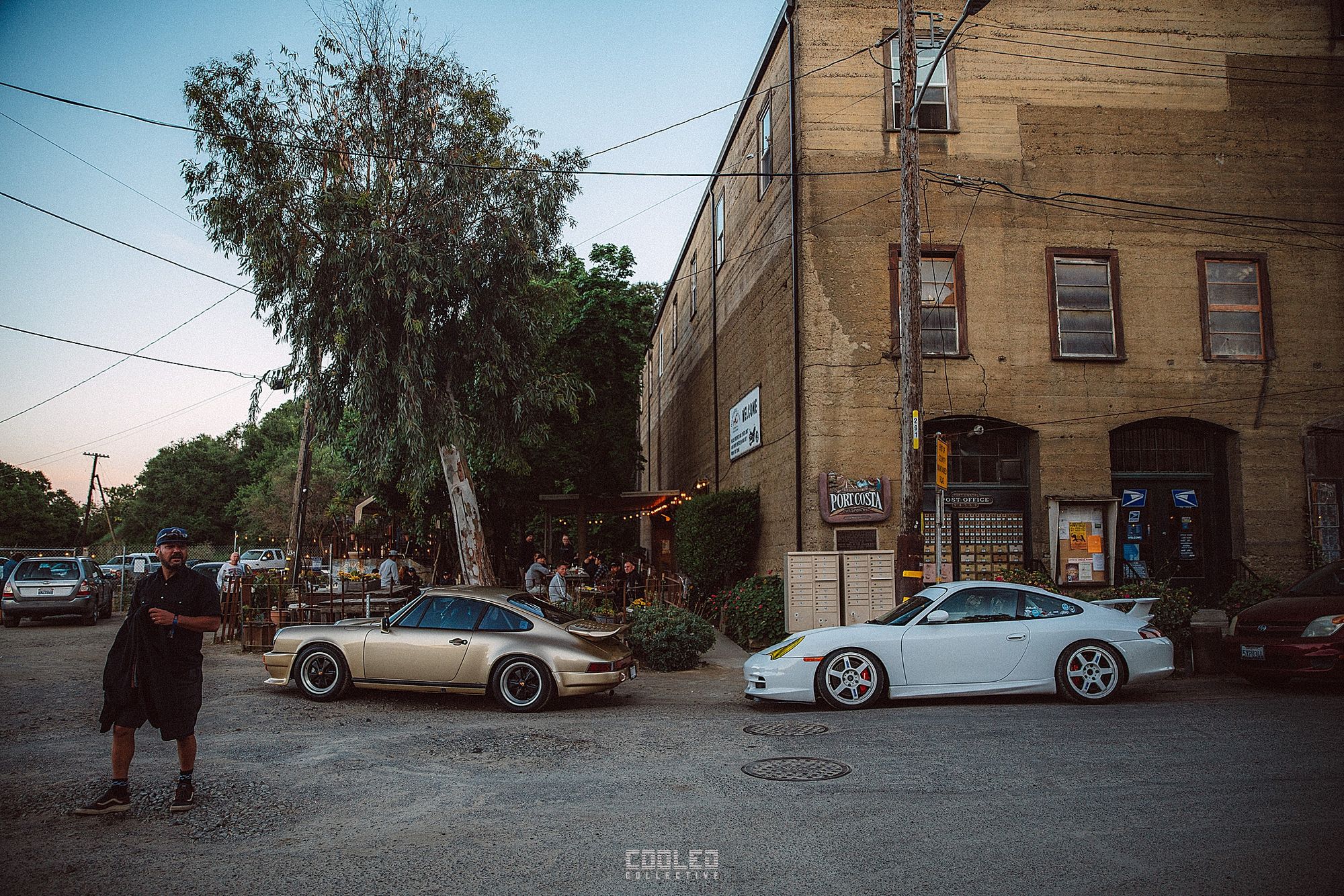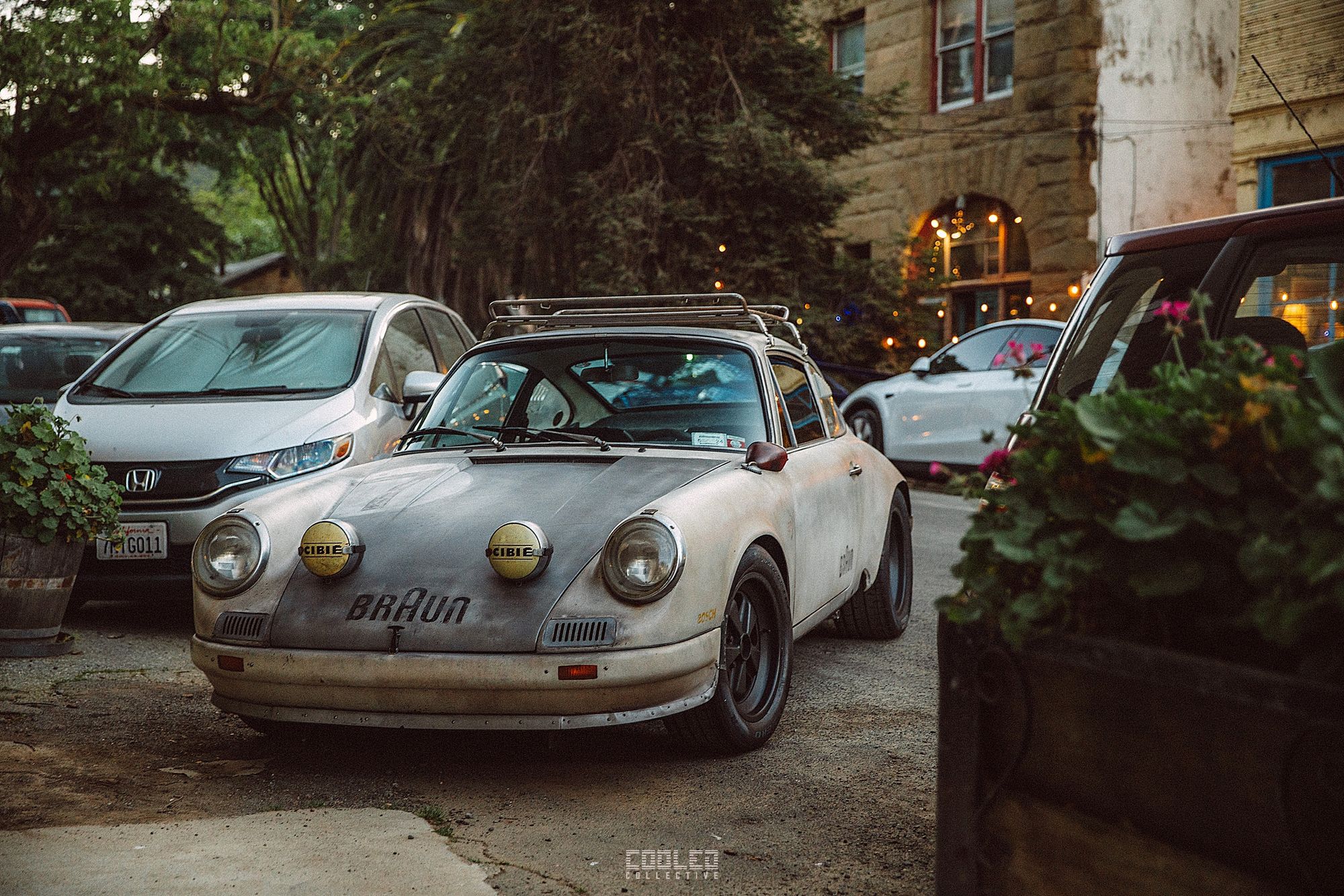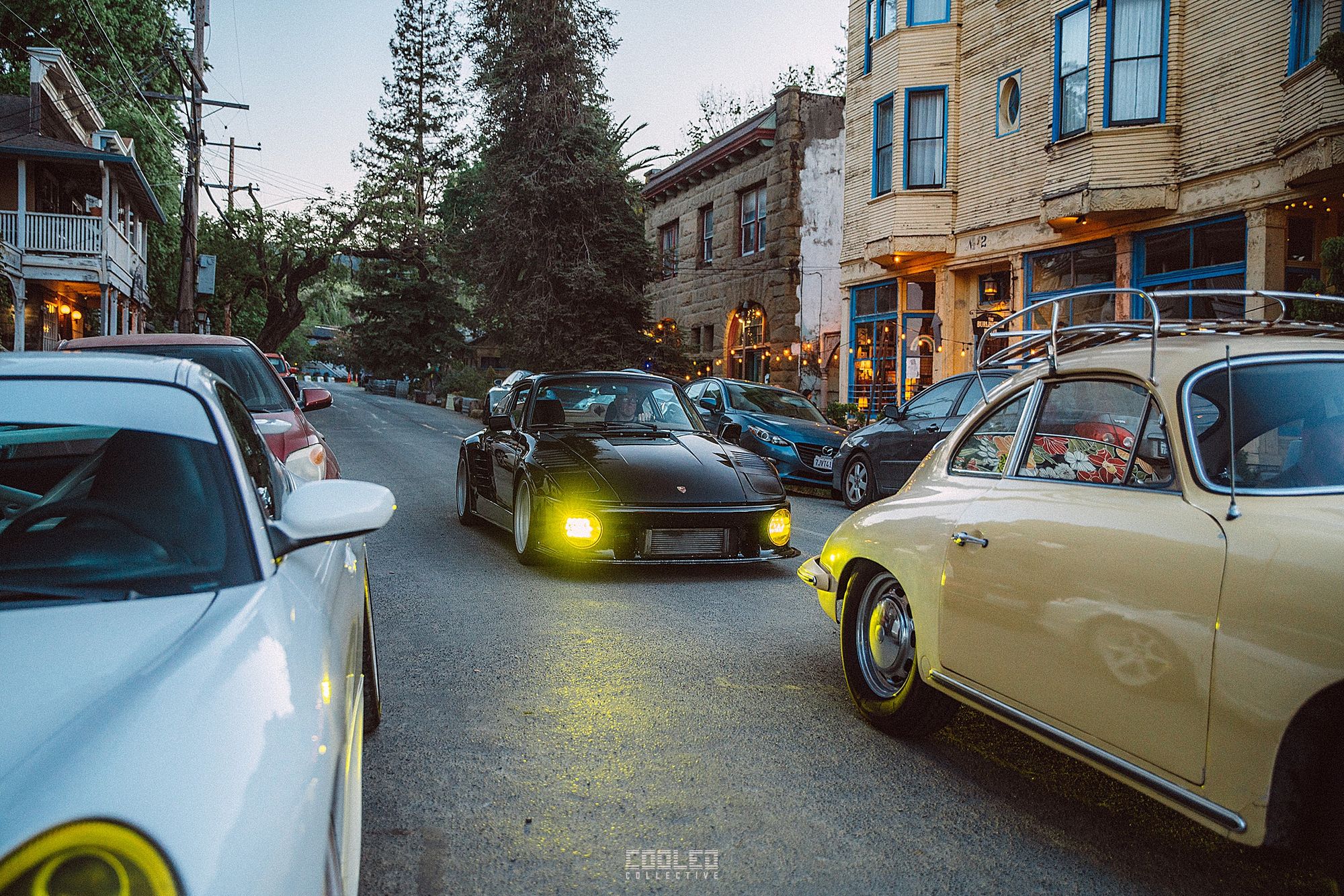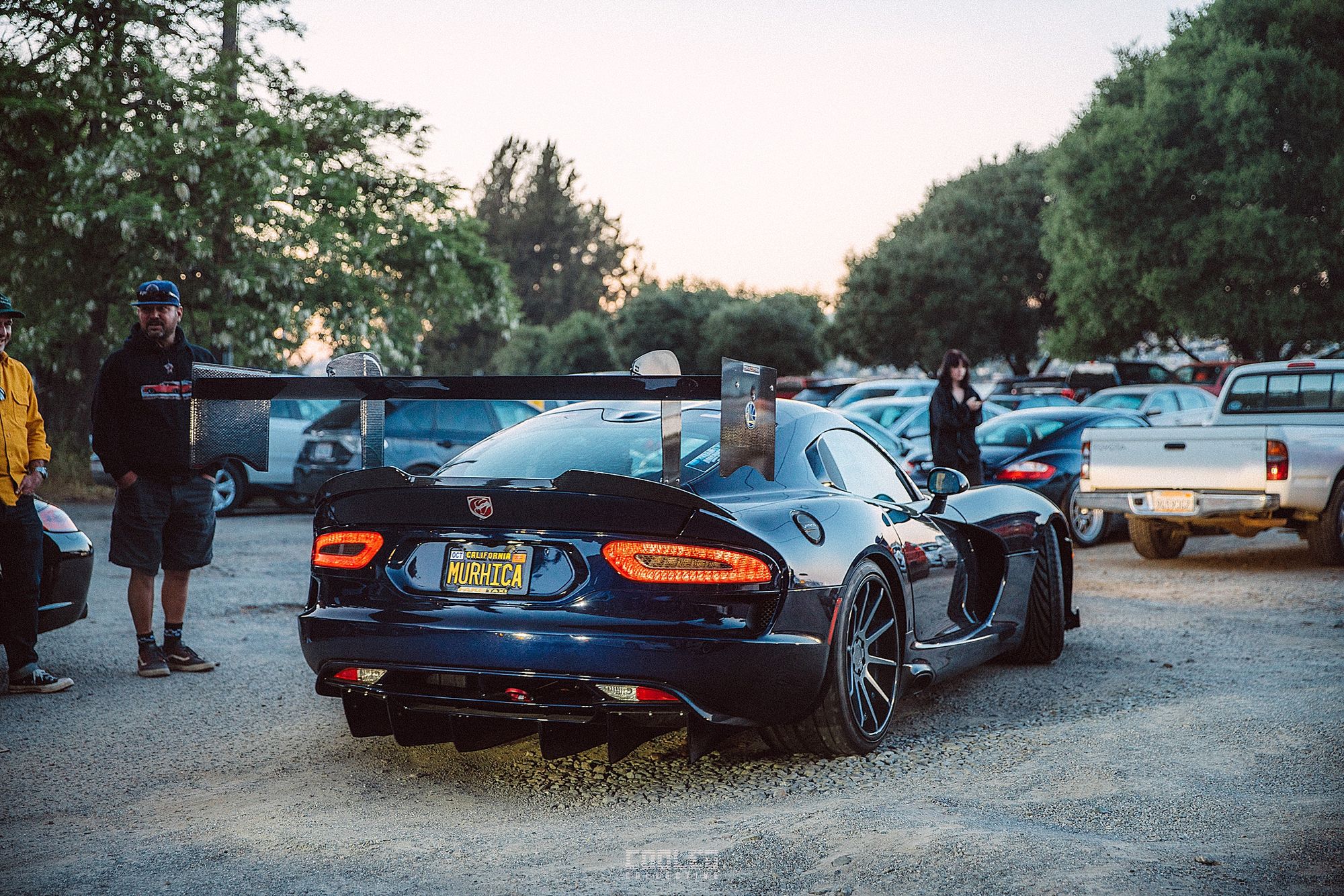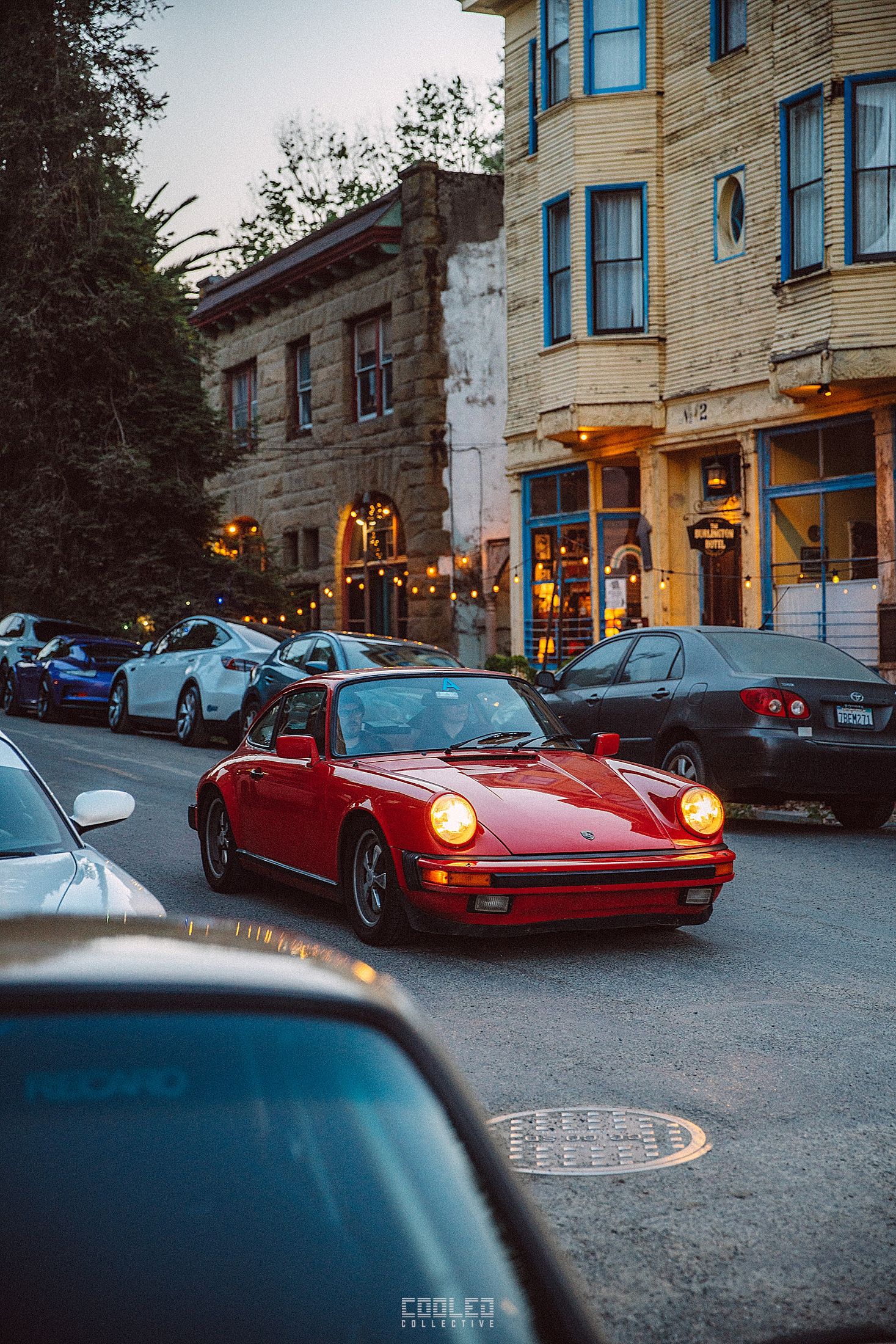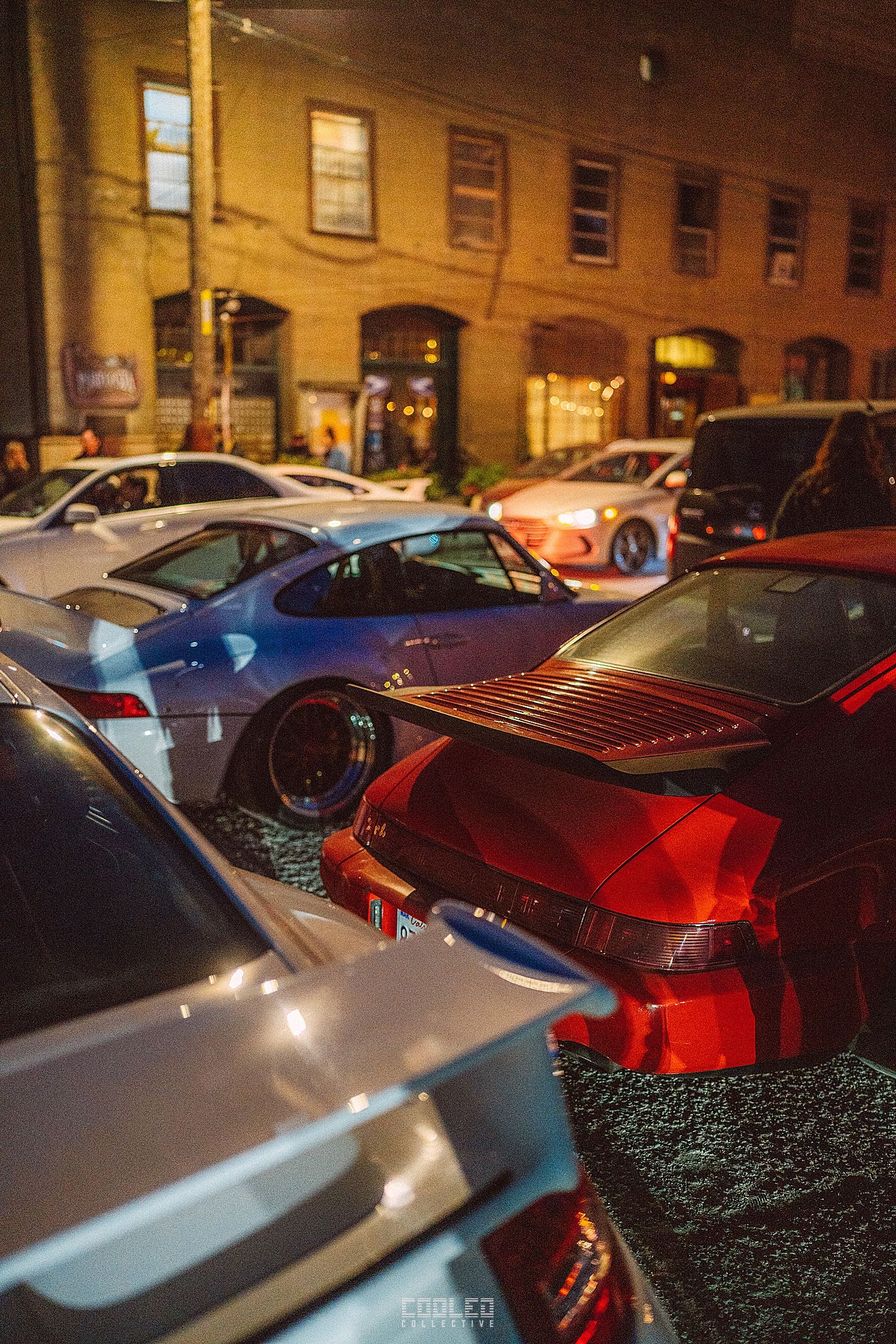 ---
Photo Surplus