Words and photos by Drew Manley
Saturday Race Day
The atmosphere on Saturday was definitely different from Friday as everyone was in the zone to compete. You can just feel all of the hard work that all of the teams put into all of these months and concentrated into these two days. With the season opener, teams wanted to set the tone for the rest of the year so it was amazing just witnessing the passion.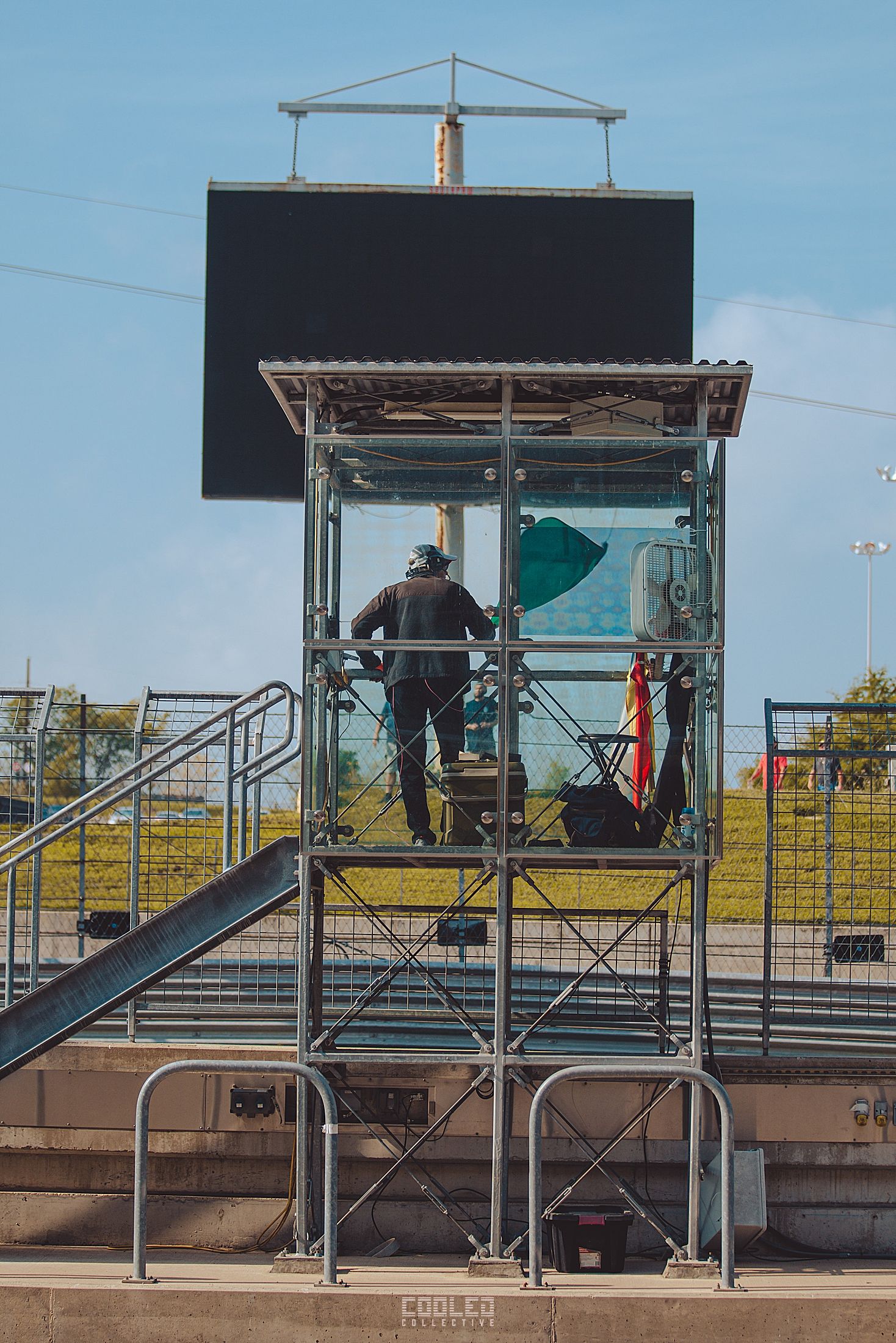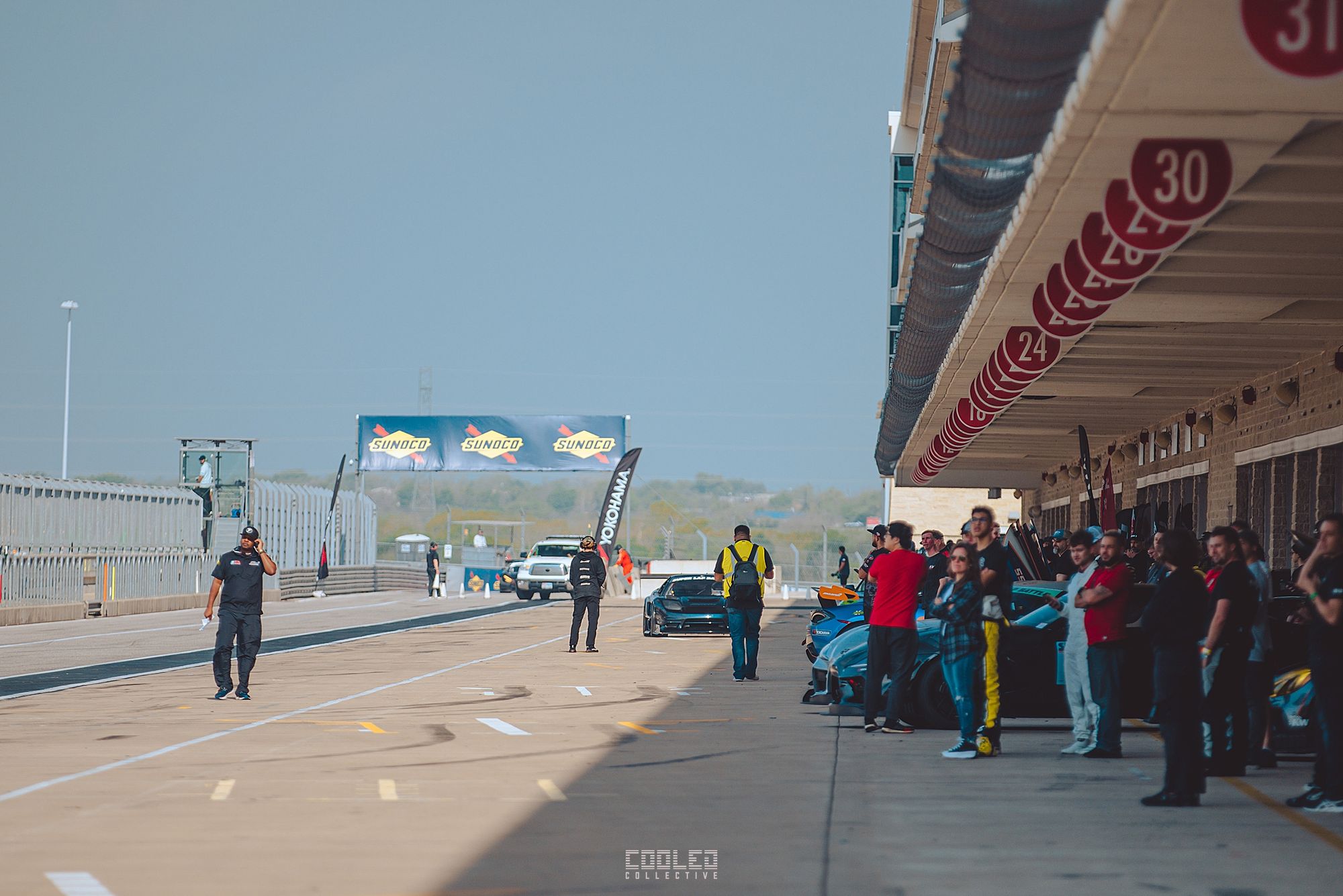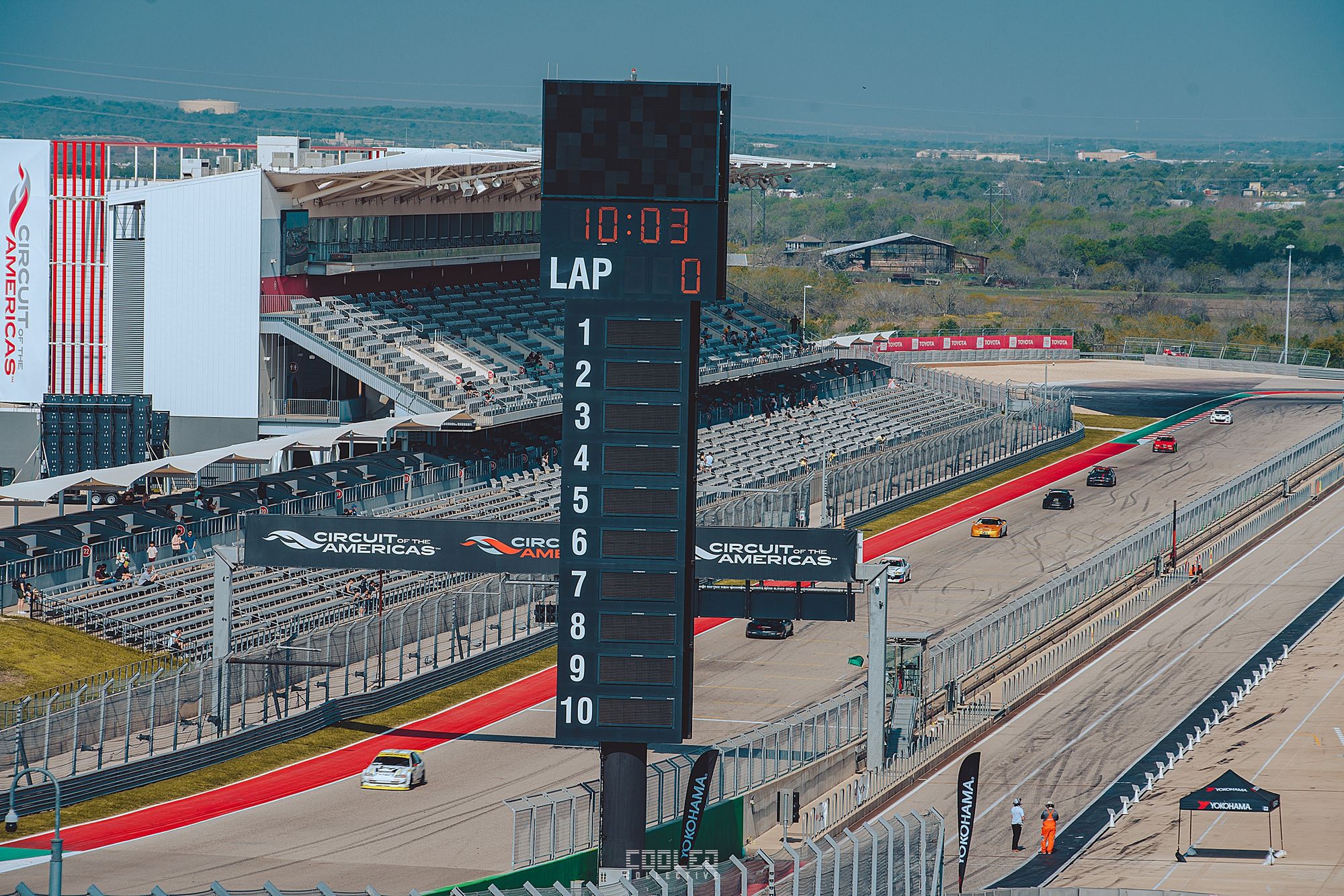 Shooting motorsports is a lot of work primarily due to the fact that it requires a lot of walking, espeically if you do not have some sort of way to get around. Walking up Turn 1 into the 4 story elevation change got me winded and although the vantage point was decent on the inside of the turn, in hindsight being on the outside of turn 1 would of granted me a better vantage of the cars coming up and into the turn. The sun was hitting pretty hard and created a lot of reflection so my time on turn 1 was a bit short.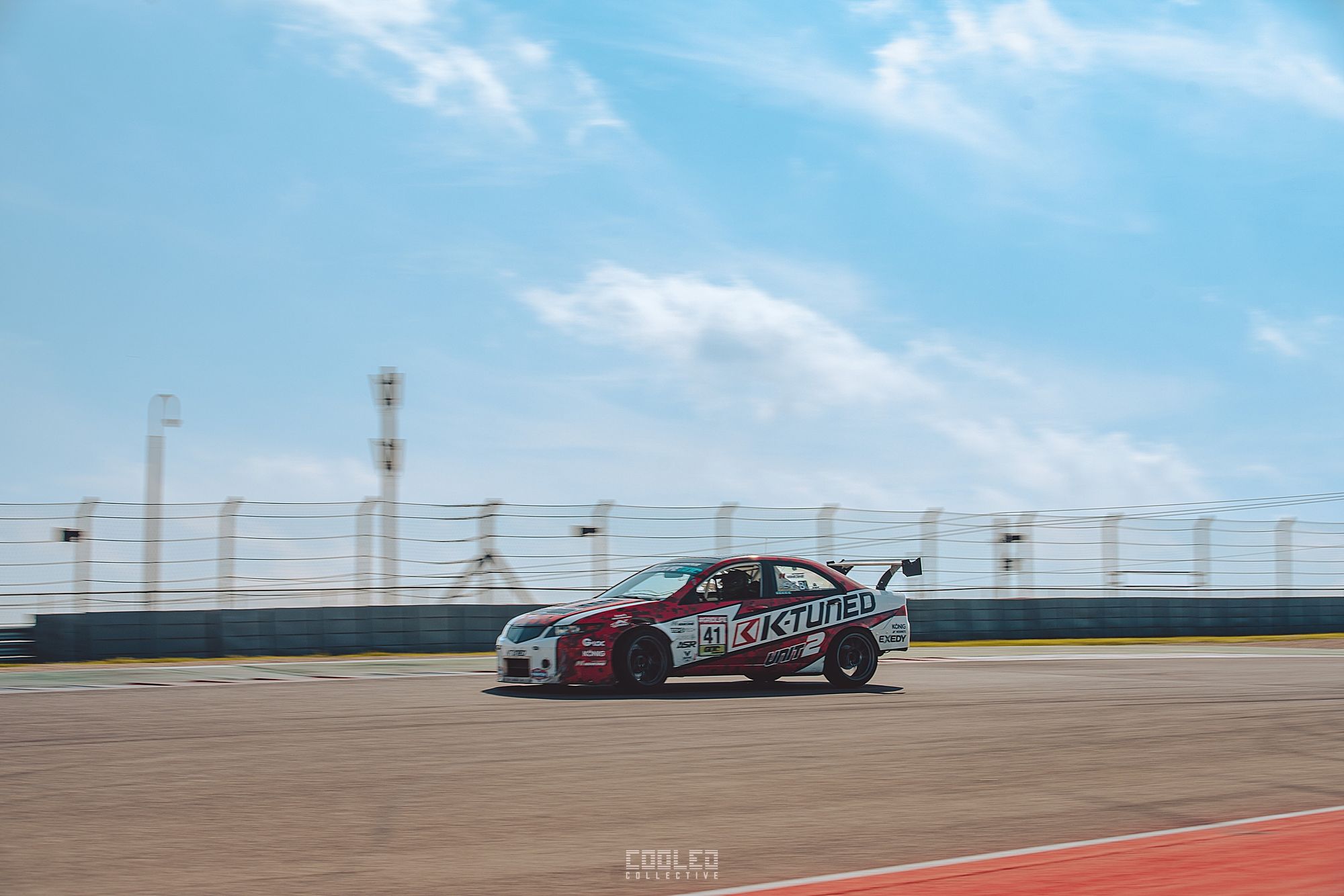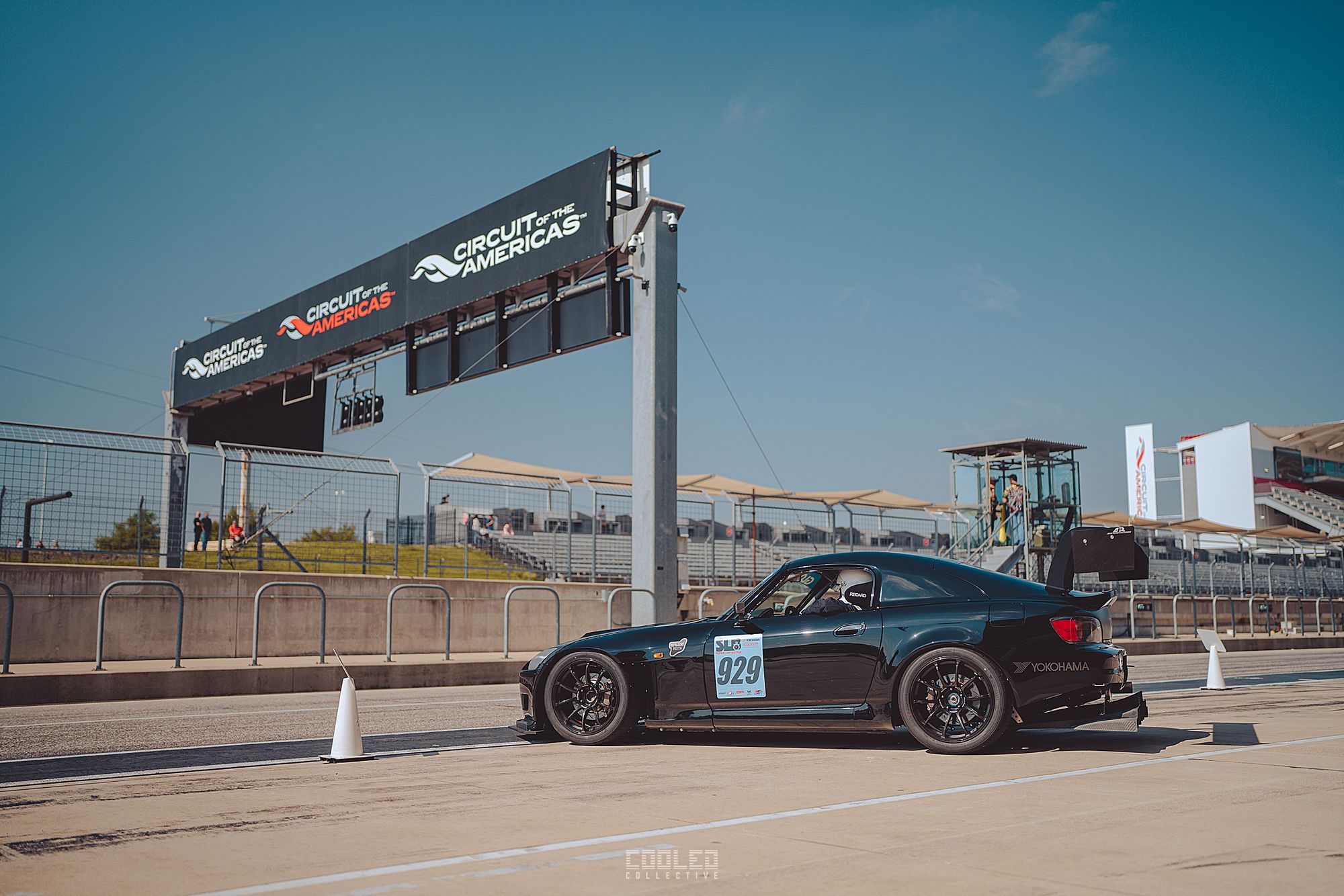 Lots of eye candy all around and the variety is just unmatched. Everything from Domestics, JDM, Euro and even motorsports cars were out to chase their best times.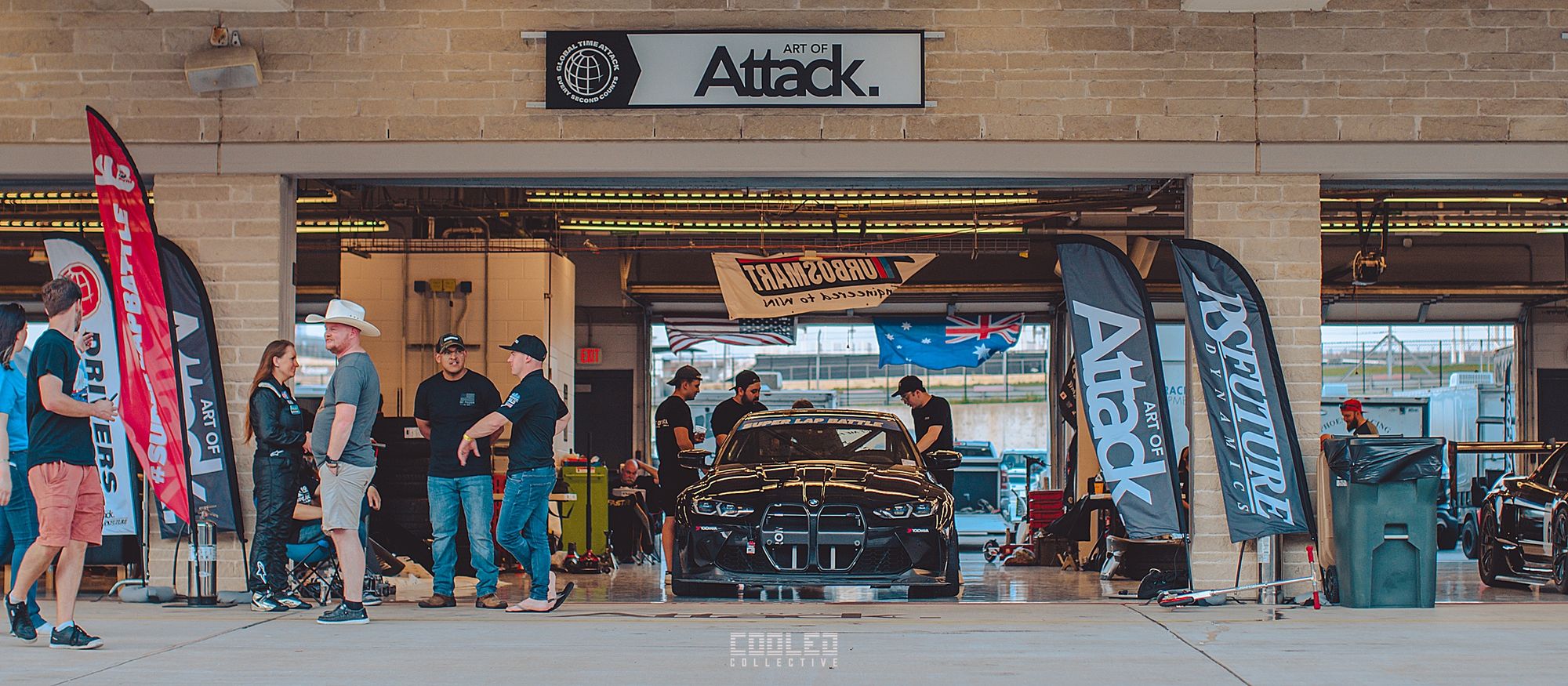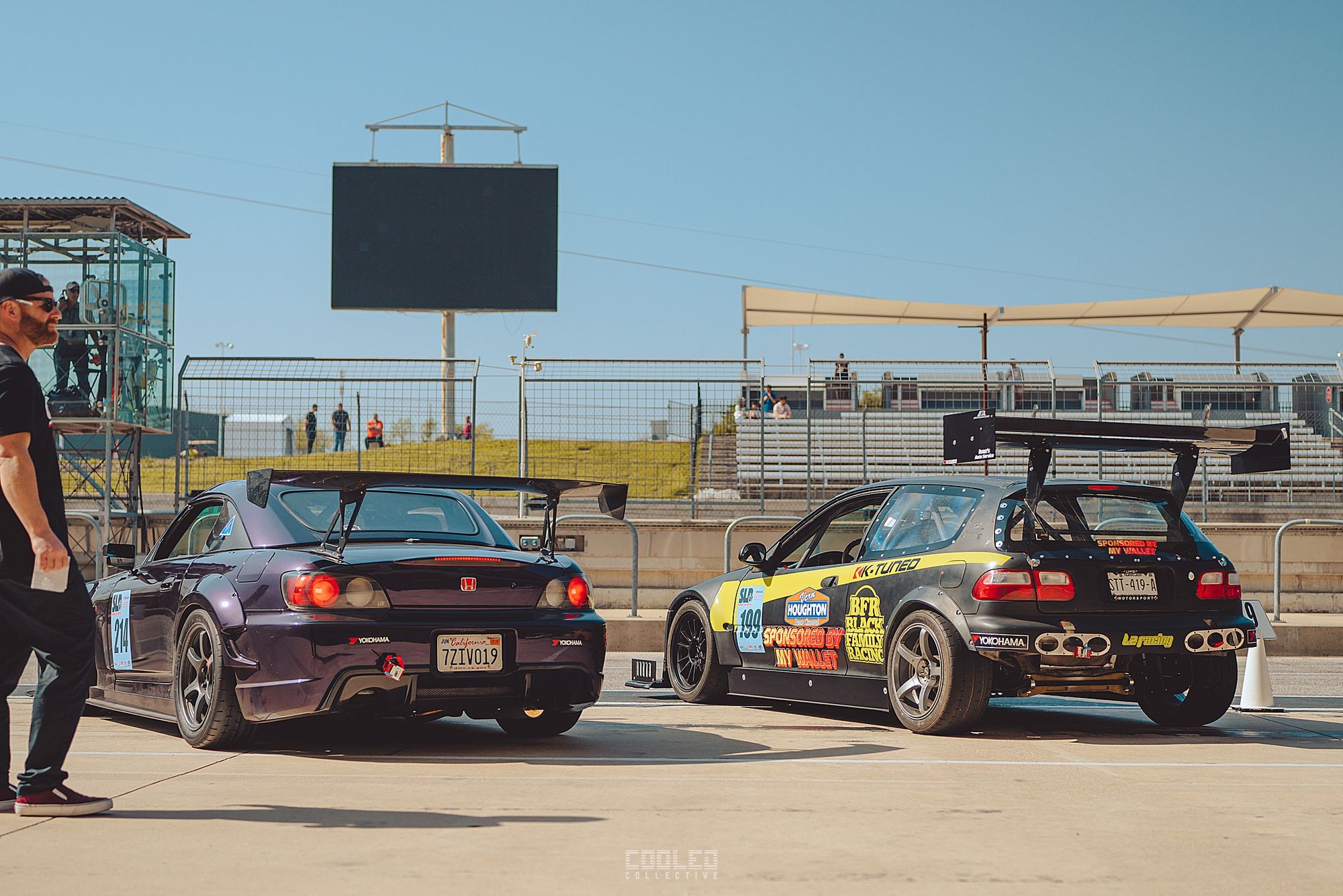 I also love seeing how many photographers were covering the event as it gives both event organizers and racing teams more exposure along with giving many young talents an opportunity to test their creative limits. It is just a harmony of great things coming together for a much greater purpose.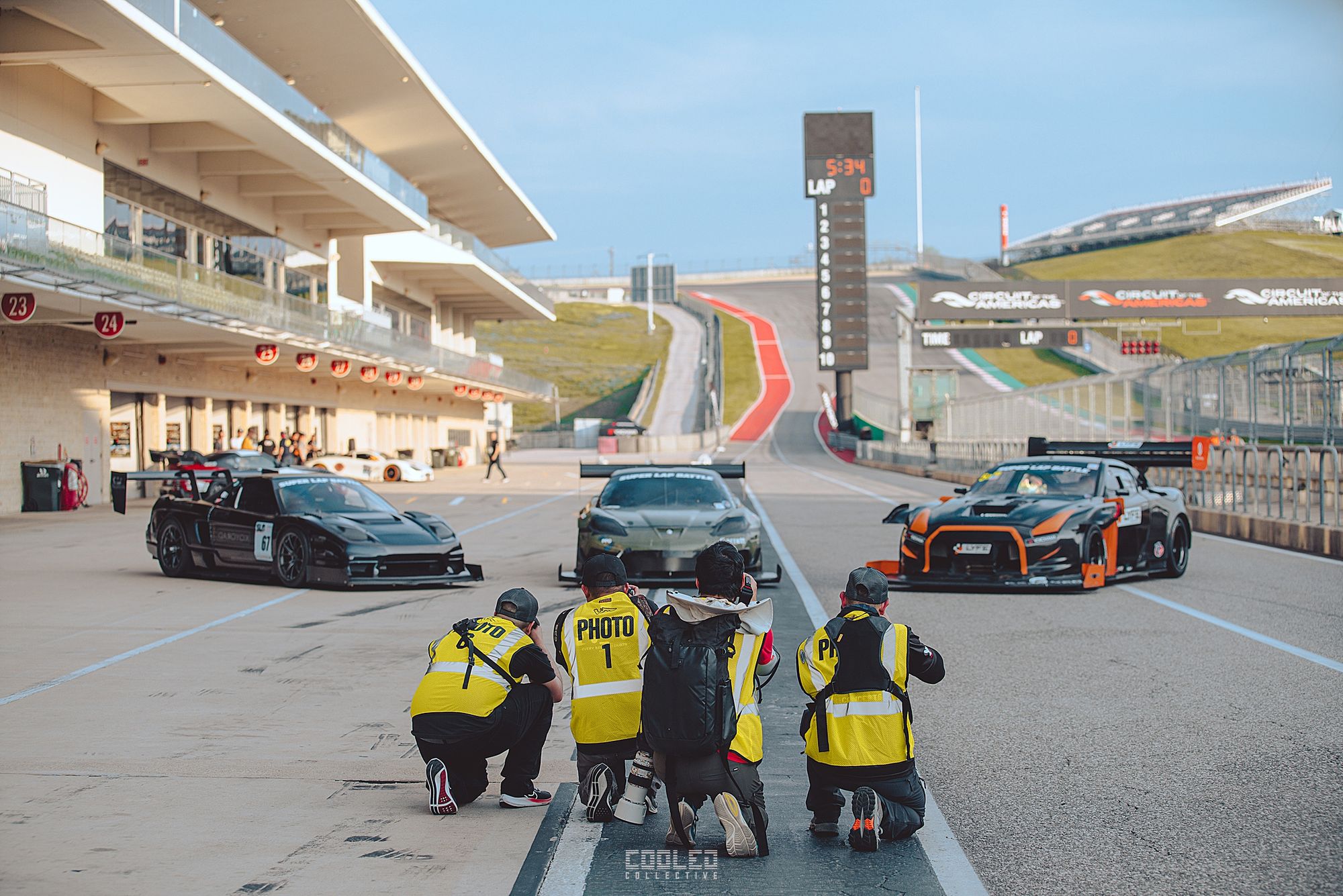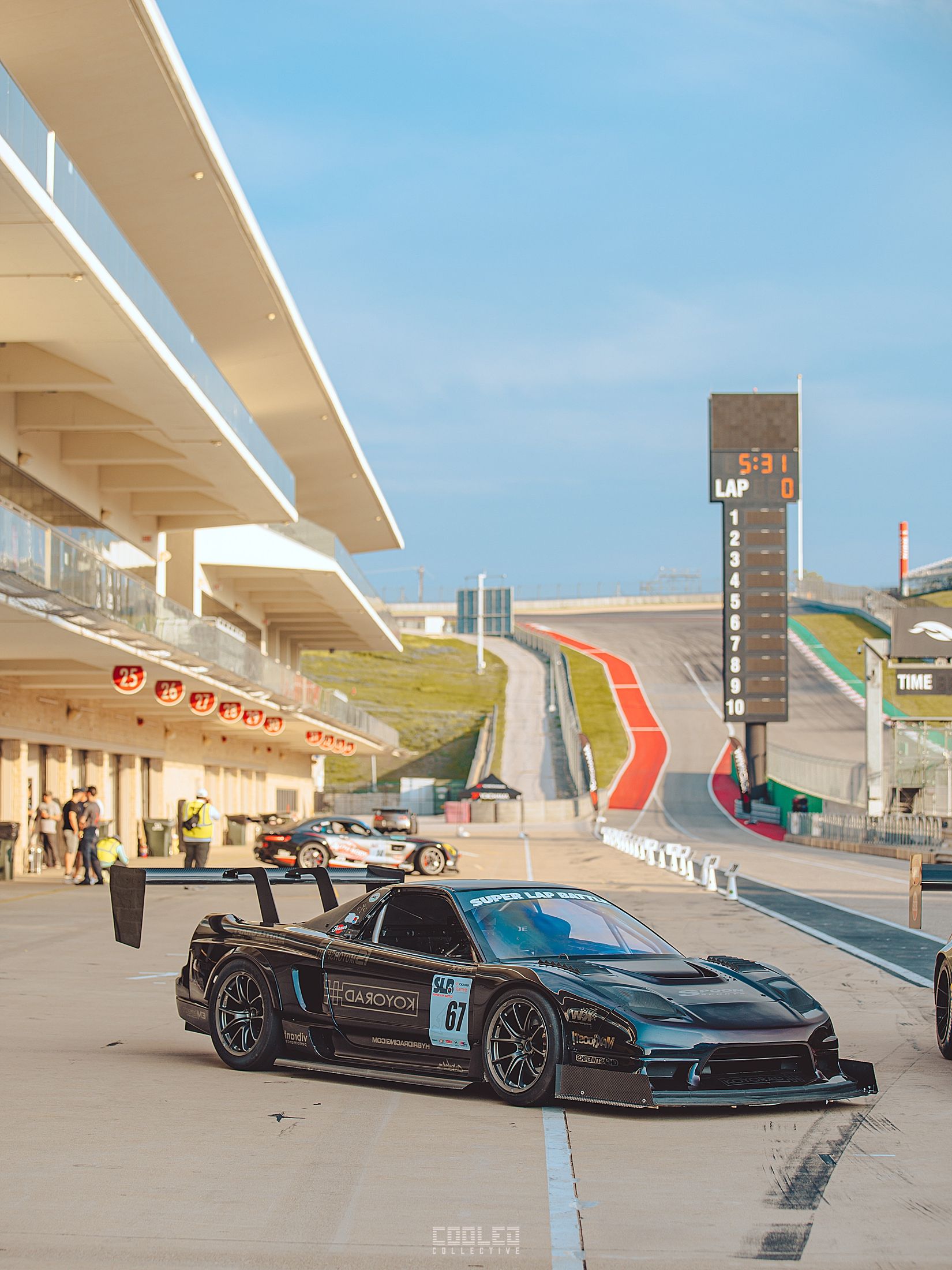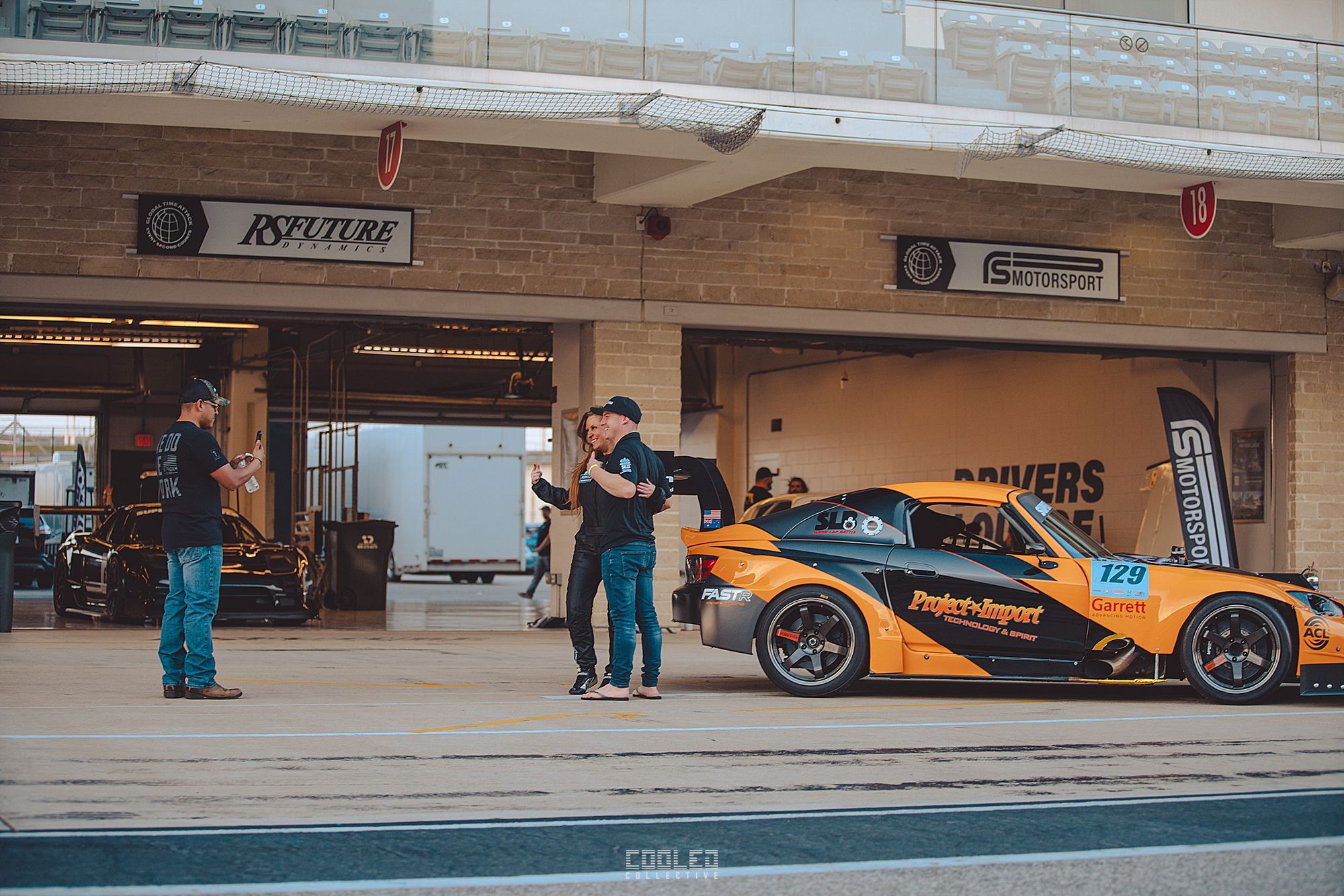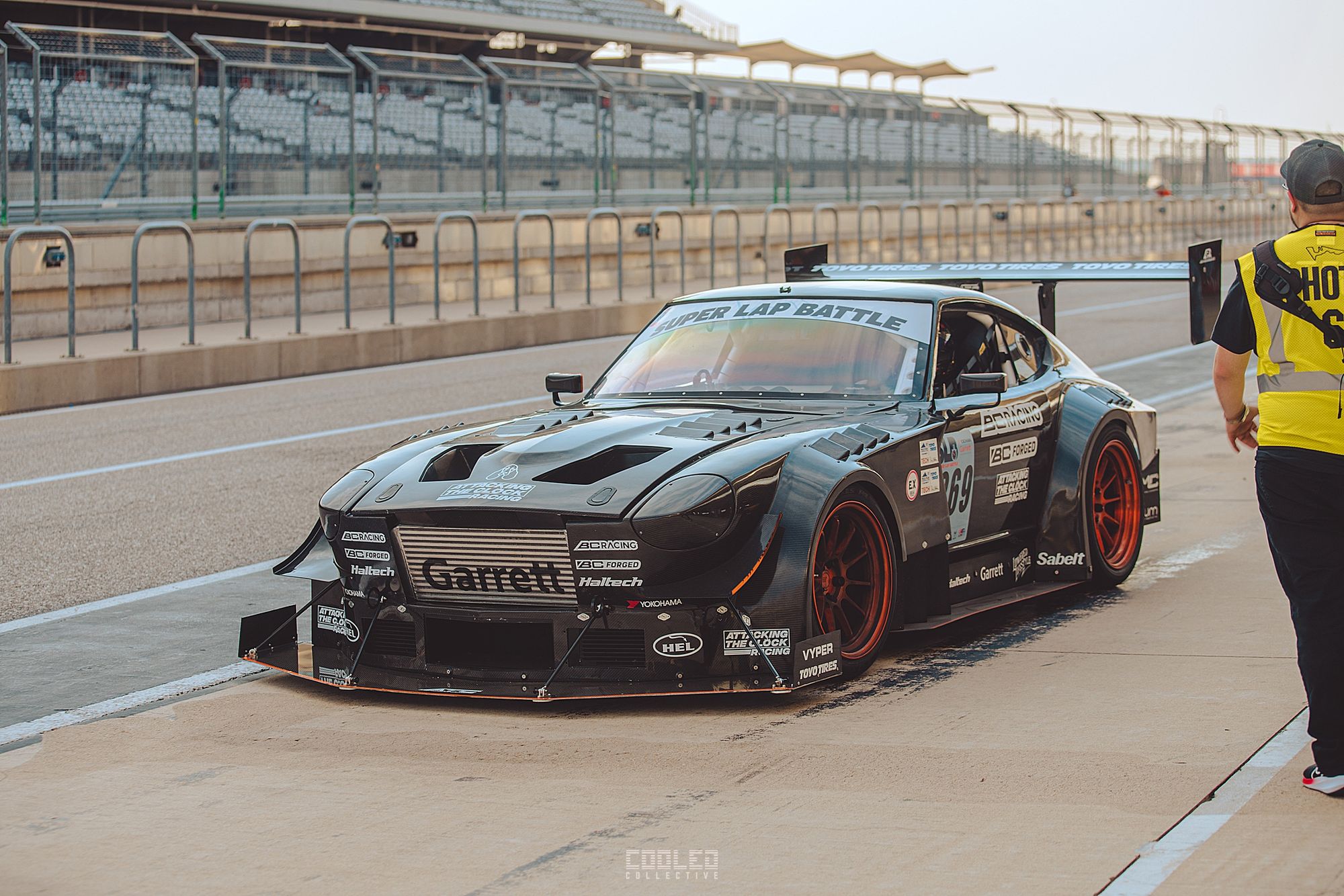 My time covering the event on Saturday was short because I ended up helping out the boys running some errands for the Drivers Lounge and also to check out parts of Austin since I was in from out of town.
---
Sunday Race Day
Sunday I got to the track about half day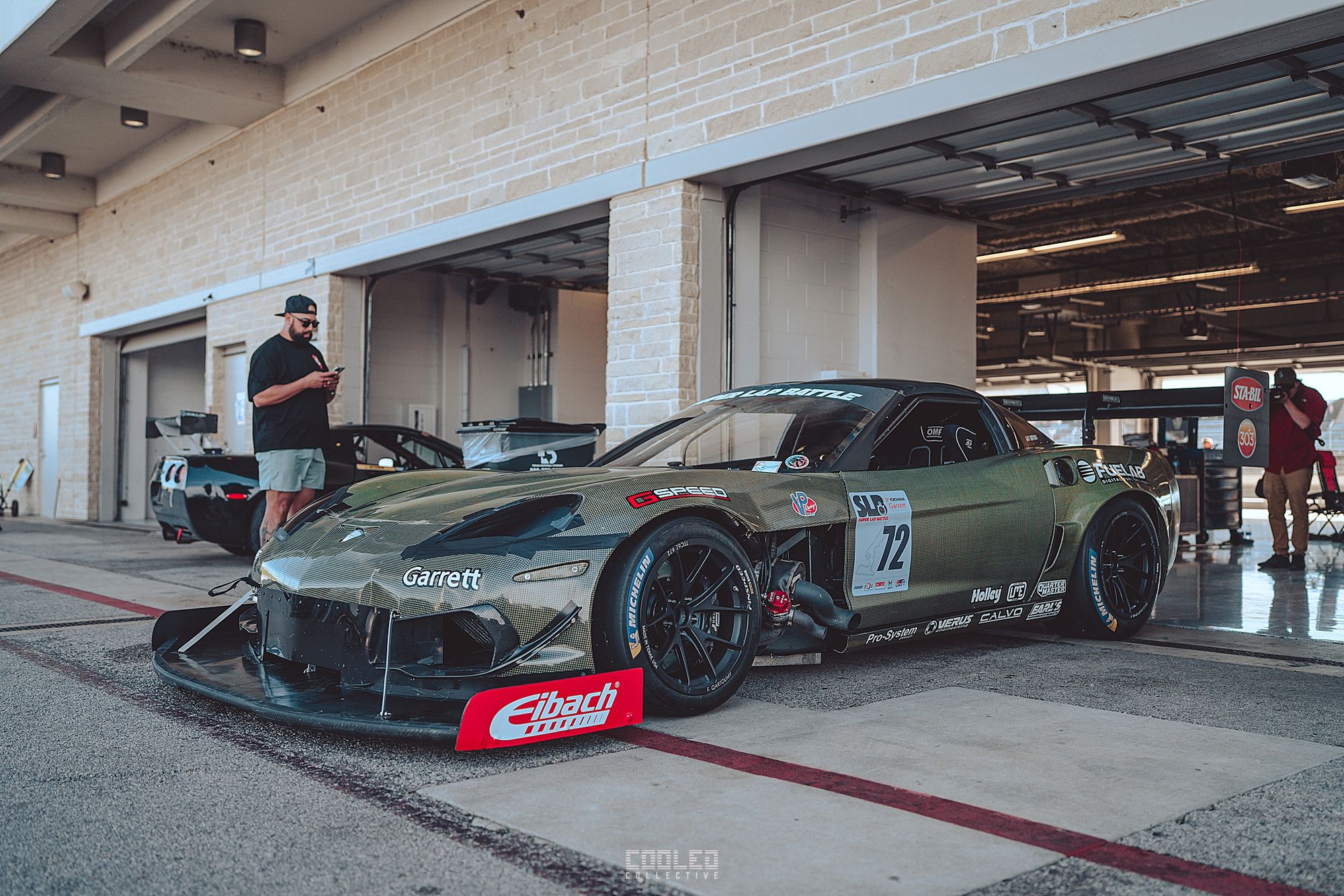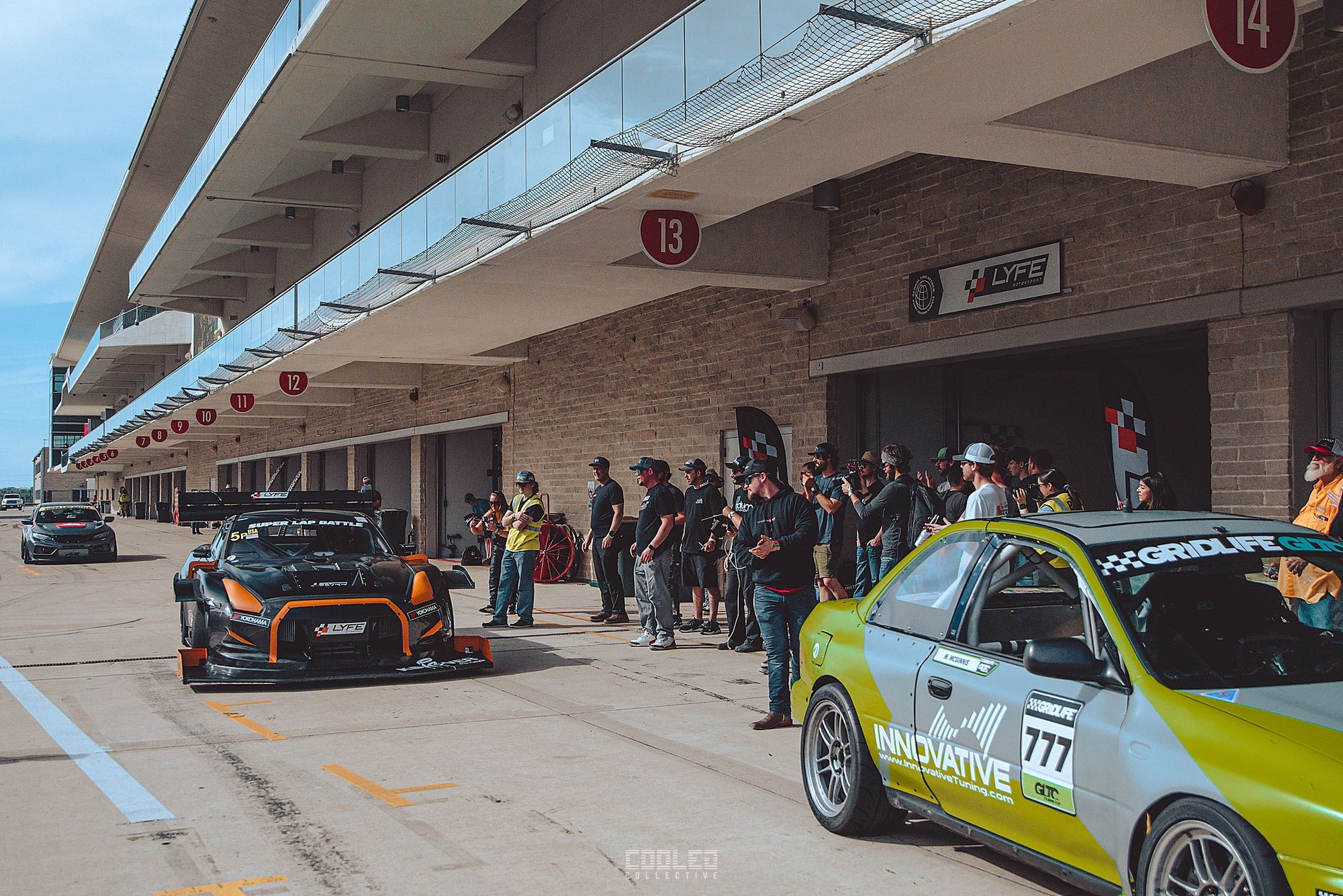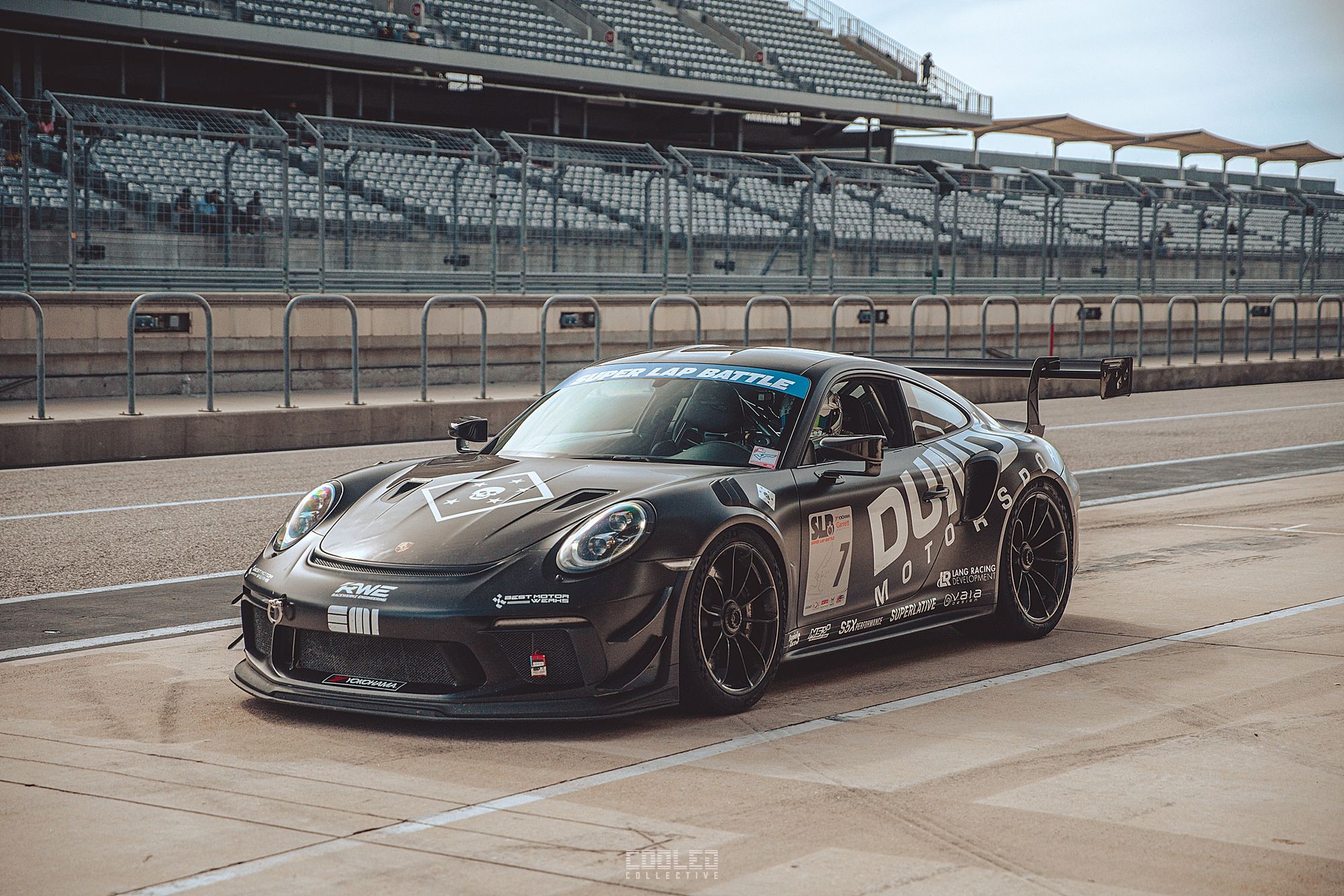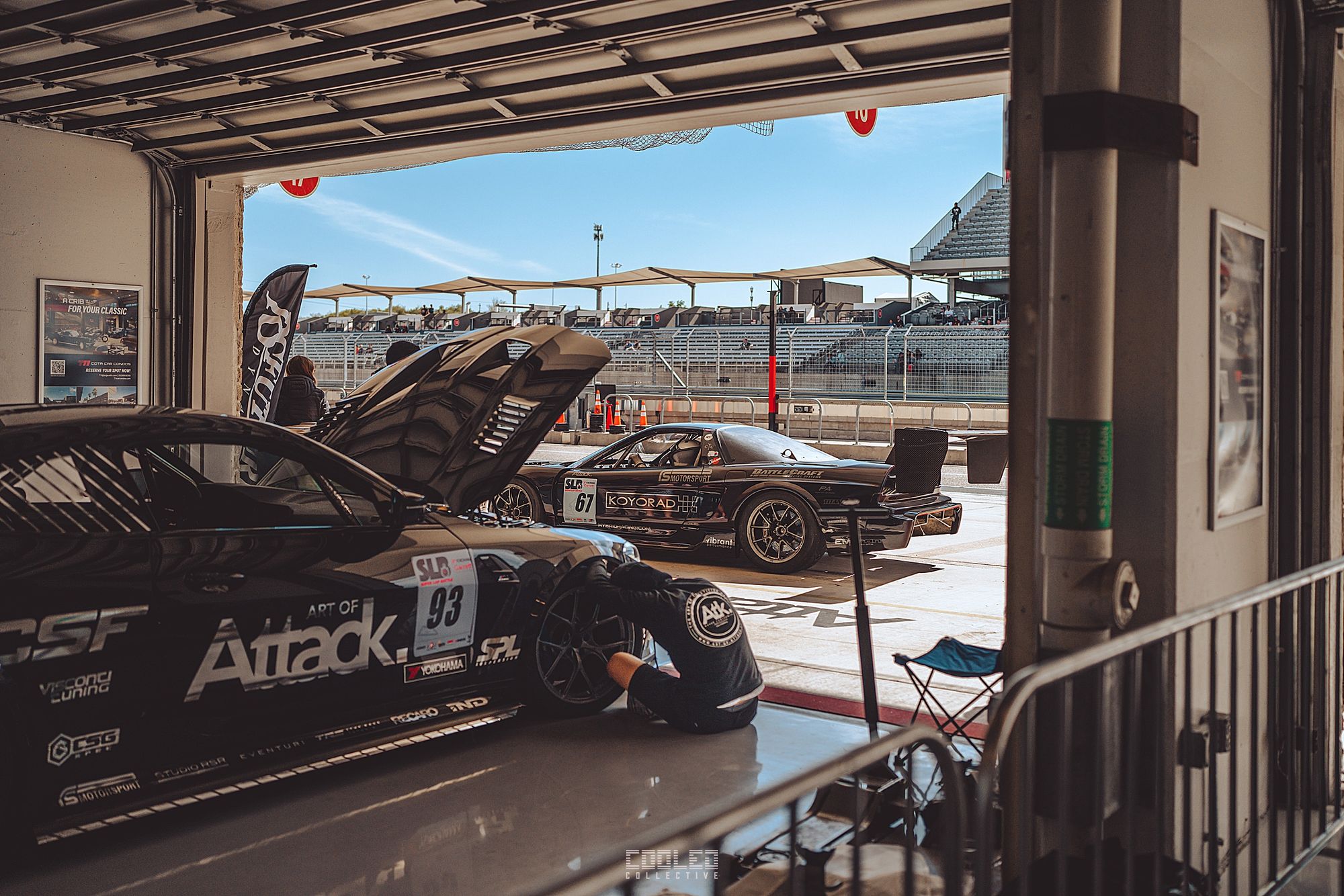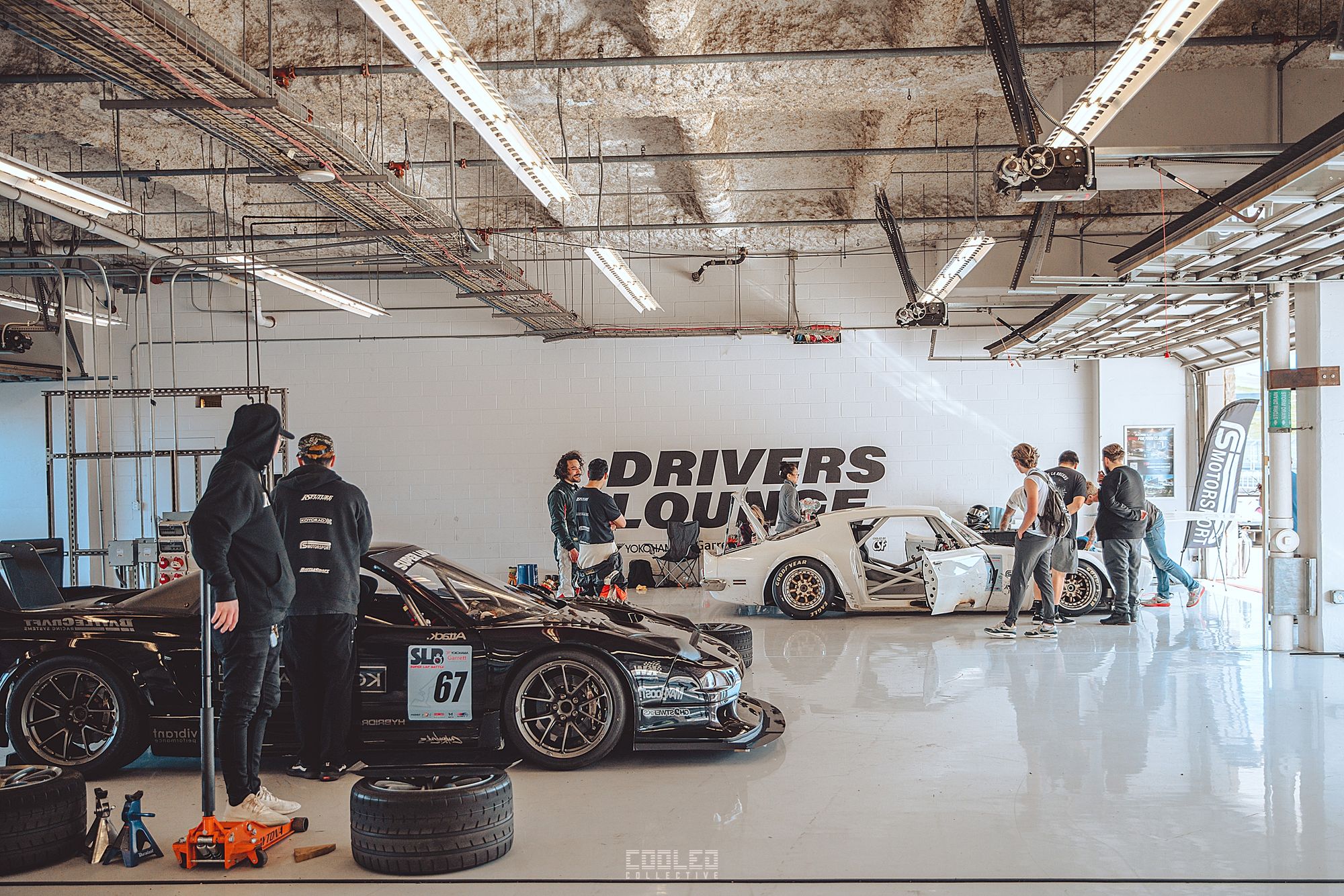 When I got to the Drivers Lounge by mid afternoon, you can see that people were exhausted but glad that things were coming to an end. You can see Amir below looking gassed as he has had quite the weekend. A lot of learning and tweaking for this round but only to be much more refined by the next race.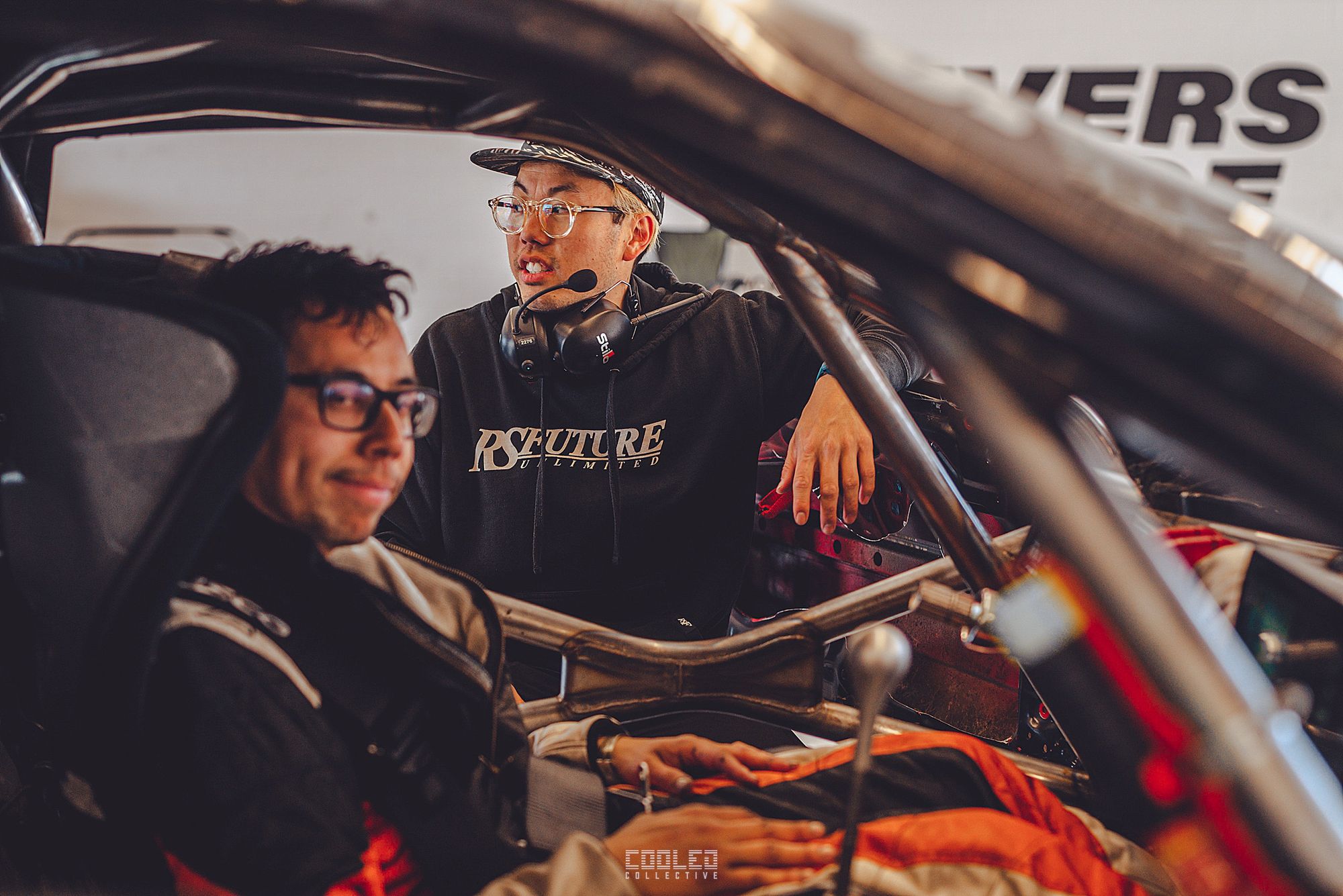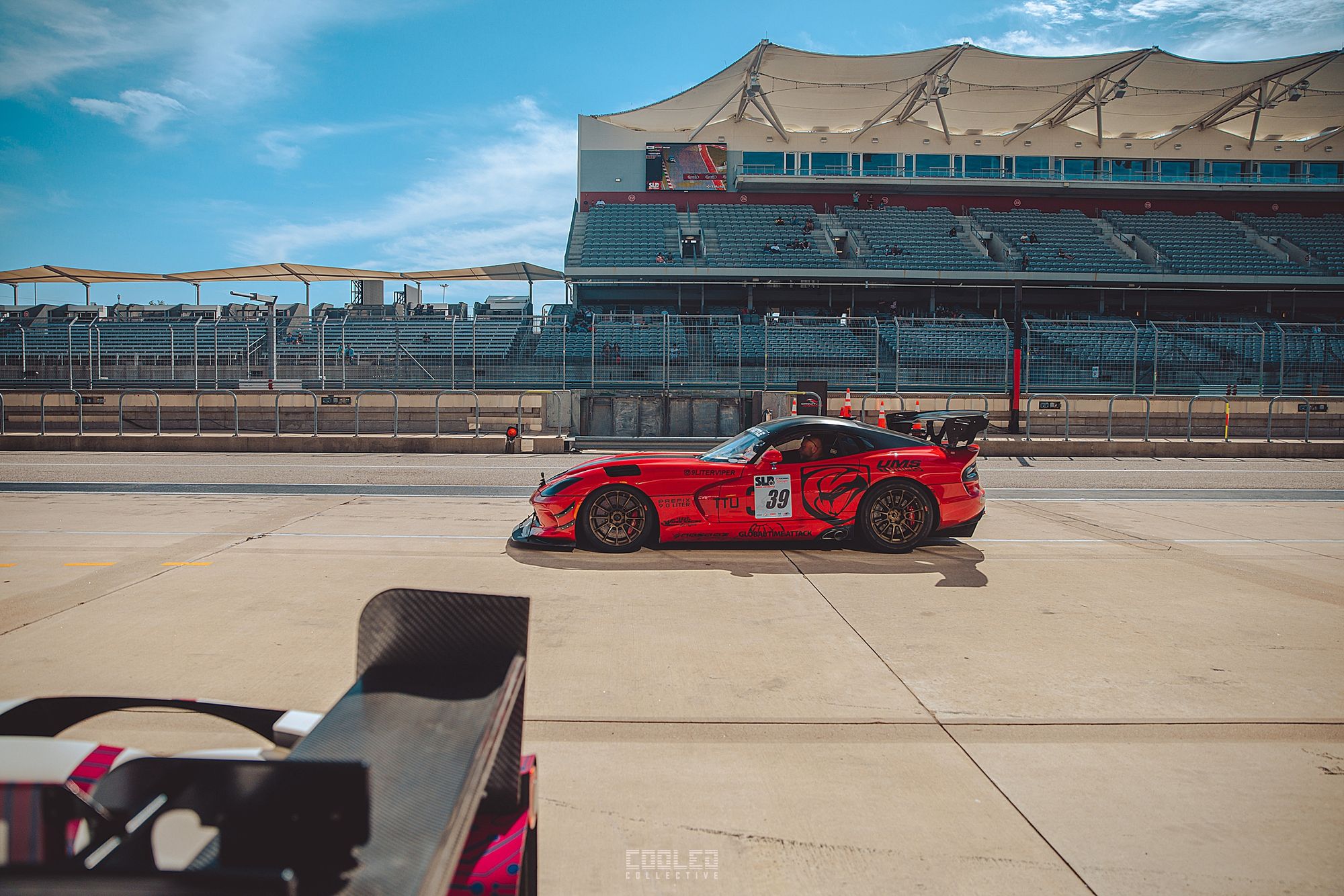 With it being Riley's first time on the track with his Trans Am, there were a lot of hurdles he and his team had to work through. His beast of a motor was running extremely hot as you can see the door was just getting charred to death. Battle scars are so damn cool.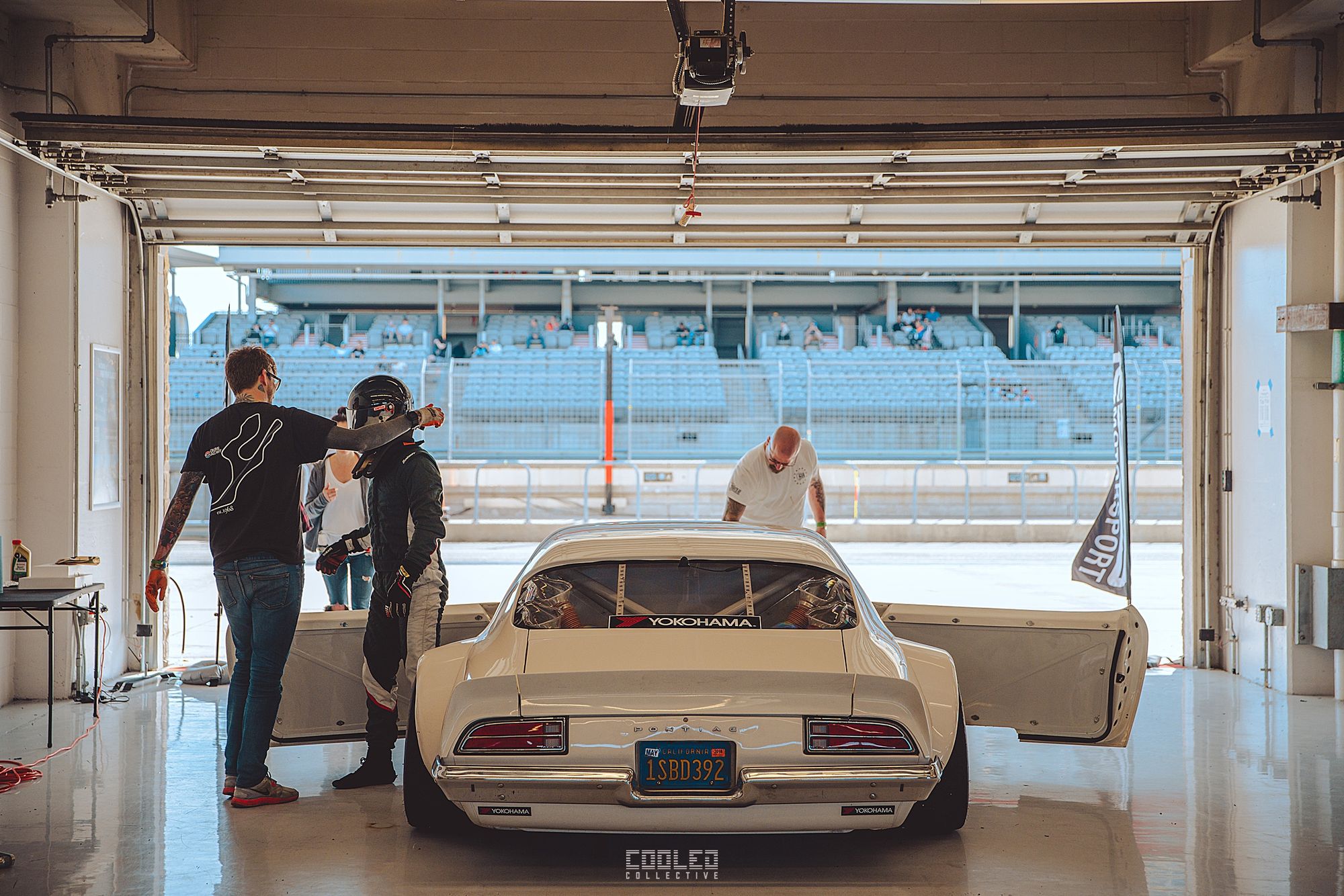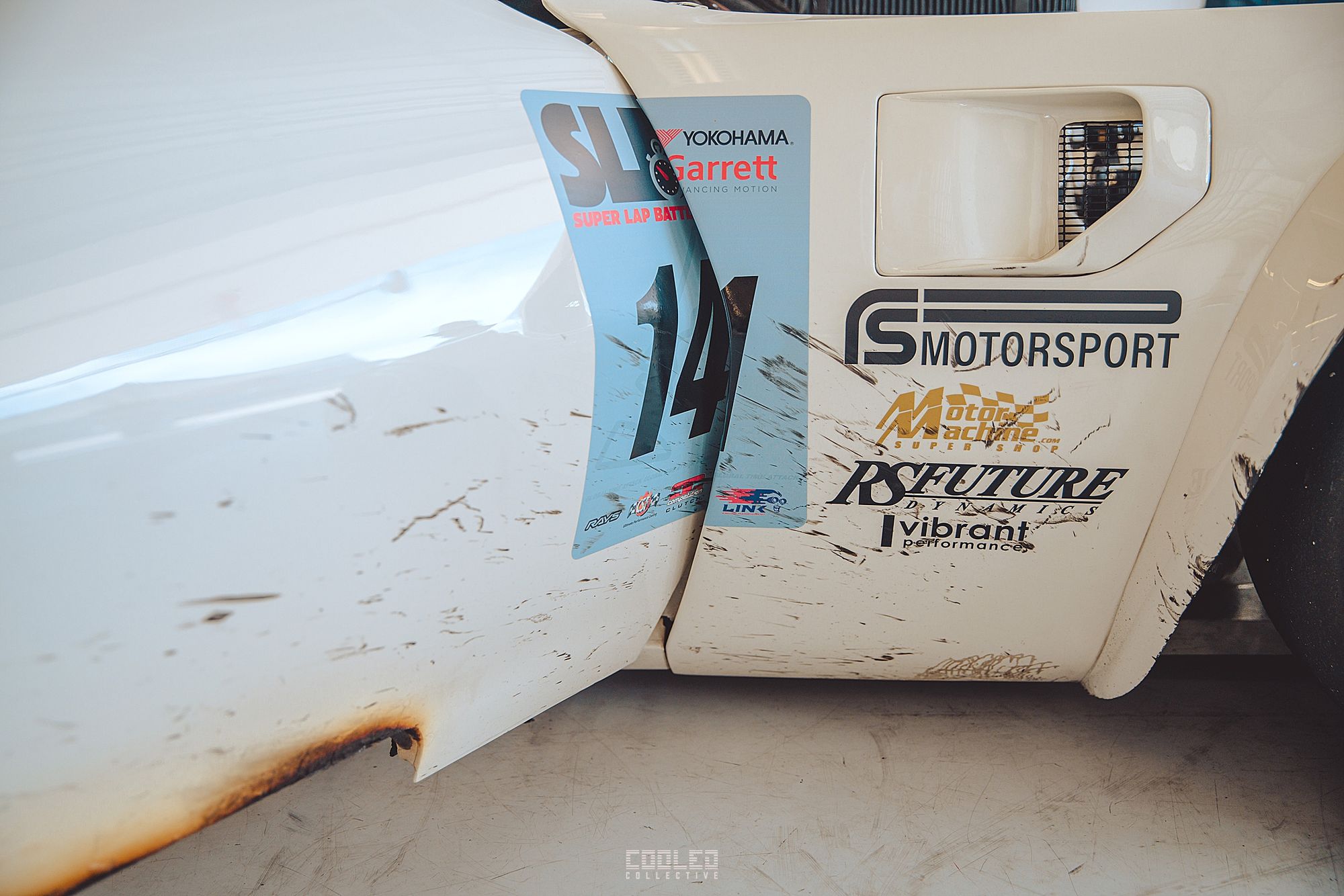 By the seat of my pants, I had the opportunity to shoot with some of the SLB media team as they were going around the track to grab some promotional photos and videos. The back of the truck was packed and although Christian who was running the shots said no more were allowed on the truck, he gave me a pass since I was with the main sponsor team with Art of Attack and RS Future.
I mean if I had to add bucket list stuff, shooting on the back of a truck at Circuit of the Americas and shooting 3 badass JDM monsters.... yea that would be up there. The first lap I stayed in the back and did more documentary stuff shooting everyone doing their thing but when the second lap came around, I had to jump on the tailgate to grab some photos. When life hands you an opportunity, you have to go for it and so I did. Enjoy the images below as they almost didn't exist!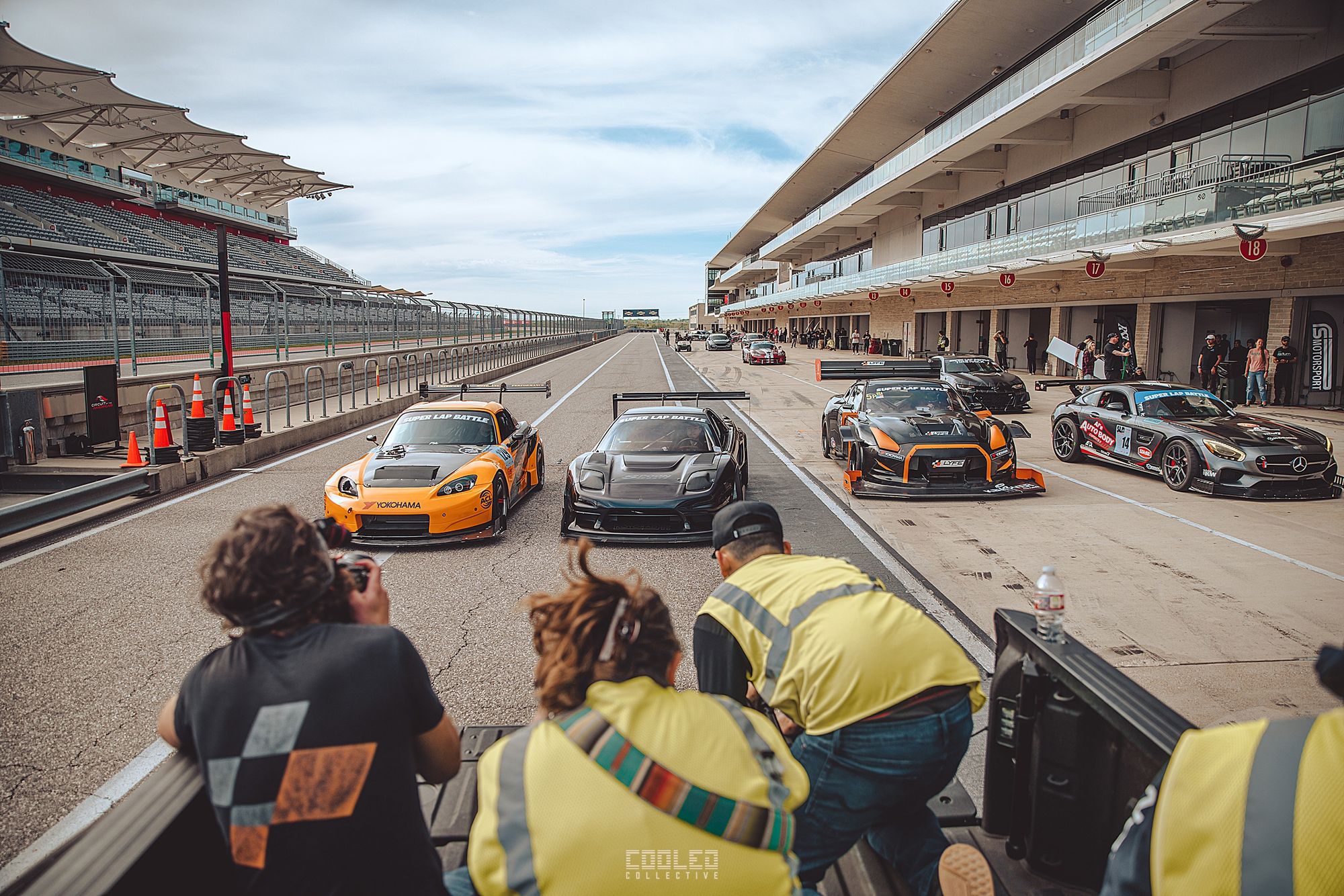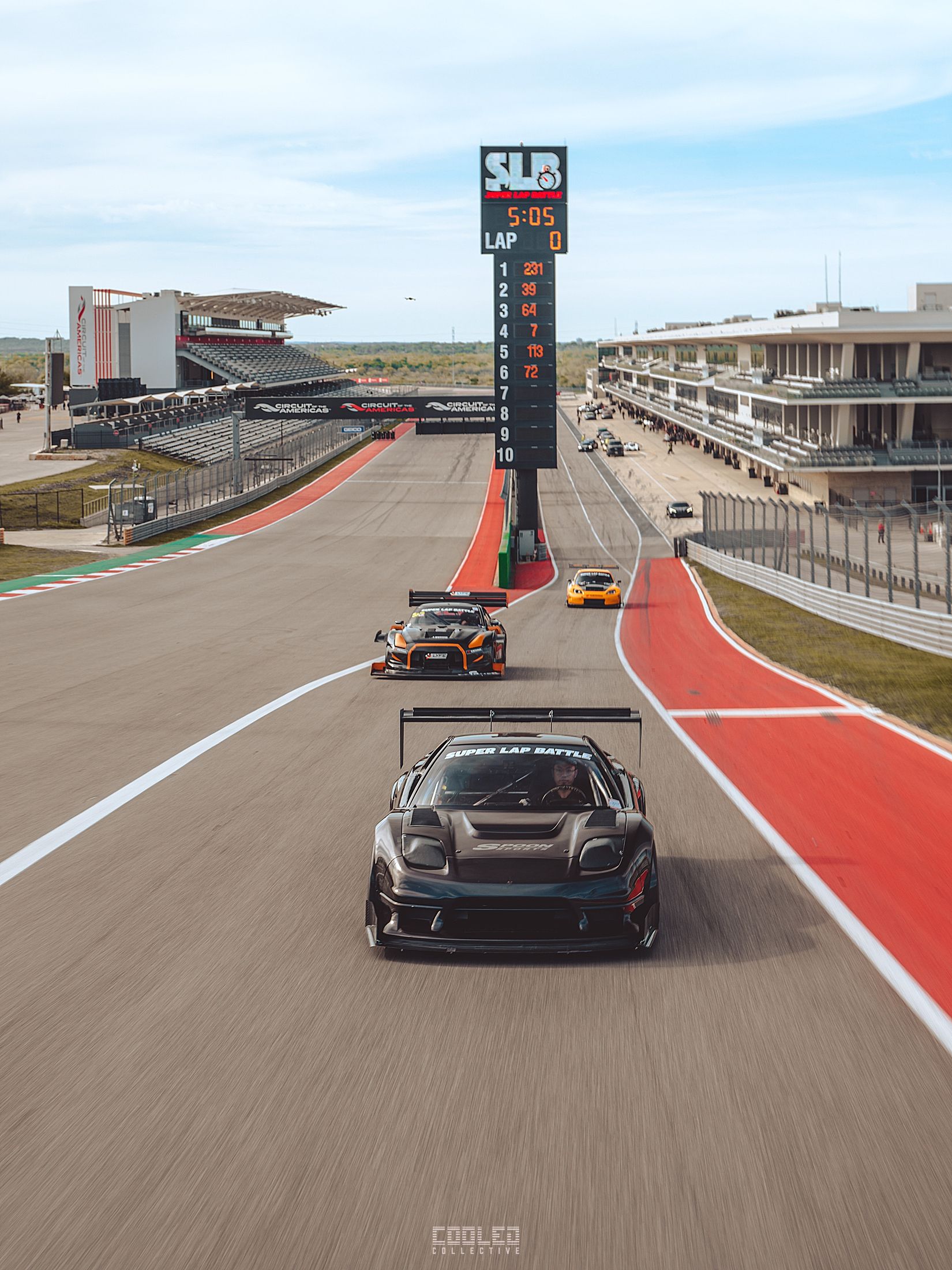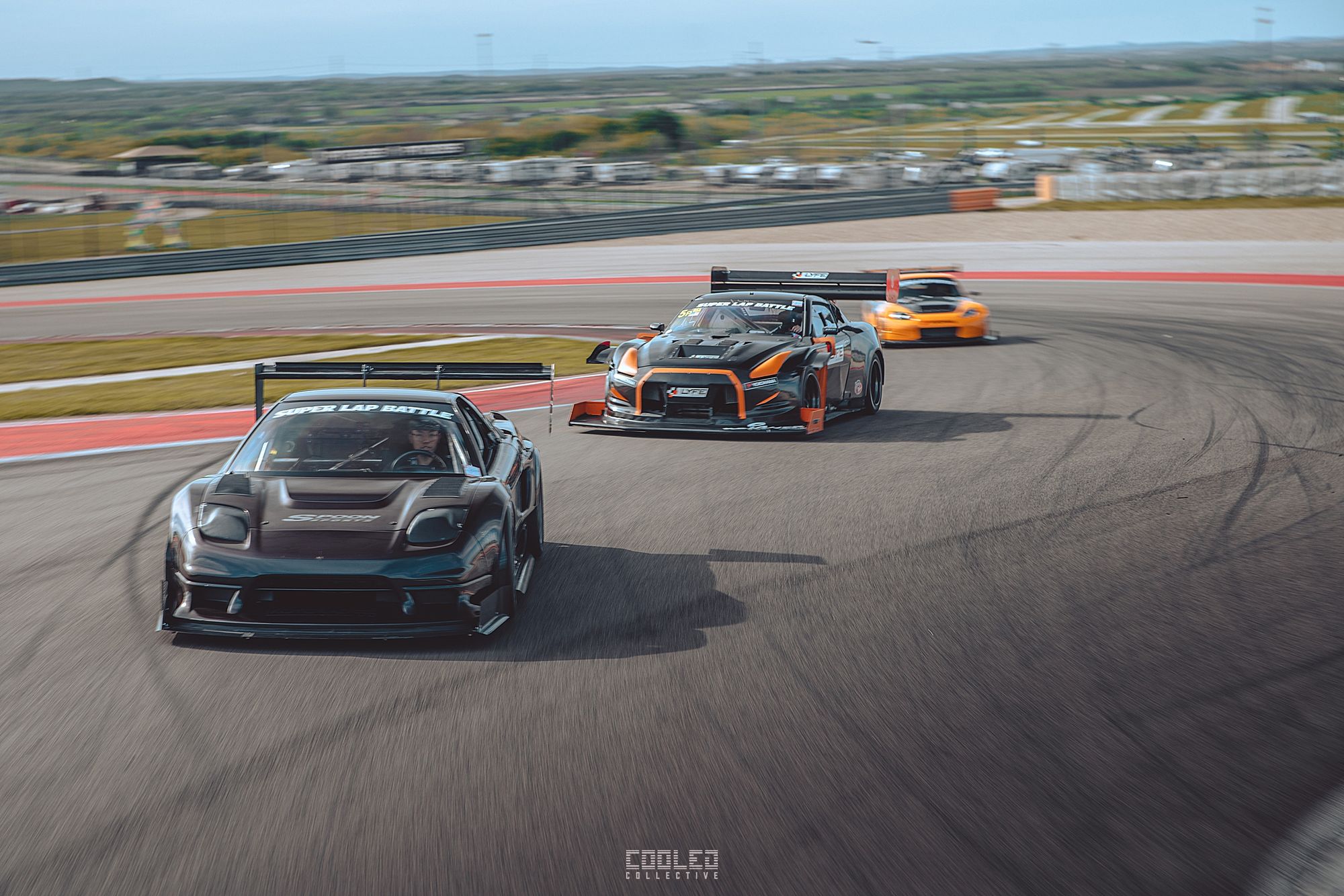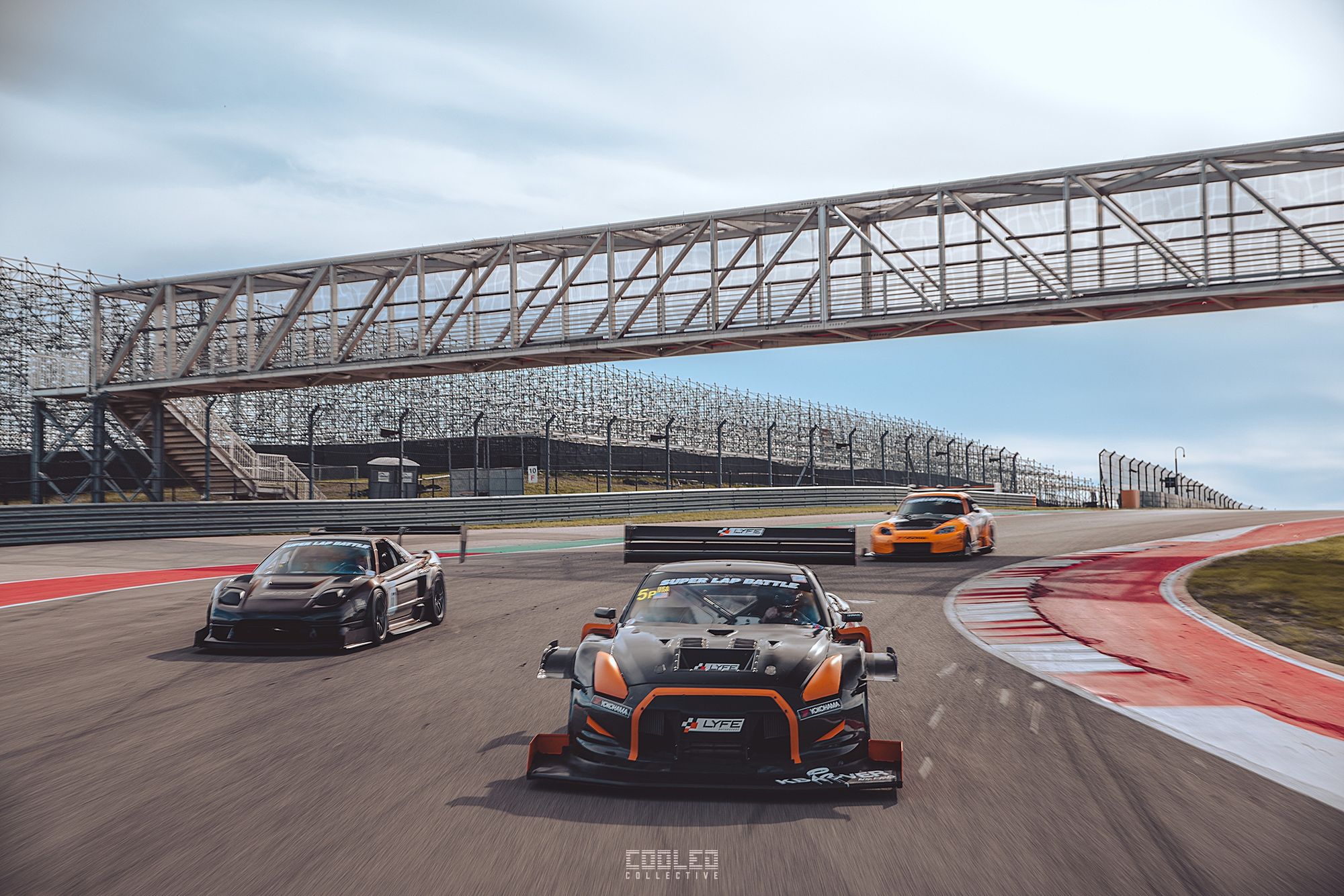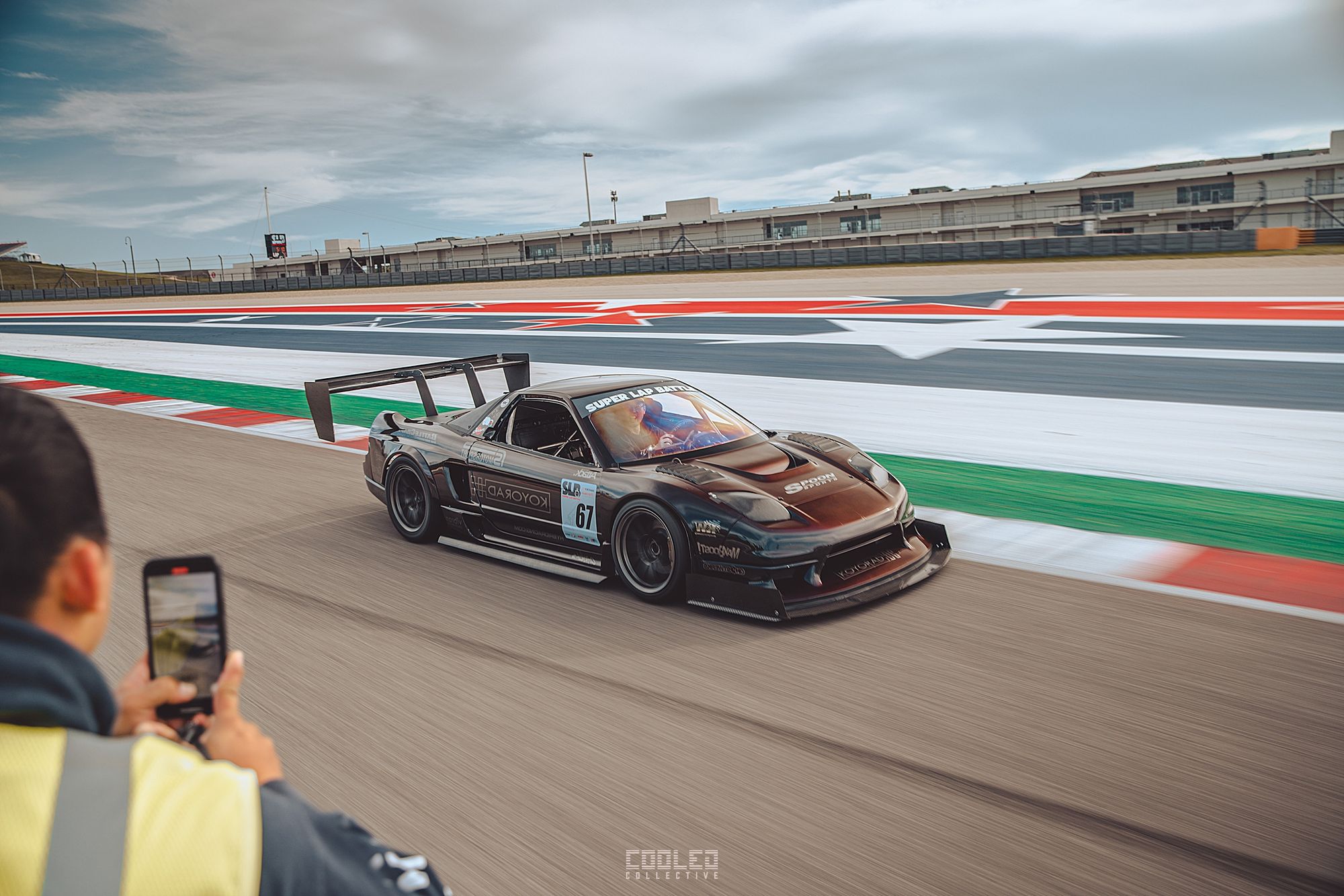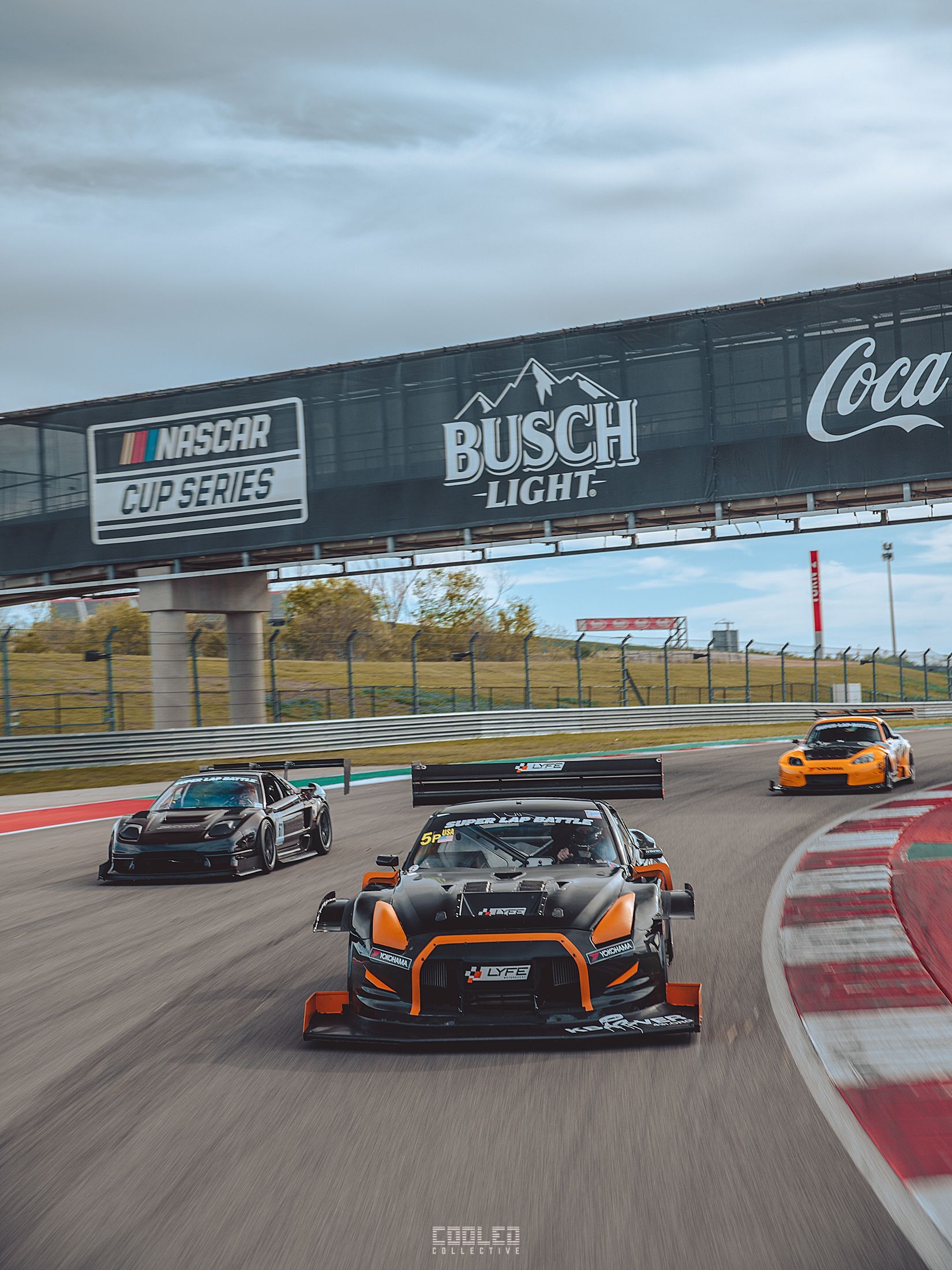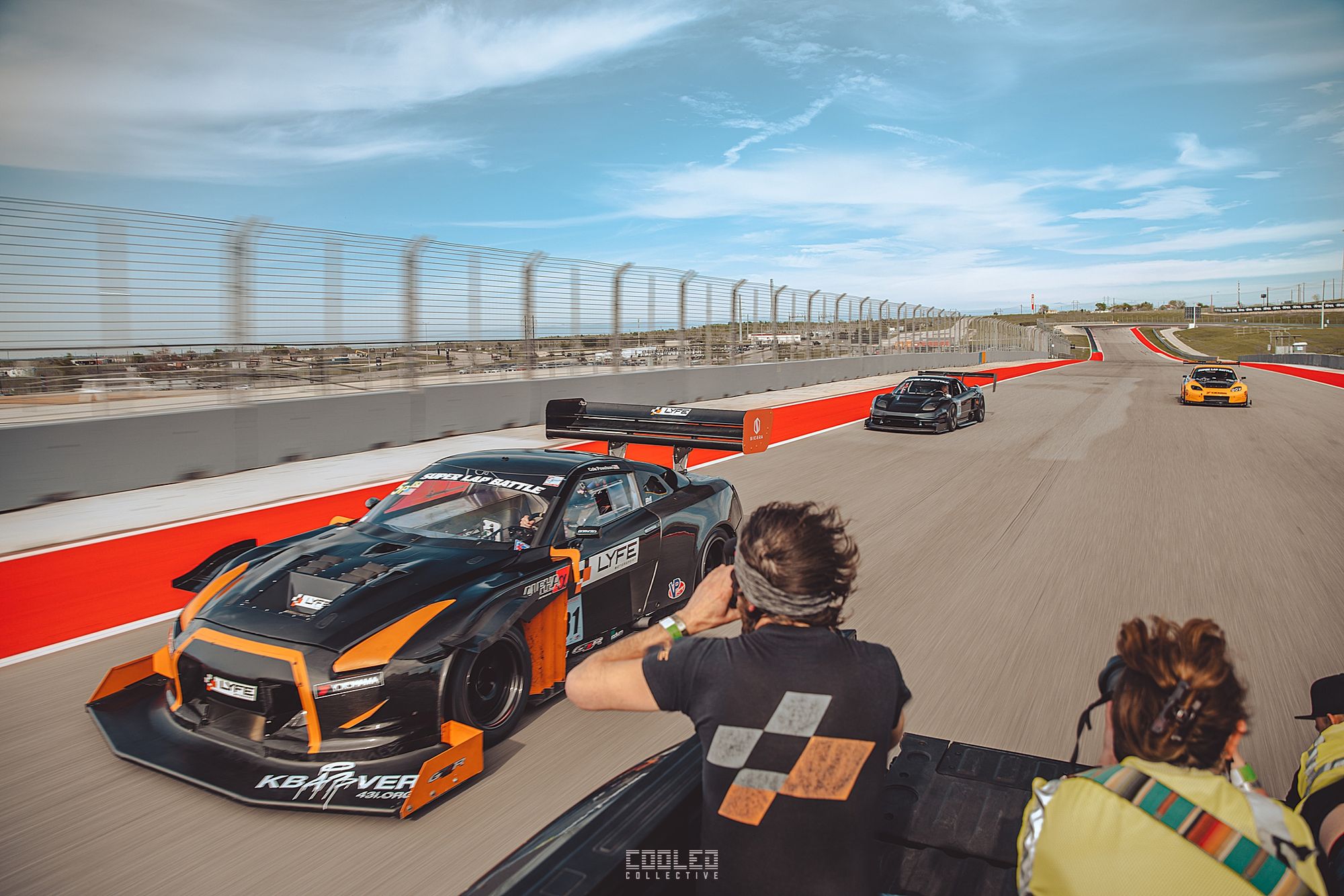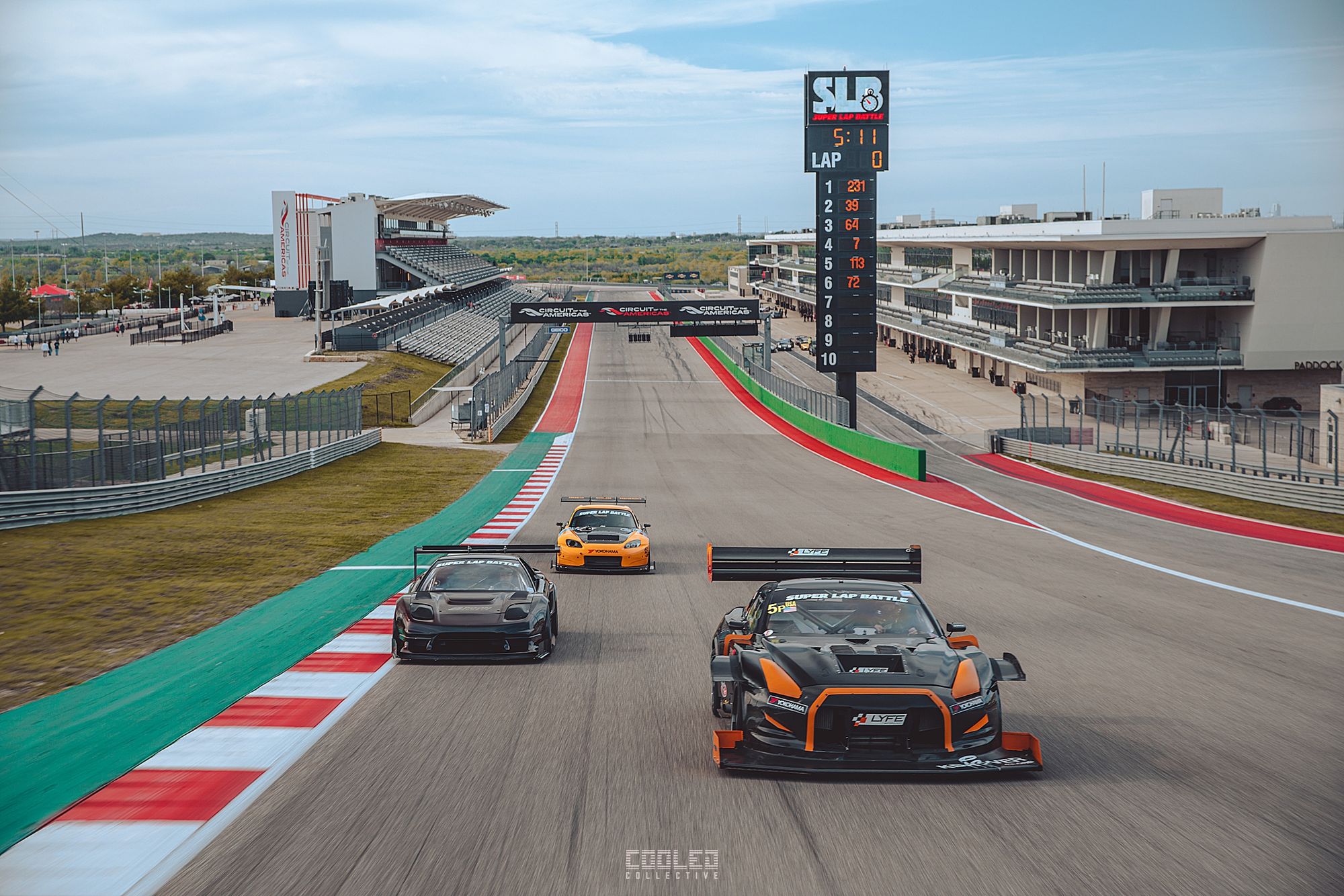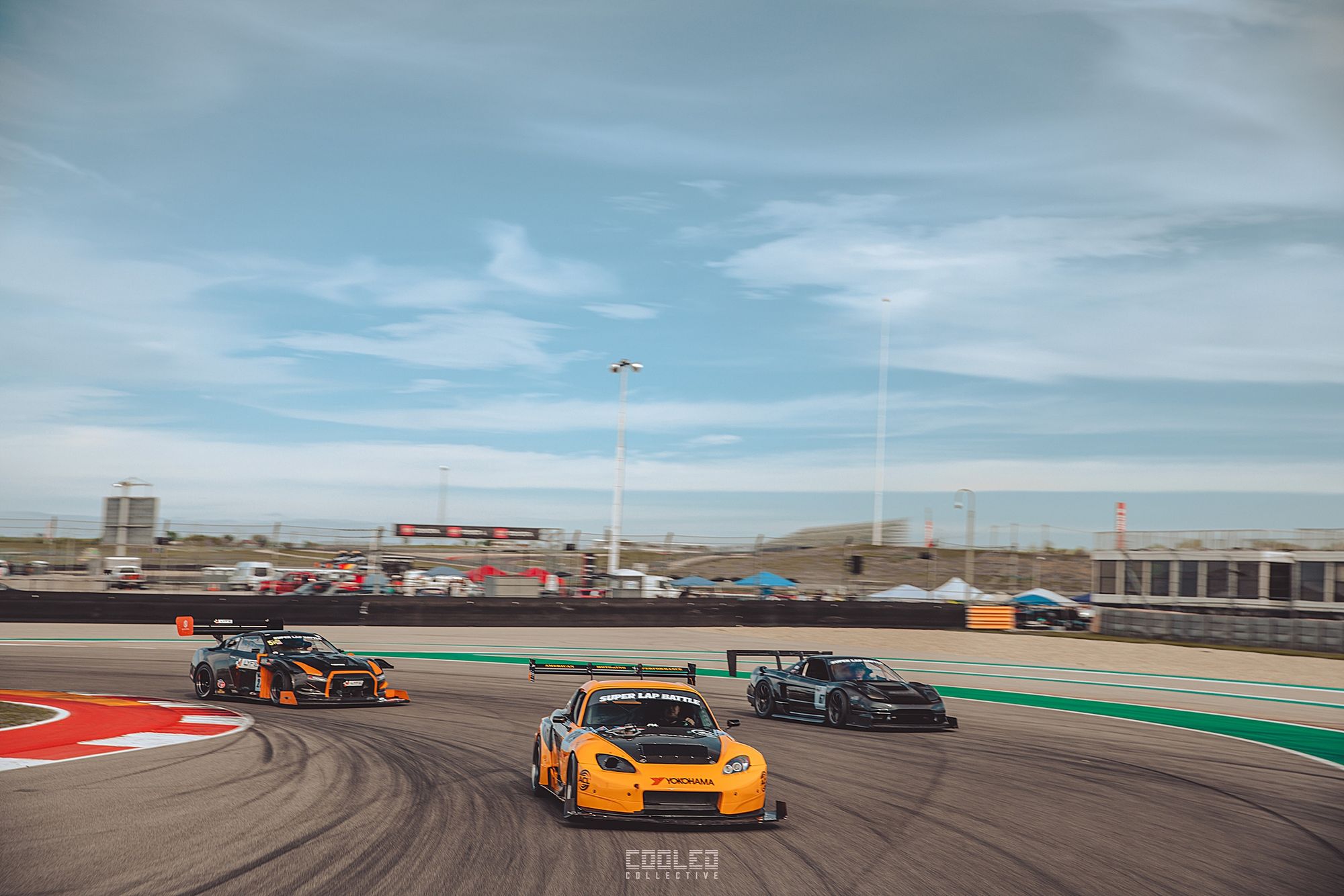 As the weekend was dying down and the final times were being sorted, I did my best to try and capture the vibe of what was going on. You can tell the tension had winded down and a lot of relief was being exhaled.
Some landed new all time best times, some teams had technical difficulties, some were just happy to have made it out alive but when all was said and done, it was time to celebrate.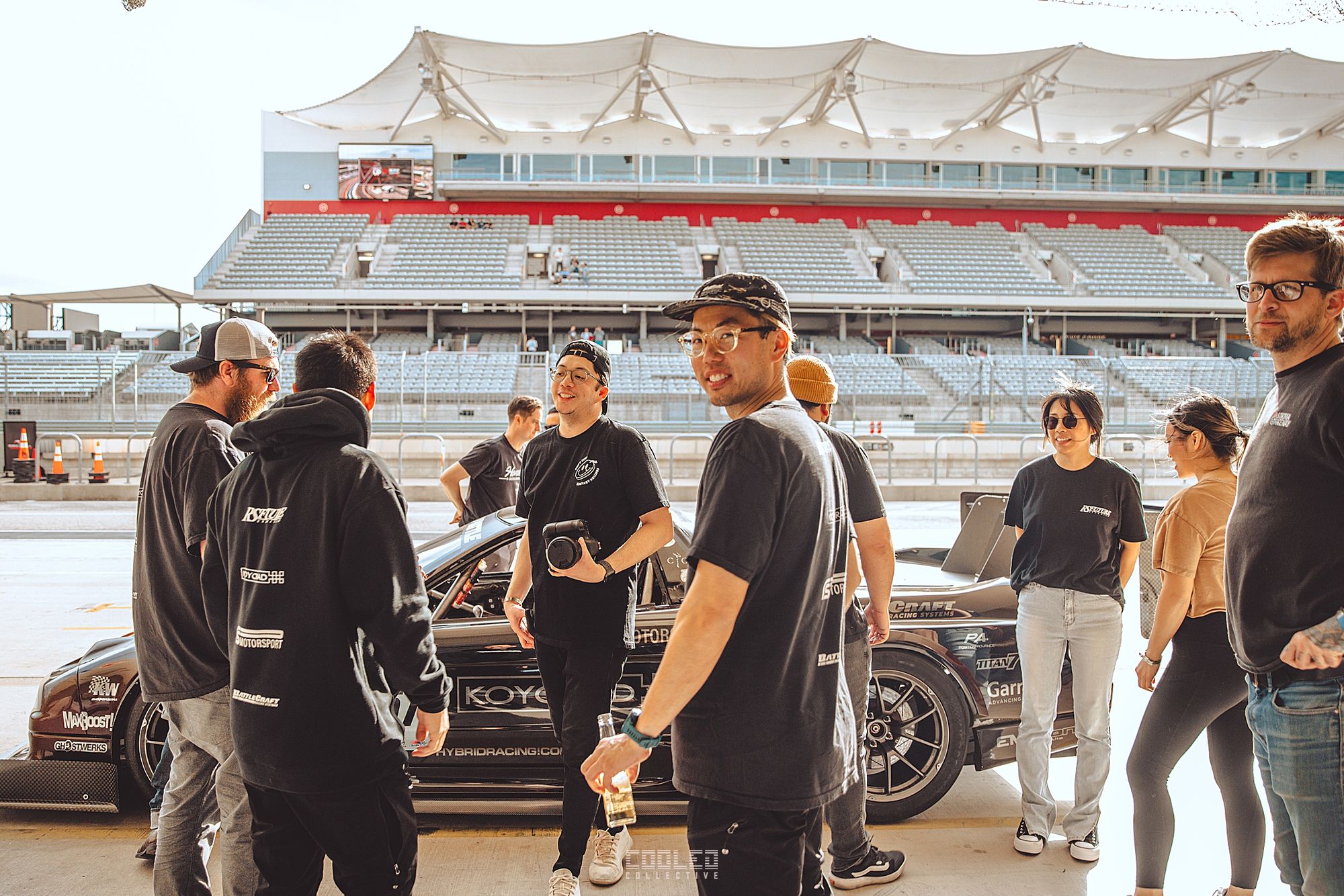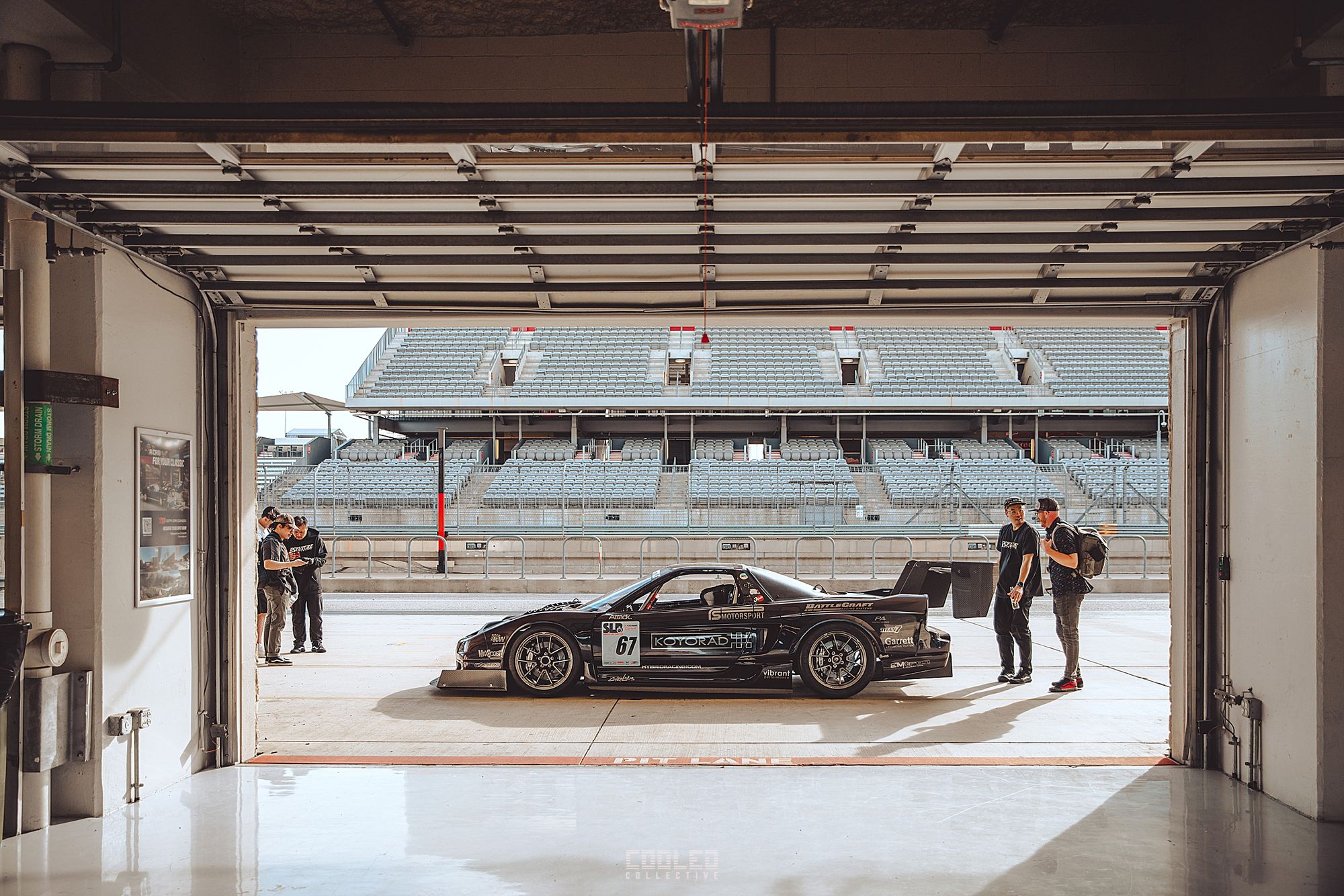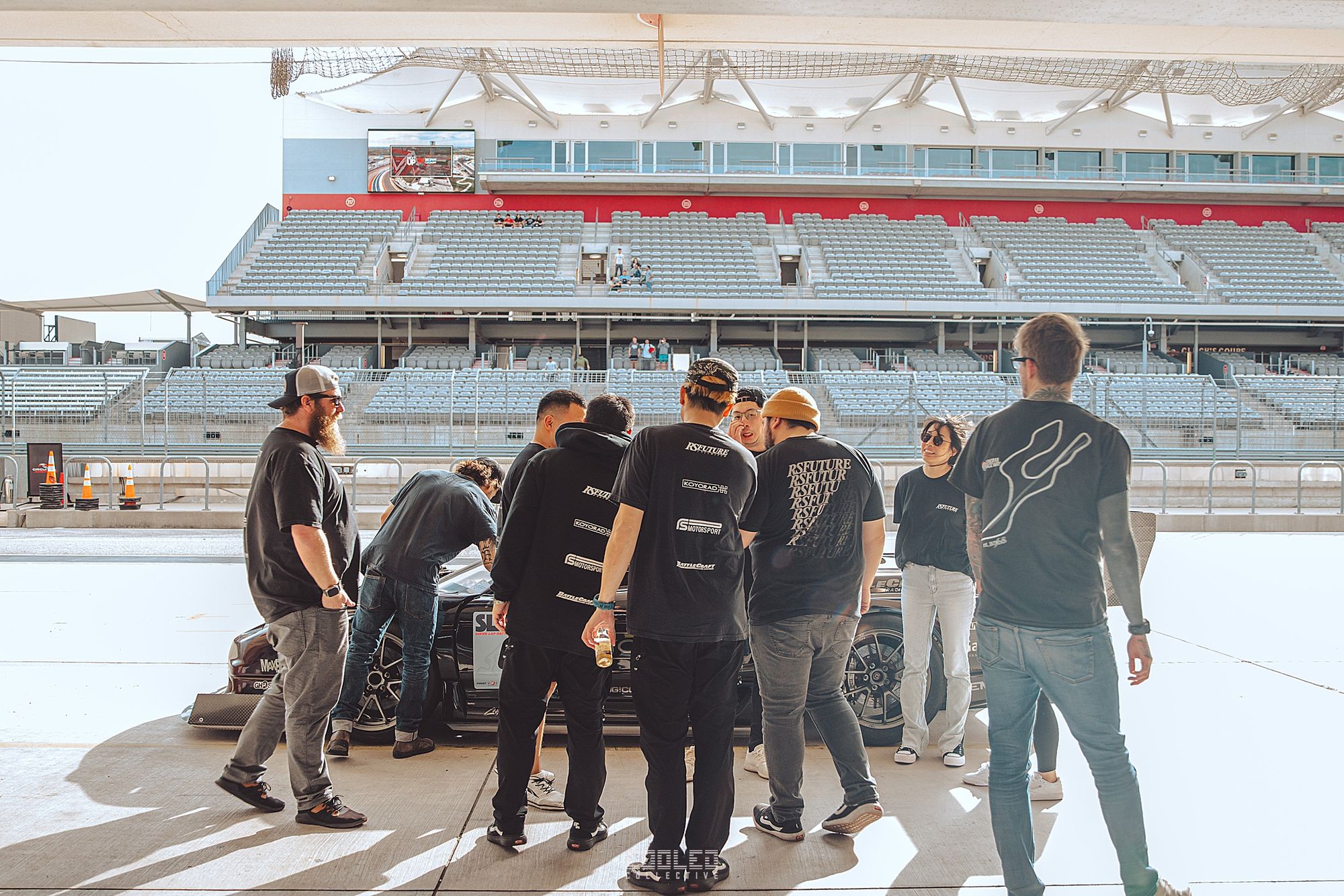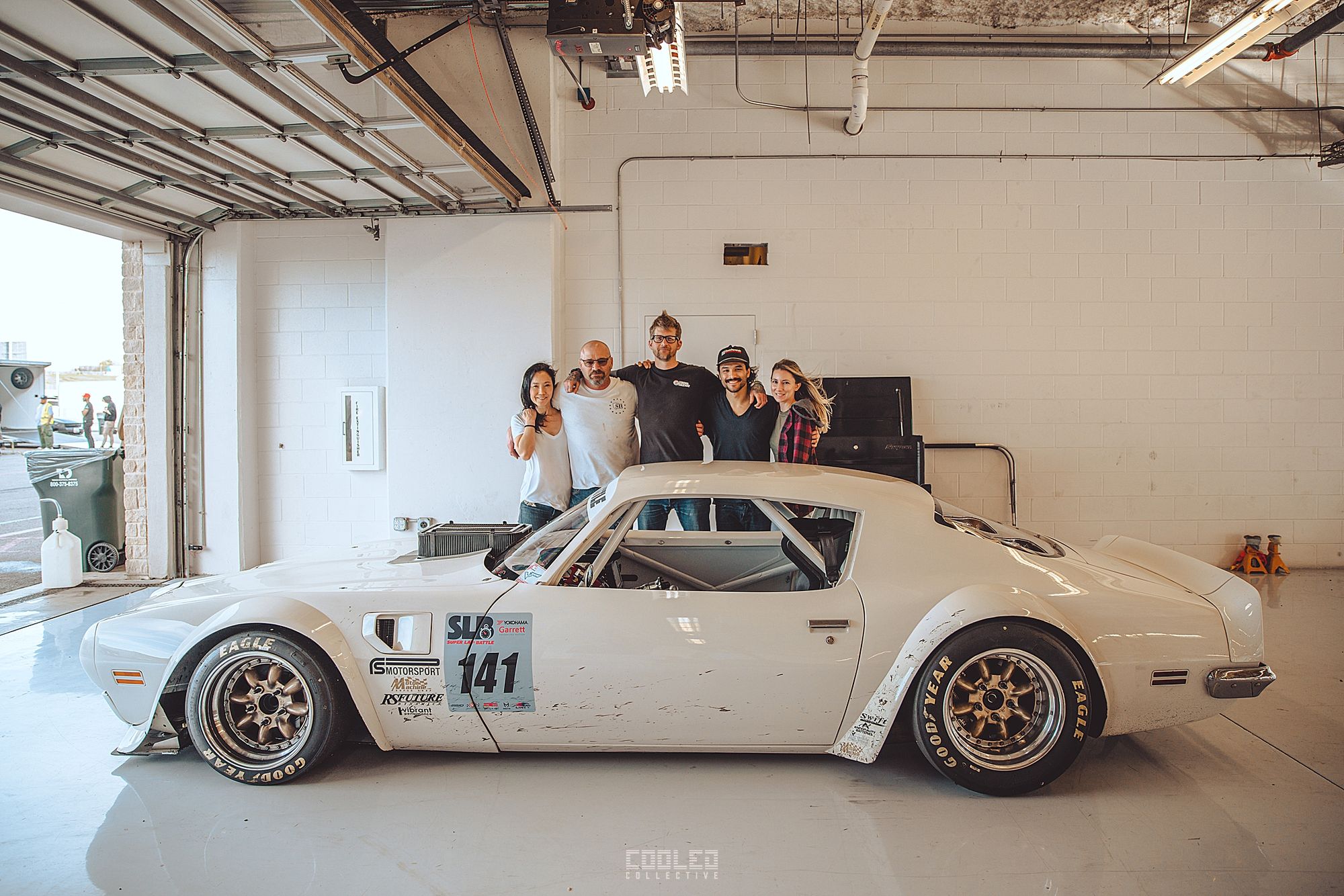 RS Motorsports and Art of Attack at end of race day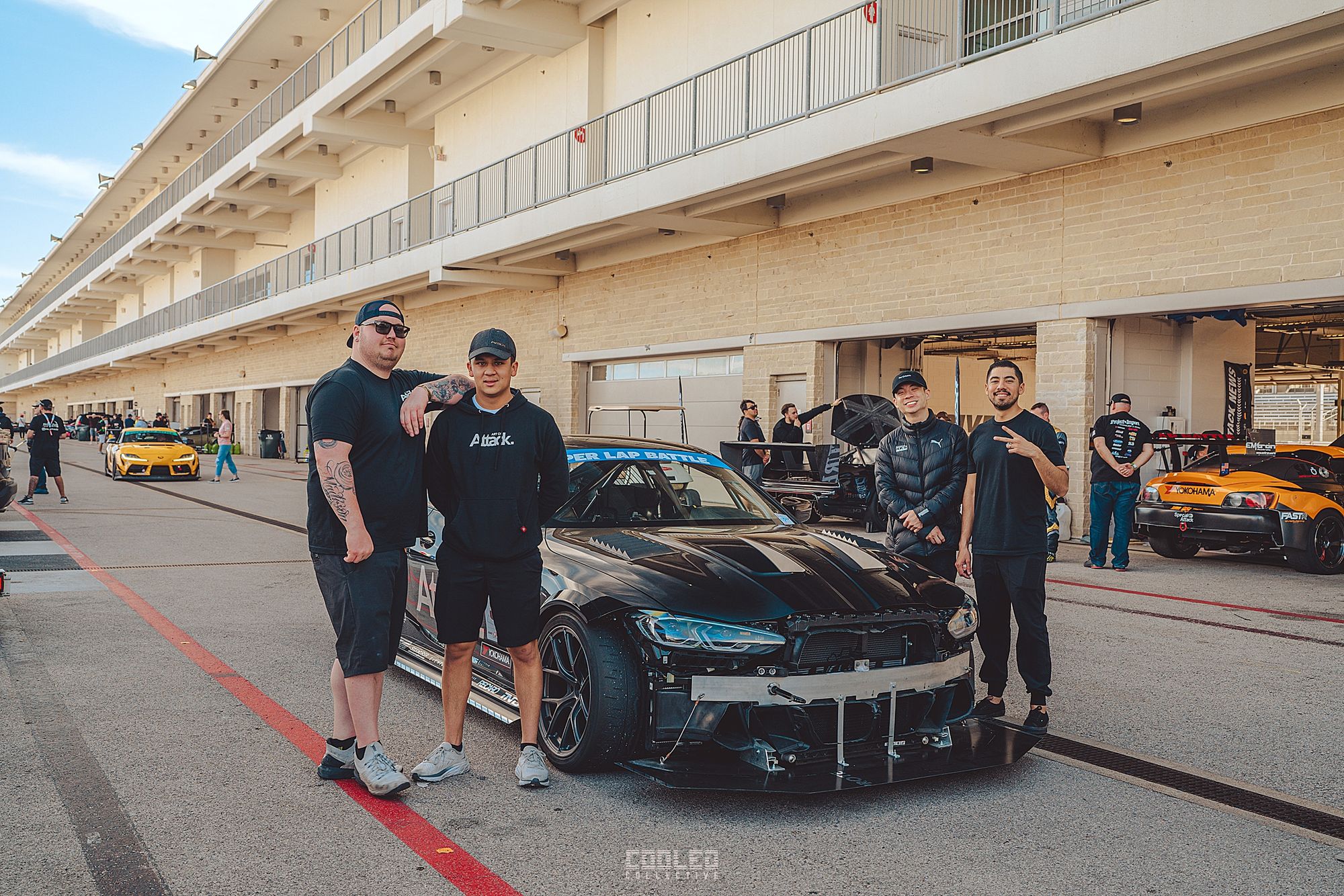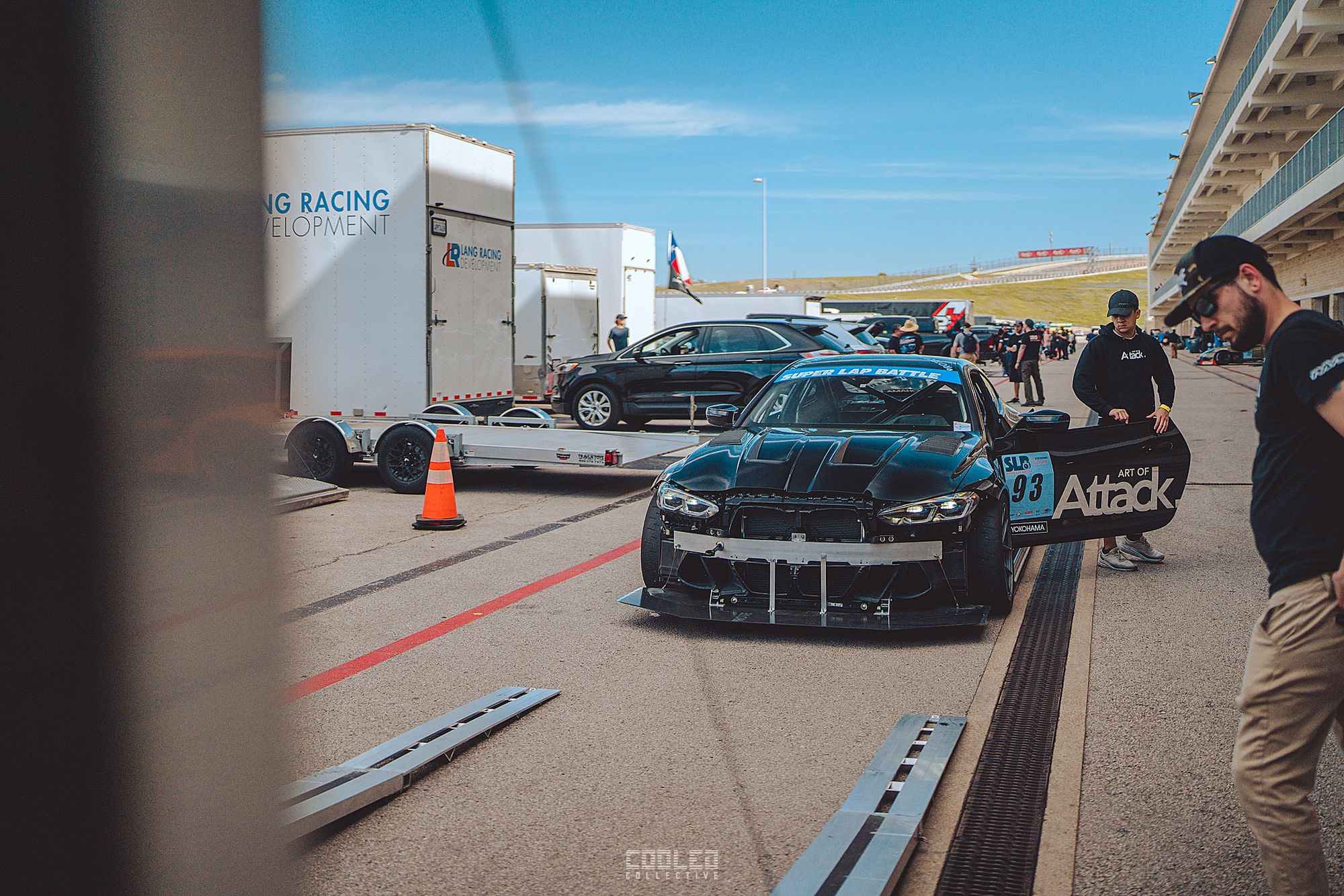 When it was time to announce the results of the weekend, a large crowd gathered at the start of the paddock to cheer on the podium finishers. There were lots of champagne, drenching each other in champagne, drinking champagne from shoes and consuming champagne.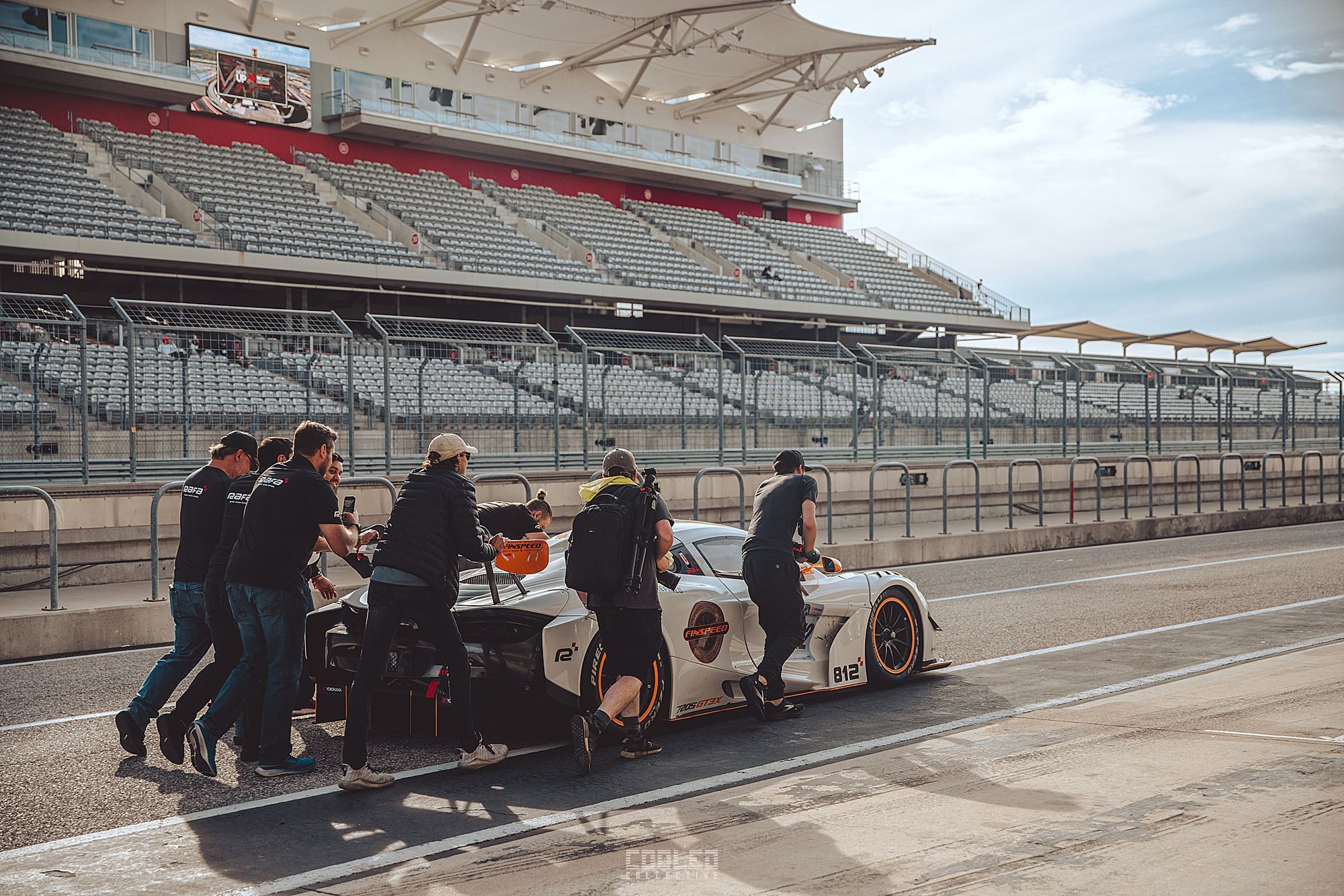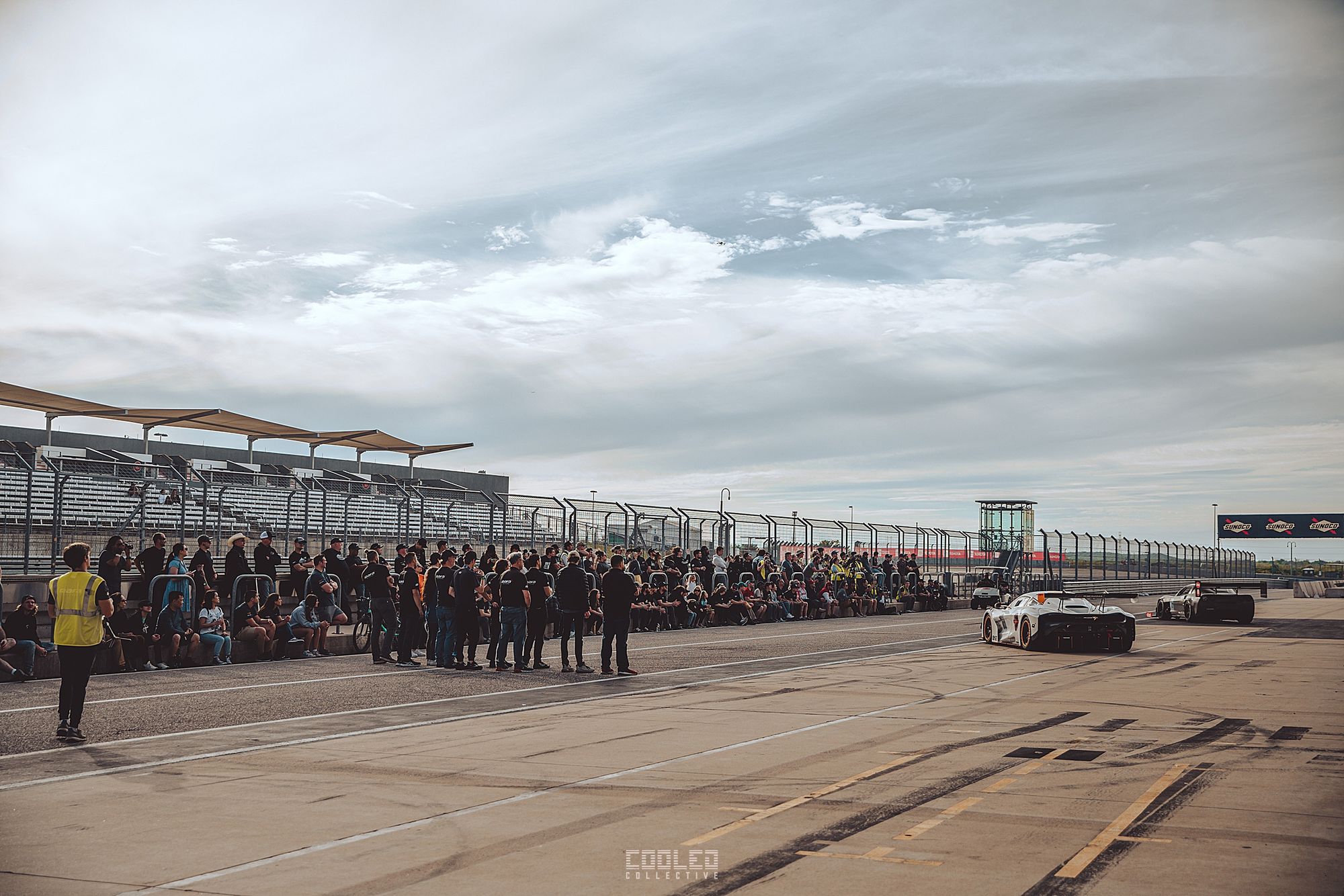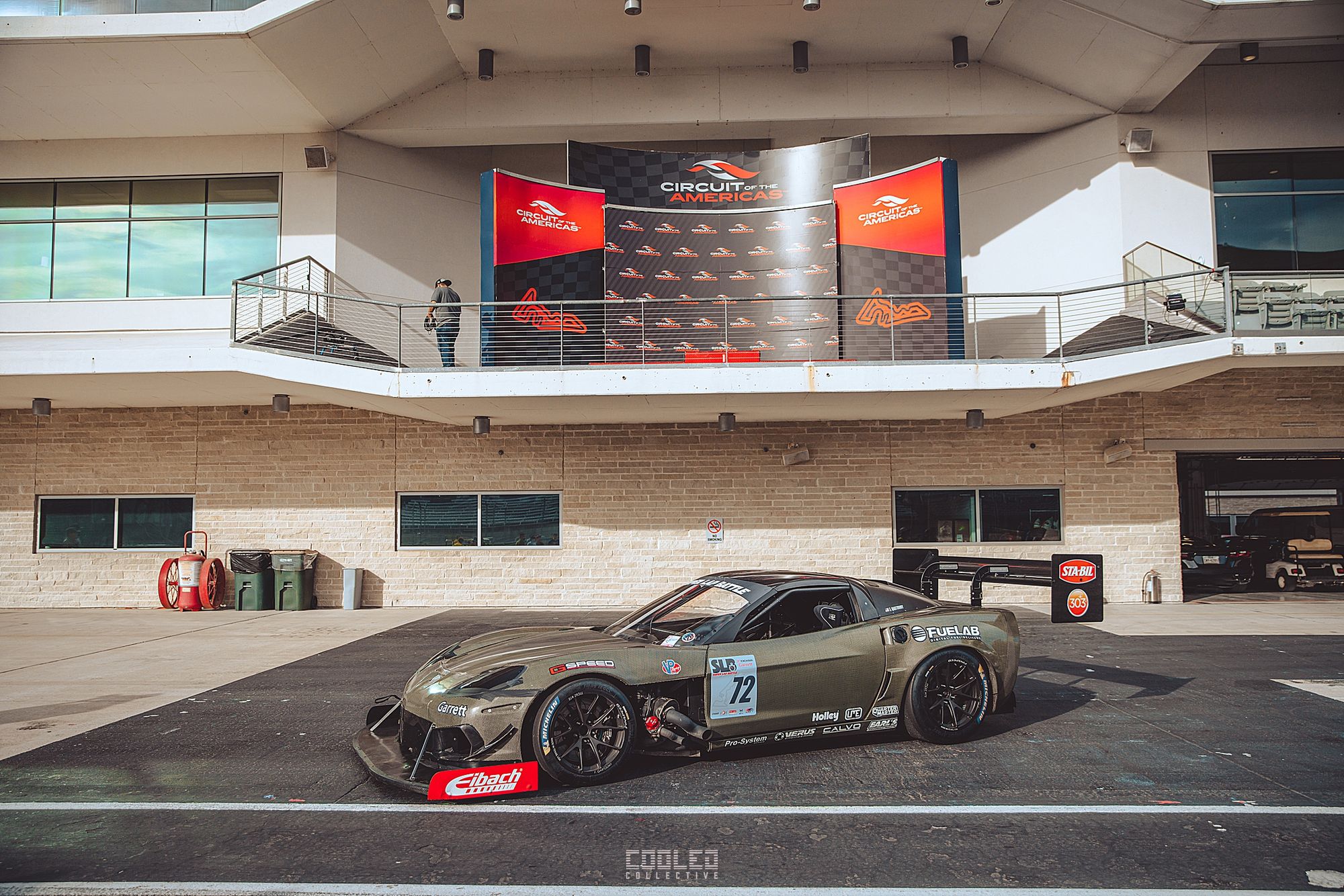 Top time went to Feras Qartoumy in the unlimited class with a blistering time of 2:03.850 in his C6 Corvette. A monster of a racecar and even crazier to see on track.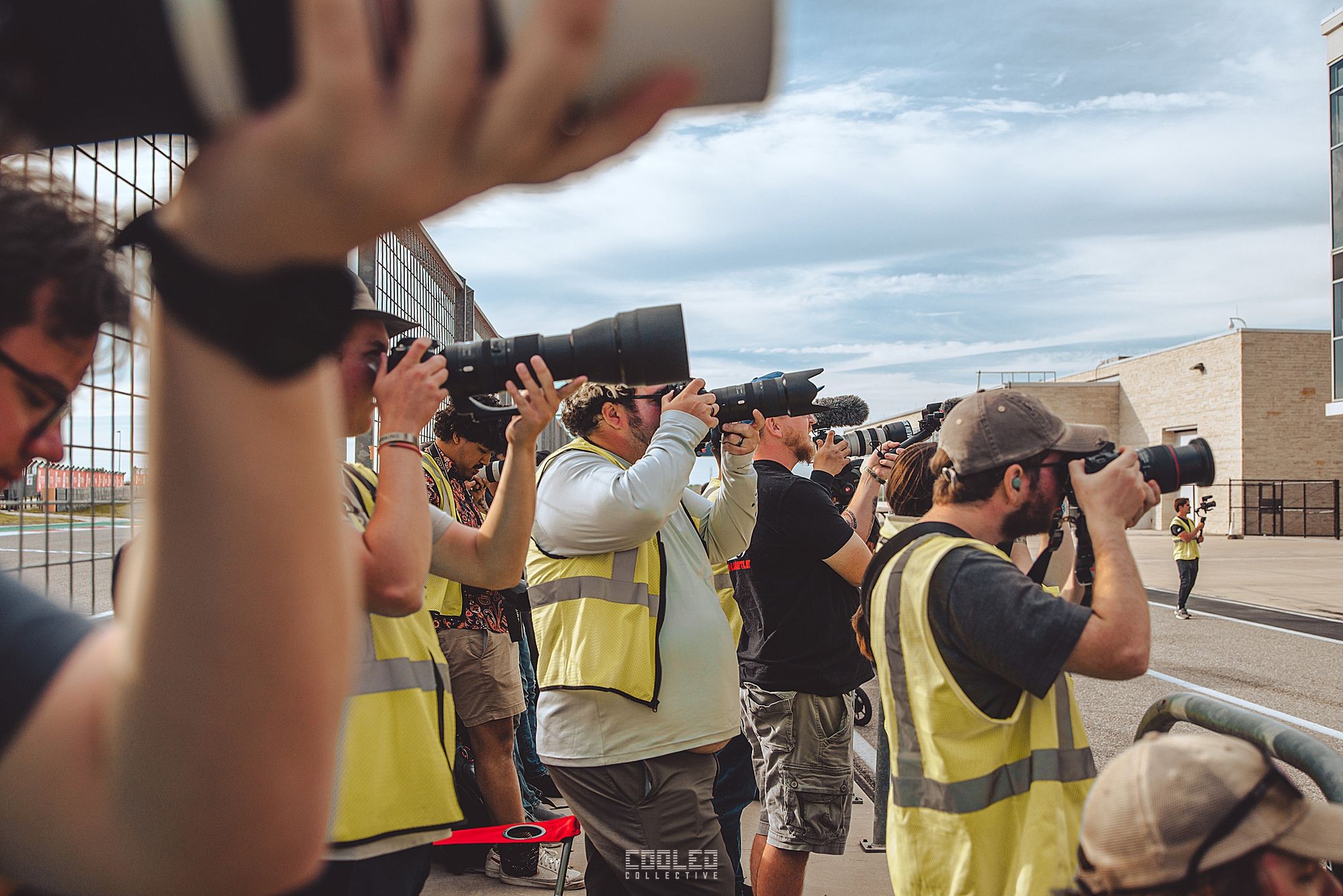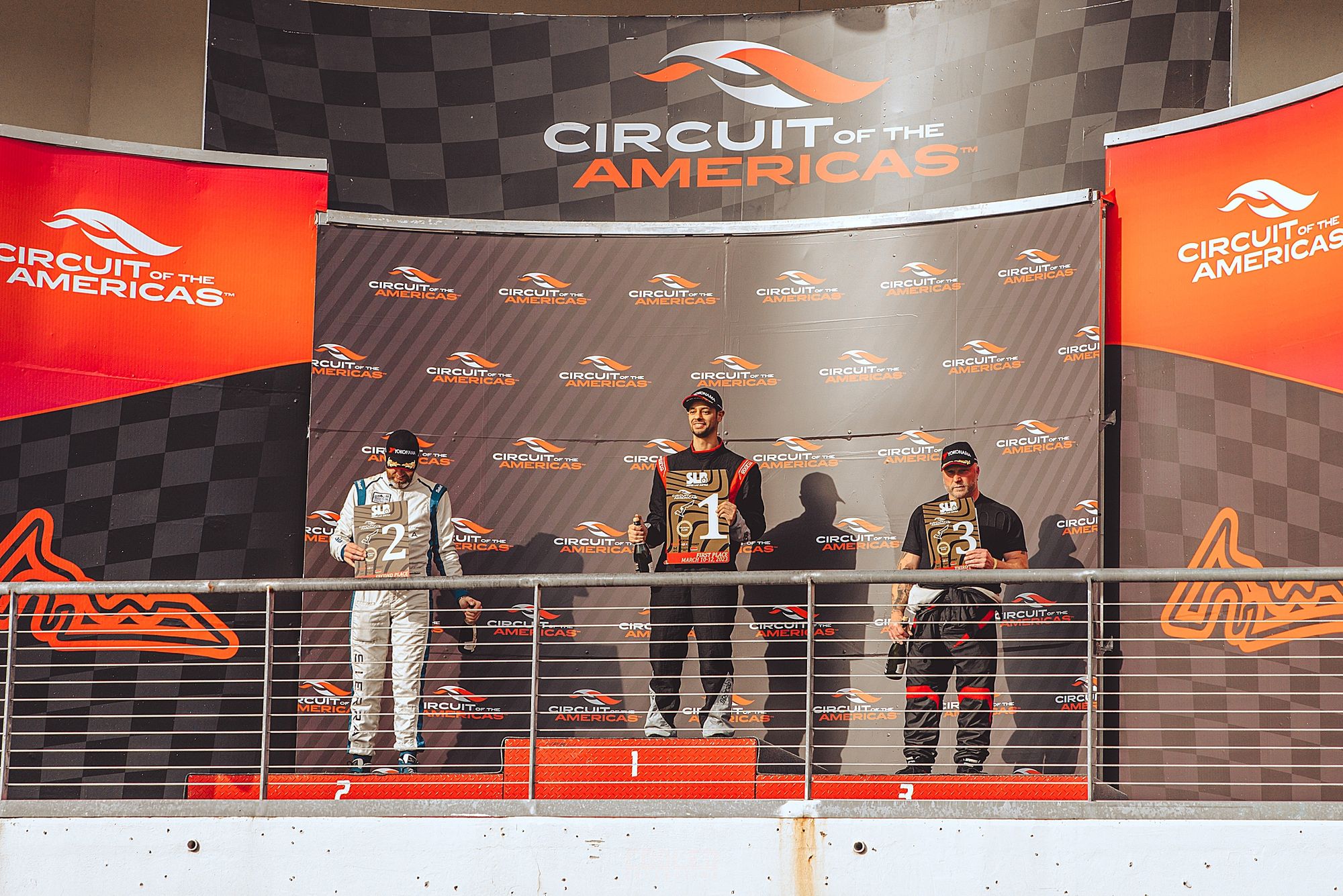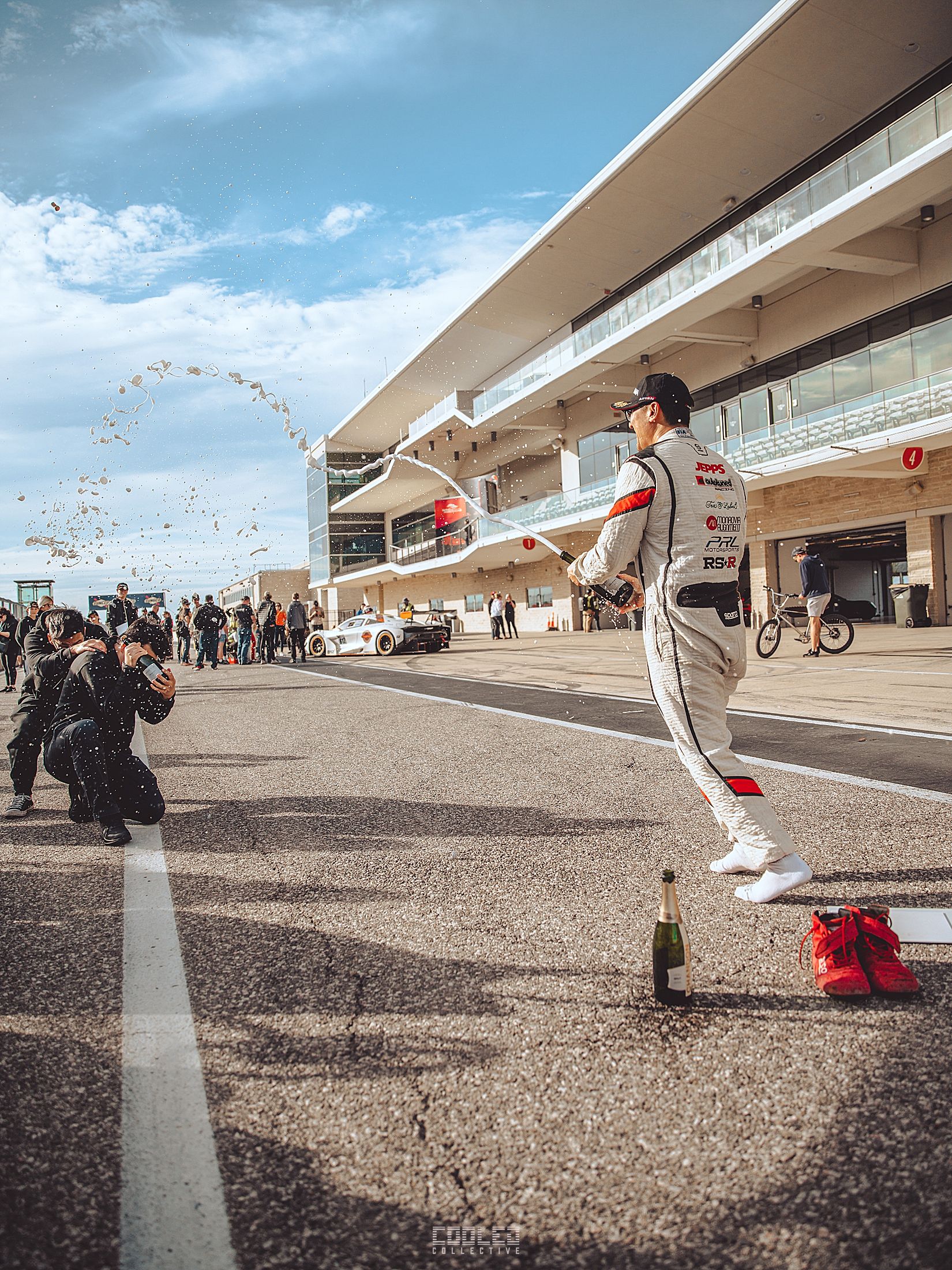 Young Tea from Autotuned and driver Jeffrey Ting came in 2nd place in the Enthusiast class and a record for the Front Wheel Drive of 2:26:9. Congrats to you two for setting goals and achieving them. Not an easy class to compete in.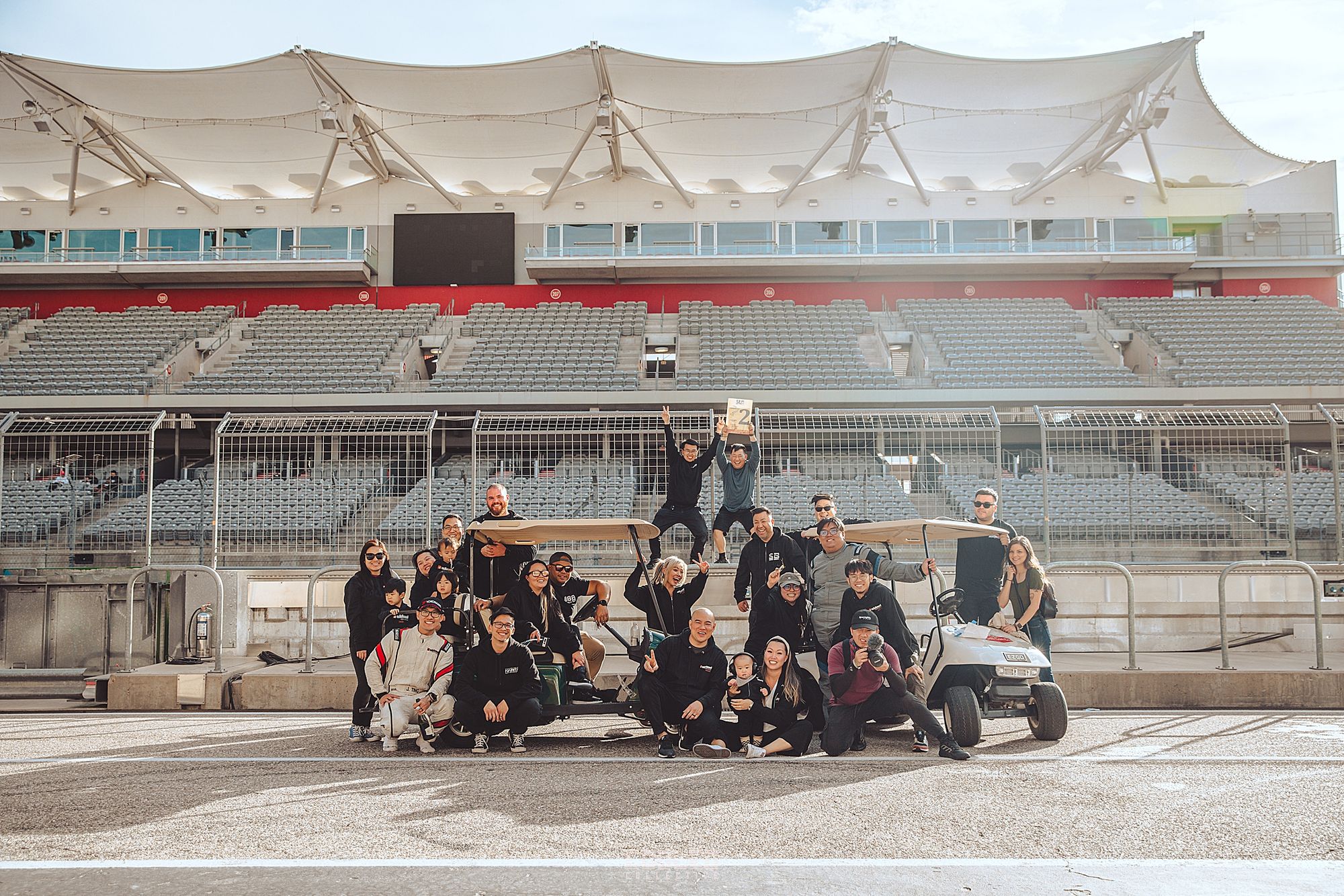 The crew at The Winning Circle, Gabe and Jason were taking some group photos so I jumped in to help them look their best. Both Gabe and Jason podiumed and grabbed a third place finish in their respective class.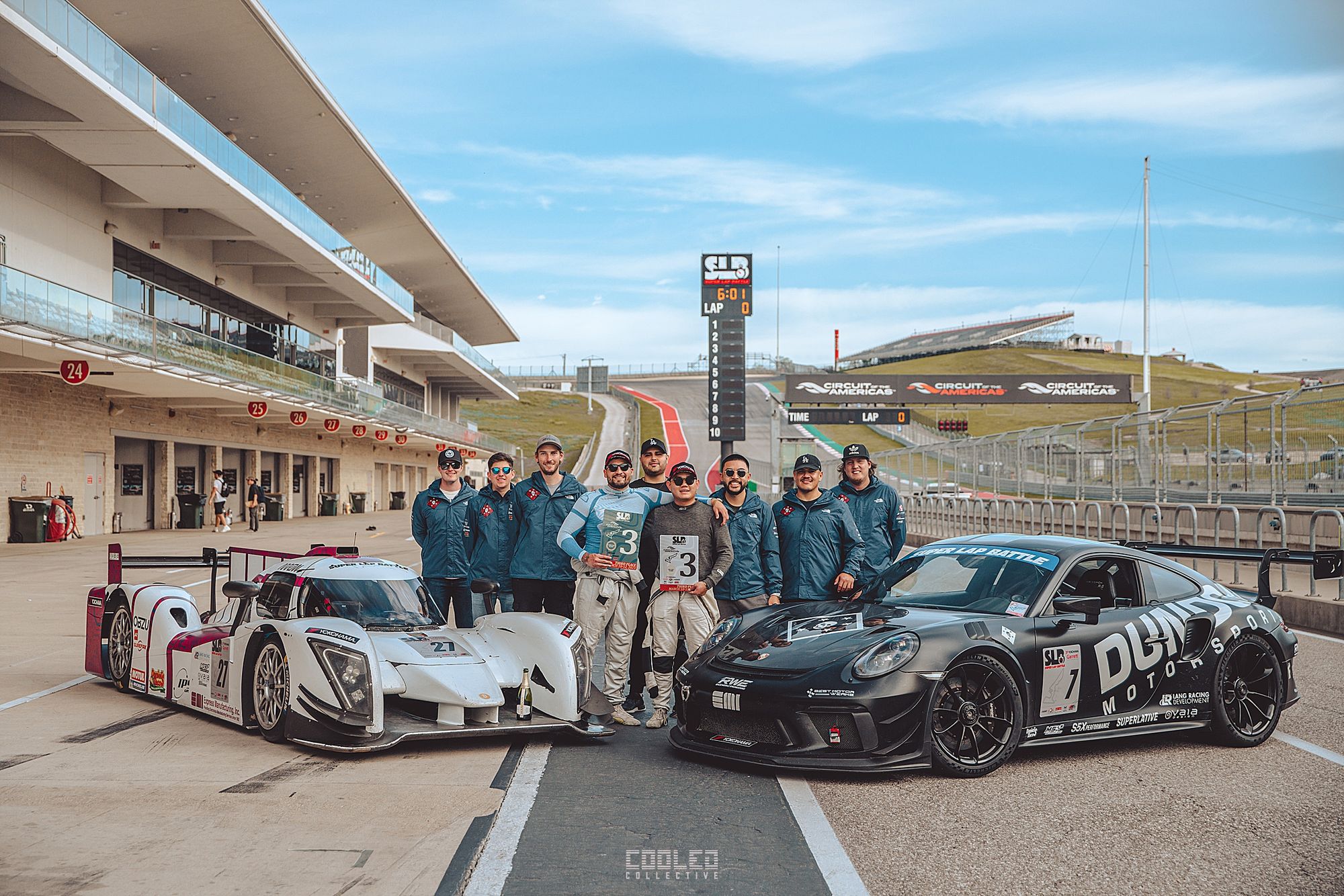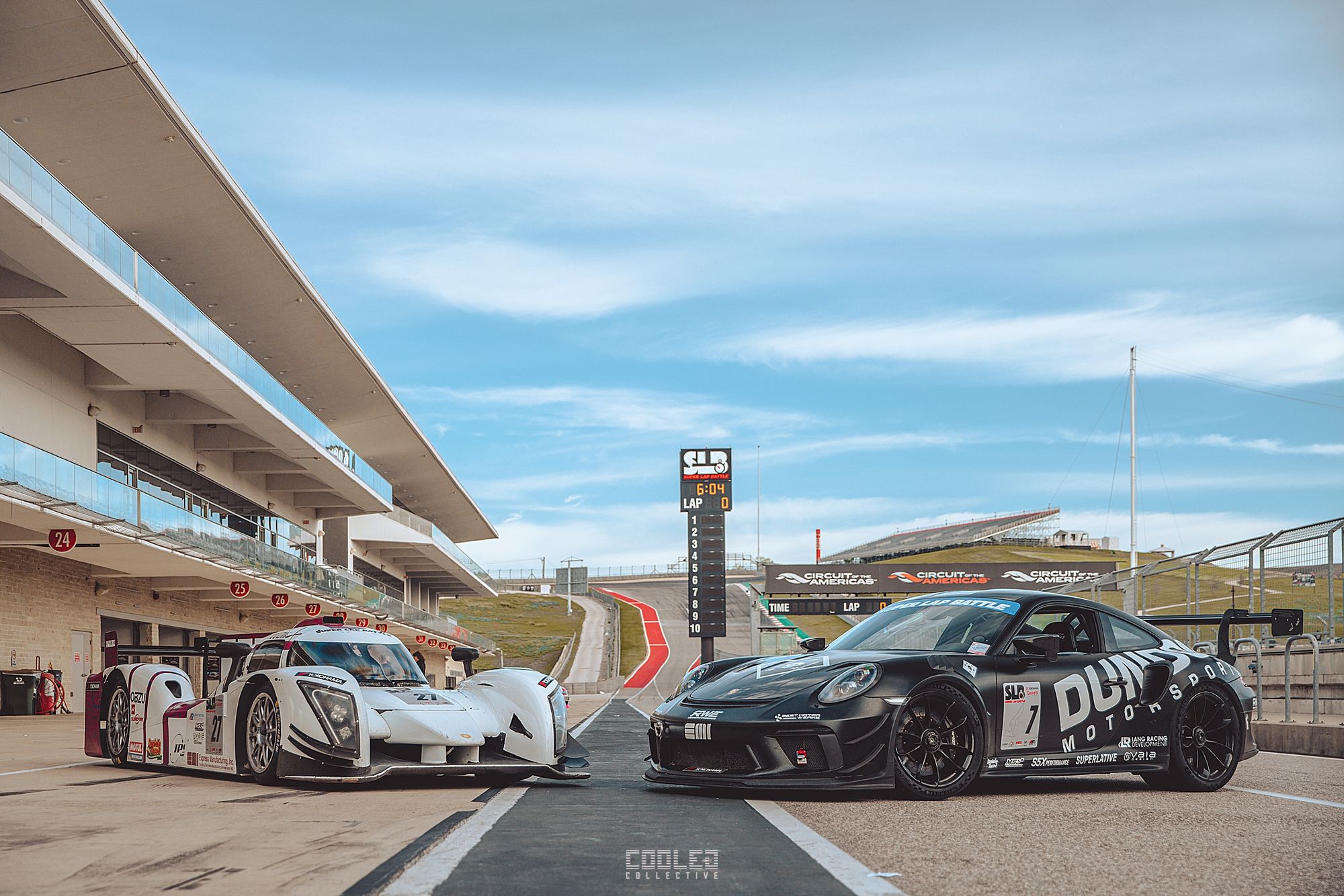 As the weekend came to a close, the boys at Art of Attack went to work to take everything down. A bittersweet moment but such an amazing weekend. Once again, a big thank you to Angel from AofA for convincing me to come out and be a part of the Super Lap Battle experience. Watching so many passionate drivers, techs, supporters, organizers be so passionate about racing without the deep pockets of major sponsors was an amazing thing to witness.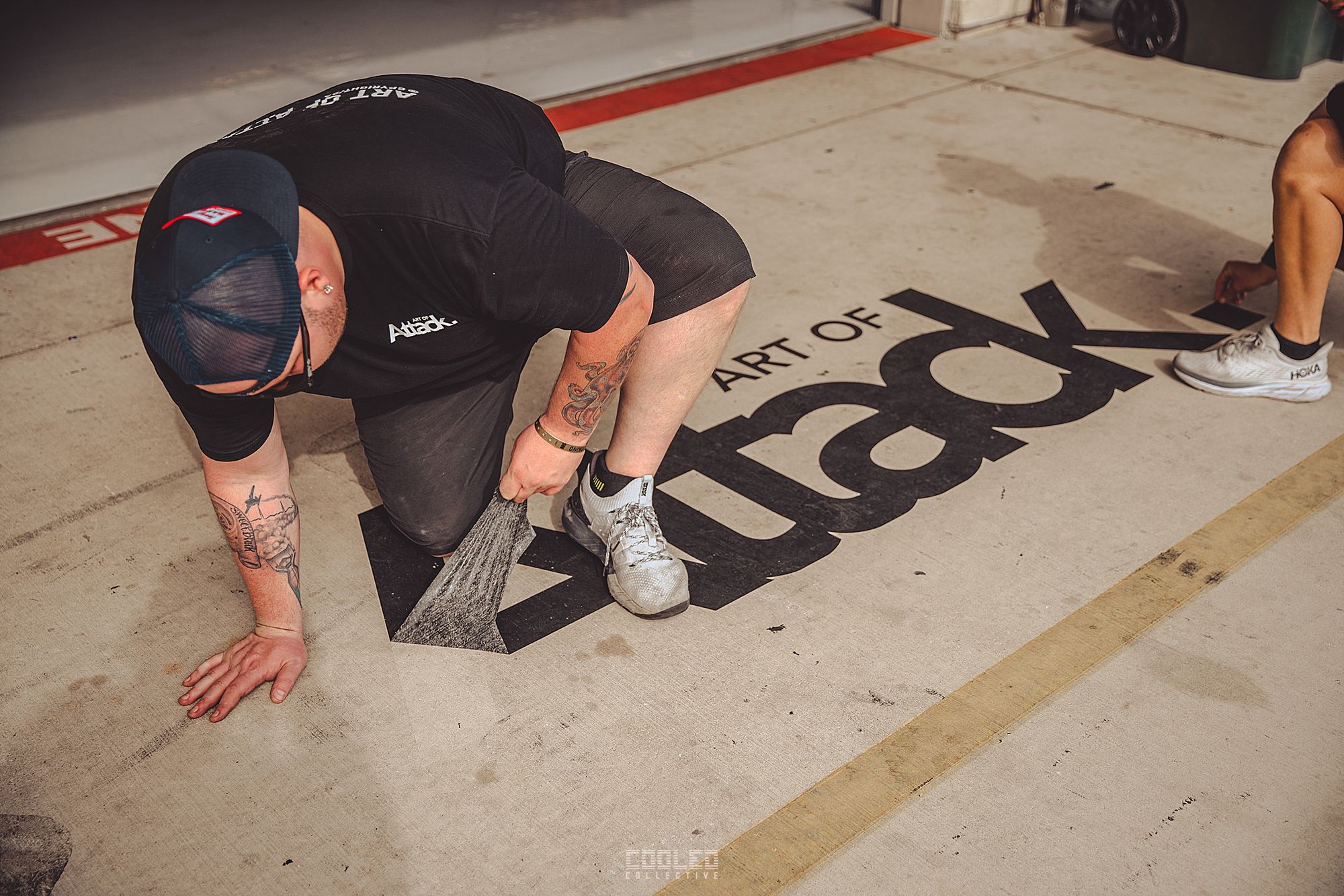 I know how difficult racing is and how extremely expensive it is so to see these folks out here living their best lives was an absolute dream. Thank you guys and gals for following along with my car journeys all over the place.
Til the next one,
Drew Manley

---
Photo Dump